The Blowout: Brief Encounters That Shocked and Amazed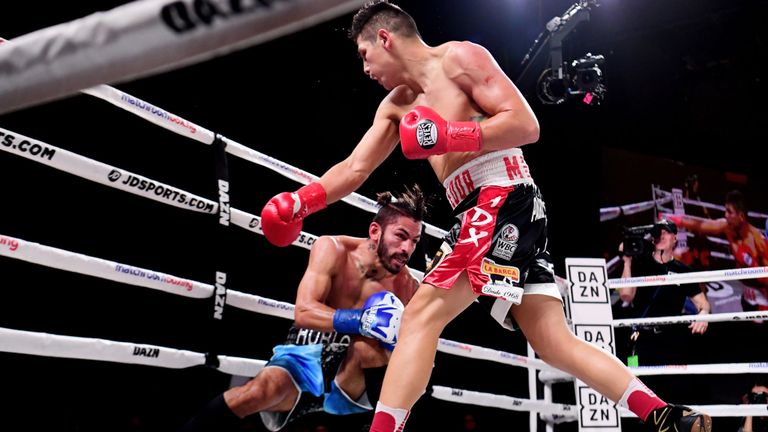 Some might refer to it as a mugging, but a mugging takes a bit of planning and solid execution though the distinction between the two is a very fine one. It's not a one-punch icing because that kind of end seldom happens early (Tua vs. Moorer being a notable exception). No, the blowout is an unmitigated assault launched at the opening bell as the perpetrator comes flying out of the chute motivated to end things quickly and decisively. The reaction of the crowd is one of shock and awe which is magnified if the man perpetrating the blowout is the underdog. Often the victim doesn't even land a punch. And after possibly two or more knockdowns, the blowout is ended by a merciful referee.
Dee Collier vs. Tex Cobb (Oct. 29, 1985)
Denorvell "Dee" Collier fought out of California during the 80's and finished with a modest record of 13-9. However, he was not one to be taken lightly. He had an iron chin and excellent power and a close inspection of his record reveals wins over some very tough opponents. Before his short career was over, Collier would twice defeat Mark Wills in bouts billed for the California heavyweight title, saddle Alex Garcia with his first defeat, ice – yes, ice – Monte Masters and go 10 hard rounds with a prime Buster Douglas.
Collier fought Tex Cobb at the Reseda Country Club in California. The iron-chinned Cobb had lost three straight, but he had failed to go the distance only once in his pro career, that coming in his second match with Michael Dokes, a bout stopped on cuts.  In fact, he had been knocked down only once in his career, that coming in his most recent fight against promising Eddie Gregg.
If the heavily favored Cobb could score an impressive win, he might be in line for title bout against the heavyweight champion, Michael Spinks, or at least back in the mix. Collier, whose record was then 7-4, was seen as nothing more than a club fighter and Cobb was expected to score a decisive, if not early win.
At any rate, once the bell rang, the 6'4" Collier immediately used Cobb as a punching bag. Cobb's legendary iron chin turned to glass as he became a basketball, hitting the deck four times before the bout ended at the 2:41 mark of the first round.
This was an old fashioned Texas dry-gulch with the rugged Texan being the ambushee. Like many other victims of a blowout, he was in the wrong place at the wrong time and never had a chance. Collier had done what Holmes, Shavers and Norton could not do in 33 combined rounds. Tex had his lunch eaten in Reseda and the guy who did the eating was a mugger named Dee Collier.
James "Bonecrusher" Smith vs. Tim Witherspoon (Dec. 12, 1986)
 "I knew his mind couldn't be on the fight. He wasn't thinking about me. My plan was to be all over him. He embarrassed me the last time and I wanted to pay him back. I did." – James "Bonecrusher" Smith
In their rematch (Witherspoon won lopsidedly over 12 rounds in their first meeting), Bonecrusher, a last-minute sub, flew out of the chute at the opening bell and hurt Witherspoon with a right hand 10 seconds into the fight. Then Witherspoon walked into a solid left hook with about 90 seconds gone and was knocked almost through the ropes and down – for the first time in his career. He got up at the count of four on wobbly legs.
Smith never let up as he cautiously moved in, sensing the kill. He then sent Witherspoon down in a heap with another big right hand. Terrible Tim got up at five, spit out a tooth, root and all, and was in terrible shape as The Bonecrusher charged in. The staggering Witherspoon was met with a right hand that dropped him for the third time. Referee Luis Rivera immediately invoked the three-knockdown rule and waved the fight over at 2:12 of the opening round.
This one was a big upset which added to the shock value. Also noteworthy is that Witherspoon did not land a single punch as he was being blown away.
Iran Barkley vs. Darrin Van Horn (Jan. 10, 1992)
If you think Barkley was mad before the fight, wait until he sees how many people are taking part of his purse."—Bob Arum, after his fighter, Iran Barkley, beat Darrin Van Horn
The "Schoolboy" met Iran "Blade" Barkley (27-7) at the Paramount Theater in Madison Square Garden. This was Barkley's turf, far away from the University of Kentucky campus where Van Horn was a part-time student. Van Horn, who held the IBF version of the world super middleweight title, was the favorite and his camp badly underestimated the Blade, who should not have been taken lightly under any circumstance
As the schoolboy entered the ring, you could see some confusion and maybe something else beginning to take hold on his face. He began to look like a deer caught in the headlights. The loud and raucous booing was not directed at his opponent this time; it was directly at him. He was the focus of derision. He was in the Blade's house now and would be lucky to get out alive. The crowd smelled blood.
Meanwhile, the menacing-looking Barkley, wearing an old-school hooded robe, was pacing back and forth in his corner like a caged tiger, waiting for the bell to ring so he could launch what everybody expected to be an all-out bull rush. And that's exactly what he did using a blitzkrieg attack.
The fight was almost anti-climactic as Barkley mauled the Schoolboy and dismantled him in less than two full rounds. Van Horn had come in with no game plan and ended up getting mugged in New York City (at a time when muggings in New York City were not all that unusual). After wobbling Darrin in the first round, Barkley decked the Kentuckian three times in the second before the slaughter was stopped 93 seconds into the round by referee Arthur Mercante Jr.
Dana Rosenblatt vs. Sean Fitzgerald ( Dec.10, 1993)
In a match between two fighters from Massachusetts — a match with more than a touch of old school ethnicity to it — "Dangerous" Dana Rosenblatt (16-0) met Sean "The Irish Express" Fitzgerald at Foxwoods. Fitzgerald was 18-1-2 with his only loss coming against Roberto Duran.
Team Fitzgerald was confident that the red-headed Irishman would beat the untested Rosenblatt. However, two minutes into the bout, Dana threw a 1-2 combination that sent Fitzgerald to the canvas, dazed and hurt. The fight ended 30 seconds later with Fitzgerald KOd following a Rosenblatt onslaught. This one was more shock and surprise than anything else as the Irish Express had been derailed.
Rosenblatt was somewhat of a specialist in blowout wins as Chad Parker and Howard Davis Jr, later found out. He finished with a superb record of 37-1-2
Lou Savarese vs. Buster Douglas (June 25, 1998)
This one was on a star-studded event at the Foxwoods Resort in Connecticut. The date was June 25 and I was there. In fact, I recall that Julio Cesar Chavez (with a monster entourage) fought Ken Sigurani on the undercard—yes, I said "undercard."
Big Lou Savarese, who won his first 36 professional starts, was coming off a win over overmatched Brett Lally but he had lost his two fights prior to that, getting outpointed by George Foreman and then savagely KOed by David Izon.
Buster opened up with his patented stiff jab and some sharp fast-handed combos; he seemed ready to rock and roll. In fact, most thought he would win this one. Suddenly, out of nowhere, he was dropped by a perfect Savarese right. The fans were up and shouting. Then another more malefic right put him down and this time he was visibly hurt. The end was near. After launching a fast and furious volley, Lou ended matters. How do you say "blowout"? The entire affair took just 2.34.
David Lemieux vs. Elvin Ayala (June 11, 2010)
Shock and awe was expected and shock and awe delivered as Lemieux dropped the game Ayala three times in the first round. It would be a precursor to many more Lemieux blitzkrieg wins.
Fast Forward (2019)
Last month, on Jan. 18, Pablo Cesar Cano shocked the boxing world by dropping Jorge Linares three times and scoring a first round TKO. Cano's size and power at 140 pounds were too much for Linares, a title-holder in three lower weight classes, suggesting that he move back down to 135 pounds.
The first knockdown came just 15 seconds into the match when Cano landed a clubbing right. Then, with 84 seconds on the clock, the second came from another heavy right overhand. Cano then wisely switched to a vicious left hook to send Linares down again and prompting referee Ricky Gonzalez to perform a mercy stoppage.
The seven examples above are representative of a certain kind of fight; a blowout. Can you think of any others that might fit the criteria?
Ted Sares is one of the world's oldest active power lifters and Strongman competitors and plans to compete in at least three events in 2019. He is a lifetime member of Ring 10, and a member of Ring 4 and its Boxing Hall of Fame. He also is an Auxiliary Member of the Boxing Writers Association of America (BWAA).
Check out more boxing news on video at The Boxing Channel
To comment on this article in The Fight Forum CLICK HERE
Mercito Gesta Victorious Over Jojo Diaz at the Long Beach Pyramid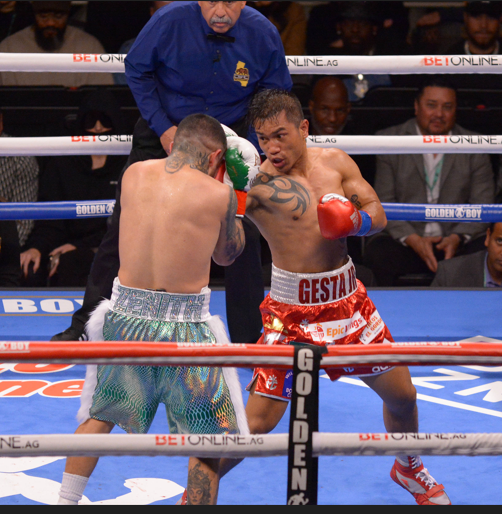 LONG BEACH, CA.-Those in the know knew Mercito Gesta and Jojo Diaz would be a fight to watch and they delivered.
Gesta emerged the winner in a super lightweight clash between southpaws that saw the judges favor his busier style over Diaz's body attack and bigger shots and win by split decision on Saturday.
Despite losing the main event because the star was overweight, Gesta (34-3-3, 17 KOs) used an outside method of tactic to edge past former world champion Diaz (32-4-1, 15 KOs) in front of more than 5,000 fans at the Pyramid.
The speedy Gesta opened up the fight with combination punching up and down against the peek-a-boo style of Diaz. For the first two rounds the San Diego fighter overwhelmed Diaz though none of the blows were impactful.
In the third round Diaz finally began unloading his own combinations and displaying the fast hands that helped him win world titles in two divisions. Gesta seemed stunned by the blows, but his chin held up. The counter right hook was Diaz's best weapon and snapped Gesta's head back several times.
Gesta regained control in the fifth round after absorbing big blows from Diaz. He seemed to get angry that he was hurt and opened up with even more blows to send Diaz backpedaling.
Diaz targeted his attack to Gesta's body and that seemed to slow down Gesta. But only for a round.
From the seventh until the 10th each fighter tried to impose their style with Gesta opening up with fast flurries and Diaz using right hooks to connect with solid shots. They continued their method of attack until the final bell. All that mattered was what the judges preferred.
After 10 rounds one judge saw Diaz the winner 97-93 but two others saw Gesta the winner 99-91, 98-92. It was a close and interesting fight.
"I was expecting nothing. I was the victor in this fight and we gave a good fight," said Gesta. "It's not an easy fight and Jojo gave his best."
Diaz was surprised by the outcome but accepted the verdict.
Everything was going good. I thought I was landing good body shots," said Diaz. "I was pretty comfortable."
Other Bouts
Mexico's Oscar Duarte (25-1-1, 20 KOs) knocked out Chicago's Alex Martin (18-5, 6 KOs) with a counter right hand after dropping him earlier in the fourth round. The super lightweight fight was stopped at 1:14 of the round.
A battle between undefeated super welterweights saw Florida's Eric Tudor (8-0, 6 KOs) emerge the winner by unanimous decision after eight rounds versus Oakland's Damoni Cato-Cain.
The taller Tudor showed polished skill and was not bothered by a large cut on his forehead caused by an accidental clash of heads. He used his jab and lead rights to defuse the attacks of the quick-fisted southpaw Cato-Cain. The judges scored the fight 80-72 and 78-74 twice for Tudor.
San Diego's Jorge Chavez (5-0, 4 KOs) needed less than one round to figure out Nicaragua's Bryan Perez (12-17-1, 11 KOs) and send him into dreamland with a three-punch combination. No need to count as referee Ray Corona waved the fight over. Perez shot a vicious right followed by another right and then a see-you-later left hook at 3.00 of the first round of the super featherweight match.
Photo credit: Al Applerose
Jojo Diaz's Slump Continues; Mercito Gesta Prevails on a Split Decision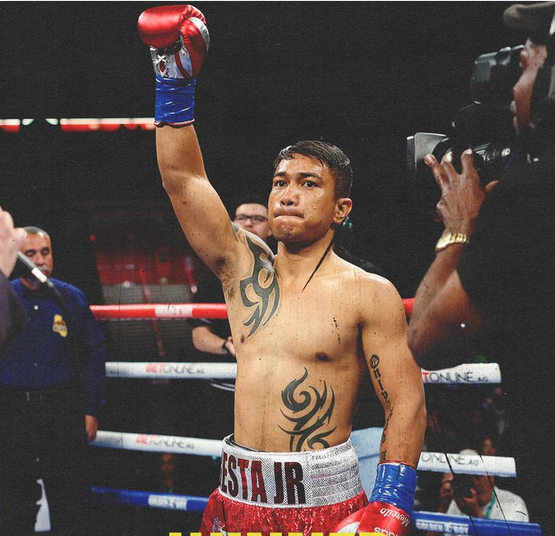 At age 30, Jojo Diaz's career is on the skids. The 2012 U.S. Olympian, a former world title holder at 126 and 130 pounds and an interim title holder at 135, Diaz suffered his third straight loss tonight, upset by Mercito Gesta who won a split decision at the Walter Pyramid in Long Beach, CA.. The scoring was strange with Gesta winning nine of the 10 rounds on one of the cards and only three rounds on another. The tie-breaker, as it were, was a 98-92 tally for Gesta and even that didn't capture the flavor of what was a closely-contested fight.
Originally listed as a 12-rounder, the match was reduced to 10 and that, it turned out, did Diaz no favors. However, it's hard to feel sorry for the former Olympian as he came in overweight once again, having lost his 130-pound title on the scales in February of 2021.
Diaz also has issues outside the ropes. Best elucidated by prominent boxing writer Jake Donovan, they include a cluster of legal problems stemming from an arrest for drunk driving on Feb. 27 in the LA suburb of Claremont.
With the defeat, Diaz's ledger declined to 32-4-1. His prior losses came at the hands of Gary Russell Jr, Devin Haney, and William Zepeda, boxers who are collectively 83-2. Mercito Gesta, a 35-year-old San Diego-based Filipino, improved to 34-3-3.
Co-Feature
Chihuahua, Mexico super lightweight Oscar Duarte has now won nine straight inside the distance after stopping 33-year-old Chicago southpaw Alex Martin in the eighth frame. Duarte, the busier fighter, had Martin on the deck twice in round eight before the fight was waived off.
Duarte improved to 25-1-1 (20). Martin, who reportedly won six national titles as an amateur and was once looked upon as a promising prospect, declined to 18-5.
Other Bouts of Note
New Golden Boy signee Eric Tudor, a 21-year-old super welterweight from Fort Lauderdale, overcame a bad laceration over his right eye, the result of an accidental clash of heads in round four, to stay unbeaten, advancing to 8-0 (6) with a hard-fought unanimous 8-round decision over Oakland's Damoni Cato-Cain. The judges had it 80-72 and 78-74 twice. It was the first pro loss for Cato-Cain (7-1-1) who had his first five fights in Tijuana.
In the DAZN opener, lanky Hawaian lightweight Dalis Kaleiopu went the distance for the first time in his young career, improving to 4-0 (3) with a unanimous decision over 36-year-old Colombian trial horse Jonathan Perez (40-35). The scores were 60-52 across the board. There were no knockdowns, but Perez, who gave up almost six inches in height, had a point deducted for a rabbit punch and another point for deducted for holding.
To comment on this story in the Fight Forum CLICK HERE
'Big Baby' Wins the Battle of Behemoths; TKOs 'Big Daddy' in 6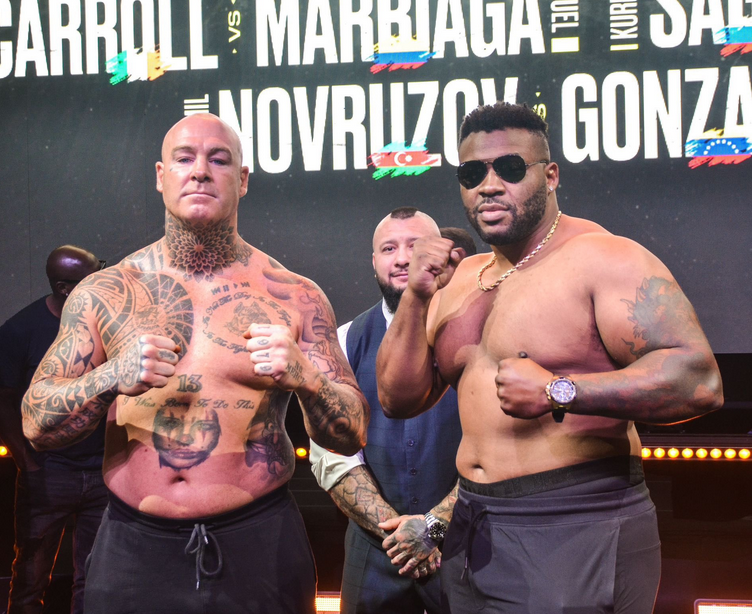 Lucas "Big Daddy" Browne weighed in at a career-high 277 pounds for today's battle in Dubai with Jarrell "Big Baby" Miller, but he was the lighter man by 56 pounds. It figured that one or both would gas out if the bout lasted more than a few stanzas.
It was a war of attrition with both men looking exhausted at times, and when the end came it was Miller, at age 34 the younger man by nine years, who had his hand raised.
Browne was the busier man, but Miller, whose physique invites comparison with a rhinoceros, hardly blinked as he was tattooed with an assortment of punches. He hurt 'Bid Daddy' in round four, but the Aussie held his own in the next frame, perhaps even forging ahead on the cards, but only postponing the inevitable.
In round six, a succession of right hands knocked Browne on the seat of his pants. He beat the count, but another barrage from Miller impelled the referee to intervene. The official time was 2:33. It was the 21st straight win for Miller (26-0-1, 22 KOs). Browne declined to 31-4 and, for his own sake, ought not fight again. All four of his losses have come inside the distance, some brutally.
The consensus of those that caught the livestream was that Floyd Mayweather Jr's commentary was an annoying distraction that marred what was otherwise an entertaining show.
As for what's next for "Big Baby" Miller, that's hard to decipher as he has burned his bridges with the sport's most powerful promoters. One possibility is Mahmoud Charr who, like Miller, has a big gap in his boxing timeline. Now 38 years old, Charr – who has a tenuous claim on a WBA world title (don't we all?) —  has reportedly taken up residence in Dubai.
Other Bouts of Note
In a 10-round cruiserweight affair, Suslan Asbarov, a 30-year-old Russian, advanced to 4-0 (1) with a hard-fought majority decision over Brandon Glanton. The judges had it 98-92, 97-93, and a more reasonable 95-95.
Asbarov was 12-9 in documented amateur fights and 1-0 in a sanctioned bare-knuckle fight, all in Moscow, entering this match. He bears watching, however, as Glanton (18-2) would be a tough out for almost anyone in his weight class. In his previous fight, at Plant City, Florida, Glanton lost a controversial decision to David Light, an undefeated Australian who challenges WBO world title-holder Lawrence Okolie at Manchester, England next week.
A 10-round super featherweight match between former world title challengers Jono Carroll and Miguel Marriaga preceded the semi-windup. Carroll, a 30-year-old Dublin southpaw, overcame a cut over his left eye suffered in the second round to win a wide unanimous decision in a fairly entertaining fight.
It was the sixth straight win for Carroll (24-2-1, 7 KOs) who elevated his game after serving as a sparring partner for Devin Haney. Marriaga, a 36-year-old Colombian, lost for the fourth time in his last five outings, declining to 30-7.
To comment on this story in the Fight Forum CLICK HERE