By Winning Too Easily, Errol Spence Jr. May Have Diminished His Options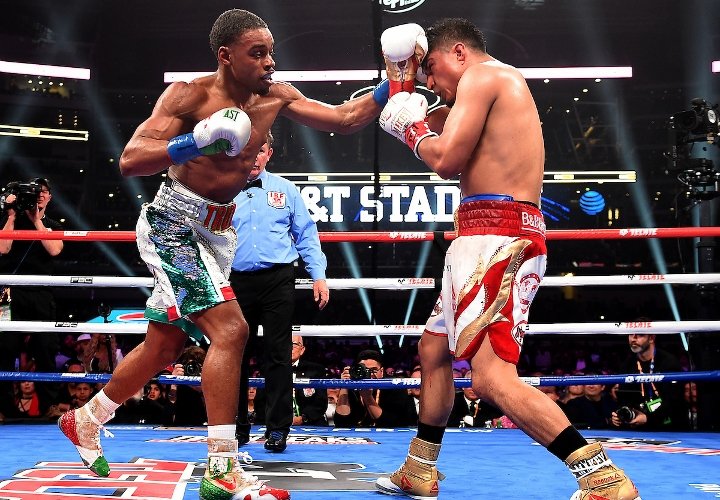 It was easy. Ridiculously easy. And, just maybe, too much so for the winner's own good in some ways.
On the one hand, IBF welterweight champion Errol Spence Jr.'s absolute domination of future Hall of Famer Mikey Garcia, achieved before 47,525 presumably impressed spectators in AT&T Stadium and a Fox Sports Pay Per View audience, certified the winner as a superstar and a rapid climber in everyone's pound-for-pound ratings. If Spence (25-0, 21 KOs) hadn't been widely recognized as such beforehand, his shocking (well, at least to a lot of people) shutout of Garcia (39-1, 30 KOs) likely moved him into one of the boxing penthouses reserved exclusively for fighters who not only are highly skilled inside the ropes but so marketable that their appearance in a bout virtually guarantees intense public interest and torrents of cash flowing into any promotion in which they happen to be involved.
OK, so maybe Spence did not "massacre" Garcia, as he had vowed to do, which suggested victory by knockout, boxing's standard exclamation point. Hey, you can't have everything. But a knockout can come on a lucky punch, or during a competitive fight in which the outcome might still be in question. The scorecards submitted by the judges in Arlington, Texas – Glenn Feldman had it 120-107, with Alex Levin and Nelson Vazquez just a tick behind with identical 120-108 tallies – tell a perhaps even more telling tale, of one terrific champion almost toying with another, albeit one who was so confident in himself that he not only agreed to move up two weight classes to make this particular match, he virtually demanded it.
Having great fighters he admired siding with the underdog stung Spence more than any of the few punches landed by Garcia, who must have known he had no chance of winning in the later rounds but allowed himself to be further battered for the small consolation and "moral" victory of making it to the final bell. In the 11th round, with Spence connecting almost at will, two-time former heavyweight champion Lennox Lewis, one of the commentators for the telecast, said of Garcia, "He's being a punching bag right now."
When it was over, and Spence had done all that he knew he was capable of doing, he took a few verbal swipes at the legends of the ring who had questioned whether he could solve so clever and versatile a fighter as Garcia.
"So many so-called experts were writing me off," Spence said of what had to be a source of additional motivation. "I felt insulted during training camp that people were saying he was smarter than me and I felt insulted that lot of these reporters were agreeing with them. Top guys like Sugar Ray Leonard were going for Mikey Garcia. Guys like (Juan Manuel) Marquez and (Marco Antonio) Barrera were going for him. (Mike) Tyson and Leonard saying Mikey Garcia was going to win kind of rubbed me the wrong way, too."
Given the nature of his victory, and on so large a stage, the case can be reasonably made that Spence has entered a select circle presently occupied by such proven fillers of stadiums as Anthony Joshua and Canelo Alvarez, an exclusive address to which not even such undeniably terrific fighters as Vasiliy Lomachenko and Terence Crawford have been able to take up residence. Spence might still be perceived in some quarters as a lesser fighter than fellow welterweight Crawford (34-0, 25 KOs), the WBO champion, but until further notice he likely will be acknowledged as the reigning king of boxing's most-stacked and top-heavy division, with all manner of megafights seemingly available to him, including a pairing with 40-year-old Manny Pacquiao, a former occupant of that figurative penthouse whose name value and brand are so established that he would be at or near the top of every prominent 147-pounder's wish list.
After he had exposed Garcia's foolishness in calling him out, Spence, before doing an in-ring interview with Fox's Heidi Androl, did the same by calling out Pacquiao (61-7-2, 39 KOs), who holds a secondary WBA welterweight title. "Pac-Man" had flown in with his wife, Jinkee, to see the fight on what can only be surmised as a scouting mission.
"Tell Manny Pacquiao to come back over here," Spence said to Androl, motioning for Pacquiao, who had entered the ring, to join him on-camera. "Manny, come on over here, man. He been here before (Pacquiao had fought twice in 2010 in what is now known as AT&T Stadium, on each occasion before a crowd in excess of 40,000). He done broke records here before. He's a legend of the sport. It'd be my honor to fight him next."
Asked flat-out if he would consent to being Spence's next opponent, perhaps in AT&T Stadium before another huge crowd, Pacquiao responded with what might be described as less-than-sincere enthusiasm. The only man to have won championships in eight separate weight classes, the Pacquiao of five or six years ago surely would have been a worthy opponent for the Spence of today, but his sights are set on another golden-oldies money grab in a rematch with the retired, 42-year-old Floyd Mayweather Jr., who even at his best was not stylistically suited to beat the snot out of the other guy.  If you exclude his 10th-round stoppage of mixed martial artist Conor McGregor in their dog-and-pony show on Aug 26, 2017, "Money" had not won inside the distance in six years, a span of seven fights.  Spence, meanwhile, had whacked out 11 consecutive opponents until the proud but outclassed Garcia hung around until the scheduled finish.
"Yeah, why not?" Pacquiao said when asked if Spence might be next on his dance card. "It'd give the fans a good fight. I'd be happy to be here (at AT&T Stadium). I'm hoping that I will be back here. Soon."
Yeah, but maybe not against Spence. And therein lies the problem for Spence, the southpaw from DeSoto, Texas, whose nickname, appropriately, is "The Truth." The truth just might be that Pacquiao and other elite or semi-elite welterweights might prove unavailable to him because of conflicting promotional affiliations or the simple desire to not be thumped by someone with the skills and power to win with either finesse or force.
Richard Schaefer, the former Golden Boy executive who now heads up Ringstar Sports, was in Arlington and it was his opinion that Spence might have been too good for his own good.
"If you think Spence had problems getting guys to fight him before, he's really going to have a problem now," Schaefer told ESPN's Steve Kim.
WBO welterweight champ Shawn Porter (30-2-1, 17 KOs), who would be a significant underdog should he get a unification gig with Spence, immediately volunteered to accept generous hazardous-duty pay for the assignment, to which Spence sniffed, "Shawn can't sell out a family dinner." Upon further reflection, Spence allowed that a man's gotta do what a man's gotta do, if it comes to that.
"If Manny Pacquiao doesn't want to fight, I'll smoke Shawn, too," he said.
The matchup that would make the most sense is a unification showdown that would pit Spence against Crawford. But that fight might require some marination to attain its full flavor, and Crawford is a Top Rank fighter and thus aligned with ESPN+, putting him, in Spence's words, "across the street" from where Spence is obliged to work. That narrows the field somewhat to still-attractive options Pacquiao, Porter, Keith Thurman (29-0, 22 KOs), the "super" WBA welter titlist, and former WBC welterweight ruler Danny Garcia (34-2, 20 KOs). Contract kinks would need to be worked out, but any of the aforementioned fighters would be more than acceptable to Fox PPV and Showtime PPV, with which Premier Boxing Champions, which holds paper on Spence, has working arrangements. Spence, however, has reservations about some of the top guys whose names have been floated, the theory being that they'd rather protect their own little slices of the championship pie for less money than to risk a beatdown in going for a larger piece, unless, of course, the financial compensation is too enticing to pass up.
It could be that Spence eventually might have to look down or up for the kind of high-visibility fights that will allow him to remain in the penthouse on a long-term lease. Might the potential talent pool include WBC super lightweight champion Regis Prograis (23-0, 1 KOs), who at some point is likely to move up to welterweight? Would Spence consider going up to super welter to challenge IBF/WBA super welterweight titlist Jarrett Hurd (23-0, 16 KOs) or WBO champ Jaime Munguia (32-0, 28 KOs)? Is it too much of a stretch to believe he might even try to do what Garcia did so unsuccessfully, which is to bulk up two weight classes, to middleweight, where WBA/WBC king Canelo Alvarez (51-1-2, 35 KOs), IBF champ Daniel Jacobs (35-2, 29 KOs) – Alvarez and Jacobs square off on May 4 in Las Vegas – and former IBF/WBA/WBC titlist Gennady Golovkin (38-1-1, 34 KOs) reside?
For now, it must be said that what Spence did to Garcia is reminiscent of a book about a World War II battle, A Bridge Too Far, authored in 1974 by Cornelius Ryan. Adapted into a 1977 movie of the same name, the ambitious Allied strategy was to launch a surprise attack and capture several bridges behind German lines in the occupied Netherlands. But in the words of British Field Marshal Bernard Montgomery, the plan failed because its reach exceeded its grasp and went, well, a bridge too far.
In Mikey Garcia's case, his bold bid definitely went at least one bridge too far, because Errol Spence Jr. was on the other side and resolute in his determination to not yield an inch of ground.
Bernard Fernandez is the retired boxing writer for the Philadelphia Daily News. He is a five-term former president of the Boxing Writers Association of America, an inductee into the Pennsylvania, New Jersey and Atlantic City Boxing Halls of Fame and the recipient of the Nat Fleischer Award for Excellence in Boxing Journalism and the Barney Nagler Award for Long and Meritorious Service to Boxing.
Check out more boxing news on video at The Boxing Channel
To comment on this story in The Fight Forum CLICK HERE
Ortiz Accuses Wilder of 'Borderline Criminal' Tactics; Wilder Takes Umbrage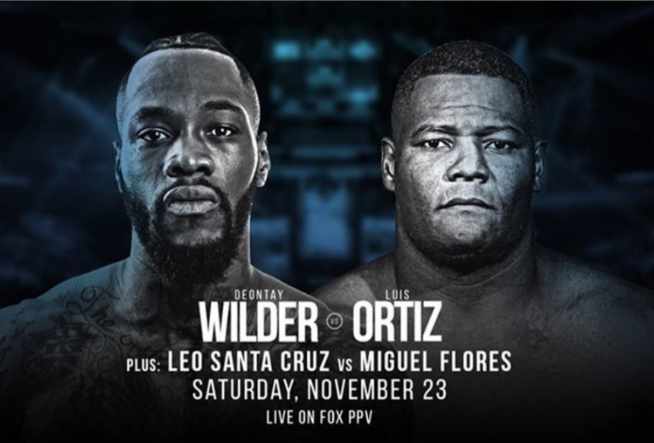 Yes, Deontay Wilder still wants to knock out each and every man he faces in the ring. But a bond the WBC heavyweight champion has shared with his Nov. 23 rematch rival and fellow family man, Luis Ortiz, had caused Wilder to have a somewhat more conciliatory feeling toward the Cuban southpaw given the fact that each power puncher knows what it's like to deal with a child facing significant health issues.
But Wilder's small but oft-expressed well of goodwill toward Ortiz may have dried up Tuesday afternoon after he learned of derogatory comments Ortiz had made about him during a teleconference with the media, prior to Wilder joining the call. Ortiz (31-1, 26 KOs), who had Wilder (41-0-1, 40 KOs) in the danger zone in the seventh round of their first bout, on March 3, 2018, at Brooklyn's Barclays Center, couldn't seal the deal and went down and out himself in the 10th round. All three judges had Wilder ahead by the same razor-thin margin, 85-84, when the end came.
The do-over will take place at the MGM Grand in Las Vegas and will be televised via Fox Pay-Per-View
Wilder, although promising to win inside the distance as he always does, again gave props to the 40-year-old Ortiz, a father of three whose daughter Lismercedes suffers from epidermolysis bullosa, a painful skin condition. That struck a sympathetic chord with Wilder, who has eight children, one of whom, daughter Naieya, was born in 2005 with spina bifida.
"Ortiz has a family," Wilder said when it was his turn to answer reporters' questions. "I grew a great bond with Ortiz the first time with his child. My child was born with a disorder as well. I know personally how hard it is and how much it takes to take care of a child with a disorder. It takes a lot of money and it takes a lot of care, so I wanted to bless him again (by granting him a rematch) – not only for being a great warrior, one of the best in the world, but also for his family."
Wilder had scarcely finished lauding Ortiz as a fighter and a father when he was told that his ring tactics had been characterized by Ortiz in less than flattering terms.
"Some of the antics that Wilder does, like the illegal blows that he throws with the inside of his fists and punching from the top of the head down … all kinds of craziness," Ortiz, who does not speak English, said through his trainer/translator, Herman Caicedo. "It makes it very difficult to get settled in. Quite frankly, that stuff is borderline criminal."
Wilder, who figured he had "blessed" Ortiz by granting him a high-visibility, good-paying shot at his title 20 months ago, and was doing so again, seemed taken aback by the suggestion that his free-swinging ways and code of ethics had been called into question.
"I never heard of that," Wilder said. "I think he's being sarcastic. The only thing that's criminal is me hitting people with the right hand and almost killing them.
"Someone will have to ask him to clarify what he meant by that. I would like to know myself. If it was something to tear me down, I would feel some type of negative vibe toward him, after I've blessed him twice. That'll make me want to hurt him more than I want to do now. Because when I get mad, it's over.
"Right now, I've been very respectful to him. He don't want me to take this wrong because then I'd really want to beat his ass."
Boxing being what it is, mutual respect tends to be put on hold in any case when the action gets hot and heavy. It was pretty intense in the first time around, the seventh round representing the most perilous spot Wilder has been in since turning pro after taking a bronze medal at the 2008 Beijing Olympics. But "The Bronze Bomber," as Wilder is known, said that being taken to the brink and fighting his way out of trouble is as big a plus as any of his exclamation-point KO victories.
"That seventh round was an amazing time for me," he said. "It allowed me to see what I'm really made of. I was very proud of myself to be able to handle that situation, and go be able to go into the fight with the flu. Proper protocol is to (postpone) that and wait 'til a later date when you're healthy. But being me, I'm hard-headed and that makes me different from the rest."
Ailing daughters or not, it really would not make that much of a difference had Ortiz tossed verbal bouquets at Wilder instead of incendiary accusations. Wilder, who will be making the 10th defense of the WBC championship he won on a 12-round decision over then-titlist Bermane Stiverne on Jan. 17, 2015, believes that, at 34, he is the best heavyweight on the planet, worthy of discussion as one of the best big men ever to lace up a pair of gloves, and arguably the most devastating puncher ever.
"We already know I'm the hardest hitter probably in boxing history," he said with typical immodesty. "I see this fight going only one way, and that's Deontay Wilder knocking out Luis Ortiz. He knows it, and I know it."
Well, maybe Ortiz isn't quite convinced of the inevitability of his getting starched again.  He was a live underdog the first time he and Wilder swapped haymakers, and he's a live underdog again. His dream is to become the first Cuban heavyweight champion, and he insists he is as mentally and physically prepared as he's ever been for a fight.
"He can bring whatever he's going to bring, no problem," Ortiz said of Wilder.
Could Ortiz have been playing standard-issue mind games by claiming the champion's style is almost felonious? Maybe. But if he really wanted to get under Wilder's skin, he could have said something about how much he enjoyed LSU knocking off the Alabama Crimson Tide this past Saturday. Wilder, a native of Tuscaloosa, Ala., who grew up dreaming of someday playing football for his hometown university, would instantly have been whipped into a frothing rage.
Check out more boxing news on video at The Boxing Channel 
To comment on this story in The Fight Forum CLICK HERE
Thomas Hauser's Latest Book, 'A Dangerous Journey,' is Another Peach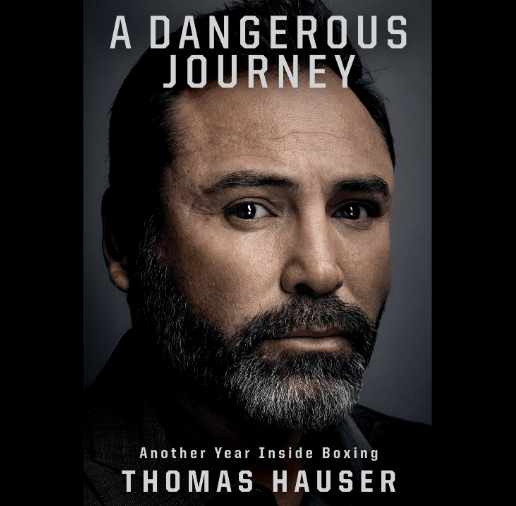 In 2001, the University of Arkansas Press released Thomas Hauser's "A Beautiful Sickness: Reflections on the Sweet Science" and a tradition was born. Decades from now, if someone wants to know what was happening in the world of professional boxing during the first two decades of the 21st century – "on and off the field," so to speak – a complete set of Hauser's annual anthologies will be a prized resource.
Hauser's latest book is titled "A Dangerous Journey," subtitled "Another Year Inside Boxing."
Like the others, it is a compilation of previously published stories. There are 46 in all, arranged under four headings: Fighters and Fights; Curiosities; Other Sports; and Issues and Answers. Regular readers of The Sweet Science will recognize some of the stories as they appeared first in these pages.
Fighters and Fights opens with Canelo-GGG II, taking the reader from the contentious lead-up to the scene in Canelo's dressing room as he waits to be summoned into the ring, and then on to the actual fight. In the last entry of this section, Hauser is back in Canelo's dressing room for his match with Rocky Fielding. Canelo's "key to victory," notes Hauser, was that Fielding didn't belong in the same ring with him.
There are 11 entries in the "Curiosities" component. Two of the more interesting segments deal with the history of mouth guards and the history of ring walks.
I wasn't aware that mouthpieces did not become standard until the 1930s. Neither Dempsey nor Tunney wore a mouthguard in their historic "long count" fight. A boxer can buy a mouthguard off the shelf for a few dollars or have one custom made for a few hundred dollars. According to Freddie Roach, Marlon Starling was too cheap to go to a dentist and have a mouthpiece customized for him.
In the old days, ring walks were straightforward. The procession normally included only the fighter, his trainer and his two cornermen. The boxer walked behind the trainer with his hands on the trainer's shoulders, followed by the cornermen. Then music was introduced and nowadays for some big fights the ring walk is a major production with pyrotechnics.
Hauser quotes Teddy Atlas: "The ring walk in boxing is part of a tradition, two fighters taking a short but long journey to a place that's dangerous and dark. That's lost now. It's not about introspection or history or tradition anymore. It's about self-celebration and how sensational can we make it."
Atlas, Hauser informs us, was once hired by the New York Rangers hockey team to teach the rudiments of boxing to one of their bigger players who wasn't "engaging" as often as they would have liked.
Although stiffer penalties have been introduced to reduce the frequency of fights in hockey, the NHL, says Hauser, doesn't want to eliminate fights altogether. Moreover, although fights are real, they are, needless to say, seldom injurious. (Try getting leverage behind a punch when you're boxing on a slick surface with ice skates as your boxing shoes). "As far as technique is concerned," said promoter Lou DiBella, "hockey players who are fighting make Butterbean look like Sugar Ray Robinson."
In one of his fun pieces, Hauser compares the two Kid Galahad movies, the 1937 original in black and white with Hollywood heavyweights Edward G. Robinson, Bette Davis, and Humphrey Bogart in supporting roles and the 1962 re-make starring Elvis Presley. The former, says Hauser, is unrealistic, hokey, and lots of fun. In the Elvis version, the fight scenes are "as realistic as a theatrical production would be if Adrien Broner played Hamlet."
Hauser reviews more boxing books than any other boxing writer and all of his anthologies have a "Literary Notes" section: A pictorial history of Muhammad Ali from the archives of the Louisville Courier-Journal comes highly recommended although the "wonderful" compilation is marred by some inaccuracies in the text. The Courier-Journal's collection of Ali photographs dates back to when he was a 12-year-old boy.
Collectors of boxing memorabilia might be interested in knowing that the "Holy Grail" of collectibles is The Ring magazine championship belt inscribed to Cassius Clay (whereabouts unknown). That's according to Scott Hamilton who Hauser identifies as America's leading boxing memorabilia dealer. Hamilton notes that when he started his business, 85 percent of sales were to collectors in the U.S.; now it's down to 40 percent because of European buyers. Interesting.
Hauser's writings have earned him numerous awards, including multiple BWAA awards for investigative reporting. He covers issues large (boxing's PED problem; incompetent boxing commissions and ring officials) and small (the pervasive scent of marijuana at Brooklyn's Barclays Center). "I appreciate the pleasures of marijuana as a recreational drug and also its benefits as a medicinal aid, "writes Hauser. "But it shouldn't be forced on those who don't want it."
In this vein, Hauser's examination of CompuBox is food for thought. Do you suspect that the CompuBox punch stats are sometimes way off the mark? If so, those suspicions will be reinforced after digesting Hauser's book.
Thomas Hauser is a renaissance man. He's well-versed in the works of Beethoven, Charles Dickens, and Mark Twain, among others, and to this list we can now add Albert Einstein. One of the longer of the 46 pieces in "A Dangerous Journey" is a mini-bio of Einstein who, despite being dead for more than 60 years, "remains the world's most powerful symbol of scientific inquiry."
There is something self-indulgent about this piece. It belongs in a different book. Moreover, not all readers will appreciate his swipe at the Commander in Chief.
Many years ago, Hauser collaborated with golf legend Arnold Palmer on Palmer's autobiography. Palmer wasn't outwardly political, but he was a Barry Goldwater conservative who had numbered Dwight D. Eisenhower among his closest friends.
What would Arnold Palmer think of Donald Trump? Palmer died in 2016 shortly before the election, so Hauser could not reach out to him. But he reached out to Palmer's older daughter, Peg. Her discernment, in a nutshell: My dad would have cringed.
This reporter wishes that it was mandatory for all non-fiction books to have an index. And that goes double for books of this nature as the various chapter headings don't always point the reader in the right direction if he wishes to re-visit a slice of the book that particularly struck his fancy.
One can appreciate why the publisher eschewed an index as it would have been very long, substantially thickening a work that already clocks in at 316 pages. And index or no interest, "A Dangerous Journey," aside from its historical value, is bound to provide hours of enjoyment for boxing fans of all ages.
Check out more boxing news on video at The Boxing Channel 
To comment on this story in The Fight Forum CLICK HERE
From Womb to Tomb, Sonny Liston's Fate Was Seemingly Preordained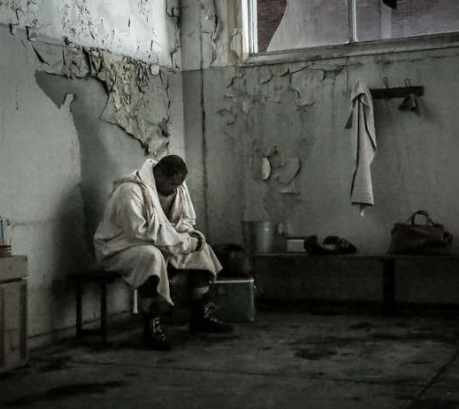 In Pariah: The Lives and Deaths of Sonny Liston, a remarkable 90-minute documentary on the rise and fall of former heavyweight champion Charles "Sonny" Liston, viewers are apt to discover that any preconceived notions they might have had about the baddest man in boxing history are, by turns, both legitimate and misinformed.
No matter what fight fans think they know of Liston, it's a fairly safe bet more opinions will be shaped by watching the Nov. 15 premiere of Pariah (9 p.m EST and PST) on Showtime. While questions about how and why Liston died remain a source of speculation, the disparate elements of his conflicted, turbulent life suggest that much of the actual truth about him, good and bad, is forever destined to be a riddle wrapped in a mystery inside an enigma.
Inspired by The Murder of Sonny Liston: Las Vegas, Heroin and Heavyweights, a book authored by Shaun Assael, the documentary examines the pros and cons of the oft-arrested, twice-incarcerated, mobbed-up wrecking machine who did not so much defeat opponents as to eviscerate them. Viewers – especially white people old enough to be familiar with the era in which he rose to prominence — are left to decide for themselves if Liston really was or deserved to be representative of their deepest fears, or a frequent victim of circumstance who wanted nothing more than some positive acceptance instead of the widespread loathing to which he had become accustomed.
But the journey from villain to hero is never smooth for someone with Liston's checkered background, and especially so given the social unrest of the late 1950s and early '60s. Hasan Jeffries, a black assistant professor of history at Ohio State University, said that Liston, a product of the Jim Crow South, was widely considered to be "America's worst nightmare" and a "literally dangerous Negro," someone who was "unafraid of white people as demonstrated by his consistent encounters with police."
When he returned to his adopted hometown of Philadelphia after his title-winning, one-round blowout of popular but hopelessly outclassed champion Floyd Patterson, and discovered that there was no one at the airport to celebrate his triumph or to finally recognize him as something more than a glowering bully with a lengthy rap sheet, an increasingly bitter Liston decided that he might as well settle for being who and what the masses thought he was instead of trying to change millions of minds that had long since been made up.
Liston's sudden embrace of his malevolent reputation reminded me of a line of dialogue from The Vikings, a 1958 movie in which a fierce Norse warrior, played by Kirk Douglas, is unable to win the affection of a captured British beauty played by Janet Leigh. "If I can't have your love," Douglas, as Einar, defiantly tells Leigh's Morgana, "I'll take your hate."
Not that Liston, the 24th of 25 children born to an Arkansas sharecropper who was less a father than a tyrannical family overseer, ever chose to be hated. But neither was he apt to be idolized in the manner of, say, Joe Louis, Rocky Marciano or the man who would ultimately succeed him upon the heavyweight throne, Muhammad Ali. Liston, who could neither read nor write, lacked the basic communication skills that might have gained him a bit more favorable press, and his personification of danger was accentuated by a withering glare that left more than a few opponents frozen with fear before the opening bell rang.
"He was a real badass, a real menacing force," Mike Tyson, a future heavyweight champion with a similar gift for intimidation, said of Liston. "Sonny could pull it off. I could pull it off. Not a lot of people could pull it off."
It would be a disservice to Liston, however, to say that the main weapon in his arsenal was a gift for winning staredowns. Scary as Liston was simply by standing there, he was so much more so when he began whaling away at flesh and bone as might a burly lumberjack chopping down a thin tree. Forget so-called experts' arbitrary rankings of the hardest punchers ever to lace up a pair of padded gloves; Liston's knockouts were spectacular for their savagery, toppled foes crashing to the canvas as if they would never again get up. He needed only 69 seconds of the first round to put a decent journeyman, Wayne Bethea, down and motionless, in the process dislodging 16 of Bethea's teeth. Nobody in the fight game supplied oral surgeons with more patients in need of emergency treatment than Sonny Liston.
By reputation, Liston, who compiled a 50-4 record with 39 KOs from 1953 to 1970, was a huge heavyweight for his era, but he stood just 6-foot-1 and weighed in around 215 pounds during his prime. Then again, Liston's unextraordinary height and heft were not his measurements of consequence. His 86-inch reach, those incredibly long arms extending down to massive fists the size of a catcher's mitt, were. Liston might have had the most devastating jab ever, as accurate as Larry Holmes', only harder. Sonny could use that jab as a range-finder when necessary, but its concussive force was such that the numbers-crunchers at CompuBox today would be obliged to categorize it as a power punch. He could knock a man down and even out with that jolting jab, and sometimes did.
"Sonny's left jab was a nose-cracking, teeth-busting experience," offered Randy Roberts, a boxing buff and assistant professor at Purdue University who serves as one of the documentary's talking heads. "They said getting hit with his jab was like getting hit with a pole."
Liston's penchant for destruction inside the ropes, had he not come along when he did, might have made him as rich and celebrated as Tyson would become 50 years later. So why wasn't he? Liston had so many brushes with police that fibers from their blue serge uniforms clung to him like permanent lint. Not only was he arrested 19 times and did two prison stretches, but cops in St. Louis and Philly, cities that for a time served as his home bases, tracked his movements as a meteorologist would an impending storm. Perhaps all that extra attention was justified at times, but Liston's freedom of movement was so inhibited that he often felt as if he were somehow encased in an invisible jail.
"There was nothing they didn't pick me up for," Liston once complained. "If I was to go into a store for a stick of gum, they'd say it was a stick-up."
It was to Liston's benefit and detriment to have turned his career over to organized crime figures Frankie Carbo and Blinky Palermo, boxing manipulators who had enough clout to not only advance his career but to get him sprung earlier from prison sentences that would surely have been longer were he not a possible future heavyweight champion. The downside of the arrangement is that the Feds spent a lot of time looking into the nefarious activities of Carbo and Palermo, which meant they also had a thick dossier on Liston. It did not escape the FBI's attention that the non-boxing "jobs" for Liston lined up by his influential backers to gain him early release were something less than fully above board.
"He's a leg-breaker for the mob, he's an alley-dweller," Roberts noted. "Sonny never walked on well-lit streets. Sonny lived in darkness."
Maybe so, but there are more than a few boxing historians who have tried to determine what made Liston tick. A case can be made that inside those shadows in which he was obliged to exist there was a better, brighter version of himself almost desperate to break out.
"I don't think the general public ever knew the real Sonny Liston," opined Nigel Collins, former editor of The Ring magazine. "They knew the persona, the thug-like guy who just knocked everybody out, was associated with the mob and had been in jail. He wasn't really that. That was a front. That was what he needed to protect himself, and also to intimidate his opponent. He was a very sensitive person. He could be hurt easily."
That description of Liston was seconded by his wife, Geraldine, who described her husband as "a good man and a kind man, and worthy of a chance to contribute to society."
To Sonny's way of thinking, his ticket to validation as a human being was to gain the heavyweight championship then held by Floyd Patterson, a nice guy but lesser fighter whom Roberts called the "Sidney Poitier of boxing." It wasn't necessarily a compliment. Patterson's shrewd manager-trainer, Cus D'Amato, had managed to supply Patterson with a steady stream of marginally qualified and eminently beatable challengers, but D'Amato wanted no part of Liston. The first of the two title bouts between Patterson and Liston came about only because Floyd, embarrassed by the spreading public perception that he was more protected than the gold in Fort Knox, demanded that Liston be given the chance at the title he had earned with those ham hock fists.
Jerry Izenberg, the esteemed sports columnist for the Newark Star-Ledger, visited Patterson's well-manicured rural training camp before checking in on Liston's, which was urban, grittier and unquestionably better suited to a reformed leg-breaker on a mission.
"He's got two chances – slim and none," Izenberg said in recalling his impressions of Patterson's preparations for a fight few gave him a chance to win, or even to finish in an upright position. After Izenberg got a glimpse of Liston's laser-beam focus, he amended his original assessment. "I'm saying those two chances for Floyd, slim and none? Slim just went out the door."
The fight, such as it was, took place on Sept. 25, 1962, at Chicago's Comiskey Park. Custer had a better chance at the Little Bighorn than Patterson did against Sonny. The annihilation required only 2 minutes, 6 seconds to complete, whereupon the humiliated Patterson snuck out of the arena in disguise, and Liston returned to Philadelphia, foolishly expecting the hero's welcome he believed to be his reward for all those hard years of poverty and dues-paying.
"There are people who don't want me to be there (as champion)," Liston upon attaining the title. "Regardless of them, I intend to stay there and I promise everyone that I will be a decent, respectable champion."
Jack McKinney, then the Philadelphia Daily News boxing writer and the only media person in town who had earned Liston's trust, called City Hall to see if a group of dignitaries could be on hand to greet the new champ. But there was no brass band at the airport, no cheering fans, no smiling politicians to pat the not-favorite son on the back and say that all had been forgiven. Nor was the reaction to his seemingly improved lot in life any warmer elsewhere.
"I didn't expect the President to invite me into the White House, but I sure didn't expect to be treated like no sewer rat," Liston grumbled.
The chip on his shoulder now the size of a log, Liston showed up for the July 22, 1963, rematch at the Las Vegas Convention Center more determined than ever to cruelly demonstrate his superiority over Patterson and any other heavyweight that might be foolish enough to share the ring with him. Like Kirk Douglas' Einar, if he was unable to win the public's love, he would revel in its hate. Again Patterson was destroyed in the first round, the fight a virtual replica of the original.
"The only difference," Collins said of the do-over, "is that it lasted four seconds longer."
No one could have known it at the time, but the second demolition of Patterson would be Liston's only winning defense of the title he had so relentlessly sought and, many figured, would hold in a vise-grip for at least the next five years. But even before Liston left the ring, a conqueror beyond compare, an audacious young upstart entered his space and loudly berated the newly crowned champion. His name, at least at for the time being, was Cassius Clay.
"I want you! I want you! You ugly!" Clay yelled at a seemingly bemused Liston, who regarded the impudent kid as he might a Martian who had just stepped off a spaceship. But Clay kept up his campaign to force a showdown with Liston where it counted. In the weeks that followed, he repeatedly demeaned Liston in newspapers and on TV. And if those affronts weren't enough to produce the desired effect, Clay went so far as to physically confront the man he had dubbed the "big, ugly bear" in Vegas, a mob town to which Sonny had relocated and enjoyed a level of tolerance he had been unable to find in St. Louis or Philly. Clearly Liston would have no peace of mind until he did unto this loudmouth what he had twice done unto Patterson. He was a 7-to-1 favorite to do just that when the fight took place on Feb. 25, 1964. Some media members were concerned that Liston was determined to, and quite capable of, literally beating Clay to death.
But on a night where one legend died and another was birthed, Clay fought through a tense fourth round in which an astringent that had gotten into his eyes and made it difficult for him to see. Flashing the speed of hand and foot for which he would become renowned, Clay, his vision cleared, increasingly took control of the contest until Liston, gashed below the right eye and with a large mouse under his left eye, declined to come out for the seventh round. He cited a shoulder injury as the reason he was unable to continue.
In boxing, it is one thing to lose. It is quite another for a fighter, especially a champion of Liston's magnitude, to surrender. Author Robert Lipsyte was among those who took him to task, saying, "If you're heavyweight champion, you die trying. But he just kind of sat there. He gave up. Why did he give up? This, of course, is the mystery at the heart of it all. Did he give up because he was in such terrible agony he couldn't move? Did he give up because he suddenly realized he couldn't win this fight? Did he give up because he'd been paid to dump it? Who knows?"
But the plot, as the saying goes, soon thickened. Cassius Clay announced the following day that he was a member of the Nation of Islam, more commonly known as the Black Muslims, and now wanted to be known as Cassius X, a stopover on the way to a more permanent identification as Muhammad Ali. It was as if he had become the bad guy, at least to a segment of the American populace, with the disgraced Liston now viewed as the possible savior and re-capturer of a championship that had fallen into presumably radical hands. The rematch was to take place on June 25, 1965, in Lewiston, Maine, a sleepy outpost (the town was mostly known for its factory that manufactured bedspreads) near the Canadian border which stepped up when Boston, the originally announced site, bailed.
"Liston got more cheers than Ali," recalled journalist Don Majeski of the fighters' respective ring walks. "They finally said, `Well, between these two, the lesser of the two evils is Sonny Liston,' so we'll cheer this ex-convict who lost his title on his stool rather than to root for a guy who says he's a Black Muslim separatist. (Liston) enjoyed that. He sort of basked in that kind of glory for the first time in his life."
Or he did, for a fleeting moment.
"But then what happened was the Kennedy assassination of boxing," Majeski continued. "Everyone has an idea, but nobody knows the truth."
What happened was that Ali landed (or missed) with a flicking right hand in the first round that sent Liston careening to the canvas, where he floundered around like a reeled-in fish tossed onto the bottom of a bass boat. To this day there are those who are convinced that Liston, for reasons unknown, took a dive, an argument countered by Ali loyalists who insist that the punch was legitimate and powerful enough to fell even a big, ugly bear.
Assael straddles no fences on the issue. His position is that Liston purposefully went into the tank.
"Why fix the fight?" Assael asks, rhetorically. "That's where the secret percentage theory comes in, which is that Sonny had agreed to an under-the-table deal to get a cut of Ali's future earnings if he went down. It's exactly what a mobster would have done, and it's exactly what I think Sonny did do."
In any case, Liston – whom former fight fixer Charles Farrell insists was "the greatest heavyweight who ever lived … a bonafide monster" – had taken a downward turn from which there could be no recovery. He would fight 16 more times over the next five years, winning 15, but he was, as the documentary's title attests, a pariah.
"After the second fight (with Ali), Sonny's a dead man," Assael said. "He's not only just reviled, he can't even get a job. Boxing commissions won't license him … Sonny was toxic. I mean, really radioactive."
The mystery of Sonny Liston took an even more tragic turn when his decomposing body was discovered at his Las Vegas home on Jan. 5, 1971. An autopsy indicated his death might have owed to an overdose of heroin, which those who knew him well insist could not have been the case because Liston was almost paranoid in his fear of being stuck by a needle.
"The medical examiner called it natural causes, but nobody around Sonny believed that," Assael said. "Everybody believed he was murdered. So many people wanted Sonny dead. The only question was, who got to him first?"
Larry Gandy, a Vegas cop, was among those who saw the body. "It didn't even look like Liston, he'd been dead for so long," Gandy said. "He'd been dead four or five days. He was bloated, full of methane gas. It really made me sick to my stomach because he'd been such a predominant figure in the sports world. It was a terrible, disrespectful way for him to go."
Gandy's expression of compassion might or might not be genuine since the documentary hints at the possibility of his having some measure of culpability in Liston's demise, in mob retaliation for Liston's final fight, on June 29, 1970, in which he defeated Chuck "The Bayonne Bleeder" Wepner on a ninth-round stoppage brought about by numerous and severe cuts to Wepner's well-sutured face.
"Liston was not brought into that fight to win," said Farrell. "I believe the Wepner fight was a deal that went terribly, terribly wrong.
"As the rounds went by, Liston couldn't find a place to fall, Wepner's increasingly beat up and eventually the fight gets stopped because of the cuts. Liston won the fight. It's a series of miscommunications where nobody does exactly what they're supposed to do. The mob lost a lot of money and there were dire circumstances."
In the end, all that is left of Sonny Liston is a headstone in a Las Vegas cemetery and a raft of recriminations and might-have-beens. For every boxing historian who includes him among the greatest and most fearsome heavyweight champions of all time, there is another who sees only the warts and blemishes of perceived transgressions committed both inside and outside the ring. The International Boxing Hall of Fame seemingly leans more toward the former, as evidenced by Liston's 1991 induction.
"You can always make a case for someone's exclusion," Bert Randolph Sugar, then the publisher of Boxing Illustrated, told me for a story I did on Liston's posthumous enshrinement by the IBHOF. "It depends on how moralistic you want to be. But remember, this is boxing we're talking about."
Upon reflection, it is somewhat curious that Ali, who generated so much fear and mistrust for the rematch with Liston in Lewiston, and for some time thereafter, evolved into such a sympathetic and beloved figure, widely acknowledged as the GOAT (Greatest of All Time). Also, upon reflection you have to wonder how the career paths of he and Liston would have proceeded had a semi-blinded Ali's demand that trainer Angelo Dundee cut off his gloves before the fifth round of his first fight with Liston been granted.
What is indisputable is that boxing, so rich in stories about great and flawed fighting men, needs more documentaries of this quality that peer behind the curtain of what fans only see on fight night, giving insight into the whole person. Then again, how many prospective subjects are capable of taking viewers on the kind of roller-coaster ride that Sonny Liston's tumultuous journey did?
"There was one thing that Sonny was better at than boxing, and that was compartmentalizing himself," Assael said. "He could be a loving husband, he could be a womanizer, he could be a criminal, he could be a boxer. That's what he was a master at – boxing and being able to lead so many different lives. There were so many men inside that one man."
Check out more boxing news on video at The Boxing Channel 
To comment on this story in The Fight Forum CLICK HERE