Hard Times: The Resurrection of Angel Camacho Jr. (With Postscipt)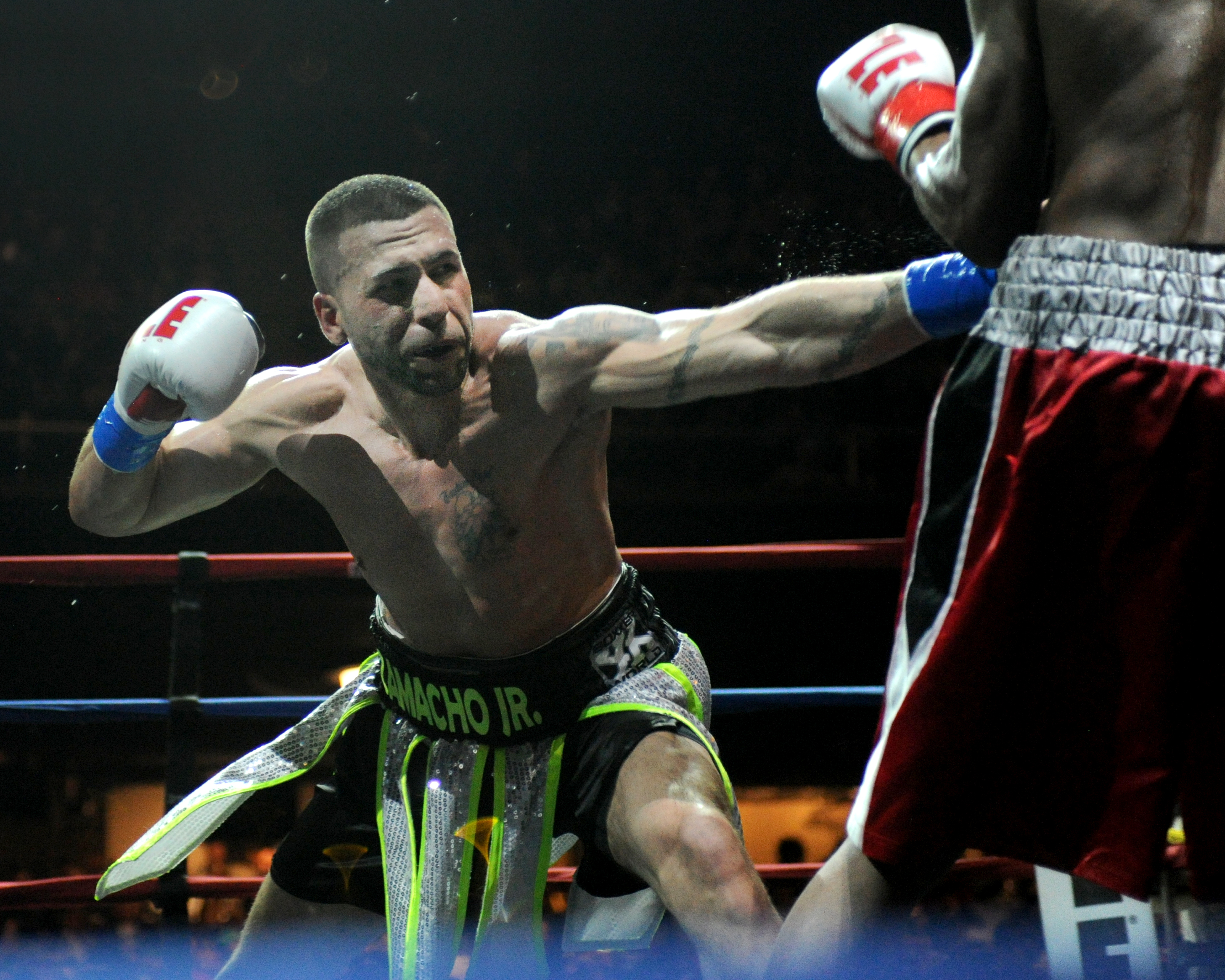 A junior is following in his father's fighting footsteps and he's taking strides beyond those made by Angel Camacho Sr., a tenacious power punching former Golden Glover from Puerto Rico. And although he's not related in any form or fashion to the late Hall of Famer Hector "Macho" Camacho, you probably should have heard about the 35-year-old Angel Camacho Jr. by now.
The Providence, Rhode Island born light heavyweight (16-0, with 5 KOs) is currently on the third of three comeback trails from three lengthy periods of career inactivity totaling over nine years.
He knows it's now or never.
"I still have to grind," he says.
If things had gone according to plan, Camacho Jr. may have by now added a victory over Peter Manfredo Jr. to his resume. Instead, the talented boxer lost his biggest opportunity to a foot injury suffered while running on an outdoor trail just two weeks before the biggest fight of his life.
"I don't run on trails anymore."
Making his pro debut in 2006 at age 23 after a brief 1996 stint in the amateurs where he competed in only fifteen bouts, Camacho racked up eleven wins in two years on the New England circuit before a domestic assault situation landed him in jail; derailing his true passion.
He ultimately served nine months.
When Camacho came back in 2011, he was matched against local gatekeeper Keith Kozlin on a Big Six Entertainment card in West Warwick. It was obvious to everyone who saw him that the quick-fisted Camacho could still move his hands. Using his height and reach advantages, the six foot tall Puerto Rican American busted up Kozlin's right eye and scored a unanimous four round decision while wearing an RI-DOC issued ankle bracelet as a condition of his parole.
FALL BACK
Rather than building on the momentum of victory, what followed was three more years of inactivity. "It was just life's hurdles. Life's complications," explains Camacho. "I had a divorce. I was dealing with my significant other wanting me to spend more time at home. I've gone through a lot—drug issues, self-medicating because of depression, to now being clean and focused."
Currently estranged from his second wife, Camacho freely admits that women are his downfall. "I'm addicted to them," he tells me with a grin. "But in jail I turned a negative into a positive. I got my GED while I was in there. I stayed in great shape. I worked with a big guy named 'Moose' who'd wrap his mattress around his body and let me punch with towels wrapped on my hands."
When he came back again in 2014, Camacho, signed and promoted by Jimmy Burchfield's Classic Entertainment & Sports, faced another stiff test in Paul Gonsalves. Camacho notched a unanimous six round decision win at CES's homebase of Twin River Casino in Lincoln, R.I.
Things were looking up in 2015 for the local standout and he was starting to show up on my radar as a New England fight writer. Five months after the Gonsalves win, Camacho was back in a CES ring, stepping up against tough super-middleweight southpaw trial horse Chris Chatman. Camacho scored another unanimous six round win but it was quite a struggle.
Originally scheduled to fight Kevin Cobbs at 178, Camacho had two weeks to get down 168. "I was dead in that fight, drained. My legs were like noodles. I had nothing in me but pure heart."
Five months later in September at Twin River, Camacho faced his sternest test yet, a ten round scheduled matchup against Rich Gingras for a vacant UBF 175 pound title belt. In a high contact local throwdown, Camacho stopped Gingras in the eighth round to grab the biggest victory of his on-again, off-again career. The fight was an absolute war of attrition won big by Camacho after uncorking a highlight reel worthy nine-punch combination to end it. The brutal loss effectively ended the boxing career of Gingras who came back unsuccessfully three years later in 2018.
Using social media, Camacho reached out to me after the Gingras TKO wondering why I hadn't yet written a story about him. He encouraged me to do so and I set out to pay extra close attention to his development. I could see he was clearly a cut above the locals he was being matched with and that good things were in his future. Instead, Camacho dropped off a cliff.
He didn't stop training but Camacho did stop fighting. It's a shame too because even though the title belt he won in the Gingras fight is a minor one, Camacho was enthusiastic and excited about defending it. In May of 2016, he was scheduled to put it up for grabs in an all-Providence vs. Providence battle with former Contender star Peter Manfredo Jr. in a huge CES main event.
This high profile encounter with Manfredo was supposed to be the fight that propelled Camacho beyond New England, to the next level, to the bigger and better things that boxing offers winners.
It wasn't meant to be.
Camacho pulled out with a foot injury. Manfredo fought replacement opponent Vladine Biosse instead. The 'Pride of Providence' was held to an eight round split draw and has not fought again since. From ringside, Camacho could see the decline of the ring rusted Manfredo as clearly as anyone else around him. Had they fought as scheduled, it's likely that the slick and aggressive Camacho would have upset Manfredo, kept his title and maybe even earned another one as the new Pride of Providence.
"I should've fought him with the bad foot," says Camacho, only half-joking. "I know I would have beaten him. I was doing everything right in training," he laments. Pridefully, Camacho still holds out hope that Manfredo might attempt another money making comeback and that a Manfredo-Camacho bout could still become a reality. "I would love for that to happen. I'm pretty sure if they offer him what they offered him before, he'd come back for it. I can still beat him."
Slated to return just a few months later on July 15, 2016 in defense of his beloved UBF title against "Vermont Bully" Kevin Cobbs, Camacho saw another CES main event opportunity slip through his fingers when a devastating shoulder injury occurred in training. Camacho was in the gym throwing his right hand at the heavy bag when he felt a terrible shoulder pain. He'd injured his rotator cuff and he now needed surgery to repair it. The recovery was long and grueling.
It looked like Camacho was no mas.
"I was in a sling for forever. I was done," he recalls. "But I finished most of my physical therapy knowing that I needed to get back into boxing. Today my shoulder feels better than it ever has."
Frustrated with boxing's ups and downs, Camacho started working manual labor jobs to support his family. Days turned into weeks and into months and then into years. I never got to write that story about the up-and-coming Angel Camacho Jr. because there was no longer one to tell.
SPRING FORWARD
It's three years later.
Camacho (who insists he's really a hungry super middleweight) got himself back into the ring and had his hand raised for the sixteenth time as a professional on March 15, 2019. He describes himself as still being in his "peak" physical prime. "I'm probably in the best shape of my life," he says after officially weighing-in at 171 lbs. He doesn't want to live with the regret of never knowing what he could have accomplished in the sport he loves and thinks of like chess.
Last Friday night in Massachusetts, the comebacking Camacho appeared on the undercard of rookie promoter Chuck Shearn's debut Worcester Palladium fight card entitled Every Man For Himself—a local club show full of pawns making their opening moves in the boxing game.
Camacho had to work to defeat his 40 year-old opponent Larry Smith, a 10-40-1 Texas fall guy who always shows up and tries to win even if he rarely does. Camacho showed no sign of his two previous injuries (he led with his left foot and threw strong right hands at Smith) but he complained of a new issue after the fight in the dressing room, revealing an unknown chest injury suffered in sparring with previous opponent and now good friend Keith Kozlin.
"It hurts when I take a deep breath."
Camacho did show some signs of ring rust after his long layoff but he stayed busy to the body and was rewarded with a clear unanimous decision. There was also an angry little nick under his right eye from being thumbed by Smith. The judge's scores were 60-54 and 59-55 twice.
"This is the first step in my comeback," says Camacho. Speaking of which, he almost tripped on the metal ring steps on his way into the ring and in the third, with Smith leaning on him, he nearly fell out of the ring and onto the photographers on the ring apron. Trying to hurt him but not get him hurt, Smith held onto Camacho and prevented him from falling clear out the ring.
"I love him," the respectful Smith said of the winner. "It could have been a win for me to let him go but to see him fall out the ring, come on, he got kids. Just look at Prichard Colon right now, perfect example. He can't box. Can he talk? He can't talk. He can't walk. He in a wheelchair."
"I love you Larry," Angel said before the men parted ways.
REVELATIONS
Humble so as not to be humbled, Camacho puts his resurrection as a man and as a fighter in His hands. "God gave me the talent to do this," he says. "I've been boxing since I was 12 years-old after being terrorized and bullied as a little kid by a much bigger kid who really tortured me."
Nick Tucci, a guardian angel the same age as Angel's tormentor, stopped the bullying from "Bubba" and in 1995 introduced Camacho to trainer Artie Artwell at the Phantom Boxing Club on Branch Avenue in Providence. "I learned how to fight and I won the silver gloves in 1996."
"That was the beginning of my boxing career," Camacho recalls. "I owe it to Nick and to my grandfather who'd bring me to the gym. It's time to get back in there and see what happens."
According to his management team, Camacho is now looking at a return to Twin River casino on April 26 and then a possible June appearance against local upstart Richie "Popeye The Sailor Man" Rivera, an undefeated 10-0 (9) light heavyweight puncher from Hartford, Connecticut.
"I wasn't meant to just stop fighting," insists Camacho. "There's more to do. I want to spread the word of God and help young people. I want to use boxing as a platform to reach out to kids in need. That's why we set up the Angel Wings Foundation to raise money for those kids in the inner city. If I can help one so-called misfit kid by sharing my story, it makes it all worthwhile."
Amen to that Angel.
GONE TOO SOON (ADDENDUM)
The next time I saw Angel Camacho, it was Saturday April 6, three weeks after the comeback win in Worcester. He was in West Warwick, Rhode Island kneeling over the open casket of his former opponent and good friend Keith Kozlin, a former prizefighter, movie actor and all-around good guy. Camacho was as distraught as any one of the hundreds of people who came to show their final respects to Kozlin, a husband and father of three girls including twins.
"I can't believe it."
The 37 year-old Kozlin, 7-3-1 (4) as a pro, passed away at home suddenly on April 1 just two weeks after I talked to him for this story. He spoke highly of Camacho and looked forward to sparring with him in the gym soon. "After Angel's fight against Larry we'll work with each other again." He had a final message for Camacho. I've delivered it to him personally. "Go to work!"
Rest in Peace Keith Kozlin.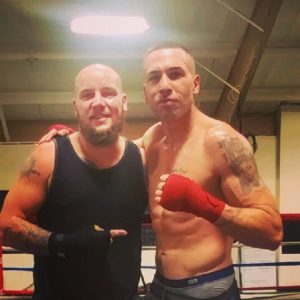 Go to work Angel Camacho.
Boxing writer Jeffrey Freeman grew up in the City of Champions, Brockton, Massachusetts from 1973 to 1987, during the marvelous career of Marvin Hagler. He then lived in Lowell, Mass during the best years of Micky Ward's illustrious career. A new member of the Boxing Writers Association of America, Freeman covers boxing for The Sweet Science in New England.
Photo credit: Emily Harney
Check out more boxing news on video at The Boxing Channel
To comment on this story in The Fight Forum CLICK HERE
Joey Giardello vs. Rubin 'Hurricane' Carter and the Fight That Never Was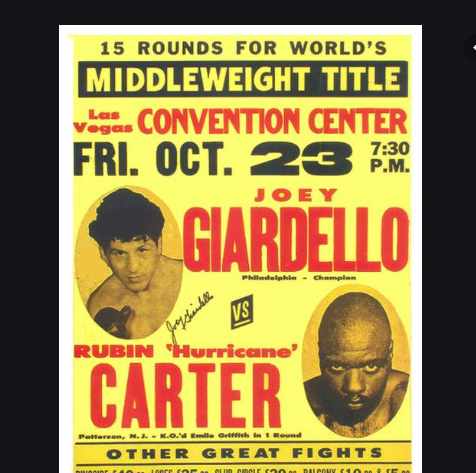 Today (Wednesday, Oct. 23) marks the 55th anniversary of the aborted fight at the Las Vegas Convention Center between Joey Giardello and challenger Rubin "Hurricane" Carter for the middleweight championship of the world.
How's that again?
Most folks with an interest in boxing history are aware that Joey Giardello once fought 'Hurricane' Carter. Many know that the fight was held in Philadelphia. And the most fervent boxing aficionados can probably pinpoint the month and year, December of 1964, Dec. 14 to be exact. But few people know that this fight had been orphaned, leaving the principals stranded in Las Vegas, as it were, scrambling for a new date and venue.
It's odd that there's been virtually no mention of this fact in stories about the Giardello-Carter fight because had the fight had gone off as scheduled, the post-fight life of Hurricane Carter may have taken a different path. Considering what lay ahead for him, it's hard to think of another aborted fight that commands such a compelling "what if?".
The Las Vegas fight was promoted by an organization called the Silver State Boxing Club. The face of the club was matchmaker Mel "Red" Greb. A Caesars Palace craps dealer, Greb had learned the business of boxing in his native Newark beginning as a teenage "go-fer" for Willie Gilzenburg who had the boxing and wrestling concession at Newark's premier indoor sports venue, Laurel Gardens.
For a world title fight, the Silver State Club needed a partner to share the expenses and risk. They partnered with Telescript, a fledgling company that had acquired the rights to exhibit the fight at closed-circuit outlets. But Telescript, to Greb's great dismay, was all smoke and mirrors. The company was contractually obligated to kick in a portion of the required $55,000 bond, but the helmsmen kept stalling and eventually Greb had no recourse but to bail out. On Monday, Oct. 19, four days before the big event, a crestfallen Greb told the media that the show was canceled. The gate receipts alone wouldn't be sufficient to cover his nut.
In those days in Las Vegas, it was normative for the principals in a nationally important fight to show up three weeks before the event. The showroom or ballroom at the casino where they stayed was converted into a gym for afternoon workouts. The workouts were open to the public and the fighters were expected to fraternize with high rollers.
Joey Giardello, being the A-side guy (and the white guy) got to stay on the Strip. He and his entourage stayed at the Thunderbird. They sent Hurricane Carter downtown to the far less toney El Cortez.
According to stories in both local papers, Carter looked sensational in his workouts. He ran off several sparring partners.
One could attribute this to pre-fight hype, but hype that is especially thick is invariably layered on an underdog and Hurricane Carter was the favorite. The local bookies had it 7/5 that The Hurricane would snatch away Giardello's title and the price was expected to drift higher.
A Snapshot of Rubin "Hurricane" Carter
In 1964, Hurricane Carter was 27 years old. To say that he had a troubled past would be an understatement. He had been convicted three times for muggings and had already spent 10 years of his life behind prison walls.
Carter was good copy for sportswriters because he was extremely well-spoken. "I regret that I was a contumacious child," he told New York Post reporter Milton Gross. He had charisma that accrued from his menacing appearance. He was one of the first prominent athletes to shave his head bald, cultivated a Fu Manchu moustache and a thick beard, and perfected Sonny Liston's malevolent glare.
Carter turned heads with first-round knockouts of Cuban contender Florentino Fernandez and world welterweight champion Emile Griffith in a non-title fight. Aside from those spectacular triumphs, his best win was a split decision over George Benton, a tough fighter from Philadelphia who would go on to become a prominent trainer. Benton owned a win over Giardello.
But Carter's 20-4 pro record was unexceptional for a man accorded a title shot and three of those losses had come against marginally skilled opponents. Giardello's boosters disparaged Carter as a frontrunner, a boxer who loses his courage when he fails to take his man out quick.
A Snapshot of Joey Giardello
Giardello was born in the Flatbush section of Brooklyn and raised in South Philly. His birth name was Carmine Orlando Tilelli. The name "Giardello" came from a phony ID, an ID loaned to him by an older boy, the cousin of a friend. It was Joey's passport out of his hoodlum-infested neighborhood, allowing him to join the Army at age 15. The pseudonym stuck.
Prior to joining the Army, Giardello had served four-and-a-half months in a juvenile reformatory. He was the alleged ringleader of a gang of teenagers that busted up a gas station.
Giardello's 10-round fight with Detroit's Henry Hank in 1962 was named The Ring magazine's Fight of the Year. But his performance in this fight was out of character as Giardello wasn't a hell-for-leather fighter. To the contrary, he was something of a cutie; a crafty technician.
His career was a lesson in perseverance. He had 105 fights under his belt when he got his first title shot. It came against Gene Fullmer in Bozeman, Montana, a regional site advantage for Fullmer who lived on the outskirts of Salt Lake City. In a lusty match, Fullmer retained his title with a 15-round draw.
Three years later, after upsetting a faded Sugar Ray Robinson, Giardello was granted another title shot, this coming against Dick Tiger in Atlantic City. They had split two previous meetings, but Tiger, born in Nigeria, was installed a 7/2 favorite.
Counter-punching effectively, Giardello won the title, prevailing by an 8-5-2 margin on the scorecard of referee Paul Cavalier, the sole arbiter. There were only two internationally relevant world sanctioning organizations, the WBA and WBC, and both now recognized Joey Giardello as their champion.
When the Giardello-Carter fight finally came to fruition at the Philadelphia Convention Center, the deck was stacked against The Hurricane. The Pennsylvania Commission, yielding to a protest from Giardello's camp, forced Carter to shave off his beard so that he could not use it as an abrasive in the clinches. And although Carter hailed from Paterson, New Jersey, not far from Philadelphia, he would be in hostile territory. The crowd was overwhelmingly pro-Giardello.
In the 1999 movie "The Hurricane," filmed in black-and-white to capture the flavor of the era, Carter pounds Giardello from pillar to post only to be robbed of the decision by racially biased judges who deliberate 35 minutes before reaching their decision.
Carter is portrayed by Denzel Washington. He's brilliant, but the movie is garbage. Fourteen of 17 ringside reporters scored the fight for Giardello who did especially well in the late rounds. (Giardello sued director Norman Jewison for libel and received an undisclosed sum in a case settled out of court.)
Hurricane Carter had 15 more fights, winning eight, before he was locked away in Rahway State Prison for his involvement – perhaps we should say alleged involvement — in a particularly heinous crime, a triple homicide at a Paterson bar and grill. He spent 19 years at Rahway, all the while maintaining his innocence, and became a cause-celebre, inspiring three books (the movie was based on his autobiography "The 16th Round") and a Bob Dylan song. He died in 2014 in Toronto where he was being treated for prostate cancer.
Joey Giardello lost his title in his next title defense, losing a 15-round decision to four-time rival Dick Tiger, and retired in 1967 with a record of 98-26-8. In retirement, he held several private- and public-sector jobs and became known for his charity work, particularly for children with learning disabilities. (Joey's son Carman, the youngest of his four children, was born with Down Syndrome.) He died in 2008, three years before a statue of him by the noted sculptor Carl LeVotch was unveiled in his old Philadelphia neighborhood.
Nobody seems to be on the fence when it comes to Hurricane Carter's guilt or innocence. He was twice found guilty in jury trials, but both verdicts were overturned on the grounds of prosecutorial misconduct. "Twice Wrongly Convicted of Murder" appeared in the headline of his obituary in the New York Times, but there are some folks who will always believe that justice would have been better served if his captors had thrown away the key. Regardless, the "what if?" question will never disappear.
What if Carter's fight with Giardello had been staged in Las Vegas as originally planned? Keep in mind that Carter would have been favored. How would his life have changed going forward if the fight hadn't imploded, the casualty of a bad marriage between a local promoter and a feckless TV partner?
Check out more boxing news on video at The Boxing Channel 
To comment on this story in The Fight Forum CLICK HERE
Avila Perspective, Chap. 70: Golden Boy vs Top Rank, US vs UK and More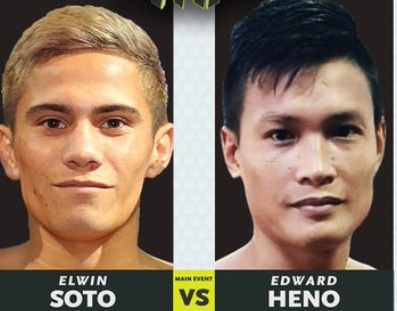 Avila Perspective, Chap. 70: Golden Boy vs Top Rank, US vs UK and More
Several riveting battles take place this weekend, two in the American southwest and another in the United Kingdom. Each card presents world title fights that titillate the fancy of pure boxing fans.
Deep in the Coachella desert another world title takes place as WBO light flyweight titlist Elwin "La Pulga" Soto (15-1, 11 KOs) defends against Filipino challenger Edward Heno (14-0-5, 5 KOs) at Fantasy Springs Casino on Thursday Oct. 24. The Golden Boy Promotions card will be streamed by RingTV.com.
The last time Mexico's "The Flea" Soto entered the ring he upset Puerto Rican slugger Angel Acosta with a knockout in the last round. As we have mentioned many times before, Mexico versus Puerto Rico is a matchup that never fails to provide action and drama.
This time it's Mexico versus Philippines and though it's not as prolific, these two countries still get their antlers up when they face each other. Manny Pacquiao really started the ball rolling when he went through a murderer's row of Mexican fighters in the early 2000s, or did we forget?
Pacman beat Marco Antonio Barrera, Juan Manuel Marquez, Erik Morales, at least twice each and established himself as a legendary fighter. And he's still fighting.
Heno, 27, fights out of Manila and is making his American debut. It's also his first confrontation with a Mexican fighter so it should be interesting especially with a world title as the prize.
A couple of other solid fighters highlight the card including Jonathan Navarro a super lightweight from East L.A. who had back to back impressive wins over Damon Allen and Manuel Mendez. Navarro works out of Riverside with Robert Garcia and is moving up the ranks. He fights Levis Morales (17-5-1) in an eight round contest at Fantasy Springs.
Also on the Golden Boy card are Ireland's undefeated welterweight Aaron McKenna and Mexico's undefeated super welterweight Raul Curiel.
Doors open at 4:30 p.m. PT and the fights begin at 5 p.m. PT.
Top Rank vs Golden Boy
On Saturday Oct. 26, in Reno, Nevada, the Silver state, former amateur rivals Shakur Stevenson (12-0, 7 KOs) and Joet Gonzalez (23-0, 14 KOs) face off for the vacant WBO featherweight world title. ESPN will televise.
Three years ago Stevenson emerged from the Rio Olympics in 2016 as one of the more electrifying performers on Team USA, but he didn't win the gold. Gonzalez was one of the American boxers that did not make the team. Both have been very familiar with each other for years.
Gonzalez also has a sister, Jajaira Gonzalez, who competed for the American team going to the Rio Olympics who is good friends with Stevenson. There will be no surprises in this fight. They know each other well.
Stevenson, 22, arrived from the Olympics with blistering speed and height to go with his boxing skills. When he first entered the pro ranks he was all speed and no punch. But that has changed. A lot of amateur coaches like to preach that speed is power. No, it is not. That's why certain speedy boxers from the amateurs don't quite make it in the pros.
Lately, the power has arrived and Stevenson has stopped five of his last seven opponents. He can punch.
Gonzalez, 26, always had a pro style and it's a primary reason he did not make the Olympic team. But in the prize ring he's evolved into a force, especially after escaping with a win over Mexican tough guy Rafael Rivera a year ago in Los Angeles. It was a pivotal win that made Gonzalez an even better fighter, a fighter with purpose and a tint more meanness in the ring. He's stopped three fighters in a row including the talented Manuel "Tito" Avila.
This fight is also worth noting for another reason: it's Top Rank versus Golden Boy and when they put their fighters against each other they usually result in explosive results. How can anyone forget Jose Carlos Ramirez versus Antonio Orozco? Expect the same in this fight.
London Calling
Scottish fighter Josh Taylor (15-0, 12 KOs) meets American slugger Regis Prograis (24-0, 20 KOs) in a battle of the southpaws at O2 Arena in London, England on Saturday Oct. 26. DAZN will stream the title clash early 11 a.m. Saturday morning if you live in the Pacific Coast.
Anytime you put lefties versus lefties expect the fight to end with a knockout. Both Prograis and Taylor are hard hitting southpaws with run-them-over tendencies. Neither is a fancy Dan.
Taylor, 28, looks and fights like he does collections at night for local Glasgow mobsters. He's not shy about taking blows to give blows. He also can be elusive if he desires, but usually prefers a dog fight. Ask Ivan Baranchyk a Russian fighter who ran into him in Glasgow. The Scottish pugilist out-muscled the muscle.
Prograis, 30, prefers to slug it out rather than box it out. If this were a movie, he would be Doc Holliday in the film Tombstone who says, "I'm your huckleberry."
The Louisiana prizefighter has ties to Hollywood and is co-managed by director Peter Berg and his frequent collaborator, actor Mark Wahlberg. Maybe after this fight Berg can remake the Tombstone movie so that Prograis can play Doc Holliday.
This fight has taken several turns before it finally was nailed down.
Surprisingly it has not been received with the excitement it deserves. This ranks up there with Kostya Tszyu versus Ricky Hatton, Oscar De La Hoya versus Shane Mosley, or Miguel Angel Gonzalez versus Julio Cesar Chavez. All were super lightweight or welterweight fights that electrified the fans when they took place.
It's guaranteed to provide excitement.
Another added factor will be the lefty component. When lefties fight lefties it creates a puzzle that neither are accustomed to facing. Whoever figures out the conundrum –which usually means whoever lands a right hook first– will win the fight.
Both Taylor and Prograis are tough guys. They each have speed, strength and power to end each other's night with a single pile driving blow.
Don't miss it.
Hollywood Swinging
The return of Serhii "El Flaco"Bohachuk (15-0, 15 KOs) finds the Ukrainian slugger facing a tough test in veteran Tyrone Brunson (28-7-2, 25 KOs), a Philadelphia super welterweight who has fought elite fighters in the past. They meet on Sunday Oct. 27, at the Avalon Theater in Hollywood, Calif. on the 360 Promotions fight card. It will be streamed on the promotion's web site and on the Facebook page.
Bohachuk, 24, trains with Abel Sanchez in Big Bear and has quickly proven to be a very solid boxer who can deal with technical fighters, or handle bombers in crazy exchanges.
Brunson, 34, competed in the recent television boxing show The Contender and lost to eventual champion Brandon Adams by knockout last year in Los Angeles. But he has a win over Kermit Cintron so he knows what he's doing in the prize ring. He also went the distance with Caleb Plant four years ago.
Doors open at 3 p.m. First bout begins at 4 p.m.
Fights to Watch
Thurs. UFC Fight Pass 4 p.m. Tiara Brown (8-0) vs Vanessa Bradford (5-1-2); Mykquan Williams (15-0) vs Tre'Sean Wiggins (11-4-2).
Thurs. RingTV.com 5 p.m. Elwin Soto (15-1) vs Edward Heno (14-0-5).
Fri. UFC Fight Pass 7 p.m. Kendo Castaneda (16-0) vs Stan Martyniouk (20-2).
Sat. DAZN 11 a.m. Regis Prograis (24-0) vs Josh Taylor (15-0).
Sat. Showtime 6 p.m. Erickson Lubin (21-1) vs Nathaniel Gallimore (21-3-1); Robert Easter (21-1-1) vs Adrian Granados (20-7-2).
Sat. ESPN 7 p.m. Shakur Stevenson (12-0) vs Joet Gonzalez (23-0); Mikaela Mayer (11-0) vs Alejandra Zamora (7-3).
Sunday www.360Promotions.us  5 p.m. Serhii Bohachuk (15-0) vs Tyrone Brunson (28-7-2).
Check out more boxing news on video at The Boxing Channel 
To comment on this story in The Fight Forum CLICK HERE
Making Boxing Safer, A Call to Action: Part Two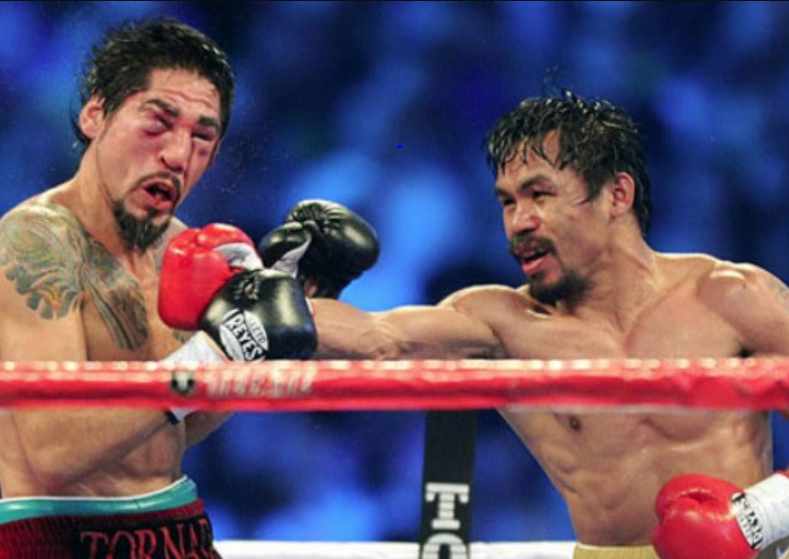 The tragic passing of Patrick Day emphasized once again that measures must be taken to make boxing a safer sport. I reached out to a mix of trainers, ex-boxers and writers for their suggestions.
Weigh-in reform (covered in Part One) was a common refrain. Others emphasized the need for more consistency in the standards of regulatory bodies. Brain scans and more responsible work by cornermen also received multiple mentions.
Dr. Margaret Goodman has been a long-time advocate for a federal boxing commission. In the meantime, says Dr. Goodman, "we need uniformity, uniformity, uniformity," and "all commissions must recognize that one of their most important roles is to deny a fighter a license when they are no longer safe to compete –AND ALL COMMISSIONS EITHER HONOR THAT DENIAL OR PERFORM DUE DILIGENCE BEFORE LICENSING THAT ATHLETE (if they disagree)."
"The 'medical' side of boxing is over-complicated by the variety of rules and regulations that exist across the multiple boxing organizations and is complicated further still by yet more differences across 'national' bodies (Nevada, NY, BBBofC etc.)," says Harry Otty, who notes that it will take a while to get everyone on the same page. "A short-term solution," says Otty, would be to insist on more thorough medicals prior to the fights. Said medicals should include scans for pre-existing brain bleeds (the technology for this now exists in the form of a hand-held scanner)…."An annual brain scan (for those organizations who insist on it) is only good for the day it was done, so a monitoring system needs to be introduced. The more cost (and time)-effective the better."
Boxing historian Henry Hascup is also bullish on brain scans. "Start when they first begin boxing as a pro and then have them annually," says Hascup. "They should also have them after a tough fight just to see where they stand! In the gyms, some of these fighters have wars against each other. I know it's entertaining, but it's not good for the fighters in the long term. There should be a medical person of some kind to oversee this!"
In this same vein, Dr. Goodman says all fighters should be required to undergo an MRI at least yearly and adds that all commissions should institute adequate PED testing using only accredited labs.
Cornermen and Ring Officials
 Henry Hascup believes that more education is needed for trainers. "Right now all you need is a few dollars and you can work the corner," says Hascup. "In the amateurs they have to go through a clinic every couple of years, why not in the pro's where it is so much more dangerous!? They should be educated on what to look for before working a corner!"
Boxing manager, advisor, and noted attorney Anthony Cardinale makes this observation: The corner is in the best position to see that the boxer is not performing and reacting properly- gets slower, doesn't execute combinations correctly, isn't avoiding punches he would normally avoid- and should be in the best position to realize that there is no way to win the fight but by some prayer of KO punch, and when that happens the corner must stop the fight."
Cardinale acknowledges that many trainers do stop the fight when this occurs, but says it doesn't happen often enough. "The cornerman/trainer has developed that drive and tends to believe that their boxer can come back, recover, and win in a fight even when it may not be reasonable to do so," says Cardinale. "So my humble suggestion is to have a neutral observer monitoring the fighter/corner who is able to call a halt to the fight or to at least have a doctor examine the fighter and consult in deciding if the fighter should not continue. Usually there is a commission representative in each corner – but they only enforce commission rules regarding the conduct of the bout. Why not engage someone that has the skill, background, training, and integrity to do both jobs?"
St. Olaf University philosophy professor, trainer, and writer Gordon Marino also emphasizes the importance of a responsible corner: "I think many if not most of the deaths of late could have been avoided if rather than risk the death of a fighter refs and corners would risk the wrath of the crowd and stop hopelessly one-sided fights, a la Eddie Futch in Ali-Frazier III."
Author John Raspanti, the lead writer/editor for MaxBoxing, recommends expanding the role of ringside physicians: "Most of boxing's serious injuries are caused by an accumulation of blows over the course of a fight. If a bout is a tough one, the ringside physician should start monitoring and physically checking the fighters as early as round three. Personally, I think ringside physicians should be able to call a fight in ALL states, not just some. Perhaps bring back the standing eight count, though some very zealous referees might interrupt the flow of fights."
A somewhat related recommendation comes from TSS writer Matt Andrzejewski: "…We strongly need to consider implementing a modified open scoring system where if a fighter is down by a certain number of rounds certain people are notified. This includes the referee, doctor, member of the commission and the fighter's corner. This may be cause for a fighter to not take further unnecessary punishment."
Other suggestions that have been tossed out over the years include mandatory headgear, reducing the length of championship fights from 12 to 10 rounds, and shortening rounds from three to two minutes. None of the respondents found merit in these proposals.
Reducing the number of rounds or the duration of rounds "fundamentally changes the sport in a way that could negatively affect the bottom line financially and aesthetically," says Lee Groves.
As for headgear, TSS mainstay and 2019 IBHOF nominee Bernard Fernandez and the noted trainer and former world title challenger John "Iceman" Scully both thought it would seriously erode fan interest, unquestionably killing the sport in the words of Scully. And Lee Groves questions whether headgear actually would make the sport safer. "….it may absorb the initial shock of the fist but the additional weight on one's head could cause an even more damaging swivel of the neck that would further jar the brain."
"One suggestion that would have potentially helped situations like Patrick Day's would have been a thicker and more forgiving canvas," continues Groves, "but making a canvas absorbent enough to minimize the shock of his head striking the floor would, in turn, make it disadvantageous to boxers who rely on movement and advantageous to the big punchers because they'd be able to better dig in their toes and generate maximum power. And if big punchers are better able to enhance their power, then they would, in turn, inflict more of the kind of life-threatening trauma we're trying to avoid."
While the aforementioned Scully is strongly opposed to headgear, he thinks improvements can be made with respect to gloves. "I do believe it would be safer if they would stop making gloves that are designed to transmit force," he says. "Everybody in the game knows that there are certain gloves that really hurt and do more damage than others. Cleto-Reyes, for example. Horsehair gloves should definitely not be in the mix. I believe that if you had professionals wear 12 oz or even 14 oz gloves with foam padding, you'd see a lot less injuries. And the fact is you would see better fights because guys wouldn't be so leery of the big punchers with the 10-ounce horsehair gloves on."
Author and boxing historian Mike Silver, covering familiar territory, points the finger at "clueless" boxing officials. "The level of incompetence of so-called ringside physicians, trainers, chief seconds, commission officials and of course horribly incompetent referees is breathtaking. Unless things are changed more fighters will die. In fact more are dying proportionally (number of active boxers) than ever before because boxing safety is all cosmetic and stupid and controlled by clueless officials. Everything needs to be reviewed and revised from length of bouts, structure of boxing gloves, too much tape on hands, drug use, especially the lack of defensive skills among today's fighters….."
Bernard Fernandez, who has studied this issue extensively, would remind us that there are pros and cons to many well-intentioned reforms: "More extensive pre-fight physical examinations? Some tests are cost-prohibitive, especially for small promoters….Referees instructed to more quickly stop bouts once a fighter gets in any kind of trouble? We would never have thrilled to the late-bout heroics of back-from-the-brink action heroes like Matthew Saad Muhammad and Arturo Gatti."
"Unless or until we are ready to throw out the baby with the bath water," says Fernandez, "we aficionados might just have to cope with occasional pangs of guilt that linger just a bit longer with each event that goes horribly wrong. The same might be said of ardent fans who follow the NFL (CTE is real), mixed martial arts, bull-riding in rodeos, race-car drivers, etc. All these sports have the fan bases they do because there is an element of risk involved for participants. Does that make those of us who watch or report enablers? Does it make highly paid athletes solely or mostly culpable for whatever injuries they incur?
"So many questions, so many opinions, but so few answers. I wish I had some that would have a positive effect, or any effect. Unless, of course, the heartfelt offering of prayers for the health and well-being of those who are bold enough to step inside the ropes actually do have an effect."
My own feelings regarding a call for action start with effective weight control and secondarily periodic brain scans. It's pretty plain that when the goal of weight-cutting is to have an ultimate size advantage over your opponent, something bad can occur. Reform in these two areas can be implemented without endangering fan interest in the sport.
It's something to ponder.
A hearty thank you to everyone who took the time to contribute to this story,
Postscript: Heaven just gained a new angel. Fly high Patrick Day; fly strong.
Ted Sares can be reached at tedsares@roadrunner.com
Check out more boxing news on video at The Boxing Channel 
To comment on this story in The Fight Forum CLICK HERE