Hard Times: The Resurrection of Angel Camacho Jr. (With Postscipt)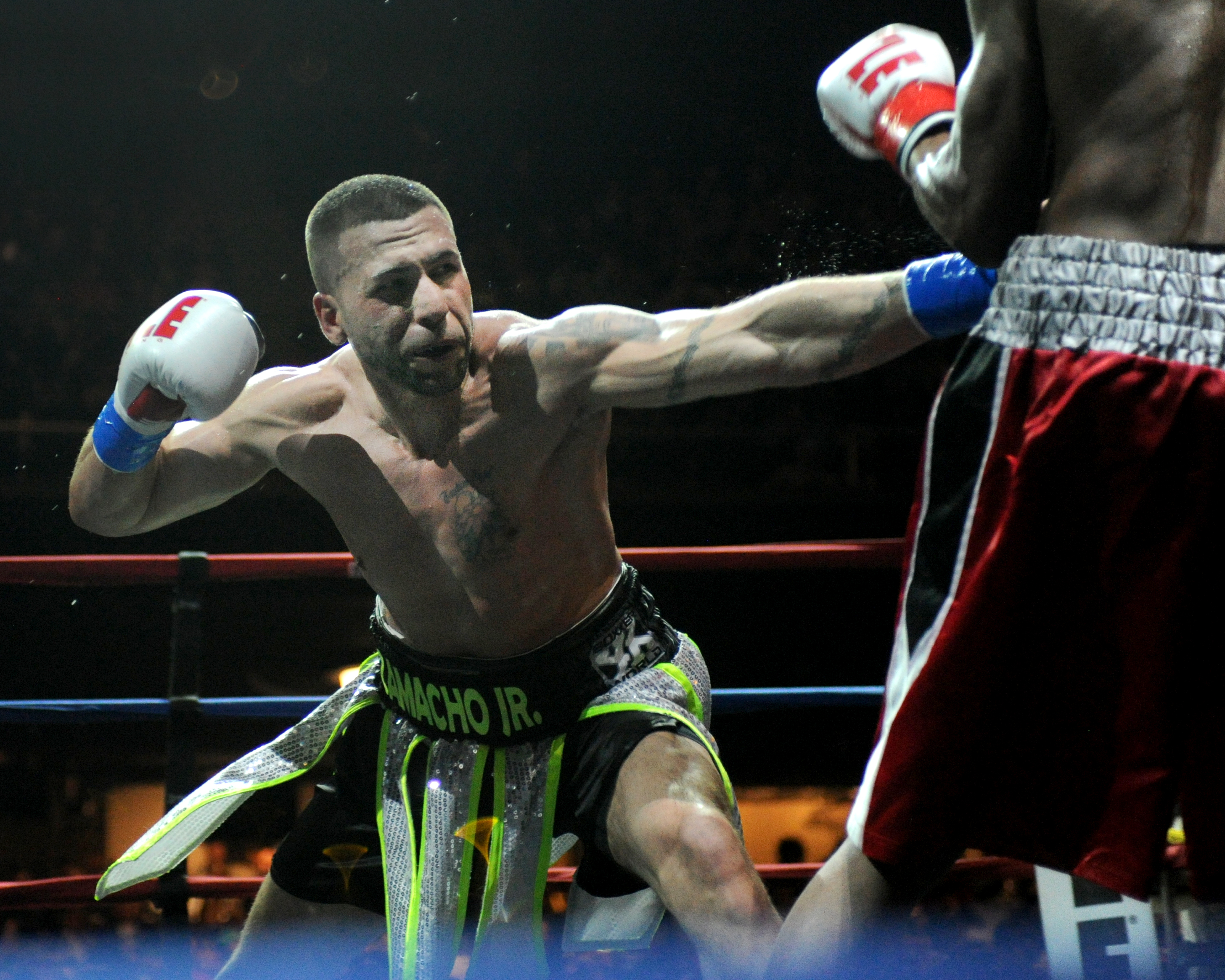 A junior is following in his father's fighting footsteps and he's taking strides beyond those made by Angel Camacho Sr., a tenacious power punching former Golden Glover from Puerto Rico. And although he's not related in any form or fashion to the late Hall of Famer Hector "Macho" Camacho, you probably should have heard about the 35-year-old Angel Camacho Jr. by now.
The Providence, Rhode Island born light heavyweight (16-0, with 5 KOs) is currently on the third of three comeback trails from three lengthy periods of career inactivity totaling over nine years.
He knows it's now or never.
"I still have to grind," he says.
If things had gone according to plan, Camacho Jr. may have by now added a victory over Peter Manfredo Jr. to his resume. Instead, the talented boxer lost his biggest opportunity to a foot injury suffered while running on an outdoor trail just two weeks before the biggest fight of his life.
"I don't run on trails anymore."
Making his pro debut in 2006 at age 23 after a brief 1996 stint in the amateurs where he competed in only fifteen bouts, Camacho racked up eleven wins in two years on the New England circuit before a domestic assault situation landed him in jail; derailing his true passion.
He ultimately served nine months.
When Camacho came back in 2011, he was matched against local gatekeeper Keith Kozlin on a Big Six Entertainment card in West Warwick. It was obvious to everyone who saw him that the quick-fisted Camacho could still move his hands. Using his height and reach advantages, the six foot tall Puerto Rican American busted up Kozlin's right eye and scored a unanimous four round decision while wearing an RI-DOC issued ankle bracelet as a condition of his parole.
FALL BACK
Rather than building on the momentum of victory, what followed was three more years of inactivity. "It was just life's hurdles. Life's complications," explains Camacho. "I had a divorce. I was dealing with my significant other wanting me to spend more time at home. I've gone through a lot—drug issues, self-medicating because of depression, to now being clean and focused."
Currently estranged from his second wife, Camacho freely admits that women are his downfall. "I'm addicted to them," he tells me with a grin. "But in jail I turned a negative into a positive. I got my GED while I was in there. I stayed in great shape. I worked with a big guy named 'Moose' who'd wrap his mattress around his body and let me punch with towels wrapped on my hands."
When he came back again in 2014, Camacho, signed and promoted by Jimmy Burchfield's Classic Entertainment & Sports, faced another stiff test in Paul Gonsalves. Camacho notched a unanimous six round decision win at CES's homebase of Twin River Casino in Lincoln, R.I.
Things were looking up in 2015 for the local standout and he was starting to show up on my radar as a New England fight writer. Five months after the Gonsalves win, Camacho was back in a CES ring, stepping up against tough super-middleweight southpaw trial horse Chris Chatman. Camacho scored another unanimous six round win but it was quite a struggle.
Originally scheduled to fight Kevin Cobbs at 178, Camacho had two weeks to get down 168. "I was dead in that fight, drained. My legs were like noodles. I had nothing in me but pure heart."
Five months later in September at Twin River, Camacho faced his sternest test yet, a ten round scheduled matchup against Rich Gingras for a vacant UBF 175 pound title belt. In a high contact local throwdown, Camacho stopped Gingras in the eighth round to grab the biggest victory of his on-again, off-again career. The fight was an absolute war of attrition won big by Camacho after uncorking a highlight reel worthy nine-punch combination to end it. The brutal loss effectively ended the boxing career of Gingras who came back unsuccessfully three years later in 2018.
Using social media, Camacho reached out to me after the Gingras TKO wondering why I hadn't yet written a story about him. He encouraged me to do so and I set out to pay extra close attention to his development. I could see he was clearly a cut above the locals he was being matched with and that good things were in his future. Instead, Camacho dropped off a cliff.
He didn't stop training but Camacho did stop fighting. It's a shame too because even though the title belt he won in the Gingras fight is a minor one, Camacho was enthusiastic and excited about defending it. In May of 2016, he was scheduled to put it up for grabs in an all-Providence vs. Providence battle with former Contender star Peter Manfredo Jr. in a huge CES main event.
This high profile encounter with Manfredo was supposed to be the fight that propelled Camacho beyond New England, to the next level, to the bigger and better things that boxing offers winners.
It wasn't meant to be.
Camacho pulled out with a foot injury. Manfredo fought replacement opponent Vladine Biosse instead. The 'Pride of Providence' was held to an eight round split draw and has not fought again since. From ringside, Camacho could see the decline of the ring rusted Manfredo as clearly as anyone else around him. Had they fought as scheduled, it's likely that the slick and aggressive Camacho would have upset Manfredo, kept his title and maybe even earned another one as the new Pride of Providence.
"I should've fought him with the bad foot," says Camacho, only half-joking. "I know I would have beaten him. I was doing everything right in training," he laments. Pridefully, Camacho still holds out hope that Manfredo might attempt another money making comeback and that a Manfredo-Camacho bout could still become a reality. "I would love for that to happen. I'm pretty sure if they offer him what they offered him before, he'd come back for it. I can still beat him."
Slated to return just a few months later on July 15, 2016 in defense of his beloved UBF title against "Vermont Bully" Kevin Cobbs, Camacho saw another CES main event opportunity slip through his fingers when a devastating shoulder injury occurred in training. Camacho was in the gym throwing his right hand at the heavy bag when he felt a terrible shoulder pain. He'd injured his rotator cuff and he now needed surgery to repair it. The recovery was long and grueling.
It looked like Camacho was no mas.
"I was in a sling for forever. I was done," he recalls. "But I finished most of my physical therapy knowing that I needed to get back into boxing. Today my shoulder feels better than it ever has."
Frustrated with boxing's ups and downs, Camacho started working manual labor jobs to support his family. Days turned into weeks and into months and then into years. I never got to write that story about the up-and-coming Angel Camacho Jr. because there was no longer one to tell.
SPRING FORWARD
It's three years later.
Camacho (who insists he's really a hungry super middleweight) got himself back into the ring and had his hand raised for the sixteenth time as a professional on March 15, 2019. He describes himself as still being in his "peak" physical prime. "I'm probably in the best shape of my life," he says after officially weighing-in at 171 lbs. He doesn't want to live with the regret of never knowing what he could have accomplished in the sport he loves and thinks of like chess.
Last Friday night in Massachusetts, the comebacking Camacho appeared on the undercard of rookie promoter Chuck Shearn's debut Worcester Palladium fight card entitled Every Man For Himself—a local club show full of pawns making their opening moves in the boxing game.
Camacho had to work to defeat his 40 year-old opponent Larry Smith, a 10-40-1 Texas fall guy who always shows up and tries to win even if he rarely does. Camacho showed no sign of his two previous injuries (he led with his left foot and threw strong right hands at Smith) but he complained of a new issue after the fight in the dressing room, revealing an unknown chest injury suffered in sparring with previous opponent and now good friend Keith Kozlin.
"It hurts when I take a deep breath."
Camacho did show some signs of ring rust after his long layoff but he stayed busy to the body and was rewarded with a clear unanimous decision. There was also an angry little nick under his right eye from being thumbed by Smith. The judge's scores were 60-54 and 59-55 twice.
"This is the first step in my comeback," says Camacho. Speaking of which, he almost tripped on the metal ring steps on his way into the ring and in the third, with Smith leaning on him, he nearly fell out of the ring and onto the photographers on the ring apron. Trying to hurt him but not get him hurt, Smith held onto Camacho and prevented him from falling clear out the ring.
"I love him," the respectful Smith said of the winner. "It could have been a win for me to let him go but to see him fall out the ring, come on, he got kids. Just look at Prichard Colon right now, perfect example. He can't box. Can he talk? He can't talk. He can't walk. He in a wheelchair."
"I love you Larry," Angel said before the men parted ways.
REVELATIONS
Humble so as not to be humbled, Camacho puts his resurrection as a man and as a fighter in His hands. "God gave me the talent to do this," he says. "I've been boxing since I was 12 years-old after being terrorized and bullied as a little kid by a much bigger kid who really tortured me."
Nick Tucci, a guardian angel the same age as Angel's tormentor, stopped the bullying from "Bubba" and in 1995 introduced Camacho to trainer Artie Artwell at the Phantom Boxing Club on Branch Avenue in Providence. "I learned how to fight and I won the silver gloves in 1996."
"That was the beginning of my boxing career," Camacho recalls. "I owe it to Nick and to my grandfather who'd bring me to the gym. It's time to get back in there and see what happens."
According to his management team, Camacho is now looking at a return to Twin River casino on April 26 and then a possible June appearance against local upstart Richie "Popeye The Sailor Man" Rivera, an undefeated 10-0 (9) light heavyweight puncher from Hartford, Connecticut.
"I wasn't meant to just stop fighting," insists Camacho. "There's more to do. I want to spread the word of God and help young people. I want to use boxing as a platform to reach out to kids in need. That's why we set up the Angel Wings Foundation to raise money for those kids in the inner city. If I can help one so-called misfit kid by sharing my story, it makes it all worthwhile."
Amen to that Angel.
GONE TOO SOON (ADDENDUM)
The next time I saw Angel Camacho, it was Saturday April 6, three weeks after the comeback win in Worcester. He was in West Warwick, Rhode Island kneeling over the open casket of his former opponent and good friend Keith Kozlin, a former prizefighter, movie actor and all-around good guy. Camacho was as distraught as any one of the hundreds of people who came to show their final respects to Kozlin, a husband and father of three girls including twins.
"I can't believe it."
The 37 year-old Kozlin, 7-3-1 (4) as a pro, passed away at home suddenly on April 1 just two weeks after I talked to him for this story. He spoke highly of Camacho and looked forward to sparring with him in the gym soon. "After Angel's fight against Larry we'll work with each other again." He had a final message for Camacho. I've delivered it to him personally. "Go to work!"
Rest in Peace Keith Kozlin.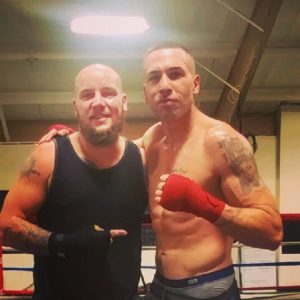 Go to work Angel Camacho.
Boxing writer Jeffrey Freeman grew up in the City of Champions, Brockton, Massachusetts from 1973 to 1987, during the marvelous career of Marvin Hagler. He then lived in Lowell, Mass during the best years of Micky Ward's illustrious career. A new member of the Boxing Writers Association of America, Freeman covers boxing for The Sweet Science in New England.
Photo credit: Emily Harney
Check out more boxing news on video at The Boxing Channel
To comment on this story in The Fight Forum CLICK HERE
Introducing Top Prospect Raeese Aleem, the Pride of Muskegon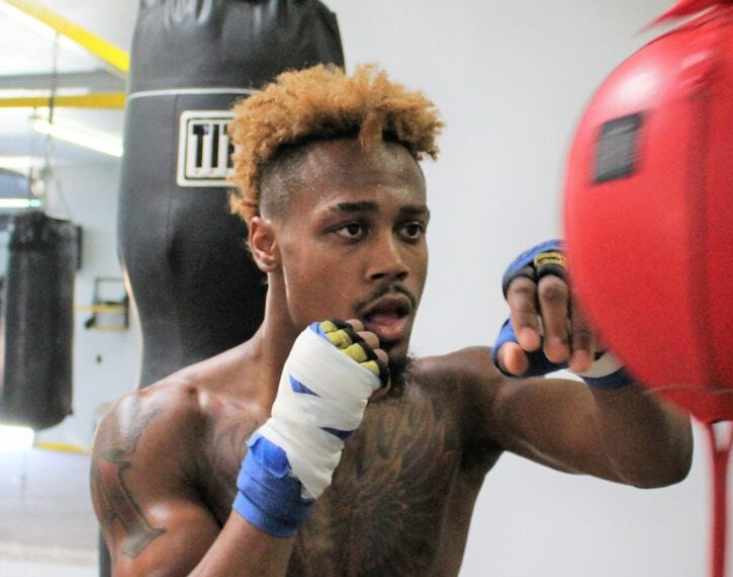 At age 29, Raeese Aleem has yet to appear in a 10-round fight, but that will almost assuredly happen this year. The undefeated (15-0, 9 KOs) super bantamweight from Muskegon, Michigan, takes another step in that direction on Friday, Feb. 14, when he opposes San Antonio's Adam Lopez (16-3-2) at Philadelphia in a bout that will air on "ShoBox," the long-running SHOWTIME series that's been a springboard for 81 fighters who went on to win world titles.
Aleem earned a black belt in karate before taking up boxing and becoming a four-time Michigan Golden Gloves champion. As an amateur, he and his coach Terry Markowski did a considerable amount of traveling between meets to find good sparring. Grand Rapids, an amateur boxing hotbed, was just down the road, but Detroit and Chicago were a good three hours away and on occasion they went on an even longer excursion into Ohio.
Aleem turned pro in 2011 and had his first 10 fights on the Midwest circuit, venturing as far north as Green Bay and as far south as Cincinnati. At the time, he worked in the produce department of Meijer's, a regional rival of Walmart. His bosses, he notes, were generous in letting him juggle his work schedule around his boxing assignments.
For a boxer with designs on winning a world title, the Midwest circuit is like a bicycle with training wheels. Aleem had to shake free of it to see how far he could go. Besides, getting fights was getting tougher and tougher. There's a 28-month gap in his pro timeline that includes all of 2013. He had several fights fall out during this frustrating quiescence.
If you're an aspiring film actor, you go to Hollywood. If you're an aspiring boxing champion, you go to Las Vegas. Not a week goes by without a young fellow turning up here to test his mettle in one of the many local gyms with the hope of attracting the eye of one of the major promotional firms.
"When I came to Las Vegas," says Aleem who has a daughter back in Michigan, "I had no family here, no friends." He was directed to Barry's boxing gym, run by ex-boxer Pat Barry and his wife Dawn, retired Las Vegas police officers, and started training under their son-in-law Augie Sanchez. But Sanchez, the last man to defeat Floyd Mayweather Jr (accomplished when they were amateurs), had other priorities. He is an assistant coach with Team USA which obligates him to spend a good deal of his time at the U.S. Olympic Training Center in Colorado Springs.
Things started looking up for Aleem when he joined the Prince Ranch stable under the management of Greg Hannley. At the Prince Ranch Gym, where the head trainer is Bones Adams, he has sparred with such notables as Nonito Donaire and former WBO 122-pound champion Jessie Magdaleno.
Aleem doesn't miss the weather in Muskegon, a lakefront city where sub-freezing temperatures are the norm in the dead of winter and snow is forecast for all of next week. But he still has one foot in his hometown, as evident by his unbroken bond with Terry Markowski. In an era when some boxers appear to change trainers as often as they change their underwear, Aleem has remained loyal to Markowski who has been in his corner for all of his pro fights and will be there again on Feb. 14.
Markowski, who teaches boxing at the Muskegon Rec Center, is a protégé of Muskegon's most esteemed boxer, the late Kenny Lane. The epitome of a crafty southpaw, Lane, a lightweight and junior welterweight, was a three-time world title challenger during a 100-fight career that began in 1953.
The relationship between Raeese Aleem and Terry Markowski dates back to 2003 when Aleem resided in the nearby village of Ravenna, where Aleem's father, the patriarch of a large blended family, planted Raeese and his siblings to get them away from the temptations of Muskegon which has several blighted areas. "It was a culture shock for me when I started going to school in Ravenna," says Aleem, looking back, as none of his schoolmates looked like him.
This will be Aleem's fifth fight in Pennsylvania where he has made four of his last five starts. The connecting thread is Reading, Pennsylvania gym operator-turned-promoter Marshall Kauffman who has been credited with keeping boxing vibrant in the Keystone State.
This being Aleem's national television debut, it's important that he make a good showing. His Las Vegas trainer Bones Adams, a former world champion in Aleem's weight division, expects nothing less. "I'm confident he will be a world champion someday," says Adams.
Photo credit: Mario Serrano / Prince Ranch Boxing
Check out more boxing news on video at The Boxing Channel 
To comment on this story in The Fight Forum CLICK HERE
A Bouquet for Danny Garcia in This Week's Edition of HITS and MISSES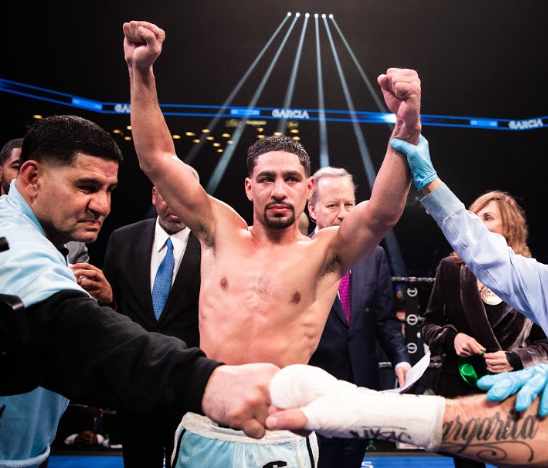 Two-division champion Danny Garcia had the spotlight all to himself over the weekend in a stay-busy fight against Ivan Redkach on Saturday night at Barclays Center in Brooklyn. It was the main event of a Showtime Championship Boxing tripleheader that had the odd privilege these days of not being counterprogrammed by a Top Rank show on ESPN or any other kind of boxing card on DAZN.
So Garcia, 31, from Philadelphia, had the chance to remind people how excellent a fighter he is in full force, which would help him greatly in his effort to secure an unlikely bout against WBA champ Manny Pacquiao or remain first in line to face WBC and IBF champ Errol Spence whenever the Texan recovers from the injuries he sustained in a car accident in October.
But did Garcia pull it off? Here's the latest edition of HITS and MISSES.
HIT – Danny Garcia's Pristine and Precise Technique 
The best parts about Garcia were on full display against Redkach. That was made easier by Redkach's lack of anything that might have given Garcia any real problems, but nonetheless Garcia was able to show the lovely footwork and balanced countering ability that made him so formidable at junior welterweight. There's just something special about seeing Garcia fight. The economy of his movement inside a boxing ring is something that is just plain different than just about any other world-class fighter in the world today. In a fight that most people probably would have preferred he just skipped, and one that didn't turn out to be any different than everyone expected, at least Garcia's beautiful boxing was on display.
MISS – Showtime Sparring Sessions
In addition to Garcia-Redkach, Showtime rounded out its tripleheader with undefeated junior featherweight Stephen Fulton taking on former Muay Thai fighter Arnold Khegai and former unified junior middleweight champion Jarrett Hurd taking on career welterweight Francisco Santana. While Fulton's fight against Khegai seemed like a legitimate prizefight, there was something about the other two bouts that screamed sparring sessions. That was especially the case for Hurd's bout. Not only was Hurd in there with a middling welterweight, but he also used the rounds of the fight to work on vastly different boxing techniques than what made him so popular in the first place. Showtime might not have the pull they once had with the people over at the PBC offices, but they for sure need to get more involved in vetting matchups if they hope to remain afloat within the competitive boxing landscape of today.
HIT – Stephon Fulton's Title Chances at 122 Pounds
Fulton is a very solid boxer who digs to the body and has a fast, clean jab. Khegai was the perfect kind of opponent for the 25-year-old. He was very game and never stopped trying to win. Additionally, his background in Muay Thai offered some different looks to Fulton that should help him on his way toward world title contention. In the end, Fulton outworked Khegai to hand the tough 27-year-old the first loss of his career. Now let's hope Fulton is off to bigger and better things such as challenging for a world title. He's ready right now.
MISS – Andy Ruiz's Continued Soap Opera
The best thing former unified champion Andy Ruiz could have done after blowing the rematch against Anthony Joshua in December is getting right back to work in the gym. What better way to show trainer Manny Robles that he was taking responsibility for his actions than to get right back to work with the same team he had just let down so badly? Instead, Ruiz fired Robles and is considering other trainers. That would make more sense if there had been some sort of tactical error in the fight. But Ruiz already admitted he simply didn't train for arguably the biggest fight of his life, and that's not anyone's fault but his own.
HIT – Former Middleweight Titleholder Andy Lee's Second Act
It appears former WBO middleweight champion Andy Lee found his second act in life as a trainer, which makes a ton of sense if you followed Lee's career under the tutelage of the late Emanuel Steward. Lee, 39, left Ireland after his amateur days to live with Steward in Detroit and train at Kronk. The two had a very close personal relationship and that experience ultimately helped Lee win the world title in 2014 two years after Steward's passing. Now, Lee is passing on what he knows in the same way Steward did with him to other fighters. He trains and manages Irish upstart Paddy Donovan, is guiding Jason Quigley back to contention and even helped orchestrate distant cousin Tyson Fury bringing on Javan "SugarHill" Steward for the heavyweight's upcoming rematch against Deontay Wilder.
Photo credit: Amanda Westcott
Check out more boxing news on video at The Boxing Channel 
To comment on this story in The Fight Forum CLICK HERE
The Hauser Report: Garcia-Redkach and More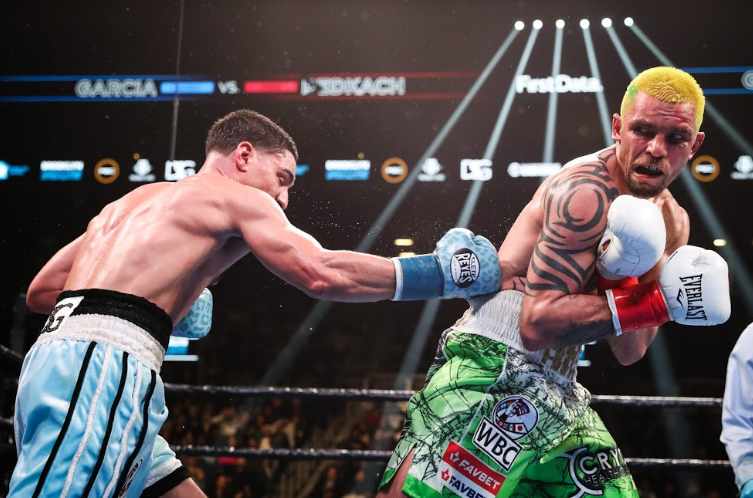 Boxing made its debut at Barclays Center on October 20, 2012, with a fight card headlined by four world title bouts. Danny Garcia, Erik Morales, Paulie Malignaggi, Peter Quillin, Devon Alexander, Danny Jacobs, and Luis Collazo were in the ring that night. The franchise grew nicely. Fans who went to Barclays saw good featured fights with solid undercard bouts. But as of late, the arena's fistic offerings have faded.
Barclays cast its lot with Premier Boxing Champions. And PBC has moved its prime content to greener pastures (green being the color of money). There were five fight cards at Barclays Center in 2019. Each one struggled to sell tickets.
January 25 marked the thirty-ninth fight card at Barclays. The arena was half empty. The announced attendance was 8,217 but that included a lot of freebies. There were six fights on the card. As expected, fighters coming out of the blue corner won all of them. That's what happens when 6-0 squares off against 2-10-1.
Three of the fights were televised by Showtime Championship Boxing, which has also been diminished as a consequence of a multi-year output deal with PBC.
In the first of these bouts, Stephen Fulton (17-0, 8 KOs) and Ukrainian-born Arnold Khegai (16-0, 10 KOs) met in a junior-featherweight bout. Each had fought the usual suspects en route to their confrontation. There was a lot of holding and rabbit-punching which referee Steve Willis ignored. Eventually, Fulton pulled away for a unanimous-decision triumph.
Next up, Jarrett Hurd (23-1, 16 KOs) took on Francisco Santana (25-7, 12 KOs).
Hurd is a big junior-middleweight who held the WBA and IBF 154-pound titles until losing to Julian Williams last year. Santana is a career welterweight who had lost three of his most recent four fights and had won only three times in the last five years.
Hurd was expected to walk through Santana. But he was strangely passive for much of the fight, which led to the strange spectacle of Santana (the noticeably smaller, lighter-punching man) walking Jarrett down for long stretches of time. Francisco is a one-dimensional fighter and was there to be hit. When Jarrett let his hands go, he hit him. But he fought like a man who didn't want to fight and didn't let his hands go often enough.
By round seven, the boos and jeers were raining down. Hurd won a unanimous decision but looked mediocre. That's the most honest way to put it. One wonders what tricks losing to Julian Williams last year played with his mind.
Also, it should be noted that, when the winning fighter thanks God in a post-fight interview and the crowd (which supported Jarrett at the start of the bout) boos at the mention of The Almighty, there's a problem.
"The crowd didn't love it," Hurd acknowledged afterward. "But you gotta understand; I got the unanimous decision and I did what I wanted to do."
The main event matched Danny Garcia (35-2, 21 KOs) against Ivan Redkach (23-4-1, 18 KOs).
Garcia had a nice run early in his career, winning belts at 140 and 147 pounds. But later, he came out on the losing end of decisions against Keith Thurman and Shawn Porter. Other than that, he has gone in soft for the past five years.
Redkach is a junior-welterweight who had won 5 of 10 fights during the same five-year time frame.
There was the usual pre-fight nonsense with Garcia telling reporters, "We picked Redkach because he's dangerous and we knew he'd be tough." But in truth, Redkach had been whitewashed by Tevin Farmer at 135 pounds and was knocked out at the same weight by John Molina Jr (who never won again).
Garcia, like Hurd, was a 30-to-1 betting favorite.
Redkach fought a safety-first fight. Also, safety second and third. There wasn't one second when it looked as though he had a realistic chance of winning the fight or fought like he did.
One of the few proactive things that Ivan did do was stick out his tongue from time to time when Garcia hit him. Then, at the end of round eight, he bit Danny on the shoulder while they were in a clinch. At that point, one might have expected referee Benjy Esteves to disqualify Redkach. But Esteves seemed to not notice.
Rather than go for the kill after the bite, Garcia eased up and cruised to a unanimous decision. Meanwhile, by round eleven, the crowd was streaming for the exits. Most of the fans were gone by the time the decision was announced.
Garcia and Hurd had set-up showcase fights scheduled for them. And neither man delivered the way he should have.
Meanwhile, a final thought . . . Sunday, January 26, would have been Harold Lederman's eightieth birthday.
Harold was the quintessential boxing fan and loved the sport more than anyone I've known. He never missed a fight at Barclays Center unless his health prevented him from coming or he was on the road for HBO. He died eight months ago.
As Saturday night's fight card unfolded, I imagined Harold sitting beside me. He would have had a kind word for everyone who came over to say hello and loved every minute of it. Harold Lederman at the fights was a happy man.
Photo credit: Amanda Westcott
Thomas Hauser's email address is thomashauserwriter@gmail.com. His most recent book — A Dangerous Journey: Another Year Inside Boxing — was published by the University of Arkansas Press. In 2004, the Boxing Writers Association of America honored Hauser with the Nat Fleischer Award for career excellence in boxing journalism. On June 14, 2020, he will be inducted into the International Boxing Hall of Fame.
Check out more boxing news on video at The Boxing Channel 
To comment on this article in The Fight Forum CLICK HERE