Hard Times: The Resurrection of Angel Camacho Jr. (With Postscipt)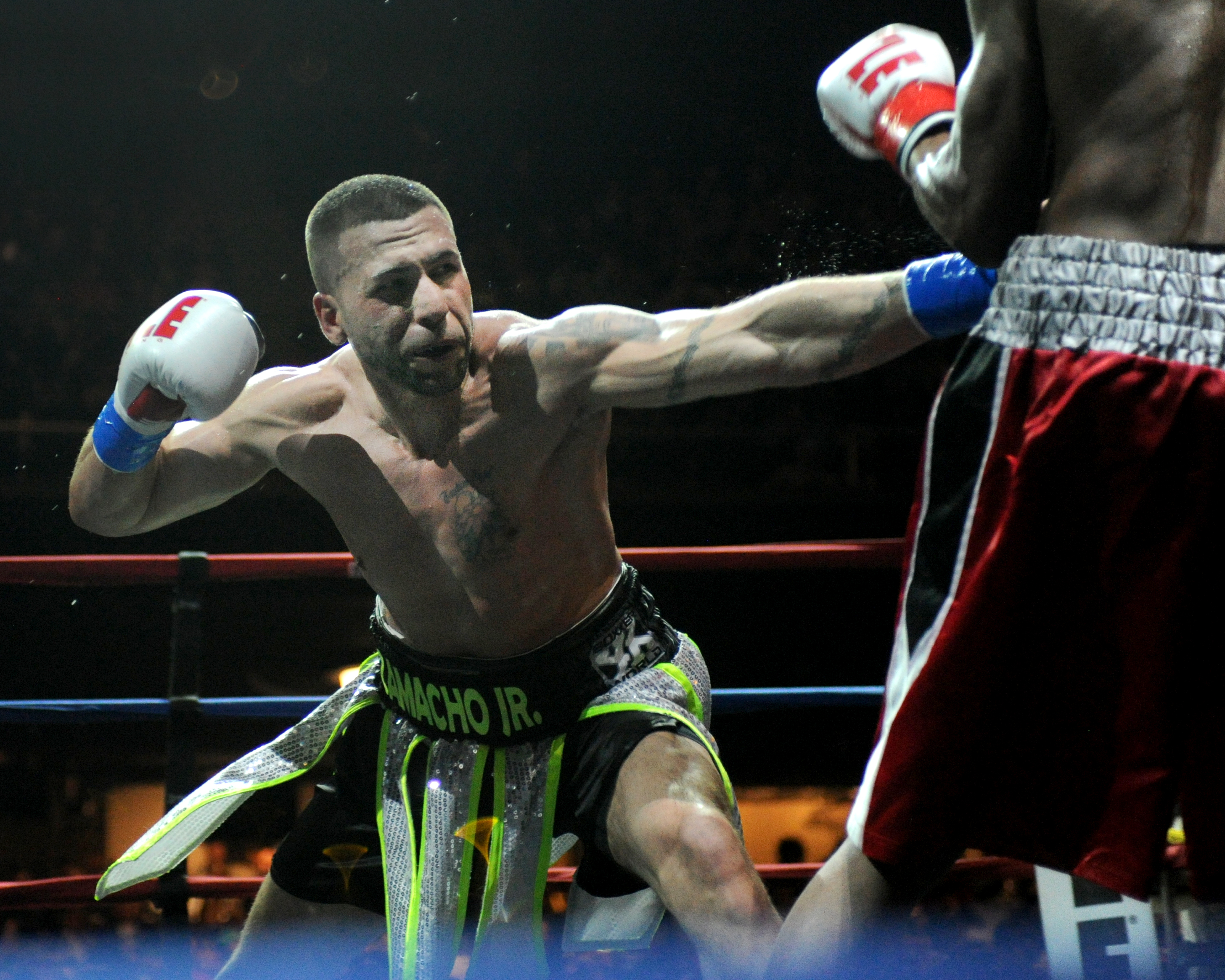 A junior is following in his father's fighting footsteps and he's taking strides beyond those made by Angel Camacho Sr., a tenacious power punching former Golden Glover from Puerto Rico. And although he's not related in any form or fashion to the late Hall of Famer Hector "Macho" Camacho, you probably should have heard about the 35-year-old Angel Camacho Jr. by now.
The Providence, Rhode Island born light heavyweight (16-0, with 5 KOs) is currently on the third of three comeback trails from three lengthy periods of career inactivity totaling over nine years.
He knows it's now or never.
"I still have to grind," he says.
If things had gone according to plan, Camacho Jr. may have by now added a victory over Peter Manfredo Jr. to his resume. Instead, the talented boxer lost his biggest opportunity to a foot injury suffered while running on an outdoor trail just two weeks before the biggest fight of his life.
"I don't run on trails anymore."
Making his pro debut in 2006 at age 23 after a brief 1996 stint in the amateurs where he competed in only fifteen bouts, Camacho racked up eleven wins in two years on the New England circuit before a domestic assault situation landed him in jail; derailing his true passion.
He ultimately served nine months.
When Camacho came back in 2011, he was matched against local gatekeeper Keith Kozlin on a Big Six Entertainment card in West Warwick. It was obvious to everyone who saw him that the quick-fisted Camacho could still move his hands. Using his height and reach advantages, the six foot tall Puerto Rican American busted up Kozlin's right eye and scored a unanimous four round decision while wearing an RI-DOC issued ankle bracelet as a condition of his parole.
FALL BACK
Rather than building on the momentum of victory, what followed was three more years of inactivity. "It was just life's hurdles. Life's complications," explains Camacho. "I had a divorce. I was dealing with my significant other wanting me to spend more time at home. I've gone through a lot—drug issues, self-medicating because of depression, to now being clean and focused."
Currently estranged from his second wife, Camacho freely admits that women are his downfall. "I'm addicted to them," he tells me with a grin. "But in jail I turned a negative into a positive. I got my GED while I was in there. I stayed in great shape. I worked with a big guy named 'Moose' who'd wrap his mattress around his body and let me punch with towels wrapped on my hands."
When he came back again in 2014, Camacho, signed and promoted by Jimmy Burchfield's Classic Entertainment & Sports, faced another stiff test in Paul Gonsalves. Camacho notched a unanimous six round decision win at CES's homebase of Twin River Casino in Lincoln, R.I.
Things were looking up in 2015 for the local standout and he was starting to show up on my radar as a New England fight writer. Five months after the Gonsalves win, Camacho was back in a CES ring, stepping up against tough super-middleweight southpaw trial horse Chris Chatman. Camacho scored another unanimous six round win but it was quite a struggle.
Originally scheduled to fight Kevin Cobbs at 178, Camacho had two weeks to get down 168. "I was dead in that fight, drained. My legs were like noodles. I had nothing in me but pure heart."
Five months later in September at Twin River, Camacho faced his sternest test yet, a ten round scheduled matchup against Rich Gingras for a vacant UBF 175 pound title belt. In a high contact local throwdown, Camacho stopped Gingras in the eighth round to grab the biggest victory of his on-again, off-again career. The fight was an absolute war of attrition won big by Camacho after uncorking a highlight reel worthy nine-punch combination to end it. The brutal loss effectively ended the boxing career of Gingras who came back unsuccessfully three years later in 2018.
Using social media, Camacho reached out to me after the Gingras TKO wondering why I hadn't yet written a story about him. He encouraged me to do so and I set out to pay extra close attention to his development. I could see he was clearly a cut above the locals he was being matched with and that good things were in his future. Instead, Camacho dropped off a cliff.
He didn't stop training but Camacho did stop fighting. It's a shame too because even though the title belt he won in the Gingras fight is a minor one, Camacho was enthusiastic and excited about defending it. In May of 2016, he was scheduled to put it up for grabs in an all-Providence vs. Providence battle with former Contender star Peter Manfredo Jr. in a huge CES main event.
This high profile encounter with Manfredo was supposed to be the fight that propelled Camacho beyond New England, to the next level, to the bigger and better things that boxing offers winners.
It wasn't meant to be.
Camacho pulled out with a foot injury. Manfredo fought replacement opponent Vladine Biosse instead. The 'Pride of Providence' was held to an eight round split draw and has not fought again since. From ringside, Camacho could see the decline of the ring rusted Manfredo as clearly as anyone else around him. Had they fought as scheduled, it's likely that the slick and aggressive Camacho would have upset Manfredo, kept his title and maybe even earned another one as the new Pride of Providence.
"I should've fought him with the bad foot," says Camacho, only half-joking. "I know I would have beaten him. I was doing everything right in training," he laments. Pridefully, Camacho still holds out hope that Manfredo might attempt another money making comeback and that a Manfredo-Camacho bout could still become a reality. "I would love for that to happen. I'm pretty sure if they offer him what they offered him before, he'd come back for it. I can still beat him."
Slated to return just a few months later on July 15, 2016 in defense of his beloved UBF title against "Vermont Bully" Kevin Cobbs, Camacho saw another CES main event opportunity slip through his fingers when a devastating shoulder injury occurred in training. Camacho was in the gym throwing his right hand at the heavy bag when he felt a terrible shoulder pain. He'd injured his rotator cuff and he now needed surgery to repair it. The recovery was long and grueling.
It looked like Camacho was no mas.
"I was in a sling for forever. I was done," he recalls. "But I finished most of my physical therapy knowing that I needed to get back into boxing. Today my shoulder feels better than it ever has."
Frustrated with boxing's ups and downs, Camacho started working manual labor jobs to support his family. Days turned into weeks and into months and then into years. I never got to write that story about the up-and-coming Angel Camacho Jr. because there was no longer one to tell.
SPRING FORWARD
It's three years later.
Camacho (who insists he's really a hungry super middleweight) got himself back into the ring and had his hand raised for the sixteenth time as a professional on March 15, 2019. He describes himself as still being in his "peak" physical prime. "I'm probably in the best shape of my life," he says after officially weighing-in at 171 lbs. He doesn't want to live with the regret of never knowing what he could have accomplished in the sport he loves and thinks of like chess.
Last Friday night in Massachusetts, the comebacking Camacho appeared on the undercard of rookie promoter Chuck Shearn's debut Worcester Palladium fight card entitled Every Man For Himself—a local club show full of pawns making their opening moves in the boxing game.
Camacho had to work to defeat his 40 year-old opponent Larry Smith, a 10-40-1 Texas fall guy who always shows up and tries to win even if he rarely does. Camacho showed no sign of his two previous injuries (he led with his left foot and threw strong right hands at Smith) but he complained of a new issue after the fight in the dressing room, revealing an unknown chest injury suffered in sparring with previous opponent and now good friend Keith Kozlin.
"It hurts when I take a deep breath."
Camacho did show some signs of ring rust after his long layoff but he stayed busy to the body and was rewarded with a clear unanimous decision. There was also an angry little nick under his right eye from being thumbed by Smith. The judge's scores were 60-54 and 59-55 twice.
"This is the first step in my comeback," says Camacho. Speaking of which, he almost tripped on the metal ring steps on his way into the ring and in the third, with Smith leaning on him, he nearly fell out of the ring and onto the photographers on the ring apron. Trying to hurt him but not get him hurt, Smith held onto Camacho and prevented him from falling clear out the ring.
"I love him," the respectful Smith said of the winner. "It could have been a win for me to let him go but to see him fall out the ring, come on, he got kids. Just look at Prichard Colon right now, perfect example. He can't box. Can he talk? He can't talk. He can't walk. He in a wheelchair."
"I love you Larry," Angel said before the men parted ways.
REVELATIONS
Humble so as not to be humbled, Camacho puts his resurrection as a man and as a fighter in His hands. "God gave me the talent to do this," he says. "I've been boxing since I was 12 years-old after being terrorized and bullied as a little kid by a much bigger kid who really tortured me."
Nick Tucci, a guardian angel the same age as Angel's tormentor, stopped the bullying from "Bubba" and in 1995 introduced Camacho to trainer Artie Artwell at the Phantom Boxing Club on Branch Avenue in Providence. "I learned how to fight and I won the silver gloves in 1996."
"That was the beginning of my boxing career," Camacho recalls. "I owe it to Nick and to my grandfather who'd bring me to the gym. It's time to get back in there and see what happens."
According to his management team, Camacho is now looking at a return to Twin River casino on April 26 and then a possible June appearance against local upstart Richie "Popeye The Sailor Man" Rivera, an undefeated 10-0 (9) light heavyweight puncher from Hartford, Connecticut.
"I wasn't meant to just stop fighting," insists Camacho. "There's more to do. I want to spread the word of God and help young people. I want to use boxing as a platform to reach out to kids in need. That's why we set up the Angel Wings Foundation to raise money for those kids in the inner city. If I can help one so-called misfit kid by sharing my story, it makes it all worthwhile."
Amen to that Angel.
GONE TOO SOON (ADDENDUM)
The next time I saw Angel Camacho, it was Saturday April 6, three weeks after the comeback win in Worcester. He was in West Warwick, Rhode Island kneeling over the open casket of his former opponent and good friend Keith Kozlin, a former prizefighter, movie actor and all-around good guy. Camacho was as distraught as any one of the hundreds of people who came to show their final respects to Kozlin, a husband and father of three girls including twins.
"I can't believe it."
The 37 year-old Kozlin, 7-3-1 (4) as a pro, passed away at home suddenly on April 1 just two weeks after I talked to him for this story. He spoke highly of Camacho and looked forward to sparring with him in the gym soon. "After Angel's fight against Larry we'll work with each other again." He had a final message for Camacho. I've delivered it to him personally. "Go to work!"
Rest in Peace Keith Kozlin.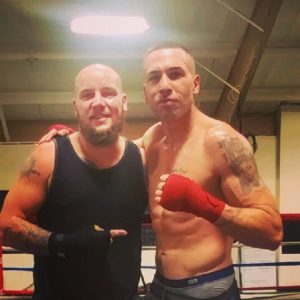 Go to work Angel Camacho.
Boxing writer Jeffrey Freeman grew up in the City of Champions, Brockton, Massachusetts from 1973 to 1987, during the marvelous career of Marvin Hagler. He then lived in Lowell, Mass during the best years of Micky Ward's illustrious career. A new member of the Boxing Writers Association of America, Freeman covers boxing for The Sweet Science in New England.
Photo credit: Emily Harney
Check out more boxing news on video at The Boxing Channel
To comment on this story in The Fight Forum CLICK HERE
In Defense of Julie Lederman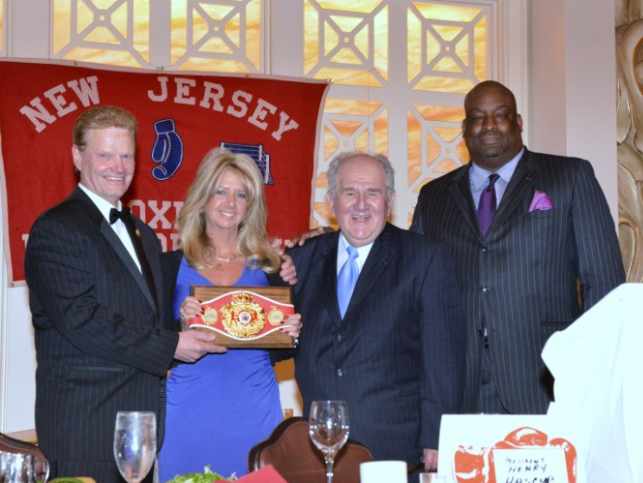 Some years ago, Matt Podgorski (a former boxing official) came up with a formula for evaluating the performance of boxing judges worldwide by determining the percentage of instances his or her scores were consistent with the other two judges working the same fights. He called it the Pod Index. It was a rare effort to quasi-quantify the work of boxing judges. "Boxing and MMA judges are often evaluated based on whether or not they have had a controversial decision. This is a poor way to assign and regard professional judges," said Podgorski in an interview with former RingTV editor Michael Rosenthal.
Matt's Disclaimer: "We are not claiming that judges with low Pod Index scores are bad judges. The Pod Index is simply a measurement of round by round variation compared to other judges."
Julie Lederman placed very high in Podgorski's study. In fact, only one  veteran judge — Canada's Benoit Roussel — had a better score.
For more information about the Pod Index, see http://theboxingtribune.com/2014/12/19/the-pod-index-a-step-in-the-right-direction/
Confirmation Bias
Some of this writer's favorite judges, in addition to Lederman, are Steve Weisfeld, Glen Feldman, Dave Moretti, Glenn Trowbridge, Joe Pasquale, Max DeLuca, Hubert Earle, Benoit Roussel, Burt Clements, Rocky Young, Joel Scobie, Tom Shreck, Don Trella, William Lerch, Pinit Prayadsab, and Raúl Caiz, Jr. All of them have been maligned at one time or another.
Being a judge is a thankless endeavor and attention is mostly received when something controversial happens. Once a judgment is made about a bad job, that judgment influences future perceptions. This is known as "confirmation bias."
Thus, Julie Lederman's highly questionable scoring in the Loma-Lopez fight, though it didn't change the result, will most certainly label her a bad judge, tarnishing her reputation despite all of the fine work she has done in the past. Moreover, it's now fashionable to "pile on" and castigate her with a nasty Bob Arum leading the charge.
"…what kind of fight was she watching,…these judges are the craziest…I would advise any fighter I would have to ask the commission not to appoint her…" — Arum
This wasn't the first time that Arum criticized Julie. Back in 2014, Tim Bradley and Diego Gabriel Chaves fought to a draw. Lederman scored the fight 116-112 in favor of Chaves. Arum had this to say: "She should never be allowed to work in Nevada again….Her scorecard for Chaves is an absolute disgrace …[She was appointed] because they let these [expletive] Showtime guys put a fight on the same night that we did it. They don't have enough judges. They don't have enough referees. They want to accommodate both parties. Why? Because they'll do anything the [expletive] MGM asks them to do."
"It's easy to criticize boxing judges. But it's not that easy to have a sound basis for the criticism. One needs to see the fight the judge saw to be in the position to rightly criticize. Critics should temper criticisms in light of the situations boxing judges are in when judging fights. And judges should likewise understand criticisms from the boxing public, however baseless these may seem."  — Epifanio M. Almeda
Lederman, 52, is in her 24th year as a professional boxing judge. Her assignments have taken her to eight foreign countries and Puerto Rico. And she has been a fixture this year at the MGM Bubble, working 18 fights across seven shows without incident prior to this past Saturday night.
This, of course, does not excuse Julie's scoring on Saturday (119-109 for Teofimo Lopez), but it needs to be kept in mind that she has been ranked high over the years and does not have in her past work a pattern of poor judging such as seemed to exist, for example, in Texas and which drew the ire of Paulie Malignaggi.
When she first hit the scene, cries of nepotism and politics accompanied her, but those complaints quickly evaporated. Whether she can bounce back from this controversy remains to be seen. This writer hopes she can.
Photo: Julie Lederman and her father are flanked by Henry Hascup, President of the New Jersey Boxing Hall of Fame and Aaron Davis, former President of the New Jersey State Athletic Control Board
Ted Sares can be reached on Facebook or at tedsares@roadrunner.com
Check out more boxing news on video at the Boxing Channel 
To comment on this story in the Fight Forum CLICK HERE
"—C'mon!" (from the pen of Springs Toledo)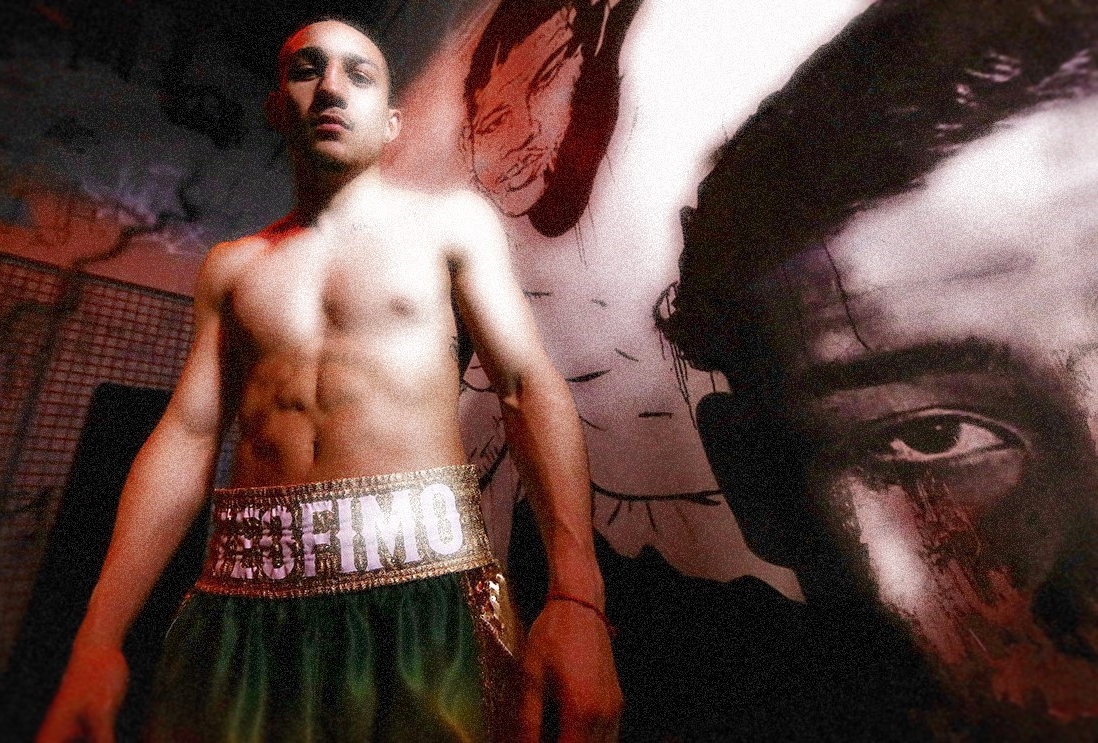 "—C'mon!" said Teofimo Lopez with two seconds left in the 12th round. It was a Brooklyn thing to say on a Brooklyn-type Saturday night, and Lopez timed it well. He'd just crashed two hooks at either side of Vasiliy Lomachenko's head and ended their saga as it began—with sharp words.
"My son will destroy Lomachenko," Lopez's father told EsNews in August 2017. Three months later Lopez was in the gym mimicking his style. "Same side always," he said as he tapped the bag and dipped to his right. "Nuthin' different." "Lomachenko is a diva," he said last week. "I don't like him … I'm the type of person, I say something I mean it. If you have a problem with it, come see me." Lomachenko came to see him all right, and both brought their fathers as if the whole thing was a schoolyard scrap.
Lomachenko's father is a silent sage. His modern training techniques are part of the "performance revolution" that has transformed every sport, including the sport that's barely a sport, and not necessarily for the better. Papa Chenko's futurama theories seem at once scientific and idiosyncratic. Pundits who never heard of Freddie Brown think they're next-level stuff. There's Lomachenko holding his breath under water to build lung strength; there he is touching that board with blinking lights to improve hand-eye coordination. When Lomachenko was 9, his father went so far as to enroll him in a Ukrainian folk dance school to expose him to hobak, hutsulka, and the kolomiyka, and you can see it in all the hopping and side-stepping he does around the ring at 32.
Papa Lopez is anything but silent, though he too is a sage—a naysaying sage with street instincts picked up during a few round trips through hell. He takes no one's word for anything and if he takes a break from a tirade and asks a question, it has about as much tact as a shiv. When Lomachenko is holding his breath in the pool is someone else there too, denting his rib cage with hooks? Those lights blinking on the screen, do they feint? And dancing school? Dancing school? Brooklyn itself rolls its collective eyes.
Papa Lopez laughs without mirth at the consensus opinion, at the so-called experts. But he couldn't laugh off the indisputable fact that Lomachenko has been knocking off a parade of world-class fighters. So he plopped down in front of YouTube to see for himself what was happening.
And what did he see?
He saw that the so-called Matrix style is a series of tricks; that Lomachenko is pulling fast ones on the gullible in the opposite corner and in press row. He saw opponents cooperating with him as he gauged their strengths and weaknesses in the first round or two and measured the distance between his glove and their chin. He saw them mesmerized by nothing-shots—"pitty pats," he called them, "patty-cakes," and wondered if it would have been easier or harder, given the language barrier, if Lomachenko just came out and asked them to throw something so he can find the best route around it to sock them in the chops.
Papa Lopez also saw that Lomachenko is preoccupied with not getting hurt; that he habitually slips, dips, and veers off to his right against the conventional stance. Teofimo, 23, saw the same thing. They both know why he prefers that direction: it's the safest route.
His offense, which has two prongs and lots of frills, doesn't contradict his preoccupation. Lomachenko wants to draw out his opponents to counter them. He stands a half-step off the perimeter where they can't quite reach him and he can't reach them. Then he baits them. If they take the bait, he hops in with a jab and then hops back out of reach. He's making calculations, looking for patterns, and once he finds them he exploits them with minimal risk to himself because, like Floyd Mayweather, he already has a pretty good idea of what they're going to throw. When is he most aggressive? When his opponent is least aggressive—out of position or covering up. He isn't comfortable with uncalculated risks. Like Floyd, he wants control; and that only happens with an opponent's cooperation.
Stanley Crouch, the late cultural critic and Brooklynite who was at least as contentious as Papa Lopez, understood the set-up. "What a boxer ideally wants to do is turn the opponent into an assistant in his own ass-whipping," he said. "That's really what you want the other guy to do—to assist you in whipping his ass."
Lomachenko built a reputation on willing assistants.
And defeating him was easier than anyone anticipated. The fighter of the future bowed to all-American unruliness and old-fashioned fundamentals.
Old School's comeback Saturday night was long, long overdue. Lopez used his strength and length to draw an invisible border with a warning that said "this far and no farther." Then he enforced it. Instead of letting Lomachenko freely angle around him like he's some stiff at the prom, he angled with him and threw punches. When Lomachenko slipped and sallied past his invisible border, he adjusted his distance and sent the dogs out. He stopped his momentum. He never let him take control. He never cooperated.
By the 8th round, Lomachenko realized that he had no chance to win unless he let go of his preoccupation with defense. He had to "sell out," as Andre Ward said, by getting closer and sallying in when it wasn't safe. Lomachenko won the 8th round—the first of only three that two judges scored his way—but it didn't matter. His mouth had dropped open as if he was getting ready to admit futurama's failure. "I heard him huffing and puffing and I knew I had him," said Lopez.
The 12th round reminds us that Old School remains the gold standard in the sport that's barely a sport. When Papa Lopez had a nervous moment in the corner and urged caution, Lopez refused. "I'm a fighter, I can't give him that," he said, as if to remind us that Old School is more than dust, that it's a disposition.
Teofimo Lopez now stands in a succession of lightweight kings whose dispositions were the impetus behind achievements that make this succession very possibly the most majestic of them all: Joe Gans. Benny Leonard. Tony Canzoneri. Barney Ross. Henry Armstrong. Ike Williams. Carlos Ortiz. Roberto Duran. Julio Cesar Chavez. Pernell Whitaker.
Floyd Mayweather is in that succession too, but the business model that guided his career was rebuked Saturday night. Lopez pointed to the past, polished it up, and declared its superiority. "We're bringing back what the Old School was. You fight the best and push on it. I'm not here to pick and choose who I want to fight because I want to defend my title and keep that 0," he said and shook his head. "No. Nah!"
The lightweight king now beckons chief rivals Devin Haney, Ryan Garcia, and Gervonta Davis to disavow the business model and take up the red flag. He looks north to Josh Taylor and Jose Carlos Ramirez's battle for the jr. welterweight crown and beckons either of them—or both.
 "—C'mon!"
Photo credit: Mikey Williams / Top Rank
Check out more boxing news on video at the Boxing Channel 
To comment on this story in the Fight Forum CLICK HERE
Kelsey McCarson's HITS and MISSES: Takeover Edition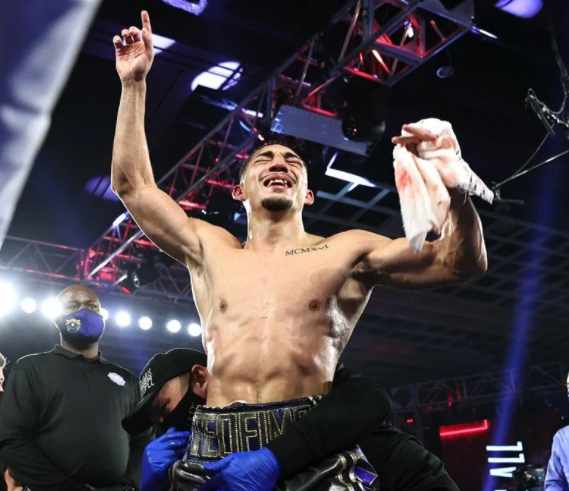 Boxing is back!
Okay, boxing had technically been back for a few months now. But didn't it seem to be more fully back to normal with the weekend's lightweight unification battle between Teofimo Lopez and Vasiliy Lomachenko on ESPN?
Make that double the case now that another edition of HITS and MISSES follows the latest big weekend in boxing, the first installment since the global pandemic began. 
HIT: Teofimo Lopez's Undisputed Takeover
It's one thing to parade something like "Takeover" around as your nickname while promising to be the next great fighter in the sport. It's quite another to actually pull that takeover off, and do it at the tender age of 23 against a three-division world champion that's a massive betting favorite. 
But that's what Lopez did on Saturday night in Las Vegas, and he accomplished it in a way that almost nobody expected. 
Lopez dominated Lomachenko from the start of the fight. He outboxed the clever southpaw savant in a way few people dreamed possible and took home the unanimous decision win. Even among the few who thought the young lion might somehow usurp the old guard, most of that crew thought it would probably be one big punch that sent Loma down for the count.
By the end of the night, Lopez had solidified his status as boxing's newest superstar. He also became the first undisputed lightweight champion since Pernell Whitaker. 
But even if the whole WBC Franchise fiasco leaves you in a place that questions that specific designation, Lopez used his post-fight celebration time to call the other WBC belt holder Devin Haney about a possible future showdown. 
So, Lopez is the undisputed best thing to happen to boxing in a long time. 
MISS: Vasiliy Lomachenko's Slow Start
I like to think Lomachenko is still somewhere out there right now feinting and shuffling his feet around like a dancer. Seriously, though, what was Lomachenko doing for most of Saturday night? He certainly wasn't attempting to win the fight. 
Much was made by the ESPN announcers about how Lomachenko would start slow in fights because he liked to download his opponents' movements before settling on his attacks. But Lomachenko didn't seem all that interested in attacking Lopez until somewhere around the eighth-round. By that time, the 32-year-old was way too far down on the scorecards for anything to matter all that much.
Sure, the last third of the fight was fun to watch. Lomachenko did end up having his moments including a strong 11th round, but it would have been a better fight if Lomachenko had started sooner. 
Instead, the fighter ESPN has long argued deserved to be ranked above everyone else regardless of weight class dispassionately saw his titles ripped away from him with relative ease. 
HIT: Edgar Berlanga's KO Streak
Last year, I noted that Berlanga's incredible streak was probably a case of matchmaking gone awry and that Berlanga would likely suffer later in his career because he wasn't getting any rounds under his belt that mattered. 
My reasoning? Even terrifying power punchers like Deontay Wilder and Gennadiy Golovkin didn't dispatch their early opponents in such decisively one-sided ways. 
Maybe it was just the lack of boxing around due to the global pandemic, but now I've flipped on Berlanga's knockout streak. The 23-year-old scored his 15th first-round stoppage in a row against Lanell Bellows on Saturday's Top Rank on ESPN card. 
It's become one of the most interesting and noteworthy streaks in the sport, and this time Berlanga stopped an opponent who had never suffered that fate before in any round, much less the first. 
Berlanga's 15 KOs in 15 fights is good television. 
MISS: Boxing Judge's Viral 'Social Dilemma'
Lewis Ritson was awarded a split-decision victory over former lightweight titleholder Miguel Vazquez on Saturday in England in a junior welterweight bout dubbed by the Sporting News as the "worst decision of 2020."
According to CompuBox, Ritson's "constant forward movement and snappier punches" earned him the nod on two of the judges' scorecards even though Vazquez had out-landed him in all the important punch stat categories (193-141 overall, 80-75 jabs, 113-66 power).
But the biggest controversy was the viral picture of judge Terry O'Connor apparently looking at his phone during the fight that he scored 117-111 for Ritson. 
That didn't sit well with anyone who believes judges should be watching the fights they're tasked with scoring.
But in the wake of Netflix's documentary film "The Social Dilemma," that shows just how ingenious today's artificial intelligence is at boosting user engagement so companies can sell advertising time to the unwitting people on the other end who don't know why they can't put their phones down. Maybe O'Connor and others should be mandated to place their phones in a place they can't be accessed during fights. 
That would keep the social media outrage that's going on right now over the few seconds O'Connor spent looking away from the action and point it more toward what appears to be boxing's bigger problem: phones or no phones, too many boxing judges don't know how to score fights. 
HIT: The Wonder of Complementary Programming 
Boxing counterprograms itself so much these days through the different promotional companies and networks out there that it's nice to enjoy at least one day in recent history where a big fight happened and there weren't any other big fights attempting to grab our attention. 
Not only did that happen, but ESPN wisely chose not to split programming between it's MMA and boxing audiences on Saturday. 
ESPN is the home to Top Rank on ESPN boxing as well as the world's leading MMA promotional company, UFC.
Like Top Rank, the UFC had a massive fight card on its schedule on Saturday, and the boxing/UFC audiences are fractured enough that both cards could have somewhat reasonably ran against each other. 
Instead, the UFC's Fight Night card in Abu Dhabi ran early in the evening, and it meant UFC fans who might be somewhat interested in the big fight in boxing could be funneled to the main card featuring Lopez vs. Lomachenko. 
That's great for both sports, the promoters and ESPN, too. Top Rank's Bob Arum and UFC's Dana White might hate each other for personal and political reasons, but the rising tide of complementary programming on ESPN will ultimately have all ships rising. 
Check out more boxing news on video at the Boxing Channel 
To comment on this story in the Fight Forum CLICK HERE
Photo credit: Mikey Williams / Top Rank