When Life Imitated Art: The Birth of the Legend of Arturo Gatti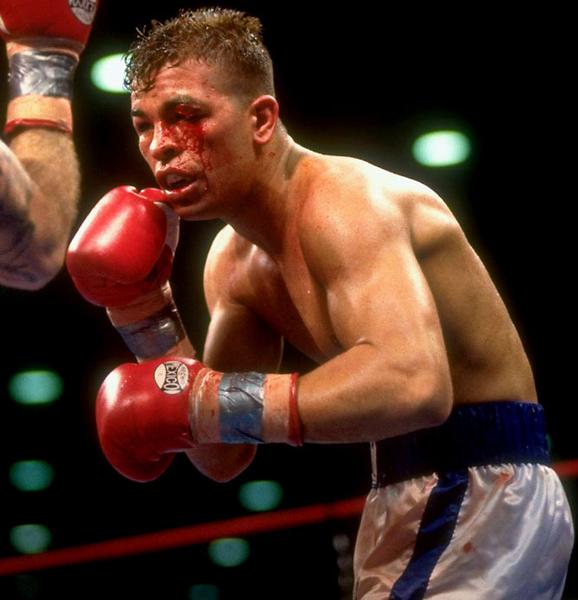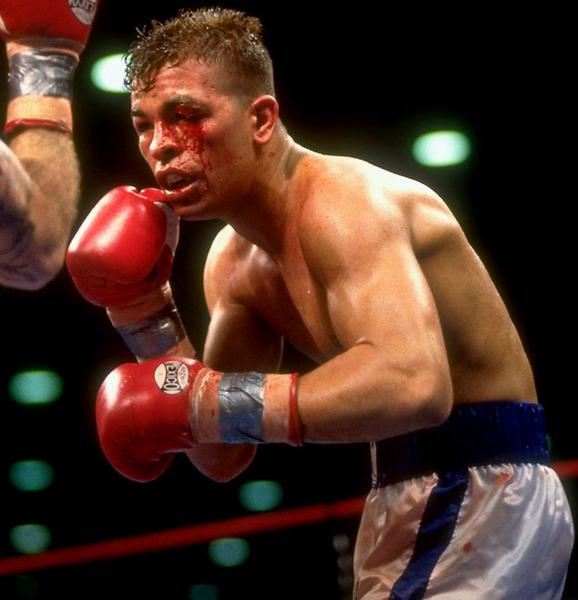 In retrospect, the timing was eerily appropriate. Less than 24 hours after Arturo "Thunder" Gatti announced himself as his generation's most compelling action fighter, Braveheart, a film about William Wallace, the legendary, late 13th century Scottish warrior, took the Best Picture Oscar at the 68th annual Academy Awards.
Nor was that the only applicable movie analogy after the nearly blinded Gatti's epic sixth-round knockout of Wilson Rodriguez on March 23, 1996 – to be technically accurate, very early on March 24, considering that the fight, the second installment of HBO's recently launched Boxing After Dark series, ended at 12:40 a.m. in the Eastern time zone. Upon entering his dressing room at Madison Square Garden, Gatti, his face a lumpy mess, turned around and shouted, to no one in particular, a familiar catch-phrase from Rocky, the fictional tale of a never-say-die boxer which was named Best Picture of 1977.
"Yo, Adrian, I did it!" screamed an exuberant Gatti, just 22 days shy of his 24th birthday and possibly unaware that his promising ring career had just crossed over into a different dimension.
"That was the transitional fight that took Gatti from being a budding attraction and a champion (the back-from-the-brink conquest of Rodriguez was his first defense of his IBF junior lightweight title) to being a cult figure," Lou DiBella, now a promoter but then the senior vice president of HBO Sports, said when contacted for his thoughts on a slugfest that became an instant classic, one of many authored by a fighter who demonstrated time and again he was always ready, even eager, to go down into the trenches.
"There's no question that fight changed everything. It was a Rocky movie, the most dramatic fight I've ever seen to this day. I'm not going to say it's the best fight I've ever seen, but it certainly was the most dramatic. The myth and legend of Arturo Gatti was born that night."
Pat Lynch, Gatti's manager, agrees with DiBella that the Rodriguez bout represented a sea change for his Italian-born, Montreal-reared, Jersey City-based fighter.
"There were a few people who knew how entertaining and exciting Arturo could be, but that's the one that really put him on the map because it was televised by HBO and a lot of people got to see it," Lynch recalled. "He had shown signs of being that guy early on, in a fight against Leon Bostic (winning an eight-round majority decision on Jan. 8, 1994, in Catskill, N.Y.). I remember that fight vividly. I was walking back to the dressing room when Al Gavin (a veteran cutman) made a sign with his hands as if to say, 'That kid's got 'em (cojones) this big.' That was the kind of throw-down war that Arturo came to be known for, but his coming-out party was definitely the Wilson Rodriguez fight."
It is curious then that Gatti-Rodriguez has become, if not exactly forgotten, a somewhat lesser entry in Gatti's thick file of unforgettable trials by combat. Ask fight fans what they most remember about Gatti – who was just 37 when he died under mysterious circumstances in Brazil on July 11, 2009 — and they're apt to cite his three bouts with Micky Ward, two of which were won by Gatti. Although Gatti was a participant in three Fights of the Year as selected by The Ring magazine (1997, KO5 of Gabriel Ruelas; 1998, L, SD10 to Ivan Robinson and 2002, L, MD10 to Micky Ward), his demolition derby with Rodriguez was aced out for 1996 Fight of the Year, understandably given its more consequential nature, by Evander Holyfield's 11th round stoppage of Mike Tyson.
"I think it's fair to say the trilogy with Micky Ward is the defining memory of Gatti in the ring," said Larry Merchant, the longtime color commentator for HBO boxing telecasts who was at ringside for Gatti-Rodriguez. "At the time Gatti fought Rodriguez we knew he was an exciting brawler, but given the circumstances – it was just the second Boxing After Dark show – and the theatrical drama of that fight, it's a part of his legacy, although maybe not as much as his fights with Ward."
It's also fair to say that Gatti was not exactly an unknown commodity when he squared off against Rodriguez. Even before he wrested the IBF 130-pound title from Tracy Harris Patterson on a 12-round unanimous decision on Dec. 15, 1995, the ruggedly handsome, tri-lingual Gatti had been identified as a potential superstar with the kind of crossover appeal that would find favor with fringe and even non-boxing fans. Integrated Sports International, a sports management company that represented, among others, Oscar De La Hoya, the NBA's Hakeem Olajuwon and NFL's Steve Young and Drew Bledsoe, envisioned Gatti as a key addition to its lineup of athletes who could also serve as commercial spokesmen.
DiBella's first Boxing After Dark telecast, the main event of which had been WBO super bantamweight champion Marco Antonio Barrera's 12th-round stoppage of Kennedy McKinney, had been an aesthetic and ratings smash, with Barrera going down once and McKinney four times. Hoping to build on that momentum, DiBella wanted to pair Gatti with Wilfredo Vazquez, a former WBA super bantamweight and featherweight champion who had more name recognition than Rodriguez, a 30-year-old native of the Dominican Republic based in Spain who was the IBF's No. 2-ranked junior lightweight but had never fought in the United States. Lynch lobbied for Rodriguez, whom he incorrectly believed would pose a somewhat easier test for Gatti after he had gone 12 grueling rounds with Patterson only three months earlier.
"I wanted Vazquez because he was the bigger name," DiBella reasoned. "I had no problem with Rodriguez. I thought it was a good fight. But I was trying to build a series. We did incredibly well with the ratings for Barrera-McKinney and I wanted to make sure we had a follow-up show that was attractive, so we doubled down with Junior Jones-Orlando Canizales as the lead-in. We had three of the best lower weight-class fighters in the world, and two of them were fighting each other."
Jones and Canizales held up their end with Jones, a Brooklyn native, winning a minor super bantamweight title on a unanimous, 12-round decision to the delight of the announced attendance of 3,698 (about 800 below capacity) in the Theater at Madison Square Garden. It might have been a tough act to follow, considering that one well-regarded boxing writer had labeled Gatti-Rodriguez as a "gimme" for Gatti, who went in with a 24-1 record and 20 KOs, including 14 in the first round.
Some gimme. Tagged with laser-like accuracy by Rodriguez's stiff jabs and overhand rights, Gatti returned to his corner after the first round with a puffy left eye and a mouse beginning to form under his right. It got worse for him in the second round, when he was floored with a three-punch combination. He was up at the count of three and, as was his custom, fought back gamely, refusing to clinch, but the condition of both of his eyes was rapidly deteriorating.
Fortunately for Gatti, one of the best cutmen in the business, Joe Souza, had just joined his support crew and was proving to be a valuable addition as he feverishly worked his magic. Souza's handiwork was evident when the ring physician examined Gatti after both the third and fourth rounds, with Gatti five times correctly answering how many fingers the doctor was holding up. But Gatti knew, as did trainer Hector Roca, that his field of vision would soon be too impaired for him to be allowed to fight on.
In typical Gatti fashion, each time he appeared to inch close to a loss by stoppage, he would launch a counterattack that bought him precious seconds. Despite being docked a penalty point by referee Wayne Kelly in the fifth round for repeated low blows, Gatti ripped a left hook to the liver that put Rodriguez down for a six count in the fifth round. It was a harbinger of what was to follow in the sixth, when, with Rodriguez's right hand held low to protect his injured side, Gatti went upstairs with another hook that landed flush on the jaw, the challenger collapsing onto his back where he was counted out at the 2:16 mark. He would remain prone, unable to rise, for over a minute.
"We've been billing Arturo Gatti as one of the most exciting fighters in the world," said his promoter, Dino Duva. "I just wish he wouldn't make it this exciting."
Kelly was asked how close he had come to awarding a TKO victory to Rodriguez, who was ahead by three points on two of the official scorecards and was behind by one point on the other. "I was close to stopping it in the third," he said. "But I've worked with Gatti before and know he's very resilient."
Gatti, of course, went on to become the franchise fighter in Atlantic City, so much so that Lynch observed that "People planned their vacations around going there for the full weekend when Arturo fought there. His fights were that kind of must-see event.
"I pulled up to Bally's one time and the bell kid came out to get all our stuff. He saw the corner jackets and the robe that were in my car and he asked, `You're with Team Gatti?' I said yeah. He goes, `We love it when Gatti comes to town. Everybody makes money.' And it was true. The taxi drivers made money, there were more restaurant reservations made. His following in Atlantic City just grew and grew. He had a cult following like you'd see anywhere the Grateful Dead played."
Rodriguez wasn't so fortunate. He did not get a rematch with Gatti and had only one more meaningful fight, a unanimous decision loss to Angel Manfredy, before retiring in 1999 with a 48-11-3 record and 37 KOs. Perhaps Gatti-Rodriguez has lost some of its original luster because Rodriguez did not rise in prominence as did Ward, whose three-bout passion play with Gatti has made him a more or less equal partner for posterity's sake.
Gatti was posthumously inducted into the International Boxing Hall of Fame in 2013, an honor more than a few pundits believe is undeserved because he never quite made it to the top tier of superstardom that owes in equal parts to popularity and success inside the ropes. DiBella would argue that Gatti did deserve enshrinement for the excitement he so frequently generated, even if his skills never approached those of De La Hoya and Floyd Mayweather Jr., both of whom defeated him with relative ease.
"Gatti was never a pound-for-pound guy," DiBella acknowledged. "If you were a warrior and had a good night, you could rumble with Gatti. But he was an incredible fighter, and you can't rewrite him into Floyd Mayweather. He was just a blood-and-guts warrior. Gatti wasn't really happy if he didn't get into a war."
Bernard Fernandez is the retired boxing writer for the Philadelphia Daily News. He is a five-term former president of the Boxing Writers Association of America, an inductee into the Pennsylvania, New Jersey and Atlantic City Boxing Halls of Fame and the recipient of the Nat Fleischer Award for Excellence in Boxing Journalism and the Barney Nagler Award for Long and Meritorious Service to Boxing.
Check out more boxing news on video at The Boxing Channel
To comment on this story in The Fight Forum CLICK HERE
Fast Results from Las Vegas: Tyson Fury Overcomes Doughty Otto Wallin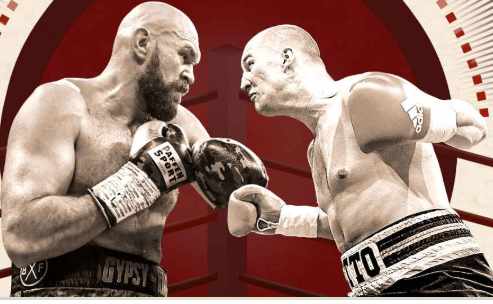 LAS VEGAS, NV — Otto Wallin proved to be a more formidable opponent than Tyson Fury's last victim, Tom Schwarz, by a long shot. One could sense that this wouldn't be a walkover for the Gypsy King when Wallin backed Fury into a neutral corner in round two and got off a good volley of punches.
Wallin opened a what became a very nasty gash over Fury's right eye in round four. He pawed at it continually throughout the fight which went the full distance. Fury seemed to think that the cut resulted from a clash of heads, but the replay indicated otherwise. Near the end of round six, Wallin rubbed the cut with the laces of his gloves, earning a mean look from Fury and referee Tony Weeks who did not deduct a point.
Fury prefers to fight off the back foot until he has his opponent hurt, but with the cut he fought with more of a sense of urgency, pressing forward. The fight turned messy over the final third as the contest turned into an occasional hug-fest.
Wallin, who came in undefeated (20-0), landed some hard shots in the final round, but by then he needed a knockout to win. The final scores were 116-112, 117-111, and 118-110. The 118-110 tally was severe as it distorts the fact that this was a hard fight for the Gypsy King  who improved his ledger to 29-0-1.
The promoters say the rematch with Deontay Wilder, the second bout of a planned trilogy, is set for February but Wallin may have wrecked those plans. It would seem that Fury will need more time to heal that cut.
Co-Feature
Based on raw numbers, it figured that the fight between defending WBO world 122-pound champion Emanuel Navarrete and Juan Miguel Elorde would be competitive. Both had identical records (28-1) and both were riding long winning streaks; 23 straight wins for Navarrete and 18 straight for Elorde. But the son of Filipino boxing legend Flash Elorde was out of his league. Navarette, who is a big featherweight, was too strong for him. Near the end of round three, Elorde received a standing 8-count when he landed against the ropes, which kept him upright. Twenty-six seconds into the next round, it was all over, Mora halting the bout to protect Elorde from taking more punishment. Referee Russell Mora from Mexico City,
The victorious Navarette, from Mexican City, was making the third defense of the title he won from Isaac Dogboe. Las Vegas hasn't been good to Elorde whose lone prior defeat came at nearby Mandalay Bay in a 4-round contest.
Other Bouts
In a mild upset, Jose Zepeda, won a 10-round unanimous decision over Jose Pedraza (26-3). A 2008 Olympian for Puerto Rico and former two-division belt-holder, Pedraza declined to 26-3.
Zepeda (33-2), a native Californian who entered the ting draped in the Mexican flag, did his best work early and late. In the middle rounds it appeared that Pedraza was taking control with superior marksmanship but he couldn't sustain it. The seventh round was furious as were the waning moments of the 10th. All three judges had it 97-93.
In an 8-round featherweight bout, Isaac Lowe, a fellow Traveler and stablemate of Tyson Fury, remained undefeated with an 8-round unanimous decision over Mexico City's Ruben Hernandez. The scores were 78-74 and 77-75 twice.
Lowe, who showed good boxing skills but isn't a hard puncher improved to 19-0-2 (6 KOs). Hernandez falls to 25-5-2. Featherweights.
In the first walk-out fight, Guido Vianello, a 6'4″, 240-pound heavyweight from Rome, Italy, improved to 5-0 (5 KOs) at the expense of Cassius Anderson,  35-year-old former Toledo U. linebacker, whose corner pulled him out after the fourth round. Vianello knocked Anderson down in the first few seconds of the fight, but Anderson wasn't of a mind to leave that quick.
Check out more boxing news on video at The Boxing Channel  
To comment on this story in The Fight Forum CLICK HERE
Fast Results from The Big Apple: Haney, Hunter, and Serrano Win Handily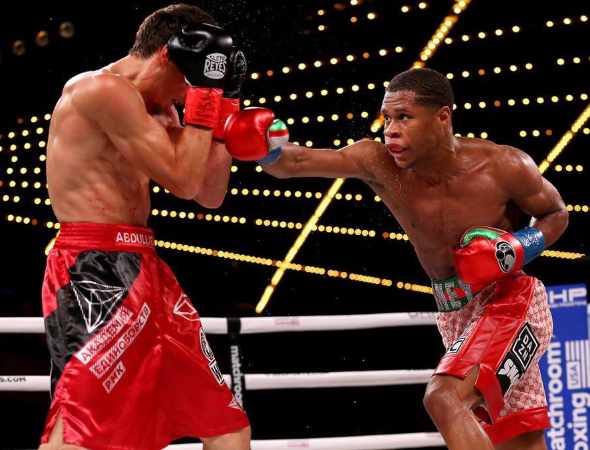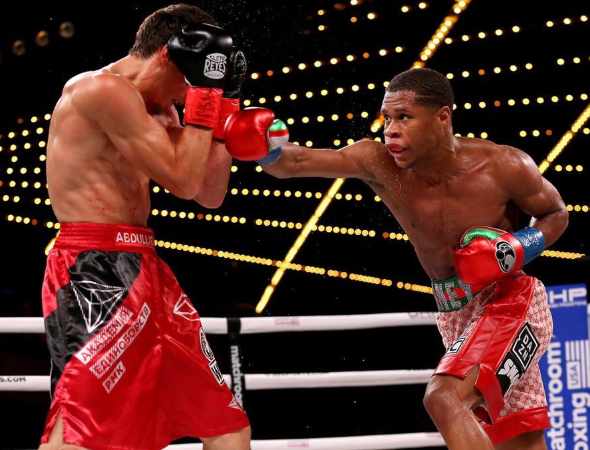 Eddie Hearn's Matchroom Promotions was at the Hulu Theater at Madison Square Garden tonight with a 10-bout card that produced no surprises. In the featured bout, 20-year-old lightweight Devin Haney stayed on course for a hoped-for showdown with Vassiliy Lomachenko with a dominant performance over Russia's little-known Zaur Abdullaev. The fight was stopped after four one-sided rounds with Abdullaev apparently suffering from a fractured cheekbone.
Haney (23-0, 15 KOs) was far more athletic. Abdullaev, who brought an 11-0 record into his U.S. debut, had trouble handling Haney's speed and was simply overwhelmed by Haney who was the far busier fighter.
Co-Features
Amanda Serrano, who has won more titles in more weight classes than Carter has pills, added the WBO world featherweight title to her dossier with a lopsided decision over fellow Brooklynite Heather Hardy. This fight appeared that it would end early; Serrano's punches were harder and cleaner. But Hardy, seven years older at age 37, refused to fold and actually did some good work in the middle rounds. The scores were 98-92 and 98-91 twice.
Serrano improved to 37-1-1. It was the first pro loss for Hardy who fell to 22-1.
In a 12-round heavyweight contest, Michael Hunter won his sixth straight, improving to 18-1, with a 12-round unanimous decision over previously unbeaten Sergey Kuzmin (15-1). Although Hunter is on a nice roll, this was not the sort of performance likely to win him any new fans. His best moment came in round five when he knocked Kuzmin flat on his back with a left hook, but from that point on, he seemed content to out-box his Russian adversary who had a 37-pound advantage but was conspicuously slower.
All three judges had it 117-110. After the bout, Hunter expressed a desire to fight Alexander Povetkin on the Joshua-Ruiz II card in Saudi Arabia on Dec. 7.
Other Bouts of Note
It was a mixed bag for 32-year-old Azerbaijan heavyweight Magomedrasul Majidov who won his pro debut with a fourth-round stoppage of Ed Fountain but didn't look all that impressive. More was expected of Majidov, a three-time world amateur champion who scored three wins over Anthony Joshua as an amateur. Fountain (12-7) lost his fifth straight.
Kazakh welterweight Daniyar Yeleussinov, a two-time Olympian and 2016 gold medalist, looked sensational while advancing his record to 8-0 (4) with a vicious first-round knockout of Reshard Hicks. Yeleussinov, who is trained by his father, knocked Hicks to the the canvas twice, the second of which left Hicks face down, forcing referee Ron Lipton to end the bout without the formality of a count. It was the first pro loss for Hicks (12-1-1), a 34-year-old ex-G.I. from Killeen, Texas.
Uzbekistan super bantamweight Murodjon Akhmadaliev improved to 7-0 (6 KOs) with a fourth-round stoppage of Columbia's Wilner Soto (22-7). This was a stay-busy fight for the 24-year-old former Olympian who was originally slated to challenge WBA/IBF title-holder Daniel Roman who had to withdraw because of a shoulder injury suffered in sparring. Akhmadaliev toyed with the overmatched Soto for the first three rounds before unleashing the heavy artillery.
Photo credit: Ed Mulholland / Matchroom Boxing USA
Check out more boxing news on video at The Boxing Channel  
To comment on this story in The Fight Forum CLICK HERE
The Avila Perspective, Chap. 64: New York, L.A. and Las Vegas Fights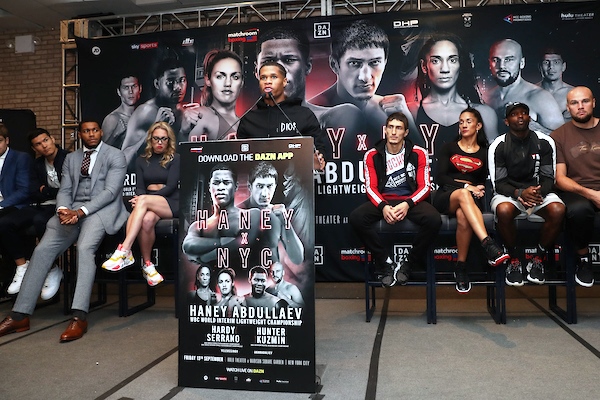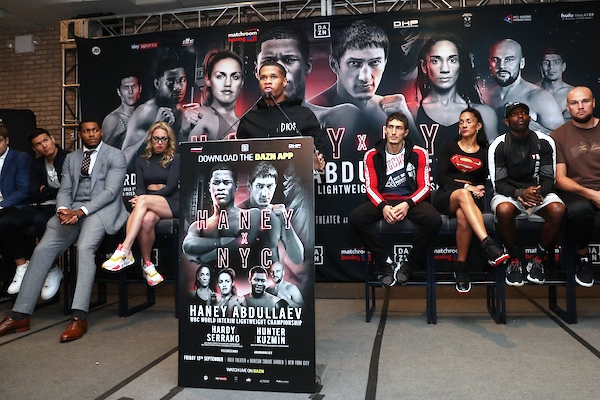 Three of the Big Four promoters in prizefighting are showcasing young and old talent in the next two days from New York City to Los Angeles.
Las Vegas speedster Devin Haney (22-0, 14 KOs) headlines a Matchroom Boxing card at Madison Square Theater in Manhattan when he fights Russia's Zaur Abdullaev (11-0, 7 KOs) on Friday Sept. 13. DAZN will stream the boxing card live.
Dripping with talent, Haney has passed all of the tests so far in his brief and meteoric career including rumbling with Mexican tough guys like Juan Carlos Burgos and obliterating Antonio Moran.
But like all prospects and young contenders, the big question always is can he take a punch?
Abdullaev only has 11 fights and though he has seven knockouts, he has yet to face quality opposition. But his backers say he can fight and that's all anyone can hope to see.
The fight native New Yorkers and followers of the female fight world want to see is the world title clash between Brooklyn's undefeated Heather Hardy (22-0, 4 KOs) defending the WBO featherweight strap against Brooklyn's Amanda Serrano (36-1-1, 27 KOs) in a 10 round semi-main event. It's going to be a dog fight.
The WBC Diamond belt will be another reward for the winner. Both girls will be tested for PEDs in accordance with WBC rules. For years female prizefighters were virtually untested.
Los Angeles – Munguia, Ryan Garcia and Franchon
WBO super welterweight titlist Jaime Munguia (33-0, 26 KOs) of Mexico meets Ghana's Patrick Alottey (40-3, 30 KOs) in a world title challenge on Saturday Sept. 14, at Dignity Health Sports Park in Carson, California. This Golden Boy Promotions card will be part of the Mexican Independence Day weekend celebration and also Munguia's last foray in the 154-pound weight class.
Munguia's lack of defense has made every fight a 50/50 proposition and even this fight against the shorter Alottey could test the Mexican's chin. The Ghanaian fighter has 30 knockouts on his resume with all wins taking place in Africa.
Ryan "The Flash" Garcia will bring his army of fans to the outdoor arena once again. The last time he fought at Dignity Health Sports Park it was called the StubHub Center and he slugged it out with the very tough Puerto Rican Jayson Velez in May 2018. That night the slender fighter won by decision.
For about a year Garcia has been working under the tutelage of Eddy Reynoso in San Diego and the change was immediately visible. The head trainer for Saul "Canelo" Alvarez has tweaked Garcia's defense and head movement. He has also polished the vast offensive weaponry the 21-year-old possesses. He's still learning.
Garcia (18-0, 15 KOs) faces Philadelphia's Avery Sparrow (10-1, 3 KOs) who walked into a press conference in the Golden Boy Building with singing artist Usher. The big question most are asking is if Usher will be present at the fight on Saturday. That's not Garcia's query.
"Avery can fight and he's got skills. He's no pushover," said Garcia, adding that the lightweight division is growing with young budding talent. "The new generation is here with Teofimo (Lopez), Devin (Haney), I'm excited and want to be in the best fights to show that I belong with these other fighters."
Also on the boxing card will be women's WBC super middleweight titlist Franchon Crews (5-1) who was scheduled to face WBC heavyweight world titlist Alejandra Jimenez who was dropping down in weight for the fight. But the Mexican fighter was allegedly unable to obtain a visa and could possibly be replaced by former foe Maricela Cornejo (13-3, 5 KOs).
Crews defeated the classy Cornejo for the world title a year ago in Las Vegas and the Mexican middleweight had sought a rematch. Cornejo was recently posting photos of herself in Israel on her social media accounts. If she does accept the fight it definitely shows Cornejo has confidence and that's a big plus. One of the remarkable things from their first fight was watching Cornejo clapping and congratulating Crews in earnest after their fight. It was a sincere gesture and made me appreciate Cornejo even more.
Las Vegas – Fury, Navarrete
England's Tyson Fury, the lineal heavyweight world champion, meets Sweden's Otto Wallin in a battle of undefeated heavyweights at T-Mobile Arena in Las Vegas, Nevada on Saturday Sept. 14. ESPN will show and stream the Top Rank fight card.
Fury (28-0-1, 20 KOs) who defeated Wladimir Klitschko for all of the titles back in November 2015, then dropped out of the boxing world for a few years. He has returned to activity and is changing the boxing landscape with both his charisma and fighting skills. His fight against Deontay Wilder last December was one of the more memorable heavyweight world title fights in the last 30 years.
Wallin (20-0, 13 KOs) is a southpaw who can crack as almost all heavyweights can. He's represented by Mark Taffet, the former HBO executive who leads the career of female star Claressa Shields. That should say a lot about the big Swede's talent.
Also on the card is Emanuel Navarrete (28-1, 24 KOs), the WBO super bantamweight titlist who fought just last month in Los Angeles against Francisco De Vaca and knocked him out in three rounds. He defeated Isaac Dogboe for the title last December and then stopped him in the rematch last May. He's an angular looking fighter with long arms, incredible stamina and knockout power. He will be meeting Juan Miguel Elorde (28-1, 15 KOs) of the Philippines in another world title fight.
Fights to Watch
Fri. 6 p.m. PT DAZN – Devin Haney (22-0) vs Zaur Abdullaev (11-0), Heather Hardy (22-0) vs Amanda Serrano (36-1-1).
Sat. 3:30 p.m. PT DAZN – Jaime Munguia (33-0) vs Patrick Alottey (40-3), Ryan Garcia (18-0) vs Avery Sparrow (10-1), Franchon Crews (5-1) vs Maricela Cornejo (13-3).
Sat. 4:30 p.m. PT ESPN+ – Tyson Fury (28-0-1) vs Otto Wallin (20-0), Emanuel Navarrete (28-1) vs Juan Miguel Elorde (28-1).
Photo credit: Ed Mulholland / Matchroom Boxing
Check out more boxing news on video at The Boxing Channel  
To comment on this story in The Fight Forum CLICK HERE