When Life Imitated Art: The Birth of the Legend of Arturo Gatti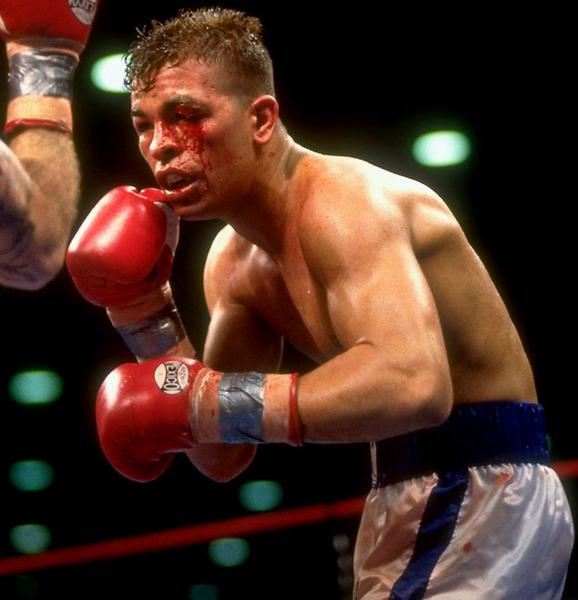 In retrospect, the timing was eerily appropriate. Less than 24 hours after Arturo "Thunder" Gatti announced himself as his generation's most compelling action fighter, Braveheart, a film about William Wallace, the legendary, late 13th century Scottish warrior, took the Best Picture Oscar at the 68th annual Academy Awards.
Nor was that the only applicable movie analogy after the nearly blinded Gatti's epic sixth-round knockout of Wilson Rodriguez on March 23, 1996 – to be technically accurate, very early on March 24, considering that the fight, the second installment of HBO's recently launched Boxing After Dark series, ended at 12:40 a.m. in the Eastern time zone. Upon entering his dressing room at Madison Square Garden, Gatti, his face a lumpy mess, turned around and shouted, to no one in particular, a familiar catch-phrase from Rocky, the fictional tale of a never-say-die boxer which was named Best Picture of 1977.
"Yo, Adrian, I did it!" screamed an exuberant Gatti, just 22 days shy of his 24th birthday and possibly unaware that his promising ring career had just crossed over into a different dimension.
"That was the transitional fight that took Gatti from being a budding attraction and a champion (the back-from-the-brink conquest of Rodriguez was his first defense of his IBF junior lightweight title) to being a cult figure," Lou DiBella, now a promoter but then the senior vice president of HBO Sports, said when contacted for his thoughts on a slugfest that became an instant classic, one of many authored by a fighter who demonstrated time and again he was always ready, even eager, to go down into the trenches.
"There's no question that fight changed everything. It was a Rocky movie, the most dramatic fight I've ever seen to this day. I'm not going to say it's the best fight I've ever seen, but it certainly was the most dramatic. The myth and legend of Arturo Gatti was born that night."
Pat Lynch, Gatti's manager, agrees with DiBella that the Rodriguez bout represented a sea change for his Italian-born, Montreal-reared, Jersey City-based fighter.
"There were a few people who knew how entertaining and exciting Arturo could be, but that's the one that really put him on the map because it was televised by HBO and a lot of people got to see it," Lynch recalled. "He had shown signs of being that guy early on, in a fight against Leon Bostic (winning an eight-round majority decision on Jan. 8, 1994, in Catskill, N.Y.). I remember that fight vividly. I was walking back to the dressing room when Al Gavin (a veteran cutman) made a sign with his hands as if to say, 'That kid's got 'em (cojones) this big.' That was the kind of throw-down war that Arturo came to be known for, but his coming-out party was definitely the Wilson Rodriguez fight."
It is curious then that Gatti-Rodriguez has become, if not exactly forgotten, a somewhat lesser entry in Gatti's thick file of unforgettable trials by combat. Ask fight fans what they most remember about Gatti – who was just 37 when he died under mysterious circumstances in Brazil on July 11, 2009 — and they're apt to cite his three bouts with Micky Ward, two of which were won by Gatti. Although Gatti was a participant in three Fights of the Year as selected by The Ring magazine (1997, KO5 of Gabriel Ruelas; 1998, L, SD10 to Ivan Robinson and 2002, L, MD10 to Micky Ward), his demolition derby with Rodriguez was aced out for 1996 Fight of the Year, understandably given its more consequential nature, by Evander Holyfield's 11th round stoppage of Mike Tyson.
"I think it's fair to say the trilogy with Micky Ward is the defining memory of Gatti in the ring," said Larry Merchant, the longtime color commentator for HBO boxing telecasts who was at ringside for Gatti-Rodriguez. "At the time Gatti fought Rodriguez we knew he was an exciting brawler, but given the circumstances – it was just the second Boxing After Dark show – and the theatrical drama of that fight, it's a part of his legacy, although maybe not as much as his fights with Ward."
It's also fair to say that Gatti was not exactly an unknown commodity when he squared off against Rodriguez. Even before he wrested the IBF 130-pound title from Tracy Harris Patterson on a 12-round unanimous decision on Dec. 15, 1995, the ruggedly handsome, tri-lingual Gatti had been identified as a potential superstar with the kind of crossover appeal that would find favor with fringe and even non-boxing fans. Integrated Sports International, a sports management company that represented, among others, Oscar De La Hoya, the NBA's Hakeem Olajuwon and NFL's Steve Young and Drew Bledsoe, envisioned Gatti as a key addition to its lineup of athletes who could also serve as commercial spokesmen.
DiBella's first Boxing After Dark telecast, the main event of which had been WBO super bantamweight champion Marco Antonio Barrera's 12th-round stoppage of Kennedy McKinney, had been an aesthetic and ratings smash, with Barrera going down once and McKinney four times. Hoping to build on that momentum, DiBella wanted to pair Gatti with Wilfredo Vazquez, a former WBA super bantamweight and featherweight champion who had more name recognition than Rodriguez, a 30-year-old native of the Dominican Republic based in Spain who was the IBF's No. 2-ranked junior lightweight but had never fought in the United States. Lynch lobbied for Rodriguez, whom he incorrectly believed would pose a somewhat easier test for Gatti after he had gone 12 grueling rounds with Patterson only three months earlier.
"I wanted Vazquez because he was the bigger name," DiBella reasoned. "I had no problem with Rodriguez. I thought it was a good fight. But I was trying to build a series. We did incredibly well with the ratings for Barrera-McKinney and I wanted to make sure we had a follow-up show that was attractive, so we doubled down with Junior Jones-Orlando Canizales as the lead-in. We had three of the best lower weight-class fighters in the world, and two of them were fighting each other."
Jones and Canizales held up their end with Jones, a Brooklyn native, winning a minor super bantamweight title on a unanimous, 12-round decision to the delight of the announced attendance of 3,698 (about 800 below capacity) in the Theater at Madison Square Garden. It might have been a tough act to follow, considering that one well-regarded boxing writer had labeled Gatti-Rodriguez as a "gimme" for Gatti, who went in with a 24-1 record and 20 KOs, including 14 in the first round.
Some gimme. Tagged with laser-like accuracy by Rodriguez's stiff jabs and overhand rights, Gatti returned to his corner after the first round with a puffy left eye and a mouse beginning to form under his right. It got worse for him in the second round, when he was floored with a three-punch combination. He was up at the count of three and, as was his custom, fought back gamely, refusing to clinch, but the condition of both of his eyes was rapidly deteriorating.
Fortunately for Gatti, one of the best cutmen in the business, Joe Souza, had just joined his support crew and was proving to be a valuable addition as he feverishly worked his magic. Souza's handiwork was evident when the ring physician examined Gatti after both the third and fourth rounds, with Gatti five times correctly answering how many fingers the doctor was holding up. But Gatti knew, as did trainer Hector Roca, that his field of vision would soon be too impaired for him to be allowed to fight on.
In typical Gatti fashion, each time he appeared to inch close to a loss by stoppage, he would launch a counterattack that bought him precious seconds. Despite being docked a penalty point by referee Wayne Kelly in the fifth round for repeated low blows, Gatti ripped a left hook to the liver that put Rodriguez down for a six count in the fifth round. It was a harbinger of what was to follow in the sixth, when, with Rodriguez's right hand held low to protect his injured side, Gatti went upstairs with another hook that landed flush on the jaw, the challenger collapsing onto his back where he was counted out at the 2:16 mark. He would remain prone, unable to rise, for over a minute.
"We've been billing Arturo Gatti as one of the most exciting fighters in the world," said his promoter, Dino Duva. "I just wish he wouldn't make it this exciting."
Kelly was asked how close he had come to awarding a TKO victory to Rodriguez, who was ahead by three points on two of the official scorecards and was behind by one point on the other. "I was close to stopping it in the third," he said. "But I've worked with Gatti before and know he's very resilient."
Gatti, of course, went on to become the franchise fighter in Atlantic City, so much so that Lynch observed that "People planned their vacations around going there for the full weekend when Arturo fought there. His fights were that kind of must-see event.
"I pulled up to Bally's one time and the bell kid came out to get all our stuff. He saw the corner jackets and the robe that were in my car and he asked, `You're with Team Gatti?' I said yeah. He goes, `We love it when Gatti comes to town. Everybody makes money.' And it was true. The taxi drivers made money, there were more restaurant reservations made. His following in Atlantic City just grew and grew. He had a cult following like you'd see anywhere the Grateful Dead played."
Rodriguez wasn't so fortunate. He did not get a rematch with Gatti and had only one more meaningful fight, a unanimous decision loss to Angel Manfredy, before retiring in 1999 with a 48-11-3 record and 37 KOs. Perhaps Gatti-Rodriguez has lost some of its original luster because Rodriguez did not rise in prominence as did Ward, whose three-bout passion play with Gatti has made him a more or less equal partner for posterity's sake.
Gatti was posthumously inducted into the International Boxing Hall of Fame in 2013, an honor more than a few pundits believe is undeserved because he never quite made it to the top tier of superstardom that owes in equal parts to popularity and success inside the ropes. DiBella would argue that Gatti did deserve enshrinement for the excitement he so frequently generated, even if his skills never approached those of De La Hoya and Floyd Mayweather Jr., both of whom defeated him with relative ease.
"Gatti was never a pound-for-pound guy," DiBella acknowledged. "If you were a warrior and had a good night, you could rumble with Gatti. But he was an incredible fighter, and you can't rewrite him into Floyd Mayweather. He was just a blood-and-guts warrior. Gatti wasn't really happy if he didn't get into a war."
Bernard Fernandez is the retired boxing writer for the Philadelphia Daily News. He is a five-term former president of the Boxing Writers Association of America, an inductee into the Pennsylvania, New Jersey and Atlantic City Boxing Halls of Fame and the recipient of the Nat Fleischer Award for Excellence in Boxing Journalism and the Barney Nagler Award for Long and Meritorious Service to Boxing.
Check out more boxing news on video at The Boxing Channel
To comment on this story in The Fight Forum CLICK HERE
Fast Results from Brooklyn: No Surprises as Garcia and Hurd Win Lopsidedly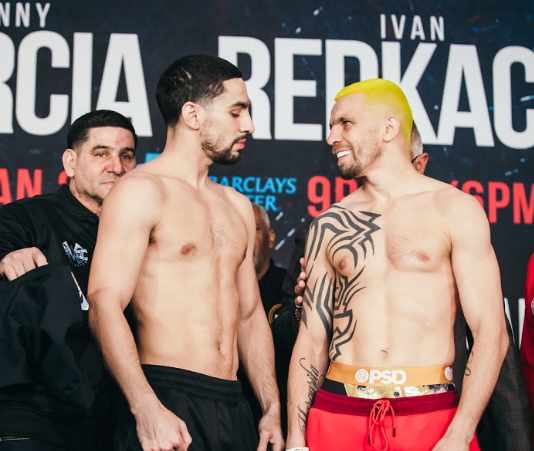 Tonight, Philadelphia's Danny Garcia made his eighth appearance at Barclays Center. Garcia's 2017 fight with Keith Thurman drew 16,533, the attendance high for a boxing show at the arena. A far smaller crowd was in attendance tonight to see Garcia take on Ivan Redkach in a non-title fight slated for 12 rounds.
Redkach, a 33-year-old LA-based Ukrainian, is a southpaw. That's no coincidence. Garcia hopes to land big-money fights with Errol Spence and/or Manny Pacquiao, both southpaws.
Redkach (23-4-1 coming in) turned his career around in his last fight with a career-best performance, a sixth-round stoppage of former two-division title-holder Devon Alexander, a 15-year pro who hadn't previously been stopped. But there was a class difference between he and Danny Garcia, a former WBA and WBC 140-pound world title-holder and former WBC 147-pound champion.
Garcia (35-2, 21 KOs) was simply sharper. His workrate slowed late in the fight, allowing the game Redkach to steal a few rounds, but at the final gun he was relatively unmarked whereas Redkach was conspicuously bruised. The scores were 118-110 and 117-111 twice. The crowd booed at intervals, understandable as they were subject to a drab 7-fight card that was even less interesting than it was on paper.
Co-Feature
In the 10-round co-feature, Jarrett Hurd, making his first start since losing his WBA/IBF super welterweight title to Julian Williams last May, went on cruise control from the opening bell and jabbed his way to a lopsided 10-round decision over Francisco Santana. Hurd, who improved to 24-1, finally let loose late in the 10th frame, putting Santana (25-8-1) on the canvas with a succession of left hooks, but by then many in the crowd had probably nodded off.
This was Hurd's first fight with new trainer Kay Koroma who has drawn raves for his work with America's elite amateurs. The scores were 97-92 and 99-90 twice. SoCal's Santana has now lost five of his last eight.
The opening bout on the main TV portion of the card was a 12-round super bantamweight contest between Philadelphia's Stephen Fulton and fellow unbeaten Arnold Khegai who currently trains in Philadelphia.
Fulton (18-0, 8 KOs) simply had too much class for Khegai (16-1-1), a Ukrainian of Korean heritage. Although Khegai frequently backed Fulton into the ropes, the Philadelphian had an air-tight defense and connected with many more punches. The fight went the full 12 with Fulton prevailing by scores of 116-112 and 117-111 twice.
If the WBO has its way, Fulton will proceed to a fight with Emanuel Navarrete, but don't hold your breath as Navarrete is promoted by Bob Arum who undoubtedly wants to extract more mileage from him before letting him risk his belt against a crafty fighter like Stephen Fulton.
Photo credit: Amanda Westcott / SHOWTIME
Check out more boxing news on video at The Boxing Channel 
To comment on this story in The Fight Forum CLICK HERE
Sacramento Honors Diego 'Chico' Corrales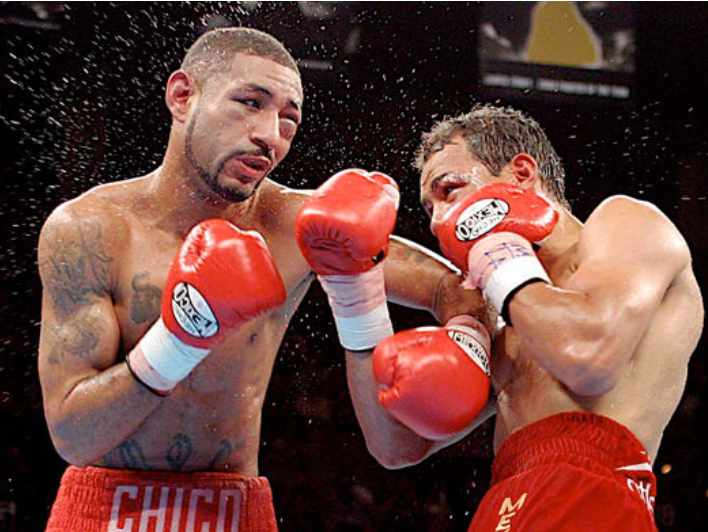 Tonight (Saturday, Jan. 25) former two-division world boxing champion Diego "Chico" Corrales will be posthumously inducted into the Sacramento Sports Hall of Fame at the organization's eighth annual induction ceremony at the Thunder Valley Casino Resort.
Corrales, who grew up in Sacramento, the son of a Columbian father and a Mexican mother, turned pro at age 18 and went on to compile a record of 40-5 (33 KOs). He won his first title in 1999 with a seventh-round stoppage of previously undefeated Robert Garcia. Now recognized as one of boxing's top trainers, Garcia was making the fourth defense of his IBF 130-pound title.
Five years later, Corrales won the WBO world lightweight title with a 10th-round stoppage of Brazil's previously undefeated Acelino Freitas. That set up a unification fight with the WBC belt-holder Jose Luis Castillo.
Corrales and Castillo met on May 7, 2005, at Mandalay Bay in Las Vegas. To say they put on a great fight would be an understatement. The boxing writers in attendance will tell you that this was the greatest fight of all time. It was named Fight of the Decade by The Ring magazine.
The final round, the 10th, was unbelievable. Heading into the round, Corrales was ahead on two of the three scorecards, but his left eye was swollen nearly shut and during the round he was knocked down twice. No one would have faulted referee Tony Weeks for stopping the fight after the second knockdown. But, somehow, Corrales was able to rally, pulling the fight out of the fire with a barrage of punches that had Castillo out on his feet when Weeks waived it off.
Two years to the very day of this iconic fight, Diego "Chico" Corrales died in a motorcycle accident in his adopted hometown of Las Vegas when he rear-ended a car while traveling at a high rate of speed. He was 29 years old.
Corrales was a thrill-seeker. In a 2006 profile, Las Vegas Review-Journal boxing writer Kevin Iole enumerated these among Castillo's hobbies: jumping out of planes from 14,000 feet, bungee jumping from 400 feet, snowboarding in treacherous terrain and scuba diving amid a school of sharks. "He lived his life the same way he fought," said his promoter Gary Shaw, "with reckless abandon."
It might seem odd that it took so long for Corrales to be recognized by the Sacramento Sports Hall of Fame, but there was a period when Corrales's name was mud in his hometown and perhaps the organization's founder, Las Vegas sports radio personality T.C. Martin, a Sacramento native, thought it appropriate to let old wounds heal.
In 2001, shortly after suffering his first pro loss at the hands of Floyd Mayweather, Corrales pled guilty to felony domestic violence in the beating of his first wife and would serve 14 months in prison. "The whole family has worn a black eye for it," Diego's brother Esteban Corrales told Sacramento Bee reporter Marcos Bretan.
For all his recklessness, the incident didn't jibe with his persona. In the company of Las Vegas sportswriters, the soft-spoken and well-spoken Corrales came across as polite and humble.
Corrales, one of five inductees in the 2020 class, joins three other boxers already installed in the Sacramento Hall: Pete Ranzany, Loreto Garza, and Tony "Tiger" Lopez.
Ranzany, a welterweight, fought four former or future world champions and was a fixture in Sacramento rings in the late 1970's. Garza wrested the WBA super lightweight title from Argentina's Juan Martin Coggi in France and successfully defended the belt here in Sacramento with a one-sided conquest of Vinny Pazienza. Lopez, Sacramento's most popular fighter ever, made the turnstiles hum at the city's largest arena where he fought eight of his 14 world title fights beginning with his 1988 humdinger with defending IBF 130-pound champion Rocky Lockridge.
Among the speakers at tonight's confab will be Kenny Adams. Perhaps best known as the head trainer for the 1988 U.S. Olympic team that won eight medals in Seoul, Adams currently trains Nonito Donaire. He was with Diego Corrales for 24 fights, during which Corrales was 23-1, avenging the lone defeat by Joel Casamayor. Festivities start at 7 pm.
Check out more boxing news on video at The Boxing Channel 
To comment on this story in The Fight Forum CLICK HERE
Boxing Odds and Ends: Ramirez-Postol, Taylor-Serrano and More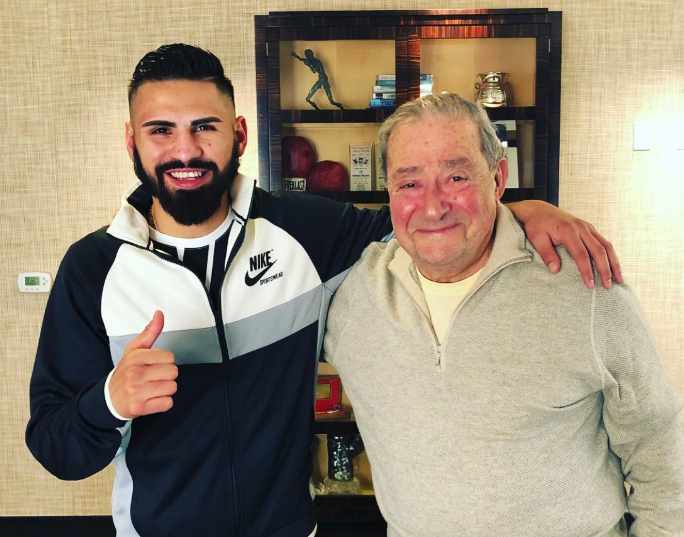 It takes a strong constitution to be a boxing promoter because things always go wrong. The only law that governs boxing is Murphy's Law.
Carl Frampton's first fight under the Top Rank banner was slated for Aug. 10 of last year in Philadelphia. With the fight five days away, Frampton suffered a freak injury while sitting in a hotel lobby. A boy playing behind a curtain knocked over a seven-foot pillar which fell on Frampton's left hand, fracturing it.
This was the second time that a Frampton fight was knocked out by a freak injury. Two years earlier, a homecoming fight in Belfast had to be scrapped when Frampton's opponent, Andres Gutierrez, slipped in the shower in his hotel on the eve of the battle and suffered severe facial injuries.
The latest bout to fall out because of an odd development is Jose Ramirez's Feb. 2 WBC/WBO lightweight title defense against Viktor Postol at a Chinese golf resort south of Hong Kong. The event fell victim to the coronavirus, more exactly the fear it has instilled.
The virus, which produces flu-like symptoms that are resistant to conventional antibiotics, apparently originated at an outdoor food market in the city of Wuhan where live animals are sold. The numbers vary with each new story, but according to one account there have been 444 confirmed cases in Hubei province, of which Wuhan is the capital city, and 653 cases worldwide including two in the United States, a man in his 30's living near Seattle and a Chicago woman in her 60's.
The fear of a pandemic (an epidemic becomes a pandemic when it spreads across multiple geographic regions of the world) has led to some drastic measures. The Chinese government has reportedly put 12 cities on lockdown, blocking traffic in and out. At many airports, visitors arriving from China are being screened. There are now thermal cameras than can record a person's body temperature remotely.
Jose Ramirez (pictured with his promoter Bob Arum) was scheduled to leave for China yesterday (Jan. 23) but was intercepted. Viktor Postol is already there and apparently stranded until an outgoing flight can be arranged.
The Ramirez-Postol fight was to air on ESPN. No make-up date has been set.
– – –
British promoter Eddie Hearn says he's close to finalizing a fight between Katie Taylor and Amanda Serrano. Hearn says the fight will take place in the U.S. in April. It figures that Madison Square Garden is the frontrunner.
If the fight comes off on schedule, this will be the biggest women's fight in history!
That's because the odds attached to the fight figure to be in the "pick-'em" range and that guarantees that boxing writers and others in the boxing community will be surveyed to get their picks – about which there figures to be considerable disagreement – and that will greatly enhance the pre-fight buzz.
Taylor, 33, last fought in November in Manchester, England, advancing her record to 15-0 (6 KOs) with a unanimous decision over Christina Linardatou, a fighter from Greece via the Dominican Republic. It was Taylor's first fight at 140 after previously unifying the lightweight title with a hard-fought decision over Belgium's Delfine Persoon.
Amanda Serrano, a 31-year-old southpaw, born in Puerto Rico and raised in Brooklyn, has won titles in five weight divisions. She last fought as a featherweight, turning away gritty Heather Hardy, but has competed as high as 140. Boasting a 37-1-1 record, she's won 23 straight, 18 by stoppage, 10 in the opening round
What sets women boxers apart from their male counterparts is that the women have a significantly lower knockout ratio. Amanda Serrano is the glaring exception.
Despite a less eye-catching record, Taylor has arguably fought the stiffer competition considering her extensive amateur background. As a pro, her victims include Cindy Serrano, Amanda's older sister by six years. Taylor whitewashed her in a match at Boston Garden, prompting the elder Serrano sister to call it a career.
– – –
The most bizarre (non)story to appear in a boxing web site this week involved former unified heavyweight champion Riddick Bowe. A man representing Bowe, identified as Eli Karabell, was frustrated because Eddie Hearn wasn't returning his calls. Karabell had offered Hearn the right of first refusal on Bowe's next fight.
Bowe, now 51 years old, last fought in a boxing ring in 2008 when he returned to the sport after a three-and-half year absence for an 8-round bout in Germany. In 2013, he appeared in a kickboxing fight in Thailand where he was stopped in the second round after being knocked down five times by leg kicks.
"Will there be another chapter to write for Bowe?" concluded the author of this piece.
Egads, let's hope not.
Check out more boxing news on video at The Boxing Channel 
To comment on this story in The Fight Forum CLICK HERE