Forty-six Boxing Notables Wax Nostalgic in the Latest TSS Survey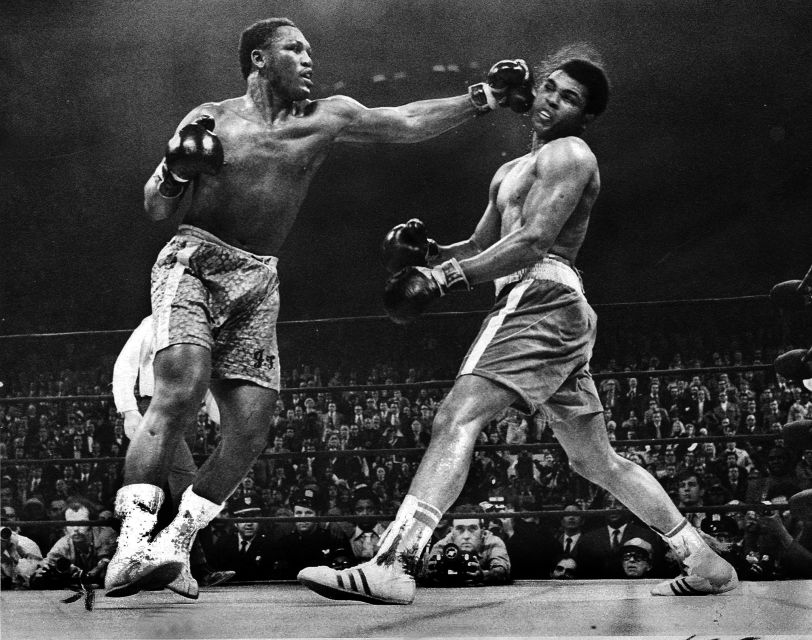 Welcome to the second TSS Quarterly Survey of 2019. Our survey question this time was "If you could have a ringside seat to any boxing event in history, which fight would you choose?" There were many duplicate picks but also some unexpected choices. Enjoy.
BONES ADAMS — trainer, former WBA world super bantamweight champion: Ali vs. Foreman. Ali at his best.
RUSS ANBER — elite trainer, cornerman, and owner of Rival Boxing Equipment: The first fight that popped into my mind was the June 22, 1938 rematch between Joe Louis and Max Schmeling. Considering the outcome of the first fight, coupled with the social and political implications which surrounded the rematch, I would dare say that it was the most important fight in the history of boxing. What I wouldn't have given to be there!
MATT ANDRZEJEWSKI — TSS boxing writer: Harry Greb vs. Mickey Walker. They were two of the greatest ever fighting for the middleweight title. It was reportedly a classic give and take battle that featured plenty of sustained action as well as an incredible performance by Greb whom I consider to be the greatest fighter of all time.
DAVID AVILA — TSS West Coast Bureau Chief: I'd love to have been ringside for Jack Dempsey vs Gene Tunney and the long count in Chicago at a time when Al Capone ruled the city. That was a pretty emotional fight that people argued about for many decades. It was Jack Dempsey's last fight and Gene Tunney fought only one more time.
TRACY CALLIS – eminent boxing historian: I'd love to be at ringside for the Tommy Ryan-Tommy West fight of March 4, 1901 in Louisville, Kentucky. It was the third time they had fought. This contest was not a boxing match as we know it, it was truly a fight. Blood, butting, other fouls, etc. Would love to be at ringside yes, but not too close for there was blood splattered everywhere. Ryan complained to the ref that West was butting. The ref told him to butt him back. They kept fighting.
STEVE CANTON — President of Florida Boxing Hall of Fame, author: The second Joe Louis vs. Max Schmeling bout because of its importance and significance during World War II. The utter destruction of Schmeling and redemption by Joe Louis was unbelievable and I could only imagine the feelings of those in attendance. It was one for the ages.
JILL DIAMOND — International Secretary, WBC– With the golden anniversary of Ali/Frazier I coming up March 8th, 2021, if I went back in time, could I wish for any other ticket? History! Glamour! Champions!
CHARLIE DWYER — former professional referee and member of U.S. Marine Corps Boxing Hall of Fame: Ali-Frazier I. In my estimation, it was the biggest mega fight ever.
STEVE FARHOOD — Showtime announcer, former editor of The Ring magazine and 2017 IBHOF inductee: That's an easy one: The Rumble in the Jungle. Incredibly significant. Unique. Dramatic. And since I covered only the last two fights of Ali's career, both of which were losses, I would like to have seen him win!
RICK FARRIS — President and founder at West Coast Boxing Hall of Fame: I'd like to have sat ringside for the last Ike Williams-Beau Jack lightweight title bout. The one where Williams is battering the defenseless Beau Jack in the corner, then held Beau up by the throat and turning to the ref  said, "What do you want me to do, kill the man?"
BERNARD FERNANDEZ — TSS Mainstay and lifetime member of the BWAA: March 8, 1971, Madison Square Garden, Joe Frazier's 15-round unanimous decision over Muhammad Ali in arguably the most-anticipated boxing match, and maybe even sport event, of all time. I was the young sports editor of a newspaper in south Louisiana  at the time, my days at ringside at major fights still a bit off in the future. But anyone who cared about boxing, and I did, wanted to be in the Garden in New York for this one.
If I am allowed two honorable mentions, I'd go with Roberto Duran UD15 Sugar Ray Leonard on June 20, 1980, in Montreal's Olympic Stadium and Aaron Pryor TKO 14 Alexis Arguello on Nov. 12, 1982, in Miami's Orange Bowl. But, really, there are a lot more I could mention.
***********************
"You know, you're in here with the God tonight" – Ali
"If you are God, you're in the wrong place tonight – Frazier
***********************
 JEFFREY FREEMAN (aka KO Digest) — TSS boxing writer: Hagler-Hearns, brief enough? Eight minutes. I've got my popcorn and I'm ready to rumble.
RANDY GORDON — former head of the New York State Athletic Commission, SiriusXM radio host, and author of Glove Affair, his recently released memoir: I'd absolutely have to be in Havana, Cuba, on April 5, 1915, for the Jack Johnson-Jess Willard heavyweight title fight. I have to see for myself if Johnson took a plunge in the Havana heat, or was really beaten by the far-less-talented Willard.
LEE GROVES — writer, author and the wizard of CompuBox: The first fight that came to mind was the rematch against Rocky Graziano and Tony Zale at Chicago Stadium on July 16, 1947. That's because the fight has been described as among the most thrilling in the history of the sport, yet the only footage is grainy, brief and shot from the crowd. Was this fight everything that it was portrayed? Being there would settle that question for me.
HENRY HASCUP — boxing historian and President of the New Jersey Boxing Hall of Fame: Harry Greb when he beat Gene Tunney. There is no film that we know of where Greb is actually in a boxing match so I would love to see how he beat one of the All-time Greats!
CHUCK HASSON — noted boxing historian and co-author of Philadelphia's Boxing Heritage: I can't help it. I would like to relive the time my dad took me to Atlantic City for my 17th birthday present to watch my idol Joey Giardello win the middleweight title with his career masterpiece beating Dick Tiger for the middleweight championship. The euphoria I experienced that night I would like to relive one more time. Nothing since in boxing has given me the pleasure of that night.
JACK HIRSCH — former President and now lifetime member of the BWAA: The Jack Johnson-Jim Jeffries fight in Reno, Nevada, on July 4, 1910. It was arguably the most historical event in sports history. I would have been fascinated to see the attitudes of those at ringside.
KEVIN IOLE — Yahoo combat sports journalist: March 8, 1971, Ali-Frazier I. The biggest sporting event of my lifetime. Where else would I rather be?
MIGUEL ITURRATE — matchmaker, judge, promoter and TSS writer: The first Billy Papke fight with Stanley Ketchel in Milwaukee on June 4, 1908. The fight is well documented and there was a who's who of athletes there, including Frank Gotch, the champion wrestler. Ketchel was defending his world middleweight title and the two would go on to fight three more times. But oh to be there for that first one….
STUART KIRSCHENBAUM — former head of the Michigan Boxing Commission: Joe Louis vs. Max Schmeling, June 22, 1938. Boxing transcended the sport that evening and was on the world stage for the most important social and political ramifications. During my term as Boxing Commissioner in Michigan little did I know that my own life would become intertwined with the Brown Bomber. From meeting him ringside and time spent with him at a victory party following Hilmer Kenty from the Kronk Gym becoming the first world champion from Detroit since Joe Louis.  Later on, I would become the personal guardian for Joe's widow Martha till her death and burial next to Joe in Arlington Cemetery. Joe's best childhood friend Freddie Guinyard gave me the glove that Joe had given him …the glove that knocked out Schmeling.  On Guinyard's wishes, along with the Michigan Jewish Sports Hall of Fame, we donated that glove which proudly stands in a granite and plexiglass showcase in Detroit dubbed "The Glove That Floored Nazi Germany". From Joe's hand….to Max's chin…to my home…to the City of Detroit…a proud journey indeed.
BRUCE KIELTY — matchmaker, historian: Ali vs Frazier #1. No explanation necessary.
JIM LAMPLEY — linchpin of the HBO Boxing announcing team for 31 years, 2015 IBHOF inductee: Louis vs Schmeling II. One of a tiny handful of famous sports events whose sociopolitical impacts rocked the world. First time ever a majority of white Americans rooted for a black man to beat a white man. Stands alone for me.
ARNE LANG — TSS editor-in-chief, author, historian: I missed the first fight between Diego Corrales and Jose Luis Castillo. It happened at a time when I was out of the boxing loop. Several of my friends were ringside and they all say it was the greatest fight they ever saw. I regret that I missed it.
JIMMY LANGE — former boxer and promoter: In a close call with Ali-Frazier 1, I would choose Louis vs Schmeling 2. It was one of the most significant events in sports history. A black man carried the U.S. on his shoulders to keep his title from the envoy of Hitler and Nazi Germany. Max was undeserving of such a villainous tag. After everything Joe Louis did for this country, the government turned on him and he died with much less dignity than he should have.
RON LIPTON — former fighter, retired police officer, pro referee and inductee into the New Jersey Boxing Hall of Fame: I'd pick the one I missed but wanted to see very much–the shootout with Charlie "Devil" Green and Frankie DePaula where Charlie stopped Frankie in two in M.S.G.  I'd also liked to have been at ringside for Jose "Chegui" Torres v Charlie "Devil" Green. I was sitting near Green when they came and got him to fill in for Jimmy Ralston. That was something to see when he floored Torres and they had to drag Jose back to the corner, he came out next round and stopped Charlie. I wish I had been closer to ringside which I usually always was.
ADEYINKA MAKINDE – UK barrister, author and contributor to the Cambridge Companion to Boxing: I'd liked to have been seated alongside Clark Gable and Douglas Fairbanks in Yankee Stadium for the return match in 1938 between the "Brown Bomber", Joe Louis, and the "Black Uhlan", Max Schmeling. A truly historic night given Louis' clinical and brutal revenge in a heavyweight title bout, as well as the significance of defeating the (unwilling) Nazi poster boy of Aryan racial supremacy.
SCOOP MALINOWSKI – writer, architect of Biofile: I'd go back and see the fight that was the most important of my childhood-one I saw on closed circuit TV at Totowa Ice World. This fight took over my life at age 14 and it turned out exactly as I hoped and wished. June 20, 1980, Montreal, Duran over Leonard.. It was Duran's highest moment. And if I could go into the Ted Sares Time Machine, second stop would be Duran vs. Moore at MSG. I'd like to have sat next to Mike Tyson up in the nosebleed seats. He told me he was doing "Duran Duran Duran" chants. Unbelievable atmosphere that night. Third trip…Dempsey vs. Willard. Love Dempsey in that fight, and my hat would fit right in at ringside.
DAVID MARTINEZ – historian: James J. Corbett vs. Peter Jackson, May 21, 1891, San Francisco, CA. This was a most exhausting fight of wills to the end.  After 61 grueling rounds, the referee called this historic heavyweight bout to a halt – the decision officially ruled a draw!
ROBERT MLADINICH– former  fighter, writer, author: Dempsey-Willard. Outdoors on the 4th of July with Dempsey, the Mike Tyson of his time, fighting a giant. Can't imagine a more exciting event.
ERNESTO MORALES (aka GINO FEBUS) — former fighter, writer: Louis vs Schmeling rematch to capture the fight and all the atmosphere leading up to it; the crowd, the buzz, the anticipation, ring walk, introduction… ALL! I've wondered about the political environment at the time: pro American, anti-Hitler/Nazi, anti-Negro, the KKK..and the Battle for World Boxing Supremacy! Along with the fears that Max would take the heavyweight crown to Germany and the horrifying thought of it NEVER returning!! Remember, Max had already KO'd Joe and even made it look somewhat easy. America had plenty to lose, especially Black America! But Joe pounding Max as he clung to the ropes and his trip to the canvas must've been awesome, a sight to forever behold. Don't believe there was a complaint in the Stadium that night because it ended so quickly, only cheers and sighs of relief!! Wish I could have been there.
****************
"Louis measures him. Right to the body. Left up to the jaw and Schmeling is down. The count is 5, 5, 6, 7, 8…The fight is over on a technical knockout. Max Schmeling is beaten in the first round!" –William Broadwater (AFRO)
*****************
CHRIS MORRIS — former boxer, writer: Hearns v Leonard 1. That epic fight hooked me on the sport. Our guy lost that night, but Hearns had an impact on me. So much so, my first son is named Santana Hearns.
JOSEPH PASQUALE — boxing judge: I'd go back again to my ringside seat 1979 MSG, NYC. Duran/Palomino and Weaver/Holmes. MSG Boxing at its best!  Not a judge then, just a fan. Still a fan.
RUSSELL PELTZ – venerable boxing promotor and 2004 IBHOF inductee: Johnson vs. Jeffries.
ADAM POLLACK—author, publisher, and boxing official: Any John L. Sullivan fight in the early 1880s because there is no film of him fighting, so we can't know for sure exactly what he looked like in action in his prime other than via written accounts.
FREDERICK ROMANO — author and former ESPN researcher: While being at Ali-Frazier I or Dempsey-Firpo would be a thrill, I would use this one wish from the boxing Jeanie to experience something we have never seen- something not on film. Sullivan-Corbett, Johnson-Langford,  Greb's victory over Tunney or  Zale-Graziano I,  would make me very happy. This morning I am in the mood for Johnson-Langford.
DANA ROSENBLATT — former world middleweight champion, commentator, inspirational speaker: Rosenblatt vs Pazienza 2. Far and away my favorite fight of all time.
LEE SAMUELS — Top Rank publicist emeritus and 2019 IBHOF Inductee: That's easy. Hagler vs Hearns in one of the most all out explosive battles of our time – think about that one every day.
TED SARES — TSS boxing writer: Louis vs Schmeling 2 because of the intense social and political backdrop. Close second is Christy Martin vs. Deirdre Gogarty (March 16, 1996). Blood and guts undercard war that stole the show from Tyson-Bruno and put women back on the boxing map.
 TOM SCHRECK — boxing judge: Do I have to pick one? 1. Ali v Frazier I, the enormity of the event would have been something to experience. It transcended boxing. 2. Hagler v Leonard, Sugar Ray's performance was genius 3. Tunney v Dempsey I, brawn v brains.
ICEMAN JOHN SCULLY — manager, trainer, commentator, writer, historian, former boxer: I'm always torn between the first Ali-Frazier fight and the first Leonard – Hearns fight. For me those are my two biggest and the ones I would revel in being able to attend.
PETER SILKOV – boxing writer: There are so many to choose from, but my feeling at the moment would be Ali vs Foreman. Ali's greatest night and the most extraordinary fight for the heavyweight title ever!
MIKE SILVER — author, writer, historian: A ringside seat to the Sullivan vs. Corbett fight. Huge historic importance. A seismic event for boxing's future. And who isn't curious to see the great John L. actually fighting!
ALAN SWYER — filmmaker, writer, and producer of the acclaimed El Boxeo: I chose the match in which welterweight Carmen Basilio won a split-decision over middleweight champion Sugar Ray Robinson. Though Robinson was to my mind the greatest fighter of all time, he was not at that point in his career at his best. Nonetheless, the battle — the fight of the year in 1957 — was the quintessential demonstration of will, stamina, endurance, and above all courage from two noble warriors.
GARY "DIGITAL" WILLIAMS — the voice of "Boxing on the Beltway": I'd loved to have been ringside for Ali-Frazier 1 and to have witnessed all the hoopla and the cultural and social significance surrounding that bout. I was only seven years old when that bout took place.
BEAU WILLIFORD — former boxer, trainer and manager and the face of boxing in Louisiana: Joe Frazier v Jerry Quarry at Madison Square Garden!!!
PETER WOOD — writer, author, former fighter: The fight I would watch is a hideous spectacle–and not politically correct…It would be the battle-royal in which Tom Molineaux, a Virginian slave, fought other hapless slaves, in which to earn his freedom and ultimately a shot at the heavyweight title. (Editor's note: What has been written about Tom Molineaux's days in America — before he went off to England — lacks any sort of rigorous documentation and is perhaps best understood as folklore. The conventional wisdom regarding inter-plantation slave fights has also been challenged.)
BOB YALEN —  holder of numerous executive positions in the boxing broadcasting industry and currently President of MTK Global: There are so many to choose from with so many reasons…Corbett-Sullivan to see the birth of modern boxing, Dempsey-Willard to check Jack's gloves, Tunney-Dempsey to time the long count, the list goes on…but I think I may choose the Willard-Johnson fight in Havana so I could finally put to rest what really happened at the end of the fight from my own perspective (and talk to everyone I could).
Observations: Like a boxing match, this one pitted the old vs the not-so-old. Ali vs. Frazier 1 and Louis vs. Schmeling 2 garnered the most mentions, but Dempsey, Tunney, Johnson and Sullivan also got their due, as did Hearns and Hagler. In the end, it came down to The Fight of the Century (1971) vs. the Louis -Schmeling rematch (1938).
One mild surprise was that only a few mentioned Harry Greb who has been hailed by far more than a few as being the best of the best. However, there is no live footage to back this up. Henry Hascup and Fred Romano mentioned Greb in this vein with both referring to Greb's sole victory over Gene Tunney in 1922.
Ted Sares is a lifetime member of Ring 10, and a member of Ring 4 and its Boxing Hall of Fame. He also is an Auxiliary Member of the Boxing Writers Association of America (BWAA). He is an active power lifter and Strongman competitor in the Grand Master class and plans to compete in 2019.
Check out more boxing news on video at The Boxing Channel
To comment on this story in The Fight Forum CLICK HERE
Scoring the Hagler-Leonard Fight With Fresh Eyes: More Fuel for the Fire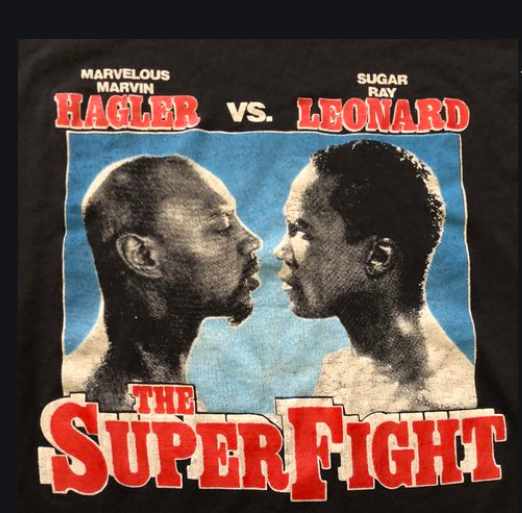 Monday, April 6, marks the 33rd anniversary of one of the most famous fights in boxing history. On that date in 1987, Sugar Ray Leonard upset Marvelous Marvin Hagler at Caesars Palace in Las Vegas, ending Hagler's 36-fight unbeaten streak. The Marvelous One never fought again.
It wasn't a great fight, but it was a great spectacle. The split decision favoring Sugar Ray was highly controversial and remains a bone of contention to this very day. The only thing that everyone seems to agree on is that the score turned in by Mexican judge Jo Jo Guerra – he had it 118-110 for Leonard – was ridiculous.
TSS New England correspondent Jeffrey Freeman re-visited that fight in an article published on this site in April of 2017. Freeman went back and meticulously studied the tape, re-scoring the fight round-by-round. His conclusion may surprise you.
Here we go, a blast from the past. (Click here to read Jeffrey Freeman's full 2017 article.)
"ROUND ONE: Leonard is on his bicycle immediately, dancing in circles around an orthodox Hagler. Immediate first impressions are that Leonard looks a little bigger than Hagler, not unlike Danny Jacobs last month against Gennady Golovkin. Leonard does not stop to punch very often but the first time he does strike, he unleashes a fast combination from which a left hand clips Hagler on the chin. Marvin smiled and Sugar Ray went back to dancing but the message was received loud and clear. Leonard was for real.  And now he was taunting Hagler by sticking out his chin. More combination punching from Leonard outscores Hagler's initial body attack.
Leonard wins the first round 10-9.
ROUND TWO: Still fighting orthodox, Hagler is looking to close the distance quicker and punch more. A wide left hook grazes Leonard early in the round. Leonard is boxing well and showing flashes of the defense he's well known for. Leonard grabs on for the first time after punching while Hagler pounds the body with his free right hand. A whipping right from the outside catches Hagler high on the head. Leonard places a nice left to the body under the elbow. Leonard clinches. With thirty seconds left in the round, Leonard connects with a clean right hand to the side of Hagler's head. Another left to the body from Leonard at the bell.
Leonard wins the second round 10-9.
ROUND THREE: Fighting southpaw for the first time, Hagler is bobbing and weaving but he's having a hard time keeping Leonard in one place long enough to punch at him. Lead right hands from Leonard are actually landing cleaner than anything Hagler is throwing in the challenger's direction. Hagler cannot land his right jab effectively and his uppercut is not breaking up and through the guard of a very defensive minded Leonard. With less than thirty seconds to go, a pair of one-twos from Leonard connects.
Leonard wins the third round 10-9.
ROUND FOUR: Hagler is boxing southpaw and trying unsuccessfully to catch up to Leonard. The challenger is sliding around the ring while Hagler swings and misses. A lead right hand from Leonard connects before a quick clinch. While tied up, Hagler worked the body a few times with his free hand. Leonard landed a clean right to the head on the break, a sign that he is neither intimidated by nor respectful of Hagler. Leonard confirms this fact later in the round when he winds up a showboat bolo punch that lands directly on Hagler's groin. Referee Richard Steele warns Leonard but Sugar Ray is doing what he wants in there when he wants to do it.
Leonard wins the fourth round, 10-9.
ROUND FIVE: Leonard starts the round strong with a pair of one-twos that connect as Hagler tries to get inside. Leonard is still moving well, beating Hagler to the punch. It looks at times like Hagler's feet are stuck in mud, while Leonard looks to have wings on his tasseled heels. With less than thirty seconds in the round, Hagler lands a right uppercut on the inside and Leonard is knocked back wobbly from the impact of the punch. Hagler hammers Leonard on the ropes at the bell. Hagler was out-landed this round, but Leonard was hurt.
Hagler wins the fifth round 10-9.
ROUND SIX: The fight is being fought at a familiar pace. Hagler is pressing forward trying to connect. Leonard is boxing from the outside, potshotting Hagler off the jab. Hagler's stance switches don't seem to bother Leonard at all. From the southpaw or orthodox position, Hagler misses wildly while Leonard glides away to safety or stands right in front of Hagler; bending back and away from the champion's wide punches. The objective reality is that Leonard is landing more than Hagler and Hagler is missing more than Leonard.
Leonard wins the sixth round 10-9.
ROUND SEVEN: With Leonard beginning to show his first signs of weariness, Hagler takes advantage to close the gap, landing well with the southpaw jab. Leonard is still countering more effectively but Hagler's power is starting to find the target. A left uppercut on the ropes from Hagler distorts the pretty face of Sugar Ray. As the round times out, Leonard reverts to shoeshine punches from the outside while Hagler deters his movement and puts Leonard on the ropes for some much needed body punches. This was a very close round.
Hagler wins the seventh round, 10-9.
ROUND EIGHT: Despite Leonard using every inch of an unusually large boxing ring, Hagler's long right jab lands clean in the first minute of the round. Hagler is starting to look marvelous for the first time in the bout. Leonard is not so tired yet that he can't keep moving but he is fading to the point where his punches lack the hard snap of earlier. Hagler makes Leonard pay when he opens up and exposes himself to counters. Leonard stands and fights on semi-even terms with Hagler to close out a good round for the defending champion.
Hagler wins the eighth round 10-9.
ROUND NINE: Before the bell to start the round, Leonard's trainer Angelo Dundee can be heard begging Ray to "just box" and not stand toe-to-toe. By contrast, in the opposite corner, the Petronellis are very calm and collected. Almost too calm. Like an "IBM board meeting" kind of calm. When the action resumed, both Hagler and Leonard went back to what they found effective earlier, Leonard boxing on the outside and Hagler trying to get close with the jab to rough Ray up inside. At the halfway point in the round, Hagler finally has Ray on the ropes, standing straight in front of him. Hagler does great work with his more powerful punches. Under fire in the corner, Leonard shoots off a lightning fast combination as he spins away from danger. It's clear that Leonard can hit Hagler. It's not so clear that he can hurt him. Hagler is walking through Leonard's punches to land harder shots of his own in a great ninth round.
Hagler wins the ninth round, 10-9.
ROUND TEN: With nine minutes left to go in the career of Marvin Hagler, the champion comes out to start the round with a wild right hand that misses. While both fighters are showing some signs of fatigue, it is Hagler who is landing the harder punches as Leonard's ability to move diminishes. Hagler is the more aggressive fighter in this round, although not always the more effective boxer. Leonard is still scoring points with basic boxing as Hagler wades in head first. Another extremely close round to call.
Leonard wins the tenth round, 10-9.
ROUND ELEVEN: The pace is slow to start the first minute of the championship rounds. Leonard is still finding Hagler's chrome dome with left-right combinations. Leonard starts to showboat again, taunting Hagler; then unloading with slashing punches. The majority of Leonard's punches miss but he is now more active than Hagler. Showing his first signs of desperation, Hagler lunges in with wide punches that Leonard is able to deftly avoid by leaning back at the waist. A clean left to the body, then upstairs, lands for Leonard.
Leonard wins the eleventh round, 10-9.
ROUND TWELVE: With three minutes left in the fight, Leonard is ecstatic in the corner before the bell. Both he and Dundee feel they have the fight won as Dundee yells out "new champion" over and over again.  Leonard beckons Hagler to the center of the ring where Steele makes them touch gloves. Hagler goes on the attack immediately, perhaps sensing the seriousness of the situation. Pinned on the ropes in a corner, Leonard again impresses the crowd with a flashy combination to Hagler's head before dancing away to circle the ring. With ninety seconds left to go, Leonard looks content to run and grab. Hagler misses with a left and a right over the top of a crouching Leonard with a minute to go. Both boxers begin to acknowledge the crowd by raising a fist. Leonard again holds and Hagler punches him repeatedly in the side of his body. They trade inside with Leonard's back to the ropes to close out the fight.
Hagler wins the twelfth round, 10-9.
I scored the fight 115-113 for Leonard, the same as on the night I first saw the fight live in 1987. Judge Lou Filippo scored it 115-113 for Hagler. Judge Dave Moretti scored it 115-113 for Leonard. And Judge Jo Jo, well, you know what he did.  The A.P. scored for Hagler. The Boston Globe scored for Leonard. HBO's Harold Lederman had it 115-113 Leonard.
Larry Merchant?  He had it a draw.
Ultimately, Leonard was much better than anyone could have realistically expected. And Hagler was much farther past his prime than anyone truly realized. Quite naturally, it was the perfect time for Leonard to have come out of retirement for a fight with the aging Hagler. So there you have it folks.  I've thrown down the gauntlet.  Feel free to pick it up and tell me where I'm wrong.
How did YOU score the fight?
Who REALLY won?
Was it Hagler?  Was it Leonard?
The debate rages on…"
Boxing Writer Jeffrey Freeman grew up in the City of Champions, Brockton, Massachusetts from 1973 to 1987, during the Marvelous career of Marvin Hagler. JFree then lived in Lowell, Mass during the best years of Irish Micky Ward's illustrious career. A new member of the Boxing Writers Association of America and a Bernie Award Winner in the Category of Feature Under 1500 Words, Freeman covers boxing for The Sweet Science in New England.
Check out more boxing news on video at The Boxing Channel 
To comment on this story in The Fight Forum CLICK HERE
Art of Boxing Series: Tim "Desert Storm" Bradley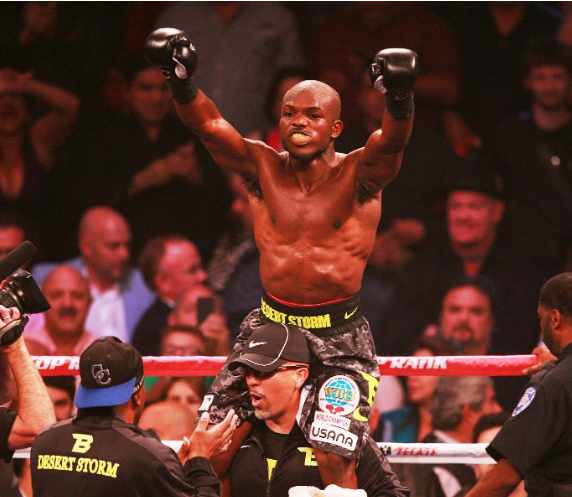 Few things compare to watching the rise of a virtual unknown boxer to world champion status and that's what transpired in the amazing career of Tim "Desert Storm" Bradley Jr.
From the first day Bradley stepped into the outdoor prize ring in Corona until his final clash against a super star almost exactly four years ago in Las Vegas, it was like watching a classic painting in the works, a Rembrandt, a Picasso, a Renoir – layer by layer of clashing colors and resistance to opposing forces.
Not all prizefighters are the same.
Bradley, though tough as they come and as fast as a zephyr, was forced to rely on limited physical tools and a mental aptitude for studying the opposition the way a Nobel prize winning physicist might study molecules.
He is a member of a limited few who mastered the art of boxing.
It all began in the starched and heated area of Palm Springs where temperatures soar above 115 degrees on a regular basis in the summer. It can also dip below 30 on a winter night. It was around 1994 that Bradley found boxing.
Always short for his age, others picked on Bradley and he quickly retaliated with flashing fists. He was expelled twice and nearly booted from an entire school district. But he found a loophole when a friend told him about a boxing gym.
"A friend of mine was doing it. His name was Julio and we was always slap boxing around in school, just kidding around trying to hit each other in the face," said Bradley recounting his elementary school days. "I was quick and very athletic and was always able to get to him before he was able to get to me. And he was boxing. So I begged my dad for almost two months to take me to the boxing gym."
Bradley's father worked across the street from a Palm Springs boxing gym and it coincidentally was the same gym his friend Julio attended. Father and son visited the gym one day. Bradley was 10 years old.
"I felt like I was walking into my heaven. I remember it was a blue heavy bag when we walked in the door to my right. I saw the ring, it was off to the right in the corner. And the speed bags were directly in front of me and they had these platforms if you were short so you could reach the speed bags. And I remember seeing all these different pictures on the wall of fighters and trainers and champions," Bradley recalls.
After signing waivers and getting weighed, the older gentleman, a husky caretaker named OJ Kutcher from Boston, took a good look at young Bradley and tapped him lightly on the chest.
"He looked at me and said 'oh, you're different. There is something about you kid. You are going to be a champion' and my dad started laughing," said Bradley about what the old trainer said in his Bostonian accent.  "My father said we just want to box. Don't fill my son's head up. You don't got to sell us on this man. We just started laughing."
It wasn't a laughing matter once actual training commenced. Immediately Bradley excelled and surpassed the others in his ability to do more push-ups, run faster and train harder. In two weeks he got his first fight. Shortly after, he was pit against a youngster who would be a future amateur legend.
"I remember fighting Panchito Bojado in my second fight. He beat me. I fought hard as I can but I didn't really know a lot. Then I met him again in my fourth fight in the tournament," said Bradley chuckling at the memory. "So then I went to the junior golden gloves and he beat me again. He started boxing early, early. I fought hard but he had some experience on me. I never fought him again."
Bradley quickly became the best fighter in the desert region. Now he set his goals on bigger game.
National Recognition
Though small in stature, Bradley was making a big impact on the amateur boxing world. Stars like Andre Ward, Andre Berto, Andre Dirrell were all future foes and obstacles for Bradley who fought at 147 and 152 pounds as he got older.
His favorite amateur fight took place in the early 2000s.
"My favorite fight was against Edgar Sanchez. He was from Arizona. He's a lefty. He had just beaten Andre Ward in the Blue and Gold Tournament. I remember watching that fight. I fought Andre Ward in the same tournament. Andre ward beat me 2 to 1, and then Edgar Sanchez beat Andre next day. And that was the last time I saw Andre Ward lose actually," said Bradley about his favorite amateur win. "That guy, I fought him in the Silver Gloves regionals in the finals and I remember him beating Andre Ward and he beat a couple of other guys that were top-notch from California. I remember getting in the ring with him and I ended up beating him."
Bradley said he carefully watched Sanchez defeat Ward with an intense pressure style. He devised his own plan to defuse the aggressive boxer and when they met, he emerged the winner.
"I was able to out-box him. Set traps and just let him run into punches. I ended up beating him," said Bradley remembering the victory. "That was probably my favorite amateur fight."
Around this same period Bradley was trying to make his long-sought dream of making the US Olympic boxing team. He had two more opportunities when he fought in the Police Athletic League Nationals.
"I fought in the PAL Nationals semi-finals and I fought someone from the Army team. It was tied up 10-10 I think. Then, in the last round, I went straight at him pinned him on the ropes, drilled him and no doubt in my mind I won the fight. After the fight I put my hands up because I had no doubt in my mind I won," Bradley said of the fight held at 152 pounds. "But they raised his hand instead. That's just crushed me when I lost. My dream was to go to the Olympics at 152."
Despite severe height disadvantages at the 152-pound weight class, Bradley felt he was capable of still making the Olympic team.
"I had one more chance and lost the challenge to Vanes (Martirosyan). I had never seen him before. He was tall and long and had good power and skill, he surprised me. He shook me. I was like wow, who is this kid," said Bradley at the memory. "I fought against the Dirrell brothers, Andre Berto, Andre Ward, I fought all of them. But yeah, I ended up losing and that crushed me. I thought about quitting boxing."
Enter Thompson Boxing
Months passed by and Bradley decided to partake in teen activities like partying and partying.
"I was finally doing things a teen-ager does," said Bradley. "I had always been so disciplined and did nothing but train. But with no boxing, I started partying."
Then one day, at a Palms Spring golf course, Bradley was attending a party when he saw a group of people with shirts that had Thompson Boxing emblems. He asked a man wearing a Thompson Boxing shirt about the company and also informed him that he was a boxer.
"This guy said put your hands up and then he slapped me in the face. Then he slapped me in the face again and we got into a little tussle. I started coming after him. I was furious. Then Ken Thompson's son Steve ran over to help. I was trying to kill that dude. Steve (Thompson) said, I like your spirit."
Thompson Boxing agreed to give Bradley an audition fight. But first, Bradley sought out a trainer to make the transition from amateur to professional boxing.
He found Joel Diaz and his brother Antonio Diaz in Indio.
"The Diaz brothers had a big reputation in the Valley. Julio won two world titles, Antonio fought Shane Mosley and Joel fought as well. I just trusted those guys. I knew I had to learn how to really step into the jab. Growing up in boxing you know the lingo," said Bradley about making the transition in six months. "It was mentally draining, I had to learn distance."
Finally, on August 20, 2004, Bradley made his pro debut at Omega Products International at Corona, California. It was an outdoor event and facing him was a guy named Francisco Martinez who was also making a pro debut.
"I fought a kid who had just turned pro too and the first jab he hit me with was like getting hit in the face with a brick. Oh my goodness. He's not hitting me no more," said Bradley about his first prize fight. "I knew I had more skill than he had. Joel taught me how to break down guys to the body. You got to take something out of them by beating them to the body."
Bradley won by second round technical knockout.
To be continued…….
Photo credit: Al Applerose
Check out more boxing news on video at The Boxing Channel 
To comment on this story in The Fight Forum CLICK HERE
Stonewalled by the Coronavirus: Dee-Jay Kriel's Unhappy Story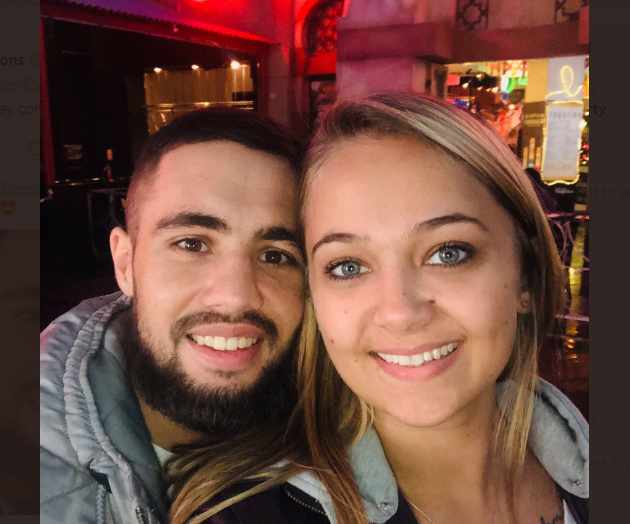 They say that good things come to those who wait, but that old bromide gives little solace to a boxer whose career has been frozen by the great pandemic. Some cases evoke more sympathy than others and the case of Dee-Jay Kriel in particular strikes a sympathetic chord.
It's been 13 months since Kriel last had a fight of any consequence. Opportunities arose but then for one reason or another were pulled off the table. And then finally the logjam was broken, a match with IBF title-holder Felix Alvarado on a big Golden Boy Promotions card later this month on April 25.
The pandemic torpedoed that show and ultimately every other boxing show slated for the month of April and who knows how far beyond? And once again, Dee-Jay Kriel was left in limbo, not knowing when he would fight again.
Chances are you are not familiar with the name Dee-Jay Kriel. Boxers in his weight class, with very few exceptions, toil in anonymity outside the Orient. But Dee-Jay is no club fighter; he actually won a world title, achieving that distinction on Feb. 16, 2019 in Los Angeles when he upset previously undefeated Carlos Licona.
If you missed it, you weren't alone. The match was left off the televised portion of the show which aired on FOX. In fact, some ringside reporters missed the fight, or at least left it off their post-fight story. It was the walkout fight and they were likely busy interviewing the victorious headliner Leo Santa Cruz  back in his dressing room.
That's what happens – indifference or downright disdainfulness — when you compete in the smallest weight class. Licona vs. Kriel was contested for the IBF minimum-weight title. And, so it is that when Dee-Jay Kriel looks back at the proudest moment of his pro career, his self-satisfaction is tempered by the realization that few people got to share the moment with him.
"That's too bad," he says, "because it was a very exciting fight."
Indeed it was. Heading into the 12th round, Dee-Jay was ahead by one point on one of the cards but trailed by seven points on the others. It wasn't sufficient that he go out and hammer Licona from pillar to post in the final stanza; he needed a knockout to win. And he rose to the occasion, scoring three knockdowns before the referee waived it off with less than a minute remaining on the clock.
"It was like a Rocky movie," says Kriel.
Kriel is from Boxburg, South Africa, a community on the outskirts of Johannesburg. The Licona fight, which he took on short notice, was his U.S. debut. He had come to Las Vegas six months earlier to hone his game under the tutelage of veteran trainer Kenny Adams.
"There just wasn't enough opportunity in South Africa," he said. Like many other boxers around the world looking for that one big break, Las Vegas was seen as the promised land.
In Las Vegas, things have not proceeded as quickly as he had hoped, but frequent sparring sessions with Nonito Donaire sharpened his tools and increased his confidence. "I learned a lot from Nonito," says Dee-Jay.
It's a long way from Johannesburg to Las Vegas, more than 10,000 miles. You can't fly there non-stop and you can't get there in one day. And for a young boxer leaving home for the first time, heading off to a strange land, the trip must seem even longer. Kriel is very close to his extended family and came here without his wife Denica (pictured) who wasn't able to join him until October of last year.
When he was just starting out, Kriel seemed like the longest of long shots to win a world title. He was 0-3 as an amateur and lost his pro debut. But he stayed the course and would not lose again. He currently sports a 16-1-1 (8 KOs) record, the most recent "W" coming in an un-taxing, stay-busy fight in Tijuana.
Kenny Adams, who turns 80 this year, has had health problems that have forced him to cut down on his workload. Brandon Woods has assumed the role of chief trainer. Woods is a fixture at Bones Adams gym in Las Vegas, or was until the coronavirus turned the world upside down. Now, instead of working with boxers in a communal setting, Woods trains fighters one-on-one in his home.
"I still work out every day," Kriel told this reporter by phone. "I run and jump rope and work the mitts with Brandon."
It can't be very much fun. Woods is a no-nonsense trainer. In the gym, he runs the show like a drill sergeant. It is the camaraderie that makes it easy to digest; there's a sense of community there, a family-like atmosphere that can't be replicated in a one-on-one setting.
Winning a title wasn't life-changing. The IBF ordered Kriel to defend the belt against Pedro Taduran, but Taduran's management offered less money than Kriel had made fighting Carlos Licona and they insisted that the fight had to take place in the Philippines. Ergo, Kriel relinquished his belt without defending it, moving up to a higher weight class.
Kriel's dream fight was a unification bout with long-reigning WBC title-holder Wanheng Menayothin, aka Chayaphon Moonsri, whose record, currently 54-0, gives him a Mayweather-like aura, if only in his native Thailand. (Ironically, Menayothin was also slated to appear on Golden Boy's April 25 show, but against an opponent who would not have posed as big a threat to him as Dee-Jay Kriel; such are the politics of boxing.)
Dee-Jay could be forgiven for walking away from the sport in frustration, but returning home right now isn't an option. South Africa's COVID-19 lockdown is among the world's most stringent. Jogging and dog-walking are prohibited. In Johannesburg, the militia are patrolling the streets.
The Republic of South Africa has produced a few good heavyweights and one great junior lightweight in Brian Mitchell, but for whatever reason an inordinate number of South Africa's best fighters have toiled in the smallest weight classes. Baby Jake Matlala, who had to stand on his tiptoes to be five feet tall, became a national hero after upsetting Michael Carbajal at Las Vegas in 1997. Zolani Tete, a former two-division champion, began his career at 111 pounds. Moruti Mthalene is the reigning IBF world flyweight champion and former world minimum-weight title-holder Hekkie Budler is currently ranked #1 by the WBC at light flyweight.
As shown by Matlala, and many years earlier by mighty-mite Vic Toweel, South Africans revere their world boxing champions, no matter how big or how small. When Dee-Jay's sponsors Ryan Erasmus and Kagiso Mokoduo chose to back him, the potential return on investment was obviously a lesser motivation than the chance to be involved in a project that would hopefully uplift the spirits of their countrymen. Erasmus and Mokoduo are the co-founders of a prominent South Africa law firm.
"They are good guys," says Kriel. "They look after me."
Does he worry that in these troubled economic times his sponsors may be compelled to pull the plug? "It preys on my mind," he says, "but so far there has been no indication of that." Should that transpire, Dee-Jay couldn't count on financial help from his wife. Denica was a bookkeeper for a financial services firm in South Africa but is in the U.S. on a student visa that prohibits her from entering the work force.
Dee-Jay knows that he has it a lot better than other fighters who can no longer afford to keep their nose to the grindstone. He's also lucky to live in the Internet age where keeping up with the home folks doesn't involve the post office. He communicates with his family in South Africa by video every day. His father has a small towing business. "We were never poor," he says, "but my parents never had a lot of money. I want to help them out. That's my first goal and then I would like to leave a legacy."
—
Dee-Jay bucked big odds when he snatched away Carlos Licona's title. Licona had 75 amateur fights, was schooled by the renowned trainer Robert Garcia, and was fighting in his backyard. And he will be a substantial underdog again when and if his bout with Nicaragua's Felix Alvarado comes to fruition. Alvarado is 35-2 with 30 knockouts, has won 17 in a row, and has been in with stiffer competition. His twin brother Rene Alvarado recently won the WBA 130-pound title.
Alvarado seemingly has another factor in his favor. As I write this on April 3, Nicaraguan strongman Daniel Ortega has yet to impose social distancing. One presumes that Alvarado's regular routine hasn't been disturbed.
"I believe a fighter needs to fight," says Kriel, "just as a footballer (i.e, a soccer player) needs to keep playing football." Expressed more tersely by an old-time fight handicapper of this writer's acquaintance: rest makes rust.
The Dee-Jay Kriel story isn't a great tragedy like so many COVID-19 stories, but it's hard not to feel for him and for all the other boxers who have been marooned, in a manner of speaking, by this surreal situation.
Hang in there, guys.
Check out more boxing news on video at The Boxing Channel 
To comment on this story in The Fight Forum CLICK HERE