Forty-six Boxing Notables Wax Nostalgic in the Latest TSS Survey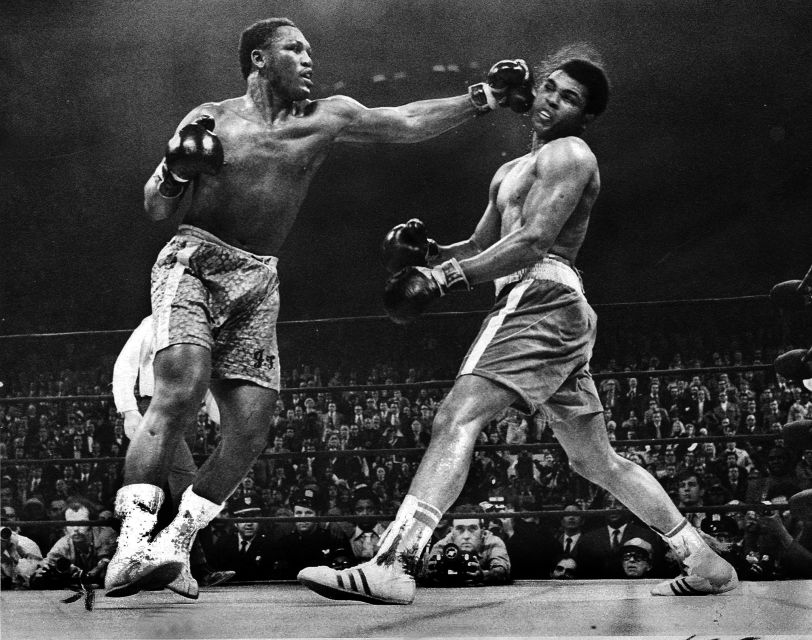 Welcome to the second TSS Quarterly Survey of 2019. Our survey question this time was "If you could have a ringside seat to any boxing event in history, which fight would you choose?" There were many duplicate picks but also some unexpected choices. Enjoy.
BONES ADAMS — trainer, former WBA world super bantamweight champion: Ali vs. Foreman. Ali at his best.
RUSS ANBER — elite trainer, cornerman, and owner of Rival Boxing Equipment: The first fight that popped into my mind was the June 22, 1938 rematch between Joe Louis and Max Schmeling. Considering the outcome of the first fight, coupled with the social and political implications which surrounded the rematch, I would dare say that it was the most important fight in the history of boxing. What I wouldn't have given to be there!
MATT ANDRZEJEWSKI — TSS boxing writer: Harry Greb vs. Mickey Walker. They were two of the greatest ever fighting for the middleweight title. It was reportedly a classic give and take battle that featured plenty of sustained action as well as an incredible performance by Greb whom I consider to be the greatest fighter of all time.
DAVID AVILA — TSS West Coast Bureau Chief: I'd love to have been ringside for Jack Dempsey vs Gene Tunney and the long count in Chicago at a time when Al Capone ruled the city. That was a pretty emotional fight that people argued about for many decades. It was Jack Dempsey's last fight and Gene Tunney fought only one more time.
TRACY CALLIS – eminent boxing historian: I'd love to be at ringside for the Tommy Ryan-Tommy West fight of March 4, 1901 in Louisville, Kentucky. It was the third time they had fought. This contest was not a boxing match as we know it, it was truly a fight. Blood, butting, other fouls, etc. Would love to be at ringside yes, but not too close for there was blood splattered everywhere. Ryan complained to the ref that West was butting. The ref told him to butt him back. They kept fighting.
STEVE CANTON — President of Florida Boxing Hall of Fame, author: The second Joe Louis vs. Max Schmeling bout because of its importance and significance during World War II. The utter destruction of Schmeling and redemption by Joe Louis was unbelievable and I could only imagine the feelings of those in attendance. It was one for the ages.
JILL DIAMOND — International Secretary, WBC– With the golden anniversary of Ali/Frazier I coming up March 8th, 2021, if I went back in time, could I wish for any other ticket? History! Glamour! Champions!
CHARLIE DWYER — former professional referee and member of U.S. Marine Corps Boxing Hall of Fame: Ali-Frazier I. In my estimation, it was the biggest mega fight ever.
STEVE FARHOOD — Showtime announcer, former editor of The Ring magazine and 2017 IBHOF inductee: That's an easy one: The Rumble in the Jungle. Incredibly significant. Unique. Dramatic. And since I covered only the last two fights of Ali's career, both of which were losses, I would like to have seen him win!
RICK FARRIS — President and founder at West Coast Boxing Hall of Fame: I'd like to have sat ringside for the last Ike Williams-Beau Jack lightweight title bout. The one where Williams is battering the defenseless Beau Jack in the corner, then held Beau up by the throat and turning to the ref  said, "What do you want me to do, kill the man?"
BERNARD FERNANDEZ — TSS Mainstay and lifetime member of the BWAA: March 8, 1971, Madison Square Garden, Joe Frazier's 15-round unanimous decision over Muhammad Ali in arguably the most-anticipated boxing match, and maybe even sport event, of all time. I was the young sports editor of a newspaper in south Louisiana  at the time, my days at ringside at major fights still a bit off in the future. But anyone who cared about boxing, and I did, wanted to be in the Garden in New York for this one.
If I am allowed two honorable mentions, I'd go with Roberto Duran UD15 Sugar Ray Leonard on June 20, 1980, in Montreal's Olympic Stadium and Aaron Pryor TKO 14 Alexis Arguello on Nov. 12, 1982, in Miami's Orange Bowl. But, really, there are a lot more I could mention.
***********************
"You know, you're in here with the God tonight" – Ali
"If you are God, you're in the wrong place tonight – Frazier
***********************
 JEFFREY FREEMAN (aka KO Digest) — TSS boxing writer: Hagler-Hearns, brief enough? Eight minutes. I've got my popcorn and I'm ready to rumble.
RANDY GORDON — former head of the New York State Athletic Commission, SiriusXM radio host, and author of Glove Affair, his recently released memoir: I'd absolutely have to be in Havana, Cuba, on April 5, 1915, for the Jack Johnson-Jess Willard heavyweight title fight. I have to see for myself if Johnson took a plunge in the Havana heat, or was really beaten by the far-less-talented Willard.
LEE GROVES — writer, author and the wizard of CompuBox: The first fight that came to mind was the rematch against Rocky Graziano and Tony Zale at Chicago Stadium on July 16, 1947. That's because the fight has been described as among the most thrilling in the history of the sport, yet the only footage is grainy, brief and shot from the crowd. Was this fight everything that it was portrayed? Being there would settle that question for me.
HENRY HASCUP — boxing historian and President of the New Jersey Boxing Hall of Fame: Harry Greb when he beat Gene Tunney. There is no film that we know of where Greb is actually in a boxing match so I would love to see how he beat one of the All-time Greats!
CHUCK HASSON — noted boxing historian and co-author of Philadelphia's Boxing Heritage: I can't help it. I would like to relive the time my dad took me to Atlantic City for my 17th birthday present to watch my idol Joey Giardello win the middleweight title with his career masterpiece beating Dick Tiger for the middleweight championship. The euphoria I experienced that night I would like to relive one more time. Nothing since in boxing has given me the pleasure of that night.
JACK HIRSCH — former President and now lifetime member of the BWAA: The Jack Johnson-Jim Jeffries fight in Reno, Nevada, on July 4, 1910. It was arguably the most historical event in sports history. I would have been fascinated to see the attitudes of those at ringside.
KEVIN IOLE — Yahoo combat sports journalist: March 8, 1971, Ali-Frazier I. The biggest sporting event of my lifetime. Where else would I rather be?
MIGUEL ITURRATE — matchmaker, judge, promoter and TSS writer: The first Billy Papke fight with Stanley Ketchel in Milwaukee on June 4, 1908. The fight is well documented and there was a who's who of athletes there, including Frank Gotch, the champion wrestler. Ketchel was defending his world middleweight title and the two would go on to fight three more times. But oh to be there for that first one….
STUART KIRSCHENBAUM — former head of the Michigan Boxing Commission: Joe Louis vs. Max Schmeling, June 22, 1938. Boxing transcended the sport that evening and was on the world stage for the most important social and political ramifications. During my term as Boxing Commissioner in Michigan little did I know that my own life would become intertwined with the Brown Bomber. From meeting him ringside and time spent with him at a victory party following Hilmer Kenty from the Kronk Gym becoming the first world champion from Detroit since Joe Louis.  Later on, I would become the personal guardian for Joe's widow Martha till her death and burial next to Joe in Arlington Cemetery. Joe's best childhood friend Freddie Guinyard gave me the glove that Joe had given him …the glove that knocked out Schmeling.  On Guinyard's wishes, along with the Michigan Jewish Sports Hall of Fame, we donated that glove which proudly stands in a granite and plexiglass showcase in Detroit dubbed "The Glove That Floored Nazi Germany". From Joe's hand….to Max's chin…to my home…to the City of Detroit…a proud journey indeed.
BRUCE KIELTY — matchmaker, historian: Ali vs Frazier #1. No explanation necessary.
JIM LAMPLEY — linchpin of the HBO Boxing announcing team for 31 years, 2015 IBHOF inductee: Louis vs Schmeling II. One of a tiny handful of famous sports events whose sociopolitical impacts rocked the world. First time ever a majority of white Americans rooted for a black man to beat a white man. Stands alone for me.
ARNE LANG — TSS editor-in-chief, author, historian: I missed the first fight between Diego Corrales and Jose Luis Castillo. It happened at a time when I was out of the boxing loop. Several of my friends were ringside and they all say it was the greatest fight they ever saw. I regret that I missed it.
JIMMY LANGE — former boxer and promoter: In a close call with Ali-Frazier 1, I would choose Louis vs Schmeling 2. It was one of the most significant events in sports history. A black man carried the U.S. on his shoulders to keep his title from the envoy of Hitler and Nazi Germany. Max was undeserving of such a villainous tag. After everything Joe Louis did for this country, the government turned on him and he died with much less dignity than he should have.
RON LIPTON — former fighter, retired police officer, pro referee and inductee into the New Jersey Boxing Hall of Fame: I'd pick the one I missed but wanted to see very much–the shootout with Charlie "Devil" Green and Frankie DePaula where Charlie stopped Frankie in two in M.S.G.  I'd also liked to have been at ringside for Jose "Chegui" Torres v Charlie "Devil" Green. I was sitting near Green when they came and got him to fill in for Jimmy Ralston. That was something to see when he floored Torres and they had to drag Jose back to the corner, he came out next round and stopped Charlie. I wish I had been closer to ringside which I usually always was.
ADEYINKA MAKINDE – UK barrister, author and contributor to the Cambridge Companion to Boxing: I'd liked to have been seated alongside Clark Gable and Douglas Fairbanks in Yankee Stadium for the return match in 1938 between the "Brown Bomber", Joe Louis, and the "Black Uhlan", Max Schmeling. A truly historic night given Louis' clinical and brutal revenge in a heavyweight title bout, as well as the significance of defeating the (unwilling) Nazi poster boy of Aryan racial supremacy.
SCOOP MALINOWSKI – writer, architect of Biofile: I'd go back and see the fight that was the most important of my childhood-one I saw on closed circuit TV at Totowa Ice World. This fight took over my life at age 14 and it turned out exactly as I hoped and wished. June 20, 1980, Montreal, Duran over Leonard.. It was Duran's highest moment. And if I could go into the Ted Sares Time Machine, second stop would be Duran vs. Moore at MSG. I'd like to have sat next to Mike Tyson up in the nosebleed seats. He told me he was doing "Duran Duran Duran" chants. Unbelievable atmosphere that night. Third trip…Dempsey vs. Willard. Love Dempsey in that fight, and my hat would fit right in at ringside.
DAVID MARTINEZ – historian: James J. Corbett vs. Peter Jackson, May 21, 1891, San Francisco, CA. This was a most exhausting fight of wills to the end.  After 61 grueling rounds, the referee called this historic heavyweight bout to a halt – the decision officially ruled a draw!
ROBERT MLADINICH– former  fighter, writer, author: Dempsey-Willard. Outdoors on the 4th of July with Dempsey, the Mike Tyson of his time, fighting a giant. Can't imagine a more exciting event.
ERNESTO MORALES (aka GINO FEBUS) — former fighter, writer: Louis vs Schmeling rematch to capture the fight and all the atmosphere leading up to it; the crowd, the buzz, the anticipation, ring walk, introduction… ALL! I've wondered about the political environment at the time: pro American, anti-Hitler/Nazi, anti-Negro, the KKK..and the Battle for World Boxing Supremacy! Along with the fears that Max would take the heavyweight crown to Germany and the horrifying thought of it NEVER returning!! Remember, Max had already KO'd Joe and even made it look somewhat easy. America had plenty to lose, especially Black America! But Joe pounding Max as he clung to the ropes and his trip to the canvas must've been awesome, a sight to forever behold. Don't believe there was a complaint in the Stadium that night because it ended so quickly, only cheers and sighs of relief!! Wish I could have been there.
****************
"Louis measures him. Right to the body. Left up to the jaw and Schmeling is down. The count is 5, 5, 6, 7, 8…The fight is over on a technical knockout. Max Schmeling is beaten in the first round!" –William Broadwater (AFRO)
*****************
CHRIS MORRIS — former boxer, writer: Hearns v Leonard 1. That epic fight hooked me on the sport. Our guy lost that night, but Hearns had an impact on me. So much so, my first son is named Santana Hearns.
JOSEPH PASQUALE — boxing judge: I'd go back again to my ringside seat 1979 MSG, NYC. Duran/Palomino and Weaver/Holmes. MSG Boxing at its best!  Not a judge then, just a fan. Still a fan.
RUSSELL PELTZ – venerable boxing promotor and 2004 IBHOF inductee: Johnson vs. Jeffries.
ADAM POLLACK—author, publisher, and boxing official: Any John L. Sullivan fight in the early 1880s because there is no film of him fighting, so we can't know for sure exactly what he looked like in action in his prime other than via written accounts.
FREDERICK ROMANO — author and former ESPN researcher: While being at Ali-Frazier I or Dempsey-Firpo would be a thrill, I would use this one wish from the boxing Jeanie to experience something we have never seen- something not on film. Sullivan-Corbett, Johnson-Langford,  Greb's victory over Tunney or  Zale-Graziano I,  would make me very happy. This morning I am in the mood for Johnson-Langford.
DANA ROSENBLATT — former world middleweight champion, commentator, inspirational speaker: Rosenblatt vs Pazienza 2. Far and away my favorite fight of all time.
LEE SAMUELS — Top Rank publicist emeritus and 2019 IBHOF Inductee: That's easy. Hagler vs Hearns in one of the most all out explosive battles of our time – think about that one every day.
TED SARES — TSS boxing writer: Louis vs Schmeling 2 because of the intense social and political backdrop. Close second is Christy Martin vs. Deirdre Gogarty (March 16, 1996). Blood and guts undercard war that stole the show from Tyson-Bruno and put women back on the boxing map.
 TOM SCHRECK — boxing judge: Do I have to pick one? 1. Ali v Frazier I, the enormity of the event would have been something to experience. It transcended boxing. 2. Hagler v Leonard, Sugar Ray's performance was genius 3. Tunney v Dempsey I, brawn v brains.
ICEMAN JOHN SCULLY — manager, trainer, commentator, writer, historian, former boxer: I'm always torn between the first Ali-Frazier fight and the first Leonard – Hearns fight. For me those are my two biggest and the ones I would revel in being able to attend.
PETER SILKOV – boxing writer: There are so many to choose from, but my feeling at the moment would be Ali vs Foreman. Ali's greatest night and the most extraordinary fight for the heavyweight title ever!
MIKE SILVER — author, writer, historian: A ringside seat to the Sullivan vs. Corbett fight. Huge historic importance. A seismic event for boxing's future. And who isn't curious to see the great John L. actually fighting!
ALAN SWYER — filmmaker, writer, and producer of the acclaimed El Boxeo: I chose the match in which welterweight Carmen Basilio won a split-decision over middleweight champion Sugar Ray Robinson. Though Robinson was to my mind the greatest fighter of all time, he was not at that point in his career at his best. Nonetheless, the battle — the fight of the year in 1957 — was the quintessential demonstration of will, stamina, endurance, and above all courage from two noble warriors.
GARY "DIGITAL" WILLIAMS — the voice of "Boxing on the Beltway": I'd loved to have been ringside for Ali-Frazier 1 and to have witnessed all the hoopla and the cultural and social significance surrounding that bout. I was only seven years old when that bout took place.
BEAU WILLIFORD — former boxer, trainer and manager and the face of boxing in Louisiana: Joe Frazier v Jerry Quarry at Madison Square Garden!!!
PETER WOOD — writer, author, former fighter: The fight I would watch is a hideous spectacle–and not politically correct…It would be the battle-royal in which Tom Molineaux, a Virginian slave, fought other hapless slaves, in which to earn his freedom and ultimately a shot at the heavyweight title. (Editor's note: What has been written about Tom Molineaux's days in America — before he went off to England — lacks any sort of rigorous documentation and is perhaps best understood as folklore. The conventional wisdom regarding inter-plantation slave fights has also been challenged.)
BOB YALEN —  holder of numerous executive positions in the boxing broadcasting industry and currently President of MTK Global: There are so many to choose from with so many reasons…Corbett-Sullivan to see the birth of modern boxing, Dempsey-Willard to check Jack's gloves, Tunney-Dempsey to time the long count, the list goes on…but I think I may choose the Willard-Johnson fight in Havana so I could finally put to rest what really happened at the end of the fight from my own perspective (and talk to everyone I could).
Observations: Like a boxing match, this one pitted the old vs the not-so-old. Ali vs. Frazier 1 and Louis vs. Schmeling 2 garnered the most mentions, but Dempsey, Tunney, Johnson and Sullivan also got their due, as did Hearns and Hagler. In the end, it came down to The Fight of the Century (1971) vs. the Louis -Schmeling rematch (1938).
One mild surprise was that only a few mentioned Harry Greb who has been hailed by far more than a few as being the best of the best. However, there is no live footage to back this up. Henry Hascup and Fred Romano mentioned Greb in this vein with both referring to Greb's sole victory over Gene Tunney in 1922.
Ted Sares is a lifetime member of Ring 10, and a member of Ring 4 and its Boxing Hall of Fame. He also is an Auxiliary Member of the Boxing Writers Association of America (BWAA). He is an active power lifter and Strongman competitor in the Grand Master class and plans to compete in 2019.
Check out more boxing news on video at The Boxing Channel
To comment on this story in The Fight Forum CLICK HERE
Mercito Gesta Victorious Over Jojo Diaz at the Long Beach Pyramid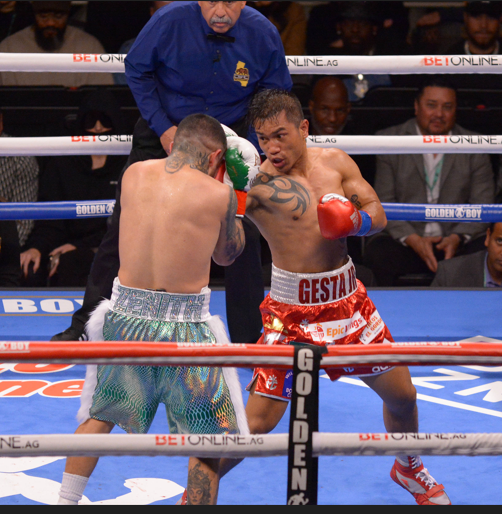 LONG BEACH, CA.-Those in the know knew Mercito Gesta and Jojo Diaz would be a fight to watch and they delivered.
Gesta emerged the winner in a super lightweight clash between southpaws that saw the judges favor his busier style over Diaz's body attack and bigger shots and win by split decision on Saturday.
Despite losing the main event because the star was overweight, Gesta (34-3-3, 17 KOs) used an outside method of tactic to edge past former world champion Diaz (32-4-1, 15 KOs) in front of more than 5,000 fans at the Pyramid.
The speedy Gesta opened up the fight with combination punching up and down against the peek-a-boo style of Diaz. For the first two rounds the San Diego fighter overwhelmed Diaz though none of the blows were impactful.
In the third round Diaz finally began unloading his own combinations and displaying the fast hands that helped him win world titles in two divisions. Gesta seemed stunned by the blows, but his chin held up. The counter right hook was Diaz's best weapon and snapped Gesta's head back several times.
Gesta regained control in the fifth round after absorbing big blows from Diaz. He seemed to get angry that he was hurt and opened up with even more blows to send Diaz backpedaling.
Diaz targeted his attack to Gesta's body and that seemed to slow down Gesta. But only for a round.
From the seventh until the 10th each fighter tried to impose their style with Gesta opening up with fast flurries and Diaz using right hooks to connect with solid shots. They continued their method of attack until the final bell. All that mattered was what the judges preferred.
After 10 rounds one judge saw Diaz the winner 97-93 but two others saw Gesta the winner 99-91, 98-92. It was a close and interesting fight.
"I was expecting nothing. I was the victor in this fight and we gave a good fight," said Gesta. "It's not an easy fight and Jojo gave his best."
Diaz was surprised by the outcome but accepted the verdict.
Everything was going good. I thought I was landing good body shots," said Diaz. "I was pretty comfortable."
Other Bouts
Mexico's Oscar Duarte (25-1-1, 20 KOs) knocked out Chicago's Alex Martin (18-5, 6 KOs) with a counter right hand after dropping him earlier in the fourth round. The super lightweight fight was stopped at 1:14 of the round.
A battle between undefeated super welterweights saw Florida's Eric Tudor (8-0, 6 KOs) emerge the winner by unanimous decision after eight rounds versus Oakland's Damoni Cato-Cain.
The taller Tudor showed polished skill and was not bothered by a large cut on his forehead caused by an accidental clash of heads. He used his jab and lead rights to defuse the attacks of the quick-fisted southpaw Cato-Cain. The judges scored the fight 80-72 and 78-74 twice for Tudor.
San Diego's Jorge Chavez (5-0, 4 KOs) needed less than one round to figure out Nicaragua's Bryan Perez (12-17-1, 11 KOs) and send him into dreamland with a three-punch combination. No need to count as referee Ray Corona waved the fight over. Perez shot a vicious right followed by another right and then a see-you-later left hook at 3.00 of the first round of the super featherweight match.
Photo credit: Al Applerose
Jojo Diaz's Slump Continues; Mercito Gesta Prevails on a Split Decision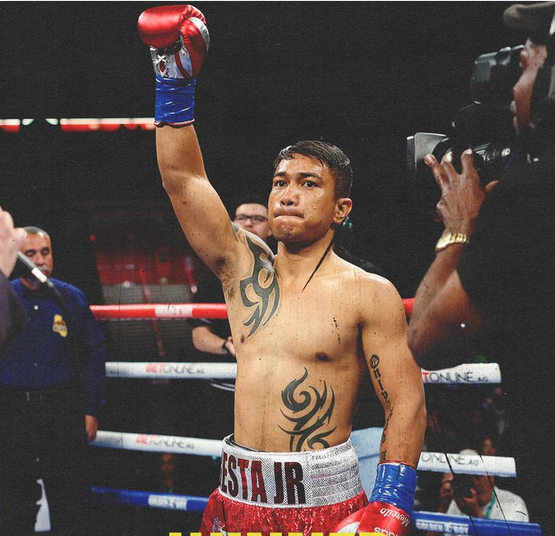 At age 30, Jojo Diaz's career is on the skids. The 2012 U.S. Olympian, a former world title holder at 126 and 130 pounds and an interim title holder at 135, Diaz suffered his third straight loss tonight, upset by Mercito Gesta who won a split decision at the Walter Pyramid in Long Beach, CA.. The scoring was strange with Gesta winning nine of the 10 rounds on one of the cards and only three rounds on another. The tie-breaker, as it were, was a 98-92 tally for Gesta and even that didn't capture the flavor of what was a closely-contested fight.
Originally listed as a 12-rounder, the match was reduced to 10 and that, it turned out, did Diaz no favors. However, it's hard to feel sorry for the former Olympian as he came in overweight once again, having lost his 130-pound title on the scales in February of 2021.
Diaz also has issues outside the ropes. Best elucidated by prominent boxing writer Jake Donovan, they include a cluster of legal problems stemming from an arrest for drunk driving on Feb. 27 in the LA suburb of Claremont.
With the defeat, Diaz's ledger declined to 32-4-1. His prior losses came at the hands of Gary Russell Jr, Devin Haney, and William Zepeda, boxers who are collectively 83-2. Mercito Gesta, a 35-year-old San Diego-based Filipino, improved to 34-3-3.
Co-Feature
Chihuahua, Mexico super lightweight Oscar Duarte has now won nine straight inside the distance after stopping 33-year-old Chicago southpaw Alex Martin in the eighth frame. Duarte, the busier fighter, had Martin on the deck twice in round eight before the fight was waived off.
Duarte improved to 25-1-1 (20). Martin, who reportedly won six national titles as an amateur and was once looked upon as a promising prospect, declined to 18-5.
Other Bouts of Note
New Golden Boy signee Eric Tudor, a 21-year-old super welterweight from Fort Lauderdale, overcame a bad laceration over his right eye, the result of an accidental clash of heads in round four, to stay unbeaten, advancing to 8-0 (6) with a hard-fought unanimous 8-round decision over Oakland's Damoni Cato-Cain. The judges had it 80-72 and 78-74 twice. It was the first pro loss for Cato-Cain (7-1-1) who had his first five fights in Tijuana.
In the DAZN opener, lanky Hawaian lightweight Dalis Kaleiopu went the distance for the first time in his young career, improving to 4-0 (3) with a unanimous decision over 36-year-old Colombian trial horse Jonathan Perez (40-35). The scores were 60-52 across the board. There were no knockdowns, but Perez, who gave up almost six inches in height, had a point deducted for a rabbit punch and another point for deducted for holding.
To comment on this story in the Fight Forum CLICK HERE
'Big Baby' Wins the Battle of Behemoths; TKOs 'Big Daddy' in 6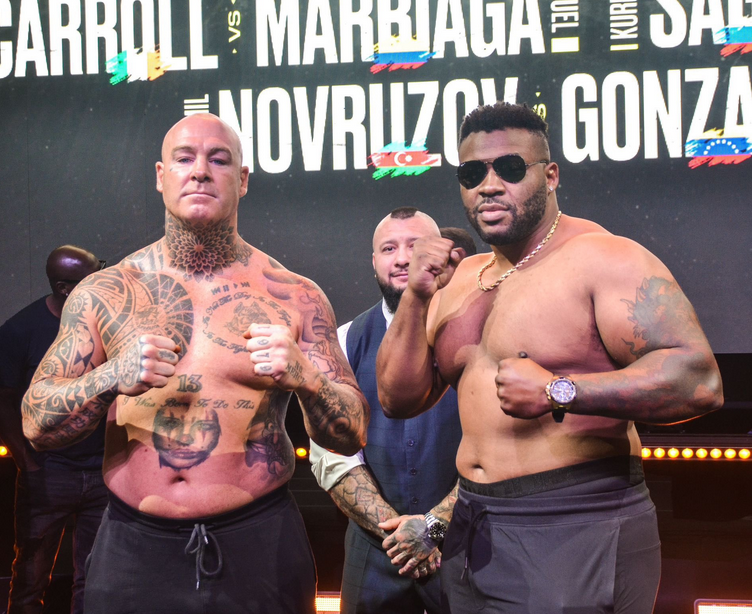 Lucas "Big Daddy" Browne weighed in at a career-high 277 pounds for today's battle in Dubai with Jarrell "Big Baby" Miller, but he was the lighter man by 56 pounds. It figured that one or both would gas out if the bout lasted more than a few stanzas.
It was a war of attrition with both men looking exhausted at times, and when the end came it was Miller, at age 34 the younger man by nine years, who had his hand raised.
Browne was the busier man, but Miller, whose physique invites comparison with a rhinoceros, hardly blinked as he was tattooed with an assortment of punches. He hurt 'Bid Daddy' in round four, but the Aussie held his own in the next frame, perhaps even forging ahead on the cards, but only postponing the inevitable.
In round six, a succession of right hands knocked Browne on the seat of his pants. He beat the count, but another barrage from Miller impelled the referee to intervene. The official time was 2:33. It was the 21st straight win for Miller (26-0-1, 22 KOs). Browne declined to 31-4 and, for his own sake, ought not fight again. All four of his losses have come inside the distance, some brutally.
The consensus of those that caught the livestream was that Floyd Mayweather Jr's commentary was an annoying distraction that marred what was otherwise an entertaining show.
As for what's next for "Big Baby" Miller, that's hard to decipher as he has burned his bridges with the sport's most powerful promoters. One possibility is Mahmoud Charr who, like Miller, has a big gap in his boxing timeline. Now 38 years old, Charr – who has a tenuous claim on a WBA world title (don't we all?) —  has reportedly taken up residence in Dubai.
Other Bouts of Note
In a 10-round cruiserweight affair, Suslan Asbarov, a 30-year-old Russian, advanced to 4-0 (1) with a hard-fought majority decision over Brandon Glanton. The judges had it 98-92, 97-93, and a more reasonable 95-95.
Asbarov was 12-9 in documented amateur fights and 1-0 in a sanctioned bare-knuckle fight, all in Moscow, entering this match. He bears watching, however, as Glanton (18-2) would be a tough out for almost anyone in his weight class. In his previous fight, at Plant City, Florida, Glanton lost a controversial decision to David Light, an undefeated Australian who challenges WBO world title-holder Lawrence Okolie at Manchester, England next week.
A 10-round super featherweight match between former world title challengers Jono Carroll and Miguel Marriaga preceded the semi-windup. Carroll, a 30-year-old Dublin southpaw, overcame a cut over his left eye suffered in the second round to win a wide unanimous decision in a fairly entertaining fight.
It was the sixth straight win for Carroll (24-2-1, 7 KOs) who elevated his game after serving as a sparring partner for Devin Haney. Marriaga, a 36-year-old Colombian, lost for the fourth time in his last five outings, declining to 30-7.
To comment on this story in the Fight Forum CLICK HERE