Will Shields vs. Hammer Justify the Hype and Advance the Cause of Women's Boxing?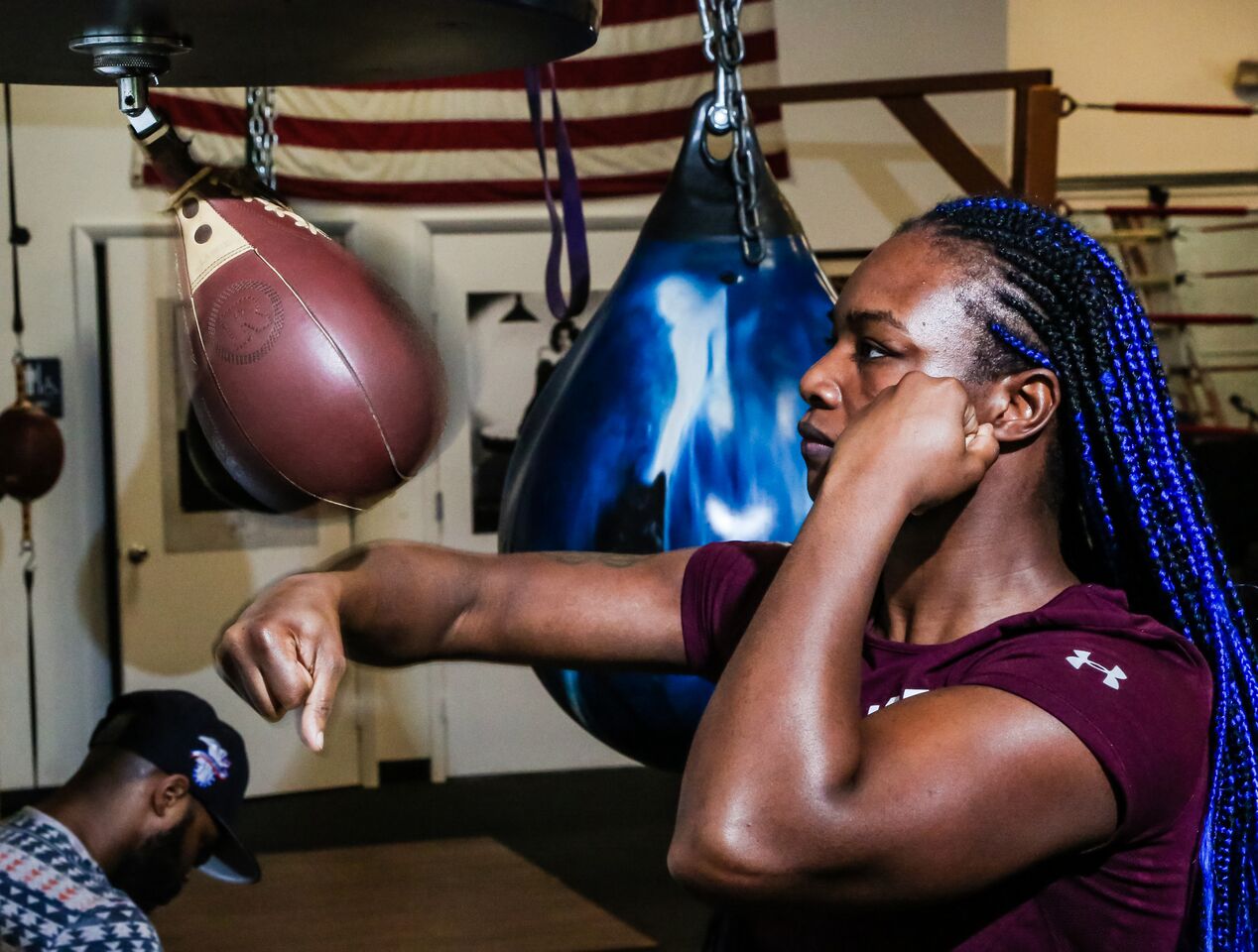 At long last, the (mostly) undisputed Biggest Women's Boxing Match Ever is here. Now all that remains is for the two undefeated principals — who see themselves as fighting not only to advance their own level of stardom but for the higher purpose of benefitting their gender in a sport long dominated by men — to produce a riveting, two-way performance that comes at least reasonably close to justifying the hype.
But neither Claressa Shields (8-0, 2 KOs), the two-time Olympic gold medalist from Flint, Mich., who holds the women's WBA, WBC and IBF middleweight championships, nor Germany's Christina Hammer (24-0, 11 KOs), the WBO middleweight titlist, is predicting a fiercely competitive matchup that will resemble Hagler-Hearns in sports bras. Each sees herself as winning comfortably, perhaps even brutally, in the Showtime-televised 10-round main event Saturday night from the Adrian Phillips Ballroom in Atlantic City's Boardwalk Hall.
"Christina doesn't know what's coming for her," Shields, 23, said recently from her training camp in Miami. "I'm going to break that Hammer in half. I'm just glad I'm going to get my chance to show her what a real champion is. Someone is going down on April 13 and I promise it's not going to be me."
Hammer, 28, holder of at least one sanctioning body's version of a world championship since 2010, has heard such bluster before and silenced it where it counts, inside the ropes. She figures that Shields, her two gold medals and three pro titles notwithstanding, is too inexperienced and tightly wound to solve the riddle the statuesque fraulein has always posed to opponents who are unable to back up their bold talk with action.
"I know I have the skills to beat her," Hammer said of Shields, "and my goal is to beat her badly."
For the sake of a cause both women hold close to their hearts, here's hoping that the clear demonstration of ring superiority each hopes to inflict upon the other is replaced by the kind of classic confrontation that happens all too seldom in women's boxing, and especially when presumably elite fighters are involved. When it comes to sheer entertainment value, a case can be made that the best female bout ever took place on Aug. 21, 2016, when Heather "The Heat" Hardy came away with a scintillating, 10-round majority decision over Shelly Vincent at Brooklyn's Coney Island with the vacant WBC International featherweight title on the line. Each woman entered with an 18-0 record, but with a combined total of just five victories inside the distance. They squared off again on Oct. 27 of last year in the Hulu Theater at Madison Square Garden, with Hardy winning a 10-round unanimous decision and the vacant WBO featherweight crown, but despite the popularity of Hardy, a Brooklyn native, in the New York City area, she is 37 and at this stage of her career unlikely to ever command the kind of global attention that Shields, Hammer and very few other female fighters ever come close to achieving.
Two women's fights that might have held the distinction of being the Best Ever never came off. One would have pitted Ann Wolfe, arguably the hardest-hitting, ass-kickingest woman ever to lace up a pair of gloves, against Laila Ali, the beautiful and skilled daughter of Muhammad Ali who obviously inherited part of her genetic makeup from her dad. The other was to have paired Lucia "The Dutch Destroyer" Rijker and Christy "The Coal Miner's Daughter" Martin, the only female fighter to have appeared on the cover of Sports Illustrated, on July 30, 2005. Each woman was to be paid $250,000, with promoter Bob Arum vowing to reward the winner with an additional $750,000, making her, if you'll pardon the reference to the 2004 Academy Award-winning flick about a fictional female fighter, the real Million-Dollar Baby. That potential bit of history never came to fruition when Rijker suffered a ruptured Achilles tendon in training and retired without ever having fought again.
With those distaff megafights forever remaining theoretical, it fell to the clash of celebrity offspring, Laila Ali and Jacqui Frazier-Lyde, daughter of Smokin' Joe Frazier, to square off in what was ambitiously labeled "Ali-Frazier IV." The two went at it on June 8, 2001, at the Turning Stone Casino Hotel in Verona, N.Y., as if they somehow had been able channel a bit of what had made their fathers great. Laila came away with an eight-round majority decision in a scrap that was better than many had expected, but nonetheless was dismissed by some skeptics as an exploitation of the hallowed names of the participants' fathers.
Now Shields and Hammer come along to build on all that had had been, or might have been, involving predecessors who at least had conferred a sheen of legitimacy on women's boxing. They still face an uphill fight to reach whatever might be considered a summit, but there can be no denying that progress is being made in increments. On May 31, in midtown Manhattan, Shields will receive the second annual Christy Martin Award as Female Fighter of the Year (for 2018) from the Boxing Writers Association of America, which should add some additional incentive for her to follow through on her promise to introduce Hammer to the disappointment of defeat. No matter the outcome of Shields-Hammer, however, it is not a given that the winner will be universally hailed as the best woman boxer on the planet, not with the 2017 Christy Martin Fighter of the Year honoree, Norway's undisputed world welterweight champion Ceciilia Braekhus (35-0, 9 KOs) and WBA/WBO lightweight titlist Katie Taylor (13-0, 6 KOs) of Ireland getting votes from their share of precincts.
Battles are won or lost, and barring a draw the Shields-Hammer fight will produce one of each. But winning wars of acceptance are quite another thing, and the stated goal of both women is to elevate their version of what used to be called a manly art to something at least within hailing distance of parity with their brothers.
"Of course this is our biggest fight ever," Hammer said of the implications attached to her date with Shields. "We've never had a fight like this before. It will be a game-changer for women's boxing.
"Times are changing. (The fight is on) Saturday night, prime time, with all four belts on the line. This is huge for women's boxing. It's going to change everything, and will show the world that women can be strong and earn good money."
Shields is anxious to lead the way to bigger paydays for women boxers, but there are other things she wants from the fight game that will no longer consign her to the relative second-class citizenship that comes from having been born with two X chromosomes. She thinks women champions should also be scheduled for 12-round title bouts, at three minutes per round. Presently women fight two-minute rounds, with championship bouts limited to 10 rounds.
"I fight three-minute rounds in the gym, and against men, except when I get closer to a fight and I try to get reacclimated to the two-minute rounds," she said. "I guess (the powers that be) want to protect us from ourselves, but that's the stupidest thing I ever heard in my life. I'm just keeping it real. For one thing, I am a woman who chose to box. Two, I'm a grown woman. Three, I don't need nobody to protect me but me.
"The only way women's boxing will ever get paid the same as men, and be as respected, is for us to boxing three minutes for 12 rounds. There would be more knockouts."
Photo credit: Jose Pineiro / SHOWTIME
Bernard Fernandez is the retired boxing writer for the Philadelphia Daily News. He is a five-term former president of the Boxing Writers Association of America, an inductee into the Pennsylvania, New Jersey and Atlantic City Boxing Halls of Fame and the recipient of the Nat Fleischer Award for Excellence in Boxing Journalism and the Barney Nagler Award for Long and Meritorious Service to Boxing.
Check out more boxing news on video at The Boxing Channel
To comment on this story in The Fight Forum CLICK HERE
Muhammad Ali Biographer Jonathan Eig Talks About His Book and the Icon Who Inspired It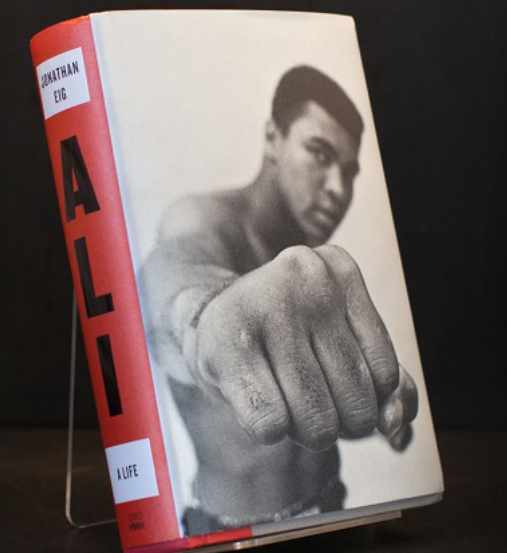 Given the breadth and depth of Muhammad Ali's 74 years, it isn't very easy to capture the complete essence of the man.
Dozens of books have been written about the three-time heavyweight champion including Jonathan Eig's 2017 biography, "Ali: A Life."
Born in Louisville, Kentucky on January 17, 1942 as Cassius Marcellus Clay, he would one day be known around the globe as a world-class boxer, civil rights advocate, philanthropist and cultural icon.
Like so many others, the Brooklyn, New York-born Eig became intrigued by Ali.
"I loved Ali as a child. He fascinated me. He was outspoken, radical, yet so very loveable," he said. "And, of course, he could fight! I was astonished to realize, around 2012, that there was no complete biography of Ali, even though he was probably the most famous man of the 20th century."
Eig, currently at work on a major offering about the life of Dr. Martin Luther King, Jr., added: "I had read lots of Ali books, including [David] Remnick's "King Of The World: Muhammad Ali And The Rise Of An American Hero," and [Thomas] Hauser's "Muhammad Ali: His Life And Times," and [Norman] Mailer's "The Fight" – but those were not complete biographies," he pointed out. "By 2012, enough time had gone by to put Ali in historical perspective. Also, there were plenty of people still alive to tell the story. I did more than 500 interviews, including all three of Ali's living wives. I wanted to write a book that would treat Ali as more than a boxer. I wanted to write a book that would show the good and the bad. I wanted to write a big book worthy of an epic life, a book that danced and jabbed half as beautifully as Ali."
Given Eig's exhaustive research, what previously unknown tidbits about Ali did he come across?
"I learned thousands of new things. I think even hardcore Ali fans will find new information on almost every page," said the former Wall Street Journal reporter and 1986 Northwestern University graduate. "I discovered things Ali himself didn't know. I discovered Ali's grandfather was a convicted murderer, for example. Ali didn't know that! I read Ali's FBI files, as well as those of Herbert Muhammad, Malcolm X and Elijah Muhammad. I interviewed Ali's childhood friends. I found MRIs of Ali's brain. I counted the punches from all of his fights. I measured how those punches affected his speaking rate. Ali's wives also confided in me things I never knew. I spent four years working on this book, and every day delivered revelations."
Over the years, Ali, who posted a 56-5 ring record with 37 knockouts, seemed to mellow with time which helped ingratiate him to an even wider audience. How was this possible?
"People change. They grow. It's hard to stay radical as you get older and richer," said Eig, who has written five books including three that deal with sports. "The late Stanley Crouch had a great line about Ali. He said young Ali was a grizzly bear. Ali in the '70s was a circus bear. Ali in his later years was a teddy bear. We all loved the teddy bear. We wanted to hug him and love him. But it was the grizzly bear who we should remember first. It was the grizzly bear who shook up the world."
Sports Illustrated writer Mark Kram covered nearly the entirety of Ali's career which spanned 1960 through 1981 and included a three-year period, 1967 until 1970 when he wasn't allowed to box after being convicted of draft evasion because he refused induction into the armed forces.
In Kram's book, "Ghosts Of Manila," the author asserts Ali was essentially a pawn of the Black Muslims.
What's Eig's take?
"I love Kram's book, but I think it's dangerous to question anyone's religious faith," he said. "Ali was a true believer. The Nation of Islam took advantage of him at times. But does that mean he was a pawn? I don't think so. He knew what he was doing. He made his own choices. One might argue that the NOI did more for Ali than Ali did for them."
Ali wasn't perfect and that included his fondness for women. As a Muslim, how did he hurdle this?
"He didn't reconcile it – except to acknowledge that humans are human, they are flawed," Eig said. "The thing I love about Ali is that he said he was the greatest, but he never said he was perfect. He talked to his wives about his weakness. He even talked to reporters about his flaws – his weakness for women, his disdain for training, his poor handling of money. He knew who he was and he never tried to be anything else."
Eig, who has also penned "Luckiest Man: The Life And Death Of Lou Gehrig," and "Opening Day: The Story Of Jackie Robinson's First Season," went on: "We're all complicated, right? Ali was no more complicated than you or me, but he let the whole world see his complications – his racial pride and his racist behavior toward [Joe] Frazier, his love of women and his cruelty to his wives, his generosity with his money and his stupidity with money," he said. "I don't think Ali was different, just more open, more willing to let us see everything."
Ali's battles with Frazier, George Foreman and Ken Norton are legendary, but his two fights against Sonny Liston are filled with question marks, such as were they fixed?
Ali claimed the title on February 25, 1964 in Miami Beach when Liston failed to answer the bell for the seventh round and then faced Liston 15 months later in Lewiston, Maine, where he knocked out the challenger in the opening frame.
In Eig's mind, were these two bouts on the level? "My hunch is that the first fight was legit. Liston quit when he knew he couldn't win," Eig said. "The second fight is more suspicious. Liston's flop was pathetic. Bad acting! But I don't think we'll ever know for sure. As an aside, Liston's wife said Sonny had diarrhea before the fight, which might have given him one more reason to throw it."
Still, Ali in his prime was a sight to behold. "Ali before the exile, in my opinion, was the most beautiful boxer of all time. His combination of speed and power and ferocity was thrilling, elegant, frightening and marvelous," Eig said. "Was he the greatest heavyweight of all time? Maybe, maybe not. Was he the most breathtaking? To me, yes."
Early in Ali's career his braggadocio was off-putting to many. But much of it was showmanship.
"One of the Greatest" doesn't sound as good, does it? If we're only discussing his action in the ring, Ali was one of the greatest," Eig said. "But that's like saying Louis Armstrong was one of the greatest trumpet players without considering his voice, his charm, his improvisational skills, his smile. In and out of the ring, Ali was the greatest in my book."
For so many, Ali was many things. What traits in the man does Eig admire? "I love his fearlessness, his honesty, his insatiable appetite for people," he said. "He was so very loving. But he could also be narcissistic. He wanted everyone to love him, but he wasn't always sensitive to the feelings of others – including his wives and children. He turned his back on friends like Malcolm X and Joe Frazier when it served his purposes."
While Ali could be polarizing, he had his legion of supporters including Howard Cosell, Jerry Izenberg, Robert Lipsyte, Larry Merchant and Jack Newfield.
"You could add Mailer, [George] Plimpton, and so many others to that list," Eig noted. "Those men were lucky enough to spend time with young Ali and to bask in the great warmth of his sun. He was great to reporters. He was the best story they ever covered. And unlike most celebrities, he really paid attention to them."
Eig continued: "I only met him once, six months before he died, and I envy those reporters who got to know him and got to see him at his best. I think those who knew and loved Ali became his disciples," he pointed out. "Ali's friend Gene Kilroy told me over and over that he thought Ali was like Jesus, that people would be studying his words and drawing inspiration from his life for centuries to come. That's the feeling he gave to those with whom he spent time."
Ali was a boxer, but so much more. How does Eig see him? "I think Ali will be remembered as one of America's great revolutionary heroes – one whose courage went far beyond sports. Like Jackie Robinson, like Martin Luther King, like the abolitionists and suffragettes, he loved America but refused to accept its shortfalls," he said. "He fought to make his country live up to the promises contained in the Declaration of Independence. He will also be remembered as an important world figure, one who united Africans, Americans and Asians, one who helped Americans better understand Islam and helped people of Islamic faith around the world better understand America."
In Ali's last quarter century, he was almost universally loved. This is a far cry from being labeled a draft dodger.
"Ali was always a spiritual man, but in his later years I believe he clarified and deepened his spirituality," Eig said. "He became more focused and more thoughtful."
When Eig turned in his manuscript, what was his immediate thought? "I wanted to take it back. I didn't want to be done," he said. "I had so much fun writing this book I wanted to work on it for the rest of my life. I knew I would never find anything more fun to work on."
Check out more boxing news on video at the Boxing Channel 
To comment on this story in the Fight Forum CLICK HERE
The Peculiar Career of Marcos Geraldo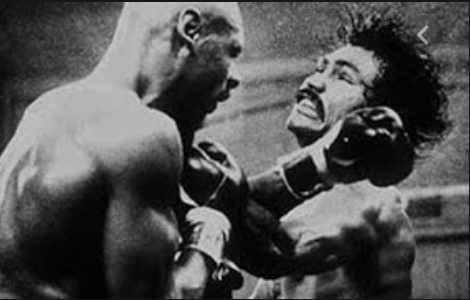 If you play word association with retired boxer Marcos Geraldo, you might come up with "chinny," or "easy work." But if you did, you would be wrong.
This extremely active Mexican boxer fought out of Baja California but was a staple in Nevada and Southern California and was 38-12 before he ventured outside these regions
Many saw Geraldo as easy work because of the 21 KOs he suffered but what they missed was the fact he had 50 KOs of his own and that made him an ultra-exciting type of fighter–and it guaranteed him plenty of marquee events. If you didn't get Marcos, he was likely to get you. That translated to bringing in fans. He also was an active fighter and fought, for example, 12 times in 1972 alone. He also toiled 25 times at the Silver Slipper in Las Vegas—yes, 25 times—and he went 21-4!
Along the way, Geraldo (who at various times was the middleweight and light heavyweight champion of Mexico) did battle with four Hall of Famers — Sugar Ray Leonard, Marvin Hagler, Thomas Hearns, and Virgil Hill — several world champions, and numerous title contenders. (Michael Nunn, another stiff opponent, could someday become a member of the Hall as well.)
As his career progressed, the level of his opposition became stiffer. Listed in the order of appearance, these are the records of some of his opponents at the time that he fought them: Peter Cobblah (48-46-5), Angel Robinson Garcia (138-80-21), Armando Muniz (32-6-1), George Cooper (49-4-3), Sugar Ray Leonard (21-0), John LoCicero (15-3), Marvin Hagler (48-2-2), Caveman Lee (13-2), Thomas Hearns (33-1), Fred Hutchings (20-1), Ron Wilson (71-33-7), Prince Mama Muhammad (29-1-1), Michael Nunn (7-0), Tony Willis (9-0), Chris Reid (14-0-1), Virgil Hill (16-0), Jesus Gallardo (16-1), Antoine Byrd (6-1-1).
Whew!
In 1979, Geraldo went the distance with Sugar Ray Leonard which surprised boxing buffs though Ray had previously been extended by others.
The following year he gave Marvelous Marvin Hagler all he could handle while losing a unanimous but close decision in a surprisingly tough thriller.
Hagler (May 1980)
Hagler pressed the action in-close but surprisingly was met with strong counterpunching. Both did plenty of shoe shining. First Hagler; then Geraldo. It was tit for tat and the fans roared their approval. What won the fight for Hagler was his stamina and harder punching which enabled him to tire the tough Mexican, but he never managed to break him down.
The scoring was Duane Ford 97-93, Art Lurie 97-94, and Chuck Minker 97-95.
The fans at Caesars Palace in Las Vegas gave both fighters a standing ovation as they raised each other's arm up in a marvelous (no pun intended) show of mutual respect. The media framed it it as a "great" fight. It defined "fan–friendly."
Geraldo had stopped Bomber John LoCicero before the Hagler fight, but was KOd in round one by both Caveman Lee and Thomas Hearns subsequent to Hagler. And then he was stopped much later by Michael Nunn and Virgil Hill.
His final slate was 71-28-1 — 100 bouts put him in rarefied company. Also, seven of those 21 KO losses came in his last eight fights.
After a very close review of his career, the word association that could more appropriately fit might be "incongruity," or "action, or "resilient," or even "peculiar."
Sadly, he was always one big win away from entering the top tier.
Ted Sares can be reached at tedsares@roadrunner.com
Check out more boxing news on video at the Boxing Channel 
To comment on this story in the Fight Forum CLICK HERE
HITS and MISSES: Javier Fortuna Shines and More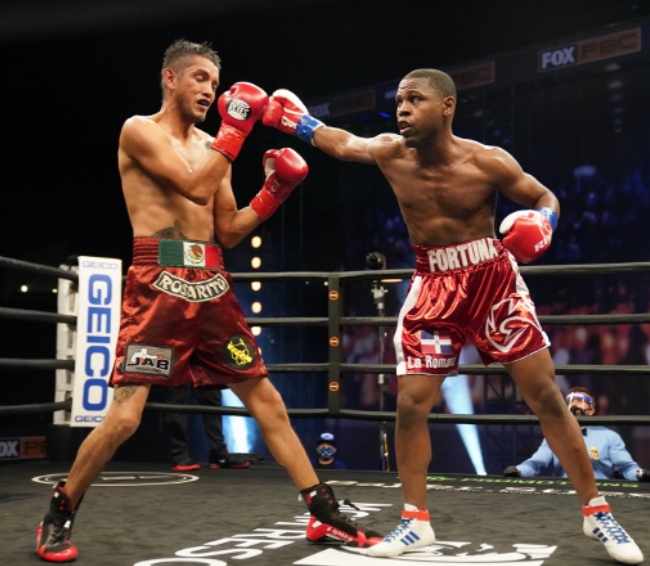 HITS and MISSES: Javier Fortuna Shines and More
The boxing schedule continued during the penultimate week of November though there seemed a little less action over the weekend than prior weeks. Still, important contests took place featuring some of the top fighters in the sport.
Here are the biggest HITS and MISSES from another week on the boxing beat.
HIT: Future Fortunes of Javier Fortuna 
Perhaps it's just my affinity for southpaws, but Javier Fortuna looked sensational on Saturday night in the main event of an FS1 PBC Fight Night card.
Fortuna, 31, from the Dominican Republic, is a legit threat in the 135-pound division. His sole loss since moving up to lightweight was a split-decision to former titleholder Robert Easter in a fight that could have been scored either way, and his athletic and unorthodox style will just about always make him a problem for anyone.
Alongside being tied to Al Haymon's PBC group, Fortuna is promoted by Sampson Lewkowicz, whose most famous recent client is probably former middleweight champion Sergio Martinez. Like Martinez, Fortuna is the type of talent who could unexpectedly make some legitimate noise in his division during the latter part of his career.
MISS: Austin Delay's Emotional Reactions to Accidental Headbutts
Despite the two losses on his record, there's a lot to like about lightweight prospect Austin Dulay. The 25-year-old from Nashville defeated Jose Luis Gallegos in a 10-round decision in the co-feature of the PBC card on Saturday night in Los Angeles.
Dulay's a sharp-fisted, crafty southpaw with fast hands and good feet. While his win over Gallegos absolutely proved he possesses some upside as a rising talent in the sport, his emotional responses to the three accidental headbutts in the fight gives his team plenty to work on with the fighter as he progresses.
Referee Thomas Taylor did a great job explaining the key concept to him. "It happens," Taylor reminded Dulay at least twice in the fight after the clashes of heads. Indeed, it does happen, and that's especially true in southpaw vs. orthodox matchups.
After the second headbutt in the fight, which happened in the sixth round, Dulay angrily gunned for the knockout. Everyone loves action like that, but reactive responses to innocuous events aren't on the path to the highest levels in the sport. Dulay needs to reel his emotions back in during those types of moments if he hopes to become a world champion.
HIT: The Savagery of Alen Babic vs. Tom Little
Hopefully, you've witnessed the majesty of Alen Babic by now. The 30-year-old from Croatia is the type of heavyweight you'd better enjoy now on the way up the ranks because, let's face it, Babic's style and skill set make him likely to be exposed as he climbs higher up the ladder.
Until that time comes, though, Babic is must-see TV. The savagery of seeing a volume punching heavyweight who throws just about every single punch with serious emotional intent is a wonder to behold.
For his part, Tom Little did his best to turn the Babic tide back. In fact, the 33-year-old was the first fighter to weather Babic's early storm and offer a return, but Babic ultimately dumped him down for the third-round knockout.
By the way, that's faster than Daniel Dubois and Filip Hrgovic did it.
MISS: Terence Crawford and Errol Spence Not Making Superfight Priority
What shouldn't be lost in the Terence Crawford vs. Errol Spence debate is how both fighters would rather fight Manny Pacquiao instead of each other.
I had the chance to speak with both elite welterweight champions within the past week, and both men told me the same thing in regards to their focus on making one fight happen. Crawford wants Pacquiao next. Spence does, too.
While it's completely understandable why these guys would seek the bigger payday against the legendary future Hall of Famer, something would seem to be broken in boxing overall when arguably the best and most important fight in the sport doesn't even seem to have a tiny chance of happening anytime soon.
HIT: The Professional Amateur Conor Benn
Imagine having just around 20 amateur bouts and trying to put together a world-level professional boxing career. Now, imagine also trying to follow in the footsteps of your father, himself a former world champion.
But rising welterweight contender Conor Benn seems to be on his way to giving that run a serious go. Benn, 24, from England, defeated Germany's Sebastian Formella in the main event of a Matchroom Boxing card on DAZN on Saturday.
While Benn doesn't exactly have the look of a can't-miss prospect destined for greatness, he does at least possess some of the qualities that could lead him to the top of the sport. Certainly, Benn believes it.
After beating Formella, Benn argued he'd done it just as good as two-time welterweight titleholder Shawn Porter had done.
"I beat him just as good," Benn said during his post-fight interview.
He wasn't wrong about that, and neither was his father, Nigel Benn, for lavishing praise on his son after his big win.
"Well done, son. I'm proud of you," Nigel Benn said.
Benn has a tough road ahead of him. He's basically been a professional amateur up to this point, a fighter getting paid professional money to employ an amateur skill set on fight night.
But he's improving at a rate that suggests that might not be the case soon.
Photo credit: Sean Michael Ham / TGB Promotions
Check out more boxing news on video at the Boxing Channel 
To comment on this story in the Fight Forum CLICK HERE