The Avila Perspective, Chap. 42: Pound for Pounders Lomachenko, Shields and More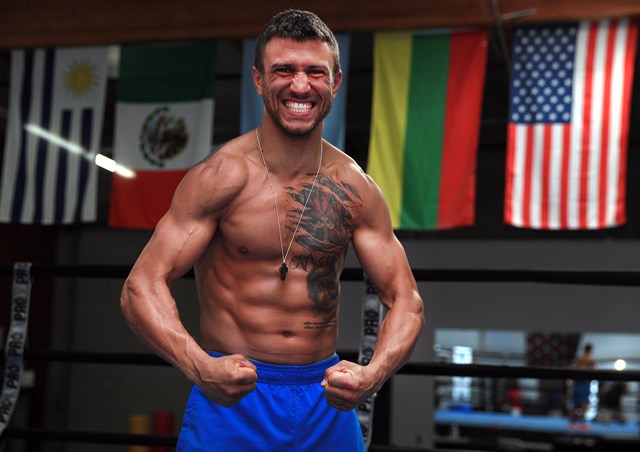 One of the wizards of boxing Vasyl Lomachenko leads a trio of the best fighters on the planet headlining separate events this weekend. The other two pound for pound best are female prizefighters.
WBA and WBO lightweight titlist Lomachenko (12-1, 9 KOs) meets England's Anthony Crolla (34-6-3, 13 KOs) on Friday April 12, at the Staples Center in Los Angeles. ESPN+ will stream the Top Rank card live.
Six years have elapsed since Ukraine's Lomachenko made his pro debut after dominating the amateur boxing scene for years. In the half dozen years as a pro the speedy southpaw has evolved into a full-fledged professional fighter. No more slap shots and dosy-does around the ring.
Hyperbole comes easy in the boxing promoting world, but in the past two years against elite competition the fighter known as "High Tech" has graduated into another level. Wins over Jorge Linares and Guillermo Rigondeaux have added spit shine luster to a glowing resume.
"He's one of the greatest fighters of his generation," said Top Rank's Bob Arum, who's seen them all for the past 50-plus years in the boxing world.
Lomachenko, 31, has acclimated into the hurt game and graduated to a higher form of prizefighting. Fans should expect a high octane performance. Nothing less.
Can Crolla force him to another realm?
"I saw his fights with Linares. Anthony Crolla has a very defensive style. I have my strategy," said Lomachenko during media day. "I will find the key to his defense. I have to be aggressive and throw a lot of punches."
Any time a pound for pound fighter performs is worth watching. Lomachenko definitely belongs in the top 10 in the world. Next up to try and stop the Lomachenko machine is Crolla.
"This would be the pinnacle of my career and then some. I think we'll see a bit of everything on the night. I know I am prepared to leave everything in the ring," said Crolla. "I've got fans, family, friends and gym mates coming to LA to cheer for me and that just spurs me on even more."
Also on the same card is WBO super middleweight titlist Gilberto Ramirez (39-0, 25 KOs) trying out the light heavyweight division against Tommy Karpency (29-6-1, 18 KOs) in a battle of tall southpaws. Lefty versus lefty changes up everything.
It's merely a try out.
"Ramirez is just going to see if he likes it," said Arum. "If not, he will go back."
Ramirez possesses the height at 6'2 and though he seems to have long arms, prefers fighting on the inside Mexican style.
"I know Tommy is an experienced guy, but if Bob gives me a big fight with Callum Smith at 168, I can make the weight. That would be a fantastic fight," said Mexico's Ramirez, 27.
Karpency, 33, stands an inch over 6-feet in height and has fought numerous world champions in the past and has a win over Chad Dawson.
"We're both southpaws, so that makes for a better flow than righty versus lefty. And we'll see what happens," said Karpency.
Another interesting matchup pits undefeated Arnold Barboza (20-0, 7 KOs) against former world champion Mike Alvarado (40-4, 28 KOs) in a super lightweight clash set for 10 rounds at the Staples Center on Friday.
"I don't think he had a choice," said Alvarado who engaged in some of the most intense battles in L.A. several years ago against Brandon "Bam, Bam" Rios and Juan Manuel Marquez. "I think they made him fight me."
Alvarado hasn't lost in four years.
The ESPN+ broadcast begins at 5 p.m. PT.
Shields and Hammer
You couldn't pick two better names than Shields and Hammer.
The pending middleweight unification battle between Claressa Shields (8-0, 2 KOs) and Christina Hammer (24-0, 11 KOs) on Saturday April 13, at the Boardwalk Hall in Atlantic City, between two pound-for-pound combatants who are both undefeated in the female fight world has never happened before with women. It's almost happened before, but didn't.
Years ago Laila Ali and Ann Wolfe were in a similar position but despite the clamor and hoopla the two female middleweights never met in the boxing ring. It remains one of the travesties of female boxing history.
Today, we have America's Shields with her two Olympic gold medals draped over her shoulders and attacking the female pro fight world like a speeding bullet. She's ripped through every opponent put in front of her and shredded them with nary a blip. Except against Costa Rica's Hanna Gabriels who managed to knock down Shields but was henceforth dominated.
In the other corner we have Hammer a tall blue-eyed prizefighter from Germany, home to many excellent female boxers in the past 25 years. The 28-year-old boxer/puncher with a rifle jab has never been defeated in 24 pro fights despite fighting for nearly a decade. She's a very strong fighter who prefers to fight on the outside so she can batter opponents with her jabs. She also wields a strong right cross.
It's Shields speed and agility versus Hammer's long stiff jabs. Can Shields get on the inside where she can unleash those blazing combinations?
Or will Hammer wrap her up with her holding tactics that rendered Kali Reis helpless when they fought twice. Hammer's jab is relentless.
They're both primed for the fight of their life.
"I don't want to let the women who came before me down. They never got to have a fight as big as this one," said Shields, 24. "I don't want anyone to say it's all hype. I want to put on a show."
Hammer is equally aware of the spotlight.
"I want to show that I'm the undisputed champion. I'm the longtime champion and I'm going to let the people see that women's boxing is exciting just like the men. This is a great match to show that," said Hammer, 28.
All of the belts will be the prize including WBA, WBC, WBO and IBF titles. Showtime will televise this historic moment beginning at 6 p.m.
Teofimo
Top Rank's Arum said he admires the tournament exhibiting the best super lightweights in the world. He has a couple of his own and is willing to put his guys against the winner of that tournament.
One is Teofimo Lopez, 21, their undefeated lightweight at the moment, who is not shy about fighting world champions now.
"He's like a wild stallion," said Arum. "We don't know how good he is or can be."
Arum said a possible match between Lopez and IBF lightweight titlist Richard Commey is an immediate possibility for the Brooklyn-based fighter.
"We can't keep him trotting, he wants to run," said Arum about Lopez, adding that he foresees him moving up in weight to challenge the super lightweights.
Check out more boxing news on video at The Boxing Channel
To comment on this story in The Fight Forum CLICK HERE
New Champ Teofimo Lopez Continues Upstaging Bigger Names; Lomachenko Next?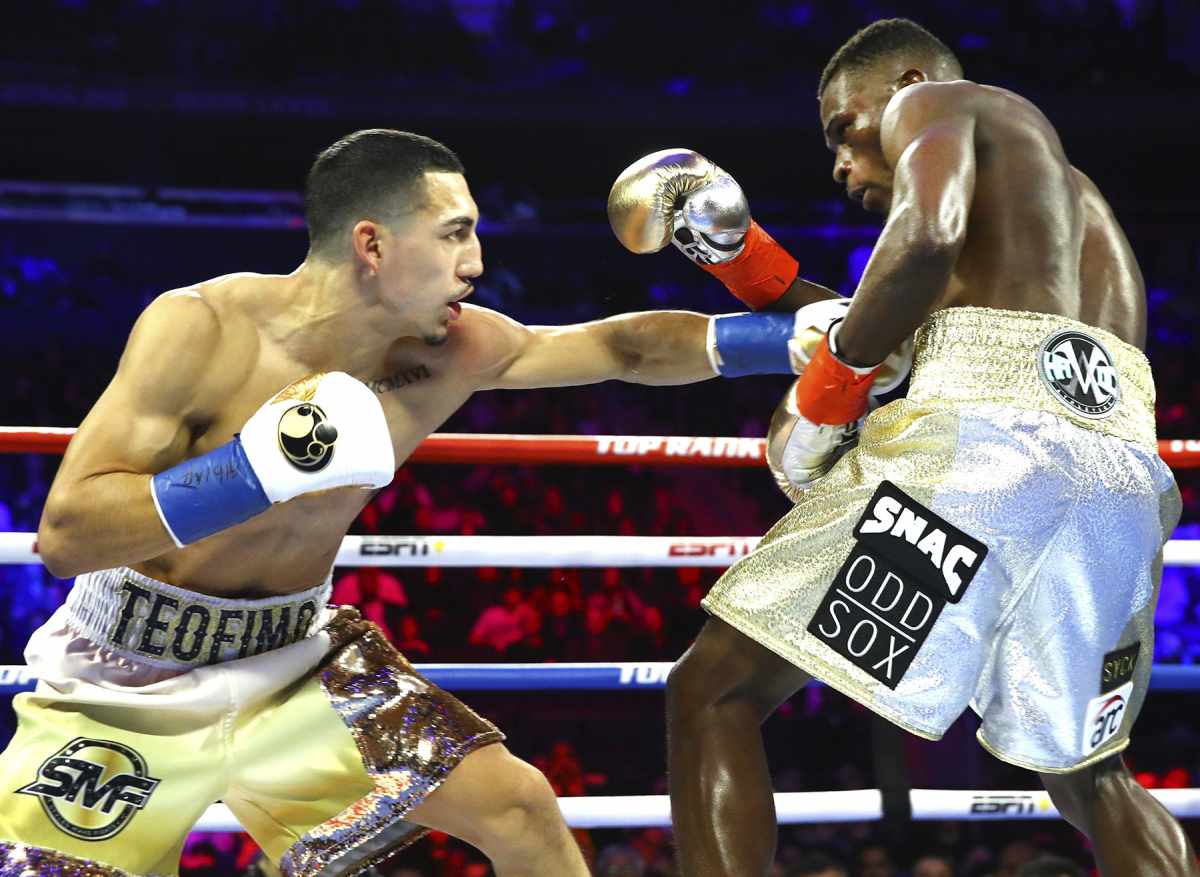 New Champ Teofimo Lopez Continues Upstaging Bigger Names; Lomachenko Next?
NEW YORK – It is standard practice in all sports, not just boxing, that any phenom who draws growing attention is soon said to be the "new" someone or other, a stylistic successor to a superstar who previously set impossibly high standards of excellence. Such comparisons can place enormous pressure on the flavor-of-the-moment upstart, who has to deal with the long shadow cast by the legendary figure to whom he has been unfairly linked, in addition to the already-difficult task of establishing himself on his own terms.
Consider the plight of such OK-but-not-great heavyweights as Jimmy Ellis, Greg Page and Larry Donald, all of whom patterned themselves as wannabe Muhammad Alis both in and out of the ring, and in each case came up far short of replicating the one-of-a-kind original.
The iconic figure to whom newly crowned IBF lightweight champion Teofimo "The Takeover" Lopez has been most frequently compared is all-time great Roberto Duran. It is far too early in the 22-year-old Lopez's career for such assessments to have any real validity, but what happened here Saturday night in Madison Square Garden, and quite possibly might happen next spring, could serve to legitimize the Brooklyn-born knockout artist's chances of becoming something so much more than just another flash in the pan.
Not only did Lopez (15-0, 12 KOs) electrify the on-site crowd of 10,101 and an ESPN viewing audience with what basically was a one-punch, second-round dethronement of the formidable Richard Commey (29-3, 26 KOs), he essentially upstaged the ostensible star of the show, WBO welterweight titlist Terence "Bud" Crawford (36-0, 27 KOs), who retained that belt with a ninth-round stoppage of Egidijus Kavaliauskas (21-1-1, 17 KOs). And there are more than a few knowledgeable observers of the sweet science who consider Crawford to be the best pound-for-pound fighter on the planet.
What makes Lopez's latest tour de force so impressive is not the manner in which he destroyed Commey, who is arguably the finest fighter to come out of Ghana since Hall of Famer Azumah Nelson, but the fact that it was witnessed from ringside by WBC/WBA/WBO lightweight ruler Vasiliy Lomachenko (14-1, 10 KOs), whose next outing could pair him with the ultra-self-confident kid for the undisputed 135-pound title. There are those who would say that Lopez is still too inexperienced to test himself against Loma, another established king of the ring with ample support as the sport's pound-for-pound best, but impatience has always been a distinguishing feature of the very young, who want what they want and want it now.
"Ya'll know who I want to fight next," Lopez, in a not-so-veiled reference to Lomachenko, said after he separated Commey from his senses with a crushing overhand right that sent the Ghanaian crashing to the canvas early in round two. A fighter's natural competitive instincts enabled a discombobulated Commey to lurch to his feet on unsteady legs, and those same instincts sent him backing into the ropes for support, as if there was any to be had. Lopez knew just what to do, boring in and taking target practice against an opponent incapable of fighting back until referee David Fields stepped in and acknowledged the inevitable after an elapsed time of 1 minute, 13 seconds.
Lomachenko is just as cocksure in his assessment of his abilities as Lopez is in his, and he said, sure, he'd be open to a clear-the-decks showdown with Lopez, a match that seemingly could be made easily since both fighters are promoted by Top Rank and thus regularly appear on ESPN telecasts.
"We want all the titles," Lomachenko said of a scrap Top Rank CEO and founder Bob Arum said he is just as anxious to make as the would-be combatants. "Now (Lopez) is a world champion and interesting for me, because he has a title. I think yes (that his next bout will be against Lopez). I will prepare for this fight."
It could well be that Lopez, who won his weight class at the 2015 U.S. Olympic Boxing Trials but was inexplicably left off the American squad, obliging him to represent his father's birth country of Honduras in Rio de Janeiro, is getting too far ahead of himself in pressing for an immediate go at Loma. Canelo Alvarez, then only 23, was not nearly as well-rounded a fighter as he is now when he took on Floyd Mayweather Jr. on Sept. 14, 2013, losing a unanimous decision. The more prudent move might have been for Team Canelo to wait a couple of years for the Mexican sensation, another claimant to the much-debated pound-for-pound throne, to gain more seasoning, but, again, youth always feels it must be served sooner rather than later.
Promoter Lou DiBella, who will be inducted into the International Boxing Hall of Fame on June 14, had a vested interest in the Commey-Lopez fight as he has Commey, but he couldn't help but be impressed by what he'd seen of the winner.
"He's got dynamite in his fists," DiBella said of Lopez. "All you can do is just shrug your shoulders and say, `OK.' That kid is a very athletic offensive force. Richard got caught with that dynamite and that was that. The fight was over when that big punch landed."
But there is more to Lopez's evolution as a potential megastar than a big punch. Style points count at the box office as much as talent, and DiBella said Lopez "has charisma coming out the ying-yang. When you have that kind of arsenal, you have a chance against anybody, including Loma."
Lopez certainly understood – again – that this most recent occasion to shine came on the same night as the Heisman Trophy presentation in New York City. He celebrated another star turn by quickly tugging on an LSU football jersey bearing the No. 9 worn this season by Heisman-winning quarterback Joe Burrow, a virtual replay of what Lopez did on another Heisman night in 2018, when he needed only 44 seconds to demolish veteran contender Menard Menard at the Theater at Madison Square Garden, whereupon he produced a red Oklahoma jersey with the No. 1 worn by Sooners quarterback Kyler Murray.
It might be said that Teofimo Lopez is now the quarterback of his own destiny. And should he do unto Loma what he did to Menard, Commey and more than a few others, maybe those way-too-early comparisons to Duran won't seem quite so wildly exaggerated.
Circumstances making the possibility of a Lomachenko-Lopez showcase event being made without fuss or bother must be at least a bit irksome to Crawford, who, despite still being at the top of his game, is 32 and possibly aware that his window of opportunity for making the high-visibility, high-paying legacy fights he desires must soon begin to close, at least a little.
No disrespect to Kavaliauskas, an Oxnard, Calif.-based Lithuanian whose full name is so long that for brevity's sake it was shortened to his nickname, "Mean Machine," on all promotional materials, but he is not on the more exalted tier as WBC/IBF welterweight champion Errol Spence Jr., WBA welter titlist Manny Pacquiao and former division champs Keith Thurman, Danny Garcia and Shawn Porter, all of whom are controlled by Premier Boxing Champions, Matchroom Sport, DAZN or Fox/Showtime. That is a reality that, whether fight fans like it or not, diminishes the likelihood of their ever sharing the ring with Crawford.
Nor is Crawford, an introvert by nature indisposed to the sort of chest-thumping that is second nature to others, apt to brag and preen his way into a brighter spotlight. He does most of his talking with his fists, and they again made a compelling argument as to his exceptional skill level, if perhaps at a lower audible than, say, Ali, Mayweather or even the evolving Lopez.
Deftly switching from southpaw to orthodox and back again, as is his wont, Crawford – a native of Omaha, Neb., who was cheered on by an actual Heisman Trophy winner, Nebraska's Johnny Rodgers, who made his way to the Garden after appearing at the Heisman presentation – probed for weaknesses in Mean Machine's defenses before turning up the heat in the fifth round, when, from an orthodox stance, he registered the first of his three knockdowns with a straight right. He put his game opponent down twice more in the ninth, prompting referee Ricky Gonzalez to wave a halt to the proceedings after an elapsed time of 44 seconds. At the time of the stoppage, Crawford led 79-72 on two of the three official scorecards and by 78-73 on the other.
"I thought I'd have to entertain ya'll for a little bit," Crawford said of his tactical delay before pressing the issue. "He's a strong fighter, durable, and I thought I'd give the crowd something to cheer for."
Arum suggested that, standard roadblocks to the contrary, Crawford's next opponent could be Shawn Porter, but that hardly seems as inevitable at this point as Lomachenko-Lopez. To say Crawford is frustrated at being fenced off from the kind of competition that could certify his belief that he is an all-time great would be an understatement.
"I'll fight anybody. I've been saying that for I don't know how long," he said, somewhat ruefully. "I'm not ducking anyone on the PBC side or Top Rank platform. I want to fight all the top guys."
In the third fight of the card televised by ESPN, two-time Olympian Michael "Mick" Conlan (13-0, 7 KOs), the Northern Island representative who believed he was screwed out of a medal in Rio on a controversial decision that went to Russia's Vladimir Nikitin, and responded to the verdict by taking off his gloves and giving obscene single-finger expressions of his discontent to Russian president Putin, who was seated at ringside, got his revenge of sorts on a wide, 10-round unanimous decision over Nikitin (3-1, no KOs).
"I needed to right this wrong," Conlan said. "Full credit to Nikitin, who fought his heart out. There's no bad blood. There never was. Now, we can put this chapter of my career behind me."
Photo credit: Mikey Williams for Top Rank
Check out more boxing news on video at The Boxing Channel 
To comment on this story in The Fight Forum CLICK HERE
Fast Results from the Big Apple: Crawford and Teofimo Win Impressively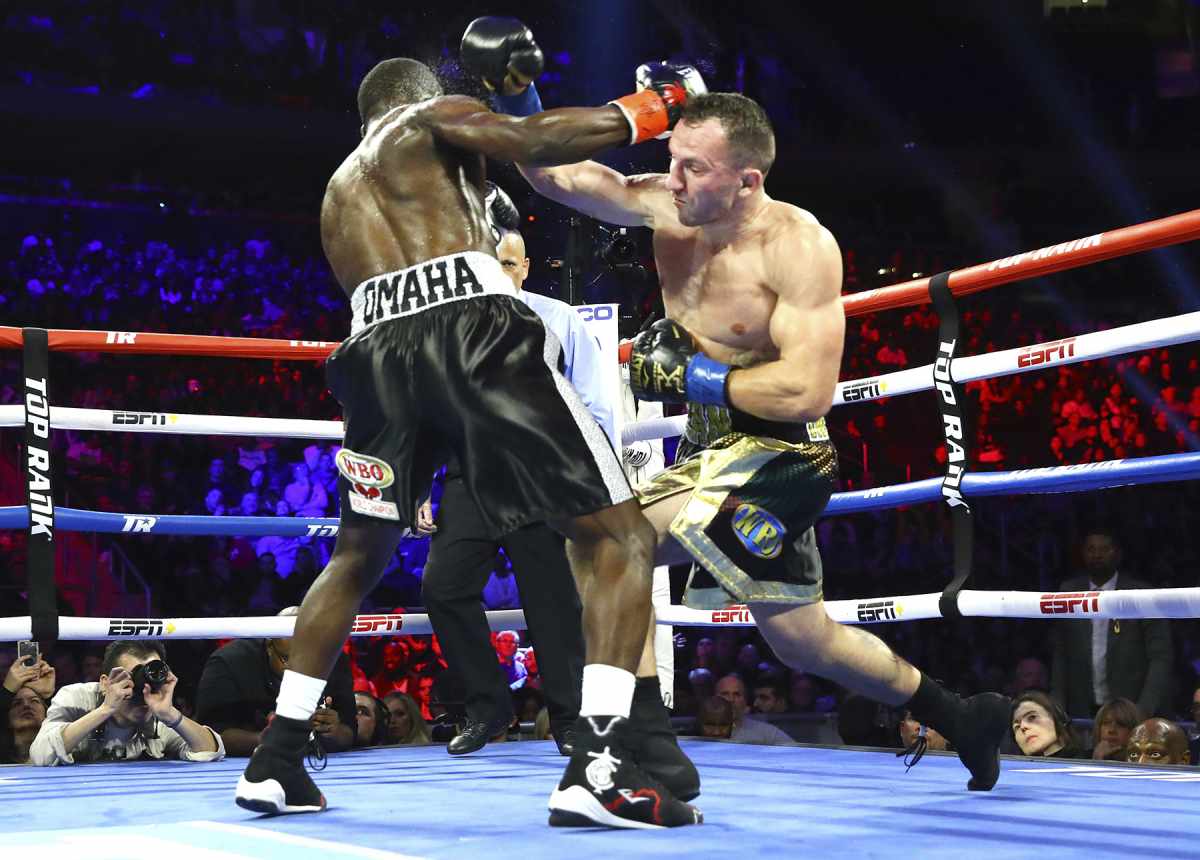 Two world title fights ornamented Bob Arum's pre-Christmas show at Madison Square Garden. In the main go, Terence "Bud" Crawford stopped brave but ultimately out-gunned Egidijus Kavaliauskas in the ninth stanza. The official time was 0.44. Crawford (36-0, 27 KOs) was making the third defense of the IBF welterweight title he won from Jeff Horn.
Kavaliauskas (21-1-1) had some good moments early and stung Crawford with a looping right hand in round three that generated an apparent knockdown that was ruled a slip. But Crawford, with his superior hand speed, ultimately assumed control, knocking his Lithuanian foe to the canvas in round eight and then again in round nine. The fight ended with Kavaliauskas on his feet but clearly beyond the point of no return.
In the co-feature, Teofimo Lopez (15-0, 12 KOs) turned in another spectacular performance, stopping Richard Commey in the second round to snatch away Commey's IBF lightweight title.
Lopez and Commey launched right hands almost simultaneously, but Lopez's punch got their first. Commey got up in a hurry after landing on his right knee, but his legs were spaghetti and he reeled about the ring like a drunken sailor. Lopez then pummeled him against the ropes, landing a slew of unanswered punches to force the referee to waive it off. Heading in, Commey was 29-2 with both losses by split decision.
Lopez has been calling out Vasiliy Lomachenko and it appears they will meet in April.
Other Bouts
In the TV opener, Northern Ireland's Michael Conlan (13-0, 7 KOs) scored a unanimous decision over former amateur rival Vladimir Nikitin (3-1). Russia's Nikitin held two wins over Conlan at the amateur level, most famously a terrible decision in the 2016 Rio Olympics.
The scores were lopsidedly in favor of Conlan (100-90, 99-91, and 98-92). While he was the rightful winner, the fight wasn't as one-sided as the scores suggested. There were no knockdowns, but Conlan suffered a bad cut over his right eye in the eighth round, the best round of the fight.
Fast rising super middleweight Edgar Berlanga, a 22-year-old New Yorker of Puerto Rican descent, did it again, scoring his 13th first round knockout in as many fights.  Berlanga scored two knockdowns, the first with a left hook and the second with a body shot, before the ref interceded to save Cesar Nunez from further punishment. A 34-year old Spaniard, Nunez entered the contest with a misleading 16-1-1 record.
Australian junior welterweight George Kambosos Jr improved to 18-0 (10) with a 10-round split decision over former world lightweight titlist Mickey Bey (22-4-1). The scores were 97-92, 96-93, and 94-95.
Kambosos sealed the win with a big 10th round, knocking Bey down with a right-left combination and pummeling him when the action resumed. It was a case of youth being served. At age 26, the heavily tattooed Australian was the younger man by 10 years.
Photo credit: Mikey Williams for Top Rank
Check out more boxing news on video at The Boxing Channel 
To comment on this story in The Fight Forum CLICK HERE
Vergil Ortiz Jr KOs Brad Solomon at Fantasy Springs (plus Undercard Results)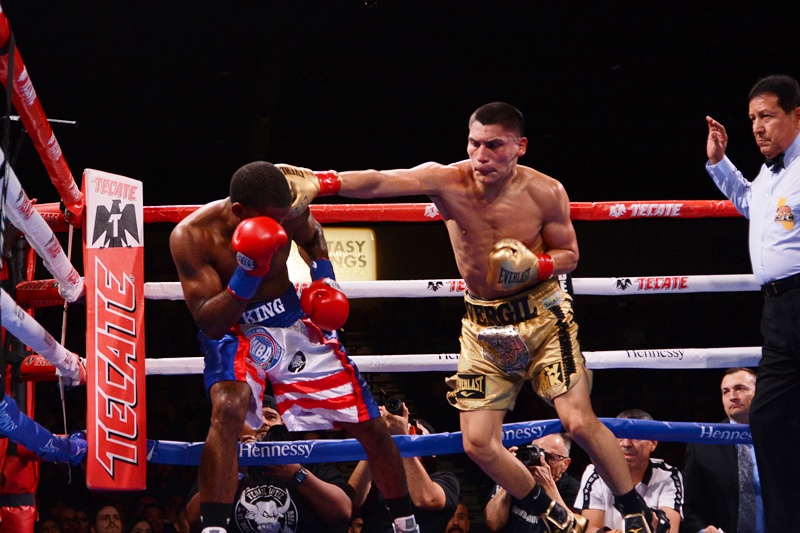 INDIO, Calif.-Vergil Ortiz Jr hunted and pursued the elusive Brad Solomon for several rounds before lowering the boom with three knockdowns and ultimately stopping the formerly unstoppable fighter for a knockout victory on Friday.
It's on to bigger and better things.
Ortiz (15-0, 15 KOs) proved that styles didn't matter and Solomon's (28-2, 9 KOs) slippery moves couldn't prevent the brutal outcome before several hundred fans and two Boxing Hall of Famers at Fantasy Springs Casino. It was Solomon's first ever loss by knockout.
Despite winning all of his previous fights by stoppage, the lean Texan who trains in Riverside, Calif. had never fought a boxer with the pedigree of Solomon. It was the main question remaining for Ortiz. Could he figure out the winning equation to defeat a pure boxer?
He had the answer in his pocket all of the time.
Solomon moved smoothly around the ring from the opening bell. Ortiz followed with his tight guard and snap quick punches to the body and head. The first round revealed that Ortiz's quick hands were just as quick as Solomon's and much more powerful.
"I had to utilize my jab, figure out the right time to throw a punch," said Ortiz. "He came to fight."
After three rounds of chase and pursue, both fighters exchanged briefly and a body shot by Ortiz convinced the fleet opponent to go back on his toes. While trying to move away Ortiz fired a stiff left jab and down went Solomon. Body shots followed and Solomon was visibly affected by them. On one occasion he feigned a low blow but referee Raul Caiz ruled it was a clean blow.
"I can't lie. I don't think he was hurt right there," said Ortiz of the jab knockdown. "
The subsequent blows would prove otherwise in the next round.
Ortiz opened up the fifth round at a rapid pace and though Solomon tried evasive maneuvering, it all proved in vain especially after a six-punch volley by Ortiz. Down went Solomon in the corner but he was able to beat the count. Solomon got up and tried to use his quickness to avoid Ortiz's charge but a double left hook to the head sent him down once again. Referee Caiz waved the fight over at 2:22 of the fifth round to give Ortiz the knockout win and retain the WBA Gold welterweight title.
"I just took my time," said Ortiz. "He's difficult to figure out and made me use my brain."
Ortiz, 21, continued his domination of the welterweight division though many felt Solomon could stall his rapid ascent to the top.
El Flaco
Serhii "Flaco" Bohachuk (17-0, 17 KOs) continued his knockout streak but needed a little time to figure out the switching tactics of Colombia's Carlos Galvan (17-10-1, 16 KOs). But after five rounds he discovered that the body attack was the key. Bohachuk floored Galvan three times in the fifth round, two by body shots and the end came at 1:40 of the fifth round.
Other Bouts
Puerto Rico's Alberto "El Explosivo" Machado (22-2, 18 KOs) snapped a two-fight losing streak by moving up to the lightweight division and knocking out Dominican Republic's Luis Porozo (14-2, 7 KOs) with body shots in the second round. Machado had problems making the 130-pound super featherweight limit and showed a move up in weight was beneficial as he dropped Porozo three times until referee Tom Taylor ended the fight at 2:59 of the second round for a win by knockout.
Machado is co-promoted by Miguel Cotto Promotions and Golden Boy Promotions.
Alexis Rocha (15-0, 10 KOs) withstood an all-out assault from Mexico's Robert Valenzuela Jr. (17-2, 16 KOs) early in the welterweight title fight and used a withering body attack to break down the taller fighter. After that it was all downhill sledding for the Santa Ana fighter who broke the will of Valenzuela with bludgeoning blows to the left and right side of the body.
"I was being lazy to be honest, so it's my fault," said Rocha on being bloodied by a counter uppercut while punching. "It's very important, I came to fight and throw body punches to wear my opponent down. I think that's very key in boxing in general."
At the end of the fifth round the Mexican fighter was holding on. The fight was stopped at the end of the fifth round giving Rocha the win by knockout and he retains the WBC Continental Americas title in the welterweight division.
"I knew the body shots were taking a toll on him," Rocha said. "Today was a good learning experience."
Bektemir Melikuziev (4-0, 3 KOs) boxed his way to a unanimous decision victory over Vaughn Alexander (15-4, 9 KOs) in a 10-round fight for the WBA Continental Americas title. But it was sort of strange to see a guy nicknamed "the Bully" dance around the ring avoiding contact. Still, he won every round but disenchanted fans with his unwillingness to exchange with the muscular Alexander. No knockdowns were scored in the fight. All three judges saw it 100-90 for Melikuziev.
Luis Feliciano (14-0, 8 KOs) knocked down Herbert Acevedo (16-3-1, 6 KOs) early in the 10 round NABF super lightweight title fight and then cruised to victory by unanimous decision. The Puerto Rican who trains in Southern California pummeled Acevedo's body before delivering a two-punch combination that sent the challenger to the deck. It was Feliciano's first defense of the title he captured by decision over talented Genaro Gamez.
"I give props to Herbert Acevedo. He's a tough and rugged fighter. I thought he was out when I dropped him in the third round. I tried to get the finish, but he weathered the storm," said Feliciano. "I'm happy to finish the year with a win, and we are on to the next."
A super welterweight fight saw Ferdinand Kerobyan (13-1) destroy Fernando Carcamo (23-11) with two knockdowns in the first round and the fight was stopped at 1:46 of the first round.
A super middleweight match ended in the third round by knockout win for Erik Bazinyan (24-0) over Saul Roman (46-14),
Hall of Fame
Also present at the Golden Boy Promotions boxing card were Oscar De La Hoya and Bernard Hopkins who was recently voted into the International Boxing Hall of Fame by the boxing writers. He will join De La Hoya who was inducted several years ago.
Hopkins was selected last week along with Sugar Shane Mosley and Juan Manuel Marquez. Their induction takes place next June in Canastota, New York. It's quite an honor and well deserved for one of the greatest middleweights in the history of the sport. He also captured the light heavyweight world title. We will have more on this great Philadelphia prizefighter in the coming months.
Photo credit: Al Applerose
Check out more boxing news on video at The Boxing Channel 
To comment on this story in The Fight Forum CLICK HERE