Damon Feldman, the `16 Minute Man,' Aims to Bring His Wild Story to Silver Screen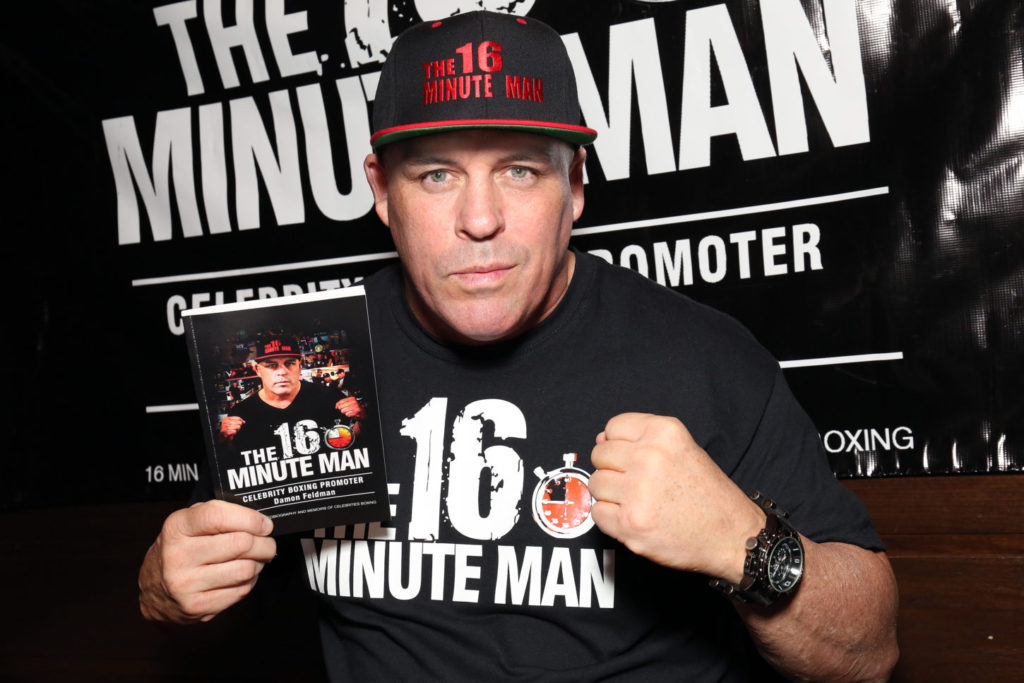 What do Jose Canseco, Tonya Harding, Rodney King, Danny Bonaduce, Joey Buttafuoco, Lindsay Lohan's father, Vai Sikahema, El Wingador, Octomom, a semi-notorious Philadelphia TV meteorologist and an aging Philly sports writer attempting to channel his onetime inner tough guy have in common?
At first glance, most people outside of Delaware County, Pennsylvania, would conclude there couldn't possibly be a link attaching such disparate individuals. But that assumption would be incorrect.
Meet Damon Feldman, the undefeated former super middleweight turned Celebrity Boxing huckster and unifier of all those seemingly mismatched parts. Once labeled "King of the D-List" in a Philadelphia magazine article that was something less than complimentary, the now-44-year-old Feldman is aiming for an alphabetical upgrade to another title of sorts, possibly "King of the B-Flicks." Earlier this month he hosted a gathering at a Drexel Hill, Pa., restaurant that drew two media members (I constituted half of the press corps) and about 50 prospective donors for the movie he intends to make about his occasionally tragic, sometimes infuriating, relentlessly optimistic and thoroughly improbable life.
If enough well-heeled backers can be brought on board, 16 Minute Man, the same title as Feldman's 2017 book that never made it onto the New York Times bestseller list, will reach silver screens nationwide sometime in 2020. He hopes to raise $50,000 in developmental money, a tiny acorn which, if all goes as planned, will transform into the mighty $5 million to $10 million oak he said it would take to make the film – if it actually advances beyond the theoretical — as much as a commercial and critical success as 2010's The Fighter, the tale of scrappy "Irish" Micky Ward and his drug-addicted brother-trainer, Dicky Eklund, which was nominated for seven Academy Awards and won two.
"Jackie (Borock) and Scott (Weiner) were doing a documentary on me," Feldman noted. "After watching Mark Wahlberg's movie about Micky Ward, who no doubt was an accomplished fighter, I thought, `I really do have a story to tell, too.' I wrote my book in jail (more about that later), Jackie jumped on board and, well, here we are."
But, meanwhile, the show must go on. Feldman – that "16 Minute Man" moniker refers to the 15 minutes of fame avant garde artist Andy Warhol once predicted everyone in the future would have – figured quasi-celebrities whose time limit as public figures had expired might need some fast cash or an ego boost that would accompany a bit of renewed exposure. Those sufficiently desperate for either or both reasons thus were susceptible to the sales pitch thrown by a natural self-promoter whose thwarted dream had been to become a world champion fighter. But harsh reality has a way of sometimes morphing lofty ambition into something less grandiose. Feldman's 68th Celebrity Boxing card will take place on June 8 at the Showboat Hotel in Atlantic City, with the main event pitting Natalie Didonato, most recently seen on the reality TV show Mob Wives, against female pro rassler Scarlett Bordaux. In the on-deck circle for June 29 in Los Angeles: Mark Wahlberg's best friend Henry "Nacho" Laun, featured on still another reality TV series, The Wahlbergers, vs. Megan Markle's half-brother, Thomas Markle Jr.
Just who would pay to see such low-rent matchups? Well, probably more than might be imagined. Rubber-neckers inevitably gather to see barroom brawlers or schoolyard kids go at it, and the stakes are hiked if the punch-throwers have retained even a thin vestige of fame or familiarity.
For Feldman, his legitimate goals sidetracked, the realization of the different course his life was about to take came after he was obliged to retire as an active boxer.
"I took odd jobs. I was down the (Jersey) Shore one weekend and saw these two guys fighting, a bar fight, and I thought, `We should do this in the ring,'" Feldman recalled in the Philadelphia magazine article authored by Don Steinberg which appeared in the December 2009 issue. His start was relatively modest, the staging of a Tough Guy tournament which drew eight participants of varying skill levels and 500 or so spectators for the one-night event. After expenses were paid and a winner announced, Feldman came away with a profit and the notion that what worked once would work again, and bigger, if presented as outrageously as possible and with a loquacious front man – himself –serving as carnival barker.
In retrospect, Feldman probably was destined to spend a large chunk of his life in some form of boxing.  Son of noted Philadelphia trainer Marty Feldman, his interest in the fight game and his inevitable place in it spiked when he was one of the "Faces in the Crowd" featured in the Aug. 15, 1983, issue of Sports Illustrated. There on page 69 was a photo of the then-13-year-old Damon and a caption that read: Damon Feldman, Broomall, Pa. Damon, 13, scored a second-round knockout of Joe Antepuna to win the Philadelphia Junior Olympic boxing title in the 13-and-under 112-pound class. He has been boxing since age five and has an 8-1 record with two KOs.
There was never any question that Damon, who was and still is billed as the "Jewish Rocky," would continue to hone his craft and assume his rightful place in the family business as a pro. Maybe, if he could just catch a break, he could go even further than his dad, who fashioned a 20-3 record with 17 KOs as a hard-hitting middleweight before transitioning as a trainer, most notably as the chief second of world-rated brothers Frank "The Animal" Fletcher and Anthony "Two Guns" Fletcher, as well as IBF light heavyweight titlist "Prince" Charles Williams. Also bearing the Feldman imprimatur was Damon's older brother David, five years his senior, who would go 4-1 with four KOs before hanging up his gloves.
Damon's history – his mom, Dawn Feldman, who had divorced Marty, was brutally attacked by an unidentified assailant shortly after their divorce in 1974 and suffered a broken neck that left her a quadriplegic – and ethnicity made him a popular and sympathetic figure as he stitched together a 9-0 record that included four KOs. Only four years old at the time his mother was assaulted, Damon and his brother never lived with her again. It speaks well of the now-deceased Dawn that, despite her physical limitations, she became something of an artist and poet despite spending most of her remaining years in rehab facilities. Nor was she the only victim of a horrific crime that was never solved; for the next six years, until they moved in with Marty, who had been struggling to earn a living, Damon and David were human pinballs, bouncing around to three different foster homes.
Was Damon good enough to someday rise above undercard status at the Blue Horizon? He says yes, definitely. "All I ever wanted to be was a world champion," he said. "It was my hope and dream to drive down to North Philadelphia every single day and train in the same gym as Bernard Hopkins, Robert Hines and all those guys. I wanted that belt more than anything."
Feldman's promoter, J Russell Peltz, said he tried to pair the likeable local kid with beatable opponents, but it would take a leap of faith to imagine him seeing his world-championship dream through to fruition. Nor is Peltz the biggest fan of Feldman as the face of low-grade Celebrity Boxing. "Damon has always been more about promoting himself than his events," Peltz is quoted as saying in the Philadelphia magazine story. "He's more about the sizzle than the steak."
Whatever Feldman could have been as a fighter became a moot point when he slipped outside a grocery store in Broomall and took a nasty fall. "The curb broke as I walked off it and I just fell," he recalled. "I hit my neck and my head, messed my disk up." He never fought again, at least in a sanctioned bout, and, despondent and angry about his adjusted circumstances, entered into what might be described as the infuriating and reprehensible phase of a topsy-turvy existence.
Although he tried his hand at promoting legitimate fight cards, five of which came off, Feldman proved to be less than an exemplary businessman as well as something of a loose cannon. He began drinking more heavily until it became a problem, although he is adamant in refusing to state he is or ever was an alcoholic. His promoter's license was revoked by the Pennsylvania State Athletic Commission when, in 2005, an argument over tickets and money at a pre-fight meeting turned violent. The other promoter placed his hand upon an increasingly agitated Feldman, who scored a one-punch knockout with a left hook.
Even worse, in October 16, 2016, he struck a woman, with whom he had been involved romantically, several times with a closed fist and enough force that police, upon arriving at her home, found her bleeding from the nose, head and face.
Feldman served 13 months of a two-year jail sentence after pleading guilty to simple assault and recklessly endangering another person. He now says the incident that led to his incarceration was the "stupidest mistake of my life, but I learned from it and I came back. I'm not a quitter."
So why is Feldman, who said this most recent redemptive chapter of his thick volume of ups and downs owes in large part to his parental devotion to his 12-year-old son and 16-year-old daughter, still as much or more of a celebrity as the D-Listers who populate his fight cards? It might be because, warts and all, he's essentially an impassioned salesman of himself and his brand. He has been a guest on Howard Stern's nationally broadcast radio program, at last count, 10 times and on Philadelphia drive-time sports station WIP, hosted by Stern's Philly equivalent, Angelo Cataldi, perhaps 10 times that. Former Philadelphia Daily News gossip columnist Dan Gross regularly featured references to Feldman and any of his off-the-wall gimmicks because what else is a gossip column about?
Feldman's first foray into Celebrity Boxing, in 1997, was limited in scope, the main event pitting Diego Ramos, a Philadelphia disc jockey, and John Bolaris, a weatherman for a Philly TV station. But Bolaris, a good-looking guy who got frequent mentions in Gross' gossip column for his man-about-town squiring of a steady stream of beautiful and high-profile women, was the prototype of the type of participant Feldman knew could fill a 500- to 800-seat room. Bolaris would have been an even more surefire draw if his appearance had come 13 years later, when he was drugged by a couple of Russian bar girls working for an international crime syndicate in Miami's South Beach. Seeking to confront the women, Bolaris met with them again, was slipped another roofie and awoke hours later with a pounding headache and $43,000 worth of charges on his American Express card. He contacted law enforcement officials, which led to 17 arrests, but instead of being hailed as a hero for the busting of so many nefarious types, as Bolaris had hoped, he was roundly derided for finding himself in such a humiliating situation and was fired by his station.
In other words, Bolaris at almost any stage of his television career was just the sort of "celebrity" that Feldman has sought out like a heat-seeking missile.
"I was a young guy, suffering and depressed," Feldman said of his state of mind after his boxing career ended and his promoter's license yanked. "Doing Celebrity Boxing shows became, like, my high. I just loved doing what I was doing. Anybody whose name was in the tabloids I tried to get in my ring. It's like my nickname. I try to give all of them their 16th minute of fame."
For appearance fees ranging from $1,500 to $5,000, Feldman has successfully enticed a string of down-on-their-luck notables to swing away at others of their ilk. Even when he failed to make sensationalistic bouts that were purposefully leaked to the media, he got the kind of publicity that promoters of "real" boxing would kill for. He attempted to pair Rodney King, the "Can't we all just get along?" victim of a 1991 beatdown by Los Angeles cops, with one of the police officers involved in the incident, which drove the Rev. Al Sharpton to near-hysterics. The LA cop didn't participate, but King mixed it up with an ex-cop from Chester, Pa., Simon Aouad, whom King defeated.
Another proposed fight that got lots of media attention but didn't happen would have pitted Marvin Hagler Jr. against Ray Leonard Jr., the non-boxer sons of legendary fighting fathers. But it's not just the near-misses with which Feldman has generated headlines; his most successful promotion to date was a matchup of Canseco, the steroid-fueled slugger of 462 major league home runs and the author of a tell-all book which outed Oakland teammate Mark McGwire as a fellow juicer, and a grown-up Bonaduce, the freckle-faced, red-haired kid everyone remembered from his time on TV sitcom The Partridge Family. Canseco seemingly got the better of Bonaduce, a friend of Feldman's, over three rounds, but the fight ended in a controversial draw (even Celebrity Boxing outcomes apparently can be disputed), leading to accusations that the fix was in.
Canseco, maybe more than any Celebrity Boxing contestant, is associated with Feldman. The large and heavily muscled former baseball player, at 6-foot-4 and 240 pounds, unwisely consented to duke it out in 2008 with former Arizona Cardinals and Philadelphia Eagles punt returner Vai Sikahema, who celebrated his touchdowns by whacking away at padded goal posts as if he were still the kid from Tonga who had been groomed by his father to become a champion boxer until he decided he liked football better. Sikahema, a two-time Pro Bowler who was then a sports director for a Philly TV station, tore into the much larger Canseco like a famished lion going after a stricken wildebeest. "I think I can safely say that 105,000 Tongans are well aware that I am fighting Jose Canseco," Sikahema said before the bout. "I do not intend to disappoint them."
Perhaps remembering the thrashing he took from Sikahema, Canseco, who was scheduled to appear in the main event of a 2011 Feldman-promoted event in Atlantic City, chose to stay home and sent identical twin brother Ozzie to fight in his stead. The ruse was immediately apparent when Ozzie stripped off his shirt and his upper-torso tattoos were different from Jose's. The fight was called off and Feldman sued Jose for breach of contract.
Feldman also was instrumental in Celebrity Boxing making it all the way to network television in 2002, with Fox airing two hour-long episodes featuring celebs who were a cut above D-Listers, at least in terms of how famous they once had been. In the first installment, Bonaduce floored Greg Williams, of The Brady Bunch, five times before Williams' corner threw in the towel in the second round. Tonya Harding, the disgraced figure skater who also fought for Feldman, had her way with a clearly frightened Paula Jones, alleged consort of former President Bill Clinton, who at one point attempted to hide behind the referee. Jones surrendered in the third and final round, allowing Harding to skate away with a TKO victory.
But it was a Ripley's Believe It Or Not matchup in the second installment that had to qualify as the most memorable Celebrity Boxing bout ever. In one corner was ultra-skinny former NBA center Manute Bol, all 7-foot-7 of him, against 400-pound-plus former NFL defensive lineman William "The Refrigerator" Perry. The Fridge basically ran out of gas moments after leaving his corner for round one, but he somehow stayed on his feet to the final bell, eating a smorgasbord of jabs from Bol, whose 102-inch reach might have been more incredible than his height.
Although TV Guide ranked Celebrity Boxing on Fox No. 6 on its "50 Worst TV Shows of All Time" later in 2002, Feldman takes pride in having had a hand in it. "I worked out a deal with (Fox) because it was my concept," he said. "They only did the two shows, but they did pretty good numbers. After that I just continued to do my own thing."
Full disclosure: I did a Celebrity Boxing turn for Feldman in July 2002, for no compensation, with any money I would have received going to the Don Guanella School (now closed) for intellectually disabled children. My opponent was Philadelphia attorney George Bochetto, a former commissioner for the Pennsylvania State Athletic Commission best known in boxing circles as the lawyer who represented former heavyweight contender Randall "Tex" Cobb in his libel lawsuit against Sports Illustrated, which resulted in a $10.7 million judgment for Cobb, later overturned on appeal. Bochetto – younger, leaner and a guy who regularly trained as a boxer three or four days a week – had everything going for him. But I was the son of a left-hooking former welterweight, and I wanted to see what, if anything, I had left. I did not inform my wife of my intentions until it was announced in my newspaper, which led her to ask, at a higher decibel level than I'd ever heard from her, "Are you nuts?"
George preferred to fight at a distance that suited him, and he was more accurate than I expected with the overhand right. But I bored in at every opportunity, trying to force him to the ropes and unloading left hooks and uppercuts with both hands. In effect, he was making Muhammad Ali moves and I was doing my best Joe Frazier impersonation. The split decision went to George, but the judge who had me ahead, the late, great Jack Obermayer, had been ringside for thousands of fights so I'm always going to think I really won.
Win or lose, though, my wife told me I was retired forever. Probably a wise decision on her part.
For those interested, more information on the movie project can be found at 16minutemanmovie.com.
Bernard Fernandez is the retired boxing writer for the Philadelphia Daily News. He is a five-term former president of the Boxing Writers Association of America, an inductee into the Pennsylvania, New Jersey and Atlantic City Boxing Halls of Fame and the recipient of the Nat Fleischer Award for Excellence in Boxing Journalism and the Barney Nagler Award for Long and Meritorious Service to Boxing.
Check out more boxing news on video at The Boxing Channel
To comment on this story in The Fight Forum CLICK HERE
Fast Results from the Bubble: Zepeda Outclasses Castaneda; Lopez Upsets Vences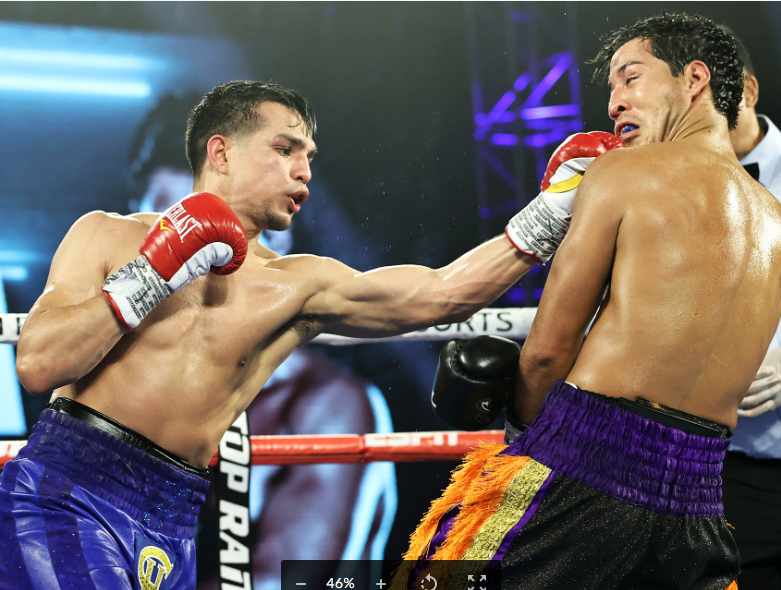 Former two-time world title challenger Jose Zepeda was the headliner tonight as Top Rank returned to "The Bubble" for another Tuesday edition of their semi-weekly summer series. In an uninteresting fight, Zepeda, a southpaw who competes at 140 pounds, improved to 32-2 with a unanimous decision over San Antonio's Kendo Castaneda (17-2). The judges had it 97-93 and 98-92 twice.
Zepeda, who came close to upsetting Jose Carlos Ramirez on Ramirez's turf in Fresno and then scored a mild upset over Jose Pedraza in his last start, simply had too much class for Castaneda who took the fight on seven days notice after Ivan Baranchyk suffered a a rib injury in training. Castaneda did his best work in rounds 6, 7, and 8, but Zepeda, who built up an early lead, pulled away in the homestretch.
Co-Feature
San Jose junior lightweight Andy Vences has now lost two of his last three after losing a 10-round split decision to Mexicali spoiler Luis Alberto Lopez. There were no knockdowns, but both fighters suffered cuts as a result of accidental head cuts. Two judges favored Lopez 96-94 with the dissenter favoring Vences (23-2-1) by the same margin.
Vences, who had the bigger frame, recovered nicely after taking a battering in round six and apparently did enough to win the fight, but two of the judges thought otherwise. Lopez (21-2) has won nine of his last 10.
Other Bouts
In an 8-round lightweight contest, Andres Cortes came on strong over the second half of the fight to win a unanimous decision over Alejandro Salinas and keep his undefeated record intact. Cortes suffered a cut over his left eye in round two and was knocked down by an overhand right two rounds later, but never lost his composure.
A Las Vegas native, Cortes originally signed with Mayweather Promotions after a strong amateur career but was a free agent heading into tonight's match and reputedly will formally join the Top Rank team after tonight's showing where he advanced his record to 13-0 Salinas, from Youngstown, Ohio, declined to 10-3. (9).
The TV opener was a 4-round bantamweight contest between Gabriel Muratalla and Sergio Lopez. This was the fourth pro fight for Muratalla, the oldest of two fighting brothers. He stopped each of his first three opponents in the opening round, but Lopez, who wasn't intimidated, extended him the distance in a good action fight. The judges had it for Muratalla by scores of 39-37 and 40-36 twice. Lopez falls to 4-6-3.
Off TV
In what was undoubtedly the most impressive showing of the night, San Diego welterweight Genaro Gamez (10-1, 7 KOs) rebounded from his lone defeat with a first round blast-out of Reymond Yanang (11-6-1). A straight right hand collapsed Yanang who appeared here two weeks ago, winning a split decision over Clay Burns/
Eric Puente improved to 3-0 with a majority decision over Diego Elizondo (2-2-2) in a 4-round lightweight clash. The scores were not shared with the TV audience.
Photo credit: Mikey Williams for Top Rank
Check out more boxing news on video at The Boxing Channel 
To comment on this story in the Fight Forum CLICK HERE
The Top Ten Super Featherweights of the Decade: 2010-2019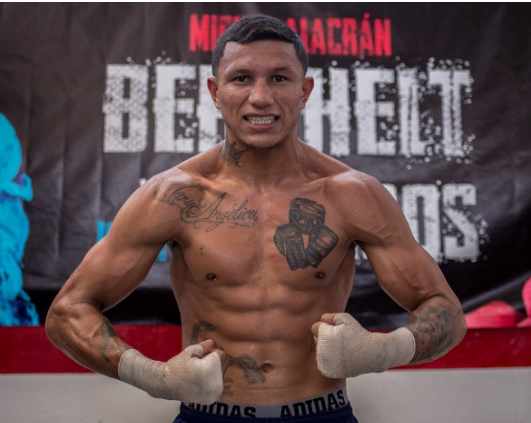 Super-featherweight has been refreshing after the minefield that was 140lbs and has contained the best fights I have reviewed during this series. There was a complication in that many of the top fighters of the decade only came to the dance once with an equal; there was far too much dusting of unranked fighters, journeymen and alphabet mandatories unqualified for the shot.
This has made the weighing of individual wins more pertinent than in other weight classes and you may find more words about given fights than is normal. Hunt some of those fights down if you missed them; I named this the most exciting division in boxing in 2016 and it certainly delivered.
Rankings are by Ring from January 2010 until October 2012 and thereafter by TBRB.
10 – Orlando Salido
Peak Ranking: 2 Record for the Decade: 10-4-2 Ranked For: 25% of the decade
We have run into some strange and interesting number tens during this series, but perhaps none more so than Orlando Salido. Siri, the veteran, the great survivor of the sub 135lb decade, makes the list essentially on the strength of two draws.
In April of 2014 Salido was spanked, fair and square, by Roman Martinez, the Puerto Rican, who used his equalising straight right hand to drop Salido and secured the decision over twelve. This was a punch Salido remained unable to neutralise even in their rematch fought five months later,  Martinez managing to drop him once more, but in truth, Salido bossed their second encounter, ceaseless, blank-faced pressure catching up to the younger man who was lucky to escape with the draw. Salido, if not quite robbed, had been pick-pocketed.
The judging was perfectly reasonable in his next fight, a June 2016 draw fought with the mighty Francisco Vargas in one of the better fights of the decade. I scored it a draw, two of the judges scored it a draw, and while talk that Salido had the better of this fight too is overstated, he did not have the look or feel of a man defeated.
Salido won fights at the poundage, but nothing that meaningful. It is these drawn performances that put him in contention but the real reason he slips in are the shortcomings of his rivals for the spot.  Albert Merchado defeated Jezzrel Corrales who was butchered by Andrew Cancio who was ripped up by Rene Alvarado. Juan Carlos Salgado and Argenis Mendez cancelled one another out and offered little besides, Gervonta Davis's best win is number eight contender Jose Pedraza and the excellent Takashi Miura defeated the similarly ranked Gamaliel Diaz on his best night. In the end, by a process of painful elimination it became clear that the most reasoned argument was Salido, who probably should have been awarded a victory over Martinez (ranked 9 here) and who fought Vargas (ranked six) to a standstill.
09 – Roman Martinez
Peak Ranking: 2 Record for the Decade: 7-4-2 Ranked For: 68% of the decade
Roman Martinez had a strange and troubling super-featherweight career defined by oddities and questionable draws. He was lucky to get away with the share against Juan Carlos Burgos in 2013 and equally so against Orlando Salido in their 2015 rematch and had either of these fights been scored against him he likely would have had to make way for his conqueror. Draws are what came back though so he pitches up here ahead of both in the number nine spot.
Key to his placement is his performance in his first fight with Salido. Martinez boxed with the cooler head of a more experienced fighter that night, staying organised despite being subjected to ceaseless pressure, moving laterally at speed and countering Salido with consistent, clean punches.
Martinez also turned in a spirited, clever performance against number ten contender Diego Magdaleno two years prior to his meeting with Salido, taking an earned split decision. This second win over a made man threatens to propel him up a list comprised in part of one-hit wonders but those draws, and his being on the fortunate end of them, pin him back.
Unexceptional, that right hand excepted, Martinez has remained a figure of significance within the super-featherweight division for nearly 70% of the decade; this, in tandem with the Salido victory makes him difficult to exclude.
08 – Ricky Burns
Peak Ranking: 2 Record for the Decade: 16-6-1 Ranked For: 11% of the decade
Ricky Burns is another reason for Martinez ranking no higher than nine.  In short, it is difficult to rank Burns any higher and more difficult still to rank Martinez ahead of Burns, for the best of reasons: Burns beat him.
It remains the most outstanding performance of Ricky's career, a performance of great competence over a fighter who echoed his best attributes. Both these men were superbly conditioned and capable of performances of real courage but were limited in both power and speed. Burns, far and away the lesser of the two punchers and with no equivalent of the Martinez right hand, was firmly outgunned. Technical surety and superb temperament brought him the clean win. Burns was hurt badly in the first round by one of those Martinez right hands; by the end of the sixth he all but had the fight wrapped up having won every round since.
Martinez wasn't for quitting of course, and he damaged Burns with surging, wild attacks through the middle rounds to narrow the fight up but Burns closed like a champion, winning the eleventh and twelfth with room to spare. It was a rousing performance that demonstrated everything Burns did well.  One of his generation's underrated jabbers, he was cool under the most vicious of fire and brave to a fault.
Burns exited 130lbs the following year, unbeaten at the poundage that decade, 5-0, having mastered, in Martinez, a fighter of worth.
07 – Rances Barthelemy
Peak Ranking: 3 Record for the Decade: 25-1-1-1 Ranked For: 14% of the decade
The Cuban Rances Barthelemy may seem a rather perverse choice at number seven given that he was never ranked higher than three divisionally, but he had Mikey Garcia and Takashi Uchiyama to contend with. He met neither man in the ring, but his performances in his two fight series with Agenis Mendez are more than enough to justify his placement on this particular list.
In their first fight, in January of 2014, Barthelemy seemed a fighter unassailable.  His left hook seemed ear-drum shattering; his body-punches drew air in through the collective teeth of those who witnessed them; his jab put commentary in mind of George Foreman. Mendez landed as few as three punches in the first. The left uppercut, left jab and left hook Rances landed in combination to drop Mendez in the second was a thing of absolute beauty; the two wide hooks he landed from square shortly thereafter to knock Mendez out, less so, not least because they came after the bell.
Barthelemy's knockout victory was changed to a no-decision, the correct decision, and a rematch was ordered.
Barthelemy was not the fighter he appeared to be in that first astonishing fight with Mendez, but he looked the clear superior of Mendez once more, taking a clear decision win despite dropping points for clumsy low blows in both the ninth and tenth round. Mendez, it should be remembered, was no joke. The world's number two contender, he had split a series with the excellent Juan Carlos Salgado, winning their second fight by way of fourth round knockout and rendering himself one of the best super-featherweights in the world. Barthelemy usurped him, then defeated Argentine tough Fernando David Saucedo and departed for lightweight.
That makes him undefeated at the poundage and in combination with those two superb wins, he's earned the number seven spot.
06 – Francisco Vargas
Peak Ranking: 2 Record for the Decade: 26-2-2 Ranked For: 43% of the decade
Japanese puncher Takashi Miura, ranked two, is the key fight of Francisco Vargas's career, the totality of which was boxed between January 2010 and December of 2019, almost all of it at the 130lb limit, no small matter in rating him here.
Miura, an onslaught southpaw who traded on thudding punches and sheer aggression had put away a series of good opponents in the course of raising and defending his strap, key among them Gamaliel Diaz, who he had dispatched in nine in 2013; Vargas met him in 2015 and in a thrilling first round took his legs and challenged his heart with a zinging right-hand wedded to some exceptional short-arm work behind. Takashi, too hard to succumb, battled back and a superb fight was sparked, dominated early by Vargas to the point of one-sidedness. Takashi though seemed wrought of iron, insidiously fighting back before dropping Vargas with a stunning one-two behind a delightful uppercut.
This was a nice wrinkle to the fight, Takashi suddenly producing superb, technically adept punches to swing it into his lane, but it was Vargas now who took a turn in proving his heart and guts. Cut, bruised, Vargas rallied thrillingly in the sixth round as the two exchanged vicious body shots and opposed straights. Behind on the cards, hurt and then punished at the end of the eighth, Vargas sent Takashi scrambling to and then from the canvas in the first seconds of the ninth before blasting him out to win perhaps the best fight of the super-featherweight decade by way of stoppage. It was an exceptional performance.
Almost as astonishing was Vargas's first fight of the following year, against Orlando Salido. A wonderful ebb and flow war, savage in culture, the official scorecards read 115-113 to Vargas and 114-114 twice, which echoed my own.
Worn by these battles, Vargas was eventually chased from the division by Miguel Berchelt. As we shall see, there is no shame in that.
05 – Mikey Garcia
Peak Ranking: 2 Record for the Decade: 22-1 Ranked For: 11% of the decade
Mikey Garcia, fleeting as always, spent a short spell in the rankings at 130lbs but also served a modicum of his apprenticeship there, putting meat on the bones of his 2013/14 campaign. In these years, Garcia bought the number five spot on this list.
In 2013 he met Roman Martinez, no slouch as we have seen, and who had a good first round; but in the second Garcia established that glorious left-handed jab as Martinez, content to wait outside, seemed lost. Then Martinez sprang his trap, the same trap he sprung against Salido, that wrought straight right and Garcia was on the seat of his trunks looking up.
He was also calm personified, reassuring his corner, making eye contact with the referee then up at six and took control of the fight. That left jab made way for the straight right which in turn made way for the left hook, a staged attack any general would be proud of. Martinez was finished in eight, struggling desperately for breath behind a superb left hook to the body.
Three months later, Garcia met Juan Carlos Burgos who was coming off the rough end of two split draws. Burgos made it difficult for Garcia early with his range but once Garcia found him, he won every remaining round.
Garcia dashes through divisions so quickly it is hard for him to make a meaningful impact and he was not helped at 130lbs by contractual disputes which kept him out of the ring for some months; when he returned it was as a lightweight. Here, there are enough shallow but exciting legacies to see him into the top five. Garcia's style may not inspire passion, but it is to be admired.
04 – Jezzrel Corrales
Peak Ranking: 2 Record for the Decade: 22-2 Ranked For: 23% of the decade
Jezzrel Corrales missed weight in October of 2017 for his match with Alberto Machado and was promptly stopped in the eighth round of a lacklustre performance. At the 130lb limit, he was never beaten.
It is fitting, too that he is the only member of the one-hit wonder club that makes the top five. His one hit is actually two, and far and away the best of the bunch.
In 2016, Takashi Uchiyama was the undisputed number one super-featherweight on the planet and remained in the habit of importing and dominating quality fighters from outside his native Japan.  Corrales, a Panamanian stylist, seemed just the latest in a long line to leave Japan with nothing but wounds and Yen.
Corrales claimed ring centre, unafraid, rearing and ducking the worst of Uchiyama's attentions, punching at every opportunity. This is hardly a layered plan but Corrales has an equaliser as good as a poison-speared punch: he is among the fastest-handed fighters on this list. In the second, he moved off before bringing Uchiyama back to ring centre and pot-shotted, especially with his left.  Repeatedly feinting with a southpaw jab to the body, he bought an Uchiyama counter then blasted over a lighting quick straight that dropped Uchiyama and heavily. The Japanese's reign was essentially over, although he was able to stagger his way through to the final seconds of the round before succumbing.
Jezzrel Corrales owns the single best win of any fighter on this list.
He arguably owns the second best, too, returning to Japan for a rematch eight months later, once again triumphing, this time on the cards. Flashed off balance in the fifth, Corrales nevertheless earned a decision, the fact that it only came on two of the three cards probably flattering Uchiyama.
A strange, pawing, dipping fighter, Corrales interested me from the start with that low lead, varied feints and riffing style. He achieved little else of note divisionally but undoing the clear divisional number one on two separate occasions is more than enough to earn him a top five spot.
03 – Vasyl Lomachenko
Peak Ranking: 1 Record for the Decade: 14-1 Ranked For: 18% of the decade
Too low?
Arguably, but for anyone who has been tuning in regularly, it's clear that these lists are driven not by the how but the who; Vasyl Lomachenko receives maximum points for the how, but in terms of the who, he really does come up short. Clearly better than the one-hit wonders that populate much of the rest of the list, he is clearly worse off than the men ranked above him. Lomachenko's assault on lightweight was all conquering and saw him outwit and outhit the best the division had to offer, at 130lbs he never faced a man in the top five.
The highest ranked fighter Lomachenko met at 130lbs was Roman Martinez, number six. Martinez, a fighter we have run into over and again, finally reaches the end of his super-featherweight journey.  Lomachenko tore him apart like a wolfpack before dispatching him with an uppercut/hook combination as astonishing as anything I have seen. In his next three fights, Lomachenko forced the retirements of three different men, most impressively Nicholas Walters, then met with the man that makes his ranking so malleable: Guillermo Rigondeaux. Lomachenko beat Rigondeaux clean and clear; it was not a close fight. Rigondeaux retired in his corner with an injury but did so after being outclassed by the better man. The problem is that Rigondeaux, a genuine pound-for-pound force moved two weight classes north to make the contest happen. So how much meaning should be allowed? The final word, perhaps, should belong to Lomachenko himself:
"This is not his weight, so it's not a big win for me."
Rigondeaux achieved nothing at 130lbs, before or since. That is weighted here – Lomachenko ranks three.
02 – Takashi Uchiyama
Peak Ranking: 1 Record for the Decade: 11-2-1 Ranked For: 61% of the decade
Takashi Uchiyama was the darling of the hardcore boxing fan in the early part of the decade. When he met Juan Carlos Salgado in the first month of 2010 it was not the slipping version that would go 1-1 with Argenis Mendez in coming years, but rather the monster that had knocked out no less a figure than Jorge Linares the year before – in one round.
Uchiyama met Salgado ring centre and established himself as the more accurate and heavier puncher then went to work breaking him down. A technically superb performance, it was capped by a savage assault in the eleventh which culminated in a hooking clinic in the twelfth, for all that it was a tiring one, followed by a vicious stoppage with just seconds remaining. The purists were hooked.
In truth, this was something of a summit for Uchiyama, which was a shame because the feeling was he might make pound-for-pound. He never left his Japanese stronghold and the invitees were of middling quality. Still, he inflicted an impressive number of first defeats and in 2011 imported a slipping Jorge Solis, against whom he perpetrated an astonishing one-punch knockout in the eleventh having arguably won every single round up to that point.
There were quick knockouts, too, like the one he scored against the prodigy Jomthong Chwatana and when he needed the cards they were usually wide. His shocking defeat at the hands of Corrales and his insistence upon remaining home keep him from the top spot here, but that's a judgment call.  Placing him at the top would be valid.
01 – Miguel Berchelt
Peak Ranking: 1 Record for the Decade: 37-1 Ranked For: 27% of the decade
I suspect that this is my first genuinely controversial placement of the series but justifying heralding Miguel Berchelt as the most accomplished super-featherweight of the decade will be easy. That is because he is the right choice.
First, there is his paper record, which is one of the best on the list. Berchelt (pictured) suffered a single loss in 2014 and since then has smeared a series of ranked men all over the ring, mostly by way of knockout. He has fewer losses than Uchiyama, more wins, and more wins against ranked opposition. Although Lomachenko has no losses at the weight, he has significantly fewer wins and fewer wins against top men.
Most of all, what impresses about Berchelt is that he has been doing his business among the top five. While Lomachenko was matched exclusively outside the absolute best of the best, Berchelt has operated frequently in such company.
Most of all, it his domination over that company that has impressed.
Berchelt took the step up against Francisco Vargas in 2017 and handed the superb Vargas a vicious beating. Vargas out-sped Berchelt by a margin which was a problem for him for perhaps four minutes. Berchelt's greatest strength is his ring-awareness; he knows where he is at all times and he knows where his opponent is at all times. This perennially puts him in position, or something like it; Vargas meanwhile was relying on technical ability and speed to keep him in control. He was repeatedly hurt in the second in what looks in retrospect to be the beginning of the end. After losing most of the intervening rounds in a fight that mounted in intensity and savagery as it progressed, Vargas was stopped in the eleventh, his face coming apart.
In his next fight Berchelt, not one for resting upon laurels, matched number four contender Takashi Miura unveiling a new horror at championship level. Berchelt, who is the best puncher in the super-featherweight division, is also the best mover. He circled Miura as mercilessly as he beat him, bringing the brave Japanese onto a series of stiffening punches. By the fifth, Miura had given up boxing and pressure both in favour of single-shot hail-Mary left hands, some of which landed but never in quantities high enough to win him a single round on my card, or the card of judge Max DeLuca.
The following year, 2018, Berchelt thrashed mortal enemy and number five contender Miguel Roman in nine then rematched Vargas. By now he was peaking. Compact shots follow each other quickly to the target, his hand speed maximised on combination punching, but it is his accuracy during clutch exchanges that sets him aside. Berchelt cracked Vargas in just six rounds and exited the decade the unequivocal number one active super-featherweight. Uchiyama was ranked number one in January of 2010, and it is fitting that these two duke it out for the decadal top spot.
Berchelt is my choice based upon his having more wins, fewer losses and his having beaten more highly ranked fighters.
The other lists:
Check out more boxing news on video at The Boxing Channel 
To comment in this story in the Fight Forum CLICK HERE
Dangerous to the Last Second of the Last Round: A Case of Deceptive Records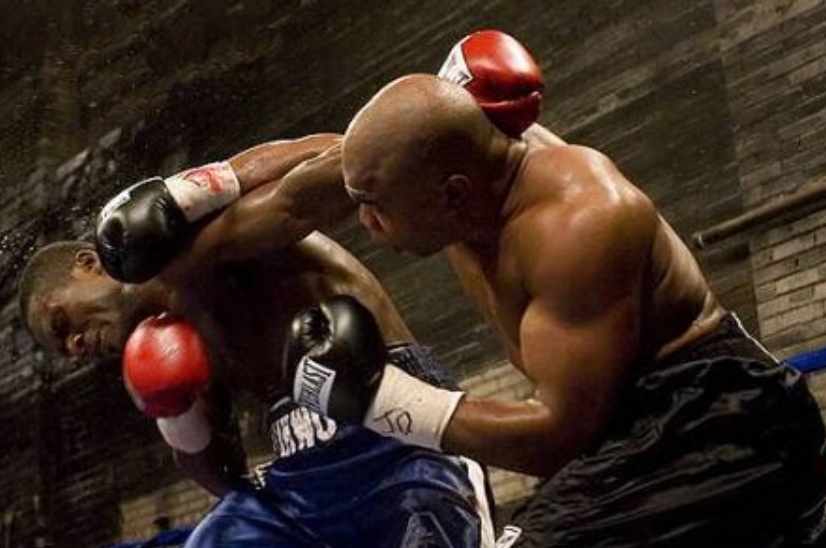 "The Ding-A-Ling Man," 5'10" Darnell Wilson, was 24-17-3 when he faced off against 6'4" 250-pound Mexican-American heavyweight David "Nino" Rodriguez (36-0 and with a menacing KO percentage of almost 90%) in Atlantic City in December 2013. Moreover, Wilson had lost 11 of his previous 12 fights. But even a cursory review of their respective records revealed that while Wilson was losing on a regular basis, the caliber of his opposition was light years better than Nino's.
With the exception of a major upset over Juan Carlos Gomez (the Cuban was 49-2 at the time), Ding-A-Ling was losing fights to rugged opponents like Firat Arslan (28-3-1), Gomez in a rematch, Felix Cora Jr. (17-0-2), Vadim Tokarev (19-01),  Andre Purlette (38-2), B.J. Flores (20-0-1), Grigory Drozd (31-1), Alex Leapai (20-3-3), Denis Boytsov (29-0), Edmund Gerber (21-0), and Andrey Fedosov (23-2). He also had back-to-back draws in 2004 with highly regarded George Khalid Jones (19-2) and Ugandan James Lubwama (16-1). Articulate and affable, Ding-a-Ling had assumed the role of global road warrior as he fought the very best — often in their home countries.
The highlight of Darnell Wilson's career came in 2007 when he scored back-to-back stoppages of Kelvin Davis and Emmanuel Nwodo on ESPN.
Darnell Wilson vs. Kelvin Davis (February 2007)
Wilson stopped look-alike Kelvin Davis in three rounds of entertaining action where both men hit the canvas. This one had ESPN's Teddy Atlas screaming and howling as is his wont.
Darnell Wilson vs. Emmanuel Nwodo (June 2007)
This was followed by that unforgettable fight in Staten Island where a left hook in the eleventh round almost decapitated Nigerian heavyweight Emmanuel Nwodo in a knockout reminiscent to Samuel Peter's left hook KO of Jeremy Williams and Julian Jackson's devastating right hand knockout of Herol Graham. (Derrick Jefferson's waxing of Maurice Harris also comes to mind.) In each case, the victims were out for several minutes.
While Teddy Atlas went bonkers–even for him, ESPN'S Joe Tessitore went full-tilt boogie and screamed, " Ohhhhhhhhhh, a left hook like you cannot believe…Oh my! Oh my, this fight is over."
But the best was yet to come.
Wilson vs. Rodriguez
Nino had been inactive for two years because of serious injuries, the nature and causes of which are grist for separate essays and include a life altering knife attack. He was looking to get back into the mix and earn a big payday.
This prompted Nino's promoter, Zel Ramirez, to make this outrageous challenge: "We are calling them out. If the Klitschkos want to make a statement, they need to start taking on the next generation of great heavyweights, and in the front of that list is David Rodriguez."
His best prior win may have been his frightening KO of a downward spiraling Owen Beck in 2011—or it might have been against an aging Robert Davis in 2009, but absolutely nothing stood out as an outstanding victory against a notable opponent. In fact, when Marcus "Migraine" McGee extended Nino for eight rounds in 2007, many of his weaknesses were exposed
Still, 36 wins are 36 wins and 34 stoppages are 34 stoppages
The Fight
It was give-and-take during the first few rounds with Wilson landing some heavy hooks early and then Nino doing good body work to regain control in the middle rounds. The fight was close going down the stretch with Nino moving ahead. An eye cut then aroused Wilson who went after Nino with scary left hooks of the knockout variety.
in the very final round with the ten-second warning having sounded and with only one second to go — yes, one second to go — Wilson put Rodriguez to sleep with his patented left hook. Nino had chosen to engage instead of backing off to preserve his victory. The hook was nasty and well-leveraged, landing flush. Referee Lindsey Page dispensed with the count at 2:59 of the sixth and final round.
It was real-life Rocky and also the ESPN KO of the Year for 2013. Wilson had lived up to his nickname. However, the problem was that he simply was too short, too slow, and eventually too old. He soon became a high-level gatekeeper and retired in 2015 with a deceptive "Fearless Freddie Pendleton-type record of 25-21-3.
Nino, a complex and savvy individual, retired with a 37-2 mark and to his credit used social media and appearances on talk shows to spread awareness on child trafficking for the use in sex crimes. He also wrote a book titled, When the Lights Go Out: From Survivor to Champion.
Ted Sares can be reached at tedsares@roadrunner.com
Check out more boxing news on video at The Boxing Channel 
To comment on this story in the Fight Forum CLICK HERE