Damon Feldman, the `16 Minute Man,' Aims to Bring His Wild Story to Silver Screen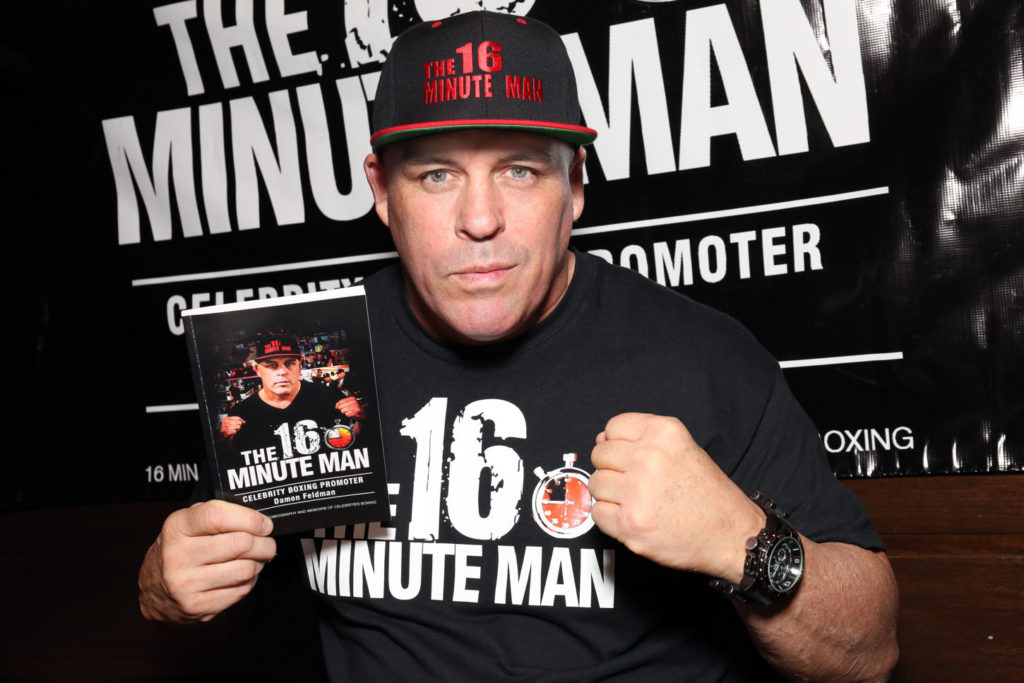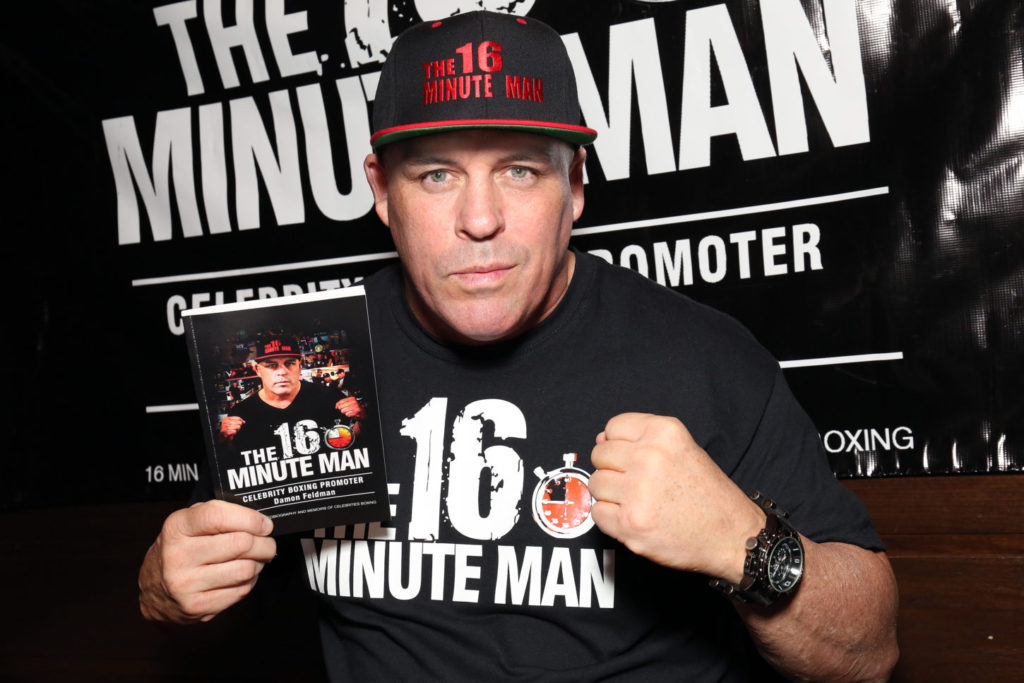 What do Jose Canseco, Tonya Harding, Rodney King, Danny Bonaduce, Joey Buttafuoco, Lindsay Lohan's father, Vai Sikahema, El Wingador, Octomom, a semi-notorious Philadelphia TV meteorologist and an aging Philly sports writer attempting to channel his onetime inner tough guy have in common?
At first glance, most people outside of Delaware County, Pennsylvania, would conclude there couldn't possibly be a link attaching such disparate individuals. But that assumption would be incorrect.
Meet Damon Feldman, the undefeated former super middleweight turned Celebrity Boxing huckster and unifier of all those seemingly mismatched parts. Once labeled "King of the D-List" in a Philadelphia magazine article that was something less than complimentary, the now-44-year-old Feldman is aiming for an alphabetical upgrade to another title of sorts, possibly "King of the B-Flicks." Earlier this month he hosted a gathering at a Drexel Hill, Pa., restaurant that drew two media members (I constituted half of the press corps) and about 50 prospective donors for the movie he intends to make about his occasionally tragic, sometimes infuriating, relentlessly optimistic and thoroughly improbable life.
If enough well-heeled backers can be brought on board, 16 Minute Man, the same title as Feldman's 2017 book that never made it onto the New York Times bestseller list, will reach silver screens nationwide sometime in 2020. He hopes to raise $50,000 in developmental money, a tiny acorn which, if all goes as planned, will transform into the mighty $5 million to $10 million oak he said it would take to make the film – if it actually advances beyond the theoretical — as much as a commercial and critical success as 2010's The Fighter, the tale of scrappy "Irish" Micky Ward and his drug-addicted brother-trainer, Dicky Eklund, which was nominated for seven Academy Awards and won two.
"Jackie (Borock) and Scott (Weiner) were doing a documentary on me," Feldman noted. "After watching Mark Wahlberg's movie about Micky Ward, who no doubt was an accomplished fighter, I thought, `I really do have a story to tell, too.' I wrote my book in jail (more about that later), Jackie jumped on board and, well, here we are."
But, meanwhile, the show must go on. Feldman – that "16 Minute Man" moniker refers to the 15 minutes of fame avant garde artist Andy Warhol once predicted everyone in the future would have – figured quasi-celebrities whose time limit as public figures had expired might need some fast cash or an ego boost that would accompany a bit of renewed exposure. Those sufficiently desperate for either or both reasons thus were susceptible to the sales pitch thrown by a natural self-promoter whose thwarted dream had been to become a world champion fighter. But harsh reality has a way of sometimes morphing lofty ambition into something less grandiose. Feldman's 68th Celebrity Boxing card will take place on June 8 at the Showboat Hotel in Atlantic City, with the main event pitting Natalie Didonato, most recently seen on the reality TV show Mob Wives, against female pro rassler Scarlett Bordaux. In the on-deck circle for June 29 in Los Angeles: Mark Wahlberg's best friend Henry "Nacho" Laun, featured on still another reality TV series, The Wahlbergers, vs. Megan Markle's half-brother, Thomas Markle Jr.
Just who would pay to see such low-rent matchups? Well, probably more than might be imagined. Rubber-neckers inevitably gather to see barroom brawlers or schoolyard kids go at it, and the stakes are hiked if the punch-throwers have retained even a thin vestige of fame or familiarity.
For Feldman, his legitimate goals sidetracked, the realization of the different course his life was about to take came after he was obliged to retire as an active boxer.
"I took odd jobs. I was down the (Jersey) Shore one weekend and saw these two guys fighting, a bar fight, and I thought, `We should do this in the ring,'" Feldman recalled in the Philadelphia magazine article authored by Don Steinberg which appeared in the December 2009 issue. His start was relatively modest, the staging of a Tough Guy tournament which drew eight participants of varying skill levels and 500 or so spectators for the one-night event. After expenses were paid and a winner announced, Feldman came away with a profit and the notion that what worked once would work again, and bigger, if presented as outrageously as possible and with a loquacious front man – himself –serving as carnival barker.
In retrospect, Feldman probably was destined to spend a large chunk of his life in some form of boxing.  Son of noted Philadelphia trainer Marty Feldman, his interest in the fight game and his inevitable place in it spiked when he was one of the "Faces in the Crowd" featured in the Aug. 15, 1983, issue of Sports Illustrated. There on page 69 was a photo of the then-13-year-old Damon and a caption that read: Damon Feldman, Broomall, Pa. Damon, 13, scored a second-round knockout of Joe Antepuna to win the Philadelphia Junior Olympic boxing title in the 13-and-under 112-pound class. He has been boxing since age five and has an 8-1 record with two KOs.
There was never any question that Damon, who was and still is billed as the "Jewish Rocky," would continue to hone his craft and assume his rightful place in the family business as a pro. Maybe, if he could just catch a break, he could go even further than his dad, who fashioned a 20-3 record with 17 KOs as a hard-hitting middleweight before transitioning as a trainer, most notably as the chief second of world-rated brothers Frank "The Animal" Fletcher and Anthony "Two Guns" Fletcher, as well as IBF light heavyweight titlist "Prince" Charles Williams. Also bearing the Feldman imprimatur was Damon's older brother David, five years his senior, who would go 4-1 with four KOs before hanging up his gloves.
Damon's history – his mom, Dawn Feldman, who had divorced Marty, was brutally attacked by an unidentified assailant shortly after their divorce in 1974 and suffered a broken neck that left her a quadriplegic – and ethnicity made him a popular and sympathetic figure as he stitched together a 9-0 record that included four KOs. Only four years old at the time his mother was assaulted, Damon and his brother never lived with her again. It speaks well of the now-deceased Dawn that, despite her physical limitations, she became something of an artist and poet despite spending most of her remaining years in rehab facilities. Nor was she the only victim of a horrific crime that was never solved; for the next six years, until they moved in with Marty, who had been struggling to earn a living, Damon and David were human pinballs, bouncing around to three different foster homes.
Was Damon good enough to someday rise above undercard status at the Blue Horizon? He says yes, definitely. "All I ever wanted to be was a world champion," he said. "It was my hope and dream to drive down to North Philadelphia every single day and train in the same gym as Bernard Hopkins, Robert Hines and all those guys. I wanted that belt more than anything."
Feldman's promoter, J Russell Peltz, said he tried to pair the likeable local kid with beatable opponents, but it would take a leap of faith to imagine him seeing his world-championship dream through to fruition. Nor is Peltz the biggest fan of Feldman as the face of low-grade Celebrity Boxing. "Damon has always been more about promoting himself than his events," Peltz is quoted as saying in the Philadelphia magazine story. "He's more about the sizzle than the steak."
Whatever Feldman could have been as a fighter became a moot point when he slipped outside a grocery store in Broomall and took a nasty fall. "The curb broke as I walked off it and I just fell," he recalled. "I hit my neck and my head, messed my disk up." He never fought again, at least in a sanctioned bout, and, despondent and angry about his adjusted circumstances, entered into what might be described as the infuriating and reprehensible phase of a topsy-turvy existence.
Although he tried his hand at promoting legitimate fight cards, five of which came off, Feldman proved to be less than an exemplary businessman as well as something of a loose cannon. He began drinking more heavily until it became a problem, although he is adamant in refusing to state he is or ever was an alcoholic. His promoter's license was revoked by the Pennsylvania State Athletic Commission when, in 2005, an argument over tickets and money at a pre-fight meeting turned violent. The other promoter placed his hand upon an increasingly agitated Feldman, who scored a one-punch knockout with a left hook.
Even worse, in October 16, 2016, he struck a woman, with whom he had been involved romantically, several times with a closed fist and enough force that police, upon arriving at her home, found her bleeding from the nose, head and face.
Feldman served 13 months of a two-year jail sentence after pleading guilty to simple assault and recklessly endangering another person. He now says the incident that led to his incarceration was the "stupidest mistake of my life, but I learned from it and I came back. I'm not a quitter."
So why is Feldman, who said this most recent redemptive chapter of his thick volume of ups and downs owes in large part to his parental devotion to his 12-year-old son and 16-year-old daughter, still as much or more of a celebrity as the D-Listers who populate his fight cards? It might be because, warts and all, he's essentially an impassioned salesman of himself and his brand. He has been a guest on Howard Stern's nationally broadcast radio program, at last count, 10 times and on Philadelphia drive-time sports station WIP, hosted by Stern's Philly equivalent, Angelo Cataldi, perhaps 10 times that. Former Philadelphia Daily News gossip columnist Dan Gross regularly featured references to Feldman and any of his off-the-wall gimmicks because what else is a gossip column about?
Feldman's first foray into Celebrity Boxing, in 1997, was limited in scope, the main event pitting Diego Ramos, a Philadelphia disc jockey, and John Bolaris, a weatherman for a Philly TV station. But Bolaris, a good-looking guy who got frequent mentions in Gross' gossip column for his man-about-town squiring of a steady stream of beautiful and high-profile women, was the prototype of the type of participant Feldman knew could fill a 500- to 800-seat room. Bolaris would have been an even more surefire draw if his appearance had come 13 years later, when he was drugged by a couple of Russian bar girls working for an international crime syndicate in Miami's South Beach. Seeking to confront the women, Bolaris met with them again, was slipped another roofie and awoke hours later with a pounding headache and $43,000 worth of charges on his American Express card. He contacted law enforcement officials, which led to 17 arrests, but instead of being hailed as a hero for the busting of so many nefarious types, as Bolaris had hoped, he was roundly derided for finding himself in such a humiliating situation and was fired by his station.
In other words, Bolaris at almost any stage of his television career was just the sort of "celebrity" that Feldman has sought out like a heat-seeking missile.
"I was a young guy, suffering and depressed," Feldman said of his state of mind after his boxing career ended and his promoter's license yanked. "Doing Celebrity Boxing shows became, like, my high. I just loved doing what I was doing. Anybody whose name was in the tabloids I tried to get in my ring. It's like my nickname. I try to give all of them their 16th minute of fame."
For appearance fees ranging from $1,500 to $5,000, Feldman has successfully enticed a string of down-on-their-luck notables to swing away at others of their ilk. Even when he failed to make sensationalistic bouts that were purposefully leaked to the media, he got the kind of publicity that promoters of "real" boxing would kill for. He attempted to pair Rodney King, the "Can't we all just get along?" victim of a 1991 beatdown by Los Angeles cops, with one of the police officers involved in the incident, which drove the Rev. Al Sharpton to near-hysterics. The LA cop didn't participate, but King mixed it up with an ex-cop from Chester, Pa., Simon Aouad, whom King defeated.
Another proposed fight that got lots of media attention but didn't happen would have pitted Marvin Hagler Jr. against Ray Leonard Jr., the non-boxer sons of legendary fighting fathers. But it's not just the near-misses with which Feldman has generated headlines; his most successful promotion to date was a matchup of Canseco, the steroid-fueled slugger of 462 major league home runs and the author of a tell-all book which outed Oakland teammate Mark McGwire as a fellow juicer, and a grown-up Bonaduce, the freckle-faced, red-haired kid everyone remembered from his time on TV sitcom The Partridge Family. Canseco seemingly got the better of Bonaduce, a friend of Feldman's, over three rounds, but the fight ended in a controversial draw (even Celebrity Boxing outcomes apparently can be disputed), leading to accusations that the fix was in.
Canseco, maybe more than any Celebrity Boxing contestant, is associated with Feldman. The large and heavily muscled former baseball player, at 6-foot-4 and 240 pounds, unwisely consented to duke it out in 2008 with former Arizona Cardinals and Philadelphia Eagles punt returner Vai Sikahema, who celebrated his touchdowns by whacking away at padded goal posts as if he were still the kid from Tonga who had been groomed by his father to become a champion boxer until he decided he liked football better. Sikahema, a two-time Pro Bowler who was then a sports director for a Philly TV station, tore into the much larger Canseco like a famished lion going after a stricken wildebeest. "I think I can safely say that 105,000 Tongans are well aware that I am fighting Jose Canseco," Sikahema said before the bout. "I do not intend to disappoint them."
Perhaps remembering the thrashing he took from Sikahema, Canseco, who was scheduled to appear in the main event of a 2011 Feldman-promoted event in Atlantic City, chose to stay home and sent identical twin brother Ozzie to fight in his stead. The ruse was immediately apparent when Ozzie stripped off his shirt and his upper-torso tattoos were different from Jose's. The fight was called off and Feldman sued Jose for breach of contract.
Feldman also was instrumental in Celebrity Boxing making it all the way to network television in 2002, with Fox airing two hour-long episodes featuring celebs who were a cut above D-Listers, at least in terms of how famous they once had been. In the first installment, Bonaduce floored Greg Williams, of The Brady Bunch, five times before Williams' corner threw in the towel in the second round. Tonya Harding, the disgraced figure skater who also fought for Feldman, had her way with a clearly frightened Paula Jones, alleged consort of former President Bill Clinton, who at one point attempted to hide behind the referee. Jones surrendered in the third and final round, allowing Harding to skate away with a TKO victory.
But it was a Ripley's Believe It Or Not matchup in the second installment that had to qualify as the most memorable Celebrity Boxing bout ever. In one corner was ultra-skinny former NBA center Manute Bol, all 7-foot-7 of him, against 400-pound-plus former NFL defensive lineman William "The Refrigerator" Perry. The Fridge basically ran out of gas moments after leaving his corner for round one, but he somehow stayed on his feet to the final bell, eating a smorgasbord of jabs from Bol, whose 102-inch reach might have been more incredible than his height.
Although TV Guide ranked Celebrity Boxing on Fox No. 6 on its "50 Worst TV Shows of All Time" later in 2002, Feldman takes pride in having had a hand in it. "I worked out a deal with (Fox) because it was my concept," he said. "They only did the two shows, but they did pretty good numbers. After that I just continued to do my own thing."
Full disclosure: I did a Celebrity Boxing turn for Feldman in July 2002, for no compensation, with any money I would have received going to the Don Guanella School (now closed) for intellectually disabled children. My opponent was Philadelphia attorney George Bochetto, a former commissioner for the Pennsylvania State Athletic Commission best known in boxing circles as the lawyer who represented former heavyweight contender Randall "Tex" Cobb in his libel lawsuit against Sports Illustrated, which resulted in a $10.7 million judgment for Cobb, later overturned on appeal. Bochetto – younger, leaner and a guy who regularly trained as a boxer three or four days a week – had everything going for him. But I was the son of a left-hooking former welterweight, and I wanted to see what, if anything, I had left. I did not inform my wife of my intentions until it was announced in my newspaper, which led her to ask, at a higher decibel level than I'd ever heard from her, "Are you nuts?"
George preferred to fight at a distance that suited him, and he was more accurate than I expected with the overhand right. But I bored in at every opportunity, trying to force him to the ropes and unloading left hooks and uppercuts with both hands. In effect, he was making Muhammad Ali moves and I was doing my best Joe Frazier impersonation. The split decision went to George, but the judge who had me ahead, the late, great Jack Obermayer, had been ringside for thousands of fights so I'm always going to think I really won.
Win or lose, though, my wife told me I was retired forever. Probably a wise decision on her part.
For those interested, more information on the movie project can be found at 16minutemanmovie.com.
Bernard Fernandez is the retired boxing writer for the Philadelphia Daily News. He is a five-term former president of the Boxing Writers Association of America, an inductee into the Pennsylvania, New Jersey and Atlantic City Boxing Halls of Fame and the recipient of the Nat Fleischer Award for Excellence in Boxing Journalism and the Barney Nagler Award for Long and Meritorious Service to Boxing.
Check out more boxing news on video at The Boxing Channel
To comment on this story in The Fight Forum CLICK HERE
Avila Perspective, Chap. 61: Puerto Rico vs Mexico and a Weekend Look-Ahead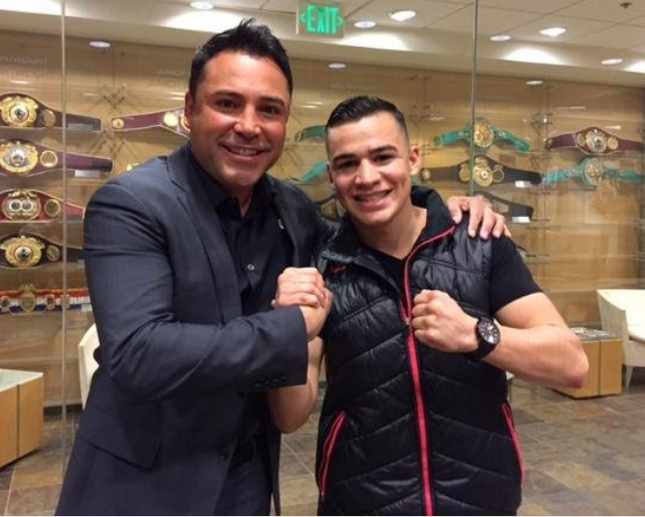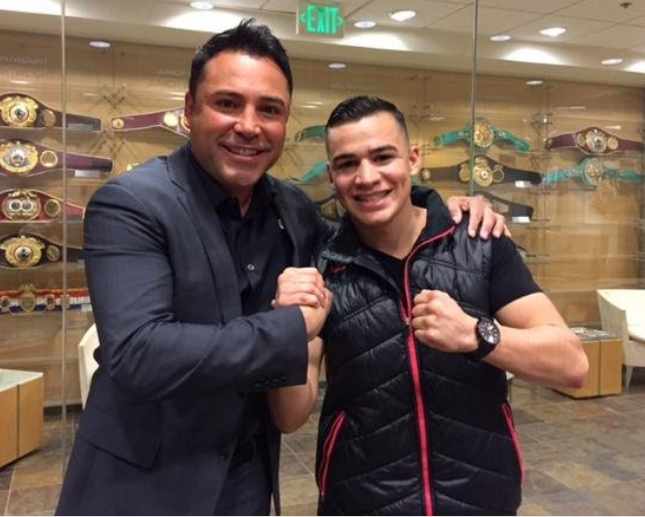 Southern California loads up with multiple fight cards this weekend.
It's Puerto Rico versus Mexico when Luis Feliciano (12-0, 8 KOs) meets Genaro Gamez (9-0, 6 KOs) in the main event at Fantasy Springs Casino on Thursday Aug. 22. It can be seen on RingTV.com and Facebook Watch via the Golden Boy Fight Night page.
"I know all about the rivalry," said Feliciano who trains in South El Monte, Calif. "I've heard about it all my life."
As long as I can remember, whenever you put standout Boricuas against standout Mexicans, it's like adding gasoline to a fire. Just stand back. This year alone two Puerto Ricans with world titles were tripped up by Mexican challengers.
But the opposite can happen just as easily.
The first time I actually saw this heated rivalry in action was back in 1981 when Puerto Rican great Wilfredo "Bazooka" Gomez met Mexico's equally great Salvador Sanchez in a featherweight duel in Las Vegas.
Gomez, at the time, was considered by many as the best fighter pound for pound. He walked into the Caesars Palace indoor arena with 32 consecutive knockouts in 32 wins. After fighting to a draw in his pro debut in Panama, he made sure that his fights did not end in a decision by brutally knocking out everyone in front of him.
Sanchez was the featherweight champion defending against Gomez who was moving up a weight division after cleaning out the super bantamweights. The Mexican fighter from the small farming town of Tianguistenco trained in Mexico City with several of the top fighters of his country. One of his teammates, Carlos Zarate, was wiped out by Gomez two years earlier by getting hit after the bell for a knockdown. He never recovered and it left ill feelings with Mexican fighters, including Sanchez.
The stage was set when they met on August 21, 1981, exactly 38 years ago today. Gomez walked in with a salsa band and Sanchez with a band of mariachis. Both bands dueled with each other. I laughed when I saw that.
Sanchez walked in as the underdog and the two warriors erupted at the opening bell. It was Sanchez who floored Gomez in the first round and looked like he would finish the Boricua. But Gomez got up and would not quit. Still, it didn't look like the Puerto Rican champion would make it through the second round. He did and more.
Both fighters exchanged punishing blows, daring the other to take each other's big shots. In one round they exchanged left hooks as if challenging the other to see whose punches were more powerful. Slowly the fight developed in Sanchez's favor, and in the eighth round the Mexican fighter connected with a combination and down went Gomez. Though Sanchez would win by knockout that day and go on to gain more victories against three more fighters, he would die in a car crash almost a year later in Mexico.
Gomez would go on to knock out several Mexican fighters, including Juan Meza, Juan Antonio Lopez, Roberto Rubaldino and then the coup de grace, the epic knockout win over Lupe Pintor. Gomez would go on to win featherweight and super featherweight world titles. But his fight with Sanchez further ignited the future battles between Puerto Rico and Mexico.
Here we are 38 years later and the wars between fighters from these two countries are still captivating.
Puerto Rico vs Mexico
Feliciano, 26, ironically trains in the heart of Mexican style boxing and is trained by Ben Lira. Though he was raised in Milwaukee, he has spent the past two years in Southern California getting familiar with the pressure style that Mexican fighters impose on their opponents. He's sparred and fought numerous times against all styles in California, New York and Puerto Rico.
"I feel I'm more than ready for this fight," said Feliciano recently at the South El Monte boxing gym. "Gamez is a good fighter and that's what I want to prove myself against, good fighters."
Gamez, 24, began his pro career as a super featherweight but grew into the lightweight and now super lightweight division. Despite the changes in weight divisions, the San Diego-based prizefighter remains undefeated. He had a strong amateur career and, despite the varying weight divisions, Gamez (pictured with his promoter Oscar De La Hoya) has shown good boxing skills and a sharp boxing IQ.
Both fighters are undefeated and eager to move to the next level. On paper it's a dead even fight. But you never know when Puerto Ricans fight Mexicans. It can end suddenly.
In a co-main event, Las Vegas-based Blair Cobbs (11-0-1, 7 KOs) meets undefeated Steve Villalobos (11-0-1, 9 KOs) of Mount Vernon, Washington in a 10-round welterweight clash.
Cobbs, a southpaw, has endured a virtual gamut of opposition and the Las Vegas-based fighter, originally from Philadelphia, has emerged unscathed. He signed with Golden Boy and continues to show improvement aside from natural toughness.
Others on the fight card are Mexico's Raul Curiel (6-0) fighting Alphonso Black in a super welterweight match and lightweights Kevin Ventura (10-0) battling Brian Gallegos (6-1) in a six-round bout. Several other fights are planned.
Carlos Zarate, the great Mexican bantamweight world champion, will be a special guest at the fight card. Zarate, who had 63 knockouts in 66 wins, will also be available for photos and autographs at 6 p.m.
Doors open at 4:30 p.m. Tickets start at $25.
Costa Mesa
On Thursday, Aug. 22, a Roy Englebrecht Events boxing card at the OC Hangar in Costa Mesa, Calif. features several young prospects including a middleweight showdown between Malcolm McAllister (9-3) and Rowdy Legend Montgomery (5-2-1) in the main event.
Others on the boxing card include Sergio Gonzalez, Jorge Soto, Israel Mercado, Mike Fowler and several others.
Doors open at 7 p.m. For more information call (949) 760-3131.
Corona
On Friday, Aug. 23, Thompson Boxing Promotions presents a summer outdoor event at Omega Products International. In the main event, bantamweight prospect Saul Sanchez (12-0) meets Edwin Rodriguez (10-5-1) in a 10-round fight.
Sanchez, 22, returns to the site of his last battle that took place this past May and ended in a knockout win for the Pacoima, Calif. prizefighter. He's trained by Joel Diaz and Antonio Diaz and has shown improvement in each of his fights since February 2016.
"I think it's great that I'm fighting in the same place as such great champions," Sanchez said. "I put in a lot of work for this camp to make sure I win convincingly. I know Rodriguez is looking to pull the upset, but it's not going to happen."
Rodriguez is a tough Puerto Rican who has toppled a couple of undefeated fighters and has never been knocked out. He also briefly held a regional title and has never been an easy foe for anyone.
A welterweight showdown pits Kazakhstan's Bobirzhan Mominov (10-0, 8 KOs) against Puerto Rico's Javier Flores (14-2, 12 KOs) in an eight-round fight.
Mominov, 27, fights out of Florida and his last fight was in Costa Mesa this past March.
Flores, 33, is a southpaw slugger who has fought some tough competition. It's an interesting welterweight matchup.
Others on the fight card that begins at 8 p.m. are heavyweight prospect Oscar Torrez, welterweight Luis Lopez and super featherweight Sebastian Salinas. For more information call (951) 737-7447.
Pico Rivera
Red Boxing International presents another lengthy boxing card at Pico Rivera Sports Arena on Saturday, Aug. 24.
In a lightweight headliner, Angel Flores (5-0, 4 KOs) risks his undefeated record against veteran Roberto Almazan (9-11, 4 KOs) in a six-round bout. Both Flores and Almazan previously fought at the outdoor arena located by the San Gabriel River.
A flyweight matchup pits Axel Aragon Vega (12-2-1, 7 KOs) against Giovanni Noriega (2-4-2) in a six-round fight. Vega, 19, fights out of Ensenada, Mexico and Noriega, 24, hails from Tijuana, Mexico.
Seven other pro bouts are scheduled on the fight card. Doors open at 5 p.m.
San Diego
Middleweights clash on a Roy Jones Jr. Boxing Promotions fight card on Saturday Aug. 24, at Viejas Casino and Resort in Alpine, Calif.
Connor Coyle (10-0) and Rafael Ramon Ramirez (21-4-2) meet in a 10-round middleweight contest. UFC Fight Pass will stream the fight card.
Coyle is an Irishman who now trains in Florida. San Diego's Ramirez is a fighter who actually fought at the Olympic Auditorium and left boxing for seven years before returning in 2013. He hasn't lost since losing at the now retired boxing venue in 2004.
Six pro bouts are scheduled for Saturday.
Fights to watch
Thursday Facebook Watch 5 p.m. Luis Feliciano (12-0) vs Genaro Gamez (9-0).
Fri. Showtime, 10 p.m. Shohjahon Ergashev (16-0) vs Abdiel Ramirez (24-4-1).
Sat. ESPN+ 9:30 a.m. PT Sergey Kovalev (33-3-1) vs Anthony Yarde (18-0).
Sat. DAZN 4 p.m. Juan Francisco Estrada (39-3) vs Dewayne Beamon (16-1-1).
Sat. UFC Fight Pass, 7 p.m. Connor Coyle (10-0) vs Rafael Ramon Ramirez (21-4-2).
Sat. Fox Sports1, 7 p.m. Brandon Figueroa (19-0) vs Javier Nicolas Chacon (29-4-1).
Check out more boxing news on video at The Boxing Channel  
To comment on this story in The Fight Forum CLICK HERE
An Eclectic Undercard Girds Juan Francisco Estrada's Hermosillo Homecoming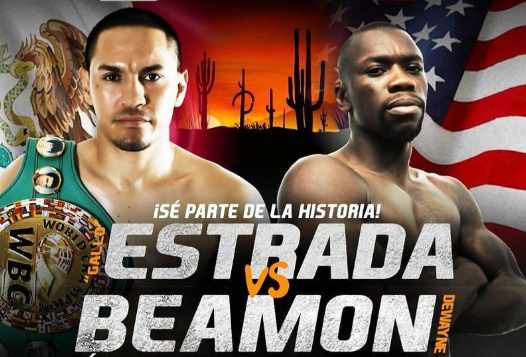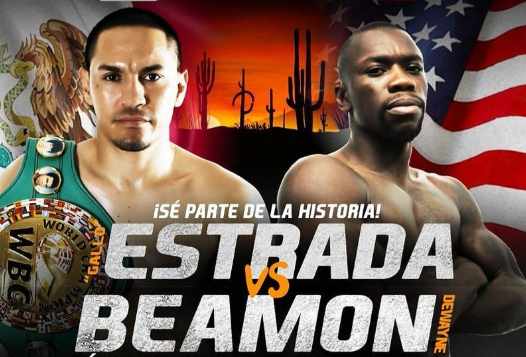 Juan Francisco Estrada: His Hermosillo Homecoming and an Eclectic Undercard
Eddie Hearn, the head of the boxing division of Matchroom Sport, the company founded by his father, sure does get around. Since entering into a joint venture with DAZN in May of last year, Hearn has widened his geographic scope. This weekend, Matchroom is in Hermosillo, Mexico, partnering with Mexican heavyweight Zanfer Promotions on a deep DAZN card headlined by a local man, WBC 115-pound title-holder Juan Francisco Estrada.
Estrada (39-3, 26 KOs) is widely considered the top fighter in his weight class. He's 13-1 since losing on points to Roman "Chocolatito" Gonzalez who was then undefeated and climbing the list of the world's top pound-for-pound fighters. The lone defeat was to Chocolatito's conqueror, Srisaket Sor Rungvisai (aka Wisaksil Wangek), and Estrada avenged that setback in his last outing, winning the WBC belt to become a title-holder in a second weight division.
The challenger, Dewayne Beamon (16-1-1, 11 KOs), hails from Goldsboro, North Carolina. He had 11 of his first 12 fights in the Tar Heel State, the other in neighboring Virginia, and fought his last six fights in Mexico. He's 34 years old.
Beamon certainly hasn't done enough to warrant a shot at a world title and hailing from North Carolina is a knock against him. North Carolina cranks out about as many good pro boxers as North Dakota cranks out good pro basketball players, which is to say hardly any at all. In common with several other states, North Carolina has become a feeder lot, a place where boxers are fed soft touches to pad their records and make them palatable as opponents for pugilists higher-up in the food chain. But having said that, we have a nagging suspicion that Beamon will make things interesting.
Beamon excelled in football and basketball at a small college in Virginia that has since dropped its football program, impressive for a five-foot-four fellow whose playing weight was somewhere south of 140 pounds. The son of a minister, he came to boxing late because his parents were opposed to it and as an amateur he was good enough to advance to the National Golden Gloves tournament. His curious nickname, "Stop Running," dates to his amateur days and was a nod to the fact that none of his opponents were willing to stay in the pocket and trade punches with him.
The aforementioned Sor Rungvisai is also under contract to Matchroom/DAZN. A win by Estrada is expected to propel him into a rubber match with the Thai. Their previous fights were highly entertaining and a third meeting would be welcomed with raves by serious boxing fans.
– – – –
Notable British boxers Liam "Beefy" Smith and Jono Carroll and hot heavyweight prospect Filip Hrgovic are also on the card.
Liverpool's Smith, one of four fighting brothers (the youngest, Callum Smith, just may be the best 168-pound fighter in the world) has lost only twice in 30 starts, both coming in world title fights, the first with Canelo Alvarez and the second with Jaime Munguia. He is matched against Mexican veteran Mario Alberto Lozano (33-9, 24 KOs) who went the distance in a 10-round fight with Jermell Charlo in 2014.
Jono Carroll (16-1-1, 3 KOs) made a lot of new fans in his U.S. debut in March when he battled defending IBF 130-pound champion Tevin Farmer hammer-and-tongs in Farmer's hometown of Philadelphia.
This was a match between two southpaws, neither of whom was known as a hard puncher. On paper, it figured to be boring, but au contraire it was a feisty squabble in which the combatants threw a combined 2,050 punches according to BoxRec, 1,227 by Carroll. When the smoke cleared, Farmer won a close but unanimous decision, after which he reportedly took Carroll along for a post-fight meal, a Philly cheesesteak, natch.
The heavily bearded Irishman, who made his pro debut in Australia, is an interesting character. It figures that he will have a less strenuous fight in Hermosillo where he is matched against Mexican journeyman Eleazer Valenzuela (20-11-4, 16 KOs).
Filip Hrgovic (8-0, 6 KOs) needs to be busier. Although he has a far stronger amateur background than fellow young guns Daniel Dubois and Efe Ajagba, they have surpassed him in terms of name recognition.
The six-foot-six Croatian, who trains in Miami, needed only 60 seconds to dispatch Gregory Corbin in his U.S. debut in May. On Saturday, he opposes Mario Heredia (16-6-1, 13 KOs) who stands 5-foot-10 and carried 275 pounds in his last fight against Samuel Peter in Atlantic City. He earned this assignment by defeating Peter, winning an 8-round split decision.
"After his countryman Andy Ruiz's win and his win in his last fight against Samuel Peter, (Heredia) surely has the wind in his sails," Hrgovic told a reporter for a Croatian paper.
Hrgovic will take the wind out of his sails.
For some folks, the 10-round junior welterweight contest between Shakhram Giyasov (8-0, 6 KOs) and Darlys Perez (34-4-2, 22 KOs) is the most intriguing match on the card.
Columbia's Perez, a former interim WBA lightweight title-holder, has lost two of his last three, late stoppages at the hands of Luke Campbell and Maxim Dadashev, but before that he out-fought future super lightweight titlist Maurice Hooker in a bout that was confoundingly scored a draw. Perez is definitely a step up in class for the fast-rising Giyasov, a silver medalist for Uzbekistan at the 2016 Olympics.
Check out more boxing news on video at The Boxing Channel  
To comment on this story in The Fight Forum CLICK HERE
Hughie Fury vs. Alexander Povetkin: At the Crossroads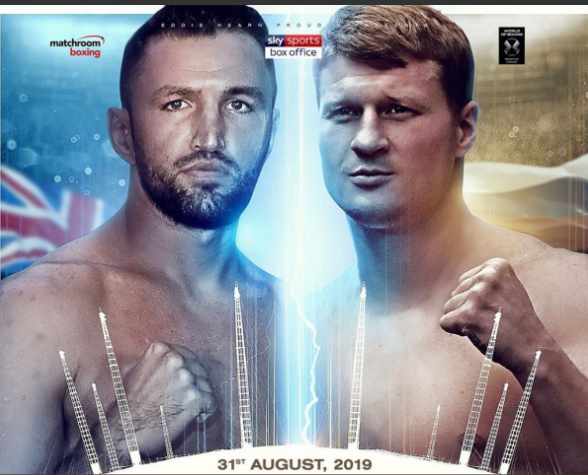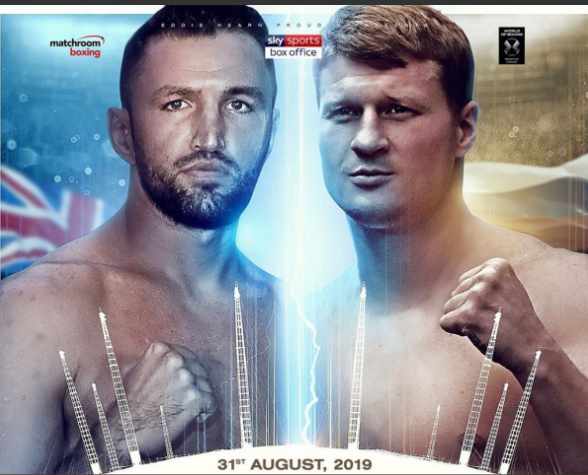 Hughie Fury vs Alexander Povetkin will be on the undercard of the Vasiliy Lomachenko vs Luke Campbell world lightweight title fight on August 31 at the O2 in London.
Fury is 23-2 while the Russian is 34-2 but these records somewhat hide the fact that the loser will need to reevaluate things while the winner can move on to bigger things. In short, a win can catapult Hughie (Tyson Fury's cousin) to the world stage, but a loss in this, his Matchroom debut, can be disastrous, especially coming after his ugly win against a bloated Samuel Peter in a foul-fest this past July.
Said promoter Eddie Hearn, "Hughie will have to come through fire in this fight to win but, if he does, the rewards are huge."
That's a big "if."
Povetkin turns 40 in a few weeks. Father time takes no prisoners and Povetkin is hardly the Povetkin of old. He was dismantled by Anthony Joshua and was even in trouble against big David Price. But "Sasha" has fought much stiffer opposition and is heavy-handed with many notable wins on his resume.
Fury himself said, "You can't underestimate Povetkin. One [wrong] move and you get your head taken off."
So, the two will be at the crossroads. And Robert Johnson said it best in these lines from his iconic "Cross Road Blues":
I went to the crossroad, fell down on my knees
I went to the crossroad, fell down on my knees
Asked the Lord above "have mercy, now save poor Bob, if you please"
Ooh, standin' at the crossroad, tried to flag a ride
Ooh-ee, I tried to flag a ride
Didn't nobody seem to know me, babe, everybody pass me by
Many pundits (but not this one) think Fury, being the younger and fresher man, will prevail in the fight as youth trumps experience, but others, including the oddsmakers that made Povetkin the favorite, assert that the more experienced Russian is stronger and more dangerous and will not stop moving forward.
Fury adds, "My mind is good at the moment….I've had a bit of bad luck with boxing, health issues and all that….It has been frustrating at times but that's all behind me now and we've got a good team behind me. We're ready now….Nobody has got the experience I have at my age. I've fought all over the world and I haven't been protected. I've had experience that nobody else has ever had, especially at my age."
However, his last effort against former titleholder but now woefully dreadful Samuel Peter in Jeddah, Saudi Arabia was, well, dreadful. BLH's Scott Christ nailed it: "The cousin of Tyson Fury is not known as one of the world's more exciting heavyweights, to put it kindly, but he's a good technician who understands how to use his physical advantages, and he kept range easily against Peter, who was never much of a mover and at this point has cinder blocks for feet."
One notable thing the combatants have done is signed on to be tested by VADA, both before and after their fight. "It is impossible to say in advance how many doping samples will be collected in total," Povetkin's promoter Vadim Kornilov told TASS. Given Povetkin's record on this account, the VADA tests are a welcomed addition.
Ted Sares is a lifetime member of Ring 10, and a member of Ring 4 and its Boxing Hall of Fame. He also is an Auxiliary Member of the Boxing Writers Association of America (BWAA). He is an active power lifter and Strongman competitor in the Master Class.
Check out more boxing news on video at The Boxing Channel  
To comment on this story in The Fight Forum CLICK HERE