The Avila Perspective Chap. 44: GGG, Danny Roman and much, much more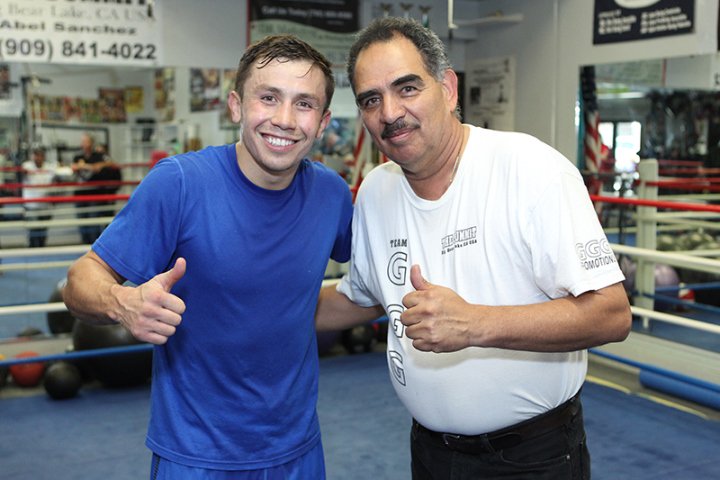 Traveling to downtown Los Angeles can be a perilous journey. When you have 2 million cars battling to go from one direction to another something has got to give. That's where I come in.
My name is David Avila. I don't carry a badge but maybe I need one.
With photographer Alonzo Coston riding shotgun we took off for the heart of the beast LA Live which is located on Figueroa and Olympic Blvd. The Los Angeles Lakers play next door at the Staples Center as do the L.A. Clippers. I don't follow hockey.
One of the most powerful prizefighters of this generation was scheduled to meet with a select few members of the not so secret society known as the boxing journalists at the Conga Room. It's a quasi-nightclub that was originally started by a few Latin celebrities including Jennifer Lopez. That's when the Conga Room was on Wilshire Blvd in the 1990s.
Two days prior was Easter Sunday also known as Resurrection Day. On Tuesday, former middleweight champion Gennady "GGG" Golovkin met with about a dozen reporters at the Conga Room to resurrect his path to the top of the heap once again.
It all will begin with a confrontation against Canadian super middleweight Steve Rolls (19-0, 10 KOs), an undefeated fighter from Toronto, Canada. He once had ties to the late great Emanuel Steward of Kronk Gym in Michigan.
Like most Canadians, he's a nice guy.
Golovkin can be a nice guy too especially outside of the ring. But when they meet on June 8 at Madison Square Garden in New York City, don't count on it. The killer comes out when he steps through the ropes. DAZN will stream.
Did I say Rolls is a nice guy?
On a side note, it was interesting that Golovkin did not respond quickly at a press conference on Tuesday when asked if he would be preparing in Big Bear.
Little did anyone know that Golovkin will no longer be training with Abel Sanchez.  A press release earlier today announced the two had parted ways. It also makes sense why the Kazakh fighter opted to fight Rolls. He will need a little time to adjust to whoever will be picked as his new trainer.
After both fighters talked about their looming encounter in Manhattan I gathered my partner Coston, who was perched in a strategic position holding a zoom lens ready for action. It wasn't to be. We're called into another location near the beaches. We walked back to our car and drove 16 miles through snarling L.A. traffic to Venice Beach.
Forum Fights
The biggest problem any time you travel west of downtown L.A. is finding parking. It gets even worse when you look for parking at the beach. We located some open spaces about 2.5 miles away from our destination. It was a perfect day, not too hot, not too cold. It took us 30 minutes to reach the area known as "Muscle Beach" where a slew of prizefighters were taking turns shadow boxing on the boxing ring set up near the walkway for the public to see.
Danny Roman, the WBA super bantamweight world titlist from Los Angeles was dressed in a bright red workout suit and ready for his turn in the boxing ring. Also nearby was TJ Doheny the IBF super bantamweight world titlist from Ireland.
Both were very courteous and respectful toward each other. I've been around boxing for decades and when fighters are ultra-respectful like these two that can only mean trouble. I know the signs, I'm a boxing writer. Nobody ever accused me of being a cook.
Roman, 28, has the demeanor of a monk going through the ritual of non-communication. His eyes are always looking down as if not trying to show disrespect. He defeated the former WBA titleholder Shun Kubo by knockout nearly two years ago. Then he returned to Japan and beat down Ryo Matsumoto to keep the precious belt. He then beat up a Mexican fighter and a British fighter. I'm not exaggerating when I say beat up. It was virtually assault with a deadly weapon.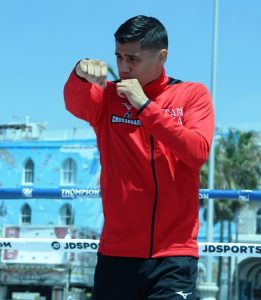 In spite of his quiet demeanor he's one of the best fighters to come out of Los Angeles in a long time. He should be put on wanted posters throughout Southern California. He's that dangerous.
"I've always said I want all the world titles," said Roman in almost a whisper.
Doheny, 32, looks like a guy whose idea of a good time is traveling to gritty pubs in the most dangerous parts of Ireland in search of somebody to punch. He's at home wherever he's at, whether in some part of Australia or on the beaches of California. He pummeled Ryosuke Iwasa to rip the title away last summer. Then he knocked out Ryohei Takahashi who tried to take it away. Bad idea.
Though he looks antsy to fight at the drop of a hat, he's almost hush-like when he speaks about fighting Roman on Friday at the Inglewood Forum on the Matchroom Boxing and Thompson Boxing Promotions card.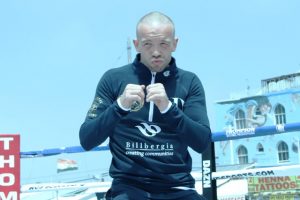 "It's a dream pursuit to be fighting for another title," said Doheny under the beach skies on Tuesday. "No need to be disrespectful. I let my hands do the talking."
Other fighters were gathered at the boxing ring set up near the beach walkway in Venice Beach.
Looking like a male model was former welterweight champion Jessie Vargas a former two-division world champion from Las Vegas. I've known Vargas since he was an amateur. Behind that tight guard and interior toughness one could easily determine he would go on to a successful career in acting. What I most remember is his second pro fight in 2008 at Pechanga Casino in Temecula, Calif. He fought a guy named Trenton Titsworth, no joke, that was his name. The guy fought out of Nebraska and was determined to intimidate Vargas. It didn't happen. So when intimidation failed he resorted to kissing Vargas whenever they got in close. Vargas was shocked as were the several hundred people in attendance. Even the referee David Denkin was abashed. Warnings were given and the fight resumed and then Titsworth did it again and gave Vargas another smooch. What could he do?
Well, the referee decided to end the fight and declare Vargas the winner by smoochification.
Since that October night I've never seen another fight end because of kissing. Biting yes, but not kissing.
Of course Vargas proceeded to have a successful career and has won the super lightweight and welterweight world titles. That's pretty good for a Las Vegas fighter not named Floyd Mayweather.
Facing Vargas on Friday will be another former world champion Humberto Soto of Tijuana, Mexico.
Soto, 38, has a total of 81 pro fights in his career. Just this past February he took on Brandon "Bam, Bam" Rios and used his boxing wizardry to defeat the rugged welterweight from Oxnard. He's like the safecracker from the movie "Asphalt Jungle" or better yet, the guy known as "the thinker" who designs the failsafe plans to crack the safe.
The Tijuana prizefighter will steal your "chones" if you let him. He once hoodwinked a Las Vegas referee into thinking that he was getting hit with low blows and survived a knockout to the belly by feigning a low blow. In his very next fight he tried the same tactic in California but the referee there didn't go overboard. He only deducted one point. Though Soto is weak to the body he knows how to fake a low blow with the best of them. He could teach Stanislavski a thing or two about acting.
Vargas, who looks like someone who has learned method acting, just might not be prepared for Soto and his Oscar Award ways that allowed him to steal a win from Rios.
"I'm very intelligent in the ring and very versatile, it's about me making sure I follow and execute the game plan and stay on my toes, as you cannot give Humberto any chances as he will take advantage," said Vargas.
Another world title fight pits Thailand's superman Srisaket Sor Rungvisai (47-4-1, 41 KOs) in a rematch with Mexico's Juan Francisco Estrada (38-3, 26 KOs) in a battle for the WBC super flyweight world title. The last time these two warriors collided it ended in a majority decision win for Sor Rungvisai otherwise known as Wisaksil Wangek. The Thais like to change their name a lot.
Changing names won't distract Estrada who felt he was badly disrespected by the judges a year ago at the same venue the Forum. He's made adjustments.
Many consider Sor Rungvisai one of the best fighters on the planet pound for pound. After he destroyed former top kingpin Roman "Chocolatito" Gonzalez by knockout he then took his place among the elite.
The entire boxing card ranks among the most powerful ever assembled this year. This is like adding nitro to a stick of dynamite. It might be felonious.
Doors open at 3 p.m. For tickets or information call (800) 745-3000. You can also stream the fight card on DAZN.com
Thursday Fights
Golden Boy Promotions has their monthly DAZN fight card on Thursday April 25, at Fantasy Springs Casino in Indio.
Special guest James "Lights Out" Toney will be in attendance. If you don't know who he is then you are probably a casual boxing fan. He's one of the best ever to lace up.
The main event features a rematch between Oscar Negrete and Joshua Franco in a bantamweight clash for the NABF title. Last October these two committed felony assault against each other for 10 gruesome rounds. They were like two angry roosters who refused to give ground and tore into each other on even terms. The fight ended in a draw and justly so. Now they are doing it again.
I ran into Negrete's manager Cesar Garcia and he hopes there isn't a repeat for the sake of the women and children.
Also on the same card will be former Olympic bronze medalist Marlen Esparza returning to the boxing ring after giving birth last year. She hasn't fought in more than a year, but she will be refreshing her memory against Jhosep Vizcaino in an eight round bout.
Esparza was tabbed to face another Golden Boy fighter Seniesa Estrada in a showdown. But pregnancy stalled that collision so now she's looking to regain traction in this fight. Esparza's opponent fought Estrada and was stopped in three rounds last summer. She then was stopped by Adelaida Ruiz in two last November. But the Ecuadorian fighter returned to her home and grabbed a win to remind her what a win feels like. Now she has Esparza.
Doors open at 4:30 p.m.
We'll be returning on Thursday, my shotgun rider and I. Traffic going in the other direction isn't nearly as bad or perilous as going toward the ocean. A return to the desert can be refreshing though predictions for temperatures in Indio will be 100 plus.
Prograis
Outside of sunny California there's plenty more going on.
On Saturday, April 27, the World Boxing Super Series unveils a red carpet for a clash between world champions Regis Prograis and Kiryl Relikh for the WBC and WBA super lightweight champions. Also, Nonito Donaire and Stephon Young meet for Donaire's WBA world bantamweight title.
It's an enticing lineup that will be streamed by DAZN.
Prograis, 30, a southpaw, trained partly in Southern California for this fight and intends to muscle into the upper echelon of prizefighting. This is another step toward super stardom and a return home to his Louisiana roots. It takes place at the Cajun Dome in Lafayette, La.
A female clash between Selina Barrios and Melissa Hernandez could be streamed if time permits.
Easter on Showtime
In Las Vegas a pair of staunch lightweights battle for the vacant WBA and IBO world titles when former champ Robert Easter Jr. and Rances Barthelemy meet at the Cosmopolitan on Saturday April 27. Showtime will televise.
Easter returns to the ring after suffering the first loss of his career last year against the hands of Mikey Garcia.
Barthelemy, 32, lost for the WBA super lightweight title to Kiryl Relikh who fights on the same day against Prograis. Both Easter and Barthelemy feel naked without a strap wrapped around their waists.
Former super featherweight champ Jezreel Corrales of Panama is also on the Las Vegas fight card but this time in the lightweight division. He lost his title by knockout to Puerto Rico's Alberto Machado who also lost the title to California's Andrew Cancio by knockout. There's a lot of knockouts going on, somebody has to get to the bottom of this.
Again, my name is David Avila. I don't carry a badge but boxing is my game.
Photos of Danny Roman and TJ Doheny by Alonzo Coston
Check out more boxing news on video at The Boxing Channel
To comment on this story in The Fight Forum CLICK HERE
Mercito Gesta Victorious Over Jojo Diaz at the Long Beach Pyramid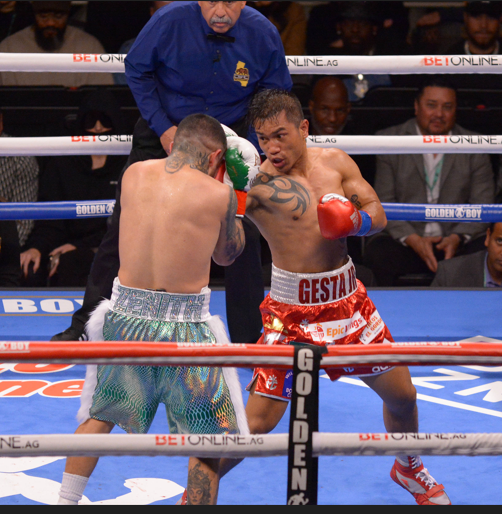 LONG BEACH, CA.-Those in the know knew Mercito Gesta and Jojo Diaz would be a fight to watch and they delivered.
Gesta emerged the winner in a super lightweight clash between southpaws that saw the judges favor his busier style over Diaz's body attack and bigger shots and win by split decision on Saturday.
Despite losing the main event because the star was overweight, Gesta (34-3-3, 17 KOs) used an outside method of tactic to edge past former world champion Diaz (32-4-1, 15 KOs) in front of more than 5,000 fans at the Pyramid.
The speedy Gesta opened up the fight with combination punching up and down against the peek-a-boo style of Diaz. For the first two rounds the San Diego fighter overwhelmed Diaz though none of the blows were impactful.
In the third round Diaz finally began unloading his own combinations and displaying the fast hands that helped him win world titles in two divisions. Gesta seemed stunned by the blows, but his chin held up. The counter right hook was Diaz's best weapon and snapped Gesta's head back several times.
Gesta regained control in the fifth round after absorbing big blows from Diaz. He seemed to get angry that he was hurt and opened up with even more blows to send Diaz backpedaling.
Diaz targeted his attack to Gesta's body and that seemed to slow down Gesta. But only for a round.
From the seventh until the 10th each fighter tried to impose their style with Gesta opening up with fast flurries and Diaz using right hooks to connect with solid shots. They continued their method of attack until the final bell. All that mattered was what the judges preferred.
After 10 rounds one judge saw Diaz the winner 97-93 but two others saw Gesta the winner 99-91, 98-92. It was a close and interesting fight.
"I was expecting nothing. I was the victor in this fight and we gave a good fight," said Gesta. "It's not an easy fight and Jojo gave his best."
Diaz was surprised by the outcome but accepted the verdict.
Everything was going good. I thought I was landing good body shots," said Diaz. "I was pretty comfortable."
Other Bouts
Mexico's Oscar Duarte (25-1-1, 20 KOs) knocked out Chicago's Alex Martin (18-5, 6 KOs) with a counter right hand after dropping him earlier in the fourth round. The super lightweight fight was stopped at 1:14 of the round.
A battle between undefeated super welterweights saw Florida's Eric Tudor (8-0, 6 KOs) emerge the winner by unanimous decision after eight rounds versus Oakland's Damoni Cato-Cain.
The taller Tudor showed polished skill and was not bothered by a large cut on his forehead caused by an accidental clash of heads. He used his jab and lead rights to defuse the attacks of the quick-fisted southpaw Cato-Cain. The judges scored the fight 80-72 and 78-74 twice for Tudor.
San Diego's Jorge Chavez (5-0, 4 KOs) needed less than one round to figure out Nicaragua's Bryan Perez (12-17-1, 11 KOs) and send him into dreamland with a three-punch combination. No need to count as referee Ray Corona waved the fight over. Perez shot a vicious right followed by another right and then a see-you-later left hook at 3.00 of the first round of the super featherweight match.
Photo credit: Al Applerose
Jojo Diaz's Slump Continues; Mercito Gesta Prevails on a Split Decision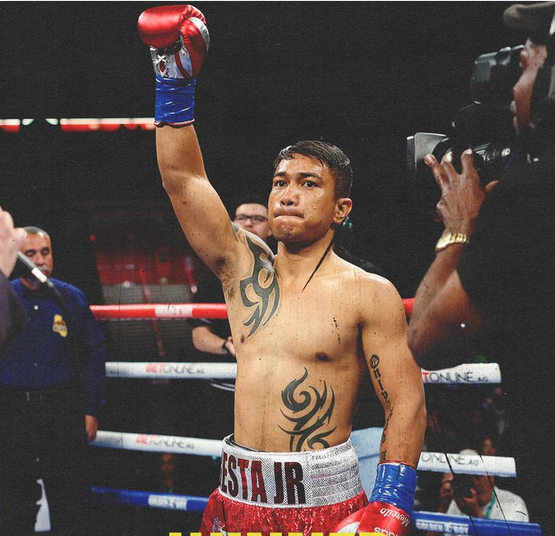 At age 30, Jojo Diaz's career is on the skids. The 2012 U.S. Olympian, a former world title holder at 126 and 130 pounds and an interim title holder at 135, Diaz suffered his third straight loss tonight, upset by Mercito Gesta who won a split decision at the Walter Pyramid in Long Beach, CA.. The scoring was strange with Gesta winning nine of the 10 rounds on one of the cards and only three rounds on another. The tie-breaker, as it were, was a 98-92 tally for Gesta and even that didn't capture the flavor of what was a closely-contested fight.
Originally listed as a 12-rounder, the match was reduced to 10 and that, it turned out, did Diaz no favors. However, it's hard to feel sorry for the former Olympian as he came in overweight once again, having lost his 130-pound title on the scales in February of 2021.
Diaz also has issues outside the ropes. Best elucidated by prominent boxing writer Jake Donovan, they include a cluster of legal problems stemming from an arrest for drunk driving on Feb. 27 in the LA suburb of Claremont.
With the defeat, Diaz's ledger declined to 32-4-1. His prior losses came at the hands of Gary Russell Jr, Devin Haney, and William Zepeda, boxers who are collectively 83-2. Mercito Gesta, a 35-year-old San Diego-based Filipino, improved to 34-3-3.
Co-Feature
Chihuahua, Mexico super lightweight Oscar Duarte has now won nine straight inside the distance after stopping 33-year-old Chicago southpaw Alex Martin in the eighth frame. Duarte, the busier fighter, had Martin on the deck twice in round eight before the fight was waived off.
Duarte improved to 25-1-1 (20). Martin, who reportedly won six national titles as an amateur and was once looked upon as a promising prospect, declined to 18-5.
Other Bouts of Note
New Golden Boy signee Eric Tudor, a 21-year-old super welterweight from Fort Lauderdale, overcame a bad laceration over his right eye, the result of an accidental clash of heads in round four, to stay unbeaten, advancing to 8-0 (6) with a hard-fought unanimous 8-round decision over Oakland's Damoni Cato-Cain. The judges had it 80-72 and 78-74 twice. It was the first pro loss for Cato-Cain (7-1-1) who had his first five fights in Tijuana.
In the DAZN opener, lanky Hawaian lightweight Dalis Kaleiopu went the distance for the first time in his young career, improving to 4-0 (3) with a unanimous decision over 36-year-old Colombian trial horse Jonathan Perez (40-35). The scores were 60-52 across the board. There were no knockdowns, but Perez, who gave up almost six inches in height, had a point deducted for a rabbit punch and another point for deducted for holding.
To comment on this story in the Fight Forum CLICK HERE
'Big Baby' Wins the Battle of Behemoths; TKOs 'Big Daddy' in 6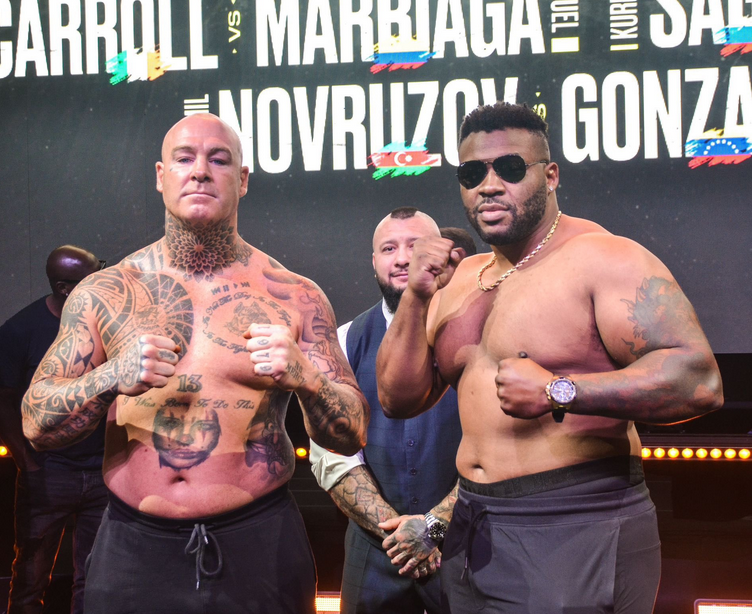 Lucas "Big Daddy" Browne weighed in at a career-high 277 pounds for today's battle in Dubai with Jarrell "Big Baby" Miller, but he was the lighter man by 56 pounds. It figured that one or both would gas out if the bout lasted more than a few stanzas.
It was a war of attrition with both men looking exhausted at times, and when the end came it was Miller, at age 34 the younger man by nine years, who had his hand raised.
Browne was the busier man, but Miller, whose physique invites comparison with a rhinoceros, hardly blinked as he was tattooed with an assortment of punches. He hurt 'Bid Daddy' in round four, but the Aussie held his own in the next frame, perhaps even forging ahead on the cards, but only postponing the inevitable.
In round six, a succession of right hands knocked Browne on the seat of his pants. He beat the count, but another barrage from Miller impelled the referee to intervene. The official time was 2:33. It was the 21st straight win for Miller (26-0-1, 22 KOs). Browne declined to 31-4 and, for his own sake, ought not fight again. All four of his losses have come inside the distance, some brutally.
The consensus of those that caught the livestream was that Floyd Mayweather Jr's commentary was an annoying distraction that marred what was otherwise an entertaining show.
As for what's next for "Big Baby" Miller, that's hard to decipher as he has burned his bridges with the sport's most powerful promoters. One possibility is Mahmoud Charr who, like Miller, has a big gap in his boxing timeline. Now 38 years old, Charr – who has a tenuous claim on a WBA world title (don't we all?) —  has reportedly taken up residence in Dubai.
Other Bouts of Note
In a 10-round cruiserweight affair, Suslan Asbarov, a 30-year-old Russian, advanced to 4-0 (1) with a hard-fought majority decision over Brandon Glanton. The judges had it 98-92, 97-93, and a more reasonable 95-95.
Asbarov was 12-9 in documented amateur fights and 1-0 in a sanctioned bare-knuckle fight, all in Moscow, entering this match. He bears watching, however, as Glanton (18-2) would be a tough out for almost anyone in his weight class. In his previous fight, at Plant City, Florida, Glanton lost a controversial decision to David Light, an undefeated Australian who challenges WBO world title-holder Lawrence Okolie at Manchester, England next week.
A 10-round super featherweight match between former world title challengers Jono Carroll and Miguel Marriaga preceded the semi-windup. Carroll, a 30-year-old Dublin southpaw, overcame a cut over his left eye suffered in the second round to win a wide unanimous decision in a fairly entertaining fight.
It was the sixth straight win for Carroll (24-2-1, 7 KOs) who elevated his game after serving as a sparring partner for Devin Haney. Marriaga, a 36-year-old Colombian, lost for the fourth time in his last five outings, declining to 30-7.
To comment on this story in the Fight Forum CLICK HERE