The Avila Perspective Chap. 44: GGG, Danny Roman and much, much more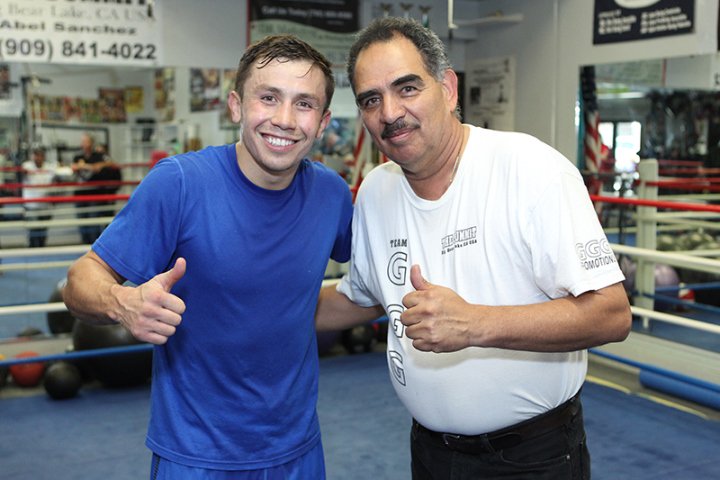 Traveling to downtown Los Angeles can be a perilous journey. When you have 2 million cars battling to go from one direction to another something has got to give. That's where I come in.
My name is David Avila. I don't carry a badge but maybe I need one.
With photographer Alonzo Coston riding shotgun we took off for the heart of the beast LA Live which is located on Figueroa and Olympic Blvd. The Los Angeles Lakers play next door at the Staples Center as do the L.A. Clippers. I don't follow hockey.
One of the most powerful prizefighters of this generation was scheduled to meet with a select few members of the not so secret society known as the boxing journalists at the Conga Room. It's a quasi-nightclub that was originally started by a few Latin celebrities including Jennifer Lopez. That's when the Conga Room was on Wilshire Blvd in the 1990s.
Two days prior was Easter Sunday also known as Resurrection Day. On Tuesday, former middleweight champion Gennady "GGG" Golovkin met with about a dozen reporters at the Conga Room to resurrect his path to the top of the heap once again.
It all will begin with a confrontation against Canadian super middleweight Steve Rolls (19-0, 10 KOs), an undefeated fighter from Toronto, Canada. He once had ties to the late great Emanuel Steward of Kronk Gym in Michigan.
Like most Canadians, he's a nice guy.
Golovkin can be a nice guy too especially outside of the ring. But when they meet on June 8 at Madison Square Garden in New York City, don't count on it. The killer comes out when he steps through the ropes. DAZN will stream.
Did I say Rolls is a nice guy?
On a side note, it was interesting that Golovkin did not respond quickly at a press conference on Tuesday when asked if he would be preparing in Big Bear.
Little did anyone know that Golovkin will no longer be training with Abel Sanchez.  A press release earlier today announced the two had parted ways. It also makes sense why the Kazakh fighter opted to fight Rolls. He will need a little time to adjust to whoever will be picked as his new trainer.
After both fighters talked about their looming encounter in Manhattan I gathered my partner Coston, who was perched in a strategic position holding a zoom lens ready for action. It wasn't to be. We're called into another location near the beaches. We walked back to our car and drove 16 miles through snarling L.A. traffic to Venice Beach.
Forum Fights
The biggest problem any time you travel west of downtown L.A. is finding parking. It gets even worse when you look for parking at the beach. We located some open spaces about 2.5 miles away from our destination. It was a perfect day, not too hot, not too cold. It took us 30 minutes to reach the area known as "Muscle Beach" where a slew of prizefighters were taking turns shadow boxing on the boxing ring set up near the walkway for the public to see.
Danny Roman, the WBA super bantamweight world titlist from Los Angeles was dressed in a bright red workout suit and ready for his turn in the boxing ring. Also nearby was TJ Doheny the IBF super bantamweight world titlist from Ireland.
Both were very courteous and respectful toward each other. I've been around boxing for decades and when fighters are ultra-respectful like these two that can only mean trouble. I know the signs, I'm a boxing writer. Nobody ever accused me of being a cook.
Roman, 28, has the demeanor of a monk going through the ritual of non-communication. His eyes are always looking down as if not trying to show disrespect. He defeated the former WBA titleholder Shun Kubo by knockout nearly two years ago. Then he returned to Japan and beat down Ryo Matsumoto to keep the precious belt. He then beat up a Mexican fighter and a British fighter. I'm not exaggerating when I say beat up. It was virtually assault with a deadly weapon.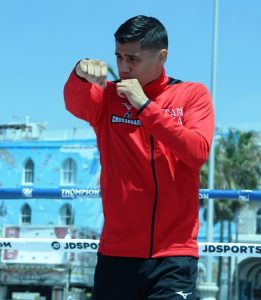 In spite of his quiet demeanor he's one of the best fighters to come out of Los Angeles in a long time. He should be put on wanted posters throughout Southern California. He's that dangerous.
"I've always said I want all the world titles," said Roman in almost a whisper.
Doheny, 32, looks like a guy whose idea of a good time is traveling to gritty pubs in the most dangerous parts of Ireland in search of somebody to punch. He's at home wherever he's at, whether in some part of Australia or on the beaches of California. He pummeled Ryosuke Iwasa to rip the title away last summer. Then he knocked out Ryohei Takahashi who tried to take it away. Bad idea.
Though he looks antsy to fight at the drop of a hat, he's almost hush-like when he speaks about fighting Roman on Friday at the Inglewood Forum on the Matchroom Boxing and Thompson Boxing Promotions card.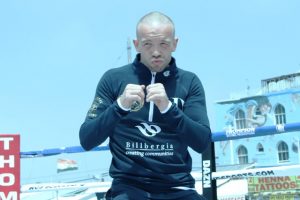 "It's a dream pursuit to be fighting for another title," said Doheny under the beach skies on Tuesday. "No need to be disrespectful. I let my hands do the talking."
Other fighters were gathered at the boxing ring set up near the beach walkway in Venice Beach.
Looking like a male model was former welterweight champion Jessie Vargas a former two-division world champion from Las Vegas. I've known Vargas since he was an amateur. Behind that tight guard and interior toughness one could easily determine he would go on to a successful career in acting. What I most remember is his second pro fight in 2008 at Pechanga Casino in Temecula, Calif. He fought a guy named Trenton Titsworth, no joke, that was his name. The guy fought out of Nebraska and was determined to intimidate Vargas. It didn't happen. So when intimidation failed he resorted to kissing Vargas whenever they got in close. Vargas was shocked as were the several hundred people in attendance. Even the referee David Denkin was abashed. Warnings were given and the fight resumed and then Titsworth did it again and gave Vargas another smooch. What could he do?
Well, the referee decided to end the fight and declare Vargas the winner by smoochification.
Since that October night I've never seen another fight end because of kissing. Biting yes, but not kissing.
Of course Vargas proceeded to have a successful career and has won the super lightweight and welterweight world titles. That's pretty good for a Las Vegas fighter not named Floyd Mayweather.
Facing Vargas on Friday will be another former world champion Humberto Soto of Tijuana, Mexico.
Soto, 38, has a total of 81 pro fights in his career. Just this past February he took on Brandon "Bam, Bam" Rios and used his boxing wizardry to defeat the rugged welterweight from Oxnard. He's like the safecracker from the movie "Asphalt Jungle" or better yet, the guy known as "the thinker" who designs the failsafe plans to crack the safe.
The Tijuana prizefighter will steal your "chones" if you let him. He once hoodwinked a Las Vegas referee into thinking that he was getting hit with low blows and survived a knockout to the belly by feigning a low blow. In his very next fight he tried the same tactic in California but the referee there didn't go overboard. He only deducted one point. Though Soto is weak to the body he knows how to fake a low blow with the best of them. He could teach Stanislavski a thing or two about acting.
Vargas, who looks like someone who has learned method acting, just might not be prepared for Soto and his Oscar Award ways that allowed him to steal a win from Rios.
"I'm very intelligent in the ring and very versatile, it's about me making sure I follow and execute the game plan and stay on my toes, as you cannot give Humberto any chances as he will take advantage," said Vargas.
Another world title fight pits Thailand's superman Srisaket Sor Rungvisai (47-4-1, 41 KOs) in a rematch with Mexico's Juan Francisco Estrada (38-3, 26 KOs) in a battle for the WBC super flyweight world title. The last time these two warriors collided it ended in a majority decision win for Sor Rungvisai otherwise known as Wisaksil Wangek. The Thais like to change their name a lot.
Changing names won't distract Estrada who felt he was badly disrespected by the judges a year ago at the same venue the Forum. He's made adjustments.
Many consider Sor Rungvisai one of the best fighters on the planet pound for pound. After he destroyed former top kingpin Roman "Chocolatito" Gonzalez by knockout he then took his place among the elite.
The entire boxing card ranks among the most powerful ever assembled this year. This is like adding nitro to a stick of dynamite. It might be felonious.
Doors open at 3 p.m. For tickets or information call (800) 745-3000. You can also stream the fight card on DAZN.com
Thursday Fights
Golden Boy Promotions has their monthly DAZN fight card on Thursday April 25, at Fantasy Springs Casino in Indio.
Special guest James "Lights Out" Toney will be in attendance. If you don't know who he is then you are probably a casual boxing fan. He's one of the best ever to lace up.
The main event features a rematch between Oscar Negrete and Joshua Franco in a bantamweight clash for the NABF title. Last October these two committed felony assault against each other for 10 gruesome rounds. They were like two angry roosters who refused to give ground and tore into each other on even terms. The fight ended in a draw and justly so. Now they are doing it again.
I ran into Negrete's manager Cesar Garcia and he hopes there isn't a repeat for the sake of the women and children.
Also on the same card will be former Olympic bronze medalist Marlen Esparza returning to the boxing ring after giving birth last year. She hasn't fought in more than a year, but she will be refreshing her memory against Jhosep Vizcaino in an eight round bout.
Esparza was tabbed to face another Golden Boy fighter Seniesa Estrada in a showdown. But pregnancy stalled that collision so now she's looking to regain traction in this fight. Esparza's opponent fought Estrada and was stopped in three rounds last summer. She then was stopped by Adelaida Ruiz in two last November. But the Ecuadorian fighter returned to her home and grabbed a win to remind her what a win feels like. Now she has Esparza.
Doors open at 4:30 p.m.
We'll be returning on Thursday, my shotgun rider and I. Traffic going in the other direction isn't nearly as bad or perilous as going toward the ocean. A return to the desert can be refreshing though predictions for temperatures in Indio will be 100 plus.
Prograis
Outside of sunny California there's plenty more going on.
On Saturday, April 27, the World Boxing Super Series unveils a red carpet for a clash between world champions Regis Prograis and Kiryl Relikh for the WBC and WBA super lightweight champions. Also, Nonito Donaire and Stephon Young meet for Donaire's WBA world bantamweight title.
It's an enticing lineup that will be streamed by DAZN.
Prograis, 30, a southpaw, trained partly in Southern California for this fight and intends to muscle into the upper echelon of prizefighting. This is another step toward super stardom and a return home to his Louisiana roots. It takes place at the Cajun Dome in Lafayette, La.
A female clash between Selina Barrios and Melissa Hernandez could be streamed if time permits.
Easter on Showtime
In Las Vegas a pair of staunch lightweights battle for the vacant WBA and IBO world titles when former champ Robert Easter Jr. and Rances Barthelemy meet at the Cosmopolitan on Saturday April 27. Showtime will televise.
Easter returns to the ring after suffering the first loss of his career last year against the hands of Mikey Garcia.
Barthelemy, 32, lost for the WBA super lightweight title to Kiryl Relikh who fights on the same day against Prograis. Both Easter and Barthelemy feel naked without a strap wrapped around their waists.
Former super featherweight champ Jezreel Corrales of Panama is also on the Las Vegas fight card but this time in the lightweight division. He lost his title by knockout to Puerto Rico's Alberto Machado who also lost the title to California's Andrew Cancio by knockout. There's a lot of knockouts going on, somebody has to get to the bottom of this.
Again, my name is David Avila. I don't carry a badge but boxing is my game.
Photos of Danny Roman and TJ Doheny by Alonzo Coston
Check out more boxing news on video at The Boxing Channel
To comment on this story in The Fight Forum CLICK HERE
Tyson and Jones Box to an Unofficial Draw in a Predictable Stinker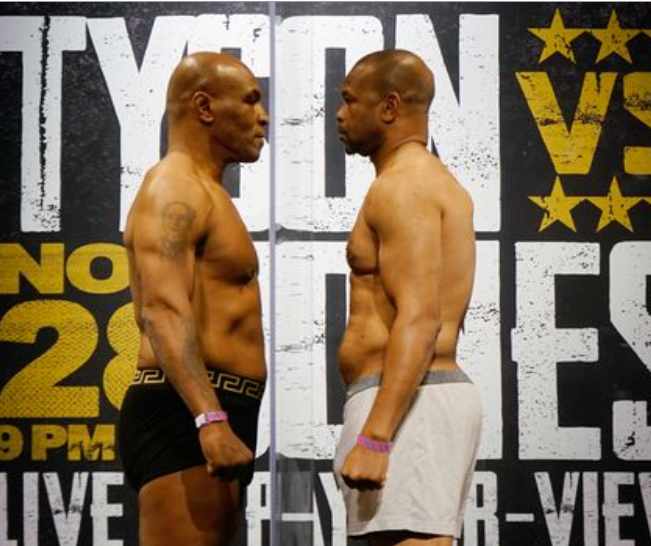 The Ringling Bros. and Barnum & Bailey Circus, an American institution, went belly-up in 2017, but a different kind of circus played to an empty house at the Staples Center in Los Angeles tonight. The main attraction wasn't Jumbo the elephant but Iron Mike Tyson in his first ring appearance in 15 years. In the opposite corner was Roy Jones Jr, who at age 51 was the younger man by three years.
Tyson vs. Jones was the main piece of a 4-hour boxing and music festival live-streamed in the U.S. on the TysononTriller.com app at a list price of $49.95. This was the first live event on "Triller" which allows people to create their own music videos and was designed as a rival to China-owned TikTok, one of the biggest recent success stories in the internet world.
The California State Athletic Commission, which sanctioned the match, insisted that Tyson vs. Jones would be an exhibition. They would fight 8 two-minute rounds with 12-ounce gloves and if there were a knockdown, the referee would not give a count and the bout would or would not continue at his discretion. The rounds would not be scored and no winner would be named.
Of course, the promoter chafed at these restraints and did his best to create the impression that this was a legitimate prizefight. Retired boxers Vinny Pazienza, Chad Dawson, and Christy Martin were lassoed to serve as judges, scoring the fight from a remote location, and the WBC commissioned an honorary belt to present to the winner.
The advance hype was enormous. A clickbait-obsessed media lapped it up including photoshop-enhanced images of Mike Tyson's physique.
In the second round, Tyson landed a double left hook and that was the only indelible moment in the match. By the third round, both looked and sounded tired and by the sixth round Jones was thoroughly gassed out and took to clinching to make it to the final bell.
For the record, the scores were 79-73 for Tyson (Martin), 80-76 for Jones (Pazienza), and 76-76 (Dawson). On the internet, the clear consensus was that Tyson had the best of it.
Mike Tyson, 50-6, 2 NC (44 KOs) last fought in June of 2005 when he was stopped by third-rater Kevin McBride. Roy Jones (66-9, 47 KOs) was active as recently as 2018 and won his last four, but against hand-picked opponents including a boxer making his pro debut. His last fight of significance came in 2011 when he was brutally KOed by Dennis Lebedev in Moscow.
Jones, who weighed 210 ½ tonight, weighed 157 when he made his pro debut in 1989. In his prime, he was pound-for-pound the best fighter in the world, but that was back in the previous century.
Both fighters were reportedly guaranteed $1 million with Tyson's take potentially reaching $10 million if certain financial targets were met.
Other Bouts
YouTube sensation Jake Paul, who we reluctantly concede has more than a modicum of talent in the fisticuffing department, knocked out Nate Robinson in the second round and it was a clean knockout with Robinson knocked out cold. The 36-year-old Robinson, the former NBA point guard who was a three-time slam dunk champion during his 11-year NBA career, is a well-rounded athlete, good enough to start as a cornerback in football during his freshman year at the University of Washington, but his athleticism didn't translate to the squared circle as he looked like a common bar brawler.
Former two-division belt-holder Badou Jack (22-3-4), who said he appeared on the card as a favor to his friend Mike Tyson, was a clear-cut winner over hard-trying but out-classed Blake McKernan in an 8-round cruiserweight match.
At age 37, Jack's career is winding down. He tipped the scales at 188 ¾, 14 pounds more than in his previous engagement vs. Jean Pascal. McKernan, a natural cruiserweight from Sacramento, was undefeated coming in (13-0), but was in over his head against Jack, a former Olympian and veteran of seven world title fights.
In a good action fight, Worcester, Massachusetts lightweight Jamaine Ortiz, a carpenter by trade, improved to 14-0 (8) with a seventh-round stoppage of Sulaiman Segawa (13-3-1), a Maryland-based Ugandan.
In the first bout on the program, Fort Worth featherweight Edward Vazquez improved to 9-0 (1) with an 8-round split decision over Jamaine Ortiz stablemate Irvin Gonzalez (14-3).
Heavyweight Juiseppe "Joe" Cusumano improved to 19-3 (17) with a sixth-round stoppage of late sub Gregory Corbin (15-4). It was the fourth straight loss for the 40-year-old Corbin who came in at a beefy 291 ¾ pounds.
Check out more boxing news on video at the Boxing Channel 
To comment on this story in the Fight Forum CLICK HERE
Fast Results from London: Joe Joyce Stops Daniel Dubois in the 10th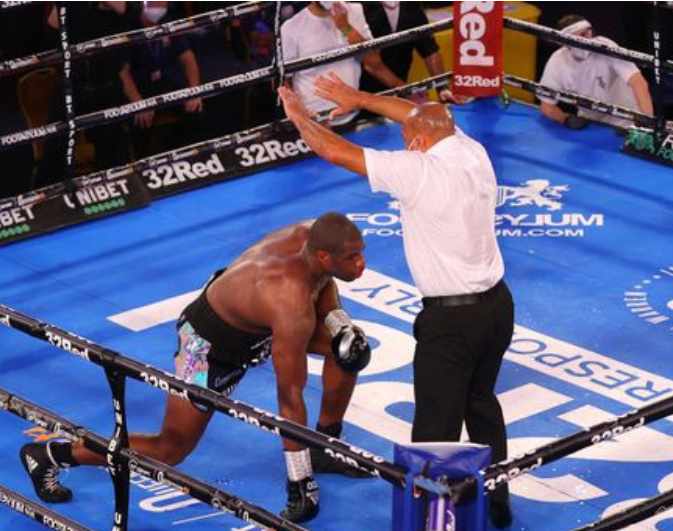 The historic Church House which sits in the shadow of Westminster Abbey was the site of tonight's clash in London between unbeaten heavyweights Daniel Dubois and Joe Joyce. The bout lacked the gloss of a world title fight, but didn't need it. The oft-postponed match, originally slated for the 02 Arena in London on April 11 with promoter Frank Warren anticipating a sellout, was fairly hyped as the most anticipated fight since Fury-Wilder II which was the last big fight before the coronavirus clampdown.
Dubois, 15-0 with 14 KOs heading in, was a consensus 7/2 favorite in man-to-man betting, He was younger, faster and punched harder, but ultimately it would be his "O" that had to go. Joe Joyce, an inch taller at six-foot-six and 15 pounds heavier at 259, emerged victorious with a 10th-round stoppage in what was a good back-and-forth fight with a divided opinion as to who had the edge through the completed rounds.
Joyce really didn't do much but throw a jab, but he landed that jab consistently and it was a hard, thudding jab that caused Dubois's left eye to start swelling during the mid-rounds of the fight. The damaged eye eventually shut and when Joyce reached it with another hard jab in the 10th, Dubois surrendered by taking a knee. The presumption was that he had suffered a broken orbital bone.
The 35-year-old Joyce, nicknamed Juggernaut, is of Scotch-Irish and Nigerian descent. He lost by split decision to Tony Yoka in the semifinals of the 2016 Olympics and had to settle for a silver medal. Prior to turning pro, he was 12-1 in the semi-pro World Series of Boxing with his lone defeat coming at the hands of Oleksandr Usyk. With today's career-defining win, he upped his pro ledger to 12-0 (11).
Other Bouts
Top-rated WBC super lightweight contender Jack Catterall (26-0) won a predictably one-sided 10-round triumph over 33-year-old Tunisian Abderrazak Houya (14-3). Catterall scored two knockdowns en route to winning by a 99-90 score. This was a stay-busy fight for the Lancashire man who was the mandatory challenger for title-holder Jose Carlos Ramirez and accepted step-aside money with the promise that he would meet the winner of the unification fight between Ramirez and Josh Taylor which is expected to come off in February.
The lead-in fight was a 10-round contest in the super welterweight division between 21-year-old Hamzah Sheeraz and 33-year-old Guido Nicolas Pitto. The fight was monotonous until Sheeraz (12-0, 8 KOs) kicked it into a higher career in the final stanza and brought about the stoppage. Pitto, from Spain by way of Argentina, declined to 26-8-2. The official time was 1:11 of round 10.
In an 8-round cruiserweight bout, Jack Massey improved to 17-1 (8) with a 79-74 referee's decision over Mohammad Ali Farid (16-2-1). Massey was making his first start since losing a close 12-round decision to Richard Raikporhe in December of 2019 for the vacant BBBofC title. The well-traveled, one-dimensional Farid had scored 16 knockouts in his previous 18 fights while answering the bell for only 33 rounds.
Check out more boxing news on video at the Boxing Channel 
To comment on this story in the Fight Forum CLICK HERE
Daniel Jacobs Edges Past Gabe Rosado on a Matchroom card in Florida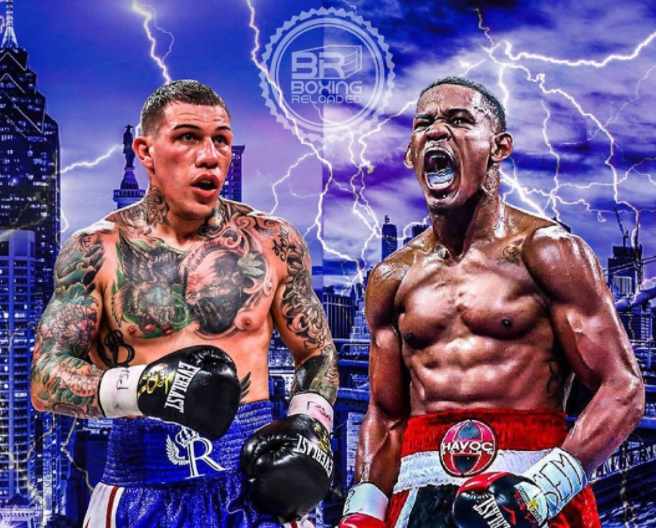 Former world champion Daniel Jacobs needed the last round to win by split decision against upset-minded Gabe Rosado and keep his place in line on Friday for lucrative super middleweight matchups.
But when the ring announcer erroneously announced the winner was from Philadelphia, confusion reigned for a moment until Jacobs was correctly called the winner.
Brooklyn's Jacobs (37-3, 30 KOs) jumped out ahead against Philly fighter Rosado (25-13-1, 14 KOs) and held on for the win in front of no fans at the Seminole Hard Rock Hotel and Casino in Hollywood, Florida. For a second, many thought Rosado had won.
Both were careful during the first three rounds measuring each other's distance and looking for openings to counter. There were very few.
It was the kind of fight expected by those who know boxing: two veterans with immense experience against top-flight world champions. Mistakes were few.
Jacobs, a former middleweight world champion, had fought Saul "Canelo" Alvarez and Gennady "GGG" Golovkin in close but losing efforts.
Rosado had battled Golovkin too, six years ago in a bloody affair that ended in a loss. He had also lost to other champions like Peter Quillin and Jermell Charlo. But none were able to knock him out.
Both were aware of each other's reputation. Bitter words had been exchanged for years and now they finally got their chance to prove their mettle and they did.
Though Jacobs was recognized as a knockout puncher, Rosado's resilience was just as well known. Both neutralized each other for most of the fight with their feints and jabs to the body. Neither was willing to leave openings for each other.
Jacobs scored big with a left uppercut at the end of the seventh round. While Rosado wowed viewers with a sizzling right cross in the 11th round.
It was 1950s style, boxing with intelligence. Each found it difficult to land combinations, let alone find openings to score knockout blows. Instead, they had to be satisfied with scoring enough to convince three judges the actual winner.
Neither was able to pull out ahead with any conviction.
After 12 rounds one judge saw Rosado the winner 115-113 while two others saw Jacobs the winner 115-113 to give him the win by split decision.
"It felt just a little weird. It felt like a sparring match," said Jacobs about fighting without fans in the audience. "This wasn't a valiant effort."
Rosado was certain he was the true winner.
"I thought I won the fight. I surprised him," said Rosado who trained with Freddie Roach for this fight. "I'm a veteran, I know how to fight."
Indeed, he does.
Jacobs now stands poised to fight one of many super middleweight champions in need of a marquee name.
"I live to see another day," he said honestly.
Other Bouts
Kazakhstan's Daniyar Yeleussinov (10-0, 6 KOs) proved he was not an easy touch and knocked out former world champion Julius Indongo (23-3, 12 KOs) to march forward in the welterweight division while grabbing the vacant IBF Inter-Continental title.
In a fight featuring southpaw versus southpaw Yeleussinov caught Indongo with a roundhouse left the first time they exchanged and down went the former super lightweight world champion. Indongo beat the count and survived the round.
Indongo wasn't as lucky in the second round as Yeleussinov again connected with a left and down went the fighter from Namibia again. He would not get up at 1:24 of round two giving the knockout win for Yeleussinov.
A battle between undefeated heavyweights saw Azerbaijan's Mahammadrasul Majidov (3-0, 3 KOs) use roundhouse rights to stagger the heavier Sahret Delgado (8-1) to win by knockout in the third round. Majidov actually helped Delgado get to his stool after knocking him out on his feet at 47 seconds of the third round.
Emmanuel Tagoe (32-1) defeated Mason Menard (36-5) by majority decision after a 10- round lightweight fight that saw a lot of clinching and leaning.
Nikita "White Chocolate" Ababiy (10-0) out-fought Detroit's Brandon Maddox (7-4-1) to win by unanimous decision after six rounds in a middleweight clash. Ababiy hurt Maddox with body shots but found Maddox more resilient than expected.
Check out more boxing news on video at the Boxing Channel 
To comment on this story in the Fight Forum CLICK HERE.