Looking at the Heavyweight Calendar (Odds Review)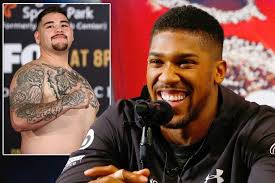 This past Saturday night saw Deontay Wilder's WBC world heavyweight title defense against Dominic Breazeale go down on Showtime. The fight lasted just 137 seconds as Wilder floored Breazeale with a cannonball of a right hand to end the night early.
With Wilder out of the way, Anthony Joshua vs Andy Ruiz Jr is up next. They meet June 1st at Madison Square Garden. Two weeks later, on the 15th of June, ESPN+ will deliver Tyson Fury vs Tom Schwarz, so fight fans will get a look at all three members of the "Big Three" all in a month's time.
Wilder's erasure of Breazeale this past weekend sent a message to the rest of the division as well as giving him a highlight reel to show during upcoming negotiations. Wilder entered a strong -1000 favorite at the sportsbooks for this fight.
Check out our pre-fight review of the Wilder vs Breazeale odds right here at TSS –
https://tss.ib.tv/boxing/featured-articles/57588-wilder-vs-breazeale-odds-review
Looking forward, the odds posted for Joshua and Fury's upcoming tussles are even less competitive. Let's take a look at what the books are giving us as we await the two big Brits fighting in the USA.
Madison Square Garden – New York City – Saturday, June 1, 2019
Heavyweight 12 rounds –
Andy Ruiz Jr +1500 Over 6½ +100
Anthony Joshua -3000 Under 6½ -130
Ruiz Jr is 32-1 overall with his lone loss coming at the hands of Joseph Parker in a failed WBO world title bid. That same WBO belt is now in the hands of Joshua as are the WBA and IBF belts.
Joshua was a big favorite over Jarrell Miller, his original opponent, who was denied a license in New York after testing positive for a buffet of steroids. Ruiz Jr took the fight with less than a full training camp, but you have to believe that he is going to come in highly motivated. Ruiz Jr has been caught at a different type of buffet, the all-you-can-eat kind, but even when in the best of shape his body type isn't "poster boy material." Miller was big and bulky as well, but he was a near 300 pounder whereas Ruiz Jr will come in between 250 and 260 pounds, which is right around Joshua's size. Rather than slaying a 300-pound giant, he is facing a guy who is shorter and fatter than him, making it very hard for Joshua to look great on paper.
At +1500 will people bite on Ruiz Jr? He is more experienced than Miller and he is probably a better fighter overall and though he is facing a formidable champion, Joshua is not a finished product. Perhaps Joshua will be chasing an early finish, feeling the pressure of Wilder's performance, and if so will he make a mistake that Ruiz can exploit? We are roughly 10 days from finding out.
MGM Grand Garden – Las Vegas, Nevada – Saturday, June 15, 2019
Heavyweight 12 rounds –
Tom Schwarz +1800 Over 9½ -105
Tyson Fury -3600 Under 9½ -125
Tyson Fury closes out the run of top heavyweights with a very deliberately chosen showcase fight against Tom Schwarz. Schwarz is 24 years old and 24-0 but he is a fighter who has come up on the regional German scene and as the old boxing cliche goes, there are levels to this game.
Former contender David Haye mounted a 2016 comeback, booking fights against Mark De Mori (30-1-2) and Arnold Gjergjaj (29-0). It took Haye precisely 6:42 to dispose of both of them, and though Fury is a completely different beast than Haye, the level difference between he and Schwarz may be even as striking.
Wilder has gotten through his "challenge" and if Fury and Joshua also emerge as winners as expected, it will leave several open questions –
– Will Fury vs Wilder 2 happen first, or will Wilder vs Joshua go down first? Could Joshua and Fury meet and freeze Wilder out?
And….
– Will we see any of these fights take place in 2019?
If Joshua or Fury stumble, it will only add to the chaos in the heavyweight division. But if the professional oddsmakers know anything, it isn't likely to happen.
Check out more boxing news on video at The Boxing Channel
To comment on this story in The Fight Forum CLICK HERE
Results from Tampa: Harold Calderon Survives Bite to Remain Undefeated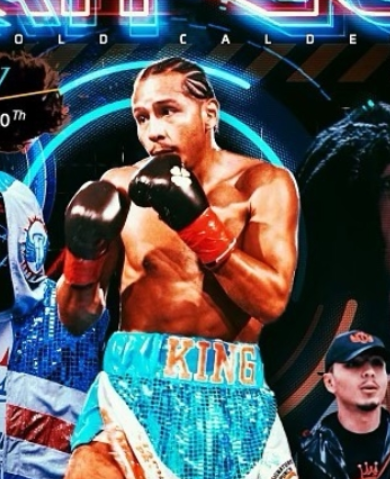 Undefeated welterweight Harold Calderon remained unbeaten despite strange tactics by late replacement Luis Florez that forced a premature end of the fight due to a disqualification on Saturday.
Calderon (26-0, 17 KOs) endured a change of opponents, and then outrageous tactics by Colombia's Florez (25-22) including biting that ended the fight at the Tampa Convention Center in Tampa, Florida.
"That m..f…just bit me," said Calderon, a southpaw from Miami. "I'm sweet. I'm like sugar."
For the first three rounds Florez seemed eager to trade blows with Calderon and chided the Florida fighter to attack. But once the lefty welterweight attacked the body, the Colombian fighter suddenly seemed not as eager.
Calderon took the fight inside and battered Florez on the inside. During one attack Florez motioned he was hit behind the head. That's when the dirty tactics began including a bite on Calderon. After Calderon retaliated with a body shot, Florez took a knee and complained. The referee stopped the fight. It was later revealed that the referee disqualified Florez for biting.
Calderon said he's anxious to fight any of the top 15 contenders if given an opportunity.
"I need somebody in the top 15," he said.
Uzbekistan's Otabek Kholmatov (4-0, 4 KOs) knocked out Colombia's Juan Medina (12-9, 11 KOs) in the second round of their super bantamweight clash. Kholmatov, a southpaw, scored two knock downs in the first round. The tall Uzbeki fighter blew out Medina with more body blows to end the fight at 1:51 of the second round.
"I'll be the champ," Kholmatov said.
A super lightweight match saw Clarence Booth (21-4, 12 KOs) take time to figure out the awkward style of Alejandro Munera (6-4-4) and win by knockout at the seventh round.
Bantamweight contender Rosalinda Rodriguez (13-0, 3 KOs) fought last-minute replacement Elizabeth Tuani (1-4) and won by stoppage at 1:16 of the second round in a fight fought above 126 pounds. There was confusion because Tuani did not look hurt nor in danger of going down when the fight was stopped. Even Rodriguez looked perplexed.
"I was confused," said Rodriguez. "She was putting up a fight."
Other Bouts
Jean Guerra Vargas (6-0) survived a knockdown against Rueben Morales (0-2) to win a split decision. It seemed Vargas got lucky with the scoring. Morales was the dominant fighter for the first two rounds and lost gas. He was a last-day replacement.
Poland's Adrian "Pretty Boy" Pinheiro (4-0, 4 KOs) knocked out Milton Nunez with a focused body attack in the first two rounds and scored two knockdowns with body shots. A couple of body sapping shots floored Nunez at 1:05 of the second round for the knockout in the heavyweight fight.
Bryan Lopez (3-0) knocked down wild swinging William Fauth (0-7) twice before scoring a knockout win at 1:56 of the second round of a super lightweight fight.
Hungarian heavyweight Istvan Bernath (8-0, 6 KOs) knocked out Mexico's Guillermo Del Rio (3-4-1) with an overhand right at 2:30 of the first round.
A welterweight fight saw Bobby Henry start slowly and then floor Bryant Costello in the second round to turn things around and win by decision after four rounds.
Check out more boxing news on video at the Boxing Channel
To comment on this story in the Fight Forum CLICK HERE
Remembering 'Rocky Estafire,' One Tough Syrian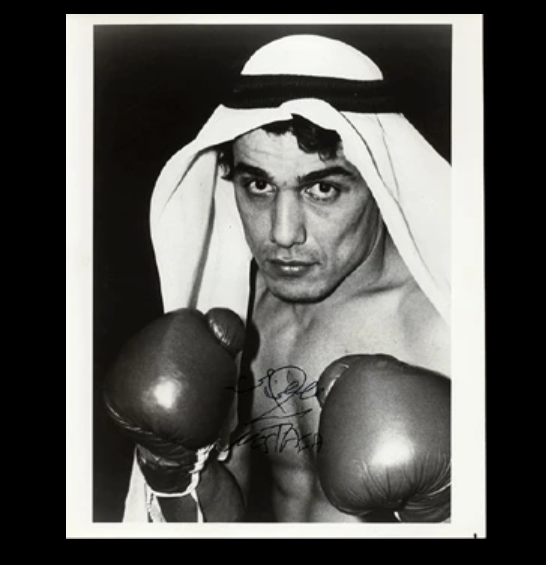 On Sept. 9, 1978, a Bayonne, New Jersey brawler who was billed as Rocky Estafire when he was first starting out, stopped slick Bobby "Boogaloo" Watts in Jersey City giving notice that he was becoming a force to be reckoned with in the middleweight division. Watts was no slouch having split a pair with Marvelous Marvin Hagler.
"Strictly LaMotta style," said Paddy Flood of his fighter who would come to be known by his real name, Mustafa Hamsho.
In 1980, he beat undefeated Wilford Scypion and followed that up with close wins over Curtis Parker and Alan Minter in 1981 leading to his first of two title clashes with Hagler. This bloody encounter, won by Hagler on an 11th-round TKO, left both fighters needing stiches.
"Throughout Hagler's nonstop, 11th-round barrage, Hamsho kept coming on. He didn't win a round, but he did take the battle of the stitches, 55-5," wrote Pat Putnam in Sports Illustrated. "I don't know what his corner was waiting for…The meat from his eyes was hanging down. But I can't let that bother me. I just have to think, better him than me," said Hagler.
More from Putnam: "When Hagler had left the hospital, the doctors were still working over Hamsho, who, until his trainer, Al Braverman, jumped into the ring to stop the fight, looked as though he would run out of blood before he ran out of heart. He was badly cut under both brows: Each wound was at least two inches long and half an inch wide. There was another slice under his left eye. He didn't win a round from any of the three officials."
Al Braverman, who co-managed Hamsho with the aforementioned Flood, once described the Syrian's style as follows: "…."He's got no style. He just wades in, throwing punches from any angle."  He also possessed great stamina, a granite chin and incredible courage, along with head and shoulder butts, elbows, low blows, shoves, holding, chops behind the head, and whatever he could get away with.
The Matinee Idol
Bobby Czyz was 20-0 when he met Hamsho at the Convention Center in Atlantic City on Nov. 20, 1982. The undefeated New Jersey lad with the somewhat strange moniker of "Matinee Idol" and the high IQ had solid wins over Danny Long, Teddy Mann, Oscar Albarado, Elisha Obed, and Robbie Sims. Against Hamsho he was stepping up in class but he was a solid opponent for the Syrian who was 34-2-2 coming in.
If Bobby won, he would position himself for a shot at Marvelous Marvin, but Hamsho mauled and mugged the future world light heavyweight champion over ten rounds and won a convincing UD. (The rest of the Bobby Czyz story is told in "The Boxer Who Became a Bagger," a remarkable and poignant article by sports columnist Steve Politi that first appeared in the Newark Star-Ledger.)
Wilfred Benitez
HIs UD victory over Wilfred Benitez (45-2-1) in 1883 was pure Hamsho featuring elbows, butts, and low blows. The third round was difficult to watch as the compact Syrian rendered a brutal beating on "El Radar," using accurate nonstop shots coming from all directions. Between slips and knockdowns, Wilfred hit the deck four times.
Clearly, Benitez had faded, but Hamsho hastened the process and helped point the legendary Puerto Rican in a downward direction. Wilfred looked sluggish and poorly conditioned; he was not the same Benitez who knocked out Maurice Hope in spectacular fashion or out-boxed Roberto Duran for 15 rounds. Something was wrong.
But even in top shape, Benitez would have struggled against Hamsho with his mauling, brawling, non-stop pressure. Hamsho could make anyone look bad.  (Wilfred Benitez would lose several more outings after the Hamsho beatdown. Matthew Hilton finished the job with a terrifying KO in 1986. Wilfred's story is a terribly sad one as he now requires constant care.)
Hamsho would lose another fight with Hagler—this time quickly and badly– and then go 6-2 before retiring in 1989 with a record of 44-5-2.
Those who were fortunate enough to see him fight remember a fan-pleasing, all-action combination of Vito Antuofermo, Michael Katsidis, Antonio Margarito, and Gene Fullmer.
Amir Khan and Prince Naseem Hamed are two very high profile, proud Muslim fighters. Mustafa Hamsho's name can be added.
Ted Sares can be reached at tedsares@roadrunner.com
Check out more boxing news on video at the Boxing Channel
To comment on this story in the Fight Forum CLICK HERE
Miguel Madueno Scores His 12th Straight Knockout at Ontario, Calif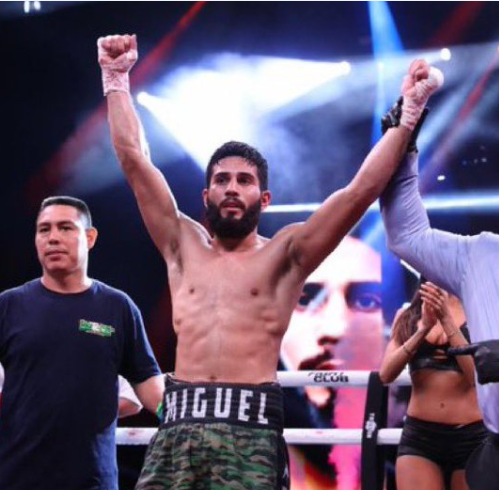 Ontario, CA — A return of fans to the Inland Empire saw Mexico's Miguel Madueno extend his consecutive knockout streak to a dozen at the Doubletree Hotel in Ontario, California on Friday.
It was the first fan-filled event for a Thompson Boxing card in the "I.E." in almost two years.
Lightweight contender Madueno (26-0, 24 KOs) of Culiacan powered his way to his 12th consecutive knockout and this came at the expense of fellow Mexican Jose Luis Rodriguez (25-15-1, 13 KOs) with a focused attack to the body.
Rodriguez was clever and tough and would not allow Madueno to overwhelm him during the first four rounds. But in the fifth he was not as lucky as a four-punch barrage to the body sent him to one knee. He beat the count but was overwhelmed by Madueno who forced referee Raul Caiz to end the fight at 2:46 of the fifth round.
"In reality I thought I would end it early," said Madueno about seeking an early knockout. "But he could take it."
In the co-main event Japan's Katsuma Akitsugi (7-0) outhustled Northern California's Eros Correa (10-1) after eight rounds in a bantamweight scrap to win by majority decision.
Akitsugi, a southpaw, and Correa both showed quick hands and good chins. But the Japanese fighter was always on attack and Correa resorted to holding from the second round on. He was never warned by the referee for excessive holding. It could have helped him get back in the fight.
Every time Akitsugi entered the danger zone Correa would grab ahold like an MMA fighter instead of fighting on the inside. While Correa held Akitsugi punched and that proved the difference as two judges scored it 78-74 for Akitsugi, while a third saw it 76-76.
"I could not box my style at all," said Akitsugi, 23. "I'm glad I brought the win home."
Other Bouts
San Bernardino's Esteban Munoz (5-1, 3 KOs) knocked out Tijuana's Manuel Martinez (6-5-4) with a body shot in the first round. He could not beat the count. Munoz had stunned Martinez earlier with a counter right. Then he found an opening to the body and delivered a right to the gut and down went Martinez. He was counted out at 1:50 of the first round.
Coachella's Lazaro Vargas (4-0) out-worked Ulises Rosales (0-5) over four rounds of a super bantamweight match to win by unanimous decision 40-36 on all three cards.
Check out more boxing news on video at the Boxing Channel
To comment on this story in the Fight Forum CLICK HERE