Three Punch Combo: A Look at Two Under The Radar Fights and More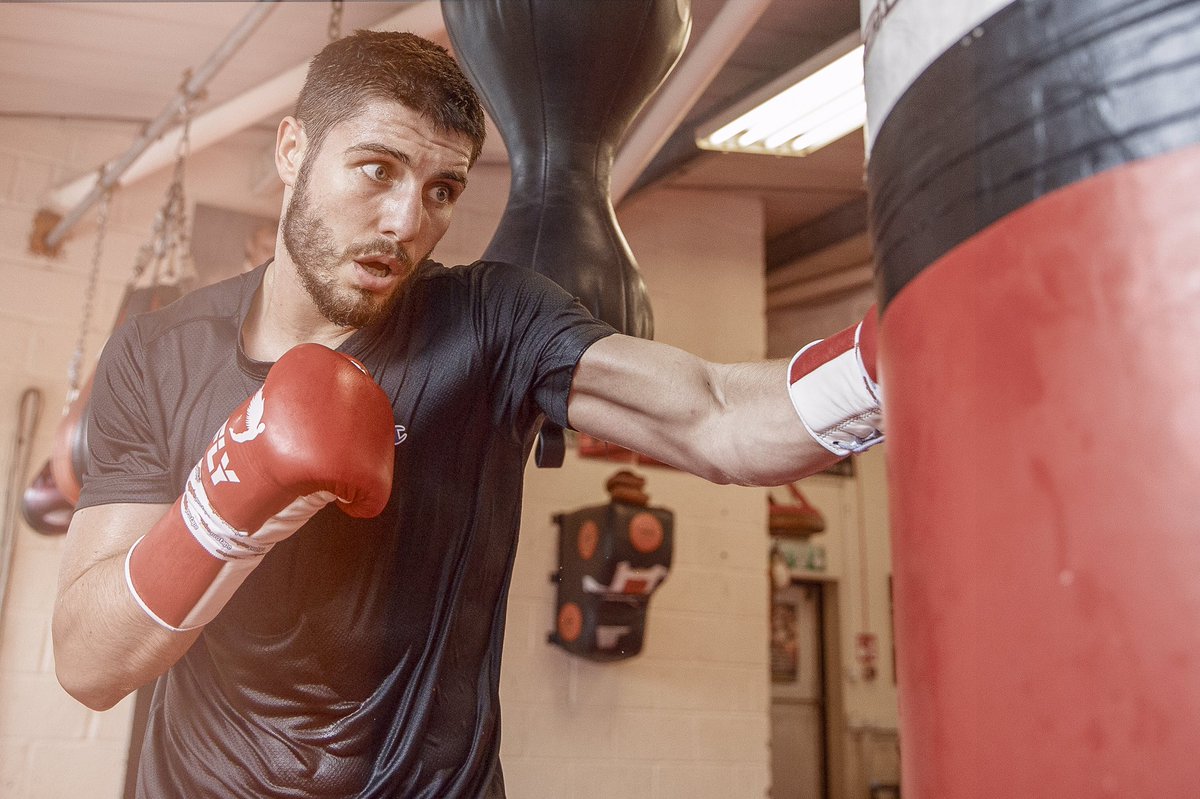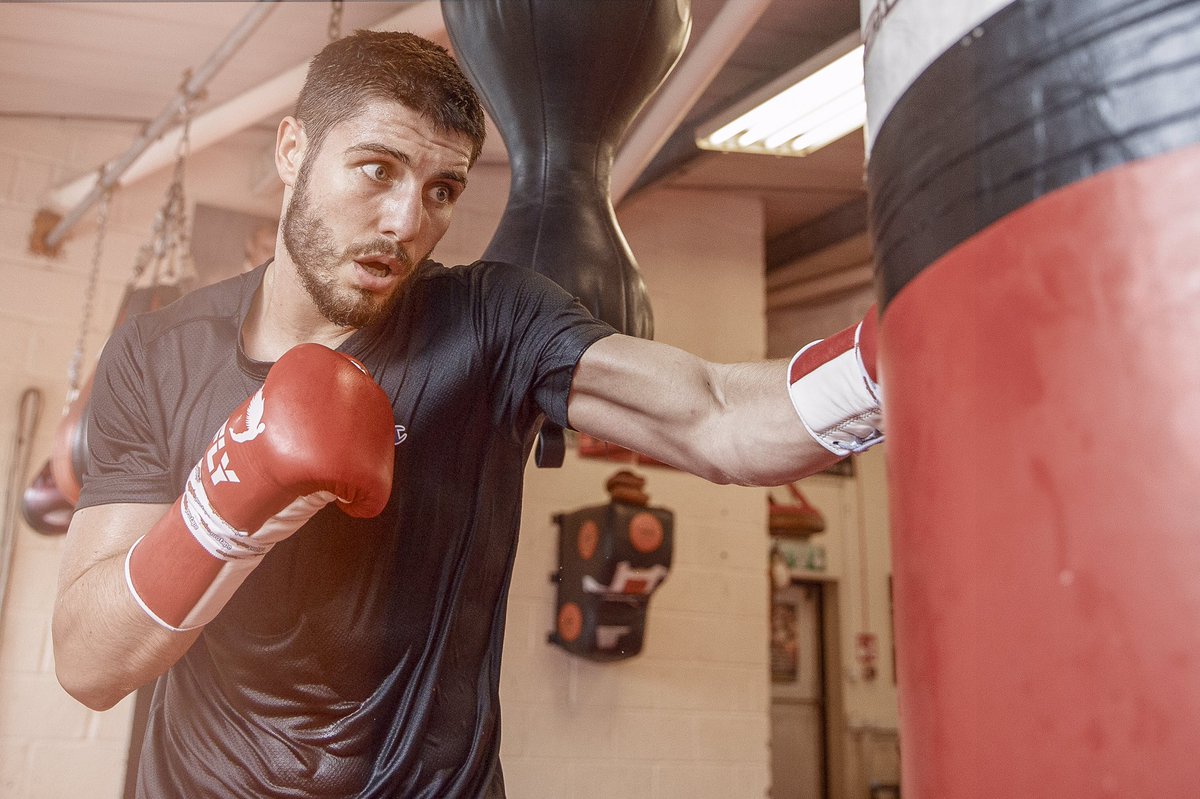 THREE PUNCH COMBO — We have another very busy fight week ahead of us that is headlined by the big heavyweight title fight between Anthony Joshua (22-0, 21 KO's) and Andy Ruiz Jr. (32-1, 21 KO's) at Madison Square Garden on Saturday. With most of the attention of the boxing media converging to this fight, several intriguing matches are under the radar.
Kind of stuffed deep on the Joshua-Ruiz undercard is an important welterweight tilt between up-and-coming Josh Kelly (9-0, 6 KO's), an Englishman who will be making his U.S. debut, and veteran Ray Robinson (24-3-1, 12 KO's). A decorated amateur who competed in the 2016 Olympic Games in Brazil, Kelly (pictured) is considered one of boxing's top prospects and is getting a chance to showcase his talent on one of the biggest stages in the sport.
Kelly, 25, seems to have all the tools to go a long way. He profiles as a classic boxer-puncher and likes to work behind a well-timed left jab. That jab is often delivered with the force of a power shot and can freeze his opposition, setting them up for more lethal follow-up shots.
Behind the jab, Kelly throws very fluid combinations and will work the head as well as the body. He possesses above average to elite hand speed for the division and heavy handed power in both fists. It is no wonder why so many believe he has a high ceiling.
Defensively, Kelly has some lapses. His head movement is good but he tends to lose focus and frequently holds his hands low. At times this seems intentional, a way of taunting his opponent, but more than anything it's a loss of focus and something that needs to be addressed.
Robinson, 33, is a slick southpaw who is coming off a majority draw to the previously undefeated Egidijus Kavaliauskas in March. I have touched on Robinson before in this column, noting that he is someone whose style can give young fighters fits. He will be on his bike from round one and look to frustrate Kelly with his pesky style. Robinson will be defense first and sporadically pick his spots on offense. He can be an enigma to fight and as such represents at the very least an interesting puzzle for Kelly.
To me, this is an intriguing test for Kelly. If he is as good as many think he is, he will break down and stop Robinson much like Yordenis Ugas did when he faced Robinson in February of 2018. But if Kelly struggles, then we may have to put some brakes on all the hype.
Under The Radar Fight Number Two
The big card at Madison Square Garden is not the only televised show on Saturday in the United States. Across the country in California, Fox Sports 1 will televise a card headlined by a welterweight showdown between former world champion Devin Alexander (27-5-1, 14 KO's) and Ivan Redkach (22-4-1, 17 KO's). I like this fight, but it's another fight on the televised undercard – a fight receiving almost no press coverage — that I would like to highlight.
In a crucial crossroads fight in the middleweight division, Willie Monroe Jr. (23-3, 6 KO's) will face Hugo Centeno Jr. (27-2, 14 KO's). Both are former world title challengers who fell short in those title contests and this fight represents a final chance for each to get back in line for a title shot.
One of the reasons I like this fight is that both not only need to win but make a statement. As such, I think that both will fight out of their normal style, giving us a more exciting fight than is being anticipated.
Monroe, 32, is a fast handed slick southpaw who generally relies on speed and defense. He does not have much power but his style, although not always exciting, has proved to be effective against a certain level of fighter. In order to get a much bigger fight, Monroe will need to generate some excitement. Against Centeno, a fighter who has been knocked out twice and has severe defensive issues, I think Monroe opens up more and sits down more on his punches looking for that knockout.
Centeno, 28, stands 6'1" and will have a three-inch height advantage. In this fight he will be the aggressor, utilizing his height advantage to set up his punches behind his left jab. Centeno throws an excellent straight right hand behind that jab, a punch that has scored some highlight reel knockouts for him. And that is also a punch that Monroe has been somewhat vulnerable to in the past.
I really think both fighters feel they can knock the other out. And just as important, each will feel they need to get that knockout to get them back to where they think they belong in the division. Monroe will probably land the higher volume but Centeno could turn the course of the bout anytime with the right hand. This is a really interesting fight that may even steal the show this weekend.
Please Don't Marinate Berchelt-Herring
In the business aspect of this sport, it is sometimes necessary to hold back on certain potential fights, to "marinate" them as they say. I get it. But sometimes it is just smart business to just jump right in. In the case of a potential 130-pound unification fight between WBC champion Miguel Berchelt (36-1, 32 KO's) and newly crowned WBO champion Jamel Herring (20-2, 10 KO's), the time is now.
First off, the fight has already been built up some with each having fought within a span of two weeks on ESPN. But most importantly, if they do take interim fights before facing one another, there is significant risk that one or both could lose as each have exploitable flaws.
Berchelt is an all-offensive fighter with heavy handed power but he lacks technique and defense. Herring is a very technically sound fighter who does a lot of things very well inside the ring but, that being said, he is not blessed with a ton of athleticism or power. Herring's technical superiority would certainly give issues to Berchelt. However, Berchelt's constant pressure and power could get very troublesome for Herring.
Whoever can impose their style best will win this fight and a case can be made for either man. While it is tough to forecast a winner, the styles of the two can only lead to a high contact, fan-friendly fight. So we have an evenly matched fight that will no doubt in spots turn into a slugfest. This is why I consider this such an enticing matchup and why I don't want to see anything happen to derail it.
As it stands right now, Berchelt-Herring is a significant fight that really can't get much bigger and it needs to happen next without any so-called marination.
Check out more boxing news on video at The Boxing Channel
To comment on this story in The Fight Forum CLICK HERE
Fast Results from Oxon Hill: Teofimo Wins but Without Panache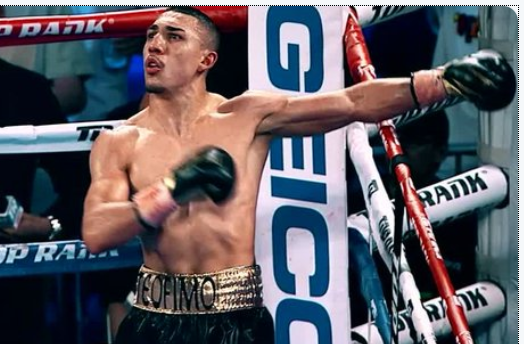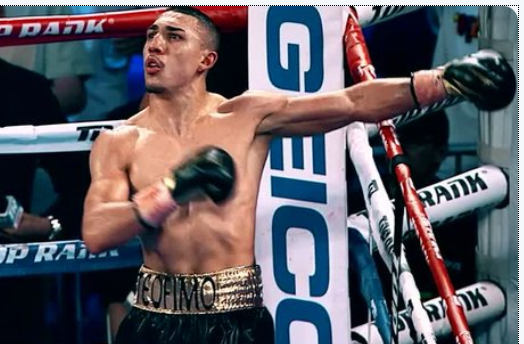 Fast Results from Oxon Hill: Teofimo Wins but Without Panache
Heading into tonight's contest with lanky Japanese invader Masayoshi Nakatani, 21-year-old lightweight sensation Teofimo Lopez had never been extended beyond the seventh round. Tonight he went the full 12 and although Teofimo won comfortably on the scorecards (119-109, 118-110 twice) one could say that he actually took a step backward, if only because he had set the bar so high. True, Lopez won lopsidedly, but many of the rounds were close and the fight had no indelible moments.
With the victory, Lopez (14-0, 11 KOs) becomes next in line to meet IBF 135-pound title-holder Richard Commey. Osaka's Nakatani, who had previously fought exclusively in Japan, suffered his first loss, falling to 18-1.
Co-Feature
In what has to be considered an upset, Puerto Rican junior welterweight Subriel Matias stayed unbeaten at the expense of previously unbeaten Maxim Dadashev whose trainer Buddy McGirt pulled him out after the 11th round. It was a coming out party for Matias (14-0, 14 KOs) who took command in the middle rounds and wore Dadashev (13-1) down with body punches.
A stablemate of Vasiliy Lomachenko, Dadashev was reportedly 281-20 as an amateur and came into this bout having won nine of his last 10 inside the distance. Matias had knocked out all 13 of his previous opponents, but was making only his second start on U.S. soil. His punches landed with more effect than those of Dadashev and he was comfortably ahead at the time of the stoppage.
Dadashev began vomiting violently as he was being led back to his dressing room and was put on a stretcher and taken to a hospital for observation.
Other Bouts
In an 8-round middleweight contest, fan favorite Dusty Hernandez Harrison improved to 33-0-1 (18 KOs) with a seventh-round stoppage over Columbia's Juan De Angel (21-12-1). Hernandez Harrison knocked De Angel to his knees with a three-punch combination and De Angel spit out his mouthpiece as he rose from the canvas, a sign of surrender that compelled the referee to waive it off.
Hernandez Harrison, who turned pro at age 17 in Mississippi, was once hailed as the best prospect to come out of the Washington DC area since Sugar Ray Leonard. He was fed a softie tonight in his third fight back after missing all of 2017 and 2018 with managerial and legal problems. De Angel has now lost seven of his last eight.
In the lid-lifter, a middleweight contest slated for eight rounds, Brazilian southpaw Esquiva Falcao, a 2012 Olympic silver medalist, scored an eighth-round stoppage of Tijuana's stubborn but out-gunned Jesus Antonio Gutierrez. Falcao (24-0, 16 KOs) appears to be on a collision course with former amateur rival Ryota Murata. Gutierrez declined to 25-4-2 (12).
Tyler Howard, a middleweight from Crossville, Tennessee, won his 18th straight without a defeat with a workmanlike 8-round decision over 38-year-old Philadelphia trial horse Jamaal Davis (18-15-1). The scores were 78-73 and 80-72 twice.
In an 8-round lightweight contest, Toledo, Ohio's Tyler McCreary (16-0-1) outworked Jessie Cris Rosales (22-3-1) to win a split decision. Rosales, a Filipino, has now lost three of his last four.
Check out more boxing news on video at The Boxing Channel
To comment on this story in The Fight Forum CLICK HERE
The Official TSS Pacquiao – Thurman Prediction Page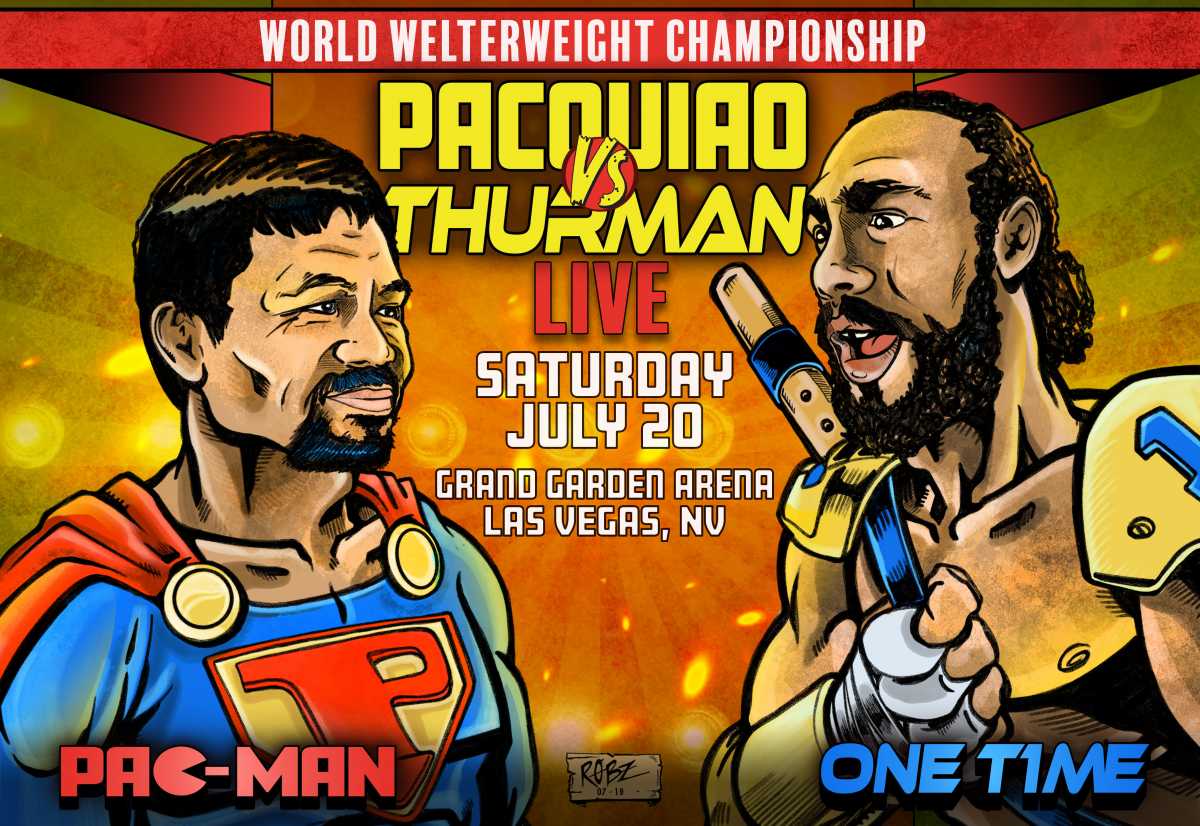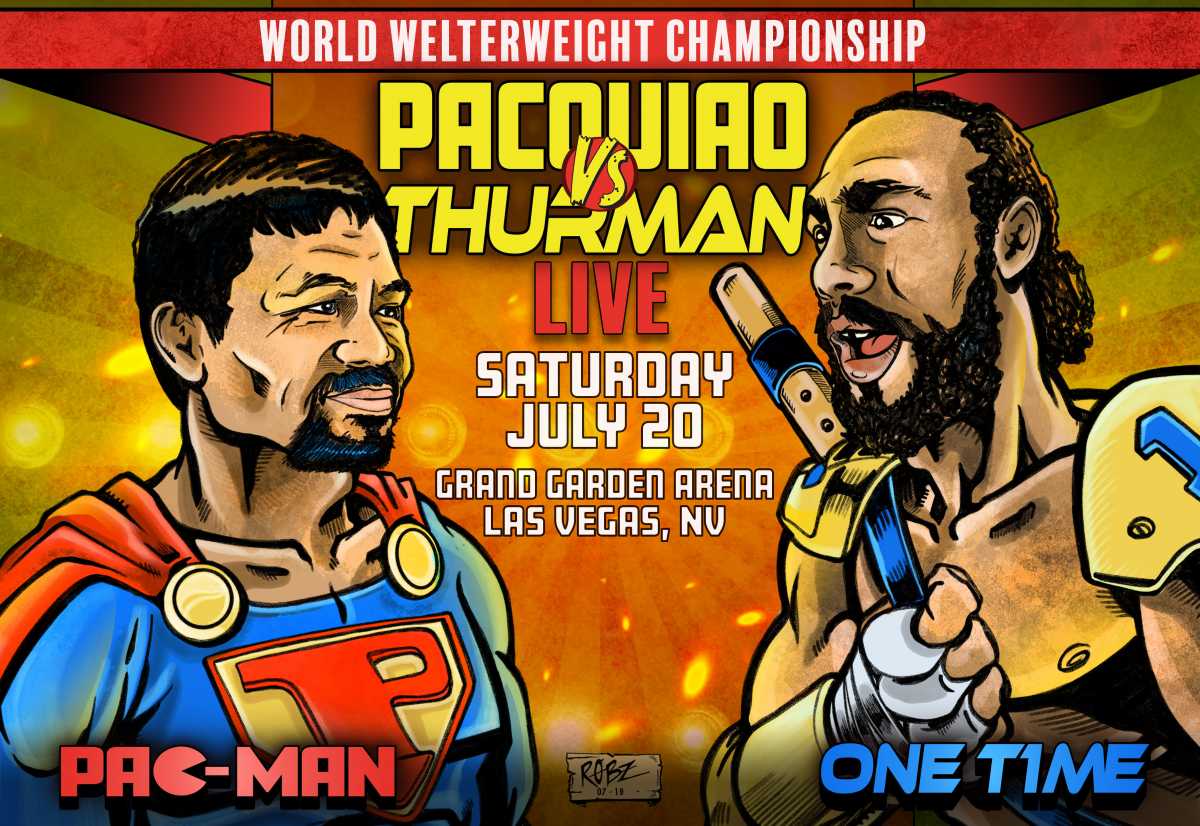 The Official TSS Pacquiao – Thurman Prediction Page
Boxing promoters like to boast that their latest offering is a 50-50 fight. A glance at the available betting odds informs us this attestation is usually bunk.
Not so Saturday's Pacquiao-Thurman fight, a match where the 50-50 tag is no bull. The oddsmakers opened Thurman a slight favorite, at last glance the other guy was favored, and it wouldn't surprise us if the pendulum swings back. There's a considerable amount of "sharp money" on both sides of this proposition and that doesn't happen very often.
As is our custom when there is a big fight, we survey members of our editorial staff to get their opinions and we list the respondents alphabetically. Comic book cover artist ROB AYALA, whose specialty is combat sports, provided the graphic. Check out more of Rob Ayala's illustrations at his web site fight posium.
—-
Matt Andrzejewski — Pacquiao has looked tremendous in his two most recent outings and that has many people thinking he is still at the top of his game. But let's put those performances in context. One was against a shopworn Lucas Matthysse; the other against a low volume output fighter in Adrien Broner who stylistically played right into Pacquiao's hands. Thurman shook off the rust in his last fight and is just entering the prime of his career. I think Pacquiao looks his age and THURMAN coasts to a wide decision victory.
Rick Assad — This will be a test of wills and both will be in superb shape, but every factor is in Thurman's favor, including age, height and punching power. Thurman, who has won 29 straight, 22 via knockout, has disposed of Robert Guerrero, Luis Collazo, Shawn Porter, Danny Garcia and Josesito Lopez over the last 52 months, while in Pac-Man's last six fights, he's 4-2 with losses to Floyd Mayweather Jr. and Jeff Horn. If this fight took place seven years ago, Pacquiao would win based on hand and foot speed, but it's 2019 and he will find himself on the short end of the stick. THURMAN by split decision.
Bernard Fernandez – I have always been a fan of the Manny Pacquiao I saw beat the hell out of Ledwaba in his U.S. debut and evolve into an all-time great. But even great fighters yield bits and pieces of their special gifts to the inexorable march of time. Manny is 40, and there is ample evidence that while he has maintained his speed, his vaunted punching power has clearly ebbed. Not that this should be a replay of Sugar Ray Leonard vs. Terry Norris, but I have to side with the younger, undefeated guy. Keith THURMAN doesn't score the knockout he has promised to deliver, but he does enough to come away with a UD or MD.
Jeffrey Freeman — Keith THURMAN MD12. It won't be easy in there on the inside but Keith Thurman has the physical range and the closer-to-peak skills needed to carefully outbox an aging but still fit Manny Pacquiao. Thurman survives some shaky moments early to the body, harnesses Manny down the stretch and hears the announcer say he won while simultaneously hearing boos from the crowd unsatisfied with "One Time's" performance and the off-kilter scoring. As is his wont when he loses, Manny sheds no tears over his now eighth L and "Pac-Man" gobbles up another nice check.
Thomas Hauser — Pacquiao isn't going to get better at this stage of his career. The open issue regarding Manny is the slope of his decline. By contrast, Thurman has been plagued by injuries and the possible loss of motivation but is young enough to successfully rebound. The big open issue regarding Keith is, "How far has he come back?" My guess is that THURMAN will become more dominant as the fight goes on. How hard he pushes this advantage will determine whether he wins by decision or late stoppage.
Miguel Iturrate – Pacquiao has looked rejuvenated, or at least fully recovered from the shoulder injury that affected his Mayweather performance. He did not look 40 years old against Matthysse and Broner. On the other hand, Thurman is fresh off a long layoff but his most recent outing against veteran Josesito Lopez left some questions. Add to this the news that the fighters will not be subject to VADA testing, and I suspect that we are going to get a pretty sharp version of the Pac-man. I'm going to go with PACQUIAO on this one.
Arne Lang – I envision this fight echoing Thurman's 2016 fight with Shawn Porter. Keith Thurman fought that fight on the retreat, frequently with his back against the ropes, but won seven of the 12 rounds on all three scorecards. I look for another close and potentially unpopular decision with the nod going against the Senator. THURMAN-Porter was a lollapalooza. Perhaps we'll get lucky again.
Kelsey McCarson — I like Pacquiao by decision. A good rule of thumb for people like me who like to pick fights is to never back a fighter over 35. Pacquiao is 40 now, and he's nowhere near the elite specimen he was ten years ago. But backing Pacquiao in his last fight against the much younger Adrien Broner made sense, and I think breaking my rule in this case for Pacquiao-Thurman does, too. Thurman has a quality resume, but I'm guessing somewhere inside he knows he's not quite a great welterweight. That's probably why he wanted no part of Errol Spence and probably also what led to him being out of the ring for so long during recent years. The fight will be competitive, but PACQUIAO will throw and land more punches while Thurman will mostly try to move and box off his backfoot once he gets a taste of Pacquiao's power.
Matt McGrain — "Last time I knew Manny Pacquiao was going to win he lost to Jeff Horn. On the other hand, picking against a living legend like Manny is just not a thing I can do happily. So, it's dry, and it's sad then, that I'm picking Keith THURMAN, but the point at which my heart rules my head has been reached and breached. Too big, too tough. The tipping point with Manny has also been reached and breached, I think. I really am looking forward to his proving me wrong."
Sean Nam — As impressive as it may have been to see 40-year-old Manny Pacquiao outpoint loudmouth dilettante Adrien Broner, it should not disguise the fact that the full-time Senator has been on the decline for nearly a decade. Indeed, by agreeing to face Keith Thurman, the natural welterweight with perhaps the best resume in the division, Pacquiao will be trading punches with a world-class opponent in his prime, a circumstance not seen since at least 2016, when he rematched Timothy Bradley Jr. Of course, Thurman has his own laundry list of caveats. After a two-year period of inactivity and injuries, Thurman returned to the ring earlier this year in a virtual tune-up against Josesito Lopez. Though he won wide on points, he was wobbled badly midway through the fight. Also to consider is the fact that Thurman has not had a clear-cut knockout victory since he fought Julio Diaz in 2014, a sign that perhaps he does not hit as hard as some think. Thurman is not likely to knock out a proven, stone cold competitor like Pacquiao, but he has the athletic credentials — and enough power — to edge the aging icon on the scorecards. As has been his custom for the past several fights, expect Thurman to run circles around the ring as he uncorks potshots on Pacquiao. Keith THURMAN SD 12
Ted Sares – I see PACQUIAO winning by MD. As soon as he buzzes Thurman, "One Time" will start running which is his wont. It will be a boring affair unless Thurman tires and Pac catches him.
Phil Woolever — The facts should speak for themselves but I don't know what they're saying. Thurman's resume includes notable victories over Danny Garcia, Shawn Porter and Robert Guerrero. He has lost to no one. Pacquaio has notable victories over Erik Morales (twice), Juan Manuel Marquez (twice plus a draw), Shane Mosley, Timothy Bradley, Jr (twice), Marco Antonio Barrera (twice), rare stoppages of Barrera, Miguel Cotto and Oscar De La Hoya plus a total wipeout of Ricky Hatton. He has highly disputed losses to Bradley and Jeff Horn, a basic shutout to Floyd Mayweather, Jr, a one punch splattering by a possibly enhanced Marquez and a loss to a near prime Morales. Maybe his early stoppage losses to Boonsai Sangsurat and Rustico Torrecampo offer clues I miss. No prediction here, logical or otherwise. I have no idea what to expect except that's something that makes a great fight.
Observation: There was a distinct lean to Keith Thurman, but the operative word here is "lean." A more general consensus is that this fight will go to the scorecards with the impending verdict no foregone conclusion.
Check out more boxing news on video at The Boxing Channel
To comment on this story in The Fight Forum CLICK HERE
When Muhammad Ali and Gerald Ford Met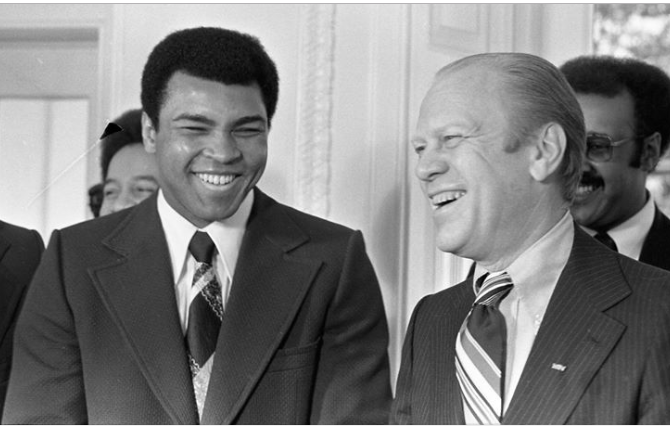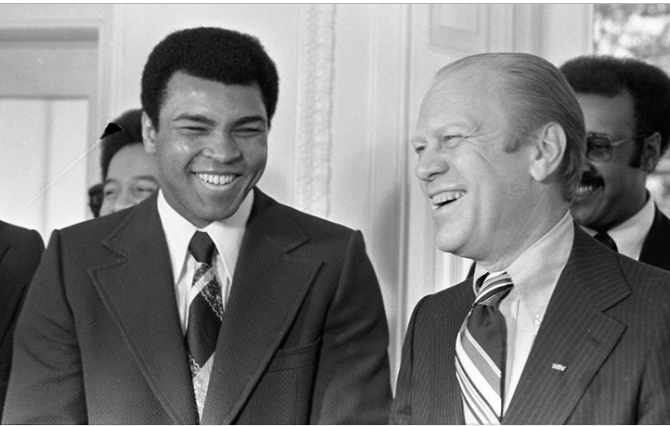 When Muhammad Ali and Gerald Ford Met
On June 25, 2019 – one day after the United States Women's National Team advanced to the quarter-finals of the World Cup – Eight by Eight magazine posted a video clip from an interview conducted in May in which Megan Rapinoe was asked, "Are you excited about going to the White House?"
Rapinoe is white and openly gay. She's also the heart and soul of the United States Women's National Team. On multiple occasions, she has followed Colin Kaepernick's lead and declined to stand for the playing of the National Anthem.
"I'm not going to the f****** White House," Rapinoe responded. "No, I'm not going to the White House." Then, taking note of Donald Trump's proclivities, she added, "We're not going to be invited."
The following day, Trump responded with a three-part tweet that read, "Women's soccer player, @mPinoe, just stated that she is 'not going to the F…ing White House if we win.' Other than the NBA, which now refuses to call owners, owners (please explain that I just got Criminal Justice Reform passed, Black unemployment is at the lowest level in our Country's history, and the poverty index is also best number EVER), leagues and teams love coming to the White House. I am a big fan of the American Team, and Women's Soccer, but Megan should WIN first before she TALKS! Finish the job! We haven't yet invited Megan or the team, but I am now inviting the TEAM, win or lose. Megan should never disrespect our Country, the White House, or our Flag, especially since so much has been done for her & the team. Be proud of the Flag that you wear. The USA is doing GREAT!"
Despite Trump's tweet, no invitation to visit the White House was extended to the team after it won the World Cup. More recently, on July 14, Trump further inflamed passions with the following tweet that attacked four women of color who represent Congressional districts in different states.
"So interesting to see 'Progressive' Democrat Congresswomen, who originally came from countries whose governments are a complete and total catastrophe, the worst, most corrupt and inept anywhere in the world (if they even have a functioning government at all), now loudly. and viciously telling the people of the United States, the greatest and most powerful Nation on earth, how our government is to be run. Why don't they go back and help fix the totally broken and crime infested places from which they came. Then come back and show us how it is done. These places need your help badly, you can't leave fast enough."
It was a typical Donald Trump assault – vicious and inaccurate. Three of the four women he attacked were born in the United States. But facts and truth have long been irrelevant to this president.
Trump's conflict with Megan Rapinoe brings back memories of a conversation I had with Gerald Ford in 1989 when I was researching a biography entitled Muhammad Ali: His Life and Times.
Ali was once one of the most reviled men in the America. He had accepted the teachings of a black separatist religion known as the Nation of Islam. Then, at the height of the war in Vietnam, he refused induction into the United States Army after uttering the immortal words, "I ain't got no quarrel with them Vietcong." He was stripped of his championship, precluded from boxing for more than three years, and faced five years in prison before his criminal conviction was overturned by the United States Supreme Court. Through it all, Ali persevered. On October 30, 1974, he dethroned George Foreman to reclaim the heavyweight championship of the world.
Then came an occasion that would have been unthinkable if today's race-baiting president had been in office. On December 10, 1974, at the invitation of Gerald Ford, Muhammad Ali visited the White House.
"When I took office," Ford told me thirty years ago, "we as a nation were pretty much torn apart. There were conflicts between families, in colleges, and on the streets. We'd gone through some serious race problems. The Vietnam War had heightened differences. And of course, there was the heritage of Watergate. One of the major challenges my administration faced was how we could heal the country. Not that everybody had to agree, but at least we should lower our voices and listen to one another. I think that, during the two-and-a-half years I was president, we did that. And having Muhammad Ali come to the Oval Office was part of our overall effort. I felt it was important to reach out and indicate individually as well as collectively that we could have honest differences without bitterness. So I wanted to meet Muhammad, not only because of my interest in sports, but because it was part of my overall effort to heal the wounds of racial division, Vietnam, and Watergate."
How did the meeting go?
"I recall it quite well," Ford reminisced. "I've always been interested in boxing. It goes back to my youth, when I can recall very vaguely Jack Dempsey and Gene Tunney and then, later, Joe Louis. And I've always been a sports enthusiast. I always liked to meet the best in any part of the sporting world, and certainly Muhammad Ali was representative of that group. His visit was an enjoyable time for me. Muhammad never lacked for words, and it was a real pleasure to chat with him. We talked about some of his successes and my interest in sports. I've always respected what he accomplished in boxing. And he was a man of principle. I know there were some who thought he evaded his military responsibility, but I've never questioned anybody's dedication to whatever religion they believe in. I give people the maximum benefit of the doubt when they take a stand predicated on conscience. That's always been my philosophy, so I never joined the critics who complained about what he did and didn't do during the Vietnam War. I accepted his decision."
It's sad how times have changed.
Thomas Hauser's email address is thomashauserwriter@gmail.com. His next book – A Dangerous Journey: Another Year Inside Boxing  – will be published this autumn by the University of Arkansas Press. In 2004, the Boxing Writers Association of America honored Hauser with the Nat Fleischer Award for career excellence in boxing journalism.
Check out more boxing news on video at The Boxing Channel
To comment on this story in The Fight Forum CLICK HERE