Adam Kownacki and Chris Arreola Go to War in Brooklyn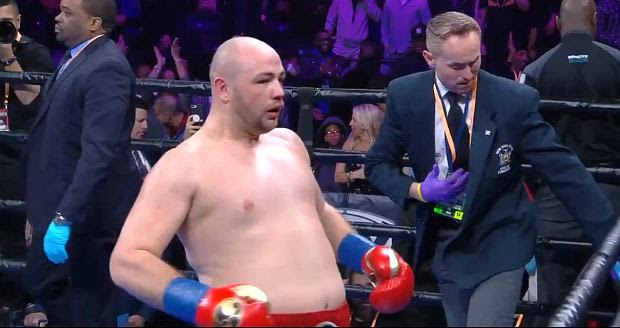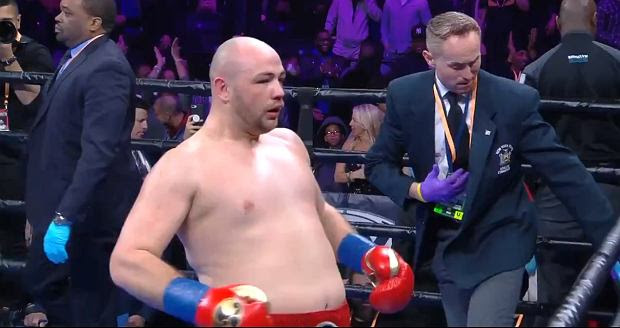 How do you say "Fun Fight?" How do you say "don't miss it?" How do you say excitement? How about Kownacki vs. Arreola at Barclays Center on August 3?
Fighting at Barclays is almost like fighting in Poland for the schmoo-like Adam "Babyface" Kownacki (19-0, 15 KOs). Born in Lomza, Poland, but a resident of Brooklyn since the age of seven, Kownacki will be fighting here for the ninth time, but this time with a difference; he will be in the main event.
"I'm excited to be back…," said the down-to-earth and affable Pole. "Fighting Chris Arreola will be another step on my journey to become a world champion. It will be a Polish-Mexican War that will bring fireworks to Brooklyn."
For his part, Arreola (38-5-1, 33 KOs) has contended for the world heavyweight title three times, most recently against WBC champion Deontay Wilder in 2016. Arreola, 38, has won two straight since losing to Wilder, including a third round stoppage of Haitian Jean Pierre Augustin (17-0-1) in March.
This was on the undercard of the Spence vs. Garcia PPV fight in Dallas. "The Nightmare," weighing a svelte 237 pounds, looked shockingly fit and ready; the look of foreboding on Augustin's face during the announcement said it all. Arreola was in blowout mode (as he often is) and blew away Augustin who was in the wrong place at the wrong time.
"The Nightmare" clearly has fought a higher level of opposition but aside from his bout against the unheralded and tedious Augustin, he hasn't looked in top form since blowing away Seth Mitchell in 2013. Moreover, his experience could be offset by his age, ring mileage, and the younger Kownacki's "home field advantage" at Barclays where he has built up a tremendous fan base.
Arreola said, "I can't wait to step into the ring on August 3 and show everyone I'm still one of the best heavyweights in the world…I feel rejuvenated and ready to upset Adam Kownacki in front of his fans. He better be ready, because I'm going to bring it to him like he's never seen before. This is going to be a war and I will leave with my hand raised."
When Chris's weight is under 250, he is a very dangerous heavyweight, especially in the early rounds. Once he has his opponent hurt, he closes as well as anyone in boxing. This Mexican-American, raised in East Los Angeles, was an accomplished amateur and knows his way around the ring with a solid grasp of fundamentals.
The Ruiz Factor
"I'm just a chubby guy fighting for the everyman, you don't need muscles like Joshua." –Andy Ruiz
Even if "The Nightmare" comes in at a higher weight, he should not be taken lightly given what Andy Ruiz did to Anthony Joshua. Boxing fans now know that looks can be deceiving as the variables of hand speed, stamina, techniques, and ring IQ become more relevant than muscle mass, an issue that this time around will be moot.
Kownacki has been somewhat derided for his Pillsbury doughboy physique with his size seeming to get larger in the lower parts of his body, thus giving him that aforementioned schmoo-like look that older fans will recall from the 50s and 60s. Nevertheless, he has a super-exciting, fan-friendly style. He keeps coming and coming, initiating the stalk at the opening bell, wearing down his opponents with a high punch volume and deceptive power.
His last outing against a panicking Gerald Washington was a blowout, but prior to that he fought a tremendous action fight against Prince Charles Martin which he won over 10 close rounds. While he showed a great chin and tenacity in this one, there were signs that he was tiring late, thus raising the specter of stamina.
Like Arreola, Babyface was an accomplished amateur. He spars a lot with Jarrell Miller—the two are close friends—and he fights in a similar manner except that his shots seem to carry more pop than Big Baby's.
Also on this excellent card, former world champion Andre Berto meets Miguel Cruz in a welterweight clash and unbeaten interim WBA light heavyweight world champion Marcus Browne duels former titleholder Jean Pascal.
Ted Sares is a member of Ring 8, a lifetime member of Ring 10, and a member of Ring 4 and its Boxing Hall of Fame. He also is an Auxiliary Member of the Boxing Writers Association of America (BWAA). He is an active power lifter and Strongman competitor in the Grand Master class.
Check out more boxing news on video at The Boxing Channel
To comment on this story in The Fight Forum CLICK HERE
When Muhammad Ali and Gerald Ford Met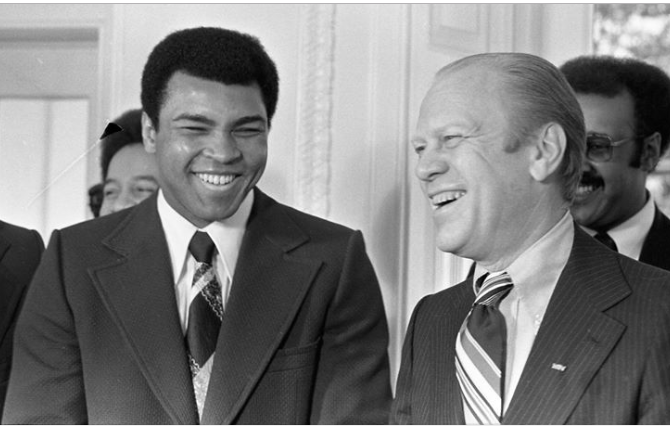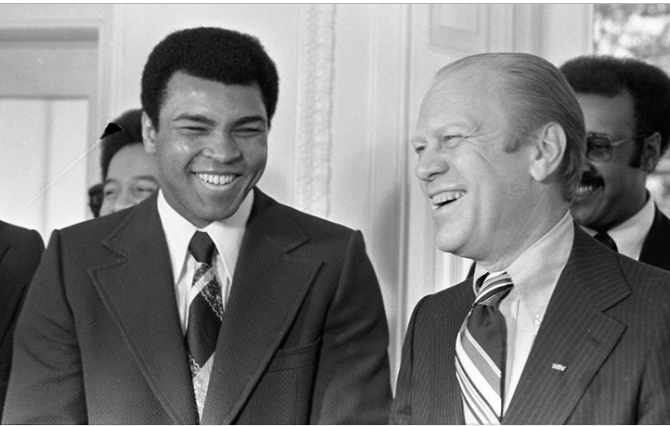 When Muhammad Ali and Gerald Ford Met
On June 25, 2019 – one day after the United States Women's National Team advanced to the quarter-finals of the World Cup – Eight by Eight magazine posted a video clip from an interview conducted in May in which Megan Rapinoe was asked, "Are you excited about going to the White House?"
Rapinoe is white and openly gay. She's also the heart and soul of the United States Women's National Team. On multiple occasions, she has followed Colin Kaepernick's lead and declined to stand for the playing of the National Anthem.
"I'm not going to the f****** White House," Rapinoe responded. "No, I'm not going to the White House." Then, taking note of Donald Trump's proclivities, she added, "We're not going to be invited."
The following day, Trump responded with a three-part tweet that read, "Women's soccer player, @mPinoe, just stated that she is 'not going to the F…ing White House if we win.' Other than the NBA, which now refuses to call owners, owners (please explain that I just got Criminal Justice Reform passed, Black unemployment is at the lowest level in our Country's history, and the poverty index is also best number EVER), leagues and teams love coming to the White House. I am a big fan of the American Team, and Women's Soccer, but Megan should WIN first before she TALKS! Finish the job! We haven't yet invited Megan or the team, but I am now inviting the TEAM, win or lose. Megan should never disrespect our Country, the White House, or our Flag, especially since so much has been done for her & the team. Be proud of the Flag that you wear. The USA is doing GREAT!"
Despite Trump's tweet, no invitation to visit the White House was extended to the team after it won the World Cup. More recently, on July 14, Trump further inflamed passions with the following tweet that attacked four women of color who represent Congressional districts in different states.
"So interesting to see 'Progressive' Democrat Congresswomen, who originally came from countries whose governments are a complete and total catastrophe, the worst, most corrupt and inept anywhere in the world (if they even have a functioning government at all), now loudly. and viciously telling the people of the United States, the greatest and most powerful Nation on earth, how our government is to be run. Why don't they go back and help fix the totally broken and crime infested places from which they came. Then come back and show us how it is done. These places need your help badly, you can't leave fast enough."
It was a typical Donald Trump assault – vicious and inaccurate. Three of the four women he attacked were born in the United States. But facts and truth have long been irrelevant to this president.
Trump's conflict with Megan Rapinoe brings back memories of a conversation I had with Gerald Ford in 1989 when I was researching a biography entitled Muhammad Ali: His Life and Times.
Ali was once one of the most reviled men in the America. He had accepted the teachings of a black separatist religion known as the Nation of Islam. Then, at the height of the war in Vietnam, he refused induction into the United States Army after uttering the immortal words, "I ain't got no quarrel with them Vietcong." He was stripped of his championship, precluded from boxing for more than three years, and faced five years in prison before his criminal conviction was overturned by the United States Supreme Court. Through it all, Ali persevered. On October 30, 1974, he dethroned George Foreman to reclaim the heavyweight championship of the world.
Then came an occasion that would have been unthinkable if today's race-baiting president had been in office. On December 10, 1974, at the invitation of Gerald Ford, Muhammad Ali visited the White House.
"When I took office," Ford told me thirty years ago, "we as a nation were pretty much torn apart. There were conflicts between families, in colleges, and on the streets. We'd gone through some serious race problems. The Vietnam War had heightened differences. And of course, there was the heritage of Watergate. One of the major challenges my administration faced was how we could heal the country. Not that everybody had to agree, but at least we should lower our voices and listen to one another. I think that, during the two-and-a-half years I was president, we did that. And having Muhammad Ali come to the Oval Office was part of our overall effort. I felt it was important to reach out and indicate individually as well as collectively that we could have honest differences without bitterness. So I wanted to meet Muhammad, not only because of my interest in sports, but because it was part of my overall effort to heal the wounds of racial division, Vietnam, and Watergate."
How did the meeting go?
"I recall it quite well," Ford reminisced. "I've always been interested in boxing. It goes back to my youth, when I can recall very vaguely Jack Dempsey and Gene Tunney and then, later, Joe Louis. And I've always been a sports enthusiast. I always liked to meet the best in any part of the sporting world, and certainly Muhammad Ali was representative of that group. His visit was an enjoyable time for me. Muhammad never lacked for words, and it was a real pleasure to chat with him. We talked about some of his successes and my interest in sports. I've always respected what he accomplished in boxing. And he was a man of principle. I know there were some who thought he evaded his military responsibility, but I've never questioned anybody's dedication to whatever religion they believe in. I give people the maximum benefit of the doubt when they take a stand predicated on conscience. That's always been my philosophy, so I never joined the critics who complained about what he did and didn't do during the Vietnam War. I accepted his decision."
It's sad how times have changed.
Thomas Hauser's email address is thomashauserwriter@gmail.com. His next book – A Dangerous Journey: Another Year Inside Boxing  – will be published this autumn by the University of Arkansas Press. In 2004, the Boxing Writers Association of America honored Hauser with the Nat Fleischer Award for career excellence in boxing journalism.
Check out more boxing news on video at The Boxing Channel
To comment on this story in The Fight Forum CLICK HERE
Tureano Johnson Stops Ireland's Jason Quigley at Fantasy Springs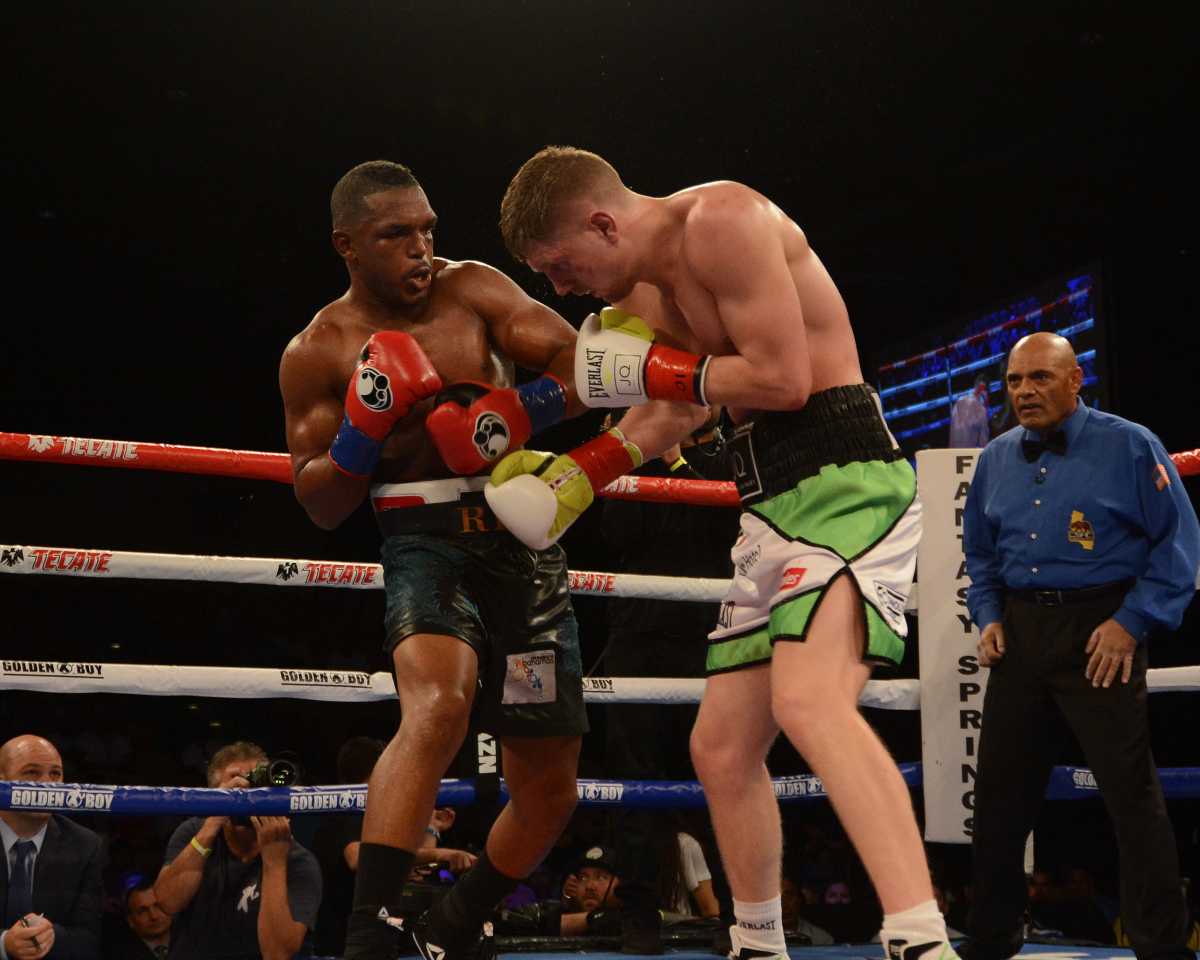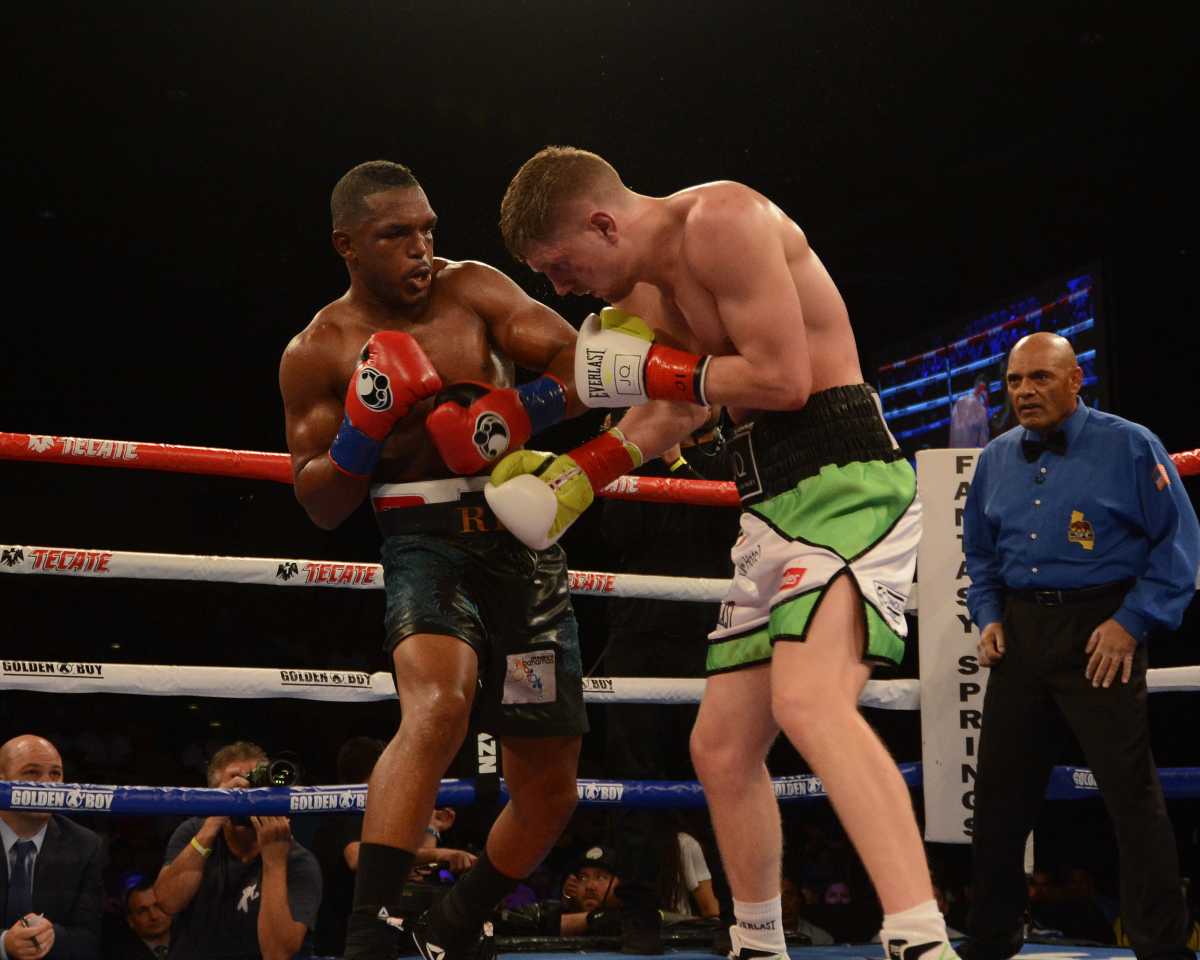 INDIO, Calif.-Tureano Johnson bulled his way to victory over Ireland's Jason Quigley to hand the middleweight his first loss and take the NABF middleweight title away by knockout on Thursday evening.
It was a battle of two middleweight contenders on the cusp of challenging for a world title soon.
Bahamian fighter Johnson (21-2-1, 15 KOs) showed a crowd at Fantasy Springs Casino accustomed to seeing Quigley (16-1, 12 KOs) win, but instead they saw him suffer his first defeat. It's back to Ireland.
At one time Johnson was nearly selected to fight for a world title against Gennady "GGG" Golovkin or David Lemieux, but he was derailed first by Curtis Stevens and then Sergiy Derevyanchenko. He knew exactly what this fight meant to his career.
Quigley had trained for several years in Southern California, but more than a year ago he decided to return closer to home in the United Kingdom. But fighting at Fantasy Springs Casino is familiar territory for the Irish boxer. He had previously performed at the casino in Indio six previous times.
Number seven was not so lucky.
Quigley started off quickly by using a stiff jab and stiff rights while pivoting left or right against the rushes of Johnson. For the first two rounds he was on point and won the two rounds.
The third round saw Johnson amp up the pressure and switch to a southpaw stance. He pummeled Quigley who was stuck along the ropes. The next round was even worse for Quigley as Johnson connected with a body shot that seemed to drain Quigley of any color. His hands went down and Johnson worked with uppercuts and slick counters. The momentum had dramatically shifted to Johnson.
It was all Johnson from that point on as he dominated Quigley on the inside. The Irish fighter seemed drained of blood and could hardly fire a punch with any energy. It became clear that Quigley had no more strength to fend off the attacks of Johnson. Though he was battered the rest of the way he never succumbed to the tremendous uppercuts and right hands. At the end of the ninth round referee Eddie Hernandez consulted with the ringside physician and declared the fight over. Johnson was the winner by knockout.
"I come inside this ring with so much on my back. That struggle is behind me now. I come ready for this boy, he got heart. I threw the kitchen sink on him and he don't quit," said Johnson after the win. "I'm here to be a world champion. I want a Canelo, I want a Daniel Jacobs, I want them all."
NABA Super Bantamweight Fight
A battle between Mexican and Argentine warriors saw Mexicali's Leonardo Baez (16-2, 9 KOs) outslug the former Argentine Olympian Alberto Melian (5-1, 3 KOs) to take the NABA super bantamweight title by unanimous decision.
Baez started quickly with an aggressive pounding attack that didn't allow Melian to gain traction. By the time the Argentine fighter figured out what to do it was far too late. After 10 rounds all three judges saw it 97-93 for Baez. Both fighters showed tremendous ability to absorb big blows.
The win gives Baez a foothold on a possible showdown against WBA world titlist Danny Roman.
Marlen
NABO female flyweight titlist Marlen Esparza showed Mexico's Sonia Osorio she was the quicker fighter by simply beating her to the punch for the first six rounds. In the last two frames Osorio seemed to catch up with Esparza's speed and began timing the incoming blows. Still, it wasn't enough to take the regional title away as all three judges scored in favor of Esparza 79-73 twice and 78-74. There were no knockdowns in the fight that saw the former Olympian score repeatedly with right hands.
"I think I did alright," said Esparza. "I didn't like that she kept putting her head in my chest. The ref didn't call it but at least he was letting us fight. I eventually found my timing and started catching her with the right hand"
It was Esparza's second fight this year after spending a year off for marriage and giving birth.
Other Bouts
A flyweight fight saw two knockdowns with the first two blows fired by Rialto, Calif.'s Ricardo Sandoval (16-1, 11 KOs) who then was dropped himself by Oceanside, Calif.'s Marco Sustaita (12-2-1, 10 KOs) all in the first round.
In the second round Sustaita floored Sandoval again with a counter left hook that evened the fight on the score cards. But after that knockdown Sandoval took over by using jabs and movement. He won every subsequent round.
Sandoval boxed and moved and kept Sustaita off balance. And when it was advantageous Sandoval caught his opponent with right leads and uppercuts. It was a lead right that wobbled Sustaita in the fifth round and Sandoval jumped on the opportunity to close out the fight with six more solid blows. Referee Eddie Hernandez stopped the fight at 1:16 of the fifth round to give Sandoval the WBC Youth Intercontinental title by knockout.
Carlos Morales (19-4-3, 8 KOs) didn't waste time in showing his boxing superiority over Philippine southpaw Rosekie Cristobal (15-5, 11 KOs) and winning by knockout in the lightweight clash. Morales took advantage of Cristobal's wide lefts and rights and shot a counter right down the middle to knock down the Filipino in the second round. Cristobal got up but was hit with a three-punch combination and sent back down with a thud. Referee Rudy Barragan counted the Filipino fighter out giving Morales the win by knockout at 1:08 of the second round.
Paramount's Charles Huerta (21-6, 12 KOs)) was cruising along when either a punch or head butt bloodied his nose and Recky Dulay (11-6, 8 KOs) took advantage in the last three rounds. But it was a little too late as Huerta had used a stiff jab and right uppercuts to mount a big lead. After eight rounds in a lightweight bout the judges scored it 78-74 twice and 77-75 for Huerta.
Coachella's Anthony Reyes (7-0, 4 KOs) clashed heads with Washington's Gilberto Duran (3-4, 3 KOs) but it didn't slow him down from flooring the Yakima super bantamweight in the first round with a left hook. Duran survived the first knockdown but Reyes opened up with a furious attack including a three-punch combination that sunk Duran again for good. Referee Raul Caiz Jr. stopped the fight at 2:10 of the first round giving Reyes the win by knockout.
Photo credit: Al Applerose
Check out more boxing news on video at The Boxing Channel
To comment on this story in The Fight Forum CLICK HERE
Trey Lippe-Morrison Poised to Rejoin the Ranks of Hot Heavyweight Prospects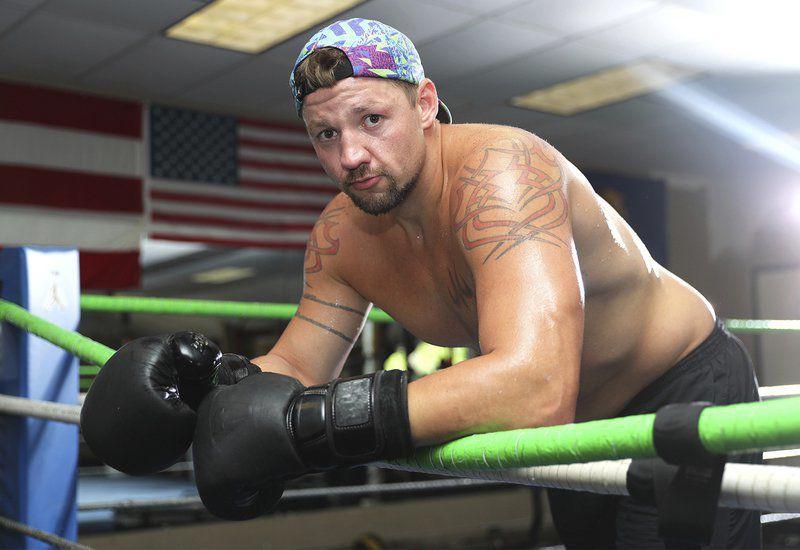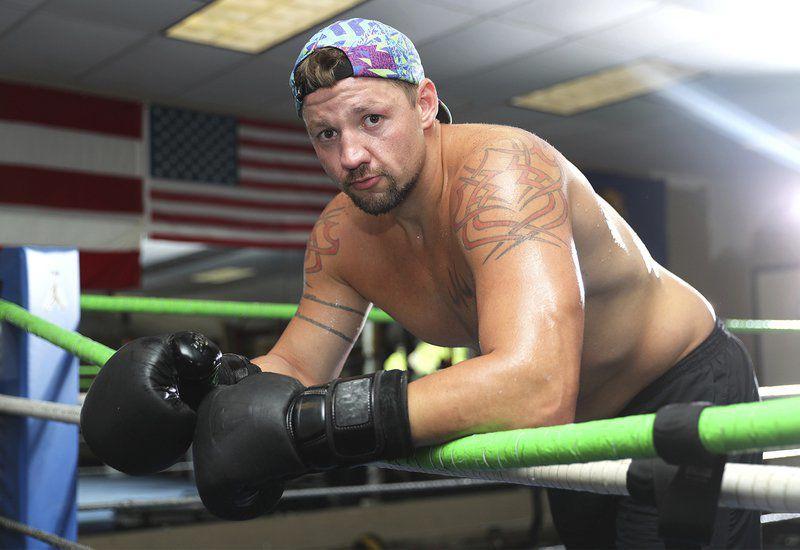 Ask a knowledgeable boxing enthusiast to name the top heavyweight prospects and the names of Daniel Dubois, Efe Ajagba, and Filip Hrgovic are likely to fall off his lips. It's doubtful he would name Trey Lippe-Morrison but Lippe-Morrison was in that conversation before he fell off the radar screen.
The buzz about Lippe-Morrison was initially all about genetics. He bears an uncanny resemblance to his late father, Tommy "The Duke" Morrison. Tommy the Duke, who died in 2013 at age 44, was an exciting fighter with a fearsome left hook who could fight a smart, tactical fight when the situation warranted as he showed in his 1993 match with ageless George Foreman.
Lippe-Morrison is out to prove that he's something more than a sideshow and he has certainly taken care of business. Last night in San Jose, Costa Rica, carrying 230 pounds on his six-foot-three frame, Trey scored his 16th knockout in as many tries with a sixth-round stoppage of Venezuela's Pedro Martinez.
Trey is managed by Tony Holden, the former Director of Boxing at the Buffalo Run Casino and a longtime boxing facilitator in Oklahoma. Holden nurtured Tommy Morrison into a world class fighter and believes that Trey has the potential to be just as good.
"It's unbelievable how he resembles his father (in the ring)," Holden told a reporter for the Joplin Globe as Trey was preparing for his pro debut. "He cracks like his father, meaning he's a big puncher. When I first saw him after two months of work, I was blown away."
In reality, Trey looked very amateurish in his early pro fights. That was understandable as he had no amateur background whatsoever. He did not consider a career in boxing until he had used up his eligibility at Central Arkansas University where he was a member of the football team.
Holden shipped him off to Freddie Roach's famous Wild Card gym to smooth out the wrinkles. The results were encouraging. Lippe-Morrison was never better than in his fight with Pittsburgh's previously undefeated (13-0) Ed Latimore who was wacked out in the opening round.
That fight was back in September of 2016 and Trey has had only four fights in the interim. He missed all of 2017 with assorted injuries including a deep gash over his left eye sustained while sparring. He was slated to fight on a Top Rank/ESPN card in Oklahoma City in November of last year but had to pull out with a foot ailment.
Prior to last night's fight, Lippe-Morrison had answered the bell for only 25 rounds. He was extended into the sixth by Martinez, an unsung 35-year-old fighter with a 10-1 record against no-name opponents who had been a pro for only four years. As the bout wore on, Trey appeared content to wear Martinez down with body punches. When Martinez dropped his gloves after absorbing a hard body shot in the opening minute of round six, the ref waved it off.
Although Lippe-Morrison remains a work in progress, it's past time for Holden to crank up his level of competition. Writing in July of last year, Tulsa World reporter Bill Halston likened the mass of Trey's former opponents to the Savannah State football team of 2012 that played Oklahoma State, losing 84-0. But Trey remains an intriguing prospect and if he really can crack like his late father he may well make big waves in boxing's glamour division.
—-
The Lippe-Morrison fight was on the undercard of a 4-bout DiBella Entertainment promotion featuring Hannah Gabriels. Perhaps Costa Rica's most famous sports personality, Gabriels (20-2-1), a three-time, two-division title-holder, successfully defended her WBA female 154-pound title with a 10-round unanimous decision over Argentina's previously undefeated Abril Vidal, now 8-1. The scores were 96-94 and 97-93 twice.
Also, Houston junior welterweight O'Shaquie Foster improved to 16-2 (11) with an eighth-round stoppage of Peru's Jesus Bravo (19-2-1). It was the sixth straight win for Foster, the subject of a recent profile in these pages.
Photo credit: Mikey Williams for Top Rank
Check out more boxing news on video at The Boxing Channel
To comment on this story in The Fight Forum CLICK HERE