Three Punch Combo: Looking Ahead to the 2020 IBHOF Class and More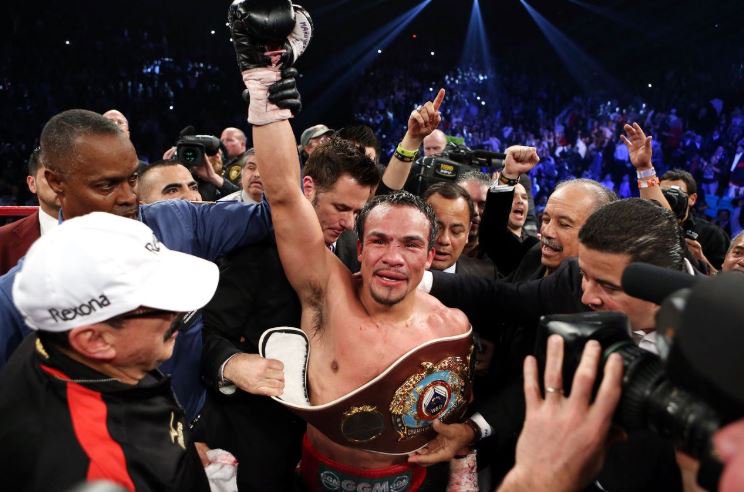 THREE PUNCH COMBO — Last weekend, the International Boxing Hall of Fame in Canastota, NY, held its annual induction ceremony. Julian Jackson, Donald Curry and James "Buddy" McGirt were enshrined in the modern category. With the 2019 induction weekend now complete, it is now time to look forward to the IBHOF 2020 class in the modern category.
For those not familiar with the process, each year three boxers are elected in the modern category. No more and no less. The modern category is comprised of fighters who had their last bout no earlier than 1989 and have been retired from the sport for five years. So to be considered for the 2020 ballot, the boxer's last fight would need to be no later than 2014.
Last year's class was dominated by holdovers who weren't elected to the IBHOF the first time they were eligible and appeared on the ballot multiple times before finally getting inducted. We also saw something similar in 2016. But for the class of 2020, we have a strong list of first time eligible candidates and given the current voting criteria it is probable that the class of 2020 will be comprised of fighters from this list.
The five notable first time eligible candidates are Juan Manuel Marquez (56-7-1, 40 KO's), Sergio Martinez (51-3-2, 28 KO's), Carl Froch (33-2, 24 KO's), Jorge Arce (64-8-2, 49 KO's) and Marcos Maidana (35-5, 31 KO's).
Of the five, I think Arce and Maidana can safely be eliminated from serious consideration for the class of 2020. They don't have near the resumes of the other three.
Juan Manuel Marquez (pictured) would seem to be a lock. He is a former multi-division champion who fought in some of the most prominent fights of his era and holds wins against some of the best fighters of his generation. This includes wins over Hall of Famer Marco Antonio Barrera and future Hall of Famer Manny Pacquiao.
Sergio Martinez is also a lock. The Argentine may have been a late bloomer but he had a dominant four-year middleweight title reign after defeating Kelly Pavlik in 2010 for the title. During this reign he scored an emphatic second round knockout of Paul Williams which avenged a previous loss and won a decisive 12-round decision over Julio Cesar Chavez Jr.
I sense there will be some debate regarding Froch but I think he will get the nod his first time around. He is a former 168-pound champion and has an incredibly deep resume that includes wins against many of the best in the division of his era. Of his two losses, one was avenged to Mikkel Kessler and the other was to future first ballot Hall of Famer Andre Ward. The resume just speaks for itself and should be more than enough to earn Froch enshrinement on his first go-around.
Of the holdovers, the two most likely to push Froch for the third and final spot are Rafael Marquez (41-9, 37 KO's) and Vinny Paz (50-10, 30 KO's). Marquez garnered a lot of support in his first year of eligibility last year and a lot were surprised when he did not make the final cut. With his brother likely getting inducted this coming year, there could be a push to put the brothers in together. As for Paz, he also picked up some steam last year and seemed to sway more voters to his side.
The Case For Yaqui Lopez
Every year I like to touch upon some fighters who I feel have gone overlooked by IBHOF voters. In past years for example, I have made cases for both Kevin Kelley and Junior Jones. This year, I wanted to go back a little further to a different era and point out a fighter who I think deserves serious consideration in Yaqui Lopez (61-15, 39 KO's).
Lopez never won a world title and I am quickly reminded of that whenever I bring up his candidacy. He fought in an era that not only did not have an abundance of title belts but also featured some of the all-time greats of the light heavyweight division. Lopez lost two close decisions in world title bids to Hall of Famer Victor Galindez. Lopez also was competitive on two occasions in challenging Matthew Saad Muhammad for his light heavyweight title. Their second fight in 1980 was the Ring Magazine Fight of the Year. And Lopez also gave future Hall of Famer Michael Spinks a test before being stopped in the seventh round.
The losses were competitive to these all-time greats. In any other era Lopez would have been a world champion. But there are yet many good wins on his resume, most notably a sixth round stoppage of Mike Rossman in March of 1978. Six months later, Rossman would knock out the aforementioned Galindez to become the light heavyweight champion.
There is another side to the argument for Lopez. Some people hate when I mention this but entertainment matters when considering candidates qualifications. The floodgates were opened by voters in this regard with the elections of Arturo Gatti and Ray "Boom Boom" Mancini and there is no going back. Lopez was not only a very accomplished fighter but one of the most exciting fighters of his era, he was involved in many memorable wars. Add this fact to his resume and Lopez more than meets all the criteria to be inducted into the IBHOF.
Under The Radar Fight
 ShoBox returns on Friday from the WinnaVegas Casino & Resort in Sloan, Iowa with a tripleheader featuring six fighters with a combined record of 91-1. Though I am very interested in all the fights, I am especially interested in the main event, a 154-pound contest between fast rising prospect Sebastian Fundora (12-0, 8 KO's) and Hector Manuel Zepeda (17-0, 4 KO's).
Fundora stands 6'7" tall and is appropriately nicknamed "The Towering Inferno." For a man who stands that tall, he is incredibly athletic and fluid inside the ring. Working from a southpaw stance, Fundora likes to use his height to pepper his opponents from the outside with a sharp right jab. He will work very fluid, heavy handed combinations behind that jab and makes his opposition pay a heavy toll when they attempt to close the distance. And if opponents do manage to get inside, Fundora has shown himself to be a very accomplished fighter at close range.
Defensively, Fundora has some things to clean up. He tends to get involved in exchanges and when he does so will stand straight up with his chin exposed. He's been clipped clean on a few occasions and that will need to be corrected as he moves up in caliber of competition.
There is not a lot of video available on Zepeda but from what I have seen he is a technically astute fighter. He is a boxer puncher by trade who will use frequent lateral movement working behind the left jab from the orthodox stance. Zepeda likes to be first instead of looking for counters and from the fights I have seen has shown to be a volume puncher. As the record indicates, however, he is not a big puncher.
If Zepeda fights the way that I have seen on video, I think we are going to get a fast paced, good action fight. Fundora is clearly the "A" side here and is supposed to win. But make no mistake, Zepeda can fight and this is a step up in class for Fundora.
This is a classic ShoBox fight in which the "A" side could get pushed and I am very interested to see this one on Friday.
Check out more boxing news on video at The Boxing Channel
To comment on this story in The Fight Forum CLICK HERE
Wilder vs. Fury: What History Tells Us About the Boxer and the Puncher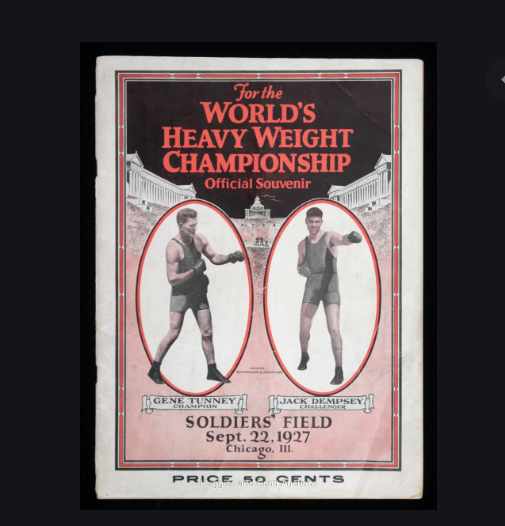 Jack Dempsey was "so badly out-boxed and out-classed" according to pre-eminent newspaper man Damon Runyon "he seemed more of a third-rater than one of the greatest champions that ever lived."
"Gene Tunney is the best man I ever fought," said Dempsey himself. "But if we ever meet again, I'll beat him. There's no maybe about that, either. He's a grand man and a great fighter, but I know I can stop him."
"Time after time," wrote ringside reporter David Avila of the first Deontay Wilder-Tyson Fury fight, "Wilder's windmill rights hit air." But here the Dempsey-Tunney comparisons end. Wilder did find Fury, dropping him "hard and seemingly for good" in the twelfth, Fury undertook his miracle recovery and the unsatisfactory draw was rendered.
What about this Saturday's rematch? And what about the Tunney-Dempsey rematch? And what about other heavyweight rematches where the puncher and the boxer met for a second time, and what do they tell us about the upcoming meeting between the best and second-best heavyweight on the planet?
The first months of boxer Gene Tunney's heavyweight championship reign were troubled. He incurred the wrath of New York's press and public who preferred their champions humble and brutal. Tunney was neither and was actually booed in Madison Square Garden when presented to the crowd two weeks after his triumph. Dempsey was subjected to a two-minute standing ovation that same night, a new experience for him.
Dempsey, the puncher, wrestled with uncertainty about his fistic future before matching the mercurial Jack Sharkey, who was immediately installed as an 8-5 favorite. Here parallels begin to emerge between Dempsey and Wilder who both elected to meet serious opposition behind their nightmare encounter with pure boxers, although Wilder certainly wasn't an underdog for his November 2019 encounter with Luis Ortiz. Ortiz, like Sharkey, was technically superb and more skilled than his respective punching opponent. Just as Ortiz was able to outbox Wilder throughout their contest, Sharkey set all kinds of problems for Dempsey who struggled to impose himself despite Sharkey's determination to fight him in the pocket.
And like Ortiz, Sharkey fell victim to a brutal knockout though Dempsey's victory was awash with controversy and the accusation of a finishing low blow that even modern analysis of fight footage cannot settle. Each man was rescued by his power in a significant fight staged before their respective rematches. But how did Dempsey fare with Tunney second time around?
What was both different and exciting about the second fight was Tunney's overwhelming confidence in meeting Dempsey's fire with fire. He didn't seek a brawl, but he did seek to smother Dempsey's work on the inside while sharing space with him. Tunney had experienced Dempsey and found him wanting; he dominated their first fight so completely that he feels, now, that he can take certain liberties with his man.
Fury talks like this may be his own thinking. He feels, and is right in my view, that his dominance in the first fight was legitimate, for all that he found himself on the ground looking up. He now talks openly about knocking Wilder out. There is a certain kind of consistency in his thinking; he ruled before and so can rule more directly now. He's also hyping a fight though, and we all know how that works.
Fury should note that Tunney went straight back to the box-and-move strategy that brought him success in the first fight; he should also note that Tunney was able to hurt Dempsey by bringing him on to accurate punches he himself was sitting down on, especially in the fourth. Finally, it's worth noting that after ten hot rounds it was Dempsey, not Tunney, who was struggling to reach the final bell despite the latter's trip to the canvas in the seventh. Just like Fury, Tunney climbed from the canvas and by the end of the round was out-boxing the puncher.
In summary, Tunney became a little over-confident, much to the disgust of his cornerman Jimmy Bronson who repeatedly warned him that he was becoming neglectful of the Dempsey left. For Dempsey, there appears to be no secured advantage from having previously boxed ten rounds with Tunney. He drew a comparable blank to his first effort, despite the knockdown.
Billy Conn was unable to recreate Gene Tunney's success against the even more fearsome Joe Louis in the 1946 rematch of their legendary 1941 encounter. In that first fight, Conn, contrary to the popular retelling, hadn't so much hit and run as stayed in the champion's wheelhouse and tried to stay on him, a declared strategy but one Conn surprised everyone by following through on. In the second fight, Conn froze: "this is going to be the worst fight ever" he told his father-in-law minutes before the ringwalk. Here the balance of power shifted in favor of the puncher mainly due to the ravages of time and the excessive toll they take on the boxer's legs as opposed to the puncher's power; Conn substituted his fighting retreat of five years before with a straight-up retreat and was dusted off in eight.
Louis excelled in rematches. Lee Ramage made it to the eighth in their first contest but seemed near death such was the destruction of the knockout he suffered in just two rounds of their rematch.  Max Schmeling, famously, out-boxed and out-thought the great Brown Bomber in their first fight in 1936 but was summarily executed in a single round of their rematch. Bob Pastor made Louis "look silly" according to some, and even managed to win a couple of rounds of their 1937 contest; Louis became the first man to stop him in their 1939 rematch. Godoy, Simon, Buddy Baer, all suffered terribly in rematches for one reason: Louis had learned how they moved.
This is the real disaster for any box mover and although he excelled in rematches against all styles, Louis is the ultimate example of this. He may have struggled to find his man on occasion, but once he did, he had found him forever.
Most famously of all, this fate befell Joe Walcott, who extended Louis the full fifteen in the first fight but was brutally dispatched in the rematch. Walcott was a master boxer, a man so smooth he seemed to have been poured rather than born, but he was as susceptible to the heatseeking puncher as the next man. He bedeviled Rocky Marciano in 1952, seemed ahead of him at every turn until, finally, caught by the Rock in the thirteenth he was undone. In the second fight, the puncher found the boxer in just a single round, Walcott decoded by Marciano just as he had been by Louis.
What about Wilder?  Does he have that kind of fighting IQ?  Can he unravel a boxer of Tyson Fury's quality having put a serious glove on him twice in the first fight?
It's a confused picture, but there is data: Wilder has boxed two interesting rematches.  The first was against Bermane Stiverne in 2017, having previously handily out-boxed him in 2015. As a promotional prospect it hardly set the grass alight, but in fairness, Stiverne had remained ranked and fought in one of Wilder's more reasonable title defenses. The fight itself was butchery, and if it were to be analyzed as a part of a pattern it wall fall firmly onto the Louis side of the equation: Wilder learned about Stiverne in the first fight and crushed him in the second fight.
Wilder's more recent rematch with Ortiz contradicts that notion. It ended, once again, in a savage knockout for Wilder, and that, once again, hints at his having unlocked his man, but in fact Ortiz was once more completely out-boxing Wilder at the time of the stoppage. Wilder, I thought, was even beginning to become a little uncertain.
By the time of the second Stiverne fight Stiverne was on the slide having last won a meaningful fight nearly four years previously, and but one more fight and loss from retirement. Wilder had also improved, and some of his gliding offense belied his reputation at times. The combination is what makes Wilder's destruction of Stiverne look so Louis-like, I think.
In the second fight with Ortiz, we saw a truer Wilder. Tyson Fury has named him "a seven-year-old with an AK-47."  This sounds a little like Furybabble, but it's actually rather succinct. Wilder is indeed over-armed relative to his technique and he throws punches that are wildly under-schooled. But that is a part of what makes him so dangerous.
Re-watching him in the second Ortiz fight I was struck by the notion of a wind-up toy rather than a child, a persistent and vitally dangerous one. Wilder didn't so much decode his opposition as deploy himself with consistent venom and opportunism. It's a fundamental and sinister combination that clearly makes him difficult to face but I don't think he's learning in the way Louis or Marciano learned. I think he's "just" improving, and a heinous puncher.
What that means for the Wilder-Fury rematch is that the specific nature of the contest will be decided by Fury. It will be he who decides whether to try to out-box the puncher while moving as we saw in Dempsey-Tunney, smother and out-fight the puncher as we saw in Louis-Conn I, or even duel the puncher, something like what we saw Archie Moore try with Marciano. Fury decides. Wilder will just be Wilder.
It all comes down then to Fury's choice and to each man's relative preparedness for it. Has Wilder guessed right?  And has Fury? A poor selection on strategy would be disastrous.
Lastly, have I got this wrong?  If Wilder decoded Stiverne for the devastating second knockout, if he decoded Ortiz thereby stopping him sooner, if he's channeling Joe Louis in seeing more the second time around, I think there is only one possible winner, whatever version of Tyson Fury shows.
Check out more boxing news on video at The Boxing Channel 
To comment on this story in The Fight Forum CLICK HERE
The Javan 'Sugar' Hill Factor, a Wild Card in the Fury-Wilder Rematch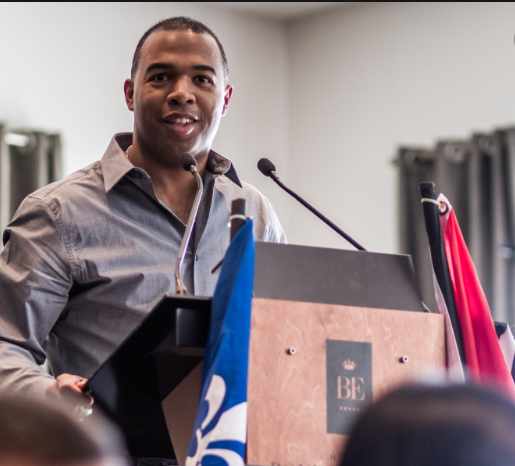 True "pick-'em" fights don't come down the pike very often, but Saturday's rematch between Deontay Wilder and Tyson Fury is about as close as it gets. At last look, most shops listed Wilder a very slight favorite. A professional bettor with a range of off-shore accounts at his disposal could lock in a wager at "even money" no matter which side he fancied. But ferreting out the ultimate winner is a head-scratcher, at least for most people, or so it seems.
The first Wilder-Fury encounter was memorable. On Saturday when they renew acquaintances, Tyson Fury will have a new trainer in charge of his corner. Two months ago, in mid-December, the Gypsy King announced that he had hired Javan "Sugar" Hill to help him prepare for the rematch.
Fury is turning back the clock. Back in 2010, with 10 pro fights under his belt, Fury spent a month at the Kronk Gym in Detroit where Hill worked as the chief assistant to his uncle, the late Emanuel Steward. Fury was there with his cousin, the future WBO middleweight title-holder Andy Lee who had turned pro under Steward's tutelage after representing England in the 2004 Olympics. Fury recalls that he would have stayed in Detroit longer but could not bear to spend more time away from his wife and baby daughter. (Mr. and Mrs. Fury, Tyson and Paris, now have five children.)
Javan "Sugar" Hill, a former Detroit policeman who became the cornerstone of the Kronk Gym operation following the death of his uncle in 2012, was hired to improve Fury's punching power. But is that possible?
"Power is one thing that can't be mentored," says long-time Montreal Gazette sportswriter Herb Zupkowsky, echoing a widely-shared opinion. "It's a God-given talent. A fighter has it or he doesn't. It's that simple." (It's also worth noting that Fury stands six-foot-nine and that, historically, tall heavyweights don't hit all that hard.)
That being said, it is a fact that Javan Hill, 49, has been in the company of some of the sport's most fearsome punchers. He witnessed up close the evolution of  Thomas Hearns. As a pro, the "Hit Man" was never better than on the night he knocked Roberto Duran into dreamland with a bombshell of a right cross, leaving the legendary Duran splattered face first on the canvas in the center of the ring.
Four years after Hearns flattened Duran, another fighter who would become known as a great knockout artist, Michael Moorer, turned pro under the Kronk Gym banner. Moorer won his first 26 fights inside the distance, nine in the opening round, before being extended the full "10" by six-foot-10 Mike "The Giant" White, about whom it was said that his punches couldn't crack an egg.
Javan "Sugar" Hill was involved only peripherally in the pro career of Moorer, but Steward entrusted him with rising light heavyweight contender Adonis Stevenson and they became a formidable duo. In 2013, Stevenson won the WBC (and lineal) light heavyweight title with a spectacular one-punch, first-round knockout of Chad Dawson.
But that wasn't the most devastating one-punch knockout that Hill helped orchestrate. On Jan. 28, 2005, Johnathon Banks, carrying 193 pounds on his six-foot-three frame for his fifth pro fight, knocked out an Ohio journeyman named Arterio Vines in 31 seconds. This was a frightening knockout. It would be several minutes before Vines could be revived and a good 10 minutes before he could leave the ring on his own power. (Banks left the sport in 2015 with a record of 29-3-1 and, like his Kronk buddy Javan "Sugar" Hill, is now a prominent trainer.)
Leverage and torque are the keys to landing hard shots and neither is possible without the proper balance. Following Adonis Stevenson's blowout of Chad Dawson, Hill was asked what was Stevenson's chief asset. "His balance is exceptional," he told the aforementioned Zupkowsky. "That's why he's bringing more and more punching power, from his balance. He can throw jabs and hurt you. He can throw hooks, body shots, left hands. Every punch is a dangerous punch."
Interestingly, Tyson Fury  cited his need to be better balanced as the reason he hooked up with Hill. "I've always had this God-given athleticism and mobility, but while that herky jerky movement puts opponents off, I don't only want to make 'em miss, I want to make 'em miss and make 'em pay. This time I will be balanced and set to make Deontay pay when he misses," he told Jeff Powell of the Daily Mail.
Fury was inactive for 31 months after deposing long-reigning heavyweight champion Wladimir Klitschko in November of 2015. During his hiatus, as is well-documented, he battled depression and addictions and his weight ballooned to almost 400 pounds. He returned to the sport with a new trainer, Ben Davison.
That was a surprising choice as Davison was relatively obscure and four years younger than Fury. But in hindsight — and hindsight is always 20/20 — that was a smart pick. Fury's first order of business was to push away his demons and get his body back in shape and Davison, who would come to define his role as that of a trainer, psychologist, physiologist, and nutritionist, was foremost a conditioning coach. He was the right man for the job.
Now that he has his act together, Fury doesn't need a psychologist or physiologist to baby him back to what he used to be. Now the main emphasis is on sharpening his ring tools. Enter Javan "Sugar" Hill, the man from Kronk. (Ben Davison says he has no ill-feelings; that he and Tyson will always remain friends.)
Like most people with whom we have compared notes, we have no firm conviction as to who will win Saturday's big fight. But the Javan "Sugar" Hill factor tilts us Tyson's way, if only for the moment.
Check out more boxing news on video at The Boxing Channel 
To comment on this story in The Fight Forum CLICK HERE
132,000-Plus….A Boxing Attendance Record Unlikely to Ever be Broken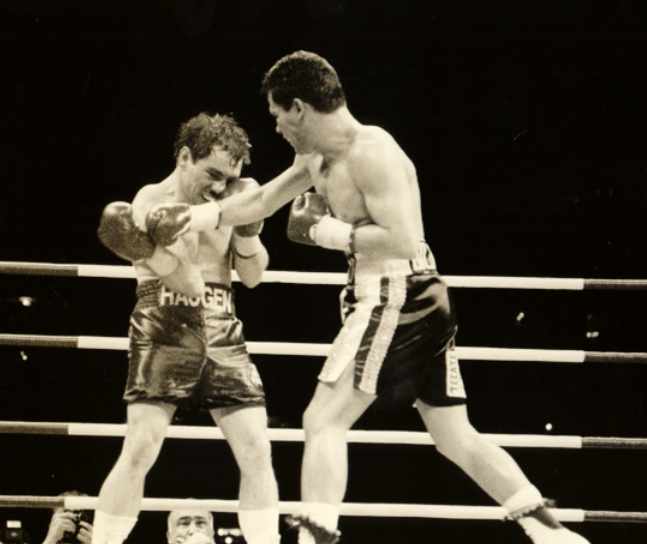 You always hear that records are meant to be broken, but, barring a stunning change in national policy by a Communist country unwelcoming to outsiders, the 132,000-plus that turned out to see Julio Cesar Chavez pummel Greg Haugen on Feb. 20 1993, at Mexico City's Estadio Azteca likely will forever stand first for live attendance for a boxing event.
Chavez's intentionally cruel thrashing of the lippy Haugen enabled the Mexican national hero variously known as "JC Superstar" and El Gran Campeon to successfully defend his WBC super lightweight title for the 10th time. That fight was the capper to an incredibly deep card dubbed the "Grand Slam of Boxing" by promoter Don King, which also featured title retentions by such top-shelf attractions as Azumah Nelson, Terry Norris and Michael Nunn. But make no mistake, those outstanding fighters – Nelson and Norris, like Chavez, have been inducted into the International Boxing Hall of Fame – merely served as fillers until the main event. The massive crowd might have been nearly as large and boisterous had the only scheduled bout been the white-hatted Chavez vs. Haugen, the presumptive American villain.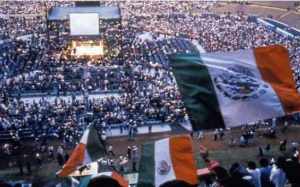 The announced attendance of 132,247 for a showdown fast approaching its 27th anniversary shattered the previous high for a boxing event, the 120,470 that filled Philadelphia's Sesquicentennial Stadium on Sept. 23, 1926, to see Gene Tunney lift Jack Dempsey's heavyweight title on a 10-round unanimous decision. (A crowd estimated at 135,000 turned up in a public park in Milwaukee to see Tony Zale fight Billy Pryor on Aug. 16, 1941, but that doesn't count as there was bleacher seating for only a few thousand and the event was free for everyone.)
The recent incidence of stadium bouts with impressively large gatherings – 90,000 jammed London's Wembley Stadium on April 29, 2017, to watch Great Britain's Anthony Joshua retain his WBA and IBF heavyweight titles on an 11th-round TKO of long-reigning previous champion Wladimir Klitschko – hints at more large throngs willing to leave the comfort of their living rooms to see live boxing, but no promoter can fit a gallon into a quart bottle. Live attendance at least partially hinges on how much space there is in a place, and there is only one stadium that presently has a seating capacity larger than that of Estadio Azteca in 1993. That would be Rungrado 1st of May Stadium in Pyongyang, North Korea, which has a capacity of 150,000. But that huge facility is used primarily as a means of the country's populace dutifully assembling for the purpose of feeding the ego of dictator Kim Jong Un.
It's a sharp drop from Rungrado 1st of May Stadium to the 110,000-seat capacity of Sardar Patel Gujarat Stadium in India, known mostly as a cricket venue, and the 107,601-seat Michigan Stadium, the "Big House" of college football in the United States. Sesquicentennial Stadium (later known as John F. Kennedy Stadium) was demolished in 1992, and even Estadio Azteca, which was erected to host the soccer matches at the 1968 Mexico City Olympics, has been downsized, having undergone renovations in 1999, 2013 and 2016. It now lists a capacity of "only" 87,523.
All of which likely stamps Chavez-Haugen as a pugilistic equivalent to Woodstock as a you-had-to-be-there human magnet in the estimation of renowned ring announcer Jimmy Lennon Jr., whose memories of the literally biggest event he ever worked are as vivid now as they were then.
"I can't remember if they had large projection screens like they do now, but I'm assuming they didn't have them then," recalled Lennon, who joined referee Joe Cortez in sharing their recollections for this story. "Here you had this vast sea of people.  I saw these little fires high up in the stands. People brought their own food and were cooking way up in the more distant seats. I remember thinking this was more of a mass celebration than just a sporting event. Whether or not a lot of people could really see much down in the ring, it certainly seemed that they were enjoying themselves. It was kind of like the huge crowd for Woodstock; just being there was a huge part of it."
Cortez, now 76 and retired from refereeing, said he also was amazed by the gargantuan crowd.
"Walking into the stadium that day was like walking into a different world," he said. "You had to be there to believe it, an event with that many fans, almost all of them rooting for Chavez.
"When Chavez was making his walk to the ring, the cheers were so incredibly loud I almost had to cover my ears, and the boos for Haugen when he was making his walk to the ring were just about as loud. It was an intense feeling, I think, for everybody. I knew it was for me. I never had been in a situation like that. I remember thinking, `What the hell can the people in the seats farthest away from the ring see, unless they have binoculars? The fighters must have seemed like two little ants, with me the third ant, in a tiny box. I knew then it was going to be an experience I would remember the rest of my life, and I still feel that way."
Even though Chavez was and is the most popular Mexican fighter ever, the scene might not have been so incredibly jam-packed or emotional were not for the opponent. The ill will Chavez harbored toward Haugen, a onetime "Tough Man" contestant who had risen above those humble circumstances to win titles at both lightweight and super lightweight, was palpable, and had been simmering for three years. Each new affront by Haugen only served to harden JCC's determination to someday make him pay.
The feud began behind closed doors, when Haugen showed up at a Chavez sparring session. As Chavez left the ring, Haugen approached him and sneeringly said that his sparring partners were "nothing but young little girls with dresses on."
"I hated him from that moment on," Chavez would later say, with Haugen seemingly enjoying any occasion by which he could verbally torment a fighter who the trash-talking antagonist knew would represent his biggest payday.
The stakes were raised on Dec. 13, 1992, moments after Chavez had scored a sixth-round TKO of Marty Jakubowski at The Mirage in Las Vegas. Haugen entered the ring and again confronted Chavez, telling him that his 84-0, with 72 wins inside the distance, had been crafted against "Tijuana taxi drivers that my mom could whip." But this insult was heard on television, a flung gauntlet that Chavez was only too glad to pick up. He would make Haugen, who came in 32-4-1 with 16 KO victories, regret such impudence.
"I will not have mercy on you," Chavez told Haugen. "I will rip your head off."
King immediately realized that this fight called for the biggest possible setting, and what could be bigger than Estadio Azteca? His Hairness played up the revenge angle to the hilt, which was to be expected, except that it wasn't standard pre-fight hype this time. Chavez, who was known to inflict as much pain as possible on any opponent who did not pay him his due as a great fighter, was on a mission to hurt and humiliate Haugen more so than anyone he had faced. There is little doubt that Chavez's making the bout personal imbued his many supporters with the determination to be there so they could someday regale their children and grandchildren with the tale of how they witnessed their glorious knight slay the impudent dragon.
"I arrived very early at the stadium, maybe 1 p.m. or 1:30," Lennon recalled. "I was in my tuxedo and practicing my announcements, but even then, maybe nine hours before the main event went on, there had to be 15,000 people in the stands. They were cheering as I practiced my introduction of Chavez. It's always kind of awkward to practice your introductions in an empty arena, but it sure wasn't empty then. Of course, all 132,000 hadn't shown up either."
Cortez, as was the case with almost everyone there except the few hardy souls who had come to support Haugen, figured Chavez to win. But what if the brash underdog from Washington state pulled off the upset that could spoil the festive mood of all those JCC supporters?
"The security was unbelievable," Cortez said. "There were so many police officers and military people with their plastic shields, and a lot of them had German Shepherds on leashes. If a riot broke out, which nobody wanted, the security people were ready, but how ready could they have been with a crowd that big?"
Fortunately for all concerned, maybe even Haugen, the hordes of Chavez fans who had come anticipating another sterling performance by their hero got it, which enabled all of them to go home happy. Chavez dropped Haugen with an overhand right just 25 seconds into the first round, the first time the challenger had been decked as a pro, and he might have finished him off shortly thereafter had he pressed the issue. But Chavez eased his foot off the gas pedal, the better to do what he had vowed to do, which was to prolong the pain he was so intent on dishing out. That plan must have been obvious to everyone, even to the folks in the nosebleed section who paid only 5,000 pesos for their bargain tickets, then the equivalent of about $1.65 U.S.
"He has no way to keep Julio Cesar Chavez off, except mercy on the part of Chavez, and he has none," TV commentator Ferdie Pacheco said of the systematic disassembly of a fighter who had no chance of winning but was too proud and determined to quit.
"I remember the way Chavez punished Haugen to the body instead of getting him out of there quickly," Lennon said. "But that was the way Chavez was. You had the sense he was controlling every moment of the fight and could have ended it whenever he wanted to."
Finally, after an elapsed time of 2 minutes, 2 seconds in the fifth, Chavez decided Haugen had had enough. Or maybe it was the compassionate Cortez who chose to intervene, wrapping his arms around the valiant but thoroughly beaten-up American.
Asked what he thought about all those "Tijuana taxi drivers" who he had characterized as Chavez victims, Haugen said, "They must have been very tough taxi drivers."
No fight is made memorable solely by the number of butts occupying the seats. Upon reflection, Chavez vs. Haugen was utter domination of a good fighter by a clearly superior one. There have been many of those in the annals of the sport. But still …
"That is definitely one fight I won't forget," Lennon said. "When people ask me about the most memorable fights I've done, that one is right up there. If it isn't No. 1, it's pretty close, if only for the size of the crowd."
Check out more boxing news on video at The Boxing Channel 
To comment on this story in The Fight Forum CLICK HERE