Ajagba vs. Joyce: A Heavyweight SuperFight on Track for 2021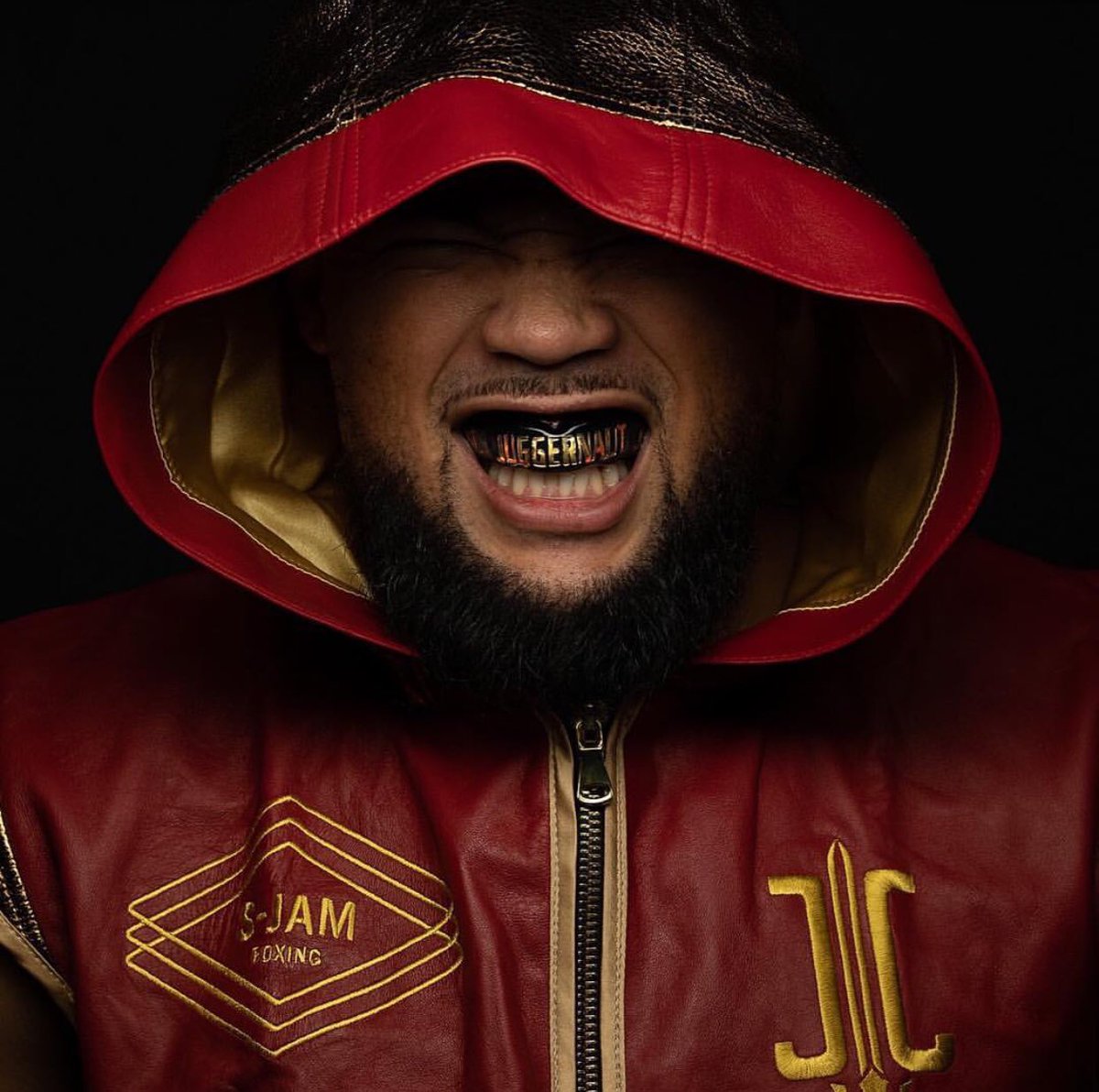 Ajagba vs. Joyce: A Heavyweight SuperFight on Track for 2021
Every successful speculator, from P.T. Barnum to Bill Gates to Mark Zuckerberg to today's pitchers of products on Madison Avenue, know that the secret to making a really big score in the marketplace is to know what the public will want before people realize they want it. Consumers at various times were subconsciously primed to buy heavily into traveling circuses, personal computers, social media innovations and frozen pork-belly futures because swayers of mass opinion predicted it would be so, and then took the necessary steps to turn their vision into reality. Not that every smart guy's wager on what will be pans out, which is why some unfortunate executive at the Ford Motor Company wrongly gambled that highways in the late 1950s would soon be traveled by happy owners of new Edsels.
And so it is with boxing, particularly heavyweight boxing, where fortunes can be won or lost on the unhindered development of relatively little-known, at least for now, big men who might, if sufficiently talented, reasonably charismatic and properly handled, blossom into the next Muhammad Ali or Mike Tyson.
Pugilistic visionaries willing to go on the record are Richard Schaefer and Shelly Finkel, men with established track records for coming up with massive winners in the ring and at the box office. Each has a major stake in a different developmental project, undefeated fighters who will be appearing in separate bouts next month. If both prospects take another impressive step forward, expect the hype machines only now beginning to herald their potential superstardom to be cranked up a bit higher.
Are you, Mr. Average Fight Fan, ready to turn your heart and contents of your wallet over to a pairing of England's Joe "Juggernaut" Joyce and Nigeria's Efe Ajagba sometime in 2021, or thereabouts? You say you're not quite sure? Well, maybe you should pay closer attention to what goes down when Joyce (9-0, 9 KOs) squares off against former world title challenger Bryant Jennings (24-3, 14 KOs on July 13 in the 12-round main event in London, and Ajagba (10-0, 9 KOs) swaps punches with Ali Eren Demirezen (11-0, 10 KOs) on July 20 in a 10-rounder at Las Vegas' MGM Grand, on the undercard of a show headlined by  WBA welterweight champion Keith Thurman's defense against living legend Manny Pacquiao.
Because Joyce, the super heavyweight silver medalist at the 2016 Rio de Janeiro Olympics, is 33 years of age and Ajagba just 25, Schaefer, the former CEO of Golden Boy Promotions who now heads up Ringstar  Sports, said his guy's march toward high-visibility and big-bucks fights of necessity must be at an accelerated pace.
"When Joe signed with me he was 31," Schaefer noted. "He's 33 now, so he has to be fast-tracked. He made it clear that he didn't want to be babied and, like (Vasiliy) Lomachenko, doesn't want to fight 20 times before he fights someone who is ranked."
So why the delay in Joyce, who is 6-foot-6 and was 261 pounds for his most recent ring appearance, a third-round stoppage of Russian veteran Alexander Ustinov on May 18, in turning pro?
"His dream was to go to the Olympics and represent the United Kingdom, but the super heavyweight qualification pool in England (for the 2012 London Games) was very deep, and Anthony Joshua filled that slot and won the gold medal," Schaefer explained. "Joe had to wait another four years, and he went to Rio and got the silver medal. A lot of people thought he beat (France's) Tony Yoka in the final and should have won the gold. In any case, his new goal is to become heavyweight champion of the world.
"If he beats Jennings he is in line to fight for the WBA `regular' heavyweight title against the winner of (Manuel) Charr and (Trevor) Bryan.  The mere fact that his next fight is against an experienced contender like Jennings shows he is not afraid to step up and expects to continue to pass all tests with flying colors."
Schaefer dares to compare Joyce to another ponderous puncher not known for swiftness of hand or foot.
"Some say Joe is very slow, and I wouldn't disagree with that," he conceded. "He is slow. But he's big, very strong and he has an unbelievable chin, an iron chin. It's going to take a missile to put this guy down. He reminds me of George Foreman. People said George was slow, but he was a terrific puncher and he also had a great chin."
Ajagba's main claim to fame to date is a bout that was scheduled to have taken place on Aug. 24 of last year, against journeyman Curtis Harper in Minneapolis, Minn. Harper (13-6, 9 KOs) left the ring and headed to his dressing room as the chiseled, 6-foot-5, 240-pound Ajagba made his way toward it, leading to claims that Harper had bolted in fear of taking an inevitable beatdown. Although Harper has insisted his retreat owed to unhappiness over the purse he was to have received, the legend of Ajagba as a Listonesque or Tysonesque intimidator – someone whose mere scowl can turn opponents into quivering mounds of jelly – has taken on a life of its own.
Finkel, who has managed such megastars as Mike Tyson and Evander Holyfield, and currently has a managerial role with WBC heavyweight champion Deontay Wilder, has high hopes that Ajagba will become as key a player in the big-man division as the aforementioned greats, and sooner rather than later.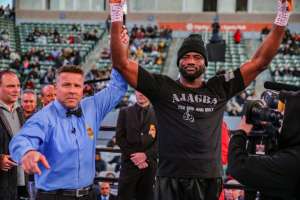 "It's early, but he has all the skills," Finkel said of Ajagba, who is based in Stafford, Texas. "He trains all the time with Ronnie (Shields), which is a blessing, and he punches as hard as anyone, ever. Time will tell, but there's no limit on how good he could become."
Schaefer said there is ample reason for fight fans to begin looking ahead to a possible showdown of Joyce and Ajagba, if only because of the individuals who are backing them.
"Efe is with Shelly Finkel, Joe is with me," he said. "I think Shelly and I have shown we have a great eye for talent, particularly with heavyweights. Shelly was telling me this is the most excited he's been since he had Tyson."
There are uncommonly deep eras for heavyweight boxing, sometimes followed by periods where lesser fighters are elevated to a status they could not have imagined a few years earlier. The talent-rich era that spanned the careers of Ali, Foreman and Joe Frazier, which also teemed with such gifted non-titlists as Jerry Quarry, Ron Lyle and Earnie Shavers, was followed by a more fallow period in which various alphabet belts were passed around by the likes of Mike Weaver, Pinklon Thomas, Tony Tubbs, Trevor Berbick and James "Bonecrusher" Smith. Larry Holmes, Ken Norton and Michael Spinks, all legitimately terrific, served as a bridge between the Ali/Frazier/Foreman glory days and the next golden age, when Tyson, Holyfield, Lennox Lewis, and Riddick Bowe helped to resuscitate big-man boxing.
It remains to be seen whether the present crop of top-tier heavyweights, headed by the presumed Big Four of Wilder, Tyson Fury, Andy Ruiz Jr. and Anthony Joshua, is eventually held in the same esteem as the Ali/Frazier/Foreman and Tyson/Holyfield/Lewis/Bowe elite groups. Maybe that will be the case, and maybe not. There is still much evidence to be provided that would serve to buttress either argument.
In 2021, when their promoters foresee Joyce and Ajagba crowding their way to the front of the line, will they find that one or more members of the current Big Four are still blocking their path? Might Wilder and Ajagba square off in a megafight in which Shelly Finkel is the only guaranteed winner?
There is always turnover, today yielding to tomorrow. Schaefer and Finkel agree that a bright new age of heavyweights is just beyond the horizon, boxing's equivalent of baseball players who soon will make the jump from Triple-A to the majors and dominate when they get there.
In addition to Joyce and Ajagba, heavyweights who in time might take the place of more familiar names in the ratings include Yoka (5-0, 4 KOs), the 2016 Olympic super heavyweight gold medalist from France; Filip Hrgovic (8-0, 6 KOs), a bronze medalist from Croatia at that Olympiad, and possibly the winner of the all-British matchup of Nathan Gorman (16-0, 11 KOs) and Daniel Dubois (11-0, 10 KOs), who vie for the vacant BBB of C title on July 13 in London.
"The next generation not only is going to be knocking on the door in the not-too-distant future, they're going to kick down the door," predicted Schaefer.
It should be remembered, however, that even those who would seem to have inside information are not always correct. In the Aug. 13, 1992, edition of the Philadelphia Daily News, I polled nine experts – past or future heavyweight champions Larry Holmes, George Foreman, Michael Spinks, Tim Witherspoon, Ernie Terrell and Tommy Morrison, onetime contenders Earnie Shavers and Marvis Frazier and legendary trainer Angelo Dundee – as to who would be the last man standing from a group that included Holyfield, Lewis, Bowe and Razor Ruddock. Tyson was then incarcerated on a rape conviction, and a sort of unofficial tournament was about to commence in which Lewis would mix it up with Ruddock on Oct. 31, 1992, in London and Holyfield, who had won the WBA/IBF/WBC titles by knocking out Tyson conquerer Buster Douglas, would defend against Bowe on Nov. 13, 1992, in Las Vegas.
The tally favored Ruddock, who received votes from Holmes, Witherspoon, Terrell, Shavers and Morrison. Bowe was the pick of Marvis Frazier and Dundee, Lewis got a single vote from Spinks. Holyfield was blanked, and Foreman, who picked winners of the two "semifinal" bouts, abstained from making a selection for the final on the basis that he would want to fight the survivor himself.
Said Shavers: "Ruddock is a real big puncher, and you know I'm partial to big punchers. You can never count a big puncher out. He's got a chance to end things with one good shot right up to the last bell." That view was seconded by Terrell, who opined that "Ruddock is too much of a puncher for Holyfield (in the final). Nobody can take Ruddock's punch."
Almost 27 years after I authored that story, this is what we know: Holyfield, Lewis and Bowe are enshrined in the International Boxing Hall of Fame. Razor Ruddock is not.
Proving, as if we didn't know it already, that nobody knows with any degree of certainty how the future will play out.
Check out more boxing news on video at The Boxing Channel
To comment on this story in The Fight Forum CLICK HERE
Boxing Odds and Ends: Crawford, Canelo, Caleb Plant and More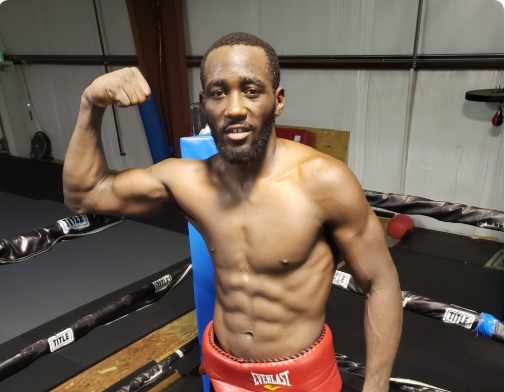 Although a lot of disinformation comes out of the mouths of boxing promoters, Bob Arum was apparently serious when he broached the idea of a two-fight series between Terence Crawford and Conor McGregor, the first fight to be conducted under MMA rules and the second under boxing rules.
Crawford is amenable. "I just have to have the proper time to prepare myself," he told ESPN's Dan Rafael. "…I haven't been in that (wrestling) environment in a long time, but most definitely I feel I can compete with anyone given the proper time to train on the MMA side, being that I have a wrestling background."
Crawford, 32, last wrestled in middle school so he would certainly need a refresher course. However, he would have a better chance of defeating Conor McGregor in an MMA match than McGregor would have of defeating him in a boxing match. So, if Arum's proposed two-fight series ever comes off, the tailpiece may be unnecessary.
– – –
As first reported by ESPN's Steve Kim, Andy Ruiz Jr. has dumped trainer Manny Robles. According to Kim's report, Ruiz's father informed Robles of the decision and said it was Al Haymon's idea.
Andy Ruiz appears to be one of those people that can gain weight just looking at food. He weighed 297 ½ pounds for his pro debut at age 19, carried 268 pounds for his first meeting with Anthony Joshua, and ballooned up to 283 ½ for the rematch after leading reporters to believe that he had actually slimmed down for the sequel.
Ruiz, noted Kim, went from a feel-good story to a cautionary tale in just six months.
– – –
Who ya' gonna believe?
A certain disreputable web site, bragging that it had an exclusive, told its readers that Canelo Alvarez had settled on Billy Joe Saunders as his next opponent and that they would meet on Cinco de Mayo in Las Vegas. The next day, Sports Illustrated's Chris Mannix, a far more trustworthy source, reported that Ryota Murata had emerged as the frontrunner and that negotiations were underway to stage the fight in Japan.
Perhaps it makes sense for Canelo to promote his brand in a new market. However, if he fights Murata, who holds a WBA belt, he would reportedly be dropping back to 160 and at age 29 he appears to have outgrown the weight class.
Stay tuned.
– – –
If Caleb Plant were an NBA player, his name would be Kevin Love. Plant, who recently married FOX/PBC reporter Jordan Hardy, is the only U.S.-born, non-Hispanic white person among the various champions in the 17 weight divisions.
Plant, who hails from tiny Ashland City, Tenn. (23 miles from Nashville) defends his IBF super middleweight title on Feb. 15 at Nashville's 20,000-seat Bridgestone Arena. In the opposite corner will be Germany's Vincent Feigenbutz who will be making his U.S. debut.
The 24-year-old Feigenbutz, who turned pro at age 16, has won 10 straight and 30 of his last 31. He represents a big step up in class from Plant's last opponent, Mike Lee, who was in way over his head.
– – –
A sad note from South Africa: Five days after the death of trailblazer Peter Mathebula, his widow, Emma Gabaitsiwe Mathebula, died suddenly of an apparent heart attack. Peter Mathebula's funeral, originally set for Saturday, has been pushed back until Tuesday and will now be a joint funeral.
Mathebula, who won the WBA world flyweight title in 1980, basically died a pauper, having sold all of  his boxing memorabilia to keep his head above water. His heirs had reached out to the government for assistance in defraying the costs of his burial.
Check out more boxing news on video at The Boxing Channel 
To comment on this story in The Fight Forum CLICK HERE
Avila Perspective, Chap. 82: Jason Quigley Returns to SoCal and More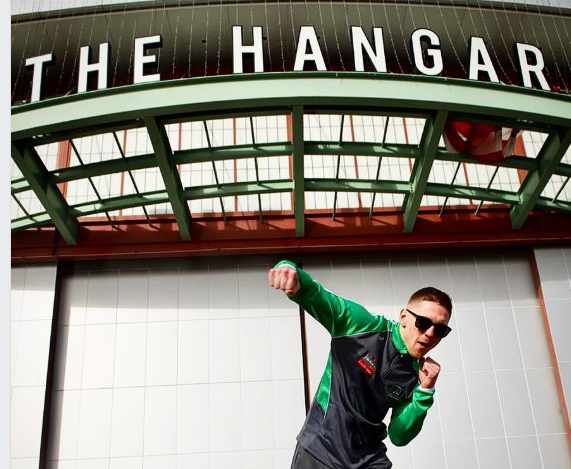 Southern California prizefighting heats up with Jason Quigley headlining a fight card in Orange County and then, two days later, another fight card takes place in the heart of Los Angeles.
Ireland's Quigley (17-1, 13 KOs) faces Mexico's Fernando Marin (16-4-3, 12 KOs) on Thursday Jan. 23, at the OC Hangar in Costa Mesa, Calif. DAZN will stream the Golden Boy Promotions fight card live.
Quigley, 28, seeks to reclaim territory lost when he suffered a defeat last July against Tureano Johnson. Ironically, Marin would lose 10 days later in Hollywood to super welterweight contender Serhii Bohachuk.
For several years Quigley had trained in Southern California but decided to change trainers and location. He moved to Great Britain and still prepares near his native country but primarily fights in the U.S.
At one time Quigley clamored for a match against Gennady "GGG" Golovkin or Saul "Canelo" Alvarez but now finds himself trying to prove he belongs in the upper tier of the middleweight division. It's loaded with talent.
Also on the same fight card will be popular North Hollywood super welterweight Ferdinand Kerobyan who was headed to contender status when he ran into Blair "the Flair" Cobbs. At the time Cobbs was an unknown quantity but no longer.
Kerobyan (13-1, 8 KOs) meets Azael Cosio (21-8-2) in an eight-round clash in the semi-main event at OC Hangar. Doors open at 5 p.m.
Red Boxing International
On Saturday Jan. 27, Red Boxing International hosts its first boxing card of the year at Leonardo's Night Club located at 6617 Wilson Ave. L.A. 90001. Doors open at 5 p.m.
Super welterweight Bryan Flores (13-1, 6 KOs) meets Brandon Baue (15-17) in the main event  in the first event of the year for the ambitious promotion company. For the past two years Flores fought primarily in Tijuana, Mexico where he racked up six wins. Now he's back on Southern California soil.
Another match features lightweights Angel Israel Rodriguez (5-0) facing off against Braulio Avila (3-6) in a six-round fight.
Rodriguez fights out of Pico Rivera, Calif. but recently fought in Costa Rica where he won by first round knockout in November. He will be fighting Avila who just fought two weeks ago at the Chumash Casino in Santa Ynez, Calif.
It's a long fight card with 11 bouts on the schedule.
JRock and Rosario
Boxing fans received another lesson on never underestimating a ranked contender regardless of the name recognition.
Jeison Rosario knocked out Julian "J Rock" Williams who was making the first defense of the WBA and IBF super welterweight world titles he won last year in my selection as "Fight of the Year."
Rosario walked in with little recognition and was thought to be a soggy piece of bread for Williams. The long armed Dominican fighter walloped Williams in front of his hometown fans in Philadelphia. It was yet another warning for fans to understand that anyone who steps in the boxing ring ranked as a contender can do the unthinkable. In this case Rosario knocked out the champion in five rounds.
Many felt Williams was far too skilled, especially on the inside where he showcased those skills last May against former titlist Jarret Hurd. It was a remarkable display of the art of inside fighting. But against Rosario, he never got a chance to exhibit those skills.
The loaded super welterweight division has another dangerous champion in Rosario.
Fights to Watch
Thurs. 6 p.m. DAZN – Jason Quigley (17-1) vs Fernando Marin (16-4-3).
Sat. 6 p.m. Showtime – Danny Garcia (35-2) vs Ivan Redkach (23-4-1).
Check out more boxing news on video at The Boxing Channel 
To comment on this story in The Fight Forum CLICK HERE
Recalling Three Big Fights in Miami, the Site of Super Bowl LIV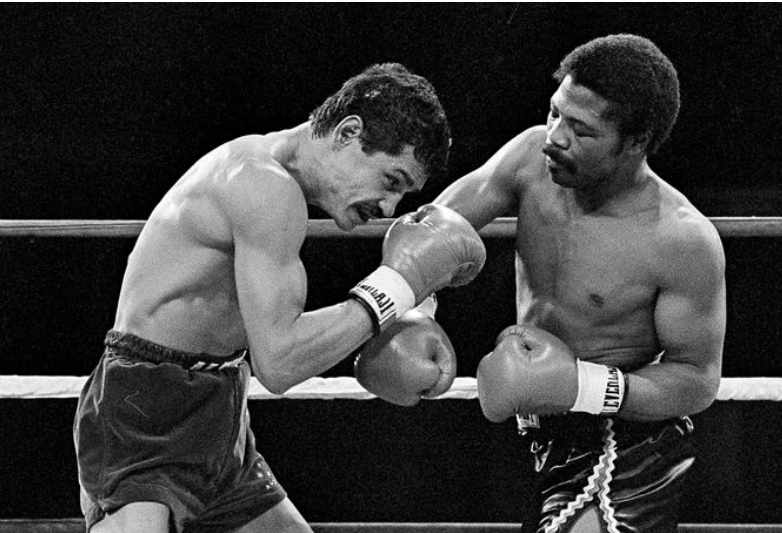 The San Francisco 49ers and Kansas City Chiefs collide on Feb. 2 in Miami in Super Bowl LIV (54) in what will assuredly be the biggest betting event to ever play out on American soil. It's the 10th Super Bowl for the South Florida metropolis which ties it with New Orleans as the most frequent destination for football's premier attraction.
With its heavily Latin population, Miami would seem to be natural for big fights. However, this hasn't been the case. Several great champions fought here, including Roberto Duran who twice defended his world lightweight title in these parts, but these weren't big fights. In the case of Duran, his opponents were lightly regarded and the Panamanian legend was still three years away from his first encounter with Sugar Ray Leonard, a match that increased his name recognition a hundred-fold.
There were, however, three fights in Miami that summoned the interest of virtually all of America's A-list sportswriters. Here they are in reverse chronological order.
Aaron Pryor vs. Alexis Arguello (Nov. 12, 1982)
Alexis Arguello (72-5) was bidding to become boxing's first four-division champion. In his way stood WBA junior welterweight title-holder Aaron Pryor (31-0, 29 KOs), a man now widely regarded as the best 140-pound boxer of all time.
Arguello, a Miami resident, having been exiled from his Nicaraguan homeland by the Sandanista rebel occupation, was a textbook boxer who defeated his opponents with surgical efficiency. Pryor was a typhoon. He mowed down his opponents with relentless pressure. It was a great style match-up and it didn't disappoint. Contested before nearly 30,000 at Miami's iconic Orange Bowl, Pryor vs. Arguello was a fight for the ages.
"There was power, finesse, poise, courage and a tremendous ebb and flow," said Associated Press writer Ed Schuyler who dubbed it Manila in Miniature. In the ninth, 11th, and particularly the 13th rounds, Arguello hit Pryor with straight right hands that would have felled an ordinary fighter, but Pryor had an iron chin.
In the 14th, Pryor buckled Arguello's knees with a straight right hand and then unloaded a furious combination as Arguello fell back against the ropes. He was out on feet when referee Stanley Cristodoulou intervened and he would lay prone on the canvas for several minutes before he could be removed to his dressing room.
Sonny Liston vs. Muhammad Ali (Feb. 25, 1964)
If you happen to find a poster for this fight with the name Muhammad Ali on it, don't buy it. It's bogus. Liston met up with Muhammad Ali in their second fight. In their first encounter, Liston opposed Cassius Clay.
Clay's Louisville sponsors, after a brief flirtation with Archie Moore, settled on Angelo Dundee as his trainer. Angelo operated out of his brother Chris Dundee's gym located at the corner of 5th Street and Washington Avenue in Miami Beach. The fighter who took the name Muhammad Ali trained here and kept a home in Miami for most of his first six years as a pro.
Clay/Ali was 22 years old and had only 19 fights under his belt when he was thrust against heavyweight champion Sonny Liston at the Miami Beach Convention Center. Liston was riding a 28-fight winning streak after back-to-back first-round blowouts of Floyd Patterson.
In a UPI survey, 43 of 46 boxing writers picked Liston. "Clay has no more chance of stopping Liston than the old red barn had of impeding a tornado," wrote Nat Fleischer, the publisher of The Ring magazine.
This would be the first of many famous fights for Muhammad Ali who emerged victorious when Liston quit after the sixth frame citing an injured shoulder. What is not widely known, however, is that the fight, which was shown on closed-circuit in the U.S. and Canada, was a bust at the gate. The 16,448-seat Convention Center was only half full.
The expectation that Liston would take the lippy kid out in a hurry depressed sales, as did sky-high ticket prices ($250 tops when $100 was the norm). And there may have been more subtle factors. "This may not be the best place for a fight between two Negroes," wrote Robert Lipsyte of the New York Times, cognizant that people of color were not welcome as guests at the ritzy beachfront hotels along Collins Avenue.
Jack Sharkey vs. W. L. (Young) Stribling (Feb. 27, 1929)
A big fight, as I define it, doesn't have to be a blockbuster. An important fight that produces an upset automatically becomes a bigger fight in hindsight. The Sharkey-Stribling fight of 1929 didn't draw an immense crowd by Jack Dempsey standards, but the turnout, reportedly 35,000, far exceeded expectations and the fight – which preceded Miami's first Orange Bowl football game by six years — really established Miami as a potentially good place for a big sporting event.
Promoted by the Madison Square Garden Corporation, the bout was originally headed to a dog racing track but it quickly became obvious that a larger venue was needed. A stadium was erected on a Miami Beach polo field, taking the name Flamingo Park (not to be confused with the thoroughbred track of the same name).
Slated for 10 rounds, the bout was conceived as one of two "eliminators" to find a successor to Gene Tunney who had retired. What gave the fight it's primary allure, however, was the North-South angle. Sharkey, born Joseph Zukauskas, hailed from Boston. Stribling, born into a family that traveled the fair circuit with a variety act, was from Macon, Georgia.
The fight, which aired on the NBC radio network, was a dud, a drab affair won by Sharkey who had the best of it in virtually every round. Both went on to fight Max Schmeling for the world heavyweight title. Stribling, dubbed the "King of the Canebrakes" by Damon Runyon, lost by TKO in fight that was stopped late in the 15th round. Sharkey took the title from Schmeling on a split decision after losing their first meeting on a foul.
Young Stribling died in a motorcycle crash at age 28, by which time he had engaged in 251 documented bouts, the great majority of which were set-ups. Jack Sharkey lived to be 91.
—-
The strong earnings of the Sharkey-Stribling bout inevitably drew the Madison Square Garden Corporation back to Miami for an encore. On Feb. 27, 1930, Jack Sharkey opposed England's "Fainting" Phil Scott. Four years later, on March 1, 1834, Primo Carnera defended his world heavyweight title here against former light heavyweight champion Tommy Loughran, the Philadelphia Phantom.
Both bouts were big money losers, as were the great majority of major fights during this period. Eight months after the Sharkey-Stribling cash cow, the stock market crashed, plunging the United States into the Great Depression. Few Americans could afford to vacation in Florida, let alone travel anywhere for a big fight.
Check out more boxing news on video at The Boxing Channel 
To comment on this story in The Fight Forum CLICK HERE