Randy Gordon's Love Of Boxing Shines Through in 'Glove Affair,' His Memoir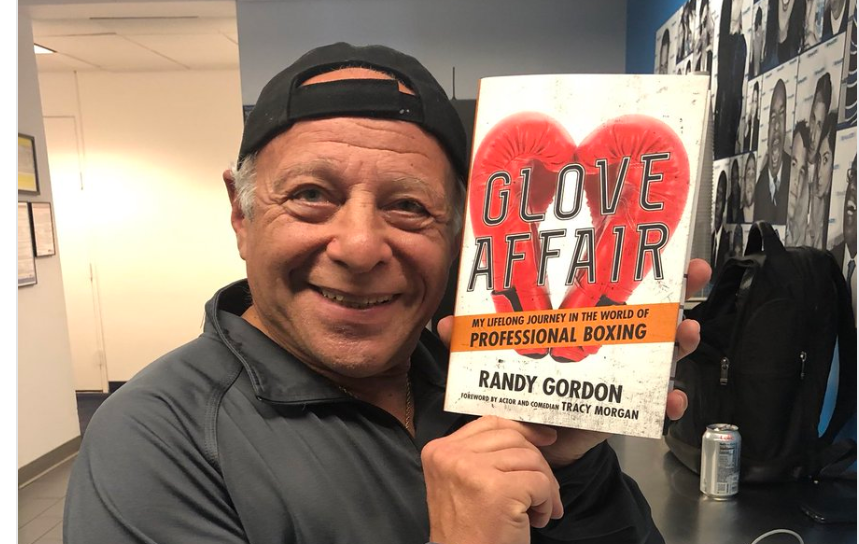 As far back as he can remember, Randy Gordon always wanted to be in boxing. To do what, exactly, he had little clue. All that mattered to this peppy Jewish kid from Long Island was gaining, by any means, a toehold into "this crazy and beautiful sport," in which men he idolized, like the heavyweight champion Rocky Marciano, roamed the earth with a hint of the invincible.
As it happens, Gordon never got a chance to brush shoulders with "The Brockton Blockbuster." In 1969, when Gordon was a college junior, Marciano met his death in a plane crash flying over an Iowa cornfield. He was a day away from his forty-sixth birthday. Ironically, the tragedy would become the very catalyst for Gordon's entry into the sport which he had hitherto only viewed from afar, mainly through the pages of The Ring, the iconic boxing magazine. Distraught by his hero's untimely demise, a young Gordon sought out the wisdom of the publication's founder.
How could 'The Rock' be gone? I couldn't believe it. I wanted to know more about Marciano. How great was he? Where did he fit in among the great heavyweights of the past? I decided I had to speak with Nat Fleischer himself. I decided to call him later that morning. Then, I decided I wouldn't give a secretary a chance to make up an excuse he was busy. I decided to go to his office and sit there for as long as I had to in order to meet him and talk with him.
So early one morning, Gordon strode into Manhattan via the LIRR and made his way to the seventh floor of 120 West 31st St., the former address of The Ring headquarters, where, by dint of moxie alone, Gordon was able to score a meeting with "the man whose opinion in the sport was heard and worshipped the way Moses heard and worshipped his Lord in front of the burning bush more than 2,000 years ago." It is safe to say that with this encounter, Gordon had effectively crossed the boxing threshold, shifting from plebian onlooker to soon-to-be tireless participant. Within a decade this giddy neophyte would become the editor-in-chief of the very same magazine, the self-proclaimed Bible of Boxing, working in tandem with the raffish, stogie-chomping Bert Sugar. He would strike up relationships, friendly or otherwise, with some of the most compelling figures in the sport, from Nicaraguan great Alexis Arguello to the irascible and incomparable Mike Tyson. And he would do so in capacities beyond his journalistic beginnings, most notably as the head of the New York State Athletic Commission under the Mario Cuomo regime. Gordon  also fought as an amateur, dabbled briefly as a professional (for all of two fights), and refereed a few bouts. Today he is the host of the SiriusXM boxing radio program, At the Fights, which he helms with Gerry Cooney, the Hardy to his Laurel. The ultimate fanboy, it turns out, got to live the dream.
No surprise, then, that a current of unflagging gratitude courses through Gordon's new memoir, Glove Affair: My Lifelong Journey in the World of Professional Boxing, a wide-ranging, if hodgepodge, collection of the ex-commissioner's most memorable moments in the sport. Boxing, from Gordon's viewpoint, appears less as "The Sweet Science" or "The Cruelest Sport" and more like "The Providential Hobby," if Gordon's frequent attestations to his good fortune are anything to go by. He tells the reader, "I am, without question, the luckiest boxing aficionado the good Lord ever created." Gordon's indebtedness also extends to his friends and colleagues in the boxing business, as evinced by the long-winded acknowledgments section that includes more names than the entirety of the Pentateuch. (So all-encompassing is the list that an interesting exercise would be to suss out who from the industry isn't on it. A hint: one absentee is a former Ring magazine editor).
"I'm addicted," Gordon confesses at one point. "I'm hopelessly in love with the sport. I still read every word about boxing I can find. I read every press release, every article, every column, every website, every result." Gordon's zeal is writ large in these pages and, no doubt, the source of the book's unmistakable charm. For readers of a certain ilk expecting passages of deep philosophical probity and lyrical turns-of-phrases, however, this is the wrong place to look. The prose here is fairly straightforward, relies heavily on cliches and is driven mostly by jaunty dialogue that has the unintended effect of making Gordon's chronicles appear exaggerated, even cartoonish, at times. Still, it gets the job done.
Given Gordon's high-ranking positions in the industry and the access that they afforded him, Glove Affair offers plenty of interesting material to engage fellow aficionados. Not many in the sport can say that they were called on by Bill Cayton and Jim Jacobs, the managers of a juvenile Mike Tyson, to select sparring partners for the Catskill menace, as was the case for Gordon.
Particularly engrossing is the chapter that hones in on the Billy Collins Jr.-Luis Resto fight, one of the most scandalous debacles of the 1980s. On that night of June 16, 1983, the undefeated Collins dropped a brutal and unexpected decision against journeyman Resto, whose gloves were discovered afterward to have had the padding removed by his trainer, Panama Lewis. (Decades later, Resto would admit that he had also dipped his wraps in plaster prior to the fight).
Collins, having sustained a serious injury to the iris, would never box again and roughly a year later, alcoholic and depressed, he spun off the road and crashed to his death. Though Gordon himself did not attend the fight, the event shook him to his boots, as anyone who has read his fiery Ring editorial — "Murder, Plain and Simple" read the headline — can attest.  His subsequent involvement with Collins' disconsolate father and years later, with the disgraced Resto, offers intimate insight into the darker excesses of the sport. Throughout his tenure at the NYSAC, Gordon repeatedly rejected Resto's applications to have his boxing license reinstated. More than thirty years later, Gordon remains convinced that he did the right thing, his anger still undiminished. "Luis Resto remains in jail — his basement apartment is his jail cell," Gordon writes. "Unlike jail, he is allowed to go out into the world. Only, Luis Resto has no place to go, other than to a boxing card with the owner of the gym. Then it's back to his jail cell. Sleep must be his only solace, but only if he doesn't dream. For Resto, dreams must all turn into nightmares."
The bar for moral rectitude may be exceptionally low in a lurid sport like boxing, but Gordon never compromised his integrity, as he so persistently maintains chapter after chapter to the point, indeed, that he risks coming across as priggish. Of the one week when WBC boss Mauricio Sulaiman and huckster emeritus Don King both tried — and failed — to bribe him with wads of cash, he says, humblebragging, "I returned home, proud of how I had handled two situations that have put many politicians and executives on the unemployment line or even in jail." Of the time he was yanked off the air after snubbing the promoter's pre-approved script during a broadcast, he reflects solemnly, "I didn't believe I was 75 percent right, or 85 percent, or 99 percent. I believed the choice I made was 100 percent the correct one."
Such remarks, in the end, however self-aggrandizing, are not what define Glove Affair. Gordon's ebullience for fighters and for fighting make sure of that.
Check out more boxing news on video at The Boxing Channel
To comment on this story in The Fight Forum CLICK HERE
Mercito Gesta Victorious Over Jojo Diaz at the Long Beach Pyramid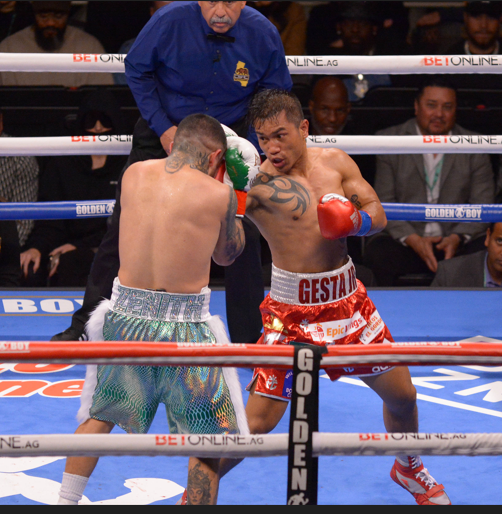 LONG BEACH, CA.-Those in the know knew Mercito Gesta and Jojo Diaz would be a fight to watch and they delivered.
Gesta emerged the winner in a super lightweight clash between southpaws that saw the judges favor his busier style over Diaz's body attack and bigger shots and win by split decision on Saturday.
Despite losing the main event because the star was overweight, Gesta (34-3-3, 17 KOs) used an outside method of tactic to edge past former world champion Diaz (32-4-1, 15 KOs) in front of more than 5,000 fans at the Pyramid.
The speedy Gesta opened up the fight with combination punching up and down against the peek-a-boo style of Diaz. For the first two rounds the San Diego fighter overwhelmed Diaz though none of the blows were impactful.
In the third round Diaz finally began unloading his own combinations and displaying the fast hands that helped him win world titles in two divisions. Gesta seemed stunned by the blows, but his chin held up. The counter right hook was Diaz's best weapon and snapped Gesta's head back several times.
Gesta regained control in the fifth round after absorbing big blows from Diaz. He seemed to get angry that he was hurt and opened up with even more blows to send Diaz backpedaling.
Diaz targeted his attack to Gesta's body and that seemed to slow down Gesta. But only for a round.
From the seventh until the 10th each fighter tried to impose their style with Gesta opening up with fast flurries and Diaz using right hooks to connect with solid shots. They continued their method of attack until the final bell. All that mattered was what the judges preferred.
After 10 rounds one judge saw Diaz the winner 97-93 but two others saw Gesta the winner 99-91, 98-92. It was a close and interesting fight.
"I was expecting nothing. I was the victor in this fight and we gave a good fight," said Gesta. "It's not an easy fight and Jojo gave his best."
Diaz was surprised by the outcome but accepted the verdict.
Everything was going good. I thought I was landing good body shots," said Diaz. "I was pretty comfortable."
Other Bouts
Mexico's Oscar Duarte (25-1-1, 20 KOs) knocked out Chicago's Alex Martin (18-5, 6 KOs) with a counter right hand after dropping him earlier in the fourth round. The super lightweight fight was stopped at 1:14 of the round.
A battle between undefeated super welterweights saw Florida's Eric Tudor (8-0, 6 KOs) emerge the winner by unanimous decision after eight rounds versus Oakland's Damoni Cato-Cain.
The taller Tudor showed polished skill and was not bothered by a large cut on his forehead caused by an accidental clash of heads. He used his jab and lead rights to defuse the attacks of the quick-fisted southpaw Cato-Cain. The judges scored the fight 80-72 and 78-74 twice for Tudor.
San Diego's Jorge Chavez (5-0, 4 KOs) needed less than one round to figure out Nicaragua's Bryan Perez (12-17-1, 11 KOs) and send him into dreamland with a three-punch combination. No need to count as referee Ray Corona waved the fight over. Perez shot a vicious right followed by another right and then a see-you-later left hook at 3.00 of the first round of the super featherweight match.
Photo credit: Al Applerose
Jojo Diaz's Slump Continues; Mercito Gesta Prevails on a Split Decision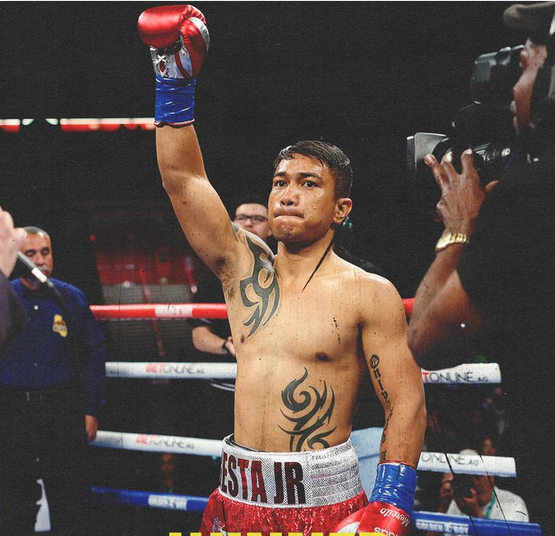 At age 30, Jojo Diaz's career is on the skids. The 2012 U.S. Olympian, a former world title holder at 126 and 130 pounds and an interim title holder at 135, Diaz suffered his third straight loss tonight, upset by Mercito Gesta who won a split decision at the Walter Pyramid in Long Beach, CA.. The scoring was strange with Gesta winning nine of the 10 rounds on one of the cards and only three rounds on another. The tie-breaker, as it were, was a 98-92 tally for Gesta and even that didn't capture the flavor of what was a closely-contested fight.
Originally listed as a 12-rounder, the match was reduced to 10 and that, it turned out, did Diaz no favors. However, it's hard to feel sorry for the former Olympian as he came in overweight once again, having lost his 130-pound title on the scales in February of 2021.
Diaz also has issues outside the ropes. Best elucidated by prominent boxing writer Jake Donovan, they include a cluster of legal problems stemming from an arrest for drunk driving on Feb. 27 in the LA suburb of Claremont.
With the defeat, Diaz's ledger declined to 32-4-1. His prior losses came at the hands of Gary Russell Jr, Devin Haney, and William Zepeda, boxers who are collectively 83-2. Mercito Gesta, a 35-year-old San Diego-based Filipino, improved to 34-3-3.
Co-Feature
Chihuahua, Mexico super lightweight Oscar Duarte has now won nine straight inside the distance after stopping 33-year-old Chicago southpaw Alex Martin in the eighth frame. Duarte, the busier fighter, had Martin on the deck twice in round eight before the fight was waived off.
Duarte improved to 25-1-1 (20). Martin, who reportedly won six national titles as an amateur and was once looked upon as a promising prospect, declined to 18-5.
Other Bouts of Note
New Golden Boy signee Eric Tudor, a 21-year-old super welterweight from Fort Lauderdale, overcame a bad laceration over his right eye, the result of an accidental clash of heads in round four, to stay unbeaten, advancing to 8-0 (6) with a hard-fought unanimous 8-round decision over Oakland's Damoni Cato-Cain. The judges had it 80-72 and 78-74 twice. It was the first pro loss for Cato-Cain (7-1-1) who had his first five fights in Tijuana.
In the DAZN opener, lanky Hawaian lightweight Dalis Kaleiopu went the distance for the first time in his young career, improving to 4-0 (3) with a unanimous decision over 36-year-old Colombian trial horse Jonathan Perez (40-35). The scores were 60-52 across the board. There were no knockdowns, but Perez, who gave up almost six inches in height, had a point deducted for a rabbit punch and another point for deducted for holding.
To comment on this story in the Fight Forum CLICK HERE
'Big Baby' Wins the Battle of Behemoths; TKOs 'Big Daddy' in 6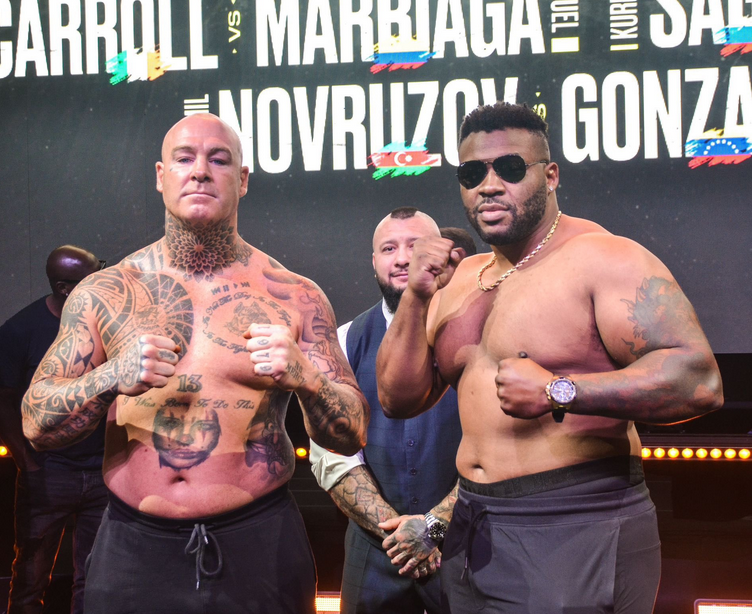 Lucas "Big Daddy" Browne weighed in at a career-high 277 pounds for today's battle in Dubai with Jarrell "Big Baby" Miller, but he was the lighter man by 56 pounds. It figured that one or both would gas out if the bout lasted more than a few stanzas.
It was a war of attrition with both men looking exhausted at times, and when the end came it was Miller, at age 34 the younger man by nine years, who had his hand raised.
Browne was the busier man, but Miller, whose physique invites comparison with a rhinoceros, hardly blinked as he was tattooed with an assortment of punches. He hurt 'Bid Daddy' in round four, but the Aussie held his own in the next frame, perhaps even forging ahead on the cards, but only postponing the inevitable.
In round six, a succession of right hands knocked Browne on the seat of his pants. He beat the count, but another barrage from Miller impelled the referee to intervene. The official time was 2:33. It was the 21st straight win for Miller (26-0-1, 22 KOs). Browne declined to 31-4 and, for his own sake, ought not fight again. All four of his losses have come inside the distance, some brutally.
The consensus of those that caught the livestream was that Floyd Mayweather Jr's commentary was an annoying distraction that marred what was otherwise an entertaining show.
As for what's next for "Big Baby" Miller, that's hard to decipher as he has burned his bridges with the sport's most powerful promoters. One possibility is Mahmoud Charr who, like Miller, has a big gap in his boxing timeline. Now 38 years old, Charr – who has a tenuous claim on a WBA world title (don't we all?) —  has reportedly taken up residence in Dubai.
Other Bouts of Note
In a 10-round cruiserweight affair, Suslan Asbarov, a 30-year-old Russian, advanced to 4-0 (1) with a hard-fought majority decision over Brandon Glanton. The judges had it 98-92, 97-93, and a more reasonable 95-95.
Asbarov was 12-9 in documented amateur fights and 1-0 in a sanctioned bare-knuckle fight, all in Moscow, entering this match. He bears watching, however, as Glanton (18-2) would be a tough out for almost anyone in his weight class. In his previous fight, at Plant City, Florida, Glanton lost a controversial decision to David Light, an undefeated Australian who challenges WBO world title-holder Lawrence Okolie at Manchester, England next week.
A 10-round super featherweight match between former world title challengers Jono Carroll and Miguel Marriaga preceded the semi-windup. Carroll, a 30-year-old Dublin southpaw, overcame a cut over his left eye suffered in the second round to win a wide unanimous decision in a fairly entertaining fight.
It was the sixth straight win for Carroll (24-2-1, 7 KOs) who elevated his game after serving as a sparring partner for Devin Haney. Marriaga, a 36-year-old Colombian, lost for the fourth time in his last five outings, declining to 30-7.
To comment on this story in the Fight Forum CLICK HERE