Three Punch Combo: Three Makeable Fights Certain to Entertain and More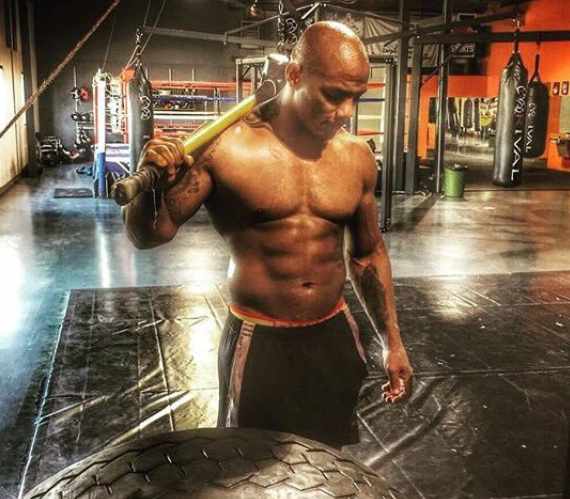 THREE PUNCH COMBO — It is easy to come up with a list of big fights that we'd like to see before the end of the year. But instead of touching upon those obvious fights, I want to focus instead on some less-buzzworthy fights that can be used to fill out the year-end schedule.
For the purposes of compiling this list, I am focusing on fights that should be easy to put together. So I won't be including fights with fighters aligned with rival factions.
Dereck Chisora (31-9, 22 KO's) vs. Oscar Rivas (26-1, 18 KO's)
Rivas (pictured) and Chisora just fought on the same card earlier this month. Chisora was successful in his outing, scoring a second-round stoppage of Artur Szpilka. Rivas, on the other hand, dropped a hard-fought, 12-round decision to Dillian Whyte. Chisora and Rivas are both borderline top 10 heavyweights and a fight between them to close out the year makes a lot of sense.
Yes, I know Chisora is pursuing a fight with Joseph Parker. It remains to be seen if the Parker side is interested in such a fight. If not, Rivas would be a natural pivot for Chisora.
Not only is this an evenly-matched fight but their styles should mesh well, making for an entertaining heavyweight scrap. Both fighters rely on aggression and pressure inside the ring. They won't have to look hard to find one another. Each is also somewhat limited defensively. This will be a high contact fight with the winner vaulting inside the top 10 of the division.
Yves Ulysse Jr. (18-1, 9 KO's) vs. Ivan Baranchyk (19-1, 12 KO's)
The 140-pound division is absolutely loaded at the moment. There is a clear top tier and then a middle tier with not much separation. In order to make a move in the division, some of these middle tier fighters will need to face off against each other. One such crossroads type fight that could be put together is a match between Ulysse and Baranchyk.
This fight would feature two evenly matched fighters with a clear contrast of styles. Ulysse is a boxer- puncher who likes to work behind the jab and keep the fight at a distance. Baranchyk is an ultra-aggressive, pressure fighter who likes to close the gap and fight at close range. Who could impose their style the best and come out victorious? I'd sure like to find out.
Sergey Lipinets (16-1, 12 KO's) vs. Jamal James (26-1, 12 KO's)
Welterweight is an interesting division. The top fighters in the division all happen to be very big names in the sport. But there are some very good fighters who compose the middle tier who do not have quite near the name recognition. As such, they need to generate demand to fight one of the bigger names. The only way to do so is to fight one another and separate themselves from the crowd. And one such fight that could be made is between Lipinets and James.
Similar to Ulysse-Baranchyk, a fight between Lipinets and James would feature a contrast of styles. Lipinets is the aggressive pressure fighter whereas James is the classic boxer-puncher. Both have fine-tuned their craft after previous losses and each is fighting at a high level. This would be a fascinating fight that boxing fans would get behind and is easy to put together with both being under the PBC banner. The winner would then earn the opportunity to fight one of the bigger names in the division.
And How About Farmer-Berchelt?
As a boxing fan, I want to see the Tevin Farmer-Gervonta Davis title unification fight in the 130-pound division. However, given the political factions involved, that fight is unlikely to be made anytime soon.
In a previous column, I wrote about the need to make another 130-pound title unification fight between Jamel Herring and Miguel Berchelt. However, there has been a snag and neither of these title unification bouts appears likely to happen at this time.
Davis likely will face Yuriorkis Gamboa next and Herring will likely face his mandatory challenger in Lamont Roach. But I want to see a title unification fight in this division. And I say that since Farmer and Berchelt have no other dance partners at the moment, why not have them get together?
Farmer-Berchelt would be a dream fight. Think about it for a moment.  Farmer has mastered the sweet science. He has that rare ability to stand in the pocket and land combinations, all the while slipping punches. I once described him as a poor man's Pernell Whitaker and I stand by that comparison.
Berchelt, on the other hand, has only offense in mind. The bell rings and he comes forward, abandoning all defensive principles, firing away power shots. He throws from all angles and has heavy handed power in both fists. And he doesn't take his foot off the gas.
So we would have the defensive wizard in Farmer against the all-offensive minded power punching Berchelt. And both are very good at what they do best. I would characterize Farmer-Berchelt as not only the best fight that can be made at 130 but one of the best potential fights in any division. Since neither has an opponent lined up and both have proclaimed to want big fights, I say make it happen.
Under the Radar Fight*
Boxing returns to FOX on Saturday with a tripleheader from the Barclays Center in Brooklyn. The card is headlined by what should be a slugfest between heavyweights Adam Kownacki (19-0, 15 KO's) and Chris Arreola (38-5-1, 33 KO's). While that fight is garnering most of the publicity, there's a very interesting welterweight fight on the televised undercard between Andre Berto (32-5, 24 KO's) and Miguel Cruz (18-1, 12 KO's).
Berto-Cruz is the type of crossroads showdown we used to see on a weekly basis on the old USA Tuesday Night Fight Series in the 80's and 90's. I know a lot of fans may not be excited about this bout, but I like it a lot. I think the two fighters are evenly matched and that we are going to get a much more action-packed contest than is being anticipated.
Coming up the welterweight ranks, Berto had enormous expectations placed on his shoulders. Early on he showed some dazzling speed to go along with thunderous power. But though he has had plenty of success in his career, he is now seen as being a bit of an underachiever due to those enormously high expectations. Now 35, he is seeking one more big shot in his career.
Cruz is a very solid professional fighter. There is nothing that particularly stands out in his game but he is a grinder who does a lot of things well. There are some solid wins on his resume with the most notable being a pair of decision victories over Alex Martin. But that said, Cruz did struggle the one time he really stepped up in class against Josesito Lopez. At 29, Cruz is just entering the prime of his career and needs a signature performance to make a move in the division.
We all know that Berto has been involved in some clunkers. But he has also been involved in some shoot-outs. It is all dependent on the style of his opponent. Cruz is a come-forward pressure fighter who is not afraid to mix it up as he showed in that aforementioned contest against Lopez. I think Cruz presses the action and engages Berto, who has never been known for his defense, in some exciting exchanges.
Don't sleep on this fight. It is going to be much more entertaining than most are forecasting.
– – –
*Editor's Note: Two hours after this story was published it was announced that Andre Berto had to pull out. It was said that he suffered a torn bicep tendon this past Saturday (July 27) during his final sparring session for the fight.
Check out more boxing news on video at The Boxing Channel
To comment on this story in The Fight Forum CLICK HERE
Avila Perspective, Chap. 98: Prizefighters are Hungry to Fight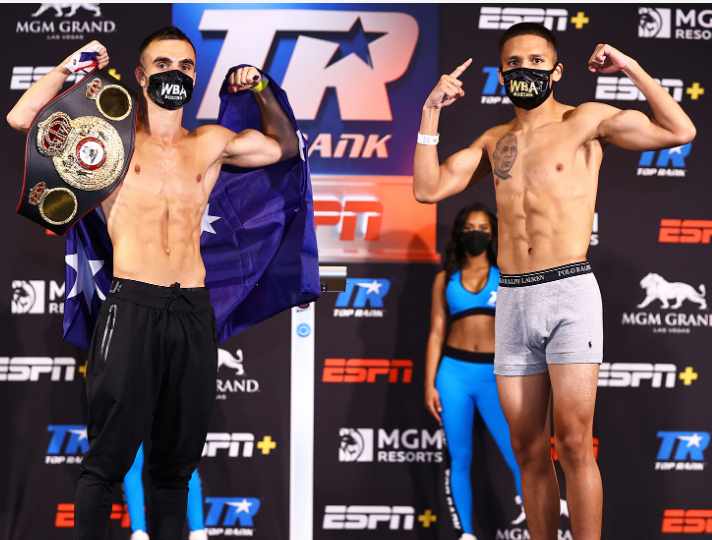 Hunger. That's what boxing is all about.
It's time to eat.
While athletes in other pro sports like baseball, basketball and football worry about contracting the coronavirus, prizefighters around the world are begging to find work. Literally begging.
"In this sport they are fighting to get back in the ring," said Mark Kriegel while on ESPN Boxing this past Thursday night.
That one sentence explains prizefighting.
While the rich and famous of other sports abstain from partaking of their actual livelihoods, the poor and destitute partakers of the sweet science march on despite the dangers. They want to get paid.
Blue collar boxing has taken several hits with various trainers in the USA losing their lives such as Stan Ward, Ali Salaam, Francisco Mendez, Jimmy Glenn, and multiple former fighters such as Carmen Williamson and Hedgemon Lewis. The sport has taken severe hits to its older generation.
Even right now several fighters and trainers have contracted the coronavirus and remain battling the effects. Among those infected are Robert Duran, Fernando Vargas and Henry Ramirez. (The legendary Duran was discharged from the hospital on Thursday and is recuperating at home.)
Ramirez stated he was stricken with severe symptoms for several days and just now has regained health.
"It happened to me on Father's Day," said Ramirez, who has trained various world title contenders such as Chris Arreola and Josesito Lopez. "It hit me like a truck. It was no joke. I was down for eight straight days."
The Riverside-based trainer said he knows he contracted it from one of his fighters who was tested and found to be positive with the Covid-19 prior to a fight last month. That fighter was unable to participate because of the positive test result. Ramirez soon discovered through symptoms that he was inflicted with the virus too.
"This virus is real," said Ramirez, who trains more than a dozen prizefighters but has remained in quarantine for more than two weeks now. "I've been healthy for four days now."
He awaits his test results to confirm his health.
Gung Ho
Regardless of the danger, fighters are eager to return to the boxing ring. There are no pensions or unemployment benefits for prizefighters. Those depending solely on boxing need to return to the prize ring.
Last month, Mikaela Mayer was scheduled to fight on the semi-main event in Las Vegas. It was part of a Top Rank boxing card to be televised by ESPN. Though she had been training intensely and felt healthy she was discovered through a Covid-19 test to have the coronavirus in her system. She was taken off the card.
"I had trainers and bills to pay," said Mayer. "I thought we were going to fight back in March but the pandemic arrived and that fight was canceled."
Mayer's opponent Helen Joseph also was forced to wait. Both will hopefully face each other on July 14, at the MGM Grand in a bubble created to prevent infection from the virus. Fingers are crossed.
Last week, Riverside-based Joshua Franco (pictured on the right) ignored the dangers of the coronavirus to face the WBA super flyweight titlist Andrew Moloney and won by split decision. Moloney trekked from Australia to defend his title. Both were eager to perform.
Boxers are gung ho to return to the prize ring. It's all about hunger. No other sport has the appetite for action like a prizefighter. Whether it's boxing or MMA the prizefighters are always ready to eat.
Sports fans and athletes from other sports should appreciate the one sport that never shies from danger. It's prizefighting.
Fights to watch
Tues. July 7, ESPN, Andy Vences (23-1-1) vs Luis Lopez Vargas (20-2)
Thurs. July 9, ESPN, Carlos Castro (25-0) vs Cesar Juarez (25-8).
Photo credit: Mikey Williams for Top Rank
Check out more boxing news on video at The Boxing Channel 
To comment on this story in the Fight Forum CLICK HERE
Fast Results from the Bubble: Pedraza Punishes LesPierre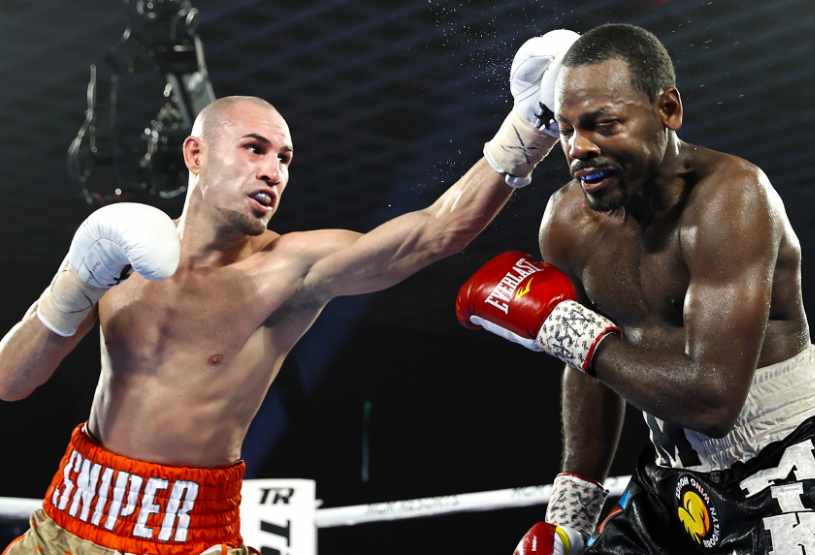 Former two-division world title holder Jose Pedraza (27-3) fought his way back into title contention tonight with a lopsided 10-round decision over Mikkel LesPierre (22-2-1). The bout, rescheduled from June 18, was fought at the catchweight of 144 pounds inside "The Bubble" at the MGM Grand Conference Center in Las Vegas.
Pedraza took charge from the opening bell. The fight appeared in danger of being stopped in round two and again in round 10. In the second round Pedraza landed perhaps 30 unanswered rapid-fire punches as LesPierre had his back to the ropes. In the 10th, Pedraza put him in the canvas with a left-right combination and repeatedly strafed him with clean shots, but LesPierre, a Brooklynite born in Trinidad and Tobago, was game to the core and did some good work in the final seconds.
It appeared that both fighters scored knockdowns in the fifth, but referee Kenny Bayless, after consulting with the replay officials, expunged the first knockdown and ruled it a slip. Pedraza's feet were tangled with those of LesPierre when LesPierre caught him with a glancing left hand. The replay didn't appear conclusive (Bayless was seemingly right the first time), but it was a moot point as Pedraza would have won by a comfortable margin regardless. The scores were 100-88 and 99-89 twice.
Other Bouts
In a fight without an indelible moment, Toledo lightweight Albert Bell (16-0, 5 KOs) "pitched a shutout" over Mark Bernaldez (20-4) of the Philippines, winning all 10 rounds on all three scorecards. The rangy Bell had a 6-inch height advantage and a 6-inch reach advantage and kept Bernaldez at the end of his stick throughout. Bell hurt his right hand late in the ninth round and threw only one right hand in the 10th, but won the round anyway.
Freddie Roach protégé Elvis Rodriguez, 7-0-1 (7 KOs), a 24-year-old southpaw from the Dominican Republic, scored an impressive one-punch knockout over New Jersey's Dan Murray (5-4). A straight right hand, basically just a hard jab, sent Murray sprawling the through the ropes with an apparent fractured orbital bone. The official time was 2:13 of round one.
In a 6-round between two ponderous 284-pound heavyweights, Kingsley Ibeh was awarded a majority decision over Patrick Mailata. It was a quick turnaround for Nigeria-born Ibeh (5-1) who appeared in this same ring last week. Mailata, a Samoa-born New Zealander, fell to 4-1.
The scores were 57-57 and 58-56 twice. Judge Patricia Morse-Jarman had it 57-57 and that was the most appropriate tally as neither man did enough to win.
In the TV opener, Robeisy Ramirez, a two-time Olympic gold medalist for Cuba, improved to 4-0 with a 6-round unanimous decision over Denver's Adan Gonzales (5-3-2).  Ramirez avenged a shocking defeat in his pro debut. The judges had it 60-54 across the board.
Off TV
In what was perhaps the best fight of the night, Jose Enrique Vivas scored a mild upset with a unanimous 10-round decision over previously undefeated Carlos Jackson. The scores were 97-93 across the board according to ESPN's lead announcer Joe Tessitore.
Vivas, a native of Mexico now residing in Montebello, California, improved to 19-1. The 31-year-old Jackson (16-1) fights out of Atlanta but has fought extensively in the Dominican Republic.
Photo credit: Mikey Williams for Top Rank
Check out more boxing news on video at The Boxing Channel 
To comment on this story in The Sweet Science CLICK HERE
Fast Results from the Bubble: A Clean Sweep for the A-Side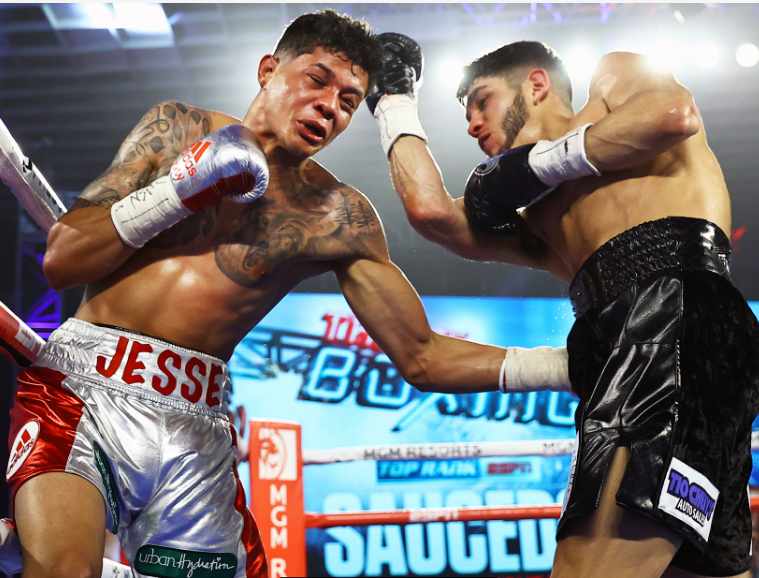 Top Rank was back inside the MGM Grand "Bubble" tonight with another installment of their semi-weekly summer series on ESPN. The four-fight card included three matches in the 140-pound weight class.
In his second fight back since getting stopped in the seventh round by defending WBA 140-pound champion Maurice Hooker, Oklahoma City's Alex Saucedo won a lopsided 10-round decision over Toledo's Sonny Frederickson. Saucedo pressed the action from the opening gun and Frederickson was complicit in his defeat, spending too much of the fight with his back against the ropes. Although his defense still needs tightening, overall it was a good performance for Saucedo (pictured in the black trunks) who turned pro at age 17 and was formerly trained by Ronnie Shields and Abel Sanchez, the latter of whom he faulted for his bad showing vs. Hooker, his lone defeat in 30 pro fights.
The scorecards read 100-90, 99-91, and 98-92. The lanky, light-hitting Frederickson slipped to 21-3.
Other Bouts
Josue Vargas, a southpaw from the Bronx, born in Puerto Rico, outclassed Guadalajara's Salvador Briceno in the 10-round co-feature. Briceno (17-6) seldom took a backward step, but his punches caught mostly air. Vargas, who defeated Shakur Stevenson as an amateur, was making his first fight without his father and coach in the corner. The elder Vargas ventured outside the Bubble and had his "passport" confiscated. Vargas (17-1) suffered his lone defeat by disqualification when he was under contract to Floyd Mayweather.
In an 8-round fight, southpaw John Bauza, a 22-year-old New Jersey-based Puerto Rican, improved to 14-0 with a wide unanimous decision over hard-trying but limited Larry Fryars (11-3), a carpenter by trade from New York via Clones, Ireland. The scores were 79-73 and 80-72 twice.
The TV opener was a dull 6-round middleweight match between Detroit's Isiah Jones and Donte Stubbs from Riverside, CA. It was a quick turnaround for Jones, the grandson of world title challenger David Braxton, who fought here two weeks ago, losing a 6-round decision to Nikoloz Sekhniashvili. He made a far better showing tonight, advancing his record to 9-2 with a majority decision. The scores were 59-55. 58-56, and 57-57. It was the first loss for Stubbs (6-1), a Navy veteran with an MMA background.
Photo credit: Mikey Williams for Top Rank
Check out more boxing news on video at The Boxing Channel 
To comment on this story in the Fight Forum CLICK HERE