From Child Prodigy to Elite Trainer, ex-Champ Bones Adams has had a Bumpy Ride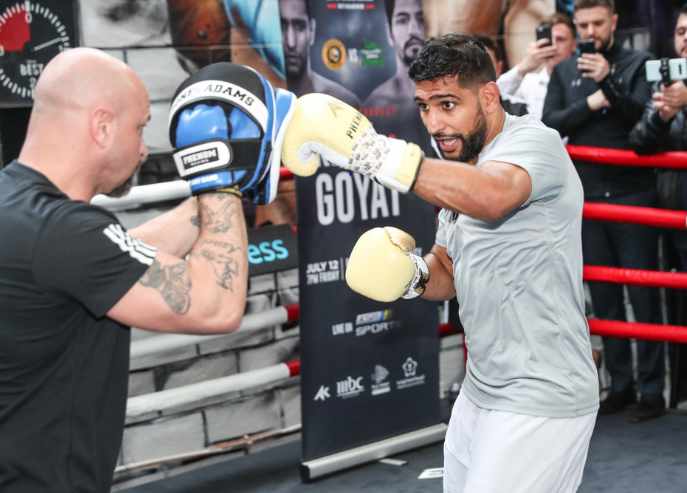 PART ONE OF A TWO-PART STORY — Las Vegas boxing trainer Clarence "Bones" Adams (pictured working the mitts with Amir Khan) has something in common with Tiger Woods. Both appeared on the TV show "That's Incredible." The show, co-hosted by former NFL quarterback Fran Tarkenton, had a five-year run (1980-84) on ABC.
Tiger hadn't even started kindergarten when his father brought him on the show to show off his acuity at hitting golf balls into a cup. Many viewers undoubtedly wondered if this painfully shy five-year-old kid would hit his peak as a golfer before he hit puberty.
Bones Adams wasn't as cuddly cute as Tiger when he appeared on the show, his small hands encased in oversized boxing gloves, but, of course, he was a lot older. The precocious puncher was eight.
Precocious indeed. Reportedly 176-4 as an amateur, Adams was 15 years old when he made his pro debut on April 3, 1990 in Memphis, Tennessee. In the opposite corner was Simmie Black, a veteran of 158 fights.
Black was a professional loser of the stripe that has become virtually extinct in the United States, but he was 37 years old and had swapped punches with several top-shelf fighters, and here he was matched against a 15-year-old kid with no professional boxing experience whatsoever.
The kid won a 4-round unanimous decision and several years later, at age 18, he would fight a future Hall of Famer for the bantamweight championship of the world.
Clarence Richard Adams Jr has been called Bones ever since he was a little boy. The nickname was attached to him because someone said he was all skin and bones and he embraced it because he always hated the name Clarence. He spent his formative years in Henderson, Kentucky, where his father was a truck driver until blood clots in his legs forced him to quit. New employment was hard to find. Tobacco and coal, the prime economic movers in the growth of Henderson County, were in decline.
For a time, the family lived in Smith Mills, Kentucky, in a house without electricity and running water. To help out his parents, Bones worked in the fields, picking soybeans, corn, and tobacco. Working in the fields and honing his skills as a boxer – the gym was in Evansville, Indiana, 11 miles from Henderson – left little time for school. He dropped out in the eighth grade.
"No disrespect intended," says Bones, "but the kids in the projects in the inner cities had it easy compared to us."
The Adams' later moved to Detroit where they lived along 7 Mile Road, the grittiest corridor in the city. They then settled in the town of Carmi in southern Illinois (a little more than an hour's drive from their ancestral home in Henderson) where Bones' father, since deceased, ran pizza parlors. Bones was living in Carmi when he turned pro.
Bones brought a 26-0-1 record into his March 27, 1993 bout with IBF world bantamweight champion Orlando Canizales at Evian les Bains, France. But it was a soft 26-0-1, a record forged against no-name opponents in tank towns like Greenville, South Carolina, Saint Joseph, Missouri, and Eldorado, Illinois. At this stage of his development he had no business being in the same ring with Canizales, the pride of Laredo, Texas, who was making the 12th defense of his title and would come to be regarded in many quarters as the top bantamweight of the modern era.
"When the fight was pitched to me," says Bones, "I was told that the venue was neutral, but when I got over there I saw people coming up to Canizales saying 'how nice to see you again' and I learned that one of the judges was from Texas."
The previous year, Canizales had twice defended his title in France. The Texas judge, Ronnie Ralston, was working his fourth Canizales title fight. (Astoundingly – but hey, maybe not; this is boxing – when Canizales lost three years later to Junior "Poison" Jones in a bid for the IBF super bantamweight title, Ronnie Ralston scored the fight 119-109 for Canizales. The other judges had Jones winning by six and seven points.)
Bones was being thrown to the wolves, but he was no pushover. Canizales broke Bones' jaw in the third round, but the kid kept plugging away. After ten frames, Canizales led by two points on all three cards; the fight still hung in the balance. But in the 11th, Bones' father, who had no boxing experience but was working his corner, tossed in the towel.
Canizales vs Adams was held in a classy joint, the Casino Royale resort overlooking Lake Geneva, a favorite getaway for European bluebloods. This was quite a departure for Bones who was only a few years removed from scrounging through dumpsters for aluminum cans and other stuff that could be sold to a recycling center or a junk dealer. But the luxurious accommodations were no consolation. At an age when many young men are hijinking through their freshman year of college, here was Bones Adams nursing a painfully broken jaw on a long flight home across the Atlantic, a jaw that would be surgically repaired at his own expense.
In both of his next two fights, Bones dislocated his left shoulder and was forced to shut it down. With three straight losses, all inside the distance, his future looked grim. But Bones persevered and in 1995 was accorded a match in Las Vegas with Kevin Kelley on the undercard of the world lightweight title fight between Oscar De La Hoya and LA-area rival Genero "Chicanito" Hernandez.
They fought outdoors at Caesars Palace in the early evening on a swelteringly hot day. Fighting for a purse of $40,000, Bones fought the last four rounds of the 12-round fight with a badly swollen left eye that appeared to ringsiders, but not referee Mitch Halpern, to be the result of an accidental head butt. When the smoke cleared, veteran Las Vegas judge Bill Graham had it 116-112 for Bones Adams, but he was overruled by Art Lurie, another local man, and Rhode Island import Clark Sammartino who both had it 114-114 and it went into the books as a draw.
A former featherweight champion, Kevin Kelley, the Flushing Flash, was 43-1-2 going in. He was one of the great action fighters of his day, but this particular fight was rather dull. "And that tells you right there I got screwed," says Bones. "I controlled the ring, I made him fight my fight."
Bones would be on the wrong side of another questionable decision in an even bigger fight, but prior to that disappointment, all of his hard work finally paid off and he experienced the highest high of his boxing career.
On March 4, 2000, at the Mandalay Bay Events Center in Las Vegas, Adams deposed WBA super bantamweight champion Nestor Garza. Although he broke his hand in the eighth round, he won a wide decision.
"I was having a lot of aches and pains," Bones recalled, "but when I woke up on the morning of the fight, I felt great, I felt very strong. I called all my friends and told them to bet on me. I had a lot of friends that night."
Bones says that going into the fight he had only $980 to his name. He bet $900 on himself and says he secured 8/1 odds. (In truth, Garza wasn't quite that big a favorite. In boxing, upsets invariably become bigger upsets in the re-telling and with the passage of time.)
After two successful title defenses, Bones returned to Mandalay Bay to oppose Paulie Ayala. Bones held the WBA 122-pound title, Ayala was that organization's 118-pound champion, and yet there was no title at stake, save that of a fringe organization (we wouldn't even try to explain how that came about – hey, this is boxing).
Title or no title, the fight created a lot of buzz. Wladimir Klitschko's WBO title defense against Charles Shufford was relegated to the undercard. And the bout was a humdinger that went to the scorecards after 12 nip-and-tuck rounds. Bones won the last round on the card of all three judges, but that wasn't sufficient to get him over the hump. Ayala won a split decision.
Bones didn't bring the same fire into his rematch with Paulie Ayala who was returned a clear winner after 12 rounds. He felt that he deserved no less than a draw in his next fight, a 12-round featherweight contest with tough Guty Espadas Jr, but that fight too ended with Bones on the wrong side of a split decision. For this bout, Bones had a 12-week camp in Big Bear and felt that he had over-trained.
He would go on to have six more fights for small purses before calling it quits, retiring with a record of 44-7-4. When he left the sport, he wasn't yet 26 years old, but he had a lot of mileage on his odometer – as a pro, he had answered the bell for 344 rounds – and it was time to say goodbye.
Bones concedes that he began to make some bad choices following his first loss to Paulie Ayala, for example using recreational drugs as a crutch to uplift his spirits. He then made a whopper of a bad choice when he accepted an offer of employment from the predatory Charles Horky.  To be continued……
Check out more boxing news on video at The Boxing Channel  
To comment on this story in The Fight Forum CLICK HERE
Remembering 'Rocky Estafire,' One Tough Syrian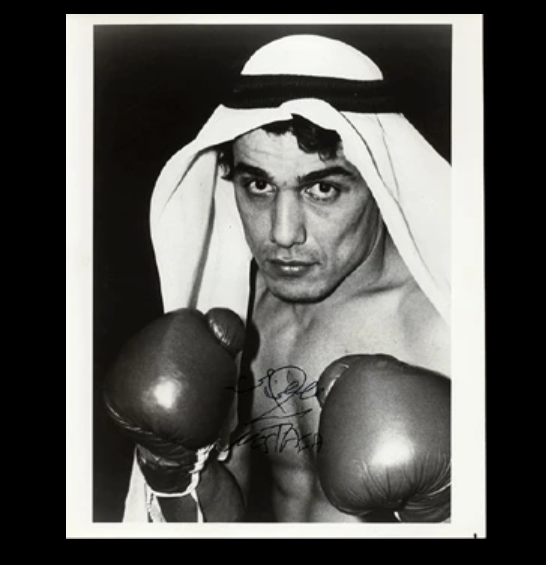 On Sept. 9, 1978, a Bayonne, New Jersey brawler who was billed as Rocky Estafire when he was first starting out, stopped slick Bobby "Boogaloo" Watts in Jersey City giving notice that he was becoming a force to be reckoned with in the middleweight division. Watts was no slouch having split a pair with Marvelous Marvin Hagler.
"Strictly LaMotta style," said Paddy Flood of his fighter who would come to be known by his real name, Mustafa Hamsho.
In 1980, he beat undefeated Wilford Scypion and followed that up with close wins over Curtis Parker and Alan Minter in 1981 leading to his first of two title clashes with Hagler. This bloody encounter, won by Hagler on an 11th-round TKO, left both fighters needing stiches.
"Throughout Hagler's nonstop, 11th-round barrage, Hamsho kept coming on. He didn't win a round, but he did take the battle of the stitches, 55-5," wrote Pat Putnam in Sports Illustrated. "I don't know what his corner was waiting for…The meat from his eyes was hanging down. But I can't let that bother me. I just have to think, better him than me," said Hagler.
More from Putnam: "When Hagler had left the hospital, the doctors were still working over Hamsho, who, until his trainer, Al Braverman, jumped into the ring to stop the fight, looked as though he would run out of blood before he ran out of heart. He was badly cut under both brows: Each wound was at least two inches long and half an inch wide. There was another slice under his left eye. He didn't win a round from any of the three officials."
Al Braverman, who co-managed Hamsho with the aforementioned Flood, once described the Syrian's style as follows: "…."He's got no style. He just wades in, throwing punches from any angle."  He also possessed great stamina, a granite chin and incredible courage, along with head and shoulder butts, elbows, low blows, shoves, holding, chops behind the head, and whatever he could get away with.
The Matinee Idol
Bobby Czyz was 20-0 when he met Hamsho at the Convention Center in Atlantic City on Nov. 20, 1982. The undefeated New Jersey lad with the somewhat strange moniker of "Matinee Idol" and the high IQ had solid wins over Danny Long, Teddy Mann, Oscar Albarado, Elisha Obed, and Robbie Sims. Against Hamsho he was stepping up in class but he was a solid opponent for the Syrian who was 34-2-2 coming in.
If Bobby won, he would position himself for a shot at Marvelous Marvin, but Hamsho mauled and mugged the future world light heavyweight champion over ten rounds and won a convincing UD. (The rest of the Bobby Czyz story is told in "The Boxer Who Became a Bagger," a remarkable and poignant article by sports columnist Steve Politi that first appeared in the Newark Star-Ledger.)
Wilfred Benitez
HIs UD victory over Wilfred Benitez (45-2-1) in 1883 was pure Hamsho featuring elbows, butts, and low blows. The third round was difficult to watch as the compact Syrian rendered a brutal beating on "El Radar," using accurate nonstop shots coming from all directions. Between slips and knockdowns, Wilfred hit the deck four times.
Clearly, Benitez had faded, but Hamsho hastened the process and helped point the legendary Puerto Rican in a downward direction. Wilfred looked sluggish and poorly conditioned; he was not the same Benitez who knocked out Maurice Hope in spectacular fashion or out-boxed Roberto Duran for 15 rounds. Something was wrong.
But even in top shape, Benitez would have struggled against Hamsho with his mauling, brawling, non-stop pressure. Hamsho could make anyone look bad.  (Wilfred Benitez would lose several more outings after the Hamsho beatdown. Matthew Hilton finished the job with a terrifying KO in 1986. Wilfred's story is a terribly sad one as he now requires constant care.)
Hamsho would lose another fight with Hagler—this time quickly and badly– and then go 6-2 before retiring in 1989 with a record of 44-5-2.
Those who were fortunate enough to see him fight remember a fan-pleasing, all-action combination of Vito Antuofermo, Michael Katsidis, Antonio Margarito, and Gene Fullmer.
Amir Khan and Prince Naseem Hamed are two very high profile, proud Muslim fighters. Mustafa Hamsho's name can be added.
Ted Sares can be reached at tedsares@roadrunner.com
Check out more boxing news on video at the Boxing Channel
To comment on this story in the Fight Forum CLICK HERE
Miguel Madueno Scores His 12th Straight Knockout at Ontario, Calif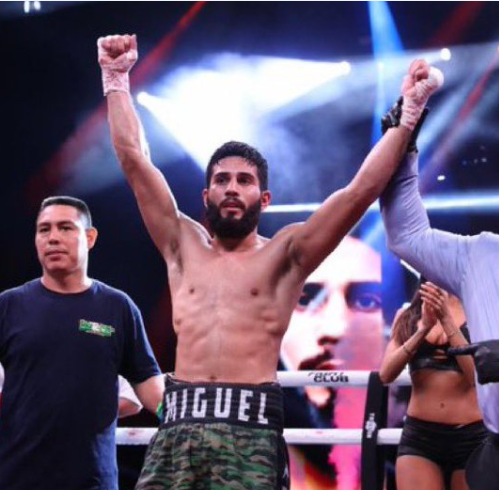 Ontario, CA — A return of fans to the Inland Empire saw Mexico's Miguel Madueno extend his consecutive knockout streak to a dozen at the Doubletree Hotel in Ontario, California on Friday.
It was the first fan-filled event for a Thompson Boxing card in the "I.E." in almost two years.
Lightweight contender Madueno (26-0, 24 KOs) of Culiacan powered his way to his 12th consecutive knockout and this came at the expense of fellow Mexican Jose Luis Rodriguez (25-15-1, 13 KOs) with a focused attack to the body.
Rodriguez was clever and tough and would not allow Madueno to overwhelm him during the first four rounds. But in the fifth he was not as lucky as a four-punch barrage to the body sent him to one knee. He beat the count but was overwhelmed by Madueno who forced referee Raul Caiz to end the fight at 2:46 of the fifth round.
"In reality I thought I would end it early," said Madueno about seeking an early knockout. "But he could take it."
In the co-main event Japan's Katsuma Akitsugi (7-0) outhustled Northern California's Eros Correa (10-1) after eight rounds in a bantamweight scrap to win by majority decision.
Akitsugi, a southpaw, and Correa both showed quick hands and good chins. But the Japanese fighter was always on attack and Correa resorted to holding from the second round on. He was never warned by the referee for excessive holding. It could have helped him get back in the fight.
Every time Akitsugi entered the danger zone Correa would grab ahold like an MMA fighter instead of fighting on the inside. While Correa held Akitsugi punched and that proved the difference as two judges scored it 78-74 for Akitsugi, while a third saw it 76-76.
"I could not box my style at all," said Akitsugi, 23. "I'm glad I brought the win home."
Other Bouts
San Bernardino's Esteban Munoz (5-1, 3 KOs) knocked out Tijuana's Manuel Martinez (6-5-4) with a body shot in the first round. He could not beat the count. Munoz had stunned Martinez earlier with a counter right. Then he found an opening to the body and delivered a right to the gut and down went Martinez. He was counted out at 1:50 of the first round.
Coachella's Lazaro Vargas (4-0) out-worked Ulises Rosales (0-5) over four rounds of a super bantamweight match to win by unanimous decision 40-36 on all three cards.
Check out more boxing news on video at the Boxing Channel
To comment on this story in the Fight Forum CLICK HERE
Oscar Rivas is Boxing's First Bridgerweight Champ; Tops Spunky Ryan Rozicki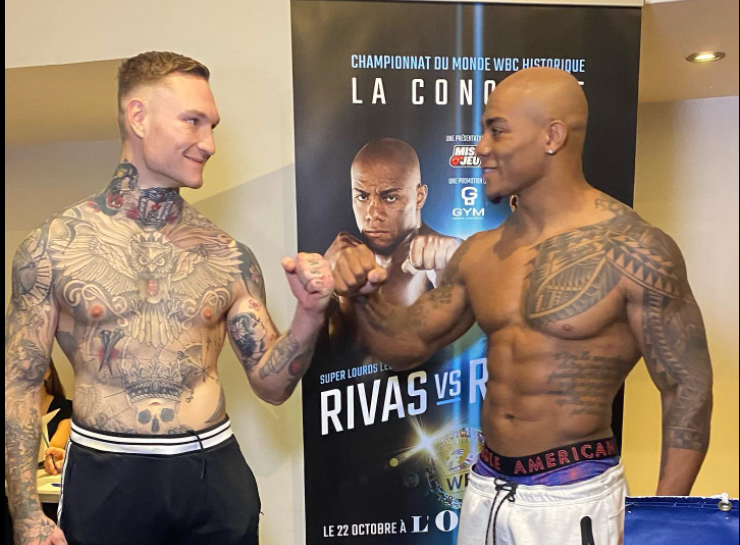 Back in January, the World Boxing Council announced that they were creating a new weight division. Tailored to boxers weighing between 200 and 224 pounds, they named it Bridgerweight. Tonight, at the Olympia Theatre in Montreal, the first WBC bridgerweight champion was crowned. Montreal-based Oscar Rivas, a 2008 Olympian representing his native Columbia, turned the trick with a unanimous 12-round decision over fellow Canadian Ryan Rozicki, advancing his record to 28-1 (19).
Rozicki, who is from Nova Scotia, out-performed expectations. Although he had knocked out all 13 of his opponents since turning pro in 2016, he hadn't defeated anyone of note and hadn't fought beyond six rounds. He drew the assignment when Rivas's original opponent Bryant Jennings was scratched because of his refusal to accept Canada's COVID protocols for unvaccinated foreigners. (A match between Rivas and Jennings would have been a rematch of their Jan. 18, 2019 contest in Verona, New York, a rather ho-hum match that had a dramatic ending when Rivas turned up the heat in the 12th round.)
Rivas, 34, was making his second start since suffering his lone defeat, a setback on points in a 12-round contest with Dillian Whyte in London. The heavier man by 19 pounds, he dominated the first two frames, rocking Rozicki in the opening stanza, but the Nova Scotian clawed his way back into the fight. Rivas had a strong penultimate round and although he had a point deducted for holding in the final stanza, it did not factor into the outcome. The judges had it 116-111 and 115-112.
What's next for Oscar Rivas? Logically a bout with Evgeny Romanov. A 36-year-old Russian with a 16-0 (11-0 mark), Romanov was ranked #2 behind Rivas in the WBC's latest set of bridgerweight rankings. Romanov's claim to fame is that he TKOed Deontay Wilder is in amateur days, but that was way back in 2008.
Another possibility, and one likely to attract more buzz, would be a bout with Alen Babic. A 30-year-old Brit by way of Croatia, the colorful, free-swinging Babic (8-0, 8 KOs) has a date later this month in London with Texas trial horse Eric Molina.
The best guess, however, is that Rivas will discard the belt and go back to competing as a heavyweight. The bridgerweight title, we suspect, like many of the lesser titles, will be perpetually vacant, which likely wouldn't trouble the WBC at all as they will gather up a sanctioning fee from a bridgerweight title fight whether there is an incumbent or not.
There were two 8-rounders offering chief support, but both were cancelled when the opponents failed to pass muster. Left in the lurch were "A side" Canadians Sebastien Bouchard, a welterweight, and Steve Rolls, a middleweight.
Check out more boxing news on video at the Boxing Channel
To comment on this story in the Fight Forum CLICK HERE