From Child Prodigy to Elite Trainer, ex-Champ Bones Adams has had a Bumpy Ride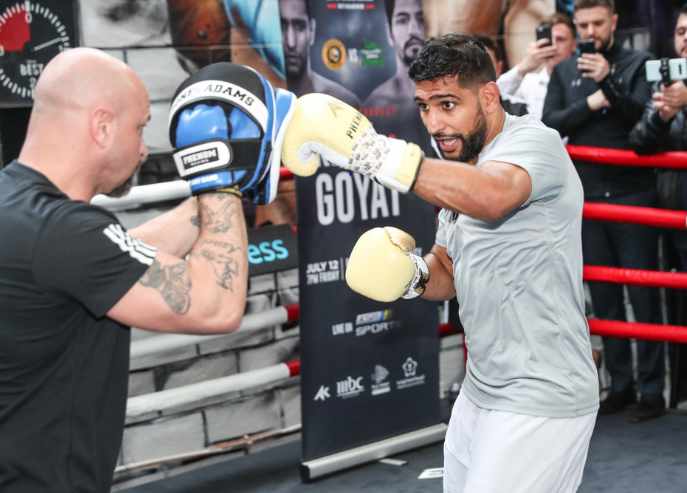 PART ONE OF A TWO-PART STORY — Las Vegas boxing trainer Clarence "Bones" Adams (pictured working the mitts with Amir Khan) has something in common with Tiger Woods. Both appeared on the TV show "That's Incredible." The show, co-hosted by former NFL quarterback Fran Tarkenton, had a five-year run (1980-84) on ABC.
Tiger hadn't even started kindergarten when his father brought him on the show to show off his acuity at hitting golf balls into a cup. Many viewers undoubtedly wondered if this painfully shy five-year-old kid would hit his peak as a golfer before he hit puberty.
Bones Adams wasn't as cuddly cute as Tiger when he appeared on the show, his small hands encased in oversized boxing gloves, but, of course, he was a lot older. The precocious puncher was eight.
Precocious indeed. Reportedly 176-4 as an amateur, Adams was 15 years old when he made his pro debut on April 3, 1990 in Memphis, Tennessee. In the opposite corner was Simmie Black, a veteran of 158 fights.
Black was a professional loser of the stripe that has become virtually extinct in the United States, but he was 37 years old and had swapped punches with several top-shelf fighters, and here he was matched against a 15-year-old kid with no professional boxing experience whatsoever.
The kid won a 4-round unanimous decision and several years later, at age 18, he would fight a future Hall of Famer for the bantamweight championship of the world.
Clarence Richard Adams Jr has been called Bones ever since he was a little boy. The nickname was attached to him because someone said he was all skin and bones and he embraced it because he always hated the name Clarence. He spent his formative years in Henderson, Kentucky, where his father was a truck driver until blood clots in his legs forced him to quit. New employment was hard to find. Tobacco and coal, the prime economic movers in the growth of Henderson County, were in decline.
For a time, the family lived in Smith Mills, Kentucky, in a house without electricity and running water. To help out his parents, Bones worked in the fields, picking soybeans, corn, and tobacco. Working in the fields and honing his skills as a boxer – the gym was in Evansville, Indiana, 11 miles from Henderson – left little time for school. He dropped out in the eighth grade.
"No disrespect intended," says Bones, "but the kids in the projects in the inner cities had it easy compared to us."
The Adams' later moved to Detroit where they lived along 7 Mile Road, the grittiest corridor in the city. They then settled in the town of Carmi in southern Illinois (a little more than an hour's drive from their ancestral home in Henderson) where Bones' father, since deceased, ran pizza parlors. Bones was living in Carmi when he turned pro.
Bones brought a 26-0-1 record into his March 27, 1993 bout with IBF world bantamweight champion Orlando Canizales at Evian les Bains, France. But it was a soft 26-0-1, a record forged against no-name opponents in tank towns like Greenville, South Carolina, Saint Joseph, Missouri, and Eldorado, Illinois. At this stage of his development he had no business being in the same ring with Canizales, the pride of Laredo, Texas, who was making the 12th defense of his title and would come to be regarded in many quarters as the top bantamweight of the modern era.
"When the fight was pitched to me," says Bones, "I was told that the venue was neutral, but when I got over there I saw people coming up to Canizales saying 'how nice to see you again' and I learned that one of the judges was from Texas."
The previous year, Canizales had twice defended his title in France. The Texas judge, Ronnie Ralston, was working his fourth Canizales title fight. (Astoundingly – but hey, maybe not; this is boxing – when Canizales lost three years later to Junior "Poison" Jones in a bid for the IBF super bantamweight title, Ronnie Ralston scored the fight 119-109 for Canizales. The other judges had Jones winning by six and seven points.)
Bones was being thrown to the wolves, but he was no pushover. Canizales broke Bones' jaw in the third round, but the kid kept plugging away. After ten frames, Canizales led by two points on all three cards; the fight still hung in the balance. But in the 11th, Bones' father, who had no boxing experience but was working his corner, tossed in the towel.
Canizales vs Adams was held in a classy joint, the Casino Royale resort overlooking Lake Geneva, a favorite getaway for European bluebloods. This was quite a departure for Bones who was only a few years removed from scrounging through dumpsters for aluminum cans and other stuff that could be sold to a recycling center or a junk dealer. But the luxurious accommodations were no consolation. At an age when many young men are hijinking through their freshman year of college, here was Bones Adams nursing a painfully broken jaw on a long flight home across the Atlantic, a jaw that would be surgically repaired at his own expense.
In both of his next two fights, Bones dislocated his left shoulder and was forced to shut it down. With three straight losses, all inside the distance, his future looked grim. But Bones persevered and in 1995 was accorded a match in Las Vegas with Kevin Kelley on the undercard of the world lightweight title fight between Oscar De La Hoya and LA-area rival Genero "Chicanito" Hernandez.
They fought outdoors at Caesars Palace in the early evening on a swelteringly hot day. Fighting for a purse of $40,000, Bones fought the last four rounds of the 12-round fight with a badly swollen left eye that appeared to ringsiders, but not referee Mitch Halpern, to be the result of an accidental head butt. When the smoke cleared, veteran Las Vegas judge Bill Graham had it 116-112 for Bones Adams, but he was overruled by Art Lurie, another local man, and Rhode Island import Clark Sammartino who both had it 114-114 and it went into the books as a draw.
A former featherweight champion, Kevin Kelley, the Flushing Flash, was 43-1-2 going in. He was one of the great action fighters of his day, but this particular fight was rather dull. "And that tells you right there I got screwed," says Bones. "I controlled the ring, I made him fight my fight."
Bones would be on the wrong side of another questionable decision in an even bigger fight, but prior to that disappointment, all of his hard work finally paid off and he experienced the highest high of his boxing career.
On March 4, 2000, at the Mandalay Bay Events Center in Las Vegas, Adams deposed WBA super bantamweight champion Nestor Garza. Although he broke his hand in the eighth round, he won a wide decision.
"I was having a lot of aches and pains," Bones recalled, "but when I woke up on the morning of the fight, I felt great, I felt very strong. I called all my friends and told them to bet on me. I had a lot of friends that night."
Bones says that going into the fight he had only $980 to his name. He bet $900 on himself and says he secured 8/1 odds. (In truth, Garza wasn't quite that big a favorite. In boxing, upsets invariably become bigger upsets in the re-telling and with the passage of time.)
After two successful title defenses, Bones returned to Mandalay Bay to oppose Paulie Ayala. Bones held the WBA 122-pound title, Ayala was that organization's 118-pound champion, and yet there was no title at stake, save that of a fringe organization (we wouldn't even try to explain how that came about – hey, this is boxing).
Title or no title, the fight created a lot of buzz. Wladimir Klitschko's WBO title defense against Charles Shufford was relegated to the undercard. And the bout was a humdinger that went to the scorecards after 12 nip-and-tuck rounds. Bones won the last round on the card of all three judges, but that wasn't sufficient to get him over the hump. Ayala won a split decision.
Bones didn't bring the same fire into his rematch with Paulie Ayala who was returned a clear winner after 12 rounds. He felt that he deserved no less than a draw in his next fight, a 12-round featherweight contest with tough Guty Espadas Jr, but that fight too ended with Bones on the wrong side of a split decision. For this bout, Bones had a 12-week camp in Big Bear and felt that he had over-trained.
He would go on to have six more fights for small purses before calling it quits, retiring with a record of 44-7-4. When he left the sport, he wasn't yet 26 years old, but he had a lot of mileage on his odometer – as a pro, he had answered the bell for 344 rounds – and it was time to say goodbye.
Bones concedes that he began to make some bad choices following his first loss to Paulie Ayala, for example using recreational drugs as a crutch to uplift his spirits. He then made a whopper of a bad choice when he accepted an offer of employment from the predatory Charles Horky. To be continued……
Check out more boxing news on video at The Boxing Channel 
To comment on this story in The Fight Forum CLICK HERE
Boxing Odds and Ends: Ramirez-Postol, Taylor-Serrano and More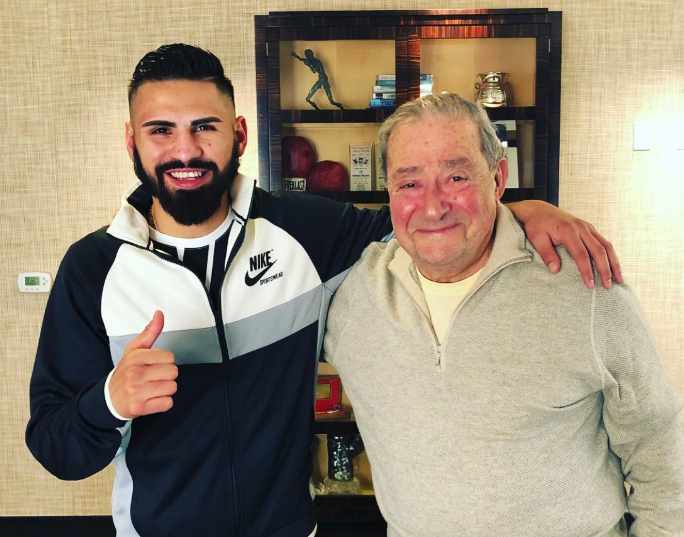 It takes a strong constitution to be a boxing promoter because things always go wrong. The only law that governs boxing is Murphy's Law.
Carl Frampton's first fight under the Top Rank banner was slated for Aug. 10 of last year in Philadelphia. With the fight five days away, Frampton suffered a freak injury while sitting in a hotel lobby. A boy playing behind a curtain knocked over a seven-foot pillar which fell on Frampton's left hand, fracturing it.
This was the second time that a Frampton fight was knocked out by a freak injury. Two years earlier, a homecoming fight in Belfast had to be scrapped when Frampton's opponent, Andres Gutierrez, slipped in the shower in his hotel on the eve of the battle and suffered severe facial injuries.
The latest bout to fall out because of an odd development is Jose Ramirez's Feb. 2 WBC/WBO lightweight title defense against Viktor Postol at a Chinese golf resort south of Hong Kong. The event fell victim to the coronavirus, more exactly the fear it has instilled.
The virus, which produces flu-like symptoms that are resistant to conventional antibiotics, apparently originated at an outdoor food market in the city of Wuhan where live animals are sold. The numbers vary with each new story, but according to one account there have been 444 confirmed cases in Hubei province, of which Wuhan is the capital city, and 653 cases worldwide including two in the United States, a man in his 30's living near Seattle and a Chicago woman in her 60's.
The fear of a pandemic (an epidemic becomes a pandemic when it spreads across multiple geographic regions of the world) has led to some drastic measures. The Chinese government has reportedly put 12 cities on lockdown, blocking traffic in and out. At many airports, visitors arriving from China are being screened. There are now thermal cameras than can record a person's body temperature remotely.
Jose Ramirez (pictured with his promoter Bob Arum) was scheduled to leave for China yesterday (Jan. 23) but was intercepted. Viktor Postol is already there and apparently stranded until an outgoing flight can be arranged.
The Ramirez-Postol fight was to air on ESPN. No make-up date has been set.
– – –
British promoter Eddie Hearn says he's close to finalizing a fight between Katie Taylor and Amanda Serrano. Hearn says the fight will take place in the U.S. in April. It figures that Madison Square Garden is the frontrunner.
If the fight comes off on schedule, this will be the biggest women's fight in history!
That's because the odds attached to the fight figure to be in the "pick-'em" range and that guarantees that boxing writers and others in the boxing community will be surveyed to get their picks – about which there figures to be considerable disagreement – and that will greatly enhance the pre-fight buzz.
Taylor, 33, last fought in November in Manchester, England, advancing her record to 15-0 (6 KOs) with a unanimous decision over Christina Linardatou, a fighter from Greece via the Dominican Republic. It was Taylor's first fight at 140 after previously unifying the lightweight title with a hard-fought decision over Belgium's Delfine Persoon.
Amanda Serrano, a 31-year-old southpaw, born in Puerto Rico and raised in Brooklyn, has won titles in five weight divisions. She last fought as a featherweight, turning away gritty Heather Hardy, but has competed as high as 140. Boasting a 37-1-1 record, she's won 23 straight, 18 by stoppage, 10 in the opening round
What sets women boxers apart from their male counterparts is that the women have a significantly lower knockout ratio. Amanda Serrano is the glaring exception.
Despite a less eye-catching record, Taylor has arguably fought the stiffer competition considering her extensive amateur background. As a pro, her victims include Cindy Serrano, Amanda's older sister by six years. Taylor whitewashed her in a match at Boston Garden, prompting the elder Serrano sister to call it a career.
– – –
The most bizarre (non)story to appear in a boxing web site this week involved former unified heavyweight champion Riddick Bowe. A man representing Bowe, identified as Eli Karabell, was frustrated because Eddie Hearn wasn't returning his calls. Karabell had offered Hearn the right of first refusal on Bowe's next fight.
Bowe, now 51 years old, last fought in a boxing ring in 2008 when he returned to the sport after a three-and-half year absence for an 8-round bout in Germany. In 2013, he appeared in a kickboxing fight in Thailand where he was stopped in the second round after being knocked down five times by leg kicks.
"Will there be another chapter to write for Bowe?" concluded the author of this piece.
Egads, let's hope not.
Check out more boxing news on video at The Boxing Channel 
To comment on this story in The Fight Forum CLICK HERE
Boxing Odds and Ends: Crawford, Canelo, Caleb Plant and More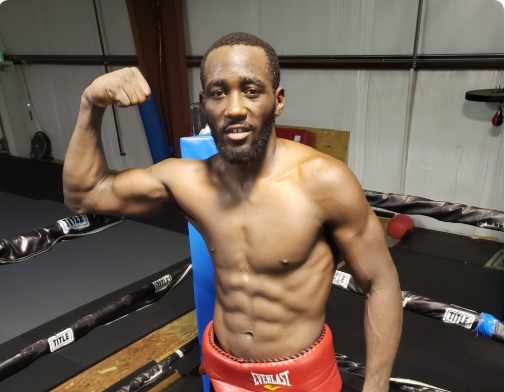 Boxing Odds and Ends: Crawford, Canelo, Caleb Plant and More
Although a lot of disinformation comes out of the mouths of boxing promoters, Bob Arum was apparently serious when he broached the idea of a two-fight series between Terence Crawford and Conor McGregor, the first fight to be conducted under MMA rules and the second under boxing rules.
Crawford is amenable. "I just have to have the proper time to prepare myself," he told ESPN's Dan Rafael. "…I haven't been in that (wrestling) environment in a long time, but most definitely I feel I can compete with anyone given the proper time to train on the MMA side, being that I have a wrestling background."
Crawford, 32, last wrestled in middle school so he would certainly need a refresher course. However, he would have a better chance of defeating Conor McGregor in an MMA match than McGregor would have of defeating him in a boxing match. So, if Arum's proposed two-fight series ever comes off, the tailpiece may be unnecessary.
– – –
As first reported by ESPN's Steve Kim, Andy Ruiz Jr. has dumped trainer Manny Robles. According to Kim's report, Ruiz's father informed Robles of the decision and said it was Al Haymon's idea.
Andy Ruiz appears to be one of those people that can gain weight just looking at food. He weighed 297 ½ pounds for his pro debut at age 19, carried 268 pounds for his first meeting with Anthony Joshua, and ballooned up to 283 ½ for the rematch after leading reporters to believe that he had actually slimmed down for the sequel.
Ruiz, noted Kim, went from a feel-good story to a cautionary tale in just six months.
– – –
Who ya' gonna believe?
A certain disreputable web site, bragging that it had an exclusive, told its readers that Canelo Alvarez had settled on Billy Joe Saunders as his next opponent and that they would meet on Cinco de Mayo in Las Vegas. The next day, Sports Illustrated's Chris Mannix, a far more trustworthy source, reported that Ryota Murata had emerged as the frontrunner and that negotiations were underway to stage the fight in Japan.
Perhaps it makes sense for Canelo to promote his brand in a new market. However, if he fights Murata, who holds a WBA belt, he would reportedly be dropping back to 160 and at age 29 he appears to have outgrown the weight class.
Stay tuned.
– – –
If Caleb Plant were an NBA player, his name would be Kevin Love. Plant, who recently married FOX/PBC reporter Jordan Hardy, is the only U.S.-born, non-Hispanic white person among the various champions in the 17 weight divisions.
Plant, who hails from tiny Ashland City, Tenn. (23 miles from Nashville) defends his IBF super middleweight title on Feb. 15 at Nashville's 20,000-seat Bridgestone Arena. In the opposite corner will be Germany's Vincent Feigenbutz who will be making his U.S. debut.
The 24-year-old Feigenbutz, who turned pro at age 16, has won 10 straight and 30 of his last 31. He represents a big step up in class from Plant's last opponent, Mike Lee, who was in way over his head.
– – –
A sad note from South Africa: Five days after the death of trailblazer Peter Mathebula, his widow, Emma Gabaitsiwe Mathebula, died suddenly of an apparent heart attack. Peter Mathebula's funeral, originally set for Saturday, has been pushed back until Tuesday and will now be a joint funeral.
Mathebula, who won the WBA world flyweight title in 1980, basically died a pauper, having sold all of  his boxing memorabilia to keep his head above water. His heirs had reached out to the government for assistance in defraying the costs of his burial.
Check out more boxing news on video at The Boxing Channel 
To comment on this story in The Fight Forum CLICK HERE
Avila Perspective, Chap. 82: Jason Quigley Returns to SoCal and More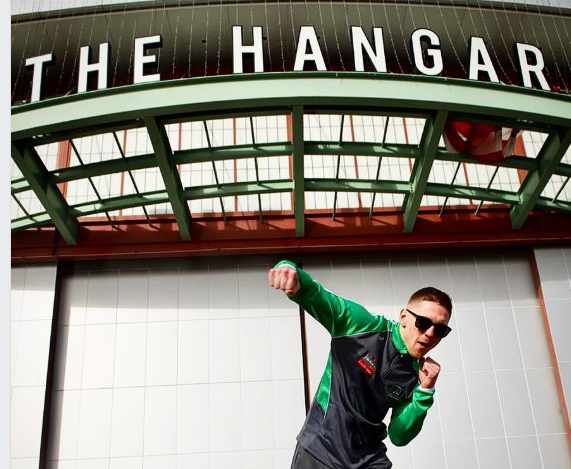 Southern California prizefighting heats up with Jason Quigley headlining a fight card in Orange County and then, two days later, another fight card takes place in the heart of Los Angeles.
Ireland's Quigley (17-1, 13 KOs) faces Mexico's Fernando Marin (16-4-3, 12 KOs) on Thursday Jan. 23, at the OC Hangar in Costa Mesa, Calif. DAZN will stream the Golden Boy Promotions fight card live.
Quigley, 28, seeks to reclaim territory lost when he suffered a defeat last July against Tureano Johnson. Ironically, Marin would lose 10 days later in Hollywood to super welterweight contender Serhii Bohachuk.
For several years Quigley had trained in Southern California but decided to change trainers and location. He moved to Great Britain and still prepares near his native country but primarily fights in the U.S.
At one time Quigley clamored for a match against Gennady "GGG" Golovkin or Saul "Canelo" Alvarez but now finds himself trying to prove he belongs in the upper tier of the middleweight division. It's loaded with talent.
Also on the same fight card will be popular North Hollywood super welterweight Ferdinand Kerobyan who was headed to contender status when he ran into Blair "the Flair" Cobbs. At the time Cobbs was an unknown quantity but no longer.
Kerobyan (13-1, 8 KOs) meets Azael Cosio (21-8-2) in an eight-round clash in the semi-main event at OC Hangar. Doors open at 5 p.m.
Red Boxing International
On Saturday Jan. 27, Red Boxing International hosts its first boxing card of the year at Leonardo's Night Club located at 6617 Wilson Ave. L.A. 90001. Doors open at 5 p.m.
Super welterweight Bryan Flores (13-1, 6 KOs) meets Brandon Baue (15-17) in the main event  in the first event of the year for the ambitious promotion company. For the past two years Flores fought primarily in Tijuana, Mexico where he racked up six wins. Now he's back on Southern California soil.
Another match features lightweights Angel Israel Rodriguez (5-0) facing off against Braulio Avila (3-6) in a six-round fight.
Rodriguez fights out of Pico Rivera, Calif. but recently fought in Costa Rica where he won by first round knockout in November. He will be fighting Avila who just fought two weeks ago at the Chumash Casino in Santa Ynez, Calif.
It's a long fight card with 11 bouts on the schedule.
JRock and Rosario
Boxing fans received another lesson on never underestimating a ranked contender regardless of the name recognition.
Jeison Rosario knocked out Julian "J Rock" Williams who was making the first defense of the WBA and IBF super welterweight world titles he won last year in my selection as "Fight of the Year."
Rosario walked in with little recognition and was thought to be a soggy piece of bread for Williams. The long armed Dominican fighter walloped Williams in front of his hometown fans in Philadelphia. It was yet another warning for fans to understand that anyone who steps in the boxing ring ranked as a contender can do the unthinkable. In this case Rosario knocked out the champion in five rounds.
Many felt Williams was far too skilled, especially on the inside where he showcased those skills last May against former titlist Jarret Hurd. It was a remarkable display of the art of inside fighting. But against Rosario, he never got a chance to exhibit those skills.
The loaded super welterweight division has another dangerous champion in Rosario.
Fights to Watch
Thurs. 6 p.m. DAZN – Jason Quigley (17-1) vs Fernando Marin (16-4-3).
Sat. 6 p.m. Showtime – Danny Garcia (35-2) vs Ivan Redkach (23-4-1).
Check out more boxing news on video at The Boxing Channel 
To comment on this story in The Fight Forum CLICK HERE