Whereabouts Unknown, but Quite Dead: The Sad Saga of Barbados Joe Walcott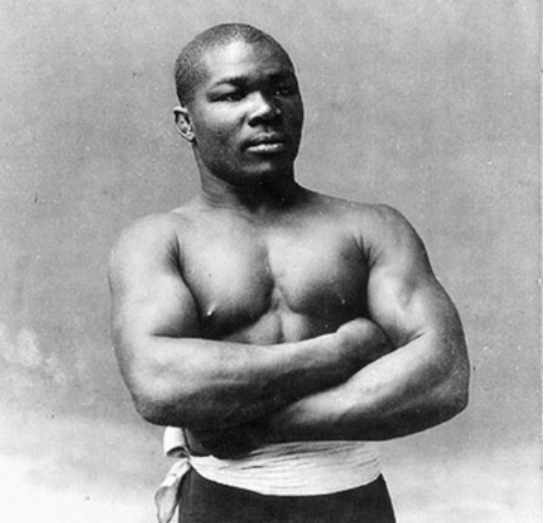 The birth date of many antiquarian fighters is in dispute. Joe Walcott, whose name was adopted by a man who went on to win the world heavyweight title, is no exception. Named the greatest welterweight of all time by Nat Fleischer, Walcott was born on April 7, 1872 or March 13, 1873 depending on the source. But what's unusual about Walcott is that even the date of his death is uncertain. Some say Oct. 1, 1935 and others pinpoint Oct. 4 of that year. Both dates are approximations.
Walcott was born in Guyana and spent his formative years in Barbados before arriving in Boston in his mid-teens. He supposedly arrived as a cabin boy on a ship and was marooned after overstaying his shore leave. When he took up boxing, he was working as an elevator operator or a piano mover. Again, reports differ. Regardless, Boston became his home and he remained in the Boston area for all but a few of the last years of his life.
As boxers go, Walcott was a freak of nature. He stood only five-foot-one-and-a-half, was barrel-chested with virtually no neck, and had extremely long arms. He held the welterweight title for the better part of four years beginning in 1901, but would be best remembered for conquering men much bigger than he.
Walcott was a stablemate of George "Little Chocolate" Dixon, a man who in his prime was rated the best pure boxer in the sport. When George Dixon hit the vaudeville circuit between important engagements, as was the custom for an important fighter in those days, the Barbados Demon, as he was called, often accompanied him, either serving as his valet or boxing a local man, perhaps a plant in the audience, in a bout with a short ceiling, customarily four rounds. On those occasions when he and Dixon were both "taking on all comers," the audience got a doubleheader. Walcott also frequently worked as Dixon's second, working alongside their manager Tom O'Rourke, and would become a frequent sparring partner of the famous heavyweight Sailor Tom Sharkey after Sharkey came east and joined the O'Rourke stable.
The wily and politically-connected O'Rourke handled mostly black fighters and had enough juice to match the best of them with good white fighters during an era when interracial fights were banned in many places, ostensibly because they were tinderboxes of racial discord.
Walcott's signature win was a seventh-round stoppage of Joe Choynski. They met in New York on February 23, 1900.
Walcott knocked him down five times in the opening round and kept up a steady assault until the referee halted the massacre. This was the same Joe Choynski who had fought a 20-round draw with James J. Jeffries, then the reigning world heavyweight champion, and would soon KO the formidable up-and-comer Jack Johnson.
Like so many of Walcott's fights, his match with Choynski, a super middleweight by today's taxonomy, was fought at catchweight; Barbados Joe was out-weighed by 16 pounds. By Walcott's standards, this wasn't a large deficit. The following year he went out to San Francisco and scored a 20-round decision over George Gardner, a man who would come to be recognized as the world's light heavyweight champion. According to the San Francisco Call, the crowd laughed when the fighters were brought to center ring to get their instructions from the referee. Gardner was the taller man by 11 inches.
Folks also laughed when Walcott fought Fred Russell in Chicago. Russell weighed 215.
We have heard of fighters landing an uppercut of such ferocity that their opponent is lifted off the ground. Joe Walcott turned this image upside-down. It was written that his feet were six inches off the ground when he toppled Fred Russell with a smash to the jaw. From that point on, Russell fought timidly, lasting the six-round distance which, by prearrangement, earned him a draw.
"Walcott," said Tom O'Rourke in a 1903 interview, "was one of the hardest men to manage I ever had. He did not want to train, but was so strong that it did not make much difference… He could take an amount of punishment that would have sent a white man to the hospital for repairs."
Walcott had then broken free of O'Rourke although they would reconcile. Declaring his independence was a bold move on Walcott's part as O'Rourke was a hard-boiled guy with pals in the underworld. "Somewhere in New York there is an extremely black and squat negro who, if the truth were known, probably is in mortal terror of his life," said a story in a Connecticut paper.
Walcott crammed 138 documented fights into a career spread across 19 years. (He missed all of 1905 after accidentally shooting himself in the hand in October of the previous year). Typical of all great boxers, he hung on too long, winning only five of his last 21 fights. But he left the sport in good shape financially, or so it was written. A family man, he owned a nice cottage on a good-sized piece of land in the Boston suburb of Malden, Massachusetts. But his marriage unraveled and whatever savings he had eventually evaporated.
In 1932, he worked as a porter at Yankee Stadium, switching to Madison Square Garden when the weather turned cool. On the side he taught boxing at a boys' club and refereed some informal amateur bouts. He then resided in the unheated basement of the home of a brother who had a small Manhattan ice and coal business. (An interview of Barbados Joe Walcott from 1932 surfaced last December on YouTube. The rare video is from the collection of Steve Lott, the protégé of Mike Tyson's late co-manager Bill Cayton who once owned the largest collection of rare fight films in the world. In the video, Walcott talks about his bouts with Choynski and Kid Lavigne and talks in general terms about the current crop of fighters: "Sometimes the boys box so bad I get a little disgusted…You can't tell 'em anything because they know more than you." The video is a wonderful artifact.)
Inevitably, the life story of Barbados Joe Walcott intrigued some folks in Hollywood. That is why Walcott headed west in the fall of 1935 with a man who identified himself as a theatrical agent. A studio executive was interested in talking with Joe about a potential biopic.
Somewhere in Ohio the two became separated. Walcott was last seen in the town of Mansfield. "He came to the police station one night (and told me) his partner was sick," said the Mansfield Chief of Police. "He wanted to know where the colored section of town was located, and I asked him if he had money for a room. I directed him to the district when he told me he could pay for his lodging. I know he was down there for a couple or three days."
The disappearance of Joe Walcott, perhaps the greatest welterweight ever, didn't set off any alarms. He and his associate reportedly left his sister's house in Philadelphia on Sept. 7. The quotes from the Mansfield Chief of Police ran in the Mansfield News Journal on Dec. 12.  Three months later, on March 7, 1936, this headline appeared in the Baltimore Afro-American: "Joe Walcott Still Missing After 6 Months."
Back in early October of 1935, a man with no identification was found dead by the side of the road near Massillon, Ohio, 55 miles from Mansfield. An examination of the body indicated that he had been hit by a car. The man was buried in an unmarked grave in Dalton, Wayne County, Ohio. Ultimately it was determined that the decedent was Joe Walcott.
Walcott's tombstone now reads "Joe Walcott, World's Champion, 1872-1935." It's a nice simple memorial, but doesn't begin to tell the story of Joe Walcott, the Barbados Demon. The little giant, as he was sometimes referenced, was a remarkable man.
Check out more boxing news on video at The Boxing Channel  
To comment on this story in The Fight Forum CLICK HERE
Remembering 'Rocky Estafire,' One Tough Syrian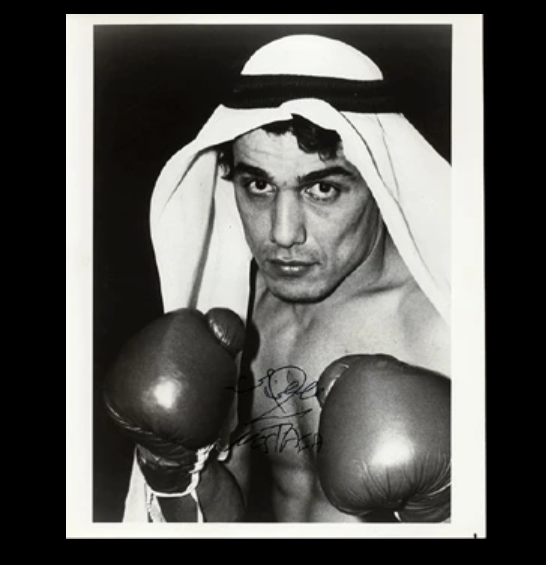 On Sept. 9, 1978, a Bayonne, New Jersey brawler who was billed as Rocky Estafire when he was first starting out, stopped slick Bobby "Boogaloo" Watts in Jersey City giving notice that he was becoming a force to be reckoned with in the middleweight division. Watts was no slouch having split a pair with Marvelous Marvin Hagler.
"Strictly LaMotta style," said Paddy Flood of his fighter who would come to be known by his real name, Mustafa Hamsho.
In 1980, he beat undefeated Wilford Scypion and followed that up with close wins over Curtis Parker and Alan Minter in 1981 leading to his first of two title clashes with Hagler. This bloody encounter, won by Hagler on an 11th-round TKO, left both fighters needing stiches.
"Throughout Hagler's nonstop, 11th-round barrage, Hamsho kept coming on. He didn't win a round, but he did take the battle of the stitches, 55-5," wrote Pat Putnam in Sports Illustrated. "I don't know what his corner was waiting for…The meat from his eyes was hanging down. But I can't let that bother me. I just have to think, better him than me," said Hagler.
More from Putnam: "When Hagler had left the hospital, the doctors were still working over Hamsho, who, until his trainer, Al Braverman, jumped into the ring to stop the fight, looked as though he would run out of blood before he ran out of heart. He was badly cut under both brows: Each wound was at least two inches long and half an inch wide. There was another slice under his left eye. He didn't win a round from any of the three officials."
Al Braverman, who co-managed Hamsho with the aforementioned Flood, once described the Syrian's style as follows: "…."He's got no style. He just wades in, throwing punches from any angle."  He also possessed great stamina, a granite chin and incredible courage, along with head and shoulder butts, elbows, low blows, shoves, holding, chops behind the head, and whatever he could get away with.
The Matinee Idol
Bobby Czyz was 20-0 when he met Hamsho at the Convention Center in Atlantic City on Nov. 20, 1982. The undefeated New Jersey lad with the somewhat strange moniker of "Matinee Idol" and the high IQ had solid wins over Danny Long, Teddy Mann, Oscar Albarado, Elisha Obed, and Robbie Sims. Against Hamsho he was stepping up in class but he was a solid opponent for the Syrian who was 34-2-2 coming in.
If Bobby won, he would position himself for a shot at Marvelous Marvin, but Hamsho mauled and mugged the future world light heavyweight champion over ten rounds and won a convincing UD. (The rest of the Bobby Czyz story is told in "The Boxer Who Became a Bagger," a remarkable and poignant article by sports columnist Steve Politi that first appeared in the Newark Star-Ledger.)
Wilfred Benitez
HIs UD victory over Wilfred Benitez (45-2-1) in 1883 was pure Hamsho featuring elbows, butts, and low blows. The third round was difficult to watch as the compact Syrian rendered a brutal beating on "El Radar," using accurate nonstop shots coming from all directions. Between slips and knockdowns, Wilfred hit the deck four times.
Clearly, Benitez had faded, but Hamsho hastened the process and helped point the legendary Puerto Rican in a downward direction. Wilfred looked sluggish and poorly conditioned; he was not the same Benitez who knocked out Maurice Hope in spectacular fashion or out-boxed Roberto Duran for 15 rounds. Something was wrong.
But even in top shape, Benitez would have struggled against Hamsho with his mauling, brawling, non-stop pressure. Hamsho could make anyone look bad.  (Wilfred Benitez would lose several more outings after the Hamsho beatdown. Matthew Hilton finished the job with a terrifying KO in 1986. Wilfred's story is a terribly sad one as he now requires constant care.)
Hamsho would lose another fight with Hagler—this time quickly and badly– and then go 6-2 before retiring in 1989 with a record of 44-5-2.
Those who were fortunate enough to see him fight remember a fan-pleasing, all-action combination of Vito Antuofermo, Michael Katsidis, Antonio Margarito, and Gene Fullmer.
Amir Khan and Prince Naseem Hamed are two very high profile, proud Muslim fighters. Mustafa Hamsho's name can be added.
Ted Sares can be reached at tedsares@roadrunner.com
Check out more boxing news on video at the Boxing Channel
To comment on this story in the Fight Forum CLICK HERE
Miguel Madueno Scores His 12th Straight Knockout at Ontario, Calif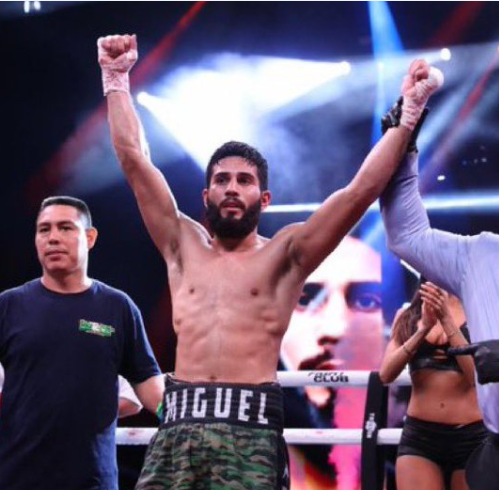 Ontario, CA — A return of fans to the Inland Empire saw Mexico's Miguel Madueno extend his consecutive knockout streak to a dozen at the Doubletree Hotel in Ontario, California on Friday.
It was the first fan-filled event for a Thompson Boxing card in the "I.E." in almost two years.
Lightweight contender Madueno (26-0, 24 KOs) of Culiacan powered his way to his 12th consecutive knockout and this came at the expense of fellow Mexican Jose Luis Rodriguez (25-15-1, 13 KOs) with a focused attack to the body.
Rodriguez was clever and tough and would not allow Madueno to overwhelm him during the first four rounds. But in the fifth he was not as lucky as a four-punch barrage to the body sent him to one knee. He beat the count but was overwhelmed by Madueno who forced referee Raul Caiz to end the fight at 2:46 of the fifth round.
"In reality I thought I would end it early," said Madueno about seeking an early knockout. "But he could take it."
In the co-main event Japan's Katsuma Akitsugi (7-0) outhustled Northern California's Eros Correa (10-1) after eight rounds in a bantamweight scrap to win by majority decision.
Akitsugi, a southpaw, and Correa both showed quick hands and good chins. But the Japanese fighter was always on attack and Correa resorted to holding from the second round on. He was never warned by the referee for excessive holding. It could have helped him get back in the fight.
Every time Akitsugi entered the danger zone Correa would grab ahold like an MMA fighter instead of fighting on the inside. While Correa held Akitsugi punched and that proved the difference as two judges scored it 78-74 for Akitsugi, while a third saw it 76-76.
"I could not box my style at all," said Akitsugi, 23. "I'm glad I brought the win home."
Other Bouts
San Bernardino's Esteban Munoz (5-1, 3 KOs) knocked out Tijuana's Manuel Martinez (6-5-4) with a body shot in the first round. He could not beat the count. Munoz had stunned Martinez earlier with a counter right. Then he found an opening to the body and delivered a right to the gut and down went Martinez. He was counted out at 1:50 of the first round.
Coachella's Lazaro Vargas (4-0) out-worked Ulises Rosales (0-5) over four rounds of a super bantamweight match to win by unanimous decision 40-36 on all three cards.
Check out more boxing news on video at the Boxing Channel
To comment on this story in the Fight Forum CLICK HERE
Oscar Rivas is Boxing's First Bridgerweight Champ; Tops Spunky Ryan Rozicki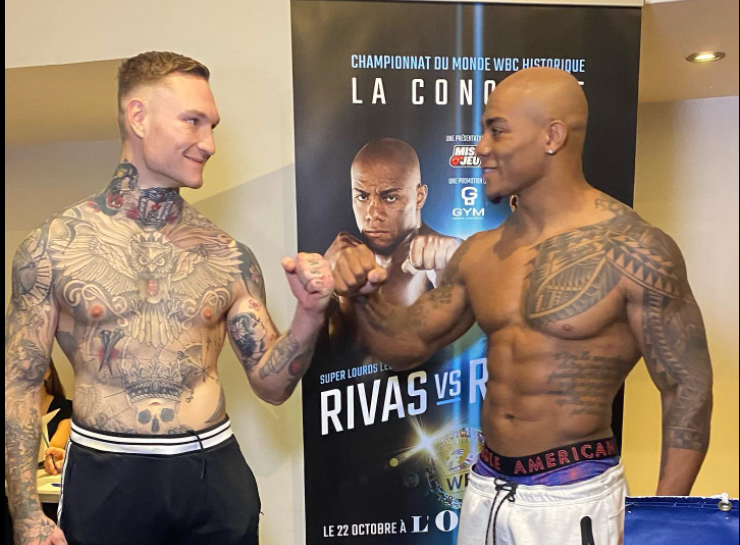 Back in January, the World Boxing Council announced that they were creating a new weight division. Tailored to boxers weighing between 200 and 224 pounds, they named it Bridgerweight. Tonight, at the Olympia Theatre in Montreal, the first WBC bridgerweight champion was crowned. Montreal-based Oscar Rivas, a 2008 Olympian representing his native Columbia, turned the trick with a unanimous 12-round decision over fellow Canadian Ryan Rozicki, advancing his record to 28-1 (19).
Rozicki, who is from Nova Scotia, out-performed expectations. Although he had knocked out all 13 of his opponents since turning pro in 2016, he hadn't defeated anyone of note and hadn't fought beyond six rounds. He drew the assignment when Rivas's original opponent Bryant Jennings was scratched because of his refusal to accept Canada's COVID protocols for unvaccinated foreigners. (A match between Rivas and Jennings would have been a rematch of their Jan. 18, 2019 contest in Verona, New York, a rather ho-hum match that had a dramatic ending when Rivas turned up the heat in the 12th round.)
Rivas, 34, was making his second start since suffering his lone defeat, a setback on points in a 12-round contest with Dillian Whyte in London. The heavier man by 19 pounds, he dominated the first two frames, rocking Rozicki in the opening stanza, but the Nova Scotian clawed his way back into the fight. Rivas had a strong penultimate round and although he had a point deducted for holding in the final stanza, it did not factor into the outcome. The judges had it 116-111 and 115-112.
What's next for Oscar Rivas? Logically a bout with Evgeny Romanov. A 36-year-old Russian with a 16-0 (11-0 mark), Romanov was ranked #2 behind Rivas in the WBC's latest set of bridgerweight rankings. Romanov's claim to fame is that he TKOed Deontay Wilder is in amateur days, but that was way back in 2008.
Another possibility, and one likely to attract more buzz, would be a bout with Alen Babic. A 30-year-old Brit by way of Croatia, the colorful, free-swinging Babic (8-0, 8 KOs) has a date later this month in London with Texas trial horse Eric Molina.
The best guess, however, is that Rivas will discard the belt and go back to competing as a heavyweight. The bridgerweight title, we suspect, like many of the lesser titles, will be perpetually vacant, which likely wouldn't trouble the WBC at all as they will gather up a sanctioning fee from a bridgerweight title fight whether there is an incumbent or not.
There were two 8-rounders offering chief support, but both were cancelled when the opponents failed to pass muster. Left in the lurch were "A side" Canadians Sebastien Bouchard, a welterweight, and Steve Rolls, a middleweight.
Check out more boxing news on video at the Boxing Channel
To comment on this story in the Fight Forum CLICK HERE