Fury vs. Wilder Echoed Holmes-Shavers; Now the Gypsy King Has an Easier Assignment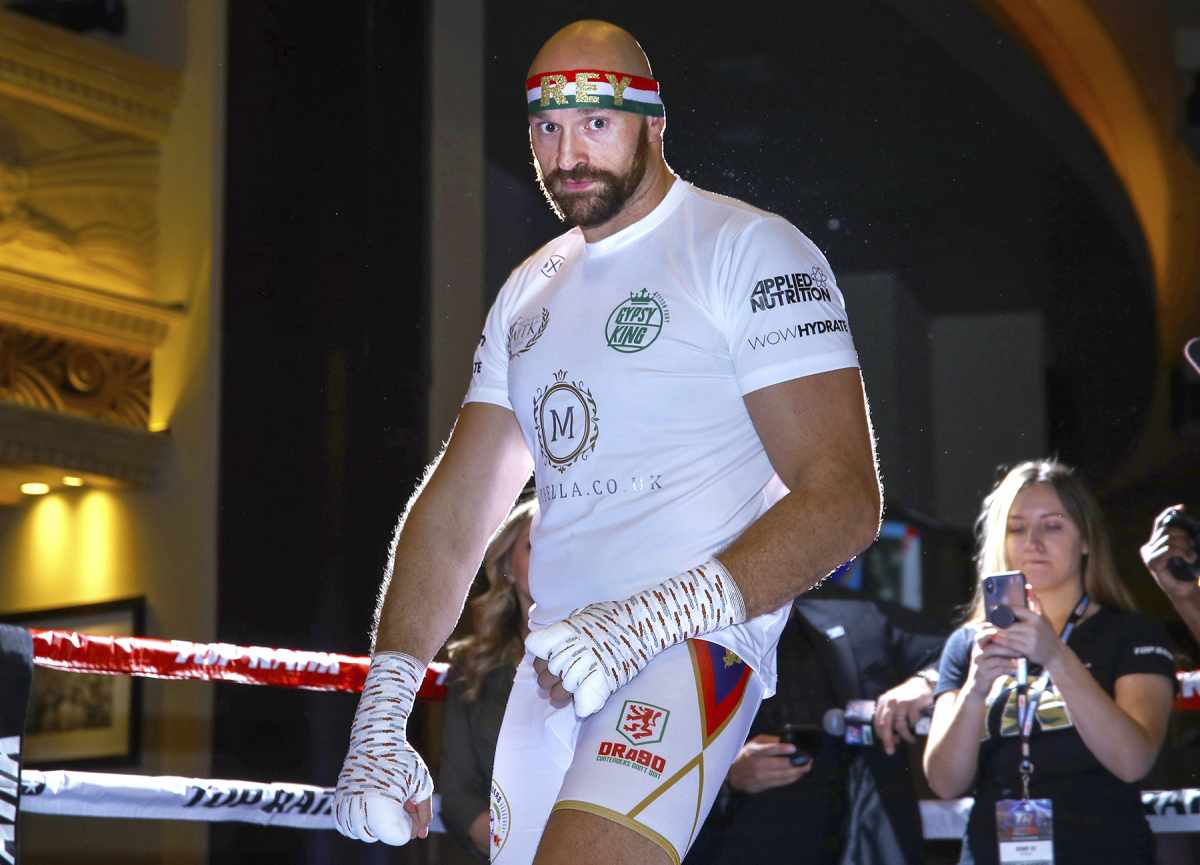 It's not an exhibition bout per se, but Saturday night's matchup of lineal heavyweight champion Tyson Fury and Sweden's Otto Wallin at Las Vegas' T-Mobile Arena, to be streamed via ESPN+, almost certainly should be considered a mortal-lock victory for the "Gypsy King." Fury, coming off a blowout of Tom Schwarz, is -3,500 according to the most recently posted wagering line, meaning you'd have to put up $3,500 on him to come away with a skimpy $100 profit. Wallin is a +1,300 long shot, both lines indicating that the Scandinavian southpaw absolutely should not be looked upon as a potential second coming of the late Ingemar Johansson. Despite his undeservedly high No. 4 ranking from the WBA, Wallin has about as legitimate a chance of taking down Fury as might Bjorn Ulvaeus, the 74-year-old singer/songwriter for the Swedish pop group ABBA, whose last single to chart in the U.S. was in 1981.
Instead of his typical boasting, Fury (28-0-1, 20 KOs) is doing his darndest to portray the scheduled 12-rounder, if it lasts that long, as something akin to serious competition. He cites Wallin's WBA ranking as proof that the Swedish mystery man (20-0, 13 KOs) isn't merely a steppingstone on the way to a much-anticipated rematch with WBC champion Deontay Wilder, or maybe a go at the winner of the Dec. 7 do-over between WBA/IBF/WBO titlist Andy Ruiz Jr. (33-1, 22 KOs) and former unified champ Anthony Joshua (22-1, 21 KOs). If Fury elects to take an even bolder stab at acting humble, he might mention that, in his American debut on April 20, 2013, at the Theater at Madison Square Garden, he was on the wrong end of a flash knockdown in the second round against former cruiserweight king Steve Cunningham, who at 6-foot-3, 210 pounds and with an 82-inch reach, was giving away 44 pounds, six inches in height and three inches in reach. Fury regrouped from that momentary embarrassment and went on to win on a seventh-round stoppage.
But, hey, that was then and this is now. Nobody ever knows with absolute certainty what will transpire inside the ropes, but it says here that the biggest, most-compelling heavyweight fight that can be made in the foreseeable future, even bigger and more compelling than Ruiz-Joshua II, is a second pairing of Wilder and Fury, who fought to a controversial, entertaining and ultimately inconclusive split draw on Dec. 1, 2018, at the Staples Center in LA.
It is what happened in the 12th and final round of that fight that fully legitimized Fury in my mind, maybe even more so than his functional if excitement-deficient points dethronement of the long-reigning Wladimir Klitschko on Nov. 28, 2015 in Dusseldorf, Germany. It is easy for any talented fighter to look good when he is having his way with an outclassed opponent, quite another when that fighter has to pick himself off the deck against a power hitter accustomed to having his hand raised once he puts his man down and seemingly out.
I would have liked to ask Fury if he answered any questions about himself by not only barely beating the count against Wilder, who to all the world appeared to think he had just registered his 41st exclamation-point victory in 42 bouts, but my request for a one-on-one telephone interview hit a snag while wending its way through channels. Still, like Earnie Shavers, another big bopper from another era with a ridiculous knockout percentage, Wilder can be excused for believing that Fury, who was nailed with a jolting overhand right and follow-up left hook before his shaven skull bounced hard off the canvas, was done for the night. Nor was the "Bronze Bomber" alone in that assumption.
After Wilder sent an unmoving Fury flopping onto his back as if tranquilized, Showtime blow-by-blow announcer Mauro Ranallo nearly hyperventilated in screaming, "Deontay Wilder has done it!" But referee Jack Reiss had another idea and initiated a count that more than a few others in his position would have dispensed with. He had reached nine when Fury lurched to his feet, prompting analyst Paulie Malignaggi to say, almost in disbelief, "Wow, he got up."
Not only was Fury up, but after fending off a cavalry-charge attack by a disbelieving Wilder, he even dipped deep enough inside himself to carry the fight to the WBC champion in the closing moments.
"At that moment (of the knockdown), did anyone in this arena really think Tyson Fury was going to get up?" veteran analyst Al Bernstein asked, rhetorically.
"Guys, I thought the fight was over when Deontay Wilder dropped Fury," Ranallo chipped in.
Malignaggi then added another astute observation, noting that "maybe hitting the canvas woke (Fury) up."
The entire sequence of events reminded me of another fight, the rematch of WBC heavyweight champion Larry Holmes and knockout artist Shavers, on Sept. 28, 1979, at Las Vegas' Caesars Palace. Holmes was riding his best weapon, a stinging, accurate, state-of-the-art jab, to a big lead on the scorecards when, in the final minute of the seventh round, Shavers – whose nickname, "The Acorn," had been conferred upon him by Muhammad Ali – delivered a crushing right hand that had primarily contributed to 56 of his 58 inside-the-distance victories up to that point. Holmes went down as so many others had, rolled onto his side and decided, hey, I've come this far, why not get up and go a bit more?
Shavers, as Wilder would nearly 39 years later, raised his arms in exultation on his way to a neutral corner, so certain was he that he had just become heavyweight champion of the world. But when he turned around, Holmes was upright and prepared to carry on, which he did en route to winning via 11th-round TKO.
"I always tell Earnie that he hit me too hard," Holmes would often say later. "If he hadn't hit me quite so damn hard, he would have knocked me out for sure. That punch actually kind of woke me up when I hit the floor.
"Man, I still got knots in my head where he hit me. Earnie could punch very hard, incredibly hard. I hear people say, `Aw, man, he couldn't possibly hit that hard as everybody says. They think that the stories about Earnie's power are exaggerated. It's no exaggeration. That power was real."
There are means, scientific means, of calibrating a boxer's punching power. The usual formula is for them to drill a padded bag in which instruments are housed to measure pounds per square inch. But fight fans aren't particularly geeky, and the word of a respected champion usually means more to them than a computer printout. In 2003 Shavers was listed as the 10th greatest puncher of all time by The Ring, which is understandable considering that Holmes, Muhammad Ali, Ken Norton, Ron Lyle, Tex Cobb and Joe Bugner all tabbed him as the hardest puncher they ever faced. Another list – aren't all of these things subjective? – had Mike Tyson as the hardest-hitting heavyweight of all time with Shavers No. 6. Holmes fought both but was nearly 40 years of age and hadn't fought for two years when, with scant time to train, he was stopped in four rounds by Tyson on Jan. 22, 1988.
"There's no doubt in my mind who hit the hardest – Earnie Shavers," the "Easton Assassin" said when contacted for this story. "Mike Tyson hit me when I wasn't in shape. I was in shape for Earnie Shavers, so when he hit me I was able to get up. Mike Tyson knocked me down and I got up, but I wasn't in any kind of shape. If you've been off for two years and you don't get a couple of months to get ready for a fight like that, you're probably going to get knocked out."
It would be interesting if there was some way to accurately gauge the power of a Shavers, and the resiliency of an in-his-prime all-time great like Holmes, in relation to the power of Wilder and the recuperative powers of Fury. All any fight fan can do is to marvel at the unstoppable force meeting the immovable object, which is when any boxing match can elevate itself from sporting event to incredibly high drama.
Here's hoping that Wilder-Fury does not remain on the back burner much longer. Until it does come to pass, snack on the celery stalk of Fury vs. Wallin until the real entrée is served piping hot.
Photo credit: Mikey Williams for Top Rank
Check out more boxing news on video at The Boxing Channel  
To comment on this story in The Fight Forum CLICK HERE
The Fight of the Century: A Golden Anniversary Celebration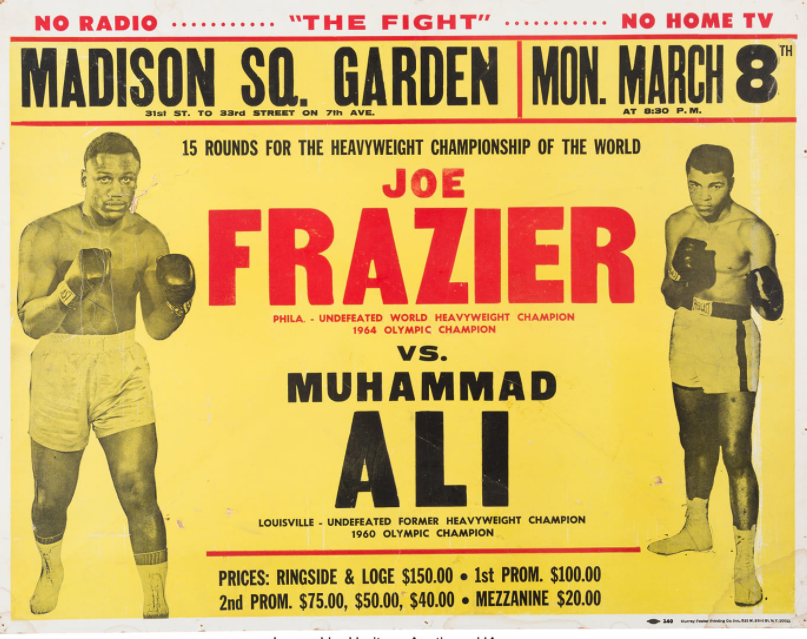 In professional boxing, fights can be rank-ordered as generic fights, big fights, bigger fights, mega-fights, and spectacles. The first fight between Muhammad Ali and Joe Frazier wasn't merely a spectacle, but the grandest spectacle of them all. This coming Monday, March 8, is the 50th anniversary of that iconic event.
Ali-Frazier I was staged at three-year-old Madison Square Garden, the fourth arena in New York to take that name. It drew a capacity crowd: 20,455 (19,500 paid). An estimated 60 percent of all the tickets sold fell into the hands of scalpers.
The fight was closed-circuited to more than 350 locations in the United States and Canada. At some of the larger venues, it established a new record for gate receipts, and this for an attraction that wasn't produced in-house. In Los Angeles, 15,333 saw the fight at the Forum and 11,575 at the nearby Sports Arena.
Bill Ballenger, the sports editor of the Charlotte (NC) News, saw the fight at the Charlotte Coliseum. He reported that the audio – Don Dunphy did the blow-by-blow with Burt Lancaster and Archie Moore serving as color commentators – was loud enough to be heard outside the arena and that many folks, either unable or unwilling to purchase a ticket, loitered outside and followed the action in 30 degrees weather.
An estimated three hundred million people saw the fight worldwide. In England, by some estimates, half the population tuned in, watching either at home on BBC1 or at a theater where one could watch the fight unfold on a movie screen. Now keep in mind that in England the fight didn't commence until 6:40 in the morning on a Tuesday!
Inside Madison Square Garden, the large flock of celebrities included many folks one wouldn't expect to find at a prizefight. Marcello Mastroianni, Italy's most famous movie star, made a special trip from Rome. Salvador Dali was there and Barbra Streisand and Ethel Kennedy, widow of Bobby Kennedy, seated next to her escort, crooner Andy Williams. Frank Sinatra was there working as a photographer for Life magazine. Lore had it that Sinatra wangled the assignment after failing to boat one of the coveted ringside seats.
The scene was made brighter by human "peacocks," the label applied to Harlemites with an outrageous sense of fashion, and the electricity was palpable. When Ali appeared at the back of the arena, making his way from his dressing room to the ring, everyone had goosebumps.
The late, great New York sportswriter Dick Young once wrote that there is no greater drama than in the moments preceding a big heavyweight title fight and that was never more true than on March 8, 1971 at Madison Square Garden.
Ali (31-0, 25 KOs) and Frazier (26-0, 23 KOs) were both undefeated. Both had a claim to the heavyweight title, Ali because the belt had been controversially stripped away from him for his political beliefs. Opinions as to who would win were pretty evenly divided. In Las Vegas, Joe Frazier was the favorite at odds of 6 to 5. Across the pond in England, bookies were quoting odds of 11 to 8 on Ali.
Those that favored Ali were of the opinion that 'Smokin' Joe was too one-dimensional. That much was true. Joe was as subtle as a steam locomotive on a downhill grade. He ate Ali's hardest punches, said Boston Globe reporter Bud Collins, as if they were movie house popcorn and he eventually wore Ali down. There was little doubt as to how the judges would see it after Joe knocked Ali down in the 15th round with a frightful left hook. When Ali arose, it appeared that he had been afflicted with a sudden case of the mumps. The decision was unanimous: 11-4, 9-6, 8-6-1.
This wasn't the greatest fight of all time, but it was a fight that more than lived up to the hype. And, as several people have noted, the event took on a life of its own without modern technology to push it along. The buzz was fueled in a large part by newspapers, the "antiquated" sort of newspapers that a fellow fished from his driveway or purchased at a newsstand on the way to or from work. If twitter and facebook had been around during Muhammad Ali's prime, Ali would have blown the doors off the internet.
A cultural touchstone is an event that remains sealed in our memory. As we slide into old age, if we are lucky enough to live that long, we may not remember what we had for breakfast in the morning, but some long-ago events are as vivid as if they had happened just yesterday.
Boxing historian Frank Lotierzo has written poignantly about how overjoyed he was when he was surprised with the news that his father would be taking him to the fight. "To this day it remains the biggest thrill of my life!" wrote Lotierzo, who was then in the seventh grade. "And it's not even close!"
I didn't see the fight, but I can recall the faces of people that I overheard talking about it, people whose interest in the fight struck me as odd as I knew they had little interest in the world of sports. So, when the fight is replayed in its entirety on Sunday – it airs on ABC at 2 p.m ET and again at 6 p.m. ET on ESPN – I will be watching it for the first time. And it will be bittersweet as I will be reminded that I am in the twilight of my life and my thoughts will inevitably drift to my friends and loved ones that have left this mortal world in the years since that grand night in 1971 when Muhammad Ali and Joe Frazier locked horns in the Fight of the Century.
I get misty-eyed just thinking about it.
Check out more boxing news on video at the Boxing Channel
To comment on this story in the Fight Forum CLICK HERE
Yoka TKO 12 Djeko in France: Claressa Pitches a Shutout on Ladies Day in Flint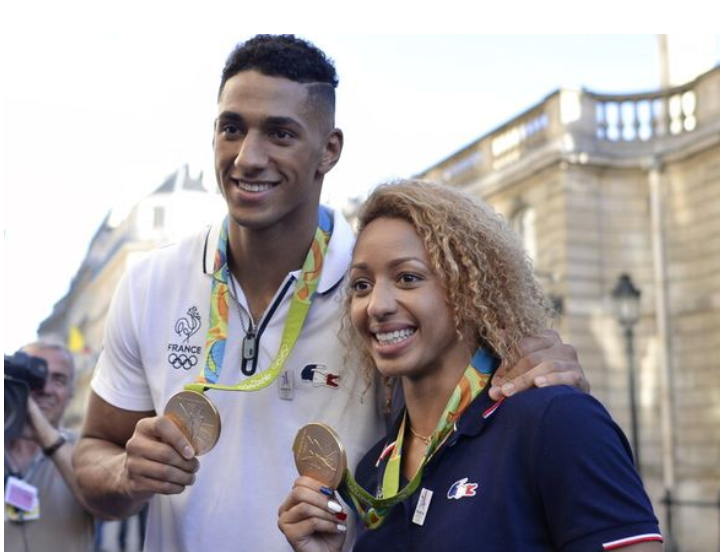 Yoka TKO 12 Djeko in France: Claressa Pitches a Shutout on Ladies Day in Flint
March 8 is International Women's Day which is actually a formal holiday in many parts of the globe. It was somehow fitting that female boxers were on display on the Friday feeding into it, a weekend without a must-see attraction on the men's side.
Today's activity began in the French port city of Nantes where 2016 Olympic gold medal winners Tony Yoka and Estelle Mossely, husband and wife, kept their undefeated records intact, both advancing to 10-0, against European opponents. Yoka (10-0, 8 KOs) was matched against Joel "Big Joe" Djeko (17-3-1), a 31-year-old Brussels native of Congolese and Cuban extraction who had fought most of his career as a cruiserweight. Mossely, a lightweight who now goes by Yoka-Mossely, drew Germany's Verena Kaiser (14-2).
At the Rio Olympiad, Yoka got by Filip Hrgovic in the semis and Joe Joyce in the finals to win the gold, winning both bouts by split decision. Both would be favored over the Frenchman in a rematch fought under professional rules.
Against the six-foot-six Djeko, Yoka controlled the fight with his jab, repeatedly backing his foe against the ropes. Very few of Djeko's punches got through Yoka's high guard. Had the fight gone to the scorecards, it would have been a rout for Yoka, but it didn't quite get there as Djeko turned his back on the proceedings midway through the 12th round after absorbing a sharp jab and it went into the books as a TKO for Yoka. At stake was some kind of European title or a derivation thereof.
Mossely's fight with Kaiser, slated for 10 two-minute rounds, followed a somewhat similar tack, save that it went the full distance. With only one knockout to her credit at the pro level, Mosseley, typical of female boxers, lacks a knockout punch. But she's a good technician and had too much class for the German.
Flint
A Covid-19 limited crowd of perhaps 300 was on hand to watch hometown heroine Claressa Shields oppose IBF 154-pound title-holder Marie Eve Dicaire at a 4,400-seat arena in Flint. There were five bouts on the undercard, three of which were women's bouts.
Shields, a two-time Olympic gold medalist, was seeking to become a four-belt title-holder in a second weight class, having previously turned the trick at 160. Dicaire, a 34-year-old southpaw, brought a 17-0 record but she had never won a fight inside the distance and all of her previous bouts took place in French-speaking Canada.
The self-proclaimed GWOAT, Shields has no peer between 154 and 168 pounds. Heading into this contest, she had hardly lost a round since meeting Hanna Gabriels and tonight was another total whitewash, her fourth overall in 10-round fights.
Claressa Shields, now 11-0 (2) may be too good for her own good. Her fights are so one-sided that they are monotonous. Her TV ratings have actually been falling. Today's show was a $29.99 pay-per-view on FITE when the established networks refused to meet her purse demands. It will be interesting to see how many tuned in.
In another fight of note, 2012 Olympic bronze medalist Marlen Esparza, in her first fight as a bantamweight, dominated Toronto's Shelly Barnett en route to winning a 6-round unanimous decision. There were no knockdowns, but the scorecards (60-54, 60-53 twice) were indicative of Esparza's dominance.
Esparza, who pushed her record to 9-1 (1), came in ranked #1 by the WBC in the flyweight class. Her lone defeat came at the hands of rugged Seniesa Estrada. Barnett declined to 4-4-3.
Check out more boxing news on video at the Boxing Channel
To comment on this story in the Fight Forum CLICK HERE
Brandon Adams Bursts Bohachuk's Bubble in Puerto Rico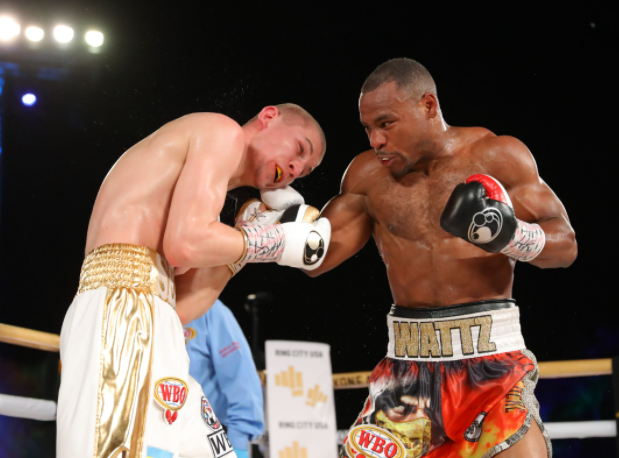 Brandon Adams Bursts Bohachuk's Bubble in Puerto Rico
Ring City USA, a new promotional entity, debuted on Nov. 19, 2020 with a show staged in the parking lot of Freddie Roach's Wild Card Boxing Club in Hollywood, CA. Ring City stayed outdoors for their first offering of 2021, but the company was a long ways from California. Tonight's card was staged on a roundabout near a municipal gym in Guaynabo, Puerto Rico.
The headline attraction was an attractive match between junior middleweights Serhii Bohachuk and Brandon Adams. The bout was originally set for Dec. 3, but had to be pushed back when Bohachuk tested positive for the coronavirus.
Bohachuk, a 25-year-old California-based Ukrainian, had stopped all 18 of his previous opponents. He had never gone past six rounds. Brandon Adams, a former world title challenger, represented a step up in class.
Bohachuk was well on his way to winning a unanimous decision when the tide turned dramatically in round eight. Fighting on a slick canvas, Adams suddenly found a new gear, unloading a series of punches climaxed by a thunderous left hook as Bohachuk retreated. The Ukrainian beat the count, but was teetering on unsteady legs and the referee properly called a halt.
Adams was without his regular trainer, 80-year-old Dub Huntley, who remained back in LA as a health precaution. In winning, he elevated his records to 23-3 (15). It was his best performance since defeating Shane Mosley Jr in the finals of Season 5 of the "Contender" series.
—
In the co-feature, an 8-round featherweight contest, Puerto Rico's Bryan Chevalier improved to 15-1-1 (12) with a third-round stoppage of Peru's Carlos Zambrano (26-2). Chevalier scored two knockdowns, the first a sweeping left hook that appeared to land behind Zambrano's head, and the second a punch to the liver that left Zambrano in severe distress. The referee waived the fight off in mid-count.
The official time was 2:21. Chevalier, a tall featherweight (5'11") made a very impressive showing; he bears watching. This was Zambrano's first fight since April of 2017 when he was knocked out in the opening round by Claudio Marrero in a bout for the WBA interim featherweight title.
—
The TV opener was an entertaining fight between contrasting styles that produced a weird conclusion when Danielito Zorrilla was awarded a technical decision over Ruslan Madiyev. The bout was stopped at the 1:16 mark of round eight after Zorrilla sank to his knees after absorbing a punch to the back of the head. The ringside physician examined him for evidence of a concussion, but ultimately it was Zorrilla's choice as to whether the bout would continue. He declined and was reportedly taken to a hospital for observation.
Madiyev, a California-based Kazahk, was the aggressor. He fought the fight in Zorilla's grill, often bullying him against the ropes. In round five, he had a point deducted for hitting behind the head, squandering what was arguably his best round.
The fight went to the scorecards with Zorrilla winning a split decision (77-74, 77-75, 73-76), thereby remaining undefeated: 15-0 (12). Ironically, Madiyev (13-2, 5 KOs), suffered his previous loss in a similar fashion.
Madiyev's new trainer Joel Diaz reportedly discouraged his charge from taking this fight for fear that he wouldn't get a fair shake in Puerto Rico. Diaz's apprehensions were well-founded.
Photo credit: Tom Hogan / Ring City USA
To comment on this story in the Fight Forum CLICK HERE