Fury vs. Wilder Echoed Holmes-Shavers; Now the Gypsy King Has an Easier Assignment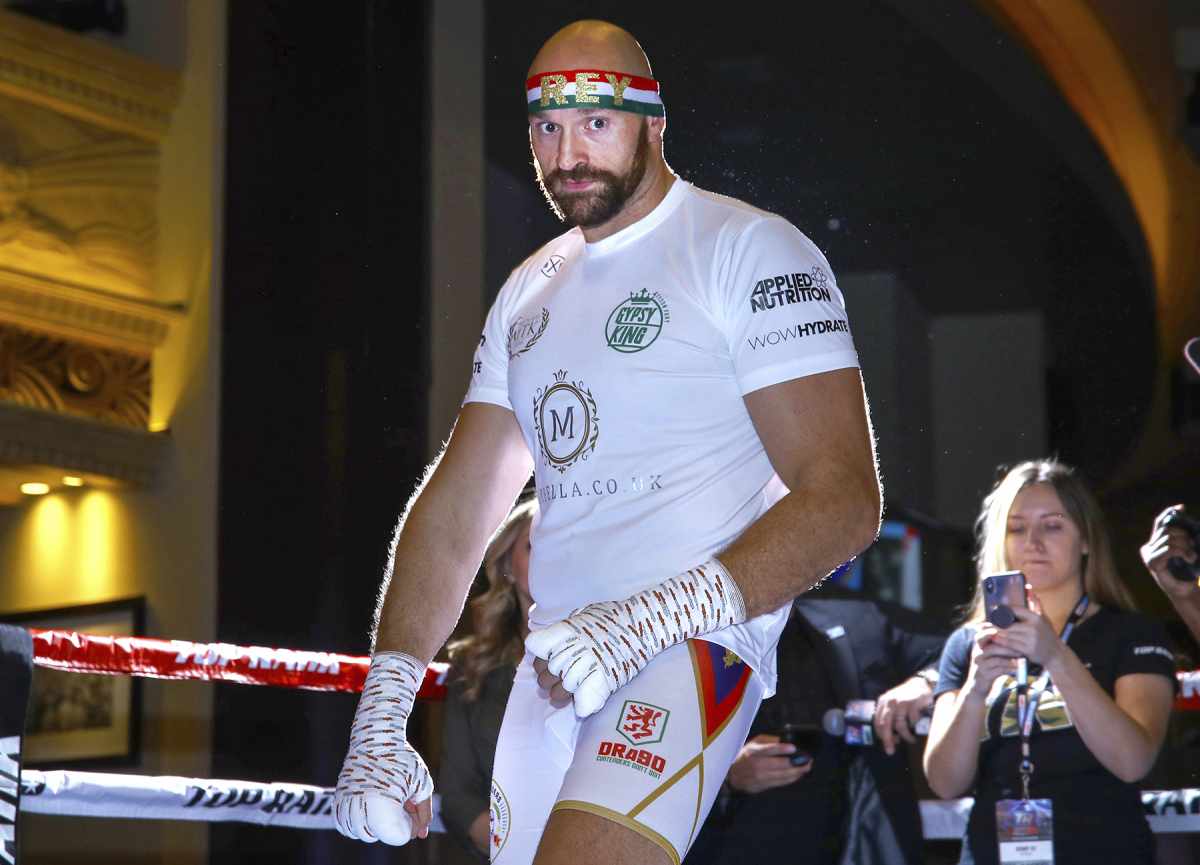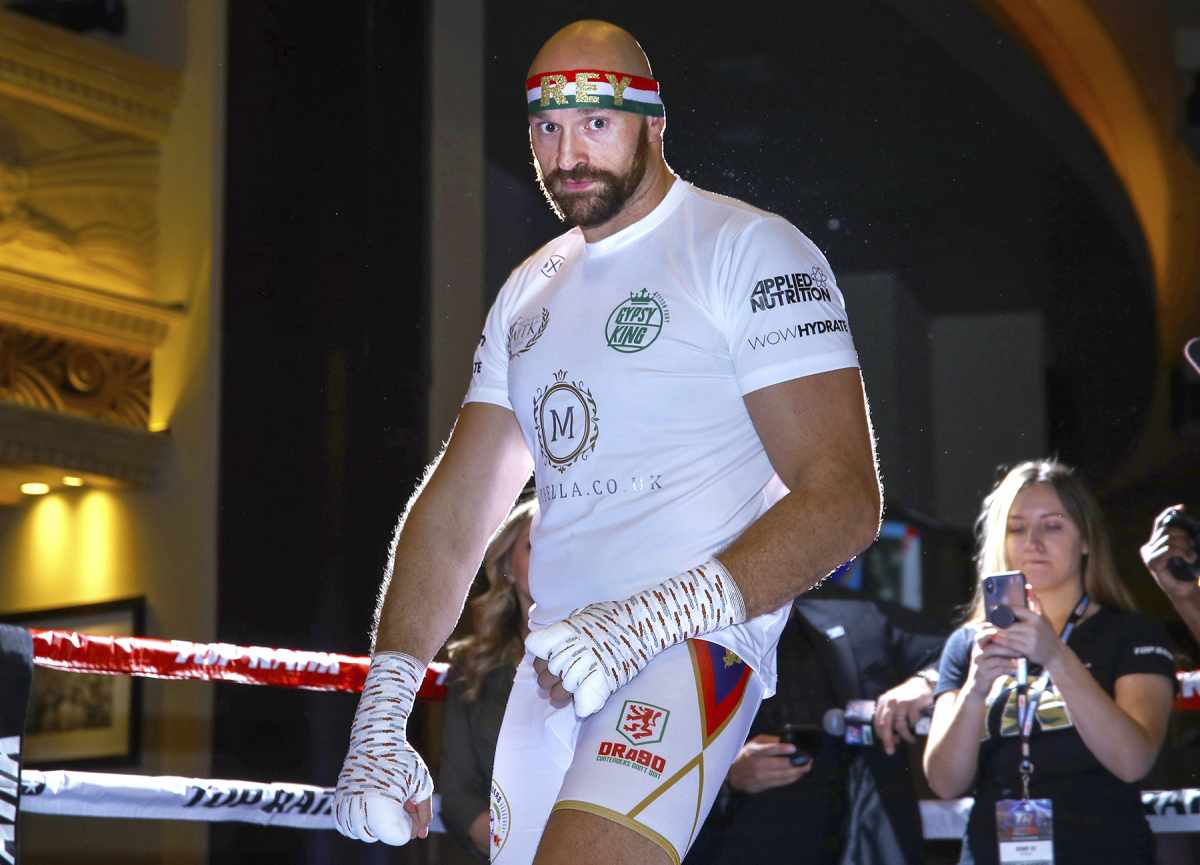 It's not an exhibition bout per se, but Saturday night's matchup of lineal heavyweight champion Tyson Fury and Sweden's Otto Wallin at Las Vegas' T-Mobile Arena, to be streamed via ESPN+, almost certainly should be considered a mortal-lock victory for the "Gypsy King." Fury, coming off a blowout of Tom Schwarz, is -3,500 according to the most recently posted wagering line, meaning you'd have to put up $3,500 on him to come away with a skimpy $100 profit. Wallin is a +1,300 long shot, both lines indicating that the Scandinavian southpaw absolutely should not be looked upon as a potential second coming of the late Ingemar Johansson. Despite his undeservedly high No. 4 ranking from the WBA, Wallin has about as legitimate a chance of taking down Fury as might Bjorn Ulvaeus, the 74-year-old singer/songwriter for the Swedish pop group ABBA, whose last single to chart in the U.S. was in 1981.
Instead of his typical boasting, Fury (28-0-1, 20 KOs) is doing his darndest to portray the scheduled 12-rounder, if it lasts that long, as something akin to serious competition. He cites Wallin's WBA ranking as proof that the Swedish mystery man (20-0, 13 KOs) isn't merely a steppingstone on the way to a much-anticipated rematch with WBC champion Deontay Wilder, or maybe a go at the winner of the Dec. 7 do-over between WBA/IBF/WBO titlist Andy Ruiz Jr. (33-1, 22 KOs) and former unified champ Anthony Joshua (22-1, 21 KOs). If Fury elects to take an even bolder stab at acting humble, he might mention that, in his American debut on April 20, 2013, at the Theater at Madison Square Garden, he was on the wrong end of a flash knockdown in the second round against former cruiserweight king Steve Cunningham, who at 6-foot-3, 210 pounds and with an 82-inch reach, was giving away 44 pounds, six inches in height and three inches in reach. Fury regrouped from that momentary embarrassment and went on to win on a seventh-round stoppage.
But, hey, that was then and this is now. Nobody ever knows with absolute certainty what will transpire inside the ropes, but it says here that the biggest, most-compelling heavyweight fight that can be made in the foreseeable future, even bigger and more compelling than Ruiz-Joshua II, is a second pairing of Wilder and Fury, who fought to a controversial, entertaining and ultimately inconclusive split draw on Dec. 1, 2018, at the Staples Center in LA.
It is what happened in the 12th and final round of that fight that fully legitimized Fury in my mind, maybe even more so than his functional if excitement-deficient points dethronement of the long-reigning Wladimir Klitschko on Nov. 28, 2015 in Dusseldorf, Germany. It is easy for any talented fighter to look good when he is having his way with an outclassed opponent, quite another when that fighter has to pick himself off the deck against a power hitter accustomed to having his hand raised once he puts his man down and seemingly out.
I would have liked to ask Fury if he answered any questions about himself by not only barely beating the count against Wilder, who to all the world appeared to think he had just registered his 41st exclamation-point victory in 42 bouts, but my request for a one-on-one telephone interview hit a snag while wending its way through channels. Still, like Earnie Shavers, another big bopper from another era with a ridiculous knockout percentage, Wilder can be excused for believing that Fury, who was nailed with a jolting overhand right and follow-up left hook before his shaven skull bounced hard off the canvas, was done for the night. Nor was the "Bronze Bomber" alone in that assumption.
After Wilder sent an unmoving Fury flopping onto his back as if tranquilized, Showtime blow-by-blow announcer Mauro Ranallo nearly hyperventilated in screaming, "Deontay Wilder has done it!" But referee Jack Reiss had another idea and initiated a count that more than a few others in his position would have dispensed with. He had reached nine when Fury lurched to his feet, prompting analyst Paulie Malignaggi to say, almost in disbelief, "Wow, he got up."
Not only was Fury up, but after fending off a cavalry-charge attack by a disbelieving Wilder, he even dipped deep enough inside himself to carry the fight to the WBC champion in the closing moments.
"At that moment (of the knockdown), did anyone in this arena really think Tyson Fury was going to get up?" veteran analyst Al Bernstein asked, rhetorically.
"Guys, I thought the fight was over when Deontay Wilder dropped Fury," Ranallo chipped in.
Malignaggi then added another astute observation, noting that "maybe hitting the canvas woke (Fury) up."
The entire sequence of events reminded me of another fight, the rematch of WBC heavyweight champion Larry Holmes and knockout artist Shavers, on Sept. 28, 1979, at Las Vegas' Caesars Palace. Holmes was riding his best weapon, a stinging, accurate, state-of-the-art jab, to a big lead on the scorecards when, in the final minute of the seventh round, Shavers – whose nickname, "The Acorn," had been conferred upon him by Muhammad Ali – delivered a crushing right hand that had primarily contributed to 56 of his 58 inside-the-distance victories up to that point. Holmes went down as so many others had, rolled onto his side and decided, hey, I've come this far, why not get up and go a bit more?
Shavers, as Wilder would nearly 39 years later, raised his arms in exultation on his way to a neutral corner, so certain was he that he had just become heavyweight champion of the world. But when he turned around, Holmes was upright and prepared to carry on, which he did en route to winning via 11th-round TKO.
"I always tell Earnie that he hit me too hard," Holmes would often say later. "If he hadn't hit me quite so damn hard, he would have knocked me out for sure. That punch actually kind of woke me up when I hit the floor.
"Man, I still got knots in my head where he hit me. Earnie could punch very hard, incredibly hard. I hear people say, `Aw, man, he couldn't possibly hit that hard as everybody says. They think that the stories about Earnie's power are exaggerated. It's no exaggeration. That power was real."
There are means, scientific means, of calibrating a boxer's punching power. The usual formula is for them to drill a padded bag in which instruments are housed to measure pounds per square inch. But fight fans aren't particularly geeky, and the word of a respected champion usually means more to them than a computer printout. In 2003 Shavers was listed as the 10th greatest puncher of all time by The Ring, which is understandable considering that Holmes, Muhammad Ali, Ken Norton, Ron Lyle, Tex Cobb and Joe Bugner all tabbed him as the hardest puncher they ever faced. Another list – aren't all of these things subjective? – had Mike Tyson as the hardest-hitting heavyweight of all time with Shavers No. 6. Holmes fought both but was nearly 40 years of age and hadn't fought for two years when, with scant time to train, he was stopped in four rounds by Tyson on Jan. 22, 1988.
"There's no doubt in my mind who hit the hardest – Earnie Shavers," the "Easton Assassin" said when contacted for this story. "Mike Tyson hit me when I wasn't in shape. I was in shape for Earnie Shavers, so when he hit me I was able to get up. Mike Tyson knocked me down and I got up, but I wasn't in any kind of shape. If you've been off for two years and you don't get a couple of months to get ready for a fight like that, you're probably going to get knocked out."
It would be interesting if there was some way to accurately gauge the power of a Shavers, and the resiliency of an in-his-prime all-time great like Holmes, in relation to the power of Wilder and the recuperative powers of Fury. All any fight fan can do is to marvel at the unstoppable force meeting the immovable object, which is when any boxing match can elevate itself from sporting event to incredibly high drama.
Here's hoping that Wilder-Fury does not remain on the back burner much longer. Until it does come to pass, snack on the celery stalk of Fury vs. Wallin until the real entrée is served piping hot.
Photo credit: Mikey Williams for Top Rank
Check out more boxing news on video at The Boxing Channel  
To comment on this story in The Fight Forum CLICK HERE
Holmes-Spinks I: The Grassy Knoll for Boxing's Conspiracy Theorists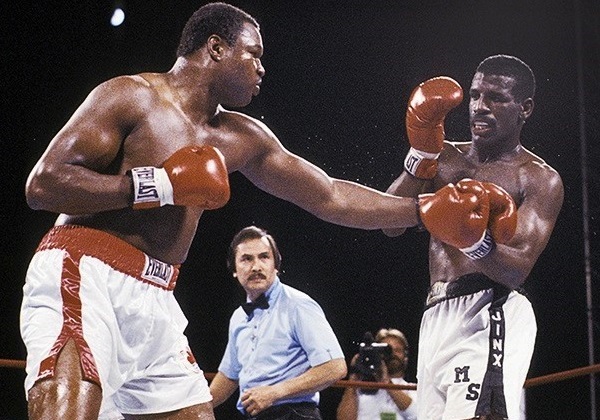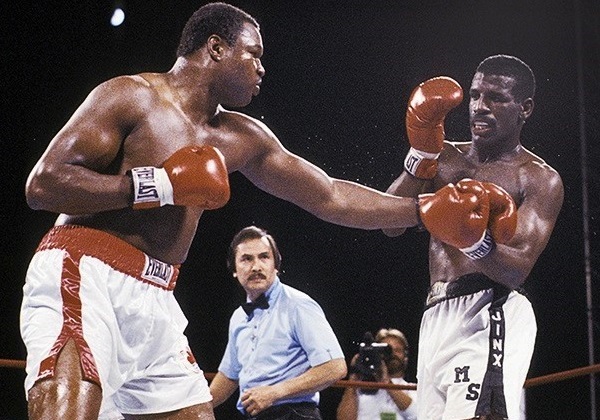 The most enduring of American conspiracy theories involves a gunman who may or may not have existed and may or may not have been on a grassy knoll in Dallas' Dealey Plaza the afternoon of Nov. 22, 1963. The assassination of President John F. Kennedy, the subject of numerous speculative books and movies, all of which involve some individual's ironclad take on what happened, why it happened and who was involved in making it happen, will always be grist for the mill for those still dissecting that national tragedy. More than a few of those arguments dispute the Warren Commission's official conclusion that presumed killer Lee Harvey Oswald acted on his own and not in concert with unidentified, shadowy figures.
On a more recent and lesser scale, a raft of conspiracy theories arose in the wake of the alleged Aug. 10 jailhouse suicide of multimillionaire sex offender Jeffrey Epstein, whose list of celebrity acquaintances includes two presidents of the United States and even a member of the British royal family. As was the case when nightclub owner Jack Ruby fatally shot Oswald before he could go on trial, conspiracy theorists on all sides have conjectured whether Epstein's suspicious death was actually a hit and, if so, ordered by whom?
Boxing, with its blemished past dotted by nefarious power brokers and decisions that sometimes defy logic, also has provided conspiracy junkies with ample material to analyze and debate. Olympic boxing, often characterized as a cesspool of corruption, immediately comes to mind. So does the Sept. 10, 1993, majority draw in which WBC welterweight champion Pernell Whitaker, whom almost everyone without an official scorecard saw as the clear victor, was obliged to settle for a dissatisfying standoff with crowd favorite and Mexican national hero Julio Cesar Chavez in a bout that drew a live crowd of 60,000 or so in the Alamodome in San Antonio, Texas. Although Whitaker retained his title on the draw, he and his outraged supporters were convinced the outcome was predicated more on the WBC, headquartered in Mexico City, exerting behind-the-scenes influence to ensure that Chavez came away with his undefeated record still intact. Irrefutable truth is often difficult to pin down in such matters, but the 55-year-old "Sweet Pea," who died after being struck by a car on July 14, went to his grave believing he had been cheated out of a deserved triumph that would have further embellished his Hall of Fame legacy.
Given its historical implications, what is arguably the grassy knoll of boxing remains the Sept. 21, 1985, pairing of long-reigning heavyweight champion Larry Holmes and undisputed light heavyweight titlist Michael Spinks, who was attempting to become the first (or maybe not) 175-pound champ to move up in weight and capture his sport's most prestigious and lucrative prize.
Spinks – who came away with a razor-thin and controversial 15-round split decision — was bidding to do something no other light heavyweight had ever done, although there are those who cite Tommy Burns, who outpointed heavyweight champ Marvin Hart over 20 rounds on Feb. 23, 2006, as the first 175-pound titlist to accomplish the feat. In any case, since Burns, 13 light heavyweight champs had tried and failed in their bids to become king of the heavyweights, a list that included such ring legends as Billy Conn, Archie Moore and Bob Foster.
Given the fact that the 35-year-old Holmes was making his 20th title defense and was widely considered as one of the best heavyweight champions of all time, he was installed as a prohibitive favorite over Spinks, who was not only bucking tradition but the perceived limits of his own body. Even respected Los Angeles Times sports columnist Jim Murray, noting that Spinks had weighed in at 199¾ pounds – heavier than such legendary heavyweight champions as and Jack Dempsey and Rocky Marciano ever did for title bouts – went a bit overboard in writing that the challenger looked "like a blowfish" and that his weight gain was accelerated by a 4,500-calorie-a-day diet that might be "all right for a guy getting ready to play Henry the Eighth."
But Spinks' bulking-up process was not the result of having scarfed down a bunch of French fries, chocolate milkshakes and doughnuts, but rather the calculated machinations of New Orleans-based fitness coach and nutritionist Mackie Shilstone, whose then-unorthodox methods would soon gain wider acceptance but then were seen by the boxing establishment as, well, somewhat bizarre.
"We have a scientific, unique program that is secret – a program that was developed specifically for Michael, using techniques that would be revolutionary for boxing," Shilstone said to the bemusement of hidebound traditionalists.
Spinks, whose walking-around weight between light heavyweight matches was usually 10 pounds or so above the division limit, said he was already familiar working with Shilstone – to shed unwanted pounds.
"Mackie had already helped me lose weight to get down to light heavyweight," Spinks said when contacted for this story. "He told me that if I wanted to fight Larry Holmes for the heavyweight championship, he could help me put the weight on the right way. And that's what he did. He also said he wouldn't take anything from what I already had, in terms of what I did well as a light heavyweight, that I still would be able to do all that as a heavyweight. He was right, too. I was as fast as a heavyweight as I was as a light heavyweight."
Unlike Conn, Moore, Foster and other light heavyweight champs who made no secret of their ambition to storm and conquer the heavyweight division, Michael admits to initially lacking the burning desire to replicate the feat of his older brother and fellow 1976 Olympic gold medalist Leon Spinks, who dethroned WBC/WBA heavyweight champion Muhammad Ali via 15-round split decision in a monumental upset on Feb. 15, 1978. Leon had always been naturally larger than Michael, never weighing less than 194 pounds for any of his first 23 outings as a pro. The mere notion of moving up to heavyweight seemed unlikely and more than a bit risky to Michael, who figured he would continue to do what he'd already been doing, which was to dominate all comers at light heavy.
It was Butch Lewis, who promoted both Spinks brothers, who determined that Michael going to heavyweight was not only doable, but highly advisable financially.
"Butch told me I could fight Larry Holmes for the heavyweight championship," the younger Spinks recalled. "I was, like, `What?' He said, 'Yeah, and you can beat him.' I said, `You really think so?' And he said, `Absolutely.'
"Butch (who was 65 when he died of a heart attack on July 23, 2011) had faith in me, so I took that and ran with it."
Maybe what bottom-line Butch had was absolute faith in the economic realities of boxing, which always hold that heavyweight champions are vastly better-compensated than their light heavyweight counterparts. Consider these numbers: Michael Spinks' purse for his final light heavyweight defense, an eighth-round stoppage of Jim MacDonald on June 6, 1985, was a relatively paltry $100,000, a pittance compared to the $1.1 million contract he signed to challenge Holmes.
Say what you will about the flamboyant Lewis, who was noted for wearing a tuxedo and bow tie but no shirt on fight night, but his steering of Michael Spinks' career was a case study on how to milk the system for every available dollar. It was Lewis who made the bold call, after Spinks had followed up his stunner over Holmes by outpointing the "Easton Assassin" on another close and controversial call, a 15-round split decision in the rematch seven months later, to hold Spinks out of the heavyweight unification tournament being put together by HBO Sports president Seth Abraham and promoter Don King. In doing so Spinks passed on a potential $5 million payday against eventual tourney winner Mike Tyson, but he was paid about the same amount to defeat the formidable Gerry Cooney, putting into motion a series of events that led to his June 27, 1988, megafight with Tyson in Atlantic City. OK, so Spinks didn't make it through the first round, but he received a career-high $13.2 million for what proved to be his final fight and only professional loss, a pretty nice parting gift when you get right down to it.
Holmes had his own potential date with destiny in that first clash with Michael Spinks. Were he to win, it would be his 49th consecutive victory without a loss, matching the record set by Marciano – ironically, against Archie Moore and, even more ironically, 30 years to the day after The Rock knocked out the Ol' Mongoose in the ninth round in what turned out to be his final fight.
In the lead-up to the fight at The Riviera in Las Vegas, for which members of the Marciano family were invited guests, Holmes seemed to chafe at constantly being compared to a beloved fighter who had died in a crash of a small private plane on Aug. 31, 1969. "I'm not fighting Marciano," Holmes complained. "He's dead. I never knew him. I'm fighting for Larry Holmes, for me, for what I can do for my family."
To Holmes, who was no stranger to the seven-figure club and who was down for a $3 million purse, there was a racial component to the constant comparisons to Marciano, who was white, much in the same manner that black baseball great Hank Aaron was the target of unfair and sometimes cruel criticism as he neared the sacrosanct record of 714 career home runs set by Babe Ruth. When Aaron passed Ruth by homering for the 715th time on April 8, 1974, the feat was celebrated by many Americans and baseball fans in general, but not by everyone.
Members of the Marciano family, who ostensibly had been summoned to congratulate Holmes in the event of his making it to 49-0, celebrated when the close decision for Spinks – by margins of 143-142 (twice) and 145-142 – was announced. That did not set well with Holmes, who felt such a display was disrespectful to him and, additionally, was the wrong call historically as long-reigning champions such as himself usually got the benefit of the doubt in close fights.
"I was robbed," Holmes, in announcing one of his several retirements from boxing that didn't stick, said at the postfight press conference, suggesting that alleged conspirators in influential places who finally had brought him down can "kiss me where the sun never shines," which meant "my big black behind."
Nor was Holmes any more disposed to be gracious to Peter Marciano, Rocky's younger brother and the foremost keeper of the "Brockton Blockbuster's" eternal flame. "You are freeloading off your dead brother," Holmes told Peter, tossing in the zinger that "Rocky couldn't carry my jockstrap."
Months later, after the heat of the moment had long since cooled down, Holmes, in most instances a respectful and thoroughly decent man, offered a public apology to anyone he might have offended with his earlier intemperate remarks.
"I'm sorry for what I said, for the way things came out," Holmes told a Boston reporter. "I don't want to take anything away from Peter or the Marciano family. I haven't slept for two months thinking about this.
"I've reached out to Peter Marciano. I'd like to get together with him, either in his town or mine (Easton, Pa.). There must be something that can be done to make this right.
"I have no hard feelings against Rocky Marciano. He was one of the greatest fighters of all time. His 49-0 record speaks for itself. If I hurt Marciano's family, I regret it."
What Holmes did not back away from, not then and not now, is his belief that he deserved to win both of his fights with Michael Spinks, with the first loss a thinly veiled and successful attempt to keep him from sidling up alongside the sainted Marciano.
"There was no doubt about it," he said of a decision he still regards as a cold slap in the face. "I knew what they were going to do to me. I knew if I didn't knock him out, I wasn't going to get the decision." Nor is he alone in that contention, just as there are Spinks partisans who are just as insistent that the judges got it right.
Asked if he thought then, or does now, that he did not receive all the credit he was due from Holmes and his other persistent proponents of the conspiracy theory that refuses to die, Spinks said it shouldn't matter at this point. The record book indicates he won, so that should be that.
"It was a close fight, but I did think I won," he reiterated. "There's no animosity between me and Larry. We get along. He's not really sore about it anymore. At one of his golf tournaments that I attended, he took the microphone and said something about how he'd lost to me, but that wasn't all bad because he made so much money for losing."
What Holmes wants to make clear more than anything is that he wants to forever bury any hint that race is or should still be a part of the discussion. He said there was too much of that in the past, and still too much now. He pointed out that Gerry Cooney, the white guy against whom his high-visibility fight was neatly divided into opposing racial camps, as well as Spinks have been regular participants in his charity golf tournament.
"Half of my family is white," Holmes pointed out. "I'm not a racist. I don't have anything against white folks or anybody else. My son is getting ready to be married in a couple of weeks to a white girl. My daughter is married to a white guy.
"I didn't really care about racial s— then, and to this day I don't care about it. Gerry Cooney is my friend. Now, I didn't like the decisions in my fights with Michael Spinks, but you can't dwell on that. You got to move past that."
Which might be one man's way of saying that any lingering ghosts on that figurative grassy knoll overlooking a boxing ring where a fight took place 34 years ago should finally be allowed to just fade away.
Check out more boxing news on video at The Boxing Channel  
To comment on this story in The Fight Forum CLICK HERE
The Hauser Report: Fight Notes on Mexican Independence Day Weekend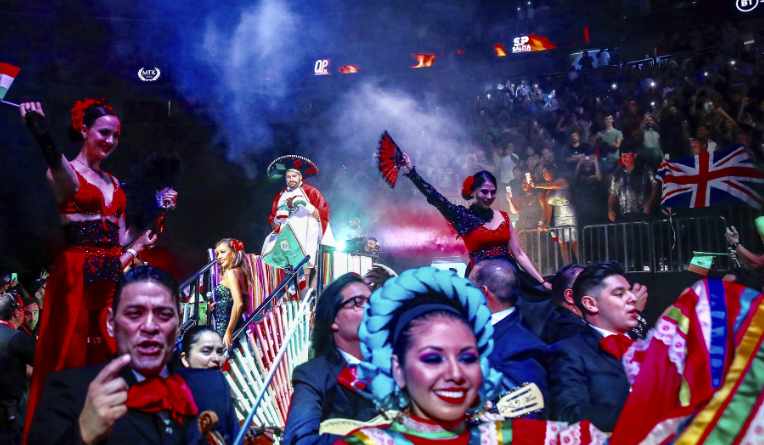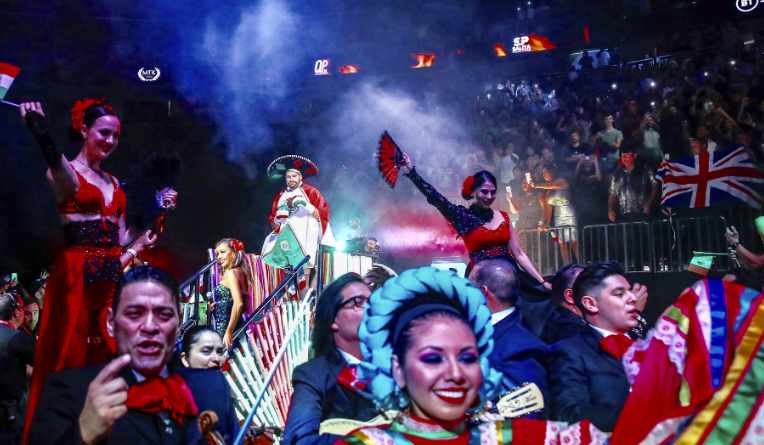 Boxing is accustomed to having a major fight in Las Vegas as the centerpiece of Mexican Independence Day Weekend. This year, Canelo Alvarez was penciled in as the star attraction. But Canelo and his presumed challenger, Gennady Golovkin, couldn't come to terms, and boxing's PPV-streaming-video king decided that he would enter the ring next against Sergey Kovalev on November 2. That left a holiday void to fill and three separate promotions vying to fill it.
The action began on Friday, September 13, at Madison Square Garden's Hulu Theater. Three bouts were billed as featured attractions on a Matchroom USA card streamed on DAZN.
First up, as expected, Michael Hunter (17-1, 12 KOs) outslicked Sergey Kuzmin (15-0, 11 KOs). Kuzman had an extensive amateur background in the Russian amateur system but is a one-dimensional fighter. For most of the fight, he plodded forward while Hunter potshotted him at will in what looked like a spirited sparring session en route to a 117-110, 117-110, 117-110 triumph.
Next, Amanda Serrano (36-1-1, 27 KOs), who has won belts in weight classes ranging from 118 to 135 pounds, challenged WBO 126-pound beltholder Heather Hardy (22-0, 4 KOs). It was expected to be an ugly beatdown with Hardy on the receiving end. The only open issue for most fight fans was how long Heather would last.
Hardy only knows one way to fight. Moving forward, which she has been able to do in the past against stationary opponents who had less of a punch that she did. All of her previous fights had been made for her to win. Questionable hometown judging carried her across the finish line on several occasions when it appeared as though she had fallen short.
At the final pre-fight press conference for Hardy-Serrano, Heather proclaimed, "I'm the toughest girl I know."
But tough alone doesn't win fights. Against Serrano, Hardy took a pounding in a lopsided first round that two of the judges correctly scored 10-8 in Amanda's favor. Round two was more of the same. Serrano was the more skilled, faster, stronger fighter and a sharper puncher. Heather hung tough. But she was hanging from a thread.
Over the next eight rounds, Hardy showed courage and heart. For the first time in her career, she was in the ring against an opponent who hadn't been chosen because it was presumed that Heather would beat her. She survived and legitimately won a few rounds against Serrano in the process.
The final scorecards were 98-91, 98-91, 98-92 in Serrano's favor. Each woman received an $80,000 purse. Hardy earned every penny of it. And she earned respect for her effort in a way that none of the "W"s on her ring record had brought her.
The main event showcased lightweight Devin Haney (22-0, 14 KOs) against Zaur Abdulaev (11-0, 7 KOs). Haney is 20 years young and a hot prospect. Abdulaev, age 25, is a solid fighter but in a different league than Haney.
Devin entered the ring as a 20-to-1 favorite. At this point in his career, he appears to be the whole package with speed, power, explosiveness, and good ring skills. Physically and mentally, he's mature beyond his years as a fighter but still has the enthusiasm of youth. Over the course of four rounds, he gave Abdullaev nothing to work with, broke the Russian down, and fractured Zaur's cheekbone. Abdullaev's corner called a halt to the proceedings after the fourth stanza.
Haney has The Look that fighters like Shane Mosley and Roy Jones Jr. had when they were young. He and boxing are in their honeymoon years. As for the immediate future; Devin has been calling out Vasyl Lomachenko. But given the different promotional entities and networks involved, the chances of that fight happening anytime soon are nil.
Twenty years ago, fight fans could have looked forward to Haney being meaningfully challenged at each level as he moved forward in an attempt to prove how good he is. In today's fragmented boxing world, what happens next is anyone's guess.
On Saturday, the scene shifted to Dignity Health Sports Park in Carson, California, for another DAZN telecast. This one was promoted by Golden Boy and was supposed to showcase 21-year-old lightweight Ryan Garcia (18-0, 15 KOs), who's being marketed as a heartthrob who can fight, against light-punching Avery Sparrow (10-1, 3 KOs). That match evaporated one day before its scheduled date when Sparrow was arrested and taken into custody on an outstanding arrest warrant issued after he allegedly brandished a handgun in a domestic dispute this past April.
The main event wasn't much of a contest either with Jaime Munguia (33-0, 26 KOs) defending his WBO 154-pound belt against Patrick Allotey (40-3, 30 KOs) of Ghana.
Munguia had nice wins last year against Sadam Ali and Liam Smith. Then, five months ago, he was undressed by Dennis Hogan (although the judges in Monterrey, Mexico, found a way to give Jaime a dubious home country majority decision). Allotey's record looked good until one checked the quality of his opponents on BoxRec.com. Munguia was a 30-to-1 favorite.
When the fight began, Allotey seemed most comfortable on his bicycle and decidedly uncomfortable when he was getting hit by the hooks that Munguia pounded repeatedly into his body. Two minutes into round three, one of those hooks put him on the canvas. A combination dropped him for the second time just before the bell. Patrick seemed disinclined to come out of his corner for round four but was nudged back into the conflict. Two minutes later, he took a knee after another hook to the body and his corner stopped the bout.
The third significant fight card of Mexican Independence Day weekend was the biggest of the three. Promoted by Top Rank and streamed on ESPN+, it featured Tyson Fury vs. Otto Wallin at T-Mobile Arena in Las Vegas.
Like the other two shows, this one disappointed at the gate. The Hulu Theater had been reconfigured on Friday night so the rear sections were curtained off. There were more empty seats than seats with people in them at Dignity Health Sports Park on Saturday.
When Fury fought Tom Schwarz at the MGM Grand in Las Vegas on June 15, Top Rank had announced a crowd of 9,012. But according to final receipts submitted to the Nevada State Athletic Commission, only 5,489 tickets were sold for that event with another 1,187 complimentary tickets being given away. The announced attendance for Fury-Wallin was 8,249. T-Mobile arena seats 20,000 for boxing.
ESPN+'s featured three-fight stream didn't begin until 11:00 PM eastern time. Jose Zepeda (30-2, 25 KOs, 1 KO by) won a 97-93, 97-93, 97-93 decision over former beltholder Jose Pedraza (26-2, 13 KOs, 1 KO by). Then WBO 122-pound titlist Emanuel Navarrete (28-1, 24 KOs) cruised to a fourth-round stoppage of Juan Miguel Elorde (28-1, 15 KOs). That set the stage for Fury-Wallin.
There are plenty of "world heavyweight championship" belts to go around these days. Claimants during the past four years have included Manuel Charr, Joseph Parker, Ruslan Chagaev, Lucas Browne, Charles Martin, and Bermane Stiverne. Fury (who entered the ring with a 28-0, 20 KOs record) is currently being marketed as the "lineal" heavyweight champion and can trace his lineal roots all the way back to Wladimir Klitschko (which falls short of going back to John L. Sullivan). The best things said about Wallin (20-0, 13 KOs) during fight week were that he was probably better than Tom Schwarz (Fury's most recent opponent) and that, as noted by Keith Idec of Boxing Scene, Wallin was "perfectly polite" during the fight-week festivities.
Bob Arum, who shares a promotional interest in Fury with Frank Warren, praised Fury as the second coming of The Greatest and advised the media, "People are seeing things that they haven't seen since Muhammad Ali. You're seeing a great fighter who can connect to the people and he's a real showman."
Fury (born, raised, and still living in the United Kingdom) got into the spirit of things and proclaimed, "I am going to change my name for the weekend to El Rey Gitano [which translates from Spanish to English as "The Gypsy King"]. And he further declared, "Isn't it a great thing that a total outsider is showing so much love, passion, and respect for the Mexican people. At the minute, they are being oppressed by the people here [in the United States]. Building a wall, chucking 'em all out, and treating them terrible. I don't know what is going on, but it is nice to see a total stranger, heavyweight champion of the world, coming here and respecting people and paying homage to their beliefs and special days. I've got the Mexican shorts, the Mexican gloves, the Mexican mask, the Mexican music, the Mexican flag. I have Mexicans as part of my training team. There is a lot of honor and respect in fighting on this date."
That elicited a response from WBA-IBF-WBO heavyweight champion Andy Ruiz, who declared on social media, "Tyson Fury's talking sh**. He's representing Mexico – he's not even Mexican, what kind of sh** is that? A British f***in, he ain't even Mexican, wearing the f***ing Mexican flag, messed up man. Stay in your lane."
Meanwhile, with no existing World Boxing Council title at stake, WBC president Mauricio Sulaiman stepped in and announced that Fury-Wallin would be contested for a special "Mayan belt" that was also offered to the winner of Munguia-Allotey. Maybe someday boxing will have interim Mayan belts and Mayan belts in recess as well.
Fury was a 25-to-1 betting favorite. For two rounds, everything went according to plan. Then, in round three, a looping left by Wallin opened a horrible, deep gash along Tyson's right eyebrow. The cut gave the fight high drama. There was a real chance that it would worsen to the point where there was no alternative to stopping the bout. Despite the efforts of cutman Jorge Capetillo, blood streamed from the wound for the rest of the fight.
Knowing that he was in danger, Fury abandoned what he likes to think of as finesse boxing and began to brawl, coming forward and trying to impose his 6-foot-9-inch, 254-pound bulk on his opponent. By round eight, Wallin was exhausted. Tyson was teeing off from a distance and, when he came inside, bullying Otto around.
Wallin fought as well as he could. But he was being pounded around the ring and getting beaten down. Then, remarkably, 38 seconds into round twelve, he whacked Fury with a good left hand and, suddenly – if only temporarily – Tyson was holding on.
The final scorecards read 118-110, 117-111, 116-112 in Fury's favor.
"I was happy that he was cut," Wallin said afterward. "But I wish I could of capitalized a little more on it."
And a final thought . . . When there are three heavyweight "world champions" (which is what boxing has now), there is no heavyweight champion at all.
Thomas Hauser's email address is thomashauserwriter@gmail.com. His next book – A Dangerous Journey; Another Year Inside Boxing– will be published this autumn by the University of Arkansas Press. In 2004, the Boxing Writers Association of America honored Hauser with the Nat Fleischer Award for career excellence in boxing journalism.
Photo credit: Mikey Williams for Top Rank (note Fury's jumbo-sized sombrero)
Check out more boxing news on video at The Boxing Channel  
To comment on this story in The Fight Forum CLICK HERE
Mexico's Jaime Munguia KOs Allotey and Franchon Crews Unifies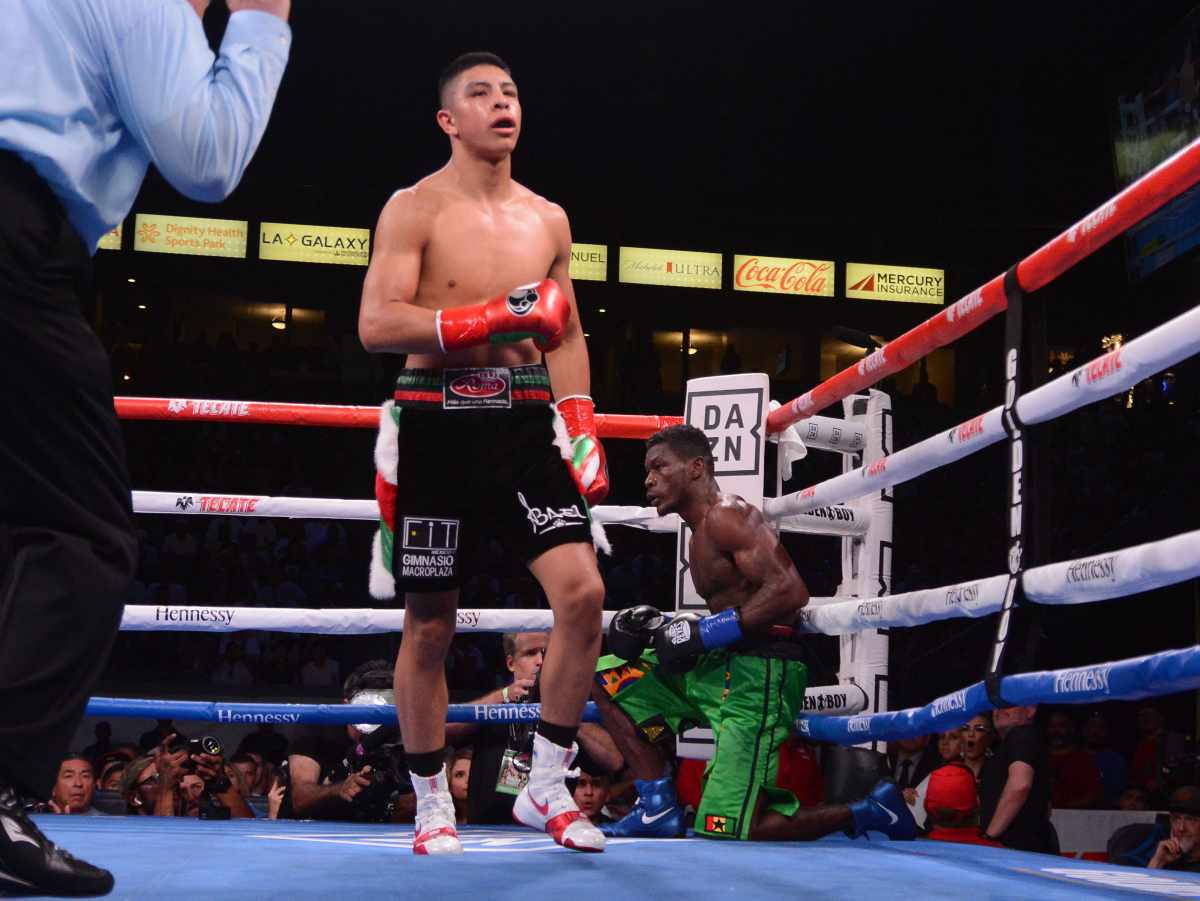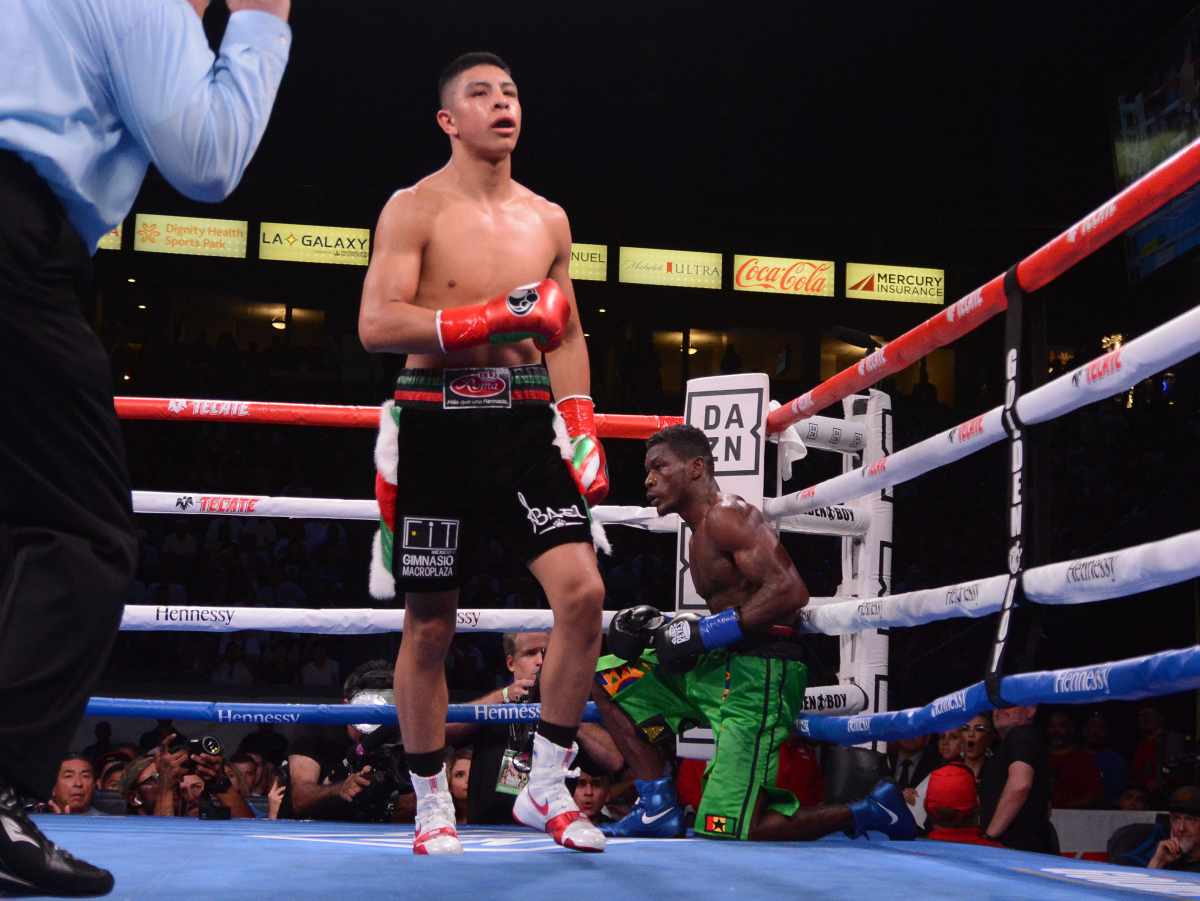 LOS ANGELES-Mexico's Jaime Munguia walked into the warm and humid outdoor arena like a conquering hero and walked out the same way after knocking out Patrick Allotey to retain the WBO super welterweight title on Saturday.
The large, mostly Mexican, Independence weekend crowd was ecstatic.
Munguia (34-0, 27 KOs) showed the more than 7,000 fans at Dignity Health Sports Park that he learned a few things from his new trainer and that was a bad thing for Ghana's Allotey (40-4, 30 KOs). The tall Tijuana fighter seemed calm and focused in this possible last defense of his super welterweight title.
"I don't know yet, I'll have to meet with my team to decide," said Munguia about evacuating the weight division to move up to middleweight.
Allotey probably wishes Munguia left yesterday.
For a short while, Allotey used movement and pot shots to catch the aggressive Mexican fighter during the first two rounds. Both landed blows but not enough to quench the thirst of the pro-Mexican crowd there to see a knockout.
Things turned around quickly in the third round as Munguia, who is now trained by former Mexican great Erik Morales, began catching up to Allotey, in particular with bludgeoning body shots. A three punch Munguia combination dropped the Ghanaian for the count. He got up and was met with a blistering five-punch combination, including one that sent him across the ring for another knockdown. Allotey beat the count near the end of the round.
The fight could have ended in the previous round but it was allowed to continue. A left hook to the body of Allotey sent him to the floor after a delayed reaction. The Ghanaian's corner asked the referee Jack Reiss to halt the fight at 2:18 of round four, giving the knockout win to Munguia.
Cheers erupted from the large Mexican crowd.
"Step by step, I've learned a lot from all the fighters that I've fought before," said Munguia who lives in Tijuana. "This is Mexican Independence Day and I feel really good and I'm ready to go further for more."
Franchon Crews   
Franchon Crews Dezurn (6-1) won by unanimous decision but this time it was a more impressive Maricela Cornejo (13-4, 5 KOs) who showed up in the sudden rematch that was put together in two days. Impressive or not, Crews walked away with both the WBC and WBO super middleweight world titles.
Both women warriors exchanged thunderous blows that bounced off each other to the delight of the crowd, but neither would go down. By the middle rounds, Cornejo slowed visibly but still had enough to stay in the fight competitively. It was a much better performance than their first clash a year ago in Las Vegas that saw Crews win the WBC title by decision.
Once Cornejo slowed, Crews slowed her pace too but had more energy and was able to use her jab and combinations. Toward the last few rounds there was a lot of holding but both connected with solid blows until the end.
After 10 rounds two judges scored it 98-92 and a third 97-93 for Crews.
It was a remarkable performance by both fighters who were not originally scheduled to meet. But when the original Mexican opponent Alejandra Jimenez was unable to obtain a visa, Golden Boy Promotions asked Cornejo and she gladly obliged just two days ago.
"I got out here thinking I was going to fight one person, a person who had been bullying me on the internet. Alejandra Jimenez, if you want this one, you can come get it too. I'm not here for a good time, I'm here for a long time. This is the land of the warriors, not the posers, not the models," said Crews. "I want to be respected just like the men are respected. I'm going to step up to the plate and take the challenges. I don't go into any match thinking I'm entitled to anything."
Duno
Romero Duno (21-1, 16 KOs) underwent some minor drama before even stepping into the ring, but it didn't stop him from winning by knockout against Los Angeles tough guy Ivan Delgado (13-3-2, 6 KOs) in their on and off and on again lightweight fight.
When sizzling prospect Ryan Garcia's opponent Avery Sparrow was arrested and unable to fight, it was suggested that Duno should be Sparrow's replacement. That didn't go well with Garcia's team and was abruptly shot down. The Duno-Delgado fight then went back on the drawing board, as originally planned, but Delgado came in more than four pounds overweight.
It didn't matter.
Duno battered Delgado in the first round but the local fighter managed to use his experience to fend off further damage by the heavy-handed Filipino. After that it was a game of cat and mouse. Through most of the fight, Duno landed more blows but Delgado used some slick counters to score and keep the strong puncher from landing the killer blow. Still it wasn't enough, and at the end of the seventh round the corner decided to end the fight, giving Duno the win by knockout.
"I was just doing my job," said Duno. "I know Delgado is a tough fighter."
Regarding Ryan Garcia, "I know Ryan Garcia wants to fight me. He's a top boxer."
Other Bouts
Joselito Velasquez (11-0, 9 KOs) knocked out fellow Mexican Francisco Bonilla (6-7-3, 3 KOs) in a battle between North and South Mexican flyweights. Velasquez floored Bonilla in the second round when he beat Bonilla to the punch with a left hook. Finally, in the fourth round during a Bonilla rally, Velasquez connected with a left-right combination the sent the Chihuahua fighter to the floor. Referee Sharon Sand immediately waved the fight over at 2:54 of the fourth round.
A battle between undefeated super middleweights saw the very tall Diego Pacheco (6-0, 5 KOs) win by knockout over Oakland's Terry Fernandez (3-1, 3 KOs). Pacheco used his size to keep Fernandez at bay then pummeled him with long rang rights and shots to the body. At the end of the second round, Pacheco battered Fernandez with 18 consecutive blows from one corner to the other. In the third round, Pacheco connected with a three-punch combination that snapped back Fernandez's head violently and though he did not go down, the referee Eddie Hernandez wisely stopped the fight at 41 seconds of the third round.
Rafael Gramajo (11-2-2, 3 KOs) won by knockout over Daniel Olea (13-9-2) at the end of the fourth round when he could not continue in their lightweight contest.
Alejandro Reyes (1-0) won his pro debut by knockout over Mexico's Jorge Padron (3-5, 3 KOs) with a left hook to the body at 1:55 of the second round of a lightweight match. New referee J Guillermo counted out Sonora's Padron.
Photo credit: Al Applerose
Check out more boxing news on video at The Boxing Channel  
To comment on this story in The Fight Forum CLICK HERE