Shawn Porter Explains Why He Isn't in Over His Head Against Errol Spence Jr.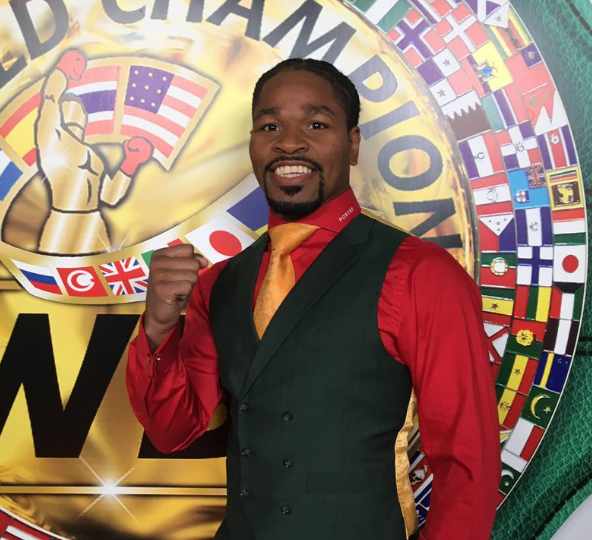 There sometimes can be a thin line separating child abuse and a demanding parent's version of tough love. Twenty years or so ago, the way Kenny Porter elected to draw out the athletic excellence and mental fortitude that he imagined existed within his grade-school-age son Shawn might have been misinterpreted, had their relationship drawn the scrutiny of a case worker for Summit County Children Services in the Porters' hometown of Akron, Ohio. Not that Kenny ever laid a hand on Shawn in a brutal or excessive way, but an equivalent level of treatment might have been looked upon negatively by a child protective care professional objecting to the kid routinely being thrown into the deep end of the pool to fend for himself, or more to the point onto football fields where he was regularly required to compete against bigger, stronger and older boys not disposed to take it easy on the little guy.
"It's how I grew up. It's how my dad raised me and it's where I come from. We were never allowed to shy away from any challenge and that's how I lived my life," Shawn Porter, now the WBC welterweight champion, said of his upbringing under Kenny, a relentless daily grind which also helped other would-be child athletic prodigies (like two-time Olympic gold medalist and current WBC/WBA/WBO lightweight titlist Vassiliy Lomachenko) rise to giddy heights while those made of less resilient stuff (see former USC and Los Angeles Raiders quarterback Todd Marinovich, profiled by TSS on Jan. 14) psychologically unraveled to the point they wanted nothing more than to cease trying to constantly please a parent for whom a merely good effort was never good enough.
"I was 10 years old playing football against guys who were 12 and 13 years old," continued Porter (30-2-1, 17 KOs), who will be asked to tackle another herculean task Sept. 28 when he takes on the heavily favored IBF 147-pound titlist, Errol Spence Jr. (25-0, 21 KOs) in a unification showdown to be televised via Fox Pay Per View from the Staples Center in Los Angeles. "It doesn't sound like that big a deal now, but back then when you're 10 going up against preteens it is a big deal. So even at that young age my dad has always challenged me and made sure I not only put out my best but I was going against the best. I'm 31 now and this is 100% familiar territory because it's where I come from."
Although Shawn Porter now resides in Las Vegas, a tough town in a glitzier sort of way, his formative years were spent in northeast Ohio, a gritty, blue-collar region where working men in hard hats and dingy dungarees made their livings in steel mills or, more specifically to Akron, the factories that led to the Rust Belt city being labeled the "rubber capital of the world." Porter likes to note that Akron also is the hometown of NBA superstar LeBron James, who as a child and adolescent also regularly went up against older boys, although in LBJ's case he was nonetheless the taller, stronger, faster and more dominant player on just about every court he ever set foot upon.
Unlike youth-league football, where apparently age and size differences were sometimes overlooked in the leagues in which Shawn participated, amateur boxing required him to compete against kids more or less his own proportions. But there was still a way for Kenny Porter to ensure that his boy continued to test himself in trials by fire against those whose physical capabilities and potential seemingly dwarfed his son's. A natural welter now as an adult, the 5-foot-7 Shawn Porter bulked up to an above-his-weight-class 165 pounds to throw down with future middleweight world titlists Daniel Jacobs and Demetrius Andrade and – talk about a relative David and Goliath matchup – undisputed cruiserweight champ Oleksandr Usyk, the 2018 Boxing Writers Association of America's Fighter of the Year. Usyk (16-0, 12 KOs) is 6-foot-3 and makes his heavyweight debut on Nov. 12 in Chicago against Tyrone Spong, with the celebrated Ukrainian likely to be in the 215-pound range, or maybe even a bit higher.
So how did Porter fare in the land of the larger? Better than many might expect.
"I have wins against Jacobs and Andrade," he said. "Me and Andrade were 1-1 in the amateurs. The last time we fought we were 165 pounds and I beat him. The experience is there. The experience against taller, bigger opponents is there."
None bigger in retrospect, of course, than Usyk, whose skill set, southpaw stance and high ranking on almost everyone's current pound-for-pound list are close approximations of Spence, if Spence were being viewed through a magnifying glass.
"I fought Usyk at 165 pounds back in the day when we were about 20 years old," Porter recalled with obvious pride. "I beat him."
Given his history, it seems somewhat odd that Porter, who has slain more than his share of fire-breathing dragons both in the amateurs and in the pros (most notably Danny Garcia), is such a significant underdog against Spence. Unless the betting line shifts in a major way, Spence will go off in the neighborhood of -800 (meaning you'd have to bet $800 to win $100) while Porter is +450. Not that a Porter victory would be considered an upset along the lines of Buster Douglas over Mike Tyson or Andy Ruiz Jr. over Anthony Joshua, but still…
Porter, not unexpectedly, does not consider Spence, who comes in with advantages of three inches in height and 2½ inches in reach, to pose a physical mismatch for him, be it by scale or tools.
"Looking at Errol Spence, I don't think he's a bigger guy than me," Porter reasons. "I don't think he's one of the bigger guys in the division. I think that he's been matched up against guys who have made him look a lot more powerful and bigger and stronger than he is.
"I'm comfortable with the knowledge of what I can do. Errol's really good, but I think I match him speed for speed, quickness for quickness, power for power. The big question that needs to be answered the night of the fight is can he handle my aggression, my punch output? We're banking on his not being able to handle my pressure and some of my other attributes."
Spence has expressed the opinion that Porter is a "dirty" fighter, or something akin to a rule-bender if not exactly a rules-breaker, which to Porter sounds very much like he is getting into the Texan's head where the seeds of doubt are sown.
"Errol is very driven and competitive, I get that," Porter said. "I think he may be trying to psych himself up into thinking he can (become the first fighter to knock out Porter). If he can't handle my pressure then you will find out real soon, if that's what's working for us, that's what we'll do. We'll be rough, we'll be hard, we'll be rugged. We'll keep the pressure on him and we all know pressure bursts pipes.
"I think he's in trouble. The world is about to be shocked. I know how it feels to prove people wrong. I know what it feels like to do the impossible, things that people don't expect you to do."
Doing the impossible is an instinct that has been bred into Shawn and nurtured almost from birth by Kenny, who, as his son's manager and trainer, remains his most ardent proponent and closest confidante. It doesn't always work out that way, of course, but this is one father-son relationship in boxing that has deepened rather than divided.
Errol Spence Jr. might not be the highest mountain Shawn Porter ever has been tasked to climb. It remains to be seen if he is the steepest and most hazardous.
Check out more boxing news on video at The Boxing Channel 
To comment on this story in The Fight Forum CLICK HERE
A Toast to Busy Bee Emanuel Navarrete, a Fighter from the Old School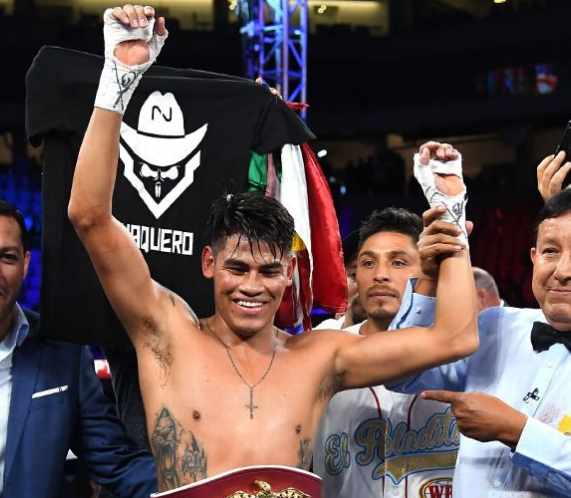 In the last 12 months, super bantamweight Emanuel "Vaquero" Navarrete has fought five times. That's close to Old School-type activity.
No one in Mexico gave Navarette much notice until he stopped Luis Bedolla Orozco (18-2) in Guadalajara in 2017. He turned more heads when he KOed Filipino veteran Glenn Porras in January 2018 and fans outside Mexico began to take serious note of this no-nonsense youngster (now just 24) when he stopped Columbia's "El General" Jose Sanmartin (26-4-1) five months later.
That win, his eighth straight by stoppage, earned him an interim belt and opened the door to a world title shot. It came on Dec. 8, 2018 at Madison Square Garden against undefeated (20-0) WBO world super bantamweight champion Isaac "Royal Storm" Dogboe.
Navarrete, five inches taller at 5'7", shocked the hard-punching Brit (by way of Ghana) to win a decision and become the new champion. The scores were 115-113, 116-112, and 116-112, but more to the point, Dogboe's post-fight face looked like it had gone through the proverbial meat grinder. The tall Mexican had fought tall and picked the much smaller Dogboe apart with precise and pinpoint punching.
The rematch proved that Emanuel's first win was no fluke as he showed late round power in stopping Dogboe in the 12th. He again used his height advantage, showed great stamina and strength, was accurate with his punches, and once again the too-short Dogboe's face looked like he was on the wrong end of a big city mugging.
His first title defense came against Francisco De Vaca (20-0) who is a fixture at the Celebrity Theater in Phoenix, Arizona. This one lasted three rounds as Vaquero ("cowboy" in English) used a neat uppercut to stun De Vaca in the second and then rendered a terrible beating in the third to end the fight—one that should have been halted earlier by referee Raul Caiz Sr. who seemed far more "brave" than the fighters.
On September 14, 2019, Navarrete used his signature wide left hooks and uppercuts to end matters in the middle of the third round against Juan Miguel Elorde (28-1). Juan Miguel, the grandson of Filipino boxing legend Gabriel "Flash" Elorde, made the mistake of engaging Navarrete in a firefight and lost. This one took place at the T Mobile Arena in Las Vegas and boxing fans now knew who this tall super bantamweight was.
In his most recent fight — this one in Mexico — Navarrete put on another display of accurate power punching to stop Francisco Horta (20-3-1) at 2.09 of round 4. After a somewhat typical slow start, Navarrete found his groove and began serious stalking, using looping combinations at strange angles inside and outside, finally catching Horta on the ropes in the fourth, ending matters with stunning closure. It was his 25th straight win dating back to 2012 when he was defeated by one Daniel Argueta by 4-round decision.
Navarrete, one of seven current Mexican world title-holders, is now looking to unify at 122. He also might be interested in fighting Naoya Inoue if "Monster" moves up in weight, and given Inoue's recent fight with Nonito Donaire in which he showed that he is human after all, this one could be a sizzler.
As to his chances for "Fighter of the Year," they are probably slim, but that has nothing to do with whether he deserves it and everything to do with poor public relations. Yes, a solid case can be made for Josh Warrington, but enough with the Canelo, Loma, Usyk types who fight twice a year.
Emanuel Navarrete is more active than any other title-holder or top contender and has a KO percentage of 84% despite the fact that his last five opponents had a combined record of 108-5-1 coming in. And he has a fan-friendly style, stalking, stunning, and closing his opponents with controlled violence. In many respects, he fights like a pre-scandal and prime Antonio Margarito, except he is more technically sound. The fact is, Vaquero, the pride of San Juan Zitlaltepec, is super exciting and doesn't seem to have any noticeable weaknesses.
Ted Sares can be reached at tedsares@roadrunner.com
Check out more boxing news on video at The Boxing Channel 
To comment on this story in The Fight Forum CLICK HERE
NEWS FLASH: Leon Spinks Hospitalized; Reportedly Fighting for His Life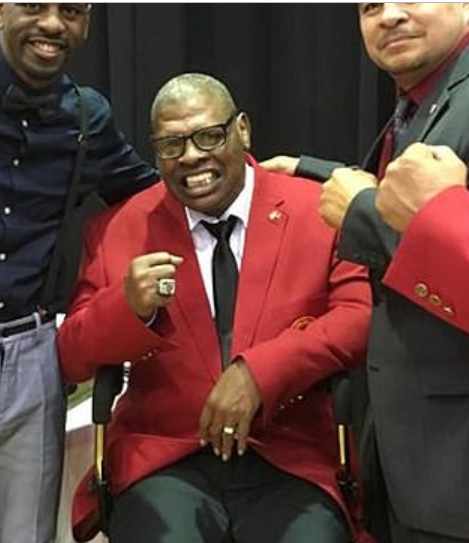 The gossip site TMZ is reporting that Leon Spinks is hospitalized in Las Vegas and is fighting for his life. TMZ acquired this information from Spinks' wife Brenda Glur Spinks after spying her social media post. "It's been a tough year for us," she wrote. "Leon has endured a lot of medical problems. I'm reaching to ask that you pray for my Beautiful Husband Leon. So that he may overcome the obstacles that crossed his path."
Her sentiment was echoed by Leon's son Leon Spinks III who posted this message on his facebook page: "My Dad isn't doing so good now and his wife Brenda Glur Spinks and I ask that u pray that he weather's this storm. My dad is all I have left and I really appreciate it if yall let God know that he is not in this battle alone."
A gold medal winner at the 1976 Olympics, Spinks, 66, is best remembered for upsetting Muhammad Ali in 1978 to win the world heavyweight title. He lost the title back to Ali in his next fight.
This is a developing story. As new details emerge, we will share them with you.
To comment on this story in The Fight Forum CLICK HERE
Crawford-Kavaliauskas is the Main Go, but 'The Takeover' is the Stronger Allurement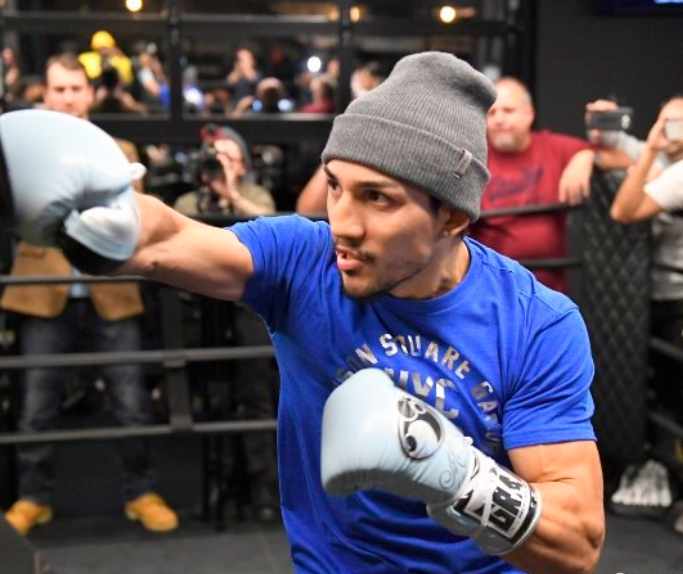 Crawford-Kavaliauskas is the Main Go, but 'The Takeover' is the Stronger Allurement
Terence Crawford puts his undefeated record and his WBO welterweight title on the line Saturday when he opposes Egidijus Kavaliauskas at Madison Square Garden on ESPN. Kavaliauskas is no slouch. The two-time Olympian for Lithuania is also undefeated (21-0-1, 17 KOs), but Crawford is so highly regarded that he is a massive favorite.
If one were arranging the bouts according to the degree of intrigue, using the odds as the barometer, Crawford vs Kavaliauskas wouldn't sit atop the marquee. That honor would go the IBF lightweight title fight between Richard Commey and Teofimo Lopez. Moreover, it's a fair guess that if this fight were to fall out (perish the thought) it would result in more refunds than if Crawford were a late scratch.
The challenger, Lopez, is favored, currently in the vicinity of 9/4, but this is a price that usually translates into a very competitive fight and the stakes are high. The winner will almost assuredly advance to a rich engagement with Vasiliy Lomachenko who holds the other three meaningful 135-pound title belts
Commey (29-2, 26 KOs) won the IBF lightweight title – it was conveniently vacant – with a second-round stoppage of Russia's Isa Chaniev and stopped Raymundo Beltran in eight rounds in his first title defense. Commey dominated both fights, scoring seven knockdowns in all, but the Russian was a sad excuse for a world title challenger and Beltran, although a solid pro, was past his prime at age 38.
Commey's two losses came in back-to-back fights in 2016 and both were by split decision. He lost to Robert Easter Jr in Reading, Pennsylvania, and then, eight weeks later, was upended by Denis Shafikov before a tiny crowd at an actual boxing gym in Moscow.
There was nothing controversial about those losses, but in both instances Commey was in hostile territory. Toledo's Easter brought a large delegation of fans to Reading and Shafikov was fighting on his home turf. The crowd on Saturday will almost assuredly be skewed against Commey again, but it won't be as pronounced. Commey, born and raised in Ghana, has a home in the Bronx. Lopez was born in Brooklyn, a bond that his Brooklyn-born promoter Bob Arum likes to emphasize, but grew up in Davie, Florida.
Teofimo
At age 22, Teofimo Lopez (14-0, 11 KOs) is almost 10 years younger than Richard Commey. A year ago, at this very venue, he scored his most memorable triumph, a highlight-reel, 44-second, one-punch knockout of Mason Menard that was named the TSS Knockout of the Year. He has won three fights in the interim, most recently a 12-round decision over Masayoshi Nakatani.
Teofimo won comfortably on the scorecards, but his performance left much to be desired. The Japanese was a tall, rangy fighter. In Richard Commey, he is meeting a man of similar height. Both are listed at five-foot-eight.
Lopez has developed a large following in a short time and his in-ring heroics are only part of the story. He's quite the showman. After each win he adds an exclamation point with a celebratory back-flip and outside the ring his brash persona has enhanced his notoriety.
When a fighter has a common surname, it helps to have a unique first name. The reality is that Lopez would not have built his brand as fast if his first name had been, say, Miguel, or Carlos, or Juan. And he had the foresight to supplement his unique first name with a unique nickname: The Takeover.
The nickname, says Lopez, doesn't just refer to taking over a specific weight division (he'll move up to 140 before the year 2020 is over) but, rather, taking over the whole sport in the sense of becoming boxing's biggest pay-per-view attraction. Early into his pro career, he began calling out Lomachenko.
Teofimo's biggest cheerleader is his Honduras-born father and trainer of the same name and the elder Lopez has even more hubris than his son. "My son is too strong for Lomachenko….he would walk through anything that Lomechenko throws at him," Teofimo Sr. told veteran boxing writer Bill Tibbs prior to his son's match with Mason Menard. "Liston, he has God-given gifts and he's simply the best out there. (My son) has the best parts of Tyson, Sugar Ray Leonard, GGG, Floyd, Andre Ward, all the best of them in him."
The Lopez that defeated Nakatani would not have defeated Vasiliy Lomachenko. And there are those that think he won't beat Richard Commey unless he brings his "A' game. It's an interesting fight.
—–
The main fights on Saturday's Top Rank boxing card will air on ESPN's flagship station. The boxing card, which opens with the rematch between Michael Conlan and Vladimir Nikitin, follows the show in which the Heisman Trophy is presented to LSU quarterback Joe Burrow. The Heisman telecast will begin at 8 pm EST.
The same situation prevailed last year when Top Rank's Madison Square Garden card was headlined by the fight between Vasiliy Lomachenko and Jose Pedraza. To the consternation of diehard boxing fans, the Heisman presentation show ran late. Don't be surprised if it happens again.
Photo credit: Stacy Verbeek
Check out more boxing news on video at The Boxing Channel 
To comment on this story in The Fight Forum CLICK HERE