50 Years in Boxing: Philly's J Russell Peltz Shares His Golden Memories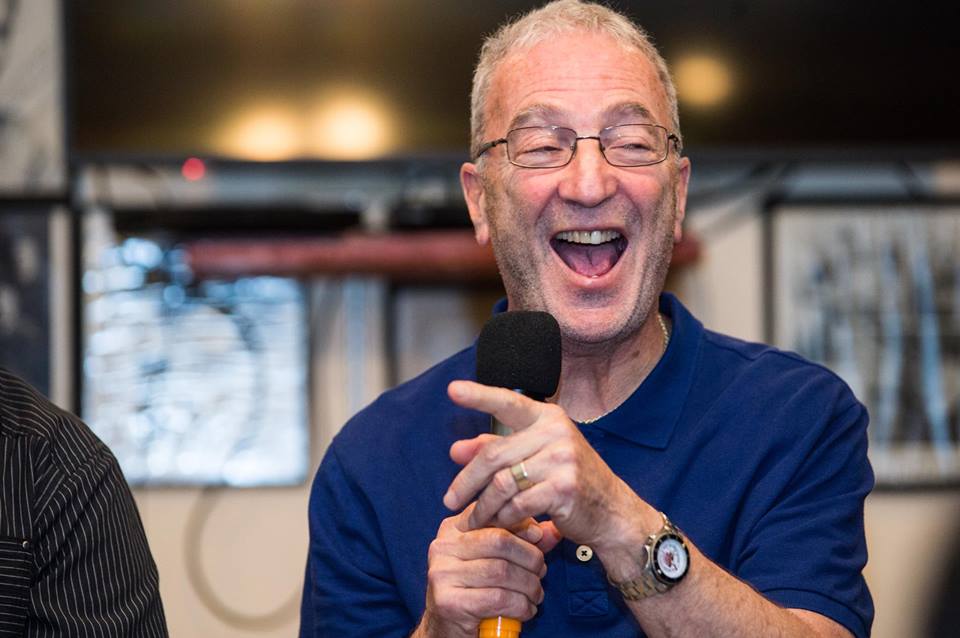 When he was a 22-year-old kid embarking on a boxing journey that might have ended almost as quickly as it began, J Russell Peltz – with big dreams and not-so-deep pockets — never considered issuing anything as portentous as a mission statement. But if he had, it might have read something like this:
You know what the secret is to surviving as a boxing promoter? Making good matches. It's that simple. If you want to make a good match, you make a good match. If you want to get your guy a guaranteed win, pair him easy. But don't charge your customers $50 or $75 to watch that garbage.
Peltz said that for a story I did for the Philadelphia Daily News in November 2012. Making good, competitive and entertaining matches has always been the touchstone of his remarkable longevity in a cannibalistic sport which tends to devour those not smart enough or tough enough to survive in the long term. But while Peltz has known both flush and lean times, adapting as necessary at junctures along the way, the guiding principle of Philly boxing's onetime "Boy Wonder" has never changed. It is why he has been inducted into seven Halls of Fame and outlasted a host of competitors who sought to knock him off the local throne upon which he remains firmly ensconced. He said he still gets as much of a charge from seeing a dandy scrap as he did when, for his 14th birthday, his father took him to his first live fight card. What young Russell – the J in his full name, as was the case with the S with former President Harry S Truman, stands for nothing — saw that night left an indelible impression. Somehow, some way, he would make the fight game more than an avocation, but his life's work.
Peltz's first foray into the business end of boxing came on Sept. 30, 1969, when middleweight Bennie Briscoe needed just 52 seconds to dispose of Tito Marshall at the Blue Horizon, the main event of a card that included such young, future Philly legends as Eugene "Cyclone" Hart and Bobby "Boogaloo" Watts. It was an astounding debut for Peltz, with a standing-room-only crowd of 1,606 jamming the 1,300-seat arena.
There would, of course, be some whiffs along with the home runs before Peltz evolved into an entrenched, iconic figure in his hometown's fight scene. Both the hits and the misses have contributed to making him who and what he is, the sum total of his five-decade love affair with the sweet science to be celebrated first at an invitation-only Golden Anniversary Reception on Thursday, Sept. 26, at the 2300 Arena in South Philly, preceding an eight-bout fight card at the same site on Oct. 4. Dubbed "Blood, Sweat and 50 Years," that show – topped by a six-rounder pitting Victor Padilla (5-0, 5 KOs) of Berlin, N.J., by way of his native Puerto Rico, against Romain Tomas (8-2, 1 KO) of Brooklyn, N.Y. — will be staged by Raging Babe Promotions' Michelle Rosado, a Peltz protégé. In addition to her mentor being the guest of honor, Peltz also is serving as matchmaker, a role for which he has justifiably gained much distinction.
It also might be the last time Peltz acts in that capacity, an indication that, just possibly, his 50-year anniversary in boxing might mark the beginning of the end of a storied career which he has been contemplating for some time. In that same November 2012 Philadelphia Daily News story in which he issued his ersatz mission statement, Peltz dropped hints that nothing, not even his involvement in boxing, can last forever.
"At points in the last five years, I've thought about retiring," he said then. "I think about it now. I'm certainly not going to be doing this when I'm an old man. I don't want to be doing this when I'm an old man.
"Really, I don't know how much longer I'll go on. Maybe I'll get out when I'm 70 or 71. But whenever I think about quitting, I become involved with a fighter (who piques his interest)."
And now? Peltz turns 73 on Dec. 9, hardly an old man in terms of his energy and enthusiasm, but he is inarguably a senior citizen according to the Social Security administration.
"I don't think I'll be making matches after Oct. 4," he said when contacted for this story. "I don't have the temperament to do it anymore. I can't tolerate the mentality of a lot of the fight people in Philly who don't want to fight other Philly guys. That's what made Philly the fight town that it was.
"I go around the house screaming and Linda (his wife) says, `I know why you're screaming. You're making matches again. You said you weren't going to do it. When you do it, you're impossible to live with.'
"I think what I want to do is to advise fighters, maybe manage fighters. Some of these kids today deserve their own careers rather than being served up as cannon fodder for top prospects for Top Rank, Golden Boy, Eddie Hearn and PBC."
If Peltz does in fact hew to that somewhat altered philosophy, it would in some ways represent his coming full circle. Despite whatever misgivings he might harbor about professional boxing as presently constituted, he has always gotten an adrenalin rush from identifying and nurturing young fighters who remind him of the twentysomething firebrand he used to be. For all his musings about stepping aside, it would stun no one if he elected to keep on keeping on in the manner of Top Rank founder Bob Arum, an occasional associate who is 87 and still active, or his dear, departed friend Don "War a Week" Chargin, a licensed promoter in California for a record 69 years who was 90 when he passed away on Sept. 28, 2018. Chargin was another staunch proponent of the concept that fans deserved real fights, tough fights, and not setups designed to make protected house fighters look better than they probably are.
But regardless of what the future holds for Peltz, the past 50 years make for an improbable tale even in a sport where improbable tales are more the norm than the exception. It starts even in advance of the Briscoe-Marshall bout that the golden anniversary celebrants will cite as his official launching point.
Then a sports writer for the now-defunct Philadelphia Evening Bulletin, Peltz had been squirreling away portions of his salary for the express purpose of establishing enough of a nest egg so that he could take the plunge. Toward that end, he says he spent "countless hours" in the Blue Horizon office of building owner and veteran fight promoter Jimmy Toppi, pestering the older man with questions about how to make his dream of doing what Toppi did a reality.
Two weeks before Briscoe-Marshall, Peltz resigned as a full-fledged member of The Bulletin sports staff, although he did keep his hand in as a one-night-a-week, part-timer as a hedge against possible disaster on fight night.
"I had saved up about $5,000, which was a lot of money back then for someone my age," Peltz recalled. "The woman who became my first wife asked me, before we got married, 'What makes you think you can do this?' I told her it'd take me about six months to blow the five grand, but then I'd have this great scrapbook to show my kids one day about the time their daddy was a boxing promoter."
Not that he completely went through his savings, but Peltz – whose contingency plan was – gulp – to go back to sports writing if the grand experiment came a cropper – hit some dry holes after Briscoe-Marshall. He was obliged to seek and receive a loan of between $2,000 and $3,000 from his dad, Bernard, to help underwrite his second year as a struggling fight promoter. It also didn't help that Peltz's wife, he said, absolutely hated boxing and was providing no moral support on the home front.
"I told my father that if I couldn't pay him back by the end of the season, I'd just go back to the newspaper business," Peltz said. "I was making $7,500 a year at The Bulletin. My first year putting on shows at the Blue Horizon I cleared $4,600 from September through May. But in the summer of 1970, I accidentally found out that Bennie Briscoe's contract was for sale. I knew that was my ace in the hole after I asked my brother-in-law (Arnold Weiss) to buy Bennie's contract, which he did."
But even that ace in the hole –- Briscoe, who three times fought for the middleweight championship of the world and appeared 45 times in all on Peltz-promoted or co-promoted cards – might not have been enough to keep Peltz's nascent operation moving forward. What was needed was some positive publicity, which he got from then-Daily News sports writer Tom Cushman.
"If it hadn't been for Tom Cushman, I never would have made it," Peltz noted. "I met him when he came east to cover Temple  (Peltz's alma mater) in the All-College (basketball) Classic, which they held every December in Oklahoma City. I was there covering for The Bulletin and The Temple News. We got friendly. So when I decided to become a boxing promoter, Tom, who by then was at the Daily News, thought it was really cool that a 22-year-old kid would do that. He gave me a load of good press, even more than I got at my own paper."
There would be other puzzle pieces that fell into place at precisely the right moment. Now reasonably established if not exactly getting rich doing shows at the Blue Horizon and The Arena in West Philly, Peltz got his shot at the big time – or what seemed to be the big time – when in 1973 he was approached about becoming the director of boxing at the 18,000-seat Spectrum, home of the NBA's 76ers and NHL's Flyers.
"I got a call late in 1972 from Lou Scheinfeld at the Spectrum," Peltz recalled. "Monday nights were dark there and it was costing them money to have nothing going on. I met with the Spectrum people and they hired me for a salary against a percentage of the profits. The first year we ran 18 shows and lost money on 16 of them. We were hemorrhaging money, and it had nothing to do with Monday Night Football in the fall.
"Allen Flexor, who was the Spectrum's vice president and comptroller, asked me to go to lunch, ostensibly to fire me. We talked for a while and I said, `If I can get the Philly guys to fight each other, I can turn this thing around.' He basically said `OK, we'll give you some rope and see what you can do.' I put up signs in all the gyms in the city about a meeting to be held at Joe Frazier's Gym on such-and-such a night in December. I wanted all the managers and trainers to come to that meeting, and 50 to 60 of them showed up. I said, `Look, the Spectrum has the Sixers, the Flyers, concerts, Disney on Ice, the circus. They don't need us. Unless you guys start fighting each other, we're going to go back to The Arena, and I know you don't want to do that."
Given the depth and quality of Philadelphia fighters at the time – a mother lode of talent with Briscoe, Hart, Watts, Willie "The Worm" Monroe, Stanley "Kitten" Hayward, Matthew Saad Muhammad, Jeff Chandler and other main-event-worthy locals – it was a plan that could not have failed. But it might have, had not one influential dissenter passed away unexpectedly.
"If Yank Durham (Frazier's manager and trainer) hadn't died in September of '73, we would have had big problems because he was against Philly vs. Philly," Peltz continued. "But Eddie Futch took over after Yank died and he knew the value, coming from the Olympic Auditorium (in Los Angeles) when all those great Mexican fighters fought each other. Eddie said, `Let's make Willie the Worm against Cyclone Hart,' which was a monster show with a turnout of 10,000-plus. From the beginning of 1974 until the end of '78 the Spectrum was as big as (Madison Square) Garden and the Forum in Inglewood, Calif. Everybody wanted to fight at the Spectrum, and everybody did."
But when the casinos in Atlantic City opened later in the decade, that siphoned from the Spectrum's fan base to the point where the fight dates diminished, along with the massive crowds. But, Peltz says, wistfully, "Those last five years there were wonderful. I got a bonus every year.
"When Briscoe fought (Marvin) Hagler, it was a 10-round fight and we had a crowd of 15,000. It wasn't for some bulls— title, either. We had good fighters and they weren't afraid to fight other good fighters."
There were occasional missteps for Peltz, too, which probably was to be expected. "A lot of good fighters slipped through my fingers," he said, citing Hagler and Buster Douglas as two he might have signed to promotional deals before their price tags exceeded his budget. "You learn as you go, but you never stop making mistakes."
So, if he had to choose his single best moment in boxing, and the worst experience, what would they be?
"You always fall in love with your first fighter," he said of his continuing devotion to Briscoe, who was 67 when he died on Dec. 28, 2010. "That's never going to change.
"My most memorable moment was Bennie's fifth-round knockout of Tony Mundine on Feb. 25, 1974, at the Palais de Sport in Paris. "Mundine, an Australian, was like the heir apparent to (middleweight champion Carlos) Monzon. He was a certified star, who had beaten Emile Griffith and Max Cohen in Paris.
"I saw Reg Gutteridge (a British sports journalist who was doing color commentary for the telecast) in the hotel lobby before we left for the arena. He said, `I don't get it. Mundine is the toast of Paris. He can name his price to fight Monzon. Why would he tune up with Briscoe?'
"It was a monster fight, as big as it could be without it being for a world title when world titles really meant something. Just a magical night. I was shooting film from the top row and when Bennie finally got him out of there, the camera was shaking because my hands were shaking."
Another significant plus, both on the professional and personal levels, was Peltz's marriage to second wife Linda, who understood she would have to share her husband with boxing and hasn't minded it at all. It's amazing what domestic tranquility can do for a fight promoter's peace of mind at the office and at ringside.
"We started dating in February of 1976," Peltz said. "Her first fight was the rematch between Briscoe and Hart, which drew 12,000 people to the Spectrum. She sat with me in the first row.
"Everybody loves Linda. People say, `How bad can Russell be? Linda married him.'  And there's no doubt she's smoothed over a lot of things through the years. She brought together some people in boxing I just couldn't talk to, just like she brought together some estranged family members I hadn't spoken to in years."
The giddy highs of Briscoe over Mundine, and spousal bliss, were countered by what Peltz said remains his greatest disappointment in boxing, even more painful than the horrendously unjust decision that went against Peltz's fighter, Tyrone Everett, in his Nov. 30, 1976, challenge of WBC super featherweight champion Alfredo Escalera at the Spectrum, a split decision that remains high on the list of boxing's most outrageous heists.
"The low point of my career had to be my relationship with ESPN when I was hired to be their director of boxing (in October 1998)," Peltz said. "It was just a scam, a setup. I lost most of my power pretty quickly. At first I thought, `After all these years of making good fights, it's finally paid off. They're hiring me because they know I'm going to make more good fights.'
"Three or four months into the deal the people who hired me moved on to ABC and I was left to deal with the ol' boys club which essentially turned me into an errand boy. I hung in there until the fall of 2004, but after six to eight months it was just agony. I got blamed for a lot of bad fights that were on ESPN I had nothing to do with."
Peltz needn't worry about any blame he might have received when weighed against the credit he has deservedly gotten. Seven Halls of Fame are proof enough that he has done far more right than wrong, and that some Boy Wonders can age gracefully with their place in history forever secured.
Check out more boxing news on video at The Boxing Channel  
To comment on this story in The Fight Forum CLICK HERE
Juan Francisco Estrada KOs Carlos Cuadras; Chocolatito Wins Too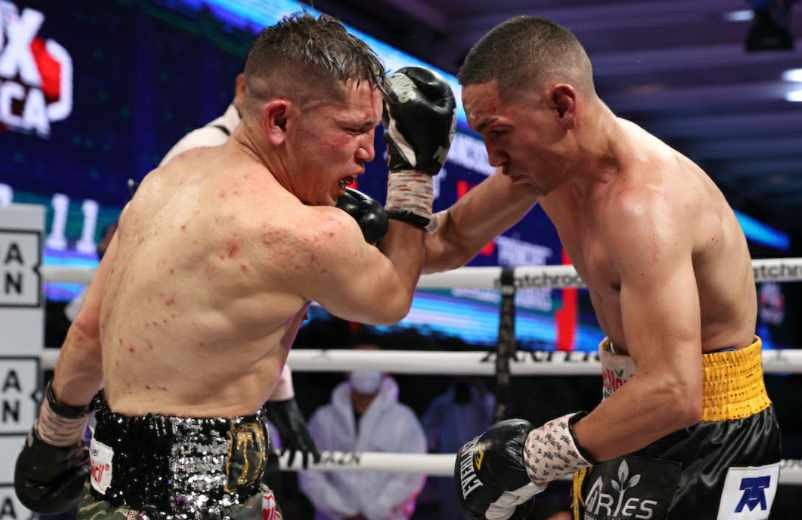 WBC super flyweight world titlist Juan Francisco Estrada led a triumvirate of world title fights with a sizzling knockout victory over Mexican rival Carlos Cuadras to retain the world title and set up a future clash with former foe Roman "Chocolatito" Gonzalez who won his bout in the co-feature.
In front of a small Mexico City crowd Estrada (41-3, 28 KOs) proved he could defeat Cuadras (39-4-1, 27 KOs) again and did it emphatically to retain his title by knockout. There was no squabbling about scorecards in this clash like their first encounter in 2017 that ended with Estrada by decision.
It did not begin well for Estrada who endured Cuadras imposing his strength and speed behind a very strong left jab in the first three rounds. And then a sneaky right uppercut followed by a left hook sent Estrada down for the count in the third round.
But that only proved to be a spark for the fighter known as "El Gallo."
Estrada realized he was falling behind, especially after the knockdown. Instead of counter-punching, the boxer from Sonora, Mexico began moving forward and became an aggressor. The dynamics of the fight changed suddenly.
Cuadras was hurt by a body shot in the sixth round and spent most of his time looking to avoid more contact. Estrada was in full control.
Despite the change in momentum no round was easy for either Mexican pugilist. Both exchanged freely always looking to end the fight with a big blow. Though each were hurt at times, neither showed signs of relenting.
From the eighth through the 10th round Cuadras seemed to find a second wind, or maybe it was desperation. The Mexico City native known as "Principe" fought possessed and managed to swing the momentum back toward his way for maybe two of those rounds.
In the 11th round both exchanged blows and Estrada connected with a left and right and down went Cuadras. The former world champion got up and was then floored with a counter right cross. He got up again a little shaky and Estrada attacked with a four-punch combination that forced referee Lupe Garcia to stop the fight for a technical knockout at 2:22 of the round.
Estrada retained the WBC super flyweight world title and will now meet Chocolatito.
Chocolatito
Nicaragua's Roman "Chocolatito" Gonzalez (50-2, 41 KOs) proved that an opponent like Mexico's Israel Gonzalez (25-3) can be faster, taller, longer and younger but the Nicaraguan will find a way to beat you. He did that with a convincing unanimous decision win after 12 rounds to retain the WBA super flyweight world title.
Chocolatito will now probably meet Juan Francisco Estrada for a long-expected rematch. In their first encounter back in 2012, the Nicaraguan won by decision in Los Angeles.
Chocolatito looked dominant in his ability to deflect the speedy combinations by the young Mexican fighter Gonzalez. Nothing worked against the Nicaraguan who skillfully manipulated his way through barrage after barrage and connected inside with body shots and uppercuts.
It was a masterful performance.
JC Martinez
Mexico City's Julio Cesar Martinez (17-1, 13 KOs) was defending his WBC flyweight world title against Moises Calleros (33-10-1) a virtual bantamweight weighing more than 7 pounds over the 112-pound flyweight limit. Even the extra weight could not help him.
In the first round, Martinez exploded with a blistering three-punch combination the sent Calleros to the floor dazed and confused. He beat the count and survived the round.
The second round wasn't too kind for Calleros who became the punching bag for the quick-fisted Martinez who opened up with a nine-punch salvo that forced the referee Cesar Castanon to end the slaughter at 2:42 of the second round.
Other Bouts
Diego Pacheco (10-0, 8 KOs) used his height and reach to score a knockout with a snapping right uppercut to the chin of Mexico's Juan Mendez (12-3-2) in a super middleweight fight. The end came at 2:02 of the second round with Mexican referee Rafael Saldana stopping the fight at the perfect moment.
Austin "Ammo" Williams (6-0, 5 KOs) powered through Esau Herrera (19-12-1) with body shots and combination punches to win by knockout in a middleweight battle. The end came at 1:36 of the fifth round.
Otha Jones III (5-0-1, 2 KOs) and Mexico City fighter Kevin Montiel (6-0-1) fought to a split draw after six rounds in a super featherweight clash. Both fighters started quickly with Jones having good rounds in the middle portion of the six-round fight, but he tired and allowed Montiel to rally from behind. The scores were split with 58-56 for Jones, 58-56 for Montiel and 57-57.
Photo credit: Ed Mulholland / Matchroom
Check out more boxing news on video at the Boxing Channel 
To comment on this story in the Fight Forum CLICK HERE
Boxing Odds and Ends: Fury's Next Opponent, Lomachenko Redux and More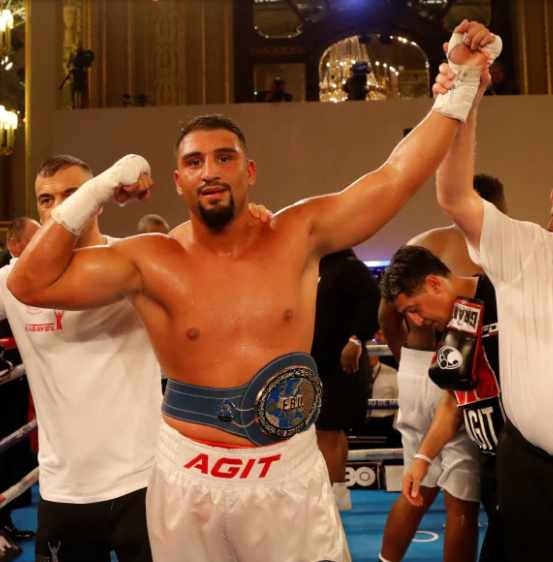 Boxing Odds and Ends: Fury's Next Opponent, Lomachenko Redux and More
It wasn't long ago that Bob Arum was talking about potting Fury-Wilder III at Las Vegas' new Allegiant Stadium in December. But Arum and his business partner Frank Warren have switched gears. Fury-Wilder III is on hold indefinitely.
According to Team Fury, Wilder invalidated the rematch clause in the Articles of Agreement for Wilder-Fury II by failing to activate it within the required time frame. That opened the door for Fury to choose a different opponent for his next fight. The frontrunners are reportedly Agit Kabayel and Carlos Takam. The fight is expected to come off in December in London.
Agit Kabayel, a 28-year-old German of Kurdish descent, is 20-0 (13 KOs). He came to the fore in November of 2017 when he upset dangerous but erratic Dereck Chisora, winning a 12-round decision at the Casino in Monte Carlo. In his most recent fight, in July of this year, he won a lopsided 10-round decision over an obscure opponent before a small gathering (per COVID policy) at a public park in Magdeburg.
Carlos Takam (39-5-1, 28 KOs) is best known for taking Anthony Joshua into the 10th frame before succumbing when they met three years ago this month at Principality Stadium in Wales. Takam was called in from the bullpen when Kubrat Pulev was forced to pull out with a shoulder injury.
In his most recent fight, the 39-year-old French-Cameroonian won a 10-round decision over unheralded Jerry Forrest at the MGM Bubble. As had been true when he was matched up against Joshua, Takam got the call when his opponent's original opponent fell out. Takam replaced Jarrell "Big Baby" Miller who failed his pre-fight drug test, as was his custom.
In the words of fight writer Kenneth Friedman, regardless of whether it's Kabayel (pictured) or Takam, "this will be a stay busy fight for Fury, and not one meant to be serious entertainment for the boxing public."
We appreciate boxing writers who refuse to sugarcoat, but this strikes us as a bit harsh. Kabayel can fight more than a little, and should he get the call he may prove to be as pesky as Otto Wallin.
Lomachenko
It has come out that Vasiliy Lomachenko was damaged goods heading into his bout with Teofimo Lopez. He had a shoulder ailment that forced him to miss a week of training in the gym. This past Monday, Oct. 20, the noted orthopedic surgeon Dr. Neal S. ElAttrache – the head team physician for the LA Dodgers and LA Rams – put Lomachenko under the knife.
Dr. ElAttrache told Yahoo! boxing writer Kevin Iole that Loma had a bruised rotator cuff and a chipped piece of cartilage and that the injury was in the same area in his right shoulder where Vasiliy suffered a torn labrum in his bout with Jorge Linares in May of 2018.
Lomachenko's promoter Bob Arum said he had no knowledge that the Ukrainian was less than 100 percent. Neither did the bettors. Had the word got out, the wiseguys would have "steamed" the underdog.
We're reminded of the 1995 fight at the Caesars Palace outdoor arena between Oscar De La Hoya and the late Genaro "Chicanito" Hernandez. It leaked out that Hernandez had suffered a broken nose in his final sparring session and the odds favoring De La Hoya zoomed from 4/1 to 17/2.
In the sixth round, a punch from Oscar broke Hernandez's fragile nose. The blood came down in torrents, Hernandez quit at the conclusion at the round, and the bookies took a bath.
From a betting standpoint, injuries are far more relevant in an individual sport such as boxing than in a team sport. A heavy sports gambler of our acquaintance, now deceased, invariably bet on an NFL team missing one or more key players. "The back-ups were All-Americans too," he said by way of explanation.
The contract for Lomachenko-Lopez did not include a rematch clause. Teofimo has no interest in a rematch and has earned the right to move on. However, we would bet that most fight fans would love to see them go at it again. Lomachenko is expected to be fit to resume his regular training regimen in January.
Davis vs. Santa Cruz
"In what is being billed as a 50/50 fight…." reads a SHOWTIME press release heralding the forthcoming match between Gervonta "Tank" Davis and Leo Santa Cruz.
What an interesting choice of words. Who exactly is it that is billing this as a 50/50 fight? Certainly not the bookies. As of Friday, Oct. 23, Davis was anywhere from a minus-460 to minus-680 favorite at prominent betting establishments offshore. (For the sake of convenience, let's just say that Gervonta is a 5/1 favorite.)
No, this is hardly a 50/50 fight, at least not in the view of the bet-takers who have no choice but to be transparent. But in defense of SHOWTIME, this is an intriguing contest between a brash upstart who has yet to taste defeat and a 32-year-old veteran who has suffered only one defeat in 39 starts, a defeat that he avenged.
Gervonta Davis (23-0, 22 KOs) will walk right through Leo Santa Cruz if he fights as well as he did against Jose Pedraza in 2017. But if "Tank" fights as he did later that year against Francisco Fonseca, Santa Cruz (37-1-1, 19 KOs) will make it warm for him.
Davis vs. Santa Cruz will play out on Halloween before a live audience in the San Antonio Alamodome. It is the main attraction of a PPV event with a suggested list price of $74.99. It will be interesting to see what numbers it draws since the show goes head-to-head against an ESPN+ card featuring the U.S. debut of Naoya "Monster" Inoue.
Leonard Ellerbe, the CEO of Mayweather Promotions, which handles Tank Davis, has predicted that Davis will someday command "Mayweather money." He bases this not merely on Davis's talent, but on his large social media following. The 25-year-old Baltimorean has a big presence among the hip-hop crowd.
At stake in the Davis vs. Santa Cruz fight are a pair of WBA titles hitched to different weight classes. One of the belts at stake is the WBA lightweight title.
Hey, wait a second, didn't Teofimo Lopez just win this very same title?
In Deadwood, South Dakota, one can visit the saloon where Wild Bill Hickock was shot dead while playing poker. Or one can walk down the street and visit a different saloon that claims to be the place where Hickock was shot dead while playing poker.
WBA president Gilberto Mendoza doesn't own those two saloons, but he could have.
Check out more boxing news on video at the Boxing Channel 
To comment on this story in the Fight Forum CLICK HERE
Avila Perspective, Chap. 110: Chocolatito, Lipinets and More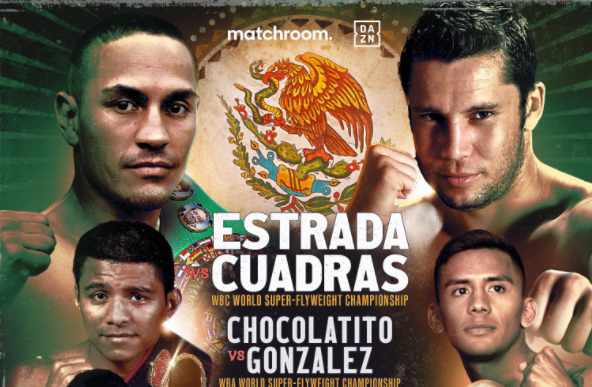 Avila Perspective, Chap. 110: Chocolatito, Lipinets and More
In the middle of the former Aztec Empire, now called Mexico City, a series of super flyweight world championships will be staged for the entire world to see on Friday.
If this were the 1500s there would be blood. This is 2000, there will be knockouts.
Leading the charge WBC super flyweight titlist Juan Francisco Estrada (40-3, 27 KOs) defends against former champion Carlos Cuadras (39-3-1, 27 KOs) at Gimnasio TV Azteca in Mexico City. Also joining will be Nicaragua's Roman "Chocolatito" Gonzalez, the WBA super flyweight world champ. DAZN will stream the card live.
Both Estrada and Cuadras want another crack at Chocolatito.
This is the second time around for the Mexican fighters. Estrada won their first encounter when they met at the StubHub Center in Carson, California. Cuadras just could not pull the trigger. Blame it on Estrada.
Cuadras, 33, has more to lose than just consciousness. The fighter known as "Principe" will be fighting in his hometown. That's bad for business to lose in from of your home boys especially if you talk as much smack as Cuadras.
Northern Mexico's Estrada, now 30, handily defeated Cuadras three years ago but views the Mexico City native as a stepping stone to his true target Chocolatito. The fighter known as "Gallo" wants revenge.
Back in 2012, in the city of Angels, "Chocolatito" Gonzalez and Estrada met at the old Los Angeles Memorial Sports Arena. That arena no longer exists but the memories of their encounter blazed its way to most fight fans brain cells. Although under-publicized, it was one of the best fights of that decade.
Nobody knew much about Estrada at that time, but Gonzalez was in the middle of a triumphant run toward becoming the best recognized fighter "pound for pound" in the world. He would reach it against Cuadras of all fighters. But against Estrada the Nicaraguan master fighter nearly was toppled.
The several thousand fans in attendance knew they had witnessed a classic. Many wanted to see a rematch. If both win on Friday, it's likely that rematch will take place early next year.
Chocolatito
Gonzalez (49-2, 41 KOs) meets Israel Gonzalez (25-3, 11 KOs) of Los Cabos, Mexico. Many fans thought Chocolatito was done when he lost twice to Thailand's Sor Rungvisai. It was the knockout loss that seemed to be the clincher. But he found a solution training in the desert sands of Coachella, California and now he's back stronger than ever.
Chocolatito ripped the WBA world title away from Khalid Yafai last February and that left fans speechless. But at 33 how much is left for this 115-pound warrior?
What better place than Mexico City to discover who emerges from the smoke?
It was here in Mexico City, formerly known as Tenochtitlan, that the Aztec empire ruled over much of North and Central America. Battles were held constantly just for practice. True story. The Aztecs would have practice wars to keep up their killing skills and lives would be lost. It still remains one of the world's greatest fight capitals.
Another bout features WBC flyweight world titlist Julio Cesar Martinez (16-1, 12 KOs) the fiery Mexican City fighter defending his throne against Moises Callero (33-9-1, 17 KOs).
The card on Friday night will be a strong one. Don't miss it. It all begins at 4 p.m. PT on DAZN.
Showtime
Former super lightweight titlist Sergey Lipinets (16-1, 12 KOs) moves up a weight division and battles Canada's Custio Clayton (18-0, 12 KOs) for the interim IBF welterweight title at the Mohegan Sun Casino in Uncasville, Conn. Showtime will televise.
Lipinets, who trains in Los Angeles, has long sought another title shot at super lightweight and now heads into the welterweight realm and finds himself facing a Canadian fighter. You never know how good these guys are until they step in the boxing ring.
Also, on the same card, undefeated Xavier Martinez (15-0, 11 KOs) meets former world champion Claudio Marrero (24-4, 17 KOs) in a 12-round super featherweight match. Martinez, 22, may not be ready for the super slick Marrero but the Californian hasn't had much trouble so far.
Fights to Watch
Thursday Oct. 22, UFC Fight Pass 7 p.m. Luis Torres (8-0) vs Orlando Zepeda (9-1).
Fri. Oct. 23, DAZN, 4 p.m. Roman Gonzalez (49-2) vs Israel Gonzalez (25-3); Juan Francisco Estrada (40-3) vs Carlos Cuadras (39-3-1); and Julio Cesar Martinez (16-1) vs Moises Calleros (33-9-1).
Fri. Oct. 23, Telemundo, 11:30 p.m. Belmar Preciado (20-3-1) vs Rodolfo Hernandez (30-9-1).
Sat. Oct. 24, Showtime 7 p.m. Sergey Lipinets (16-1) vs Custio Clayton (18-0).
Check out more boxing news on video at the Boxing Channel 
To comment on this story in the Fight Forum CLICK HERE