The Hauser Report: Glen Sharp's "Punching from the Shadows" (Book Review)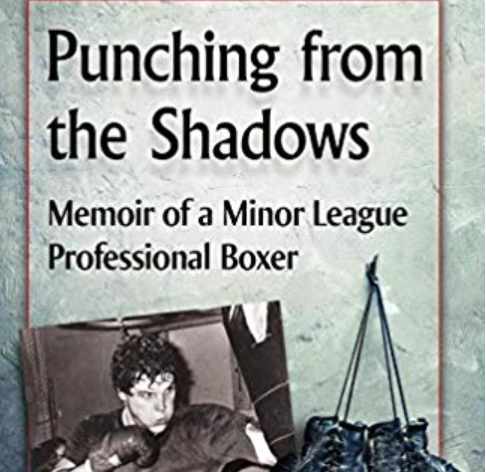 McFarland & Company publishes books about boxing on a regular basis. Some of them are solid works that contribute to the historical record of the sport. Others have the feel of vanity publishing, although McFarland doesn't take payment from authors. On occasion, a particularly good book makes its way through the pipeline. Punching from the Shadows by Glen Sharp is a particularly good book.
Sharp has an undergraduate degree in economics and an M.A. in English. He has worked in state government for more than thirty years and is currently an analyst and editor at the California Energy Commission. Within that milieu, his most unique credential is that he boxed professionally for a year before retiring with a 1-and-2 ring record. His sojourn through the sweet science is realistically and evocatively written from the early roots of his journey to the end.
"I had major league dreams but not even minor league success and was haunted by my failure for years," Sharp writes in the Preface to his book. "I thought telling my rise-and-fall story about a boxer that does not have much rise to it might be of help to me, too."
Sharp grew up in a reasonably comfortable middle-class environment in a small farm town in Illinois.
"A common social confusion is that economic impoverishment is what leads people into boxing," he notes. "But that is not the case. People are attracted to boxing or not, just as they are drawn to writing or acting or playing a musical instrument. But boxing is such difficult, painful, and dangerous work that the temptation to turn away from its call is difficult to ignore, and this is especially so when opportunities for an easier life are available elsewhere. Poverty does not force someone to begin boxing. There are billions of poor people in the world but not billions of boxers. But having some money in the bank, or even a chance to obtain cash any other way than by fighting, can lead someone to stop, which I would eventually discover for myself."
Sharp's introduction to boxing, his first sparring session, the Golden Gloves, and other rites of passage are well told. He recreates the sights and sounds of gym life well. He had decent physical gifts (in his imagination, he fancied himself a smaller version of Joe Frazier) and recalls, "I had been gifted with the ability to punch, especially with my left hand, in the same way other guys can throw a ball ninety-five miles an hour or more. I might not have had the best location, so to speak, or any off-speed stuff to set up my power, but I could rear back and fire."
He also recreates an early amateur fight that saw a trainer named Alex Sherer in his corner.
"I had a difficult first round with the guy I was fighting," Sharp recounts. "He landed lot of punches on me, including one right hand that left my nose bleeding. My nose wasn't broken but the faucet was certainly on. As I sat on the stool in my corner after the round, Alex climbed into the ring and wiped my face with a towel. I was breathing heavily already and, with every exhalation, a fine mist of blood would float into the air between us. Alex, kneeling right in front of me, looked like he was in a state of shock. I thought he was worried about me but I was wrong. "This is a brand new shirt, goddam it," he yelled at me, pointing at his chest while the red cloud settled on him like fog upon the ground. "This is the first day I've worn it." He stood up and stepped back to look at the damage. "Jesus Christ," he kept yelling. "A f****** brand new shirt and you're getting blood all over it."
Eventually, Sharp took his quest to the next level.
"A young person with decent athletic ability can be taught well enough to compete successfully at lower levels of boxing without having to discover how brave he is," he notes. "At some point, however, as he progressively fights stiffer competition, it will become apparent how much of a stomach he has for boxing."
Sharp had the stomach for it. At least, he thought he did. But his motivation was suspect. After graduating from college, in his words, "I began living like a lot of directionless college graduates, which is a lifestyle not much different than being in school except it's better because you don't have to attend classes. I worked out sporadically, getting in shape for a fight when drinking beer and having fun got boring. I stayed in decent condition, but the inconsistency of training did not allow for much in the way of skill development."
But reality was calling.
"The world expected me to become a contributing member of society," he recalls. "Going to school was never fun for me and could sometimes involve a lot of work, but at least it allowed me to partially avoid the responsibilities of life. It finally dawned on me to become a professional boxer. After graduating from college, I didn't see any other option for me. Some people might laugh at the idea of a guy fighting professionally because he is too lazy or egotistical to get a job, but it doesn't seem funny to me."
In late-1981, Sharp decided to turn pro and took a job as a service attendant on the night shift in a gas station to pursue his ring career. Joe Risso (a restaurant owner who knew virtually nothing about the business of boxing) became his manager. Former middleweight champion Bobo Olson (who might have had trouble training a fish to swim) was hired by Risso as Glen's trainer.
Sharp's relationship with Olson was doomed from the start. First, Bobo was disinterested in his new charge. And second, he insisted that Sharp fight "out of a shell." But Glen didn't have the physical gifts to implement that style.
"Each boxer," Sharp explains, "has a basic style of fighting which reflects his physical assets and limitations, his personality and temperament, how much punishment he is willing and able to endure, his experience, and who trained him and how. But all successful boxers develop their own particular style for the same root reason – to land punches while at the same time minimizing the number of punches the opponent lands in return. As an amateur, I had two main talents. I could punch hard and I could take a punch. I relied on that ability and accepted the consequences of my other shortcomings. I knew what I had to do to win, and I knew how I would lose if I could not impose myself on my opponent. Everything about my fights made sense to me, even when they were not going well. I needed to learn how to pace myself. How to throw decoy punches. How to set up big punches. How to counter more cleanly and strategically. How to make my counterpunching so smooth and effective that my offense and my defense were not clearly distinguishable. I needed to improve a lot. None of the teaching that I needed, however, would have conflicted with my intent to become a smart slugger. My intentions would have become more sophisticated, but not more confused."
"But Bobo's demands," Sharp continues, "were alien to me both physically and psychologically. Neither my body nor my mind was designed to fight like Bobo wanted, and I knew it. With Bobo's shell, I punched less often, less quickly, less powerfully, and less accurately. My defensive skills were reduced. I couldn't move my head as freely or as quickly. I couldn't follow my opponent's punches as well as I had before. I knew what Bobo wanted was wrong for me, and so I was at war with myself. Boxing is a difficult enough sport when you are comfortable with what you are trying to do in the ring. Trying to bring someone else contentment by parroting what he or she wants is suicidal."
Then Yaqui Lopez came into Sharp's life.
Lopez was a world class fighter who had fallen just short in championship outings against John Conteh, Victor Galindez, and Matthew Saad Muhammad. Like Sharp, he fought as a light-heavyweight.
In March 1982 (two months before Sharp's first pro fight), Joe Risso arranged for Glen to spar with Lopez several days a week. That meant training with Olson in Sacramento on some days and driving to Stockton to spar with Yaqui on others. Sharp's exposition of the year that he spent as Lopez's sparring partner is superb:
*          "This is what the first day with Yaqui felt like. I knew I was going to get the worst of it when I was in the middle of the ring, when I was at the end of his jab. I expected that. I didn't know exactly how bad the worst of it was going to be, but I knew it was going to be kind of bad. What I didn't expect was for it to be the same when I was inside his reach, boxing at close quarters. There was no place I could find to mount any kind of offense. There was no punch I could throw from any angle that seemed to bother Yaqui at all. In the three rounds we boxed that day, I don't think I landed a single punch. I got pieces of him, glancing blows off the top of his head or body punches that he did not completely block, but I did not land any clean shots. Worse than that, there was no place in the ring I found to be safe. Everywhere I moved, I was at Yaqui's mercy. He picked me apart with his jabs and rights from a distance. When I stepped closer, he would combine the right hands with left hooks. When I got on top of him, he would blast me with uppercuts along with the hooks. Yaqui was better than me in every phase of boxing. He had an absolute advantage in everything we were doing in the ring, and I had never experienced that before."
*           "There was not much drama or art to be seen in my boxing with Yaqui. He quickly established that he was the hunter and I was the prey. Although I would occasionally challenge this hierarchy, my efforts always proved to be unsuccessful except for the briefest of moments. Until meeting Yaqui, I had something of an alpha male attitude about myself, always thinking I was the hunter in a boxing ring, and so my demotion was hurtful psychologically as well as physically. Every time I attempted to assert myself and temporarily reverse our roles, he would become even more assertive in response."
*           "In the short-term, in the course of a fight, you can commit yourself to taking more punches than you world normally enjoy. You might make that commitment because you see it as your only chance to win. But in daily sparring, there is no competition to win a contest, and it becomes difficult to commit yourself to taking that level of punishment on a regular basis day after day. I would go home every day and stand under the shower for fifteen or twenty minutes, hoping the water pounding on my head would balance the throbbing coming from the other direction. I tried not to think about how it was going to happen all over again the next day. In the worst of the days with Yaqui, I did not feel much like someone who used his sparring with world class talent as a learning experience. I thought of myself as being more like the aging failed fighters who were just trying to make a few dollars by letting themselves be punched around."
*           "As physically demanding as boxing with Yaqui was, the most difficult part was emotional as I saw no light at the end of the tunnel. You develop a unique perspective on life when you rise at six in the morning to run a few miles and one of your first waking thoughts is that, later in the day, you are going to get beat up. Every day during the hour drive to Stockton, my stomach would tighten as I went over what would take place once I got there, knowing there was nothing I could do or change to stop what was going to happen, knowing the next day was going to be the same. I could not ask for relief, either. Yaqui was not taking cheap shots at me, he was only doing his job, and I was the one who had put myself in the position of being his sparring partner. You cannot ask another man to lighten up on you. You can wish for pity. You can hope the guy kicking your butt begins to feel sorry for you, or at least his cornermen do and tell their guy to ease up a bit. You can even think about developing a religious life with the hope God might have mercy on your soul. But you cannot ask the guy you are boxing with to lighten up on you."
Sharp's first professional fight was contested in Stockton on May 5, 1982. The opponent was an 0-and-1 novice named Lamont Santanas.
"Besides boxing differently depending upon whether I was training in Stockton or Sacramento," Sharp writes, "I had two completely different training routines. I had Bobo's routine when he was in the gym, and I trained like Yaqui when I was with him and Bobo was not around. Not only were there differences in personalities and struggles for power, I was being taught two entirely different ways to fight. Every morning upon waking, I would remind myself what kind of fighter I was supposed to be that day."
Against Santanas, Sharp won a four-round decision but recalls, "I only won this fight because I regressed to my amateur style. Three months of training with Bobo, and I fought better by ignoring most of what he had taught me. I knew my amateur approach was not the ticket to long-term success, but Bobo was not taking me where I needed to go, either."
Eight weeks later, Sharp was in the ring again. His original opponent fell out. Glen was then required to weaken himself by dropping down to 165 pounds to face a 6-and-12 journeyman named Michael Hutchinson (the only opponent that Risso could get on short notice). Making matters worse, Hutchinson blew off the weight and came in at 174 pounds.
"This describes my relationship with Joe pretty well," Sharp writes. "He was a good decent person in most every way. He didn't know anything about boxing, though, and was even less aware of how little he knew. Joe wanted to be a deal maker. He thought having a manager's license made him a player in the world of boxing. What having a manager's license means in reality, though, is that the manager could afford the thirty dollars application fee for a license. It was his job to have said that his fighter who had barely eaten for the past week so he could lose an extra eight pounds was not going into the ring with someone who hadn't starved himself at all. The manager makes his money because he is supposed to protect his fighters from the promoters and matchmakers and other managers who have other priorities and interests. But that's not what Joe did."
Meanwhile, shortly before the bout, Olson called and told Glen that he had hurt his back and would be unable to work his corner for the fight.
"Bobo told me to box the way he had taught me," Sharp recalls. "I thanked him and hung up the phone. It was the last time we would speak."
Yaqui Lopez was in Sharp's corner for the fight against Hutchinson. Glen picks up the narrative after the first round.
"The next thing I remember, I am sitting on the stool in my corner as the bell rings. Thinking the next round had just begun, I stood and took a step toward the center of the ring, but Yaqui grabs my arm and tells me the fight is over.
"Who won?" Sharp asked.
Looking back on that moment, Glen observes, "A good general rule in boxing is that, if you have to ask who won the fight you were just in, the answer is probably the other guy. Hutchinson had dropped me with a right hand and, when I rose, he hit me with about a dozen more punches before the referee stopped the fight. This all happened in the first round, and I have no memory of it."
Thereafter, insult was added to injury.
"The morning after the fight," Sharp recounts, "I called one of the doctors employed by the California Athletic Commission as ringside physicians during fights and explained my nose had been broken in Stockton the night before. He asked about the swelling, and I told him it was substantial. He said I should make an appointment for the next week when the swelling had subsided, and I did. When I saw [him] a week later, I had no bruising or swelling, and the only evidence that my nose had been broken was that it was crooked and made noises when I inhaled. The doctor said the bone was already healing and that he could no longer treat me for a broken nose. 'You should have come here last week,' he said, 'before the bone began to set.'"
On November 27, 1982, Sharp entered the ring for the third and final time as a professional boxer. The opponent, Joe Dale Lewis, was making his pro debut and would finish his career with 2 wins, 9 losses, and 7 KOs by. Glen was stopped on cuts in the third round.
"My head was hanging in the air like a pinata," Sharp writes. "Lewis must have thought it was his birthday. I could not figure out how he was hitting me so easily. I have replayed this fight in my mind thousands of times. It's like watching a train wreck in slow motion over and over again. I could see the punches coming, but I could not get out of the way. I knew I was confused by what was happening, but I could not understand why what was happening was happening the way it was. It's called freezing. I stood in front of Lewis like a deer caught in headlights. I have not been shy about expressing how disappointed I was with those around me [with regard to the weight issue] when I lost my fight with Mike Hutchinson. But this loss rests squarely on my shoulders. This was all mine."
After the loss to Lewis, any thoughts that Sharp had of becoming a world-class fighter were in the past.
"I was a 1–2 fighter who had lost two fights in a row," he acknowledges. "And those two losses did not happen by accident. I still thought I could probably become a decent fighter, but the world is full of decent fighters. It is one thing to be a utility infielder on a major league baseball team. But it is something completely different to be a utility boxer, to be a club fighter. I had lost hope that I could become a really good fighter, good enough to make the kind of money that validated the decision to box in the first place. If I was going to end up sitting at a desk anyway, why would I want to spend the next ten years just making ends meet – getting beat, getting hurt, wearing my body and my mind out – to eventually need the same sort of job I had been desperately trying to avoid, only to be ten years behind in that race."
So Sharp retired. But something was eating away at his soul. In his words, "When Marlon Brando's character, Terry Malloy, said to his brother in On the Waterfront, 'I coulda been a contender. I coulda been somebody,' he is talking about being someone to himself. When he said he could have had class, he meant he could have had self-respect. He could have been proud of the character he played in his own story if he had only allowed himself to play that role. That is what he most wanted in life."
Sharp wasn't proud of himself. To the contrary, the more time passed, the more he became ashamed of how he had approached boxing.
"The idea of a professional boxer being someone who makes money from fighting is true only in the most literal sense," he writes. "One is a professional more as a function of attitude than a matter of compensation. My aim was to be a successful professional boxer so I didn't have to get a job, which means I was destined to fail. My attraction to boxing was legitimate, but the relationship I developed with it was not. Boxing is a skill sport more than it is an athletic contest, and I was athletic enough to have become skilled enough. But I had not done the work necessary. Then I ran away from it when the work became too demanding. It is not easy to see yourself being less honorable than you thought you were."
In 1987, Sharp started thinking about a comeback.
"I began training again," he writes, "to finally make the commitment that I had failed to do when younger and had led to the failure. I hoped it was not too late. I wanted the story of my life in boxing to be an honorable one, even if unsuccessful. It was an attempt to atone for squandering a gift I had taken for granted when young and not realized how much I loved."
Sharp trained for close to three years. Then reason prevailed in the form of advice from boxing minds wiser than his own. He never fought again.
Punching from the Shadows deserves a wide audience. Sharp brings a lot to the table. Unlike most writers, he has been in the ring. His journey through boxing was standard in some ways but unusual in others. And he writes well. Things that the reader thinks will happen don't. And things that the reader is sure will never happen do. There's a self-revelatory examination of Sharp's personal relationships – particularly with his father and some of the women he dated – but not so much that it becomes cumbersome.
There are short axiomatic observations:
*         "Very little in life is as truthful as a fight."
*         "Two contests are going on in a boxing ring, the boxer with his opponent and the boxer with himself."
*         "The fight itself is often fun. Waiting for the fun to begin is not."
*         "Getting concussions is probably not the best way to learn how to box."
At times, the book is an intelligent exploration of the psychology of boxing.
"For the boxer," Sharp explains, "two primal and perfectly natural responses – either fighting or taking flight – must find a way to live with each other. Being brave is not a matter of mindlessly throwing caution to the wind. Strength of character is required to hold both heroic intent and the desire to be safe in balanced tension with one another. A tremendous amount of work is required to strengthen oneself to hold that tension, to remain mindful, which is a state of awareness that strives to perform courageously but not unintelligently so."
In other places, Punching from the Shadows is an engaging primer on boxing fundamentals.
Sharp offers an exceptionally good explanation of Joe Frazier's fighting style and Frazier's strengths and weakness as a fighter. Other insights include:
*         "All good fighters learn to regulate their breathing, inhaling and exhaling rhythmically, a pattern upon which everything else is based. Every punch, every feint, every defensive move, every step forward or backward or sideways is coordinated with breathing. This reminds me of the schoolyard maxim that, if you ever get into a fight with someone who breathes through his nose, you should probably turn around and run because that guy knows what he is doing."
*         "The face is rubbed with Vaseline primarily so that, when it is hit with a punch, the leather gloves will slide off the skin more easily than otherwise would happen, reducing the chances of the facial skin being cut by a punch. The body is rubbed with Vaseline to make sure the opponent's gloves are in contact with grease as often as possible. Every time boxers are close together or punching to the body or in a clinch, the gloves are rubbing against Vaseline, becoming coated with grease."
*         "Although hitting the speed bag can look impressive, I don't know that it provides much benefit. The idea is that it increases your hand-eye coordination. But once you learn what you are doing and get a feel for the rhythm of the specific bag you are hitting, you can do it with your eyes closed. I would think that developing hand-eye coordination requires the eyes to at least be open. But I could be wrong because a guy with a 1–2 record obviously has a lot to learn about boxing."
In the preface to Punching from the Shadows, Sharp writes, "I hope that you find me to be a pretty good storyteller, because I sure wasn't much of a fighter."
Sharp is better than a pretty good storyteller. He's first-rate.
Thomas Hauser's email address is thomashauserwriter@gmail.com. His most recent book – A Dangerous Journey: Another Year Inside Boxing  – will be published next month by the University of Arkansas Press. In 2004, the Boxing Writers Association of America honored Hauser with the Nat Fleischer Award for career excellence in boxing journalism.
Check out more boxing news on video at The Boxing Channel  
To comment on this story in The Fight Forum  CLICK HERE
Johnny Famechon was a Hero in Australia Where Willie Pep Had a Bad Night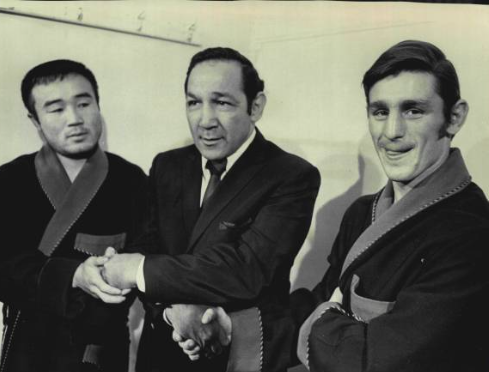 Willie Pep was good at boxing. He wasn't so good at math. Ah, but hold the phone; we are getting ahead of ourselves. This isn't a story about Willie Pep, but about former world featherweight champion Johnny Famechon who passed away last Thursday, Aug. 4, in Melbourne, Australia, at age 77.
Famechon was five years old when his parents left his birthplace in Paris and settled in Melbourne. He came to the fore in an era when boxing was still a mainstream sport and home-grown champions were national idols. The locals turned out in droves for the parade in Johnny's honor when he returned to Melbourne after taking the featherweight crown from the Cuban-born Spaniard Jose Legra in a big upset at London's Prince Albert Hall.
Famechon's first title defense came against Japan's Fighting Harada. They met in Sydney, Australia, on July 28, 1969.
At age 26, Harada was a battle-tested veteran. He previously held world titles at flyweight and bantamweight and would be remembered as the only man to defeat the great Brazilian boxer Eder Jofre, a feat he accomplished not once, but twice.
Only two boxers in history – Bob Fitzsimmons and Henry Armstrong – had won world titles in three of the eight classic weight divisions. Harada, who entered the International Boxing Hall of Fame in 1995, was bidding to become the third.
Team Harada insisted on a neutral referee. The British promoters chose Willie Pep. A legend in the sport, Pep had previously shared a ring with another Famechon, having out-pointed Johnny's uncle Ray Famechon in a featherweight title defense at Madison Square Garden in 1950.
Some thought that Pep would favor Fighting Harada. American referees put a higher premium on aggression than did their foreign counterparts and Harada was a little buzzsaw who rarely took a backward step. But others thought that Pep's selection favored Famechon, an elusive counterpuncher with whom the Connecticut "Will-'o-Wisp" could identify; their styles were similar.
Pep had been the third man in the ring for four previous title fights, three in Jamaica and one in Brazil. But this fight would be different. He would be the sole arbiter. If the fight went the full 15 rounds, Willie Pep would be the judge and jury.
During the bout, Famechon scored one knockdown, sending Harada to the canvas in round five, but Harada scored three, knocking Famechon down in rounds two, 11, and 14. The last of the three knockdowns was the harshest, but Famechon made it to the final bell.
The fight ended in a clinch. Immediately upon separating the fighters, Pep raised both of their hands, a signal that the fight was a draw.
Fighting Harada's handlers were outraged and demanded to see the scorecard. A policeman at ringside was empowered to give it a look-over (Australia had no boxing commission). What the policeman found was that there was indeed a discrepancy. However, it was the opposite of what Team Harada anticipated!
The fight was scored on the antiquated system whereby the winner of a round was awarded five points and the loser four points or less. In the case of an even round, both fighters got five points.
After 13 rounds, Fighting Harada had amassed 59 points on Pep's card. He won the 14th round, giving him an aggregate total of 64 points. But when Pep added up the numbers "59" and "5" in the column where he kept the aggregate total, he came up with "65."
Oops.
When Pep signaled that the fight was a draw, people stormed the ring from all sides. Newspaper reports said the belligerents were about evenly divided. Famechon, the Aussie, was the crowd favorite, but Fighting Harada was well-backed in the betting markets, a very big industry in Australia. Many were even angrier when Famechon was summoned back to the ring to have his hand raised.
The Famechon-Harada fight aired live on Japanese television. In Japan, there was a great outpouring of outrage. Pep had been instructed to score a round 5-4 if the round was narrow and 5-3 if there was a clear-cut winner. Despite the knockdowns, Pep scored every round 5-4 or 5-5. In the revised tally, he had Famechon winning 6-5-4 in rounds.
"Harada loses to referee" was the headline in Japan's leading sports daily. Willie Pep made no friends in Australia either. There were shouts of "Yankee go home" as he left the ring.
Famechon and Harada met again five months later in Tokyo. One would assume that Fighting Harada proved superior and got a fair shake, winning the third title denied him in Sydney. But don't assume.
Harada was well ahead after ten rounds but faded. On the deck in round 10, Famachon returned the favor three rounds later, knocking Harada down hard with a perfectly placed left hook. Harada was in dire straights when he came out for round 14 and Famechon put him away.
Harada never fought again and Famechon left the sport six months later after losing his crown to Vicente Saldivar. Johnny was only 25 years old, but had crammed 67 fights into a nine-year pro career and said enough is enough.
Famechon's post-boxing life took a tragic turn in 1991 when he was hit by a car while out jogging on a Sydney highway. He spent several weeks in a coma and several years in a wheelchair but eventually recovered most of his motor skills and regained his speech to the point where he could serve as a boxing color commentator on television. In 2018, a larger-than- life statue of Famechon was unveiled at a public park in the Melbourne suburb of Frankston where he was a longtime resident.
For the record, Johnny Famechon finished his career with a record of 56-5-6 with 20 KOs. We here at The Sweet Science send our condolences to his loved ones.
Arne K. Lang's latest book, titled "George Dixon, Terry McGovern and the Culture of Boxing in America, 1890-1910," will shortly roll off the press. The book, published by McFarland, can be pre-ordered directly from the publisher (https://mcfarlandbooks.com/product/clashof-the-little-giants) or via Amazon.
To comment on this story in the Fight Forum CLICK HERE
Fast Results from Fort Worth Where Vergil Ortiz Jr Won His 19th Straight by KO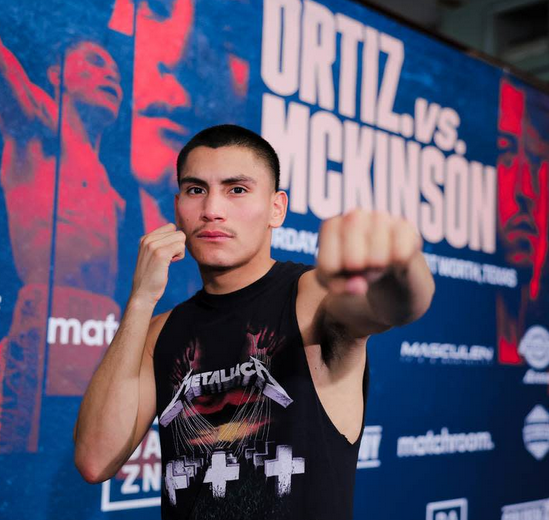 In a match pushed back from March 19, Vergil Ortiz Jr moved one step closer to a mega-fight with Terence "Bud" Crawford or Errol Spence Jr or Boots Ennis with a ninth-round stoppage of England's feather-fisted Michael McKinson. The end came 20 seconds into round nine when McKinson appeared to injure his knee as he fell to the canvas, an apparent residue of the body punch that put him on the deck late in the previous stanza. To that point, Ortiz had seemingly won every round.
It was the 19th win inside the distance in as many opportunities for Ortiz who resides in nearby Grand Prairie and was making his first start with new trainer Manny Robles. McKinson was undefeated heading in, but had scored only two knockouts while building his record to 22-0.
Ortiz, ranked #1 at welterweight by the WBA and the WBO, pulled out of the March 19 bout after being diagnosed with rhabdomyolysis, a muscle disorder associated with over-training.
Ortiz's promoter, Oscar De La Hoya, says that Ortiz will fight the winner of Errol Spence vs Terence Crawford next assuming that the fight gets made, and if doesn't get made, Ortiz's next fight will be with one or the other. The WBA, which stamped tonight's fight an eliminator, may push to have Ortiz fight their secondary title-holder, Eimantas Stanionis.
Co-Feature
Houston's Marlen Esparza (13-1, 1 KO) successfully defended her WBA/WBC world flyweight title with a unanimous decision over plucky 4'11 ½" Venezuelan southpaw Eva Guzman who had won 14 straight coming in, albeit against soft opposition. The judges had it 98-92 and 99-91 twice.
Guzman (19-2-1) was game, but just didn't have the physical tools to overcome Esparza whose lone defeat came at the hands of talented Seneisa Estrada.
Other Fights of Note
In a 10-round match contested at the catchweight of 150 pounds, Blair "The Flair" Cobbs rebounded from his first defeat with a career-best performance, a wide decision over former WBO 140-pound world titlist Maurice Hooker. It was the second straight loss for Hooker who returned to the ring after a 17-month hiatus and came out flat. Cobbs put him on the canvas in the opening frame with a combination and decked him twice more with straight lefts in round two.
Things got somewhat dicey for Cobbs in round five when he suffered a bad gash on his forehead from an accidental head butt, but Hooker, who had stablemate Bud Crawford in his corner, hesitated to let his hands go and couldn't reverse the tide. The judges had it 96-91 and 97-90 twice for the flamboyant Cobbs who improved to 16-1-1 (10). Hooker, a consensus 5/2 favorite, lost for the third time in his last five starts and slumped to 27-3-3.
In the opener to the main portion of the DAZN card, Uzbekistan's Bektimir Melikuziev (10-1, 8 KOs), a super middleweight growing into a light heavyweight, dominated and stopped overmatched Sladan Janjanin. Melikuziev put Janjanin down with a body punch in the opening minute of the fight and scored two more knockdowns before the bout was halted at the 2:18 mark of round three.
This was Melikuziev's third fight back after his shocking one-punch annihilation by Gabriel Rosado. Janjanin, a well-traveled Bosnian who fought three weeks ago in Massachusetts, declined to 32-12 and was stopped for the eighth time.
Also
Chicago welterweight Alex Martin (18-4, 6 KOs) overcame a first-round knockdown to win a unanimous decision over 38-year-old Philadelphia journeyman Henry Lundy. The judges had it an unexpectedly wide 98-91, 97-92, 97-92.
Martin was coming off a points loss to McKinson and this bout was his reward for taking that fight on short notice. Lundy (31-11-1) has lost five of his last seven.
Floyd "Austin Kid" Schofield, a lightweight who appears to have a big upside, advanced to 11-0 (9 KOs) at the expense of Mexican trial horse Rodrigo Guerrero whose corner wisely pulled him out after five one-sided rounds. It was the ninth straight loss for Guerrero (26-15).
To comment on this story in the Fight Forum CLICK HERE
Conlan Wins His Belfast Homecoming; Breezes Past Lackadaisical Marriaga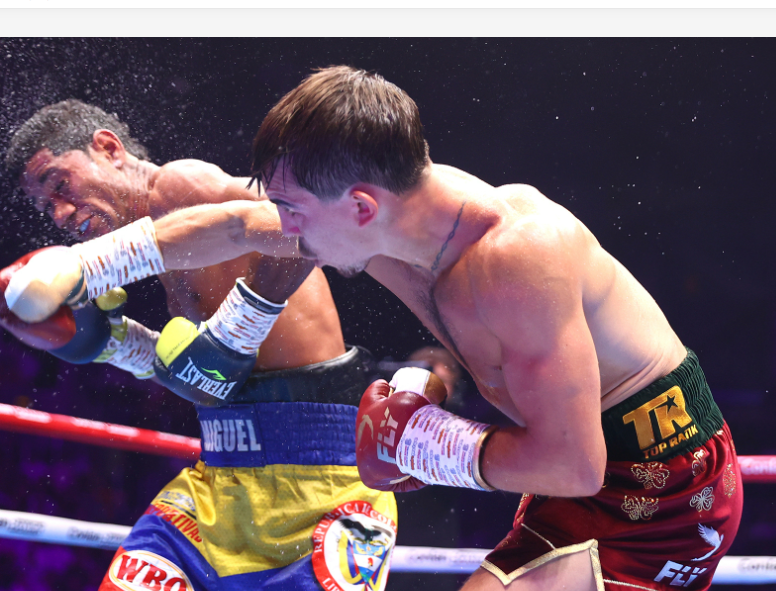 "The Return of the Mick" was the label attached to tonight's show at the SSE Arena in Belfast, Northern Ireland. The reference was to local fan favorite Michael "Mick" Conlan who returned to his hometown in hopes of jump-starting his career after suffering his first pro loss in a brutal encounter with Leigh Wood.
In that bout, a strong "Fight of the Year contender, Conlan was narrowly ahead on all three cards heading into the 12th and final round when the roof fell in. Wood, who was making the first defense of his WBA world featherweight title on his home turf in Nottingham, knocked the favored Conlan unconscious and clear out of the ring.
This was the sort of fight that can shorten a man's career. Hence the intrigue in Conlan's homecoming fight tonight against Miguel Marriaga. On paper, the Colombian, a three-time world title challenger, was a stern test considering the circumstances.
To the contrary, Marriaga had no fire in his belly until the final round when he hit Conlan with a shot that buckled his knees. But, by then Conlan was so far ahead without overly exerting himself that there was virtually no chance of another meltdown.
While Conlan won lopsidedly, the scores – 99-89 and 99-88 twice – were somewhat misleading. True, "Mick" had Marriaga on the deck in rounds 7, 8, and 9, but the punches that put him there did not look particularly hard.
Conlan, 30, improved to 17-1 (8). Marriaga, 35, declined to 30-6.
After the fight, Conlan expressed the hope that Leigh Wood would give him a rematch.
Other Bouts of Note
In an entertaining 10-round welterweight scrap that could have gone either way, Belfast's Tyrone McKenna (23-3-1, 6 KOs) rebounded from his defeat in Dubai to Regis Prograis (TKO by 6) with a hard-fought unanimous decision over 33-year-old Welshman Chris Jenkins (23-6-3). The judges favored the local fighter by scores of 97-94 and 96-95 twice.
Jenkins, a former British and Commonwealth title-holder, had the best of the early going, working the body effectively while frequently finding a home for his uppercut, but he could not sustain his advantage.
Thirty-four-year-old Belfast super middleweight Padraig McCrory who got a late start in boxing, scored the most important win of his career with a fifth-round stoppage of Marco Antonio Periban, a former world title challenger. McCrory had Periban on the deck three times – once in the second and twice in the fifth – before the bout was halted at the 2:14 mark of round five.
It was the fourth straight win inside the distance for McCrory who improved to 14-0 (8 KOs). Mexico's Periban, who returned to the sport in April after missing all of 2020 and 2021, fell to 26-6-1.
Highly-touted welterweight Paddy Donovan improved to 9-0 (6) with an 8-round unanimous decision over Yorkshireman Tom Hall (10-3). The referee scored every round for Donovan, an Irish Traveler trained by Tyson Fury's bosom buddy Andy Lee, the former world middleweight title-holder.
Photo credit: Mikey Williams / Top Rank via Getty Images
To comment on this story in the Fight Forum CLICK HERE