The Avila Perspective, Chap 66: Can Spence-Porter equal De La Hoya-Mosley?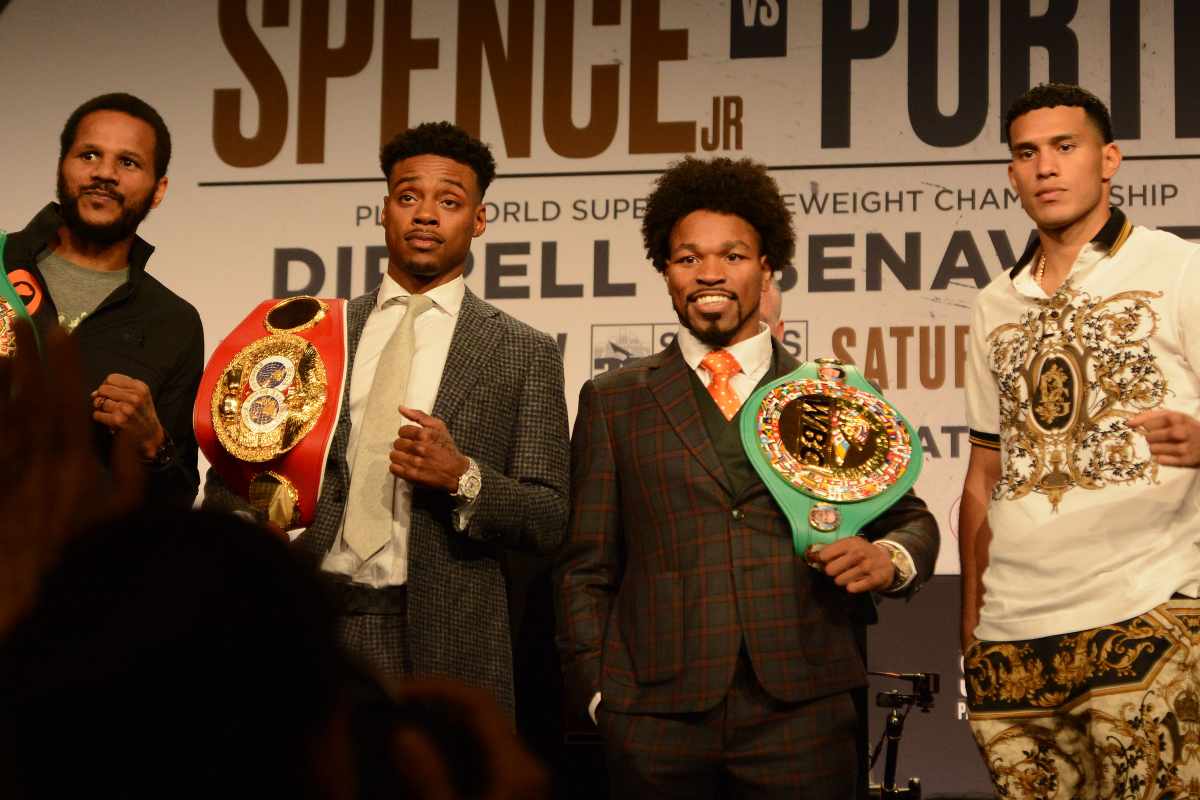 The Avila Perspective, Chap 66: Can Spence-Porter equal De La Hoya-Mosley?
LOS ANGELES-Nearly 20 years ago one of the best welterweight world title fights and pay-per-view cards ever held in Los Angeles took place at the Staples Center.
Can this Saturday's fight card be even better?
When IBF titlist Errol Spence Jr. (25-0, 21 KOs) steps in the boxing ring against WBC titlist Shawn Porter (30-2-1, 17 KOs) in a welterweight unification match on Saturday Sept. 28, can they rival one of the great welterweight cards ever held in Los Angeles?
It's going to be difficult to equal what many consider the best welterweight clash in the history of Los Angeles.
Back on June 17, 2000, welterweight kingpins Oscar De La Hoya and Shane Mosley lit up Staples Center in a crosstown L.A. rivalry that has never been equaled. It was the first championship fight ever held in that arena and though the supporting pay-per-view card featured a young Diego Corrales and Erik Morales, it was heavily reliant on the two local stars.
Celebrities like Muhammad Ali, Halle Berry and Jack Nicholson clamored for tickets to see "the Golden Boy" De La Hoya and "Sugar Shane" Mosley. For fans in attendance, half of the enjoyment was watching the stars stroll in one by one.
Even after the fights, people on the streets or at West L.A.'s Fatburger wanted to know who won the fight.
It's a different scenario this Saturday.
PBC
Both Spence and Porter come from other states, but they are not alone on this mega boxing card that flaunts several 50/50 matchups.
Premier Boxing Champion has an army of talented prizefighters and for years seemed to keep them from fighting each other. Well, now the gloves are off and within the past 12 months PBC, as it's known, has presented several strong pay-per-view cards. This is possibly the best of them all.
Spence recently defeated fellow pound-for-pound fighter Mikey Garcia in a welterweight world title fight last March in Dallas, Texas. It was his first pay-per-view fight and sparked interest in the left-handed welterweight kingpin.
"I feel like all of my fights prepared me for this moment. Porter is not like Mikey Garcia. They have different styles and different mentalities," said Spence at the press conference in Los Angeles on Wednesday.
Porter captured the WBC title with a withering battle against former titleholder Danny "Swift" Garcia a year ago in Brooklyn. The always punching and moving fighter has been tabbed a major 8-1 underdog against Spence.
"Being in the underdog position is literally where I come from. Northeast Ohio is always an underdog. Everybody works where I come from. We always do the best we can," said Porter who hails from Akron, Ohio but now lives in Las Vegas.
The undefeated Spence feels he cannot be beaten.
"I'm going to win and do it in dominating fashion," said Spence, 29, whose last fight was six months ago.
Porter doesn't think so.
"Everyone has seen everything what I've done in my career. Everyone knows I can take a punch and I'll be there from the first round to the last round," said Porter, 31. "We'll see what happens to Errol as the fight goes on."
It's the main event but several other fights on the pay-per-view card deserve mention.
Dirrell Family vs Benavidez Family
Both Anthony Dirrell and David Benavidez come from strong fighting families.
Dirrell hails from Flint, Michigan. He and his brother Andre Dirrell have been ranked contenders for more than a decade.
Benavidez comes from Phoenix, Arizona and he and his older brother Jose Benavidez are part of the reason the city has become a burgeoning location for boxing talent.
On Saturday both boxing families meet head to head with the WBC super middleweight world title the prize.
Ironically, Benavidez held the title but was stripped of the belt when he failed a PED test. Now he gets the opportunity to reclaim it from Dirrell who grabbed it with a technical decision win over Turkey's Avni Yildirim this past February. An accidental clash of heads forced the fight to be cut short and Dirrell was ruled the winner according to the score cards.
Both see each other as pretender champions.
"It's an honor to be in this position. It's a dream to be on a card like this defending my title," said Dirrell who is making the first defense of the WBC title. "Experience is definitely a big key in this fight. I think that he has holes in his game and I'm going to expose it on Saturday night."
Benavidez, 22, first won the WBC super middleweight title in September 2017 when he was still 20 years old. He was stripped of the title when he was found with traces of an illegal substance by VADA.
"I have another opportunity to not just get a title, but take it from a champion. I've worked very hard for this fight. Dirrell has never been knocked out and I'm taking the challenge to be the man who does it," said Benavidez.
Super Lightweight Title
San Antonio's Mario Barrios (24-0) has been ruining opponents so far and finally gets a shot at the vacant WBA super lightweight world title. Standing in his way will be Batyr Akhmedov (7-0, 6 KOs), a Russian fighter with plenty of weapons.
Up until now the tall Barrios has defeated solid competition including wins over Jose Roman and Juan Jose Velasco. But this time he's got a very strong opponent worthy of fighting for the world title.
Akhmedov trains in Indio, California with Joel and Antonio Diaz. Out in the Coachella desert area, the Russian fighter has been sparring with tough opposition and has been waiting for an opportunity just like this.
Expect a solid war between the two.
Trainer Joel Diaz says Akhmedov has outstanding talent.
Josesito, Molina and Ghost return
The welterweight clash between Josesito Lopez and John Molina could be the fight of the night. Also on the card will be Robert "The Ghost" Guerrero, a former top pound for pound fighter who seems ready to return to the forefront.
Guerrero (35-6-1, 20 KOs) meets Kansas welterweight Gerald Thomas (14-1-1, 8 KOs) in a bout set for 10 rounds. It's a match designed to see if Guerrero has returned to championship form.
"He needed a little time off," said Ruben Guerrero, father of Robert Guerrero. "He looks really good and strong. You will see."
It's a lengthy fight card featuring plenty of prospects, contenders and world champions. It's probably the best pay-per-view card of the year.
Can it match De La Hoya-Mosley for best welterweight pay-per-view fight card ever staged in Los Angeles? We shall see on Saturday.
Suggested price for Fox PPV: $74.99
Doors open at 1 p.m. Tickets range from $61 to $659.
Photo credit: Al Applerose
Check out more boxing news on video at The Boxing Channel 
To comment on this story in The Fight Forum CLICK HERE
Jeison Rosario's Upset Crowns This Week's Edition of HITS and MISSES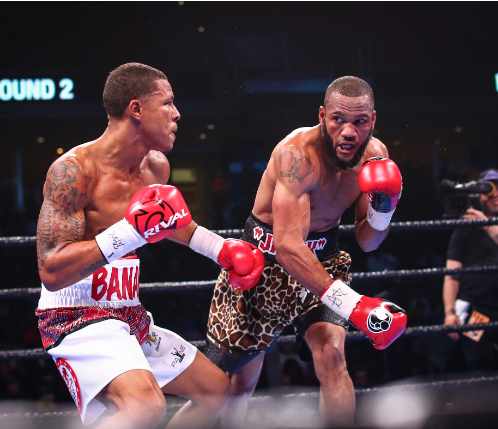 Jeison Rosario's Upset Crowns This Week's Edition of HITS and MISSES
There's was plenty of quality boxing action available for consumption this weekend in the U.S., particularly on Saturday evening because of the competing cards put forth by the PBC on FOX and Top Rank on ESPN crews that have become chief rivals over the last year.
But what were the biggest HITS and MISSES seen during all the action? That's what you're here to find out.
HIT – Jeison Rosario's Stunning Upset for two 154-pound Titles
Nobody expected Rosario to dethrone unified junior middleweight champion Julian Williams on Saturday night at the Liacouras Center in Philadelphia, but the massive underdog overcame the situation anyway to vault himself to the top of the junior middleweight division. The thing that saved Rosario was his stunning power. He appeared to be out-boxed by Williams early in the fight, but that changed just as soon as it became apparent Williams was slinging only his fists while Rosario was working with sledgehammers. Now the division has become more crowded than ever at the top with all roads amazingly leading to Rosario, the little known 24-year-old from the Dominican Republic who now owns the WBA and IBF titles.
MISS – Chris Colbert's Fail to Impress
Junior lightweight prospect Chris Colbert was given a great chance by the PBC to impress fight fans on national television on the undercard of Williams-Rosario, but the talented 23-year-old didn't make the most of the opportunity. Sure, Colbert was taking a step up in competition by taking on former world titleholder Jezreel Corrales for a vacant interim belt, but Colbert mostly came across as a talented fighter who just doesn't seem quite capable of putting it all together yet. Colbert won the fight, but it wasn't interesting or noteworthy in any way. Judging by how the PBC has worked in the past, he'll get plenty more chances to shine, but I'm not sure anyone but the people who stand to gain monetarily from the fighter's success will be looking forward to it.
HIT –  Eleider Alvarez's Epic KO of Michael Seals
Former light heavyweight titleholder Alvarez scored the early leader for knockout of the year against Seals in the main event at Turning Stone Resort Casino in Verona, New York. The fight was fairly lackluster until the explosive ending in the seventh round. It was an important victory for Alvarez, who was coming off losing his title to Sergey Kovalev via decision last February. Alvarez is 35, so it was imperative for him to get back to action and remind people he's still a viable contender in the 175-pound ranks. And there's no better way to do that in boxing than by thunderous knockout.
MISS – Felix Verdejo's Fresh Start Starts Stale
Verdejo is still only 26 years old, but after defeating Manuel Rojas in a lightweight bout at Turning Stone, the once highly regarded prospect doesn't appear to be any closer today than he was yesterday to living up to the tremendous promise he once possessed. To be completely fair to Verdejo, it was only his first fight under new trainer Ismael Salas and the fighter still has time on his side. Still, there appears to be plenty of work to do if Verdejo is ever to become a world champion. In fact, he didn't look all that materially different from the fighter who was knocked out in 2018.
HIT – Floyd Mayweather Wins Prestigious BWAA Award 
I honestly had some concern that Mayweather wouldn't win the BWAA's Fighter of the Decade award before it was announced on Friday via press release. After all, Mayweather lost the previous decade's top honor to Manny Pacquiao in 2010, and Sports Illustrated had just named Andre Ward its Fighter of the Decade winner the week prior. It's only one person's opinion, of course, but I think there would have been something wrong with Mayweather not picking up the honor at least once in the last two decades. After all, he's quite easily the generation's best overall fighter and he's transcended the sport to mainstream celebrity status, too. Congrats to Mayweather for winning the well-deserved honor.
Photo credit: Stephanie Trapp / TGB Promotions
Check out more boxing news on video at The Boxing Channel 
To comment on this story in The Fight Forum CLICK HERE
South African Trailblazer Peter Mathebula Dead at Age 67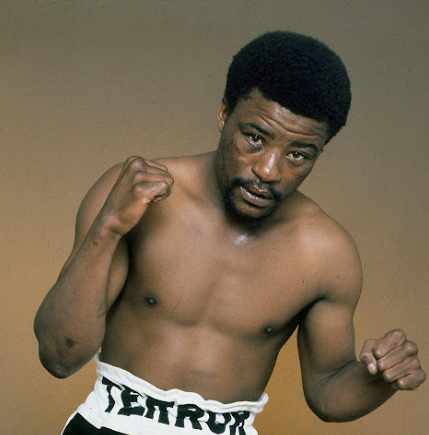 Peter Mathebula wasn't a great fighter. He suffered nine losses during his 45-bout career. He was stopped five times. But Mathebula, who died yesterday (Jan. 18) at age 67, was a historically important fighter. He was the first black South African to win a world title. He was the first South African boxer of any color to win a world title on foreign soil. His predecessors, bantamweights Vic Toweel and Arnold Taylor, won their titles in Johannesburg. Mathebula won his in Los Angeles.
Mathebula took the WBA flyweight title on a split decision from Korea's Tae-Shik Kim on Dec. 12, 1980 at LA's Olympic Auditorium. The fight was originally headed to Seoul but Mathebula was denied a visa.
In those days, South Korea barred tourists from South Africa as a protest against that country's policy of apartheid. Mathebula was a victim of apartheid, but that made no difference as the ban was a blanket ban, covering all South Africans, regardless of color.
Olympic Auditorium matchmaker Don Fraser acquired the orphanded fight. Southern California had a large Korean population and Fraser thought the fight would go over big with this demographic.
The fabled Olympic Auditorium was noted for raucous SRO crowds. But not on this particular night. The crowd was overwhelmingly Korean-American, but there weren't more than 3,000 in attendance. Kim vs. Mathebula didn't resonate with the Olympic Auditorium regulars.
The fight was very close but most thought the decision was fair. The Korean started fast, wrote LA Times ringside reporter Mark Heisler, but Mathebula fought his way back into the fight in the middle rounds and won the 14th and 15th stanzas on his card, sufficient he thought to secure the win.
The victory made Mathebula a big star in South Africa. His purse for the fight with Tae-Shik Kim was only $7,500 (approximately $23,500 in today's dollars) but he made up for it in endorsements. He appeared in ads for automobiles, Old Buck Gin, Bostonian shoes and a line of splashy clothes according to Joseph Lelyveld, the New York Times man on the scene.
Mathebula's celebrityhood crossed racial lines. Newspapers that took little cognizance of goings-on in the black community showered Mathebula with a copious amount of ink. When he defended his title against Argentina's Santos Laciar, it was front page news in white and black newspapers.
Mathebula opposed Laciar a mere 13 weeks after winning his title in Los Angeles. The match was held in Soweto's Orlando Stadium, a facility built to house the Pirates, Soweto's all-black soccer team. Three years earlier, South Africa had legalized interracial sporting events but few whites dared venture into Soweto which was ground zero for anti-apartheid demonstrations.
Despite the great esteem in which Mathebula was held, the fight wasn't a sellout. A local black nationalist organization launched a campaign to boycott the fight on the grounds that the government, which paid to set up Mathebula in a fancy hotel and paid for his motorcades, was using international mixed-race sporting events as a propaganda tool, an early illustration of what has come to be called "sportswashing."
Peter Mathebula couldn't catch a break and that may have impacted his performance against the Argentine. It was woeful. Laciar knocked him down in the fifth and then bull-rushed him out of the ring (the ref called it a push) and the bout was stopped in the eighth with Mathebula complaining that his vision was compromised.
Before the year was out, Mathebula lost twice more. Fighting on hostile turf in Venezuela, he was stopped twice by Betulio Gonzalez, first in the 10th and then in the sixth. A three-time world title-holder, Gonzalez had a great career but he was approaching his 32nd birthday, old for a flyweight, and his best days were behind him.
In the span of less than 10 full months, Peter Mathebula went from the penthouse to the proverbial outhouse, but with the passage of time his people remembered his historic achievement in Los Angeles and pretty much forgot the slew of disappointments that quickly followed. The word "legend" suffuses reports of his death in South African papers.
Mathebula reportedly had multiple health issues and spent the last three weeks of his life in Leratong Hospital in the province of Gauteng, not far from the all-black township where he was born. May he rest in rest in peace.
Check out more boxing news on video at The Boxing Channel 
To comment on this story in The Fight Forum CLICK HERE
Ringside in Verona: Alvarez Capsizes Seals Plus Undercard Results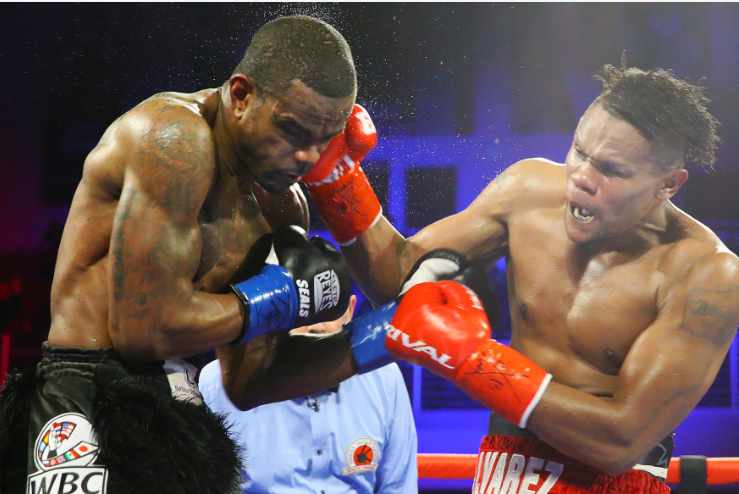 VERONA, NY — The main event of an ESPN televised card at the Turning Stone Resort Casino in Verona, NY between light heavyweight contenders Eleider Alvarez (25-1, 13 KO's) and Michael Seals (24-3, 18 KO's) started with a whimper but ended with a bang. After six-plus rounds of lackadaisical action, Alvarez scored a stunning sensational one punch knockout just before the end of the seventh round of their scheduled ten round fight.
The first three rounds saw more clinches than punches landed. Seals seemed to be looking to land one perfect punch and in doing so barely unleashed any punches. Alvarez, for his part, was not very active in these rounds but certainly moved his hands more and landed more than Seals.
In round four, Seals came out much more aggressive and had his best round of the fight. But in the fifth, Seals went back to looking for that one punch and Alvarez took back control of the action. Toward the end of the round, Alvarez staggered Seals with a right hand.
Alvarez continued to be in control of the fight in rounds six and seven by simply moving his hands more. And then towards the end of round seven, Alvarez connected with a picture perfect overhand right that sent Seals crashing to the canvas. Referee Danny Schiavone did not reach a full 10-count before waiving the fight off.
For Alvarez, this was a big bounce-back win after his loss to Sergey Kovalev in their light heavyweight title rematch last February. With the light heavyweight division flush with talent, it seems Alvarez is in prime position to get a big opportunity his next time out.
In the co-feature, lightweight contender Felix Verdejo (26-1, 16 KO's) put on a workmanlike effort in winning a wide ten round unanimous decision against Manuel Rey Rojas (18-4, 5 KO's). While Verdejo was in complete control of the contest from the opening bell, the performance certainly lacked sizzle and may raise even more questions on the potential of the once can't-miss prospect.
Verdejo utilized a very patient approach throughout the night working behind the left jab. While the jab was effective, Verdejo only occasionally looked to unleash power punches behind that jab. Reyes, for his part, played mostly defense keeping a very tight guard and looking to selectively counter Verdejo's jab.
Verdejo's defense, which had been criticized in the past, looked better but still showed some leaks. In the fifth round, Reyes landed a sharp right hand flush on the jaw of Verdejo that seemed to momentarily get Verdejo's attention. And in the ninth, Reyes landed a hard right that snapped Verdejo's head back. If Reyes could punch harder, either of those two rights may have altered the course of the fight.
But aside from those brief moments from Reyes, Verdejo dictated all the action. He easily out-worked and out-landed the mostly defensive minded Reyes. In the end it is a win for Verdejo and he can proceed forward towards what he hopes will be an eventual title shot in the lightweight division.
In a bizarre heavyweight fight between two former 2004 Olympians, Devin Vargas (22-6, 9 KO's) was awarded a disqualification victory in the eighth and final round against Victor Bisbal (23-5, 17 KO's). Bisbal scored a knockdown in round two with a left hook but was deducted two points in round four for various infractions.  Aside from the knockdown round, Vargas seemed to out-hustle and out-land Bisbal. Ahead on all three scorecards (67-63 twice and 66 -64) entering the final round, Vargas absorbed a low blow from Bisbal. At this point, referee Michael Ortega decided to disqualify Bisbal.
Abraham Nova (18-0, 14 KO's) scored a one-sided fourth-round TKO of tough veteran Pedro Navarette (30-25-3, 19 KO's) in a lightweight contest that was scheduled for eight rounds. Nova scored knockdowns in rounds two, three and four before the fight was waived off.
Knockout out artist Jonathan Guzman (24-1, 23 KO's) rose from the canvas to score a fourth-round knockout of Rodolfo Hernandez (30-10-1, 28 KO's) in a 122-pound slugfest. The heavily favored Guzman scored two knockdowns with body shots in the opening stanza and appeared on his way to an easy win. But Hernandez flipped the script in round three with a hard right hand just before the bell sounded that put Guzman on the canvas and nearly out. The two went toe to toe in the fourth when a vicious left hook to the body from Guzman put Hernandez down and this time out for good.
In a battle of former world title challengers, Freddie Roach trained Christopher Diaz (25-2, 16 KO's) scored a wide eight round unanimous against Adeilson Dos Santos (19-8, 15 KO's) in a featherweight contest. Diaz dominated the fight from the opening bell and hurt Dos Santos on a few occasions but ultimately had to settle for the decision victory.
The opening fight of the night saw heavyweight prospect Jared Anderson (3-0, 3 KO's) easily dispatch Andrew Satterfield (5-4, 3 KO's) in the first round of their scheduled four round fight. Anderson scored two knockdowns in what was a dominant performance.
Photo credit: Mikey Williams for Top Rank
Check out more boxing news on video at The Boxing Channel 
To comment on this story in The Fight Forum CLICK HERE