The Fifty Greatest Flyweights of All Time: Part Two 40-31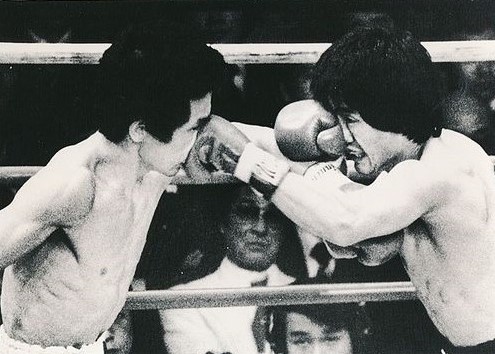 The Fifty Greatest Flyweights of All Time: Part Two 40-31
In Part One we talked about Brian Viloria and his momentous confrontation with Juan Francisco Estrada.  Their fight denotes their relative standings. As a general rule each chapter of this series, from heavyweight to bantamweight, will produce an entry or two where two of the fighters listed have actually met in the ring.
At flyweight, every entry appraises two fighters who met in the ring.
Some huge flyweight contests have failed to materialize. We meet a fighter in this installment who made a very impressive career out of failing to fight the best. Nevertheless, I am struck by how often top fighters from this division clashed and how often those vying for spots in the Top Fifty have settled their differences in the ring. Flyweight is overlooked by boxing history but it is a fact that the very greatest flyweights had a tendency to butt heads.
Despite being faster than the denizens of every other division, despite, as a rule, being the most technically sure, flyweight is under-celebrated both in boxing's past and in boxing's now. What this means is there is less money to sustain mediocrity. So, the best meet the best more often.
The men listed here are some of the best.
#40 – Fighting Harada (1960-1970)
Fighting Harada represents terminal velocity for a box-swarming style. On film he only has Joe Frazier and Henry Armstrong for company and with available footage of Hank so limited, Harada comes off a little better compositely. He was elemental.
But his best work came at bantamweight. Thickening out of his youth, he had time to do only a minimum of damage to a division that breathed a sigh of relief at his passing. What gets him onto this list, though, is his best win, a title-winning effort for the ages against the champion Pone Kingpetch.
Like Rocky Marciano before him, this early iteration of Harada always had something on his opponent, his head, his wrist, the knuckle of his glove; and like Marciano before him he lived and breathed the pressure he brought with a fire unseen in the division's filmed history. He often missed but when he missed he tended to be bringing something behind. What sets him apart – arguably – from Marciano and Frazier and Armstrong is his jab, which was as excellent and as busy as any fighter of his type from any division you care to name.
All of this can be seen in his woefully underappreciated first fight with Kingpetch who succumbed in the eleventh while propped in his own corner, alarmingly abandoned by the referee while Harada battered him. It was a brilliance.
Harada was narrowly defeated in an immediate rematch and the win over Kingpetch is far and away his best (next may be his six-round defeat of a youthful Hiroyuki Ebehara). His title reign was comprised of exactly zero successful defenses, but so wonderful was he against Kingpetch and that result was so suggestive that Harada slips in here in front of men with more concrete reasons for a higher ranking.
I suspect none of them could have defeated him in the ring.
#39 – Erbito Salavarria (1963-1978)
Erbito Salavarria, who wore the brooding good looks of a Hollywood matinee idol, held the flyweight world championship for the whole of 1971 and 1972, snatching it from no less a figure than Chartchai Chionoi in December of 1970 before losing it to the wrecking ball Venice Borkhorser early in 1973. He defended it successfully against top flyweight Susumu Hanagata, whose hopes he dashed no fewer than three times, and the near legendary Betulio Gonzalez.
So far, so good, and considering he also defeated solid contenders like Berkerk Charvanchai and Vincente Pool, he has the paper resume for a higher ranking; but the devil, as always, is in the detail.
Salavarria's contest with Gonzalez, a desperate split draw, was a bad-tempered affair and one of the most controversial title fights in flyweight history. After the contest – marred by conflicting perspectives on the veracity of the scorecards – Salavarria had a bottle containing "honeyed water" removed from his corner by officials. This water was later reported as containing amphetamine.
It is unclear what should be made of this. On the one hand, Salavarria has maintained his innocence throughout, claiming that the amphetamine was planted by Venezuelan authorities in order to protect their beloved Gonzalez. On the other, the claim was upheld by the WBC, hardly a bastion of incorruptibility but the best we have by way of an arbiter.
That's seen me drop Salavarria to the lowest berth his resume can stand. But Salavarria unquestionably had the goods. His second victory over Hanagata, who was absolutely legitimate, came years after his controversial draw with Gonzalez and was so close as to be scored either way; but fought in Japan it is also the case that Salavarria was almost certainly clean, thereby proving his countering abilities and late excellence born of true stamina was a valid representation of his ability.
#38 – Mark Johnson (1990-2006)
The disturbing truth about Mark "Too Sharp" Johnson is that he never defeated a top five opponent in his entire over-celebrated career. Johnson spent the mid-nineties waving around something called the World Boxing Board championship, thankfully now defunct, before picking up a slightly more respectable strap in 1996 which he defended seven times before departing for 115lbs.
And these are the numbers you tend to run into when you read about his career.
The number you tend not to read is "6", which was the highest ranked opponent Johnson ever met, specifically a fighter named Arthur Johnson who he knocked out in one round in February 1998. Arthur was 17-3.
But Johnson was brilliant. There is no denying it. So, he ranks here higher than I feel he earned in the course of his career beating the likes of Alejandro Montiel (ranked seven), Alberto Jiminez (ranked ten) and Enrique Orozco (ranked seven). This was while missing out on the likes of Saen Sor Ploenchit, Miguel Martinez, Jose Bonilla, and most of all, Yuri Arbachakov.
The awful truth is, Johnson was probably good enough to beat all of these fighters and would have been embarrassed by none of them. As it is, his unbeaten status at the poundage and his brilliance on film makes him impossible to ignore.
But his is another potentially great career sacrificed to inexplicable alphabet mandatories.
That costs him a spot in the top thirty.
#37 – Emile Pladner (1926-1936)
I maintain a special admiration for boxing centurions, men who have found a way to win no fewer than 100 fights. It's a special number and one rather understated now by boxing for one very good reason: it will never happen again.
So, men like Emile Pladner should be lauded for this special achievement.
Also special was his 1928 victory over Izzy Schwartz, who opened our own half-century at #50.  Pladner sliced him open both figuratively and literally, finding his way past his opponent's defences in the third and thereafter abusing him so thoroughly that Schwartz left the ring a bloody mess.
He was more admirable still is his 1929 defeat of Frankie Genaro, one of history's greatest knockouts.
Genaro, probably, had begun to slip by the time he met with Pladner, but he was already a flyweight immortal. What Pladner did to him was absurd. Reportedly always a little skittish at the first bell, he was somewhat startled by Genaro's early two-handed charge, stepped close, rattled the American's teeth with a right, and then landed a devastating uppercut somewhere on Genaro's body. Some say liver, others say below the heart and maddeningly, the scraps of surviving footage do not settle the issue.
Joe Jacobs, who was managing Genaro at the time, claimed it landed considerably lower, indeed, even below Frankie's belt, but this was dismissed outright by the Associated Press: "To ringside spectators the knockout blow appeared to land six inches above the belt."
Whatever the specifics of the punch, Genaro dropped like a stone and writhed in agony at the feet of the referee. It was the only time anywhere near his prime that he heard "ten".
Pladner dropped the title in the rematch with Genaro – after landing two low blows. He bid "adieu!" to flyweight, leaving behind an incomplete, perhaps even unsatisfactory legacy.
#36 – Black Bill (1920-1931)
Eladio Valdes, unfortunately renamed "Black Bill" by a promotional team in search of higher ticket sales, stuffed 160 fights into an eleven-year career. That's an average of more than one combat every month. A cast-iron jaw and a dearth of power also sent the number of rounds he boxed through the roof.
Never a ticket-seller despite the change of name, it took a winning streak of nearly thirty fights to land him in the ring with a champion, and he was presented with a beauty: Midget Wolgast who out-pointed him over fifteen in March of 1930. His sight deteriorating, he lost four of his next five and went the way of all those who draw too much dark water from the well within. A struggling shadow of his former self, depression sent him to an early grave within three years of his retirement.
Before that: he dominated a series with Corporal Izzy Schwartz, winning four of six closely contested fights in one of the definitive flyweight series for this era; took a single victory in the losing end of another epic five-fight series with Willie Davies; and defeated contenders Phil Tobias and Johnny McCoy.
It's good. It's a strong resume but an ill return for a fighter who fought so many contests. In truth, his absurd and difficult schedule and his unfashionable standing – and his admitted limitations as a fighter – resulted in his suffering twenty-four losses and his being frozen out of the title picture.  Difficult patches afflicted him, especially between 1925 and 1927.
Still, that hot-streak, for all that it ended in defeat at the hands of the genius Wolgast, cements his place here among some great contenders and the lesser champions.
#35 – Johnny Buff (1917-1926)
Johnny Buff, the one-time world bantamweight champion out of New Jersey, has proven something of a difficulty for me. He inexplicably pops up in the IBRO all-time great top twenty, at the #14 spot no less; suffice  to say here that there is no possible reason for his ranking so highly under my criteria and it is difficult to imagine any system that would make such a lofty position justifiable.
Buff did do some interesting work at fly before and after winning his bantamweight title, however, and it certainly deserves a second glance.
He turned professional at bantamweight in 1917 and did most of his best work at that poundage into the early 1920s culminating perhaps in a very good draw against Pete Herman. He then seems to have spent some months sitting down on the flyweight limit in order to generate some title tractions. This is the key in appraising his flyweight legacy.
In a final eliminator for the  American flyweight title, a title that carried much more weight then than now, he defeated the favored Frankie Mason over fifteen rounds in New York City, clambering from the canvas after an  early knockdown to out-fight an opponent who managed to win as few as two rounds according to some ringside reports. It was a savage, vicious performance, and perhaps Buff's best. He then took the vacant title against Abe Goldstein, a capable and storied fighter but another one who would make his true championship bones up at bantamweight; solid defenses against Young Zulu Kid and Eddie O'Dowd followed before Pancho Villa battered the title out of him in 1922.
By that time, Buff was once again campaigning at bantamweight, where victories over Pete Herman and Jackie Sharkey made him a fighter of real note – but he never again won a meaningful combat at 112lbs where he lost crossroads fights to Frank Ash and Joe Lynch.
All of this adds up to enough to scrape him into the top forty, but arguments for a higher berth seem reliant upon bantamweight honors.
#34 – Venice Borkhorsor (1968-1980)
Venice Borkhorser is perhaps more famous for the thumping damage he did with his menacing punches and his menacing presence up at bantamweight, not least because he spent most of his career fighting above 112lbs; big even at 118lbs, he was huge for a flyweight and would remain so even today.
This in part brought him the championship of his native Thailand and in late 1972 and early 1973 brought him pre-eminence in a division he would leave forever just months later.
His clash with the excellent Mexican Betulio Gonzalez in September 1972 was probably his peak. He stalked, battered and eventually broke the proud champion, leaving him stricken to the body and bleeding from the face. Gonzalez quit. Borkhorsor, though he could not sustain his career at 112lbs, was a steam-fired engine running on hatred for the days he managed to crush his musculature into a weight division that stretched at the seams to contain him.
Just a few months later (and time was of the essence), Borkhorsor was matched with Erbito Salavarria with lineage on the line. Salvarria did not quit, but he was harassed, harried, cut, pushed back and according to the Thai officials, did not win a single round against a Borkhorsor who battered a second world class fly into non-resistance.
Gonzalez ranks above Borkhorsor but the details of their contests suggest that he could never have beaten him in a dozen efforts. But Borkhorsor never fought at the poundage again, departing for bantamweight where he continued to box with the same menace though with less devastating results.
#33 – Salvatore Burruni (1957-1969)
Salvatore Burruni was the idol of Italy for a short spell in the 1960s, demonstrating the art of the most direct form of boxing in out-thugging champion Pone Kingpetch in 1965, backed by a rampant Roman crowd. Burruni gambled it all on a violent frontal assault, eschewing the jab in favor of an absurd smorgasbord of leads that included a trailing uppercut and numerous over-the-top hooks.  But Burruni's fight-plan was more detailed and nuanced than just that. He squatted in the attack, extenuating his height deficiency and opening up Kingpetch's heart for a reverse one-two finishing in a straight left. He racked up the early rounds to make himself unassailable late in the fight when he inevitably began to tire. Kingpetch, at that point in his career, was there to be taken, and indeed had been taken before – but he had always won a return. Burruni had beaten him so thoroughly that a rematch seemed redundant.
Instead he fought the Australian prospect Rocky Gattellari, an understandable decision from a monetary perspective and a reasonable one from the fistic perspective. Gattellari, though inexperienced, was ranked at #5 by The Ring magazine.  This wasn't good enough for the alphabet organizations who immediately stripped him.
Burruni then defended his lineal title against former victim Walter McGowan and was summarily defeated by decision in London in 1966. He continued to explore bantamweight, where he was never a serious force.
He leaves behind a decent resume made up of McGowan, Gattellari and Mimoun Ben Ali, the perennial fly and bantamweight contender, who he defeated for the European title in 1962. His victory over Kingpetch, however, is the jewel in his crown. It remains perhaps the most perfect example of a face-first, bet-it-all assault on a champion that resulted in the passing of the torch, echoed by, among others, Ricky Hatton's 2005 defeat of Kostya Tszyu.
#32 – Chan-Hee Park (1977-1982)
Those paying close attention and of a certain type of mind may have noticed that there is a pattern emerging in the low forties and high thirties, specifically a clutch of fighters who have one very significant divisional win backed by another good victory in the flyweight division. This description fits Chan-Hee Park, the Korean world flyweight champion in 1979 and 1980, like a glove.
Park's marquee win was over all-time great and contender for the #1 spot, Miguel Canto. Nor was Park fighting some busted version of Canto but rather he was the man who unseated the then champion from the throne, breaking a streak which was arguably the most impressive in the history of the division.
On paper it's a stuck-on nomination for one of the greatest wins in the history of the sport. In reality, Canto was far from the Rolls Royce that used to glide around the ring dictating pace with one of the greatest of left hands. Still, Park beat him out of sight, an impressive achievement.
Three months later he became the first man to stop the formidable Mexican contender Guty Espadas in a short and brutal encounter; two more defenses against limited opposition stiffened his championship reign a little and then Park ran into a roadblock named Shoji Oguma.
#31 – Shoji Oguma (1970-1982)
Shoji Oguma's paper record of 38-10-1 is less than overwhelming but he must be included, and must be included above Park, for no better reason than he defeated the Korean no fewer than three times.
The result of their first fight, fought in Seoul, Korea, was indisputable, as Oguma began throwing left-hand leads from his southpaw stance to dent Park's great chin and finally take him out in nine hard rounds. An ultra-aggressive fighter, Park began an inevitable wind-down in a long fight, a factor that Oguma exploited mercilessly in their second and third contests, the second a desperately close split decision that could have gone either way, the third, total carnage, both fighters finishing smothered in blood, Oguma taking another disputed, narrow decision.
Defeating Park the first time made Oguma the world's champion and the second and third were primo defenses; Sung Jun Kim, ranked five, made for a quality third defense before Oguma shipped the title to Antonio Avelar, who knocked him out in heartbreaking circumstances.
What makes Oguma a little special is that this was actually his second run at the problem. He had been a major force in the division once before, in the early seventies. There lies the beginning of another extraordinary series in which Oguma met Betulio Gonzalez, another excellent flyweight and one we will be hearing from soon. Oguma went around with him four times. His reward was two losses, a draw and a single victory over fifteen rounds in October of 1974. That brought Oguma a strap and although it was immediately scooped up by Miguel Canto, it makes him some sort of champion in two different decades. Worthy, perhaps, of a higher spot; those losses peg him back a bit.
But it takes a special legacy to demote Oguma from the top thirty. We will be meeting some of the men that keep him out next week.
Check out more boxing news on video at The Boxing Channel 
To comment on this story in The Fight Forum CLICK HERE
Fast Results from Brooklyn: No Surprises as Garcia and Hurd Win Lopsidedly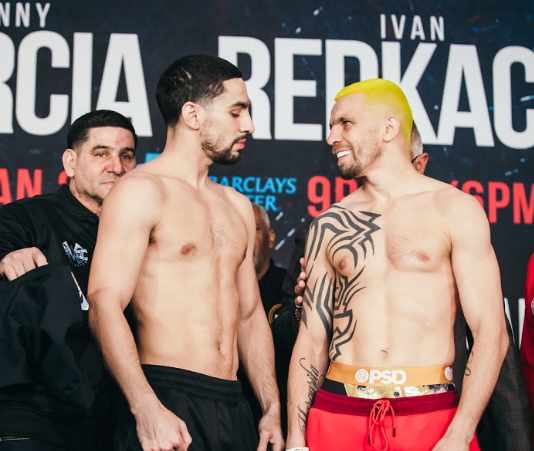 Tonight, Philadelphia's Danny Garcia made his eighth appearance at Barclays Center. Garcia's 2017 fight with Keith Thurman drew 16,533, the attendance high for a boxing show at the arena. A far smaller crowd was in attendance tonight to see Garcia take on Ivan Redkach in a non-title fight slated for 12 rounds.
Redkach, a 33-year-old LA-based Ukrainian, is a southpaw. That's no coincidence. Garcia hopes to land big-money fights with Errol Spence and/or Manny Pacquiao, both southpaws.
Redkach (23-4-1 coming in) turned his career around in his last fight with a career-best performance, a sixth-round stoppage of former two-division title-holder Devon Alexander, a 15-year pro who hadn't previously been stopped. But there was a class difference between he and Danny Garcia, a former WBA and WBC 140-pound world title-holder and former WBC 147-pound champion.
Garcia (35-2, 21 KOs) was simply sharper. His workrate slowed late in the fight, allowing the game Redkach to steal a few rounds, but at the final gun he was relatively unmarked whereas Redkach was conspicuously bruised. The scores were 118-110 and 117-111 twice. The crowd booed at intervals, understandable as they were subject to a drab 7-fight card that was even less interesting than it was on paper.
Co-Feature
In the 10-round co-feature, Jarrett Hurd, making his first start since losing his WBA/IBF super welterweight title to Julian Williams last May, went on cruise control from the opening bell and jabbed his way to a lopsided 10-round decision over Francisco Santana. Hurd, who improved to 24-1, finally let loose late in the 10th frame, putting Santana (25-8-1) on the canvas with a succession of left hooks, but by then many in the crowd had probably nodded off.
This was Hurd's first fight with new trainer Kay Koroma who has drawn raves for his work with America's elite amateurs. The scores were 97-92 and 99-90 twice. SoCal's Santana has now lost five of his last eight.
The opening bout on the main TV portion of the card was a 12-round super bantamweight contest between Philadelphia's Stephen Fulton and fellow unbeaten Arnold Khegai who currently trains in Philadelphia.
Fulton (18-0, 8 KOs) simply had too much class for Khegai (16-1-1), a Ukrainian of Korean heritage. Although Khegai frequently backed Fulton into the ropes, the Philadelphian had an air-tight defense and connected with many more punches. The fight went the full 12 with Fulton prevailing by scores of 116-112 and 117-111 twice.
If the WBO has its way, Fulton will proceed to a fight with Emanuel Navarrete, but don't hold your breath as Navarrete is promoted by Bob Arum who undoubtedly wants to extract more mileage from him before letting him risk his belt against a crafty fighter like Stephen Fulton.
Photo credit: Amanda Westcott / SHOWTIME
Check out more boxing news on video at The Boxing Channel 
To comment on this story in The Fight Forum CLICK HERE
Sacramento Honors Diego 'Chico' Corrales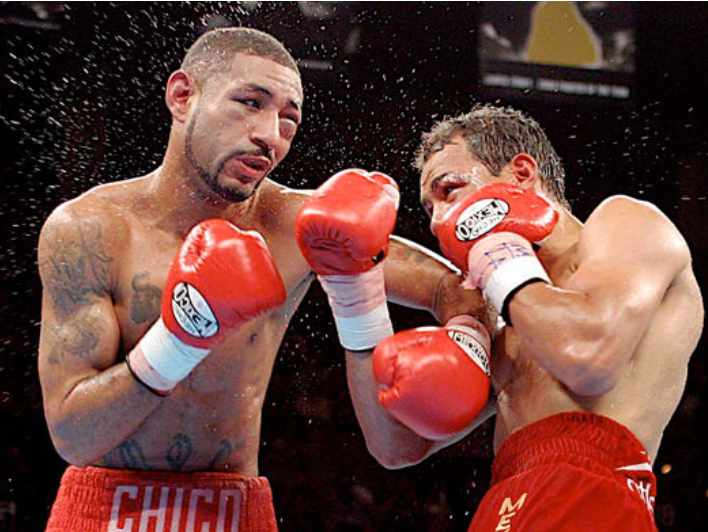 Tonight (Saturday, Jan. 25) former two-division world boxing champion Diego "Chico" Corrales will be posthumously inducted into the Sacramento Sports Hall of Fame at the organization's eighth annual induction ceremony at the Thunder Valley Casino Resort.
Corrales, who grew up in Sacramento, the son of a Columbian father and a Mexican mother, turned pro at age 18 and went on to compile a record of 40-5 (33 KOs). He won his first title in 1999 with a seventh-round stoppage of previously undefeated Robert Garcia. Now recognized as one of boxing's top trainers, Garcia was making the fourth defense of his IBF 130-pound title.
Five years later, Corrales won the WBO world lightweight title with a 10th-round stoppage of Brazil's previously undefeated Acelino Freitas. That set up a unification fight with the WBC belt-holder Jose Luis Castillo.
Corrales and Castillo met on May 7, 2005, at Mandalay Bay in Las Vegas. To say they put on a great fight would be an understatement. The boxing writers in attendance will tell you that this was the greatest fight of all time. It was named Fight of the Decade by The Ring magazine.
The final round, the 10th, was unbelievable. Heading into the round, Corrales was ahead on two of the three scorecards, but his left eye was swollen nearly shut and during the round he was knocked down twice. No one would have faulted referee Tony Weeks for stopping the fight after the second knockdown. But, somehow, Corrales was able to rally, pulling the fight out of the fire with a barrage of punches that had Castillo out on his feet when Weeks waived it off.
Two years to the very day of this iconic fight, Diego "Chico" Corrales died in a motorcycle accident in his adopted hometown of Las Vegas when he rear-ended a car while traveling at a high rate of speed. He was 29 years old.
Corrales was a thrill-seeker. In a 2006 profile, Las Vegas Review-Journal boxing writer Kevin Iole enumerated these among Castillo's hobbies: jumping out of planes from 14,000 feet, bungee jumping from 400 feet, snowboarding in treacherous terrain and scuba diving amid a school of sharks. "He lived his life the same way he fought," said his promoter Gary Shaw, "with reckless abandon."
It might seem odd that it took so long for Corrales to be recognized by the Sacramento Sports Hall of Fame, but there was a period when Corrales's name was mud in his hometown and perhaps the organization's founder, Las Vegas sports radio personality T.C. Martin, a Sacramento native, thought it appropriate to let old wounds heal.
In 2001, shortly after suffering his first pro loss at the hands of Floyd Mayweather, Corrales pled guilty to felony domestic violence in the beating of his first wife and would serve 14 months in prison. "The whole family has worn a black eye for it," Diego's brother Esteban Corrales told Sacramento Bee reporter Marcos Bretan.
For all his recklessness, the incident didn't jibe with his persona. In the company of Las Vegas sportswriters, the soft-spoken and well-spoken Corrales came across as polite and humble.
Corrales, one of five inductees in the 2020 class, joins three other boxers already installed in the Sacramento Hall: Pete Ranzany, Loreto Garza, and Tony "Tiger" Lopez.
Ranzany, a welterweight, fought four former or future world champions and was a fixture in Sacramento rings in the late 1970's. Garza wrested the WBA super lightweight title from Argentina's Juan Martin Coggi in France and successfully defended the belt here in Sacramento with a one-sided conquest of Vinny Pazienza. Lopez, Sacramento's most popular fighter ever, made the turnstiles hum at the city's largest arena where he fought eight of his 14 world title fights beginning with his 1988 humdinger with defending IBF 130-pound champion Rocky Lockridge.
Among the speakers at tonight's confab will be Kenny Adams. Perhaps best known as the head trainer for the 1988 U.S. Olympic team that won eight medals in Seoul, Adams currently trains Nonito Donaire. He was with Diego Corrales for 24 fights, during which Corrales was 23-1, avenging the lone defeat by Joel Casamayor. Festivities start at 7 pm.
Check out more boxing news on video at The Boxing Channel 
To comment on this story in The Fight Forum CLICK HERE
Boxing Odds and Ends: Ramirez-Postol, Taylor-Serrano and More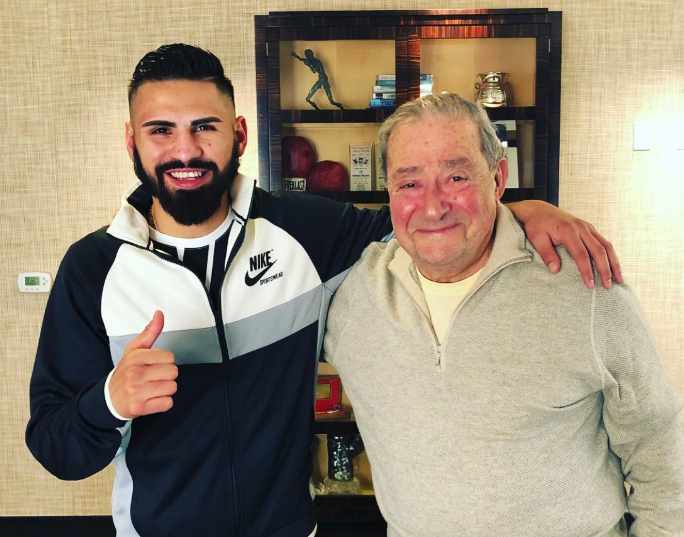 It takes a strong constitution to be a boxing promoter because things always go wrong. The only law that governs boxing is Murphy's Law.
Carl Frampton's first fight under the Top Rank banner was slated for Aug. 10 of last year in Philadelphia. With the fight five days away, Frampton suffered a freak injury while sitting in a hotel lobby. A boy playing behind a curtain knocked over a seven-foot pillar which fell on Frampton's left hand, fracturing it.
This was the second time that a Frampton fight was knocked out by a freak injury. Two years earlier, a homecoming fight in Belfast had to be scrapped when Frampton's opponent, Andres Gutierrez, slipped in the shower in his hotel on the eve of the battle and suffered severe facial injuries.
The latest bout to fall out because of an odd development is Jose Ramirez's Feb. 2 WBC/WBO lightweight title defense against Viktor Postol at a Chinese golf resort south of Hong Kong. The event fell victim to the coronavirus, more exactly the fear it has instilled.
The virus, which produces flu-like symptoms that are resistant to conventional antibiotics, apparently originated at an outdoor food market in the city of Wuhan where live animals are sold. The numbers vary with each new story, but according to one account there have been 444 confirmed cases in Hubei province, of which Wuhan is the capital city, and 653 cases worldwide including two in the United States, a man in his 30's living near Seattle and a Chicago woman in her 60's.
The fear of a pandemic (an epidemic becomes a pandemic when it spreads across multiple geographic regions of the world) has led to some drastic measures. The Chinese government has reportedly put 12 cities on lockdown, blocking traffic in and out. At many airports, visitors arriving from China are being screened. There are now thermal cameras than can record a person's body temperature remotely.
Jose Ramirez (pictured with his promoter Bob Arum) was scheduled to leave for China yesterday (Jan. 23) but was intercepted. Viktor Postol is already there and apparently stranded until an outgoing flight can be arranged.
The Ramirez-Postol fight was to air on ESPN. No make-up date has been set.
– – –
British promoter Eddie Hearn says he's close to finalizing a fight between Katie Taylor and Amanda Serrano. Hearn says the fight will take place in the U.S. in April. It figures that Madison Square Garden is the frontrunner.
If the fight comes off on schedule, this will be the biggest women's fight in history!
That's because the odds attached to the fight figure to be in the "pick-'em" range and that guarantees that boxing writers and others in the boxing community will be surveyed to get their picks – about which there figures to be considerable disagreement – and that will greatly enhance the pre-fight buzz.
Taylor, 33, last fought in November in Manchester, England, advancing her record to 15-0 (6 KOs) with a unanimous decision over Christina Linardatou, a fighter from Greece via the Dominican Republic. It was Taylor's first fight at 140 after previously unifying the lightweight title with a hard-fought decision over Belgium's Delfine Persoon.
Amanda Serrano, a 31-year-old southpaw, born in Puerto Rico and raised in Brooklyn, has won titles in five weight divisions. She last fought as a featherweight, turning away gritty Heather Hardy, but has competed as high as 140. Boasting a 37-1-1 record, she's won 23 straight, 18 by stoppage, 10 in the opening round
What sets women boxers apart from their male counterparts is that the women have a significantly lower knockout ratio. Amanda Serrano is the glaring exception.
Despite a less eye-catching record, Taylor has arguably fought the stiffer competition considering her extensive amateur background. As a pro, her victims include Cindy Serrano, Amanda's older sister by six years. Taylor whitewashed her in a match at Boston Garden, prompting the elder Serrano sister to call it a career.
– – –
The most bizarre (non)story to appear in a boxing web site this week involved former unified heavyweight champion Riddick Bowe. A man representing Bowe, identified as Eli Karabell, was frustrated because Eddie Hearn wasn't returning his calls. Karabell had offered Hearn the right of first refusal on Bowe's next fight.
Bowe, now 51 years old, last fought in a boxing ring in 2008 when he returned to the sport after a three-and-half year absence for an 8-round bout in Germany. In 2013, he appeared in a kickboxing fight in Thailand where he was stopped in the second round after being knocked down five times by leg kicks.
"Will there be another chapter to write for Bowe?" concluded the author of this piece.
Egads, let's hope not.
Check out more boxing news on video at The Boxing Channel 
To comment on this story in The Fight Forum CLICK HERE