The Fifty Greatest Flyweights of All Time: Part Two 40-31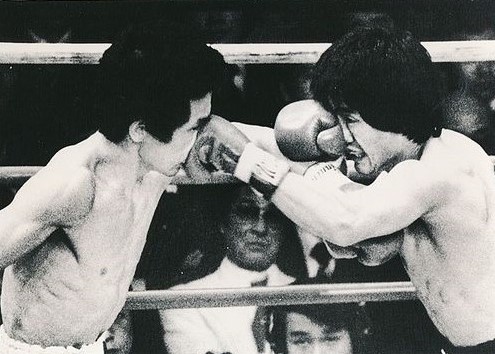 The Fifty Greatest Flyweights of All Time: Part Two 40-31
In Part One we talked about Brian Viloria and his momentous confrontation with Juan Francisco Estrada.  Their fight denotes their relative standings. As a general rule each chapter of this series, from heavyweight to bantamweight, will produce an entry or two where two of the fighters listed have actually met in the ring.
At flyweight, every entry appraises two fighters who met in the ring.
Some huge flyweight contests have failed to materialize. We meet a fighter in this installment who made a very impressive career out of failing to fight the best. Nevertheless, I am struck by how often top fighters from this division clashed and how often those vying for spots in the Top Fifty have settled their differences in the ring. Flyweight is overlooked by boxing history but it is a fact that the very greatest flyweights had a tendency to butt heads.
Despite being faster than the denizens of every other division, despite, as a rule, being the most technically sure, flyweight is under-celebrated both in boxing's past and in boxing's now. What this means is there is less money to sustain mediocrity. So, the best meet the best more often.
The men listed here are some of the best.
#40 – Fighting Harada (1960-1970)
Fighting Harada represents terminal velocity for a box-swarming style. On film he only has Joe Frazier and Henry Armstrong for company and with available footage of Hank so limited, Harada comes off a little better compositely. He was elemental.
But his best work came at bantamweight. Thickening out of his youth, he had time to do only a minimum of damage to a division that breathed a sigh of relief at his passing. What gets him onto this list, though, is his best win, a title-winning effort for the ages against the champion Pone Kingpetch.
Like Rocky Marciano before him, this early iteration of Harada always had something on his opponent, his head, his wrist, the knuckle of his glove; and like Marciano before him he lived and breathed the pressure he brought with a fire unseen in the division's filmed history. He often missed but when he missed he tended to be bringing something behind. What sets him apart – arguably – from Marciano and Frazier and Armstrong is his jab, which was as excellent and as busy as any fighter of his type from any division you care to name.
All of this can be seen in his woefully underappreciated first fight with Kingpetch who succumbed in the eleventh while propped in his own corner, alarmingly abandoned by the referee while Harada battered him. It was a brilliance.
Harada was narrowly defeated in an immediate rematch and the win over Kingpetch is far and away his best (next may be his six-round defeat of a youthful Hiroyuki Ebehara). His title reign was comprised of exactly zero successful defenses, but so wonderful was he against Kingpetch and that result was so suggestive that Harada slips in here in front of men with more concrete reasons for a higher ranking.
I suspect none of them could have defeated him in the ring.
#39 – Erbito Salavarria (1963-1978)
Erbito Salavarria, who wore the brooding good looks of a Hollywood matinee idol, held the flyweight world championship for the whole of 1971 and 1972, snatching it from no less a figure than Chartchai Chionoi in December of 1970 before losing it to the wrecking ball Venice Borkhorser early in 1973. He defended it successfully against top flyweight Susumu Hanagata, whose hopes he dashed no fewer than three times, and the near legendary Betulio Gonzalez.
So far, so good, and considering he also defeated solid contenders like Berkerk Charvanchai and Vincente Pool, he has the paper resume for a higher ranking; but the devil, as always, is in the detail.
Salavarria's contest with Gonzalez, a desperate split draw, was a bad-tempered affair and one of the most controversial title fights in flyweight history. After the contest – marred by conflicting perspectives on the veracity of the scorecards – Salavarria had a bottle containing "honeyed water" removed from his corner by officials. This water was later reported as containing amphetamine.
It is unclear what should be made of this. On the one hand, Salavarria has maintained his innocence throughout, claiming that the amphetamine was planted by Venezuelan authorities in order to protect their beloved Gonzalez. On the other, the claim was upheld by the WBC, hardly a bastion of incorruptibility but the best we have by way of an arbiter.
That's seen me drop Salavarria to the lowest berth his resume can stand. But Salavarria unquestionably had the goods. His second victory over Hanagata, who was absolutely legitimate, came years after his controversial draw with Gonzalez and was so close as to be scored either way; but fought in Japan it is also the case that Salavarria was almost certainly clean, thereby proving his countering abilities and late excellence born of true stamina was a valid representation of his ability.
#38 – Mark Johnson (1990-2006)
The disturbing truth about Mark "Too Sharp" Johnson is that he never defeated a top five opponent in his entire over-celebrated career. Johnson spent the mid-nineties waving around something called the World Boxing Board championship, thankfully now defunct, before picking up a slightly more respectable strap in 1996 which he defended seven times before departing for 115lbs.
And these are the numbers you tend to run into when you read about his career.
The number you tend not to read is "6", which was the highest ranked opponent Johnson ever met, specifically a fighter named Arthur Johnson who he knocked out in one round in February 1998. Arthur was 17-3.
But Johnson was brilliant. There is no denying it. So, he ranks here higher than I feel he earned in the course of his career beating the likes of Alejandro Montiel (ranked seven), Alberto Jiminez (ranked ten) and Enrique Orozco (ranked seven). This was while missing out on the likes of Saen Sor Ploenchit, Miguel Martinez, Jose Bonilla, and most of all, Yuri Arbachakov.
The awful truth is, Johnson was probably good enough to beat all of these fighters and would have been embarrassed by none of them. As it is, his unbeaten status at the poundage and his brilliance on film makes him impossible to ignore.
But his is another potentially great career sacrificed to inexplicable alphabet mandatories.
That costs him a spot in the top thirty.
#37 – Emile Pladner (1926-1936)
I maintain a special admiration for boxing centurions, men who have found a way to win no fewer than 100 fights. It's a special number and one rather understated now by boxing for one very good reason: it will never happen again.
So, men like Emile Pladner should be lauded for this special achievement.
Also special was his 1928 victory over Izzy Schwartz, who opened our own half-century at #50.  Pladner sliced him open both figuratively and literally, finding his way past his opponent's defences in the third and thereafter abusing him so thoroughly that Schwartz left the ring a bloody mess.
He was more admirable still is his 1929 defeat of Frankie Genaro, one of history's greatest knockouts.
Genaro, probably, had begun to slip by the time he met with Pladner, but he was already a flyweight immortal. What Pladner did to him was absurd. Reportedly always a little skittish at the first bell, he was somewhat startled by Genaro's early two-handed charge, stepped close, rattled the American's teeth with a right, and then landed a devastating uppercut somewhere on Genaro's body. Some say liver, others say below the heart and maddeningly, the scraps of surviving footage do not settle the issue.
Joe Jacobs, who was managing Genaro at the time, claimed it landed considerably lower, indeed, even below Frankie's belt, but this was dismissed outright by the Associated Press: "To ringside spectators the knockout blow appeared to land six inches above the belt."
Whatever the specifics of the punch, Genaro dropped like a stone and writhed in agony at the feet of the referee. It was the only time anywhere near his prime that he heard "ten".
Pladner dropped the title in the rematch with Genaro – after landing two low blows. He bid "adieu!" to flyweight, leaving behind an incomplete, perhaps even unsatisfactory legacy.
#36 – Black Bill (1920-1931)
Eladio Valdes, unfortunately renamed "Black Bill" by a promotional team in search of higher ticket sales, stuffed 160 fights into an eleven-year career. That's an average of more than one combat every month. A cast-iron jaw and a dearth of power also sent the number of rounds he boxed through the roof.
Never a ticket-seller despite the change of name, it took a winning streak of nearly thirty fights to land him in the ring with a champion, and he was presented with a beauty: Midget Wolgast who out-pointed him over fifteen in March of 1930. His sight deteriorating, he lost four of his next five and went the way of all those who draw too much dark water from the well within. A struggling shadow of his former self, depression sent him to an early grave within three years of his retirement.
Before that: he dominated a series with Corporal Izzy Schwartz, winning four of six closely contested fights in one of the definitive flyweight series for this era; took a single victory in the losing end of another epic five-fight series with Willie Davies; and defeated contenders Phil Tobias and Johnny McCoy.
It's good. It's a strong resume but an ill return for a fighter who fought so many contests. In truth, his absurd and difficult schedule and his unfashionable standing – and his admitted limitations as a fighter – resulted in his suffering twenty-four losses and his being frozen out of the title picture.  Difficult patches afflicted him, especially between 1925 and 1927.
Still, that hot-streak, for all that it ended in defeat at the hands of the genius Wolgast, cements his place here among some great contenders and the lesser champions.
#35 – Johnny Buff (1917-1926)
Johnny Buff, the one-time world bantamweight champion out of New Jersey, has proven something of a difficulty for me. He inexplicably pops up in the IBRO all-time great top twenty, at the #14 spot no less; suffice  to say here that there is no possible reason for his ranking so highly under my criteria and it is difficult to imagine any system that would make such a lofty position justifiable.
Buff did do some interesting work at fly before and after winning his bantamweight title, however, and it certainly deserves a second glance.
He turned professional at bantamweight in 1917 and did most of his best work at that poundage into the early 1920s culminating perhaps in a very good draw against Pete Herman. He then seems to have spent some months sitting down on the flyweight limit in order to generate some title tractions. This is the key in appraising his flyweight legacy.
In a final eliminator for the  American flyweight title, a title that carried much more weight then than now, he defeated the favored Frankie Mason over fifteen rounds in New York City, clambering from the canvas after an  early knockdown to out-fight an opponent who managed to win as few as two rounds according to some ringside reports. It was a savage, vicious performance, and perhaps Buff's best. He then took the vacant title against Abe Goldstein, a capable and storied fighter but another one who would make his true championship bones up at bantamweight; solid defenses against Young Zulu Kid and Eddie O'Dowd followed before Pancho Villa battered the title out of him in 1922.
By that time, Buff was once again campaigning at bantamweight, where victories over Pete Herman and Jackie Sharkey made him a fighter of real note – but he never again won a meaningful combat at 112lbs where he lost crossroads fights to Frank Ash and Joe Lynch.
All of this adds up to enough to scrape him into the top forty, but arguments for a higher berth seem reliant upon bantamweight honors.
#34 – Venice Borkhorsor (1968-1980)
Venice Borkhorser is perhaps more famous for the thumping damage he did with his menacing punches and his menacing presence up at bantamweight, not least because he spent most of his career fighting above 112lbs; big even at 118lbs, he was huge for a flyweight and would remain so even today.
This in part brought him the championship of his native Thailand and in late 1972 and early 1973 brought him pre-eminence in a division he would leave forever just months later.
His clash with the excellent Mexican Betulio Gonzalez in September 1972 was probably his peak. He stalked, battered and eventually broke the proud champion, leaving him stricken to the body and bleeding from the face. Gonzalez quit. Borkhorsor, though he could not sustain his career at 112lbs, was a steam-fired engine running on hatred for the days he managed to crush his musculature into a weight division that stretched at the seams to contain him.
Just a few months later (and time was of the essence), Borkhorsor was matched with Erbito Salavarria with lineage on the line. Salvarria did not quit, but he was harassed, harried, cut, pushed back and according to the Thai officials, did not win a single round against a Borkhorsor who battered a second world class fly into non-resistance.
Gonzalez ranks above Borkhorsor but the details of their contests suggest that he could never have beaten him in a dozen efforts. But Borkhorsor never fought at the poundage again, departing for bantamweight where he continued to box with the same menace though with less devastating results.
#33 – Salvatore Burruni (1957-1969)
Salvatore Burruni was the idol of Italy for a short spell in the 1960s, demonstrating the art of the most direct form of boxing in out-thugging champion Pone Kingpetch in 1965, backed by a rampant Roman crowd. Burruni gambled it all on a violent frontal assault, eschewing the jab in favor of an absurd smorgasbord of leads that included a trailing uppercut and numerous over-the-top hooks.  But Burruni's fight-plan was more detailed and nuanced than just that. He squatted in the attack, extenuating his height deficiency and opening up Kingpetch's heart for a reverse one-two finishing in a straight left. He racked up the early rounds to make himself unassailable late in the fight when he inevitably began to tire. Kingpetch, at that point in his career, was there to be taken, and indeed had been taken before – but he had always won a return. Burruni had beaten him so thoroughly that a rematch seemed redundant.
Instead he fought the Australian prospect Rocky Gattellari, an understandable decision from a monetary perspective and a reasonable one from the fistic perspective. Gattellari, though inexperienced, was ranked at #5 by The Ring magazine.  This wasn't good enough for the alphabet organizations who immediately stripped him.
Burruni then defended his lineal title against former victim Walter McGowan and was summarily defeated by decision in London in 1966. He continued to explore bantamweight, where he was never a serious force.
He leaves behind a decent resume made up of McGowan, Gattellari and Mimoun Ben Ali, the perennial fly and bantamweight contender, who he defeated for the European title in 1962. His victory over Kingpetch, however, is the jewel in his crown. It remains perhaps the most perfect example of a face-first, bet-it-all assault on a champion that resulted in the passing of the torch, echoed by, among others, Ricky Hatton's 2005 defeat of Kostya Tszyu.
#32 – Chan-Hee Park (1977-1982)
Those paying close attention and of a certain type of mind may have noticed that there is a pattern emerging in the low forties and high thirties, specifically a clutch of fighters who have one very significant divisional win backed by another good victory in the flyweight division. This description fits Chan-Hee Park, the Korean world flyweight champion in 1979 and 1980, like a glove.
Park's marquee win was over all-time great and contender for the #1 spot, Miguel Canto. Nor was Park fighting some busted version of Canto but rather he was the man who unseated the then champion from the throne, breaking a streak which was arguably the most impressive in the history of the division.
On paper it's a stuck-on nomination for one of the greatest wins in the history of the sport. In reality, Canto was far from the Rolls Royce that used to glide around the ring dictating pace with one of the greatest of left hands. Still, Park beat him out of sight, an impressive achievement.
Three months later he became the first man to stop the formidable Mexican contender Guty Espadas in a short and brutal encounter; two more defenses against limited opposition stiffened his championship reign a little and then Park ran into a roadblock named Shoji Oguma.
#31 – Shoji Oguma (1970-1982)
Shoji Oguma's paper record of 38-10-1 is less than overwhelming but he must be included, and must be included above Park, for no better reason than he defeated the Korean no fewer than three times.
The result of their first fight, fought in Seoul, Korea, was indisputable, as Oguma began throwing left-hand leads from his southpaw stance to dent Park's great chin and finally take him out in nine hard rounds. An ultra-aggressive fighter, Park began an inevitable wind-down in a long fight, a factor that Oguma exploited mercilessly in their second and third contests, the second a desperately close split decision that could have gone either way, the third, total carnage, both fighters finishing smothered in blood, Oguma taking another disputed, narrow decision.
Defeating Park the first time made Oguma the world's champion and the second and third were primo defenses; Sung Jun Kim, ranked five, made for a quality third defense before Oguma shipped the title to Antonio Avelar, who knocked him out in heartbreaking circumstances.
What makes Oguma a little special is that this was actually his second run at the problem. He had been a major force in the division once before, in the early seventies. There lies the beginning of another extraordinary series in which Oguma met Betulio Gonzalez, another excellent flyweight and one we will be hearing from soon. Oguma went around with him four times. His reward was two losses, a draw and a single victory over fifteen rounds in October of 1974. That brought Oguma a strap and although it was immediately scooped up by Miguel Canto, it makes him some sort of champion in two different decades. Worthy, perhaps, of a higher spot; those losses peg him back a bit.
But it takes a special legacy to demote Oguma from the top thirty. We will be meeting some of the men that keep him out next week.
Check out more boxing news on video at The Boxing Channel  
To comment on this story in The Fight Forum CLICK HERE
Fast Results from Fort Worth Where Vergil Ortiz Jr Won His 19th Straight by KO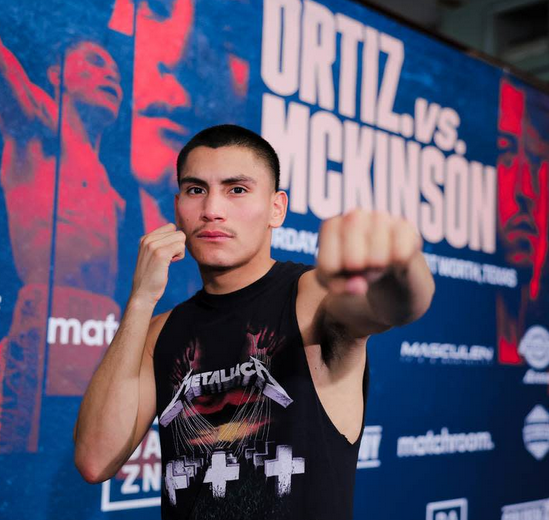 In a match pushed back from March 19, Vergil Ortiz Jr moved one step closer to a mega-fight with Terence "Bud" Crawford or Errol Spence Jr or Boots Ennis with a ninth-round stoppage of England's feather-fisted Michael McKinson. The end came 20 seconds into round nine when McKinson appeared to injure his knee as he fell to the canvas, an apparent residue of the body punch that put him on the deck late in the previous stanza. To that point, Ortiz had seemingly won every round.
It was the 19th win inside the distance in as many opportunities for Ortiz who resides in nearby Grand Prairie and was making his first start with new trainer Manny Robles. McKinson was undefeated heading in, but had scored only two knockouts while building his record to 22-0.
Ortiz, ranked #1 at welterweight by the WBA and the WBO, pulled out of the March 19 bout after being diagnosed with rhabdomyolysis, a muscle disorder associated with over-training.
Ortiz's promoter, Oscar De La Hoya, says that Ortiz will fight the winner of Errol Spence vs Terence Crawford next assuming that the fight gets made, and if doesn't get made, Ortiz's next fight will be with one or the other. The WBA, which stamped tonight's fight an eliminator, may push to have Ortiz fight their secondary title-holder, Eimantas Stanionis.
Co-Feature
Houston's Marlen Esparza (13-1, 1 KO) successfully defended her WBA/WBC world flyweight title with a unanimous decision over plucky 4'11 ½" Venezuelan southpaw Eva Guzman who had won 14 straight coming in, albeit against soft opposition. The judges had it 98-92 and 99-91 twice.
Guzman (19-2-1) was game, but just didn't have the physical tools to overcome Esparza whose lone defeat came at the hands of talented Seneisa Estrada.
Other Fights of Note
In a 10-round match contested at the catchweight of 150 pounds, Blair "The Flair" Cobbs rebounded from his first defeat with a career-best performance, a wide decision over former WBO 140-pound world titlist Maurice Hooker. It was the second straight loss for Hooker who returned to the ring after a 17-month hiatus and came out flat. Cobbs put him on the canvas in the opening frame with a combination and decked him twice more with straight lefts in round two.
Things got somewhat dicey for Cobbs in round five when he suffered a bad gash on his forehead from an accidental head butt, but Hooker, who had stablemate Bud Crawford in his corner, hesitated to let his hands go and couldn't reverse the tide. The judges had it 96-91 and 97-90 twice for the flamboyant Cobbs who improved to 16-1-1 (10). Hooker, a consensus 5/2 favorite, lost for the third time in his last five starts and slumped to 27-3-3.
In the opener to the main portion of the DAZN card, Uzbekistan's Bektimir Melikuziev (10-1, 8 KOs), a super middleweight growing into a light heavyweight, dominated and stopped overmatched Sladan Janjanin. Melikuziev put Janjanin down with a body punch in the opening minute of the fight and scored two more knockdowns before the bout was halted at the 2:18 mark of round three.
This was Melikuziev's third fight back after his shocking one-punch annihilation by Gabriel Rosado. Janjanin, a well-traveled Bosnian who fought three weeks ago in Massachusetts, declined to 32-12 and was stopped for the eighth time.
Also
Chicago welterweight Alex Martin (18-4, 6 KOs) overcame a first-round knockdown to win a unanimous decision over 38-year-old Philadelphia journeyman Henry Lundy. The judges had it an unexpectedly wide 98-91, 97-92, 97-92.
Martin was coming off a points loss to McKinson and this bout was his reward for taking that fight on short notice. Lundy (31-11-1) has lost five of his last seven.
Floyd "Austin Kid" Schofield, a lightweight who appears to have a big upside, advanced to 11-0 (9 KOs) at the expense of Mexican trial horse Rodrigo Guerrero whose corner wisely pulled him out after five one-sided rounds. It was the ninth straight loss for Guerrero (26-15).
To comment on this story in the Fight Forum CLICK HERE
Conlan Wins His Belfast Homecoming; Breezes Past Lackadaisical Marriaga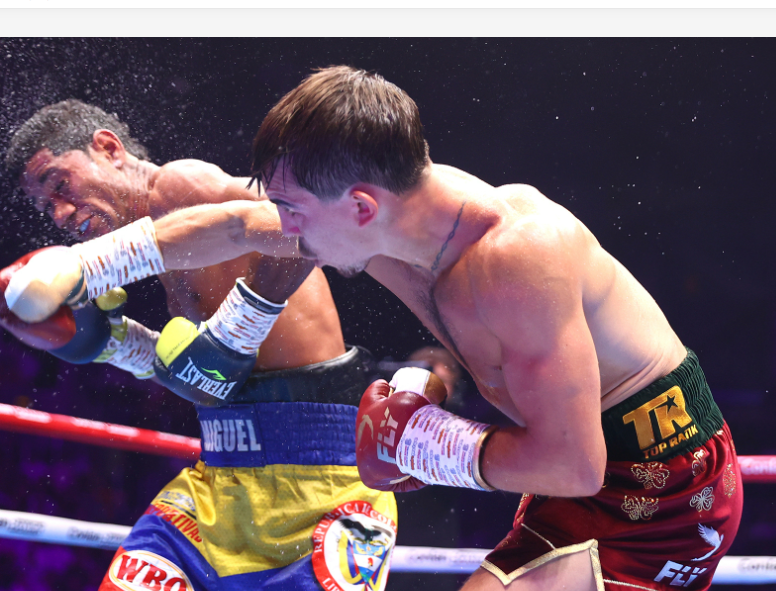 "The Return of the Mick" was the label attached to tonight's show at the SSE Arena in Belfast, Northern Ireland. The reference was to local fan favorite Michael "Mick" Conlan who returned to his hometown in hopes of jump-starting his career after suffering his first pro loss in a brutal encounter with Leigh Wood.
In that bout, a strong "Fight of the Year contender, Conlan was narrowly ahead on all three cards heading into the 12th and final round when the roof fell in. Wood, who was making the first defense of his WBA world featherweight title on his home turf in Nottingham, knocked the favored Conlan unconscious and clear out of the ring.
This was the sort of fight that can shorten a man's career. Hence the intrigue in Conlan's homecoming fight tonight against Miguel Marriaga. On paper, the Colombian, a three-time world title challenger, was a stern test considering the circumstances.
To the contrary, Marriaga had no fire in his belly until the final round when he hit Conlan with a shot that buckled his knees. But, by then Conlan was so far ahead without overly exerting himself that there was virtually no chance of another meltdown.
While Conlan won lopsidedly, the scores – 99-89 and 99-88 twice – were somewhat misleading. True, "Mick" had Marriaga on the deck in rounds 7, 8, and 9, but the punches that put him there did not look particularly hard.
Conlan, 30, improved to 17-1 (8). Marriaga, 35, declined to 30-6.
After the fight, Conlan expressed the hope that Leigh Wood would give him a rematch.
Other Bouts of Note
In an entertaining 10-round welterweight scrap that could have gone either way, Belfast's Tyrone McKenna (23-3-1, 6 KOs) rebounded from his defeat in Dubai to Regis Prograis (TKO by 6) with a hard-fought unanimous decision over 33-year-old Welshman Chris Jenkins (23-6-3). The judges favored the local fighter by scores of 97-94 and 96-95 twice.
Jenkins, a former British and Commonwealth title-holder, had the best of the early going, working the body effectively while frequently finding a home for his uppercut, but he could not sustain his advantage.
Thirty-four-year-old Belfast super middleweight Padraig McCrory who got a late start in boxing, scored the most important win of his career with a fifth-round stoppage of Marco Antonio Periban, a former world title challenger. McCrory had Periban on the deck three times – once in the second and twice in the fifth – before the bout was halted at the 2:14 mark of round five.
It was the fourth straight win inside the distance for McCrory who improved to 14-0 (8 KOs). Mexico's Periban, who returned to the sport in April after missing all of 2020 and 2021, fell to 26-6-1.
Highly-touted welterweight Paddy Donovan improved to 9-0 (6) with an 8-round unanimous decision over Yorkshireman Tom Hall (10-3). The referee scored every round for Donovan, an Irish Traveler trained by Tyson Fury's bosom buddy Andy Lee, the former world middleweight title-holder.
Photo credit: Mikey Williams / Top Rank via Getty Images
To comment on this story in the Fight Forum CLICK HERE
A Cornucopia of Accolades for Venerable Sportswriter Jerry Izenberg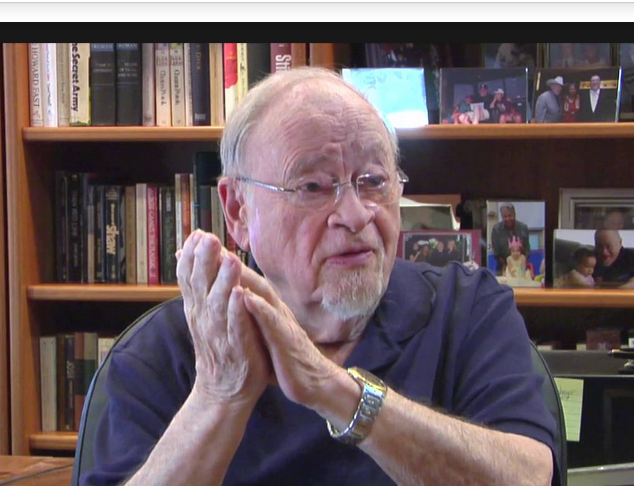 Ponder this for just a moment: Jerry Izenberg has written about sports for seventy-one years. No, this isn't a misprint.
Behind a righteous conscience, a clear mind and a cool hand, the 91-year-old New Jersey native and columnist emeritus for the Newark Star-Ledger has pounded out stories from every venue, both near and far, and on every major sport and that includes boxing which he holds near and dear and has been a great story-telling device.
"Most fans like it but don't understand it. Some writers take  advantage of the fact that because so many fans keep looking and waiting for a knockout. It's the easiest sport for a writer to fake," said Izenberg of the sweet science. "But for serious writers, it's the best…just three people inside the ring and a cut man and a trainer in each corner…when two great fighters meet, they produce at one and the same time the most brutal yet graceful ballet requiring skill, courage and the most determination in all of sports."
Izenberg, the author of more than a dozen books including "Once There Were Giants: The Golden Age of Heavyweight Boxing," has come across many interesting souls while traveling the globe dissecting the fight game, but one fighter in particular, a three-time heavyweight champion, caught his fancy.
"Muhammad Ali was someone I knew from the 1960 Olympics. He was my friend but he became my genuine friend the morning after he won the title from Sonny [Liston]. That was shortly after the press conference when as a world champion for just 24 hours, he announced his belief in a form of Islam then associated with Elijah Muhammad named the Lost Found Nation of Islam and colloquially known as the Black Muslims," he said.
"It was the first time most writers had been exposed to Ali's (then Cassius Clay) membership in the group. I may have been the first to defend his right to whatever religion he followed and whatever name he chose to be called. He respected the fact that I made it a priority to find out who the hell this guy was and that I would be writing about even after the day he died. We became close friends for about 50 years. Before that he had testified at a New York State Legislature hearing about boxing. A bunch of us were ticketed to return to Manhattan on the midnight train."
Izenberg explained how the friendship really took off:
"I was in my hotel room writing my column when he walked in at about 2 p.m."
"Man, I am so tired. Are there any empty rooms in this hotel?"
"Take my bed," I offered. "I promise to type quietly."
"After he beat Sonny, [February 1964], he started to tell everybody, 'This man, this man gave me shelter and his bed when I had no bed.' And I would say, 'that was only because I didn't know who the hell you were.'"
"And then we'd both laugh. It was a great friendship to the point where I still have trouble saying 'was' these days instead of 'is.' I miss him very much."
"I always wrote about the human condition which you would be wise to consider whether it is admirable or deplorable. When I was probably the first to defend Ali's constitutional rights, they broke out my car's windshield with sledge hammers and mailed me dog feces and alarm clocks disguised as bombs," he said. "When I explained the reasons behind [Colin] Kaepernick's Star Spangled Banner kneel we got hundreds of negative emails – none of which noted that I had carefully explained exactly what he said about why he was doing it and it had nothing to do with patriotism. I listened to exactly what he explained about a horrible wave of police brutality and I wrote what he said."
Izenberg, a graduate of Rutgers University Newark, shot back at the critics. "The trouble with these snap decisions by these knee-jerk detractors was that most of them wrapped their criticism in a tsunami of emotions but offered only a scintilla of facts," he said.
John Feinstein, a contributor to the Washington Post and Golf Digest and the author of two of the best-selling sports books of all time, added his two cents on Izenberg: "I think Jerry's done a remarkable job through the years of staying current, of remaining a REPORTER which many columnists – particularly older ones – fail to do," he said. "He rarely falls back on, 'back in the day, when I was a young reporter.' His work always feels as if it's fresh, not a rehash of material from years gone by."
The prolific Feinstein spoke about Izenberg's deft touch: "I always thought of Jerry as, 'the quiet columnist.' He never called attention to himself in press conferences or in the media room at big events," he said. "He'd just sit there, puffing on his pipe, and turn out something which would cause me to say, 'gee, I wish I'd thought of that,' when I read it. I've always said the guys who are the best at what they do don't have to tell you they're the best at what they do. Jerry falls into that category."
Izenberg reflected on his bar mitzvah at age 13, a rite of passage for Jewish boys. "My bar mitzvah ceremony was supervised nearly eight decades ago by a rabbi named Joachim Prinz. He had escaped Nazi Germany, rode a Freedom Bus during the beginning of the civil rights movement and introduced The Rev. Martin Luther King at the National Mall [in Washington, D.C.]," he said. "He was the one who called my attention to the Hebrew phrase "Tikkun Olam" – Hebrew translation: Repair the world." The most modern understanding of the phrase is that you fix the world through the individual human action of each person."
"So, I write what I believe, even if my soapbox is limited to a field of end zones and foul lines and ring posts," Izenberg added. "My work is the residue of my father, who set the standard, my teacher, Stanley Woodward, who gave me the tools and Dr. Prinz, the rabbi who kind of deputized me."
Former New York Times sports columnist Harvey Araton who wrote about the odd coupling of Ali-Liston II and Lewiston, Maine, in a story re-visited on these pages, noted that Izenberg, a longtime friend, wasn't swayed by popular opinion.
"He wrote what he thought. If that went with the wind, fine. If not, too damn bad. On his favorite topics (boxing, football, horse racing, baseball), he knew that he knew more than most and wrote with that level of authority," he said. "In other subjects, his eyes and ears were focused on what he could learn and report. He was old school all the way, not writing for clicks or retweets or to land a TV deal by manufacturing (fake) anger. Come to think of it, Jerry was one of the first crossover print sports guys when he appeared on Sports Extra on Sunday nights on Channel 5 in New York (if memory serves correct)."
"If you knew Jerry, you could actually hear his (cantankerous) voice in his column. When I was in college and grad school, working on the desk of the Staten Island Advance, a sister paper to Jerry's Newark Star-Ledger, we'd run his column," he said. "Much too brash and a  little stupid, I'd ready my editor's pen to see where I could make some changes and prove my worth. Whatever changes I'd make, my boss would undo. He'd tell me, "You don't f*** with a voice and style as distinctive as Izenberg, OK?" Jerry had his pet lines he would use, or overuse, like 'herniated snail' to describe a slow runner, or' Gomorrah-by-the-desert,' meaning Vegas. But you never knew what delightful turns of phrases would turn up in his copy, though seldom, if ever, did they obscure the message."
Araton noted Izenberg's affection for the Garden State: "Many may not remember that Jerry was not only a Jersey guy, though his love for the state in general and Newark in particular was indisputable," he said. "But in the late 70s, his columns were also picked up by the New York Post, in large part because of his friendship with Jerry Lisker, the Post sports editor, who was also a big boxing guy. So, in an era of many mega-bouts, Jerry's voice was heard in what was considered by many to be the city's best sports section."
"One last thing," said Araton. "About 9-10 years ago, I wrote a piece on the failure of the (now defunct) Newark Bears, or at least a remake of the team as an indie baseball team, to thrive despite a lovely little stadium the city and county had built," he said. "The story explores whether soccer was the more realistic pursuit. Jerry had championed the baseball cause in his columns. If you read Jerry's quote, you can see his irascible side but also his honesty; he says that people told him he was living in the past, thereby acknowledging that possibility."
Here is a link to that story.
https://www.nytimes.com/2011/08/22/sports/baseball/did-newark-bet-on-the-wrong-sport.html?smid=nytcore-ios-share
One of Izenberg's biggest fans is Japan Forward sports editor Ed Odeven who penned the well-received "Going 15 Rounds With Jerry Izenberg."
"Jerry's prose," said Odeven, "has never been saturated or bogged down with too many statistics or analytics…His stories are always anchored by human drama and a novella-like structure (with a beginning, middle and end)."
"Jerry was a progressive thinker decades ago in telling the plight of African American athletes and Historically Black Colleges and Universities (his visit to Grambling University, where he chronicled football coach Eddie Robinson's squad, which produced his groundbreaking story in True in 1967). He was far ahead of the curve in recognizing that Black and Latino athletes were rising stars and a significant part of the nation's sports culture," continued Odeven.
Ira Berkow, who spent countless hours ringside with Izenberg, echoed that observation.
"The aspect of the significance of race in sports was late in coming for many sportswriters," noted Berkow, the longtime sports columnist for the New York Times. "Not for Jerry. He was clearly in the forefront of the discussion."
Boxers are more open and introspective than other athletes according to Izenberg. And when the best of the best step into the ring, it can be magical.
Izenberg recounted two classics at which he sat ringside. One took place in 1975 in the Philippines and the other in 1985 at Caesars Palace in Las Vegas.
"I'm 91 now and I would like to say Cain-Abel but a camel died on the highway that day so I was late getting there," he said. "The best fight of any weight – Ali-[Joe] Frazier in Manila…15 rounds of hell.
The best way I can sum it up is with the lead I filed 20 minutes after the fight ended: "Muhammad Ali and Joe Frazier did not fight for the WBC heavyweight title here last night. Nor did they fight for the heavyweight title of the planet. They could have fought inside a telephone booth on a melting ice flow and had all the room they needed. "They fought, instead, for the championship of each other. And as far as I'm concerned, they could fight forever and the issue would never be settled."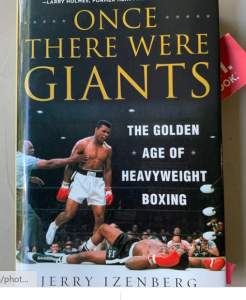 The second classic that stands out in his mind is Hagler-Hearns. "The best first round at any weight," Izenberg said. "Hearns won the explosive round, drawing blood from Marvin's forehead but when Hagler didn't take one step backward, he won the fight then and there."
For Izenberg, there have been some changes in boxing and not always for the good.
"Now when young boxers are told to hit the heavy bag by their trainers, the response is: 'Okay, but will I ever play the guitar
again?' Yes, we have a shortage of gifted fighters but so many of the ones we do have are in desperate need of gifted teachers," he said.
And with that, it appears the sport has also lost some of its shine. "Yes, because now it features more self-styled entertainers than fighters. The most exciting moment in all of sports used to be when a slight murmur began from the back of the arena and then a crescendo that grew louder and louder as they approached the ring," said Izenberg of the excitement of a big fight. "It was clear they had come to fight. Now we have smoke and mirrors, fake fog and an army of hangers-on for the walk to the ring large enough to double as extras in a cinematic re-creation of Exodus. The best fighters we have don't need the theatrics. I wish we had more of them."
Izenberg, who turns 92 on September 10, has been honored many times. Is there one that stands above the rest?
"I'm in 15 Halls of Fame but that's not it. I won the Red Smith Award and that's not it because when I was at the [New York] Herald Tribune my desk was next to his and I learned a lot and that was worth more than any award," he said.
"I was, for a time, fairly regular on Irish radio and one day the host interviewed me as what he called an important journalist. He said with all the awards, why is it you never won a Pulitzer? Nobody had ever asked me that.
"I told him that when the Star-Ledger was the eighth largest Sunday paper in the country, we had an audience of over one million. On weekdays it was around 600,000. So, if just one of every six readers read Jerry Izenberg during the week I had an extended family of 100,000. If they came back because they liked what I wrote, well, hell, the Pulitzer doesn't mean much when measured against that."
Hall of Fame boxing writer Thomas Hauser weighed in: "He should have won the Pulitzer Prize for Commentary long ago, but the jury that designates Pulitzer winners is journalism's answer to boxing's world sanctioning organizations with the New York Times playing the role of Don King."
"If we're lucky," said Hauser, "Izenberg will write his memoirs someday. But that would be the crib notes version. To fully appreciate his work, one has to have read his columns; day after day, week after week, year after year. Ten thousand columns crafted over the span of more than four decades," he said.
"Indeed, if the Newark Star-Ledger is interested in performing a true public service," continued Hauser, "it will assemble those columns in multi-volume sets, put the sets in major libraries across the country, and give Izenberg a set to take home with him."
To comment on this story in the Fight Forum CLICK HERE