The Fifty Greatest Flyweights of All Time: Part One 50-41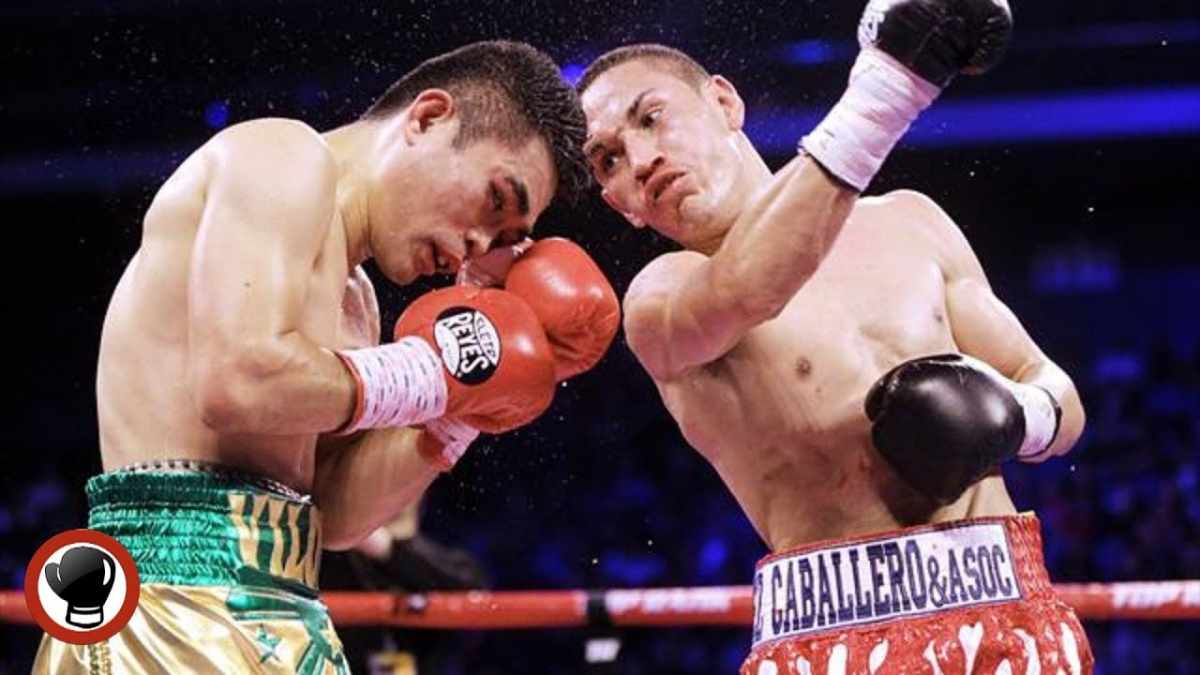 The Fifty Greatest Flyweights of All Time: Part One 50-41
Research on the greatest heavyweights of all time was easy. Fire up YouTube or Dailymotion, watch the career-defining fights of a given contender, compare and contrast, order and write-up, delivered.
By lightweight, things were considerably more difficult.
This is to do with a diminishing interest in boxers by size. It is literally the case that available information is reduced coextensively with the poundage of the fighters in question. By the time I was involved with the bantamweights, things had become extremely difficult, unwholesomely greedy of my time and actually rather expensive.
Needless to say, the flyweights have been even more demanding.
The temptation to cut corners was, at times, enormous, but I allowed myself only one of meaning: this list is cognitive only of flyweights who fought from the Jimmy Wilde title reign to the present day. While every one of these projects has had a cut-off, flyweight's is the most recent, the World War I era.  Partly, this is due to the absurd difficulty in researching 1900 contenders of this size but it is in the main due to uncertainty surrounding the poundage. Flyweight was paperweight for a long time and paperweight was never better than partially established globally. Tough on Johnny Coulon, but there it is.
Otherwise, the flyweight list has been put together under the same rules as governed the others. First and foremost, it should be stated the list considers only fights that took place at flyweight or just above.  So a 108lb fighter boxing in 2017 is a light-fly but a 108lb fighter boxing in 1925 was a flyweight, because light-fly did not then exist. This is an appraisal of flyweight in the truest sense, as it existed in boxing history.
Most important in conducting these appraisals: who a fighter beat and how he beat them. Secondarily, what was a fighter's status in his own era? Was he a lineal champion? A belt-holder? Or just a brilliant contender who amassed a wonderful body of work in his forlorn hunt for the title?
Lastly, skillset as it appears on film and head-to-head considerations, the most speculative of criteria, are taken into account.
With that out of the way, here we go, for the last time a divisional top fifty, this one more obscure, unexpected and mysterious than any that has gone before.
The flyweights; this is how I have them:
#50 – Corporal Izzy Schwartz (1921-1932)
Izzy Schwartz lost thirty-two fights.  The good news: many of these were above flyweight.  The bad news: many of them were not and he was as likely to drop a decision to an unheard-of novice as he was an all-time great monster.
What gets Schwartz over the line despite this litany of losses is two things.  First, he took some really, really impressive names in his career; secondly, flyweight rather bizarrely drops off a cliff after #49 leaving me with about twenty good candidates for #50 and no outstanding ones.
But if you're going to compromise on your gatekeeper to greatness, it might as well be for a fighter who defeated old-time legends like Black Bill and Willie Davies, men you have either heard of or will in the course of this series. Supplementary wins over future bantamweight beast Newsboy Brown and ranked men John McCoy and Ernie Jarvis do him absolutely no harm either.
It's worth noting, of course, that Bill and Davies both avenged themselves on the Corporal four times over but also that he was a man who never shirked a challenge.
An air of respectability rather than true wonder purveys a career that was carried out between the two world wars and saw him share the ring with a generation of great flyweights. Noteworthy for his speed, he is also a fighter who completely lacked power, scoring a mere handful of knockouts.  A powerful Schwartz would have been a wonderful thing.
49 – Little Pancho (1927-1942)
 The younger half-brother of the immortal Pancho Villa, Eulogio Villaruel Tingson was bequeathed the catchier moniker "Little Pancho" in a nod to his much more powerful, much more brilliant relation.
But Pancho, for all that he is not the best fighter in his family, was one of the best flyweights of his era.  He lost twice to the great Midget Wolgast in 1932 and a decade later was beaten by the deadly bantamweight Manuel Ortiz. In between he drifted to and from flyweight and the poundage that would become superfly, which left a rather confounded shade to his legacy – but Pancho did good work while he flitted to and from.
He also managed to meet and defeat a boxer once in the class of Wolgast, the shadow of the fighter once known as Frankie Genaro. Pressuring, harassing, and finally cutting the old man he forced him to quit after the eighth.
Genaro makes the bedrock of a fine resume, but he was unranked and basically washed up at the time of his defeat. Pancho though, picked off several other good fighters in the course of his prolonged career, including Joe Mendiola (who he bested no fewer than three times), Jackie Jurich (who holds a precious victory over Manuel Ortiz) and the colorfully named Small Montana, also a ranked fighter.
A failed single tilt at a strap underlined his limitations, a ten-round draw with Little Dado in 1940 the closest he came to that glory.
#48 – Brian Viloria (2001-Active)
Brian Viloria (pictured above on left), now a shell of his former self, still trades on the name that once bought a sigh of contentment from your hardcore purist.
Never the lineal flyweight champion, he was nevertheless arguably the best flyweight in the world for a brief period in 2012, before Juan Francisco Estrada sent him back on his heels and Roman Gonzalez finished the job by way of ninth round stoppage.
So never better than the third most impressive flyweight of his era, Viloria nevertheless did enough to creep in to the fifty, preferred to old timers like Sid Smith and Jackie Brown and near-peers like Donnie Nietes and Akira Yaegashi. Based upon his high level of operations in 2011-2012, this is justified.
Julio Cesar Miranda, a storm of pressure and gloves, represented the beginning of Viloria's summit as he out-manned and out-fought his highly ranked Mexican opponent in a glorious slugfest. 108lb champion and pound-for-pounder Giovani Segura was dispatched that December by fast handed bunches of punches that cut and broke him before he was stopped in eight.
The jewel in the crown of his resume, however, is his 2012 destruction of Hernan Marquez. Marquez, himself a brief contender for this Top Fifty, was the world's #1 contender when Viloria, one of America's most underrated pugilists, ushered him from that spot via tenth round technical knockout.
Viloria is easy to hit for an elite flyweight and this cost him against the best but a combination of fast hands, great punch selection and unerring accuracy certainly forms an impressive first line of defence; quick feet spares his often poor spatial awareness; he could hit and he could certainly box.
Unlucky to run into two monsters in Estrada and Gonzalez, another era may have been kinder to him, and seen him earn a higher berth here.
#47 – Juan Francisco Estrada (2008-Active)
Juan Francisco Estrada nips in ahead of Brian Viloria by virtue of the most old-fashioned and perhaps best of reasons: he beat him.
The two met in April of 2013 in what was, for eight rounds, one of the great flyweight contests of this decade. Estrada, beautifully compact, the less expansive of the two despite his being the rangier, was a little spooked by Viloria's layers early. The more experienced Hawaiian gave ground and countered to dangerous effect, rounding the relatively inexperienced Estrada up with virtual threats and feints.  Estrada screwed the nut and by the ninth, having split, on my card, the first eight with his opponent, began to dominate. It was a glorious combination of will and skill, burnished by one of the beautiful left hands of our time; a great jab and a honeyed uppercut that makes me blink every time I see it landed.
Estrada (pictured above on the right) drove Viloria to the very edge and only heart and experience got him to the final bell in a borderline great fight.
Giovani Segura and Milan Milendo were the other major scalps of a truncated flyweight career. Estrada has spent time at both 108 and 115lbs making his flyweight career too short to rank him any higher here but it should be noted that he emerged from his three year stay at flyweight undefeated.
#46 – Gabriel Bernal (1974-1992)
Gabriel Bernal, a southpaw out of Guerrero, is one of the least heralded Mexican champions and in many ways it is not difficult to see why. Bernal was something of a soft-touch as a championship opponent, having lost eight fights before getting his shot at Koji Kobayashi in 1984. He made only a single successful defense before running into the punching machine Sot Chitalada. His final paper record of 43-14-3 perhaps does not lend itself to the hero worship reserved for Mexico's more admired kings.
Bernal did do two things so worthy of note, however, that his inclusion here cannot be seen as controversial. First, in 1981, he scraped past the immortal Miguel Canto over ten rounds to go 1-1 in a two fight series with the living legend. The truth is, I can't tell you whether or not Canto inhabits the number one spot at this time, because I don't know, but if he isn't #1 he will be close. True, Canto had faded from the shining brilliance of his prime, but he was still a ranked fighter in the early 1980s and one that had only been defeated by two men, both champions, since 1970.
Secondly, when he did get that shot at Kobayashi and the title, he knocked the champion out in just two rounds. Nobody had done that to the Japanese since the wonderful Jiro Watanabe turned the trick in Kobayashi's ninth fight. Bernal's free-swinging, full-hearted attack prostrated him quite literally face-first into the canvas for the first knockdown before depositing him neatly into the prayer position for the stoppage. It was one of the most stunning knockouts of the eighties.
#45 – Dado Marino (1941-1952)
Dado Marino was another wonderful but flawed fighter out of Hawaii; he retired thirty years before Brian Viloria was born. He ruled as the flyweight champion of the world between 1950 and 1952.
An inconsistent and frequent visitor at bantamweight, when he showed the discipline to make the 112lb limit he morphed into a different animal, one that was impossible to stop and difficult even to dent, one who threw a confused and frothy tide of punches inside and out, as direct and aggressive a fighter who has appeared at the weight.
Nevertheless, he requires that juicy three calendar-year title reign in order to make the fifty. His legacy rests heavily upon two wins over Terry Allen, the Brit he wrenched the championship from in 1950 with some vicious right-handed punching in the middle rounds.
Apart from his two impressive defeats of Allen, his resume is underwhelming, a dubious disqualification win over Rinty Monaghan probably his next best. The loss of his title to Yoshio Shirai followed by a failed attempt to reclaim it mirrored his own conquest of Allen and sent Marino into retirement.
There will be more of Yoshio Shirai in coming weeks.
#44 – Sid Smith (1907-1919)
Sid Smith is most famous, if he is famous at all, for being one of Jimmy Wilde's many victims, but that is a little unfair. Smith was a centurion of pioneer boxing, taking part in more than a hundred contests and winning eighty-five of them.
Wilde crushed him three times between 1914 and 1916, but that aside, Smith's results against the best of his era was more than respectable. First among them are his 1913 victory over French idol Eugene Criqui, who he defeated by twenty round decision in Paris in April, and his victory, less than forty days later, over Englishman Joe Symonds, who he defeated over fifteen in his hometown of Plymouth. Smith, a Londoner, reached his beautiful peak with these two fights.
"Since the Americans have not yet seen fit to recognise [a flyweight champion]," wrote Boxing of Smith's fight victory over Criqui, "Smith now has every right to the…championship of the world."
Wilde would have plenty to say about that, of course, but Smith scored wins over the cream of European competition, and as intimated by Boxing, Europe was then the world as far as flyweights were concerned.
Smith deserves wider recognition than as a footnote to the career of Jimmy Wilde.
#43 – Joe Symonds (1910-1924)
Joe Symonds, as detailed above, was beaten by Sid Smith, but avenged himself eighteen months later; no rubber match was made and so the head-to-head question remains unanswered.
Neither did Symonds have more meaningful success against Jimmy Wilde, the bane of a talented batch of European flyweights, although he did make the fifteen-round distance with Jimmy, something Smith never did manage.
Symonds struggled with the brutal Percy Jones, losing a series to him on the eve of World War I, but Smith never met with Jones, making any comparison impossible.
What sets Symonds apart is his 1915 victory over Tancy Lee.
Lee was the best of Wilde's flyweight foes, but Symonds got him out of there in the first of their two contests, staged in 1915. 5'1", Symonds was nevertheless physical enough to find himself boxing at featherweight before his career was over and it was above 120lbs that most of his 29 recorded losses were suffered, so it perhaps shouldn't be surprising that once he got Lee on the hook he didn't let him off. Pressure and volume brought him a priceless stoppage win over a man who had scored a stoppage against Jimmy Wilde nine months earlier.
Lee scored his revenge, but not at the flyweight limit.
It is a win that buys Symonds several spots on this list, and more importantly separates him from his old enemy Smith.
#42 – Lorenzo Parra (1999-Active)
One of the saddest sights the ring brought us in 2018 was that of Lorenzo Parra, gut spilling over his trunks, a twenty-year professional campaign behind him, seeking desperately for the spark of timing that made him memorable in the 1990s. He buckled in three rounds for a 0-0 prospect named Arsen Garibian.
Parra's career above 112lbs has been a bad joke. When he departed the flyweight division in 2005 his record was 28-0.  His record now reads 32-18-2. He hasn't so much tarnished his legacy as filled it with gunpowder and set it on fire.
Between 1999 and 2005, however, this was a man to be reckoned with.
Venezuelan by birth, Parra stayed home until he was 21-0, fattening his record on soft opposition, but when he landed in Puerto Rico in December of 2003, he made his mark. Eric Morel, then 33-0, himself a contender for this list, was favored to turn back the young pretender despite his burgeoning reputation as a puncher.
Parra did land a knock-down quality punch, in the third round, but through the tenth it was his boxing that marked him. Fleet and fast-handed, he out-skilled, out-moved and in the final two rounds when his engine betrayed him, out-gutted his bigger and more experienced foe.
It was a consummate strap-winning performance that marked him one of the best in the world. It was also his high-water mark. A desperately close call followed with contender Takefumi Sakata; a rematch produced an equally close result. Parra and Sakata aside, a domination of Olympian Brahim Asloum is probably his best result, another unbeaten scalp belonging to a highly ranked fighter.
After that, flyweight lost him and Parra lost the essence of what made him great. A genuinely special fighter for a two-year spell, he is neither the first nor the last to be found out by a higher weight class.
#41 – Luis Ibarra (1975-1990)
 Luis Ibarra was a rather strange and beautiful fighter, styling elements of the Panamanian but very much as a part of his own idiom. At first, his approach seems insensible; tall for a flyweight he adopted a relatively deep stance, narrowed himself over his front leg and presented his jab. He then neglected to throw his jab despite a slick moving style and instead preferred power punches to body and head, leaving himself at risk despite all that innate mobility, to the attentions of his opponent's hook, especially to the body. His own hook was a strange punch, thrown long and short, all the while using the same fist to stir and feint and paw and prod with what surely should have been a stiff jab.
But whatever the detail, Ibarra came together in the ring as a strange and frightening proposition for some excellent fighters. Lacking power, he nevertheless threw with absolute commitment leading to a split pair with feared puncher and future world champion Prudencio Cardona when both were still serving their respective apprenticeships. Clearly, his eventual victory over Cardona seemed something of a graduation for Ibarra, for later that same year, 1979, he took to the ring with the superb Betulio Gonzalez (more of whom in part three) and over fifteen sizzling rounds he dominated the little Venezuelan and lifted an alphabet strap in the process. It was a masterful performance.
It was inevitable a fighter of his type would be found out but when the limited Tae-Shik Kim obliterated him in just two rounds in his very next defense, it was seen as something of a shock. Ibarra, too, believed there was more, and he proved it when he battled back to edge out a fighter even more special than Gonzalez when he sprang another surprise, this time over the Argentine legend Santos Laciar in Argentina. It made him a strapholder for a second time, and although the true title evaded him, Gonzalez and Laciar are two wins special enough to hang a strong top fifty ranking upon.
Check out more boxing news on video at The Boxing Channel  
To comment on this story in The Fight Forum CLICK HERE
Atlantic City Boxing Hall of Fame Returns plus Local Philly Fight News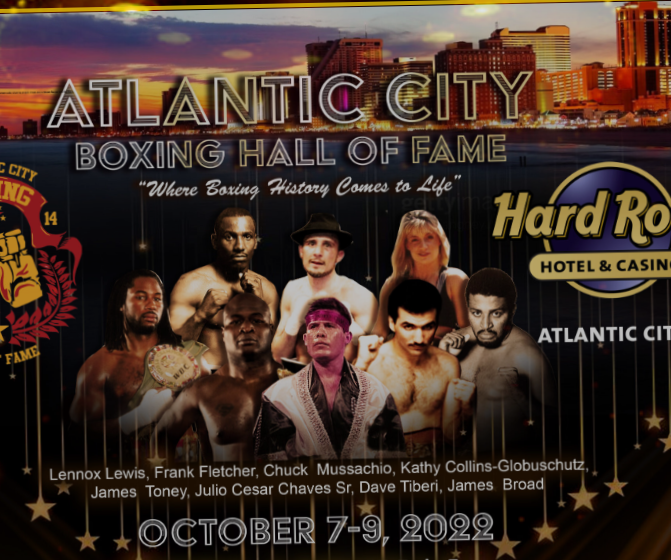 Still coming out of a global pandemic which suspended the 2020 ceremony and forced a limited version of the celebratory weekend last year, 2022 marks not only a return to normalcy for the Atlantic City Boxing Hall of Fame (ACBHOF), but it gives a chance for fans to get the full interactive experience. This year, for the first time, all of the weekend's festivities including the Induction Ceremony on Sunday, Oct. 9, will take place at one location, the Hard Rock Hotel and Casino.
"This year we are really excited about the new things we have to offer fans, while we continue to deliver the type of access we've become known for," states ACBHOF founder Ray McCline. "We want fans to understand that this weekend [second weekend of October] is going to be our home from now on. Working with Hard Rock has been special, and they've helped us with a lot of the logistics to really blend what they do [music entertainment] with the sports world and our event." After listening to McCline passionately speaking about his goal to bring the sports legends and legendary fights back to life for the proud resort city that has a special role in boxing history, a sense of relief can be heard from McCline regarding the past obstacles the ACBHOF has dealt with.
"So far each of the past weekends have had their hiccups, those things happen when you're hosting such a large event with so many moving pieces. This partnership allows for fans to come to one main site and stay immersed in all things boxing and music for the whole weekend," says McCline. From the opening V.I.P. party on Friday night to the memorabilia show that will feature interactive displays with some of the sport's legends teaching boxing basics, McCline wants the Hall of Fame Weekend to be known as the weekend when both fans and legendary boxers mingle in an up-close and personal way.
This year's class includes Lennox Lewis, James Toney, Frank Fletcher, Kathy Duva (promoter), Kevin Rooney Sr. (trainer), and Pat Lynch (manager). Except for the V.I.P. party that starts the weekend and the Induction Ceremony that closes out the weekend, every other event is free and open to the public, notes McCline.
Some tickets remain for the kick-off party and ceremony. Fans interested in attending can visit ACBHOF for all the details.
____
Marshall Kauffman's Kings Promotions is presenting a show tonight (Saturday, Oct. 1) at Philadelphia's 2300 Arena featuring bantamweight standout Christian Carto (19-1, 13 KOs) taking on his toughest test since his return. He battles Argentina's Hector Sosa (14-1, 8 KOs) the former South American super bantamweight champion. Carto is always in fan-friendly fights and with a victory over Sosa can reemerge as a potential world championship challenger soon.
Light heavyweight Atif Oberlton (6-0, 5 KOs) returns to action in the co-feature. Oberlton was an accomplished amateur and many local boxing observers are dubbing the Philadelphian a future world champion.
Next weekend, on Friday night October 7th, several staples in Philadelphia boxing return to the Xcite Event Center at Parx Casino in Bensalem. Joe Hand Promotions and Joey "Tank" Dawejko (22-10-4, 13 KOs) are teaming up with Hall of Fame promoter Russell Peltz for a night of action featuring some of the best local talent.
Dawejko, a long-time fringe heavyweight contender from the Tacony section of the city fought off any talk of retirement on Sept. 1 when he scored a fourth-round stoppage over Mike Marshall (6-3-1, 4 KOs). Dawejko was back in the ring for the first time in seven months after deciding to make one final push towards heavyweight glory.
Dawejko takes on veteran Terrell Jamal Woods (28-53-9, 20 KOs) of Forrest City, AR, in a scheduled eight-round bout. Prior to his victory over Marshall, Dawejko contemplated hanging up his gloves in favor of the roofing business that he established this year. However, after a lengthy conversation with promoter Russell Peltz, the two agreed to team up again for one last run in the sport. At just 32 years old, Dawejko has had a fruitful career and not just from a financial standpoint. He has competed all over the world and has never turned down an opportunity at a big fight, or to join top contenders and champions in their training camps.
Many of Dawejko's major career opportunities were taken at the last minute. This last push by him is about finally reaching for the one thing missing from his professional career, a gold belt that he can display that signifies that he was at one point one of the best heavyweights on the planet. Against Marshall he displayed fast hands and pin-point accuracy and his fight against Woods on Oct. 7 should be no different in terms of action and his progression.
To comment on this story in the Fight Forum CLICK HERE
Avila Perspective, Chap. 205: Zurdo Ramirez and More SoCal Fight Talk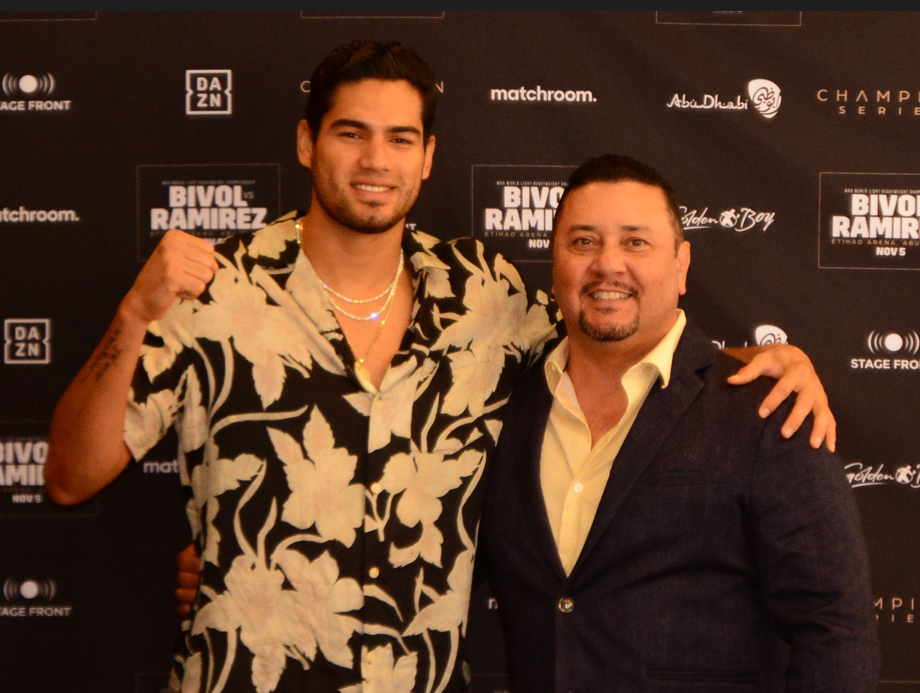 Southern California gyms are heating up even more than usual with major prize fights on the horizon in October.
Gilberto "Zurdo" Ramirez greeted media in downtown Los Angeles recently to chat about his upcoming light heavyweight world championship challenge against WBA titlist Dmitry Bivol in Dubai.
Usually, downtown L.A. is busy with walking and driving traffic, but things are not completely back to normal says the security officer at the Golden Boy Promotions headquarters. The pandemic is still in effect to a small degree.
Mexico's Ramirez (44-0, 30 KOs) signed to meet Russia's Bivol (20-0,11 KOs) on Nov. 5, at Abu Dhabi, United Arab Emirates. It's a battle of undefeated light heavyweights and round two of Mexico versus Russia.
It was a mere five months ago that Bivol hung a loss over Mexico's number one fighter Saul "Canelo" Alvarez. Now he meets Ramirez who is several inches taller than Canelo.
Ramirez (pictured with Golden Boy Promotions president Eric Gomez) trains in Los Angeles and signed with Golden Boy primarily for one reason: he wanted a crack at stardom and to fight a world champion with clout. Enter Bivol who slapped Alvarez around for 12 rounds. Neither fighter was ever in danger of going down. Bivol won by unanimous decision.
Many say Bivol was too big for Alvarez, but I think Canelo simply has slipped a little in terms of preparing properly. I call it the "silk pajama syndrome."
It's hard to get up at 5 a.m. and train when you sleep in silk pajamas. Ever since Alvarez began hanging out with the yacht club guys and playing golf on a regular basis, he's lost that hunger. If you're a prizefighter, hunger is everything.
Canelo admits he plays golf almost every day including during his training periods. He's also been seen attending Del Mar Racetrack to watch the ponies. Upper crust kind of stuff.
Ramirez, on the other hand, though he doesn't appear like the usual Mexican roughneck, has a certain schoolboy kind of look. No one would ever guess he comes from a rough Sinaloa upbringing.
Even his manner of talk has a gentle charm.
'I feel happy and excited to fight for the title with Dmitry Bivol," said Ramirez inside the Golden Boy headquarters. "I'm ready to show in this fight what I can really do. I'm ready for whatever he brings to the ring."
Both Bivol and Ramirez have sparred before.
"We didn't do a lot of sparring," said Ramirez, adding that it was enough to surmise what to expect when they meet in November.
Another who sparred Ramirez is former two-time super middleweight titlist David Benavidez. Both sparred recently and when asked who was better, Ramirez leaned toward Benavidez.
Interesting.
Zurdo and Benavidez also want a crack at Canelo the Golden Fleece of boxing. But the red head from Guadalajara has balked.
Though Benavidez and Ramirez are very good and capable of giving Canelo a struggle, neither has made a mark on sales. It's one thing to be undefeated; it's an entirely different thing to attract fans on television or sell tickets.
If Ramirez beats Bivol he is on the right path. If Benavidez, a very strong fighter, can attract a big name to enter the prize ring with him, then he too can entice Canelo to a showdown.
Jojo and Zepeda in San Diego
Another who appeared in Golden Boy headquarters were lightweight contenders Jojo Diaz and William Zepeda set to clash at the end of October in San Diego.
Diaz, a former American Olympian and two division world champion, last fought in December 2021 against Devin Haney before Haney became undisputed lightweight world champion. Diaz did far better than George Kambosos did against Haney.
The former featherweight and super featherweight world titlist showed moving up in weight was not a problem. And though he lost to Haney, he competed at a high level and landed solidly far more often than the Aussie did.
"When I looked at the tape I saw I could have done more," said Diaz (32-2-1, 15 KOs) about his loss to Haney.
Now, the South El Monte fighter has a Mexican fighter streaking toward the top in Zepeda.
Mexico City's Zepeda (26-0, 23 KOs) burst on the American scene two years ago during the height of the pandemic and soundly defeated two ranked American fighters in Roberto Ramirez and Hector Tanajara. Add two more knockout wins since then and the hard-hitting southpaw has blazed a path to the top.
Now its lefty versus lefty at the Pechanga Arena in San Diego on Saturday Oct. 29. Tickets are now on sale.
"I'm facing a very talented young fighter," said Zepeda, 26. "It can be a good victory to beat a former world champion."
Diaz, 29, expects and desires only hard fights.
"This fight represents everything. I'm coming off a defeat to Devin Haney," said Diaz. "I've got a big set of balls and love to fight the best."
It's a Golden Boy Promotions card and will also feature the return of welterweight contender Alexis Rocha.
Commerce Casino
Six undefeated prospects are set to perform on Saturday Oct. 1, at Commerce Casino in the City of Commerce, California. The boxing card is staged by Elite Promotions and Red Boxing and partnering with nonprofit Breast Cancer Angles from Los Alamitos, Calif. to support their cause.
Situated near East Los Angeles, the casino has recently become a popular location for local club shows. Doors open at 5:30 p.m.
Expected to perform on the fight card are Brandon Mendoza, Cristopher Rios, and William King. For more information contact: redboxinginternational@gmail.com.
Premier Boxing Champions
Super welterweight contenders Sebastian Fundora (19-0-1, 13 KOs) and Mexico's Carlos Ocampo (34-1, 22 KOs) meet on Saturday, Oct. 8, at Dignity Sports Park Complex in Carson, Calif. Showtime will televise the interim WBC super welterweight title fight.
Known as the "Towering Inferno" because of his 6'5" height, Fundora lives and trains in Southern California and defeated world title challenger Erikson Lubin by technical knockout last April in Las Vegas. He's trained by Ben Lira.
Tickets are on sale for the card that also features Dominican fighter Carlos Adames who upset Sergiy Derevyanchenko last December by majority decision. Adames meets Mexico's Juan Macias Montiel who battled Jermall Charlo 12 rounds and lost by decision for the WBC middleweight title.
SoCal note
Riverside's veteran trainer Willy Silva contacted us to mention his nephew Sebastian Estrada (4-0, 4 KOs) faces undefeated Fidel Samano Lopez (5-0, 4 KOs) in a battle of undefeated super lightweights on Saturday in San Luis Rio, Mexico. It's the main event.
Silva has trained many former top contenders such as Mauricio Herrera, Carlos Bojorquez, and Jose Reynoso the nephew of Saul "Canelo" Alvarez's first trainer Jose "Chepo" Reynoso.
Photo credit: Al Applerose
To comment on this story in the Fight Forum CLICK HERE
Catching up with Paul Spadafora: A New Beginning for the 'Pittsburgh Kid'?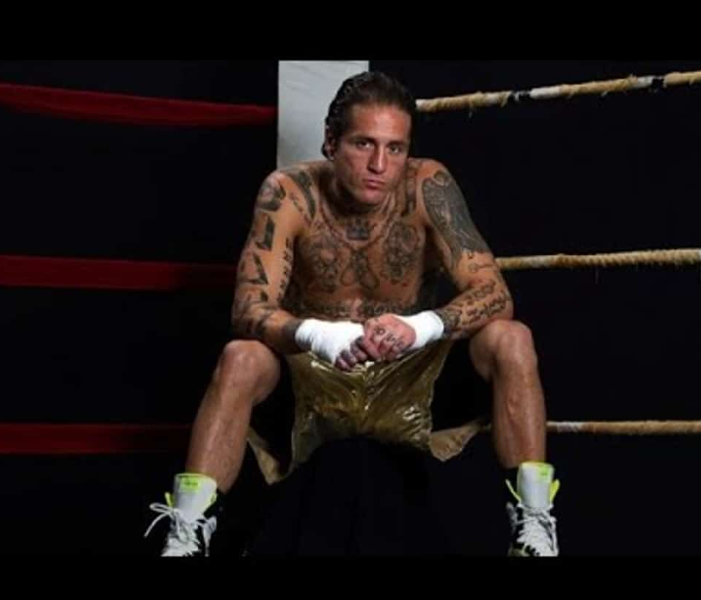 Paul Spadafora finished his career with a record of 49-1-1 that included an 8-0-1 mark in world lightweight title fights. It's a record that smacks of Marciano and Mayweather and yet when someone mentions his name to someone that follows boxing, the first thing that comes to mind is his extensive rap sheet. Many boxers had their demons. Paul Spadafora had them in spades.
Nowadays, Spadafora, the erstwhile Pittsburgh Kid, can be found in Las Vegas where he spends a portion of most afternoons at the DLX Boxing Club tutoring his 17-year-old son Geno in the finer points of the sweet science. "Paul's doing great," says Spadafora's former trainer Jesse Reid who also oversees the training of Geno who has four amateur fights under his belt.
"If it wasn't for boxing, I would be dead by now or spending my life in prison," says Spadafora who turned 47 earlier this month. And, we might add, if he were dead, the circumstances of his demise would have undoubtedly been very messy. But let's start at the beginning.
Spadafora, one might say, had boxing in his blood. His father Silvio was a regional amateur champion as was Paul's older brother Harry who took it a step further. As an amateur, competing as a light middleweight, Harry achieved a #3 national ranking. He was 3-0 with 3 kayos as a pro before quitting the sport to concentrate on raising his family.
Paul Spadafora's maternal grandfather Eugene Pelecritti also boxed and get this: the late Joey Maxim, the former light heavyweight champion who is in the Boxing Hall of Fame, is an uncle.
Scientists will tell you that a thirst for boxing cannot be passed on genetically, but some people are apparently genetically predisposed toward addiction. Paul's father Silvio, a crane operator by trade, was only 33 when he passed away. The papers said he died of a heart attack, but Paul, who was nine years old at the time, is certain it was an overdose.
A younger brother, Charlie, passed away at age 40. Charlie, says Paul, was smoking crack when he died. And Paul says his mother Annie, now 72 years old, has been a drug user most of her adult life.
Paul Spadafora dabbled in cocaine, but his preferred drug was alcohol which his lips first touched at age 6 when he shared some Italian wine with his father. Alcohol was involved in his first serious brush with the law. He and some friends went out drinking. Paul, then 19 years old, was riding in a car that ran a stop sign, begetting a high-speed police chase that ended when the car crashed into a telephone pole, whereupon one of the pursuing officers took out his handgun and fired one shot point-blank into the front passenger side of the car. The bullet lodged in Paul's left calf.
In his fighting days, Spadafora was a binge drinker. When preparing for a fight, he was as abstemious as a monk, but each victory was cause for celebration and when he celebrated the booze flowed freely.
Some drunks are happy drunks and stay happy until they fall down; others go from happy to surly where they are prone to lash out at someone at the slightest provocation, including the gendarmes if someone happens to call the cops. Spadafora once skirmished with a bevy of cops and, needless, to say, he took the worst of it. "I got Rodney Kinged," he told the noted British boxing writer and podcaster Tris Dixon, employing a very clever metaphor.
The year after he took a bullet in his calf, Spadafora was arrested for underage drinking. Other alcohol-infused arrests would follow, including arrests for disorderly conduct and public intoxication. But these were small potatoes compared with an incident in the fall of 2003 that would shadow him for the rest of his life.
Shortly before dawn on the morning of Oct. 26, 2003, at a gas station in the gritty Rust Belt western Pennsylvania town of McKees Rocks, Spadafora shot his girlfriend Nadine Russo in the chest with a handgun that he snatched from Nadine's purse. The incident, of which Spadafora has no memory, was ignited when Nadine drove over a median and flattened two of the tires on his Hummer.
Russo wasn't mortally wounded – the bullet lodged an inch below her right breast – and when she refused to testify against him, the charge against him was reduced from attempted murder to aggravated assault.
Earlier that year, Spadafora had fought a spirited fight with Romanian/Canadian tough guy Leonard Dorin on HBO. The bout was ruled a draw which enabled Paul to keep his IBF belt and his undefeated record. That would prove to be his final title fight. He had two bouts as a junior welterweight while awaiting his sentencing. The last leg of a 16-month period of confinement was spent in a military-style boot camp where Paul and his fellow inmates were required to work toward their high school equivalency diploma and undergo counseling for drug and/or alcohol abuse. While he was away, Nadine gave birth to Geno.
—
Spadafora's reckless behavior outside the ring was incongruent with the dedication he showed to his craft. "You have to throw him out of the gym to get him to leave," said his amateur coach P.K. Pecora. A natural right hander who fought as a southpaw, Spadafora was so obsessed with boxing that he once shadow-boxed for 24 straight hours. "It was just me and the mirror," he told this reporter.
Spadafora believes that the policeman who shot him robbed him of much of his power, but that it was a double-edged sword as it forced him to become more of a pure boxer. His strong suit was defense. Indeed, few were as slippery. "Boxing enthusiasts in the Pittsburgh area began comparing Spadafora's defensive skills to those of the great Willie Pep," said a story in the Pittsburgh Post-Gazette.
Spadafora's lightweight title reign began in August of 1999 with a 12-round decision over Israel Cardona. The title was vacant, having been abandoned by Shane Mosely who left the weight class to chase a fight at 140 with Oscar De La Hoya. In winning, Paul became Pittsburgh's first world boxing champion in more than 50 years, achieving parity, as it were, with the original Pittsburgh Kid, Billy Conn.
The underdog in the betting, Spadafora out-classed Cardona, winning all 12 rounds on one of the cards and 11 rounds on the others. His first title defense against Australia's Renato Cornett was even more one-sided. The Pittsburgh Kid won every round before the fight was stopped in the 11th with the Australian a bloody mess.
Spadafora's bout with Cornett was sponsored by the Pittsburgh Brewing Company which commemorated his achievements by putting the boxer's face on cans of Iron City Beer. Only a handful of local sports celebrities were accorded this honor before him, notably Pittsburgh Steelers legend Jack Lambert, coach Chuck Noll, and the club's iconic owner Art Rooney. (This is a cool collectable. When asked if he had saved any, Spadafora sheepishly said, "nope, I drank 'em all.")
Jesse Reid, who came on board before the Cardona fight, would be the longest-tenured of Spadafora's pro coaches. At various times, other notables – e.g., Emanuel Steward, Buddy McGirt, Pernell Whitaker – assumed the role of head trainer. None, however, left a more indelible impression than P.K. Pecora. The glue of Pittsburgh's amateur boxing scene, Pecora, a World War II veteran, was more than a boxing teacher; he was a surrogate father to Paul and other kids from the school of hard knocks. Sometimes when Spadafora talks about his relationship with Pecora he is reduced to tears.
Pecora passed away in 1997 at age 68 from a stroke. In tribute to him, Paul had the initials P.K. stitched on his boxing trunks. He would later have the initials inscribed on his body. (Paul Spadafora has this thing for tattoos. Journalist Sean Hamill conducted a census for a 2009 story and counted 24. Each tattoo has a story behind it.)
After his release from prison, Spadafora added 10 more "W's" to his ledger before suffering his first and only defeat, a 12-round setback to Venezuela's Johan Perez in a bout framed as a WBA 140-pound eliminator with the winner ostensibly owed a crack at Danny Garcia. One of the judges, Glenn Feldman, had it a draw, but the decision was deemed fair. Paul would have one more fight, leaving the sport on a winning note after winning an 8-rounder on a low-budget show at Pittsburgh's Rivers Casino.
Boxers are by nature notorious alibi-makers. Every defeat has its roots in an extenuating circumstance. When we asked Spadafora what went wrong in the Johan Perez fight – a pre-existing injury, perhaps, or maybe dissension in his camp — we were surprised by his response. "Nothing went wrong," he said. "Everybody did their job right, except me. I just lost, that's all."
Paul Spadafora had one ring engagement that has achieved cult status. In December of 1999, shortly before his match with Renato Cornett, he sparred six rounds in headgear with Floyd Mayweather Jr at a gym in North Las Vegas. The session was recorded and although we have never seen the tape, we will accept as gospel the oft-repeated story that the Pittsburgh Kid was clearly superior.
"I believe that cost me a fight with Floyd," says Paul. "He learned that there were easier options out there." Other potential mega-fights never materialized because, in his words, "I kept self-sabotaging myself."
Is it too late to reprise another Spadafora-Mayweather match-up? How about an exhibition with oversized gloves? If Floyd is going to continue his charade of fighting obscure Japanese MMA fighters and intrepid you-tubers, perhaps he owes it to the fans to man-up once in a while and have a go with someone who just may prove to be in his league. Granted, nobody with any sense wants to see boxers in their mid-40s taking more blows to the head, but Paul and Floyd, steadfast gym rats, are in remarkable shape for their age and there is a precedent for it. When future Hall of Famers Jeff Fenech and Azumah Nelson concluded their trilogy in a legitimate 10-round prizefight, Fenech was 44 and Azumah almost 50.
Our interview with Spadafora accorded him an opportunity to call out Mayweather and potentially get the ball rolling, but he wouldn't take the bait. "It would be a privilege to get back in the ring with one of the best boxers, if not the best, in the history of the sport," he says matter-of-factly, "but I'm not a 'call-out' kind of guy."
—-
Paul Spadafora's travails continued in retirement. In December of 2016, he stabbed his half-brother Charlie in the leg during a fracas at the home of his mother. No one came forward to post his $100,000 bail and he spent Christmas in the Allegheny County Jail. More recently he was arrested following an altercation at a tavern in the blue-collar Pittsburgh suburb of Crafton.
His relationship with Nadine seems to have mellowed after years of tumult. She was in Las Vegas for seven years working in a wellness clinic before Paul quit his job as a tree surgeon and came west to join her. The four of them — Paul and Nadine and Geno and the family dog, a very large pit bull that Paul named Tiny – are living under the same roof once again.
Who knows what the future holds for Paul Spadafora, but at the moment he seems to be in a good place. This story may yet have a happy ending.
To comment on this story in the Fight Forum CLICK HERE
Arne K. Lang's latest book, titled "George Dixon, Terry McGovern and the Culture of Boxing in America, 1890-1910," has rolled off the press. Published by McFarland, the book can be ordered directly from the publisher (https://mcfarlandbooks.com/product/clash-of-the-little-giants) or via Amazon.