The Fifty Greatest Flyweights of All Time: Part One 50-41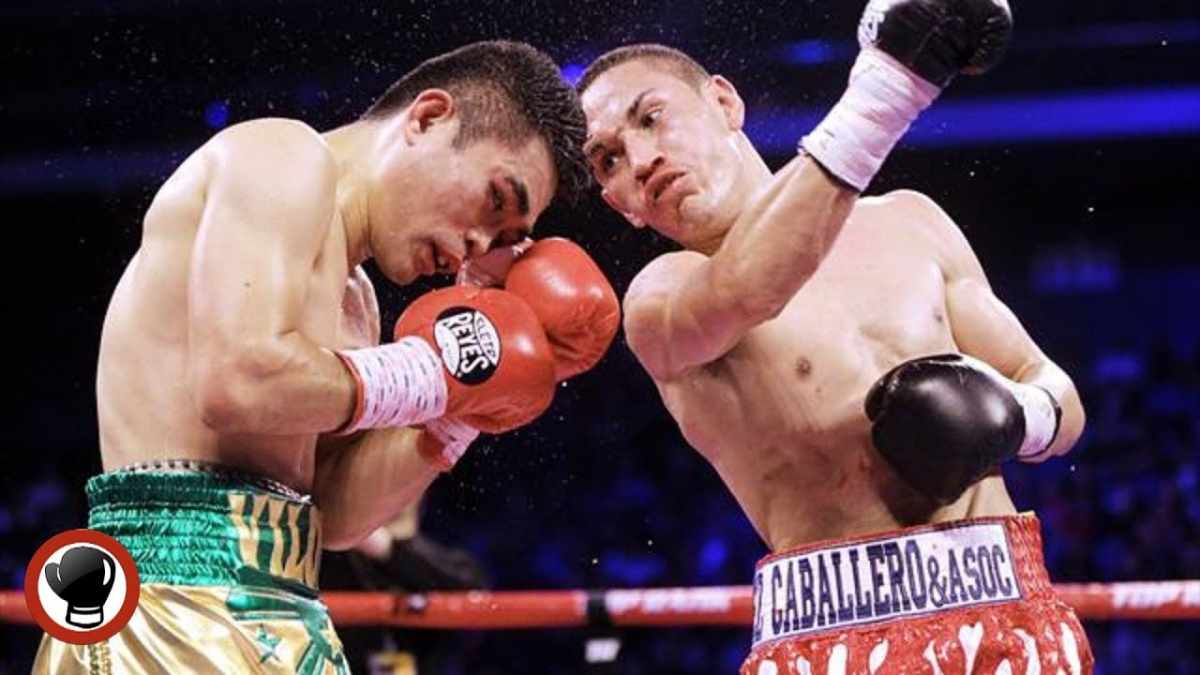 The Fifty Greatest Flyweights of All Time: Part One 50-41
Research on the greatest heavyweights of all time was easy. Fire up YouTube or Dailymotion, watch the career-defining fights of a given contender, compare and contrast, order and write-up, delivered.
By lightweight, things were considerably more difficult.
This is to do with a diminishing interest in boxers by size. It is literally the case that available information is reduced coextensively with the poundage of the fighters in question. By the time I was involved with the bantamweights, things had become extremely difficult, unwholesomely greedy of my time and actually rather expensive.
Needless to say, the flyweights have been even more demanding.
The temptation to cut corners was, at times, enormous, but I allowed myself only one of meaning: this list is cognitive only of flyweights who fought from the Jimmy Wilde title reign to the present day. While every one of these projects has had a cut-off, flyweight's is the most recent, the World War I era.  Partly, this is due to the absurd difficulty in researching 1900 contenders of this size but it is in the main due to uncertainty surrounding the poundage. Flyweight was paperweight for a long time and paperweight was never better than partially established globally. Tough on Johnny Coulon, but there it is.
Otherwise, the flyweight list has been put together under the same rules as governed the others. First and foremost, it should be stated the list considers only fights that took place at flyweight or just above.  So a 108lb fighter boxing in 2017 is a light-fly but a 108lb fighter boxing in 1925 was a flyweight, because light-fly did not then exist. This is an appraisal of flyweight in the truest sense, as it existed in boxing history.
Most important in conducting these appraisals: who a fighter beat and how he beat them. Secondarily, what was a fighter's status in his own era? Was he a lineal champion? A belt-holder? Or just a brilliant contender who amassed a wonderful body of work in his forlorn hunt for the title?
Lastly, skillset as it appears on film and head-to-head considerations, the most speculative of criteria, are taken into account.
With that out of the way, here we go, for the last time a divisional top fifty, this one more obscure, unexpected and mysterious than any that has gone before.
The flyweights; this is how I have them:
#50 – Corporal Izzy Schwartz (1921-1932)
Izzy Schwartz lost thirty-two fights.  The good news: many of these were above flyweight.  The bad news: many of them were not and he was as likely to drop a decision to an unheard-of novice as he was an all-time great monster.
What gets Schwartz over the line despite this litany of losses is two things.  First, he took some really, really impressive names in his career; secondly, flyweight rather bizarrely drops off a cliff after #49 leaving me with about twenty good candidates for #50 and no outstanding ones.
But if you're going to compromise on your gatekeeper to greatness, it might as well be for a fighter who defeated old-time legends like Black Bill and Willie Davies, men you have either heard of or will in the course of this series. Supplementary wins over future bantamweight beast Newsboy Brown and ranked men John McCoy and Ernie Jarvis do him absolutely no harm either.
It's worth noting, of course, that Bill and Davies both avenged themselves on the Corporal four times over but also that he was a man who never shirked a challenge.
An air of respectability rather than true wonder purveys a career that was carried out between the two world wars and saw him share the ring with a generation of great flyweights. Noteworthy for his speed, he is also a fighter who completely lacked power, scoring a mere handful of knockouts.  A powerful Schwartz would have been a wonderful thing.
49 – Little Pancho (1927-1942)
 The younger half-brother of the immortal Pancho Villa, Eulogio Villaruel Tingson was bequeathed the catchier moniker "Little Pancho" in a nod to his much more powerful, much more brilliant relation.
But Pancho, for all that he is not the best fighter in his family, was one of the best flyweights of his era.  He lost twice to the great Midget Wolgast in 1932 and a decade later was beaten by the deadly bantamweight Manuel Ortiz. In between he drifted to and from flyweight and the poundage that would become superfly, which left a rather confounded shade to his legacy – but Pancho did good work while he flitted to and from.
He also managed to meet and defeat a boxer once in the class of Wolgast, the shadow of the fighter once known as Frankie Genaro. Pressuring, harassing, and finally cutting the old man he forced him to quit after the eighth.
Genaro makes the bedrock of a fine resume, but he was unranked and basically washed up at the time of his defeat. Pancho though, picked off several other good fighters in the course of his prolonged career, including Joe Mendiola (who he bested no fewer than three times), Jackie Jurich (who holds a precious victory over Manuel Ortiz) and the colorfully named Small Montana, also a ranked fighter.
A failed single tilt at a strap underlined his limitations, a ten-round draw with Little Dado in 1940 the closest he came to that glory.
#48 – Brian Viloria (2001-Active)
Brian Viloria (pictured above on left), now a shell of his former self, still trades on the name that once bought a sigh of contentment from your hardcore purist.
Never the lineal flyweight champion, he was nevertheless arguably the best flyweight in the world for a brief period in 2012, before Juan Francisco Estrada sent him back on his heels and Roman Gonzalez finished the job by way of ninth round stoppage.
So never better than the third most impressive flyweight of his era, Viloria nevertheless did enough to creep in to the fifty, preferred to old timers like Sid Smith and Jackie Brown and near-peers like Donnie Nietes and Akira Yaegashi. Based upon his high level of operations in 2011-2012, this is justified.
Julio Cesar Miranda, a storm of pressure and gloves, represented the beginning of Viloria's summit as he out-manned and out-fought his highly ranked Mexican opponent in a glorious slugfest. 108lb champion and pound-for-pounder Giovani Segura was dispatched that December by fast handed bunches of punches that cut and broke him before he was stopped in eight.
The jewel in the crown of his resume, however, is his 2012 destruction of Hernan Marquez. Marquez, himself a brief contender for this Top Fifty, was the world's #1 contender when Viloria, one of America's most underrated pugilists, ushered him from that spot via tenth round technical knockout.
Viloria is easy to hit for an elite flyweight and this cost him against the best but a combination of fast hands, great punch selection and unerring accuracy certainly forms an impressive first line of defence; quick feet spares his often poor spatial awareness; he could hit and he could certainly box.
Unlucky to run into two monsters in Estrada and Gonzalez, another era may have been kinder to him, and seen him earn a higher berth here.
#47 – Juan Francisco Estrada (2008-Active)
Juan Francisco Estrada nips in ahead of Brian Viloria by virtue of the most old-fashioned and perhaps best of reasons: he beat him.
The two met in April of 2013 in what was, for eight rounds, one of the great flyweight contests of this decade. Estrada, beautifully compact, the less expansive of the two despite his being the rangier, was a little spooked by Viloria's layers early. The more experienced Hawaiian gave ground and countered to dangerous effect, rounding the relatively inexperienced Estrada up with virtual threats and feints.  Estrada screwed the nut and by the ninth, having split, on my card, the first eight with his opponent, began to dominate. It was a glorious combination of will and skill, burnished by one of the beautiful left hands of our time; a great jab and a honeyed uppercut that makes me blink every time I see it landed.
Estrada (pictured above on the right) drove Viloria to the very edge and only heart and experience got him to the final bell in a borderline great fight.
Giovani Segura and Milan Milendo were the other major scalps of a truncated flyweight career. Estrada has spent time at both 108 and 115lbs making his flyweight career too short to rank him any higher here but it should be noted that he emerged from his three year stay at flyweight undefeated.
#46 – Gabriel Bernal (1974-1992)
Gabriel Bernal, a southpaw out of Guerrero, is one of the least heralded Mexican champions and in many ways it is not difficult to see why. Bernal was something of a soft-touch as a championship opponent, having lost eight fights before getting his shot at Koji Kobayashi in 1984. He made only a single successful defense before running into the punching machine Sot Chitalada. His final paper record of 43-14-3 perhaps does not lend itself to the hero worship reserved for Mexico's more admired kings.
Bernal did do two things so worthy of note, however, that his inclusion here cannot be seen as controversial. First, in 1981, he scraped past the immortal Miguel Canto over ten rounds to go 1-1 in a two fight series with the living legend. The truth is, I can't tell you whether or not Canto inhabits the number one spot at this time, because I don't know, but if he isn't #1 he will be close. True, Canto had faded from the shining brilliance of his prime, but he was still a ranked fighter in the early 1980s and one that had only been defeated by two men, both champions, since 1970.
Secondly, when he did get that shot at Kobayashi and the title, he knocked the champion out in just two rounds. Nobody had done that to the Japanese since the wonderful Jiro Watanabe turned the trick in Kobayashi's ninth fight. Bernal's free-swinging, full-hearted attack prostrated him quite literally face-first into the canvas for the first knockdown before depositing him neatly into the prayer position for the stoppage. It was one of the most stunning knockouts of the eighties.
#45 – Dado Marino (1941-1952)
Dado Marino was another wonderful but flawed fighter out of Hawaii; he retired thirty years before Brian Viloria was born. He ruled as the flyweight champion of the world between 1950 and 1952.
An inconsistent and frequent visitor at bantamweight, when he showed the discipline to make the 112lb limit he morphed into a different animal, one that was impossible to stop and difficult even to dent, one who threw a confused and frothy tide of punches inside and out, as direct and aggressive a fighter who has appeared at the weight.
Nevertheless, he requires that juicy three calendar-year title reign in order to make the fifty. His legacy rests heavily upon two wins over Terry Allen, the Brit he wrenched the championship from in 1950 with some vicious right-handed punching in the middle rounds.
Apart from his two impressive defeats of Allen, his resume is underwhelming, a dubious disqualification win over Rinty Monaghan probably his next best. The loss of his title to Yoshio Shirai followed by a failed attempt to reclaim it mirrored his own conquest of Allen and sent Marino into retirement.
There will be more of Yoshio Shirai in coming weeks.
#44 – Sid Smith (1907-1919)
Sid Smith is most famous, if he is famous at all, for being one of Jimmy Wilde's many victims, but that is a little unfair. Smith was a centurion of pioneer boxing, taking part in more than a hundred contests and winning eighty-five of them.
Wilde crushed him three times between 1914 and 1916, but that aside, Smith's results against the best of his era was more than respectable. First among them are his 1913 victory over French idol Eugene Criqui, who he defeated by twenty round decision in Paris in April, and his victory, less than forty days later, over Englishman Joe Symonds, who he defeated over fifteen in his hometown of Plymouth. Smith, a Londoner, reached his beautiful peak with these two fights.
"Since the Americans have not yet seen fit to recognise [a flyweight champion]," wrote Boxing of Smith's fight victory over Criqui, "Smith now has every right to the…championship of the world."
Wilde would have plenty to say about that, of course, but Smith scored wins over the cream of European competition, and as intimated by Boxing, Europe was then the world as far as flyweights were concerned.
Smith deserves wider recognition than as a footnote to the career of Jimmy Wilde.
#43 – Joe Symonds (1910-1924)
Joe Symonds, as detailed above, was beaten by Sid Smith, but avenged himself eighteen months later; no rubber match was made and so the head-to-head question remains unanswered.
Neither did Symonds have more meaningful success against Jimmy Wilde, the bane of a talented batch of European flyweights, although he did make the fifteen-round distance with Jimmy, something Smith never did manage.
Symonds struggled with the brutal Percy Jones, losing a series to him on the eve of World War I, but Smith never met with Jones, making any comparison impossible.
What sets Symonds apart is his 1915 victory over Tancy Lee.
Lee was the best of Wilde's flyweight foes, but Symonds got him out of there in the first of their two contests, staged in 1915. 5'1", Symonds was nevertheless physical enough to find himself boxing at featherweight before his career was over and it was above 120lbs that most of his 29 recorded losses were suffered, so it perhaps shouldn't be surprising that once he got Lee on the hook he didn't let him off. Pressure and volume brought him a priceless stoppage win over a man who had scored a stoppage against Jimmy Wilde nine months earlier.
Lee scored his revenge, but not at the flyweight limit.
It is a win that buys Symonds several spots on this list, and more importantly separates him from his old enemy Smith.
#42 – Lorenzo Parra (1999-Active)
One of the saddest sights the ring brought us in 2018 was that of Lorenzo Parra, gut spilling over his trunks, a twenty-year professional campaign behind him, seeking desperately for the spark of timing that made him memorable in the 1990s. He buckled in three rounds for a 0-0 prospect named Arsen Garibian.
Parra's career above 112lbs has been a bad joke. When he departed the flyweight division in 2005 his record was 28-0.  His record now reads 32-18-2. He hasn't so much tarnished his legacy as filled it with gunpowder and set it on fire.
Between 1999 and 2005, however, this was a man to be reckoned with.
Venezuelan by birth, Parra stayed home until he was 21-0, fattening his record on soft opposition, but when he landed in Puerto Rico in December of 2003, he made his mark. Eric Morel, then 33-0, himself a contender for this list, was favored to turn back the young pretender despite his burgeoning reputation as a puncher.
Parra did land a knock-down quality punch, in the third round, but through the tenth it was his boxing that marked him. Fleet and fast-handed, he out-skilled, out-moved and in the final two rounds when his engine betrayed him, out-gutted his bigger and more experienced foe.
It was a consummate strap-winning performance that marked him one of the best in the world. It was also his high-water mark. A desperately close call followed with contender Takefumi Sakata; a rematch produced an equally close result. Parra and Sakata aside, a domination of Olympian Brahim Asloum is probably his best result, another unbeaten scalp belonging to a highly ranked fighter.
After that, flyweight lost him and Parra lost the essence of what made him great. A genuinely special fighter for a two-year spell, he is neither the first nor the last to be found out by a higher weight class.
#41 – Luis Ibarra (1975-1990)
 Luis Ibarra was a rather strange and beautiful fighter, styling elements of the Panamanian but very much as a part of his own idiom. At first, his approach seems insensible; tall for a flyweight he adopted a relatively deep stance, narrowed himself over his front leg and presented his jab. He then neglected to throw his jab despite a slick moving style and instead preferred power punches to body and head, leaving himself at risk despite all that innate mobility, to the attentions of his opponent's hook, especially to the body. His own hook was a strange punch, thrown long and short, all the while using the same fist to stir and feint and paw and prod with what surely should have been a stiff jab.
But whatever the detail, Ibarra came together in the ring as a strange and frightening proposition for some excellent fighters. Lacking power, he nevertheless threw with absolute commitment leading to a split pair with feared puncher and future world champion Prudencio Cardona when both were still serving their respective apprenticeships. Clearly, his eventual victory over Cardona seemed something of a graduation for Ibarra, for later that same year, 1979, he took to the ring with the superb Betulio Gonzalez (more of whom in part three) and over fifteen sizzling rounds he dominated the little Venezuelan and lifted an alphabet strap in the process. It was a masterful performance.
It was inevitable a fighter of his type would be found out but when the limited Tae-Shik Kim obliterated him in just two rounds in his very next defense, it was seen as something of a shock. Ibarra, too, believed there was more, and he proved it when he battled back to edge out a fighter even more special than Gonzalez when he sprang another surprise, this time over the Argentine legend Santos Laciar in Argentina. It made him a strapholder for a second time, and although the true title evaded him, Gonzalez and Laciar are two wins special enough to hang a strong top fifty ranking upon.
Check out more boxing news on video at The Boxing Channel 
To comment on this story in The Fight Forum CLICK HERE
Boxing Odds and Ends: Ramirez-Postol, Taylor-Serrano and More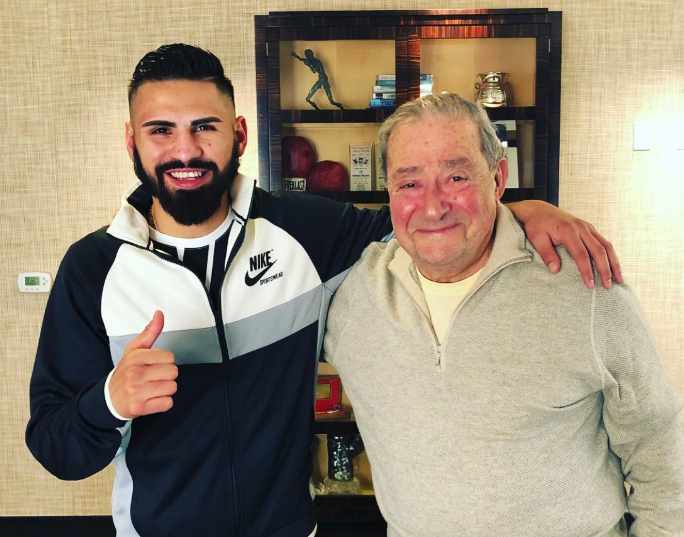 It takes a strong constitution to be a boxing promoter because things always go wrong. The only law that governs boxing is Murphy's Law.
Carl Frampton's first fight under the Top Rank banner was slated for Aug. 10 of last year in Philadelphia. With the fight five days away, Frampton suffered a freak injury while sitting in a hotel lobby. A boy playing behind a curtain knocked over a seven-foot pillar which fell on Frampton's left hand, fracturing it.
This was the second time that a Frampton fight was knocked out by a freak injury. Two years earlier, a homecoming fight in Belfast had to be scrapped when Frampton's opponent, Andres Gutierrez, slipped in the shower in his hotel on the eve of the battle and suffered severe facial injuries.
The latest bout to fall out because of an odd development is Jose Ramirez's Feb. 2 WBC/WBO lightweight title defense against Viktor Postol at a Chinese golf resort south of Hong Kong. The event fell victim to the coronavirus, more exactly the fear it has instilled.
The virus, which produces flu-like symptoms that are resistant to conventional antibiotics, apparently originated at an outdoor food market in the city of Wuhan where live animals are sold. The numbers vary with each new story, but according to one account there have been 444 confirmed cases in Hubei province, of which Wuhan is the capital city, and 653 cases worldwide including two in the United States, a man in his 30's living near Seattle and a Chicago woman in her 60's.
The fear of a pandemic (an epidemic becomes a pandemic when it spreads across multiple geographic regions of the world) has led to some drastic measures. The Chinese government has reportedly put 12 cities on lockdown, blocking traffic in and out. At many airports, visitors arriving from China are being screened. There are now thermal cameras than can record a person's body temperature remotely.
Jose Ramirez (pictured with his promoter Bob Arum) was scheduled to leave for China yesterday (Jan. 23) but was intercepted. Viktor Postol is already there and apparently stranded until an outgoing flight can be arranged.
The Ramirez-Postol fight was to air on ESPN. No make-up date has been set.
– – –
British promoter Eddie Hearn says he's close to finalizing a fight between Katie Taylor and Amanda Serrano. Hearn says the fight will take place in the U.S. in April. It figures that Madison Square Garden is the frontrunner.
If the fight comes off on schedule, this will be the biggest women's fight in history!
That's because the odds attached to the fight figure to be in the "pick-'em" range and that guarantees that boxing writers and others in the boxing community will be surveyed to get their picks – about which there figures to be considerable disagreement – and that will greatly enhance the pre-fight buzz.
Taylor, 33, last fought in November in Manchester, England, advancing her record to 15-0 (6 KOs) with a unanimous decision over Christina Linardatou, a fighter from Greece via the Dominican Republic. It was Taylor's first fight at 140 after previously unifying the lightweight title with a hard-fought decision over Belgium's Delfine Persoon.
Amanda Serrano, a 31-year-old southpaw, born in Puerto Rico and raised in Brooklyn, has won titles in five weight divisions. She last fought as a featherweight, turning away gritty Heather Hardy, but has competed as high as 140. Boasting a 37-1-1 record, she's won 23 straight, 18 by stoppage, 10 in the opening round
What sets women boxers apart from their male counterparts is that the women have a significantly lower knockout ratio. Amanda Serrano is the glaring exception.
Despite a less eye-catching record, Taylor has arguably fought the stiffer competition considering her extensive amateur background. As a pro, her victims include Cindy Serrano, Amanda's older sister by six years. Taylor whitewashed her in a match at Boston Garden, prompting the elder Serrano sister to call it a career.
– – –
The most bizarre (non)story to appear in a boxing web site this week involved former unified heavyweight champion Riddick Bowe. A man representing Bowe, identified as Eli Karabell, was frustrated because Eddie Hearn wasn't returning his calls. Karabell had offered Hearn the right of first refusal on Bowe's next fight.
Bowe, now 51 years old, last fought in a boxing ring in 2008 when he returned to the sport after a three-and-half year absence for an 8-round bout in Germany. In 2013, he appeared in a kickboxing fight in Thailand where he was stopped in the second round after being knocked down five times by leg kicks.
"Will there be another chapter to write for Bowe?" concluded the author of this piece.
Egads, let's hope not.
Check out more boxing news on video at The Boxing Channel 
To comment on this story in The Fight Forum CLICK HERE
Boxing Odds and Ends: Crawford, Canelo, Caleb Plant and More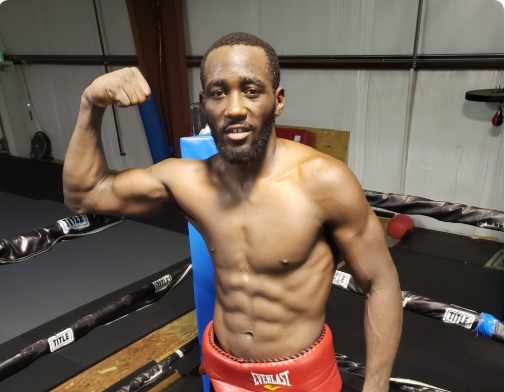 Boxing Odds and Ends: Crawford, Canelo, Caleb Plant and More
Although a lot of disinformation comes out of the mouths of boxing promoters, Bob Arum was apparently serious when he broached the idea of a two-fight series between Terence Crawford and Conor McGregor, the first fight to be conducted under MMA rules and the second under boxing rules.
Crawford is amenable. "I just have to have the proper time to prepare myself," he told ESPN's Dan Rafael. "…I haven't been in that (wrestling) environment in a long time, but most definitely I feel I can compete with anyone given the proper time to train on the MMA side, being that I have a wrestling background."
Crawford, 32, last wrestled in middle school so he would certainly need a refresher course. However, he would have a better chance of defeating Conor McGregor in an MMA match than McGregor would have of defeating him in a boxing match. So, if Arum's proposed two-fight series ever comes off, the tailpiece may be unnecessary.
– – –
As first reported by ESPN's Steve Kim, Andy Ruiz Jr. has dumped trainer Manny Robles. According to Kim's report, Ruiz's father informed Robles of the decision and said it was Al Haymon's idea.
Andy Ruiz appears to be one of those people that can gain weight just looking at food. He weighed 297 ½ pounds for his pro debut at age 19, carried 268 pounds for his first meeting with Anthony Joshua, and ballooned up to 283 ½ for the rematch after leading reporters to believe that he had actually slimmed down for the sequel.
Ruiz, noted Kim, went from a feel-good story to a cautionary tale in just six months.
– – –
Who ya' gonna believe?
A certain disreputable web site, bragging that it had an exclusive, told its readers that Canelo Alvarez had settled on Billy Joe Saunders as his next opponent and that they would meet on Cinco de Mayo in Las Vegas. The next day, Sports Illustrated's Chris Mannix, a far more trustworthy source, reported that Ryota Murata had emerged as the frontrunner and that negotiations were underway to stage the fight in Japan.
Perhaps it makes sense for Canelo to promote his brand in a new market. However, if he fights Murata, who holds a WBA belt, he would reportedly be dropping back to 160 and at age 29 he appears to have outgrown the weight class.
Stay tuned.
– – –
If Caleb Plant were an NBA player, his name would be Kevin Love. Plant, who recently married FOX/PBC reporter Jordan Hardy, is the only U.S.-born, non-Hispanic white person among the various champions in the 17 weight divisions.
Plant, who hails from tiny Ashland City, Tenn. (23 miles from Nashville) defends his IBF super middleweight title on Feb. 15 at Nashville's 20,000-seat Bridgestone Arena. In the opposite corner will be Germany's Vincent Feigenbutz who will be making his U.S. debut.
The 24-year-old Feigenbutz, who turned pro at age 16, has won 10 straight and 30 of his last 31. He represents a big step up in class from Plant's last opponent, Mike Lee, who was in way over his head.
– – –
A sad note from South Africa: Five days after the death of trailblazer Peter Mathebula, his widow, Emma Gabaitsiwe Mathebula, died suddenly of an apparent heart attack. Peter Mathebula's funeral, originally set for Saturday, has been pushed back until Tuesday and will now be a joint funeral.
Mathebula, who won the WBA world flyweight title in 1980, basically died a pauper, having sold all of  his boxing memorabilia to keep his head above water. His heirs had reached out to the government for assistance in defraying the costs of his burial.
Check out more boxing news on video at The Boxing Channel 
To comment on this story in The Fight Forum CLICK HERE
Avila Perspective, Chap. 82: Jason Quigley Returns to SoCal and More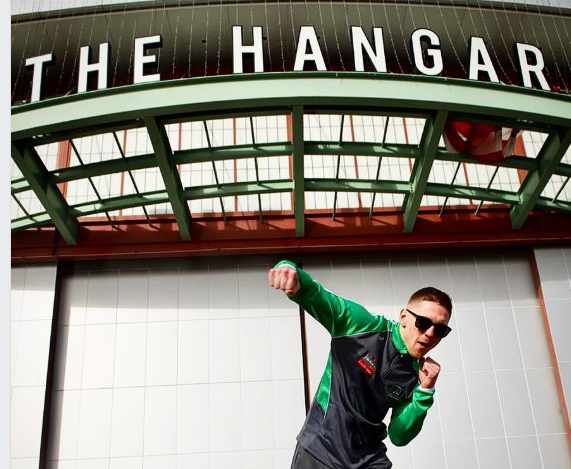 Southern California prizefighting heats up with Jason Quigley headlining a fight card in Orange County and then, two days later, another fight card takes place in the heart of Los Angeles.
Ireland's Quigley (17-1, 13 KOs) faces Mexico's Fernando Marin (16-4-3, 12 KOs) on Thursday Jan. 23, at the OC Hangar in Costa Mesa, Calif. DAZN will stream the Golden Boy Promotions fight card live.
Quigley, 28, seeks to reclaim territory lost when he suffered a defeat last July against Tureano Johnson. Ironically, Marin would lose 10 days later in Hollywood to super welterweight contender Serhii Bohachuk.
For several years Quigley had trained in Southern California but decided to change trainers and location. He moved to Great Britain and still prepares near his native country but primarily fights in the U.S.
At one time Quigley clamored for a match against Gennady "GGG" Golovkin or Saul "Canelo" Alvarez but now finds himself trying to prove he belongs in the upper tier of the middleweight division. It's loaded with talent.
Also on the same fight card will be popular North Hollywood super welterweight Ferdinand Kerobyan who was headed to contender status when he ran into Blair "the Flair" Cobbs. At the time Cobbs was an unknown quantity but no longer.
Kerobyan (13-1, 8 KOs) meets Azael Cosio (21-8-2) in an eight-round clash in the semi-main event at OC Hangar. Doors open at 5 p.m.
Red Boxing International
On Saturday Jan. 27, Red Boxing International hosts its first boxing card of the year at Leonardo's Night Club located at 6617 Wilson Ave. L.A. 90001. Doors open at 5 p.m.
Super welterweight Bryan Flores (13-1, 6 KOs) meets Brandon Baue (15-17) in the main event  in the first event of the year for the ambitious promotion company. For the past two years Flores fought primarily in Tijuana, Mexico where he racked up six wins. Now he's back on Southern California soil.
Another match features lightweights Angel Israel Rodriguez (5-0) facing off against Braulio Avila (3-6) in a six-round fight.
Rodriguez fights out of Pico Rivera, Calif. but recently fought in Costa Rica where he won by first round knockout in November. He will be fighting Avila who just fought two weeks ago at the Chumash Casino in Santa Ynez, Calif.
It's a long fight card with 11 bouts on the schedule.
JRock and Rosario
Boxing fans received another lesson on never underestimating a ranked contender regardless of the name recognition.
Jeison Rosario knocked out Julian "J Rock" Williams who was making the first defense of the WBA and IBF super welterweight world titles he won last year in my selection as "Fight of the Year."
Rosario walked in with little recognition and was thought to be a soggy piece of bread for Williams. The long armed Dominican fighter walloped Williams in front of his hometown fans in Philadelphia. It was yet another warning for fans to understand that anyone who steps in the boxing ring ranked as a contender can do the unthinkable. In this case Rosario knocked out the champion in five rounds.
Many felt Williams was far too skilled, especially on the inside where he showcased those skills last May against former titlist Jarret Hurd. It was a remarkable display of the art of inside fighting. But against Rosario, he never got a chance to exhibit those skills.
The loaded super welterweight division has another dangerous champion in Rosario.
Fights to Watch
Thurs. 6 p.m. DAZN – Jason Quigley (17-1) vs Fernando Marin (16-4-3).
Sat. 6 p.m. Showtime – Danny Garcia (35-2) vs Ivan Redkach (23-4-1).
Check out more boxing news on video at The Boxing Channel 
To comment on this story in The Fight Forum CLICK HERE