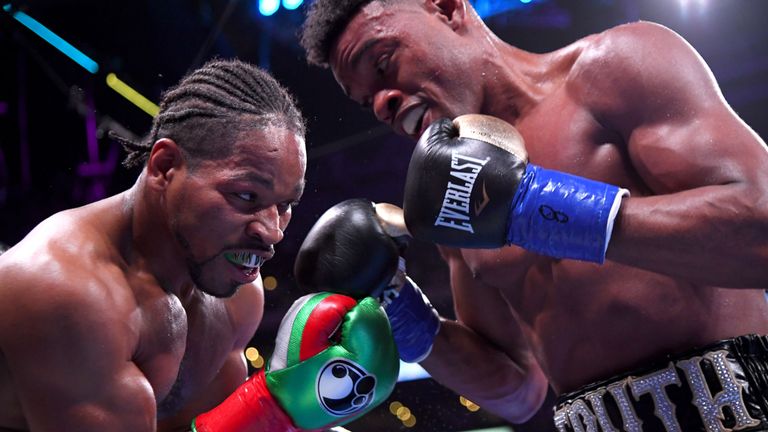 Tales from L.A.
One of the best welterweight title clashes in recent years took place as Errol Spence Jr. connected with a single sidewinder left cross to Shawn Porter's chin and put him down. It proved to be the difference in their back and forth tussle at Staples Center.
It also climaxed a long week of media luncheons, workouts and photographic opportunities that spearheaded the PBC on Fox fight card last week in the city of Los Angeles.
That was only part of the story.
Because of the magnitude of the championship card that also featured super welterweights David Benavidez, Anthony Dirrell, Mario Barrios, Josesito Lopez and John Molina, a horde of boxing writers, photographers and videographers ascended to the second largest city in the U.S. from all parts of the world.
Wednesday's Recon  
Big fight cards similar to last week's action bring the best of the best in reporting in the boxing world. Reporters descended from far away countries like Great Britain, Japan, Mexico and other nations to watch the heavy-duty boxing lineup that featured mostly 50-50 fights.
The media center was located in the Inter-Continental Hotel on Figueroa Street in downtown L.A. It's about five city blocks from the Staples Center and accessible by subway if you have a hotel in Hollywood, Long Beach, East L.A. or Pasadena. The media hotel had a rooftop bar 70 stories up that allows you one of the most impressive views of the surrounding areas including a spectacular view of the Pacific Ocean.
First to greet me at the media hotel was Tim Smith a former ace reporter for the New York Daily News who now heads the Premier Boxing Champions communications team. Few know the boxing game as well as the former New Yorker.
"O.G.!" shouted Smith when I entered the room filled with other reporters.
It takes an OG to recognize an OG.
Smith knows everybody in the boxing world and if you don't know who Smith is, well, you better ask somebody.
Inside one of the banquet rooms several of the featured fighters gathered inside to meet the press. In a very informal setting people with video cameras, microphones and cell phones surrounded each of the boxers in the room depending on their importance.
Anthony Dirrell was surrounded by 30 or more reporters as I entered the room that measured about the size of a Major League Baseball infield. He talked about defending the WBC super middleweight title and other boxing aspects.
Dirrell has been boxing for many more years than most of the other participants with the exception of Josesito Lopez and Robert "The Ghost" Guerrero who began several years earlier.
It brought back fond memories to see these three members of the old guard.
Club Show Days
One major flaw with many of the top boxing reporters has always been their refusal to watch club shows from the smaller boxing promotion outfits. Southern California has a number of promotion companies that put on club shows every month.
These small club shows are where you can first discover the future gems of tomorrow.
Most of the top boxing writers come from newspapers or major magazines that only focus on major boxing stars that appear on televised cards. By the time they see the fighters many of them have been written about for years by those covering the club fight scene.
Discovering fighters at the beginning of their journeys in four-round fights provides invaluable background and insight. If a writer covers boxers at the beginning of their journeys, there are no surprises when they reach the championship level.
The gems stand out. But sometimes the hidden gems need a little dusting off to reach the top.
Anthony Dirrell was one of those who seemed to get lost in the shadow of his brother Andre Dirrell. But the Flint, Michigan native always had that extra toughness you needed to withstand the pain that made others quit.
The first time I got a glimpse of both Dirrells was on a boxing card at Pechanga Resort and Casino in Temecula, Calif. back in 2006. It was a Goossen-Tutor Card and that night Anthony Dirrell waxed somebody in one round.
Four months later I saw Dirrell again at the Staples Center when fellow Michigan fighter James "Lights Out" Toney fought Samuel Peter in a heavyweight fight. Robert "The Ghost" Guerrero fought that same night and won the IBF featherweight world title. After that fight card we ran into Guerrero at The Pantry which was the only downtown restaurant that was open after 11 p.m. in L.A. back in 2006.
Guerrero was another one of those boxers that I saw in his pro debut back in April 2001. I remember it vividly because in the co-main event Hector Camacho Jr. arrived sitting atop a large snorting camel at Fantasy Springs Casino. Some things you never forget. Though Camacho never achieved the greatness most predicted for him, Guerrero achieved status as one of the best pound for pound fighters when he met Floyd Mayweather in the boxing ring in 2013.
Josesito Lopez is another who I personally saw in the boxing ring as a youngster even before he became a professional. The Riverside-based fighter always showed grit and super human determination. It's amazing to watch athletes like Lopez rise from amateur to star status where they are part of a pay-per-view card that also attracted more than 16,000 fans to the Staples Center.
Watching Dirrell, Lopez and Guerrero rise through the ranks of the professional fight world from beginning to end gives a reporter an overall perspective that can't be taught.
The main event fighters Spence and Porter were another two whose rise to the top were different. Spence was part of Team USA in 2012 and was picked up by Al Haymon as a professional. I saw his first three pro fights including his debut at Fantasy Springs Casino in November 2012 that featured Gary Russell Jr. in the main event. Most of the fighters on the Golden Boy Promotions fight card that night were signed by Haymon, but not all would remain.
Porter differed from Spence. He fought his way out of the Midwest boxing cards and the first time I saw him fight was against former two-time lightweight world champion Julio Diaz at the LA Memorial Sports Arena in 2012. Diaz proved too crafty for Porter and though the fight ended in a draw it easily could have been a loss for the Ohioan. Their rematch proved different and showed that Porter could adapt and evolve as he dominated Diaz at the Hard Rock Hotel in Las Vegas the next year.
Caplan
After the sizzling PBC fight card at Staples Center I ventured over to the Palm Restaurant located on Flower Avenue, a block east of the Staples Center. I was invited personally by super publicist Bill Caplan for a dinner party by the WBC.
I met Mr. Caplan around 1993 when he was the top publicist for Top Rank and they were promoting a slew of prospects including Oscar De La Hoya. Well, Oscar wasn't just a prospect but a former Olympic gold medalist who a year earlier emerged victorious in Barcelona, Spain.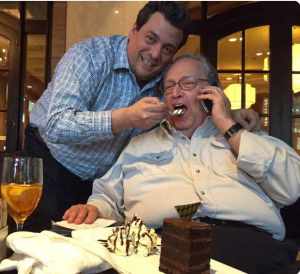 Few know the boxing world as well as Mr. Caplan (pictured hamming it up with WBC President Mauricio Sulaiman). He's been involved in the boxing world as a publicist since the 1960s and worked with Aileen Eaton, Don Chargin, Don King, Bob Arum and now De La Hoya's Golden Boy Promotions.
"I was with Don King when he first started his promotion company," said Caplan about the rise of King, one of the most recognizable figures in the boxing world.
Caplan also works for the World Boxing Council that coordinates the rankings and rules for world championship fights around the world. Right now the Mexico City-based organization has established VADA drug testing for all championship fights including women.
Sitting and talking with Caplan about boxing in the past and present has always been one of the treasured moments for me. Who else can talk about meeting with the original "Golden Boy" Art Aragon or his buddy Bennie Georgino a former boxing manager and promoter?
One man we shared tales about was the late Luis Magana who would have been right in the thick of the conversation with his own tales. The dapper gentleman from Mexico was a predecessor of Caplan and served as the Spanish publicist for the Olympic Auditorium during his days from the 1930s until the 1980s. He passed away 11 years ago in his mid-90s.
Caplan has been part of some incredible moments too. During his time, he's watched the boxing masses get their results from magazines, newspapers, radio to television and now through internet streaming spanning more than 60 years. He's a treasure and one of the kindest gentlemen in the hardscrabble world of pro boxing.
Moments like these with Caplan and others are part of the boxing that make you realize that it's a very unique world. No other sport has a history as rich as prizefighting with the exception of Major League Baseball. Other sports are relatively new when compared to professional boxing that can be traced back hundreds of years.
Prizefighting has a lengthy history with unique personalities like Bill Caplan who keep the lineage of the sport enriched and thriving.
Last Saturday night, we spoke about several other moments in boxing but those are tales for another day.
Check out more boxing news on video at The Boxing Channel  
To comment on this story in The Fight Forum CLICK HERE
Harper and Jonas Battle to a Draw in Episode 2 of 'Matchroom Fight Camp'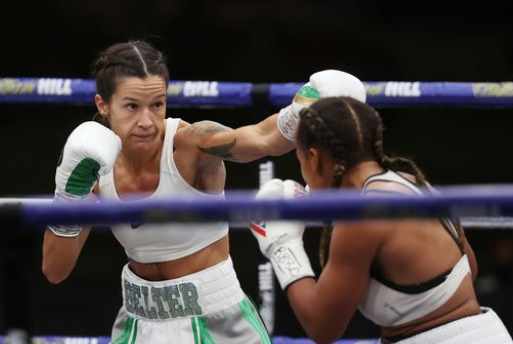 The second edition of Eddie Hearn's "Fight Camp" summer series unfolded today in the backyard of the mansion that serves as the Matchroom Sport headquarters in Brentwood, Essex, England. The main event was ostensibly the 12-round bout for the Commonwealth cruiserweight title between Chris Billam-Smith and Nathan Thorley, but most of the pre-event talk was about the women's match between Terri Harper and Natasha Jonas which went last in the program. Harper was making the first defense of the WBC world super featherweight title that she took from long-reigning title-holder Ewa Wahlstrom in February.
Harper vs. Jonas, originally scheduled for April 24, was the first-ever female world title fight between two Brits and it proved to be a very entertaining scuffle, building on the momentum of the inaugural Fight Camp offering last Saturday when Ted Cheeseman and Sam Eggington put on a splendid show.
When the smoke cleared, Terri Harper retained her belt by virtue of earning a draw, but the question of which English boxer was superior remained unanswered.
At age 23, Harper was younger by 13 years, but Liverpool's Jonas, a 2012 Olympian, had the stronger amateur pedigree. Jonas started fast but Harper had the edge plus youth on her side as the bout wended into the final furlongs. In round eight, however, Jonas rocked her with a left-right combination and she hurt her again in the next round.
Harper had to dig deep in the final round to arrest the momentum and she rose to the occasion, staving off defeat. The judges had it 96-94 for Harper, 96-95 for Jonas, and 95-95.
Harper remained undefeated at 11-0. It was the second loss for Jonas in 11 pro fights.
Terri Harper is a good human interest story. Before she was coaxed out of retirement in 2017, she was peeling potatoes in a fish and chips shop in her hometown of Denaby in County Yorkshire. As for her next fight, she now has three apparent options: a unification fight with Poland's Ewa Brodnicka, the WBO belt-holder and a recent Matchroom signee, a match with Mikaela Mayer (Brodnicka's "mandatory"), or a rematch with Natasha Jonas. Whatever develops, her next match will be eagerly anticipated.
Other Bouts
The fight between Chris Billam-Smith and Nathan Thorley, which actually went second in the bout order, was a soft defense for Billam-Smith. Trained by Shane McGuigan, Billam-Smith (11-1, 10 KOs) blasted out Thorley in the second round. He ended the one-sided scrap with a short right hand as Thorley was boring in, knocking him to his knees. Thorley beat the count, but his legs were unsteady and the referee properly stopped it.
A 27-year-old Welshman, Thorley came in undefeated (14-0), but he had been feasting on slop – his previous opponents were collectively 106-549 – and the result wasn't unexpected. The official time was 2:05.
In a 10-round contest in the super-welterweight division, Liverpool's Anthony Fowler, another Shane McGuigan protégé, improved to 13-1 (10) with a seventh-round stoppage of game but out-gunned Adam Harper (9-2). Fowler, a gold medal winner at the 2014 Commonwealth Games as a middleweight, had no fear of the light-punching Harper and was in full control from the get-go. His lone defeat came by split decision to rising contender Scott Fitzgerald.
In a featherweight contest, 20-year-old Leeds southpaw Ivan "Hopey" Price improved to 3-0 with a 6-round shutout over Jonny Phillips (5-5).
A fifth fight, a scheduled 8-round clash between lightweights Kane Baker and Aqib Fiaz, was canceled when Fiaz took ill.
Check out more boxing news on video at The Boxing Channel 
To comment on this story in the Fight Forum CLICK HERE
Avila Perspective, Chap. 100: Global Impact of Prizefighting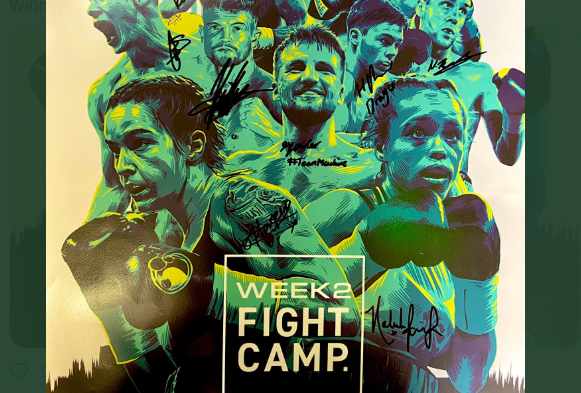 Boxing is huge.
Unknown to many, professional prizefighting extends to almost every country on this planet. Only soccer exceeds it in appeal.
Prizefighting could very well be the very first professional sport ever established in history. Scholars of history concur.
This weekend you can get a taste of boxing's reach to other parts of the world.
London, England will be boxing central on Friday Aug. 7.
DAZN will be streaming a Matchroom Boxing fight card that features cruiserweights Chris Billiam-Smith (10-1) and Nathan Thorley (14-0) battling for the Commonwealth cruiserweight title. It's an eight-hour time difference between London and Los Angeles, California where the start time will be 11 a.m.
The main feature, however, pits WBC super featherweight titlist Terri Harper (10-0) against Olympian Natasha Jonas (9-1) in a 10-round bout. Both of these fights take place at Fight Camp, the home of promoter Eddie Hearn.
If the set up looks familiar, years ago America's Hugh Hefner used to stage boxing cards at his home, the Playboy Mansion in Beverly Hills, California. The late magazine mogul loved the sport and invited many of his friends in the entertainment industry to watch prizefighting. People watching from their living rooms saw via television the rich enjoying their riches.
It's the closest I will ever come to being rich.
One of the first events I ever saw at the Playboy Mansion showcased female fighters. Hefner was a true believer in female boxing and always included a female bout if possible. It was one of his stipulations.
Daytime Boxing
This Friday morning on the West Coast, boxing fans get an opportunity to re-visit an outdoor setting similar to the Playboy Mansion fights. DAZN will be streaming the card live from England.
If Americans think they are the only boxing fans in the world, well, they definitely are not.
When it comes to boxing, the Brits, Irish, Scots, Welsh and neighboring countries all love boxing more than Americans do. Even when you go further east into Poland, Romania, Ukraine, Russia and all the other countries that used to be part of the defunct Soviet Union, they all love boxing. Let me reiterate, they love boxing.
In America, we're accustomed to acknowledging that Mexicans love boxing as well as the Cubans and Puerto Ricans. But when it comes down to it, all of Latin America loves boxing. It comes second to soccer but that's it. Boxing is a staple in Latin America.
In the good ole U.S. of A. the majority of people – including newspaper editors – favor team sports. Individual sports like tennis, track and field, and prizefighting take a back seat on newspapers or television network sports news.
But when boxing or MMA comes on a television screen or is scheduled for an arena, the American fans of those sports come out rain or shine.
Pacific Ocean and Other Areas
Across the Pacific, in the Australia and Asian continents, boxing also has a firm grip. Smaller weight classes have been dominated by Japanese, Korean and Philippine fighters for years.
They love boxing too.
A dream of mine has always been to see a fight card at Tokyo's Korakuen Hall. Japanese boxing fans are able to watch boxing almost every week at the legendary fight palace.
Asia has always produced great fighters in the lower weight classes.
Manny Pacquiao arrived more than 20 years ago barely a blip on the boxing radar. Who would have guessed he would be revered as one of the greatest fighters of his generation?
Can American fight fans imagine what the boxing world would be like without fighters from other countries?
Imagine boxing without Saul "Canelo" Alvarez, Gennady "GGG" Golovkin, Tyson Fury, Anthony Joshua, Vasyl Lomachenko, Naoya Inoue or Roman Gonzalez. It's easy to forget that all of these fighters mentioned are not from the USA. Each has fought many times in front of American audiences.
In America, we fail to realize we don't have a monopoly on talent.
Last week, both DAZN and Showtime placed fight cards on the same day. DAZN started early and brought a thoroughly entertaining boxing card including a possible Fight of the Year between super welterweights that saw Ted Cheeseman win over Sam Eggington after 12 raucous rounds of action.
Later, on the same night, Showtime brought super bantamweights, and boxing fans got a look at new WBO super bantamweight title winner Angelo Leo win by decision over last-minute entry Tramaine Williams. The replacement fighter accepted the challenge after scheduled fighter Stephen Fulton tested positive for the coronavirus.
Saturday Expectations
On Saturday night, Showtime returns with super tall welterweight Jamal James (26-1, 12 KOs) meeting Thomas Dulorme (25-3-1, 16 KOs) at the Microsoft Theater in downtown Los Angeles.
Both James and Dulorme suffered losses to Yordenis Ugas.
It's a shame that the virus has shut down audiences throughout the world. Los Angeles would have been eager to watch this event, especially in the heart of downtown. Rumors spreading are that one or two major fight cards will be held in L.A. later in the year.
Fans can watch on television as Dulorme and James battle to see who can crack that top 10 tier of welterweights. Dulorme miraculously salvaged a draw against Jessie Vargas when they fought by scoring a knockdown late in their fight. James has beaten solid competition but no one convincingly. This is an opportunity for either fighter to prove his worth.
To comment in this story in the Fight Forum CLICK HERE
Pete Hamill Was Much More Than a Boxing Writer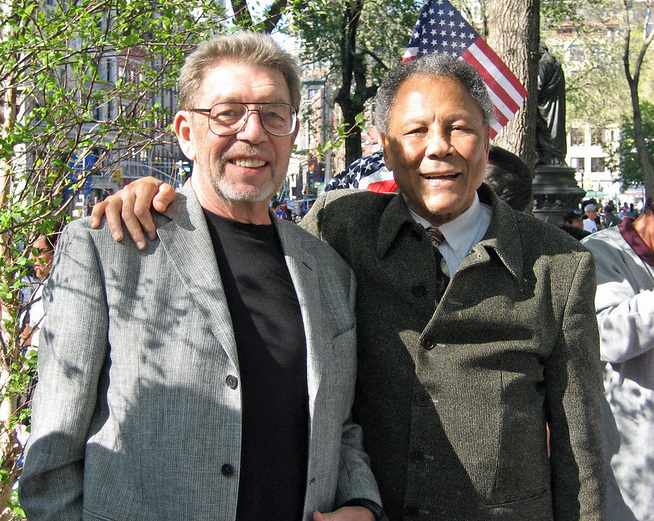 Pete Hamill was one of my heroes. It pains me to write that the legendary journalist died today, Aug. 5, at age 85.
Hamill grew up in the Park Slope section of Brooklyn, the oldest of seven children of an immigrant from Belfast who lost a leg to an injury suffered in a semi-pro soccer game. Like much of gentrified Brooklyn, Park Slope is a trendy neighborhood, but that certainly wasn't true during Hamill's boyhood when the air was ripe with the scent of the heavily polluted Gowanus Canal.
In one of his early non-fiction books, Hamill recollected the time during his adolescence when he called an acquaintance a kike while the Hamill family was gathered around the dinner table. This angered his father who reached over and slapped him. "Benny Leonard was a kike," snarled the elder Hamill, referencing the esteemed 1920s-era lightweight champion. Awkward language aside, the old man was teaching his son something about the importance of respecting people of all backgrounds – and indirectly something about the nobility of prizefighters.
Hamill would write that in his blue-collar Brooklyn neighborhood in the years after World War II, there were only two sports that mattered: baseball and boxing. The institutions in his community, he wrote, were the factory, the church, the police station, the saloon, and the boxing gym. "There were fights in old dance halls, in bankrupt skating rinks, in National Guard armories, all of them serving as farm clubs for the big arena: Madison Square Garden."
In his teens, Hamill took to hanging around boxing gyms. He befriended Jose Torres (pictured with Hamill in their later years) before Torres turned pro. Once he became established as a journalist, Hamill encouraged Jose's literary ambitions and Torres, who won the world light heavyweight title under the tutelage of Cus D'Amato, went on to become a writer of considerable repute, "Boxing's Renaissance Man."
In a 1996 piece for Esquire, Hamill wrote, "I came to believe that fighters themselves were among the best human beings I knew. They were mercifully free of the macho bull**** that stains so many professional athletes. They were gentle in a manly way." But by then Hamill had become disillusioned with boxing, viewing it as the detritus of a less advanced age. The tipping point was a dinner he attended where everybody tried to avoid looking directly at the guest of honor, Muhammad Ali, whose tremors were so bad that he was unable to lift a piece of chicken to his mouth. But Hamill continued to turn up at some of the big fights.
A high school dropout, Hamill briefly occupied the top editor's chair at New York's two major dailies, the Post and the Daily News. His published works include ten novels, more than a hundred magazine stories, two memoirs (one of which, "Downtown: My Manhattan," serves as an excellent travel guide for anyone visiting New York), and several teleplays including the boxing-themed "Flesh and Blood" which was adapted by CBS into a two-part, four-hour telecast with a young Denzell Washington in a supporting role.
I once had the privilege of having lunch with Pete Hamill. The invitation came from my friend Harvey Rothman, rest his soul. Harvey had been the entertainment director at Caesars Palace when the Miami mob ran the joint and was unceremoniously dumped and left to his own wiles when the mob was kicked out. Hamill was in town to research "The Neon Empire," a crime drama about Las Vegas commissioned by Showtime. The three of us had lunch at Caesars Palace and, if memory serves, Pete and I covered the tab as Harvey's comping privileges had been revoked.
At the time, I didn't know much about Hamill. My only recollection of him was seeing him on the David Susskind Show, a TV talk show in New York that dealt with current affairs. I don't remember much of what was said at our luncheon other than we reminisced about New Orleans where we had both hung our hat for a spell. He was disappointed to learn that Sidney's News Stand on Decatur Street was gone and the property had morphed into a seedy liquor store.
I would later learn that we had much in common other than the fact we were both born in Brooklyn (I grew up on Long Island so I wasn't an authentic Brooklynite). During our early teen years, we both discovered the world of books through the novels of James T. Farrell, the great Chicago writer (long out of vogue) whose masterwork was the "Studs Lonigan Trilogy."
Pete and I met up again when I hosted a late-night sports talk radio show in the Sportsbook of the old Stardust Hotel. My guest that night was the fabled boxing press agent Harold Conrad (purportedly the inspiration for the Humphrey Bogart character in the movie "The Harder They Fall"), who was then working for Don King. To my great surprise, Conrad arrived with Pete Hamill. Harold was then in his seventies and his memory was starting to fail him. Hamill could foresee that there would be some pregnant moments during the show if I didn't have someone else to bounce questions off.
When someone dies at a ripe old age, it's normal to say that he led a full life. But it's hard to imagine anyone leading a life as full as the life that Pete Hamill led.
He was there marching along and taking notes as Dr. Martin Luther King led a march from Memphis to Jackson. He was there in Belfast at the height of "the troubles." He was there when Bobby Kennedy was assassinated and helped subdue the attacker. He was on assignment in lower Manhattan when terrorists took down the World Trade Center and then spent the next 11 days documenting the recovery efforts. He dated Shirley MacLaine and Jackie Onassis. And, of course, he was ringside for the Fight of the Century, the first meeting between Muhammad Ali and Joe Frazier. Writing for Harper's Bazaar, he called it the most spectacular event in sports history and no one who was there that night would disagree.
Pete Hamill was Forrest Gump. At the moments that define the timeline of my generation, he was seemingly always there.
Pete Hamill is survived by his second wife, journalist Fukiko Aoki, two daughters and a grandson. His eldest daughter Deirdre, a travel photojournalist based in Arizona, worked for a brief time at the Las Vegas Sun where she honed her craft covering the club fights. Pete's brother Denis Hamill, younger than Pete by 17 years, is also a noted journalist.
Hamill, who was suffering from diabetes and using a walker, died in his bed at New York Presbyterian / Brooklyn Methodist hospital where he had gone after breaking his hip in a fall. The hospital is located in Park Slope. The well-traveled Pete Hamill had come full circle.
To comment on this story in The Fight Forum CLICK HERE