Proposals for Boxing Movies: Part Two (L-W) of Our Latest TSS Survey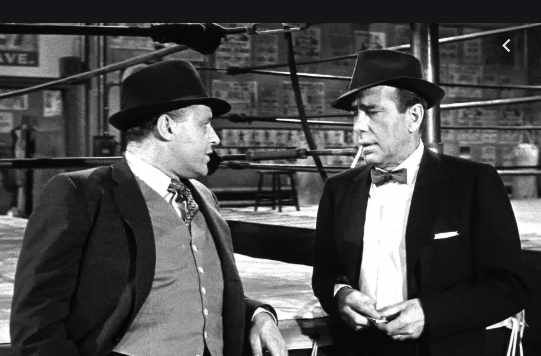 The question for our final quarterly survey of 2019 was this: "If you were to make a boxing movie, what would the subject be? How might you title it (optional)?" This question touched a nerve with many of our respondents as it generated our best response ever; nearly 60 people made suggestions, some very detailed. The turnout dictated that we publish the results of the survey in two parts. If you missed Part One, check it out here.
JIM LAMPLEY– linchpin of the HBO announcing team for 31 years; 2015 IBHOF inductee: The heavyweight nineties, from Tyson-Spinks in '88 to Lewis-Tyson in '02, with all the characters and the crazy ups and downs that subject entails.
ARNE LANG-TSS editor-in-chief, author, historian: The great sportswriter John Lardner authored two magazine pieces that are among the most anthologized stories in all of sports. His story about the Dempsey-Gibbons debacle in Shelby, Montana, ran in the The New Yorker in 1948. Lardner's profile of Stanley Ketchel, the Michigan Assassin, appeared in True magazine in 1954. Both have the makings of excellent movies. If forced to choose, I might go with "Shelby." This would be the perfect vehicle for George Roy Hill who directed "The Sting" with Paul Newman and Robert Redford, one of my all-time favorites. Unfortunately, Mr. Hill is deceased.
JIMMY LANGE — former fighter and promoter: I'd do a movie about a professional "opponent"…. someone who is a legit pro who knows he is brought in to lose. Not a fixed fight but a fight to help a prospect along. There are many interesting journeymen like Emanuel Augustus, Gerald Reed, Bruce "The Mouse" Straus, Reggie Strickland and hundreds more. This also would provide insight into the business of boxing.
RON LIPTON — member of NJ Boxing Hall of Fame, former fighter, retired police officer; pro referee: The movie I want to be made is one that WILL be made on my book still in progress, which is private and copyrighted intellectual property. Part of my book embraces the visceral behind-the-scenes accounts of my career as a referee in professional boxing, what I have witnessed as to what influences the assignment making process in big fights, the politics involved and how it has influenced the outcome of the big fights, along with in-the-ring experiences. There is also an interest in a separate high-profile documentary as to the actual boxing backgrounds of the people involved, how they arrived in that position and how they personally handled it. All on invulnerable legal ground buttressed with actual film footage.
PAUL MAGNO — author, writer and boxing official in Mexico: There are lots of movies to be made, lots of interesting characters and stories. I've always imagined, though, a great movie coming from the life and times of "The Drunken Master" Emanuel Augustus. What a character, what a career! I'd want the movie to touch on everything—fixes, robberies, triumphs, and the real-life battles of a fighter who never had the "right" connections and who kept getting pulled to the side of the road on his ride to the top.
DON MAJESKI — matchmaker, historian and affiliated with RING 8 and the NYSBHOF: I'd do a movie about Joe Gans. He was considered, by many, as greatest lightweight of the first half of the 20th Century and on par with Duran, Benny Leonard and the undefeated Packey McFarland as the greatest lightweight of all time. His bout with Battling Nelson in Goldfield, Nevada was one of the most historically significant in boxing. It was a $40,000 promotion where film rights were essential to the gate and it ushered in the career of Tex Rickard. He was victimized by racism, was involved in a notorious alleged "fix" against Terry McGovern, was the highest paid athlete in America at one point and died at the age of 37 – one of the most revered boxers of all time.
ADEYINKA MAKINDE — U.K. barrister, author and contributor to the Cambridge Companion to Boxing: I'd make a movie on Frankie DePaula, the Jersey City-born pugilist who was murdered in 1970. It would be a stunning, true-life drama of hubris, corruption, betrayal, and murder set against the backdrop of the sport of boxing and the world of the Mafia. DePaula was the archetypal juvenile delinquent; a kid from "Dead End" who is good-looking and charismatic. A street fighter cum pro-boxer who numbers Sinatra among his admirers. Frankie Valli and Joe Namath are close friends. But he's a tortured soul and prone to trouble. Add in the mix a cast of characters such as the Humphrey Bogart-look-a-like priest who seeks to reform the adolescent wastrel, the physically irresistible 'Mafia Princess' who effortlessly lures him to his doom, 'Jimmy Nap', the gambling kingpin who is a force in the boxing world in the 1960s, and FBI agents who probe his involvement in a fixed world title bout and we have a dramatic rendition of the 'American Dream' gone wrong. Based on the book "JERSEY BOY: The Life and Mob Slaying of Frankie DePaula," a movie would bear the raw components of "Rocky" meets "Raging Bull" on the "Mean Street(s)" of Jersey City.
SCOOP MALINOWSKI — boxing writer and author, Mr. "Biofile": "Andrew Golota: The Uncrowned Champion." A Don King quote after the Ruiz and Byrd robberies. A fascinating, intriguing character in and out of the ring. Maybe the understatement of the decade.
LARRY MERCHANT– HBO boxing commentator emeritus; 2009 IBHOF inductee: I'd want a feature-length documentary on Tyson Fury. His life as an Irish Traveler (gypsy), raised in a clan of fighters. His professional career, climaxed by fights vs. W. Klitschko and D. Wilder (including rematch to come). His problems after Klitschko: addiction, weight. His difficulty adapting to social norms of Britain after gaining fame. His big, colorful personality. His comeback.
ROBERT MLADINICH — writer, author, former fighter. I have two choices. One would be called "Hard Luck," about the travels and travails of the fighting Quarry family. The second would be "Misdemeanor Homicide," about the circumstances surrounding heavyweight Tim "Doc" Anderson shooting to death his manager, Rick "Elvis" Parker.
ERNEST MORALES (aka Geno Febus) — former fighter, writer: The events and controversy leading up to the one of boxing's most famous and scariest knockouts of our time. Marquez vs Manny 4 and aftermath!! First a review of the rivalry, the three close/controversial endings, including the national pride and opinions of both countries and heritages before the fight. Then the AFTERMATH in the ring and dressing rooms, the scenes of the fighter, fans and Mexicans celebrating and the teams, fans and country in mourning after the final, forever-remembered fight.
HARRY OTTY – boxing historian; his newest book is "The Tragedy of the Hogue Twins":  I would have to go with Charley Burley – uncrowned welterweight and middleweight champion of the
world who campaigned from 1936 to 1950.
The life of Burley – who campaigned from 1936 to 1950 – is a great story. As a star amateur, he was
invited to box-off for a berth at the 1936 Berlin Olympics. However, he declined to take part due to the
racial and religious persecution taking part in Nazi Germany at the time. He attended an alternate event in Barcelona and ended up being one of the first Americans to be in the middle of the Spanish Civil War.
Originally fighting out of Pittsburgh, Burley beat local favorites Fritzie Zivic (twice) and Billy Soose and fought many of the top black fighters of the day, including Archie Moore – dropping Archie three times en-route to a comfortable 10 round win in Hollywood in 1944.
Burley was avoided by many top-flight fighters as he was deemed a high-risk for a low reward. He eventually had to take on a job with the city and worked as a garbage man for many years. Burley was the
inspiration for Pittsburgh playwright August Wilson's main character (Troy Maxon) in the play 'Fences'  – recently made into a movie with Denzel Washington in the lead role.
CARLOS PALOMINO– former World Welterweight Champion and 2004 IBHOF inductee: I have a deal with a production Company to do my life story. The title is "Palomino."
GENE PANTALONE — historian, writer and author of "Boxing Ring to Battlefield: The Life of War Hero" Lew Jenkins: Lew Jenkins. Hall of Fame writer W.C. Heinz, who died in 2006, kept trying to get someone to do it, he thought Clint Eastwood would be best. Heinz was in touch with Jenkins' family until the end. John Huston wanted to do it in the 60s. Also, Steve McQueen, Charles Bronson, and James Garner met with Jenkins to discuss a movie, but it never happened.
DENNIS RAPPAPORT — former co-manager of Gerry Cooney, among others; elite promoter: These are just a few from the top of my head. The Hitman's Son, the story of former heavyweight Jack O'Halloran, boxer, actor and son of Albert Anastasia. The Pearl of the Ghetto, the life and times of Benny Leonard. The Fighting Hobo, the Jack Dempsey Story, the Fighting Socialite, the Gene Tunney Story. The Collector, The Life and Death of Sonny Liston. Sweet as Sugar, The Ray Robinson Story. And from Hell And Back-The Orphan; The World Champion; The Scintillating Drama and The Return to Heartache, Heartbreak and Agony; that was The Living Nightmare—the Story of Saad Muhammad.
JOHN RASPANTI– lead writer/editor for MaxBoxing; author: A movie about the colorful and talented Billy Conn would be fantastic. Billy not only came close to beating Joe Louis, but fell in love at first sight, and also got into a fist fight with his future father-in-law! (among other things). Most people have forgotten that Billy was light heavyweight champion of the world. He beat Melio Bettina, Gus Lesnevich, Bob Pastor, Lee Savold and Tony Zale. His love affair with future and forever wife Mary was extraordinary. They were completely devoted to each other. His friendship with Louis endured till Louis passed away. His life had many ups and downs, but Conn fought till the end. ​​Carmine Vingo, who fought Rocky Marciano in 1949, and almost died, is also someone who's a movie in the making. I'm likely going to write about him.
FRED ROMANO — boxing historian, author and former HBO Boxing consultant: A biography of Sugar Ray Robinson is long overdue. Perhaps the greatest boxer ever, he had a dynamic personality, and was also a WW 2 vet and a fair entertainer to boot. It defies logic as to why his story has not made it to the big screen. Although a couple of Louis films have been made, it has been a remarkable 65 years since the last. Like Robbie, his story is begging to be told by the modern filmmaker. Title would be "Pound for Pound."
LEE SAMUELS — legendary Top Rank publicist; 2019 IBHOF inductee: A movie about Caesars Palace the Home of Champions – with mega fights held for years in a 24,000 outdoor arena headlined by Muhammad Ali, Marvin Hagler, Sugar Ray Leonard, Thomas Hitman Hearns with Hagler vs Hearns arguably the best, most heated brutal action fight of our time. Title would be "Hail Caesar!"
TED SARES — TSS writer: Tony Veranis often sparred with Joe "The Baron" Barboza, Eddie "Bulldog" Connors, Jimmy Connors (Eddie's brother), Rocco "Rocky" DiSiglio, George Holden, and Americo "Rico" Sacramone. Southie's Tommy Sullivan also found his way into this mix. The thing about these guys was that in addition to being well known Boston area boxers, each was brutally murdered between 1966 and 1976. Tony was an extremely active fighter but also brash. He mouthed off once too often and was blown away by James Martorano-aka "The Basin Street Butcher." The twists and turns in this one match those of "The Friends of Eddie Coyle." Title: "The Friends of Tony Veranis."
ICEMAN JOHN SCULLY — all things in boxing: I'd like to see a movie about Alexis Arguello and his involvement in fighting against the powers in Nicaragua. Title: "The Humble Warrior"
PETER SILKOV — writer and keeper of "The Boxing Glove": There are many untold stories in boxing and I think the film industry tends to go for the more mundane stories.  If I had to choose just one fighter for a biopic/film, it would be Matthew Saad Muhammad, and I'd call it something like 'Saad: The Story of Boxing's Miracle Fighter"…  close second would be Bobby Chacon "The School Boy"..
MIKE SILVER — author, historian: There is a great movie (documentary) to be made of my book, "The Arc of Boxing: The Rise and Decline of the Sweet Science"–but I'd re-title it for the movies as, "What the Hell Happened to Boxing!"
ALAN SWYER — filmmaker, writer, and producer of the acclaimed El Boxeo: I'd depict the life of a great boxer who was forced by politics to relocate to another country and reinvent himself from Cuban to Mexican, all the while demonstrating how and why boxing is called "The Sweet Science." The man? Jose Napoles. The title? "Mantequilla."
DON TRELLA — boxing Judge, member of CT Boxing Hall of Fame: I'd say Arturo Gatti. He was a fan favorite because of his lion sized heart in the ring. The ending of course would continue to leave us in suspense as to what really happened to end his life. Hard to believe that a fighter such as Gatti who never had any "quit" in him would take his own life. Maybe the title should be "Never Say Die – the Arturo Gatti Story"
HAROLD WESTON — former fighter and two-time world title challenger: Two people that a movie should be told: My "big brother" Emile Griffith and me, Harold Weston. Two great stories are there waiting to be filmed.
PETER WOOD — author, writer and former fighter: The film's title: Broken Boxers. Two eight-year-old boys—innocent Raoul, (growing up in Tehran, Iran), and happy-go-lucky Jack, (growing up in Topeka, Kansas)—meet 15 years later in a boxing ring. Neither boy is still innocent or happy-go-lucky–or emotionally healthy. Why? Raoul is the victim of an American drone attack in Tehran, and Jack is the casualty of a heinous terrorist attack in Topeka.  Raoul is now missing half his left arm, and Jack is missing his right leg. Despite their grim handicaps, both boys were drawn to boxing in order to learn how to fight and, to purge the poison of anger, hate, fear and sadness within themselves. Two nations—and the entire world—watch as these two damaged, yet gallant men, advance to the finals of a bloody boxing match. The bell rings! At the end of the fight, these two broken boxers embrace each other, and become an inspiration to the world. Their fight, somehow, goes a long way to purge the political poison of anger, hate, fear in the world.
Observations: No particular fighter or story stood out although Mathew Saad Muhammad, Sugar Ray Robinson, Sam Langford, Alexis Arguello, and Arturo Gatti were mentioned more than once.
The seedy side of boxing (and the business of boxing) got its "due." Bob Benoit's response captured this dimension perfectly.
Ted Sares is a lifetime member of Ring 10, a member of Ring 8, and a member of Ring 4 and its Boxing Hall of Fame. He also is an Auxiliary Member of the Boxing Writers Association of America (BWAA). In 2019, he received Ring 10's Harold Lederman Award for Historian. He still competes as a power lifter in the Master Class.
Check out more boxing news on video at The Boxing Channel  
To comment on this story in The Fight Forum CLICK HERE
Weekend Boxing Recap: Okolie in Manchester, Ramirez in Fresno and More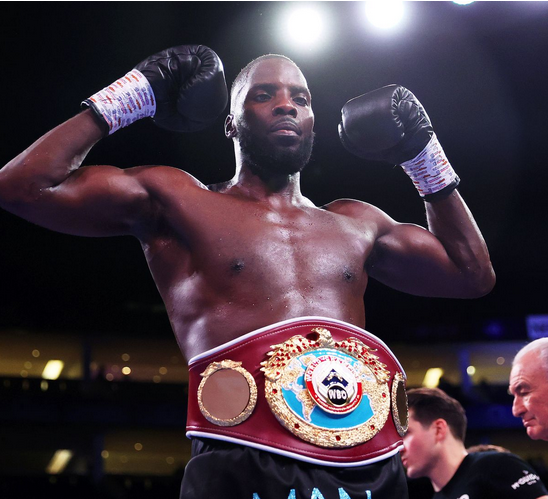 The media room at the MGM Grand in Las Vegas was as underpopulated as North Dakota this weekend. Only a handful of America's A-list boxing writers attended the Benavidez-Plant card. Prominent wordsmiths like Kevin Iole, Mike Coppinger, and Dan Rafael were nowhere to be found.
Inside the boxing arena, however, the joint was full. One guesses that the Grand Garden was configured to hold 13,865 as that was the announced attendance and there didn't appear to be an empty seat in the house. And the attendees arrived earlier than was the norm for a major Las Vegas fight card. The high rollers that arrive fashionably late (if there were any) were vastly out-numbered by true boxing fans, primarily Mexican-American on this particular occasion, who left the show in good spirits after Arizona-born David Benavidez, the self-styled Mexican Monster, manhandled brave but out-gunned Caleb Plant.
There were notable fights elsewhere on Saturday. Across the pond in Manchester, England, Lawrence Okolie, widely regarded as the sport's best cruiserweight, won a lopsided decision over Australia's David Light, advancing his record to 19-0 while successfully defending his WBO world title belt.
Okolie (pictured) was making his first start in 13 months. In the interim, he ditched his promoter Eddie Hearn in favor of Ben Shalom and ditched his trainer Shane McGuigan in favor of SugarHill Steward.
He and McGuigan appeared to be a great fit. With McGuigan in his corner, he was 7-0 with six wins inside the distance. His initial foray under Steward was a dull fight reminiscent of some of Okolie's early efforts. He had a point deducted for excessive clinching but it was a moot point as Okolie breezed, winning by scores of 119-108, 117-110, and 116-112. Light was 20-0 heading in, but was sorely outclassed.
By all accounts, the Okolie-McGuigan divorce was an amicable split. Okolie trained for this bout in Miami and McGuigan had too much on his plate to accompany Okolie to the Sunshine State.
Okolie appears headed toward a domestic showdown with fellow Londoner Richard Riakporhe who is also unbeaten (16-0, 12 KOs). Physically, these two late-bloomers, both of whom stand six-foot-five, are virtual clones. A bigger fight for him would be a match with IBF belt-holder Jai Opetaia, the lineal cruiserweight champion, who is still recovering from the two broken jaws he suffered while de-throning long-reigning 200-pound champion Maris Briedis in a fight that will live long in Australian boxing lore.
The Okolie-Light undercard was cheesy including a BBBofC super featherweight title fight between Michael Gomez Jr and Levi Giles, two fighters who built their records on the backs of professional losers. Gomez won a split decision. Also, 31-year-old heavyweight Frazer Clarke, a bronze medalist in the Tokyo Olympics, improved to 6-0 (5) at the expense of Romania's Bogdan Dinu, a late sub who performed about as expected, retiring on his stool after two rounds.
Fresno
The Benavidez-Plant card went head-to-head with a Top Rank show in Fresno featuring local fan favorite Jose Carlos Ramirez. It was the second fight back for Ramirez after losing a close decision to Josh Taylor with all four 140-pound belts on the line and his first fight in 13 months. In the opposite corner was former world lightweight titlist Richard Commey, a 36-year-old Ghanaian.
Ramirez came out like gangbusters and hurt Commey in the opening minute. But Commey survived the onslaught and came back to win some of the middle rounds. In round 11, Ramirez closed the show. After decking Commey with a right hand that didn't appear to be particularly hurtful, he delivered a vicious left hook to the liver and Commey was counted out while taking a knee.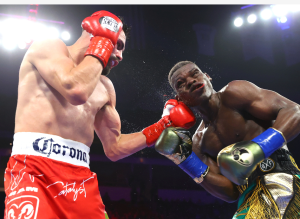 Ramirez improved to 28-1 with his 18th knockout. His promoter Bob Arum is expected to rekindle negotiations with Regis Prograis who won the vacant WBC 140-pound diadem in November with an 11th round stoppage of Jose Zepeda. Commey (30-5-1) has lost three of his last five.
In the co-feature, East LA's Seniesa Estrada picked up a second world title belt at 105 pounds with a lopsided decision over Germany's previously undefeated Tina Rupprecht.  Estrada (24-0, 9 KOs) won all 10 rounds on all three cards which was misleading as many of the rounds were close.
(The victory opens the door to a true unification fight with Costa Rica's Yokasta Valle who has won 15 straight since losing a decision to Rupprecht in Munich in 2018. Valle was also in action on Saturday night. At a beach resort hotel in Guanacaste, Valle successfully defended her titles with a wide decision over Mexican invader Jessica Basulto.)
In another bout of note on the Fresno card, SoCal lightweight Raymond Muratalla (17-0, 14 KOs) overcame adversity to score a ninth-round stoppage over Tijuana's Humberto Galindo (14-3-1).
Galindo caught Muratalla against the ropes in the opening round and put him down with a left-right combination. Muratalla returned the favor three rounds later and ended the contest in round nine with a series of punches which deposited Galindo on the deck where he stayed for the 10-count.
According to Jake Donovan, Top Rank plans to pit Muratalla against Namibia's Jeremiah Nakathila on the Lomachenko-Haney card tentatively scheduled for May 20 in Las Vegas. Nakathila upset Miguel Berchelt in his last outing, dominating the former super featherweight title-holder en route to a sixth-round stoppage.
Also
Two 10-round preliminaries preceded Saturday's SHOWTIME pay-per-view at the MGM Grand. Both contests played out in a similar fashion.
In a super bantamweight contest, Culiacan, Mexico's Kevin Gonzalez stayed unbeaten with a clear-cut unanimous decision over Colombia's Jose Sanmartin. The judges had it 99-91, 98-92, and 97-93.
Gonzalez, who advanced to 26-0-1, fought mostly in flurries but worked the body well and landed the cleaner punches. It was the U.S. debut for Sanmartin (34-7-1) who had been in with the likes of Emanuel Navarrete and Mauricio Lara.
In the lid-lifter, Orestes Valasquez, a 29-year-old Cuban defector who has been training in Las Vegas under Ismael Salas, stepped up in class and won a 10-round unanimous decision over Argentina's Marcelino Lopez. The judges had it 97-93 and 99-91 twice.
A 16-year pro, Lopez brought a 37-2-1 record. His signature win was a second-round blowout of former world title-holder Pablo Cesar Cano. Valasquez was extended the distance for the first time after opening his pro career with six wins by stoppage.
Ramirez-Commey photo credit: Mikey Williams / Top Rank via Getty Images
To comment on this story in the Fight Forum CLICK HERE
David Benavidez Starts Slow but Finishes Strong, Overcomes Caleb Plant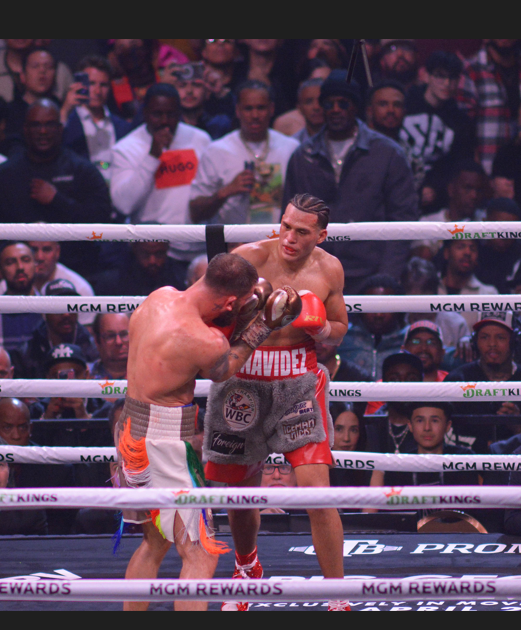 LAS VEGAS-David "The Mexican Monster" Benavidez proved too strong and simply overpowered Caleb Plant after a tight early half of the fight to win going away by unanimous decision in the super middleweight elimination fight on Saturday.
Plant would not quit.
"Caleb Plant is a tough fighter. He gave me everything in the first few rounds," said Benavidez who had predicted he would not go the distance.
Arizona's feared Benavidez (27-0, 23 KOs) was unable to stop Plant (22-2, 13 KOs) but battered his way to victory before a sold-out crowd at the MGM Garden Arena. Despite no knockdowns it was clear who was stronger.
Plant used his speed and footwork to maneuver in and out of danger in the match and gained control for the first four rounds. His hand speed and ability to clinch in tight quarters with the aid of referee Kenny Bayless gave the Las Vegas-based fighter an early advantage.
Things turned around when Plant clinched then smacked Benavidez who thought it would be a clean break. That seemed to spark Benavidez into berserker mode.
From the seventh round on Benavidez punched through clinches and would not allow Plant to take advantage. In the eighth round Benavidez powered through and Plant seemed staggered and hurt by the Arizona fighter's power. But he kept upright.
Benavidez took advantage of Plant's inability to maneuver as he did before and hammered the former champion who lost to Canelo Alvarez with triple left hooks and overhand rights. Plant would not go down and held on and absorbed the punishment.
The 10th round saw Benavidez dominate every second of the round. Plant tried fighting back but his punches lacked any power and Benavidez battered him from post to post, It was a round that could have been stopped or scored 10-8.
"I think I was catching him with a lot of power shots and that's why I'm called the Mexican Monster because I keep coming like a monster," said Benavidez.
Plant proved unwilling to quit despite cuts on his face and withstanding some hellish blows. The slender super middleweight refused to go down and somehow withstood the punishment.
It was remarkable bravery on his part.
When the final bell rang Plant tried valiantly to fight it out with Benavidez but just did not have the power to hurt the most feared man in the super middleweight division. Despite all the heated words during the promotion of the fight, the two warriors hugged and shook hands warmly. The animosity was gone.
"I know there was a lot said between us but in the end we settled this like men. He's a helluva fighter. I'm happy we gave the fans the best rivalry of the year or the last five years. I'm just very happy," said Benavidez.
Plant was equally benevolent.
"David's a hell of a fighter. We settled it like men in the ring," said Plant. "You roll the dice someone is going to get their hand raised. No excuse, David was the better man, he is a hell of a fighter."
Benavidez now is the number one ranked WBC super middleweight and a mandatory for Saul "Canelo" Alvarez who is undisputed world champion.
Other Bouts
Arizona's Jesus Ramos (20-0, 16 KOs) proved too strong for Michigan's strongman Joey Spencer (16-1, 10 KOs) and ended the fight by stoppage at the end of the seventh round in the super welterweight contest.
Ramos scored early with a left-hand knockdown in the first round and powered his way past Spencer in almost every round. Spencer was valiant throughout the match but just couldn't match Ramos speed or strength. Most of the fight took place in close.
"After the first round knockdown I kinda knew my power was too much," said Ramos.
Despite an early first round knockdown Chris Colbert (17-1, 6 KOs) won by unanimous decision in a lightweight fight over the more aggressive and busier Jose Valenzuela (12-2, 8 KOs) in a decision that left the fans very displeased.
"He lost for a reason," said Colbert as fans booed lustily.
A counter left cross floored Colbert in the first round and Valenzuela took control early with more punching to the body and head as Colbert covered up. It was a tactic he used often and was rewarded by the judges.
Valenzuela was not pleased at all.'
"I dominated," said Valenzuela.
All three judges scored it 95-94 for Colbert.
Welterweights
Canada's Cody Crowley (22-0, 9 KOs) imposed his will early against Arizona's Abel Ramos (27-6-2, 21 KOs) and held on for the victory by majority decision down the stretch in a brutal war for the right to fight for the WBC welterweight title.
A knockdown scored in the 11th round by Ramos by a counter right cross was reversed by the Nevada Commission after a replay of the blow revealed his glove did not touch the ground. That proved beneficial to Crowley in the scoring.
Crowley pressured Ramos throughout the first eight rounds then the fight changed and was fought at a distance as Ramos used pot shots to score heavily from that moment on.
Ramos rallied by staying in the middle of the ring and using the space to crack the always pressuring Crowley with long range shots. From the ninth round on the scoring got tighter with Crowley scoring rapid combinations and Ramos scoring with heavy shots.
After 12 rounds one judge saw it even 114-114, two others saw Crowley the winner 115-113, 116-112. Crowley now gets the shot at the WBC title held by Errol Spence Jr.
"This fight was something else," said a tearful Crowley whose father recently died. "If not for my dad I wouldn't be here today."
Photo credit: Al Applerose
To comment on this story in the Fight Forum CLICK HERE
Avila Perspective, Chap. 229: Benavidez, Plant and NCAA Hoops in Vegas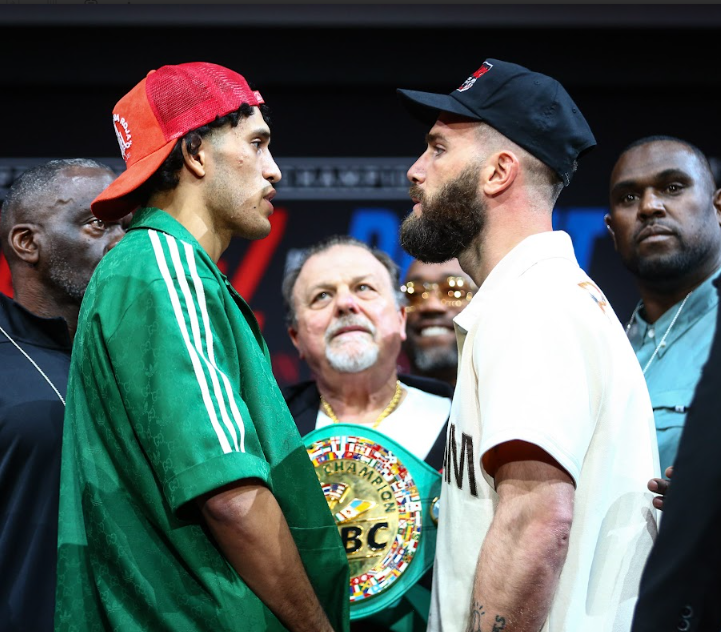 Avila Perspective, Chap. 229: Benavidez, Plant and NCAA Hoops in Vegas
If you know the history of Las Vegas, it's endured a number of phases since its first major growth spurt when the Hoover Dam project brought thousands to the desert region in the 1930s.
Then came the New York phase when the Flamingo Hotel was built in the 1940s and was followed by numerous other major casino hotels like the Sands, the Dunes and the Aladdin. Of course, boxing was always a way to entice people to the desert.
This Saturday, four star boxing returns to Las Vegas. But it be competing against the western regional finals of the NCAA Men's Basketball Tournament. Prepare for crowds.
Las Vegas is packed.
Undefeated David Benavidez (26-0, 23 KOs) meets once-beaten Caleb Plant (22-1, 13 KOs) at the MGM Grand Hotel and Casino in Las Vegas on Saturday, March 25. The TGB Promotions card will be televised on Showtime pay-per-view.
The winner gets a shot at undisputed super middleweight champion Saul "Canelo" Alvarez. And that means big money.
It's all happening in Las Vegas and so will the NCAA tournament. Expect an extremely crowded Strip as fans of boxing and basketball convene on the strip by the thousands. Its also a gambler's paradise for betting so make sure you allow yourself time because the lines will be long at the sportsbooks.
When I first visited Las Vegas in the early 1970s sports betting was done outside of the casinos. The state law back then prohibited sportsbooks inside hotel-casinos. My favorite sportsbook, for sentimental reasons, is the Westgate Hotel, formerly the Hilton International. It's has a huge sports betting area.
I'm not a betting type of guy but sports betting to me is the center of everything and adds luster to the atmosphere of Las Vegas. You won't find a sports book in California.
Boxing has always been a sport made for betting, probably since the stone age.
When Benavidez steps into the prize ring he will be the big favorite but if you truly know boxing, Plant does have a chance. Anything can happen in boxing. Anything.
A man can parachute from the sky and land in the middle of the fight as happened back in 1993 when Evander Holyfield and Riddick Bowe were combatting for the heavyweight title at Caesars Palace. Of course, this won't happen on Saturday because the fight is indoors at the MGM Hotel.
One major lesson about pro boxing is that nothing is a sure thing.
Though Benavidez has power and has never been defeated, he could tear an Achilles tendon right during the fight. Or he could break a wrist delivering a punch. I've also seen a great fighter like Pernell Whitaker get his clavicle broken from a single punch and be unable to continue.
Don't bet your house on the outcome.
What you will see on Saturday is two very talented super middleweights with completely different fighting styles engage. They do not seem to care for each other but that doesn't matter. It's a fight, not a marble contest.
Words have been exchanged all through the promotion. But words don't mean a thing once the first bell rings.
Plant has speed, agility and solid defensive skills. His only loss came to Canelo Alvarez. That's more a medal of honor than an embarrassment.
"I feel I'm the better boxer, I have the better IQ and I have more experience," said Plant. "I have the better pedigree and its going to show on Saturday night."
Benavidez has power, speed and a very solid chin. He seems to intimidate foes with a come forward style that reminds me of a young George Foreman.
"We're going to see what that chin is like on Saturday," said Benavidez.
Supporting fights
Cody Crowley meets Abel Ramos in an welterweight elimination fight for the WBC title held by Errol Spence Jr.
Both of these guys are rough and tough. It's the ram versus the bull.
The other Ramos, Abel's brother Jesus, is fighting Joey Spencer in a super welterweight clash.
Six other fights are planned at the MGM Grand.
Top Rank
Fresno's Jose Carlos Ramirez (27-1, 17 KOs) gets a hometown crowd when he meets Richard Commey (30-4-1, 27 KOs) on Saturday March 25. The former super lightweight titlist needs a win to get back in the hunt. ESPN will televise the Top Rank card.
"All of a sudden after one loss people started walking away," said Ramirez. "We're focused on Richard Commey."
Commey wants what Ramirez wants too, a title.
"I really want to become a two-time world champion, so I'm coming strong," said Commey.
Also on the same Fresno card will be WBA titlist Seniesa Estrada (23-0, 9 KOs) seeking to unify the minimumweight titles against Germany's WBC titlist Tina Rupprecht (12-0-1, 3 KOs).
"This is the moment that Ive dreamed of since I was seven years old," said Estrada. "Its crazy to think how far I've come in this sport."
Rupprecht is also excited.
It's a big honor to fight for both titles," Rupprecht said. "This is always what I wanted."
Fights to Watch
Sat. Showtime ppv 6 p.m David Benavidez (26-0)  vs Caleb Plant (22-1); Cody Crowley (21-0) vs Abel Ramos (27-5-2).
Sat. ESPN 7 p.m. Jose Carlos Ramirez (27-1) vs Richard Commey (30-4-1); Seniesa Estrada (23-0) vs Tina Rupprecht (12-0-1).
Photo credit: Stephanie Trapp / TGB Promotions
To comment on this story in the Fight Forum CLICK HERE