Proposals for Boxing Movies: Part Two (L-W) of Our Latest TSS Survey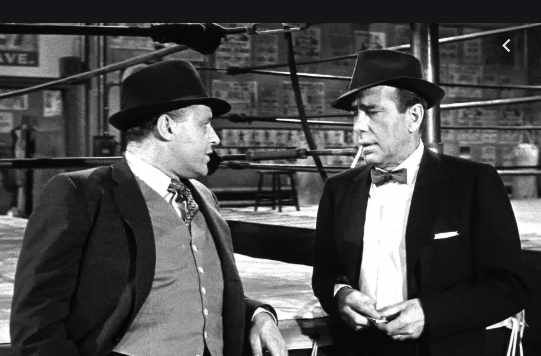 The question for our final quarterly survey of 2019 was this: "If you were to make a boxing movie, what would the subject be? How might you title it (optional)?" This question touched a nerve with many of our respondents as it generated our best response ever; nearly 60 people made suggestions, some very detailed. The turnout dictated that we publish the results of the survey in two parts. If you missed Part One, check it out here.
JIM LAMPLEY– linchpin of the HBO announcing team for 31 years; 2015 IBHOF inductee: The heavyweight nineties, from Tyson-Spinks in '88 to Lewis-Tyson in '02, with all the characters and the crazy ups and downs that subject entails.
ARNE LANG-TSS editor-in-chief, author, historian: The great sportswriter John Lardner authored two magazine pieces that are among the most anthologized stories in all of sports. His story about the Dempsey-Gibbons debacle in Shelby, Montana, ran in the The New Yorker in 1948. Lardner's profile of Stanley Ketchel, the Michigan Assassin, appeared in True magazine in 1954. Both have the makings of excellent movies. If forced to choose, I might go with "Shelby." This would be the perfect vehicle for George Roy Hill who directed "The Sting" with Paul Newman and Robert Redford, one of my all-time favorites. Unfortunately, Mr. Hill is deceased.
JIMMY LANGE — former fighter and promoter: I'd do a movie about a professional "opponent"…. someone who is a legit pro who knows he is brought in to lose. Not a fixed fight but a fight to help a prospect along. There are many interesting journeymen like Emanuel Augustus, Gerald Reed, Bruce "The Mouse" Straus, Reggie Strickland and hundreds more. This also would provide insight into the business of boxing.
RON LIPTON — member of NJ Boxing Hall of Fame, former fighter, retired police officer; pro referee: The movie I want to be made is one that WILL be made on my book still in progress, which is private and copyrighted intellectual property. Part of my book embraces the visceral behind-the-scenes accounts of my career as a referee in professional boxing, what I have witnessed as to what influences the assignment making process in big fights, the politics involved and how it has influenced the outcome of the big fights, along with in-the-ring experiences. There is also an interest in a separate high-profile documentary as to the actual boxing backgrounds of the people involved, how they arrived in that position and how they personally handled it. All on invulnerable legal ground buttressed with actual film footage.
PAUL MAGNO — author, writer and boxing official in Mexico: There are lots of movies to be made, lots of interesting characters and stories. I've always imagined, though, a great movie coming from the life and times of "The Drunken Master" Emanuel Augustus. What a character, what a career! I'd want the movie to touch on everything—fixes, robberies, triumphs, and the real-life battles of a fighter who never had the "right" connections and who kept getting pulled to the side of the road on his ride to the top.
DON MAJESKI — matchmaker, historian and affiliated with RING 8 and the NYSBHOF: I'd do a movie about Joe Gans. He was considered, by many, as greatest lightweight of the first half of the 20th Century and on par with Duran, Benny Leonard and the undefeated Packey McFarland as the greatest lightweight of all time. His bout with Battling Nelson in Goldfield, Nevada was one of the most historically significant in boxing. It was a $40,000 promotion where film rights were essential to the gate and it ushered in the career of Tex Rickard. He was victimized by racism, was involved in a notorious alleged "fix" against Terry McGovern, was the highest paid athlete in America at one point and died at the age of 37 – one of the most revered boxers of all time.
ADEYINKA MAKINDE — U.K. barrister, author and contributor to the Cambridge Companion to Boxing: I'd make a movie on Frankie DePaula, the Jersey City-born pugilist who was murdered in 1970. It would be a stunning, true-life drama of hubris, corruption, betrayal, and murder set against the backdrop of the sport of boxing and the world of the Mafia. DePaula was the archetypal juvenile delinquent; a kid from "Dead End" who is good-looking and charismatic. A street fighter cum pro-boxer who numbers Sinatra among his admirers. Frankie Valli and Joe Namath are close friends. But he's a tortured soul and prone to trouble. Add in the mix a cast of characters such as the Humphrey Bogart-look-a-like priest who seeks to reform the adolescent wastrel, the physically irresistible 'Mafia Princess' who effortlessly lures him to his doom, 'Jimmy Nap', the gambling kingpin who is a force in the boxing world in the 1960s, and FBI agents who probe his involvement in a fixed world title bout and we have a dramatic rendition of the 'American Dream' gone wrong. Based on the book "JERSEY BOY: The Life and Mob Slaying of Frankie DePaula," a movie would bear the raw components of "Rocky" meets "Raging Bull" on the "Mean Street(s)" of Jersey City.
SCOOP MALINOWSKI — boxing writer and author, Mr. "Biofile": "Andrew Golota: The Uncrowned Champion." A Don King quote after the Ruiz and Byrd robberies. A fascinating, intriguing character in and out of the ring. Maybe the understatement of the decade.
LARRY MERCHANT– HBO boxing commentator emeritus; 2009 IBHOF inductee: I'd want a feature-length documentary on Tyson Fury. His life as an Irish Traveler (gypsy), raised in a clan of fighters. His professional career, climaxed by fights vs. W. Klitschko and D. Wilder (including rematch to come). His problems after Klitschko: addiction, weight. His difficulty adapting to social norms of Britain after gaining fame. His big, colorful personality. His comeback.
ROBERT MLADINICH — writer, author, former fighter. I have two choices. One would be called "Hard Luck," about the travels and travails of the fighting Quarry family. The second would be "Misdemeanor Homicide," about the circumstances surrounding heavyweight Tim "Doc" Anderson shooting to death his manager, Rick "Elvis" Parker.
ERNEST MORALES (aka Geno Febus) — former fighter, writer: The events and controversy leading up to the one of boxing's most famous and scariest knockouts of our time. Marquez vs Manny 4 and aftermath!! First a review of the rivalry, the three close/controversial endings, including the national pride and opinions of both countries and heritages before the fight. Then the AFTERMATH in the ring and dressing rooms, the scenes of the fighter, fans and Mexicans celebrating and the teams, fans and country in mourning after the final, forever-remembered fight.
HARRY OTTY – boxing historian; his newest book is "The Tragedy of the Hogue Twins": I would have to go with Charley Burley – uncrowned welterweight and middleweight champion of the
world who campaigned from 1936 to 1950.
The life of Burley – who campaigned from 1936 to 1950 – is a great story. As a star amateur, he was
invited to box-off for a berth at the 1936 Berlin Olympics. However, he declined to take part due to the
racial and religious persecution taking part in Nazi Germany at the time. He attended an alternate event in Barcelona and ended up being one of the first Americans to be in the middle of the Spanish Civil War.
Originally fighting out of Pittsburgh, Burley beat local favorites Fritzie Zivic (twice) and Billy Soose and fought many of the top black fighters of the day, including Archie Moore – dropping Archie three times en-route to a comfortable 10 round win in Hollywood in 1944.
Burley was avoided by many top-flight fighters as he was deemed a high-risk for a low reward. He eventually had to take on a job with the city and worked as a garbage man for many years. Burley was the
inspiration for Pittsburgh playwright August Wilson's main character (Troy Maxon) in the play 'Fences'  – recently made into a movie with Denzel Washington in the lead role.
CARLOS PALOMINO– former World Welterweight Champion and 2004 IBHOF inductee: I have a deal with a production Company to do my life story. The title is "Palomino."
GENE PANTALONE — historian, writer and author of "Boxing Ring to Battlefield: The Life of War Hero" Lew Jenkins: Lew Jenkins. Hall of Fame writer W.C. Heinz, who died in 2006, kept trying to get someone to do it, he thought Clint Eastwood would be best. Heinz was in touch with Jenkins' family until the end. John Huston wanted to do it in the 60s. Also, Steve McQueen, Charles Bronson, and James Garner met with Jenkins to discuss a movie, but it never happened.
DENNIS RAPPAPORT — former co-manager of Gerry Cooney, among others; elite promoter: These are just a few from the top of my head. The Hitman's Son, the story of former heavyweight Jack O'Halloran, boxer, actor and son of Albert Anastasia. The Pearl of the Ghetto, the life and times of Benny Leonard. The Fighting Hobo, the Jack Dempsey Story, the Fighting Socialite, the Gene Tunney Story. The Collector, The Life and Death of Sonny Liston. Sweet as Sugar, The Ray Robinson Story. And from Hell And Back-The Orphan; The World Champion; The Scintillating Drama and The Return to Heartache, Heartbreak and Agony; that was The Living Nightmare—the Story of Saad Muhammad.
JOHN RASPANTI– lead writer/editor for MaxBoxing; author: A movie about the colorful and talented Billy Conn would be fantastic. Billy not only came close to beating Joe Louis, but fell in love at first sight, and also got into a fist fight with his future father-in-law! (among other things). Most people have forgotten that Billy was light heavyweight champion of the world. He beat Melio Bettina, Gus Lesnevich, Bob Pastor, Lee Savold and Tony Zale. His love affair with future and forever wife Mary was extraordinary. They were completely devoted to each other. His friendship with Louis endured till Louis passed away. His life had many ups and downs, but Conn fought till the end. ​​Carmine Vingo, who fought Rocky Marciano in 1949, and almost died, is also someone who's a movie in the making. I'm likely going to write about him.
FRED ROMANO — boxing historian, author and former HBO Boxing consultant: A biography of Sugar Ray Robinson is long overdue. Perhaps the greatest boxer ever, he had a dynamic personality, and was also a WW 2 vet and a fair entertainer to boot. It defies logic as to why his story has not made it to the big screen. Although a couple of Louis films have been made, it has been a remarkable 65 years since the last. Like Robbie, his story is begging to be told by the modern filmmaker. Title would be "Pound for Pound."
LEE SAMUELS — legendary Top Rank publicist; 2019 IBHOF inductee: A movie about Caesars Palace the Home of Champions – with mega fights held for years in a 24,000 outdoor arena headlined by Muhammad Ali, Marvin Hagler, Sugar Ray Leonard, Thomas Hitman Hearns with Hagler vs Hearns arguably the best, most heated brutal action fight of our time. Title would be "Hail Caesar!"
TED SARES — TSS writer: Tony Veranis often sparred with Joe "The Baron" Barboza, Eddie "Bulldog" Connors, Jimmy Connors (Eddie's brother), Rocco "Rocky" DiSiglio, George Holden, and Americo "Rico" Sacramone. Southie's Tommy Sullivan also found his way into this mix. The thing about these guys was that in addition to being well known Boston area boxers, each was brutally murdered between 1966 and 1976. Tony was an extremely active fighter but also brash. He mouthed off once too often and was blown away by James Martorano-aka "The Basin Street Butcher." The twists and turns in this one match those of "The Friends of Eddie Coyle." Title: "The Friends of Tony Veranis."
ICEMAN JOHN SCULLY — all things in boxing: I'd like to see a movie about Alexis Arguello and his involvement in fighting against the powers in Nicaragua. Title: "The Humble Warrior"
PETER SILKOV — writer and keeper of "The Boxing Glove": There are many untold stories in boxing and I think the film industry tends to go for the more mundane stories.  If I had to choose just one fighter for a biopic/film, it would be Matthew Saad Muhammad, and I'd call it something like 'Saad: The Story of Boxing's Miracle Fighter"…  close second would be Bobby Chacon "The School Boy"..
MIKE SILVER — author, historian: There is a great movie (documentary) to be made of my book, "The Arc of Boxing: The Rise and Decline of the Sweet Science"–but I'd re-title it for the movies as, "What the Hell Happened to Boxing!"
ALAN SWYER — filmmaker, writer, and producer of the acclaimed El Boxeo: I'd depict the life of a great boxer who was forced by politics to relocate to another country and reinvent himself from Cuban to Mexican, all the while demonstrating how and why boxing is called "The Sweet Science." The man? Jose Napoles. The title? "Mantequilla."
DON TRELLA — boxing Judge, member of CT Boxing Hall of Fame: I'd say Arturo Gatti. He was a fan favorite because of his lion sized heart in the ring. The ending of course would continue to leave us in suspense as to what really happened to end his life. Hard to believe that a fighter such as Gatti who never had any "quit" in him would take his own life. Maybe the title should be "Never Say Die – the Arturo Gatti Story"
HAROLD WESTON — former fighter and two-time world title challenger: Two people that a movie should be told: My "big brother" Emile Griffith and me, Harold Weston. Two great stories are there waiting to be filmed.
PETER WOOD — author, writer and former fighter: The film's title: Broken Boxers. Two eight-year-old boys—innocent Raoul, (growing up in Tehran, Iran), and happy-go-lucky Jack, (growing up in Topeka, Kansas)—meet 15 years later in a boxing ring. Neither boy is still innocent or happy-go-lucky–or emotionally healthy. Why? Raoul is the victim of an American drone attack in Tehran, and Jack is the casualty of a heinous terrorist attack in Topeka.  Raoul is now missing half his left arm, and Jack is missing his right leg. Despite their grim handicaps, both boys were drawn to boxing in order to learn how to fight and, to purge the poison of anger, hate, fear and sadness within themselves. Two nations—and the entire world—watch as these two damaged, yet gallant men, advance to the finals of a bloody boxing match. The bell rings! At the end of the fight, these two broken boxers embrace each other, and become an inspiration to the world. Their fight, somehow, goes a long way to purge the political poison of anger, hate, fear in the world.
Observations: No particular fighter or story stood out although Mathew Saad Muhammad, Sugar Ray Robinson, Sam Langford, Alexis Arguello, and Arturo Gatti were mentioned more than once.
The seedy side of boxing (and the business of boxing) got its "due." Bob Benoit's response captured this dimension perfectly.
Ted Sares is a lifetime member of Ring 10, a member of Ring 8, and a member of Ring 4 and its Boxing Hall of Fame. He also is an Auxiliary Member of the Boxing Writers Association of America (BWAA). In 2019, he received Ring 10's Harold Lederman Award for Historian. He still competes as a power lifter in the Master Class.
Check out more boxing news on video at The Boxing Channel 
To comment on this story in The Fight Forum CLICK HERE
Fast Results from Brooklyn: No Surprises as Garcia and Hurd Win Lopsidedly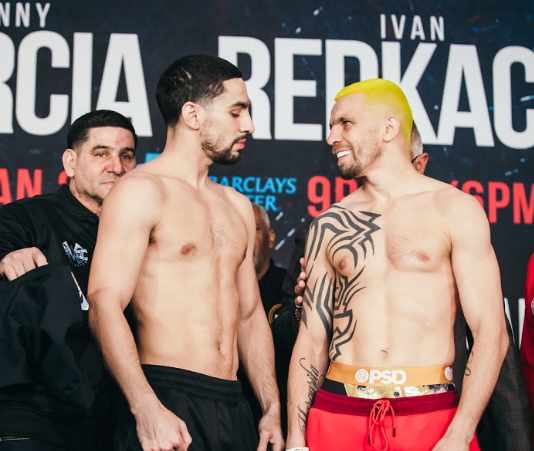 Tonight, Philadelphia's Danny Garcia made his eighth appearance at Barclays Center. Garcia's 2017 fight with Keith Thurman drew 16,533, the attendance high for a boxing show at the arena. A far smaller crowd was in attendance tonight to see Garcia take on Ivan Redkach in a non-title fight slated for 12 rounds.
Redkach, a 33-year-old LA-based Ukrainian, is a southpaw. That's no coincidence. Garcia hopes to land big-money fights with Errol Spence and/or Manny Pacquiao, both southpaws.
Redkach (23-4-1 coming in) turned his career around in his last fight with a career-best performance, a sixth-round stoppage of former two-division title-holder Devon Alexander, a 15-year pro who hadn't previously been stopped. But there was a class difference between he and Danny Garcia, a former WBA and WBC 140-pound world title-holder and former WBC 147-pound champion.
Garcia (35-2, 21 KOs) was simply sharper. His workrate slowed late in the fight, allowing the game Redkach to steal a few rounds, but at the final gun he was relatively unmarked whereas Redkach was conspicuously bruised. The scores were 118-110 and 117-111 twice. The crowd booed at intervals, understandable as they were subject to a drab 7-fight card that was even less interesting than it was on paper.
Co-Feature
In the 10-round co-feature, Jarrett Hurd, making his first start since losing his WBA/IBF super welterweight title to Julian Williams last May, went on cruise control from the opening bell and jabbed his way to a lopsided 10-round decision over Francisco Santana. Hurd, who improved to 24-1, finally let loose late in the 10th frame, putting Santana (25-8-1) on the canvas with a succession of left hooks, but by then many in the crowd had probably nodded off.
This was Hurd's first fight with new trainer Kay Koroma who has drawn raves for his work with America's elite amateurs. The scores were 97-92 and 99-90 twice. SoCal's Santana has now lost five of his last eight.
The opening bout on the main TV portion of the card was a 12-round super bantamweight contest between Philadelphia's Stephen Fulton and fellow unbeaten Arnold Khegai who currently trains in Philadelphia.
Fulton (18-0, 8 KOs) simply had too much class for Khegai (16-1-1), a Ukrainian of Korean heritage. Although Khegai frequently backed Fulton into the ropes, the Philadelphian had an air-tight defense and connected with many more punches. The fight went the full 12 with Fulton prevailing by scores of 116-112 and 117-111 twice.
If the WBO has its way, Fulton will proceed to a fight with Emanuel Navarrete, but don't hold your breath as Navarrete is promoted by Bob Arum who undoubtedly wants to extract more mileage from him before letting him risk his belt against a crafty fighter like Stephen Fulton.
Photo credit: Amanda Westcott / SHOWTIME
Check out more boxing news on video at The Boxing Channel 
To comment on this story in The Fight Forum CLICK HERE
Sacramento Honors Diego 'Chico' Corrales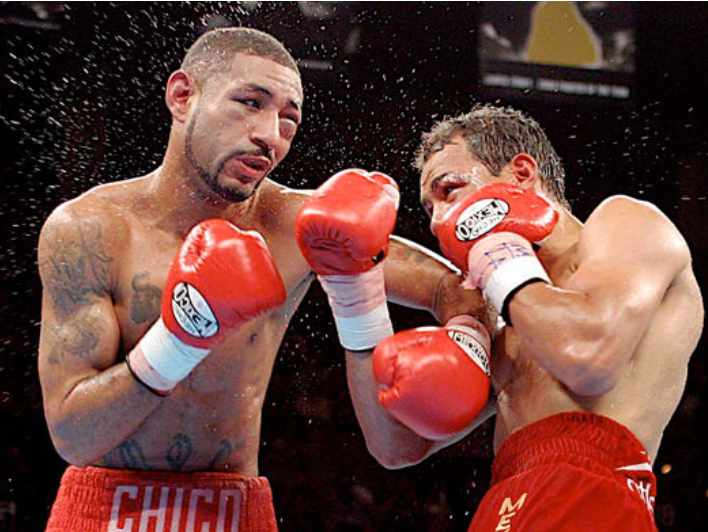 Tonight (Saturday, Jan. 25) former two-division world boxing champion Diego "Chico" Corrales will be posthumously inducted into the Sacramento Sports Hall of Fame at the organization's eighth annual induction ceremony at the Thunder Valley Casino Resort.
Corrales, who grew up in Sacramento, the son of a Columbian father and a Mexican mother, turned pro at age 18 and went on to compile a record of 40-5 (33 KOs). He won his first title in 1999 with a seventh-round stoppage of previously undefeated Robert Garcia. Now recognized as one of boxing's top trainers, Garcia was making the fourth defense of his IBF 130-pound title.
Five years later, Corrales won the WBO world lightweight title with a 10th-round stoppage of Brazil's previously undefeated Acelino Freitas. That set up a unification fight with the WBC belt-holder Jose Luis Castillo.
Corrales and Castillo met on May 7, 2005, at Mandalay Bay in Las Vegas. To say they put on a great fight would be an understatement. The boxing writers in attendance will tell you that this was the greatest fight of all time. It was named Fight of the Decade by The Ring magazine.
The final round, the 10th, was unbelievable. Heading into the round, Corrales was ahead on two of the three scorecards, but his left eye was swollen nearly shut and during the round he was knocked down twice. No one would have faulted referee Tony Weeks for stopping the fight after the second knockdown. But, somehow, Corrales was able to rally, pulling the fight out of the fire with a barrage of punches that had Castillo out on his feet when Weeks waived it off.
Two years to the very day of this iconic fight, Diego "Chico" Corrales died in a motorcycle accident in his adopted hometown of Las Vegas when he rear-ended a car while traveling at a high rate of speed. He was 29 years old.
Corrales was a thrill-seeker. In a 2006 profile, Las Vegas Review-Journal boxing writer Kevin Iole enumerated these among Castillo's hobbies: jumping out of planes from 14,000 feet, bungee jumping from 400 feet, snowboarding in treacherous terrain and scuba diving amid a school of sharks. "He lived his life the same way he fought," said his promoter Gary Shaw, "with reckless abandon."
It might seem odd that it took so long for Corrales to be recognized by the Sacramento Sports Hall of Fame, but there was a period when Corrales's name was mud in his hometown and perhaps the organization's founder, Las Vegas sports radio personality T.C. Martin, a Sacramento native, thought it appropriate to let old wounds heal.
In 2001, shortly after suffering his first pro loss at the hands of Floyd Mayweather, Corrales pled guilty to felony domestic violence in the beating of his first wife and would serve 14 months in prison. "The whole family has worn a black eye for it," Diego's brother Esteban Corrales told Sacramento Bee reporter Marcos Bretan.
For all his recklessness, the incident didn't jibe with his persona. In the company of Las Vegas sportswriters, the soft-spoken and well-spoken Corrales came across as polite and humble.
Corrales, one of five inductees in the 2020 class, joins three other boxers already installed in the Sacramento Hall: Pete Ranzany, Loreto Garza, and Tony "Tiger" Lopez.
Ranzany, a welterweight, fought four former or future world champions and was a fixture in Sacramento rings in the late 1970's. Garza wrested the WBA super lightweight title from Argentina's Juan Martin Coggi in France and successfully defended the belt here in Sacramento with a one-sided conquest of Vinny Pazienza. Lopez, Sacramento's most popular fighter ever, made the turnstiles hum at the city's largest arena where he fought eight of his 14 world title fights beginning with his 1988 humdinger with defending IBF 130-pound champion Rocky Lockridge.
Among the speakers at tonight's confab will be Kenny Adams. Perhaps best known as the head trainer for the 1988 U.S. Olympic team that won eight medals in Seoul, Adams currently trains Nonito Donaire. He was with Diego Corrales for 24 fights, during which Corrales was 23-1, avenging the lone defeat by Joel Casamayor. Festivities start at 7 pm.
Check out more boxing news on video at The Boxing Channel 
To comment on this story in The Fight Forum CLICK HERE
Boxing Odds and Ends: Ramirez-Postol, Taylor-Serrano and More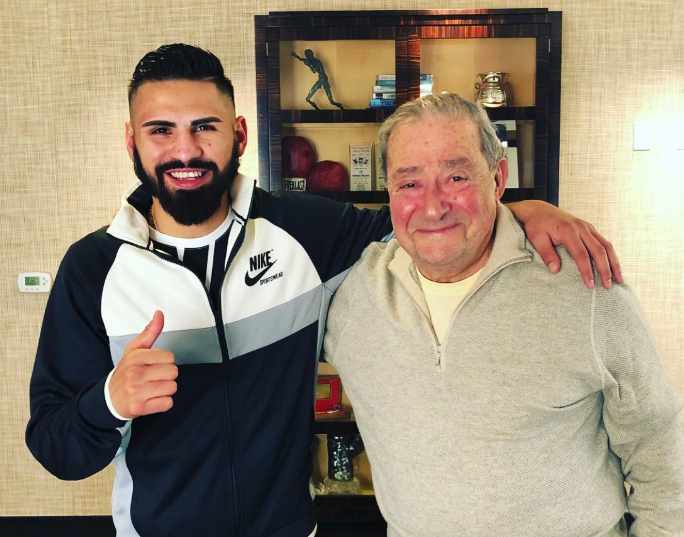 It takes a strong constitution to be a boxing promoter because things always go wrong. The only law that governs boxing is Murphy's Law.
Carl Frampton's first fight under the Top Rank banner was slated for Aug. 10 of last year in Philadelphia. With the fight five days away, Frampton suffered a freak injury while sitting in a hotel lobby. A boy playing behind a curtain knocked over a seven-foot pillar which fell on Frampton's left hand, fracturing it.
This was the second time that a Frampton fight was knocked out by a freak injury. Two years earlier, a homecoming fight in Belfast had to be scrapped when Frampton's opponent, Andres Gutierrez, slipped in the shower in his hotel on the eve of the battle and suffered severe facial injuries.
The latest bout to fall out because of an odd development is Jose Ramirez's Feb. 2 WBC/WBO lightweight title defense against Viktor Postol at a Chinese golf resort south of Hong Kong. The event fell victim to the coronavirus, more exactly the fear it has instilled.
The virus, which produces flu-like symptoms that are resistant to conventional antibiotics, apparently originated at an outdoor food market in the city of Wuhan where live animals are sold. The numbers vary with each new story, but according to one account there have been 444 confirmed cases in Hubei province, of which Wuhan is the capital city, and 653 cases worldwide including two in the United States, a man in his 30's living near Seattle and a Chicago woman in her 60's.
The fear of a pandemic (an epidemic becomes a pandemic when it spreads across multiple geographic regions of the world) has led to some drastic measures. The Chinese government has reportedly put 12 cities on lockdown, blocking traffic in and out. At many airports, visitors arriving from China are being screened. There are now thermal cameras than can record a person's body temperature remotely.
Jose Ramirez (pictured with his promoter Bob Arum) was scheduled to leave for China yesterday (Jan. 23) but was intercepted. Viktor Postol is already there and apparently stranded until an outgoing flight can be arranged.
The Ramirez-Postol fight was to air on ESPN. No make-up date has been set.
– – –
British promoter Eddie Hearn says he's close to finalizing a fight between Katie Taylor and Amanda Serrano. Hearn says the fight will take place in the U.S. in April. It figures that Madison Square Garden is the frontrunner.
If the fight comes off on schedule, this will be the biggest women's fight in history!
That's because the odds attached to the fight figure to be in the "pick-'em" range and that guarantees that boxing writers and others in the boxing community will be surveyed to get their picks – about which there figures to be considerable disagreement – and that will greatly enhance the pre-fight buzz.
Taylor, 33, last fought in November in Manchester, England, advancing her record to 15-0 (6 KOs) with a unanimous decision over Christina Linardatou, a fighter from Greece via the Dominican Republic. It was Taylor's first fight at 140 after previously unifying the lightweight title with a hard-fought decision over Belgium's Delfine Persoon.
Amanda Serrano, a 31-year-old southpaw, born in Puerto Rico and raised in Brooklyn, has won titles in five weight divisions. She last fought as a featherweight, turning away gritty Heather Hardy, but has competed as high as 140. Boasting a 37-1-1 record, she's won 23 straight, 18 by stoppage, 10 in the opening round
What sets women boxers apart from their male counterparts is that the women have a significantly lower knockout ratio. Amanda Serrano is the glaring exception.
Despite a less eye-catching record, Taylor has arguably fought the stiffer competition considering her extensive amateur background. As a pro, her victims include Cindy Serrano, Amanda's older sister by six years. Taylor whitewashed her in a match at Boston Garden, prompting the elder Serrano sister to call it a career.
– – –
The most bizarre (non)story to appear in a boxing web site this week involved former unified heavyweight champion Riddick Bowe. A man representing Bowe, identified as Eli Karabell, was frustrated because Eddie Hearn wasn't returning his calls. Karabell had offered Hearn the right of first refusal on Bowe's next fight.
Bowe, now 51 years old, last fought in a boxing ring in 2008 when he returned to the sport after a three-and-half year absence for an 8-round bout in Germany. In 2013, he appeared in a kickboxing fight in Thailand where he was stopped in the second round after being knocked down five times by leg kicks.
"Will there be another chapter to write for Bowe?" concluded the author of this piece.
Egads, let's hope not.
Check out more boxing news on video at The Boxing Channel 
To comment on this story in The Fight Forum CLICK HERE