Boxing Movies We Hope to See: Suggested Storylines from 50+ Boxing Notables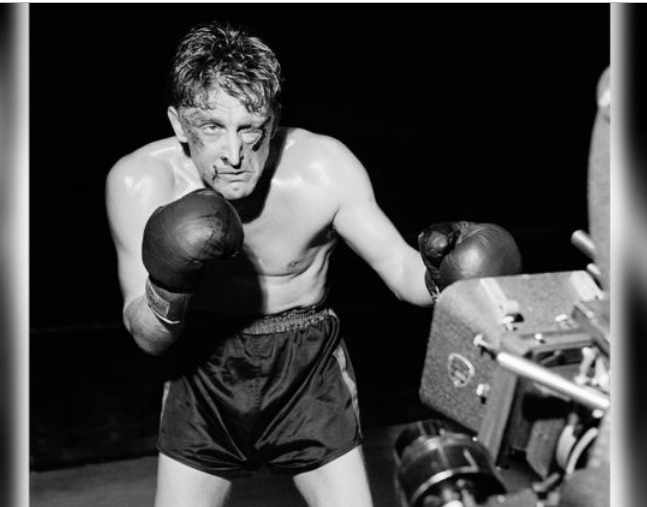 The Fourth Quarterly TSS Survey: Part One (A-K) — The question for our final survey of 2019 was not an easy one. "If you were to make a boxing movie, what would the subject be? How might you title it (optional)?" There was an excellent collection of inputs from a larger than normal number of respondents, including many former fighters. Hence, we are running this story in two parts. The respondents are listed in alphabetical order.
BONES ADAMS — former world super bantamweight champion, elite trainer: A movie about me and my complex life. How many white guys do you know from Kentucky who went on to become a world champion?
RUSS ANBER — elite trainer, cornerman, and owner of Rival Boxing Equipment: Provided it would be given the budget it deserved, my movie would be called "On God's Side" as it tells the tale of the parallels of both the Louis vs Schmeling fights and the rise of the Nazi regime and eventually World War II, while the world watched both intently.
I'd follow that with "No Quarrel," the story of Ali's stand against the establishment and the Viet Nam war, his subsequent suspension, the social divisiveness, and Ali's subsequent return vs Joe Frazier in the most politically important fight since Louis vs Schmeling.
MATT ANDRZEJEWSKI –TSS boxing writer: I'd make a movie about Archie Moore. I'm surprised one has not yet been done. It would be a great story to tell the world of perseverance and determination. I'd title it "The Old Mongoose."
DAVID AVILA — TSS West Coast Bureau Chief: I'd do a story on a guy named Luis Magana. He passed away 10 years ago in his late 90s. He was a former PR for the Olympic Auditorium and his dad was a PR for the Olympic when it was first built. He had so many stories to share about guys like Jack Dempsey, Joe Louis and Mexican fighters like Baby Arizmendi and Art Aragon. He was also a sort of playboy who knew many Hollywood starlets. Incredible guy.  ".…if you don't know who Luis Magana is, then you're not a real boxing writer": Hector Zapata, Los Angeles Reporter
BOB BENOIT — former professional fighter, current pro referee and judge: It was the 60's, and New England Pro boxing was roaring with a fight or two every week in New England.  Worcester- Portland – North Adams – Boston – and New Bedford were SOME of the fistic hotbeds. Our fighter, a 20-year-old white male from rural Maine was called on every week. Short on money and long on need, he had amassed 27 fights in 18 months. The last one was a brutal affair with Gene Cyclone Herrick. Following a bad beating and after paying his cornerman, he went home with $40. Then, Sam Silverman, the Promoter, needed to fill in a fight card at the last moment in Boston and called the fighter but received no answer. He had died from a brain injury 2 days after the Herrick fight. "Nobody Answered the Phone."
JEFF BUMPUS — former fighter and writer: Danny "Little Red" Lopez was of Ute Indian, Mexican, and Irish heritage. He had been moved from one foster home to another, and coming off a Ute Indian Reservation in Utah, to become the WBC featherweight champion. Obvious title: "Little Red."
TRACY CALLIS — eminent boxing historian: I'd make a movie about James J. Jeffries and use the book, "A Man Among Men," by Kelly Nicholson, as the guide. Jeffries was a great champion and lost the only fight of his career in a comeback contest after a long five-year layoff.
STEVE CANTON — the face of boxing in South Florida: I'd do a documentary about the difference between Old School boxers and current boxers, the difference between old training methods and new, the difference between old trainers and current trainers and illustrate the demise of the technique of the Sweet Science with a plea to bringing back the old tried and proven methods.
GUY CASALE — former fighter and retired policeman/lawyer: Mine would concern Organized Crime's continued influence on boxing. My title would be "Owned."
MONTE COX — former fighter; noted boxing historian: Sam Langford. Since his most well-known nickname, The Boston Tar Baby, might not translate well in today's world, and his other nicknames such as "The Boston Terror" might have someone thinking of the Boston marathon bombing, I'd just call it "Feared, the Sam Langford Story." One of the most avoided boxers in history, he was never given the opportunity because he was too black and too good. Even Jack Johnson drew the color line against him once Sam hit the peak of his powers. Langford had 126 knockouts with nearly all the top heavyweights of his era on the victim list.
MICHAEL CULBERT — former super middleweight contender: I'd make a movie about the life and times of Hector Camacho and call it: "Too Macho."
JOEY "TANK" DAWEJKO — heavyweight contender: It would be about all the bad stuff that goes on in the boxing world! Title: "Corruption."
DAVID DIAMANTE — ring announcer, actor, tv host, and sports announcer: Sam Langford. Call it "Fight to the Finish." Keep it gritty and real, in the vein of "Fat City".
JILL DIAMOND — WBC International Secretary; "WBC Cares" Chair: One of the greatest and most interesting champions and a hero whose legacy was tarnished by a questionable suicide; Alexis Argüello.
CHARLIE DWYER– former fighter, pro referee, and member of Marine Corps Boxing Hall of Fame: My story would be about Arturo Gatti and would be called "Blood and Guts."
STEVE FARHOOD – TV commentator, former editor The Ring magazine and 2017 IBHOF inductee: Two movies: One, a biopic of Matthew Saad Muhammad. Two: A boxing parody, making fun of all the things in boxing that deserve to be made fun of (there are so many!).
MATT FARRAGO — former fighter and founder and President of RING 10: "When the Last Blow Lands." The subject would be whether boxers suffer from CTE like in football or do they just end up Punchy which doesn't sound so bad? I could pick 20 big name fighters that faded away to nothing and nobody said anything. My last trainer was Emile Griffith and I witnessed his deterioration into oblivion and death. Totally forgotten. The Quarry brothers. Same thing.
RICK FARRIS — founder and President, West Coast Boxing Hall of Fame: I'd make a film like the cool one of which I am now a part; namely, a documentary about the Olympic Auditorium. And I am beyond excited about Steve DeBro's brilliant film, "18th & Grand" which is in post-production and which is the Olympic Auditorium Project. As an aside, I'd never do an Ali-type film or a Rocky fantasy.
BERNARD FERNANDEZ — TSS mainstay and lifetime member of the BWAA: Flicks about two Philly fighters—Matthew Saad Muhammad and Bernard Hopkins—with terrific backstories that immediately come to mind. Saad was abandoned on a city street as a toddler by a relative, grew up to be a light heavyweight champion and one of the great action fighters. B-Hop did a prison stretch, lost his pro debut but went on to become the most enduring of champions, in two weight classes. But if push comes to shove, I might go with Craig Bodzianowski who lost his left leg from the knee down in a motorcycle accident, got fitted for a prosthetic leg and returned to the ring and did well enough to earn a shot at a cruiserweight title. See: https://tss.ib.tv/boxing/featured-boxing-articles-boxing-news-videos-rankings-and-results/17009-later-gator-bodzianwski-1-legs-a-1-big-heart.
JERRY FITCH — Cleveland's Mr. Boxing; author, historian: I'd make a movie about Jimmy Bivins with the same title as my book "James Louis Bivins….The Man Who Would Be Champion." Actually in 1999/2000 a couple from New York came to Cleveland several times and interviewed the family, Jimmy Bivins and me, shot a lot of footage, tracked down surviving opponents, etc. They were planning on doing a documentary film on Jimmy. Then, just like that, they disappeared. It would have been interesting as there were many neat side stories. 
SUE TL FOX — former world class female boxer, founder/president of WBAN™ and IWBHF: If I were to make a boxing movie, I would title the movie, "The Fighter Within." It would be about the life and struggles of the 1970s to 1980s female boxer Lady Tyger Trimiar who struggled not only to be recognized inside the ring—- but outside the ring as she made countless efforts to get women's boxing to be recognized and to improve the sport for not only herself but others.
JEFFREY FREEMAN — TSS writer: "Having your words published, like entering a ring, puts your talent on display. And there's nowhere to hide. The truth is revealed. And sometimes, the results can be disastrous." ~ Erik Kernan Jr., Resurrecting The Champ. There needs to be a proper film made about the history of boxing writers. From Liebling to Collins to BFern and beyond, there is a very colorful story to be told about those who have penned boxing's most colorful stories. The only other time such an endeavor was attempted was in 2007's Resurrecting The Champ, an honest movie told through the eyes of a young fictional sports writer assigned to cover boxing while also uncovering some of its essential hidden truths.
CLARENCE GEORGE — writer and historian: Many years ago, there was talk of a movie on "Two Ton" Tony Galento, with Burt Young in the title role. It never came to pass, unfortunately, but I think it should. After all, Tony's easily among boxing's most colorful characters. As Young's rapidly approaching 80, however, it would have to star somebody else. Not sure who, but I'm open to suggestions.
BUDDY GIBBS — author and historian: My movie would be on the great trainer Harry Wiley from the streets of Harlem; he fought as an amateur boxer until he became a trainer. Harry worked as a water boy for Jack Dempsey, worked in the camp of Harry Wills, and gawked at Sam Langford during his fighting days. As a trainer, Wiley molded Ray Robinson into arguably the greatest fighter that ever lived. Harry was also the reason why the Mob did not have their foot on Robinson's throat during his career. He worked with Ambers, Armstrong, Baby Joe Gans, Ali, and many others. In 1932, he became the first African-American to train a U.S. Olympic boxing team; unfortunately, due to racial discrimination, he was replaced before the start of the event. He battled against prejudice as a matchmaker and promoter and even tried to help arrange bouts for Ali during his exile. He stood up against racial injustice in boxing, stood his ground against the Mob, helped mold some of the greatest fighters of all-time, and remained humble through it all.
HENRY HASCUP — boxing historian and President of the New Jersey Boxing Hall of Fame: There are so many so I just can't pick just one. Sam Langford, Harry Greb, Mickey Walker and Archie Moore would be the ones I would like to see. They all grew up in hard times and overcame problems that no fighter today would even think of. When we go over the best fighters of all-time, most young people don't even know who these fighters are, so we should educate them by putting their stories up on the BIG screen!
CHUCK HASSON — historian, author. "HE FIGHTS FOR A LIVING." A story about a club fighting journeyman who travels the country (and world) fighting everywhere he can get a fight. The experiences he encounters, both good and bad, and his chances of winning a close verdict are slim and none.
JACK HIRSCH — former President and now lifetime member of the BWAA: It's amazing that a movie has never been made about one of the most flamboyant fighters in history, Sugar Ray Robinson. I'd make one and call it "SUGAR RAY."
CRAIG HOUK — Founder/CEO Indiana Boxing Hall of Fame; fought 110 pro bouts: I'd do one called "Legacies," and it would be about the price of fame if you really chase greatness.
BRUCE KIELTY — booking agent; boxing historian: For me, the obvious choice is a biopic of Stanley Ketchel
1) man who lived every minute like it was his last.
2) A man who had cojones as large as bowling balls.
3) A man who had a good heart for his family
4) A man who brought massive excitement every time that he entered a ring.
5) A man who reportedly was a ladies man of the first order.
6) A man who departed this world at only 24 (violently) yet is still remembered today.
7) A title has to sell a film to the public, so I'd title it "CRAZY STANLEY."
STUART KIRSCHENBAUM — Boxing Commissioner Emeritus, State of Michigan: "ROXY"…the story of John Roxborough…a leading gambling racket boss, helped operate a policy and numbers business in Detroit. His $10 million annual business was at the center of a scandal that led to the indictment, prosecution and prison sentences of street hustlers, police officers as well as former Mayor Richard Reading of Detroit…all served prison time. "Roxy" co-managed world heavyweight champion Joe Louis whom he met in 1931 when the "Brown Bomber" was a teenager learning to box at Brewster Recreation Center. 
MARK KRAM JR — multi-award-winning feature writer and author: My aim is to arrange for the development of a limited series based on my book, "Smokin' Joe: The Life of Joe Frazier." From his childhood in the Jim Crow South to his wars in and out of the ring with Muhammad Ali, Joe lived an extraordinarily eventful life, one that was populated by an array of colorful characters such as Gypsy Joe Harris, Yank Durham, Eddie Futch and so on. Far more complex that even his fans understood him to be, his story is far larger in scope than a single biopic could comfortably accommodate. Given his signature style of never backing up, I'd call it "RELENTLESS."
Editor's Note: The photo is of Kirk Douglas from the 1949 RKO movie "Champion." Douglas turns 103 on Dec. 9.
Ted Sares is a member of Ring 8 and a member of Ring 4 and its Boxing Hall of Fame and a lifetime member of Ring 10 which in 2019 honored him with the first annual Harold Lederman Award for Historian. He also is an Auxiliary Member of the Boxing Writers Association of America (BWAA). He still competes as a power lifter in the Master Class.
Check out more boxing news on video at The Boxing Channel 
To comment on this story in The Fight Forum CLICK HERE
Fast Results from Brooklyn: No Surprises as Garcia and Hurd Win Lopsidedly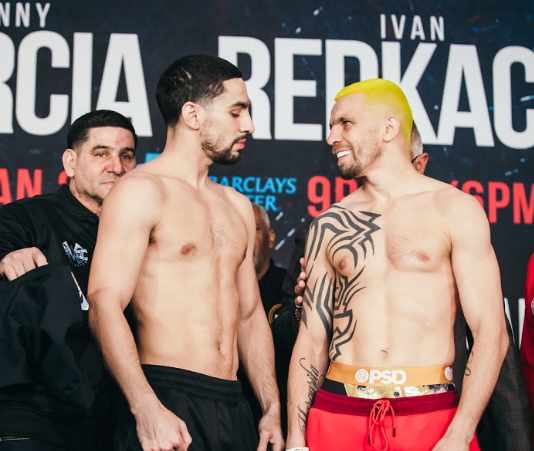 Tonight, Philadelphia's Danny Garcia made his eighth appearance at Barclays Center. Garcia's 2017 fight with Keith Thurman drew 16,533, the attendance high for a boxing show at the arena. A far smaller crowd was in attendance tonight to see Garcia take on Ivan Redkach in a non-title fight slated for 12 rounds.
Redkach, a 33-year-old LA-based Ukrainian, is a southpaw. That's no coincidence. Garcia hopes to land big-money fights with Errol Spence and/or Manny Pacquiao, both southpaws.
Redkach (23-4-1 coming in) turned his career around in his last fight with a career-best performance, a sixth-round stoppage of former two-division title-holder Devon Alexander, a 15-year pro who hadn't previously been stopped. But there was a class difference between he and Danny Garcia, a former WBA and WBC 140-pound world title-holder and former WBC 147-pound champion.
Garcia (35-2, 21 KOs) was simply sharper. His workrate slowed late in the fight, allowing the game Redkach to steal a few rounds, but at the final gun he was relatively unmarked whereas Redkach was conspicuously bruised. The scores were 118-110 and 117-111 twice. The crowd booed at intervals, understandable as they were subject to a drab 7-fight card that was even less interesting than it was on paper.
Co-Feature
In the 10-round co-feature, Jarrett Hurd, making his first start since losing his WBA/IBF super welterweight title to Julian Williams last May, went on cruise control from the opening bell and jabbed his way to a lopsided 10-round decision over Francisco Santana. Hurd, who improved to 24-1, finally let loose late in the 10th frame, putting Santana (25-8-1) on the canvas with a succession of left hooks, but by then many in the crowd had probably nodded off.
This was Hurd's first fight with new trainer Kay Koroma who has drawn raves for his work with America's elite amateurs. The scores were 97-92 and 99-90 twice. SoCal's Santana has now lost five of his last eight.
The opening bout on the main TV portion of the card was a 12-round super bantamweight contest between Philadelphia's Stephen Fulton and fellow unbeaten Arnold Khegai who currently trains in Philadelphia.
Fulton (18-0, 8 KOs) simply had too much class for Khegai (16-1-1), a Ukrainian of Korean heritage. Although Khegai frequently backed Fulton into the ropes, the Philadelphian had an air-tight defense and connected with many more punches. The fight went the full 12 with Fulton prevailing by scores of 116-112 and 117-111 twice.
If the WBO has its way, Fulton will proceed to a fight with Emanuel Navarrete, but don't hold your breath as Navarrete is promoted by Bob Arum who undoubtedly wants to extract more mileage from him before letting him risk his belt against a crafty fighter like Stephen Fulton.
Photo credit: Amanda Westcott / SHOWTIME
Check out more boxing news on video at The Boxing Channel 
To comment on this story in The Fight Forum CLICK HERE
Sacramento Honors Diego 'Chico' Corrales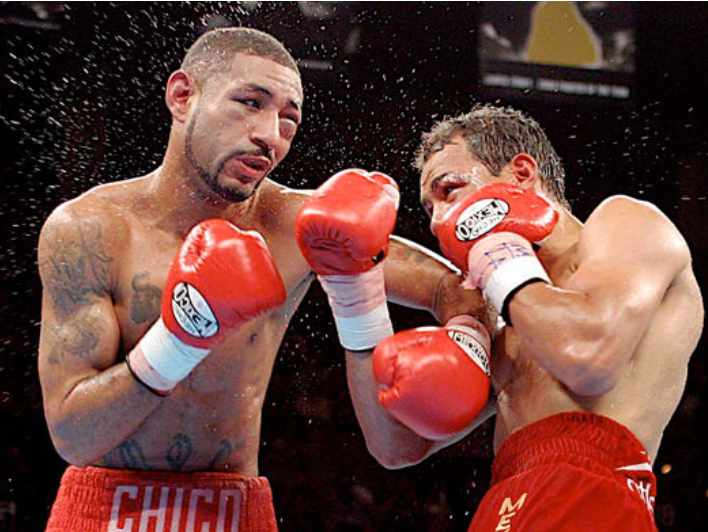 Tonight (Saturday, Jan. 25) former two-division world boxing champion Diego "Chico" Corrales will be posthumously inducted into the Sacramento Sports Hall of Fame at the organization's eighth annual induction ceremony at the Thunder Valley Casino Resort.
Corrales, who grew up in Sacramento, the son of a Columbian father and a Mexican mother, turned pro at age 18 and went on to compile a record of 40-5 (33 KOs). He won his first title in 1999 with a seventh-round stoppage of previously undefeated Robert Garcia. Now recognized as one of boxing's top trainers, Garcia was making the fourth defense of his IBF 130-pound title.
Five years later, Corrales won the WBO world lightweight title with a 10th-round stoppage of Brazil's previously undefeated Acelino Freitas. That set up a unification fight with the WBC belt-holder Jose Luis Castillo.
Corrales and Castillo met on May 7, 2005, at Mandalay Bay in Las Vegas. To say they put on a great fight would be an understatement. The boxing writers in attendance will tell you that this was the greatest fight of all time. It was named Fight of the Decade by The Ring magazine.
The final round, the 10th, was unbelievable. Heading into the round, Corrales was ahead on two of the three scorecards, but his left eye was swollen nearly shut and during the round he was knocked down twice. No one would have faulted referee Tony Weeks for stopping the fight after the second knockdown. But, somehow, Corrales was able to rally, pulling the fight out of the fire with a barrage of punches that had Castillo out on his feet when Weeks waived it off.
Two years to the very day of this iconic fight, Diego "Chico" Corrales died in a motorcycle accident in his adopted hometown of Las Vegas when he rear-ended a car while traveling at a high rate of speed. He was 29 years old.
Corrales was a thrill-seeker. In a 2006 profile, Las Vegas Review-Journal boxing writer Kevin Iole enumerated these among Castillo's hobbies: jumping out of planes from 14,000 feet, bungee jumping from 400 feet, snowboarding in treacherous terrain and scuba diving amid a school of sharks. "He lived his life the same way he fought," said his promoter Gary Shaw, "with reckless abandon."
It might seem odd that it took so long for Corrales to be recognized by the Sacramento Sports Hall of Fame, but there was a period when Corrales's name was mud in his hometown and perhaps the organization's founder, Las Vegas sports radio personality T.C. Martin, a Sacramento native, thought it appropriate to let old wounds heal.
In 2001, shortly after suffering his first pro loss at the hands of Floyd Mayweather, Corrales pled guilty to felony domestic violence in the beating of his first wife and would serve 14 months in prison. "The whole family has worn a black eye for it," Diego's brother Esteban Corrales told Sacramento Bee reporter Marcos Bretan.
For all his recklessness, the incident didn't jibe with his persona. In the company of Las Vegas sportswriters, the soft-spoken and well-spoken Corrales came across as polite and humble.
Corrales, one of five inductees in the 2020 class, joins three other boxers already installed in the Sacramento Hall: Pete Ranzany, Loreto Garza, and Tony "Tiger" Lopez.
Ranzany, a welterweight, fought four former or future world champions and was a fixture in Sacramento rings in the late 1970's. Garza wrested the WBA super lightweight title from Argentina's Juan Martin Coggi in France and successfully defended the belt here in Sacramento with a one-sided conquest of Vinny Pazienza. Lopez, Sacramento's most popular fighter ever, made the turnstiles hum at the city's largest arena where he fought eight of his 14 world title fights beginning with his 1988 humdinger with defending IBF 130-pound champion Rocky Lockridge.
Among the speakers at tonight's confab will be Kenny Adams. Perhaps best known as the head trainer for the 1988 U.S. Olympic team that won eight medals in Seoul, Adams currently trains Nonito Donaire. He was with Diego Corrales for 24 fights, during which Corrales was 23-1, avenging the lone defeat by Joel Casamayor. Festivities start at 7 pm.
Check out more boxing news on video at The Boxing Channel 
To comment on this story in The Fight Forum CLICK HERE
Boxing Odds and Ends: Ramirez-Postol, Taylor-Serrano and More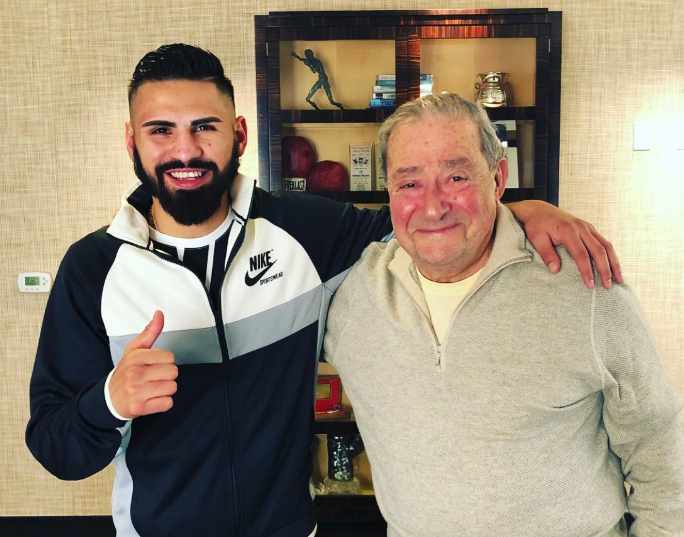 It takes a strong constitution to be a boxing promoter because things always go wrong. The only law that governs boxing is Murphy's Law.
Carl Frampton's first fight under the Top Rank banner was slated for Aug. 10 of last year in Philadelphia. With the fight five days away, Frampton suffered a freak injury while sitting in a hotel lobby. A boy playing behind a curtain knocked over a seven-foot pillar which fell on Frampton's left hand, fracturing it.
This was the second time that a Frampton fight was knocked out by a freak injury. Two years earlier, a homecoming fight in Belfast had to be scrapped when Frampton's opponent, Andres Gutierrez, slipped in the shower in his hotel on the eve of the battle and suffered severe facial injuries.
The latest bout to fall out because of an odd development is Jose Ramirez's Feb. 2 WBC/WBO lightweight title defense against Viktor Postol at a Chinese golf resort south of Hong Kong. The event fell victim to the coronavirus, more exactly the fear it has instilled.
The virus, which produces flu-like symptoms that are resistant to conventional antibiotics, apparently originated at an outdoor food market in the city of Wuhan where live animals are sold. The numbers vary with each new story, but according to one account there have been 444 confirmed cases in Hubei province, of which Wuhan is the capital city, and 653 cases worldwide including two in the United States, a man in his 30's living near Seattle and a Chicago woman in her 60's.
The fear of a pandemic (an epidemic becomes a pandemic when it spreads across multiple geographic regions of the world) has led to some drastic measures. The Chinese government has reportedly put 12 cities on lockdown, blocking traffic in and out. At many airports, visitors arriving from China are being screened. There are now thermal cameras than can record a person's body temperature remotely.
Jose Ramirez (pictured with his promoter Bob Arum) was scheduled to leave for China yesterday (Jan. 23) but was intercepted. Viktor Postol is already there and apparently stranded until an outgoing flight can be arranged.
The Ramirez-Postol fight was to air on ESPN. No make-up date has been set.
– – –
British promoter Eddie Hearn says he's close to finalizing a fight between Katie Taylor and Amanda Serrano. Hearn says the fight will take place in the U.S. in April. It figures that Madison Square Garden is the frontrunner.
If the fight comes off on schedule, this will be the biggest women's fight in history!
That's because the odds attached to the fight figure to be in the "pick-'em" range and that guarantees that boxing writers and others in the boxing community will be surveyed to get their picks – about which there figures to be considerable disagreement – and that will greatly enhance the pre-fight buzz.
Taylor, 33, last fought in November in Manchester, England, advancing her record to 15-0 (6 KOs) with a unanimous decision over Christina Linardatou, a fighter from Greece via the Dominican Republic. It was Taylor's first fight at 140 after previously unifying the lightweight title with a hard-fought decision over Belgium's Delfine Persoon.
Amanda Serrano, a 31-year-old southpaw, born in Puerto Rico and raised in Brooklyn, has won titles in five weight divisions. She last fought as a featherweight, turning away gritty Heather Hardy, but has competed as high as 140. Boasting a 37-1-1 record, she's won 23 straight, 18 by stoppage, 10 in the opening round
What sets women boxers apart from their male counterparts is that the women have a significantly lower knockout ratio. Amanda Serrano is the glaring exception.
Despite a less eye-catching record, Taylor has arguably fought the stiffer competition considering her extensive amateur background. As a pro, her victims include Cindy Serrano, Amanda's older sister by six years. Taylor whitewashed her in a match at Boston Garden, prompting the elder Serrano sister to call it a career.
– – –
The most bizarre (non)story to appear in a boxing web site this week involved former unified heavyweight champion Riddick Bowe. A man representing Bowe, identified as Eli Karabell, was frustrated because Eddie Hearn wasn't returning his calls. Karabell had offered Hearn the right of first refusal on Bowe's next fight.
Bowe, now 51 years old, last fought in a boxing ring in 2008 when he returned to the sport after a three-and-half year absence for an 8-round bout in Germany. In 2013, he appeared in a kickboxing fight in Thailand where he was stopped in the second round after being knocked down five times by leg kicks.
"Will there be another chapter to write for Bowe?" concluded the author of this piece.
Egads, let's hope not.
Check out more boxing news on video at The Boxing Channel 
To comment on this story in The Fight Forum CLICK HERE