Boxing Movies We Hope to See: Suggested Storylines from 50+ Boxing Notables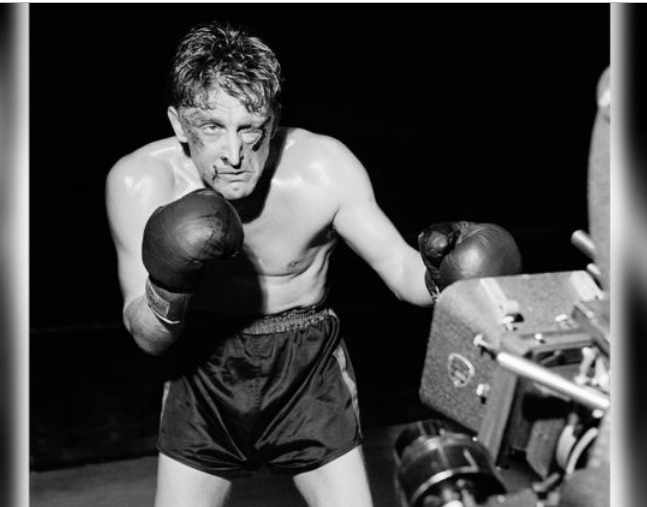 The Fourth Quarterly TSS Survey: Part One (A-K) — The question for our final survey of 2019 was not an easy one. "If you were to make a boxing movie, what would the subject be? How might you title it (optional)?" There was an excellent collection of inputs from a larger than normal number of respondents, including many former fighters. Hence, we are running this story in two parts. The respondents are listed in alphabetical order.
BONES ADAMS — former world super bantamweight champion, elite trainer: A movie about me and my complex life. How many white guys do you know from Kentucky who went on to become a world champion?
RUSS ANBER — elite trainer, cornerman, and owner of Rival Boxing Equipment: Provided it would be given the budget it deserved, my movie would be called "On God's Side" as it tells the tale of the parallels of both the Louis vs Schmeling fights and the rise of the Nazi regime and eventually World War II, while the world watched both intently.
I'd follow that with "No Quarrel," the story of Ali's stand against the establishment and the Viet Nam war, his subsequent suspension, the social divisiveness, and Ali's subsequent return vs Joe Frazier in the most politically important fight since Louis vs Schmeling.
MATT ANDRZEJEWSKI –TSS boxing writer: I'd make a movie about Archie Moore. I'm surprised one has not yet been done. It would be a great story to tell the world of perseverance and determination. I'd title it "The Old Mongoose."
DAVID AVILA — TSS West Coast Bureau Chief: I'd do a story on a guy named Luis Magana. He passed away 10 years ago in his late 90s. He was a former PR for the Olympic Auditorium and his dad was a PR for the Olympic when it was first built. He had so many stories to share about guys like Jack Dempsey, Joe Louis and Mexican fighters like Baby Arizmendi and Art Aragon. He was also a sort of playboy who knew many Hollywood starlets. Incredible guy.  ".…if you don't know who Luis Magana is, then you're not a real boxing writer": Hector Zapata, Los Angeles Reporter
BOB BENOIT — former professional fighter, current pro referee and judge: It was the 60's, and New England Pro boxing was roaring with a fight or two every week in New England.  Worcester- Portland – North Adams – Boston – and New Bedford were SOME of the fistic hotbeds. Our fighter, a 20-year-old white male from rural Maine was called on every week. Short on money and long on need, he had amassed 27 fights in 18 months. The last one was a brutal affair with Gene Cyclone Herrick. Following a bad beating and after paying his cornerman, he went home with $40. Then, Sam Silverman, the Promoter, needed to fill in a fight card at the last moment in Boston and called the fighter but received no answer. He had died from a brain injury 2 days after the Herrick fight. "Nobody Answered the Phone."
JEFF BUMPUS — former fighter and writer: Danny "Little Red" Lopez was of Ute Indian, Mexican, and Irish heritage. He had been moved from one foster home to another, and coming off a Ute Indian Reservation in Utah, to become the WBC featherweight champion. Obvious title: "Little Red."
TRACY CALLIS — eminent boxing historian: I'd make a movie about James J. Jeffries and use the book, "A Man Among Men," by Kelly Nicholson, as the guide. Jeffries was a great champion and lost the only fight of his career in a comeback contest after a long five-year layoff.
STEVE CANTON — the face of boxing in South Florida: I'd do a documentary about the difference between Old School boxers and current boxers, the difference between old training methods and new, the difference between old trainers and current trainers and illustrate the demise of the technique of the Sweet Science with a plea to bringing back the old tried and proven methods.
GUY CASALE — former fighter and retired policeman/lawyer: Mine would concern Organized Crime's continued influence on boxing. My title would be "Owned."
MONTE COX — former fighter; noted boxing historian: Sam Langford. Since his most well-known nickname, The Boston Tar Baby, might not translate well in today's world, and his other nicknames such as "The Boston Terror" might have someone thinking of the Boston marathon bombing, I'd just call it "Feared, the Sam Langford Story." One of the most avoided boxers in history, he was never given the opportunity because he was too black and too good. Even Jack Johnson drew the color line against him once Sam hit the peak of his powers. Langford had 126 knockouts with nearly all the top heavyweights of his era on the victim list.
MICHAEL CULBERT — former super middleweight contender: I'd make a movie about the life and times of Hector Camacho and call it: "Too Macho."
JOEY "TANK" DAWEJKO — heavyweight contender:  It would be about all the bad stuff that goes on in the boxing world! Title: "Corruption."
DAVID DIAMANTE — ring announcer, actor, tv host, and sports announcer: Sam Langford. Call it "Fight to the Finish." Keep it gritty and real, in the vein of "Fat City".
JILL DIAMOND — WBC International Secretary; "WBC Cares" Chair: One of the greatest and most interesting champions and a hero whose legacy was tarnished by a questionable suicide; Alexis Argüello.
CHARLIE DWYER– former fighter, pro referee, and member of Marine Corps Boxing Hall of Fame: My story would be about Arturo Gatti and would be called "Blood and Guts."
STEVE FARHOOD – TV commentator, former editor The Ring magazine and 2017 IBHOF inductee: Two movies: One, a biopic of Matthew Saad Muhammad. Two: A boxing parody, making fun of all the things in boxing that deserve to be made fun of (there are so many!).
MATT FARRAGO — former fighter and founder and President of RING 10: "When the Last Blow Lands." The subject would be whether boxers suffer from CTE like in football or do they just end up Punchy which doesn't sound so bad? I could pick 20 big name fighters that faded away to nothing and nobody said anything. My last trainer was Emile Griffith and I witnessed his deterioration into oblivion and death. Totally forgotten. The Quarry brothers. Same thing.
RICK FARRIS — founder and President, West Coast Boxing Hall of Fame: I'd make a film like the cool one of which I am now a part; namely, a documentary about the Olympic Auditorium. And I am beyond excited about Steve DeBro's brilliant film, "18th & Grand" which is in post-production and which is the Olympic Auditorium Project. As an aside, I'd never do an Ali-type film or a Rocky fantasy.
BERNARD FERNANDEZ — TSS mainstay and lifetime member of the BWAA: Flicks about two Philly fighters—Matthew Saad Muhammad and Bernard Hopkins—with terrific backstories that immediately come to mind. Saad was abandoned on a city street as a toddler by a relative, grew up to be a light heavyweight champion and one of the great action fighters. B-Hop did a prison stretch, lost his pro debut but went on to become the most enduring of champions, in two weight classes. But if push comes to shove, I might go with Craig Bodzianowski who lost his left leg from the knee down in a motorcycle accident, got fitted for a prosthetic leg and returned to the ring and did well enough to earn a shot at a cruiserweight title. See: https://tss.ib.tv/boxing/featured-boxing-articles-boxing-news-videos-rankings-and-results/17009-later-gator-bodzianwski-1-legs-a-1-big-heart.
JERRY FITCH — Cleveland's Mr. Boxing; author, historian: I'd make a movie about Jimmy Bivins with the same title as my book "James Louis Bivins….The Man Who Would Be Champion." Actually in 1999/2000 a couple from New York came to Cleveland several times and interviewed the family, Jimmy Bivins and me, shot a lot of footage, tracked down surviving opponents, etc. They were planning on doing a documentary film on Jimmy. Then, just like that, they disappeared. It would have been interesting as there were many neat side stories. 
SUE TL FOX — former world class female boxer, founder/president of WBAN™ and IWBHF: If I were to make a boxing movie, I would title the movie, "The Fighter Within." It would be about the life and struggles of the 1970s to 1980s female boxer Lady Tyger Trimiar who struggled not only to be recognized inside the ring—- but outside the ring as she made countless efforts to get women's boxing to be recognized and to improve the sport for not only herself but others.
JEFFREY FREEMAN — TSS writer: "Having your words published, like entering a ring, puts your talent on display. And there's nowhere to hide. The truth is revealed. And sometimes, the results can be disastrous." ~ Erik Kernan Jr., Resurrecting The Champ. There needs to be a proper film made about the history of boxing writers. From Liebling to Collins to BFern and beyond, there is a very colorful story to be told about those who have penned boxing's most colorful stories. The only other time such an endeavor was attempted was in 2007's Resurrecting The Champ, an honest movie told through the eyes of a young fictional sports writer assigned to cover boxing while also uncovering some of its essential hidden truths.
CLARENCE GEORGE — writer and historian: Many years ago, there was talk of a movie on "Two Ton" Tony Galento, with Burt Young in the title role. It never came to pass, unfortunately, but I think it should. After all, Tony's easily among boxing's most colorful characters. As Young's rapidly approaching 80, however, it would have to star somebody else. Not sure who, but I'm open to suggestions.
BUDDY GIBBS — author and historian: My movie would be on the great trainer Harry Wiley from the streets of Harlem; he fought as an amateur boxer until he became a trainer. Harry worked as a water boy for Jack Dempsey, worked in the camp of Harry Wills, and gawked at Sam Langford during his fighting days. As a trainer, Wiley molded Ray Robinson into arguably the greatest fighter that ever lived. Harry was also the reason why the Mob did not have their foot on Robinson's throat during his career. He worked with Ambers, Armstrong, Baby Joe Gans, Ali, and many others. In 1932, he became the first African-American to train a U.S. Olympic boxing team; unfortunately, due to racial discrimination, he was replaced before the start of the event. He battled against prejudice as a matchmaker and promoter and even tried to help arrange bouts for Ali during his exile. He stood up against racial injustice in boxing, stood his ground against the Mob, helped mold some of the greatest fighters of all-time, and remained humble through it all.
HENRY HASCUP — boxing historian and President of the New Jersey Boxing Hall of Fame: There are so many so I just can't pick just one. Sam Langford, Harry Greb, Mickey Walker and Archie Moore would be the ones I would like to see. They all grew up in hard times and overcame problems that no fighter today would even think of. When we go over the best fighters of all-time, most young people don't even know who these fighters are, so we should educate them by putting their stories up on the BIG screen!
CHUCK HASSON — historian, author. "HE FIGHTS FOR A LIVING." A story about a club fighting journeyman who travels the country (and world) fighting everywhere he can get a fight. The experiences he encounters, both good and bad, and his chances of winning a close verdict are slim and none.
JACK HIRSCH — former President and now lifetime member of the BWAA: It's amazing that a movie has never been made about one of the most flamboyant fighters in history, Sugar Ray Robinson. I'd make one and call it "SUGAR RAY."
CRAIG HOUK — Founder/CEO Indiana Boxing Hall of Fame; fought 110 pro bouts: I'd do one called "Legacies," and it would be about the price of fame if you really chase greatness.
BRUCE KIELTY — booking agent; boxing historian: For me, the obvious choice is a biopic of Stanley Ketchel
1) man who lived every minute like it was his last.
2) A man who had cojones as large as bowling balls.
3) A man who had a good heart for his family
4) A man who brought massive excitement every time that he entered a ring.
5) A man who reportedly was a ladies man of the first order.
6) A man who departed this world at only 24 (violently) yet is still remembered today.
7) A title has to sell a film to the public, so I'd title it "CRAZY STANLEY."
STUART KIRSCHENBAUM — Boxing Commissioner Emeritus, State of Michigan: "ROXY"…the story of John Roxborough…a leading gambling racket boss, helped operate a policy and numbers business in Detroit. His $10 million annual business was at the center of a scandal that led to the indictment, prosecution and prison sentences of street hustlers, police officers as well as former Mayor Richard Reading of Detroit…all served prison time. "Roxy" co-managed world heavyweight champion Joe Louis whom he met in 1931 when the "Brown Bomber" was a teenager learning to box at Brewster Recreation Center.  
MARK KRAM JR — multi-award-winning feature writer and author: My aim is to arrange for the development of a limited series based on my book, "Smokin' Joe: The Life of Joe Frazier." From his childhood in the Jim Crow South to his wars in and out of the ring with Muhammad Ali, Joe lived an extraordinarily eventful life, one that was populated by an array of colorful characters such as Gypsy Joe Harris, Yank Durham, Eddie Futch and so on. Far more complex that even his fans understood him to be, his story is far larger in scope than a single biopic could comfortably accommodate. Given his signature style of never backing up, I'd call it "RELENTLESS."
Editor's Note: The photo is of Kirk Douglas from the 1949 RKO movie "Champion." Douglas turns 103 on Dec. 9.
Ted Sares is a member of Ring 8 and a member of Ring 4 and its Boxing Hall of Fame and a lifetime member of Ring 10 which in 2019 honored him with the first annual Harold Lederman Award for Historian. He also is an Auxiliary Member of the Boxing Writers Association of America (BWAA). He still competes as a power lifter in the Master Class.
Check out more boxing news on video at The Boxing Channel  
To comment on this story in The Fight Forum CLICK HERE
Johnny Famechon was a Hero in Australia Where Willie Pep Had a Bad Night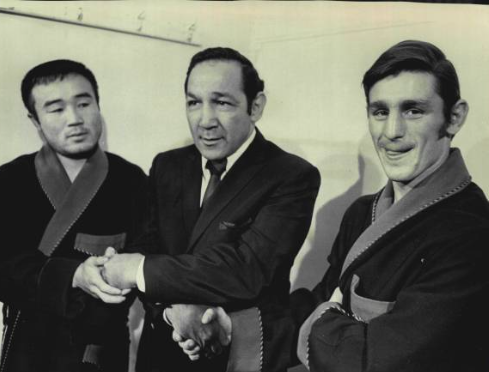 Willie Pep was good at boxing. He wasn't so good at math. Ah, but hold the phone; we are getting ahead of ourselves. This isn't a story about Willie Pep, but about former world featherweight champion Johnny Famechon who passed away last Thursday, Aug. 4, in Melbourne, Australia, at age 77.
Famechon was five years old when his parents left his birthplace in Paris and settled in Melbourne. He came to the fore in an era when boxing was still a mainstream sport and home-grown champions were national idols. The locals turned out in droves for the parade in Johnny's honor when he returned to Melbourne after taking the featherweight crown from the Cuban-born Spaniard Jose Legra in a big upset at London's Prince Albert Hall.
Famechon's first title defense came against Japan's Fighting Harada. They met in Sydney, Australia, on July 28, 1969.
At age 26, Harada was a battle-tested veteran. He previously held world titles at flyweight and bantamweight and would be remembered as the only man to defeat the great Brazilian boxer Eder Jofre, a feat he accomplished not once, but twice.
Only two boxers in history – Bob Fitzsimmons and Henry Armstrong – had won world titles in three of the eight classic weight divisions. Harada, who entered the International Boxing Hall of Fame in 1995, was bidding to become the third.
Team Harada insisted on a neutral referee. The British promoters chose Willie Pep. A legend in the sport, Pep had previously shared a ring with another Famechon, having out-pointed Johnny's uncle Ray Famechon in a featherweight title defense at Madison Square Garden in 1950.
Some thought that Pep would favor Fighting Harada. American referees put a higher premium on aggression than did their foreign counterparts and Harada was a little buzzsaw who rarely took a backward step. But others thought that Pep's selection favored Famechon, an elusive counterpuncher with whom the Connecticut "Will-'o-Wisp" could identify; their styles were similar.
Pep had been the third man in the ring for four previous title fights, three in Jamaica and one in Brazil. But this fight would be different. He would be the sole arbiter. If the fight went the full 15 rounds, Willie Pep would be the judge and jury.
During the bout, Famechon scored one knockdown, sending Harada to the canvas in round five, but Harada scored three, knocking Famechon down in rounds two, 11, and 14. The last of the three knockdowns was the harshest, but Famechon made it to the final bell.
The fight ended in a clinch. Immediately upon separating the fighters, Pep raised both of their hands, a signal that the fight was a draw.
Fighting Harada's handlers were outraged and demanded to see the scorecard. A policeman at ringside was empowered to give it a look-over (Australia had no boxing commission). What the policeman found was that there was indeed a discrepancy. However, it was the opposite of what Team Harada anticipated!
The fight was scored on the antiquated system whereby the winner of a round was awarded five points and the loser four points or less. In the case of an even round, both fighters got five points.
After 13 rounds, Fighting Harada had amassed 59 points on Pep's card. He won the 14th round, giving him an aggregate total of 64 points. But when Pep added up the numbers "59" and "5" in the column where he kept the aggregate total, he came up with "65."
Oops.
When Pep signaled that the fight was a draw, people stormed the ring from all sides. Newspaper reports said the belligerents were about evenly divided. Famechon, the Aussie, was the crowd favorite, but Fighting Harada was well-backed in the betting markets, a very big industry in Australia. Many were even angrier when Famechon was summoned back to the ring to have his hand raised.
The Famechon-Harada fight aired live on Japanese television. In Japan, there was a great outpouring of outrage. Pep had been instructed to score a round 5-4 if the round was narrow and 5-3 if there was a clear-cut winner. Despite the knockdowns, Pep scored every round 5-4 or 5-5. In the revised tally, he had Famechon winning 6-5-4 in rounds.
"Harada loses to referee" was the headline in Japan's leading sports daily. Willie Pep made no friends in Australia either. There were shouts of "Yankee go home" as he left the ring.
Famechon and Harada met again five months later in Tokyo. One would assume that Fighting Harada proved superior and got a fair shake, winning the third title denied him in Sydney. But don't assume.
Harada was well ahead after ten rounds but faded. On the deck in round 10, Famachon returned the favor three rounds later, knocking Harada down hard with a perfectly placed left hook. Harada was in dire straights when he came out for round 14 and Famechon put him away.
Harada never fought again and Famechon left the sport six months later after losing his crown to Vicente Saldivar. Johnny was only 25 years old, but had crammed 67 fights into a nine-year pro career and said enough is enough.
Famechon's post-boxing life took a tragic turn in 1991 when he was hit by a car while out jogging on a Sydney highway. He spent several weeks in a coma and several years in a wheelchair but eventually recovered most of his motor skills and regained his speech to the point where he could serve as a boxing color commentator on television. In 2018, a larger-than- life statue of Famechon was unveiled at a public park in the Melbourne suburb of Frankston where he was a longtime resident.
For the record, Johnny Famechon finished his career with a record of 56-5-6 with 20 KOs. We here at The Sweet Science send our condolences to his loved ones.
Arne K. Lang's latest book, titled "George Dixon, Terry McGovern and the Culture of Boxing in America, 1890-1910," will shortly roll off the press. The book, published by McFarland, can be pre-ordered directly from the publisher (https://mcfarlandbooks.com/product/clashof-the-little-giants) or via Amazon.
To comment on this story in the Fight Forum CLICK HERE
Fast Results from Fort Worth Where Vergil Ortiz Jr Won His 19th Straight by KO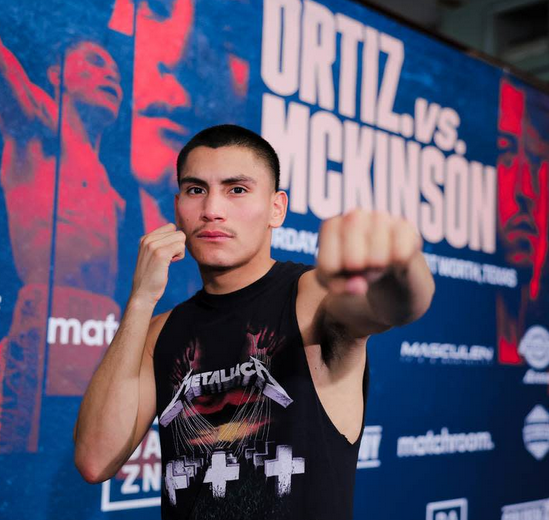 In a match pushed back from March 19, Vergil Ortiz Jr moved one step closer to a mega-fight with Terence "Bud" Crawford or Errol Spence Jr or Boots Ennis with a ninth-round stoppage of England's feather-fisted Michael McKinson. The end came 20 seconds into round nine when McKinson appeared to injure his knee as he fell to the canvas, an apparent residue of the body punch that put him on the deck late in the previous stanza. To that point, Ortiz had seemingly won every round.
It was the 19th win inside the distance in as many opportunities for Ortiz who resides in nearby Grand Prairie and was making his first start with new trainer Manny Robles. McKinson was undefeated heading in, but had scored only two knockouts while building his record to 22-0.
Ortiz, ranked #1 at welterweight by the WBA and the WBO, pulled out of the March 19 bout after being diagnosed with rhabdomyolysis, a muscle disorder associated with over-training.
Ortiz's promoter, Oscar De La Hoya, says that Ortiz will fight the winner of Errol Spence vs Terence Crawford next assuming that the fight gets made, and if doesn't get made, Ortiz's next fight will be with one or the other. The WBA, which stamped tonight's fight an eliminator, may push to have Ortiz fight their secondary title-holder, Eimantas Stanionis.
Co-Feature
Houston's Marlen Esparza (13-1, 1 KO) successfully defended her WBA/WBC world flyweight title with a unanimous decision over plucky 4'11 ½" Venezuelan southpaw Eva Guzman who had won 14 straight coming in, albeit against soft opposition. The judges had it 98-92 and 99-91 twice.
Guzman (19-2-1) was game, but just didn't have the physical tools to overcome Esparza whose lone defeat came at the hands of talented Seneisa Estrada.
Other Fights of Note
In a 10-round match contested at the catchweight of 150 pounds, Blair "The Flair" Cobbs rebounded from his first defeat with a career-best performance, a wide decision over former WBO 140-pound world titlist Maurice Hooker. It was the second straight loss for Hooker who returned to the ring after a 17-month hiatus and came out flat. Cobbs put him on the canvas in the opening frame with a combination and decked him twice more with straight lefts in round two.
Things got somewhat dicey for Cobbs in round five when he suffered a bad gash on his forehead from an accidental head butt, but Hooker, who had stablemate Bud Crawford in his corner, hesitated to let his hands go and couldn't reverse the tide. The judges had it 96-91 and 97-90 twice for the flamboyant Cobbs who improved to 16-1-1 (10). Hooker, a consensus 5/2 favorite, lost for the third time in his last five starts and slumped to 27-3-3.
In the opener to the main portion of the DAZN card, Uzbekistan's Bektimir Melikuziev (10-1, 8 KOs), a super middleweight growing into a light heavyweight, dominated and stopped overmatched Sladan Janjanin. Melikuziev put Janjanin down with a body punch in the opening minute of the fight and scored two more knockdowns before the bout was halted at the 2:18 mark of round three.
This was Melikuziev's third fight back after his shocking one-punch annihilation by Gabriel Rosado. Janjanin, a well-traveled Bosnian who fought three weeks ago in Massachusetts, declined to 32-12 and was stopped for the eighth time.
Also
Chicago welterweight Alex Martin (18-4, 6 KOs) overcame a first-round knockdown to win a unanimous decision over 38-year-old Philadelphia journeyman Henry Lundy. The judges had it an unexpectedly wide 98-91, 97-92, 97-92.
Martin was coming off a points loss to McKinson and this bout was his reward for taking that fight on short notice. Lundy (31-11-1) has lost five of his last seven.
Floyd "Austin Kid" Schofield, a lightweight who appears to have a big upside, advanced to 11-0 (9 KOs) at the expense of Mexican trial horse Rodrigo Guerrero whose corner wisely pulled him out after five one-sided rounds. It was the ninth straight loss for Guerrero (26-15).
To comment on this story in the Fight Forum CLICK HERE
Conlan Wins His Belfast Homecoming; Breezes Past Lackadaisical Marriaga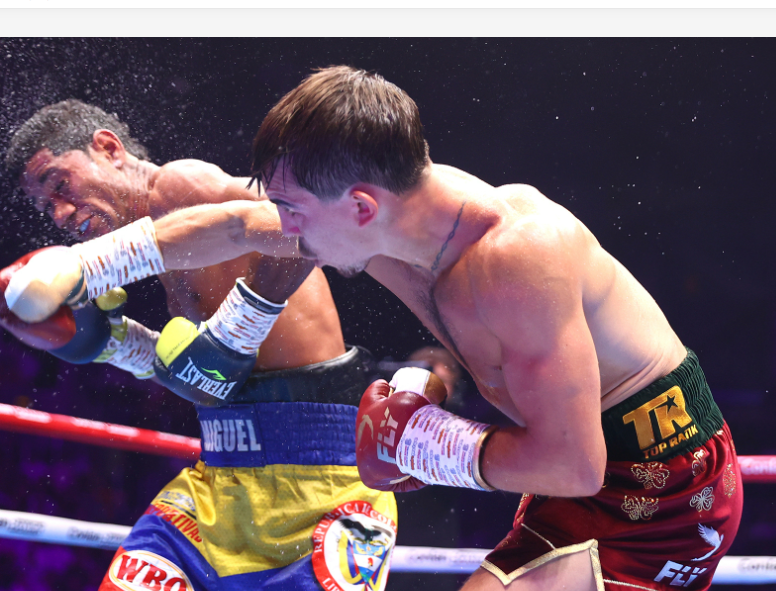 "The Return of the Mick" was the label attached to tonight's show at the SSE Arena in Belfast, Northern Ireland. The reference was to local fan favorite Michael "Mick" Conlan who returned to his hometown in hopes of jump-starting his career after suffering his first pro loss in a brutal encounter with Leigh Wood.
In that bout, a strong "Fight of the Year contender, Conlan was narrowly ahead on all three cards heading into the 12th and final round when the roof fell in. Wood, who was making the first defense of his WBA world featherweight title on his home turf in Nottingham, knocked the favored Conlan unconscious and clear out of the ring.
This was the sort of fight that can shorten a man's career. Hence the intrigue in Conlan's homecoming fight tonight against Miguel Marriaga. On paper, the Colombian, a three-time world title challenger, was a stern test considering the circumstances.
To the contrary, Marriaga had no fire in his belly until the final round when he hit Conlan with a shot that buckled his knees. But, by then Conlan was so far ahead without overly exerting himself that there was virtually no chance of another meltdown.
While Conlan won lopsidedly, the scores – 99-89 and 99-88 twice – were somewhat misleading. True, "Mick" had Marriaga on the deck in rounds 7, 8, and 9, but the punches that put him there did not look particularly hard.
Conlan, 30, improved to 17-1 (8). Marriaga, 35, declined to 30-6.
After the fight, Conlan expressed the hope that Leigh Wood would give him a rematch.
Other Bouts of Note
In an entertaining 10-round welterweight scrap that could have gone either way, Belfast's Tyrone McKenna (23-3-1, 6 KOs) rebounded from his defeat in Dubai to Regis Prograis (TKO by 6) with a hard-fought unanimous decision over 33-year-old Welshman Chris Jenkins (23-6-3). The judges favored the local fighter by scores of 97-94 and 96-95 twice.
Jenkins, a former British and Commonwealth title-holder, had the best of the early going, working the body effectively while frequently finding a home for his uppercut, but he could not sustain his advantage.
Thirty-four-year-old Belfast super middleweight Padraig McCrory who got a late start in boxing, scored the most important win of his career with a fifth-round stoppage of Marco Antonio Periban, a former world title challenger. McCrory had Periban on the deck three times – once in the second and twice in the fifth – before the bout was halted at the 2:14 mark of round five.
It was the fourth straight win inside the distance for McCrory who improved to 14-0 (8 KOs). Mexico's Periban, who returned to the sport in April after missing all of 2020 and 2021, fell to 26-6-1.
Highly-touted welterweight Paddy Donovan improved to 9-0 (6) with an 8-round unanimous decision over Yorkshireman Tom Hall (10-3). The referee scored every round for Donovan, an Irish Traveler trained by Tyson Fury's bosom buddy Andy Lee, the former world middleweight title-holder.
Photo credit: Mikey Williams / Top Rank via Getty Images
To comment on this story in the Fight Forum CLICK HERE