`Cold War' in Boxing Fully Thawed? Maybe So, Maybe Not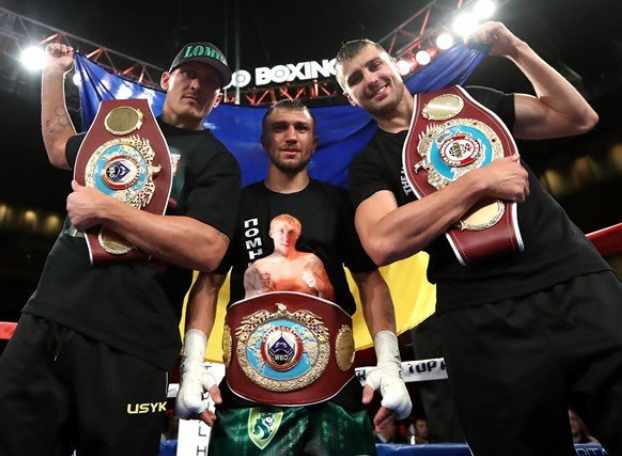 The times they are a'changing. Some would say that, in terms of professional boxing at the international level, they already have changed, and for the better.
Others would say that the "Cold War," which existed from the end of World War II until Dec. 26, 1991, when the Soviet Union officially was voted out of existence by the Supreme Soviet, and which once placed the United States against the USSR in a constant state of mutual distrust, still has a distinct chill. It's just that the shape of what was and what still might be has undergone alterations over the past 27 years, with the presumed good guys now barely distinguishable from the presumed bad guys.
As fighters from Russia and many of the 14 now-former Soviet republics (Kazakhstan, Uzbekistan, Azerbaijan, Ukraine, Lithuania, Georgia, Turkmenistan, Belarus, Moldova, Latvia, Armenia, Kyrgyzstan, Estonia and Tajikistan) now routinely appear on high-visibility cards in America, one veteran U.S. boxing insider insists that some of the familiar tensions still are or should be in play. The conflict now is not necessarily the fault of the fighters from the former USSR who arrived on U.S. shores to advance their careers and quality of their lives, but far higher up, among those in positions of power who allegedly are freer to manipulate the business of the sport since the collapse of the Iron Curtain.
"We still have a Cold War, it's just different," said the source, who asked not to be identified. "More and more fighters from those countries are flooding into our country. F— that.
"The Russian mob basically runs boxing. I've never seen things more corrupt than they are now. The fact that people (in America) aren't more up in arms is because they're stupid."
That is perhaps an overly harsh assessment, but there can be no denying that fighters from Russia and other Eastern Bloc nations either are or are becoming staples in U.S. arenas and on American television. This Saturday night, DAZN will stream the matchup of established superstar Gennadiy Golovkin (39-1-1, 35 KOs), a native of Kazakhstan who now resides in Los Angeles, and top contender Sergiy Derevyanchenko (13-1, 10 KOs), 31, a Ukrainian who has made himself right at home in Brooklyn, N.Y. The bout, for the vacant IBF middleweight championship, will be staged at Madison Square Garden and marks the 37-year-old Golovkin's 15th pro ring appearance in the U.S., and ninth at MSG.  For Derevyanchenko, the fight is his 15th in the U.S. (he has never fought anywhere else) and fifth in New York City.
Two weeks later, on Oct. 18 at the Liacouras Center on the Temple University campus in Philadelphia, the main event, for the unified light heavyweight championship, pits WBC titlist Oleksandr "The Nail" Gvozdyk (17-0, 14 KOs), of Oxnard, Calif., by way of his native Ukraine, against IBF kingpin Artur Beterbiev (14-0, 14 KOs), of Montreal by way of his native Russia. ESPN and ESPN Deportes will televise that fight, as well as a matchup of former WBA welterweight champ Luis Collazzo (39-7, 20 KOs) and No. 1 IBF contender Kudratillo Abdukakhorov (16-0, 9 KOs), now a resident of Kuala Lumpur, Malaysia, but originally from Uzbekistan.
Elsewhere, signs of the westward migration of world-rated Eastern Europeans are no less evident. On Oct. 12, undisputed cruiserweight champion Oleksandr Usyk (16-0, 12 KOs), who is from Ukraine and actually still lives there, makes his heavyweight debut in Chicago against Tyrone Spong (14-0, 13 KOs), of Miami by way of his native Suriname, a fight to be streamed by DAZN. In the co-featured bout, Dmitry Bivol (16-0, 11 KOs), born in Kyrgyzstan but now living in Russia, defends his WBA light heavyweight belt against the Dominican Republic's Lenin Castillo (20-2-1, 15 KOs).
A bit further down the road, on Nov. 2 at the Las Vegas' MGM Grand, WBO light heavyweight ruler Sergey Kovalev (34-3-1, 29 KOs), a Russian who resides in Los Angeles, puts his title on the line against Mexican national hero Canelo Alvarez (52-1-2, 35 KOs), the WBA/WBC middleweight champion who will be moving up two weight classes. That fight also will be streamed via DAZN.
What does this massive influx of fighters from Russia and former Soviet republics, the most celebrated representative of whom might be pound-for-pound lightweight Vasiliy Lomachenko, whose primary residence is in Ukraine but who lives in Oxnard when he is in America to train, mean to U.S. boxing fans? Maybe nothing when placed in an updated context, but there can be no denying the startling difference between now and the world in which American citizens lived during the last couple of generations.
In a 1983 speech by then-President Ronald Reagan, the Gipper referred to the USSR as an "evil empire" and "the focus of evil in the modern world." Most Americans had no difficulty buying into that concept, just as most Russians were instructed to regard the U.S. as the primary threat to their peace and well-being.
As the global superpowers peered at one another across a chasm of understandable apprehension, boxing, like so many other elements of everyday life, was easily cleaved into us-vs.-them camps. Evidence of that was provided during an Oct. 2, 1990, fight card at Philadelphia's Blue Horizon, where three Soviets – the first pros from the USSR to be brought here to ply their pugilistic trade – were greeted by a near-record venue turnout of Americans who frequently erupted into chants of "U-S-A! U-S-A!" and treated the visitors as they might any invaders from an enemy regime whose mere presence tapped into their darkest fears.
"He wants so much to be liked that when he hears that `U-S-A, U-S-A' stuff, he feels like a villain," Tommy Gallagher, the New York-based trainer of the three Soviets, said of heavyweight Yuri Vaulin, who came away with an eight-round split decision over Philly journeyman William Morris. "He has to learn to deal with that b.s. and to block it out of his mind."
The Soviets could have been warned beforehand that they were about to be treated by Philly's notoriously inhospitable sports fans as might members of any visiting pro team from New York City or, even worse, the despised Dallas Cowboys. But old, ingrained habits are hard to break, and especially so for Americans caught up in nationalistic fervor fueled by such movies as Red Dawn (1984) and Rocky IV (1985).
A little more than 14 months after the Soviet trio came to regard the Blue Horizon as their personal house of horrors, the USSR dissolved and U.S. citizens were advised to begin learning the meaning of such Russian words as glasnost ("openness" in the loosening of government restrictions) and perestroika (a reference to the program of economic and political reform initiated by former Soviet Premier Mikhail Gorbavhev).
And now?
Golovkin should be box-office gold this weekend given his legendary punching power and the fact he appears at the Garden almost as often as the Knicks, Rangers and Billy Joel. But while that might explain why his faceoff with Derevyanchenko is costing a reported $20 million to stage, the unidentified source said it doesn't explain why "they've only sold 3,000 tickets," a figure I have not been able to verify or disprove.
Nor is the highly attractive unification pairing – on paper, at least — of Gvozdyk and Beterbiev selling like TastyKakes on North Broad Street in Philly, just a few blocks from where the Blue Horizon, now shuttered, catered to some of America's loudest, most passionate fight fans, not to mention the most hostile to visitors who once bore the mark of the Red Peril. Oh, sure, Gvozdyk and Beterbiev will square off before screaming, flag-waving partisans of their or their forebears' birth countries, but the locals mostly seem to be unaware of how potentially entertaining and competitive the main event should be.
"There are almost no tickets being sold in Philadelphia for those two guys," the source said. "I can't spell the name of either one. If one of them bumped into me in the street, I wouldn't know who he is. They don't connect at all with the American public. I don't know their stories. I don't know where they're from. And I don't give a f— about them."
Just a thought, but it could just be that the homogenized nature of boxing in the 21st century has gradually tamped down interest in the U.S., pro or con, for fighters from foreign nations, including those countries whose representatives Americans once loved to hate. Does anyone think the "Miracle on Ice," in which a hockey team of American college kids shocked a veteran Soviet squad in the semifinals of the 1980 Lake Placid Winter Olympics, would have meant so much had not the red-clad favorites also been cloaked in foreboding mystique? How much different can "they" be from "us" when a Russian billionaire – talk about a strange form of communism – currently owns the NBA's Brooklyn Nets and Barclays Center?
"Alex's fans are still mostly Ukrainians, which I think also is the case with Lomachenko and Usyk," said Teddy Atlas, who will be in Gvozdyk's corner for the third time on Oct. 18. "But more people are beginning to recognize him here. Fighting on ESPN can only increase (his visibility in America).
"Look, we don't have the Cold War anymore. We don't have communism in Eastern Europe and the Soviet Union anymore. There is no Soviet Union anymore. People from those countries have freedom. It's different when you have freedom. We're all the same now. There's no separation."
Freedom to choose is always good, be it in boxing or anything else. Lack of separation, though, can pose problems for those who find it necessary to pick a side or a fighter to root for, or against.
Pictured: Ukrainian stablemates Usyk, Lomachenko, and Gvozdyk
Check out more boxing news on video at The Boxing Channel 
To comment on this story in The Fight Forum CLICK HERE
Avila Perspective, Chap. 82: Jason Quigley Returns to SoCal and More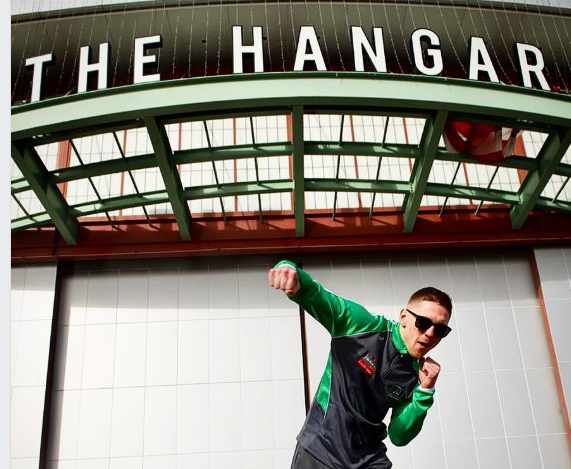 Southern California prizefighting heats up with Jason Quigley headlining a fight card in Orange County and then, two days later, another fight card takes place in the heart of Los Angeles.
Ireland's Quigley (17-1, 13 KOs) faces Mexico's Fernando Marin (16-4-3, 12 KOs) on Thursday Jan. 23, at the OC Hangar in Costa Mesa, Calif. DAZN will stream the Golden Boy Promotions fight card live.
Quigley, 28, seeks to reclaim territory lost when he suffered a defeat last July against Tureano Johnson. Ironically, Marin would lose 10 days later in Hollywood to super welterweight contender Serhii Bohachuk.
For several years Quigley had trained in Southern California but decided to change trainers and location. He moved to Great Britain and still prepares near his native country but primarily fights in the U.S.
At one time Quigley clamored for a match against Gennady "GGG" Golovkin or Saul "Canelo" Alvarez but now finds himself trying to prove he belongs in the upper tier of the middleweight division. It's loaded with talent.
Also on the same fight card will be popular North Hollywood super welterweight Ferdinand Kerobyan who was headed to contender status when he ran into Blair "the Flair" Cobbs. At the time Cobbs was an unknown quantity but no longer.
Kerobyan (13-1, 8 KOs) meets Azael Cosio (21-8-2) in an eight-round clash in the semi-main event at OC Hangar. Doors open at 5 p.m.
Red Boxing International
On Saturday Jan. 27, Red Boxing International hosts its first boxing card of the year at Leonardo's Night Club located at 6617 Wilson Ave. L.A. 90001. Doors open at 5 p.m.
Super welterweight Bryan Flores (13-1, 6 KOs) meets Brandon Baue (15-17) in the main event  in the first event of the year for the ambitious promotion company. For the past two years Flores fought primarily in Tijuana, Mexico where he racked up six wins. Now he's back on Southern California soil.
Another match features lightweights Angel Israel Rodriguez (5-0) facing off against Braulio Avila (3-6) in a six-round fight.
Rodriguez fights out of Pico Rivera, Calif. but recently fought in Costa Rica where he won by first round knockout in November. He will be fighting Avila who just fought two weeks ago at the Chumash Casino in Santa Ynez, Calif.
It's a long fight card with 11 bouts on the schedule.
JRock and Rosario
Boxing fans received another lesson on never underestimating a ranked contender regardless of the name recognition.
Jeison Rosario knocked out Julian "J Rock" Williams who was making the first defense of the WBA and IBF super welterweight world titles he won last year in my selection as "Fight of the Year."
Rosario walked in with little recognition and was thought to be a soggy piece of bread for Williams. The long armed Dominican fighter walloped Williams in front of his hometown fans in Philadelphia. It was yet another warning for fans to understand that anyone who steps in the boxing ring ranked as a contender can do the unthinkable. In this case Rosario knocked out the champion in five rounds.
Many felt Williams was far too skilled, especially on the inside where he showcased those skills last May against former titlist Jarret Hurd. It was a remarkable display of the art of inside fighting. But against Rosario, he never got a chance to exhibit those skills.
The loaded super welterweight division has another dangerous champion in Rosario.
Fights to Watch
Thurs. 6 p.m. DAZN – Jason Quigley (17-1) vs Fernando Marin (16-4-3).
Sat. 6 p.m. Showtime – Danny Garcia (35-2) vs Ivan Redkach (23-4-1).
Check out more boxing news on video at The Boxing Channel 
To comment on this story in The Fight Forum CLICK HERE
Recalling Three Big Fights in Miami, the Site of Super Bowl LIV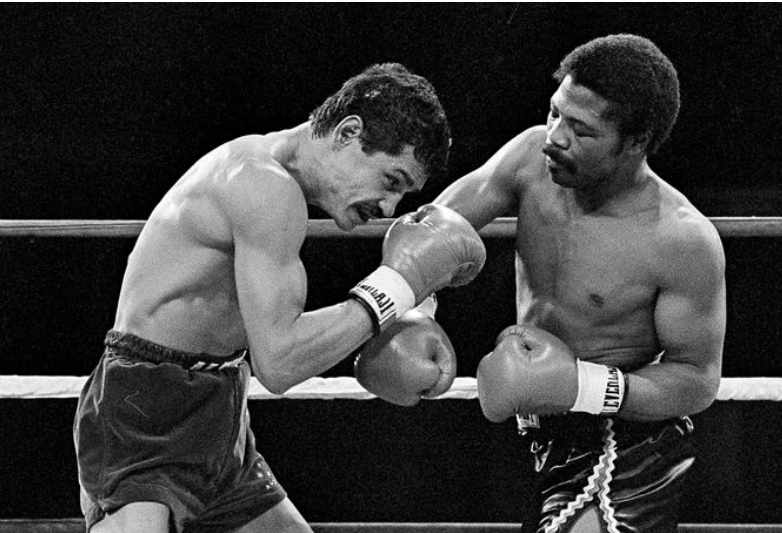 The San Francisco 49ers and Kansas City Chiefs collide on Feb. 2 in Miami in Super Bowl LIV (54) in what will assuredly be the biggest betting event to ever play out on American soil. It's the 10th Super Bowl for the South Florida metropolis which ties it with New Orleans as the most frequent destination for football's premier attraction.
With its heavily Latin population, Miami would seem to be natural for big fights. However, this hasn't been the case. Several great champions fought here, including Roberto Duran who twice defended his world lightweight title in these parts, but these weren't big fights. In the case of Duran, his opponents were lightly regarded and the Panamanian legend was still three years away from his first encounter with Sugar Ray Leonard, a match that increased his name recognition a hundred-fold.
There were, however, three fights in Miami that summoned the interest of virtually all of America's A-list sportswriters. Here they are in reverse chronological order.
Aaron Pryor vs. Alexis Arguello (Nov. 12, 1982)
Alexis Arguello (72-5) was bidding to become boxing's first four-division champion. In his way stood WBA junior welterweight title-holder Aaron Pryor (31-0, 29 KOs), a man now widely regarded as the best 140-pound boxer of all time.
Arguello, a Miami resident, having been exiled from his Nicaraguan homeland by the Sandanista rebel occupation, was a textbook boxer who defeated his opponents with surgical efficiency. Pryor was a typhoon. He mowed down his opponents with relentless pressure. It was a great style match-up and it didn't disappoint. Contested before nearly 30,000 at Miami's iconic Orange Bowl, Pryor vs. Arguello was a fight for the ages.
"There was power, finesse, poise, courage and a tremendous ebb and flow," said Associated Press writer Ed Schuyler who dubbed it Manila in Miniature. In the ninth, 11th, and particularly the 13th rounds, Arguello hit Pryor with straight right hands that would have felled an ordinary fighter, but Pryor had an iron chin.
In the 14th, Pryor buckled Arguello's knees with a straight right hand and then unloaded a furious combination as Arguello fell back against the ropes. He was out on feet when referee Stanley Cristodoulou intervened and he would lay prone on the canvas for several minutes before he could be removed to his dressing room.
Sonny Liston vs. Muhammad Ali (Feb. 25, 1964)
If you happen to find a poster for this fight with the name Muhammad Ali on it, don't buy it. It's bogus. Liston met up with Muhammad Ali in their second fight. In their first encounter, Liston opposed Cassius Clay.
Clay's Louisville sponsors, after a brief flirtation with Archie Moore, settled on Angelo Dundee as his trainer. Angelo operated out of his brother Chris Dundee's gym located at the corner of 5th Street and Washington Avenue in Miami Beach. The fighter who took the name Muhammad Ali trained here and kept a home in Miami for most of his first six years as a pro.
Clay/Ali was 22 years old and had only 19 fights under his belt when he was thrust against heavyweight champion Sonny Liston at the Miami Beach Convention Center. Liston was riding a 28-fight winning streak after back-to-back first-round blowouts of Floyd Patterson.
In a UPI survey, 43 of 46 boxing writers picked Liston. "Clay has no more chance of stopping Liston than the old red barn had of impeding a tornado," wrote Nat Fleischer, the publisher of The Ring magazine.
This would be the first of many famous fights for Muhammad Ali who emerged victorious when Liston quit after the sixth frame citing an injured shoulder. What is not widely known, however, is that the fight, which was shown on closed-circuit in the U.S. and Canada, was a bust at the gate. The 16,448-seat Convention Center was only half full.
The expectation that Liston would take the lippy kid out in a hurry depressed sales, as did sky-high ticket prices ($250 tops when $100 was the norm). And there may have been more subtle factors. "This may not be the best place for a fight between two Negroes," wrote Robert Lipsyte of the New York Times, cognizant that people of color were not welcome as guests at the ritzy beachfront hotels along Collins Avenue.
Jack Sharkey vs. W. L. (Young) Stribling (Feb. 27, 1929)
A big fight, as I define it, doesn't have to be a blockbuster. An important fight that produces an upset automatically becomes a bigger fight in hindsight. The Sharkey-Stribling fight of 1929 didn't draw an immense crowd by Jack Dempsey standards, but the turnout, reportedly 35,000, far exceeded expectations and the fight – which preceded Miami's first Orange Bowl football game by six years — really established Miami as a potentially good place for a big sporting event.
Promoted by the Madison Square Garden Corporation, the bout was originally headed to a dog racing track but it quickly became obvious that a larger venue was needed. A stadium was erected on a Miami Beach polo field, taking the name Flamingo Park (not to be confused with the thoroughbred track of the same name).
Slated for 10 rounds, the bout was conceived as one of two "eliminators" to find a successor to Gene Tunney who had retired. What gave the fight it's primary allure, however, was the North-South angle. Sharkey, born Joseph Zukauskas, hailed from Boston. Stribling, born into a family that traveled the fair circuit with a variety act, was from Macon, Georgia.
The fight, which aired on the NBC radio network, was a dud, a drab affair won by Sharkey who had the best of it in virtually every round. Both went on to fight Max Schmeling for the world heavyweight title. Stribling, dubbed the "King of the Canebrakes" by Damon Runyon, lost by TKO in fight that was stopped late in the 15th round. Sharkey took the title from Schmeling on a split decision after losing their first meeting on a foul.
Young Stribling died in a motorcycle crash at age 28, by which time he had engaged in 251 documented bouts, the great majority of which were set-ups. Jack Sharkey lived to be 91.
—-
The strong earnings of the Sharkey-Stribling bout inevitably drew the Madison Square Garden Corporation back to Miami for an encore. On Feb. 27, 1930, Jack Sharkey opposed England's "Fainting" Phil Scott. Four years later, on March 1, 1834, Primo Carnera defended his world heavyweight title here against former light heavyweight champion Tommy Loughran, the Philadelphia Phantom.
Both bouts were big money losers, as were the great majority of major fights during this period. Eight months after the Sharkey-Stribling cash cow, the stock market crashed, plunging the United States into the Great Depression. Few Americans could afford to vacation in Florida, let alone travel anywhere for a big fight.
Check out more boxing news on video at The Boxing Channel 
To comment on this story in The Fight Forum CLICK HERE
Star Power: Ryan Garcia and Oscar De La Hoya at West L.A. Gym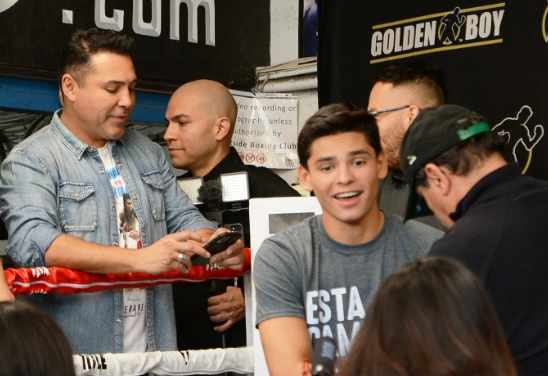 Under gray skies and very cool temperatures Ryan Garcia arrived with his father and a couple of others at the Westside Boxing Gym on Monday.
Waiting anxiously were about 100 people comprised of mostly videographers and photographers who had already surrounded Oscar De La Hoya who arrived earlier.
Golden Boy greets the Flash.
Garcia (19-0, 16 KOs) has a fight coming soon against Nicaragua's Francisco Fonseca (25-2-2, 19 KOs) on Friday Feb. 14, at the Honda Center in Anaheim, Calif. The Golden Boy Promotions show will be streamed by DAZN.
"I'm ready for this fight," Garcia said quickly.
Some say it has been a rather quick road for the fighter from Victorville known as the Flash. But if you ask Garcia, it has been too slow.
"I think he (Garcia) will be world champion this year," said De La Hoya, CEO of Golden Boy Promotions.
Years ago, De La Hoya arrived with the same hoopla but his travel to the top seemed even faster. By his fifth pro fight he was matched with Jeff Mayweather. Yes, those Mayweathers. At the time Mayweather had fought 27 professional fights and had only two losses. De La Hoya stopped him in four.
In his eighth pro fight De La Hoya met Troy Dorsey, a tough Texan who had formerly held the IBF featherweight world title and who would later win a super featherweight world title. De La Hoya stopped him in one round.
Two years after winning the Olympic gold medal in Barcelona, the Golden Boy met WBO world titlist Jimmi Bredahl at the Olympic Auditorium and after dropping him several times finally stopped him in the 10th round. It was De La Hoya's first world title and he was 21 years old.
Garcia is now 21 and ready to test the loaded lightweight division waters. For a while he was fighting at super featherweight, a division loaded with talent. But lightweights are the Maginot Line when it comes to boxing's big hitters. Everybody can punch in the 135-pound limit lightweight division.
When Garcia met Romero Duno last November in Las Vegas many expected the speedy Victorville fighter to get his come-uppance. Instead the lanky slugger lit up the strong Filipino fighter and dropped him into the ether world.
It was mesmerizing stuff.
Now he's back with a load of credibility after shutting down detractors with his devastating knockout win over Duno. It wasn't supposed to be that easy. Just like it wasn't supposed to be that easy when De La Hoya raced by world champions like Secretariat did in the Kentucky Derby decades ago. It's not supposed to be that easy, but for some it truly is.
Garcia seems to be headed for a journey so remarkable that he has other world champions like WBC titlist Devin Haney eyeing him for their next challenges. It barely results in a yawn for the fighter who will be facing a very credible foe in Fonseca next month.
"I'm not even the champion and he's calling me out," said Garcia with a whatever kind of look.
Other fighters and promoters can see what Garcia represents and want to get a slice of it too. Its intangible yet most of the boxing world can sense something is coming and Garcia might be part of it.
That's called star power and it's difficult to explain. Some have it, many want it and others have no chance of ever attaining it.
Time will tell how far Garcia's star power will venture.
One man lived that life and, in a sense, still lives that life and that is De La Hoya. Even he senses a déjà vu moment with Garcia.
"It's why we made him one of the richest young prospects in boxing today," De La Hoya said.
Expect several thousand ardent fans of Garcia to fill the seats on Valentine's Day. How else can you explain it but, star power.
Photo credit: Al Applerose
Check out more boxing news on video at The Boxing Channel 
To comment on this story in The Fight Forum CLICK HERE