Three Punch Combo: Introducing Tyrone Spong, an Under the Radar Fight and More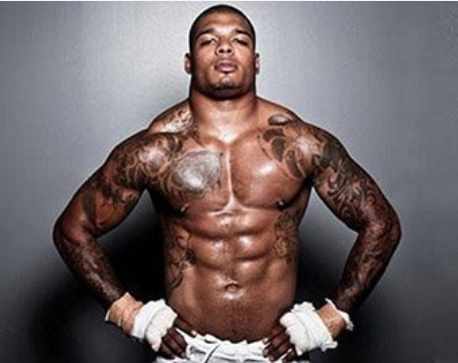 THREE PUNCH COMBO — After 11 months out of the ring, former unified cruiserweight champion Oleksandr Usyk (16-0, 12 KO's) makes his long-anticipated heavyweight debut on Saturday when he faces Tyrone Spong (14-0, 13 KO's) in the main event of a DAZN card at the Wintrust Arena in Chicago. While Usyk is a known commodity in the sport, the same cannot be said of Spong. So, who is he and does he pose any threat to Usyk?
Spong, 34, was born in Suriname and grew up in the Netherlands. Beginning in the early 2000's, he competed as a professional kickboxer, winning many big fights and titles along the way. In the midst of this successful kickboxing career, Spong (pictured) even dabbled a little in mixed martial arts and won a pair of bouts in that sport. In 2015, he turned to boxing.
Customarily carrying 225-230 pounds on a six-foot-two frame, Spong opened his pro boxing career with 12 straight knockouts. However, the level of competition he has faced has been very suspect. Perhaps his "best" win was this past August when he stopped 14-1-1 Jeyson Minda in the second round. Though Minda had a glossy record himself, most of his wins had also come against low-level opponents and in the middleweight division.
Spong, who fights from the orthodox stance, likes to come forward and press the action. He will sometimes work behind the left jab but often times attempts to simply walk down his opponent without firing off the jab. That jab is somewhat lazy and often times used by Spong as a range finder rather than being a punch he is trying to land. It is also a punch that can be easily timed by his opposition.
So, the big question is whether Spong's punching power is real? From the clips I have seen on YouTube, my guess would be that although he does have fairly heavy hands, the knockouts are more a result of the opponents selected than anything else.
Defensively, Spong is actually pretty solid. When he comes forward, he displays good head movement and tends to keep his hands held high. He has also shown some slickness in being able to slip his opponent's punches.
My best guess is that assuming he has any sort of chin (which I would think he would have, given his long background in kickboxing) we see him at the very least go rounds with Usyk. But I just don't think Spong has the power to get Usyk's respect. And, of course, Usyk has the far superior boxing skills.
Ultimately, this could be a replay of Usyk's lopsided win last year over Murat Gassiev.
Under The Radar Fight
On the Usyk-Spong undercard, 24-year-old, 168-pound prospect Anthony Sims Jr. (19-0, 17 KO's) looks to continue his way up the ladder when he faces Morgan Fitch (19-3-1, 8 KO's). This is an interesting spot for the highly-regarded Sims who will be looking to make a statement following a somewhat lackluster performance in his last outing this past April.
A decorated U.S. amateur, Sims turned pro in 2014. In the early portion of his career, he scored highlight reel knockout after highlight reel knockout that had many buzzing about his potential. And many were anxious to see how Sims would look when he ultimately took a step up in class.
As his career moved forward, the quality of opposition seemingly did not improve from what he had faced in his first few pro contests. Some began wondering why he was being moved so slowly, especially given his amateur background.
Finally, in April of this year in his 19th pro fight, Sims took a jump in class when he stepped in the ring against then 14-2 Vaughn Alexander. In this fight, Alexander was not overwhelmed as were others by Sims' power and he pushed Sims hard for ten rounds. Though Sims ultimately got the verdict on the scorecards, it was an underwhelming performance to say the least.
Fitch represents an interesting test for Sims. Fitch is athletic and possesses good hand speed. He fights as a natural boxer-puncher looking to land combinations behind the left jab. And defensively, he shows good movement and often keeps a nice tight guard making him difficult to hit clean.
Though Fitch has plenty of natural talent, he has yet to show it when he has stepped up in class. His issue has been that he tends to get too defensive and gets out-hustled. And, as his record indicates, he is not a big puncher, so if he falls behind, he does not have the eraser to get back into the fight.
Coming off the Alexander performance, Sims is certainly going to try to make a statement against Fitch. But Fitch is no pushover. I like this fight and will be very interested to see how it plays out.
What Is Next for Sergiy Derevyanchenko?
There will certainly be plenty of talk about Gennady Golovkin's future following his hard-fought 12- round unanimous decision over Sergiy Derevyanchenko this past Saturday. But what about Derevyanchenko's future following his second close loss in less than a year vying for a middleweight title belt?
First, all the talk will be about a rematch with Golovkin. But that seems unlikely. Keep in mind that Derevyanchenko is still associated with PBC, Golovkin is aligned with DAZN, and their fight was a sanctioning body mandate. If Golovkin is going to face another high-risk opponent other than Canelo, it will probably be someone who is also affiliated with DAZN such as Demetrius Andrade.
As for other realistic options, Derevyanchenko is in a quandary. The Charlo brothers are also aligned with PBC and a fight between either one and Derevyanchenko would produce a massive payday, but he would represent quite a risk and I'm guessing both steer clear of him for the time being.
One possibility could be Brandon Adams (21-3, 13 KO's). Adams has some name value having won the Contender series last year and is coming off a better than expected performance in losing a 12-round unanimous decision to Jermall Charlo in June in a bid for a middleweight title belt. Such a fight would push the winner right back into title contention at middleweight.
Derevyanchenko could also decide the time is right to move to 168. PBC has more options for him at 168 so this could be the direction he is headed.
If Derevyanchenko does move to 168, my guess would be that PBC looks to match him with Caleb Truax (30-4-2, 19 KO's). Truax is rated number five by the IBF in that division and the winner would almost certainly be vaulted into a mandatory position. And if a fight between David Benavidez and Caleb Plant does occur early next year, the winner of Derevyanchenko-Truax would make for a natural opponent for the winner of that fight.
I am sure Derevyanchenko would love a rematch with Golovkin and I would love to see it, but that possibility seems remote as do Derevyanchenko's chances of luring another big name into the ring with him anytime soon. So instead he will probably be forced into a high-stakes crossroads fight as a means of hopefully earning another title shot down the road.
Check out more boxing news on video at The Boxing Channel  
To comment on this story in The Fight Forum CLICK HERE
Les Bonano, Mr. Boxing in New Orleans, Enters the NOLA Sports Hall of Fame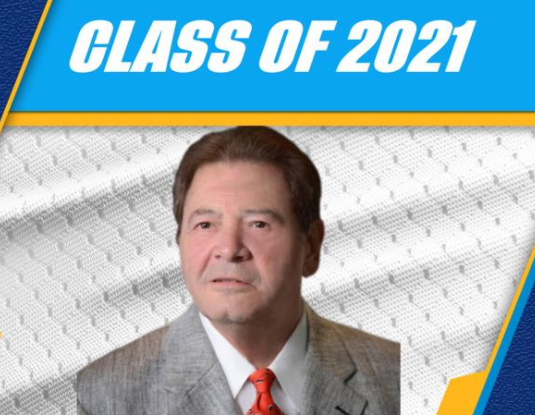 He is perhaps the final ruler of what remains of a fraying and depleted boxing kingdom in the formerly great fight town of New Orleans. For 50-plus years Les Bonano has fought the good fight, both when things were going well or not so much in a unique American city familiar with pronounced pendulum swings not necessarily linked to his favorite sport.
Now, at 78, the boxing lifer who accepted the baton in a relay race of sorts whose previous carriers included such similarly distinctive local legends as Whitey Esneault, Allen "Black Cat" Lacombe and "Leapin'" Louie Messina, all of whom have taken their earthly 10-count, gets the championship turn none of his fighters were quite able to present him when he is inducted Saturday night into the Greater New Orleans Sports Hall of Fame at the Hilton Riverside.
Bonano thus will become the 13th person affiliated with boxing to be enshrined in the GNOSHOF – hey, 13 is a number "Black Cat" Lacombe (who, like Messina, is not an inductee) would surely love, were he still around – but it might be a long time before No. 14, if there ever is one, gets the next call to the hall. All 12 of the previous pugilistic honorees are deceased, and those potential candidates who might have a case for being recognized have to date drawn scant support from a selection committee whose members are not seemingly disposed to acknowledge their places in the city's once-rich boxing history. Before it was the "Big Easy," New Orleans was known as "the city that care forgot."  In terms of boxing in the here and now, 21st century NOLA might be more aptly described as "the city that forgot to care."
But any woulda, coulda, shoulda arguments that have been waged or will continue to be on that front can't detract from Les Bonano's five-decade march to a level of recognition in his hometown that few boxing figures have attained. In boxing parlance, he will have gone the distance, arguably a longer trek and arguably a more improbable one than any of his predecessors.
"There is such a tremendous honor. I've won some awards, but this will be the greatest in my life," he said when informed that he had finally gained entry into the exclusive boxing wing of the GNOSHOF. "It means so much to me, it's hard for me to explain. I can't put it into words."
It is the fickle finger of fate that touches boxing's peripheral presences – promoters, trainers, cut men, etc. – to either bask in the glow of their involvement with elite fighters, or be shrouded in the shadows along with their charges who never quite make it all the way to the top of the mountain. Angelo Dundee is a global legend, an inductee into the International Boxing Hall of Fame, in no small part because he trained, among others, Muhammad Ali, Sugar Ray Leonard and Carmen Basilio. The same can be said of Emanuel Steward, Eddie Futch, Freddie Roach and any number of other chief seconds who were fortunate to bring their knowledge and expertise to the corners of fighters who were world-class talents and commanded the spotlight. Instantly identifiable promoters such as Don King, Bob Arum, Tex Rickard and others have plaques hanging in Canastota, N.Y., because they handled the big acts.
Bonano began his boxing journey, as so many do, as a jack of all trades. He is primarily known as a promoter of fight cards in New Orleans and its environs these days, but he also has served as a trainer, cut man and doer of all things that are necessary in a trade where general handiness can be rewarding.
"I've had the opportunity to work with a lot of good people in boxing," he recalled. "And I was a sponge. I wanted to know everything. I learned from everyone that I could. Vincent Arnona (also not a GNOSHOF inductee) was a great New Orleans trainer and a legendary cut man who taught me everything he knew. I think I had success because I incorporated methods from all the different people that I met and worked with."
Among Bonano's guides along the way were Lacombe, a boxing and thoroughbred racing handicapper whose N'Awlins accent was as thick as Bonano's, and Messina, a promoter who staged shows involving world-rated welterweights Percy Pugh and Jerry Pellegrini. Home-grown main-eventers, Pugh (black) and Pellegrini (white) regularly drew full houses before loud, enthusiastic audiences in Municipal Auditorium in the 1960s and early '70s. And when they squared off for the Southern 147-pound championship on March 3, 1968, the joint was filled to overflowing. The slick-boxing Pugh won a 15-round unanimous decision over the harder-hitting Pellegrini, a virtual replay of the 10-round UD Pugh scored in their first meeting on Sept. 21, 1967.
"So many people were there, or wanted to be there and couldn't get in," Bonano, who later employed Pugh as a trainer of some of his fighters, said of those standing-room-only turnouts promoted by Messina in the 5,000-seat arena. "It's something I'll never forget. The place was packed, man."
Neither Pugh nor Pellegrini ever got the chance to fight for a world title, however, which is a distinction several of the more prominent members of Bonano's promotional stable were able to accomplish. Light heavyweight Jerry Celestine, an ex-con who came out of the Orleans Parish Prison boxing program instituted by Bonano when Les served in the OPP sheriff's department, upset third-ranked Vonzell Johnson and later challenged WBA champ Michael Spinks, losing on an eighth-round stoppage. Melvin Paul floored Charlie "Choo Choo" Brown in the 15th round when they squared off for the vacant IBF lightweight title, but Brown beat the count and won a close and controversial (in Bonano's opinion) split decision. And John "Super D" Duplessis got a shot at WBC/IBF super lightweight kingpin Julio Cesar Chavez, but, predictably, he had no chance against an all-time great and was whacked out in four rounds.
It is Paul's narrow loss on points to Brown, a Philadelphian fighting in nearby Atlantic City, N.J., that has been most irksome to Bonano, who referred to the outcome as a "hometown" decision.
"Melvin thought he had the fight won," Bonano said. "He ran to the side of the ring and was calling out to his wife and celebrating on the ropes. The (pro-Brown) crowd was going crazy, but Brown somehow was standing up. I was screaming at Melvin to knock him out, but he couldn't hear me. Brown wobbled on his feet for about 30 seconds and was saved by the bell. Melvin was robbed."
Although denied his own world titlist, Bonano had ample opportunity to be involved with indisputably great fighters – Oscar De La Hoya, Roy Jones Jr., Roberto Duran and Larry Holmes, among others — when he worked in conjunction with bigger-name promoters Bob Arum and Lou DiBella to bring fights to Casino Magic in Bay St. Louis, Miss., within easy driving distance of New Orleans.
When Esneault, the legendary New Orleans trainer whose own list of fighters included world champions Willie Pastrano, Ralph Dupas and Freddie Little, as well as title challengers Bernard Docusen and Tony Licata, was inducted into the International Boxing Hall of Fame in 2016 (I served as his presenter), it reminded me of what New Orleans fight writer Waddell Summers wrote about "Mr. Whitey" when he passed away on Jan. 20, 1968, at the age of 76.
"When Whitey Esneault died, the Golden Age of boxing in New Orleans was laid to rest in St. Rich No. 2 cemetery," Summers predicted. But that gloomy pronouncement might not have been absolutely accurate, even if Esneault was a World War I veteran whose life experiences dated back to the 19th century. New Orleans was once one of boxing's hottest of hotbeds, the site of the Sept. 7, 1892, megafight, fought under the still-new Marquess of Queensberry Rules, in which "Gentleman" Jim Corbett dethroned John L. Sullivan, the "Boston Strongboy," on a 21st-round knockout. The city's deep roots in boxing date back further than that, to the 1870 pairing of Jem Mace and Tom Allen in what was considered the first legitimate heavyweight prizefight.
In later and more flush times, the Louisiana Superdome was the site of Muhammad Ali's reclaiming of the heavyweight championship (for a record third time) on a 15-round UD over Leon Spinks on Sept. 15, 1978, a Mardi Gras-level event witnessed by an announced crowd of 63,350, and Roberto Duran's "No Mas" surrender to Sugar Ray Leonard on Nov. 25, 1980, which drew a turnout of about 30,000. On a somewhat smaller scale, Roy Jones Jr. defended his WBA, WBC and The Ring light heavyweight belts on a 10th-round RTD over 30-1 underdog Eric Harding on Sept. 9, 2000, in the New Orleans Arena (now Smoothie King Center), now the home of the NBA's New Orleans Pelicans.
Bonano doesn't want to be New Orleans' last inclusion in the Greater New Orleans Sports Hall of Fame; he is a staunch proponent of Pugh getting the recognition he believes is long overdue, and he also figures the committee that approved him might want to take a look at Licata and Messina. But of perhaps greater importance is the need to rebuild upon traditions that are on the verge of going permanently fallow, unless a new face in an old place steps forward to accept the baton from Bonano.
Can New Orleans boxing be revived to a reasonable facsimile of what it once was?
"First of all, you gotta have somebody local that can develop into a world-class fighter, to draw attention to the game," Bonano said. "Once that happens, you'd see a lot of young guys get involved in boxing, a lot of spectators coming back to see fights. But there has to be a lead person to draw that attention."
And is there a possible successor to himself that might be ready to embark onto his own long journey toward the GNOSHOF?
"I got a good friend of mind named Toby Wattigney, who loves boxing," Bonano offered. "He's a trainer. I think that Toby will wind up taking over as a promoter. He's great and I really believe he will carry on the tradition I'm leaving behind."
Here's hoping Wattigney can fill the large footsteps of New Orleans' last (for now) link to what was. But, hey, miracles can and sometimes do happen. After all, the New Orleans Saints did win Super Bowl XLIV on Feb. 7, 2010.
In addition to Bonano, other inductees into the GNOSHOF (*for those now deceased, **for those also enshrined in the International Boxing Hall of Fame), listed alphabetically with the year in which they are enshrined, are:
*Referee Elmo Adolph (2000)
**Former lightweight champion Joe "Old Bones" Brown (1970)
*Fighter and promoter Marty Burke (1978)
**Three-division former world champion Tony Canzoneri (1984)
*Former welterweight contender Bernard Docusen (1976)
*Former WBA/WBC super welterweight champion Ralph Dupas (1978)
**Trainer Ernest "Whitey" Esneault (2016)
*Dr. Eddie Flynn, a gold medalist at the 1932 Los Angeles Olympics (1981)
*Harry Gamble, a multiple-sport athlete, including boxing, at Tulane University (1983)
**Former bantamweight champion Pete Herman (1971)
**Former unified light heavyweight champion Willie Pastrano (1973)
*Former world-rated featherweight Jimmy Perrin (1979)
Check out more boxing news on video at the Boxing Channel
To comment on this story in the Fight Forum CLICK HERE
Avila Perspective, Chap. 145: Olympics, Women's Boxing Hall of Fame and More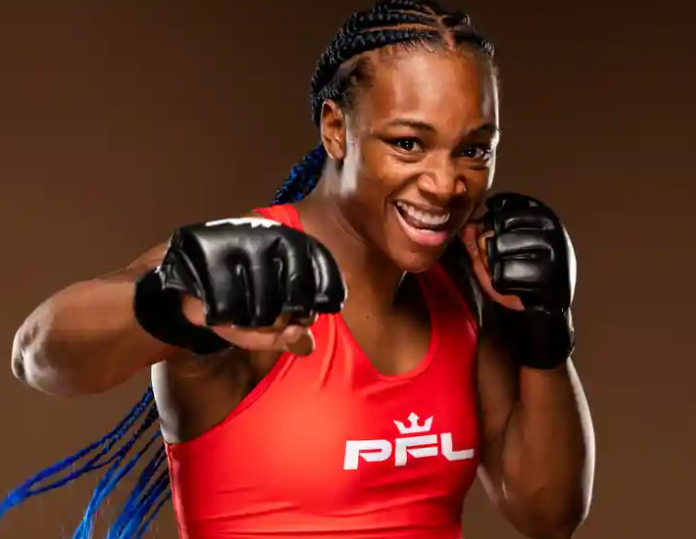 Women's prizefighting has steadily grown by leaps and bounds for one particular reason: the Olympic Games.
The opportunity to compete in the Olympic games has proven to be the fuse that lit the growth of women's professional boxing. Every year the sport grows bigger and at a faster rate than the year before.
Competition to represent each nation's team is fierce.
Professional boxing, or prizefighting, has been around for decades when it comes to women. But the inability to find opportunities to perform kept it hidden under the rug as fighters like Barbara Buttrick, Lady Tyger Trimiar and Bridgett "Baby Doll" Riley emerged and then quickly disappeared with nary a trace.
Here and there women prizefighters would get a boost from actors like Clint Eastwood or promoters like Don King. They would assist certain female boxers, but the sport never got serious traction until the Olympic Games in 2012 and 2016.
Now, you can't stop them with anything less than an atomic bomb. Not even a worldwide pandemic can stop them.
The advent of women's boxing in the Olympics has led to an explosion of women prizefighters led by Claressa Shields, Mikaela Mayer and Katie Taylor.
After decades of low pay for world title fights, a few women are finally receiving six figures to perform in front of worldwide audiences. Blame it on the Olympics.
Search through your local sports programming to find Olympic boxing schedules for both men and women. The future will be performing.
Olympic Action This Weekend
Friday, 10:00 pm EST
Featherweights (57 kg) Yarisel Ramirez, Las Vegas, NV vs. Nikolina Cacic, Romania
Featherweights (57 kg) Duke Ragan, Cincinnati, OH vs. Samuel Kistohurry, France
Saturday, 4:00 am EST
Welterweights (69 kg) Delonte "Tiger" Johnson, Cleveland, OH vs. Brian Agustin Arregui, Argentina
 International Women's Boxing Hall of Fame
A large class will be inducted into the Hall of Fame this year that takes place on August 14 at the Orleans Hotel and Casino in Las Vegas.
Because of the pandemic the induction ceremonies did not take place last year. This year will include inductees for 2020 and 2021. It's also the first time that the IWBOF holds a ceremony in Las Vegas.
Here are the inductees:
2020 inductees
Sharon Anyos, Lisa Brown, Kelsey Jeffries, Michele Aboro, Melinda Cooper, Valerie Mahfood, Mary Ortega, Isra Girgrah, Mary Ann Owen, Shelley Williams, Graciela Casillas, Jaime Clampitt,
2021 inductees
Gina Cuidi, Anne Sophie Mathis, Alicia Ashley, Kathy Collins, Jojo Wyman, Natascha Ragosina, Roy Englebrecht, Carol Steindler, Bonnie Mann, Marischa Sjauw, Dora Webber, Ina Menzer.
Texas Scoring
Public outcry rang out worldwide over the scoring for the super welterweight undisputed world championship last week between Jermell Charlo and Brian Castano. The split draw decision did not sit well with many.
Charlo was wobbled a few times and so was Castano.
Viewers who participated in a survey overwhelmingly voted that Castano should have been awarded the decision. There will be a rematch.
It was a decent scrap with Argentina's Castano quickly realizing that he needed to risk whatever it takes to get inside and do his work. Early on Charlo tagged him with a counter left hook that stalled Castano's attack. But he quickly realized there was no other course he could take. It was either go inside or get tagged repeatedly by the much longer arms of Charlo.
The rematch should be held in Las Vegas or Los Angeles.
Crawford and Porter
WBO welterweight titlist Terence Crawford has been clamoring for Errol Spence Jr. but he will have to fight Shawn Porter instead said the WBO sanctioning body.
Porter is a perfect fit.
The number one contender on the WBO rankings gave Spence all he could handle when they met in Los Angeles two years ago. I felt Porter won the fight by one point, but the judges felt otherwise that night on Sept. 28, 2019.
Porter has fought the better competition at welterweight and seems to get better every year. He is the perfect test for Crawford who though talented, has not been able to compete with the best because of the rival promotion companies Top Rank and Premier Boxing Champions being at odds with each other.
A purse bid will settle things if the rival companies can come to terms on their own.
Sons of El Feroz
The sons of retired boxing great Fernando "El Feroz" Vargas, Fernando Vargas Jr. and Amado Vargas will both be fighting in Mexico on Friday June 23. It will be shown on pay-per-view. The cost is $12.99.
Vargas Jr. (3-0) fights Abel Luna in a middleweight bout at Los Mochis, Sinaloa. Brother Amado Vargas (2-0) meets Fernando De La Cruz in a featherweight fight.
Both Vargas brothers are managed by Egis Klimas who also guides Vasyl Lomachenko and others.
To purchase the fight go to this link: https://wbc.vivetv.network/events/july-2021/cuentas-pendientes/
Photo: Two-time Olympic gold medalist Claressa Shields
Check out more boxing news on video at the Boxing Channel
To comment on this story in the Fight Forum CLICK HERE
The Gold Medal Drought for the U.S. Olympic Boxing Team is Expected to Continue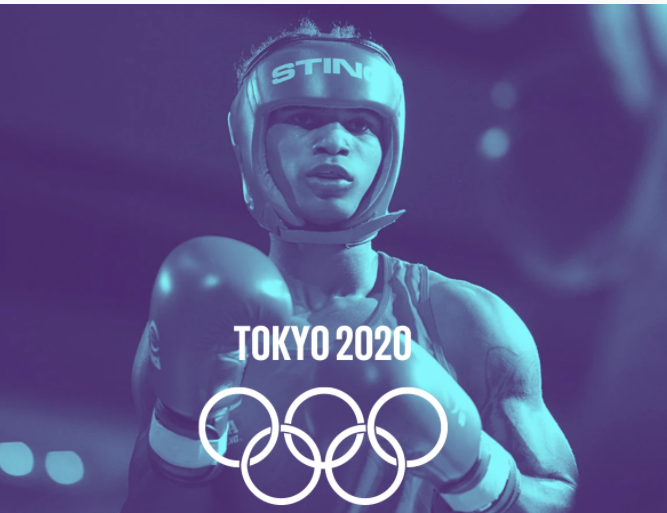 The Gold Medal Drought for the U.S. Olympic Boxing Team is Expected to Continue
Boxers from 76 nations have converged on Tokyo. The Games open Friday and activity commences the next day with action in the women's featherweight division kicking things off in the boxing segment. The first bout on Saturday is expected to start at 10 p.m. ET.
The U.S. is fielding a 10-person team: five men and five women. Based on the opening odds, it doesn't figure that the U.S. will win a gold medal. That's no surprise. Since 1996, the only U.S. boxer on the men's side to win the gold is Andre Ward who turned the trick at the 2004 Olympiad in Greece.
If the oddsmakers are to be believed (and odds are often a better predictor than seedings), the U.S.'s best hopes are men's lightweight Keyshawn Davis and women's flyweight Ginny Fuchs. Both are the second-favorite in their respective weight class. Richard Torrez Jr. clocks in at #3 among the super heavyweights. No other U.S. boxer is accorded a strong chance of medaling.
Keyshawn Davis, who has three pro fights under his belt, may renew acquaintances with Cuban nemesis Andy Cruz. The gifted, 25-year-old Cruz is 124-8 in documented bouts which includes a 16-0 mark in the World Series of Boxing.
Cruz is 3-0 vs. Davis. Those bouts were staged in Managua, Nicaragua, in Lima, Peru, and in Ekaterinburg, Russia and two of those fights were very close.
The boxer with the shortest price is heavyweight Muslim Gahzhimagomedov who is minus-250. A taller version of countryman Artur Beterbiev, the Russian with the impossibly long name rides into Tokyo on 45-fight winning streak.
Super heavyweight Bakhodir Jalolov is also a solid favorite (-200). Carrying about 250 pounds on a six-foot-seven frame, the Uzbek southpaw is a beast as Richard Torrez Jr. can attest. Jalolov scored a frightful opening-round knockout over Torrez in a 2019 match at Ekaterinburg. Torrez was unconscious before he hit the mat and left the ring on a stretcher.
Jalolov has been a busy bee this year, winning 10 amateur fights and ducking in a professional engagement. As a pro, he's 8-0 with 8 knockouts.
Listed below are the favorites in each weight class.
Men
Super Heavyweight
Bakhodir Jalolov – Uzbekistan
Heavyweight
Muslim Gadzhimagomedov – Russia
Light Heavyweight
Arlen Lopez – Cuba
Middleweight
Oleksandr Khyzhniak – Ukraine
Welterweight
Pat McCormack – Great Britain
Lightweight
Andy Cruz – Cuba
Featherweight
Mirazizbek Mirzakhaliov – Uzbekistan
Flyweight
Shakhobidin Zairov – Uzbekistan
Women
Middleweight
Lauren Price – Great Britain
Welterweight
Busenaz Surmeneli – Turkey
Lightweight
Beatrix Ferreira – Brazil
Featherweight
Lin Yu-Ting – Chinese Taipei
Flyweight
Buz Naz Cakiroglo – Turkey
To comment on this story in the Fight Forum CLICK HERE