Sergiy Derevyanchenko and the Harsh Reality of Boxing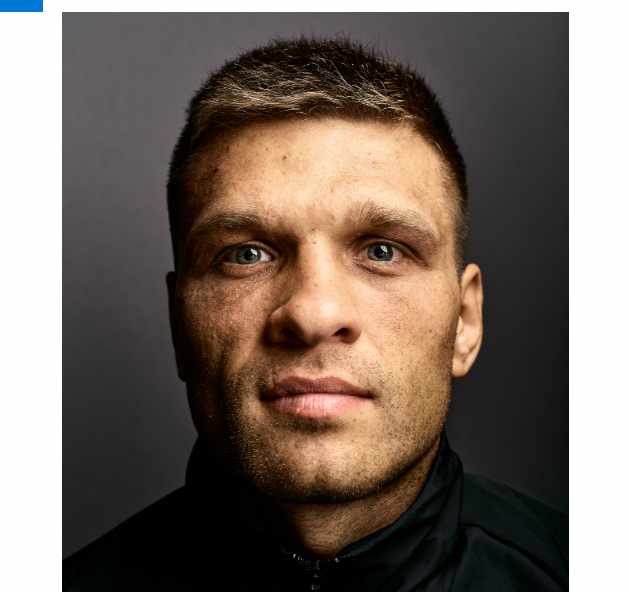 When Oscar De La Hoya was nearing the end of his storied ring career, he offered a stark assessment of the risks inherent in the trade he had chosen.
"I hate getting hit," De La Hoya said. "Getting hit hurts. It damages you. When a fighter trains his body and mind to fight, there's no room for fear. But I'm realistic enough to understand that there's no way to know what the effect of getting hit will be ten or fifteen years from now."
Boxers are not like ordinary people. They court danger and have a tolerance for pain that most of us think we can imagine but can't. That harsh reality was on display when Gennady Golovkin and Sergiy Derevyanchenko met in the ring at Madison Square Garden on October 5 in a fight that will be long remembered as a showcase for the brutal artistry of boxing.
Derevyanchenko, age 33, was born in Ukraine and now lives in Brooklyn. He had roughly four hundred amateur fights in the Ukrainian amateur system which gave him a wealth of experience but also put considerable wear and tear on his body. He turned pro in 2014 and, prior to facing Golovkin, had a record of 13 wins against 1 loss with 10 knockouts. The loss came in his one outing against a world-class opponent – a 115-112, 115-112, 113-114 split-decision defeat at the hands of Danny Jacobs at Madison Square Garden last year.
Derevyanchenko is soft-spoken with a brush haircut, often impassive face, and eyes that can be hard. He understands some English but prefers to have questions translated into Russian and answer in his native language.
"I don't like to talk about myself," Derevyanchenko says. "I'm a private person. The attention that comes with boxing is a double-edged sword. For the money it helps me make, the attention is good. But the loss of privacy sometimes, especially when I am out with my family, it is not so good."
Golovkin, age 37, is well known to boxing fans. Born in Kazakhstan, now living in Los Angeles, he brutalized a succession of pretty good fighters like Matthew Macklin and David Lemieux en route to becoming the best middleweight in the world. But thirty months ago, Gennady struggled to win a narrow decision on points over Danny Jacobs at Madison Square Garden. Thereafter, he'd had four fights: gimme knockouts of Vanes Martirosyan and Steve Rolls and two outings against Canelo Alvarez. The first Golovkin-Canelo fight (which most observers thought Gennady won) was declared a draw. The second ended with a credible 115-113, 115-113, 114-114 decision in Canelo's favor, the first loss of Golovkin's ring career.
Golovkin-Derevyanchenko crystalized how bizarre the business of boxing has become in recent years.
Last year, the IBF stripped Golovkin of its 160-pound belt for not fighting a mandatory defense against Derevyanchenko. Then Jacobs beat Derevyanchenko for the vacant IBF title but lost to Canelo Alvarez in his next outing. Thereafter, the IBF stripped Canelo for not fighting a mandatory defense against Derevyanchenko despite the fact that Sergiy's only win after losing to Jacobs was a decision over lightly-regarded Jack Culcay. Thus, Golovkin was fighting Derevyanchenko for the same belt he was stripped of for not fighting Sergiy last year.
If that sounds strange, the money being thrown around was stranger.
Traditionally, a fighter had to win one or more big fights before getting a seven-figure purse. But DAZN, ESPN, Fox, and Showtime are locked in a bidding war that has led to huge license fees that often bear no correlation to revenue generated for a network by its fighters.
DAZN (which has a multi-fight deal with Golovkin) wanted Golovkin-Derevyanchenko as the launching pad for the final quarter of its 2019 season. The network was already locked into a deal that would pay Gennady a reported purse of $7,500,000 in cash plus $7,500,000 in stock in DAZN's parent company to fight on October 5. DAZN then leaned on promoter Eddie Hearn to contribute significantly to Derevyanchenko's purse to bring Sergiy into the fold.
Thus it was that Derevyanchenko (a largely unknown fighter with thirteen pro victories on his resume and who had never beaten a world-class fighter) was rewarded with a purse totalling $5,200,000 to fight Golovkin. Training expenses, manager Keith Connally's share, taxes, and whatever PBC took (Derevyanchenko is a PBC fighter) came out of that total. Still, very few fighters in history have had a payday approaching that number. A marketable belt was at stake, but the fight wasn't even for "the" middleweight championship of the world (a title that presently resides with Canelo).
"I like the sport," Sergiy said when asked about boxing three days before fighting Golovkin. "I like the business. The business is crazy now."
It certainly is. And adding to the drama, there was no rematch clause. Win or lose, Derevyanchenko would be contractually free to fight any opponent on any network after fighting Golovkin.
There was no trash-talking by either side during the build-up to the fight. The only sour note came at a sitdown with reporters just prior to the final pre-fight press conference when Golovkin was asked one question too many about a possible third fight against Alvarez.
"All these questions about Canelo," Gennady answered. "It's your problem, not mine."
Golovkin was a 4-to-1 betting favorite over Derevyanchenko. He and Sergiy had each fought on even terms against Jacobs. But styles make fights. And the feeling was that, while Gennady and Sergiy had similar styles, Golovkin did everything a little bit better. He hit harder, took a better punch, was a shade faster, and so on down the line. ESPN asked eleven of its boxing reporters to predict the outcome of the fight. Ten thought that Golovkin would win by knockout. The eleventh chose Gennady by decision.
But while few insiders predicted that Derevyanchenko would win, no one was counting him out.
The question most often asked when the outcome of the fight was discussed was whether Golovkin had slipped with age. And if so, how far? Also, Derevyanchenko was in the best condition of his life, having spent six weeks in California preparing for the bout at Victor Conte's SNAC conditioning facility.
This was Sergiy's chance to prove that he belonged at the table with boxing's top-echelon middleweights.
"Gennady has been a great champion but his time is coming to an end," Derevyanchenko prophesied. "I want to be the one who makes it come to an end."
Wearing a black Nike track suit with white trim, Derevyanchenko arrived in his dressing room at Madison Square Garden on Saturday night at 8:20 PM.
The room was roughly thirty feet long and twenty feet wide with a linoleum floor styled to look like hardwood planks. Ten folding cushioned metal-frame chairs were set against the walls. A two-seat, green imitation-leather sofa fronted a large flat-screen television mounted on the wall opposite the door. A college football game – Oregon vs. California – was underway.
Some fighters – Manny Pacquiao for one – like lots of action in their dressing room. Ricky Hatton's dressing room was a mad cacophony of music and dancing from the moment he entered until he left for the ring.
Derevyanchenko prefers calm and no distractions. For the next two hours, he was remarkably quiet and self-contained. Except for manager Keith Connolly, no one would even look at a cell phone. From the moment Sergiy entered the room until he walked to the ring, everything was businesslike and low-key.
After leaving the room briefly for a pre-fight physical, Derevyanchenko returned, sat on a folding metal chair with his hands clasped behind his head, and stretched out his legs. Then he moved to the sofa and adopted a similar position.
A handful of people came and went – Sergiy's wife, Iryna, Pat Connolly (Keith's father), PBC representative Sam Watson.
Co-trainers Andre Rozier and Gary Stark, Sergiy Konchynsky (a friend of Derevyanchenko's since childhood), and cutman Mike Bazzel were a constant presence. Unlike Jacobs-Derevyanchenko, when Rozier (who trained both men) worked Danny's corner, Sergiy's team was now unified.
At nine o'clock, Sergiy rose from the sofa, walked over to a shrink-wrapped package that contained 24 bottles of Aquafina, opened a bottle, and took a sip. Then he began changing into his boxing gear, folding his street clothes neatly before putting them aside.
At 9:05, referee Harvey Dock came in and gave Sergiy his pre-fight instructions: "There is no three-knockdown rule . . . If your mouthpiece comes out . . . If you score a knockdown . . ."
When Dock was done, Keith Connolly raised the issue of Golovkin hitting opponents on the back of the head and asked the referee to affirm that he would take strict action in the event of a foul. Dock promised to enforce the rules. Connally repeated his point and got the same answer the second time around.
At 9:15, Stitch Duran (Golovkin's cutman) came in to watch Stark wrap Sergiy's hands.
Rozier fiddled with the TV remote until the DAZN undercard appeared on the screen.
At 9:34, the wrapping was done.
Sergiy began stretching on his own.
Connolly handed him a smart phone. Al Haymon was calling to wish Sergiy well. The conversation was short, a ten-second best wishes for the fight.
Sergiy put a white towel on the floor and continued stretching. When that was done, he stood up and Stark led him through more stretching exercises.
Konchynsky approached Maggie Lange (the lead New York State Athletic Commission inspector in the room) and showed her a silver cannister labeled "Boost Oxygen."
"Is it all right if we use this?"
"What is it?" Lange countered.
"Oxygen."
"I don't know," Lange said. "Let's go for a ruling."
Konchynsky and the inspector left the room to consult with the powers that be.
Derevyanchenko began shadow boxing.
"It's your night, bro," Rozier told him.
Konchynsky and Lange returned. The powers that be had said "no" to Boost Oxygen.
Stark gloved Derevyanchenko up.
Sergiy pounded his gloves together and hit the pads with the trainer.
Mike Bazzel greased him down.
Rozier led the group in a brief prayer.
Golovkin's image appeared on the TV monitor. If he and Sergiy weren't about to fight each other, one could imagine them sitting side-by-side in someone's living room watching the fight together on television. By virtue of their origins and trade, they had more in common than most people in the arena.
Sergiy shadow boxed a bit more, then paced back and forth, deep in thought. He had followed these rituals many times before. But the stakes had never been this high. Glory and a possible eight-figure payday for his next fight if he won. And the very real possibility that he would be physically damaged before the night was done. This wasn't a movie about life. It was the real thing. More than anyone else, fighters know what's at stake every time they enter the ring.
*
Even "name" fighters have been struggling at the gate lately in the United States. Golovkin was no exception. In the days leading up to the fight, a large number of tickets had been given away by the promotion. Even so, the announced attendance of 12,577 was far short of capacity.
Golovkin had fought in the main arena at Madison Square Garden on four previous occasions and twice in MSG's smaller Hulu Theater. He was the crowd favorite.
Both men started cautiously. Then, two minutes into round one, Derevyanchenko ducked low as Golovkin threw a right hand. The punch landed just behind the top of Sergiy's head and put him down.
"He hit me in the back of the head," Derevyenchenko said later. "I didn't see the punch, but it didn't really affect me that much. I got up and I wasn't really hurt, so it was nothing too bad."
But the round had been up for grabs until that point. Now it was a two-point round for Golovkin. And the next stanza brought something very bad for Sergiy. A left hook landed cleanly and opened an ugly gash on his right eyelid.
Referee Harvey Dock mistakenly ruled that the cut had been caused by an accidental head butt. And because the New York State Athletic Commission doesn't allow for instant video review, that ruling stood although it's unclear what information was transmitted to the fighters' corners.
Be that as it may, Derevyanchenko was now at a distinct disadvantage. Cutman Mike Bazzel swabbed adrenaline into the cut and applied pressure after every round. But he was never able to completely stop the flow of blood. The dripping was a distraction. And as the bout progressed, Sergiy had increasing difficulty seeing Golovkin's punches coming.
"The cut really changed the fight," Sergiy said afterward. "I couldn't see at times. And he was targeting the eye."
Now Derevyanchenko was in a hole. But a fighter can't let his mind wander to what happened the round before or several punches ago. He has to stay in the moment.
Sergiy's response to adversity was to fight more aggressively. "When I started moving [in the first two rounds]," he explained later, "I felt like I was giving him room and I was getting hit with those shots that he threw. That's why I started taking the fight to him and getting closer and not giving him room to maneuver."
The strategy worked. Golovkin appeared to have the heavier hands. But Derevyanchenko began winning the war in the trenches. Several body shots hurt Gennady. He seemed to be tiring and losing his edge. One had the feeling that, if Sergiy's eye held up and he was able to take the fight into the late rounds, an upset was possible. Golovkin had a look about him that said,  "Either I'm getting old or you're good."
Brutal warfare followed. Choose your metaphor. Two men walking through fire. A dogfight between pitbulls.
The crowd roared through it all.
Neither man shied away from confrontations. In round eleven, Sergiy's left eyelid (the one that hadn't been cut) noticeably puffed up. It round twelve, it looked like a balloon. Both men dug as deep as it was possible to dig. And then some.
Most ringside observers thought Derevyanchenko won the fight by a narrow margin. But before the decision of the judges was announced, DAZN blow-by-blow commentator Brian Kenny observed, "You come into the fight with a certain mindset. Golovkin is the favorite. You expect him to do better."
That mindset was reflected in the judges verdict: Frank Lombardi 115-112, Eric Marlinski 115-112, Kevin Morgan 114-113 – all for Golovkin. The crowd booed when the decision was announced. They weren't booing Gennady, who had fought as heroically as Sergiy. They were booing the decision. A draw would have been equitable. One point in favor of Golovkin was within the realm of reason. 115-112 (7 rounds to 5 for Gennady) was bad judging.
Golovkin himself seemed to acknowledge the iffy nature of the decision when he said in the ring after the fight, "I want to say thank you so much to my opponent. He's a very tough guy. This is huge experience for me. This was a tough fight. I need to still get stronger in my camp. I need a little bit more focus. Right now, it's bad day for me. It's a huge day for Sergiy. Sergiy was ready. He showed me such a big heart. I told him, 'Sergiy, this is best fight for me.'"
That thought was echoed by Johnathon Banks (Golovkin's trainer), who later acknowledged, "I don't remember the exact scores, but I thought the fight was a lot closer than that."
After the fight, the skin around Derevyanchenko's eyes was swollen to the point where each eye was almost shut. His right eyelid was purple, bulging, and sliced open. There was a huge pocket of blood beneath his left eyelid.
Neither fighter attended the post-fight press conference. Sergey Konchynsky came into Derevyanchenko's dressing room, packed Sergiy's civilian clothes in a gym bag, and left. Then he went with Derevyanchenko to Bellevue Hospital where they were joined by Golovkin who was brought in as a precautionary measure.
"It took forever at the hospital," Keith Connolly recalls. "Sergiy and Gennady might have been the only patients there who weren't handcuffed to a gurney."
Derevyanchenko was stitched up and released from the hospital around 5:00 AM. Then he, Iryna, Konchynsky, and Connolly went to the Tick-Tock Diner on 34th Street where Sergiy ate blueberry pancakes before going back to his hotel to sleep.
The middleweight division has some quality fighters. Derevyanchenko can now be counted among them. The way he fought against Golovkin on Saturday night raised his profile. Big-money bouts that might be available to him in the near future include a rematch against Gennady or an even more lucrative outing against Canelo Alvarez on Cinco de Mayo weekend in 2020. Alternatively, Al Haymon might come to manager Keith Connolly with an offer for Sergiy to fight WBC 160-pound beltholder Jermall Charlo.
But for now, let's celebrate the courage and fortitude that Sergiy Derevyanchenko and Gennady Golovkin showed in the ring while battling against one another. And remember: Fighters are damaged every time they step into the ring. Fights like this take a heavy toll on both fighters. And sometimes the winner is damaged more than the loser.
PHOTO (c): Wojtek Urbanek
Thomas Hauser's email address is thomashauserwriter@gmail.com. His most recent book – A Dangerous Journey; Another Year Inside Boxing – is being published this autumn by the University of Arkansas Press. In 2004, the Boxing Writers Association of America honored Hauser with the Nat Fleischer Award for career excellence in boxing journalism.
Check out more boxing news on video at The Boxing Channel  
To comment on this story in The Fight Forum CLICK HERE
Diego Magdaleno is Locked and Loaded for Saturday's Fray in San Antonio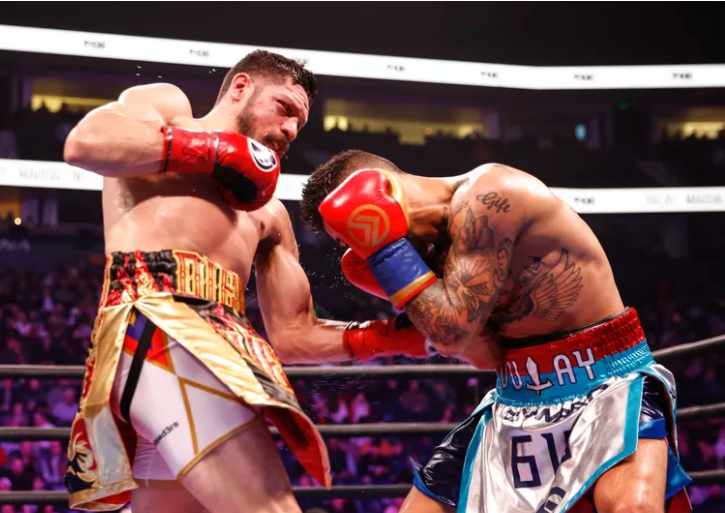 Diego Armando Magdaleno, the son of a former semi-pro soccer player, was named for Argentine soccer star Diego Armando Maradona. But Diego's father Jesus is hardly disappointed that his son devoted his energies to a different sport than soccer as Diego, the oldest of Jesus's three boys, has carved out a nice career as a boxer. On Saturday, he faces Isaac Cruz at the San Antonio Alamodome and a win could thrust him into a third crack at a world lightweight title. Magdaleno vs. Cruz will be televised as part of a SHOWTIME PPV event anchored by a battle between title-holders Gervonta "Tank" Davis and Leo Santa Cruz.
The bookies don't know what to do with the Magdaleno-Cruz matchup. One can find odds on fights of lesser importance, but with the fight only four days away the pricemakers were in quandary. Team Magdaleno, however, is approaching the fight as if they are the "B" side. Mexico City's Isaac Cruz, who boasts a 19-1-1 record and is undefeated in his last 15 starts, has a fan-friendly style and is only 22 years old. In theory, he has more value to the promoter going forward than Magdaleno (32-3, 13 KOs) who turns 34 this week.
Magdaleno relishes the underdog role. He was the "B" side in his most recent fight when he opposed Austin Dulay in Dulay's hometown of Nashville, Tennessee, and he carved out a clear-cut 10-round decision. Dulay, the younger man by nine years and less experienced at the pro level, was in over his head. Their fight was nationally televised on FOX.
Diego Magdaleno was born in Beverly Hills, California, but unlike many folks born there wasn't born with a silver spoon in his mouth. "We were more like the Beverly Hillbillies," says Diego, a reference to the popular sitcom that ran on CBS from 1962 to 1971.
For many years, Diego's father, an immigrant from Sahuayo in the Mexican state of Michoacan, worked at the flagship West LA branch of an iconic Greater Los Angeles hamburger chain. Diego's parents now manage a 7-11 in Las Vegas.
When Magdaleno first laced on the gloves it was at the Brooklyn Avenue boxing gym in the gritty Boyle Heights section of Los Angeles, the same gym where Oscar De La Hoya trained for the Olympic Trials. He continued with the sport after his family – he has three older sisters – moved to Las Vegas.
Diego influenced both of his younger brothers to become boxers. Jessie Magdaleno surpassed him in name recognition when he upset Nonito Nonaire in November of 2016, earning him the WBO world super bantamweight title. Jessie lost the belt in his second defense, succumbing to Isaac Dogboe, but has won three straight since that mishap, advancing his record to 28-1. The youngest Magdaleno brother, Marco, was 4-0 as a pro when he abandoned the sport, having secured a job with good pay and benefits in the construction field.
Diego has applied some of his ring earnings toward a real estate investment in Scipio, Utah, where he owns a parcel of land adjacent to a pioneer home. Scipio is a four-hour drive from Las Vegas and figuratively a million miles away. What does one do for fun in Scipio, pop. 288? The first thing that popped up in our internet search was to go grab a sandwich at the Burger Barn.
There's a back story there. The pioneer home, built in 1886, was recently purchased by Diego's fiancée Shannon Torres, a descendent of one of Scipio's founding families. She and Diego are restoring it. Diego professes to be amazed at the craftsmanship. "When we pulled up the carpets," he said, "the original hardwood floors were still in great condition."
Shannon Torres has a boxing background, having fought as an amateur and having sparred with the likes of Mia St. John. She is also a nutritionist. Diego confesses to having a sweet tooth, being fond of cheesecake and anything with peanut butter. "She knows how to make those things for me so they are not as unhealthy," he says.
Magdaleno's first loss came in April of 2013 when he lost a split decision to Ramon Martinez in Macao. Diego thought he won the fight, but only one of the judges concurred. At stake was Martinez's WBO 130-pound world title. His second world title opportunity came against WBO lightweight champ Terry Flanagan on Flanagan's turf in Manchester, England. That didn't go well.
"When I got in the ring, it felt like there was sand under my shoes," said Diego. "My right foot was sliding underneath me. I overcompensated and that caused me trouble." Magdaleno loaded up on his punches, a fatal mistake, and was knocked out in the second round.
Top Rank dropped Magdaleno after that fight but would eventually bring him back to fight their rising star Teofimo Lopez. His fight with Austin Dulay was his first fight back after his loss to Lopez (TKO by 7) and his first with new trainer Bones Adams (pictured on the left) in his corner.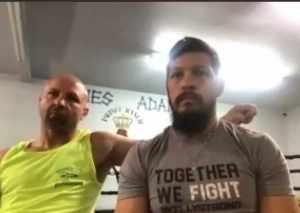 Isaac Cruz poses a different threat than Dulay partly because Cruz, who stands only 5'4 ½", is a lot shorter. But Magdaleno is confident the result will be the same.
"His style is attack, attack, attack; it's one-dimensional," says Diego. "I have been in there and done things that this kid has never seen. I am a big step up for him."
Unlike many prizefighters, Diego Magdaleno knows where he is heading after his career is finished; he is already a licensed real estate salesman with one listing to his credit. He's bi-lingual despite having spent only three months living in Mexico, that as a first-grader, and his linguistic versatility will come in handy in his second career. "I know just enough Spanish to get by," he says, but having heard him speak in his parents' native tongue we can attest that he's being much too modest.
For the time being, however, Diego isn't looking past Saturday night. Magdaleno vs. Cruz is expected to go first on the four-fight PPV portion of the card which kicks off at 9:00 p.m. ET/6:00 p.m. PT.
Magdaleno/Dulay photo credit: Stephanie Trapp
Check out more boxing news on video at the Boxing Channel 
To comment on this story in the Fight Forum CLICK HERE
Will Leo Santa Cruz's High Volume Punching Stymie Big Hitter 'Tank' Davis?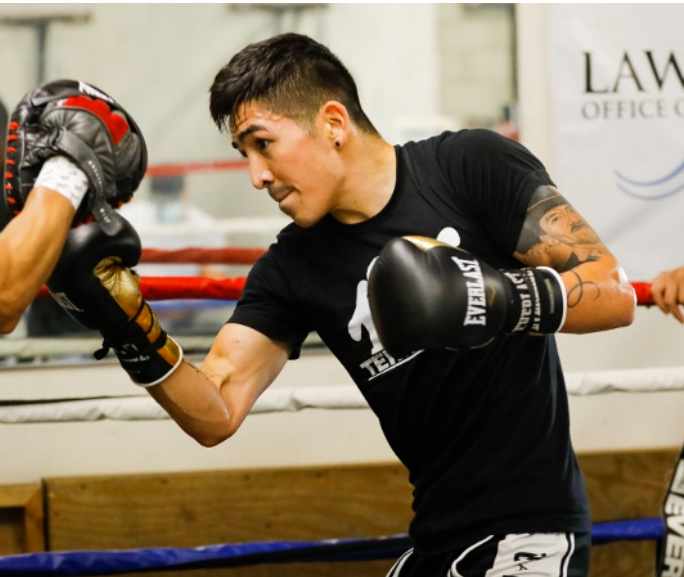 WBA "super" 130-pound champion Gervonta "Tank" Davis, short (5'5½"), short-armed (a 67½-inch reach) and powerful, has been described by some as a miniature Mike Tyson, which seems reasonable for an undefeated fighter who has won all but one of his 23 professional bouts inside the distance, more than a few of those knockouts of the spectacular variety. And if Davis' comparisons to "Iron Mike" weren't enough to stamp him as an emerging superstar, there is also the fact that he is a protégé of Floyd Mayweather Jr., the vainglorious owner of a 50-0 record and distinction as the richest prizefighter ever to lace up a pair of padded gloves. "Money" bills himself as TBE, "The Best Ever," and he goes so far as to suggest that the big-hitting southpaw from Baltimore for whom he has such high hopes might someday approach his status as a cash-cow and true icon of the ring.
"The ultimate goal is to get him to surpass me," the 43-year-old and ostensibly retired Mayweather said of the financial and fistic potential of Davis, who turns 26 on Nov. 7 and arguably is in the early stages of his prime. "I've been his age. Where he's trying to go to, and what he's trying to accomplish, I've already accomplished."
Although Davis has appeared on the undercard of two Pay-Per-View shows headlined by his famous and fabulously wealthy mentor, both he and Mayweather consider his watershed Halloween night confrontation with WBA "super" featherweight titlist Leo Santa Cruz (37-1-1, 19 KOs), in San Antonio's Alamodome, as Tank's real coming-out party. It is, after all, Davis' first time atop his own Showtime PPV event, perhaps the first of several such marquee appearances if the level of public interest in him continues to spike. Ascending to PPV status is a rite of passage both men consider to be a significant key to all the boxing kingdom has to offer, an exclusive club to which many aspire but only a chosen few are allowed to join. The tariff to boxing fans is a $74.95 subscription fee.
"I said, `Tank, you under Mayweather Promotions. So, it's May-Per-View," Mayweather told the kid who would be he during the first episode of Showtime's "All-Access," the infomercial whose purpose is to help convince pandemic-strapped fight fans to open their wallets.
"I'm grateful for what Floyd did for me, as far as opening doors," said Davis, who signed with Mayweather Promotions in 2015. "If it wasn't for Floyd, I wouldn't have been a champion at 22. He gave me a chance to fight on his Pay-Per-View card. Now I'm here, on my own Pay-Per-View."
To hear Mayweather and Davis tell it, it is Tank's singular, reputation-boosting turn in the spotlight, with Santa Cruz more or less along for the ride. The Vegas sports books seemingly are complicit in that perception, with Tank anywhere from a -$350 to a whopping -$710 favorite, odds which could fluctuate throughout the rest of the week as more and larger wagers are placed. Despite his being a four-division world champion, Santa Cruz, the 32-year-old, Mexican-born resident of Rosemead, Calif., whose current title is that of WBA "super" super feather ruler, also considers this particular bout to be historic as it is also his first PPV appearance. And, no, he isn't bothered by the long odds against him (which range from +260 to +475) or Davis' reputation as a compact instrument of pugilistic destruction.
"Nobody believes in me," he said, almost reveling in his rare role as an underdog. "They think I'm this other guy. But I asked for this fight for a reason 'cause I want to prove myself. I'm going to compete and give my all. I'm not scared.
"Gervonta Davis is a great fighter with great skills, great power. I think he's the most dangerous fighter in the division. Why not go after him? To prove to the people that I'm not scared of nobody."
Santa Cruz might not pack as much power as Davis, but his forte is high-volume punching. When he defeated Vusi Malinga via 12-round unanimous decision for the vacant IBF bantamweight strap on June 2, 2012, in Carson, Calif., CompuBox statistics revealed he had unfurled a remarkable 1,350 punches, an average of just under 113 per round. Nor were those numbers an aberration for the human perpetual motion machine; in his two confrontations with Abner Mares, both of which were won on points by Santa Cruz, the read-out showed Leo connecting on a combined 730 of 2,115. Many opponents scarcely have time to think, much less react, when Santa Cruz is firing shots with machine-gun rapidity. No wonder he dares to believe Davis will be similarly flustered.
"I think so," Santa Cruz said when asked if the quantity of his fusillade will more than offset Davis' superior quality in terms of power. "When you have a fighter on top of you, throwing punches, he's not letting you think; he's frustrating you. He's not letting you do nothing.
"If I do that, it could be dangerous 'cause he'll be waiting to counterpunch me, to land those big shots, the uppercuts and hooks. So, I got to do a very smart fight, a perfect fight, to beat him."
For TV purposes, the storyline outside the ropes sometimes is nearly as important in selling the product as what takes place inside them. In that regard Davis and Santa Cruz, so seemingly different in some regards, are strikingly similar in that they were children of poverty, hardly unusual for a sport where years of deprivation can stoke a burning desire to succeed. Santa Cruz's motivation might even be hiked a bit higher because of the ongoing medical circumstances of his trainer-father, Jose Santa Cruz Sr.
Jose Sr. could be the star of his own medical reality series, the most recent episode being his near-death brush with COVID-19. But the patriarch of a boxing family (brothers Jose Jr., Antonio and Roberto are also involved in Leo's career) had previously survived a bout with sepsis, a potentially life-threatening infection, and, in 2016, the diagnosis of Stage 3 myeloma, a blood cancer, that invaded his bones. The father had to undergo weeks of radiation and chemotherapy, and although he pulled through Leo cited concerns for his dad's health as a contributing factor in his sole pro defeat, in which he relinquished his WBA super featherweight title, by 12-round majority decision, to England's Carl Frampton on July 30, 2016. Santa Cruz avenged that setback, also by majority decision, six months later.
Jose Sr. continues to serve as Leo's trainer, but so many medical crises have been met and overcome by the father that the son has learned, as best he can, to cope.
And the COVID-19 which again could have brought Jose Sr. the eternal 10-count?
"When he went (into the hospital), they gave us little hope," Leo said of his dad's most recent downward plunge on an emotional roller-coaster on which the entire family has been obliged to have seats. "They said he was going to pass away, that he wasn't going to last the night. We were all depressed and crying. His lungs were failing, his heart was failing. He coded two times; he died and they brought him back to life.
"I had memories of when he used to go on the bus with me, pushing me in the gym, telling me what to do. All those memories were playing in my mind. I really didn't think he was going to make it. I thought they were going to call us and say, `Hey, your dad passed away.' But we prayed, we had hope. Thank God, the next day we were told our dad was still in critical condition, but he was doing a little bit better. Day by day he improved. God listened. He made a miracle. My dad survived. Even the doctors were saying that they didn't know how that happened."
As was the case with Santa Cruz, who recalls the occasions when the family's electricity was shut off because of unpaid bills, Davis' childhood also was hardly a real-life version of Leave It To Beaver. In 1999, while his father was in prison and his mom was battling drug addition, he was placed into child protective services at the age of five. For the next several years he shuttled between foster homes and shelters. But then, at seven, he found his way into the boxing gym run by Calvin Grove, who knew the pitfalls of life on the streets (he had served 10 years behind bars on drug offenses) as well as the need throw-away children such as Gervonta Davis had to finding someone and something to believe in. Ford, now 56, is so much more than Tank's trainer now; he also is his father-figure and inspiration not to become another faceless, nameless crime statistic.
"Boxing, I would say, saved my life," Davis said. "All the guys I came up with that were older than me, they got killed. If you got one foot in the street and one foot in the gym, it's not going to work. You got to be all the way committed with something.
"When I came to the gym, I felt the love that I needed as a child. Calvin basically raised me. What I been through and what I seen coming up, I knew I don't want to go backwards in life. I know what that brings."
In addition to Davis-Santa Cruz, the PPV portion of the undercard features the return, after a layoff of 13 months, of former WBA and WBC Diamond super lightweight champion Regis "Rougaroo" Prograis (24-1, 20 KOs), in a 10-rounder against Juan Heraldez (16-0-1, 10 KOs); the WBA junior welterweight title matchup of San Antonio's Mario Barrios (25-0, 16 KOs) vs. Ryan Karl (18-2, 12 KOs), and a lightweight scrap pitting Diego Magdaleno (32-3, 13 KOs) against Isaac Cruz Gonzalez (19-1-1, 14 KOs).
Photo credit: Esther Lin / Mayweather Promotions
Check out more boxing news on video at the Boxing Channel 
To comment on this story in the Fight Forum CLICK HERE
HITS and MISSES from Another Weekend on the Boxing Beat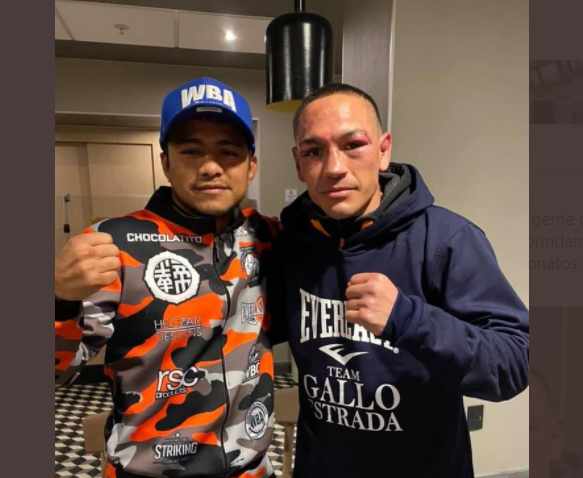 Unlike last weekend, there wasn't just one big fight card for everyone to watch. Instead, the boxing audience in the United States primarily had two separate fight cards to enjoy, one on Friday night from Mexico City featuring stalwart super flyweights, and another one on Saturday night from Mohegan Sun Casino in Connecticut featuring an important welterweight matchup between hopeful contenders.
Here are boxing's latest HITS and MISSES from this weekend.
HIT: The Super Super Flyweights
Two of boxing's best were on display when Juan Francisco Estrada stopped Carlos Cuadras in the 11th round of the main event in Mexico and Roman Gonzalez won a unanimous decision over Israel Gonzalez in the co-feature.
Both Estrada and Gonzalez are exceptional talents who have accomplished more during their impressive careers than most fighters could dream. The two rivals were thought to be on the way to an important rematch against each other a few years ago when Wisaksil Wangek, who fights under the name Srisaket Sor Rungvisai, burst onto the scene in 2017 to shockingly hand Gonzalez the first two losses of his Hall of Fame career as well as Estrada his first loss since Gonzalez defeated him by decision six years prior.
But Estrada has won five straight now, including his rematch against Sor Rungvisai last year, to set up one of the most scintillating fights in the super flyweight division in ages. Gonzalez is already considered by most to be an all-time great, and Estrada isn't far behind him. After both won their latest fights, it looks like a rematch between the two is finally going to happen.
MISS: Long Delays for Viewers Between Bouts
It boggles my mind how none of the various television networks and streaming platforms in the sport have figured out anything to do worthwhile when fights end sooner than their scheduled number of rounds. It happens so often in the sport that it would seem reasonable to suggest somebody would have come along by now with some kind of plan. Just a few years ago, it seemed swing bouts were still on the table. What happened to those?
On Friday night, if one tuned in to watch the main card tripleheader on DAZN, one was presented with over 45 minutes of waiting around for the next fight to happen after WBC flyweight champ Julio Cesar Martinez needed just two rounds to stop Moises Calleros.
The single most frustrating part of the equation, which has probably been mentioned in this column before, is that Dana White and the UFC pulls it off every single fight card. So, the template already exists, but boxing television partners, even on ESPN where both the UFC and Top Rank coexist, refuse to use it.
HIT: DAZN's Todd Grisham and Sergio Mora Impromptu Roadshow
Regardless, while I don't believe it's reasonable to hope for the beautiful accident that was Friday night on DAZN for every card, I could hardly be mad when DAZN's dead air was filled with the antics of Todd Grisham and Sergio Mora, who were calling the action on the night. Both are probably underrated at what they do.
Their sometimes jovial, sometimes hostile banter is fun. No, people don't tune in to hear these guys go back and forth with each other, but it was at least entertaining to hear their near-comedic and entirely impromptu routine, especially because it also surrounded the surreal experience of watching WBC president Mauricio Sulaiman make his in-ring television interview debut with boxing titleholders Mikey Garcia and Emanuel Navarrete.
Boxing is a strange culture. Sometimes even the bad parts of the sport can be good.
MISS: Lip Service from Everyone About Boxing's Biggest Issue
One of the biggest boxing stories of the weekend was when retired boxing champ Floyd Mayweather ranted against title belts. Indeed, one of the most difficult things to explain to any outsider about the sport is how boxing's complicated and somewhat absurd championship system works.
Of course, Mayweather is right about there being too many world champions in boxing. But the problem is that people who might actually be able to make those kinds of changes in the sport say things like that without actually doing anything about it. Heck, even WBO president Paco Valcarcel publicly stated that he agreed with Mayweather, even though that sanctioning organization now offers something called a WBO "Global" belt.
Mayweather, Valcarcel and others can't simply point their fingers about the issue in hopes of getting it fixed. Instead, both men (and others) who wield actual money, power and influence in the sport, would be better served by actually taking measures to change things.
Mayweather, as a promoter, could keep his fighters from the alphabet gang altogether. And Valcarcel? The shortest and easiest path for him to help, short of shutting the WBO down right now, is to stop offering so many titles.
HIT: Matchmaking for Showtime's Tripleheader
The matchmaker listed at BoxRec for Showtime's tripleheader was Tom Brown, and it really should be pointed out what a terrific job he did in putting last Saturday's card together. Of the three fights we saw on our televisions on Saturday night, all six fighters competing had a legitimate chance to win.
There were no gimmes on this card, and that's rarely the case.
In fact, all the so-called A-sides had rough nights. Undefeated junior lightweight prospect Malik Hawkins suffered the first loss of his career via stoppage to Puerto Rico's Subriel Matias. Rising 130-pounder Xavier Martinez almost did the same when he was knocked down twice in one round by Claudio Marrero before digging down deep to earn the decision. And the main event? Sergey Lipinets vs. Custio Clayton was such a hotly contested fight that it was scored a split-draw. So, Showtime's latest card was a breath of fresh air in a sport sometimes too obsessed with promoting future fights over present matters.
Check out more boxing news on video at the Boxing Channel 
To comment on this story in the Fight Forum CLICK HERE