Life After DOOMSDAY: Assessing the Career of "Superman" Stevenson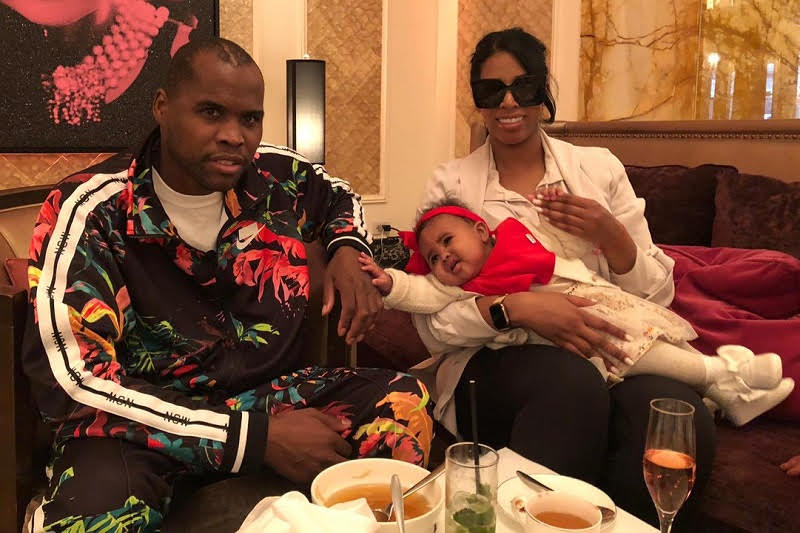 On December 1, 2018, the five-year reign of Adonis "Superman" Stevenson came to a violent end in the eleventh round of a WBC light heavyweight title fight in Quebec City, Canada. The 41-year-old defending champion was battling to make the tenth defense of the world championship he'd won in 2013 with a shocking first round knockout of "Bad" Chad Dawson in Montreal.
Hammered into defeat so severely by new champion Oleksandr "The Nail" Gvozdyk, Stevenson was hospitalized where he spent six weeks in an induced coma to save his life.
To his haters on Twitter and beyond, this was welcomed as overdue karma—poetic justice. To everyone else, it was seen as a great fight up for grabs before Gvozdyk grabbed the victory.
Support from within the global boxing community for the wounded pugilist has been positive and encouraging. That same dynamic is happening again on social media for Errol "The Truth" Spence Jr., the welterweight champion injured in a car wreck last Thursday in Dallas, Texas.
Now in long-term recovery while healing from a boxing-related brain injury, the boxing life of Adonis "Superman" Stevenson is officially over. His career is a closed book. Let's review it.
TRUTH AND JUSTICE
Born in Port-au-Prince, Haiti in 1977, Stevenson immigrated to Canada with his family in 1984. Writing last year for The Fight City online, author Ralph M. Semien illustrates what followed:
"By 14 he was out of control, spending time on the streets, and soon enough he was part of a violent gang and headed for disaster. Eventually he became involved in an organized sex-for-hire service in Montreal. Stevenson was arrested, tried, convicted and he served his jail time. When released from prison in 2001, he made a pact with himself to turn his back on the street gang lifestyle and everyone associated with it, that he would never again break the law."
GRAPHIC NOVEL
Five years later in 2006 after a successful campaign in the amateurs where he boxed at middleweight for Canada and won a pair of national titles for his new country, Stevenson turned professional at super middleweight under the promotional guidance of Yvon Michel. His was your typical boxing story of overcoming a troubled past to carve out a brighter, better future.
He ran his record to 13-0 against gradually increasing competition before a 2010 setback TKO against so-called journeyman Darnell Boone. Buzzed late in the opening frame by a sneaky right uppercut and a hard left hook, Stevenson was easy pickins for Boone early in the second round.
A year later, Stevenson returned to the ring; winning six fights and a few minor super middleweight title belts. Most importantly during this transitional period in his career, Stevenson avenged his upset loss to Boone, punishing "Deezol" before knocking him out cold in the sixth.
"He definitely got better and earned his spot," concedes Boone.
When an opportunity came to fight for the WBC light heavyweight title in 2013, Stevenson took full advantage, putting Chad Dawson down and out with a single, lethal left hook to the chin. The reign of Superman was up, up and away and boxing seemed to welcome its new action hero.
But not so fast, speeding bullet.
American fans and media never let Stevenson forget about his checkered past as a convicted street hustler. And if all that wasn't enough, soon they were labeling him a "ducker" and a "cherry picker" for his apparent refusal to fight Sergey Kovalev and/or Eleider Alvarez.
Despite the constant negative press painting him as the bad guy, he was actually a very likeable man with a huge smile. Stevenson was also wildly popular in Canada and his title fights were entertaining events where more often than not, he left opponents twitching in a mangled heap.
Unsatisfied with Stevenson's choice of title challengers, Oscar De La Hoya's The Ring magazine in 2015 officially withdrew (stripped) its recognition of Stevenson as the "real" World Light Heavyweight Champion. To the Bible of Boxing, Stevenson was an unrepentant sinner.
By that point, Stevenson had made six defenses of his WBC light heavyweight title with wins against Tavoris Cloud, Tony Bellew, Andrzej Fonfara, Dmitry Sukhotskiy, Sakio Bika and Tommy Karpency. That super-fight with "Krusher" Kovalev never happened and it never will.
Who'd have won?
Does it even matter anymore?
I'll give common opponent Darnell Boone the last word on it. "Kovalev. Because he's the more sound boxer. Adonis did the same thing in every fight. Paw with the jab, paw with the jab, left."
"He never really mixed it up," insists Boone. "Kovalev is throwing combinations. He's moving, punching off the angles. He knows exactly how to use his height and leverage with his punches. Kovalev keeps you on the outside, away from getting on the inside on him. He fights tall."
That's all true but was there more to Stevenson's game than just predictable one-punch power with the left hand? Trained by Javon "Sugar" Hill, Stevenson was a KRONK fighter. He improved as he got older and deeper into his profession. His southpaw offense was almost always good enough to be his defense. Trading with him was suicidal. And as a body puncher, he was underrated.
In 2016, he knocked out Thomas Williams Jr. with a viciously quick left hook. In 2017, he rematched Fonfara and blew him away in two rounds. In 2018, before the Doomsday loss to Gvozdyk, there was a grueling, disputed draw with super middleweight Badou Jack.
I had Stevenson up by a point in a war that should've garnered more consideration for Fight of the Year honors. Unfortunately, the anti-climactic draw took some of the shine off a classic.
If only the Al Haymon-handled fighter had been more willing to mix it up with the big names, critics would probably be more kind to him today, especially if he'd beaten Kovalev, something that doesn't exactly look like an impossibility when looking back at the proposed match-up.
Against Ward and Alvarez, Kovalev showed susceptibility to a determined attack, particularly to the body. In his penultimate fight against "The Ripper" Jack, Stevenson put the kind of hurt on Badou's body late in the fight that may have been very difficult for Kovalev to overcome.
THE ADVENTURES OF SUPERMAN
How should Stevenson be viewed in the light of light heavyweight history? Keep in mind that not everybody was so thrilled to get in the ring with him. Edwin "La Bomba" Rodriguez spoke for years of facing him "in the future" but in the end it was all just talk. After Rodriquez was knocked out by Williams Jr. in 2016, Williams Jr. was knocked out by Stevenson three months later.
Though he'll never be rated as one of the all-time greats in the weight class, Stevenson should be recognized for what he actually was. Not just a champion, Stevenson was THE champion.
He beat the man who beat Bernard Hopkins. He was a one-punch power puncher, an action fighter, a defending world champion until he could defend that world championship no more.
Along the way, Stevenson picked up a Fighter of the Year award in 2013 while many of his knockouts were considered Knockout of the Year candidates. He was the WBC light heavyweight champion for sixty-six months, an unusually long time in today's watered-down era of weight jumping and belt dumping. He retained his world title nine times, with only Bika, Fonfara, and Jack going the distance. Stevenson's final record is 29-2-1 with 24 KO's.
DOOMSDAY CLOCKED
And so with the Teddy Atlas trained Gvozdyk beating him senseless in the corner last December, boxing's ultimate kryptonite (time) finally caught up to Superman Stevenson but not before the Haitian sensation made his improbable impact on the modern boxing landscape.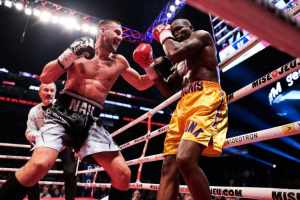 Stevenson's desire to become a boxing champion probably saved his life while his desire to remain a boxing champion nearly cost him his life. We don't yet know the final butcher's bill.
What we do know is that Stevenson has had to relearn how to walk and talk. That's how unpredictable and ironic this sport is: a PBC fighter supposedly protected by Al Haymon was nearly killed by an undefeated Ukrainian clearly up to the challenge of fighting (and beating) him.
Last week Stevenson uploaded a video on Instagram. He's seen in the gym, moving on his feet, wearing a pair of pink boxing gloves while lightly working over a heavy bag as fiance Simone God and their new daughter Adonia look on. "I love you," posted God to her miraculous man.
To review: Stevenson Adonis escaped his dying homeland before it imploded. He then crash-landed in Canada where he was adopted by the Canadian people. He did the crime(s) then he did the time; paying whatever debt he owed to society for his transgressions. He won and lost his battles by the power of his own fists. As a human being, he is truly transformed.
"Superman" Stevenson is dead.
Long live Adonis Stevenson…
EDITOR'S NOTE: After receiving this story, yet another boxer suffered a serious head injury. Patrick Day, a 27-year-old junior middleweight from Freeport, New York, was knocked out by Charles Conwell in the tenth-round last night on the Usyk-Witherspoon undercard and is now fighting for his life in a Chicago area hospital where he has been placed in a medically induced coma. On behalf of the entire editorial staff at The Sweet Science, I'd like to offer our thoughts and prayers for Day's full recovery.
Boxing Writer Jeffrey Freeman grew up in the City of Champions, Brockton, Massachusetts from 1973 to 1987, during the Marvelous career of Marvin Hagler. JFree then lived in Lowell, Mass during the best years of Irish Micky Ward's illustrious career. A new member of the Boxing Writers Association of America and a Bernie Award Winner in the Category of Feature Under 1500 Words, Freeman covers boxing for The Sweet Science in New England.
Check out more boxing news on video at The Boxing Channel  
To comment on this story in The Fight Forum CLICK HERE
Fast Results from Tulsa: Joe Smith Jr Nips Vlasov, Wins WBO Title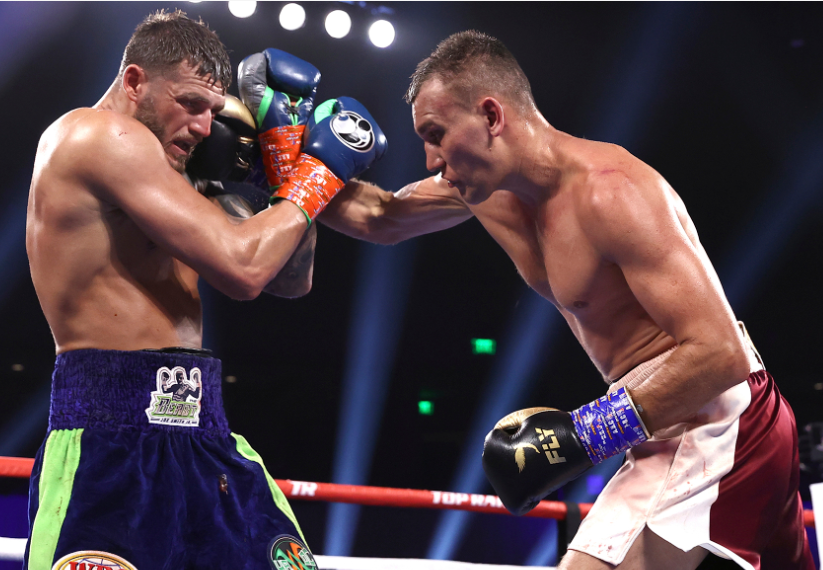 Joe Smith Jr had to dig down deep to upend Russian veteran Maxim Vlasov, but pulled the fight out of the fire with a late rally to capture the vacant WBO light heavyweight title before a sold-out crowd of 500 masked-up fight fans at Tulsa's Osage Casino. Smith prevailed by a majority decision. One of the judges had it a draw (114-114), but he was overruled by his cohorts who each turned in tallies of 115-113.
Smith, the quintessential blue-collar fighter, suffered a cut above his left eye in the first round and it troubled him throughout. Vlasov fought a smart fight, out-working the more one-dimensional Smith in most of the rounds, but a cut inside his mouth and Smith's body punches eventually took their toll. Smith had a strong seventh round but Vlasov recaptured the lead only to let it slip away in a good action fight. There were no knockdowns, but Vlasov went down in the 11th from a punch that landed behind his head, an illegal punch, hence no knockdown.
Smith Jr improved to 27-3 and earned a date with WBC/IBF champion Artur Beterbiev. Vlasov, whose effort commanded a rematch that won't happen — at least not any time soon — falls to 45-4. All four of the Russian's losses have come on U.S. soil, two right here in Tulsa where Vlasov was out-pointed by future world title challenger Isaac Chilemba way back in 2011.
—
The were nine bouts in all the card, the majority of which were intended to showcase up-and-coming heavyweights. The result was a predictable slew of quick stoppages, resulting in plenty of dead time between bouts.
The match between Efe Ajagba and Brian Howard was packaged as the co-feature. Ajagba had been less than impressive in some of his recent starts, but tonight the 6-foot-6 former Olympian for Nigeria scored a devastating one-punch knockout to restore whatever luster he may have lost. The lightning bolt came at the 1:29 mark of round three. Howard was unconscious before he hit the canvas. Ajagba advanced to 15-0 with his 12th knockout. Howard declined to 15-5.
Other Bouts
In the last of the seven preliminary fights on ESPN's subscription channel, Jared Anderson improved to 9-0 (9) with a second-round stoppage of West Virginia southpaw Jeremiah Karpency. The gifted 21-year-old Anderson, from Toledo, Ohio, scored two knockdowns with hard body shots before the bout was halted after only 38 seconds of the second round. The grossly overmatched Karpency was 16-2-1 heading in.
Local fan favorite Trey Lippe Morrison advanced his record to 17-0 with his 17th knockout, stopping 36-year-old Alabama journeyman Jason Bergman (27-20-2) in the third frame. Bergman came to fight and actually scored a knockdown in the opening round that the ref erroneously called a push. Fighting with his back against the ropes, Bergman landed a left that knocked Morrison off his pins.
It was a quirky knockout, coming at the 1:27 mark of round three when Bergman rolled his ankle while throwing an errant punch. He fell to the canvas in obvious pain and the bout was stopped. Bergman had lost seven of his last nine coming in, but was meeting an undefeated opponent for the fifth straight time.
Tulsa native Jeremiah Milton (3-0, 3 KOs) had a successful homecoming, bombing out Mississippi's Jayvone Dafney in the first round. An overhand right by Milton left Dafney out on his feet with his back pinned against the ropes. Milton, realizing that his opponent was seriously hurt, held back, waiting for the referee to intervene. The time was 1:19.
In the ESPN+ opener, Philadelphia's Sonny Conto (7-0, 6 KOs) returned after a 15-month absence and dismissed paunchy Waldo Cortes in the opening round. Conto put Cortes (6-4) down for the 10-count with a perfectly placed right hand. The official time was 1:41.
Photo credit: Mikey Williams / Top Rank via Getty Images
Check out more boxing news on video at the Boxing Channel
To comment on this story in the Fight Forum CLICK HERE
Conor Benn Embarrasses His Detractors, Demolishes Vargas in 80 Seconds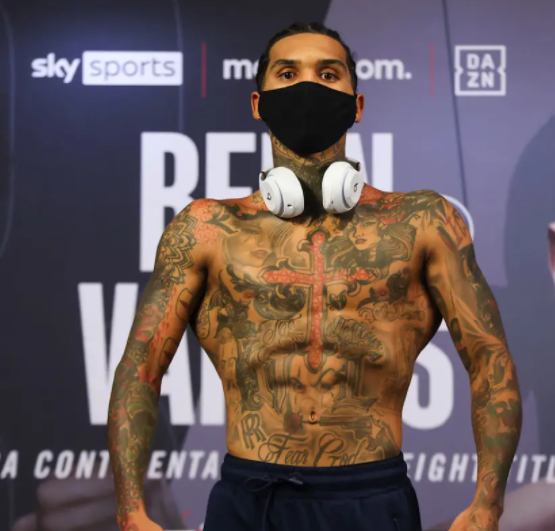 Conor Benn fought Samuel Vargas in London today (Saturday, April 10). Although Benn was a solid favorite, he was stepping up in class. Vargas, a 31-year-old Canadian via Columbia, brought a 31-6-2 record. He had been in with the likes of Errol Spence Jr and Danny Garcia and had extended Amir Khan 12 rounds on Khan's turf in Manchester.
Vargas's best days were behind him , but the prevailing sentiment was that he would make it interesting, likely taking the fight into the late rounds and perhaps lasting the distance. So much for prevailing sentiment. Benn walked right through him. Vargas couldn't cope with Benn's superior speed. He was being battered against the ropes and offering nothing in return when referee Michael Alexander stepped in and waived it off. It was all over in 80 seconds. Benn improved to 18-0 with his 12th win inside the distance.
Benn, 24, is the son of Nigel Benn, a former two-division world champion who was one of England's most celebrated fighters. Conor had a brief amateur career in Australia before turning pro at age 19 in London, the city of his birth. While his record is unblemished, it would be incorrect to say that he passed every test as he was climbing the ladder. His first fight with Cedric Peynaud, a marginally skilled Frenchman, has haunted him.
Benn was knocked down twice in the opening round, but scored two knockdowns of his own late in the 6-round fight and was awarded the decision. Peynaud brought a 5-4-3 record and to say that Conor's performance was underwhelming would be an understatement. At the finish, his right eye was badly swollen.
Scott Gilfoid offered up the most damning criticism: "To say that Benn looked poor tonight is being kind. He was absolutely horrible….The flaws that I saw in Benn's game tonight are ones that likely won't go away anytime soon….His performance has to be viewed as a warning sign that he's not destined to go far in the sport like his famous father."
Benn and Peynaud fought on Dec. 13, 2017. This was Benn's 12th pro fight. He had one more bout under his belt before he and the Frenchman had another go at it. The rematch, scheduled for 10 rounds, took place on July 28, 2018, on a show headlined by the heavyweight match between Dillian Whyte and Joseph Parker.
Benn knocked Peynaud down three times but couldn't finish him. However, the outcome was never in doubt. He won by scores of 98-90 and 98-91 twice.
Trevor McIntyre, a stablemate of the aforementioned Scott Gilfoid (rumor has it that Gilfoid and McIntyre are the same person, and that both are aliases of the owner of the web site where their bylines appear) conceded that Benn showed improvement, but was otherwise unimpressed: "(He) still looked like someone that would be blown away by a halfway decent journeyman fighter….Benn's defense was leaky, his hand speed slow, and his movements looked uncoordinated throughout."
Benn's most recent fight before tonight came against Sebastian Formella, a sturdy but feather-fisted German who was coming off a 12-round defeat to Shawn Porter, a bout in which he showed great heart but won nary a round. Benn won lopsidedly. The scorecards read 100-91, 99-91, and 98-92.
The mysterious Barry Holbrook, whose byline appears at the same web site as Gilfoid and McIntyre, acknowledged that Benn proved some of his doubters wrong, but wrote that "a top welterweight like Errol Spence, Keith Thurman, Danny Garcia, Terence Crawford, or Vergil Ortiz Jr would have knocked him out. If they didn't score a knockout, they would have battered him to the point where the referee would have needed to stop it."
The respected British scribe Ron Lewis offered a different take: "(Conor) looked a completely changed fighter from the wild youngster of his early professional career, switching well from head to body, being patient, and picking his spots well." Lewis did not speculate how Benn would have fared against some of the division's top guns, but certainly hinted that Nigel's son could become a factor in what is currently a very strong welterweight division.
As today's showing proved, Mr. Lewis is a more perceptive observer than his counterpart(s) at the web site where Benn has been repeatedly 'dissed. Nigel's son has made enormous strides in the last few years. He's also an interesting character. Having spent much of his formative years living on the Spanish island of Majorca, he's fluent in Spanish which is always a useful attribute from a marketing standpoint. But as for how good he is, let's not jump to conclusions, mindful that Samuel Vargas was on the wrong side of the curve, having lost three of his last five heading in.
The question doesn't yet have a definitive answer, but tonight in London, Conor Benn was very good, very very good.
Check out more boxing news on video at the Boxing Channel
To comment on this story in the Fight Forum CLICK HERE
Avila Perspective, Chap 130: Jaron 'Boots' Ennis, Super Fly and More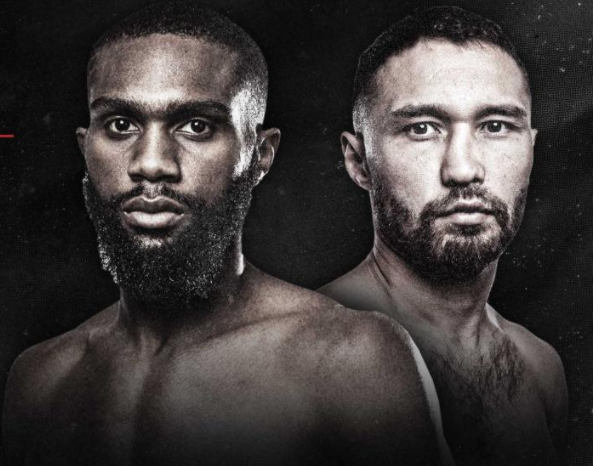 A stacked weekend of marquee fights is led by top American welterweight prospect Jaron "Boots" Ennis tasked with meeting the challenge of Russia's Sergey Lipinets in Connecticut.
The undefeated Ennis (26-0, 24 KOs) faces former super lightweight world titlist Lipinets (16-1-1, 12 KOs) on Saturday April 10, at the Mohegan Sun Casino in Uncasville. Showtime will televise the loaded PBC card.
Philadelphia's Ennis walks into the boxing ring with all of the physical advantages including height, reach, speed and even more pro fights. But Lipinets does indeed know what it's like to fight against a world champion.
"I think the opposition that I've faced is definitely better than what Ennis has faced. I went 12 rounds with Mikey Garcia and I faced a two-time champion in Lamont Peterson," said Lipinets. "Those guys have pushed me to the edge before. Ennis has more pro fights than I do, he just hasn't been pushed in the same way in his fights."
This will be an opportunity for the athletically gifted Ennis to discover if he cracks the elite level.
"I've been trying to get these types of guys in the ring for about two-and-a-half years. I've been trying to get former world champions and top ten guys. It just didn't happen. I finally got my chance and you guys are going to see a whole different animal. A whole different beast. It's time for me to do my thing," said Ennis, 23.
Lipinets, 32, realizes that time is running out and needs a win against an avoided prospect like Ennis to re-introduce himself to the fickle boxing world.
"Ennis is a young and up-and-coming fighter. All we want is a shot at the title and everything that comes with it. A win in this fight will give us all of that. I want to get my crack at the big dogs in the division," said Lipinets who trains in Southern California.
Both fighters are explosive types with extreme confidence in their abilities.
Superfly
Also on the same fight card, long-reigning IBF super flyweight world titlist Jerwin Ancajas (32-1-2, 22 KOs) yearns to be part of the super flyweight wars that have emerged with fighters Juan Francisco Estrada, Roman "Chocolatito" Gonzalez, Kazuto Ioka and Srisaket Sor Rungvisai.
The super flyweight division has become one of the hottest in boxing.
"I want to fight whoever is left after the four-man tournament between Rungvisai, Chocolatito, Estrada and (Carlos) Cuadras. I'm always calling the name of any titleholder in my division, so I would fight Ioka too," said Ancajas, a Filipino southpaw who has held the IBF super fly title since September 2016. "I want a signature fight because I'm tired of people criticizing me for not fighting anybody."
Ancajas, 29, meets Mexico's Jonathan Rodriguez (22-1, 16 KOs) another one of those little-known Mexican sluggers that can upset any fighter looking too far ahead.
"Ancajas is a great champion, but he's never faced someone like me. I'm going to put the pressure on him from the very beginning Saturday night and show him that he has a great Mexican fighter standing in his way," said Rodriguez.
Early Fights
A welterweight battle between Conor Benn (17-0) and Samuel Vargas (31-6-2) takes place on Saturday April 10, from London. The Matchroom Boxing card will be streamed on DAZN at 11 a.m. Pacific Time.
British-born Benn is the son of the great Nigel Benn and was slated for a showdown with another British prospect Josh Kelly. But that fighter was upended by David Avanesyan this past February who knocked out Kelly. Matchroom Boxing had to re-arrange somethings and now it's Benn versus Vargas.
Vargas is tough.
The last time we saw Vargas he was getting clobbered by knockout artist Vergil Ortiz Jr. but never touched the floor. Whoever fights Vargas learns quickly that he's a dangerous fighter with a head made of steel.
Does Benn have enough boxing skills to switch to plan B when a knockout win isn't possible?
We shall see.
On the same card two female world title fights take place with the vacant WBA bantamweight title up for grabs between England's Shannon Courtenay and Australia's Ebanie Bridges. Also, WBO middleweight titlist Savannah Marshall defends against Maria Lindberg.
Light Heavyweight Title
A fight for the vacant WBO light heavyweight title will try and take place again when Joe Smith Jr. (26-3, 21 KOs) the hard-hitting blue-collar worker from Long Island takes his hammer fists to Tulsa, Oklahoma to face Max Vlasov (45-3, 26 KOs) on Saturday April 10. ESPN will show the Top Rank fight card.
They tried fighting each other before but the coronavirus epidemic knocked the first attempt out of the water. Here they go again.
Smith, 31, has tried before and been defeated before. But every time someone thinks its all over for the construction worker, he knocks somebody out to regain a footing. He knocked out former champion Eleider Alvarez and defeated Jesse Hart to get to this spot.
Vlasov, 34, has been around for many years and displays an aptitude for doing what's necessary to survive. Can he find that same ingredient to fend off Smith?
It should be a worthy world title fight.
Check out more boxing news on video at the Boxing Channel
To comment on this story in the Fight Forum CLICK HERE