Life After DOOMSDAY: Assessing the Career of "Superman" Stevenson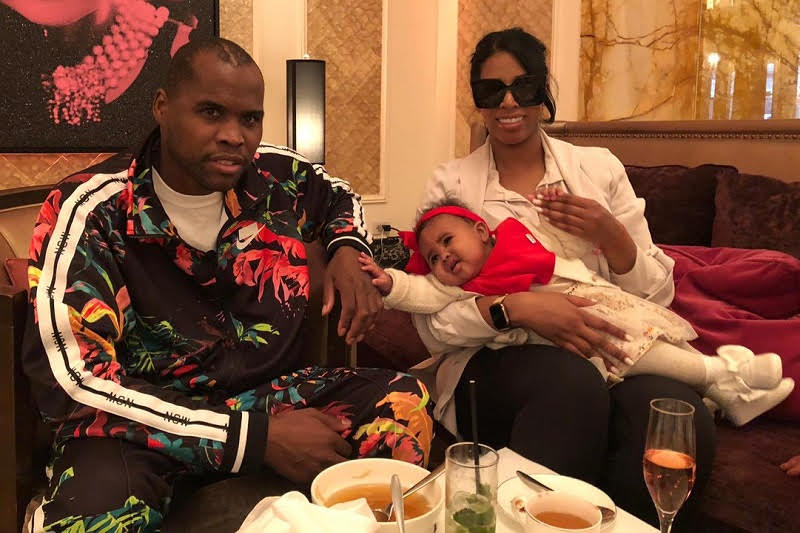 On December 1, 2018, the five-year reign of Adonis "Superman" Stevenson came to a violent end in the eleventh round of a WBC light heavyweight title fight in Quebec City, Canada. The 41-year-old defending champion was battling to make the tenth defense of the world championship he'd won in 2013 with a shocking first round knockout of "Bad" Chad Dawson in Montreal.
Hammered into defeat so severely by new champion Oleksandr "The Nail" Gvozdyk, Stevenson was hospitalized where he spent six weeks in an induced coma to save his life.
To his haters on Twitter and beyond, this was welcomed as overdue karma—poetic justice. To everyone else, it was seen as a great fight up for grabs before Gvozdyk grabbed the victory.
Support from within the global boxing community for the wounded pugilist has been positive and encouraging. That same dynamic is happening again on social media for Errol "The Truth" Spence Jr., the welterweight champion injured in a car wreck last Thursday in Dallas, Texas.
Now in long-term recovery while healing from a boxing-related brain injury, the boxing life of Adonis "Superman" Stevenson is officially over. His career is a closed book. Let's review it.
TRUTH AND JUSTICE
Born in Port-au-Prince, Haiti in 1977, Stevenson immigrated to Canada with his family in 1984. Writing last year for The Fight City online, author Ralph M. Semien illustrates what followed:
"By 14 he was out of control, spending time on the streets, and soon enough he was part of a violent gang and headed for disaster. Eventually he became involved in an organized sex-for-hire service in Montreal. Stevenson was arrested, tried, convicted and he served his jail time. When released from prison in 2001, he made a pact with himself to turn his back on the street gang lifestyle and everyone associated with it, that he would never again break the law."
GRAPHIC NOVEL
Five years later in 2006 after a successful campaign in the amateurs where he boxed at middleweight for Canada and won a pair of national titles for his new country, Stevenson turned professional at super middleweight under the promotional guidance of Yvon Michel. His was your typical boxing story of overcoming a troubled past to carve out a brighter, better future.
He ran his record to 13-0 against gradually increasing competition before a 2010 setback TKO against so-called journeyman Darnell Boone. Buzzed late in the opening frame by a sneaky right uppercut and a hard left hook, Stevenson was easy pickins for Boone early in the second round.
A year later, Stevenson returned to the ring; winning six fights and a few minor super middleweight title belts. Most importantly during this transitional period in his career, Stevenson avenged his upset loss to Boone, punishing "Deezol" before knocking him out cold in the sixth.
"He definitely got better and earned his spot," concedes Boone.
When an opportunity came to fight for the WBC light heavyweight title in 2013, Stevenson took full advantage, putting Chad Dawson down and out with a single, lethal left hook to the chin. The reign of Superman was up, up and away and boxing seemed to welcome its new action hero.
But not so fast, speeding bullet.
American fans and media never let Stevenson forget about his checkered past as a convicted street hustler. And if all that wasn't enough, soon they were labeling him a "ducker" and a "cherry picker" for his apparent refusal to fight Sergey Kovalev and/or Eleider Alvarez.
Despite the constant negative press painting him as the bad guy, he was actually a very likeable man with a huge smile. Stevenson was also wildly popular in Canada and his title fights were entertaining events where more often than not, he left opponents twitching in a mangled heap.
Unsatisfied with Stevenson's choice of title challengers, Oscar De La Hoya's The Ring magazine in 2015 officially withdrew (stripped) its recognition of Stevenson as the "real" World Light Heavyweight Champion. To the Bible of Boxing, Stevenson was an unrepentant sinner.
By that point, Stevenson had made six defenses of his WBC light heavyweight title with wins against Tavoris Cloud, Tony Bellew, Andrzej Fonfara, Dmitry Sukhotskiy, Sakio Bika and Tommy Karpency. That super-fight with "Krusher" Kovalev never happened and it never will.
Who'd have won?
Does it even matter anymore?
I'll give common opponent Darnell Boone the last word on it. "Kovalev. Because he's the more sound boxer. Adonis did the same thing in every fight. Paw with the jab, paw with the jab, left."
"He never really mixed it up," insists Boone. "Kovalev is throwing combinations. He's moving, punching off the angles. He knows exactly how to use his height and leverage with his punches. Kovalev keeps you on the outside, away from getting on the inside on him. He fights tall."
That's all true but was there more to Stevenson's game than just predictable one-punch power with the left hand? Trained by Javon "Sugar" Hill, Stevenson was a KRONK fighter. He improved as he got older and deeper into his profession. His southpaw offense was almost always good enough to be his defense. Trading with him was suicidal. And as a body puncher, he was underrated.
In 2016, he knocked out Thomas Williams Jr. with a viciously quick left hook. In 2017, he rematched Fonfara and blew him away in two rounds. In 2018, before the Doomsday loss to Gvozdyk, there was a grueling, disputed draw with super middleweight Badou Jack.
I had Stevenson up by a point in a war that should've garnered more consideration for Fight of the Year honors. Unfortunately, the anti-climactic draw took some of the shine off a classic.
If only the Al Haymon-handled fighter had been more willing to mix it up with the big names, critics would probably be more kind to him today, especially if he'd beaten Kovalev, something that doesn't exactly look like an impossibility when looking back at the proposed match-up.
Against Ward and Alvarez, Kovalev showed susceptibility to a determined attack, particularly to the body. In his penultimate fight against "The Ripper" Jack, Stevenson put the kind of hurt on Badou's body late in the fight that may have been very difficult for Kovalev to overcome.
THE ADVENTURES OF SUPERMAN
How should Stevenson be viewed in the light of light heavyweight history? Keep in mind that not everybody was so thrilled to get in the ring with him. Edwin "La Bomba" Rodriguez spoke for years of facing him "in the future" but in the end it was all just talk. After Rodriquez was knocked out by Williams Jr. in 2016, Williams Jr. was knocked out by Stevenson three months later.
Though he'll never be rated as one of the all-time greats in the weight class, Stevenson should be recognized for what he actually was. Not just a champion, Stevenson was THE champion.
He beat the man who beat Bernard Hopkins. He was a one-punch power puncher, an action fighter, a defending world champion until he could defend that world championship no more.
Along the way, Stevenson picked up a Fighter of the Year award in 2013 while many of his knockouts were considered Knockout of the Year candidates. He was the WBC light heavyweight champion for sixty-six months, an unusually long time in today's watered-down era of weight jumping and belt dumping. He retained his world title nine times, with only Bika, Fonfara, and Jack going the distance. Stevenson's final record is 29-2-1 with 24 KO's.
DOOMSDAY CLOCKED
And so with the Teddy Atlas trained Gvozdyk beating him senseless in the corner last December, boxing's ultimate kryptonite (time) finally caught up to Superman Stevenson but not before the Haitian sensation made his improbable impact on the modern boxing landscape.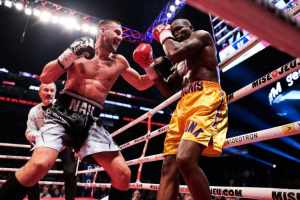 Stevenson's desire to become a boxing champion probably saved his life while his desire to remain a boxing champion nearly cost him his life. We don't yet know the final butcher's bill.
What we do know is that Stevenson has had to relearn how to walk and talk. That's how unpredictable and ironic this sport is: a PBC fighter supposedly protected by Al Haymon was nearly killed by an undefeated Ukrainian clearly up to the challenge of fighting (and beating) him.
Last week Stevenson uploaded a video on Instagram. He's seen in the gym, moving on his feet, wearing a pair of pink boxing gloves while lightly working over a heavy bag as fiance Simone God and their new daughter Adonia look on. "I love you," posted God to her miraculous man.
To review: Stevenson Adonis escaped his dying homeland before it imploded. He then crash-landed in Canada where he was adopted by the Canadian people. He did the crime(s) then he did the time; paying whatever debt he owed to society for his transgressions. He won and lost his battles by the power of his own fists. As a human being, he is truly transformed.
"Superman" Stevenson is dead.
Long live Adonis Stevenson…
EDITOR'S NOTE: After receiving this story, yet another boxer suffered a serious head injury. Patrick Day, a 27-year-old junior middleweight from Freeport, New York, was knocked out by Charles Conwell in the tenth-round last night on the Usyk-Witherspoon undercard and is now fighting for his life in a Chicago area hospital where he has been placed in a medically induced coma. On behalf of the entire editorial staff at The Sweet Science, I'd like to offer our thoughts and prayers for Day's full recovery.
Boxing Writer Jeffrey Freeman grew up in the City of Champions, Brockton, Massachusetts from 1973 to 1987, during the Marvelous career of Marvin Hagler. JFree then lived in Lowell, Mass during the best years of Irish Micky Ward's illustrious career. A new member of the Boxing Writers Association of America and a Bernie Award Winner in the Category of Feature Under 1500 Words, Freeman covers boxing for The Sweet Science in New England.
Check out more boxing news on video at The Boxing Channel 
To comment on this story in The Fight Forum CLICK HERE
Avila Perspective, Chap. 74: Cancio, Wilder, Santa Cruz and More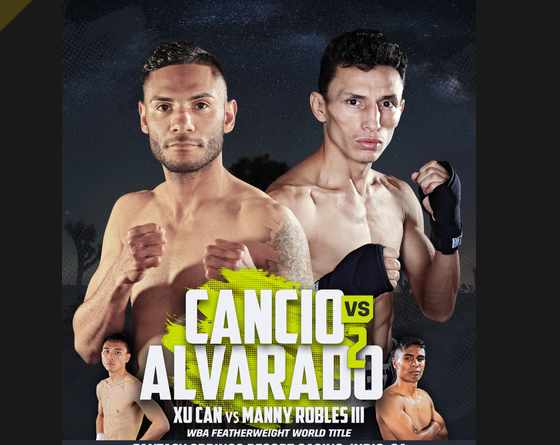 Cancio vs. Alvarado, Wilder vs. Ortiz, Santa Cruz vs. Flores and More
Casinos are getting rich and boxing fan grunts are getting slightly frustrated.
It's the big guys versus the little guys on Saturday with heavyweights in Las Vegas and featherweights in Indio, California going head to head in separate shows.
If only I could be in two places at once.
Let's start with the little guys as WBA super featherweight titlist Andrew Cancio (21-4-2, 16 KOs) and his jackhammer hands defends against former foe Rene Alvarado (31-8, 20 KOs) at the Fantasy Springs Casino in Indio. DAZN will stream the Golden Boy Promotions fight card.
They clashed once before in 2015 with the Cancio winning by technical knockout in the eighth round due to a cut from a punch suffered by Alvarado. Until the stoppage, it was fierceness at its best.
"I wanted to give him (Alvarado) another chance," said Cancio who still has his day job breaking cement with a jackhammer. "He deserves it. Who knows if I would have won if not for the cut?"
Cancio is a cool customer.
Also on the same card will be China's Can Xu (17-2, 3 KOs) defending the WBA featherweight title against Manny Robles III (18-0, 8 KOs), the son of trainer Manny Robles Jr. who works with IBF, WBA, WBO heavyweight champ Andy Ruiz.
Xu, who only has a couple of knockouts, can't help from being involved in wars. He endured hell and back against Puerto Rico's Jesus Rojas in his last U.S. appearance at the Toyota Center in Houston back in January. Now he gets Robles who has improved tremendously since his pro debut at the same venue back in 2012. It was not an impressive moment. But he's slowly and determinedly added more skills in the last seven years. Now he's 25 years old and has his man strength. It makes a major difference.
Another interesting return match features Rashidi Ellis (21-0, 14 KOs) against Eddie Gomez (23-3, 13 KOs) at the same venue as their first encounter. That first fight only lasted one brutal round. Can Ellis duplicate his first victory over the Bronx fighter?
Las Vegas
Speaking of rematches, WBC heavyweight titlist Deontay Wilder (41-0-1, 41 KOs) has to reload when he meets Cuban challenger Luis Ortiz (31-1, 26 KOs) at the MGM Grand in Las Vegas. FOX pay-per-view will televise the PBC fight card. It's been 20 months since their first clash ended in a knockout win for Wilder.
For those unaware, Wilder has held the WBC version of the title for almost four years and that includes nine title defenses. All but one has ended by knockout and the one that got away (Tyson Fury) will be his new date should he prevail against the southpaw Ortiz.
Wilder has pure athleticism and has added more technique each time he jumps in the boxing ring. The first time I witnessed Wilder in person was at the Tropicana Hotel in Las Vegas back in 2010. He's improved immensely since that time. I saw him later that year at Fantasy Springs. He traded knockdowns with Harold Sconiers and actually could have lost that fight, but the referee missed a crucial knockdown. Wilder could not get up and had there been a count, he would not have survived. But sometimes you get a break and Wilder has shown he knows how to cash in.
Ortiz has more skills than the champion but lacks the athleticism and is older. Some say he is much older than Wilder. He's made some astute changes for his career and now the Cuban heavyweight can cash out or cash in, depending on the outcome. Either way he's going to make some heavyweight money.
Heavyweights are a different ilk. They are large, carnivorous and pack immense power. Anything can happen at any time of the fight.
Need convincing?
Look at the Andy Ruiz fight against Anthony Joshua. The Mexican heavyweight was supposed to be an easy substitute opponent and despite getting knocked down, he got up and wiped the mat with Joshua.
In this Wilder-Ortiz rematch anyone can win. Ortiz had Wilder down in their first fight but could not finish the job. Wilder finished the job when he put Ortiz down. Will we see a repeat?
The MGM Grand should be packed with fans eager to see the result.
Santa Cruz
In another world title clash Leo Santa Cruz (36-1-1, 19 KOs) moves up a weight division and fights Miguel Flores (24-2, 12 KOs) at the MGM Grand on the pay-per-view portion on Saturday. It's for another version of the WBA super featherweight title that Cancio is defending on the same day in California.
Yes, it's confusing. You got a title and I got a title and everybody's got a title.
Still, Santa Cruz is hunting for his fourth division world title. I still remember watching him for the first time in November 2007 at Morongo Casino. Bobby Pacquiao was the main event, Carlos Baldomir was a semi-main eventer and Santa Cruz wore braces for his teeth into the fight if I'm not mistaken.
Back in those days no major promoter wanted to take a chance on Santa Cruz. Though his older brothers had fought and were successful, many matchmakers were not convinced on little Leo. But he could always fight up a storm. He had a life and death struggle at Pala Casino with Robert DaLuz in 2009. After that fight he seemed to find himself and got on a tear much like a Major League Baseball player finding his stroke.
Since 2012 he's won the bantamweight, super bantamweight, and featherweight world titles. He lost to Carl Frampton in 2016, then regained it in 2017 in the rematch. Now he fights Flores for the super featherweight title. They were supposed to fight back in February but Flores was forced to pull out with an ankle injury. Now they are finally meeting.
"I'm really glad I'm getting this second opportunity to fight Leo Santa Cruz," said Flores. "I thought I would never get a second chance, but here I am."
Santa Cruz has bigger plans than just securing a fourth division world title, he wants world domination at 130 pounds.
"I want to unify and fight everyone at 130," said Santa Cruz. "Whoever they throw in front of me."
First up is Flores. But 300 miles to the west, Cancio will be defending his version of the WBA super featherweight title too. And he's not too happy.
"I think it's a bunch of B.S. I got the short end of the stick once again. I'm not a big name to a lot of people like Leo Santa Cruz is. I feel like that's why they did it," said Cancio. "If I come out victorious Nov. 23 and if Leo comes out victorious Nov. 23, that's a fight I definitely want to make. I feel like I'm the bigger, stronger 130-pound guy."
That's a fight many people would like to see made.
Friday Fights
In the sleepy town of Ontario, California, another Thompson Boxing Promotions card takes place at the Doubletree Hotel on Friday, Nov. 22.
Three interesting eight-round fights highlight the card including the newest finds by the Orange County based company in a lightweight contest. They specialize in finding talent.
Ruben Villa (10-0, 8 KOs) seeks to extend his unbeaten streak against Eduardo Lionel Rodriguez (8-1-1). The lanky Santa Monica fighter Villa emerged on top with a win over another undefeated fighter George Acosta last May. He followed that up with a quick two-round destruction over veteran Ruben Tamayo last July. Now he faces another test with Rodriguez.
Also on the Thompson card, is the return of Giovani Santillan (24-0, 14 KOs) who meets Wilfrido Buelvas (20-12) in a welterweight match. It's been 19 months since Santillan was last in the ring and knocked out Alejandro Barboza on a televised match to retain the NABO title.
Santillan, 28, fights out of San Diego and his southpaw style allowed him to rise up the rankings in impressive fashion until his disappearance from the fight scene.
Does he still have it?
Doors open at 6:30 p.m. and the first bell starts around 8 p.m. For more information call (714) 935-0900.
Al Mitchell
Al Mitchell, the trainer for female super featherweight star Mikaela Mayer, will be inducted to the USA Boxing Alumni Association Hall of Fame on Friday Dec. 13, it was announced this week.
Mitchell, 76, has been an advisor for many top amateur boxers throughout the past 60 years and was the head coach for the 1996 US Olympic Team. He also advised on numerous Olympic teams that featured boxers such as Vernon Forrest and Floyd Mayweather.
"I want to thank all the coaches who worked under me and all the young fighters I've worked with," said Mitchell. "I'm thankful that USA Boxing believed in me, putting 13 to 15 boxers in my program, and cream does rise to the top."
Today, Mitchell has female fighter Mayer headed to a world title bid in 2020. The tall super featherweight will be accompanying Mitchell when he is inducted to the Hall of Fame at ceremonies held at the Golden Nugget Hotel and Casino in Lake Charles, Louisiana. Al Bernstein will host the proceedings.
Others being inducted are George Foreman, Joe Frazier, Mark Breland, Ray Rodgers and Sen. John McCain.
Fights to Watch
Fri. ESPN+ 7 a.m. Jack Caterall (24-0) vs Timo Schwarzkopf (20-3)
Fri. WWW.RingTV.com
Sat. DAZN 11 a.m. Callum Smith (26-0) vs John Ryder (28-4).
Sat. WWW.DBE1.com 4 p.m. Marie Eve Dicaire (16-0) vs Ogleidis Suarez (29-3-1); Raquel Miller (9-0) vs Alma Ibarra (7-0).
Sat. DAZN 4:30 p.m. Andrew Cancio (21-4-2) vs Rene Alvarado (31-8); Can XU (17-2) vs Manny Robles III (18-0)
Sat. FOX pay-per-view 6 p.m. Deontay Wilder (41-0-1) vs Luis Ortiz (31-1); Leo Santa Cruz (36-1-1) vs Miguel Flores (24-2); Luis Nery (30-0) vs Manny Rodriguez (19-1); Brandon Figueroa (20-0) vs Julio Ceja (32-4)
Check out more boxing news on video at The Boxing Channel 
To comment on this story in The Fight Forum CLICK HERE
Dubai Poised to Mirror Saudi Arabia in the New World Order of Boxing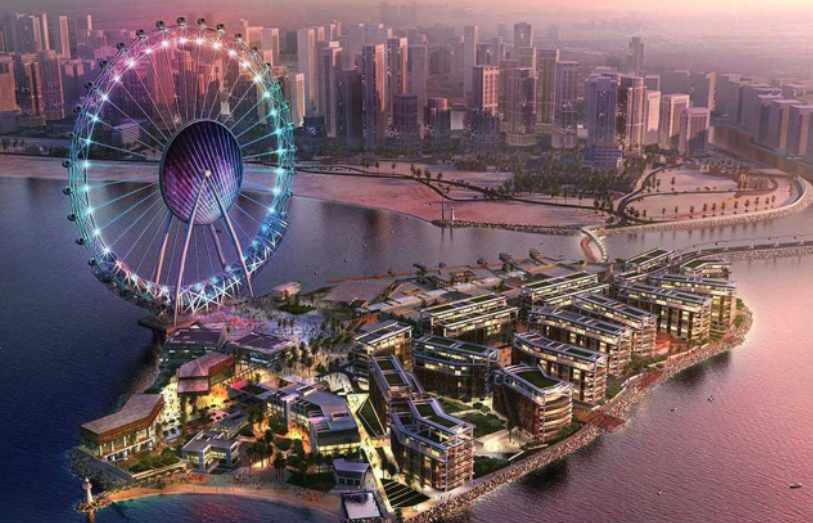 The royal family of Saudi Arabia is committed to making their fiefdom a major player in the world of professional boxing. The grand finale of the super middleweight tournament of the 2018 World Boxing Super Series (Callum Smith vs. George Groves) was held in Saudi Arabia as was Amir Khan's last fight against overmatched Billy Dibs. Those fights, in retrospect, were overtures to the big shebang on Dec. 7, the rematch between Anthony Joshua and Andy Ruiz Jr.
Saudi Arabia's next-door neighbor, the United Arab Emirates, is poised to join the party. Tomorrow's show at the plush new Caesars Palace resort at Bluewaters, a man-made island overlooking Dubai, is the latest manifestation of the incursion of boxing into the Arab world.
This isn't the first boxing show in Dubai. In 2008, former heavyweight champion Michael Moorer closed the curtain on his pro boxing career in Dubai, knocking out South Carolina no-hoper Shelby Gross in the opening round. That allowed Moorer to bookend his career with KOs in one, taking his leave on the same note on which he walked in the door. (You could probably win a few bar bets with this piece of trivia.)
When that odd event took place, there was only one registered professional boxer in all of the UAE.
That number is growing in leaps and bounds thanks to Ahmed Seddiqi, the driving force behind Dubai's Round 10 Boxing Club. Founded in 2013, Round 10 is the first gym in Dubai built specifically for boxing.
Seddiqi (pictured on the left with his cousin and business partner Abdulla Khoory) subsequently became a regional manager for MTK Global, a powerful boxing management company with a murky past. His association with MTK Global, which is now headquartered in Dubai, gave him the resources to bring in fighters from overseas to spiff up his promotions. And the relationship between Top Rank and MTK Global gave Dubai boxing greater exposure via Top Rank's affiliation with ESPN+.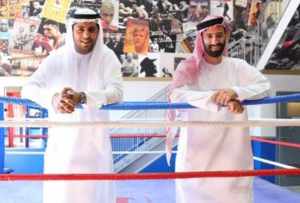 Seddiqi and MTK Global manufactured the inaugural boxing show at Caesars Palace Dubai this past Sept. 13. The main event pitted Pakistan's Muhammad Waseem against Conrado Tanamor of the Philippines. The super flyweights were penciled in to fight eight rounds.
Tomorrow's show has a larger budget reflected in a more interesting main event. England's Jack Catterall, ranked #1 by the WBO at 140 pounds, opposes Timo Schwarzkopf, the Kosovo-born German, in a match slated for 10.
The undefeated Catterall (24-0, 13 KOs) is on a collision course with WBC/WBO 140-pound title-holder Jose Carlos Ramirez. That bout will almost assuredly take place, notwithstanding the fact that the fans would much prefer to see Ramirez, the pride of Fresno, in a unification fight with Josh Taylor and that Ramirez's next title defense will apparently come against Viktor Postol, a bout seemingly headed to China in February.
Catterall is handled by longtime British promoter Frank Warren who currently has a very cozy relationship with Ramirez's promoter Bob Arum, an upshot of their shared financial interest in Tyson Fury. Being ranked #1 by the WBO carries sway with Arum who is a de facto member of the WBO Board of Directors. Arum's current title-holders (Terence Crawford, Vasyl Lomachenko, Jamel Herring, Shakur Stevenson, Emanuel Navarrette, and Ramirez) sport WBO colors.
For Dubai locals, the undercard holds more appeal than the main event. Vijender Singh and Muhammad Waseem, who returns for an encore after knocking out Conrado Tanamor in the opening round, have built-in fan bases in a country where immigrants outnumber natives by a 9/1 margin with ex-pats from India (27.5 percent) and Pakistan (12.5 percent) comprising 40 percent of the total immigrant population.
Vijender Singh, 34, is a three-time Olympian. In 2008, in the second of his three Olympic engagements, he won the bronze medal — the first Olympic medal of any kind for a boxer from India. He returned to his homeland a national hero, a man who would transcend boxing in the world's second-most populous country, appearing in layouts in popular fashion magazines and on numerous TV shows.
Singh (11-0, 8 KOs) signed a multi-fight contract with Top Rank in November of last year. His opponent, Charles Adamu, is a 42-year-old Ghanaian with a 33-14 record.
Adamu, who went 12 rounds with Carl Froch back in 2004, has been stopped only twice but Singh, despite being relatively inactive, expects to win comfortably. "I don't expect him to put up too much of a challenge because I have noticed he is slower than me…So I am relaxed, nothing to worry there," he told a reporter for the Hindustan Times.
In common with Singh, Muhammad Waseem (9-1, 7 KOs) is the most well-known boxer in a country where cricket is the national sport. The Quetta, Pakistan, native, 32, previously fought for the IBF world flyweight title, losing a close but unanimous decision to South Africa's Moruti Mthalene in Kuala Lumpur.
Waseem has something in common with headliner Jack Catterall. Both spent an extensive amount of time in Las Vegas at the Mayweather Gym. Catterall helped Floyd Mayweather Jr prepare for his bout with Manny Pacquiao. For a time, Muhammed Waseem's head trainer was Jeff Mayweather.
Waseem had a wealth of international amateur experience, but has answered the bell for only 61 rounds as a pro. By contrast, his Mexican opponent, former WBC light flyweight champion Ganigan Lopez (36-10, 19 KOs), has answered the bell for 311 rounds. It's an interesting match, notwithstanding the fact that Ganigan, 38, was knocked out just six weeks ago by a journeyman in Mexico City.
In common with the first boxing show at Caesars Palace Dubai, tomorrow's event is called the Rotunda Rumble. The Rotunda is the free-standing entertainment venue at the resort, a structure, says management, inspired by the Roman Pantheon although for most folks the referent would be an Eskimo's igloo. Nearby on the island, accessible to the mainland by a causeway, sits the world's largest ferris wheel.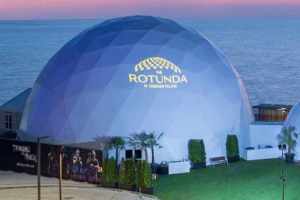 Can boxing at Caesars Palace Dubai ever match the heyday of boxing at Caesars Palace in Las Vegas? That's very doubtful. In Las Vegas, the early Caesars Palace shows in the indoor tennis pavilion were designed to showcase the property. The fights were televised on ABC's Wide World of Sports. Management expected an increase in casino activity, but were surprised at the extent of the increase. Boxing, they quickly learned, was a magnet for high rollers, the impetus for raising the bar, begetting the outdoor extravaganzas.
Caesars Palace Dubai is a non-gaming hotel. There is no legal gambling in the Arab world. Moreover, the crowds at the fights in Dubai will never resemble the crowds at the big fights in Las Vegas where a secondary diversion is ogling the scantily-clad young women who arrive on the arms of their benefactors. Dubai is a country where an unmarried couple can be arrested for sharing a hotel room.
But let's not sell Dubai short. You won't find a pari-mutuel window at Dubai's swanky Meydan Racecourse, but since 1996 the facility has been home to the world's richest thoroughbred horse race. So, if the nation's rulers become enamored of boxing, it's a fair guess they will parrot neighboring Saudi Arabia and go all in.
Check out more boxing news on video at The Boxing Channel 
To comment on this story in The Fight Forum CLICK HERE
The Official TSS Wilder-Ortiz 2 Prediction Page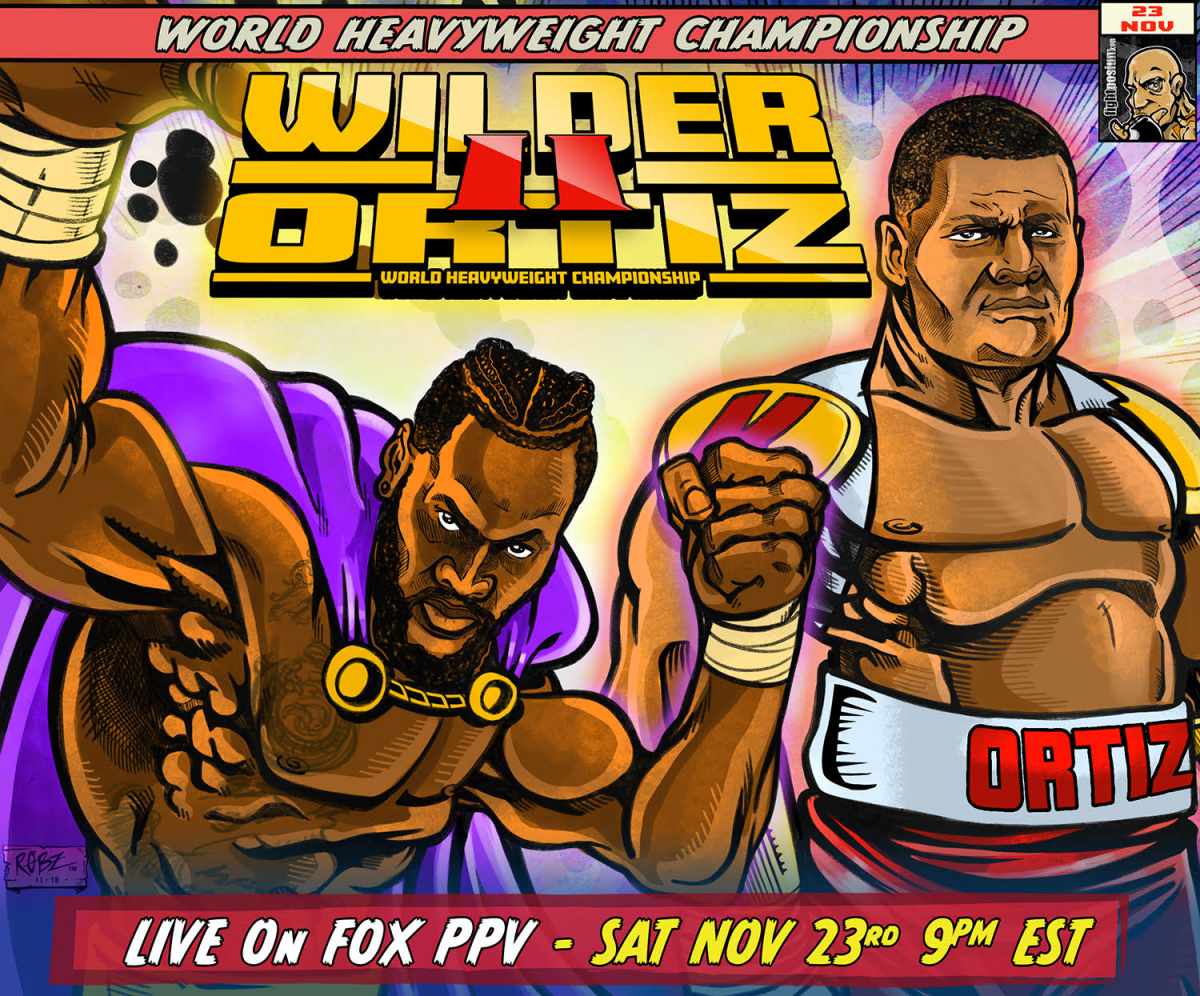 Deontay Wilder (41-0-1, 40 KOs) and Luis Ortiz (31-1, 26 KOs) renew acquaintances on Saturday at the MGM Grand in Las Vegas. They first met on March 3 of last year at Barclays Center in Brooklyn. Wilder won by TKO in the 10th round but was himself nearly stopped in the seventh when Ortiz hammered him from pillar to post.
In our survey of TSS writers prior to their first meeting, Wilder was the consensus choice with several of the respondents correctly picking the exact round in which Ortiz succumbed. But Ortiz had his supporters. Those that favored the big Cuban southpaw pointed out that he was more technically sound — unlike Wilder he didn't loop his punches – and that the Bronze Bomber hadn't yet been tested by a foe as formidable as Luis Ortiz.
Heading into their first confrontation, there was a sentiment that the fight wasn't on the level. Why would the Bronze Bomber take such a big risk when a unification fight with Anthony Joshua was percolating, a fight that figured to be the richest heavyweight fight in history provided that both remained undefeated? Those that bought into this theory expected the Wilder-Ortiz fight to end in an unsatisfactory manner, a routine occurrence when there is a gentlemen's agreement.
There are none of those insinuations attending the rematch, but yet Ortiz money is very scarce.
In our surveys, it's been our custom to list the panelists alphabetically. This time we are flipping the switch and listing them in reverse alphabetical order. The graphic is by Colorado comic book cover artist ROB AYALA whose specialty is combat sports. Check out more of his acclaimed drawings at his web site fight posium. Here's the link.
PREDICTIONS
Another anything can happen type matchup in a strong boxing season. There's an equal chance the bout is either as wild as Foreman-Lyle or as lackluster as Tyson-Bonecrusher. I'm thinking Wilder by overwhelming TKO, the question is whether that happens in the first or second half of the fight. – PHIL WOOLEVER
*
This time Ortiz may be too slow, too fat, and too old to do what he did last time, but his ring smarts and vicious uppercuts still make him very dangerous. Wilder, meanwhile, knows that he can do major damage to the Cuban, so mentally he has that edge going in. I see a short period of feeling out and then the boom and attendant KO will be lowered on Ortiz either via a straight right or a windmill shot. Kong will then amble off into the sunset with that juicy early retirement check and a reputation—like Chuvalo, Quarry, and Shavers– for having been one of the best fighters to have never won a world championship. – TED SARES
*
Luis Ortiz may have whipped himself into a career best shape for this fight and understandably so, given what is at stake. But at 40, one wonders if he has the reflexes and the legs to keep up with Deontay Wilder for 12 rounds, assuming the bout even goes that far. In his last bout against the lowly Christian Hammer, Ortiz looked every bit his age, sluggish and noticeably fatigued. Hammer employed his awkward, impish style to throw Ortiz off his game and, most tellingly, was able to land the straight right with surprising frequency. That is not a reassuring sign for Ortiz. Deontay Wilder is no one's idea of a textbook fighter, but that is also what makes him dangerous. As ungainly and coarse as his approach may be, Wilder is able to unload that right hand cannon without the slightest hitch. Ortiz may see it coming, but his legs won't likely let him move out of the way in time. As competitive as the first fight was, something tells me Ortiz already missed his window of opportunity. Wilder TKO 7 – SEAN NAM
*
Heavyweight punchers are fascinating in re-matches. Think of Joe Louis against Billy Conn, Arturo Godoy or Bob Pastor. Think of Rocky Marciano against Joe Walcott. In all of these examples, we have a puncher who was stretched in a first contest who won by savage knockout in the return. When punchers learn how boxers move the blinds are often closed on the boxer in the rematch. There are, of course, opposed examples – Jack Dempsey against Gene Tunney is perhaps the classic. Wilder-Ortiz is of course not a reasonable foil for these contests because Ortiz is no box-mover. But the result here should tell a tale. Will Wilder prove that his devastating rematch knockout of Bermane Stiverne was no isolated incident? Is he a fighter who can apply maximum gains from a first fight? There is intrigue here in decoding the possibilities for a rematch with Tyson Fury in February. Wilder will win; if he can turn the trick quickly we'll know a good deal more about him, I think. And that's my pick: I'll go for Deontay in the second round. – MATT McGRAIN
*
I like Wilder by stoppage somewhere around the sixth round. Ortiz is dangerous but only if he's able to turn back the clock a bit and keep Wilder guessing as much as he did during their first fight last year. The main problem Ortiz is facing in the return fight is that Wilder seems to have gotten better since then while Ortiz looks like he's regressed a bit. Those are some pretty big obstacles to overcome, especially when you consider that as solidly as Ortiz performed in their last meeting, he still got knocked down three times overall and stopped in the tenth round. – KELSEY McCARSON
*
One of the hallmarks of a great champion is that he is lethal in rematches. Joe Louis (Max Schmeling, Arturo Godoy, Buddy Baer, Billy Conn, Jersey Joe Walcott) is the classic example. Deontay Wilder has fought only one man twice, namely Bermane Stiverne who ended Wilder's 32-fight knockout streak in the first meeting and was annihilated in the sequel. No, I'm certainly not suggesting that Wilder is in the same league with Joe Louis. The Bronze Bomber is rough around the edges and has no inside game, but I want no part of the 40-something Cuban who is likely to fade again if this fight goes beyond the eighth round. Wilder by KO. – ARNE LANG
*
Wilder by knockout. Deontay is better than he was before and Ortiz is older. – THOMAS HAUSER
*
Deontay Wilder will improve upon his performance in the first fight against Luis Ortiz by scoring an early knockout. I don't suspect this rematch will be competitive. Ortiz gave Wilder his best the first time they fought and it wasn't even close enough to being good enough and he got knocked out. It happens again, sooner this time, within three rounds. – JEFFREY FREEMAN
*
The Year of the Upset is drawing near an end, and the temptation is to keep leaning toward another shocker, or at least a semi-shocker. But at some point, reason must prevail, right? Andy Ruiz Jr. spoiled all that anticipation for a matchup of undefeated champions Wilder and Joshua, but are we now to expect a less-anticipated showdown of Ruiz and Ortiz? Another spoiler of an outcome that throws Wilder-Fury II out the window? "King Kong" is still formidable, but he's got a lot of miles on his tires and has been knocked out by Wilder before. Make it twice. Wilder by KO around, say, the seventh round. – BERNARD FERNANDEZ
*
The first time Deontay Wilder faced Luis Ortiz in March 2018, Wilder prevailed via technical knockout in the 10th round. In the second go-around, Wilder will once again retain his World Boxing Council heavyweight title bcause of his superior punching power and relentless, piston-like jab. Ortiz is in tip-top shape, but will be stopped in the 11th round. – RICK ASSAD
*
Remember the first four rounds of Wilder-Ortiz I? They were tactical with very few punches being thrown by either man. Of course, the action did pick up but both men also now know they can be hurt by the other. As such, I see both being cautious throughout the contest and a very tactical listless twelve round fight with not much separating the two. With so many close, hard to score rounds, I ultimately see a split draw. – MATT ANDRZEJEWSKI
Check out more boxing news on video at The Boxing Channel 
To comment on this story in The Fight Forum CLICK HERE