Making Boxing Safer, A Call to Action: Part Two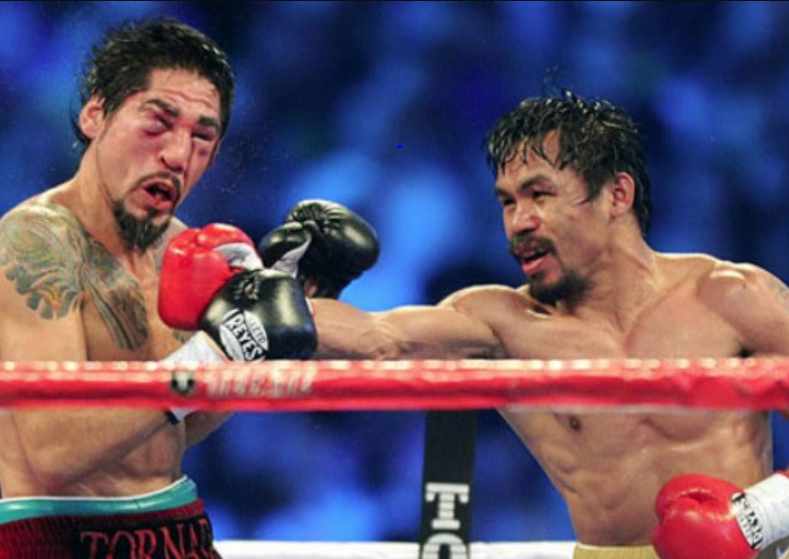 The tragic passing of Patrick Day emphasized once again that measures must be taken to make boxing a safer sport. I reached out to a mix of trainers, ex-boxers and writers for their suggestions.
Weigh-in reform (covered in Part One) was a common refrain. Others emphasized the need for more consistency in the standards of regulatory bodies. Brain scans and more responsible work by cornermen also received multiple mentions.
Dr. Margaret Goodman has been a long-time advocate for a federal boxing commission. In the meantime, says Dr. Goodman, "we need uniformity, uniformity, uniformity," and "all commissions must recognize that one of their most important roles is to deny a fighter a license when they are no longer safe to compete –AND ALL COMMISSIONS EITHER HONOR THAT DENIAL OR PERFORM DUE DILIGENCE BEFORE LICENSING THAT ATHLETE (if they disagree)."
"The 'medical' side of boxing is over-complicated by the variety of rules and regulations that exist across the multiple boxing organizations and is complicated further still by yet more differences across 'national' bodies (Nevada, NY, BBBofC etc.)," says Harry Otty, who notes that it will take a while to get everyone on the same page. "A short-term solution," says Otty, would be to insist on more thorough medicals prior to the fights. Said medicals should include scans for pre-existing brain bleeds (the technology for this now exists in the form of a hand-held scanner)…."An annual brain scan (for those organizations who insist on it) is only good for the day it was done, so a monitoring system needs to be introduced. The more cost (and time)-effective the better."
Boxing historian Henry Hascup is also bullish on brain scans. "Start when they first begin boxing as a pro and then have them annually," says Hascup. "They should also have them after a tough fight just to see where they stand! In the gyms, some of these fighters have wars against each other. I know it's entertaining, but it's not good for the fighters in the long term. There should be a medical person of some kind to oversee this!"
In this same vein, Dr. Goodman says all fighters should be required to undergo an MRI at least yearly and adds that all commissions should institute adequate PED testing using only accredited labs.
Cornermen and Ring Officials
 Henry Hascup believes that more education is needed for trainers. "Right now all you need is a few dollars and you can work the corner," says Hascup. "In the amateurs they have to go through a clinic every couple of years, why not in the pro's where it is so much more dangerous!? They should be educated on what to look for before working a corner!"
Boxing manager, advisor, and noted attorney Anthony Cardinale makes this observation: The corner is in the best position to see that the boxer is not performing and reacting properly- gets slower, doesn't execute combinations correctly, isn't avoiding punches he would normally avoid- and should be in the best position to realize that there is no way to win the fight but by some prayer of KO punch, and when that happens the corner must stop the fight."
Cardinale acknowledges that many trainers do stop the fight when this occurs, but says it doesn't happen often enough. "The cornerman/trainer has developed that drive and tends to believe that their boxer can come back, recover, and win in a fight even when it may not be reasonable to do so," says Cardinale. "So my humble suggestion is to have a neutral observer monitoring the fighter/corner who is able to call a halt to the fight or to at least have a doctor examine the fighter and consult in deciding if the fighter should not continue. Usually there is a commission representative in each corner – but they only enforce commission rules regarding the conduct of the bout. Why not engage someone that has the skill, background, training, and integrity to do both jobs?"
St. Olaf University philosophy professor, trainer, and writer Gordon Marino also emphasizes the importance of a responsible corner: "I think many if not most of the deaths of late could have been avoided if rather than risk the death of a fighter refs and corners would risk the wrath of the crowd and stop hopelessly one-sided fights, a la Eddie Futch in Ali-Frazier III."
Author John Raspanti, the lead writer/editor for MaxBoxing, recommends expanding the role of ringside physicians: "Most of boxing's serious injuries are caused by an accumulation of blows over the course of a fight. If a bout is a tough one, the ringside physician should start monitoring and physically checking the fighters as early as round three. Personally, I think ringside physicians should be able to call a fight in ALL states, not just some. Perhaps bring back the standing eight count, though some very zealous referees might interrupt the flow of fights."
A somewhat related recommendation comes from TSS writer Matt Andrzejewski: "…We strongly need to consider implementing a modified open scoring system where if a fighter is down by a certain number of rounds certain people are notified. This includes the referee, doctor, member of the commission and the fighter's corner. This may be cause for a fighter to not take further unnecessary punishment."
Other suggestions that have been tossed out over the years include mandatory headgear, reducing the length of championship fights from 12 to 10 rounds, and shortening rounds from three to two minutes. None of the respondents found merit in these proposals.
Reducing the number of rounds or the duration of rounds "fundamentally changes the sport in a way that could negatively affect the bottom line financially and aesthetically," says Lee Groves.
As for headgear, TSS mainstay and 2019 IBHOF nominee Bernard Fernandez and the noted trainer and former world title challenger John "Iceman" Scully both thought it would seriously erode fan interest, unquestionably killing the sport in the words of Scully. And Lee Groves questions whether headgear actually would make the sport safer. "….it may absorb the initial shock of the fist but the additional weight on one's head could cause an even more damaging swivel of the neck that would further jar the brain."
"One suggestion that would have potentially helped situations like Patrick Day's would have been a thicker and more forgiving canvas," continues Groves, "but making a canvas absorbent enough to minimize the shock of his head striking the floor would, in turn, make it disadvantageous to boxers who rely on movement and advantageous to the big punchers because they'd be able to better dig in their toes and generate maximum power. And if big punchers are better able to enhance their power, then they would, in turn, inflict more of the kind of life-threatening trauma we're trying to avoid."
While the aforementioned Scully is strongly opposed to headgear, he thinks improvements can be made with respect to gloves. "I do believe it would be safer if they would stop making gloves that are designed to transmit force," he says. "Everybody in the game knows that there are certain gloves that really hurt and do more damage than others. Cleto-Reyes, for example. Horsehair gloves should definitely not be in the mix. I believe that if you had professionals wear 12 oz or even 14 oz gloves with foam padding, you'd see a lot less injuries. And the fact is you would see better fights because guys wouldn't be so leery of the big punchers with the 10-ounce horsehair gloves on."
Author and boxing historian Mike Silver, covering familiar territory, points the finger at "clueless" boxing officials. "The level of incompetence of so-called ringside physicians, trainers, chief seconds, commission officials and of course horribly incompetent referees is breathtaking. Unless things are changed more fighters will die. In fact more are dying proportionally (number of active boxers) than ever before because boxing safety is all cosmetic and stupid and controlled by clueless officials. Everything needs to be reviewed and revised from length of bouts, structure of boxing gloves, too much tape on hands, drug use, especially the lack of defensive skills among today's fighters….."
Bernard Fernandez, who has studied this issue extensively, would remind us that there are pros and cons to many well-intentioned reforms: "More extensive pre-fight physical examinations? Some tests are cost-prohibitive, especially for small promoters….Referees instructed to more quickly stop bouts once a fighter gets in any kind of trouble? We would never have thrilled to the late-bout heroics of back-from-the-brink action heroes like Matthew Saad Muhammad and Arturo Gatti."
"Unless or until we are ready to throw out the baby with the bath water," says Fernandez, "we aficionados might just have to cope with occasional pangs of guilt that linger just a bit longer with each event that goes horribly wrong. The same might be said of ardent fans who follow the NFL (CTE is real), mixed martial arts, bull-riding in rodeos, race-car drivers, etc. All these sports have the fan bases they do because there is an element of risk involved for participants. Does that make those of us who watch or report enablers? Does it make highly paid athletes solely or mostly culpable for whatever injuries they incur?
"So many questions, so many opinions, but so few answers. I wish I had some that would have a positive effect, or any effect. Unless, of course, the heartfelt offering of prayers for the health and well-being of those who are bold enough to step inside the ropes actually do have an effect."
My own feelings regarding a call for action start with effective weight control and secondarily periodic brain scans. It's pretty plain that when the goal of weight-cutting is to have an ultimate size advantage over your opponent, something bad can occur. Reform in these two areas can be implemented without endangering fan interest in the sport.
It's something to ponder.
A hearty thank you to everyone who took the time to contribute to this story,
Postscript: Heaven just gained a new angel. Fly high Patrick Day; fly strong.
Ted Sares can be reached at tedsares@roadrunner.com
Check out more boxing news on video at The Boxing Channel 
To comment on this story in The Fight Forum CLICK HERE
The Hauser Report: Garcia-Redkach and More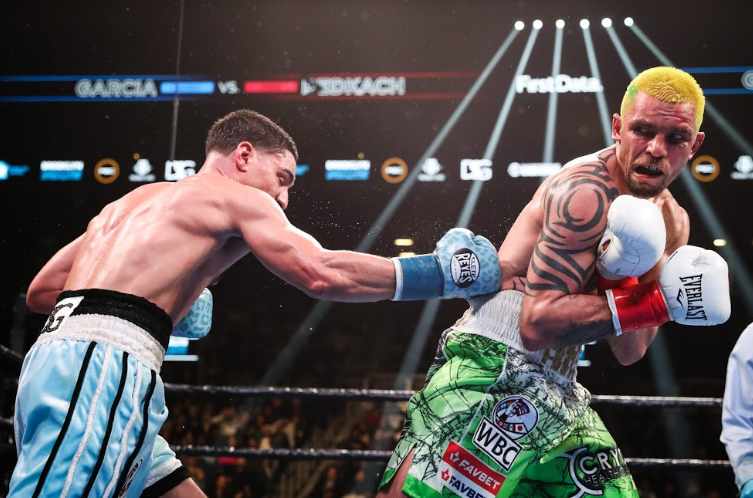 Boxing made its debut at Barclays Center on October 20, 2012, with a fight card headlined by four world title bouts. Danny Garcia, Erik Morales, Paulie Malignaggi, Peter Quillin, Devon Alexander, Danny Jacobs, and Luis Collazo were in the ring that night. The franchise grew nicely. Fans who went to Barclays saw good featured fights with solid undercard bouts. But as of late, the arena's fistic offerings have faded.
Barclays cast its lot with Premier Boxing Champions. And PBC has moved its prime content to greener pastures (green being the color of money). There were five fight cards at Barclays Center in 2019. Each one struggled to sell tickets.
January 25 marked the thirty-ninth fight card at Barclays. The arena was half empty. The announced attendance was 8,217 but that included a lot of freebies. There were six fights on the card. As expected, fighters coming out of the blue corner won all of them. That's what happens when 6-0 squares off against 2-10-1.
Three of the fights were televised by Showtime Championship Boxing, which has also been diminished as a consequence of a multi-year output deal with PBC.
In the first of these bouts, Stephen Fulton (17-0, 8 KOs) and Ukrainian-born Arnold Khegai (16-0, 10 KOs) met in a junior-featherweight bout. Each had fought the usual suspects en route to their confrontation. There was a lot of holding and rabbit-punching which referee Steve Willis ignored. Eventually, Fulton pulled away for a unanimous-decision triumph.
Next up, Jarrett Hurd (23-1, 16 KOs) took on Francisco Santana (25-7, 12 KOs).
Hurd is a big junior-middleweight who held the WBA and IBF 154-pound titles until losing to Julian Williams last year. Santana is a career welterweight who had lost three of his most recent four fights and had won only three times in the last five years.
Hurd was expected to walk through Santana. But he was strangely passive for much of the fight, which led to the strange spectacle of Santana (the noticeably smaller, lighter-punching man) walking Jarrett down for long stretches of time. Francisco is a one-dimensional fighter and was there to be hit. When Jarrett let his hands go, he hit him. But he fought like a man who didn't want to fight and didn't let his hands go often enough.
By round seven, the boos and jeers were raining down. Hurd won a unanimous decision but looked mediocre. That's the most honest way to put it. One wonder what tricks losing to Julian Williams last year played with his mind.
Also, it should be noted that, when the winning fighter thanks God in a post-fight interview and the crowd (which supported Jarrett at the start of the bout) boos at the mention of The Almighty, there's a problem.
"The crowd didn't love it," Hurd acknowledged afterward. "But you gotta understand; I got the unanimous decision and I did what I wanted to do."
The main event matched Danny Garcia (35-2, 21 KOs) against Ivan Redkach (23-4-1, 18 KOs).
Garcia had a nice run early in his career, winning belts at 140 and 147 pounds. But later, he came out on the losing end of decisions against Keith Thurman and Shawn Porter. Other than that, he has gone in soft for the past five years.
Redkach is a junior-welterweight who had won 5 of 10 fights during the same five-year time frame.
There was the usual pre-fight nonsense with Garcia telling reporters, "We picked Redkach because he's dangerous and we knew he'd be tough." But in truth, Redkach had been whitewashed by Tevin Farmer at 135 pounds and was knocked out at the same weight by John Molina Jr (who never won again).
Garcia, like Hurd, was a 30-to-1 betting favorite.
Redkach fought a safety-first fight. Also, safety second and third. There wasn't one second when it looked as though he had a realistic chance of winning the fight or fought like he did.
One of the few proactive things that Ivan did do was stick out his tongue from time to time when Garcia hit him. Then, at the end of round eight, he bit Danny on the shoulder while they were in a clinch. At that point, one might have expected referee Benjy Esteves to disqualify Redkach. But Esteves seemed to not notice.
Rather than go for the kill after the bite, Garcia eased up and cruised to a unanimous decision. Meanwhile, by round eleven, the crowd was streaming for the exits. Most of the fans were gone by the time the decision was announced.
Garcia and Hurd had set-up showcase fights scheduled for them. And neither man delivered the way he should have.
Meanwhile, a final thought . . . Sunday, January 26, would have been Harold Lederman's eightieth birthday.
Harold was the quintessential boxing fan and loved the sport more than anyone I've known. He never missed a fight at Barclays Center unless his health prevented him from coming or he was on the road for HBO. He died eight months ago.
As Saturday night's fight card unfolded, I imagined Harold sitting beside me. He would have had a kind word for everyone who came over to say hello and loved every minute of it. Harold Lederman at the fights was a happy man.
Photo credit: Amanda Westcott
Thomas Hauser's email address is thomashauserwriter@gmail.com. His most recent book — A Dangerous Journey: Another Year Inside Boxing — was published by the University of Arkansas Press. In 2004, the Boxing Writers Association of America honored Hauser with the Nat Fleischer Award for career excellence in boxing journalism. On June 14, 2020, he will be inducted into the International Boxing Hall of Fame.
Check out more boxing news on video at The Boxing Channel 
To comment on this article in The Fight Forum CLICK HERE
Fast Results from Brooklyn: No Surprises as Garcia and Hurd Win Lopsidedly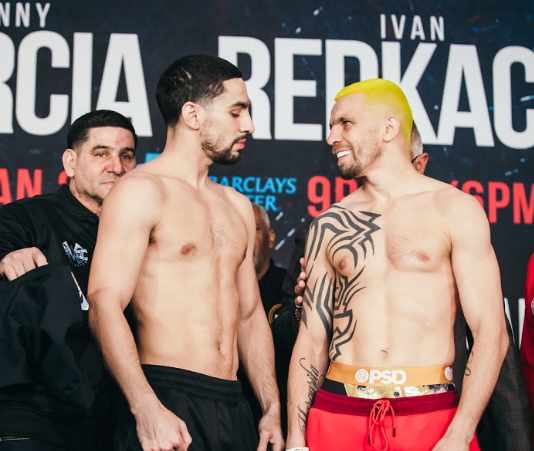 Tonight, Philadelphia's Danny Garcia made his eighth appearance at Barclays Center. Garcia's 2017 fight with Keith Thurman drew 16,533, the attendance high for a boxing show at the arena. A far smaller crowd was in attendance tonight to see Garcia take on Ivan Redkach in a non-title fight slated for 12 rounds.
Redkach, a 33-year-old LA-based Ukrainian, is a southpaw. That's no coincidence. Garcia hopes to land big-money fights with Errol Spence and/or Manny Pacquiao, both southpaws.
Redkach (23-4-1 coming in) turned his career around in his last fight with a career-best performance, a sixth-round stoppage of former two-division title-holder Devon Alexander, a 15-year pro who hadn't previously been stopped. But there was a class difference between he and Danny Garcia, a former WBA and WBC 140-pound world title-holder and former WBC 147-pound champion.
Garcia (35-2, 21 KOs) was simply sharper. His workrate slowed late in the fight, allowing the game Redkach to steal a few rounds, but at the final gun he was relatively unmarked whereas Redkach was conspicuously bruised. The scores were 118-110 and 117-111 twice. The crowd booed at intervals, understandable as they were subject to a drab 6-fight card that was even less interesting than it was on paper.
Co-Feature
In the 10-round co-feature, Jarrett Hurd, making his first start since losing his WBA/IBF super welterweight title to Julian Williams last May, went on cruise control from the opening bell and jabbed his way to a lopsided 10-round decision over Francisco Santana. Hurd, who improved to 24-1, finally let loose late in the 10th frame, putting Santana (25-8-1) on the canvas with a succession of left hooks, but by then many in the crowd had probably nodded off.
This was Hurd's first fight with new trainer Kay Koroma who has drawn raves for his work with America's elite amateurs. The scores were 97-92 and 99-90 twice. SoCal's Santana has now lost five of his last eight.
The opening bout on the main TV portion of the card was a 12-round super bantamweight contest between Philadelphia's Stephen Fulton and fellow unbeaten Arnold Khegai who currently trains in Philadelphia.
Fulton (18-0, 8 KOs) simply had too much class for Khegai (16-1-1), a Ukrainian of Korean heritage. Although Khegai frequently backed Fulton into the ropes, the Philadelphian had an air-tight defense and connected with many more punches. The fight went the full 12 with Fulton prevailing by scores of 116-112 and 117-111 twice.
If the WBO has its way, Fulton will proceed to a fight with Emanuel Navarrete, but don't hold your breath as Navarrete is promoted by Bob Arum who undoubtedly wants to extract more mileage from him before letting him risk his belt against a crafty fighter like Stephen Fulton.
Photo credit: Amanda Westcott / SHOWTIME
Check out more boxing news on video at The Boxing Channel 
To comment on this story in The Fight Forum CLICK HERE
Sacramento Honors Diego 'Chico' Corrales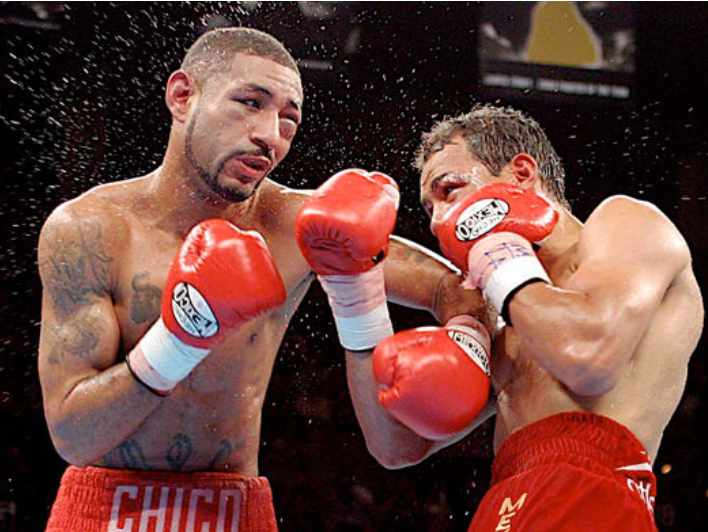 Tonight (Saturday, Jan. 25) former two-division world boxing champion Diego "Chico" Corrales will be posthumously inducted into the Sacramento Sports Hall of Fame at the organization's eighth annual induction ceremony at the Thunder Valley Casino Resort.
Corrales, who grew up in Sacramento, the son of a Columbian father and a Mexican mother, turned pro at age 18 and went on to compile a record of 40-5 (33 KOs). He won his first title in 1999 with a seventh-round stoppage of previously undefeated Robert Garcia. Now recognized as one of boxing's top trainers, Garcia was making the fourth defense of his IBF 130-pound title.
Five years later, Corrales won the WBO world lightweight title with a 10th-round stoppage of Brazil's previously undefeated Acelino Freitas. That set up a unification fight with the WBC belt-holder Jose Luis Castillo.
Corrales and Castillo met on May 7, 2005, at Mandalay Bay in Las Vegas. To say they put on a great fight would be an understatement. The boxing writers in attendance will tell you that this was the greatest fight of all time. It was named Fight of the Decade by The Ring magazine.
The final round, the 10th, was unbelievable. Heading into the round, Corrales was ahead on two of the three scorecards, but his left eye was swollen nearly shut and during the round he was knocked down twice. No one would have faulted referee Tony Weeks for stopping the fight after the second knockdown. But, somehow, Corrales was able to rally, pulling the fight out of the fire with a barrage of punches that had Castillo out on his feet when Weeks waived it off.
Two years to the very day of this iconic fight, Diego "Chico" Corrales died in a motorcycle accident in his adopted hometown of Las Vegas when he rear-ended a car while traveling at a high rate of speed. He was 29 years old.
Corrales was a thrill-seeker. In a 2006 profile, Las Vegas Review-Journal boxing writer Kevin Iole enumerated these among Castillo's hobbies: jumping out of planes from 14,000 feet, bungee jumping from 400 feet, snowboarding in treacherous terrain and scuba diving amid a school of sharks. "He lived his life the same way he fought," said his promoter Gary Shaw, "with reckless abandon."
It might seem odd that it took so long for Corrales to be recognized by the Sacramento Sports Hall of Fame, but there was a period when Corrales's name was mud in his hometown and perhaps the organization's founder, Las Vegas sports radio personality T.C. Martin, a Sacramento native, thought it appropriate to let old wounds heal.
In 2001, shortly after suffering his first pro loss at the hands of Floyd Mayweather, Corrales pled guilty to felony domestic violence in the beating of his first wife and would serve 14 months in prison. "The whole family has worn a black eye for it," Diego's brother Esteban Corrales told Sacramento Bee reporter Marcos Bretan.
For all his recklessness, the incident didn't jibe with his persona. In the company of Las Vegas sportswriters, the soft-spoken and well-spoken Corrales came across as polite and humble.
Corrales, one of five inductees in the 2020 class, joins three other boxers already installed in the Sacramento Hall: Pete Ranzany, Loreto Garza, and Tony "Tiger" Lopez.
Ranzany, a welterweight, fought four former or future world champions and was a fixture in Sacramento rings in the late 1970's. Garza wrested the WBA super lightweight title from Argentina's Juan Martin Coggi in France and successfully defended the belt here in Sacramento with a one-sided conquest of Vinny Pazienza. Lopez, Sacramento's most popular fighter ever, made the turnstiles hum at the city's largest arena where he fought eight of his 14 world title fights beginning with his 1988 humdinger with defending IBF 130-pound champion Rocky Lockridge.
Among the speakers at tonight's confab will be Kenny Adams. Perhaps best known as the head trainer for the 1988 U.S. Olympic team that won eight medals in Seoul, Adams currently trains Nonito Donaire. He was with Diego Corrales for 24 fights, during which Corrales was 23-1, avenging the lone defeat by Joel Casamayor. Festivities start at 7 pm.
Check out more boxing news on video at The Boxing Channel 
To comment on this story in The Fight Forum CLICK HERE