Making Boxing Safer, A Call to Action: Part Two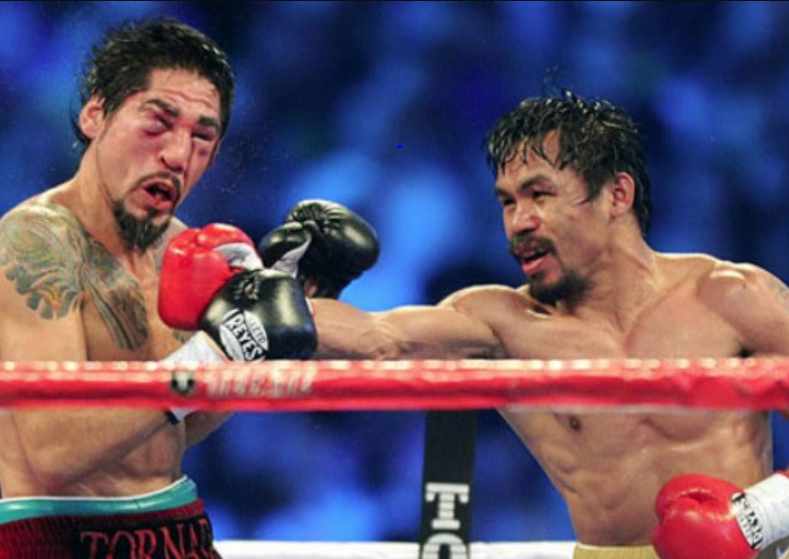 The tragic passing of Patrick Day emphasized once again that measures must be taken to make boxing a safer sport. I reached out to a mix of trainers, ex-boxers and writers for their suggestions.
Weigh-in reform (covered in Part One) was a common refrain. Others emphasized the need for more consistency in the standards of regulatory bodies. Brain scans and more responsible work by cornermen also received multiple mentions.
Dr. Margaret Goodman has been a long-time advocate for a federal boxing commission. In the meantime, says Dr. Goodman, "we need uniformity, uniformity, uniformity," and "all commissions must recognize that one of their most important roles is to deny a fighter a license when they are no longer safe to compete –AND ALL COMMISSIONS EITHER HONOR THAT DENIAL OR PERFORM DUE DILIGENCE BEFORE LICENSING THAT ATHLETE (if they disagree)."
"The 'medical' side of boxing is over-complicated by the variety of rules and regulations that exist across the multiple boxing organizations and is complicated further still by yet more differences across 'national' bodies (Nevada, NY, BBBofC etc.)," says Harry Otty, who notes that it will take a while to get everyone on the same page. "A short-term solution," says Otty, would be to insist on more thorough medicals prior to the fights. Said medicals should include scans for pre-existing brain bleeds (the technology for this now exists in the form of a hand-held scanner)…."An annual brain scan (for those organizations who insist on it) is only good for the day it was done, so a monitoring system needs to be introduced. The more cost (and time)-effective the better."
Boxing historian Henry Hascup is also bullish on brain scans. "Start when they first begin boxing as a pro and then have them annually," says Hascup. "They should also have them after a tough fight just to see where they stand! In the gyms, some of these fighters have wars against each other. I know it's entertaining, but it's not good for the fighters in the long term. There should be a medical person of some kind to oversee this!"
In this same vein, Dr. Goodman says all fighters should be required to undergo an MRI at least yearly and adds that all commissions should institute adequate PED testing using only accredited labs.
Cornermen and Ring Officials
 Henry Hascup believes that more education is needed for trainers. "Right now all you need is a few dollars and you can work the corner," says Hascup. "In the amateurs they have to go through a clinic every couple of years, why not in the pro's where it is so much more dangerous!? They should be educated on what to look for before working a corner!"
Boxing manager, advisor, and noted attorney Anthony Cardinale makes this observation: The corner is in the best position to see that the boxer is not performing and reacting properly- gets slower, doesn't execute combinations correctly, isn't avoiding punches he would normally avoid- and should be in the best position to realize that there is no way to win the fight but by some prayer of KO punch, and when that happens the corner must stop the fight."
Cardinale acknowledges that many trainers do stop the fight when this occurs, but says it doesn't happen often enough. "The cornerman/trainer has developed that drive and tends to believe that their boxer can come back, recover, and win in a fight even when it may not be reasonable to do so," says Cardinale. "So my humble suggestion is to have a neutral observer monitoring the fighter/corner who is able to call a halt to the fight or to at least have a doctor examine the fighter and consult in deciding if the fighter should not continue. Usually there is a commission representative in each corner – but they only enforce commission rules regarding the conduct of the bout. Why not engage someone that has the skill, background, training, and integrity to do both jobs?"
St. Olaf University philosophy professor, trainer, and writer Gordon Marino also emphasizes the importance of a responsible corner: "I think many if not most of the deaths of late could have been avoided if rather than risk the death of a fighter refs and corners would risk the wrath of the crowd and stop hopelessly one-sided fights, a la Eddie Futch in Ali-Frazier III."
Author John Raspanti, the lead writer/editor for MaxBoxing, recommends expanding the role of ringside physicians: "Most of boxing's serious injuries are caused by an accumulation of blows over the course of a fight. If a bout is a tough one, the ringside physician should start monitoring and physically checking the fighters as early as round three. Personally, I think ringside physicians should be able to call a fight in ALL states, not just some. Perhaps bring back the standing eight count, though some very zealous referees might interrupt the flow of fights."
A somewhat related recommendation comes from TSS writer Matt Andrzejewski: "…We strongly need to consider implementing a modified open scoring system where if a fighter is down by a certain number of rounds certain people are notified. This includes the referee, doctor, member of the commission and the fighter's corner. This may be cause for a fighter to not take further unnecessary punishment."
Other suggestions that have been tossed out over the years include mandatory headgear, reducing the length of championship fights from 12 to 10 rounds, and shortening rounds from three to two minutes. None of the respondents found merit in these proposals.
Reducing the number of rounds or the duration of rounds "fundamentally changes the sport in a way that could negatively affect the bottom line financially and aesthetically," says Lee Groves.
As for headgear, TSS mainstay and 2019 IBHOF nominee Bernard Fernandez and the noted trainer and former world title challenger John "Iceman" Scully both thought it would seriously erode fan interest, unquestionably killing the sport in the words of Scully. And Lee Groves questions whether headgear actually would make the sport safer. "….it may absorb the initial shock of the fist but the additional weight on one's head could cause an even more damaging swivel of the neck that would further jar the brain."
"One suggestion that would have potentially helped situations like Patrick Day's would have been a thicker and more forgiving canvas," continues Groves, "but making a canvas absorbent enough to minimize the shock of his head striking the floor would, in turn, make it disadvantageous to boxers who rely on movement and advantageous to the big punchers because they'd be able to better dig in their toes and generate maximum power. And if big punchers are better able to enhance their power, then they would, in turn, inflict more of the kind of life-threatening trauma we're trying to avoid."
While the aforementioned Scully is strongly opposed to headgear, he thinks improvements can be made with respect to gloves. "I do believe it would be safer if they would stop making gloves that are designed to transmit force," he says. "Everybody in the game knows that there are certain gloves that really hurt and do more damage than others. Cleto-Reyes, for example. Horsehair gloves should definitely not be in the mix. I believe that if you had professionals wear 12 oz or even 14 oz gloves with foam padding, you'd see a lot less injuries. And the fact is you would see better fights because guys wouldn't be so leery of the big punchers with the 10-ounce horsehair gloves on."
Author and boxing historian Mike Silver, covering familiar territory, points the finger at "clueless" boxing officials. "The level of incompetence of so-called ringside physicians, trainers, chief seconds, commission officials and of course horribly incompetent referees is breathtaking. Unless things are changed more fighters will die. In fact more are dying proportionally (number of active boxers) than ever before because boxing safety is all cosmetic and stupid and controlled by clueless officials. Everything needs to be reviewed and revised from length of bouts, structure of boxing gloves, too much tape on hands, drug use, especially the lack of defensive skills among today's fighters….."
Bernard Fernandez, who has studied this issue extensively, would remind us that there are pros and cons to many well-intentioned reforms: "More extensive pre-fight physical examinations? Some tests are cost-prohibitive, especially for small promoters….Referees instructed to more quickly stop bouts once a fighter gets in any kind of trouble? We would never have thrilled to the late-bout heroics of back-from-the-brink action heroes like Matthew Saad Muhammad and Arturo Gatti."
"Unless or until we are ready to throw out the baby with the bath water," says Fernandez, "we aficionados might just have to cope with occasional pangs of guilt that linger just a bit longer with each event that goes horribly wrong. The same might be said of ardent fans who follow the NFL (CTE is real), mixed martial arts, bull-riding in rodeos, race-car drivers, etc. All these sports have the fan bases they do because there is an element of risk involved for participants. Does that make those of us who watch or report enablers? Does it make highly paid athletes solely or mostly culpable for whatever injuries they incur?
"So many questions, so many opinions, but so few answers. I wish I had some that would have a positive effect, or any effect. Unless, of course, the heartfelt offering of prayers for the health and well-being of those who are bold enough to step inside the ropes actually do have an effect."
My own feelings regarding a call for action start with effective weight control and secondarily periodic brain scans. It's pretty plain that when the goal of weight-cutting is to have an ultimate size advantage over your opponent, something bad can occur. Reform in these two areas can be implemented without endangering fan interest in the sport.
It's something to ponder.
A hearty thank you to everyone who took the time to contribute to this story,
Postscript: Heaven just gained a new angel. Fly high Patrick Day; fly strong.
Ted Sares can be reached at tedsares@roadrunner.com
Check out more boxing news on video at The Boxing Channel  
To comment on this story in The Fight Forum CLICK HERE
Daniel Jacobs Edges Past Gabe Rosado on a Matchroom card in Florida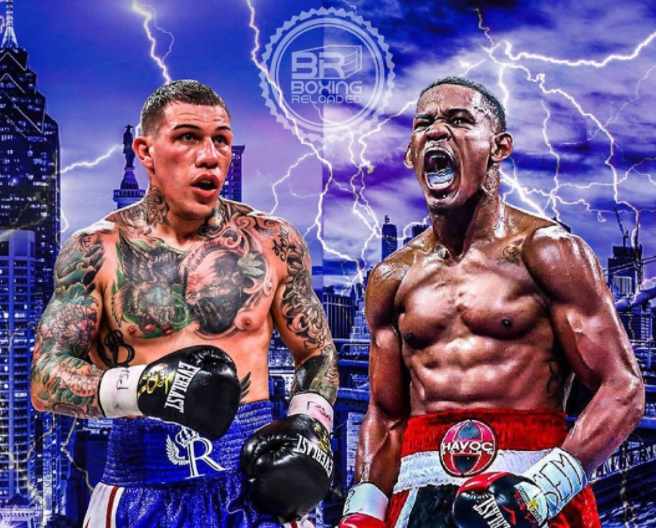 Former world champion Daniel Jacobs needed the last round to win by split decision against upset-minded Gabe Rosado and keep his place in line on Friday for lucrative super middleweight matchups.
But when the ring announcer erroneously announced the winner was from Philadelphia, confusion reigned for a moment until Jacobs was correctly called the winner.
Brooklyn's Jacobs (37-3, 30 KOs) jumped out ahead against Philly fighter Rosado (25-13-1, 14 KOs) and held on for the win in front of no fans at the Seminole Hard Rock Hotel and Casino in Hollywood, Florida. For a second, many thought Rosado had won.
Both were careful during the first three rounds measuring each other's distance and looking for openings to counter. There were very few.
It was the kind of fight expected by those who know boxing: two veterans with immense experience against top-flight world champions. Mistakes were few.
Jacobs, a former middleweight world champion, had fought Saul "Canelo" Alvarez and Gennady "GGG" Golovkin in close but losing efforts.
Rosado had battled Golovkin too, six years ago in a bloody affair that ended in a loss. He had also lost to other champions like Peter Quillin and Jermell Charlo. But none were able to knock him out.
Both were aware of each other's reputation. Bitter words had been exchanged for years and now they finally got their chance to prove their mettle and they did.
Though Jacobs was recognized as a knockout puncher, Rosado's resilience was just as well known. Both neutralized each other for most of the fight with their feints and jabs to the body. Neither was willing to leave openings for each other.
Jacobs scored big with a left uppercut at the end of the seventh round. While Rosado wowed viewers with a sizzling right cross in the 11th round.
It was 1950s style, boxing with intelligence. Each found it difficult to land combinations, let alone find openings to score knockout blows. Instead, they had to be satisfied with scoring enough to convince three judges the actual winner.
Neither was able to pull out ahead with any conviction.
After 12 rounds one judge saw Rosado the winner 115-113 while two others saw Jacobs the winner 115-113 to give him the win by split decision.
"It felt just a little weird. It felt like a sparring match," said Jacobs about fighting without fans in the audience. "This wasn't a valiant effort."
Rosado was certain he was the true winner.
"I thought I won the fight. I surprised him," said Rosado who trained with Freddie Roach for this fight. "I'm a veteran, I know how to fight."
Indeed, he does.
Jacobs now stands poised to fight one of many super middleweight champions in need of a marquee name.
"I live to see another day," he said honestly.
Other Bouts
Kazakhstan's Daniyar Yeleussinov (10-0, 6 KOs) proved he was not an easy touch and knocked out former world champion Julius Indongo (23-3, 12 KOs) to march forward in the welterweight division while grabbing the vacant IBF Inter-Continental title.
In a fight featuring southpaw versus southpaw Yeleussinov caught Indongo with a roundhouse left the first time they exchanged and down went the former super lightweight world champion. Indongo beat the count and survived the round.
Indongo wasn't as lucky in the second round as Yeleussinov again connected with a left and down went the fighter from Namibia again. He would not get up at 1:24 of round two giving the knockout win for Yeleussinov.
A battle between undefeated heavyweights saw Azerbaijan's Mahammadrasul Majidov (3-0, 3 KOs) use roundhouse rights to stagger the heavier Sahret Delgado (8-1) to win by knockout in the third round. Majidov actually helped Delgado get to his stool after knocking him out on his feet at 47 seconds of the third round.
Emmanuel Tagoe (32-1) defeated Mason Menard (36-5) by majority decision after a 10- round lightweight fight that saw a lot of clinching and leaning.
Nikita "White Chocolate" Ababiy (10-0) out-fought Detroit's Brandon Maddox (7-4-1) to win by unanimous decision after six rounds in a middleweight clash. Ababiy hurt Maddox with body shots but found Maddox more resilient than expected.
Check out more boxing news on video at the Boxing Channel 
To comment on this story in the Fight Forum CLICK HERE.
Pradabsri Upsets Menayothin, Ends the Longest Unbeaten Streak of Modern Times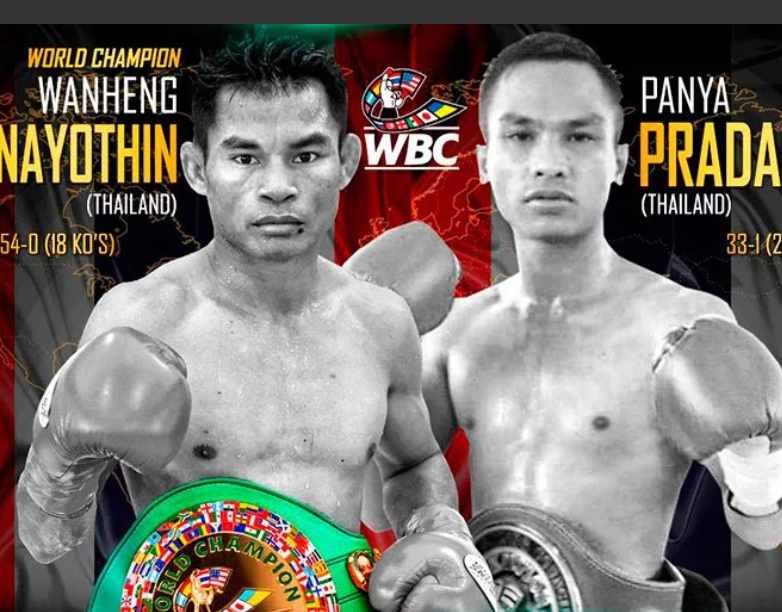 During the wee hours in the Americas, a big upset was brewing in Thailand. In Nakhon Sawan, a city roughly 150 miles north of Bangkok, Panya Pradabsri (aka Petchmanee CP Freshmart) out-pointed Wanheng Menayothin (aka Chayaphon Moonsri) in a domestic clash with international significance. Manayothin entered the bout with a 54-0 (18) record and was making the 13th defense of his WBC world minimumweight title.
Pradabsri had been defeated only once in 35 previous starts, but only 11 of his 34 victories had come against fighters with winning records. According to ringside reports, he kept Menayothin at bay with good fundamentals, a stiff jab, and good lateral movement. All three judges had it 115-113. The fight wasn't without controversy as Menayothin finished stronger and many folks scoring off the live video thought that he had done just enough to retain his title.
How good was/is Menayothin? That's a question that serious boxing fans will likely debate for decades.
In the summer of 2019, Menayothin signed a co-promotional deal with Oscar De La Hoya's Golden Boy Promotions. At time, GBP president Eric Gomez described him as one of the best fighters in the world. "We really want to bring him to the U.S. so people can see how talented he really is," Gomez told England's Sky Sports.
Menayothin was expected to make his U.S. debut in April of this year, but the pandemic ruined that plan. Earlier this year, he announced his retirement, but rescinded it after only two days.
Scottish boxing historian Matt McGrain, who has an exclusive arrangement with this web site, had lukewarm opinion of the Thai mighty-mite although he rated him the second-best 105-pound boxer of the decade, trailing only his countryman Thammanoon Niyomtrong (aka Knockout CP Freshmart).
"He is disciplined, strong, brings good pressure and is armed with a very decent range of punches," said McGrain, "(but his record) is comprised mostly of men any competent fighter would be expected to beat."
Although only one boxer from Thailand has been inducted into the International Boxing Hall of Fame (Khaosai Galaxy, class of 1999), the Southeast Asia nation has produced some outstanding boxers over the years – Chartchoi Chionoi, Sot Chitalada, Pongsaklek Wonjongkam, and Srisaket Sor Rungvisai to name just a few. The difference between these fighters and Wanheng Menayothin is that they all left the comfort zone of their homeland to score one or more important wins on foreign soil.
Menayothin may yet display his wares in a U.S. ring. But at age 35, an advanced age for small fighters in particular, we won't get to see him at his best and now that his bubble has been burst, disinviting further comparisons to Mayweather and Marciano, the curiosity factor has been tempered.
To comment on this story in the Fight Forum CLICK HERE
Yoka vs. Hammer Kicks Off the Thanksgiving Weekend Slate on ESPN+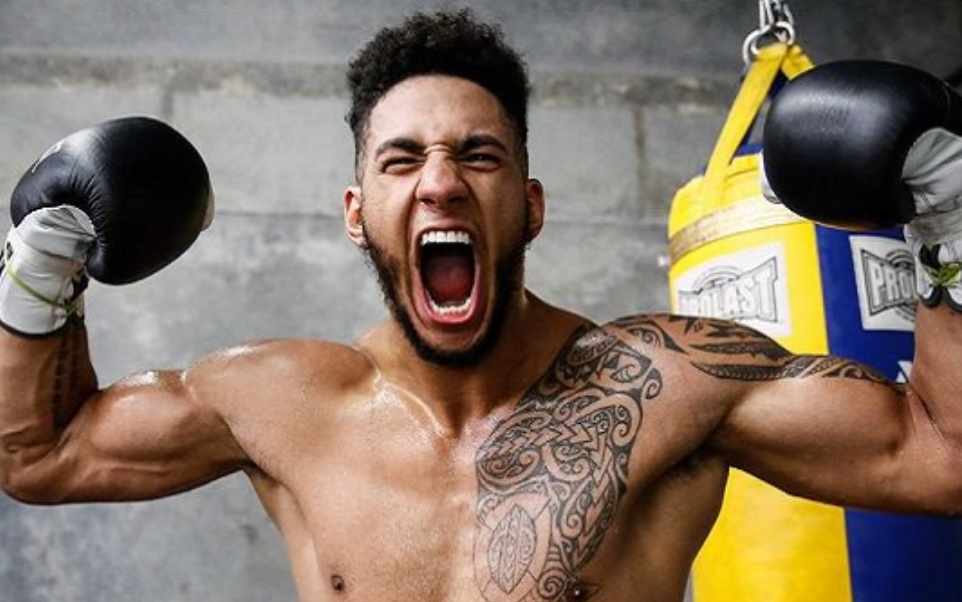 PRESS RELEASE— Tony Yoka, the dynamic heavyweight punching Parisian, aims to impress in his ESPN platform debut. Yoka, who won a super heavyweight gold medal for France at the 2016 Rio Olympics, will fight veteran Christian Hammer in a 10-rounder Friday at H Arena in Nantes, France.
Yoka-Hammer will stream live and exclusively this Friday, Nov. 27 in the United States on ESPN+ beginning at 2:55 p.m. ET/11:55 a.m. PT.
The ESPN+ stream will also include the return of unbeaten 2016 French Olympic gold medalist Estelle Yoka-Mossely against Pasa Malagic in an eight-round lightweight bout. Yoka and Yoka-Mossely, who have been married since 2018, welcomed their second child in May.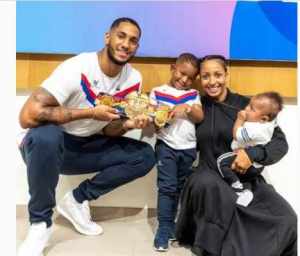 Earlier this year, Yoka inked a promotional agreement with Top Rank, which will co-promote him with Ringstar France.
"Tony Yoka's potential is limitless, and he is a grounded young man who is motivated to be a great professional fighter," said Top Rank chairman Bob Arum. "France has never had a world heavyweight champion, and I believe Tony is the one to bring the sport's biggest honor home."
The 28-year-old Yoka's stellar amateur run included a berth at the 2012 London Olympics and gold medals at the 2015 World Championships and 2010 Youth Olympic Games. Before his triumph in Rio, he'd already defeated the likes of former heavyweight world champion Joseph Parker and current undefeated prospects Joe Joyce and Ivan Dychko. At the Rio Olympics, he defeated Croatian standout Filip Hrgović in the semifinals and edged Joyce in the gold medal match.
As a professional, Yoka (8-0, 7 KOs) made his debut in June 2017 with a second-round stoppage over the previously undefeated Travis Clark. Apart from a decision win over Jonathan Rice in his second outing, Yoka has stopped every foe, including durable Englishman David "White Rhino" Allen and former European champion Alexander Dimitrenko. He made his 2020 debut Sept. 25 and stopped former world title challenger Johann Duhaupas in one round.
Hammer (25-6, 15 KOs) has fought many of the leading heavyweight names during his 12-year career, falling short against Tyson Fury, Luis Ortiz and Alexander Povetkin. He's notched myriad upset victories, including a highlight-reel knockout over David Price and a 2016 split decision over Erkan Teper for the WBO European belt. In March 2019, he went the 10-round distance against Ortiz and has not been stopped since Fury forced him to retire on his stool after eight rounds in their February 2015 clash.
Check out more boxing news on video at the Boxing Channel 
To comment on this story in the Fight Forum CLICK HERE