Hits and Misses from Boxing's Historic Weekend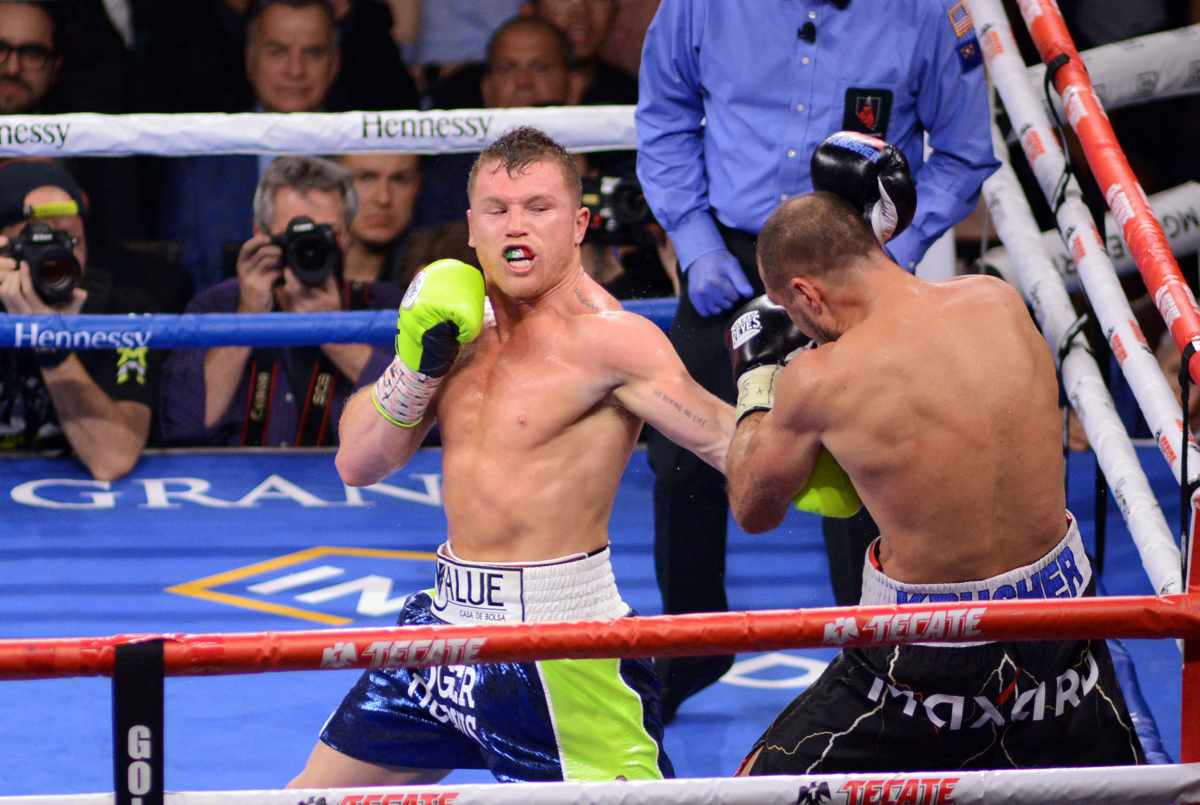 Fight fans had the first week in November circled for a long time.
After all, Canelo Alvarez was attempting to become one of the very few sitting middleweight champions ever to move up and rip the title away from a light heavyweight king.
But there were tons more fights around the world, too. Mexico's Miguel Berchelt made the sixth defense of his WBC junior lightweight title. Popular Manchester native Anthony Crolla was competing in front of his home crowd at Manchester Arena in a farewell fight. Heck, there was even a PBC on FS1 card in Maryland.
With all that on the docket, there were lots of swings at making our hits and misses list. Here are the ones that made the cut during boxing's latest big weekend.
HIT: Canelo Alvarez's Rare Historical Achievement
Already the reigning middleweight champion and arguably boxing's biggest star, Alvarez did something pretty spectacular on Saturday night in Las Vegas when he toppled Sergey Kovalev to become the new WBO light heavyweight champion.
No, it wasn't the narrative that Alvarez became the fourth Mexican to win world titles in four different weight classes, joining Erik Morales, Juan Manuel Marquez and Jorge Arce. In fact, I'm not even sure that Alvarez really accomplished that feat beyond mere technicality. While it's true Alvarez won legitimate world titles at 154, 160 and 175, when did any of those secondary WBA belts like the one he snatched from Rocky Fielding last year at 168, become part of these historical designations?
What was truly rare and important was that the sitting middleweight champion moved up 15 pounds to dominate such a highly regarded light heavyweight titleholder. Even more impressive was that he did it against such a well-schooled boxer and sharp puncher in Kovalev. Even greater was that he did it by walking the much larger man down to deliver such a brutal knockout in the 11th round.
MISS: DAZN's Reactive and Disordered Scheduling Decision
DAZN delayed the start of the Alvarez-Kovalev bout until after the finish of the UFC 244 main event between Jorge Masvidal and Nate Diaz and it brought to light a least a couple of reasons to be concerned about the company's future.
First, it suggested that one of boxing's biggest stars in Alvarez in one of the biggest fights of the year was less important than a battle between two UFC contenders with double-digit losses on both sides of the ledger.
Second, and perhaps most troubling, it indicated a potentially disordered focus by DAZN executives on prioritizing potential subscribers over the current customer base.
DAZN's main goal should be delivering top quality content for subscribers. The message instead was that current customers, the ones that pony up every month so DAZN can continue to exist, aren't nearly as important as potential subscribers who haven't shelled anything out all year but really might consider it so long as everything is made super convenient for them.
Minimally, that seems based on a scarcity-based mindset, one that suggests there aren't enough people for there to exist both boxing and MMA fans. Surely that model has been debunked by now.
Moreover, the decision wreaked of desperation. Exactly many more subscribers does DAZN need in order to justify that $365 million contract it gave to Alvarez last year?
Whatever the answer, delaying the start of one of the biggest events for over an hour and a half suggests the brain trust at DAZN might not be making the best decisions right now.
HIT: Miguel Berchelt's Continued Excellence
Berchelt has quietly put together a sustained run of divisional excellence, and it looks like things might get a whole lot louder soon. Berchelt dominated and stopped former titleholder Jason Sosa in just four rounds on Saturday night in Carson, California. The Mexican displayed his usual knack for throwing huge amounts ofhard punches, and it made for some really solid action.
That's the thing that makes Berchelt special. Not only has he looked excellent in his six title defenses at 130 pounds, but he's won those fights with a fan-friendly and aggressive style that makes for good television.
It's such good television, in fact, that it seems like the 27-year-old from Mexico should be a bigger deal by now. That he's not already on just about every boxing fan's must-watch list tells us that his promoters over at Top Rank need to start getting him bigger fights.
Hopefully, that's about to happen. Undefeated 28-year-old former featherweight titleholder Oscar Valdez seems to be shortlisted for the next crack at Berchelt. That's a big fight between two guys who really know how to produce quality action, and one that deserves all the bells and whistles of a regular ESPN showcase.
But if that bout falls through for some reason, there are plenty of other 130-pounders to consider, too. The list of backup plans should start with the three other titleholders (Jamel Herring, Andrew Cancio, Tevin Farmer) and go on from there. It's high time those fights between the top junior lightweights in the world start getting made. If that happens, Berchelt will finally have a chance to prove he belongs among boxing's biggest stars.
MISS: Evan Holyfield's Debut Cut Short
Evan Holyfield made his professional debut on the undercard of the Alvarez-Kovalev card, and it seems like people were genuinely interested in seeing how the career of Evander Holyfield's son would play out.
But we didn't see very much. The junior middleweight prospect landed a number of punches on opponent Nicholas Winstead right at the opening bell and dumped his unheralded foe to the canvas within the first 10 seconds.
Winstead rose to his feet, looking clear-eyed and ready to continue. But referee Robert Hoyle waved the contest off at 0:16 seconds of the first round anyway, so the fight was over before it ever really started.
Maybe Hoyle saw that Winstead was hopelessly overmatched. That's certainly possible, and if he stopped the fight because he feared for Winstead's life, he should be commended for it. Moreover, it's that was the case, the blame should fall on promoters and matchmakers for making the fight at all.
But it looked more like Hoyle just made a bad call in stopping a fight early that probably should have continued. Sure, it's always better to stop a fight too early than too late. But what's best is stopping a fight at the exact right time, and that's not what happened in Holyfield's debut.
HIT:  The Flair of Blair Cobbs
Is there any more compelling prospect right now than Blair "The Flair" Cobbs?
The flamboyant 29-year-old welterweight prospect has one of the most intriguing backstories in boxing. He employs an awkward but effective style in the ring, and it seems like he might be on his way to becoming one of boxing's next big things.
To do that, though, he'll absolutely need to become a better fighter. Cobb stopped journeyman Carlos Cervantes in six rounds on Saturday night, but it sure didn't look easy. The positive thing to say about it was that Cobb showed resiliency in rising from a first-round knockdown to get the stoppage win.
But the issue the promoters over at Golden Boy Promotions will have on their hands going forward is that Cobb attracts a fanbase that will want to see the fighter steadily move up in competition.
He's not ready for that quite yet.
If anything, it would be best for the fighter to take the slow and steady approach Deontay WIlder's team employed in taking that fighter up the ranks. Nobody liked it back then, but it sure has paid off.
Still, Blair is already great at every other part of the sport that's important. He knows how to attract fans and already seems to wield a gravitational force of personality that most boxers never come close to enjoying.
However this thing works out, many will be watching with great interest.
MISS: The Continued Existence of Farewell Fights
Anthony Crolla defeated Frank Urquiaga by majority decision in what was Crolla's farewell fight on Saturday in Manchester. It's certainly understandable why a fighter like Crolla would want one last bout against lesser opposition like Urquiaga. It's a chance to soak everything in for one last time.
But I'm not sure I've watched many farewell fights that didn't seem like everyone involved was just going through the motions.
Part of what makes boxing special is the passion the fighters muster. Boxing isn't a game like basketball. It's physical combat between two souls who have to pour themselves out completely to claim victory.
Farewell fights, such as Crolla's decision win over Urquiaga, don't really seem like real boxing. It's more like a sparring session or something else that people shouldn't have to purchase tickets to see.
Crolla enjoyed a tremendous career. He won British, Commonwealth and even a secondary world title. He was a legitimate world title challenger and even managed to fight arguably the best fighter of his generation in Vasyl Lomachenko.
But nothing that happened on Saturday in his farewell fight did anything to enhance, or even highlight, those things. In fact, it was a virtually meaningless exhibition that probably shouldn't have happened at all.
HIT: The PBC's Unique and Important Ability 
With all the other boxing over the weekend, it's not out of line to suggest most boxing fans didn't watch the PBC on FS1 card featuring junior middleweight prospect Brian Castano's stoppage of Wale Omotoso.
Even so, it shouldn't go unnoticed how many TV slots Al Haymon-managed fighters seem to get these days even if hardly anyone gets to see them.
It might even be frustrating to have so many different fight cards on at the same time. Gone are the days of either HBO or Showtime vying for our attention, or even the minor inconvenience of having to switch back and forth between the two networks when they had competing shows.
Today's boxing landscape is almost too difficult to follow. There seem to be three or four major cards on every single weekend, many of them going head-to-head against each other. While that can be frustrating (and seemingly even unnecessary), it should be noted that it's one of the better times in boxing history to be a professional prizefighter.
Of all the competing factions, the PBC seems most adept at putting all sorts of fights across many different networks, many of which often feature fighters that wouldn't have had a chance for opportunities under the old model.
The best part of that is that it means fighters who otherwise wouldn't have made as much money 10 years ago are able to secure greater portions for themselves and their families. If that's not the highest good in boxing, I'm not really sure what is.
Photo credit: Al Applerose
Check out more boxing news on video at The Boxing Channel  
To comment on this story in The Fight Forum CLICK HERE
Mercito Gesta Victorious Over Jojo Diaz at the Long Beach Pyramid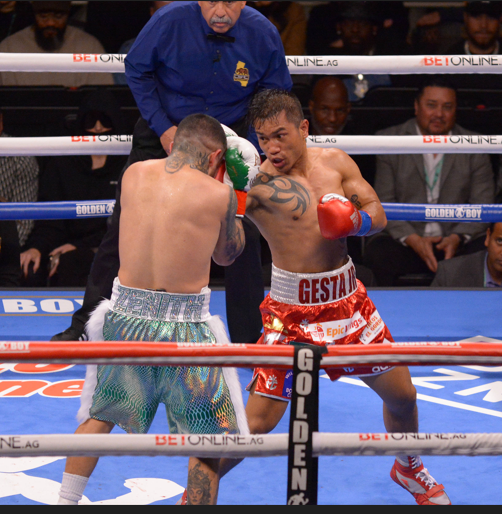 LONG BEACH, CA.-Those in the know knew Mercito Gesta and Jojo Diaz would be a fight to watch and they delivered.
Gesta emerged the winner in a super lightweight clash between southpaws that saw the judges favor his busier style over Diaz's body attack and bigger shots and win by split decision on Saturday.
Despite losing the main event because the star was overweight, Gesta (34-3-3, 17 KOs) used an outside method of tactic to edge past former world champion Diaz (32-4-1, 15 KOs) in front of more than 5,000 fans at the Pyramid.
The speedy Gesta opened up the fight with combination punching up and down against the peek-a-boo style of Diaz. For the first two rounds the San Diego fighter overwhelmed Diaz though none of the blows were impactful.
In the third round Diaz finally began unloading his own combinations and displaying the fast hands that helped him win world titles in two divisions. Gesta seemed stunned by the blows, but his chin held up. The counter right hook was Diaz's best weapon and snapped Gesta's head back several times.
Gesta regained control in the fifth round after absorbing big blows from Diaz. He seemed to get angry that he was hurt and opened up with even more blows to send Diaz backpedaling.
Diaz targeted his attack to Gesta's body and that seemed to slow down Gesta. But only for a round.
From the seventh until the 10th each fighter tried to impose their style with Gesta opening up with fast flurries and Diaz using right hooks to connect with solid shots. They continued their method of attack until the final bell. All that mattered was what the judges preferred.
After 10 rounds one judge saw Diaz the winner 97-93 but two others saw Gesta the winner 99-91, 98-92. It was a close and interesting fight.
"I was expecting nothing. I was the victor in this fight and we gave a good fight," said Gesta. "It's not an easy fight and Jojo gave his best."
Diaz was surprised by the outcome but accepted the verdict.
Everything was going good. I thought I was landing good body shots," said Diaz. "I was pretty comfortable."
Other Bouts
Mexico's Oscar Duarte (25-1-1, 20 KOs) knocked out Chicago's Alex Martin (18-5, 6 KOs) with a counter right hand after dropping him earlier in the fourth round. The super lightweight fight was stopped at 1:14 of the round.
A battle between undefeated super welterweights saw Florida's Eric Tudor (8-0, 6 KOs) emerge the winner by unanimous decision after eight rounds versus Oakland's Damoni Cato-Cain.
The taller Tudor showed polished skill and was not bothered by a large cut on his forehead caused by an accidental clash of heads. He used his jab and lead rights to defuse the attacks of the quick-fisted southpaw Cato-Cain. The judges scored the fight 80-72 and 78-74 twice for Tudor.
San Diego's Jorge Chavez (5-0, 4 KOs) needed less than one round to figure out Nicaragua's Bryan Perez (12-17-1, 11 KOs) and send him into dreamland with a three-punch combination. No need to count as referee Ray Corona waved the fight over. Perez shot a vicious right followed by another right and then a see-you-later left hook at 3.00 of the first round of the super featherweight match.
Photo credit: Al Applerose
Jojo Diaz's Slump Continues; Mercito Gesta Prevails on a Split Decision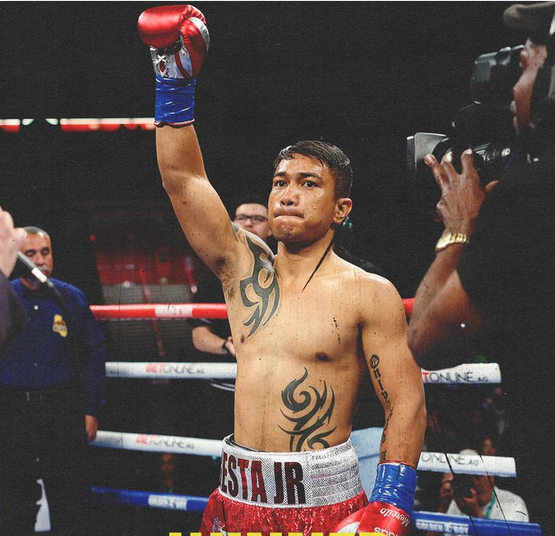 At age 30, Jojo Diaz's career is on the skids. The 2012 U.S. Olympian, a former world title holder at 126 and 130 pounds and an interim title holder at 135, Diaz suffered his third straight loss tonight, upset by Mercito Gesta who won a split decision at the Walter Pyramid in Long Beach, CA.. The scoring was strange with Gesta winning nine of the 10 rounds on one of the cards and only three rounds on another. The tie-breaker, as it were, was a 98-92 tally for Gesta and even that didn't capture the flavor of what was a closely-contested fight.
Originally listed as a 12-rounder, the match was reduced to 10 and that, it turned out, did Diaz no favors. However, it's hard to feel sorry for the former Olympian as he came in overweight once again, having lost his 130-pound title on the scales in February of 2021.
Diaz also has issues outside the ropes. Best elucidated by prominent boxing writer Jake Donovan, they include a cluster of legal problems stemming from an arrest for drunk driving on Feb. 27 in the LA suburb of Claremont.
With the defeat, Diaz's ledger declined to 32-4-1. His prior losses came at the hands of Gary Russell Jr, Devin Haney, and William Zepeda, boxers who are collectively 83-2. Mercito Gesta, a 35-year-old San Diego-based Filipino, improved to 34-3-3.
Co-Feature
Chihuahua, Mexico super lightweight Oscar Duarte has now won nine straight inside the distance after stopping 33-year-old Chicago southpaw Alex Martin in the eighth frame. Duarte, the busier fighter, had Martin on the deck twice in round eight before the fight was waived off.
Duarte improved to 25-1-1 (20). Martin, who reportedly won six national titles as an amateur and was once looked upon as a promising prospect, declined to 18-5.
Other Bouts of Note
New Golden Boy signee Eric Tudor, a 21-year-old super welterweight from Fort Lauderdale, overcame a bad laceration over his right eye, the result of an accidental clash of heads in round four, to stay unbeaten, advancing to 8-0 (6) with a hard-fought unanimous 8-round decision over Oakland's Damoni Cato-Cain. The judges had it 80-72 and 78-74 twice. It was the first pro loss for Cato-Cain (7-1-1) who had his first five fights in Tijuana.
In the DAZN opener, lanky Hawaian lightweight Dalis Kaleiopu went the distance for the first time in his young career, improving to 4-0 (3) with a unanimous decision over 36-year-old Colombian trial horse Jonathan Perez (40-35). The scores were 60-52 across the board. There were no knockdowns, but Perez, who gave up almost six inches in height, had a point deducted for a rabbit punch and another point for deducted for holding.
To comment on this story in the Fight Forum CLICK HERE
'Big Baby' Wins the Battle of Behemoths; TKOs 'Big Daddy' in 6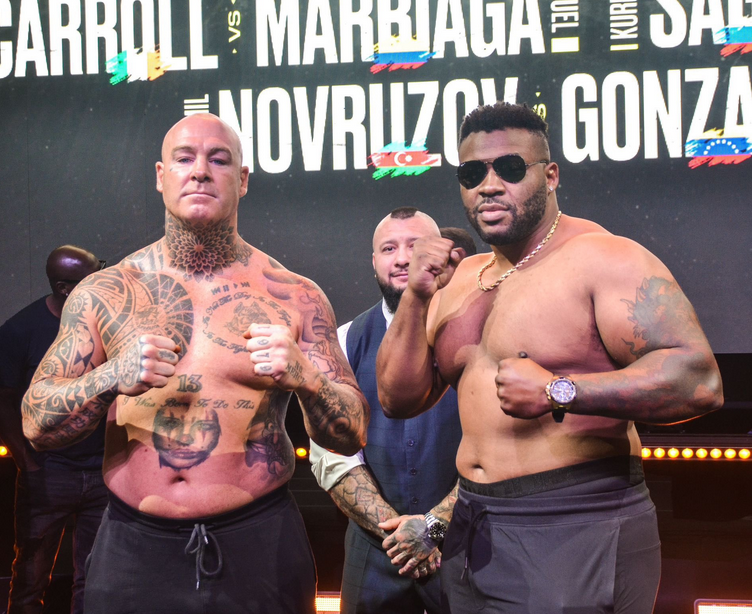 Lucas "Big Daddy" Browne weighed in at a career-high 277 pounds for today's battle in Dubai with Jarrell "Big Baby" Miller, but he was the lighter man by 56 pounds. It figured that one or both would gas out if the bout lasted more than a few stanzas.
It was a war of attrition with both men looking exhausted at times, and when the end came it was Miller, at age 34 the younger man by nine years, who had his hand raised.
Browne was the busier man, but Miller, whose physique invites comparison with a rhinoceros, hardly blinked as he was tattooed with an assortment of punches. He hurt 'Bid Daddy' in round four, but the Aussie held his own in the next frame, perhaps even forging ahead on the cards, but only postponing the inevitable.
In round six, a succession of right hands knocked Browne on the seat of his pants. He beat the count, but another barrage from Miller impelled the referee to intervene. The official time was 2:33. It was the 21st straight win for Miller (26-0-1, 22 KOs). Browne declined to 31-4 and, for his own sake, ought not fight again. All four of his losses have come inside the distance, some brutally.
The consensus of those that caught the livestream was that Floyd Mayweather Jr's commentary was an annoying distraction that marred what was otherwise an entertaining show.
As for what's next for "Big Baby" Miller, that's hard to decipher as he has burned his bridges with the sport's most powerful promoters. One possibility is Mahmoud Charr who, like Miller, has a big gap in his boxing timeline. Now 38 years old, Charr – who has a tenuous claim on a WBA world title (don't we all?) —  has reportedly taken up residence in Dubai.
Other Bouts of Note
In a 10-round cruiserweight affair, Suslan Asbarov, a 30-year-old Russian, advanced to 4-0 (1) with a hard-fought majority decision over Brandon Glanton. The judges had it 98-92, 97-93, and a more reasonable 95-95.
Asbarov was 12-9 in documented amateur fights and 1-0 in a sanctioned bare-knuckle fight, all in Moscow, entering this match. He bears watching, however, as Glanton (18-2) would be a tough out for almost anyone in his weight class. In his previous fight, at Plant City, Florida, Glanton lost a controversial decision to David Light, an undefeated Australian who challenges WBO world title-holder Lawrence Okolie at Manchester, England next week.
A 10-round super featherweight match between former world title challengers Jono Carroll and Miguel Marriaga preceded the semi-windup. Carroll, a 30-year-old Dublin southpaw, overcame a cut over his left eye suffered in the second round to win a wide unanimous decision in a fairly entertaining fight.
It was the sixth straight win for Carroll (24-2-1, 7 KOs) who elevated his game after serving as a sparring partner for Devin Haney. Marriaga, a 36-year-old Colombian, lost for the fourth time in his last five outings, declining to 30-7.
To comment on this story in the Fight Forum CLICK HERE