Hits and Misses from Boxing's Historic Weekend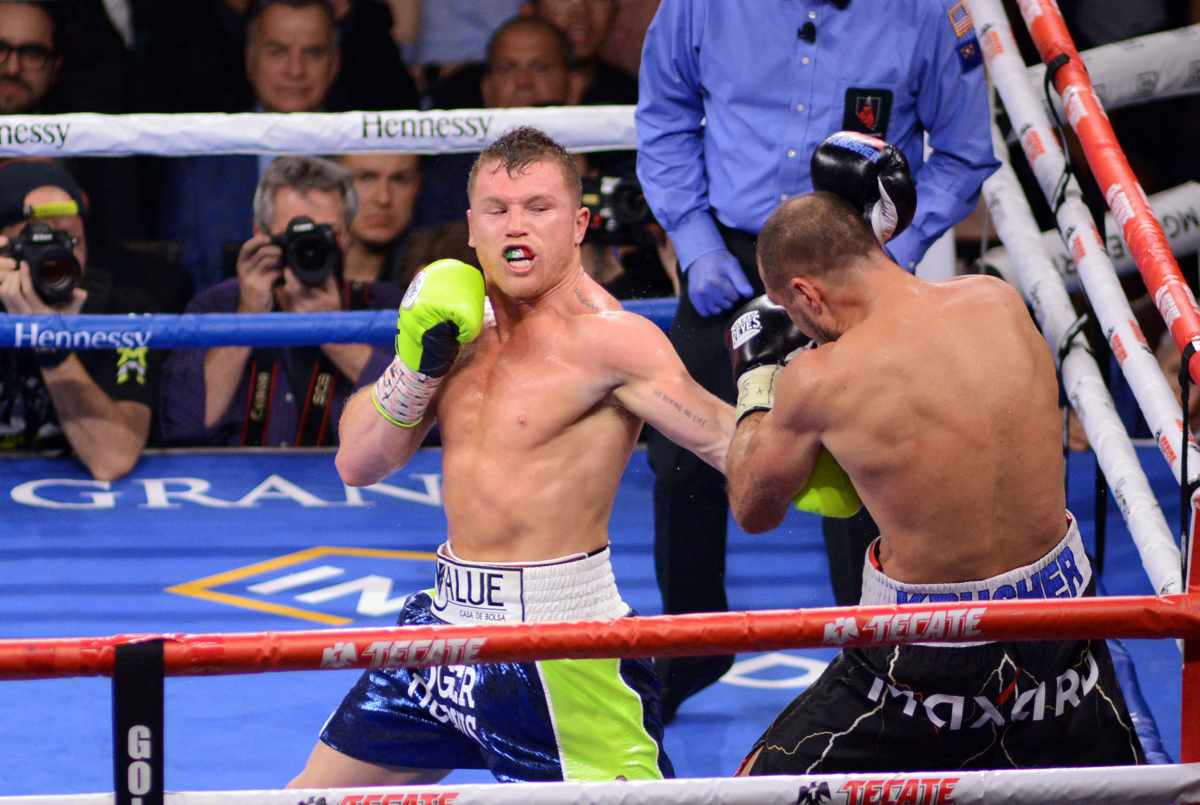 Fight fans had the first week in November circled for a long time.
After all, Canelo Alvarez was attempting to become one of the very few sitting middleweight champions ever to move up and rip the title away from a light heavyweight king.
But there were tons more fights around the world, too. Mexico's Miguel Berchelt made the sixth defense of his WBC junior lightweight title. Popular Manchester native Anthony Crolla was competing in front of his home crowd at Manchester Arena in a farewell fight. Heck, there was even a PBC on FS1 card in Maryland.
With all that on the docket, there were lots of swings at making our hits and misses list. Here are the ones that made the cut during boxing's latest big weekend.
HIT: Canelo Alvarez's Rare Historical Achievement
Already the reigning middleweight champion and arguably boxing's biggest star, Alvarez did something pretty spectacular on Saturday night in Las Vegas when he toppled Sergey Kovalev to become the new WBO light heavyweight champion.
No, it wasn't the narrative that Alvarez became the fourth Mexican to win world titles in four different weight classes, joining Erik Morales, Juan Manuel Marquez and Jorge Arce. In fact, I'm not even sure that Alvarez really accomplished that feat beyond mere technicality. While it's true Alvarez won legitimate world titles at 154, 160 and 175, when did any of those secondary WBA belts like the one he snatched from Rocky Fielding last year at 168, become part of these historical designations?
What was truly rare and important was that the sitting middleweight champion moved up 15 pounds to dominate such a highly regarded light heavyweight titleholder. Even more impressive was that he did it against such a well-schooled boxer and sharp puncher in Kovalev. Even greater was that he did it by walking the much larger man down to deliver such a brutal knockout in the 11th round.
MISS: DAZN's Reactive and Disordered Scheduling Decision
DAZN delayed the start of the Alvarez-Kovalev bout until after the finish of the UFC 244 main event between Jorge Masvidal and Nate Diaz and it brought to light a least a couple of reasons to be concerned about the company's future.
First, it suggested that one of boxing's biggest stars in Alvarez in one of the biggest fights of the year was less important than a battle between two UFC contenders with double-digit losses on both sides of the ledger.
Second, and perhaps most troubling, it indicated a potentially disordered focus by DAZN executives on prioritizing potential subscribers over the current customer base.
DAZN's main goal should be delivering top quality content for subscribers. The message instead was that current customers, the ones that pony up every month so DAZN can continue to exist, aren't nearly as important as potential subscribers who haven't shelled anything out all year but really might consider it so long as everything is made super convenient for them.
Minimally, that seems based on a scarcity-based mindset, one that suggests there aren't enough people for there to exist both boxing and MMA fans. Surely that model has been debunked by now.
Moreover, the decision wreaked of desperation. Exactly many more subscribers does DAZN need in order to justify that $365 million contract it gave to Alvarez last year?
Whatever the answer, delaying the start of one of the biggest events for over an hour and a half suggests the brain trust at DAZN might not be making the best decisions right now.
HIT: Miguel Berchelt's Continued Excellence
Berchelt has quietly put together a sustained run of divisional excellence, and it looks like things might get a whole lot louder soon. Berchelt dominated and stopped former titleholder Jason Sosa in just four rounds on Saturday night in Carson, California. The Mexican displayed his usual knack for throwing huge amounts ofhard punches, and it made for some really solid action.
That's the thing that makes Berchelt special. Not only has he looked excellent in his six title defenses at 130 pounds, but he's won those fights with a fan-friendly and aggressive style that makes for good television.
It's such good television, in fact, that it seems like the 27-year-old from Mexico should be a bigger deal by now. That he's not already on just about every boxing fan's must-watch list tells us that his promoters over at Top Rank need to start getting him bigger fights.
Hopefully, that's about to happen. Undefeated 28-year-old former featherweight titleholder Oscar Valdez seems to be shortlisted for the next crack at Berchelt. That's a big fight between two guys who really know how to produce quality action, and one that deserves all the bells and whistles of a regular ESPN showcase.
But if that bout falls through for some reason, there are plenty of other 130-pounders to consider, too. The list of backup plans should start with the three other titleholders (Jamel Herring, Andrew Cancio, Tevin Farmer) and go on from there. It's high time those fights between the top junior lightweights in the world start getting made. If that happens, Berchelt will finally have a chance to prove he belongs among boxing's biggest stars.
MISS: Evan Holyfield's Debut Cut Short
Evan Holyfield made his professional debut on the undercard of the Alvarez-Kovalev card, and it seems like people were genuinely interested in seeing how the career of Evander Holyfield's son would play out.
But we didn't see very much. The junior middleweight prospect landed a number of punches on opponent Nicholas Winstead right at the opening bell and dumped his unheralded foe to the canvas within the first 10 seconds.
Winstead rose to his feet, looking clear-eyed and ready to continue. But referee Robert Hoyle waved the contest off at 0:16 seconds of the first round anyway, so the fight was over before it ever really started.
Maybe Hoyle saw that Winstead was hopelessly overmatched. That's certainly possible, and if he stopped the fight because he feared for Winstead's life, he should be commended for it. Moreover, it's that was the case, the blame should fall on promoters and matchmakers for making the fight at all.
But it looked more like Hoyle just made a bad call in stopping a fight early that probably should have continued. Sure, it's always better to stop a fight too early than too late. But what's best is stopping a fight at the exact right time, and that's not what happened in Holyfield's debut.
HIT:  The Flair of Blair Cobbs
Is there any more compelling prospect right now than Blair "The Flair" Cobbs?
The flamboyant 29-year-old welterweight prospect has one of the most intriguing backstories in boxing. He employs an awkward but effective style in the ring, and it seems like he might be on his way to becoming one of boxing's next big things.
To do that, though, he'll absolutely need to become a better fighter. Cobb stopped journeyman Carlos Cervantes in six rounds on Saturday night, but it sure didn't look easy. The positive thing to say about it was that Cobb showed resiliency in rising from a first-round knockdown to get the stoppage win.
But the issue the promoters over at Golden Boy Promotions will have on their hands going forward is that Cobb attracts a fanbase that will want to see the fighter steadily move up in competition.
He's not ready for that quite yet.
If anything, it would be best for the fighter to take the slow and steady approach Deontay WIlder's team employed in taking that fighter up the ranks. Nobody liked it back then, but it sure has paid off.
Still, Blair is already great at every other part of the sport that's important. He knows how to attract fans and already seems to wield a gravitational force of personality that most boxers never come close to enjoying.
However this thing works out, many will be watching with great interest.
MISS: The Continued Existence of Farewell Fights
Anthony Crolla defeated Frank Urquiaga by majority decision in what was Crolla's farewell fight on Saturday in Manchester. It's certainly understandable why a fighter like Crolla would want one last bout against lesser opposition like Urquiaga. It's a chance to soak everything in for one last time.
But I'm not sure I've watched many farewell fights that didn't seem like everyone involved was just going through the motions.
Part of what makes boxing special is the passion the fighters muster. Boxing isn't a game like basketball. It's physical combat between two souls who have to pour themselves out completely to claim victory.
Farewell fights, such as Crolla's decision win over Urquiaga, don't really seem like real boxing. It's more like a sparring session or something else that people shouldn't have to purchase tickets to see.
Crolla enjoyed a tremendous career. He won British, Commonwealth and even a secondary world title. He was a legitimate world title challenger and even managed to fight arguably the best fighter of his generation in Vasyl Lomachenko.
But nothing that happened on Saturday in his farewell fight did anything to enhance, or even highlight, those things. In fact, it was a virtually meaningless exhibition that probably shouldn't have happened at all.
HIT: The PBC's Unique and Important Ability 
With all the other boxing over the weekend, it's not out of line to suggest most boxing fans didn't watch the PBC on FS1 card featuring junior middleweight prospect Brian Castano's stoppage of Wale Omotoso.
Even so, it shouldn't go unnoticed how many TV slots Al Haymon-managed fighters seem to get these days even if hardly anyone gets to see them.
It might even be frustrating to have so many different fight cards on at the same time. Gone are the days of either HBO or Showtime vying for our attention, or even the minor inconvenience of having to switch back and forth between the two networks when they had competing shows.
Today's boxing landscape is almost too difficult to follow. There seem to be three or four major cards on every single weekend, many of them going head-to-head against each other. While that can be frustrating (and seemingly even unnecessary), it should be noted that it's one of the better times in boxing history to be a professional prizefighter.
Of all the competing factions, the PBC seems most adept at putting all sorts of fights across many different networks, many of which often feature fighters that wouldn't have had a chance for opportunities under the old model.
The best part of that is that it means fighters who otherwise wouldn't have made as much money 10 years ago are able to secure greater portions for themselves and their families. If that's not the highest good in boxing, I'm not really sure what is.
Photo credit: Al Applerose
Check out more boxing news on video at The Boxing Channel  
To comment on this story in The Fight Forum CLICK HERE
Avila Perspective, Chap 111: Munguia, Tank and The Monster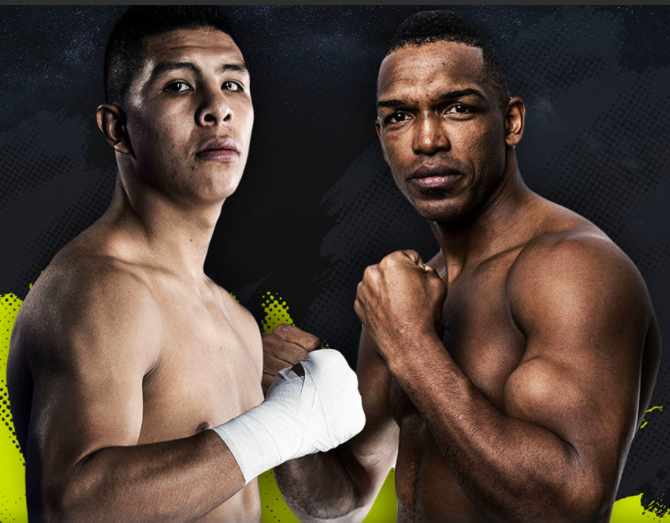 Here come some more hardcore fights.
As the end of the year approaches contracts must be honored. That's a good thing for fight fans even during a pandemic.
Golden Boy Promotions brings a loaded fight card led by Mexican swing-from-the-heels fighter Jaime Munguia (35-0, 28 KOs) moving into the middleweight division against Tureano Johnson (21-2-1, 15 KOs) at Fantasy Springs Casino in Indio, California. DAZN will stream the Friday night fight card on Oct. 30.
Munguia (pictured opposite Johnson) just recently turned 24 years old; a couple of weeks ago. The former super welterweight world titlist out of Tijuana grew out of the division and now is mentored by boxing great Erik "El Terrible" Morales. No more swinging at anything that moves. Now it's technical savagery.
Johnson, 36, hasn't fought in over a year but in that last fight he knocked off Ireland's undefeated Jason Quigley. That was not supposed to happen. The Bahamian native only has two losses and those were stoppages in the last round by Sergiy Derevyanchenko and Curtis Stevens. He has the technique, but does he have the chin?
Another savage battle involves welterweights.
New England's Rashidi "Speedy" Ellis (22-0, 14 KOs) faces Orange County's Alexis Rocha (16-0, 10 KOs) a hard-hitting southpaw in a showdown set for 12 rounds. Will it go that long?
Both have power and I doubt the fight goes beyond seven rounds. Both have ended fights in the opening rounds before. If someone blinks at the wrong time it could be over quickly.
Others on the card including super featherweight contender Lamont Roach and super middleweight prospect Bektemir Melikuziev. Also, female contenders Sulem Urbina and Marlen Esparza square off. Opening bout begins at 5 p.m. Pacific Time.
Crazy Saturday
A Matchroom Boxing fight card stemming from England showcases a Southern California-based world champion Oleksandr Usyk (17-0, 13 KOs) meeting Dereck Chisora (32-9, 23 KOs) in the heavyweight main event.
Usyk, now 33, just recently conquered the cruiserweight division and was undisputed world champion and now deigns to move up in weight where the money is much better fighting the big boys. He's a speedy Ukrainian southpaw who uses plenty of movement and has shocking power when he sets his feet.
Chisora, 36, has fought all of the top European heavyweights including another Ukrainian heavyweight named Vitali Klitschko. Though it hasn't always been violets and roses for Chisora, he does pack a wallop and if he catches Usyk it could be all over. But his feet are made of stone and he will have problems moving in rhythm with the fleet-footed Usyk.
A co-main event features lightweight contenders Lee Selby (28-2, 9 KOs) pitted against George Kambosos Jr. (18-0, 10 KOs) in a Great Britain versus Australia battle.
Two female bouts with extra power are also on the card as Savannah Marshall (8-0) battles Hannah Rankin (9-4) for the vacant WBO middleweight title; and Amy Timlin (4-0) meets Carly Skelly (3-0) in a battle of undefeated super bantamweights.
The fight card will be streamed on DAZN at 11 a.m. Pacific Time.
Showtime
World champions collide with three-division world champion Leo Santa Cruz daring to move up yet another weight division and challenge the ultimate danger in super featherweight and lightweight world titlist Gervonta "Tank" Davis for his titles.
Danger is written all over this Showtime pay-per-view card on Saturday Oct. 31.
Davis (23-0, 22 KOs) has yet to be truly challenged by anyone. Santa Cruz (37-1-1, 19 KOs) has always been a risk taker and could be going way over his limit against Tank.
"I'm facing the best fighter in the division. If you want to be the best, you have to beat the best. I have to go against the best fighter," said Santa Cruz. "I wanted to challenge myself. I know this is a dangerous fight for me, but I want to test myself."
If Santa Cruz is still standing after 12 rounds then a big salute to him. Davis won't allow that to happen. He's not a guy who looks to win by decision. Tank looks to knock opponents unconscious so he can take pictures of them asleep.
"I don't think I have to knock him out, I just have to go out there and be great. Forget everything else, I just have to go out there and show everyone that I'm the top guy in the boxing world. That's my main goal," said Davis.
Right.
It's not the only good fight on the card.
Mario Barrios (25-0, 16 KOs) defends the WBA super lightweight title against Ryan Karl (18-2) in the co-main event.
Also, on the same card Regis Prograis (24-1, 20 KOs) meets Juan Heraldez (16-0-1, 10KOs) in a super lightweight matchup. Whoever wins will probably meet Barrios for his title soon after. That's if Barrios beats Karl.
It's a boxing card that could see the end of the line for one or two of the fighters.
Monster and Mayer
Japan's Naoya Inoue (19-0, 16 KOs) defends the WBA and IBF bantamweight world titles against Australia's Jason Moloney (21-1, 18 KOs) at the MGM Grand Bubble in Las Vegas on Saturday October 31. It will be his Las Vegas debut and will be televised on ESPN+.
Inoue will be a big favorite and how can you blame odds makers when Moloney's only loss was to Emmanuel Rodriguez who was blown out by the Monster?
But you never know.
"There are a lot of expectations, and I want to meet those expectations. I take those big expectations, and I use them as motivation and power to keep getting better with every fight," said Inoue.
Inoue's last fight nearly a year ago was an epic clash against Nonito Donaire in a classic battle that saw both deliver bombs and take them in a 12-round fight that ended in a close but unanimous victory for the Japanese star.
Boy was it close.
Until the 11th round it was nip and tuck as Donaire proved why he is destined to be a surefire Hall of Fame inductee when he retires.
Both punished each other and during their confrontation it was evident that Inoue does indeed have a solid chin. One big question will be if Inoue took too much punishment and can he handle a rough customer like Moloney.
"Every fighter should want to fight the best. That's why we're in this sport. My dream and my goal is to be the best bantamweight in the world, and the only way to make that happen is to beat Inoue," said Moloney.
It should be an interesting match.
Also, female American Olympian Mikaela Mayer (13-0) challenges Poland's Ewa Brodnicka (19-0) for the WBO super featherweight world title. Expect no quarter given by Mayer who has been gunning for a title challenge for the past two years with most of the titleholders in Europe ignoring her.
Brodnicka expects a tough fight.
"I have a lot of things against me. But I'm ready. I don't care if she says that she doesn't respect me. She makes a lot of mistakes, and I'm going to take advantage of all of them," Brodnicka said.
Mayer is not in a good mood.
"I have been calling out the champs for a while. It's been something I feel like I've been ready for a few fights, but now in hindsight looking back, I think everything worked out perfectly. Like Bob Arum said, I've had some really great fights, and I've really been able to settle in to my pro style. I'm more ready than ever to take on these world champions. I feel like I'm the best in this division," said Mayer.
Sunday
A Sunday afternoon boxing card by Thompson Boxing Promotions takes place at the Omega Products International in Corona, CA but will not include fans.
Undefeated lightweights Mike Sanchez (6-0-1, 2 KOs) faces Israel Mercado (8-0, 7 KOs) in the main event on Sunday Nov. 1. It will stream on Thompson Boxing Promotions web page and also on its Facebook page beginning at 4 p.m. PT.
Go to this link to watch the fight card: www.thompsonboxing.com
Check out more boxing news on video at the Boxing Channel 
To comment on this story in the Fight Forum CLICK HERE
Usyk vs. Chisora Sets the Table for a Strong Night of Boxing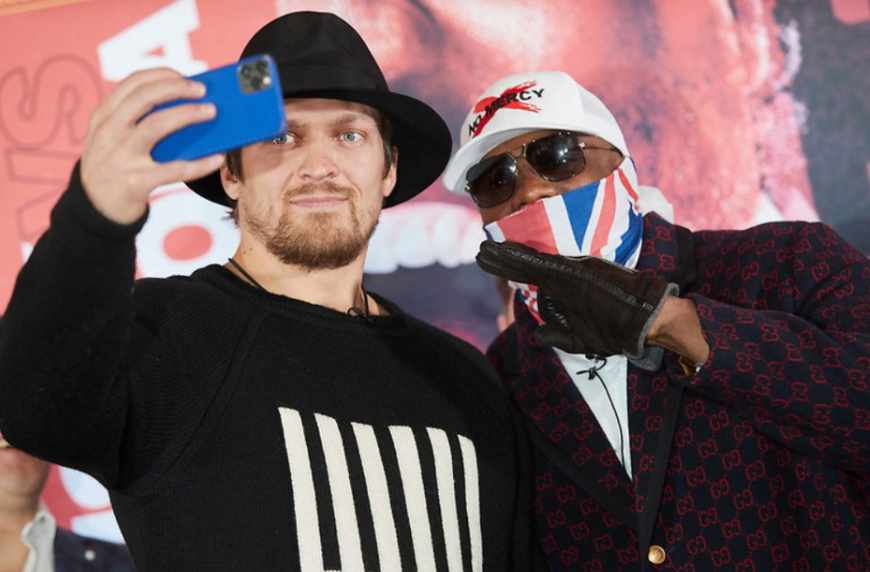 It's been largely lost in the ragout, at least on this side of the pond, but Saturday's busy fight docket includes the return of Oleksandr Usyk, the former Olympic gold medalist who left the cruiserweight ranks as a legitimate four-belt champion. The 33-year-old Usyk (17-0, 13 KOs), opposes tough but erratic Dereck Chisora, a 36-year old Londoner by way of Zimbabwe. Chisora (32-9, 23 KOs), has won five of his last six, the setback occurring in his second encounter with arch-rival Dillian Whyte.
Usyk vs. Chisora, a Matchroom promotion, will play out at Wembley Arena with no fans in attendance. The Ukrainian southpaw is ranked among the top three heavyweight contenders by all four major sanctioning bodies although he has fought only once as a heavyweight, turning away under-trained late sub Chazz Witherspoon who was all in after seven frames. Usyk weighed 215 for that contest and is expected to come in about 230 for Chisora.
Usyk, who has anglicized his first name to Alexander on his English-language twitter feed, is a big favorite, but this is a tricky fight for him. The consensus 2018 Fighter of the Year, Usyk has fought only twice since unifying the cruiserweight title with a lopsided decision over Murat Gassiev in July of that year and 55 weeks have elapsed since his last start. If he needs the early rounds to shake off ring rust, he could find himself clawing out of a hole, and sometimes the hole is too deep as Usyk's stablemate Vasiliy Lomachenko can attest. Moreover, Usyk has yet to face a naturally bigger man who can bang as hard as "Del Boy."
The Usyk-Chisora card will air in North America on DAZN with the main event ring walks anticipated about 6 pm ET.
The tiff is hitched to an interesting undercard. Once-beaten Welshman Lee Selby, briefly the IBF featherweight champion, tangles with Australia's undefeated (18-0) George Kambosos Jr. Savannah Marshall, who saddled Claressa Shields with her only amateur loss, meets former Shields opponent Hannah Rankin with a vacant world middleweight title at stake, Belfast's Tommy McCarthy opposes Belgium's Bilal Laggoune for a domestic cruiserweight title, and then there's the heavyweight fight attracting buzz between popular Yorkshireman David Allen and Christopher Lovejoy.
The buzz surrounds the mysterious 36-year-old Lovejoy who is 19-0 as a pro with all but two of those KOs coming in the opening round.
All of Lovejoy's fights were staged in Tijuana. Only one of his opponents brought a winning record. For a certain stripe of fighter, Tijuana is the equivalent of a feed lot, a place where livestock go to get fattened up before they are sent off to the slaughterhouse. David Allen is limited, but the most likely scenario in this fight is that it ends with Lovejoy sitting on his stool.
Check out more boxing news on video at the Boxing Channel 
To comment on this post in the Fight Forum CLICK HERE
Diego Magdaleno is Locked and Loaded for Saturday's Fray in San Antonio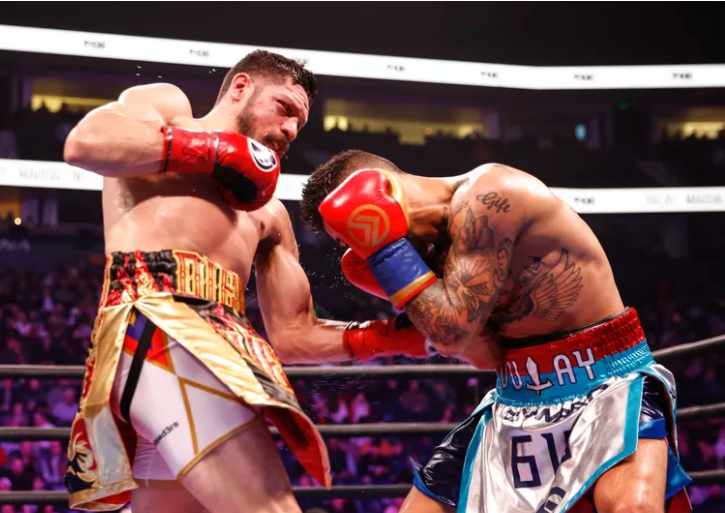 Diego Armando Magdaleno, the son of a former semi-pro soccer player, was named for Argentine soccer star Diego Armando Maradona. But Diego's father Jesus is hardly disappointed that his son devoted his energies to a different sport than soccer as Diego, the oldest of Jesus's three boys, has carved out a nice career as a boxer. On Saturday, he faces Isaac Cruz at the San Antonio Alamodome and a win could thrust him into a third crack at a world lightweight title. Magdaleno vs. Cruz will be televised as part of a SHOWTIME PPV event anchored by a battle between title-holders Gervonta "Tank" Davis and Leo Santa Cruz.
The bookies don't know what to do with the Magdaleno-Cruz matchup. One can find odds on fights of lesser importance, but with the fight only four days away the pricemakers were in quandary. Team Magdaleno, however, is approaching the fight as if they are the "B" side. Mexico City's Isaac Cruz, who boasts a 19-1-1 record and is undefeated in his last 15 starts, has a fan-friendly style and is only 22 years old. In theory, he has more value to the promoter going forward than Magdaleno (32-3, 13 KOs) who turns 34 this week.
Magdaleno relishes the underdog role. He was the "B" side in his most recent fight when he opposed Austin Dulay in Dulay's hometown of Nashville, Tennessee, and he carved out a clear-cut 10-round decision. Dulay, the younger man by nine years and less experienced at the pro level, was in over his head. Their fight was nationally televised on FOX.
Diego Magdaleno was born in Beverly Hills, California, but unlike many folks born there wasn't born with a silver spoon in his mouth. "We were more like the Beverly Hillbillies," says Diego, a reference to the popular sitcom that ran on CBS from 1962 to 1971.
For many years, Diego's father, an immigrant from Sahuayo in the Mexican state of Michoacan, worked at the flagship West LA branch of an iconic Greater Los Angeles hamburger chain. Diego's parents now manage a 7-11 in Las Vegas.
When Magdaleno first laced on the gloves it was at the Brooklyn Avenue boxing gym in the gritty Boyle Heights section of Los Angeles, the same gym where Oscar De La Hoya trained for the Olympic Trials. He continued with the sport after his family – he has three older sisters – moved to Las Vegas.
Diego influenced both of his younger brothers to become boxers. Jessie Magdaleno surpassed him in name recognition when he upset Nonito Nonaire in November of 2016, earning him the WBO world super bantamweight title. Jessie lost the belt in his second defense, succumbing to Isaac Dogboe, but has won three straight since that mishap, advancing his record to 28-1. The youngest Magdaleno brother, Marco, was 4-0 as a pro when he abandoned the sport, having secured a job with good pay and benefits in the construction field.
Diego has applied some of his ring earnings toward a real estate investment in Scipio, Utah, where he owns a parcel of land adjacent to a pioneer home. Scipio is a four-hour drive from Las Vegas and figuratively a million miles away. What does one do for fun in Scipio, pop. 288? The first thing that popped up in our internet search was to go grab a sandwich at the Burger Barn.
There's a back story there. The pioneer home, built in 1886, was recently purchased by Diego's fiancée Shannon Torres, a descendent of one of Scipio's founding families. She and Diego are restoring it. Diego professes to be amazed at the craftsmanship. "When we pulled up the carpets," he said, "the original hardwood floors were still in great condition."
Shannon Torres has a boxing background, having fought as an amateur and having sparred with the likes of Mia St. John. She is also a nutritionist. Diego confesses to having a sweet tooth, being fond of cheesecake and anything with peanut butter. "She knows how to make those things for me so they are not as unhealthy," he says.
Magdaleno's first loss came in April of 2013 when he lost a split decision to Ramon Martinez in Macau. Diego thought he won the fight, but only one of the judges concurred. At stake was Martinez's WBO 130-pound world title. His second world title opportunity came against WBO lightweight champ Terry Flanagan on Flanagan's turf in Manchester, England. That didn't go well.
"When I got in the ring, it felt like there was sand under my shoes," said Diego. "My right foot was sliding underneath me. I overcompensated and that caused me trouble." Magdaleno loaded up on his punches, a fatal mistake, and was knocked out in the second round.
Top Rank dropped Magdaleno after that fight but would eventually bring him back to fight their rising star Teofimo Lopez. His fight with Austin Dulay was his first fight back after his loss to Lopez (TKO by 7) and his first with new trainer Bones Adams (pictured on the left) in his corner.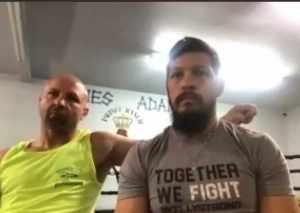 Isaac Cruz poses a different threat than Dulay partly because Cruz, who stands only 5'4 ½", is a lot shorter. But Magdaleno is confident the result will be the same.
"His style is attack, attack, attack; it's one-dimensional," says Diego. "I have been in there and done things that this kid has never seen. I am a big step up for him."
Unlike many prizefighters, Diego Magdaleno knows where he is heading after his career is finished; he is already a licensed real estate salesman with one listing to his credit. He's bi-lingual despite having spent only three months living in Mexico, that as a first-grader, and his linguistic versatility will come in handy in his second career. "I know just enough Spanish to get by," he says, but having heard him speak in his parents' native tongue we can attest that he's being much too modest.
For the time being, however, Diego isn't looking past Saturday night. Magdaleno vs. Cruz is expected to go first on the four-fight PPV portion of the card which kicks off at 9:00 p.m. ET/6:00 p.m. PT.
Magdaleno/Dulay photo credit: Stephanie Trapp
Check out more boxing news on video at the Boxing Channel 
To comment on this story in the Fight Forum CLICK HERE