Avila Perspective, Chap 73: Gesta vs Morales, Celebrity Boxing, Liston and More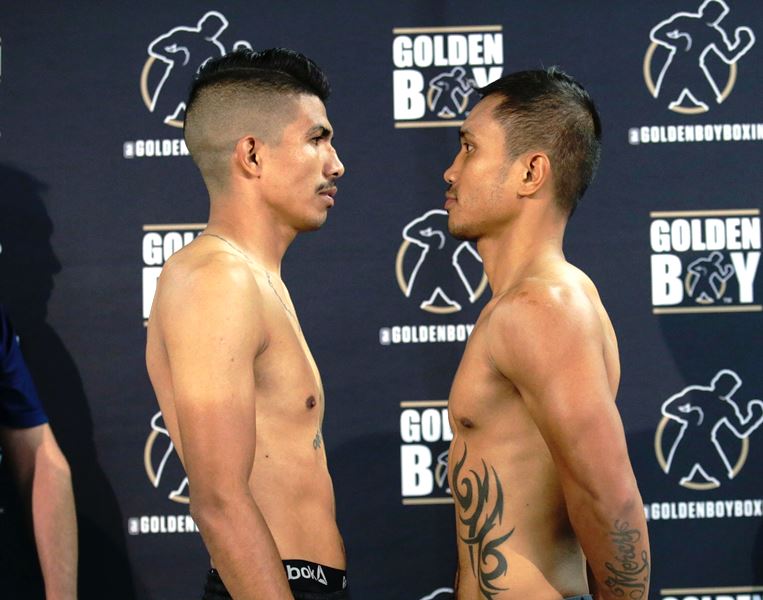 One of the rewards for journalists following smaller boxing cards is watching new talent emerge. Every so often you spot the gold nuggets among the heap.
Some fighters stand out immediately before even stepping in the prize ring. Others walk in hesitantly with dirty towels wrapped around their shoulders.
On Thursday, Carlos "The Solution" Morales (19-4-3, 8 KOs) and Mercito "No Mercy" Gesta (32-3-2, 17 KOs), who arrived on the hard road of boxing, meet in a lightweight match set for 10 rounds at Belasco Theater in downtown L.A. DAZN will stream live.
Two classier guys you will never meet than Gesta and Morales.
Gesta, a southpaw from Cebu, Philippines, arrived in 2007 and immediately found work on casino fight cards in Arizona, California and Nevada. His athleticism was obvious and he raced through competition till he met Mexico's Miguel Vazquez for the IBF lightweight world title.
In that first loss, fans learned what Gesta was all about. He was gracious in defeat and fans loved his character. From that point on more people wanted to see the Filipino lefty perform. After Top Rank let him go, Golden Boy Promotions picked up his contract and he became a staple on the Southern California fight scene.
Win or lose, fans adore Gesta who was trained by Freddie Roach at the Wild Card Boxing club in Hollywood but now works with Marvin Sonorio. A decision loss to WBA lightweight titlist Jorge Linares at the Inglewood Forum did nothing to diminish Gesta's fan base.
"I need challenges and I like challenges," said Gesta during an interview with Beto Duran on Golden Boy's Ring Side show. "I still feel great and still feel in the game."
How could you not like a fighter like Gesta?
On the opposite corner at Belasco Theater will be "The Solution" Morales.
When Morales first entered the professional fight scene he stumbled a bit with a loss then three consecutive draws. I saw all four fights in person. The Mexican-born fighter needed about two years to figure out what worked for him.
He's found it.
Morales, a gym rat if I ever saw one, purchased his own gym in the Alhambra area. He's a family man, worker and businessman all rolled into one. The Mexican fighter needed time to discover his assets in the ring and use them in a productive manner.
Though he's lost three of his last six fights they all came against top competition such as world champion Alberto Machado, ranked contender Rene Alvarado and current star Ryan Garcia. In each and every one of those fights Morales was up to his neck in battle.
"I definitely need a win over a name like Mercito Gesta," said Morales. "He's been in the game a long time."
In local gyms he spars with many of the best and on occasion they understand what "the Solution" is all about.
"He is very, very good," said one visiting Japanese fighter who witnessed Morales knock out a sparring partner in one particular session. "A very professional style."
Both Gesta and Morales represent the side of Los Angeles most fans don't get to see. Once upon a time, matchups like these were common in the L.A. area. Golden Boy Promotions has been slowly building up these local fighters and if you have paid attention you know this will be a firecracker of a show.
This is a 1930s kind of match you used to see at the old Olympic Auditorium or Hollywood Legion Stadium when guys like Speedy Dado, Baby Arizmendi, Chalky Wright and Newsboy Brown would fight each other and fill the arena. Dado would bring the Filipino crowd, Arizmendi the Mexican crowd, Wright the African- American fans, Newsboy Brown the Jewish fans and so on.
Gesta versus Morales has that 1930s flavor. If you close your eyes you might expect a ghost or two from boxing's past to be in attendance at Belasco Theater. It's an old venue where famous bandleaders like Duke Ellington once played. It's got a lot of history and this fight was tailor-made for the old stylish building.
Celebrity Boxing
Nowadays celebrities come from different directions.
Last week, celebrities who gained fame via social media avenues like YouTube.com, Twitter and Instagram, arrived at the Staples Center in Los Angeles with hands wrapped, gloves on and a license to box professionally.
Their names were not familiar to regular boxing fans, but to millions of youngsters and young adults who do not normally follow boxing, these guys named Logan Paul, KSI and Joshua Brueckner were super stars.
It was a massive hit according to DAZN and Matchroom Boxing, the promoters.
I walked around the arena to take a look at the people arriving to see the boxing card. What I saw were moms and their sons and daughters, groups of girls in their early teens, and pale boys who normally don't see much sun because they're usually planted behind a computer playing video games. They all had a blast.
Most of these fans had never seen live boxing and got their first glimpse of prizefighting at a high level when Ronny Rios defended his WBA Gold super bantamweight title against Colombia's Hugo Berrio. The Santa Ana fighter Rios came out firing thudding body shots that echoed in the arena. You could hear the responses from the new fans who openly expressed their amazement with a roar of applause at the display of power.
It's one thing to see a fight but a whole new thing to hear power shots bouncing off another human being. Rios pummeled Berrio up and down and eventually knocked out the Colombian with a three-punch combination in the fourth round. Fans were awestruck.
You never forget your first live prizefight. It burns in your memory forever. All of these new fans will never forget watching a live boxing card.
Watching the responses of the new kind of crowd was an experience in itself. Many of these fans will return for more. Their excitement was pure and untainted.
Showtime
A feature documentary visiting the life of Sonny Liston called "Pariah: The Lives and Deaths of Sonny Liston" makes its debut on Friday Nov. 15 on Showtime at 9 p.m. (PT).
Liston was one of the most mysterious and feared heavyweight champions of all time. Read the story by Bernard Fernandez to get a preview of what to expect from the documentary. It's riveting stuff: https://tss.ib.tv/boxing/featured-boxing-articles-boxing-news-videos-rankings-and-results/61445-from-womb-to-tomb-the-fate-of-sonny-liston-was-seemingly-preordained
Though Liston died 49 years ago in December 1970, he's still discussed by boxing people especially in Las Vegas where he lived and died.
Fights to Watch (all times Pacific Coast time)
Thurs. DAZN 7 p.m. Mercito Gesta (32-3-2) vs Carlos Morales (19-4-3).
Fri. ESPN+ 12 p.m. Rocky Fielding (27-2) vs Abdallah Paziwapazi (26-6-1).
Fri. Showtime 7:30 p.m. Erik Ortiz (16-0) vs Alberto Palmetta (12-1).
Sat. ESPN+ 12 p.m. Lee McGregor (7-0) vs Kash Farooq (13-0).
Photo credit: Kyte Monroe
Check out more boxing news on video at The Boxing Channel 
To comment on this story in The Fight Forum CLICK HERE
Today's Deep Boxing Menu Kicks Off with a Heavyweight Super-Fight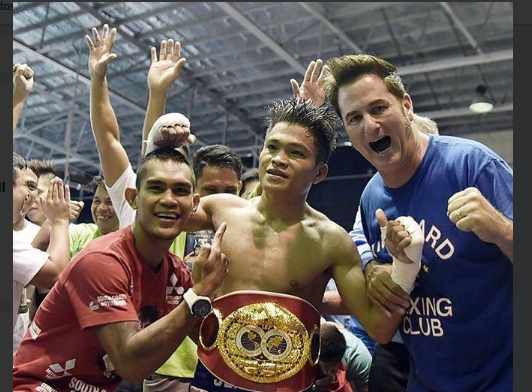 Three world champions are in action today and also a former world champion and we're not even talking about Saudi Arabia. Welcome to the new world order of boxing where two or more significant shows overlap seemingly every weekend and a man needs more than two eyes to keep track of all of them in real time.
December is historically a slow month for boxing but history doesn't stand still. The big heavyweight shebang in Diriyah will cast a long shadow, burying the opposition in a tsunami of words, but that is of no consequence to some boxing promoters who are contractually obligated to their live-streaming partners to provide a steady stream of fresh content no matter the competition.
Two of the title-holders – WBO super bantamweight champion Emanuel Navarrete and IBF super flyweight champion Jerwin Ancajas (pictured) – are in action on the same card in Puebla, Mexico. Their bouts will air on ESPN+.
Navarette (29-1, 25 KOs) has won 24 straight and is defending his title for the fourth time in the last seven months. He is the ironman of active title holders and on the short list of fighters in the running for Fighter of the Year. His opponent, fellow Mexican Francisco Horta, is unbeaten in his last 13 starts, elevating his record to 20-3-1 (10), but he's fought only one fight scheduled for more than eight rounds and that was back in May of 2015.
On paper this is a shameless mismatch.
Anjacas (31-1-2, 21 KOs) will be making the eighth defense of the title he won from McJoe Arroyo. The talented Filipino opposes Miguel Gonzalez (31-2, 8 KOs), a mystery fighter who, except for one fight, has fought exclusively in his native Chile.
Brooklyn
In the main go of the SHOWTIME card at Barclays Center, Jermall Charlo (29-0, 21 KOs) risks his undefeated record and his WBC world middleweight title against Dennis Hogan (28-2-1, 7 KOs). It's the third defense for Charlo who previously held a world title at 154 pounds and has fought three of his last four fights in this building.
Jarmall Charlo, like his twin brother Jermell, packs a big punch but in his last two fights he was extended the distance by Matt Korobov and Brandon Adams and consequently his aura lost some of its sheen.
The opposite applies to Hogan. An Australian by way of Kilcullen, Ireland, Hogan saw his stock shoot up a hundredfold while losing to 12-round majority decision to Mexico's undefeated knockout artist Jaime Munguia this past May in Monterrey, Mexico. The crowd booed the decision and several pundits called for an investigation of female judge Woleska Roldan who awarded Munguia eight rounds and had previously come under fire for scoring the Horn-Pacquiao fight 117-111 for Horn.
Topping the undercard is a 12-round middleweight match between Chris Eubank Jr and the aforementioned Korobov with the winner becoming the mandatory challenger for the Charlo-Hogan winner.
Montreal
David Lemieux (40-4, 34 KOs) returns to the ring after a 15-month absence to fight Max Bursak (35-5-2,16 KOs). It's Lemieux's maiden voyage as a super middleweight.
Lemieux's co-promoter Camille Estephan says this fight is a litmus test for the former IBF middleweight champion to see if he can carry his power to the next level. Bursak, a 35-year-old Ukrainian, has never been stopped.
Lemieux's hiatus was elongated by a hand-injury so it won't be surprising if this fight goes the full 10. Bursak previously challenged WBO 168-pound title-holder Gilberto Ramirez and lost every round.
The chief undercard fight has even less intrigue. It pits the giant Russian heavyweight Arslanbek Makhmudov (6'5 ½", 261 pounds) against former WBC heavyweight title holder Samuel Peter.
There was a time when Peter, the erstwhile Nigerian Nightmare, was considered the hardest punching heavyweight since a prime Mike Tyson, but that was long ago. He's now 39 years old and playing out the string. The guess is that he hangs on for a few rounds before bowing out with an alleged injury, whereupon Makhmudov will improve his pro ledger to 10-0 (10 KOs).
—–
Here at The Sweet Science, our first priority will be to keep you informed of the goings-on in Saudi Arabia. We'll get the result up fast and then, somewhat later in the day, publish a more in-depth story about the event by Hall of Fame boxing writer Thomas Hauser.
Stay in touch.
Check out more boxing news on video at The Boxing Channel 
To comment on this story in The Fight Forum CLICK HERE
Remembering Leotis Martin who KOed Sonny Liston 50 Years Ago Today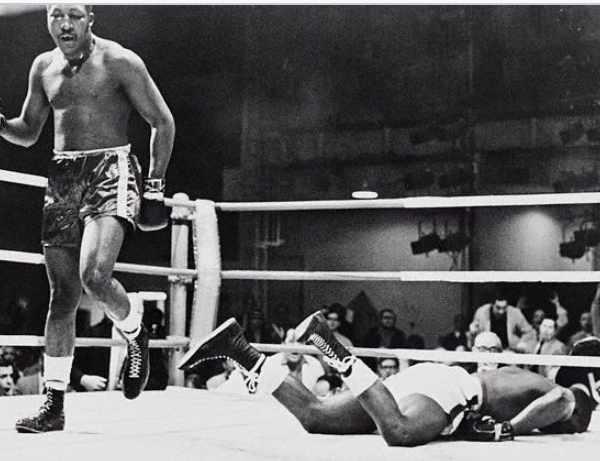 On Dec. 6, 1969, 50 years ago today, former heavyweight champion Sonny Liston fought former sparring partner Leotis Martin on the stage of the showroom of the newly built International Hotel in Las Vegas, a property that subsequently took the name Las Vegas Hilton and is called the Westgate today. The Sunday afternoon fight was televised by ABC's "Wide World of Sports" with Howard Cosell behind the mic. The match was slated for 12 rounds. The victor would be recognized as the heavyweight champion of the newly formed North American Boxing Federation.
Leotis Martin, who resided in Philadelphia, was a former national Golden Gloves and national AAU middleweight champion. As a pro, he was 30-5 with 18 knockouts. But he was given scant chance of defeating Sonny Liston (49-3, 38 KOs) who had won 14 in a row, 13 inside the distance, since his second defeat to Muhammad Ali. Although Liston had defeated no one of note during this run, he had yet re-established himself in the public mind as one of the hardest hitting punchers ever.
Martin had several other things working against him. He was a small heavyweight. Liston, who came in at 220, would out-weigh him by 21 pounds. And he wasn't a full-time boxer. In Philadelphia, he was a machinist for the Budd Company, one of America's leading manufacturers of metal components for automobiles and railroad cars.
Martin had helped Liston train for his matches with Floyd Patterson and Muhammad Ali. When a big name fighter is matched against a former sparring partner, there is always the suspicion that a gentleman's agreement is in effect.
Liston vs Martin played out somewhat like the recent fight between Deontay Wilder and Luis Ortiz although it lasted two rounds longer.
After eight frames, Liston was ahead by two points on one of the scorecards and by three points on the others on Nevada's "five-point-must" system. A flash knockdown of Martin in round four contributed to the imbalance.
Martin could sense that Liston was tiring, but it wasn't apparent to those in the audience – reportedly 1,800 paid – and that made the drama that was about to unfold all the more dramatic.
In round nine, Leotis landed three unanswered combinations, one right after the other. The third was the classic one-two: left to the body, right to the jaw. Sonny Liston pitched forward, landing face first to the canvas, dead to the world. The ref counted "10" over his prone body. "He could have counted to 300," said Review-Journal ringside reporter Jimmy Cox.
Nevada's ringside physician, Dr. Donald Romeo, came equipped with capsules of ammonia. The first one that he broke and waved under Sonny's nose had no effect. The second capsule brought Liston out of his slumber.
Sonny Liston was reportedly 39 years old, but was widely considered to be somewhat older than his listed age. The brutal manner in which he succumbed to Leotis Martin seemingly indicated that he had reached the end of the line, but he wasn't done quite yet. Six months later, at the Armory in Jersey City, he butchered Chuck Wepner, the "Bayonne Bleeder," in a fight stopped by the ring doctor after nine rounds.
That would prove to be his final fight. On Jan. 5, 1971, Sonny's wife Geraldine returned to their home in Las Vegas from a 12-day holiday trip to St. Louis, her hometown, and found her husband dead in their bedroom. Rigor mortis had already set in.  The coroner's report said Liston died from congestive heart failure, but that didn't explain what brought on the coronary and there's strong circumstantial evidence that he was a victim of foul play.
Leotis Martin's triumph elevated him to #1 in the heavyweight rankings of the WBA, the sport's paramount sanctioning body. A fight with fellow Philadelphian Smokin' Joe Frazier was his likely reward. But it wasn't to be.
Martin emerged from his fight with Liston with a detached retina. Back in those days, retinal detachment surgery was a hit-and-miss proposition. The most famous boxer to have his retina repaired mid-career was Sugar Ray Leonard, but that didn't happen until 1982 and it was a far more complicated procedure than what it is nowadays. Three ophthalmic surgeons attended Sugar Ray during his two-hour operation at Johns Hopkins Hospital in Baltimore.
Leotis Martin basically had no choice but to retire. His signature win would be the final fight of his career.
Martin returned to Philadelphia and to his job in the foundry and lived out his days quietly in the city's racially diverse Mount Airy neighborhood. In November of 1995 he passed away after suffering a stroke brought on by diabetes and hypertension. He was 56 years old.
By the way, Tim Dahlberg was one of the ringside reporters. This was his first prizefight. In time he would travel the globe as the National Sports Columnist for the Associated Press and he's still going strong today.
Reminiscing about his first prizefight with Las Vegas sports columnist Ron Kantowski, Dahlberg recalled that there was a young heavyweight on the Liston-Martin undercard that looked pretty good.
The kid's name was George Foreman.
Check out more boxing news on video at The Boxing Channel 
To comment on this story in The Fight Forum CLICK HERE
Downtown LA Fight Results From the Exchange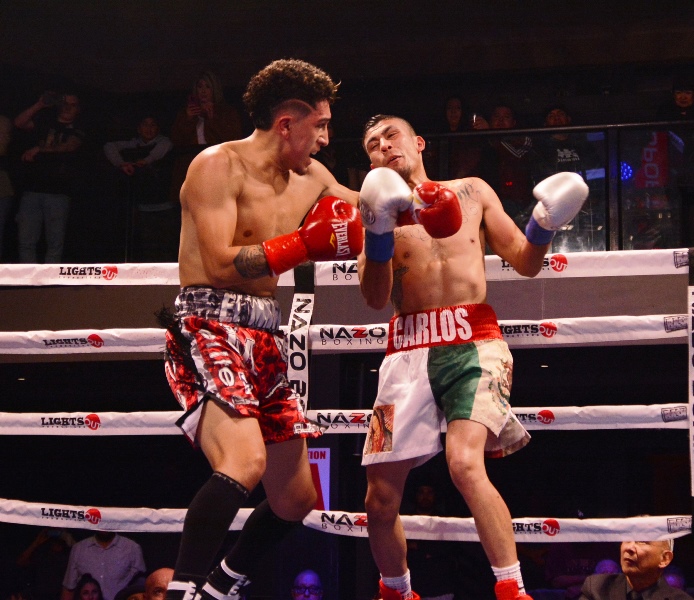 Downtown LA Fight Results From the Exchange
LOS ANGELES-Built in 1931 the Exchange was the former home of the stock market exchange for the West Coast. On Thursday night it was the home for professional boxing.
Jessy Martinez led a slew of prospects ready to showcase their fighting skills among the many business types at the Exchange located on the 600 block of Spring Street. He didn't need more than one round to reveal his talent at the Bash Boxing show.
Martinez (14-0, 9 KOs) used the first minute or so to determine the incoming fire from Mexico's Carlos Huerta (6-5-2), a fighter of similar height and speed. Once he learned the magnitude and strength of the punches coming his way, Martinez (pictured on the left) unfurled his own combination and saw his right cross visibly do damage.
A slow developing 12-punch combination by Martinez rocked Huerta who tried to evade the blows to no avail. Finally an overhand right dumped a bleeding Huerta into the ropes as referee Wayne Hedgpeth immediately waved the fight over at 2:26 of the first round.
It was a short but destructive win for Martinez who fights out of toney Woodland Hills, California.
"Hard work pays off," said Martinez.
Another featured fight saw Compton featherweight Adan Ochoa (11-1, 4 KOs) slug it out with Chile's Juan "La Maquina" Jimenez (8-9) for five destructive rounds. Though Ochoa had the height, speed and skill advantage, the Chilean fighter walked through every exchange and was cut in the first round because of his reckless charges.
But he fought hard.
Ochoa seemed to have Jimenez in trouble early with single power shots, but was unable to put the final touch. In the fifth round a clash of heads resulted in a gash above Jimenez's forehead and blood came streaming down. The fight was stopped and due to the cut caused by an accidental clash of heads, the fight was stopped and Ochoa was deemed the winner by technical decision 50-45 twice and 49-46.
"He's an Hispanic fighter and all Hispanic fighters are tough," said Ochoa.
A welterweight fight saw Vlad Panin (7-0) use his physical superiority to defeat Mexico's Daniel Perales (11-19-2) in a four round contest. Panin is a fighter of Belarus lineage and had solid support from his fans who saw him handily defeat Perales by unanimous decision.
Other Bouts
Five of the bouts featured four-round fights and the best of them all saw Orange County-based Victor Rodriguez make his pro debut. He looked very sharp for someone getting his baptism under fire.
Rodriguez (1-0) trains at Grampa's Gym in Westminster and showed off a very sharp left jab that kept Osman Rivera (2-12-1) from penetrating into the fire zone. Both boxers had large followings and the crowds exchanged competitive cheers for their fighters throughout the four round match. Rodriguez was just a little too sharp for Rivera who was slightly frustrated. All three judges scored the fight 40-36 for Rodriguez.
Other results: Keehwan Kim (4-1) defeat Percy Peterson (3-16-3) by majority decision in a super featherweight contest that opened the show.
Isaac Lucero (1-0) won his debut by knockout in the first round over Anthony Zender (1-6) in a welterweight clash. Lucero floored Zender twice before the fight was stopped at 1:29 of the first round.
Austin Gudino (5-0) remained undefeated by decision after four rounds versus Nobelin Hernandez (0-4) in a super lightweight fight.
Moises Fuentes (4-1) slugged out a win over Sacramento's tough Moris Rodriguez (8-16-1) after six rounds in a welterweight clash. Each round was hotly contested. The scores were 60-54 twice and 58-56.
Photo credit: Al Applerose
Check out more boxing news on video at The Boxing Channel 
To comment on this story in The Fight Forum CLICK HERE