Hits and Misses from Another Weekend in Boxing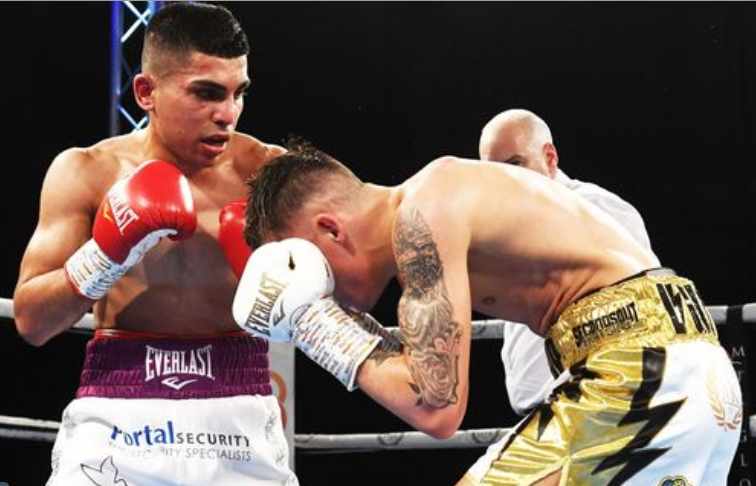 The boxing scene this past weekend lacked the international superstar flavor of previous weeks when Naoya Inoue and Canelo Alvarez did their things on grand stages but, in fact, there was a vast slate of important matchups all over the world and by the time all the punches had been thrown and landed, there was a strong list of qualified candidates for this week's TSS Hits and Misses feature.
Here are the most important takeaways from another busy weekend in boxing.
HIT: Lee McGregor and Kash Farooq's Brilliant British Bantamweight Battle 
There was no reason for undefeated bantamweights Lee McGregor and Kash Farooq to fight each other this early in their careers. Sure, each man boasted one of the most prized domestic titles in the sport, McGregor the Commonwealth title and Farooq the British version. But those belts are usually won by fighters making their way up the rankings, especially in cases where the belt holders so aptly appear capable of someday competing at the world level, so it didn't make much sense for either man to take the unnecessary risk.
But McGregor, 22, and Farooq, 23, fought each other anyway, with McGregor (pictured on the right) edging out the split decision by scores of 115-112, 114-113 and 112-115 in what turned out to be just as terrific a fight as envisioned.
It was a close contest that could have gone the other way. Regardless, the fans in attendance at Glasgow's Emirates Arena were treated to a riveting battle between two of Scotland's best young fighters.
That one had to lose for the other to accomplish the life-changing unification win was less important than the grander scheme view of the sport that is always this: the best versus the best at any level benefits both the winner and the loser for whatever comes next.
MISS: Bill Wanger's Troubling Revelations on Chris Mannix's SI Boxing Podcast
Bill Wanger, EVP, Head of Programming and Scheduling over at Fox, revealed to Chris Mannix on the S.I. Boxing Podcast some troubling details about how he, one of the most powerful figures in boxing today, views the current state of the sport.
Among the most unreasonable claims by Wanger were that to alleviate the title belt confusion in boxing the PBC might be on their way toward creating their own belts, the idea that the PBC already possesses 99% of the top overall talent in boxing and that the WBO title Terence Crawford wears is somehow less important than those worn by PBC welterweight titleholders Errol Spence and Manny Pacquiao.
All three of those viewpoints show one of two possibilities. Either Wanger doesn't know anything about boxing at all or he's willing to obscure the truth for his own agenda. The latter is most likely the case and it's not something all that new to the sport. Promoters and TV executives probably lie more than anyone else in boxing.
But haven't we had enough of that already? Boxing has been shooting itself in the foot for decades now because it seems to constantly attract the same kinds of people with the same kinds of agendas.
It would be nice to see someone try something different.
HIT: Pablo Cesar Cano's Surprising Resurgence at Junior Welterweight
Mexico's Pablo Cesar Cano suddenly looks like a legit contender again. Cano is just 30 years old, but just two years ago he appeared to be on his way out of the sport after losing three out of four bouts.
But in the latest edition of Golden Boy Fight Night on Facebook Watch, the 30-year-old junior welterweight rallied from a first-round knockdown to stop Roberto Ortiz in the very next round. It was Cano's third straight win, and his last two were stunning knockout victories.
In January, Cano was a huge underdog when he scored an impressive first-round stoppage over former lightweight titleholder Jorge Linares. Now Cano has done something similar with his quick stoppage of the hard-punching Ortiz at the Plaza De Toros in San Miguel de Allende.
Cano is a solid professional, the kind of hardworking fighter that makes boxing better. It takes courage and tenacity to get through the tough times in a hard sport, but Cano stayed resilient, and now he's set up for more big fights.
MISS: Boxing's Continued Inability to Create Competent Judges 
Showtime's "Shobox: The Next Generation" series is one of the better programs in the sport because it offers talented up-and-comers a chance to showcase their abilities to a larger audience.
But these smaller shows, such as the one that took place in Sloan, Iowa on Saturday night, can often lead to some wacky scores being turned in from judges who just don't seem to know what they're doing.
Such was the case when unbeaten light heavyweight Joseph George was awarded a split-decision victory over Marcos Escudero on Saturday night. Judges Bob LaFratte (97-93) and Carlos Sucre (97-94) somehow saw things go the Houston-based fighter's way when almost everyone else who watched the fight on TV and in the arena, including judge Gloria Martinez, scored the fight for Escudero.
Boxing needs better judges. Everybody knows that. But whatever the solution ultimately turns out to be, the sport needs to do something proactive to keep bad judges out of those seats in the first place.
HIT: Rocky Fielding's Return to Win Column After Devastating KO Loss 
Rocky Fielding was trounced by Canelo Alvarez in just three rounds last December.
Some fighters never recover from getting worked over like that, and the more times it happens, the less likely the fighter can muster the will to move forward.
On one hand, the 32-year-old's only two losses came against Alvarez, who has since gone on to stop Sergey Kovalev for the WBO light heavyweight title, and Callum Smith, the undefeated WBA champion whose World Boxing Super Series tournament performance showcased him as the best 168-pounder in boxing.
On the other, though, Fielding was completely outclassed in both cases, and as fast as Alvarez beat him, Smith did it even faster by stopping Fielding in just one round back in 2015.
So, there was no telling if Fielding could take a step toward becoming a relevant contender again. But the former 168-pound secondary titleholder rebounded nicely by dispatching the heavyhanded Abdallah Paziwapazi in two rounds on Friday night during his hometown return at the Olympia in Liverpool.
Fielding might not ever be able to seriously compete against the very best fighters in the sport, but he's proven to be a hard out for just about everyone else. He's the type of fighter who adds depth to a division and maybe someday he can be something more.
Check out more boxing news on video at The Boxing Channel 
To comment on this story in The Fight Forum CLICK HERE
Downtown LA Fight Results From the Exchange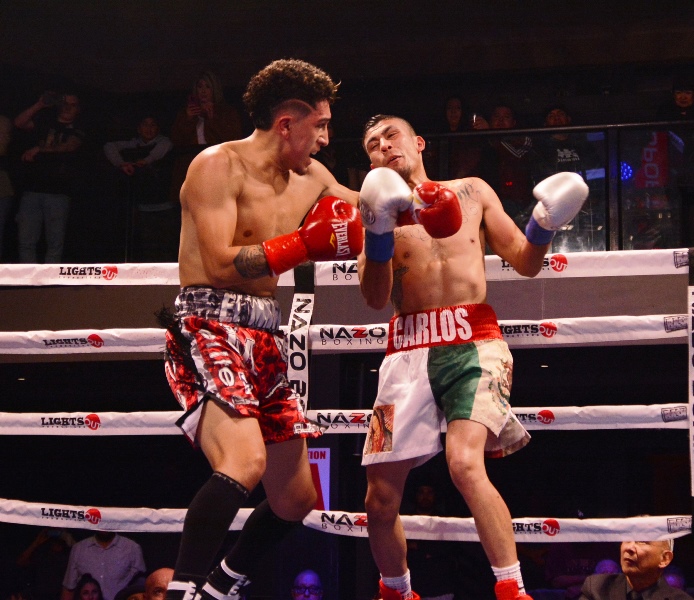 Downtown LA Fight Results From the Exchange
LOS ANGELES-Built in 1931 the Exchange was the former home of the stock market exchange for the West Coast. On Thursday night it was the home for professional boxing.
Jessy Martinez led a slew of prospects ready to showcase their fighting skills among the many business types at the Exchange located on the 600 block of Spring Street. He didn't need more than one round to reveal his talent at the Bash Boxing show.
Martinez (14-0, 9 KOs) used the first minute or so to determine the incoming fire from Mexico's Carlos Huerta (6-5-2), a fighter of similar height and speed. Once he learned the magnitude and strength of the punches coming his way, Martinez (pictured on the left) unfurled his own combination and saw his right cross visibly do damage.
A slow developing 12-punch combination by Martinez rocked Huerta who tried to evade the blows to no avail. Finally an overhand right dumped a bleeding Huerta into the ropes as referee Wayne Hedgpeth immediately waved the fight over at 2:26 of the first round.
It was a short but destructive win for Martinez who fights out of toney Woodland Hills, California.
"Hard work pays off," said Martinez.
Another featured fight saw Compton featherweight Adan Ochoa (11-1, 4 KOs) slug it out with Chile's Juan "La Maquina" Jimenez (8-9) for five destructive rounds. Though Ochoa had the height, speed and skill advantage, the Chilean fighter walked through every exchange and was cut in the first round because of his reckless charges.
But he fought hard.
Ochoa seemed to have Jimenez in trouble early with single power shots, but was unable to put the final touch. In the fifth round a clash of heads resulted in a gash above Jimenez's forehead and blood came streaming down. The fight was stopped and due to the cut caused by an accidental clash of heads, the fight was stopped and Ochoa was deemed the winner by technical decision 50-45 twice and 49-46.
"He's an Hispanic fighter and all Hispanic fighters are tough," said Ochoa.
A welterweight fight saw Vlad Panin (7-0) use his physical superiority to defeat Mexico's Daniel Perales (11-19-2) in a four round contest. Panin is a fighter of Belarus lineage and had solid support from his fans who saw him handily defeat Perales by unanimous decision.
Other Bouts
Five of the bouts featured four-round fights and the best of them all saw Orange County-based Victor Rodriguez make his pro debut. He looked very sharp for someone getting his baptism under fire.
Rodriguez (1-0) trains at Grampa's Gym in Westminster and showed off a very sharp left jab that kept Osman Rivera (2-12-1) from penetrating into the fire zone. Both boxers had large followings and the crowds exchanged competitive cheers for their fighters throughout the four round match. Rodriguez was just a little too sharp for Rivera who was slightly frustrated. All three judges scored the fight 40-36 for Rodriguez.
Other results: Keehwan Kim (4-1) defeat Percy Peterson (3-16-3) by majority decision in a super featherweight contest that opened the show.
Isaac Lucero (1-0) won his debut by knockout in the first round over Anthony Zender (1-6) in a welterweight clash. Lucero floored Zender twice before the fight was stopped at 1:29 of the first round.
Austin Gudino (5-0) remained undefeated by decision after four rounds versus Nobelin Hernandez (0-4) in a super lightweight fight.
Moises Fuentes (4-1) slugged out a win over Sacramento's tough Moris Rodriguez (8-16-1) after six rounds in a welterweight clash. Each round was hotly contested. The scores were 60-54 twice and 58-56.
Photo credit: Al Applerose
Check out more boxing news on video at The Boxing Channel 
To comment on this story in The Fight Forum CLICK HERE
Thomas Hauser Enters the Boxing Hall of Fame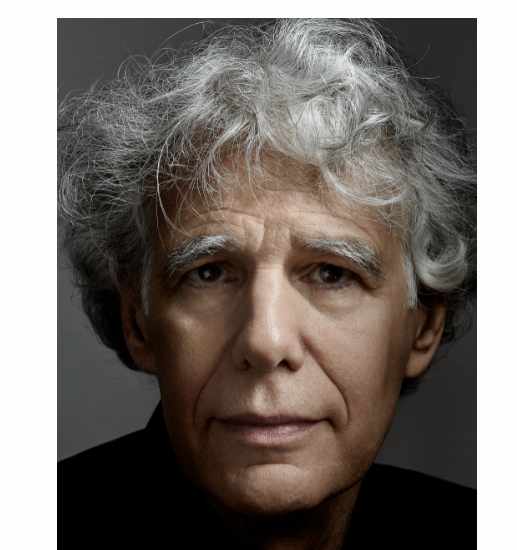 There were 25 names on the Observer Category ballot sent out to those casting votes for the next round of inductions into the International Boxing Hall of Fame. Voters could choose as many as five. The top two vote-getters would get in.
A range of disciplines are included in the Observer category: journalists and photo-journalists, TV executives, broadcasters, record-keepers, statisticians, cartoonists. Some of the 25 potential inductees are long dead such as Percy Dana the great photographer who was omnipresent back in the late 19th and early 20th centuries when the San Francisco Bay area was swarming with big fights. The majority of those on the ballot, however, are still active. They are contemporaries of the electors.
This reporter had a strong feeling that longtime boxing writer and current TSS mainstay Bernard Fernandez would make the cut. Induction into the IBHOF is by nature a lifetime achievement award and Fernandez certainly qualified on that count. Among those stumping for him was ESPN's Dan Rafael who shares his picks with his readers. Rafael's opinions circulate widely among his peers.
We guessed right with Fernandez and then had more reason to strut when the other top vote-getter turned out to be frequent TSS contributor Thomas Hauser.
We didn't see that coming. Yes, we thought that Hauser was more than qualified. Considering some of the "Observers" that were ushered into the Hall before him, his induction was long overdue. But much of Hauser's work falls under the heading of investigative reporting and he has never been shy about airing his political views so we figured that he had alienated just enough voters to ensure that he would be kept waiting indefinitely.
We miscalculated.
Thomas Hauser
Thomas Hauser was born in New York City and grew up in Larchmont, an upper-middle-class village roughly 25 miles north of the city in Westchester County. His father was an attorney with a small general practice in the city and Hauser followed him into the practice of law, clerking for a federal judge and then working as a litigator for a Wall Street law firm after graduating from Columbia Law School.
When Hauser got bored with the life of a Wall Street lawyer, he thought he would give writing a try and then hit the jackpot with his very first book. "The Execution of Charles Horman" was nominated for the Pulitzer Prize, Bancroft Prize, and the National Book Award.
Horman was a left-leaning journalist who was murdered while investigating the possible American masterminding of a military coup in Chile. The book spawned the movie "Missing" which earned Academy Award nominations for Best Picture, Best Actor (Jack Lemmon), Best Actress (Sissy Spacek) and an Adapted Screenplay Oscar for director Costa-Gavras.
The movie put a brighter spotlight on Hauser's book which was re-titled "Missing" and sent him off on the lecture circuit. Here's Hauser in 1982 as depicted in a Los Angeles Times story following his talk at UC Irvine.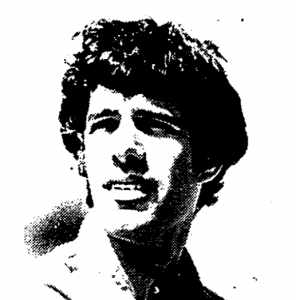 Hauser went on to write so many books that the exact number is uncertain (but somewhere north of 50). That includes works of fiction, works of general non-fiction and, of course, non-fiction books about boxing of which, at last count, there are eighteen. The opus is "Muhammad Ali: His Life and Times." Harking in its design to the works of the great Chicago oral historian Studs Terkel, the book, released in 1991, won the William Hill Award for best sports book, a prestigious award in Great Britain.
Completing the book was an arduous task. Hauser interviewed approximately 200 people. He and Ali spent countless days at their respective homes and after the book was published the two went off on a book signing tour that spanned several continents.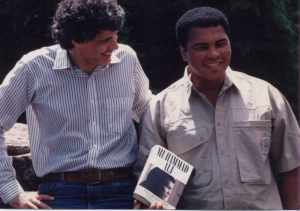 Hauser had interviewed Ali long before they collaborated on the biography. It came when he was a 19-year-old undergraduate at Columbia hosting a weekly sports talk radio show on the student-run radio station. Ali was in town to fight Zora Folley at the old Madison Square Garden – Ali's final fight before his exile – and Hauser wangled his way into Ali's dressing room after Ali completed a public workout and taped an interview. It wouldn't be the last time that he wangled his way into a fighter's dressing room.
Four years later Hauser was at the newly reconstituted Madison Square Garden for the Fight of the Century, the first meeting between Ali and Joe Frazier. It was an epic confrontation, an event that Pete Hamill, writing for Harper's Bazaar, called the most spectacular event in sports history. Hauser's ticket bought him a seat in the last row of the mezzanine, as far away from the ring as one could be.
"Muhammad Ali" was actually Hauser's second boxing book. "The Black Lights: Inside the World of Professional Boxing," published in 1986, looks at all the machinations that led up to the Nov. 3, 1984 match between 140-pound title-holder Billy Costello and Saoul Mamby. Hauser's portrait of Don King jumps off the page.
Hauser's 2001 book, "A Beautiful Sickness: Reflections on the Sweet Science" is noteworthy because it was published by the University of Arkansas Press which has been publishing a Hauser anthology every year since. The books are compilations of Hauser's favorite columns from the previous year.
The books invariably include at least one dressing room story as Hauser takes the reader into the dressing room of a fighter before a fight, giving us a peek at what happens during those pregnant moments before a fighter is summoned to the ring. In the fraternity of boxing journalists, Hauser is the consummate fly-on-the-wall.
Another hat he wears is that of a reformer. Boxing has become a niche sport, he laments, and it brought it upon itself, alienating the fans with too many champions and too many mismatches rather than the best fighting the best. "Having three heavyweight champions," he says, "is like having three Kings of England."
One of Hauser's most admired people in boxing is Dr. Margaret Goodman, the Las Vegas neurologist who is the co-founder and the face of VADA, the Voluntary Anti-Doping Agency. "The most pressing issue facing boxing today," says Hauser, "is the rampant use of performance enhancing drugs." Hitting a baseball harder and further is one thing. Hitting a man in the head harder warrants greater reproach.
The new inductees will be formally enshrined in the Hall on Sunday, June 14, the climax of Hall of Fame weekend, a four-day event.
From our perspective here at The Sweet Science, it will be cool to see Thomas Hauser and Bernard Fernandez on the dais together in Canastota. I wonder if we could induce them to wear a "The Sweet Science.com" tee shirt?
Probably not.
Photo (c): Wojtek Urbanek
Check out more boxing news on video at The Boxing Channel 
To comment on this story in The Fight Forum CLICK HERE
The Official TSS Ruiz-Joshua II Prediction Page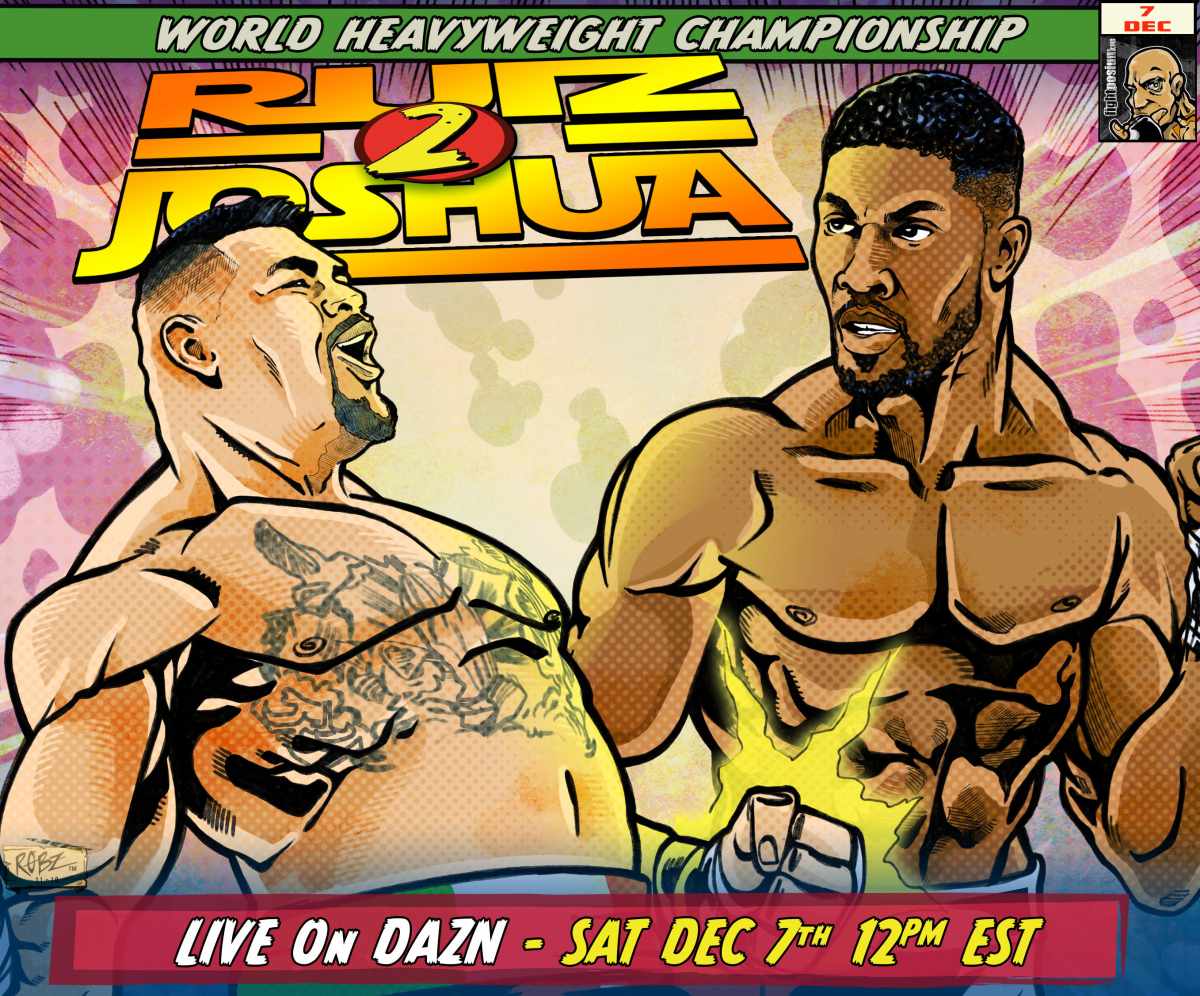 The Official TSS Ruiz-Joshua II Prediction Page
Whenever a big fight comes down the pike, we like to survey members of our editorial staff to get their opinions. However, not all big fights qualify – only those in which the odds suggest that the underdog has a reasonable chance of winning. After all, what's the point in running a survey if all the responses figure to be pretty much alike?
We did not perform this exercise for Joshua-Ruiz I because the odds were skewed too heavily in favor of Anthony Joshua. It was inevitable that Joshua would have his hand raised in triumph, or so it seemed to the vast majority of those who cover the sport.
You know the rest of the story.
STAFF PREDICTIONS
I see Joshua-Ruiz II resembling Kovalev-Alvarez. Joshua is going to fight a very technical fight behind the left jab and look to keep Ruiz at the end of that jab for much of the contest. And Ruiz will be loading up looking to land that fight altering punch like he did in the first fight. But this time, it won't come. Joshua puts on a boxing clinic and wins a wide twelve round unanimous decision. – MATT ANDRZEJEWSKI
I'm picking Andy Ruiz for the stoppage in the late rounds. If Anthony Joshua wins it will be by knockout early but I'm betting Ruiz can handle his power. After that its Ruiz going to the body and wearing down the bigger fighter. Ninth round stoppage win for Ruiz. – DAVID AVILA
There is a saying in boxing that some fighters "look like Tarzan, fight like Jane." It means pretty much the same thing as you can't judge a book by its cover. It's true, too. If beautiful, sculpted physiques are the determining factor of ring greatness, Mike "Hercules" Weaver — to be fair, a onetime alphabet champion for a hiccup or two — might have been the best heavyweight ever. Which brings us to Ruiz-Joshua II. If Andy Ruiz Jr. wolfs down all his Thanksgiving leftovers, he might show up looking even more like a Mexican Butterbean. Anthony Joshua looks like Tarzan, but in his first go at Ruiz he pretty much fought like Jane. I am sorely tempted to forget appearances and pick Ruiz, but I still have a nagging suspicion that the Joshua who got off the deck to beat Wladimir Klitschko is still present in that mass of muscles. I cast a reluctant vote for AJ, maybe on points. – BERNARD FERNANDEZ
New International Boxing Hall of Fame inductee THOMAS HAUSER agrees with his 2020 Canastota "stablemate" Fernandez. "Joshua by decision," he writes. "But like most people I have my doubts."
World Heavyweight King Andy Ruiz Jr. is reigning in Saudi Arabia? He must feel like Rocky Balboa getting ready for WW3 with the muscle-bound Ivan Drago on Christmas Day in Russia! Strange lands, strange laws, an imposing mountain to climb. After what I saw Ruiz do to Anthony Joshua in NYC on 6/1/19, I have to pick him to pick up where he left off. Fighting hard. Doing whatever it takes to win. Hurting AJ. Knocking him out in 11. – JEFFREY FREEMAN
The storyline of Anthony Joshua's signature triumph over Wladimir Klitschko was how well Joshua handled adversity. That made his showing against Andy Ruiz all the more head-scratching. Was he overconfident? After all, Ruiz had a short training camp, having been roped in off the street, in a sense, after Joshua's original opponent Big Baby Miller was ruled out. Perhaps Ruiz has the blueprint for beating Joshua; perhaps his style is just all wrong for Joshua — I'm really not sure — but my inclination is that the Brit will do a better job of exploiting his 8-inch reach advantage in the rematch. It wouldn't surprise me if this fight follows the same tack as Ruiz's fight with Joseph Parker, a distance fight with a lot of close rounds that ultimately went against the chubby Mexican-American. – ARNE LANG
What happened in the first fight? It's been almost half a year since Ruiz shockingly defeated Joshua in one of the biggest upsets in heavyweight history and I'm still not really sure. For the longest time, I believed it was simply a tactical error made by Joshua in round three that spelled his doom. Once he suffered that first knockdown, he never recovered. But as fight week looms, part of me wonders if Ruiz just has a style that Joshua doesn't know how to attack. Still, the greater part of me still thinks Joshua has what it takes to beat Ruiz. He'll fight the second bout much differently this time and plod his way to a 12-round decision. The cards will be wider than most would like, but Joshua wins in most people eyes via UD in a competitive fight that reveals Ruiz's limitations. – KELSEY McCARSON
When is a prediction not a prediction? When it defaults to some future event that subscribes the outcome. In this case it is the Ruiz-Joshua weigh in, generally speaking the final hiding place for cowards asked by their editors to turn in that prediction. But hear me out. Or rather hear out Iron Mike Tyson, here discussing Ruiz's perceived weight loss: "I just don't understand it.  But everybody has their own thing their vanity gets the best of them. "I'm a believer in 'if it's not broke don't fix it.' The only thing Ruiz has to do is do what he did last fight." Tyson is unequivocally correct. Ruiz trusted himself to punch with the puncher last time around and he had the chin and the handspeed to get it done. Worst case scenario sees him a faster fighter with a better chin in a shootout; but he's added a proviso here with his weight-loss. Ruiz's weight makes it difficult for Joshua to bully him with his prodigious strength and is a faculty of his punch resistance. It has also been an indelible part of his ring character during his decade in the ring. Stripped of a sizeable portion, Ruiz may enhance both his speed and his gas-tank, but these are aspects in which he already out-strips Joshua; the benefits, therefore, do not outstrip the detriment. That said there is likely a sweet spot around 245 where Ruiz reaps the benefits of size without the loss of familiarity nor bulk and at this poundage or above, I'll pick the Mexican to once again out-punch his svelter foe. Joshua, for his part, appears to have slimmed down too, perhaps looking to enhance his own speed and stamina. Both will be necessary if he is, as many British fight fans insist, intent on boxing and moving despite all evidence to the contrary of his being able to sustain this over a twelve-round fight. But watch those scales. I can't remember a time in heavyweight competition where they meant as much." – MATT McGRAIN
So preposterous was the outcome in the first fight that trying to come up with a prediction for the rematch seems like a comically futile endeavor. Here goes, anyway: If Ruiz is able to wade through another Joshua left hand-right uppercut, he may have his hands raised again. Ruiz is the better fighter, and Joshua, despite his overarching physical advantages, has no capable answer for the pudgy Mexican on the inside. If Joshua can stay disciplined for 12 rounds, working behind his jab, one could see him winning a snoozer of a decision; but one suspects his stamina will become an issue. Still, for all of the question marks surrounding Joshua's mental state, his chin, etc., his punching power is genuine, so it's entirely possible that he decks Ruiz inside five rounds. Of course, anything seems possible, even in the deserts of Saudi Arabia. Ruiz TKO8 – SEAN NAM
There are a lot of "ifs" in this one. The relatively small amount of weight that Ruiz lost (5-8 pounds) will make him lighter on his feet and even more dangerous, but he needs to couple that with a competitive fire and attitude. The purchase of a Rolls Royce and mansion is not a good sign. Meanwhile, Anthony Joshua is doing exercises that reportedly are elongating his musculature. If so, that's a smart move. Muscularity and attendant vascularity, with exceptions like Holyfield, are not necessarily compatible with flexibility. If AJ can come in loose (rather than overly tight like the last time) and without the element of surprise, I see him fighting tall (using a superior jab coupled with sharp crosses) and keeping Ruiz at bay while winning a decision or even perpetrating a mid-to-late round stoppage. Remember, we are talking about a guy who beat Wlad Klitschko, Dillian Whyte, Joseph Parker, Alexander Povetkin, and many other solid opponents. – TED SARES
Who wins? The "sportswashing" government of Saudi Arabia as DAZN trumps global morality with viewers like me. Willfully or not, we all bow at the altar of Plutus. Follow the money and that probably means that barring another delightful surprise, Matchroom meal ticket Joshua takes back the belts in a cautious display while Ruiz's payday keeps him from any loser status. – PHIL WOOLEVER
OBSERVATION: An interesting diversity of opinion. Reading through the lines, the most common thread was that this is a tricky fight to handicap and that no outcome would be all that surprising.
The graphic is by Colorado comic book cover artist ROB AYALA whose work is attracting a lot of buzz. Ayala's specialty is combat sports. Check out more of his work at his web site fight posium.
Check out more boxing news on video at The Boxing Channel 
To comment on this story in The Fight Forum CLICK HERE