Ringside at the Cosmo: Frampton Wins Impressively; Valdez TKOs Lopez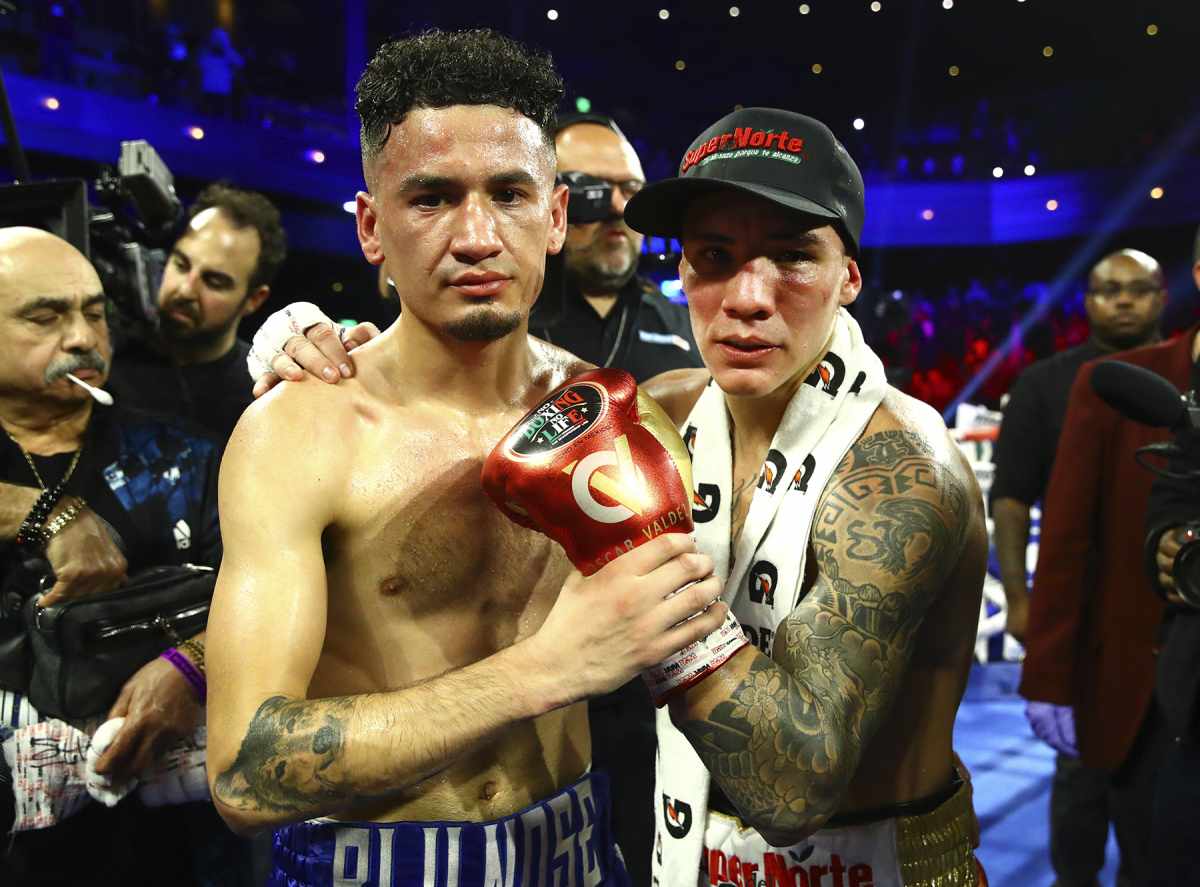 Ringside at the Cosmo: Frampton Wins Impressively; Valdez TKOs Lopez
LAS VEGAS, NV — The Chelsea Theater at the Cosmopolitan Hotel in Las Vegas is one of the better fight venues in the country. The seats in the tiered rows in the balcony provide an excellent view of the action; there isn't a bad seat in the joint.
Dull fights can spoil the ambiance, but Bob Arum's Top Rank organization presented a strong card that delivered good entertainment throughout.
Valdez-Lopez
Oscar Valdez, a two-time Olympian for Mexico, made his first foray into the 130-pound class tonight after seven successful defenses of his WBO featherweight title. In the opposite corner was late sub Adam Lopez who was on the card and bumped into the main go when Valdez's opponent came in 11 pounds overweight at Friday's weigh-in.
In round two, Lopez took a leaf from Cinderella and knocked Valdez down hard with a short left uppercut after missing with an overhand right. For a moment, it seemed that a mammoth upset was brewing. But Valdez returned the favor in the seventh frame with a blistering overhand right that knocked Lopez down and almost through the ropes. Lopez beat the count but absorbed a series of unanswered punches, compelling referee Russell Mora to intervene. The official time was 2:53 of round seven.
Valdez improved to 27-0 with his 21st stoppage, but he earned his pay. At the end, he had a big welt under his left eye. The plucky Lopez fell to 13-2.
Frampton-McCreary
In the co-main, Northern Ireland's Carl Frampton, coming off a loss to Josh Warrington and an 11-month break elongated by a freak injury to his left hand, looked very sharp in winning a lopsided 10-round decision over Tyler McCreary.
Frampton's game plan was to target the midsection of McCreary who had a four-inch height advantage. He implemented the plan to perfection. In round five he sank McCreary with a right-left combo, both to the body. In round nine, McCreary went down again from a fast 1-2, both lefts, to the liver. The fight went the full 10 with the judges in accordance:100-88. In the end, McCreary, who fell to 16-1-1, just wasn't busy enough and couldn't keep Frampton at bay with his longer reach.
Frampton had the crowd in his corner. When he was introduced, it seemed like half of Belfast was in the building. He improved to 27-2 and stayed on course to pursue a world title in a third weight class.
Teixeira-Adames
In a tumultuous 12-round battle sanctioned for the WBO "interim" 154-pound world title, Brazil's Patrick Teixeira (31-1) came back from the brink to send the fight to the judges and emerge victorious with a split decision over previously unbeaten Carlos Adames (19-1).
Teixeira's badly damaged left eye commanded frequent looks from the ring doctor. He also developed a cut under the right eye. At one point it appeared that Teixeira, who absorbed numerous head-snapping punches, would be rescued from further punishment by referee Robert Byrd. But he never stopped punching and the tide turned with seconds remaining in round eight when he landed a straight left that sent Adames sprawling into the ropes, a clear knockdown. That punch factored into the outcome as Teixeira prevailed by 114-113 on two cards, 116-111 on the other.
Other Bouts
In his best performance to date, super lightweight Arnold Barboza Jr advanced to 23-0 (10) with a fifth-round knockout of Florida-based Brazilian William Silva (27-3).
The undefeated Barboza, from South El Monte, CA, knocked Silva flat on his back with a sweeping left hook in round two and finished the job three rounds later with a vicious right to the liver. In a delayed reaction, Silva crumpled to the floor in obvious distress and was counted out.
In a torrid 8-round welterweight scrap that had the crowd buzzing, Salt Lake City's Larry Gomez upset previously undefeated Brian Mendoza, winning a split decision (77-75, 77-75, 75-77). Albuquerque's Mendoza, 18-0 going in, started strong and landed the cleaner punches, but Gomez (10-1, 9 KOs) never took a backward step and won over the judges with his power punches.
Also
Six-foot-six ex-Olympian Guido Vianelli (6-0, 6 KOs) needed only 44 seconds to dismiss Colby Madison. A short chopping right hand put Madison on the deck and referee Jay Nady waived it off as Madison was struggling to regain his feet. Madison, 36, declines to 8-2-2.
8 rounds super lightweights
Andy Hiraoka (15-0, 10 KOs), from Yokohama, Japan, stopped Rogelio Casarez (13-9), Batesville, Ark, in the second round. Hiraoka decked Casarez with a short right hand and then turned up the heat with a fusillade of unanswered blows, forcing the referee to intervene. The official time was 2:16 of round two. It was the fourth straight loss for Casarez
In a swing bout slated for four rounds in the welterweight division, high school senior Xander Zayas, who turned 17 in September, stopped North Carolina's Virgil Windfield in the opening round. Windfield took a knee after absorbing a short right hand and when the situation repeated itself referee Russell Mora thought it prudent to stop the bout. Zayas (2-0, 2 KOs) has a seek-and-destroy mentality. The lanky Windfield, who was out of his element, falls to 2-3-1.
In the walk-out bout, recent Top Rank signee Jared Anderson (2-0, 2 KOs) stopped Stephen Kirnon (2-3-1) in 90 seconds. Anderson has great potential but keeping his weight in check could be an issue as he moves forward. He came in at 237 pounds tonight and looked a little too thick in the lower body.
Photo credit: Mikey Williams for Top Rank
Check out more boxing news on video at The Boxing Channel  
To comment on this story in The Fight Forum CLICK HERE
Boxing's Great Rivalries: Another TSS Trivia Quiz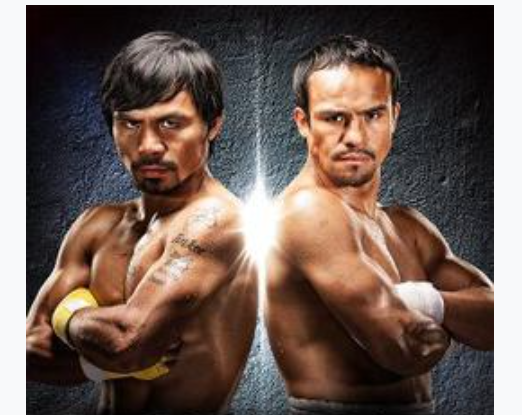 Test your knowledge of boxing history in this 15-question multiple-choice trivia quiz. Get 12 or more right and go to the head of the class.
To find the correct answers you will need to visit the TSS Fight Forum (CLICK HERE). There this quiz will repeat and you will find the answers sitting below the final question.
What was the outcome of the second fight between Muhammad Ali and Joe Frazier?
(a) Muhammad Ali won a 12-round decision.
(b) Joe Frazier won a 12-round decision
(c) Muhammad Ali won a 15-round decision
(d) Joe Frazier won a 15-round decision
2. Sugar Ray Robinson was 1-2-1 vs. this rival including a loss at the Las Vegas Convention Center in their final meeting.
(a) Carmen Basilio
(b) Gene Fullmer
(c) Paul Pender
(d) Carl "Bobo" Olson
3. From Union City, New Jersey, he had six fights with Jack Johnson in 1905 and 1906 and likely many more with "Papa Jack" that haven't yet found their way into the record book.
(a) Klondike Haynes
(b) Joe Jeannette
(c) Sam Langford
(d) Denver Ed Martin
4. The first fight between Sugar Ray Leonard and Roberto Duran was held in the city where Sugar Ray Leonard won his Olympic gold medal. What city?
(a) Tokyo
(b) Montreal
(c) Los Angeles
(d) Mexico City
5. Manny Pacquiao had a memorable four-fight series with Juan Manuel Marquez. What title was at stake in their first encounter?
(a) Bantamweight
(b) Featherweight
(c) Lightweight
(d) Welterweight
6. Carmen Basilio lost, won, and drew, in that order, with this cagey welterweight, best remembered for losing a hotly disputed decision to Kid Gavilan.
(a) Johnny Saxton
(b) Johnny Bratton
(c) Billy Graham
(d) Hedgemon Lewis
7. This great middleweight was 1-4 in five bouts with Gene Tunney. In most record books, his victory in their first encounter is considered the only blemish on Tunney's record.
(a) Stanley Ketchel
(b) Harry Greb
(c) Mickey Walker
(d) Billy Miske
8. He participated in four world championship fights, the last three with archrival Barney Ross.
(a) Fritzie Zivic
(b) Sammy Mandell
(c) Jimmy McLarnin
(d) Tony Canzoneri
9. Sandy Saddler and Willie Pep met four times with the featherweight title on the line. How many of these fights went the full scheduled distance?
(a) none
(b) one
(c) two
(d) three
10. Sugar Ray Robinson and Jake LaMotta fought six times, Robinson winning five. How many of these fights were world title fights?
(a) one
(b) two
(c) three
(d) four
11. Charley Burley won two of three fights with intra-city rival Fritzie Zivic. What city?
(a) Brooklyn
(b) Boston
(c) Philadelphia
(d) Pittsburgh
12. He was 1-2 in three nationally televised fights with Vinny Pazienza.
(a) Greg Haugen
(b) Hector Camacho
(c) Ray "Boom Boom" Mancini
(d) Roger Mayweather
13. He defeated Mike Tyson twice as an amateur, knocking Tyson out of the 1984 Olympic Games, but Tyson had his number when they met as a pro, knocking him out in the opening round.
(a) Marvis Frazier
(b) Tyrell Biggs
(c) Henry Tillman
(d) Mitch "Blood" Green
14. Future Hall of Famers Jack Britton and Ted "Kid" Lewis met an astounding 19 times between 1915 and 1921 with all but two of those engagements packaged as welterweight title fights. Britton was born William J. Breslin. What was the birth name of Ted "Kid" Lewis?
(a) Alfonso Brown
(b) Harry Besterman
(c) Guiseppe Berardinelli
(d) Gershon Mendelhoff
These great Mexican warriors met four times with their second and third encounters named The Ring magazine Fight of the Year.
(a) Ruben OIivares and Jesus "Chucho" Castillo
(b) Carlos Zarate and Daniel Zaragoza
(c) Marco Antonio Barrera and Erik Morales
(d) Israel Vazquez and Rafael Marquez
Want more? Check out our previous boxing trivia tests.
"Sparring with Smokin' Joe" is a Great Look into a Great, Complicated Man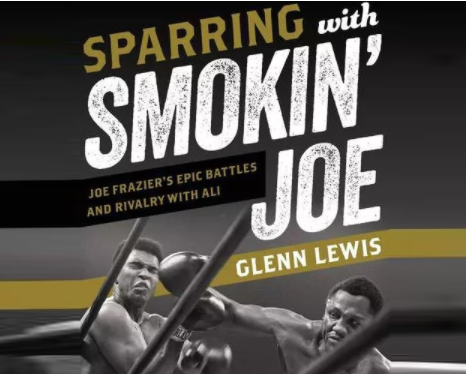 BOOK REVIEW – Some rare moments arrive, as either a blessing or a curse, to cast definitive impressions of how someone might be remembered. As anyone reading this should well know, such a moment occurred 50 years ago today (March 8, 1971) at Madison Square Garden for Joe Frazier and Muhammad Ali.
For Frazier, a punishing 15-round victory became the foundation to his legacy. That leads us to Sparring with Smokin' Joe by Glenn Lewis, the latest biographical volume to focus on Frazier, with a timely release date close to the "Fight of the Century" anniversary that should provide plenty of solid promotional material for the book.
As a piece of literature the book, published by Rowman & Littlefield, stands up quite well on its own, and as a piece of boxing literature it stands out, through previously unpublished situational information on Frazier.
I found it to be a must-read for Frazier fans and a solid plus for most boxing libraries.
Author Lewis is a graduate school professor at the City University of New York (CUNY) and director of journalism at the affiliated York College with decades of expertise on his resume. This project is expertly constructed and reads very smoothly throughout. Beside the many insightful instances regarding Frazier himself, a very thoughtful portrait of his son Marvis Frazier runs through the narrative, which also conjures a vivid depiction of Frazier's Broad Street Gym in North Philadelphia.
The book's unique highlight is the ongoing tale of traveling with Frazier and his all-white band (with multiple Berklee school members) during a tour of southern states.
The first 140 pages or so (out of a listed 256), make up a fascinating memoir of getting to know Frazier and his circle during 1980, around four years after his second crushing defeat to George Foreman. At that point in his life, Frazier was trying to settle into retirement, guide Marvis's culminating amateur career, and transition from boxing superstar to fledgling vocal attraction.
I devoured the opening sections of the book with reader's glee, far more than enough to highly recommend Lewis' book, but toward the end it seemed maybe he should have quit while and where he was ahead.
The last third gets substantially less engaging. The author grew distanced from his subject's proximity and it shows, as the tale becomes far more familiar in relating already well-documented fight data.
There is still some fine perspective from Lewis like Joe's hugely destructive obsession with rushing Marvis into disaster versus Larry Holmes, but for many of the closing segments you could cut and paste the same period of Frazier's career out of Mark Kram Jr's recent book Smokin' Joe (2019) and gain a bit more personal touch.
That's not at all to imply that the boxing writing is weak. Lewis makes an excellent case that Frazier won the rematch with Ali, not only the first fight; which leads to justified speculation on what could have occurred had Frazier gotten the second nod. Back then I shared Lewis' opinion on the scoring, and his detailed analysis inspires taking another look at the replay.
Some minor gym characters or business associates become animated as if they're standing in front of you, but I was disappointed in how a charming, complicated guy like Jimmy Young was overlooked and how larger-than-life characters like Gil Clancy and especially George Benton (a living example of where playwright August Wilson drew inspiration) came across rather subdued compared to the boisterous conversationalists I spoke with many times not long after the year Lewis's story begins.
There are also a couple of minor omissions that, though based on very brief listings, still stick out when considering Lewis's scholarly, journalistic credentials.
James Shuler is mentioned, but there's nothing about his tragic death in a motorcycle accident a week after losing to Tommy Hearns in a minor title fight, nor the touching story about Hearns at the funeral, offering to put the belt in Shuler's coffin. Frazier's restaurant, Smokin' Joe's Corner, is also listed a couple times but there is no mention of the horrible murders that took place there during an inside job robbery and how that tragedy probably put the final nail into Frazier's aspirations in the food industry.
I also hoped for some tidbits from Frazier's thoughtful and wise older brother Tommy who provided me with some rare insights (and had an offbeat sense of humor about his name), a stoic trickster who seemed to lovingly enjoy putting his famous sibling on the spot.
Still, the overall impression I got was fantastic. A memoir should share time, location, emotion, and reflection. Lewis achieves all those things many times over.
Which leads to my primary, personal takeaway of this very worthwhile book. Based on a few of the lengthy encounters I was lucky enough to share with Joe Frazier (boxing and non-boxing related), it's difficult for me to imagine that a canny observer like Lewis didn't emerge from the amazing and enviable access he got with more wild tales, especially from nights on the road.
So, I'd have to guess, and bet, that Lewis let some of the more sensational situations or quotes remain aloft in the mist of the past, which to me is admirable, even more so in these social media dominated days.
Here's a non-controversial quote that is included, which provides a sample of the many fine nuggets to be found:
"I don't think you're less of a man for crying," said Joe, taking me by surprise. "It's healthy for you. I cry if something goes wrong- I'll cry right out. But if I cry out of anger, look out! Somebody's in trouble. Crying shows a man has heart and helps him out of his pressures. Just don't cry for nothing."
I could almost hear Frazier's voice when I read that, and descriptions of places I've been like Frazier's gym read true enough to give the entire book an aura of accuracy.
A dozen excellent photographs serve as a first-class coda.
Fifty years after his biggest triumph, Joe Frazier remains a compelling topic in the discourse of sociological significance. This well written tribute does him plenty of justice.
Check out more boxing news on video at the Boxing Channel
To comment on this story in the Fight Forum CLICK HERE
The Fight of the Century: A Golden Anniversary Celebration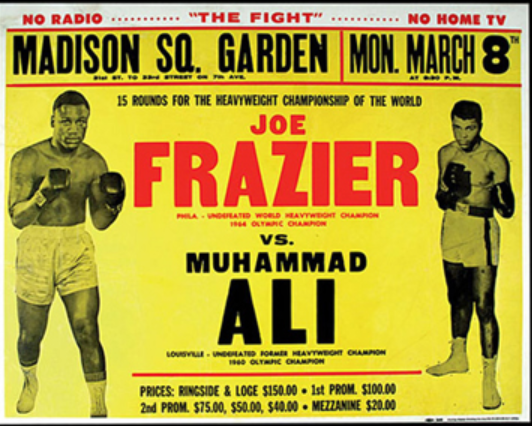 In professional boxing, fights can be rank-ordered as generic fights, big fights, bigger fights, mega-fights, and spectacles. The first fight between Muhammad Ali and Joe Frazier wasn't merely a spectacle, but the grandest spectacle of them all. This coming Monday, March 8, is the 50th anniversary of that iconic event.
Ali-Frazier I was staged at three-year-old Madison Square Garden, the fourth arena in New York to take that name. It drew a capacity crowd: 20,455 (19,500 paid). An estimated 60 percent of all the tickets sold fell into the hands of scalpers.
The fight was closed-circuited to more than 350 locations in the United States and Canada. At some of the larger venues, it established a new record for gate receipts, and this for an attraction that wasn't produced in-house. In Los Angeles, 15,333 saw the fight at the Forum and 11,575 at the nearby Sports Arena.
Bill Ballenger, the sports editor of the Charlotte (NC) News, saw the fight at the Charlotte Coliseum. He reported that the audio – Don Dunphy did the blow-by-blow with Burt Lancaster and Archie Moore serving as color commentators – was loud enough to be heard outside the arena and that many folks, either unable or unwilling to purchase a ticket, loitered outside and followed the action in 30 degrees weather.
An estimated three hundred million people saw the fight worldwide. In England, by some estimates, half the population tuned in, watching either at home on BBC1 or at a theater where one could watch the fight unfold on a movie screen. Now keep in mind that in England the fight didn't commence until 6:40 in the morning on a Tuesday!
Inside Madison Square Garden, the large flock of celebrities included many folks one wouldn't expect to find at a prizefight. Marcello Mastroianni, Italy's most famous movie star, made a special trip from Rome. Salvador Dali was there and Barbra Streisand and Ethel Kennedy, widow of Bobby Kennedy, seated next to her escort, crooner Andy Williams. Frank Sinatra was there working as a photographer for Life magazine. Lore has it that Sinatra wangled the assignment after failing to boat one of the coveted ringside seats.
The scene was made brighter by human "peacocks," the label applied to Harlemites with an outrageous sense of fashion, and the electricity was palpable. When Ali appeared at the back of the arena, making his way from his dressing room to the ring, everyone had goosebumps.
The late, great New York sportswriter Dick Young once wrote that there is no greater drama than in the moments preceding a big heavyweight title fight and that was never more true than on March 8, 1971 at Madison Square Garden.
Ali (31-0, 25 KOs) and Frazier (26-0, 23 KOs) were both undefeated. Both had a claim to the heavyweight title, Ali because the belt had been controversially stripped away from him for his political beliefs. Opinions as to who would win were pretty evenly divided. In Las Vegas, Joe Frazier was the favorite at odds of 6 to 5. Across the pond in England, bookies were quoting odds of 11 to 8 on Ali.
Those that favored Ali were of the opinion that 'Smokin' Joe was too one-dimensional. That much was true. Joe was as subtle as a steam locomotive on a downhill grade. He ate Ali's hardest punches, said Boston Globe reporter Bud Collins, as if they were movie house popcorn and he eventually wore Ali down. There was little doubt as to how the judges would see it after Joe knocked Ali down in the 15th round with a frightful left hook. When Ali arose, it appeared that he had been afflicted with a sudden case of the mumps. The decision was unanimous: 11-4, 9-6, 8-6-1.
This wasn't the greatest fight of all time, but it was a fight that more than lived up to the hype. And, as several people have noted, the event took on a life of its own without the benefit of modern technology to push it along. The buzz was fueled in a large part by newspapers, the "antiquated" sort of newspapers that a fellow fished from his driveway or purchased at a newsstand on the way to or from work. If twitter and facebook had been around during Muhammad Ali's prime, Ali would have blown the doors off the internet.
A cultural touchstone is an event that remains sealed in our memory. As we slide into old age, if we are lucky enough to live that long, we may not remember what we had for breakfast in the morning, but some long-ago events are as vivid as if they had happened just yesterday.
Boxing historian Frank Lotierzo has written poignantly about how overjoyed he was when he was surprised with the news that his father would be taking him to the fight. "To this day it remains the biggest thrill of my life!" wrote Lotierzo, who was then in the seventh grade. "And it's not even close!"
I didn't see the fight, but I can recall the faces of people that I overheard talking about it, people whose interest in the fight struck me as odd as I knew they had little interest in the world of sports. So, when the fight is replayed in its entirety on Sunday – it airs on ABC at 2 p.m ET and again at 6 p.m. ET on ESPN – I will be watching it for the first time. And it will be bittersweet as I will be reminded that I am in the twilight of my life and my thoughts will inevitably drift to my friends and loved ones that have left this mortal world in the years since that grand night in 1971 when Muhammad Ali and Joe Frazier locked horns in the Fight of the Century.
I get misty-eyed just thinking about it.
Check out more boxing news on video at the Boxing Channel
To comment on this story in the Fight Forum CLICK HERE