Scoping Out the Heavyweight Undercard in Saudi Arabia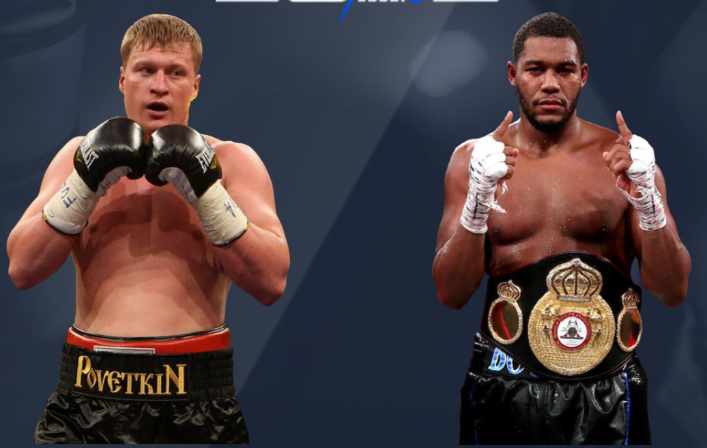 Promoter Eddie Hearn has been threatening an all-heavyweight card for some time now, and although this Saturday's undercard to Andy Ruiz-Anthony Joshua out in Diriyah, Saudi Arabia, doesn't quite qualify it's unlikely he will come closer this side of a Joshua-Tyson Fury superfight.
Working back from chief support we look here at the heavyweights in action and what they bring to the mouth-watering rematch of June's monumental shock.
First and foremost is one of ring history's great ring survivors and arguably one of the great heavyweight contenders, Alexander Povetkin. Povetkin, 35-2, has been a player in the heavyweight division since his 2007 knockout of Chris Byrd, an astonishing stretch during which he has dueled with and dusted contenders from three different heavyweight eras over the course of more than twelve years. He was unlucky enough to share his entire prime with one Wladimir Klitschko before falling in a worthy stab at Joshua last summer and this has doomed Povetkin to failure in achieving heavyweight pre-eminence; but the moment Wladimir called time on his career, Povetkin became the de facto old-man of the division with all the ambivalence that status imparts.
The forty-year old's latest tilt at the divisional big dogs began with a fittingly plodding but wide decision victory over Hughie Fury in August and continues in Diriyah against 18-1 former cruiserweight Michael Hunter. Hunter, who boxes out of Las Vegas, made a minor name for himself in giving pound-for-pounder Oleksandr Usyk his toughest fight back in early 2017 and cemented his place as a heavyweight gatekeeper with an impressive twelve round decision over prospect Sergey Kuzmin in September. The step up here to take on a fabled but faded contender in Povetkin is an old-fashioned and well-reasoned trajectory and maybe Hunter has got his timing right.
"[Povetkin] is ruthless and a warrior," the American recently told Boxing Scene.  "He has everything it takes to beat a guy on the come up like me.  People really don't know what I have so this is a test.  This is the perfect opportunity for me."
It is. For an older fighter without a punch the swarmer is the living nightmare in the ring. Povetkin, though, has a punch, and so for him the nightmare is of a different sort. A mobile fighter with generalship, then, is the chief tormentor. Hunter has the mobility and if he has the generalship, Povetkin could be in for a long night. There is an appealing symmetry here: Povetkin gatecrashed the heavyweight rankings by beating Byrd, a quick-footed, quick-thinking fighter who by rights should have been boxing in a lower weight division. That description is probably very close to an optimum Hunter but Povetkin has some hard years on him.
If the old man doesn't get control of the fight early look for him to drop a narrow decision to a fighter Eddie Hearn would love to feed to one of his primed big beasts – either way expect an absorbing contest.
Before Povetkin takes to the ring, his natural successor, the Croation Filip Hrgovic, now 9-0, takes his own step up against aging American Eric Molina (now 27-5). It was once said of James "Buster" Douglas that he "lost every fight Don King ever wanted him to lose." With the exception of a victory over an ancient Tomasz Adamek the same can be said of Molina who has obliged for several different promoters against four different money fighters. This is once again the expectation on Saturday as the 2018 Sweet Science prospect of the year hops onto an undercard stacked with fighters he may look to match next year.
"It's a big step up for me in terms of level of opponent and also the size of the event," Hrgovic admitted to Croatia Week of his fight with Molina. "The whole world will be watching…I'm expecting a hard fight. Eric Molina fought two times for the world title…I am expecting the hardest fight of my career."
Maybe, maybe not. If the world is watching Hrgovic at all, it is watching to see the fighter's limitations tested. Questions about the Croat remain unanswered: can he hold a punch from a confirmed puncher and is he available for punches only because he believes himself equal to them or is his defense a legitimate issue? Until we see him pushed against a quality opponent we can't know.
At the moment, however, Hrgovic, like Povetkin once did, gives the impression of a serious fighter who will one day hold a strap and will also have a say in which fighters make the very top and which do not. Whether or not he himself will summit is dependent upon the answer to these questions. It's unlikely Molina will provide these answers. Look for Hrgovic to become the fifth money fighter Eric Molina obliges in suffering a ten count.
Still with me? Good. Prior to Hrgovic's potential emergence from the shadows is a fascinating redux in the form of Londoner Dillian Whyte (26-1). Whyte enjoyed the sympathy of almost the entire boxing world during his six-hundred day wait for a title shot while ranked as the WBC's number one contender but that sympathy came to a juddering end when he was revealed to have failed a drug test prior to his twelve-round encounter with the dangerous Oscar Rivas. Whyte, an entertaining and engaging speaker, was suddenly silent as the bizarre machinations of the UK Anti-Doping agency were laid bare for all to see. Somehow Whyte is cleared to fight, and promoter Eddie Hearn has delivered an inconsistent and vulnerable opponent who nevertheless holds some name recognition, Mariusz Wach. Former Povetkin victim Wach, who boxes out of Poland and holds a well-padded record of 35-5 has had his own problems with steroids, testing positive after making it through twelve one-sided rounds with Wladimir Klitschko in 2012. Perhaps only in boxing could two men who have traced positive for performance enhancing drugs compete as a part of a show awash with cash in a country where homosexuality and public displays of affection are illegal.
Unfortunately, this fight may be weirdly compelling. Whyte is a confirmed puncher but Wach did twelve with Wladimir and saw the twelfth, too, with Povetkin. He is clearly slipping but there is no future for the Pole if he succumbs early but Whyte, too, has reason to impress. I'll pick the Brit to get the job done in the first half of the contest thereby inflicting the quickest stoppage of Wach's career in what may be his last fight.
Finally, we get to meet Magomedrasul Majidov a fighter desperately in need of a nickname but one with a serious amateur pedigree that makes him much more interesting than his 1-0 record.
Also interesting is his age: 33. Turning professional in their thirties seems more and more the norm for crack amateurs hailing from Eurasia and this Azerbaijani is no different, which makes him a man in a hurry. 6'3" and 230 he will be the smaller man in the ring against the 6'6", 250lb British journeyman Tom Little, who has been banged out in each of his last three fights against Hrgovic, Daniel Dubois and David Price. On paper then this should be meat and potatoes for three-time world amateur superheavyweight champion Majidov, but he received a minor scare in his first professional fight against an American journeyman named Ed Fountain. Majidov defeated one Anthony Joshua in the 2011 amateur championships but punching for pay has always been a different matter and I expect Little to charge his inexperienced opponent at bell. Brief fireworks may ensue. Hopefully they will continue right up to the main event.
Check out more boxing news on video at The Boxing Channel  
To comment on this story in The Fight Forum CLICK HERE
Vic Pasillas: An East L.A. Fighter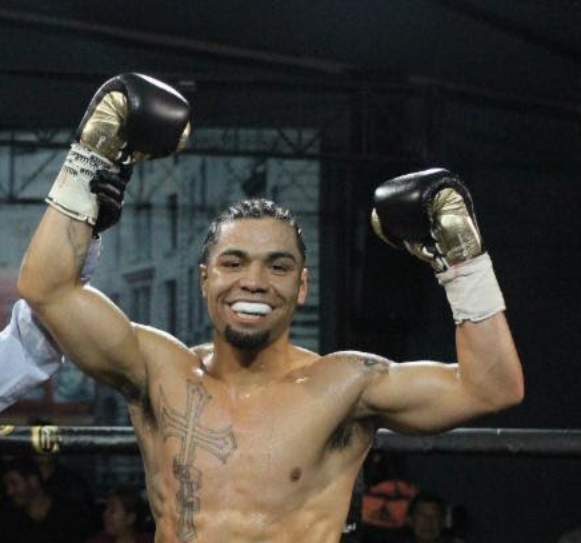 When East L.A.'s Vic Pasillas enters the prize ring this weekend he follows a path that many from his area have trod before. Not all were successful, but those that succeed become near legendary.
But it's definitely not easy being from East L.A.
Pasillas (16-0, 9 KOs) meets Michigan's Raeese Aleem (17-0, 11 KOs) for the vacant interim WBA featherweight title on Saturday Jan. 23, at Mohegan Sun Casino in Uncasville, Conn. Showtime will televise live.
Once again, a fighter from East L.A. stands pivoted for greatness. Can Pasillas go all the way?
For the past 130 years, prizefighters from East Los Angeles have developed into some of the best in the world if you can get them into the prize ring. Oscar De La Hoya and Leo Santa Cruz are two who were able to duck drugs, crime, street gangs and longtime allegiances that can often mislead aspiring boxers toward deadly endings.
One of the first featherweight champions in history lived in East L.A. Solly Garcia Smith won the world championship in 1893. He was the first Latino to ever win a world title.
There are many others from "East Los" who were talented prizefighters that were sidetracked into oblivion. Talented pugilists like brothers Panchito Bojado and Angel Bojado were derailed by mysterious obstacles that East Los Angeles presents. Others like Frankie Gomez and Julian Rodriguez showed dazzling promise but disappeared.
It's almost as if a curse hangs over East L.A. area like a blanket of smog.
Many were surefire champions. But for some reason East L.A. or East Los as it's called by those living in the 20 square mile radius, seems to have a dark lingering spell that makes it extra difficult for prizefighters to succeed.
Back in the 1950s a supremely talented fighter named Keeny Teran was skyrocketing to fame when heroin dropped him like an invisible left hook. Celebrities like Frank Sinatra and Danny Kaye were his biggest backers. Yet, not even they could help Teran.
Drugs almost took Pasillas too.
The fighter known as "Vicious" Vic Pasillas could have tripped into one of those sad stories from East L.A. you often hear about from your abuelitas. The streets can easily claim you if you let your guard down. Who is a friend and who is a foe are not often clear as the colors brown or white. It's a potholed journey to navigate the barrio streets that look tame during the day, but ominous when the darkness arrives.
Barrio Life
Growing up with parents who were incarcerated led Pasillas to find loyalty from the vatos on the street. They treated him well and gave him protection and a sense of family, but often led to being involved in petty and major crimes.
"I moved out of the neighborhood. I had to get away from my friends. No disrespect to them but I knew that I would end up in jail," said Pasillas who moved to Riverside, Calif. which is 60 miles east of East L.A. "Nobody knew where I was."
One thing certain: prizefighting was his gift. All that he encountered recognized his boxing ability.
"He was always a gifted fighter," said Joe Estrada, who would often take him to tournaments around California or in other states. "Every tournament he entered he won. He has always had speed, power, and defense. He's always been a great boxer, but trouble was always around him."
Gangs had always been a part of Pasillas life. He was born into gangs in South El Monte and even after moving to East L.A. it was not an escape. It was vatos locos that took him under their wing and showed him love and respect. They took care of him; some were also boxers.
East L.A. is an area much like a spider web. You can travel a quarter mile in one direction and suddenly you are in enemy turf. Gangs are everywhere. If you are an adult male you can't simply walk outside a door without looking in all directions. It makes you razor sharp in recognizing danger. You always look out for danger.
Pasillas loved boxing and loved his friends, the big homies, but cutting off one for the other was the most difficult decision. He would train, fight, and win but then hang with the homies and end up being arrested with the rest of them.
"The cops would come and everybody would run so I would run," said Pasillas. "I didn't do anything, but I would get busted with everybody else for trying to evade the police."
Things remained the same until he met his wife. The streets never had a chance. Once married he moved to the Riverside area. It was 2011 and newly married he needed to make a decision on whether to try and make the Olympic team or turn professional.
"I was ready to go to the Olympics. First, I was going to smash everybody but my wife got pregnant at 2011. It forced me to get a job at a warehouse. I was making 50 dollars a week. Pennies," said Pasillas. "I got a call from Cameron Dunkin and Top Rank. They offered me a fight on the third Manny Pacquiao and Juan Manuel Marquez fight. That was my pro debut."
Sadly, the streets reclaimed him again.
Reckoning
A move to northern California seemed to change things but the struggle to stay outside the grasp of the streets remained real even hundreds of miles away. Despite the dark times Pasillas still had friends and admirers.
Seniesa Estrada, who holds the interim WBA flyweight title and is poised to fight for a world title in March, remembers sparring with Pasillas when she could not find girls to spar.
"Vic was always very good. He would take it easy on me, of course, but I would learn so much from sparring with guys like him and Jojo Diaz and Frankie Gomez," said Estrada, who grew up and still lives in East L.A.
Pasillas, 28, had more than 300 amateur fights. He lost only eight times. Anyone who ever saw him fight immediately recognized his immense talent.
"Vic is one of the best fighters I ever saw," said Joe Estrada. "Everyone knew that when he's in shape he can't be beat. Just so much talent."
That talent will be tested on Saturday when he meets Michigan's undefeated Aleem. Whoever wins their battle will meet the winner between Angelo Leo and Stephen Fulton who fight for the WBO super bantamweight title.
"I want to fight the best now, and Pasillas is one of the best fighters in the division. I'm not ducking or dodging anyone. I'm going to be a world champion by all means necessary," said Aleem who now fights out of Las Vegas.
Pasillas doesn't doubt that Aleem has talent.
"I don't want to give up my game plan but best believe I'm going to do whatever it takes to win this fight. If he wants to bang, then we'll bang, if he wants to box, we'll box. I've seen so many different styles in the amateurs, there is nothing that he brings that I haven't seen. My power is what he's going to have to deal with," Pasillas said.
It's been an incredible up and down journey so far for Pasillas; a lifetime of dealing with hidden traps on East L.A. streets that have toppled many previous fighters now long forgotten.
Or will those same streets show the way to glittering success as former champions De La Hoya, Santa Cruz, Joey Olivo, Richie Lemos, Newsboy Brown and Solly Garcia Smith discovered.
One thing Pasillas already discovered was his own family.
"People invite me all the time to events and parties but I tell them I already have plans with my family," said Pasillas who has a wife and two elementary age children. "I never really had a family like other people."
Now he has his own family. Something he didn't have during his youth due to drugs and the streets.
"It's just a domino effect. I'm making sure I'm going to stop that s—t," says Pasillas. "It's going to be good for East Los. I'm a born and bred fighter from East Los."
Sometimes the streets can break you or make you.
Check out more boxing news on video at the Boxing Channel 
To comment on this story in the Fight Forum CLICK HERE
Hank Aaron and Muhammad Ali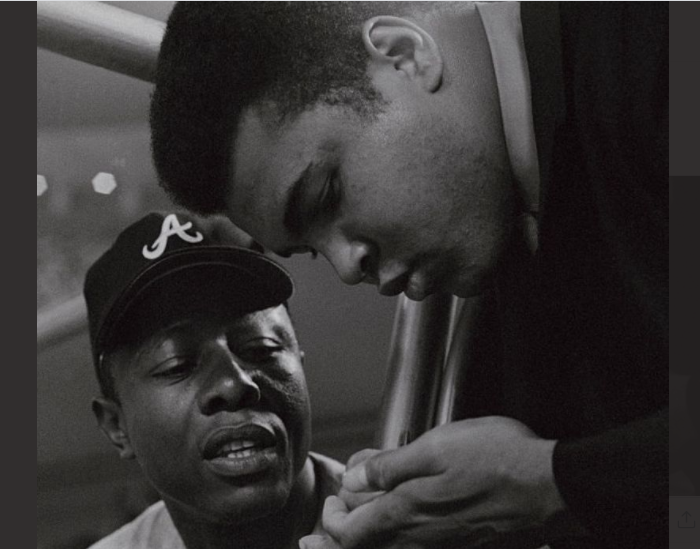 Hank Aaron, one of the greatest players in baseball history, died today (January 22) at age 86.
Aaron is best known for breaking Babe Ruth's mark of 714 career home runs. He finished his sojourn through baseball with 755 homers, a record that stood until 2007 when it was eclipsed by Barry Bonds. He still holds the MLB career records for most RBIs, most total bases, and most extra base hits while ranking third on the list for most hits and most games played and fourth in runs scored. He was a thoughtful gracious man who inspired a generation.
Decades ago, I was conducting research for the book that would become Muhammad Ali: His Life and Times. As part of this process, I interviewed many great athletes. Some, like Jim Brown, had played an important role in Ali's life. Others had interacted with Muhammad in a less significant manner. The people I spoke with included sports legends like Bill Russell, Kareem Abdul-Jabbar, Wilt Chamberlain, Ted Williams, Mickey Mantle, and Reggie Jackson. On September 5, 1989, I was privileged to talk with Aaron.
Aaron had broken Babe Ruth's record in 1974, the year that Ali dethroned George Foreman to reclaim the heavyweight championship of the world. The thoughts that Aaron shared with me – one great athlete talking about another – follow:
"I was born in Mobile, Alabama, in 1934. I came up with the Braves when I was twenty. And coming from Mobile, I was very shy. I wasn't satisfied with the way things were, but I felt like I had to do something special in baseball in order to get people to listen to me. By the time Ali came along, things were a little different but not that much. My first awareness of him was when he won the gold medal. And I saw greatness stamped all over him. How great, I didn't know. But I was impressed by his ability and his confidence.
"Being a gifted athlete, being one of the best in the world at what you do, is a great feeling. But sometimes it's kind of eerie because you wonder why you're blessed with so much ability. I'd go up to the plate to face a pitcher and I'd know that, before the night was over, I was going to hit one out of the ballpark. I felt that, and I'm sure Ali felt the same way. That no matter who he got in the ring with, he was better and he'd figure them out. He had all kinds of confidence. And I was the same way. The only thing that scared me was, when I was approaching Babe Ruth's record, I got a lot of threatening letters. I'm sure Ali went through the same thing with letters from people who didn't want him to be heavyweight champion. Most of that stuff is nothing but cranks. But one of them might be for real, and you never know which one.
"I don't think there'll ever be another fighter like Muhammad Ali. I'm not putting anybody else down. Maybe someone could have beaten Ali in his prime, but I'm not concerned about that. There's just no one who could possibly be as beautiful in the ring as he was. For a guy to be that big and move the way he did; it was like music, poetry, no question about it. And for what he did outside the ring, Ali will always be remembered. When you start talking about sports, when you start talking about history; you can't do it unless you mention Ali. Children in this country should be taught forever how he stood by his convictions and lived his life. He's someone that black people, white people, people all across the country whatever their color, can be proud of. I know, I'm glad I had the opportunity to live in his time and bear witness to what he accomplished. God gave Ali the gift, and Ali used it right."
I remember very clearly reading to Ali what Hank Aaron had said about him. And Muhammad responded, "Hank Aaron said that about me? I'm honored."
Thomas Hauser's email address is thomashauserwriter@gmail.com. His most recent book – Staredown: Another Year Inside Boxing – was published by the University of Arkansas Press. In 2004, the Boxing Writers Association of America honored Hauser with the Nat Fleischer Award for career excellence in boxing journalism. In 2019, Hauser was selected for induction into the International Boxing Hall of Fame.
Check out more boxing news on video at the Boxing Channel 
To comment on this story in the Fight Forum CLICK HERE
The Ups and Downs of Hall of Fame Boxing Writer Jack Fiske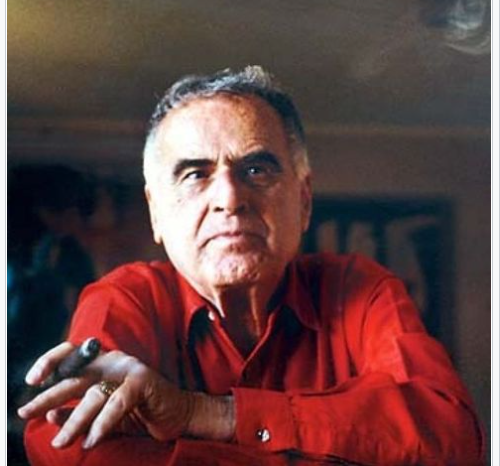 Hall of Fame boxing writer Jack Fiske passed away 15 years ago this coming Sunday, Jan. 24, 2006. Fiske was 88 years old.
Fiske was one of the last of the breed, a full-time boxing writer for a major metropolitan daily. They don't make them like that anymore.
In his final years as a journalist, however, Fiske no longer worked for the San Francisco Chronicle, his longtime employer. To read his stuff required a subscription to a newsletter. And the newsletter, in common with Fiske, had become a dinosaur in a world where the only constant is change. It went belly-up several weeks before Fiske passed away.
Born in New York City in 1917, Jack Fiske attended the University of Alabama where he covered the school's boxing team for the school newspaper. The star of the team, Fiske was fond of recollecting, was a fiery bantamweight, George Wallace. America would come to know Wallace as the fiery segregationist who served four terms as Governor of Alabama and was a failed U.S. presidential candidate.
After graduation, Fiske worked for a paper in Virginia and two small papers in the Bay Area before latching on with the Chronicle. In addition to covering the fights as a ringside reporter, Fiske authored a twice-weekly feature called "Punching The Bag" that circulated widely among hard-core fans and industry insiders.
Fiske had to be on his toes because for much of his tenure at the paper the arch-rival San Francisco Examiner had a fine full-time boxing man of their own, Eddie Muller, whose son of the same name hosts "Noir Alley" on Turner Classic Movies.
"Punching The Bag" was jam-packed with information and editorial content. Fiske had little tolerance for inept ring officials and regulators who owed their cushy jobs to political connections. First-time promoters, the lifeblood of the sport, were assured of positive ink. But once a promoter became established, he had to earn his props by making competitive matches.
During Fiske's early days with the Chronicle, the top sports in terms of newspaper coverage were baseball, horseracing, and boxing, and the Bay Area was a beehive of boxing activity. In 1955, there were 73 boxing shows in San Francisco, Oakland, and nearby Richmond. The biggest shows were usually held at the Cow Palace. Ten title fights were staged here beginning with Ezzard Charles' 1949 world heavyweight title defense against local fan favorite Pat Valentino.
One can guess where this is heading. Bit by bit, the Bay Area boxing scene became fallow. In the eyes of the Chronicle higher-ups, Fiske came to be seen as superfluous. In 1992, the paper let him go. "Punching The Bag" died after an amazing 43-year run.
Fiske hastened his demise as a newspaperman by his disinclination to become more versatile. He never wanted to cover any sport other than boxing. His attraction to the sweet science was manifested in his vast collection of boxing memorabilia which dominated every room of his home.
In 1994, Fiske was persuaded to resurrect his column for "Professional Boxing Update" and its sister publication, "Flash." These were 12-page newsletters cranked out by a fellow from Capitola, CA, named Virgil Thrasher, a big boxing buff with a second sideline as a blues harmonica player.
At their peak, Thrasher's newsletters had 6000 subscribers, 10 percent overseas. Circulation-wise, this was a big comedown for Fiske, but he was too professional to approach his assignments half-heartedly. Although he held a grudge against his former employer, his bitterness surfaced only once.
When the Chronicle made no mention of the passing of World War II era lightweight champion Ike Williams, Fiske carped that the sports department was run by clowns more attuned to women's volleyball than to matters of significance.
"Professional Boxing Update" and "Flash" were modest endeavors, but the contributors were first-rate, most especially during the mid-1990s. Jack Fiske was then in good form, as was acerbic Las Vegas oddsmaker Herb Lambeck, a peerless boxing pricemaker. In those days, no one was better at dissecting a forthcoming fight than lead writer Graham Houston, himself a Future Hall of Famer. Houston, who was the North American correspondent for several British publications, stayed on with Thrasher's newsletters until the very end.
For some subscribers, these publications functioned mostly as tip sheets. When the opinions of Houston and Lambeck dovetailed, one could wager with a high degree of confidence.
Within four years of joining PBU/Flash, Jack Fiske's health began to fail and he was unable to meet his deadlines. To ease Fiske's slide to infirmity, Thrasher took to reprinting some of his old Chronicle columns.
When Virgil Thrasher launched his newsletters in 1985, he stole readers from established magazines by delivering information in a timelier fashion. Ironically, he became a victim of the same force. A new generation of fight fans, weaned on the internet, demanded updates quicker than the mailman could bring.
It would have been nice if Thrasher had continued on for a few more weeks, thereby affording readers a tribute to Jack Fiske on the occasion of his passing. But at least Fiske wasn't entirely forgotten.
In 2003, at age 85, Fiske was ushered into the International Boxing Hall of Fame. As is the custom when an inductee passes away, the flag atop the Canastota shrine was lowered to half-staff when news arrived of his passing.
Check out more boxing news on video at the Boxing Channel 
To comment on this story in the Fight Forum CLICK HERE