WAR DeLuca: "The Bazooka" Deploys to the UK for Matchroom Battle vs Kell Brook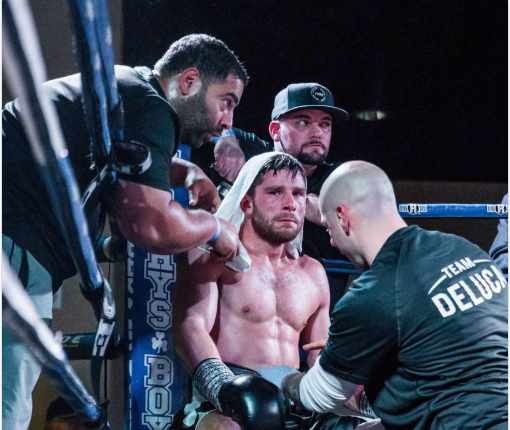 It is Friday afternoon, August 24, 2018, summertime in Quincy Market. I am standing at attention with Mark DeLuca outside of Boston's historic public meeting house, Faneuil Hall.
It's a zoo.
The buzz of Eddie Hearn's boxing promotion rages all around us. DeLuca's heavily muscled arms explode from a simple black-V-neck t-shirt. He wears a loaded look of pure determination.
DeLuca is humble cannon.
"Boston is hot right now and the fighters in Boston are making big splashes," he says. "You've got Toka Kahn, Boo-Boo, Danny, Greg Vendetti just had a good win, Rashidi Ellis. We're making a big comeback here. I'm happy where I am now but I'll go wherever the opportunity presents."
"So yeah, I'd love to fight in the U.K."
On February 8, 2020, the Quincy, Massachusetts born super-welterweight has the biggest fight of his life coming up in Sheffield against former welterweight champion of the world Kell Brook.
Their main event, scheduled for 12 rounds, airs on DAZN and on Sky Sports.
Four days later, after the fog of war subsides, DeLuca will reach his 32nd birthday, a personal milestone for a United States Marine Infantryman who's gone to war with America's enemies on the battlefield of bombs and lived to see another day—haunted by the knowledge of men and women on his side who did not. Just the other day—another flag draped coffin came home.
DeLuca knows he's not being sent over there by Eddie Hearn to win and that's OK. This is what Corporal DeLuca has been waiting for since going pro as a boxer (and as a U.S. Marine) in 2007—to be engaged in a winnable war overseas, to be face-to-face with an elite adversary.
In 2011, he did a dangerous tour of duty in Afghanistan.
We rightly thank heroes like Mark.
And not just for his service to America, but also for his service to the unsung warriors of boxing, men like local light-heavyweight Brandon Montella (pictured on the left), a now happily married fitness trainer who went 9-0 (8) as a pro after willing himself to the New England Golden Gloves Championships in 2012.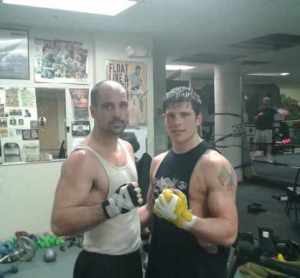 Their respectful relationship born of "instant, willing obedience" was depicted in the single-season reality show The Fighters filmed in 2014 at Peter Welch's South Boston gym.
The premise of the program was simple: "Each week, trainers from rival boxing gyms across Boston will choose their top amateur fighters to represent their gyms in a bout. After seven days of intense training, the fighters will face off in the ring with their professional futures at stake."
DeLuca trained and tutored Montella (also a Marine) when the aimless new pro was gymless and coachless in 2015. The fighters share a similar moral code of calm patience and selfless service. "Mark would show up, wrap my hands and corner me," Montella recalls with pride. It's interesting to note that Montella is eight years older and outranks his younger fighting mentor.
"When Mark was in my corner it was like being in the Marines again with a leader you know has been there before and will go there with you. He was the leader I never got to follow into a battle."
CRUCIBLE OF BOXING
At the Boston Garden in 2018, DeLuca avenged his only professional loss (a razor thin split decision defeat in the "Live Free or Die" New England State of New Hampshire) by outshooting Walter "Two Guns" Wright on a Matchroom USA sanctioned undercard. Promoted by Ken Casey's Murphys Boxing based outta Boston, DeLuca's fists are his weapons of war now.
They will do his talking.
So, I'll say a few things about him.
DeLuca is a hope to many in a depleted locality.
The townie from Whitman, Mass could go on to become the New England region's new and next Micky Ward (Pride of Lowell) or he might fade into mediocrity like Framingham's Danny O'Connor. He's 24-1 with 13 KOs. More boxer than brawler, DeLuca occasionally fights outside of his personality; a trap any popular boxer can fall into if he lets a noisy crowd dictate to him.
He is as physically fit as you'd expect for a United States Marine—and twice as quick. In 2017, he endured a huge cut over his right eye outgutting Chris Chatman in his "toughest fight to date."
A southpaw, DeLuca won twice in 2019, first in March at the House of Blues in Boston where he decisioned Jimmy Williams and then in June in Providence, Rhode Island, beating the unbeaten Brandon "L-Jack" Brewer over ten entertaining rounds. He's healthy and ring ready.
"I feel I have good momentum," he tells me.
Brook didn't fight at all in 2019.
DeLuca shrugs that off.
"He's dangerous and hungry to get back."
Hitting age 34 next May, Brook is known to bust up and has been beaten down before, first by Errol Spence in 2016 and then in 2017 by middleweight champ Gennady Golovkin. If he's as shell-shocked as thought by some, DeLuca's "Bazooka" fire could be too much to handle.
"There have been dark times," admits Brook. "DeLuca is a strong gutsy fighter who's always ready for war but I'm planning on making a statement to show I'm still a force at 147 or 154."
Brook, the former IBF welterweight champion, is now 38-2 with 26 KOs. Matched conservatively in 2018, this will be his third consecutive bout in his hometown of Sheffield.
Known as the "Special One" in the ring, it's been a few years since Brook has put on an especially special performance there. His 2014 upset of pressure fighter Shawn Porter to claim the IBF 147-pound crown was just such a special night in Carson, California on Showtime.
On that hot summer day in Boston back in 2018, I asked DeLuca about Kid Galahad, the chippy British featherweight who eight weeks later upset Toka Kahn by decision on the October 20 TD Garden show and who will be fighting at home on this February 8 card against Claudio Marrero.
Galahad was making his first media appearance outside the U.K. I was telling DeLuca about the bad blood between Toka and Galahad and confessing that I didn't really know who Galahad was.
What DeLuca knows is the art of war. "It's guys like that who come up from the rear and surprise everybody," he explained. "They're undercover. They show up and spoil the party."
Known for his "chocolate brownie" right hand, Kell Brook better be careful in Sheffield or the unknown Mark DeLuca will go home to Whitman to celebrate with a 32 candle salute at his expense.
Boxing Writer Jeffrey Freeman grew up in the City of Champions, Brockton, Massachusetts from 1973 to 1987, during the Marvelous career of Marvin Hagler. JFree then lived in Lowell, Mass during the best years of Irish Micky Ward's illustrious career. A new member of the Boxing Writers Association of America and a Bernie Award Winner in the Category of Feature Under 1500 Words, Freeman covers boxing for The Sweet Science in New England.
Check out more boxing news on video at The Boxing Channel 
To comment on this story in The Fight Forum CLICK HERE
Avila Perspective, Chap 130: Jaron 'Boots' Ennis, Super Fly and More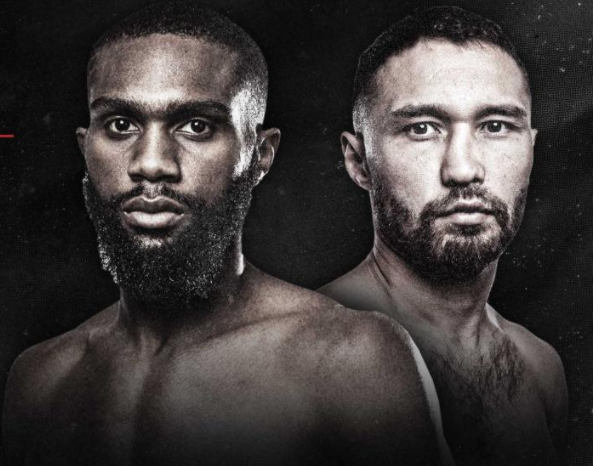 A stacked weekend of marquee fights is led by top American welterweight prospect Jaron "Boots" Ennis tasked with meeting the challenge of Russia's Sergey Lipinets in Connecticut.
The undefeated Ennis (26-0, 24 KOs) faces former super lightweight world titlist Lipinets (16-1-1, 12 KOs) on Saturday April 10, at the Mohegan Sun Casino in Uncasville. Showtime will televise the loaded PBC card.
Philadelphia's Ennis walks into the boxing ring with all of the physical advantages including height, reach, speed and even more pro fights. But Lipinets does indeed know what it's like to fight against a world champion.
"I think the opposition that I've faced is definitely better than what Ennis has faced. I went 12 rounds with Mikey Garcia and I faced a two-time champion in Lamont Peterson," said Lipinets. "Those guys have pushed me to the edge before. Ennis has more pro fights than I do, he just hasn't been pushed in the same way in his fights."
This will be an opportunity for the athletically gifted Ennis to discover if he cracks the elite level.
"I've been trying to get these types of guys in the ring for about two-and-a-half years. I've been trying to get former world champions and top ten guys. It just didn't happen. I finally got my chance and you guys are going to see a whole different animal. A whole different beast. It's time for me to do my thing," said Ennis, 23.
Lipinets, 32, realizes that time is running out and needs a win against an avoided prospect like Ennis to re-introduce himself to the fickle boxing world.
"Ennis is a young and up-and-coming fighter. All we want is a shot at the title and everything that comes with it. A win in this fight will give us all of that. I want to get my crack at the big dogs in the division," said Lipinets who trains in Southern California.
Both fighters are explosive types with extreme confidence in their abilities.
Superfly
Also on the same fight card, long-reigning IBF super flyweight world titlist Jerwin Ancajas (32-1-2, 22 KOs) yearns to be part of the super flyweight wars that have emerged with fighters Juan Francisco Estrada, Roman "Chocolatito" Gonzalez, Kazuto Ioka and Srisaket Sor Rungvisai.
The super flyweight division has become one of the hottest in boxing.
"I want to fight whoever is left after the four-man tournament between Rungvisai, Chocolatito, Estrada and (Carlos) Cuadras. I'm always calling the name of any titleholder in my division, so I would fight Ioka too," said Ancajas, a Filipino southpaw who has held the IBF super fly title since September 2016. "I want a signature fight because I'm tired of people criticizing me for not fighting anybody."
Ancajas, 29, meets Mexico's Jonathan Rodriguez (22-1, 16 KOs) another one of those little-known Mexican sluggers that can upset any fighter looking too far ahead.
"Ancajas is a great champion, but he's never faced someone like me. I'm going to put the pressure on him from the very beginning Saturday night and show him that he has a great Mexican fighter standing in his way," said Rodriguez.
Early Fights
A welterweight battle between Conor Benn (17-0) and Samuel Vargas (31-6-2) takes place on Saturday April 10, from London. The Matchroom Boxing card will be streamed on DAZN at 11 a.m. Pacific Time.
British-born Benn is the son of the great Nigel Benn and was slated for a showdown with another British prospect Josh Kelly. But that fighter was upended by David Avanesyan this past February who knocked out Kelly. Matchroom Boxing had to re-arrange somethings and now it's Benn versus Vargas.
Vargas is tough.
The last time we saw Vargas he was getting clobbered by knockout artist Vergil Ortiz Jr. but never touched the floor. Whoever fights Vargas learns quickly that he's a dangerous fighter with a head made of steel.
Does Benn have enough boxing skills to switch to plan B when a knockout win isn't possible?
We shall see.
On the same card two female world title fights take place with the vacant WBA bantamweight title up for grabs between England's Shannon Courtenay and Australia's Ebanie Bridges. Also, WBO middleweight titlist Savannah Marshall defends against Maria Lindberg.
Light Heavyweight Title
A fight for the vacant WBO light heavyweight title will try and take place again when Joe Smith Jr. (26-3, 21 KOs) the hard-hitting blue-collar worker from Long Island takes his hammer fists to Tulsa, Oklahoma to face Max Vlasov (45-3, 26 KOs) on Saturday April 10. ESPN will show the Top Rank fight card.
They tried fighting each other before but the coronavirus epidemic knocked the first attempt out of the water. Here they go again.
Smith, 31, has tried before and been defeated before. But every time someone thinks its all over for the construction worker, he knocks somebody out to regain a footing. He knocked out former champion Eleider Alvarez and defeated Jesse Hart to get to this spot.
Vlasov, 34, has been around for many years and displays an aptitude for doing what's necessary to survive. Can he find that same ingredient to fend off Smith?
It should be a worthy world title fight.
Check out more boxing news on video at the Boxing Channel
To comment on this story in the Fight Forum CLICK HERE
Jaron 'Boots' Ennis Advancing to Heights Beyond What His Brothers Achieved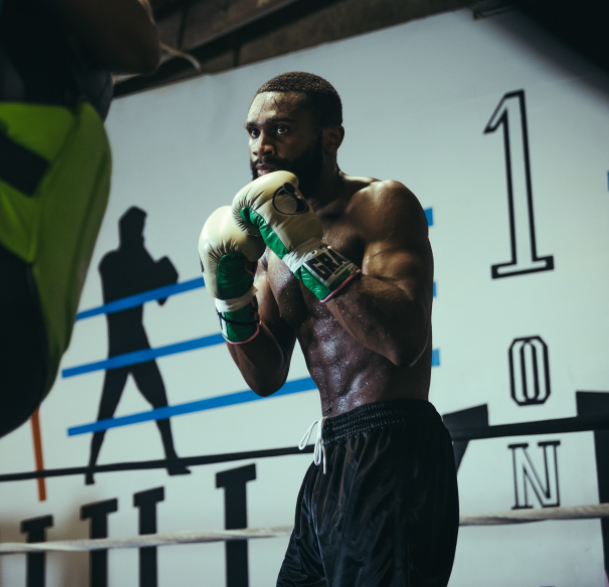 Is fast-rising welterweight contender Jaron "Boots" Ennis the Next Big Thing in boxing's deepest and arguably best division? To hear veteran Showtime analyst Steve Farhood tell it, the 23-year-old Philadelphian just might be, with his already blue-chip stock apt to increase in value should he take care of business Saturday night against Sergey Lipinets in the Showtime Championship Boxing main event at the Mohegan Sun Arena in Uncasville, Conn.
"I think so much of him, I believe he will not only win his stiffest test, but win impressively," Farhood said of the youngest and best of the three Ennis brothers to box professionally. "And when he does, that'll show he belongs with the very best of the welterweights."
Asked what the immediate future might hold for Ennis (26-0, 24 KOs) should the young knockout artist do unto the 32-year-old Lipinets (16-1-1, 12 KOs) what he did to 16 of his 17 most recent opponents, which is to win inside the distance, Farhood opined that the door to indisputably elite status could swing open sooner rather than later.
"Now that fighters are fighting again (as COVID-19 concerns begin to lift), I would say within a year," Farhood predicted. "After Lipinets, is there really a point in moving backward? I think Boots and Danny Garcia obviously would be a very special fight in Philadelphia. A Garcia, a Shawn Porter or a Keith Thurman, fighters on that level, are all within reach over the next 12 months, if he looks dominant against Lipinets, which I believe he will."
Should Boots meet or exceed Farhood's most optimistic projections, a vision shared by his father-trainer, Derrick "Bozy" Ennis, a down-the-road showdown with either or both of the 147-pound weight division's superstars, Terence Crawford and Errol Spence Jr., could await. But the family patriarch expects some of the bigger names to be unavailable to his son, for one reason or another.
"Danny don't want to fight my son," Bozy said. "Danny wouldn't even spar with my son. And Shawn Porter already said, `I ain't fighting Boots Ennis. I know his father, I know his brothers. The only way I'd take that fight is if he keeps calling me out. But otherwise I'm not fighting that young killer if I don't have to. He's too fast, too slick.'
"Some of the top guys are talking about moving up (to junior middleweight), so we'd still have a shot at one of those titles if they open up. Spence is talking about going to 154 if he doesn't get certain fights. Now, he did say he might fight Boots down the line. I'll give him credit for that. Crawford? He's not interested in fighting Boots. His people already said that. All I can say is that some of these guys, they either got to s— or get off the pot and move on. If need be, we'll go after (Yordenis) Ugas and Jamal James. They're top guys."
Big talk, of course, is cheap and means nothing if not backed up by in the ring. The suggestions Bozy Ennis is tossing around like confetti that some of the premier welterweights are avoiding Boots as if he were a communicable disease might or might not be accurate. One thing, though, is certain: the highest aspirations that members of the Ennis family are now reserving for its brightly shining baby boy were also once held for Boots' older brothers Derek "Pooh" Ennis and Farah Ennis, both of whom made it part of the way up the ladder to the big time before their careers stalled.
Pooh, the eldest brother whose last pro bout was in 2014, compiled a 24-5-1 record with 13 KO victories competing in the super welterweight and middleweight classifications, along the way holding the Pennsylvania and USBA 154-pound championships. Farah, who briefly was the NABF 168-pound titlist, was 22-2 with 12 KOs and hasn't fought since 2015.
In a 2018 interview, Bozy said the gap separating Boots and his brothers mostly owes to little brother taking care not to make some of the mistakes his siblings made.
"Derek and Farah talk to Jaron all the time, which helps," Bozy said then. "They say, `Don't do what I did when I was younger, when I had a chance to be better than I was.' My older boys had talent, but they weren't always as focused as they should have been. They let the women get to them. Hey, it happens."
Familial genetics, however, is not always a true indicator of outcome. Henry and Tommie Aaron hold Major League Baseball's record for combined home runs by brothers with 768, but Hammerin' Hank had 755 of them to Tommie's 13. Jose and Ozzie are identical twins, but Jose blasted 462 homers over 17 MLB seasons while Ozzie, two inches shorter and 20 pounds lighter, failed to go deep even once in his three seasons in The Show. Focus and dedication are factors in any athlete's success, sure, but talent is not always evenly distributed among blood relatives.
"The two older brothers both got beat on ShoBox, interestingly," recalled Farhood. "I think the difference between Boots and them is just natural talent.
"You often see in basketball that the son of a coach is a point guard. Kids like that have a comfort level and feel for the game. I get that same impression with Boots. Growing up around Bozy, being around in the gym literally from the time he was a baby, his upbringing shows. But it's not only that. He has a lot of natural ability to go with that lifetime of familiarity with boxing. You put all that together and you get what looks like the perfect package."
Predictions of future stardom were made early on for Boots Ennis, who was widely considered to be the best young fighter to come out of Philly since Meldrick Taylor was a 17-year-old gold medalist at the 1984 Olympics and went on to win world titles at both junior welterweight and welterweight. Some prodigies can sag under such heavy expectations, but to date Boots seems to have embraced his role as the emerging face of Philadelphia boxing.
"Being in the main event on Showtime brings more attention, but I like it," he said in the lead-up to his important 12-round matchup with the capable Lipinets, which some knowledgeable insiders view as an almost pick 'em fight. "I like being in the spotlight. I like to shine, so it's nothing new. Now it's fight time. I am locked in and ready to rock and roll."
Boots Ennis comes in either on a 16-fight knockout streak, or not. In his most recent ring appearance, against veteran South African southpaw Chris van Heerden, a clash of heads in the first round caused a severe cut to van Heerden's forehead and the bout being declared a no-contest. Whether that NC ended the impressive run of early endings or not is a matter of opinion, not that it matters to Boots in any case.
"Some people might look at a knockout on April 10 as the 17th consecutive knockout. Some might view it as the start of a new knockout streak," he said. "For me, I don't really care as long as I come out victorious. That's all that matters to me. I'm not looking for a knockout, but I'm going to take it if it comes."
Despite his burgeoning reputation as a power puncher, Boots believes his best days as a lights-out finisher are still ahead.
"I don't feel I have my man strength yet," he offered. "I feel it will be one or two more years until I fully have my man strength. The crazy part is, I feel like in a fight, I still haven't thrown a real power shot and really sat down on a punch yet. Everything I've been knocking guys out with has been all-natural strength."
Again, Saturday night's outcome is hardly a fait accompli. Although Boots is ranked No. 7 by the WBO, No. 9 by the IBF and No. 12 by the WBC, the Kazakhstan-born, California-based Lipinets matches or exceeds those ratings, currently as the IBF's No. 3 contender, and No. 9 by both the WBO and The Ring magazine. But, with advantages of three inches in height and a whopping seven inches in reach for Boots, the fight could be a virtual replay of the taller, longer-armed Jamel Herring's almost casual dismissal of Carl Frampton last week.
"He's very confident, sure, but that's all right if he can back it up," Farhood said of Ennis. "To me, the ultimate test of a really hot prospect is when he moves up in class. Does he just win, or does he win more impressively than what a lot of people anticipated? So far, for each step along the way, for Boots the answer has been yes. I think it will be again Saturday night."
Photo credit: Amanda Westcott / SHOWTIME
A New Orleans native, Bernard Fernandez retired in 2012 after a 43-year career as a newspaper sports writer, the last 28 years with the Philadelphia Daily News. A former five-term president of the Boxing Writers Association of America, Fernandez won the BWAA's Nat Fleischer Award for Excellence in Boxing Journalism in 1998 and the Barney Nagler Award for Long and Meritorious Service in 2015. In December of 2019, Fernandez was accorded the highest honor for a boxing writer when he was named to the International Boxing Hall of Fame with the Class of 2020. Last year, Fernandez's anthology, "Championship Rounds," was released by RKMA Publishing.
Check out more boxing news on video at the Boxing Channel
To comment on this story in the Fight Forum CLICK HERE
Jesse James Leija vs. Micky Ward: A Dry-gulch in San Antonio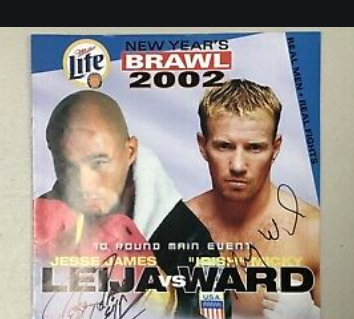 Late in his career, Jesse James Leija was involved in two fights that ended in controversy under eerily similar circumstances. The first came in July of 2001 when Leija, a former world title-holder, was paired against Hector Camacho Jr at Brooklyn's new minor league baseball stadium. Camacho Jr was 32-0 at the time; Leija 42-5-2.
In the fifth round, a cut was opened across Camacho's right eyelid. At the end of the round, ringside physician Dr. Robert Polofsky examined the cut, which did not appear to be all that bad to television or ringside viewers.
Camacho could be heard (at least by this listener) saying 'I can't see." Polofsky agreed with him, as he ordered the fight stopped, and under the rules it went to the scorecards. After much confusion, arguing, consultation, and stalling, the cards were read and unbelievably all three favored Camacho. He was ahead 49-46 on two of the cards and 48-47 on the third. The technical decision was roundly booed by an announced crowd of 6,012, even though Camacho, from Spanish Harlem, was effectively fighting in his hometown.
The doctor, referee Steve Smoger, and the judges did not to talk to the media. Whether they were ordered to stay silent by the New York State Athletic Commission is open to debate.
Hector Camacho Jr. remained unbeaten, but his tainted victory tarnished his image as the WBA's number-one-ranked super lightweight. Leija and his manager, Lester Bedford, called Camacho a quitter, an accurate description to most of the viewers. Leija had badly hurt Camacho in the fight, and it was clear that junior wanted no more of what the veteran brought to the table.
Thankfully, the decision was later ruled a no-contest. The commission ruled that the bell should not have rung to begin the sixth round. Since the bell rang incorrectly, the official cards should not have been consulted under a New York boxing rule, and there could not be a decision, the panel said.
But this fight has haunted "Machito" ever since, and his legacy as a warrior was impacted by it. The backlash was vicious.
Leija-Ward
Less than seven months later, Leija met "Irish" Micky Ward at the Freeman Coliseum in San Antonio, Texas. Akin to Leija-Camacho Jr, the bout aired on HBO's "Boxing After Dark" series. And the very same thing that happened to Leija in Brooklyn happened to Ward in Leija's hometown.
The Lowell, Massachusetts warrior opened a cut over Leija's right eye with what replays clearly showed to be a short left hook, but referee Laurence Cole inexplicably called it a butt. When the referee went to Leija's corner, Leija, despite his legitimate warrior reputation, said he couldn't see, and the fight was stopped. Ward's corner was shocked and pleaded with Leija to continue. They appealed to his reputation.
They might have appealed to the Texas Commission but the head of it was the colorful and beloved Dickie Cole, Laurence's father, so they passed.
The outcome was fortunate for Leija. Ward, often a slow starter, was rapidly getting into his rhythm and beginning to land his signature body shots. It would only be a matter of time before he caught up with the fading Leija. But Ward would be ambushed, dry-gulched in San Antonio.
For some strange reason, this one escaped notoriety and has remained under the radar, but it was every bit as bad as the Camacho fiasco, maybe worse, particularly since Leija was a guy who came to fight. At the very least, it should have been called a no-contest. Ward, for his part, never blamed Leija for what happened.
Camacho received a brutal backlash; Leija received virtually none, even though this was terribly wrong. Oddly, Leija would retire in his corner once again in his very next fight when his corner pulled him out with a busted eardrum after six rounds against Kostya Tszyu.
Sometimes things happen for the best. Ward went on to fight and beat Arturo Gatti at the Mohegan Sun Casino in Connecticut instead of engaging in a rematch with Jesse James Leija. The rest is rich history.
After losing to the great Tszyu, Leija won four in a row before losing his final fight to, of all people, Arturo Gatti. Leija was knocked down twice and stopped in the fifth round of their bout at Boardwalk Hall in Atlantic City. He announced his retirement a week after this fight but would remain in boxing as a trainer.
Ted Sares can be reached at tedsares@roadrunner.com
Check out more boxing news on video at the Boxing Channel
To comment on this story on the Fight Forum CLICK HERE