WAR DeLuca: "The Bazooka" Deploys to the UK for Matchroom Battle vs Kell Brook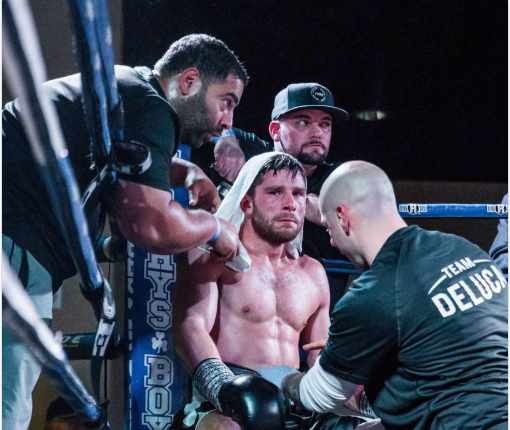 It is Friday afternoon, August 24, 2018, summertime in Quincy Market. I am standing at attention with Mark DeLuca outside of Boston's historic public meeting house, Faneuil Hall.
It's a zoo.
The buzz of Eddie Hearn's boxing promotion rages all around us. DeLuca's heavily muscled arms explode from a simple black-V-neck t-shirt. He wears a loaded look of pure determination.
DeLuca is humble cannon.
"Boston is hot right now and the fighters in Boston are making big splashes," he says. "You've got Toka Kahn, Boo-Boo, Danny, Greg Vendetti just had a good win, Rashidi Ellis. We're making a big comeback here. I'm happy where I am now but I'll go wherever the opportunity presents."
"So yeah, I'd love to fight in the U.K."
On February 8, 2020, the Quincy, Massachusetts born super-welterweight has the biggest fight of his life coming up in Sheffield against former welterweight champion of the world Kell Brook.
Their main event, scheduled for 12 rounds, airs on DAZN and on Sky Sports.
Four days later, after the fog of war subsides, DeLuca will reach his 32nd birthday, a personal milestone for a United States Marine Infantryman who's gone to war with America's enemies on the battlefield of bombs and lived to see another day—haunted by the knowledge of men and women on his side who did not. Just the other day—another flag draped coffin came home.
DeLuca knows he's not being sent over there by Eddie Hearn to win and that's OK. This is what Corporal DeLuca has been waiting for since going pro as a boxer (and as a U.S. Marine) in 2007—to be engaged in a winnable war overseas, to be face-to-face with an elite adversary.
In 2011, he did a dangerous tour of duty in Afghanistan.
We rightly thank heroes like Mark.
And not just for his service to America, but also for his service to the unsung warriors of boxing, men like local light-heavyweight Brandon Montella (pictured on the left), a now happily married fitness trainer who went 9-0 (8) as a pro after willing himself to the New England Golden Gloves Championships in 2012.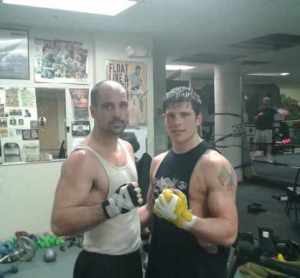 Their respectful relationship born of "instant, willing obedience" was depicted in the single-season reality show The Fighters filmed in 2014 at Peter Welch's South Boston gym.
The premise of the program was simple: "Each week, trainers from rival boxing gyms across Boston will choose their top amateur fighters to represent their gyms in a bout. After seven days of intense training, the fighters will face off in the ring with their professional futures at stake."
DeLuca trained and tutored Montella (also a Marine) when the aimless new pro was gymless and coachless in 2015. The fighters share a similar moral code of calm patience and selfless service. "Mark would show up, wrap my hands and corner me," Montella recalls with pride. It's interesting to note that Montella is eight years older and outranks his younger fighting mentor.
"When Mark was in my corner it was like being in the Marines again with a leader you know has been there before and will go there with you. He was the leader I never got to follow into a battle."
CRUCIBLE OF BOXING
At the Boston Garden in 2018, DeLuca avenged his only professional loss (a razor thin split decision defeat in the "Live Free or Die" New England State of New Hampshire) by outshooting Walter "Two Guns" Wright on a Matchroom USA sanctioned undercard. Promoted by Ken Casey's Murphys Boxing based outta Boston, DeLuca's fists are his weapons of war now.
They will do his talking.
So, I'll say a few things about him.
DeLuca is a hope to many in a depleted locality.
The townie from Whitman, Mass could go on to become the New England region's new and next Micky Ward (Pride of Lowell) or he might fade into mediocrity like Framingham's Danny O'Connor. He's 24-1 with 13 KOs. More boxer than brawler, DeLuca occasionally fights outside of his personality; a trap any popular boxer can fall into if he lets a noisy crowd dictate to him.
He is as physically fit as you'd expect for a United States Marine—and twice as quick. In 2017, he endured a huge cut over his right eye outgutting Chris Chatman in his "toughest fight to date."
A southpaw, DeLuca won twice in 2019, first in March at the House of Blues in Boston where he decisioned Jimmy Williams and then in June in Providence, Rhode Island, beating the unbeaten Brandon "L-Jack" Brewer over ten entertaining rounds. He's healthy and ring ready.
"I feel I have good momentum," he tells me.
Brook didn't fight at all in 2019.
DeLuca shrugs that off.
"He's dangerous and hungry to get back."
Hitting age 34 next May, Brook is known to bust up and has been beaten down before, first by Errol Spence in 2016 and then in 2017 by middleweight champ Gennady Golovkin. If he's as shell-shocked as thought by some, DeLuca's "Bazooka" fire could be too much to handle.
"There have been dark times," admits Brook. "DeLuca is a strong gutsy fighter who's always ready for war but I'm planning on making a statement to show I'm still a force at 147 or 154."
Brook, the former IBF welterweight champion, is now 38-2 with 26 KOs. Matched conservatively in 2018, this will be his third consecutive bout in his hometown of Sheffield.
Known as the "Special One" in the ring, it's been a few years since Brook has put on an especially special performance there. His 2014 upset of pressure fighter Shawn Porter to claim the IBF 147-pound crown was just such a special night in Carson, California on Showtime.
On that hot summer day in Boston back in 2018, I asked DeLuca about Kid Galahad, the chippy British featherweight who eight weeks later upset Toka Kahn by decision on the October 20 TD Garden show and who will be fighting at home on this February 8 card against Claudio Marrero.
Galahad was making his first media appearance outside the U.K. I was telling DeLuca about the bad blood between Toka and Galahad and confessing that I didn't really know who Galahad was.
What DeLuca knows is the art of war. "It's guys like that who come up from the rear and surprise everybody," he explained. "They're undercover. They show up and spoil the party."
Known for his "chocolate brownie" right hand, Kell Brook better be careful in Sheffield or the unknown Mark DeLuca will go home to Whitman to celebrate with a 32 candle salute at his expense.
Boxing Writer Jeffrey Freeman grew up in the City of Champions, Brockton, Massachusetts from 1973 to 1987, during the Marvelous career of Marvin Hagler. JFree then lived in Lowell, Mass during the best years of Irish Micky Ward's illustrious career. A new member of the Boxing Writers Association of America and a Bernie Award Winner in the Category of Feature Under 1500 Words, Freeman covers boxing for The Sweet Science in New England.
Check out more boxing news on video at The Boxing Channel 
To comment on this story in The Fight Forum CLICK HERE
"One Night in Miami": Film Review by Thomas Hauser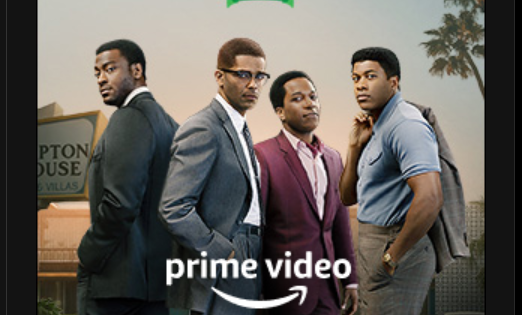 On February 25, 1964, Cassius Marcellus Clay Jr. defeated Charles "Sonny" Liston in Miami Beach over the course of six remarkable rounds to claim the heavyweight championship of the world. Late that night, the new champion found himself in a room at Hampton House (a black hotel in segregated Miami) with Malcolm X, several other followers of Nation of Islam leader Elijah Muhammad, and football great Jim Brown. Soul singer Sam Cooke (a friend of Clay's) had been at the fight, but there's no historical record of his being in the hotel room with the others at that time.
One Night in Miami is built around imagining what transpired in that room amongst Malcolm X, Cassius Clay, Jim Brown, and Sam Cooke. Directed by Regina King from a screenplay by Kemp Powers, it's available on Amazon Prime.
The film fits into the genre known as historical fiction. Dramatic license was taken. Viewers should understand that, at times, it's allegorical rather than an accurate factual recounting. The larger question is whether the film is impressionistically honest. The answer is "yes."
One Night in Miami begins with the 1963 fight between Clay and Henry Cooper in London. It then segues to Cooke being treated rudely by an all-white audience at the Copacabana, followed by Jim Brown (the greatest running back in National Football League history) being reminded by a patronizing southern gentleman that he's just a "n—–." Next, we see Malcolm as the Nation of Islam's most charismatic spokesman, after which the scene shifts to Liston-Clay I.
Thirty-four minutes into the film, the drama moves to Hampton House.
Malcolm X, Cassius Clay, Jim Brown, and Sam Cooke were prominent in different ways. Each was young, black, and famous. But Malcolm was a social and religious figure of considerable intellect while the other three were known as entertainers.
The dialogue between the four men is light at first and then turns serious.
Malcolm is played by Kingsley Ben-Adir. On what should have been one of the greatest nights of his life, his world is slipping away. His deadly rupture with Elijah Muhammad is almost complete. Soon, Clay will abandon him. Ben-Adir comes across as a bit weaker and more tentative than one might expect, although Malcolm's intellect is evident in his performance.
It's hard to imagine anyone playing Cassius Clay well except the young Muhammad Ali. But Eli Goree bears a resemblance to Clay and is pretty good in the role.
Jim Brown was an intimidating physical presence. Aldis Hodge lacks this physicality but his performance is solid.
Leslie Odom Jr, who plays Sam Cooke, has star quality. He's the only one of the four major actors who has the charisma and presence of the man he's portraying. But as a result, Cooke has a stronger on-screen persona than Malcolm. That's a problem as tensions between the two men boil over.
Toward the end of the film, Malcolm reveals that he intends to leave the Nation of Islam because of differences with Elijah Muhammad and will found a new organization.
"Who's gonna be in this new organization?" Clay asks.
"I think lots of people will follow me over," Malcolm answers. "Especially if you come with me."
Clay, of course, didn't follow Malcolm. He sided with Elijah Muhammad. One year later, he and Jim Brown were the only participants from the hotel room gathering as portrayed in the film who were still alive. Sam Cooke was shot to death in a California motel on December 11, 1964. On February 21, 1965, Malcolm was assassinated at the Audubon Ballroom in Harlem.
One Night in Miami cautions us that our icons are flesh and blood human beings with strengths and flaws. In its best moments, the film is a powerful reminder that the issues of self-respect, black empowerment, and racial equality are timeless.
Pictured left to right: Aldis Hodge (Jim Brown), Kingsley Ben-Adir (Malcolm X) Leslie Odom Jr (Sam Cooke) Eli Goree (Cassius Clay)
Thomas Hauser's email address is thomashauserwriter@gmail.com. His most recent book – Staredown: Another Year Inside Boxing – was published by the University of Arkansas Press. In 2004, the Boxing Writers Association of America honored Hauser with the Nat Fleischer Award for career excellence in boxing journalism. In 2019, he was selected for induction into the International Boxing Hall of Fame.
Check out more boxing news on video at the Boxing Channel 
To comment on this story in the Fight Forum CLICK HERE
Crossover star Holly Holm Adds New Dimensions to Claressa Shields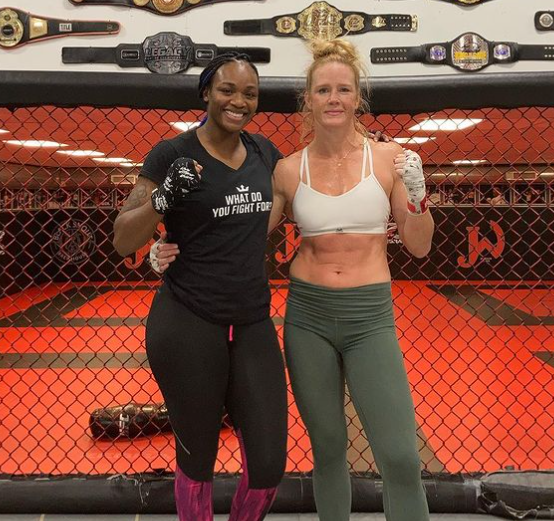 She laughs about it now, but back then it wasn't all that funny.
Boxing champion Holly Holm was competing in her first professional MMA fight, and all her years of training inside the ropes as a world champion boxer had just taken over her entire body.
Holm had kicked her opponent down to the ground, so she did what any well-schooled boxer would do. She pivoted away from her fallen prey and headed over to the neutral corner.
All of that was wrong.
"What are you doing?" her coach yelled from cageside. "Finish her!"
It was Holm's first big mistake in moving over from boxing to MMA, but she was lucky that night. It turned out that Holm's opponent was finished whether she had run over there or not, so it was a lesson she could learn without much consequence.
But the instruction of that moment stands true today, so it's just one of the many things Holm has shared with 25-year-old boxing champion Claressa Shields as the two-time Olympic gold medalist attempts to follow in her footsteps.
"I was thinking yeah, that will definitely happen to me!" Shields said.
After Shields signed a three-year promotional deal in December with the Professional Fighters League (PFL), the first thing Shields needed to do was look for the right gym.
Shields found that place at Jackson Wink MMA Academy in Albuquerque, New Mexico, one of the most famous MMA gyms in the country, and the one most recognized among the masses as the home gym of former UFC women's bantamweight champion Holm and pound-for-pound king Jon Jones.
Holm remains the only fighter (male or female) to have won legit world championships in both boxing and MMA, and Shields said Holm welcomed her to Jackson Wink with open arms.
"She's been super great and very nice to me. We both come from the same background…and she actually turned out to be a world champion [in MMA], actually turned out to be really good," Shields said.
But Holm's funny story about her first MMA fight is something that points to just how large a hill Shields has decided to climb.
Whereas pop culture has just recently started to realize the power of habits through the work of writers such as Charles Duhigg and James Clear, it's something professional fighters have known for a long time now.
"Oh, you're going to have a habit of this because you used to box."
That's something Holm tells Shields almost every time they work together, and there are just so many examples.
In fact, just watching the 25-year-old boxing champion trying to learn to do all these new things in a different way is exhausting.
That Shields practically lives inside the gym for weeks at a time so she can train four or five times a day for all the kinds of things she never had to worry about before as a professional boxer is a testament to her seriousness and her courage.
But perhaps the most amazing part of the entire story is that Shields still plans on boxing.
While Holm won world championships in both sports, she achieved those things separately. Meanwhile, Shields said she wants to do the same thing Holm did but at the same time.
So, while I'm standing there with her inside an MMA cage in New Mexico, Shields is plotting fights in both sports. On one hand, she's talking to me about a title unification bout in boxing against Marie-Eve Dicaire. On the other, she's talking about future superfights in MMA against the likes of UFC champ Amanda Nunes.
"I'm trying to separate the two," Shields said specifically about her training that day but she might as well have been talking about her whole life right about now.
It's arguably the most amazing storyline right now in combat sports.
Shields started boxing when she was just 11 years old. She earned her first gold medal at the Olympics at 17 and her second four years later.
Today, Shields is a three-division world champion, and she says she's not nearly finished adding to her growing number of boxing belts.
But all those years and all those successes have built so many habits. Ducking and slipping is great for boxing, but both become considerable detriments to defense when you suddenly have to worry about things like knees and kicks.
And what about wrestling and jiu-jitsu?
But all that stuff together is exactly what makes Shields' epic decision to dare to be great at both sports at the same time so amazing in the first place.
Look, Shields might never accomplish the same amazing feat Holm did when she shocked Ronda Rousey in 2015 for the UFC women's bantamweight championship.
But she's aiming to eclipse that incredible mark anyway, and with Holm and many others offering Shields ideas about what she needs to think about as she climbs up the steepest hill she can find, she'll definitely have her best chance at doing it.
Kelsey McCarson covers combat sports for Bleacher Report and Heavy.
Check out more boxing news on video at the Boxing Channel 
To comment on this story in the Fight Forum CLICK HERE
Boxers Fighting the Best and Doing It Again for the First Time: Part One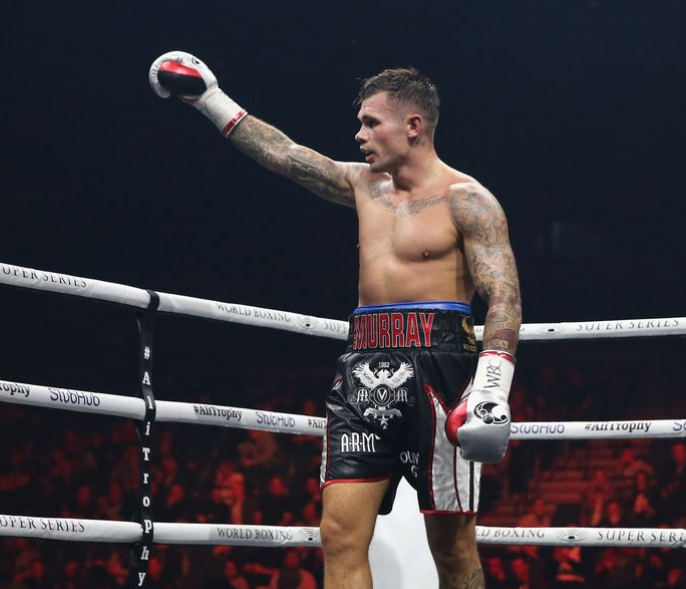 Britain's Martin Murray has fought the very best and has now closed out a heartbreaking if not admirable and old school career.
Others are just beginning to hit their stride and suddenly the possibilities are mouthwatering.
The buzz is back on. The heat is coming. No excuses. No badly injured shoulders. No running. This is macho explosive. This is the best fighting the best like it used to be done. Cherry picking is not allowed.
Back in the day, warriors like Ernie Durando, Kid Gavilan, Joey Giardello, Tony DeMarco, Bobby Dykes, Paul Pender, Joey Maxim, Holly Mims, Bobo Olson, and way too many others to list here would fight other top-notch boxers. It was the norm; not the exception. Tony DeMarco beat Kid Gavilan in 1956 and then fought Gaspar Ortega three times in a row in a relatively short period of time.
In the process of compiling a 95-25-1 record, Ezzard Charles engaged in an eye-popping 27 fights against men who would go on to be enshrined in the International Boxing Hall of Fame and/or the World Boxing Hall of Fame.
The List
Rocky Marciano (twice) – IBHF/WBHF
Joe Louis – IBHF/WBHF
Jersey Joe Walcott (four times) IBHF/WBHF
Archie Moore (thrice) IBHF/WBHF
Joey Maxim (five times) IBHF/WBHF
Jimmy Bivins (five times) IBHF/WBHF
Charley Burley (twice) IBHF/WBHF
Harold Johnson IBHF/WBHF
Lloyd Marshall (thrice) WBHF
Gus Lesnevich WBHF
In addition, Charles had three fights with Rex Layne, two with Ken Overlin, two with Elmer Ray, and one with Bob Satterfield
"Some day, maybe, the public is going to abandon comparisons with Joe Louis and accept Ezzard Charles for what he was—the best fist fighter of his particular time"  –Red Smith
Beau Jack, Aldo Minelli, Yama Bahama, Johnny Cesario, Fighting Harada, Eder "Golden Bantam" Jofre, Vicente Saldivar, Jose "El Huitlacoche" Medal, and then later Juan LaPorte and Livingstone "The Pit Bull" Bramble did not know what easy opponents meant. They were willing to fight anyone anywhere and were seldom stopped.
Vito Antuofermo, Ralph Dupas, Willie Pastrano, Curtis Parker, Bennie Briscoe, Kassim Ouma, Emanuel Augustus, Scott LeDoux, Ben Tackie, Ray Oliveira, Renaldo Snipes, Freddie Pendleton, John Scully, Charles Murray, Ted Muller, Anthony Ivory, and Alfredo "Freddy" Cuevas were also representative of those who would fight anyone anywhere. Picking made-to-order opponents was not what they were about.
Ali, Norton, Young, Quarry, fought one another. So did Duran, Leonard, Hagler, and Hearns. Across the pond, Watson, Benn, and Eubank did the same. Frazier, Holyfield, Mugabi, Tszyu, Cotto, and Chacon never ever backed away, nor did Mexican notables Castillo, Marquez (JMM), Morales and Barrera.
No one will accuse Floyd "Money" Mayweather of not fighting the best but they might point out that Floyd sometimes used long time intervals between bouts to his advantage. "Money" was not a particularly active fighter. The phrase "cherry picking" gained traction during this time.
Still, Andre Ward cleaned out an entire division. Cotto fought Pacquiao and Canelo, De La Hoya met Pacquiao, Klitschko faced Fury and then Joshua. Fury — after beating Klitschko — fought Wilder twice. Chisora will fight anyone they put in front of him. Heck, GGG fought 24 brutal rounds with Canelo and if that wasn't the best fighting the best, what was?
"…great fights lead to other great fights."—Max Kellerman
To be continued……
Check out more boxing news on video at the Boxing Channel 
To comment on this story in the Fight Forum CLICK HERE
Ted Sares can be reached at tedsares@roadrunner.com