British Boxing 2019 in Review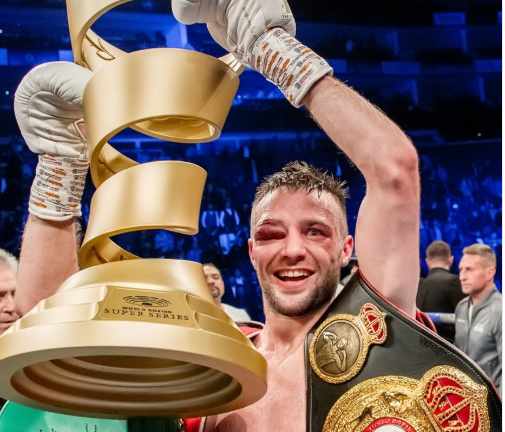 2018 was an astonishing year for British boxing and for all that 2019 didn't quite measure up, there were some notable names and some astonishing moments, not to mention some astonishing fights.
Here we take a closer look, naming a British Boxer of the Year, a British Fight of the Year, the British Prospect of the Year, the British Breakthrough of the Year and finally the British Trainer of the Year.
This one is in the bag; I'll see you this time next year for another yearly appraisal.
British Boxer of the Year: Josh Taylor
A lot has been said about the terrible emotional turmoil inflicted upon Josh Taylor in this past year, which should have been the best year of his life. Suffering a death in the family makes going to work in an office extremely difficult, so we can, some of us, imagine the terrible difficulty in putting your health on the line in one of the most emotionally wrought professions a person can chose. But set that aside. Strictly in sporting terms, Taylor has a head a year for the ages.
Set aside, too, just for a moment, his October meeting with Regis Prograis and look instead to his May clash with Ivan Baranchyk. Baranchyk was and remains absolutely real, a light-welterweight of prestigious strength and formidable durability. His 2018 walkdown of Anthony Yigit was painful to watch and saw Baranchyk ensconced in the top ten. This was the man Taylor had to overcome in the semi-final of the World Boxing Super Series.
He did so, and in doing so he fitted the last piece of the puzzle in his stylistic jigsaw, repeatedly slipping and ducking Baranchyk's wild hooks, hooks he threw with both hands as he aggressively pursued a Josh Taylor that seemed happier on his toes than at any point in his career. It was a demonstration of stylistic flexibility unlike any seen on these shores for a number of years.
In the fourth, Taylor started to come down, to meet his more aggressive foe in the pocket. He was dominant here too, his more varied offense crowned with two-handed uppercuts and a sneaky trailing left from the southpaw stance.
Hit and hurt in the fifth he went to war in the sixth and twice dropped Baranchyk, who had never been down much less beaten in his 19-0 career. This was the round that determined his wide points victory.
Still, Prograis was something else again. Skilled, quick-witted and seemingly faster than Taylor he was a genuinely menacing opponent and at 24-0 was also more experienced. Expectations were that Prograis would box and move and that Taylor would have to assume the Baranchyk role in trying to hunt a more mobile fighter down and take it away from him. When Prograis elected to hold his ground, the result was a fight of the year contender and the result, a narrow decision victory for the Scotsman, made him the only reasonable choice for British fighter of the year.
It also saw him crack the TBRB pound-for-pound list at number ten.
So, Taylor had a hard year but a good one. It ended though, on a sour note. Scotland is not an easy place to be famous and Scottish blood runs hot come the weekend. In December, Taylor appeared in court having been involved in an altercation with a nightclub bouncer in the early hours of a Sunday morning during which he threw homophobic and racial insults. He pleaded guilty to the latter of these while charges relating to possession of cocaine were dropped.
If 2020 is to be as outstanding for Taylor as 2019 was, changes need to be made.
British Fight of the Year: Lewis Ritson UD12 Robbie Davies
Nowhere in the UK does big time sport quite like Newcastle. As a Scotsman, that's not easy to admit and while I'd argue Glasgow a close second, Newcastle remains number one.
Lewis Ritson (20-1) is that city's favorite fighting son and Robbie Davies (19-1) showed guts even agreeing to make the match there. What followed was as fine a demonstration of heart and intestinal fortitude as was seen in Britain this past year.
Brutal exchanges in the first foretold a knockout, but it was not to be. Despite Davies switch hitting impressively and scoring with either trailing hand, Ritson came roaring back in the final minute; they re-joined in the second and fought as though tethered. Ritson, ostensibly the puncher in the fight, couldn't hit hard enough to get Davies off him. The referee was a mere spectator – clinches were as rare as retreat.
Both men were exhausted by the sixth but had gone to that strange place boxers visit when they know if they don't hit, they'll get hit. Every truly great fight of any length sees the combatants visit that netherworld, I think, and the man who copes with it better emerges triumphant.
And that man was Riston. This fight was, perhaps, a little too wide to be immortal, Ritson winning by valid scores of 117-112 and 116-112 twice (my score), but the twelfth round gives pause for thought.  Davies strength of character in coming back over and over again from Ritson bombs in this round was the highlight of both the fight and the British boxing year.
British Breakthrough of the Year: John Ryder
John Ryder (28-5) traveled out to Las Vegas in May and blasted out the unranked Australian puncher Bilal Akkawy in three. This put him in line for a shot at the world's number one super-middleweight Callum Smith. This was awkward for Smith, who believed he was ready for box office. Ryder wasn't that. He was, on paper, merely a solid contender, and with a 5'9 frame and 72" inch reach, probably a middleweight one. Smith, at 6'2, 78", could perhaps be forgiven for taking the fight a little lightly.
If he did, it was in error.
Ryder slipped Smith's very first jab beautifully. He then nicked a desperately close round on generalship. His plan, to wait, wait and wait, then punch his way in and aggressively smother Smith on the ropes with busy hands, resulted in a fight that was, although not electric, poised, absorbing and fascinating.
Again and again Smith seemed to find the range but again and again Ryder, using a deep stance but bracing his weight across alternate legs depending upon Smith's position, continued to upset his rhythm and his work with rushing, mauling attacks. It was comical at first to see the little man bury himself on Smith and whale away but by the fourth it was clear that Smith was in a fight.
After eight they looked dead level and when Ryder crashed out of his corner in his tenth and eleventh the fight seemed in the balance. With a torrid twelfth too close to call any one of three results seemed possible.
With so many close rounds – and the first, second, fifth, eighth, tenth and twelfth were all desperately close – it is always possible that the official scorecards will seem unsatisfying and this was such an occasion. 116-112 twice and 117-111 seemed off. I had it a draw – many had Ryder the winner.
The reaction to this result was fascinating. Sympathy for Ryder was almost universal and it is interesting to me that the TBRB, Boxing Monthly and Boxing News all continue to rank Ryder among their top ten in the division. Even more unlikely, Eddy Reynoso, who coaches Canelo Alvarez, has mentioned Ryder as a possible future opponent. He made an impression in defeat that many fail to make in victory.
Ryder lost the only truly meaningful fight he boxed in 2019 but he's the breakout star from the UK with some massive fights a possibility in his future, not least a possible rematch with Smith.
British Prospect for 2020: Daniel Azeez
Daniel Azeez (11-0) had a busy 2019, boxing thirty rounds across five different fights, all victories, four of them by knockout. But it is another number which makes Azeez my British prospect to watch for the coming twelve months and that number is "30", his age.
Azeez took up boxing as an amateur late and after a respectable if unglamorous unpaid career, turned professional in 2017. A light-heavyweight, he's not in a desperate hurry, but his apprenticeship should be truncated given his years.
As to that inglorious amateur career, Azeez is sure his style is more suited to the paid ranks.  This is a bell often rung by amateurs who met with limited success, but Azeez is a little more specific than most, picking perhaps the most "professional" fighter of all as the one his style most echoes, Marvin Hagler.
Azeez is built a little like the great middleweight, defined but with a certain litheness, and he favors the same attire for the ring: old-school ring-robe, knee-high socks, even the maroon colored trunks Marvin favored.
As to his style, there are some similarities. Azeez stepped up this past June against the stoic Charlie Duffield, who he did away with in six. What most impressed me about this performance was the steady manner in which Azeez broke his man down. He started off confidently, no small matter given that he was on the undercard of the Dillian Whyte-Oscar Rivas pay-per-view card, and by the fifth was exhibiting total dominance. That speaks of a layered offence rather than athletic superiority, though he enjoyed aspects of that too.
What made Hagler a genius was economy; he wasted almost nothing and that is perhaps the hardest skill to master in the ring because it combines so many elements of other skills and abilities. Azeez has the beginning of excellent timing in the ring and if he displays one third of what Hagler had in that department he has the makings of a very good fighter.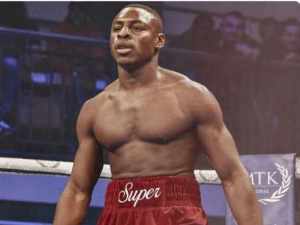 In the plus column: his uppercuts are already wonderful, he has two very different right hands, one short, one over the top and both of them are very good punches; his jab is hurtful; he has footwork and balance of a much more seasoned fighter and sudden attacks don't seem to compromise it.
In the minus column: he doesn't use his jab nearly enough, though his use of upper-body feints mitigate that somewhat from a defensive perspective; his chin, of course, is unknown; I'm interested to see how he does against top drawer hookers; he's in a very tough division.
It all adds up to very interesting and with an English title under his belt courtesy of his clear points victory over the awkward 9-0-1 Lawrence Osueke earlier this month and the man himself hinting at a shot at the British title in 2020, it is likely to become more so in this coming year.
British Trainer of the Year: Robert McCracken
Yes, that Robert McCracken, the one that oversaw Anthony Joshua's disastrous knockout loss to Andy Ruiz before, admittedly, overseeing a victory in the return – the Rob McCracken everyone thought Anthony Joshua should have fired. The truth is that no British trainer has moved me to any great extent in 2019 so I am taking the opportunity to pay tribute here to McCracken's wider work.
As the performance director at the English Institute of Sport, McCracken has worked at some point with not one, not two, but all six of the current British fighters to hold an alphabet title. Alphabet titles are murdering boxing, but getting one isn't easy. So, it is worth noting that while he may not have worked directly this year with the likes of Callum Smith or Kal Yafai, he had a hand in the development of each and every one of them as well as any number of decorated amateurs.
And with 2020 being another Olympic year, he may just get the nod again in twelve months' time.
Check out more boxing news on video at The Boxing Channel 
To comment on this story in The Fight Forum CLICK HERE
Mercito Gesta Victorious Over Jojo Diaz at the Long Beach Pyramid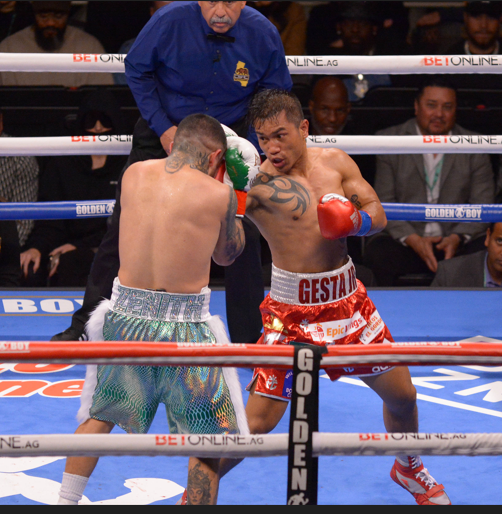 LONG BEACH, CA.-Those in the know knew Mercito Gesta and Jojo Diaz would be a fight to watch and they delivered.
Gesta emerged the winner in a super lightweight clash between southpaws that saw the judges favor his busier style over Diaz's body attack and bigger shots and win by split decision on Saturday.
Despite losing the main event because the star was overweight, Gesta (34-3-3, 17 KOs) used an outside method of tactic to edge past former world champion Diaz (32-4-1, 15 KOs) in front of more than 5,000 fans at the Pyramid.
The speedy Gesta opened up the fight with combination punching up and down against the peek-a-boo style of Diaz. For the first two rounds the San Diego fighter overwhelmed Diaz though none of the blows were impactful.
In the third round Diaz finally began unloading his own combinations and displaying the fast hands that helped him win world titles in two divisions. Gesta seemed stunned by the blows, but his chin held up. The counter right hook was Diaz's best weapon and snapped Gesta's head back several times.
Gesta regained control in the fifth round after absorbing big blows from Diaz. He seemed to get angry that he was hurt and opened up with even more blows to send Diaz backpedaling.
Diaz targeted his attack to Gesta's body and that seemed to slow down Gesta. But only for a round.
From the seventh until the 10th each fighter tried to impose their style with Gesta opening up with fast flurries and Diaz using right hooks to connect with solid shots. They continued their method of attack until the final bell. All that mattered was what the judges preferred.
After 10 rounds one judge saw Diaz the winner 97-93 but two others saw Gesta the winner 99-91, 98-92. It was a close and interesting fight.
"I was expecting nothing. I was the victor in this fight and we gave a good fight," said Gesta. "It's not an easy fight and Jojo gave his best."
Diaz was surprised by the outcome but accepted the verdict.
Everything was going good. I thought I was landing good body shots," said Diaz. "I was pretty comfortable."
Other Bouts
Mexico's Oscar Duarte (25-1-1, 20 KOs) knocked out Chicago's Alex Martin (18-5, 6 KOs) with a counter right hand after dropping him earlier in the fourth round. The super lightweight fight was stopped at 1:14 of the round.
A battle between undefeated super welterweights saw Florida's Eric Tudor (8-0, 6 KOs) emerge the winner by unanimous decision after eight rounds versus Oakland's Damoni Cato-Cain.
The taller Tudor showed polished skill and was not bothered by a large cut on his forehead caused by an accidental clash of heads. He used his jab and lead rights to defuse the attacks of the quick-fisted southpaw Cato-Cain. The judges scored the fight 80-72 and 78-74 twice for Tudor.
San Diego's Jorge Chavez (5-0, 4 KOs) needed less than one round to figure out Nicaragua's Bryan Perez (12-17-1, 11 KOs) and send him into dreamland with a three-punch combination. No need to count as referee Ray Corona waved the fight over. Perez shot a vicious right followed by another right and then a see-you-later left hook at 3.00 of the first round of the super featherweight match.
Photo credit: Al Applerose
Jojo Diaz's Slump Continues; Mercito Gesta Prevails on a Split Decision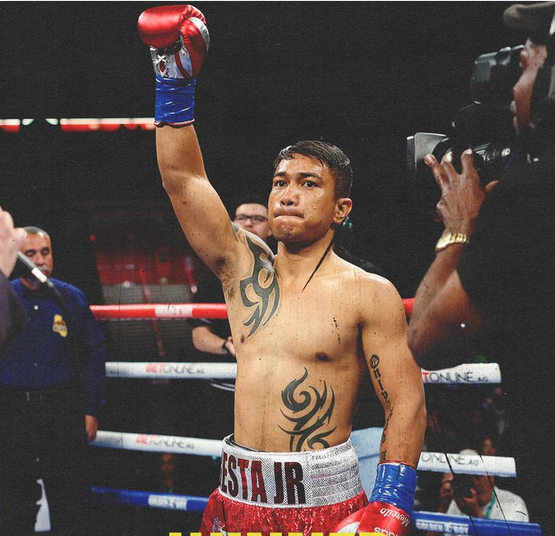 At age 30, Jojo Diaz's career is on the skids. The 2012 U.S. Olympian, a former world title holder at 126 and 130 pounds and an interim title holder at 135, Diaz suffered his third straight loss tonight, upset by Mercito Gesta who won a split decision at the Walter Pyramid in Long Beach, CA.. The scoring was strange with Gesta winning nine of the 10 rounds on one of the cards and only three rounds on another. The tie-breaker, as it were, was a 98-92 tally for Gesta and even that didn't capture the flavor of what was a closely-contested fight.
Originally listed as a 12-rounder, the match was reduced to 10 and that, it turned out, did Diaz no favors. However, it's hard to feel sorry for the former Olympian as he came in overweight once again, having lost his 130-pound title on the scales in February of 2021.
Diaz also has issues outside the ropes. Best elucidated by prominent boxing writer Jake Donovan, they include a cluster of legal problems stemming from an arrest for drunk driving on Feb. 27 in the LA suburb of Claremont.
With the defeat, Diaz's ledger declined to 32-4-1. His prior losses came at the hands of Gary Russell Jr, Devin Haney, and William Zepeda, boxers who are collectively 83-2. Mercito Gesta, a 35-year-old San Diego-based Filipino, improved to 34-3-3.
Co-Feature
Chihuahua, Mexico super lightweight Oscar Duarte has now won nine straight inside the distance after stopping 33-year-old Chicago southpaw Alex Martin in the eighth frame. Duarte, the busier fighter, had Martin on the deck twice in round eight before the fight was waived off.
Duarte improved to 25-1-1 (20). Martin, who reportedly won six national titles as an amateur and was once looked upon as a promising prospect, declined to 18-5.
Other Bouts of Note
New Golden Boy signee Eric Tudor, a 21-year-old super welterweight from Fort Lauderdale, overcame a bad laceration over his right eye, the result of an accidental clash of heads in round four, to stay unbeaten, advancing to 8-0 (6) with a hard-fought unanimous 8-round decision over Oakland's Damoni Cato-Cain. The judges had it 80-72 and 78-74 twice. It was the first pro loss for Cato-Cain (7-1-1) who had his first five fights in Tijuana.
In the DAZN opener, lanky Hawaian lightweight Dalis Kaleiopu went the distance for the first time in his young career, improving to 4-0 (3) with a unanimous decision over 36-year-old Colombian trial horse Jonathan Perez (40-35). The scores were 60-52 across the board. There were no knockdowns, but Perez, who gave up almost six inches in height, had a point deducted for a rabbit punch and another point for deducted for holding.
To comment on this story in the Fight Forum CLICK HERE
'Big Baby' Wins the Battle of Behemoths; TKOs 'Big Daddy' in 6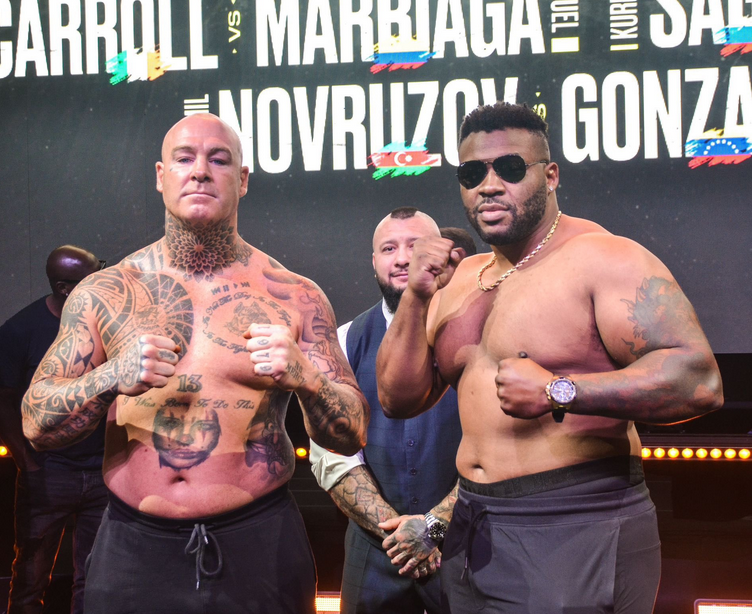 Lucas "Big Daddy" Browne weighed in at a career-high 277 pounds for today's battle in Dubai with Jarrell "Big Baby" Miller, but he was the lighter man by 56 pounds. It figured that one or both would gas out if the bout lasted more than a few stanzas.
It was a war of attrition with both men looking exhausted at times, and when the end came it was Miller, at age 34 the younger man by nine years, who had his hand raised.
Browne was the busier man, but Miller, whose physique invites comparison with a rhinoceros, hardly blinked as he was tattooed with an assortment of punches. He hurt 'Bid Daddy' in round four, but the Aussie held his own in the next frame, perhaps even forging ahead on the cards, but only postponing the inevitable.
In round six, a succession of right hands knocked Browne on the seat of his pants. He beat the count, but another barrage from Miller impelled the referee to intervene. The official time was 2:33. It was the 21st straight win for Miller (26-0-1, 22 KOs). Browne declined to 31-4 and, for his own sake, ought not fight again. All four of his losses have come inside the distance, some brutally.
The consensus of those that caught the livestream was that Floyd Mayweather Jr's commentary was an annoying distraction that marred what was otherwise an entertaining show.
As for what's next for "Big Baby" Miller, that's hard to decipher as he has burned his bridges with the sport's most powerful promoters. One possibility is Mahmoud Charr who, like Miller, has a big gap in his boxing timeline. Now 38 years old, Charr – who has a tenuous claim on a WBA world title (don't we all?) —  has reportedly taken up residence in Dubai.
Other Bouts of Note
In a 10-round cruiserweight affair, Suslan Asbarov, a 30-year-old Russian, advanced to 4-0 (1) with a hard-fought majority decision over Brandon Glanton. The judges had it 98-92, 97-93, and a more reasonable 95-95.
Asbarov was 12-9 in documented amateur fights and 1-0 in a sanctioned bare-knuckle fight, all in Moscow, entering this match. He bears watching, however, as Glanton (18-2) would be a tough out for almost anyone in his weight class. In his previous fight, at Plant City, Florida, Glanton lost a controversial decision to David Light, an undefeated Australian who challenges WBO world title-holder Lawrence Okolie at Manchester, England next week.
A 10-round super featherweight match between former world title challengers Jono Carroll and Miguel Marriaga preceded the semi-windup. Carroll, a 30-year-old Dublin southpaw, overcame a cut over his left eye suffered in the second round to win a wide unanimous decision in a fairly entertaining fight.
It was the sixth straight win for Carroll (24-2-1, 7 KOs) who elevated his game after serving as a sparring partner for Devin Haney. Marriaga, a 36-year-old Colombian, lost for the fourth time in his last five outings, declining to 30-7.
To comment on this story in the Fight Forum CLICK HERE