For Whom the Bell Tolled: 2019 Boxing Obituaries PART ONE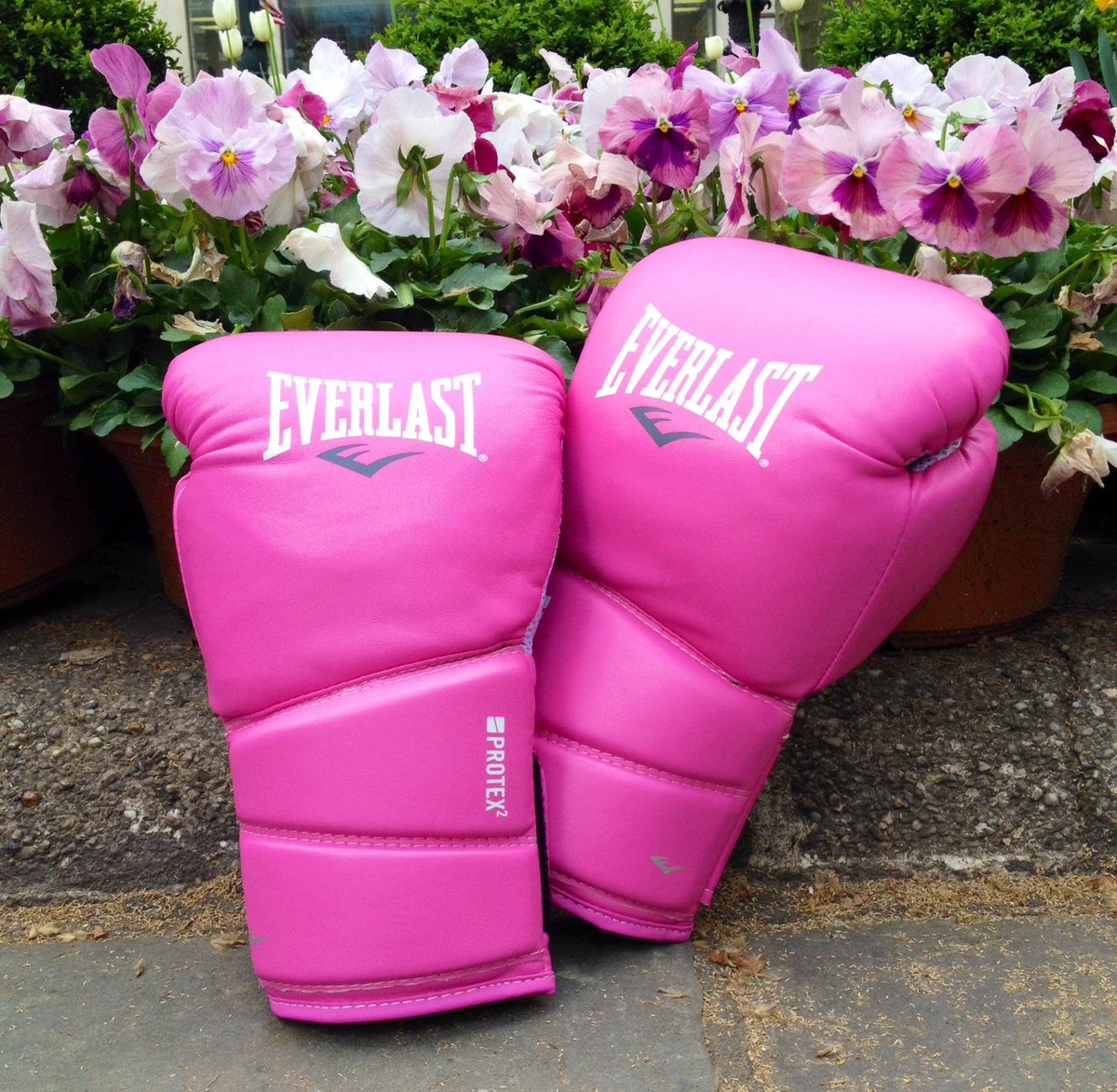 A strong year for boxing was soured by the deaths of former ring notables and boxing personalities. In this annual year-end tribute, we acknowledge those that left us. The obits are running in two parts with the decedents listed chronologically according to the date of their passing. PART ONE covers January through May.
Jan. 2 – ALBERTO REYES – His father Cleto Reyes began manufacturing boxing gloves in the 1940s. Alberto took the company into the international market in the 1970s and Reyes gloves, originally made by hand, are now sold on five continents. Known as a puncher's glove, Muhammad Ali used them for his rematch with Leon Spinks and Manny Pacquiao wouldn't use any other kind. At age 63 or 66 (reports vary) in Mexico City.
Jan. 4 – MICKEY CRAWFORD – The Saginaw, Michigan welterweight fought seven times on national television during the era of the Gillette-sponsored Friday Night Fights. Crawford lacked a knockout punch but had the tools to scrape by such notables as Paddy DeMarco, Wallace "Bud" Smith, Gil Turner and Chico Vejar. He was 22-5-1 during a brief four-year career. At age 84 in Saginaw.
Jan. 13 – ADOLPH PRUITT – Born in Mississippi, Pruitt fought extensively in Honolulu where he had 21 of his 60 fights. During a 12-year career that began in 1961, he compiled a 46-12-2 record. A three-time world title challenger who competed at 140 and 147 pounds, he defeated such notables as Ernie "Indian Red" Lopez, Oscar "Shotgun" Albarado and Hedgemon Lewis. At age 79 in St. Louis.
Jan. 21 – JAN de BRUIN – A Dutchman, de Bruin was 54-10-6 in a 12-year career that began in 1942. He fought such notables as Dave Sands (L 10), Randy Turpin (L TKO 6), and Sugar Ray Robinson (L TKO 8) during Robinson's second European tour. At age 95 in his birthplace of Rotterdam.
Jan. 24 – HUGH McILVANNEY – A ringside witness to all of the most celebrated fights during the last four decades of the 20th century, McIlvanney's prose drew comparisons to A.J. Leibling, the highest compliment one can pay a boxing writer. The Scotland-born McIlvanney was voted Great Britain's Sports Journalist of the Year seven times and was inducted into the International Boxing Hall of Fame in 2009. At age 84 from cancer.
Feb. 7 – ROCKY LOCKRIDGE – Lockridge won the lineal 130-pound title in 1984 with a spectacular one-punch knockout of Roger Mayweather. During his career he fought a host of great fighters, finishing 44-9 with 36 knockouts. In retirement he battled substance abuse and became homeless, a story chronicled on the reality TV series "Intervention." A series of strokes preceded his death at age 60 in his caregiver's home in Camden, New Jersey.
Feb. 19 – JOSE "CHIQUILIN" GARCIA – An iconic Los Angeles sports photographer who was on a first name basis with athletes from sundry sports, "Chiquilin" covered hundreds of West Coast fights, big and small, and played a central role in developing La Opinion into one of America's foremost Spanish-language newspapers. At age 78 in Huntington Park, CA.
MARCH 1 – EUSEBIO PEDROZA – Active from 1973 to 1986 (with a brief comeback in the early 1990s), Pedroza won the WBA featherweight title in 1978 with a 13th round TKO of Spain's Cecilio Lastra and held the title for seven years and two months, during which he set a division record with 19 successful defenses. Inducted into the International Boxing Hall of Fame in 1999, Pedroza was 62 when he succumbed to pancreatic cancer in his native Panama City.
March 8 – FREEDA FOREMAN – The daughter of Big George Foreman, Freeda was working for UPS in South Carolina when she was lured into boxing by the promise of big money fights with Laila Ali and Jacqui Frazier-Lyde, both of whom had recently turned pro in the footsteps of their famous fathers. But Freeda's heart wasn't in it and she retired after only six pro fights, having won five. At age 52 in her Houston-area home, a suicide.
March 10 – DANNY ROMERO SR – Many of Albuquerque's best boxers learned the craft at Romero's Hideout Boxing Club gym. Johnny Tapia trained here during his early days, but Romero's prize prospect was his namesake son who won world titles in two weight divisions and fought crosstown rival Tapia in a big 115-pound unification fight in in 1997, losing a unanimous decision in Las Vegas. The elder Romero, who had a liver transplant in 2005, was 63 when he passed in Albuquerque.
March 20 – JAIME RIOS – A Panamanian, Rios won the inaugural WBA 108-pound world title in 1975 with a 15-round decision over Venezuela's Rigoberto Marcano, but lost the belt 11 months later to Juan Antonio Guzman. He finished his career with a record of 22-5-1. At age 65 in Panama City.
March 20 – PETE TORO – One of boxing's greatest spoilers, Toro twice defeated Bobby Cassidy and also forged upsets of Ted Whitfield and Rodrigo Valdes. Born in Puerto Rico and raised in the Bronx, Toro, an Army veteran, was 28-13-3 in a 13-year career that began in 1960. He was 82 when he passed away in Florida.
March 21 – FRANCO WANYAMA – From Kampala, Uganda, Wanyama represented his homeland in the Seoul Olympics before turning pro in Belgium. In the paid ranks, he defeated future world cruiserweight titlists Carl Thompson and Johnny Nelson and scored a decision over ranked heavyweight Jimmy Thunder who outweighed him by 31 pounds. He finished 20-7-2. At age 51 of a heart attack in Rugby, England.
April 1 – KEITH KOZLIN – A super middleweight who competed from 2008 to 2012, finishing 7-3-1, Kozlin was a well-known personality on the New England boxing scene. At age 37 in his hometown of West Warwick, R.I., a suicide.
April 6 – OLLI MAKI – A baker by trade, born in Kokkola, Finland, Maki appeared in the first world title fight in Scandinavia, opposing featherweight champion Davey Moore at Helsinki in 1962. It was Maki's 12th pro fight and he had no business in the same ring with Moore, but 18 months later, fighting at his more natural weight, he captured the European 140-pound title. Maki made a cameo appearance in the boxing love story "The Happiest Day in the Life of Olli Maki," an award winner at the 2016 Cannes film festival. At age 82 in a Helsinki nursing home.
April 12 – RAY JUTRAS – A lifelong resident of Lowell, Massachusetts, Jutras, who stood only 5-feet tall, turned pro and compiled a 29-6 record after winning the 1962 National Golden Gloves title at 118 pounds. At age 82 of a sudden heart attack.
April 18 – PAT DWYER – A hard punching middleweight who knocked out one of his opponents in 16 seconds, Dwyer, a Liverpudlian, compiled a 38-11-2 record during an 8-year career in which he fought such notables as Pierre Fourie, Kevin Finnegan, and Alan Minter. In retirement he ran a gym and promoted small boxing shows in Liverpool. At age 72 of undisclosed causes.
April 25 – HAL CARROLL – Born Horace Carroll in South Carolina, Carroll, who fought out of Syracuse, NY, was knocked out by light heavyweight champion Bob Foster in 1971 in a bid for Foster's world title. He finished with a record of 31-10-1, the draw coming against heavily favored Mike Quarry. At age 78 from complications of a stroke in Syracuse where he owned an auto body shop.
April 26 – OLIVER HARRISON — A well-known boxing personality in Manchester, England, Harrison, born in Jamaica, had only 10 pro fights, winning six, but stayed in the game as a trainer. He was with Amir Khan through Khan's first 17 pro fights and also worked with such notables as Martin Murray and Rocky Fielding. At age 59 in Manchester from cancer.
May 10 – BERT COOPER – A slugger who slugged it out with many of the era's top heavyweights, Cooper, who patterned his style after his mentor Joe Frazier, was 38-25 (31 KOs) in a career that began as an 18-year-old cruiserweight. In 1991, as a late sub, he threw a scare into defending heavyweight champion Evander Holyfield before succumbing in the 7th frame. He battled alcohol and drug problems, but his death at age 53 in Philadelphia came as a result of pancreatic cancer.
May 11 – HAROLD LEDERMAN – A third-generation pharmacist, born in the Bronx, the perpetually cheerful Lederman was called boxing's greatest roving ambassador; his love of the sport was infectious. He judged hundreds of fights, including many world title fights, before joining the HBO Boxing broadcast team as the "unofficial scorer" in 1986. At age 79 from cancer with his family by his side at a hospice in Rockland County, NY.
May 22 – JESSE LEIJA – A featherweight, Leija was the first fighter from San Antonio to reach the finals of the National Golden Gloves tournament and was 16-11-1 as a pro, but is best remembered as the father and trainer of former WBC 130-pound world champion Jesse James Leija. The elder Leija was 80 when he died in San Antonio after a long battle with Parkinson's disease.
Check out more boxing news on video at The Boxing Channel 
To comment on this story in The Fight Forum CLICK HERE
The Hauser Report: Garcia-Redkach and More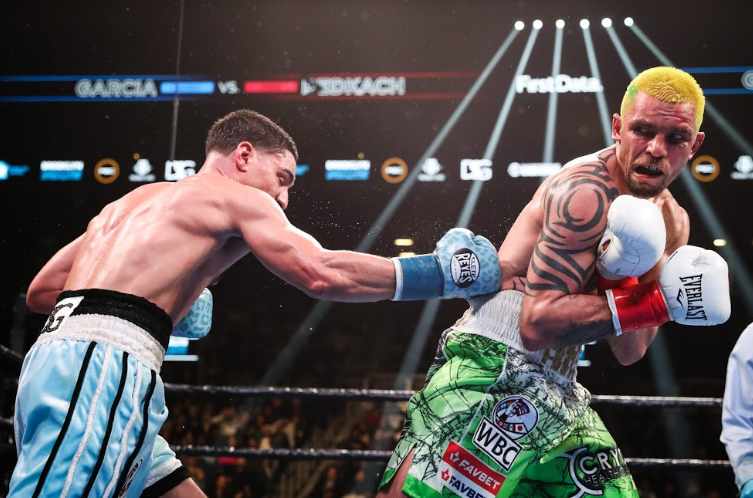 Boxing made its debut at Barclays Center on October 20, 2012, with a fight card headlined by four world title bouts. Danny Garcia, Erik Morales, Paulie Malignaggi, Peter Quillin, Devon Alexander, Danny Jacobs, and Luis Collazo were in the ring that night. The franchise grew nicely. Fans who went to Barclays saw good featured fights with solid undercard bouts. But as of late, the arena's fistic offerings have faded.
Barclays cast its lot with Premier Boxing Champions. And PBC has moved its prime content to greener pastures (green being the color of money). There were five fight cards at Barclays Center in 2019. Each one struggled to sell tickets.
January 25 marked the thirty-ninth fight card at Barclays. The arena was half empty. The announced attendance was 8,217 but that included a lot of freebies. There were six fights on the card. As expected, fighters coming out of the blue corner won all of them. That's what happens when 6-0 squares off against 2-10-1.
Three of the fights were televised by Showtime Championship Boxing, which has also been diminished as a consequence of a multi-year output deal with PBC.
In the first of these bouts, Stephen Fulton (17-0, 8 KOs) and Ukrainian-born Arnold Khegai (16-0, 10 KOs) met in a junior-featherweight bout. Each had fought the usual suspects en route to their confrontation. There was a lot of holding and rabbit-punching which referee Steve Willis ignored. Eventually, Fulton pulled away for a unanimous-decision triumph.
Next up, Jarrett Hurd (23-1, 16 KOs) took on Francisco Santana (25-7, 12 KOs).
Hurd is a big junior-middleweight who held the WBA and IBF 154-pound titles until losing to Julian Williams last year. Santana is a career welterweight who had lost three of his most recent four fights and had won only three times in the last five years.
Hurd was expected to walk through Santana. But he was strangely passive for much of the fight, which led to the strange spectacle of Santana (the noticeably smaller, lighter-punching man) walking Jarrett down for long stretches of time. Francisco is a one-dimensional fighter and was there to be hit. When Jarrett let his hands go, he hit him. But he fought like a man who didn't want to fight and didn't let his hands go often enough.
By round seven, the boos and jeers were raining down. Hurd won a unanimous decision but looked mediocre. That's the most honest way to put it. One wonders what tricks losing to Julian Williams last year played with his mind.
Also, it should be noted that, when the winning fighter thanks God in a post-fight interview and the crowd (which supported Jarrett at the start of the bout) boos at the mention of The Almighty, there's a problem.
"The crowd didn't love it," Hurd acknowledged afterward. "But you gotta understand; I got the unanimous decision and I did what I wanted to do."
The main event matched Danny Garcia (35-2, 21 KOs) against Ivan Redkach (23-4-1, 18 KOs).
Garcia had a nice run early in his career, winning belts at 140 and 147 pounds. But later, he came out on the losing end of decisions against Keith Thurman and Shawn Porter. Other than that, he has gone in soft for the past five years.
Redkach is a junior-welterweight who had won 5 of 10 fights during the same five-year time frame.
There was the usual pre-fight nonsense with Garcia telling reporters, "We picked Redkach because he's dangerous and we knew he'd be tough." But in truth, Redkach had been whitewashed by Tevin Farmer at 135 pounds and was knocked out at the same weight by John Molina Jr (who never won again).
Garcia, like Hurd, was a 30-to-1 betting favorite.
Redkach fought a safety-first fight. Also, safety second and third. There wasn't one second when it looked as though he had a realistic chance of winning the fight or fought like he did.
One of the few proactive things that Ivan did do was stick out his tongue from time to time when Garcia hit him. Then, at the end of round eight, he bit Danny on the shoulder while they were in a clinch. At that point, one might have expected referee Benjy Esteves to disqualify Redkach. But Esteves seemed to not notice.
Rather than go for the kill after the bite, Garcia eased up and cruised to a unanimous decision. Meanwhile, by round eleven, the crowd was streaming for the exits. Most of the fans were gone by the time the decision was announced.
Garcia and Hurd had set-up showcase fights scheduled for them. And neither man delivered the way he should have.
Meanwhile, a final thought . . . Sunday, January 26, would have been Harold Lederman's eightieth birthday.
Harold was the quintessential boxing fan and loved the sport more than anyone I've known. He never missed a fight at Barclays Center unless his health prevented him from coming or he was on the road for HBO. He died eight months ago.
As Saturday night's fight card unfolded, I imagined Harold sitting beside me. He would have had a kind word for everyone who came over to say hello and loved every minute of it. Harold Lederman at the fights was a happy man.
Photo credit: Amanda Westcott
Thomas Hauser's email address is thomashauserwriter@gmail.com. His most recent book — A Dangerous Journey: Another Year Inside Boxing — was published by the University of Arkansas Press. In 2004, the Boxing Writers Association of America honored Hauser with the Nat Fleischer Award for career excellence in boxing journalism. On June 14, 2020, he will be inducted into the International Boxing Hall of Fame.
Check out more boxing news on video at The Boxing Channel 
To comment on this article in The Fight Forum CLICK HERE
Fast Results from Brooklyn: No Surprises as Garcia and Hurd Win Lopsidedly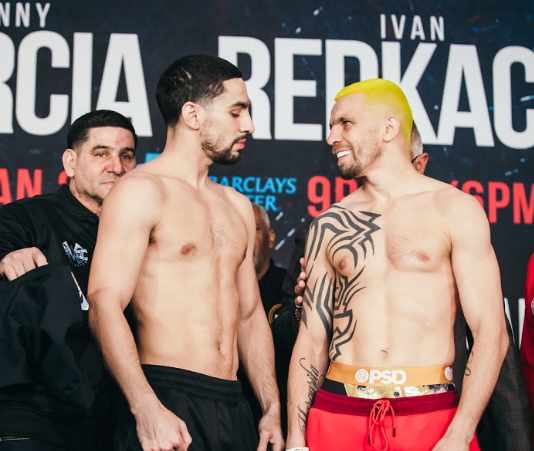 Tonight, Philadelphia's Danny Garcia made his eighth appearance at Barclays Center. Garcia's 2017 fight with Keith Thurman drew 16,533, the attendance high for a boxing show at the arena. A far smaller crowd was in attendance tonight to see Garcia take on Ivan Redkach in a non-title fight slated for 12 rounds.
Redkach, a 33-year-old LA-based Ukrainian, is a southpaw. That's no coincidence. Garcia hopes to land big-money fights with Errol Spence and/or Manny Pacquiao, both southpaws.
Redkach (23-4-1 coming in) turned his career around in his last fight with a career-best performance, a sixth-round stoppage of former two-division title-holder Devon Alexander, a 15-year pro who hadn't previously been stopped. But there was a class difference between he and Danny Garcia, a former WBA and WBC 140-pound world title-holder and former WBC 147-pound champion.
Garcia (35-2, 21 KOs) was simply sharper. His workrate slowed late in the fight, allowing the game Redkach to steal a few rounds, but at the final gun he was relatively unmarked whereas Redkach was conspicuously bruised. The scores were 118-110 and 117-111 twice. The crowd booed at intervals, understandable as they were subject to a drab 6-fight card that was even less interesting than it was on paper.
Co-Feature
In the 10-round co-feature, Jarrett Hurd, making his first start since losing his WBA/IBF super welterweight title to Julian Williams last May, went on cruise control from the opening bell and jabbed his way to a lopsided 10-round decision over Francisco Santana. Hurd, who improved to 24-1, finally let loose late in the 10th frame, putting Santana (25-8-1) on the canvas with a succession of left hooks, but by then many in the crowd had probably nodded off.
This was Hurd's first fight with new trainer Kay Koroma who has drawn raves for his work with America's elite amateurs. The scores were 97-92 and 99-90 twice. SoCal's Santana has now lost five of his last eight.
The opening bout on the main TV portion of the card was a 12-round super bantamweight contest between Philadelphia's Stephen Fulton and fellow unbeaten Arnold Khegai who currently trains in Philadelphia.
Fulton (18-0, 8 KOs) simply had too much class for Khegai (16-1-1), a Ukrainian of Korean heritage. Although Khegai frequently backed Fulton into the ropes, the Philadelphian had an air-tight defense and connected with many more punches. The fight went the full 12 with Fulton prevailing by scores of 116-112 and 117-111 twice.
If the WBO has its way, Fulton will proceed to a fight with Emanuel Navarrete, but don't hold your breath as Navarrete is promoted by Bob Arum who undoubtedly wants to extract more mileage from him before letting him risk his belt against a crafty fighter like Stephen Fulton.
Photo credit: Amanda Westcott / SHOWTIME
Check out more boxing news on video at The Boxing Channel 
To comment on this story in The Fight Forum CLICK HERE
Sacramento Honors Diego 'Chico' Corrales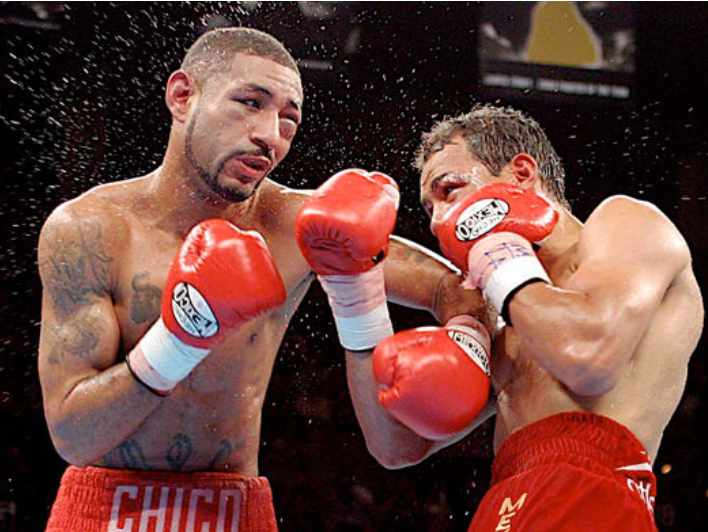 Tonight (Saturday, Jan. 25) former two-division world boxing champion Diego "Chico" Corrales will be posthumously inducted into the Sacramento Sports Hall of Fame at the organization's eighth annual induction ceremony at the Thunder Valley Casino Resort.
Corrales, who grew up in Sacramento, the son of a Columbian father and a Mexican mother, turned pro at age 18 and went on to compile a record of 40-5 (33 KOs). He won his first title in 1999 with a seventh-round stoppage of previously undefeated Robert Garcia. Now recognized as one of boxing's top trainers, Garcia was making the fourth defense of his IBF 130-pound title.
Five years later, Corrales won the WBO world lightweight title with a 10th-round stoppage of Brazil's previously undefeated Acelino Freitas. That set up a unification fight with the WBC belt-holder Jose Luis Castillo.
Corrales and Castillo met on May 7, 2005, at Mandalay Bay in Las Vegas. To say they put on a great fight would be an understatement. The boxing writers in attendance will tell you that this was the greatest fight of all time. It was named Fight of the Decade by The Ring magazine.
The final round, the 10th, was unbelievable. Heading into the round, Corrales was ahead on two of the three scorecards, but his left eye was swollen nearly shut and during the round he was knocked down twice. No one would have faulted referee Tony Weeks for stopping the fight after the second knockdown. But, somehow, Corrales was able to rally, pulling the fight out of the fire with a barrage of punches that had Castillo out on his feet when Weeks waived it off.
Two years to the very day of this iconic fight, Diego "Chico" Corrales died in a motorcycle accident in his adopted hometown of Las Vegas when he rear-ended a car while traveling at a high rate of speed. He was 29 years old.
Corrales was a thrill-seeker. In a 2006 profile, Las Vegas Review-Journal boxing writer Kevin Iole enumerated these among Castillo's hobbies: jumping out of planes from 14,000 feet, bungee jumping from 400 feet, snowboarding in treacherous terrain and scuba diving amid a school of sharks. "He lived his life the same way he fought," said his promoter Gary Shaw, "with reckless abandon."
It might seem odd that it took so long for Corrales to be recognized by the Sacramento Sports Hall of Fame, but there was a period when Corrales's name was mud in his hometown and perhaps the organization's founder, Las Vegas sports radio personality T.C. Martin, a Sacramento native, thought it appropriate to let old wounds heal.
In 2001, shortly after suffering his first pro loss at the hands of Floyd Mayweather, Corrales pled guilty to felony domestic violence in the beating of his first wife and would serve 14 months in prison. "The whole family has worn a black eye for it," Diego's brother Esteban Corrales told Sacramento Bee reporter Marcos Bretan.
For all his recklessness, the incident didn't jibe with his persona. In the company of Las Vegas sportswriters, the soft-spoken and well-spoken Corrales came across as polite and humble.
Corrales, one of five inductees in the 2020 class, joins three other boxers already installed in the Sacramento Hall: Pete Ranzany, Loreto Garza, and Tony "Tiger" Lopez.
Ranzany, a welterweight, fought four former or future world champions and was a fixture in Sacramento rings in the late 1970's. Garza wrested the WBA super lightweight title from Argentina's Juan Martin Coggi in France and successfully defended the belt here in Sacramento with a one-sided conquest of Vinny Pazienza. Lopez, Sacramento's most popular fighter ever, made the turnstiles hum at the city's largest arena where he fought eight of his 14 world title fights beginning with his 1988 humdinger with defending IBF 130-pound champion Rocky Lockridge.
Among the speakers at tonight's confab will be Kenny Adams. Perhaps best known as the head trainer for the 1988 U.S. Olympic team that won eight medals in Seoul, Adams currently trains Nonito Donaire. He was with Diego Corrales for 24 fights, during which Corrales was 23-1, avenging the lone defeat by Joel Casamayor. Festivities start at 7 pm.
Check out more boxing news on video at The Boxing Channel 
To comment on this story in The Fight Forum CLICK HERE