For Whom the Bell Tolled: 2019 Boxing Obituaries PART ONE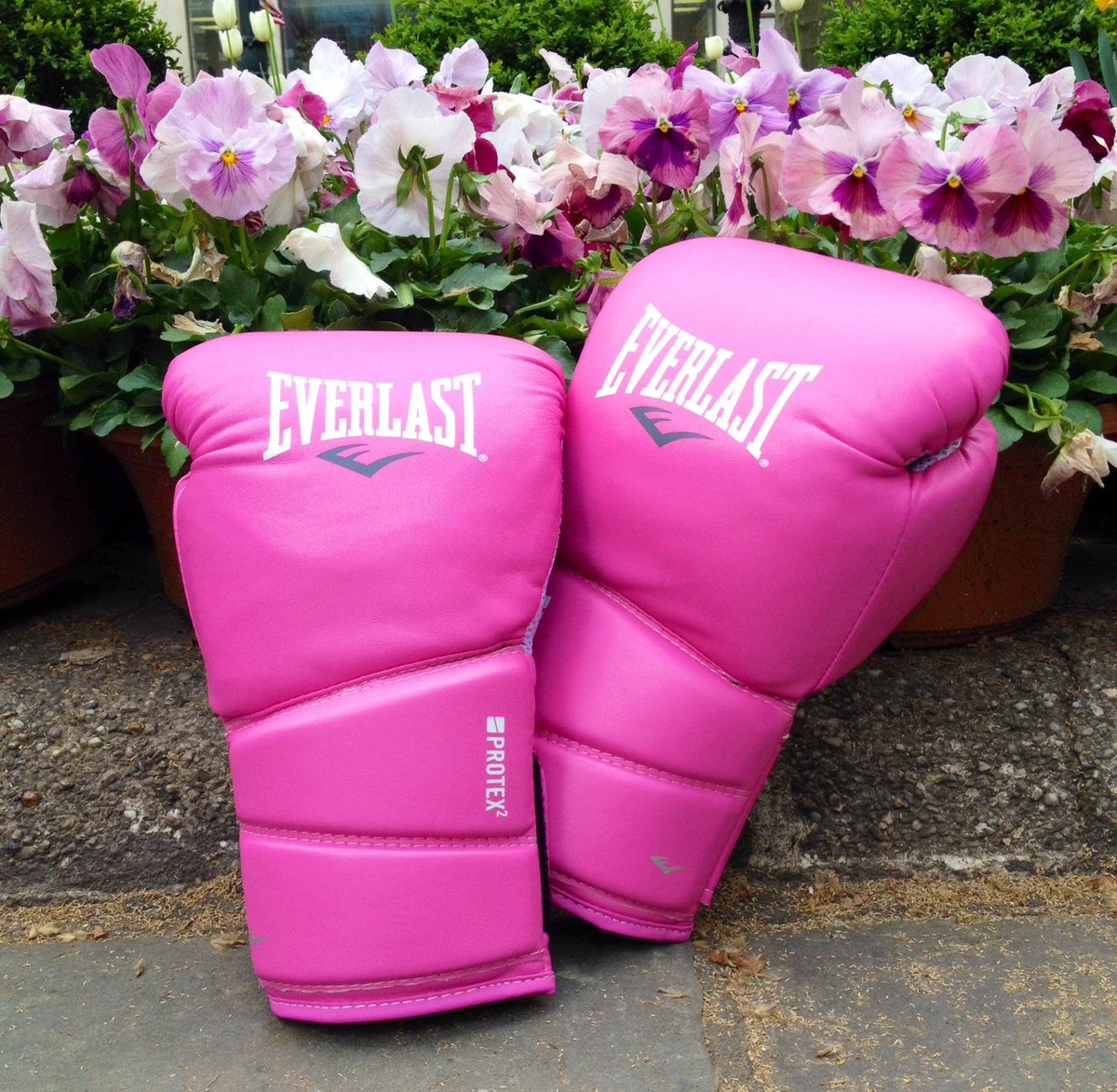 A strong year for boxing was soured by the deaths of former ring notables and boxing personalities. In this annual year-end tribute, we acknowledge those that left us. The obits are running in two parts with the decedents listed chronologically according to the date of their passing. PART ONE covers January through May.
Jan. 2 – ALBERTO REYES – His father Cleto Reyes began manufacturing boxing gloves in the 1940s. Alberto took the company into the international market in the 1970s and Reyes gloves, originally made by hand, are now sold on five continents. Known as a puncher's glove, Muhammad Ali used them for his rematch with Leon Spinks and Manny Pacquiao wouldn't use any other kind. At age 63 or 66 (reports vary) in Mexico City.
Jan. 4 – MICKEY CRAWFORD – The Saginaw, Michigan welterweight fought seven times on national television during the era of the Gillette-sponsored Friday Night Fights. Crawford lacked a knockout punch but had the tools to scrape by such notables as Paddy DeMarco, Wallace "Bud" Smith, Gil Turner and Chico Vejar. He was 22-5-1 during a brief four-year career. At age 84 in Saginaw.
Jan. 13 – ADOLPH PRUITT – Born in Mississippi, Pruitt fought extensively in Honolulu where he had 21 of his 60 fights. During a 12-year career that began in 1961, he compiled a 46-12-2 record. A three-time world title challenger who competed at 140 and 147 pounds, he defeated such notables as Ernie "Indian Red" Lopez, Oscar "Shotgun" Albarado and Hedgemon Lewis. At age 79 in St. Louis.
Jan. 21 – JAN de BRUIN – A Dutchman, de Bruin was 54-10-6 in a 12-year career that began in 1942. He fought such notables as Dave Sands (L 10), Randy Turpin (L TKO 6), and Sugar Ray Robinson (L TKO 8) during Robinson's second European tour. At age 95 in his birthplace of Rotterdam.
Jan. 24 – HUGH McILVANNEY – A ringside witness to all of the most celebrated fights during the last four decades of the 20th century, McIlvanney's prose drew comparisons to A.J. Liebling, the highest compliment one can pay a boxing writer. The Scotland-born McIlvanney was voted Great Britain's Sports Journalist of the Year seven times and was inducted into the International Boxing Hall of Fame in 2009. At age 84 from cancer.
Feb. 7 – ROCKY LOCKRIDGE – Lockridge won the lineal 130-pound title in 1984 with a spectacular one-punch knockout of Roger Mayweather. During his career he fought a host of great fighters, finishing 44-9 with 36 knockouts. In retirement he battled substance abuse and became homeless, a story chronicled on the reality TV series "Intervention." A series of strokes preceded his death at age 60 in his caregiver's home in Camden, New Jersey.
Feb. 19 – JOSE "CHIQUILIN" GARCIA – An iconic Los Angeles sports photographer who was on a first name basis with athletes from sundry sports, "Chiquilin" covered hundreds of West Coast fights, big and small, and played a central role in developing La Opinion into one of America's foremost Spanish-language newspapers. At age 78 in Huntington Park, CA.
MARCH 1 – EUSEBIO PEDROZA – Active from 1973 to 1986 (with a brief comeback in the early 1990s), Pedroza won the WBA featherweight title in 1978 with a 13th round TKO of Spain's Cecilio Lastra and held the title for seven years and two months, during which he set a division record with 19 successful defenses. Inducted into the International Boxing Hall of Fame in 1999, Pedroza was 62 when he succumbed to pancreatic cancer in his native Panama City.
March 8 – FREEDA FOREMAN – The daughter of Big George Foreman, Freeda was working for UPS in South Carolina when she was lured into boxing by the promise of big money fights with Laila Ali and Jacqui Frazier-Lyde, both of whom had recently turned pro in the footsteps of their famous fathers. But Freeda's heart wasn't in it and she retired after only six pro fights, having won five. At age 52 in her Houston-area home, a suicide.
March 10 – DANNY ROMERO SR – Many of Albuquerque's best boxers learned the craft at Romero's Hideout Boxing Club gym. Johnny Tapia trained here during his early days, but Romero's prize prospect was his namesake son who won world titles in two weight divisions and fought crosstown rival Tapia in a big 115-pound unification fight in in 1997, losing a unanimous decision in Las Vegas. The elder Romero, who had a liver transplant in 2005, was 63 when he passed in Albuquerque.
March 20 – JAIME RIOS – A Panamanian, Rios won the inaugural WBA 108-pound world title in 1975 with a 15-round decision over Venezuela's Rigoberto Marcano, but lost the belt 11 months later to Juan Antonio Guzman. He finished his career with a record of 22-5-1. At age 65 in Panama City.
March 20 – PETE TORO – One of boxing's greatest spoilers, Toro twice defeated Bobby Cassidy and also forged upsets of Ted Whitfield and Rodrigo Valdes. Born in Puerto Rico and raised in the Bronx, Toro, an Army veteran, was 28-13-3 in a 13-year career that began in 1960. He was 82 when he passed away in Florida.
March 21 – FRANCO WANYAMA – From Kampala, Uganda, Wanyama represented his homeland in the Seoul Olympics before turning pro in Belgium. In the paid ranks, he defeated future world cruiserweight titlists Carl Thompson and Johnny Nelson and scored a decision over ranked heavyweight Jimmy Thunder who outweighed him by 31 pounds. He finished 20-7-2. At age 51 of a heart attack in Rugby, England.
April 1 – KEITH KOZLIN – A super middleweight who competed from 2008 to 2012, finishing 7-3-1, Kozlin was a well-known personality on the New England boxing scene. At age 37 in his hometown of West Warwick, R.I., a suicide.
April 6 – OLLI MAKI – A baker by trade, born in Kokkola, Finland, Maki appeared in the first world title fight in Scandinavia, opposing featherweight champion Davey Moore at Helsinki in 1962. It was Maki's 12th pro fight and he had no business in the same ring with Moore, but 18 months later, fighting at his more natural weight, he captured the European 140-pound title. Maki made a cameo appearance in the boxing love story "The Happiest Day in the Life of Olli Maki," an award winner at the 2016 Cannes film festival. At age 82 in a Helsinki nursing home.
April 12 – RAY JUTRAS – A lifelong resident of Lowell, Massachusetts, Jutras, who stood only 5-feet tall, turned pro and compiled a 29-6 record after winning the 1962 National Golden Gloves title at 118 pounds. At age 82 of a sudden heart attack.
April 18 – PAT DWYER – A hard punching middleweight who knocked out one of his opponents in 16 seconds, Dwyer, a Liverpudlian, compiled a 38-11-2 record during an 8-year career in which he fought such notables as Pierre Fourie, Kevin Finnegan, and Alan Minter. In retirement he ran a gym and promoted small boxing shows in Liverpool. At age 72 of undisclosed causes.
April 25 – HAL CARROLL – Born Horace Carroll in South Carolina, Carroll, who fought out of Syracuse, NY, was knocked out by light heavyweight champion Bob Foster in 1971 in a bid for Foster's world title. He finished with a record of 31-10-1, the draw coming against heavily favored Mike Quarry. At age 78 from complications of a stroke in Syracuse where he owned an auto body shop.
April 26 – OLIVER HARRISON — A well-known boxing personality in Manchester, England, Harrison, born in Jamaica, had only 10 pro fights, winning six, but stayed in the game as a trainer. He was with Amir Khan through Khan's first 17 pro fights and also worked with such notables as Martin Murray and Rocky Fielding. At age 59 in Manchester from cancer.
May 10 – BERT COOPER – A slugger who slugged it out with many of the era's top heavyweights, Cooper, who patterned his style after his mentor Joe Frazier, was 38-25 (31 KOs) in a career that began as an 18-year-old cruiserweight. In 1991, as a late sub, he threw a scare into defending heavyweight champion Evander Holyfield before succumbing in the 7th frame. He battled alcohol and drug problems, but his death at age 53 in Philadelphia came as a result of pancreatic cancer.
May 11 – HAROLD LEDERMAN – A third-generation pharmacist, born in the Bronx, the perpetually cheerful Lederman was called boxing's greatest roving ambassador; his love of the sport was infectious. He judged hundreds of fights, including many world title fights, before joining the HBO Boxing broadcast team as the "unofficial scorer" in 1986. At age 79 from cancer with his family by his side at a hospice in Rockland County, NY.
May 22 – JESSE LEIJA – A featherweight, Leija was the first fighter from San Antonio to reach the finals of the National Golden Gloves tournament and was 16-11-1 as a pro, but is best remembered as the father and trainer of former WBC 130-pound world champion Jesse James Leija. The elder Leija was 80 when he died in San Antonio after a long battle with Parkinson's disease.
Check out more boxing news on video at The Boxing Channel 
To comment on this story in The Fight Forum CLICK HERE
Adrien Broner Returns to the Ring with an Attorney in the Opposite Corner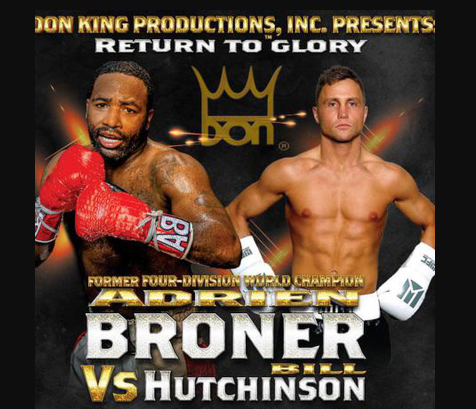 Adrien Broner returns to the ring tomorrow (Friday, June 9) after a 27-month absence. He meets Bill Hutchinson at Casino Miami Jai Alai in Miami, Florida, in a fight slated for "10." It's a Don King promotion for sale at $24.99 on FITE TV and several other pay-per-view platforms.
Hutchinson – his friends call him Hutch — is a practicing attorney with offices in his native Pittsburgh and in Naples, Florida. Reading about him reminded me of Leach Cross. A very good lightweight during the early years of the twentieth-century, Cross was a dentist. His disparate occupations, as one would imagine, gave rise to many jokes. It was said of Leach that he drummed up business for his dental practice by rearranging the bridgework of his opponents. He could knock out a man's tooth and replace it with a facsimile the next morning.
Adrien Broner, aptly nicknamed "The Problem," is frequently in need of a good attorney. The same goes for Don King, a litigious sort who has sued and been sued many times. Even if Hutchinson never fights again, it wouldn't be surprising if he crosses paths with Broner and/or King at some point again down the road. The principals made light of this in Tuesday's press conference. "Dealing with lawyers is Broner's forte," wisecracked Don King. "After I mess you up, I'm going to hire you," said Broner, looking sternly at Hutchinson.
On his web site, Hutchinson comes across as less of an attorney than a man who makes his living as a motivational speaker. "Currently," it reads, "Hutch is a partner and leader in multiple businesses across divergent market categories. These businesses range from the automobile industry to event promotions, high end construction to hospitality, real estate to medical marijuana, and biologics/pharmaceuticals…Hutch has earned a reputation in each industry as an innovative problem solver who discovers new opportunities for growth."
Okay, but can he fight?
Hutchinson's current record (20-2-4, 9 KOs) is decent, but only nine of his 20 wins have come against opponents with winning records. None of his previous fights were slated for more than eight rounds.
There are levels to this sport as Mike Lee can ruefully attest. A finance major at Notre Dame, Lee was a successful businessman with a 21-0 record (against limited opposition) when he wangled a match with IBF super-middleweight title-holder Caleb Plant. That bout turned ugly in a hurry. Plant put him on the deck in the opening round and scored three more knockdowns before the butchery was halted at the midway point of the third round.
The guess is that Broner-Hutchinson won't be quite as lopsided. Owing to legal problems, management issues, personal problems, and training injuries incurred by would-be opponents, Adrien Broner has been relatively inactive, missing all of 2020 and 2022. He's 1-2-1 in his last four fights going back to July of 2017 with the lone triumph coming against unheralded Jovanie Santiago who took the fight on short notice. Broner won a 12-round unanimous decision, but was actually out-landed. His post-fight interview was more exciting than the fight, said CBS reporter Brian Campbell.
In truth, Broner (34-4-1, 24 KOs) hasn't been the same fighter since his bout with Marcos Maidana in December of 2013. Broner was still standing at the final bell, but Maidana roughed him up en route to winning a lopsided decision. Entering that contest, Broner was 27-0 and had never been knocked down. After that bout, he became far less willing to initiate contact, relying more on his sublime defensive skills.
Broner vs. Maidana drew a reported 1.3 million pay-per-view buys, an impressive figure. Broner vs. Hutchinson won't come anywhere close to matching those numbers (75,000 may be a stretch) and no matter his showing, Broner won't repair his tattered image. A prizefighter cannot regain what he has lost against the Bill Hutchinson's of the world.
To comment on this story in the Fight Forum CLICK HERE
Light Heavyweights on Display as 'Sho Box' Returns to Turning Stone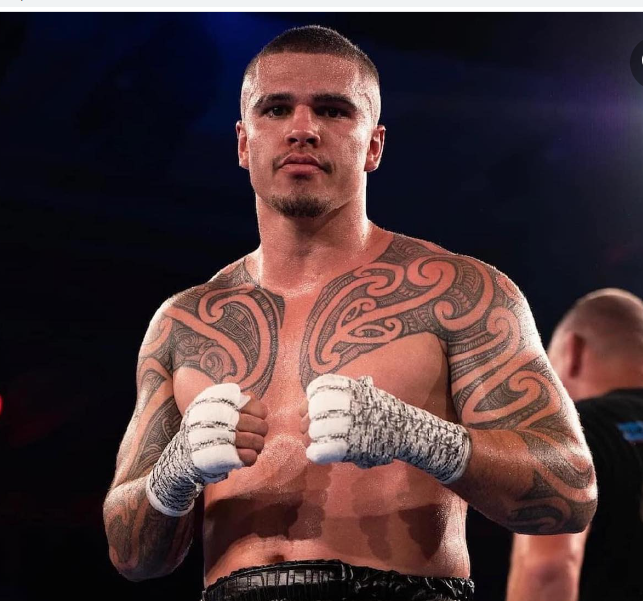 SHOWTIME's 'Sho Box; The New Generation' series, now in its twenty-first season, returns to Central New York on Friday, June 9. The venue is the Turning Stone Casino and Resort in the town of Verona, one freeway exit removed from Canastota, home to the International Boxing Hall of Fame and Museum which is holding its annual shebang this weekend, a four-day jamboree culminating in Sunday's Canastota parade and IBHOF Induction Ceremony.
The TV portion of Friday's card kicks off with an 8-rounder between Clay Waterman (pictured) and Kenmon Evans. It's the U.S. debut for Waterman (10-0, 8 KOs), a Queenslander from Down Under with a strong amateur background and an interesting ethnic pedigree: Maori, indigenous Australian, and European. (He is one of two fighters of Maori descent in action this weekend; Cherneka Johnson defends her IBF super bantamweight title against Ellie Scotney in London on Saturday.)
Waterman's opponent Kenmon Evans (10-0-1, 3 KOs), is seeking his eighth straight victory. A 31-year-old Floridian, Evans is promoted by 2020 IBHOF inductee Christy Martin.
Main Event
The featured bout is an intriguing 10-round contest between Ali Izmailov (10-0, 7 KOs) and Charles Foster (22-0, 12 KOs).
A 30-year-old Russian, Izmailov, ranked #11 by the WBO, is part of promoter Dmitry Salita's Motor City contingent, but has been training for this fight in Florida under the tutelage of John David Jackson. Foster, a 33-year-old southpaw from New Haven, Connecticut, appeared at Turning Stone last year, scoring a third-round stoppage of Bo Gibbs.
Co-Feature
This looks like another well-matched affair. And once again, as Michael Buffer would have said, someone's "0" has got to go.
Richard Vansiclen (13-0-1, 6 KOs) was held to a draw in his last fight with Mexico's Manuel Gallegos. It was a fan-friendly affair and those that saw the fight on FITE TV will likely tune in for this one.
A 29-year-old Seattle-based southpaw, Vansiclen did not have a conventional amateur background. A good all-around athlete in high school, he took up boxing after joining the club team at the University of Washington where he earned a degree in communications. Vansiclen's opponent, Juan Carrillo (10-0, 8 KOs), represented Colombia in the 2016 Rio Olympics. It's slated for "10."
To comment on this story in the Fight Forum CLICK HERE
The Sweet Science Rankings: Week of June 5th, 2023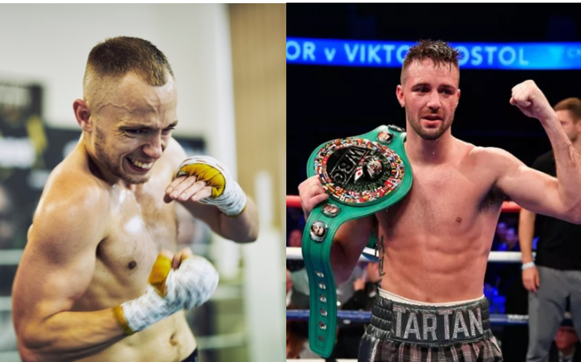 The Sweet Science Rankings: Week of June 5th, 2023
For the first time there are no changes in this week's TSS Rankings. Two fighters ranked #1 in their weight class are in action this Saturday. Sunny Edwards, the top dog at 112 pounds, defends his belt against Chile's Andres Campos at Wembley Arena in London. In a match with far more intrigue, Josh Taylor, the topmost fighter at 140, meets Teofimo Lopez at Madison Square Garden.
Pound-for-Pound
01 – Naoya Inoue
02 – Oleksandr Usyk
03 – Juan Francisco Estrada
04 – Dmitry Bivol
05 – Terence Crawford
06 – Errol Spence Jnr.
07 – Tyson Fury
08 – Saul Alvarez
09 – Artur Beterbiev
10 – Shakur Stevenson
105lbs
1            Knockout CP Freshmart (Thailand)
2            Petchmanee CP Freshmart (Thailand)
3            Oscar Collazo (USA)*
4            Ginjiro Shigeoka (Japan)
5            Wanheng Menayothin (Thailand)
6            Daniel Valladares (Mexico)
7            Yudai Shigeoka (Japan)
8            Melvin Jerusalem (Philippines)
9            Masataka Taniguchi (Japan)
10          Rene Mark Cuarto (Philippines)
108lbs
1            Kenshiro Teraji (Japan)
2            Jonathan Gonzalez (Puerto Rico)
3            Masamichi Yabuki (Japan)
4            Hekkie Budler (South Africa)
5            Sivenathi Nontshinga (South Africa)
6            Elwin Soto (Mexico)
7            Daniel Matellon (Cuba)
8            Reggie Suganob (Philippines)
9            Shokichi Iwata (Japan)
10          Esteban Bermudez (Mexico)
112lbs
1            Sunny Edwards (England)
2            Artem Dalakian (Ukraine)
3            Julio Cesar Martinez (Mexico)
4            Angel Ayala Lardizabal (Mexico)
5            David Jimenez (Costa Rica)
6            Jesse Rodriguez (USA)
7            Ricardo Sandoval (USA)
8            Felix Alvarado (Nicaragua)
9            Seigo Yuri Akui (Japan)
10          Cristofer Rosales (Nicaragua)
115lbs
1            Juan Francisco Estrada (Mexico)
2            Roman Gonzalez (Nicaragua)
3            Jesse Rodriguez (USA)
4            Kazuto Ioka (Japan)
5            Joshua Franco (USA)
6            Junto Nakatani (Japan)
7            Fernando Martinez (Argentina)
8            Srisaket Sor Rungvisai (Thailand)
9            Kosei Tanaka (Japan)
10          Andrew Moloney (Australia)
118lbs
1            Emmanuel Rodriguez (Puerto Rico)
2            Jason Moloney (Australia)
3            Nonito Donaire (Philippines)
4            Vincent Astrolabio (Philippines)
5            Gary Antonio Russell (USA)
6            Takuma Inoue (Japan)
7            Alexandro Santiago (Mexico)
8           Ryosuke Nishida (Japan)
9            Keita Kurihara (Japan)
10          Paul Butler (England)
122lbs
1            Stephen Fulton (USA)
2            Marlon Tapales (Philippines)
3            Luis Nery (Mexico)
4            Murodjon Akhmadaliev (Uzbekistan)
5            Ra'eese Aleem (USA)
6            Azat Hovhannisyan (Armenia)
7            Kevin Gonzalez (Mexico)
8            Takuma Inoue (Japan)
9            John Riel Casimero (Philippines)
10          Fillipus Nghitumbwa (Namibia)
 126lbs
1            Luis Alberto Lopez (Mexico)
2           Leigh Wood (England)
3            Brandon Figueroa (USA)
4            Rey Vargas (Mexico)
5            Mauricio Lara (Mexico)
6            Mark Magsayo (Philippines)
7            Josh Warrington (England)
8            Robeisy Ramirez (Cuba)
9            Reiya Abe (Japan)
10          Otabek Kholmatov (Uzbekistan)
 130lbs
1            Joe Cordina (Wales)
2            Oscar Valdez (Mexico)
3            Hector Garcia (Dominican Republic)
4            O'Shaquie Foster (USA)
5            Shavkatdzhon Rakhimov (Tajikistan)
6            Roger Gutierrez (Venezuela)
7            Lamont Roach (USA)
8            Eduardo Ramirez (Mexico)
9            Kenichi Ogawa (Japan)
10          Robson Conceicao (Brazil)
135lbs
1            Devin Haney (USA)
2            Gervonta Davis (USA)
3            Vasily Lomachenko (Ukraine)
4            Isaac Cruz (Mexico)
5            William Zepeda Segura (Mexico)
6            Frank Martin (USA)
7            George Kambosos Jnr (Australia)
8            Shakur Stevenson (USA)
9            Raymond Muratalla (USA)
10          Keyshawn Davis (USA)
140lbs
1            Josh Taylor (Scotland)
2            Regis Prograis (USA)
3            Jose Ramirez (USA)
4            Jose Zepeda (USA)
5            Jack Catterall (England)
6            Subriel Matias (Puerto Rico)
7            Arnold Barboza Jr. (USA)
8            Gary Antuanne Russell (USA)
9            Zhankosh Turarov (Kazakhstan)
10          Shohjahon Ergashev (Uzbekistan)
 147lbs
1            Errol Spence (USA)
2            Terence Crawford (USA)
3            Yordenis Ugas (Cuba)
4            Vergil Ortiz Jr. (USA)
5            Jaron Ennis (USA)
6            Eimantas Stanionis (Lithuania)
7            David Avanesyan (Russia)
8            Cody Crowley (Canada)
9            Roiman Villa (Columbia)
10          Alexis Rocha (USA)
 154lbs
1            Jermell Charlo (USA)
2           Tim Tszyu (Australia)
3            Brian Castano (Argentina)
4            Brian Mendoza (USA)
5            Liam Smith (England)
6            Jesus Alejandro Ramos (USA)
7            Sebastian Fundora (USA)
8            Michel Soro (Ivory Coast)
9            Erickson Lubin (USA)
10          Magomed Kurbanov (Russia)
 160lbs
1            Gennady Golovkin (Kazakhstan)
2            Jaime Munguia (Mexico)
3            Carlos Adames (Dominican Republic)
4            Janibek Alimkhanuly (Kazakhstan)
5            Liam Smith (England)
6            Erislandy Lara (USA)
7            Sergiy Derevyanchenko (Ukraine)
8            Felix Cash (England)
9            Esquiva Falcao (Brazil)
10          Chris Eubank Jnr. (Poland)
168lbs
1            Canelo Alvarez (Mexico)
2            David Benavidez (USA)
3            Caleb Plant (USA)
4            Christian Mbilli (France)
5            David Morrell (Cuba)
6            John Ryder (England)
7            Pavel Silyagin (Russia)
8            Vladimir Shishkin (Russia)
9            Carlos Gongora (Ecuador)
10          Demetrius Andrade (USA)
175lbs
1            Dmitry Bivol (Russia)
2            Artur Beterbiev (Canada)
3            Joshua Buatsi (England)
4            Callum Smith (England)
5            Joe Smith Jr. (USA)
6            Gilberto Ramirez (Mexico)
7            Anthony Yarde (England)
8           Dan Azeez (England)
9            Craig Richards (England)
10          Michael Eifert (Germany)
200lbs
1            Jai Opetaia (Australia)
2            Mairis Breidis (Latvia)
3            Chris Billam-Smith (England)
4            Richard Riakporhe (England)
5            Aleksei Papin (Russia)
6            Badou Jack (Sweden)
7            Arsen Goulamirian (France)
8            Lawrence Okolie (England)
9            Yuniel Dorticos (Cuba)
10          Mateusz Masternak (Poland)
Unlimited
1            Tyson Fury (England)
2            Oleksandr Usyk (Ukraine)
3            Zhilei Zhang (China)
4            Deontay Wilder (USA)
5            Anthony Joshua (England)
6            Andy Ruiz (USA)
7            Filip Hrgovic (Croatia)
8            Joe Joyce (England)
9            Dillian Whyte (England)
10          Frank Sanchez (Cuba)
To comment on this story in the Fight Forum CLICK HERE