Boxing Notables Lay Bare the Top Storylines of 2019 in Our Newest TSS Survey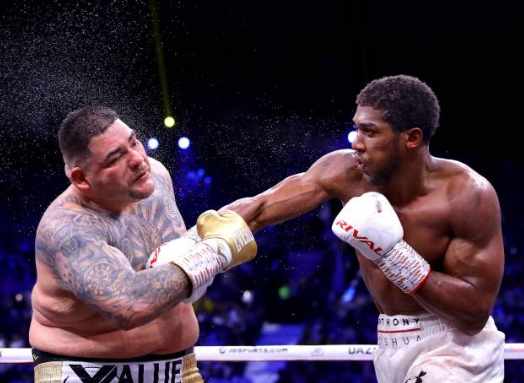 The first quarterly survey of 2020 is in the hopper. We asked our respondents this question: "If you were writing about the year 2019 in boxing, what would you title your article — and why?"
Almost 30 people weighed in with their thoughts. Here are their answers. The respondents are listed in alphabetical order.
MATT ANDRZEJEWSKI — TSS boxing writer: The Content Revolution. In 2019, there was more boxing available through various platforms than ever in the history of the sport. From small club shows in the US to fight cards all across the world, there was an unreal amount of live boxing for diehard fans to watch. And that is just the tip of iceberg as content is expected to grow in 2020. For those who love the sport, 2019 was as good as it gets.
DAVID AVILA — TSS West Coast Bureau Chief: The Year of the First Mexican World Heavyweight Champion as brief as it was.
BOB BENOIT– former boxer, now referee and judge: The Eleventh Round of a Ten-Round Fight. With the first ten rounds this year being very good ones
STEVE CANTON — President of the Florida Boxing Hall of Fame; author: 2019: The Year of the Unprofessional Professional. I would chronicle all those boxers who failed to make weight or never even tried to make weight, those who consistently made excuses to mask their laziness or lack of professionalism and those who talked a good game and didn't produce. The boxers who only talk of how great they are but avoid all opponents who pose a risk and those who cheat (PED's) to gain an unfair advantage would be detailed.
JILL DIAMOND — WBC International Secretary, WBC Cares Chair: Boxing Saves Lives and Also Costs Them. Boxing remains one of the most important tools we can give young people to help them live quality lives. This year, though, we've lost too many pros, and starting with the young, we must up the education on hydration and safety.
DAVID DIAMANTE — renowned ring announcer: Boxing Was Alive and Well in 2019. It's undoubtedly expanding globally and getting stronger. However, the fans must continue to demand the super fights in 2020. The Fight Starts Now!
RICK FARRIS — former boxer, historian, and President and Founder of West Coast Boxing Hall of Fame: The Rise and Fall of the First Mexican Heavyweight Champ. That says it all for my memory of this past year.
BERNARD FERNANDEZ — TSS Mainstay and Lifetime Member of the BWAA; 2020 IBHOF Inductee: The More Things Change, the More They Remain the Same. For several decades, the best possible matchups often did not get made because of Don King's longstanding blood feud with Bob Arum, or because HBO and Showtime were constantly at cross-purposes. Now HBO is out of boxing, but with new broadcast and streaming entities providing more coverage of the sport than ever before, a lot of the familiar barriers are still in place, with different players wielding considerable influence. Arum and Top Rank remain a major presence, but His Hairness, King, has been replaced by Premier Boxing Champions and Al Haymon, as well as Matchroom Sport's Eddie Hearn. DAZN doesn't want to play in the same sandbox with ESPN, the revised equivalent of HBO vs. Showtime, which remains in the game but confronted by more and more powerful adversaries than in the past. And while there was a spate of good fights made in the year about to end, don't hold your breath expecting a welterweight megafight between Terence Crawford and Errol Spence Jr. to happen anytime soon.
JEFFREY FREEMAN (aka KO DIGEST) TSS writer — Attack of the Killer Streaming Apps: How Boxing Went From the TV Screen to the Tiny Screen And How Nobody Can Actually See the Fights Anymore Without Glasses So They Don't Watch Them At All Because Then They Can't Be On Their Phones 24/7 Reading Articles With Super Long Headlines so They Just Put it Down and Fall Asleep Under a Landslide of Commercials They're Being Billed For Monthly.
RANDY GORDON — radio host, writer, former head of the New York State Athletic Commission: 2019: The Year Streaming Took Over
LEE GROVES — writer, author, researcher and CompuBox punch counter: The Streaming Revolution Transforms Boxing Landscape.  Every year in boxing is difficult to condense into just a few words because one in-ring scenario rarely dominates the sport in total ("The Year of the Knockout," "The Year of the Upset," etc.). Therefore, I went with an aspect that covers the entirety of boxing regardless of in-ring results, and, to me, the extraordinary depth and breadth of streaming platforms in boxing is the transformational story of 2019. Yes, ESPN +, DAZN and Facebook Live — among others — existed in 2018, and pay-per-view cards are still around, but, as a whole, fight cards around the globe have been made available on a wide variety of sites throughout the entire year, and it's nearly impossible to keep up with all of them. A big plus is that every single fight on a show can be seen, which gives undercard fighters unprecedented exposure, and an even bigger plus is that these services can be had for a tremendously affordable price compared to the subscription rates of the past, either monthly or per-event. Best yet, the younger generation gets a vast amount of their entertainment from streaming services, and because boxing has been at the forefront of this transition, it should bode well for the sport's future. For once, boxing fans are getting bang for the buck, and this positive momentum in terms of availability looks like it will continue for years to come.
CLARENCE GEORGE — writer and historian: Anthony Joshua Could Eat No Fat. His Opponent Could Eat No Lean. Alternately, Revenge Is a Dish Best Served Fat. Joshua-Ruiz I was more than the Upset of the Year; it was payback for all those overweight heavyweights who came up short against all those lean-mean-fighting-machine pretty boys. Take that, Charles Atlas!
HENRY HASCUP– historian; President of the New Jersey Boxing Hall of Fame:  The Ups and Downs of Andy Ruiz! Andy Ruiz shocked the boxing World twice in one year! First, when no one gave him a chance he came off the canvas to stop Anthony Joshua, who was being regarded as the next Great One, to become the Heavyweight Champion of the World! Then just 6 months later Andy shocked the boxing world again when he came into the ring 15 pounds heavier and in no condition to defend his title and now is regarded as an embarrassment.
CHUCK HASSON — writer, historian: Boxing Makes a Positive Comeback in 2019.
DANNY HOWARD — writer: 2019: The Year We (Almost) Got it Right. Our year in the ring featured shocking upsets, career defining moments and was packed to the brim with spectacular fights and fan engagement was the best it has been in the post- Mayweather era. Unfortunately, shades of the iron curtain have slowly fallen once again as the streaming networks begin to draw the battle lines, executives and media personalities once again aimed to steal the spotlight and the best possible fights that can be made face an insurmountable layer of red tape.
DR. STUART KIRSCHENBAUM — Boxing Commissioner Emeritus, State of Michigan: Raging Bulloney. 2019 marked the year in boxing when the bull hit the fan. We have slowly witnessed the demise of boxing as the king of sports. The one-time boxing fan can no longer name more champions than there are fingers on his hand. It is as impossible to have a conversation with another sports fan about boxing as it is to figure out the crimes Trump committed for impeachment. Most of your major news publications do not have a boxing writer…but just use the wire services. Reporters are so young that they don't even recognize names that come across the news desk of deceased legendary champions or names of inductees into a hall of fame. Musical chairs of champions losing their title on their first defense is commonplace. Bling and entourage have replaced substance and loyalty. Is it so bad that no one has even noticed or yet cared what has happened?  "Yeah….I'm talkin' to you."
JIM LAMPLEY — linchpin of the HBO Boxing announcing team, 2015 IBHOF inductee: My title is The Relentless Tide Of Globalism Strengthens.
ARNE LANG — TSS editor-in-chief, author, historian: I might title it with a metaphor such as The Levee Has Been Breached. In 2019, boxing was suddenly bursting out all over, resulting in many attractive shows going head-to-head with other attractive shows. This was the result of the sport's new economic model with promoters contractually bound to provide a steady stream of fresh content to their live-streaming partners.
 JIMMY LANGE — former boxer and promoter: It Ain't the 80's No More. This might sound negative but it's not intended to be. Many complain that boxing has greatly diminished since the 50's, but it's still great with many outstanding fights in 2019.
RON LIPTON — A member of the New Jersey and New York Boxing Halls of Fame, former fighter, active pro referee and retired police officer: Holding the Big Fights at Madison Square Garden. Other wonderful venues in New York State such as Barclays Center, the renovated Nassau Veterans Memorial Coliseum, Resorts World, and Turning Stone keep big time professional boxing alive and well in the Empire State, yet the illuminating, electric and almost magical feeling that boxing fans visibly experience while attending a Madison Square Garden fight show takes on a life of its own as it certainly did in 2019. In refereeing several shows at MSG in 2019 the magic of it all never leaves me for a moment. Boxing at MSG remained as exciting to me as it did in the early 60's when I attended every boxing show at the old Garden, never missing a prelim.
In mourning the loss of Patrick Day, it comforts me to know that his happiest career moment may have been winning the WBC Continental Americas Super Welterweight belt at Barclays Center where it was my honor to referee him that night.
PAUL MAGNO — author and writer: Business vs. Boxing. 2019 was the year the sport had to battle the business to keep from having its life force snuffed out. With so much talk about the business of boxing and why the best fights couldn't be made, fighters were still able to show why boxing is such a magical sport. Joshua-Ruiz I, Golovkin-Derevyanchenko, Pascal-Browne, Cano-Linares, etc. were fights born out of cynicism and negativity where the will and drive of an underdog– one man with two fists—flipped the script and made for memorable moments. The business of the sport may be preventing some of the biggest and most anticipated fights from happening, but it hasn't taken the spirit from the fighters just yet.
ROBERT MLADINICH— former boxer, former NY Detective, writer, author, actor (see him in The Irishman): Fleeced. Because after the first Ruiz-Joshua fight I was excited about my love affair with boxing being rekindled. It was all taken away in the rematch. Both fights reminded me of all that I love and loathe about the Sweet Science.
RUSSELL PELTZ — venerable Philadelphia boxing promoter and 2004 IBHOF inductee: It was another year in which the promoters who control television did what was best for their own company but not what was best for the long-term health of the sport.
FRED ROMANO — researcher formerly associated with ESPN, historian, author: Here Come the Young Guns: In 2019 a group of exciting young fighters moved forward in their quest to become boxing stars. This cadre of boxers include T. Lopez, D. Haney, G. Davis, R. Garcia and V. Ortiz. 2019 was the set-up year and 2020 should tell us who is legit and who is a product of promotional and media hype.
DANA ROSENBLATT — former middleweight champion of the world, inspirational speaker and TV host: Canelo Alvarez. In 2019, in his defeats of another two fighters that had odds makers questioning the matchups, Alvarez exhibited his dominance of the sport of boxing.
TED SARES — TSS writer: Viva Mexico. There were/are seven world champions of Mexican heritage at one point during the year—Saul Álvarez, Miguel Berchelt, Leo Santa Cruz. Rey Vargas, Emanuel Navarrete. Juan Francisco Estrada, and Elwin Soto—and, of course, Andy Ruiz.
ALAN SWYER — filmmaker, writer, and producer of the acclaimed "El Boxeo": Why Every Boxing Trainer in The World is Happy. Why?  Because if Andy Ruiz had beaten Joshua again, it would have given license to every aspiring boxer to skip workouts and eat three more desserts.
Observations:
The answers reflected an overview in some cases or turned on a specific event in others.
Andy Ruiz took a piñata–like pounding and that was predictable, but there was surprisingly little mention of the ring deaths that occurred during the year.
A common thread had to do with boxing's new business model with more fights brought to the masses via live-streaming.
While many (but far from all) acclaimed 2019 as an excellent year in boxing, the biggest surprise (to me at least) were the number of potential respondents who have lost interest in boxing. For the most part, these were students of boxing history who recalled the days when the best often fought the best.
Any discussion about the advent of new business models and how they differ from those of yore seemed to go by the wayside for them as modern boxing was simply bypassed. Then again, maybe it IS the advent of such new business models that have turned off so many historians.
In the meantime, what would be the title of your article covering 2019?
Ted Sares can be reached at tedsares@roadrunner.com
Check out more boxing news on video at The Boxing Channel 
To comment on this story in The Fight Forum CLICK HERE
The Hauser Report: Garcia-Redkach and More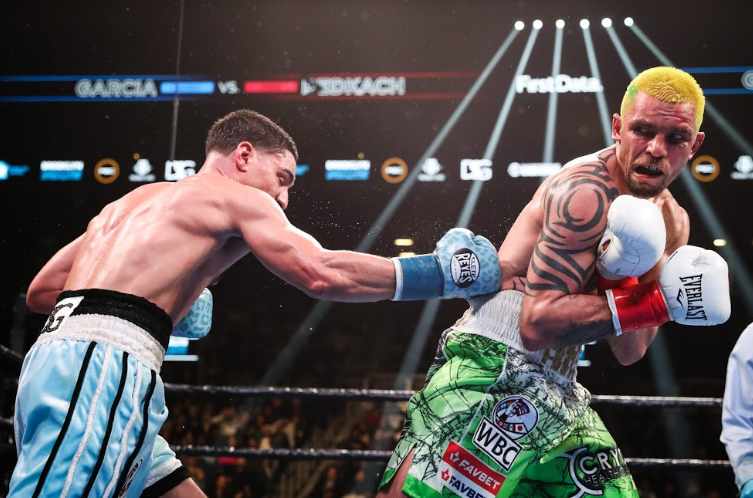 Boxing made its debut at Barclays Center on October 20, 2012, with a fight card headlined by four world title bouts. Danny Garcia, Erik Morales, Paulie Malignaggi, Peter Quillin, Devon Alexander, Danny Jacobs, and Luis Collazo were in the ring that night. The franchise grew nicely. Fans who went to Barclays saw good featured fights with solid undercard bouts. But as of late, the arena's fistic offerings have faded.
Barclays cast its lot with Premier Boxing Champions. And PBC has moved its prime content to greener pastures (green being the color of money). There were five fight cards at Barclays Center in 2019. Each one struggled to sell tickets.
January 25 marked the thirty-ninth fight card at Barclays. The arena was half empty. The announced attendance was 8,217 but that included a lot of freebies. There were six fights on the card. As expected, fighters coming out of the blue corner won all of them. That's what happens when 6-0 squares off against 2-10-1.
Three of the fights were televised by Showtime Championship Boxing, which has also been diminished as a consequence of a multi-year output deal with PBC.
In the first of these bouts, Stephen Fulton (17-0, 8 KOs) and Ukrainian-born Arnold Khegai (16-0, 10 KOs) met in a junior-featherweight bout. Each had fought the usual suspects en route to their confrontation. There was a lot of holding and rabbit-punching which referee Steve Willis ignored. Eventually, Fulton pulled away for a unanimous-decision triumph.
Next up, Jarrett Hurd (23-1, 16 KOs) took on Francisco Santana (25-7, 12 KOs).
Hurd is a big junior-middleweight who held the WBA and IBF 154-pound titles until losing to Julian Williams last year. Santana is a career welterweight who had lost three of his most recent four fights and had won only three times in the last five years.
Hurd was expected to walk through Santana. But he was strangely passive for much of the fight, which led to the strange spectacle of Santana (the noticeably smaller, lighter-punching man) walking Jarrett down for long stretches of time. Francisco is a one-dimensional fighter and was there to be hit. When Jarrett let his hands go, he hit him. But he fought like a man who didn't want to fight and didn't let his hands go often enough.
By round seven, the boos and jeers were raining down. Hurd won a unanimous decision but looked mediocre. That's the most honest way to put it. One wonders what tricks losing to Julian Williams last year played with his mind.
Also, it should be noted that, when the winning fighter thanks God in a post-fight interview and the crowd (which supported Jarrett at the start of the bout) boos at the mention of The Almighty, there's a problem.
"The crowd didn't love it," Hurd acknowledged afterward. "But you gotta understand; I got the unanimous decision and I did what I wanted to do."
The main event matched Danny Garcia (35-2, 21 KOs) against Ivan Redkach (23-4-1, 18 KOs).
Garcia had a nice run early in his career, winning belts at 140 and 147 pounds. But later, he came out on the losing end of decisions against Keith Thurman and Shawn Porter. Other than that, he has gone in soft for the past five years.
Redkach is a junior-welterweight who had won 5 of 10 fights during the same five-year time frame.
There was the usual pre-fight nonsense with Garcia telling reporters, "We picked Redkach because he's dangerous and we knew he'd be tough." But in truth, Redkach had been whitewashed by Tevin Farmer at 135 pounds and was knocked out at the same weight by John Molina Jr (who never won again).
Garcia, like Hurd, was a 30-to-1 betting favorite.
Redkach fought a safety-first fight. Also, safety second and third. There wasn't one second when it looked as though he had a realistic chance of winning the fight or fought like he did.
One of the few proactive things that Ivan did do was stick out his tongue from time to time when Garcia hit him. Then, at the end of round eight, he bit Danny on the shoulder while they were in a clinch. At that point, one might have expected referee Benjy Esteves to disqualify Redkach. But Esteves seemed to not notice.
Rather than go for the kill after the bite, Garcia eased up and cruised to a unanimous decision. Meanwhile, by round eleven, the crowd was streaming for the exits. Most of the fans were gone by the time the decision was announced.
Garcia and Hurd had set-up showcase fights scheduled for them. And neither man delivered the way he should have.
Meanwhile, a final thought . . . Sunday, January 26, would have been Harold Lederman's eightieth birthday.
Harold was the quintessential boxing fan and loved the sport more than anyone I've known. He never missed a fight at Barclays Center unless his health prevented him from coming or he was on the road for HBO. He died eight months ago.
As Saturday night's fight card unfolded, I imagined Harold sitting beside me. He would have had a kind word for everyone who came over to say hello and loved every minute of it. Harold Lederman at the fights was a happy man.
Photo credit: Amanda Westcott
Thomas Hauser's email address is thomashauserwriter@gmail.com. His most recent book — A Dangerous Journey: Another Year Inside Boxing — was published by the University of Arkansas Press. In 2004, the Boxing Writers Association of America honored Hauser with the Nat Fleischer Award for career excellence in boxing journalism. On June 14, 2020, he will be inducted into the International Boxing Hall of Fame.
Check out more boxing news on video at The Boxing Channel 
To comment on this article in The Fight Forum CLICK HERE
Fast Results from Brooklyn: No Surprises as Garcia and Hurd Win Lopsidedly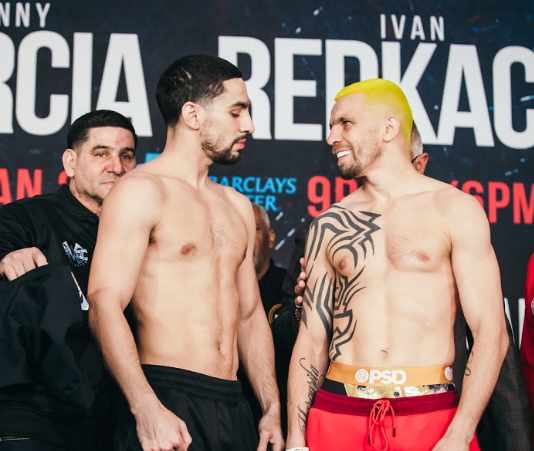 Tonight, Philadelphia's Danny Garcia made his eighth appearance at Barclays Center. Garcia's 2017 fight with Keith Thurman drew 16,533, the attendance high for a boxing show at the arena. A far smaller crowd was in attendance tonight to see Garcia take on Ivan Redkach in a non-title fight slated for 12 rounds.
Redkach, a 33-year-old LA-based Ukrainian, is a southpaw. That's no coincidence. Garcia hopes to land big-money fights with Errol Spence and/or Manny Pacquiao, both southpaws.
Redkach (23-4-1 coming in) turned his career around in his last fight with a career-best performance, a sixth-round stoppage of former two-division title-holder Devon Alexander, a 15-year pro who hadn't previously been stopped. But there was a class difference between he and Danny Garcia, a former WBA and WBC 140-pound world title-holder and former WBC 147-pound champion.
Garcia (35-2, 21 KOs) was simply sharper. His workrate slowed late in the fight, allowing the game Redkach to steal a few rounds, but at the final gun he was relatively unmarked whereas Redkach was conspicuously bruised. The scores were 118-110 and 117-111 twice. The crowd booed at intervals, understandable as they were subject to a drab 6-fight card that was even less interesting than it was on paper.
Co-Feature
In the 10-round co-feature, Jarrett Hurd, making his first start since losing his WBA/IBF super welterweight title to Julian Williams last May, went on cruise control from the opening bell and jabbed his way to a lopsided 10-round decision over Francisco Santana. Hurd, who improved to 24-1, finally let loose late in the 10th frame, putting Santana (25-8-1) on the canvas with a succession of left hooks, but by then many in the crowd had probably nodded off.
This was Hurd's first fight with new trainer Kay Koroma who has drawn raves for his work with America's elite amateurs. The scores were 97-92 and 99-90 twice. SoCal's Santana has now lost five of his last eight.
The opening bout on the main TV portion of the card was a 12-round super bantamweight contest between Philadelphia's Stephen Fulton and fellow unbeaten Arnold Khegai who currently trains in Philadelphia.
Fulton (18-0, 8 KOs) simply had too much class for Khegai (16-1-1), a Ukrainian of Korean heritage. Although Khegai frequently backed Fulton into the ropes, the Philadelphian had an air-tight defense and connected with many more punches. The fight went the full 12 with Fulton prevailing by scores of 116-112 and 117-111 twice.
If the WBO has its way, Fulton will proceed to a fight with Emanuel Navarrete, but don't hold your breath as Navarrete is promoted by Bob Arum who undoubtedly wants to extract more mileage from him before letting him risk his belt against a crafty fighter like Stephen Fulton.
Photo credit: Amanda Westcott / SHOWTIME
Check out more boxing news on video at The Boxing Channel 
To comment on this story in The Fight Forum CLICK HERE
Sacramento Honors Diego 'Chico' Corrales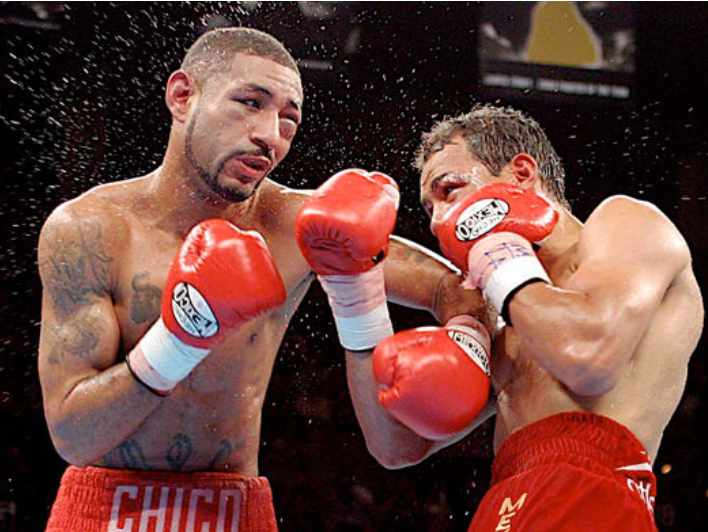 Tonight (Saturday, Jan. 25) former two-division world boxing champion Diego "Chico" Corrales will be posthumously inducted into the Sacramento Sports Hall of Fame at the organization's eighth annual induction ceremony at the Thunder Valley Casino Resort.
Corrales, who grew up in Sacramento, the son of a Columbian father and a Mexican mother, turned pro at age 18 and went on to compile a record of 40-5 (33 KOs). He won his first title in 1999 with a seventh-round stoppage of previously undefeated Robert Garcia. Now recognized as one of boxing's top trainers, Garcia was making the fourth defense of his IBF 130-pound title.
Five years later, Corrales won the WBO world lightweight title with a 10th-round stoppage of Brazil's previously undefeated Acelino Freitas. That set up a unification fight with the WBC belt-holder Jose Luis Castillo.
Corrales and Castillo met on May 7, 2005, at Mandalay Bay in Las Vegas. To say they put on a great fight would be an understatement. The boxing writers in attendance will tell you that this was the greatest fight of all time. It was named Fight of the Decade by The Ring magazine.
The final round, the 10th, was unbelievable. Heading into the round, Corrales was ahead on two of the three scorecards, but his left eye was swollen nearly shut and during the round he was knocked down twice. No one would have faulted referee Tony Weeks for stopping the fight after the second knockdown. But, somehow, Corrales was able to rally, pulling the fight out of the fire with a barrage of punches that had Castillo out on his feet when Weeks waived it off.
Two years to the very day of this iconic fight, Diego "Chico" Corrales died in a motorcycle accident in his adopted hometown of Las Vegas when he rear-ended a car while traveling at a high rate of speed. He was 29 years old.
Corrales was a thrill-seeker. In a 2006 profile, Las Vegas Review-Journal boxing writer Kevin Iole enumerated these among Castillo's hobbies: jumping out of planes from 14,000 feet, bungee jumping from 400 feet, snowboarding in treacherous terrain and scuba diving amid a school of sharks. "He lived his life the same way he fought," said his promoter Gary Shaw, "with reckless abandon."
It might seem odd that it took so long for Corrales to be recognized by the Sacramento Sports Hall of Fame, but there was a period when Corrales's name was mud in his hometown and perhaps the organization's founder, Las Vegas sports radio personality T.C. Martin, a Sacramento native, thought it appropriate to let old wounds heal.
In 2001, shortly after suffering his first pro loss at the hands of Floyd Mayweather, Corrales pled guilty to felony domestic violence in the beating of his first wife and would serve 14 months in prison. "The whole family has worn a black eye for it," Diego's brother Esteban Corrales told Sacramento Bee reporter Marcos Bretan.
For all his recklessness, the incident didn't jibe with his persona. In the company of Las Vegas sportswriters, the soft-spoken and well-spoken Corrales came across as polite and humble.
Corrales, one of five inductees in the 2020 class, joins three other boxers already installed in the Sacramento Hall: Pete Ranzany, Loreto Garza, and Tony "Tiger" Lopez.
Ranzany, a welterweight, fought four former or future world champions and was a fixture in Sacramento rings in the late 1970's. Garza wrested the WBA super lightweight title from Argentina's Juan Martin Coggi in France and successfully defended the belt here in Sacramento with a one-sided conquest of Vinny Pazienza. Lopez, Sacramento's most popular fighter ever, made the turnstiles hum at the city's largest arena where he fought eight of his 14 world title fights beginning with his 1988 humdinger with defending IBF 130-pound champion Rocky Lockridge.
Among the speakers at tonight's confab will be Kenny Adams. Perhaps best known as the head trainer for the 1988 U.S. Olympic team that won eight medals in Seoul, Adams currently trains Nonito Donaire. He was with Diego Corrales for 24 fights, during which Corrales was 23-1, avenging the lone defeat by Joel Casamayor. Festivities start at 7 pm.
Check out more boxing news on video at The Boxing Channel 
To comment on this story in The Fight Forum CLICK HERE