Avila Perspective, Chap. 80: Boxing 101 (Part Two)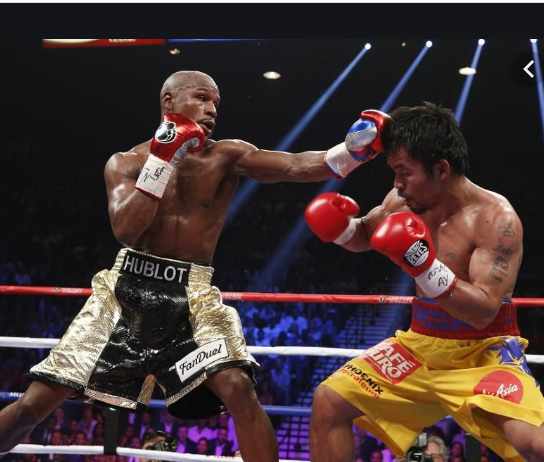 Little did I know, not everyone was taught how to jab at three years old or put in boxing rings to spar other kids.
Welcome to my life.
On one side of my family – my mother's side that hailed from Arizona – was a great grandfather, Battling Ortega, who fought more than 70 professional fights beginning in 1916. My great grandmother's side also produced one world champion, Manuel Ortiz, who fought in the 1930s to the 1950s.
My father's side was not as decorated in boxing as my mother's family, but beginning with my grandfather Jesus Avila in World War I, the prize ring was where he made extra money while working for railroad companies in the east coast. His sons would also box during World War II but not professionally. My father Amado was the only professional boxer on his side of the family.
When I was three years old my father Amado "Mara" Avila was boxing at the Olympic Auditorium and would teach me how to stand, throw combinations and block punches. After spending the mornings at the Main Street Gym in Los Angeles with his trainer Harry Kabakoff, he would return home and teach me boxing skills as my mother prepared dinner.
It was decided early for me that I be taught boxing so as not to be bullied by other kids on the East L.A. playgrounds. My mother had seen kids push me around in the sand box and was frustrated by my failure to respond. My mom, bless her, grew up in East L.A. and knew what to expect on the streets.
Boxing became part of my daily world as each day was spent working on combinations and defense. By the time I was four years old my father put me in the boxing ring against older kids. I lost almost every fight in every tournament for three years.
Maybe losing is what made baseball so appealing to me. While I lost most of my bouts in boxing to older kids, in baseball I was above average as a pitcher from an early age. But my father wanted me to continue boxing and I did. I got better as I got older. By the time I was nine years old I stopped losing. But it was not my sport of choice.
By the age of 14 I had grown rather tall and at nearly six feet in height and 135 pounds I had a tremendous advantage in boxing. My father had stopped boxing because of a head injury suffered after a fight at the Olympic Auditorium. Though naturally a featherweight, during a scheduled fight he failed to make weight and instead of canceling his slot, he opted to fight a lightweight and was promptly knocked down by the bigger fighter. After the knockdown he tried to continue fighting but suffered blindness that lasted for several minutes. He never boxed again.
By the time I was 10 years old baseball consumed most of my time away from school. Though I kept boxing occasionally on smokers, it was baseball that was my true passion as I played year after year in City Terrace Park and Belvedere Park both in East L.A.
When I was 14 I attended a fight card at the Olympic Auditorium. Later, at a restaurant on Figueroa in downtown L.A., my father's former trainer Harry Kabakoff approached me with an offer to train me professionally.
I turned him down.
Though I was now winning all of my fights, I knew that boxing on a professional level was quite different. It's a very unforgiving sport and even with advantages in height, speed or power, it's not enough. Prizefighters are a different breed. The good ones have a killer instinct and a very high degree of pain tolerance.
Some guys shrink into a shell when they are hit with a painful blow, other's draw into a survival mode. And still others wake up suddenly more alert than ever as if a light was turned on. And a small few can see the road starkly clearer as time seems to slow down and they slip into a higher fighting mode. These are your champions.
As a member of a boxing family we would spend Thanksgiving, Christmas and New Year's sitting on sofas watching television and talking about the fight game. It was a favorite subject of my great grandfather who spoke about fighting Benny Leonard, Soldier Bartfield and many others. Our family consisted of boxers on all sides so it was the natural topic.
Of course, I had no idea who Benny Leonard was but according to my great grandfather, he was the best fighter he had ever faced. And he fought dozens of world champions in a day when there was only one world champion, not four to six world champions like today. His stories about the old days were pretty interesting. They made good money in those days even though it was 100 years ago. Prizefighting was extremely popular. It helped him buy a house in East L.A. down the street by the old Resurrection Gym. It's now where Oscar De La Hoya Animo High School stands.
The stories we shared around the dinner table were engrained in me along with my own experiences in the boxing ring. For years I forgot all about them until boxing returned to my life and something woke up in me.
Boxing reclaimed me.
2010s the Decade of Growth
One of the worst economic downturns in world history failed to kill the sport of prizefighting. Instead, boxing remained one of the main attractions utilized by Las Vegas casinos to lure customers through their glitzy doors.
Floyd Mayweather picked up the baton from Oscar De La Hoya as the money-maker for the sport in the 2010s and was the fighter everyone wanted to face. His ascent to the top as a gate attraction began with a victory over Zab Judah in 2006 and was steadily moving upward monetarily.
By 2010, Mayweather was the top star along with Filipino superstar Manny "Pacman" Pacquiao. One of the top fights that year was his battle against Sugar Shane Mosley at the MGM Grand in Las Vegas. Mayweather escaped after absorbing a big right hand bomb from the Pomona fighter.
Later that same year, Mosley fought Sergio Mora to a disputed draw at Staples Center in Los Angeles.
East L.A.'s Mora had been one of those fighters I spotted early in his development. During his first pro bout at a boxing card in Anaheim, I could see he had a different fighting style along with athleticism that was going to be hard to beat. I predicted in his fourth fight that he would one day be a world champion. When he fought Vernon Forrest, I predicted Mora would win and he did. To my knowledge, only Doug Fischer and I predicted the victory.
As a boxing journalist it's important to watch young fighters develop early. Anyone can predict greatness for someone winning an Olympic gold medal, but there's always someone who sneaks in through the cracks and makes it to the top. Those are the real stories in prizefighting.
Another guy named Sergio was slipping through the cracks from South America. He was a super welterweight named Sergio Martinez. 2010 was a spectacular year for the slick fighting Argentine named "Maravilla" as he defeated Kelly Pavlik in April and knocked out Paul Williams in the second round of a November fight. He was named the Fighter of the Year by the WBC and was recognized as such in a ceremony in San Bernardino along with Tim "Desert Storm" Bradley for an extremely good year.
The biggest grossing fight of all time took place when Mayweather and Pacquiao finally met on May 2, 2015. After years of debate the two stars met in Las Vegas and their pay-per-view fight generated more than 4 million buys. It remains the most successful pay-per-view boxing match of all time. Mayweather's victory set him apart as the most successful fighter in terms of financial gain. He has cleared more than $1 billion as a prizefighter according to Forbes Magazine.
Around this time another middleweight was stirring up things in the boxing world after moving from Germany to Big Bear, California. His name – Gennady Golovkin.
GGG
Big Bear, California had been a favorite spot for prizefighters for several decades. Oscar De La Hoya, Mike Tyson, Fernando Vargas, Floyd Mayweather Jr. and many others throughout the years had prepared for mega fights in the mountain resort spot popular for skiing at its 12,000-feet elevation. It's located in the Inland Empire area east of Los Angeles County.
Abel Sanchez, a building contractor and boxing trainer, had personally built a compound at Big Bear and was preparing fighters down the street from Sugar Shane Mosley's training site.
When K2 Promotions signed Golovkin it was Tom Loeffler who brought Golovkin to Sanchez and together they all made history and a lot of money with their "Mexican style" boxing.
Loeffler invited me to see Golovkin train at the mountain headquarters and his power and skills were instantly impressive. It took a few years for the rest of the world to catch on and believe in GGG.
Over the decades my experience as a boxer and as a journalist gave me insight into what separates great fighters from normal fighters. With Golovkin it was the pure power in his fists for a man his size. There was a certain sound when he hit a heavy bag that was different. His skills were also pretty sound, he didn't have flaws in his technique that I often see with other fighters. Some drop their hands during combinations, others expose their chin to counters and still others telegraph their punches so badly a blind man can see them.
Golovkin was tight from the start.
Before he fought in front of American audiences on HBO it was clear Golovkin was going to be a star. It just took a little time for the rest of the world to be convinced.
Around this same time another fighter moved into the Inland Empire area named Mikey Garcia. He had purchased a house in Moreno Valley, California and moved from Oxnard to set up shop. Within a couple of years his family would follow including brother Robert Garcia and father Eduardo Garcia.
It was a move that would soon change the boxing landscape as the Garcias opened a gym in Riverside, California. Soon, many top fighters from around the country and world would sign with the Garcias and begin training in the hills of Riverside.
More and more boxers were arriving to the many gyms throughout the Inland Empire from all over the world. An explosion of talent arrived and very few outside of the elite had any idea it was transpiring.
Fighters like Golovkin, Mikey Garcia, Tim Bradley, Shane Mosley, and even Terence Crawford and Andy Ruiz were working out in the Inland Empire gyms.
Because of its 60 miles or more distance from Los Angeles few reporters covering the sport made the trek to visit the more than 35 gyms scattered throughout the Inland Empire.
Social Media
Though my own beginning as a boxing journalist began with newspapers, it's not difficult for me to point out the poor coverage and ineptitude of those covering the sport for print.
The development of boxing web sites easily took over coverage of the sport with various names like SecondsOut.com, House of Boxing, Fight News and The Sweet Science to name a few. Now there are literally hundreds of boxing sites throughout the world.
Most coverage is devoted to the top echelon of the sport of prizefighting, but a few make a determined effort to trace the beginnings of pro boxers as they make their journeys.
Only one newspaper, the Riverside Press-Enterprise was at ringside when Saul "Canelo" Alvarez made his American debut at Morongo Casino in Southern California.
When Alvarez fought Mayweather in 2013, his journey was well-documented by most boxing web sites, but newspapers – aside from the Riverside Press-Enterprise – were forced to play catchup.
Mayweather easily defeated Alvarez on points and though he never hurt the Mexican redhead, he did deliver an important teaching lesson that "Canelo" and his team never forgot. Defense was equally important as offense and it served them well.
Eddy Reynoso, the trainer for Alvarez, has never wavered from expressing how much they learned from that fight against Mayweather in September 2013.
"From people like Mayweather, we learned a lot. It wasn't for nothing, he was the best in the ring," said Reynoso last month. "Fighting against Mayweather you learn a lot of different levels. The loss teaches you to do better."
Now, seven years later, Canelo Alvarez reigns as the top money-maker and a multi-divisional world champion.
Check out more boxing news on video at The Boxing Channel 
To comment on this story in The Fight Forum CLICK HERE
The Canelo-Yildirim Travesty was Another Smudge on 'Mandatory' Title Defenses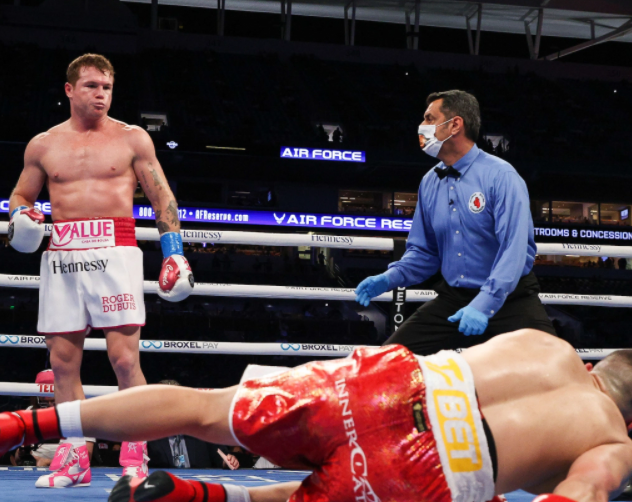 Canelo Alvarez's rout of grossly overmatched Avni Yildirim has once again cast a harsh light on the "mandatory challenger" gambit employed by the sport's world sanctioning bodies. Canelo successfully defended his WBC 168-pound belt this past Saturday in Miami when Yildirim's corner pulled him out after only three rounds.
During the nine minutes of actual fighting, Yildirim was credited with landing only 11 punches, none of which appeared to have been launched with bad intentions. A person posting on a rival web site likened Yildirim's woeful performance to that of Nate Robinson's showing against Jake Paul. Another snarky poster said that faint-hearted Adrien Broner, by comparison, had the heart of a lion. True, the 29-year-old Turk was sent in against a beast, but one yet has a right to expect more from a contest packaged as a world title fight.
Yildirim was coming off a loss. In his previous fight, he lost a split decision to Anthony Dirrell in a bout that was stopped in the 10th round by the ringside physician because of a bad cut over Dirrell's left eye that resulted from an accidental head butt. He hadn't won a fight in three-and-a-half years, not since out-pointing 46-year-old Lolenga Mock who predictably faded late in the 12-round fight, enabling Yildirim to win a narrow decision. Earlier in his career, he was stopped in the third round by Chris Eubank Jr in a fight that was one-sided from the get-go.
So, how exactly did Avni Yildirim build himself into position to become the mandatory opponent for the sport's top pound-for-pound fighter? Did he "earn" this opportunity and the rich payday that came with it by submitting the winning bid in an auction? Is that a rhetorical question?
In an ESPN Q & A, the award-winning writer Mark Kriegel said that Canelo-Yildirim was payback for certain favors that were granted to Canelo by the WBC, citing the organization's new "Franchise Champion" category and to their decision to countenance Canelo's fight with Callum Smith for their vacant 168-pound title. But this doesn't answer the question as to how Yildirim ascended to the role of a mandatory challenger; it merely informs us why Canelo agreed to take the fight.
This was the second great mismatch in 10 weeks involving a mandatory challenger. On Dec. 18, Gennadiy Golovkin opposed Poland's Kamil Szeremeta in the first defense of the IBF middleweight title that he won with a hard-earned decision over Sergiy Derevyanchenko. The feather-fisted Szeremeta was undefeated (21-0, 5 KOs) but hadn't defeated an opponent with a recognizable name.
This was a stroll in the park for GGG. Szeremeta was a glutton for punishment – he lasted into the seventh round — but at no point in the fight did he pose a threat to the 38-year-old Kazakh. Golovkin knocked him down four times before the plug was pulled.
In theory, the "mandatory challenger" ruling forestalls the very abuses with which it has become identified. It prevents a champion from fighting a series of hapless opponents while a more worthy challenger is left out in the cold. One could say that it stands as an example of the law of unforeseen consequences, save that it would be naïve to think that the heads of the sanctioning bodies didn't foresee this versatility and venally embrace it.
Historians will likely lump Avni Yildirim with such fighters of the past as Patrick Charpentier and Morrade Hakker who were accorded mandatory contender status by the WBC so that they could be fodder for a title-holder in a stay-busy fight. Charpentier was rucked into retirement by Oscar De La Hoya who dismissed the overmatched Frenchman in three one-sided rounds at El Paso in 1998. Hakker was thrown in against Bernard Hopkins at Philadelphia in 2003. He brought his bicycle with him, so to speak, and thus lasted into the eighth.
In common with Yildirim and a slew of other mandatory challengers (Vaughn Bean comes quickly to mind), Charpentier and Hakker had misleading records. Steve Kim, in an article for this publication, said that Hakker's record was more inflated than the Goodyear blimp.
A mandatory title defense isn't always a rip-off. One wonders where Tyson Fury would be career-wise today if the WBO hadn't established the Gypsy King as the mandatory challenger to Wladimir Klitschko, setting the wheels in motion for a changing of the guard. That worked out well for the good of the sport as Fury, after some disconcerting speed bumps, would prove to be a breath of fresh air.
But a mandatory title defense between evenly-matched opponents remains a rarity and there's no end in sight to the charade.
Photo credit: Ed Mulholland / Matchroom
Check out more boxing news on video at the Boxing Channel
To comment on this story in the Fight Forum CLICK HERE
Canelo Pummels Yildirin Into Submission in Three One-Sided Frames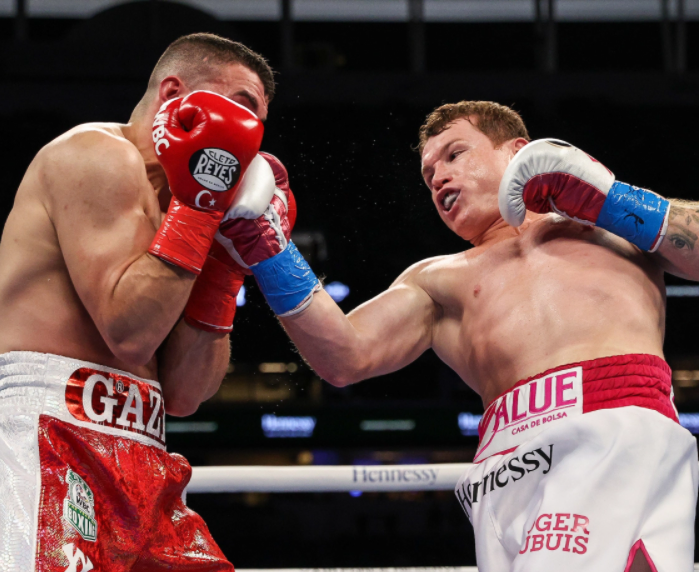 Mexico's Saul "Canelo" Alvarez dismissed Avni Yildirim like a bothersome fly to retain the WBA and WBC super middleweight titles by technical knockout in a mandatory fight on Saturday.
Challenge completed.
After less than three months from his last victory, Canelo (55-1-2, 37 KOs) returned to the boxing ring and battered Turkey's Yildirim (21-3, 12 KOs) to submission at the Hard Rock Stadium in Miami, Florida. Callum Smith or Yildirim please take your seat.
It was just 70 days ago that Alvarez took the WBA title away from England's Smith but the Mexican redhead was eager to return to the ring and dominated Yildirim like the former sparring partner he was.
It was hardly a contest.
Yildirim spent most of 2020 working with Southern California's famed trainer Joel Diaz, but there is only so much a teacher can teach. Regardless of the expertise given to the Turkish fighter the trainer can't jump in the boxing ring. Despite repeated admonishments by Diaz, his fighter just could not pull the trigger.
"It doesn't matter who trains him I just do my work and listen to my corner," said Alvarez "I feel very strong at this weight."
Alvarez pummeled Yildirim like a punching bag early and often during the first two rounds. Left and right uppercuts pierced through Yildirim's guard and body shots pummeled the body. Return fire was seldom exchanged.
After two rounds of sustaining punishment to the head and body, Yildirim attempted to fire back. He paid for his gamble with a counter right fired through the guard by Canelo and down went the challenger.
Though Yildirim survived the third-round knockdown, as he returned to the corner his trainer Diaz warned that another round like the third would force a stoppage. Diaz decided after further inspection to end the fight then and there at the end of the third round.
"I said I would get the knockout and I got the knockout," said Alvarez.
The win sets up a showdown with England's Billy Joe Saunders who holds the WBO super middleweight world title.
"This year it's going to be very special against BJ Saunders," said Matchroom Boxing promoter Eddie Hearn who is planning their encounter for May 8. "It's going to be one of the biggest fights of the year."
Canelo said he is eager for the pending encounter.
"He's a difficult fighter. He has the WBO title and we need to go for him," said Alvarez.
Alvarez said his plans are to continue making history as a Latino fighter winning undisputed world titles in the super middleweight division.
"In Latin America it hasn't been done," Alvarez said. "I want to make history."
Other Bouts
McWilliams Arroyo walked through Abraham Rodriguez's punches and won by technical knockout in the fifth round to win the interim WBC flyweight title.
Despite a change of opponents within the last week Arroyo (21-4, 15 KOs) was able to adapt to last-minute opponent Rodriguez (27-3, 13 KOs) and work the body and head until the Mexican fighter's corner tossed in the white towel to end the fight at 1:41 of the fifth round.
A battle of heavyweights between China's Zhilei Zhang (22-0-1, 17 KOs) and America's Jerry Forrest (26-4-1) ended in a majority draw after 10 rounds. Despite three early knockdowns scored by Zhang, the momentum changed after Forrest attacked the body inside. The scores were 95-93 Forrest and 93-93 twice for a majority draw.
In a super middleweight fight between two extremely tall prospects Diego Pacheco (11-0, 8 KOs) won by unanimous decision over Rodolfo Gomez Jr. after eight rounds. No knockdowns were scored between the two fighters who each towered at 6-feet 4-inches.
Photo credit: Ed Mulholland / Matchroom
Check out more boxing news on video at the Boxing Channel
To comment on this story in the Fight Forum CLICK HERE
Results from Auckland: Parker UD 12 Fa; Ahio KO 7 Long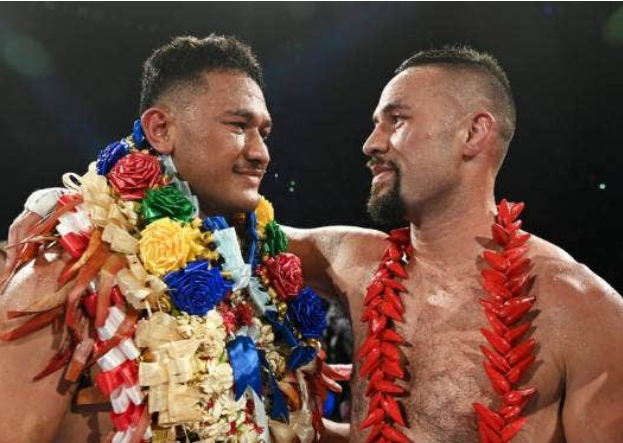 New Zealand heavyweights Joseph Parker and Junior Fa met four times as amateurs and each man won twice. On Saturday night in Auckland, they met for the first time as professionals and the heavily favored Parker broke the deadlock with a 12-round unanimous decision.
The bout beat the clock, in a fashion. During the match the crowd at the waterfront arena, estimated at 8,500, was informed that Auckland was reverting to Phase Three effective at 6:00 in the morning, following the discovery of a new Covid-19 infection. That meant, among other things, that public gatherings would be restricted to 10 people and schools would be open only to the children of essential workers.
The fight was a rather drab affair in which both men had trouble landing clean punches, perhaps owing partly to ring rust. Parker (28-2, 21 KOs) was making his first start in 12 months; Fa (19-1, 10 KOs) had been inactive since November of 2019.
Parker, the former world title challenger who went the distance with Anthony Joshua, had the upper hand in the early rounds and opened a small cut over Fa's left eye in the seventh round, perhaps the result of an errant elbow. The cut became larger and bled profusely as the bout continued but it was never in danger of being stopped.
Parker had a worried look on his face as he awaited the reading of the scores, but he had nothing to fear. The judges had it 115-113, 117-111, and a head-scratching 119-109.
After the fight, Parker said, "It was a lot closer than we expected."
Ahio vs. Long
The undercard was rubbish, but the Ahio-Long fight warrants a mention. A stablemate of Junior Fa, Hemi Ahio improved to 17-0 (12) with a wicked seventh-round knockout of Julius Long who was thoroughly gassed when Ahio caught him against the ropes and landed his haymaker. They had previously met in a 6-round affair that went the distance.
If the name Julius Long sounds vaguely familiar, that's because he's been around since 2001. Listed at seven-foot-one but likely an inch or two shorter, the boxer nicknamed the Towering Inferno came to New Zealand in 2013 to serve as a sparring partner for David Tua and never left.
Nearly 15 full years have elapsed since Long was whacked out in the opening round by Samuel Peter on a Duva Promotions card at Connecticut's Mohegan Sun Casino.
George Kimball was ringside for TSS and described the scene: "The overmatched Long had already been down once when Peter smashed him with a left-right combination…(Long) hit the ropes with such force that he shot back off them like he was bouncing from a trampoline. Unfortunately for Long, the slingshot effect propelled him straight into the path of the right hand Peter had dispatched toward his head, effectively doubling the force of the blow. Long went down as if he had been whacked with a sledgehammer and lay motionless on the canvas. Referee Arthur Mercante Jr waved it off without a count, but he could have counted to 100."
Long is now 43 years old. Since his crushing defeat by Samuel Peter, he is 4-17-1 and counting his defeat last night has been stopped seven more times. For his rematch with Akio, he weighed in at 326 ¾ pounds, more than 100 pounds more than his opponent.
In his adopted home, Julius Long, who grew up in Detroit, is a qualified chef, an occupation that requires an apprenticeship and many hours of training. He supplements his income moonlighting as a freelance prizefighter. By all accounts, he's a very likeable man, but someone needs to take away his boxing gloves and burn them.
Check out more boxing news on video at the Boxing Channel
To comment on this story in the Fight Forum CLICK HERE