Avila Perspective, Chap. 80: Boxing 101 (Part Two)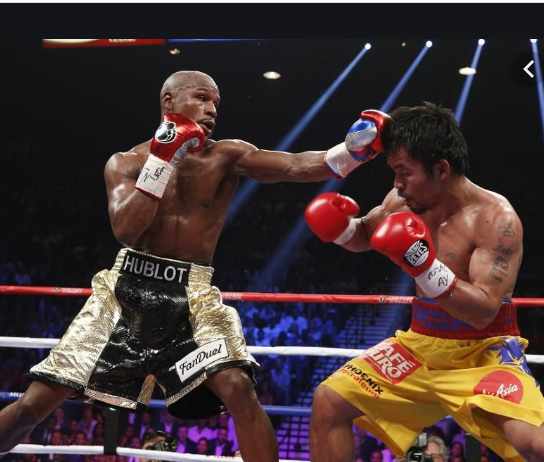 Little did I know, not everyone was taught how to jab at three years old or put in boxing rings to spar other kids.
Welcome to my life.
On one side of my family – my mother's side that hailed from Arizona – was a great grandfather, Battling Ortega, who fought more than 70 professional fights beginning in 1916. My great grandmother's side also produced one world champion, Manuel Ortiz, who fought in the 1930s to the 1950s.
My father's side was not as decorated in boxing as my mother's family, but beginning with my grandfather Jesus Avila in World War I, the prize ring was where he made extra money while working for railroad companies in the east coast. His sons would also box during World War II but not professionally. My father Amado was the only professional boxer on his side of the family.
When I was three years old my father Amado "Mara" Avila was boxing at the Olympic Auditorium and would teach me how to stand, throw combinations and block punches. After spending the mornings at the Main Street Gym in Los Angeles with his trainer Harry Kabakoff, he would return home and teach me boxing skills as my mother prepared dinner.
It was decided early for me that I be taught boxing so as not to be bullied by other kids on the East L.A. playgrounds. My mother had seen kids push me around in the sand box and was frustrated by my failure to respond. My mom, bless her, grew up in East L.A. and knew what to expect on the streets.
Boxing became part of my daily world as each day was spent working on combinations and defense. By the time I was four years old my father put me in the boxing ring against older kids. I lost almost every fight in every tournament for three years.
Maybe losing is what made baseball so appealing to me. While I lost most of my bouts in boxing to older kids, in baseball I was above average as a pitcher from an early age. But my father wanted me to continue boxing and I did. I got better as I got older. By the time I was nine years old I stopped losing. But it was not my sport of choice.
By the age of 14 I had grown rather tall and at nearly six feet in height and 135 pounds I had a tremendous advantage in boxing. My father had stopped boxing because of a head injury suffered after a fight at the Olympic Auditorium. Though naturally a featherweight, during a scheduled fight he failed to make weight and instead of canceling his slot, he opted to fight a lightweight and was promptly knocked down by the bigger fighter. After the knockdown he tried to continue fighting but suffered blindness that lasted for several minutes. He never boxed again.
By the time I was 10 years old baseball consumed most of my time away from school. Though I kept boxing occasionally on smokers, it was baseball that was my true passion as I played year after year in City Terrace Park and Belvedere Park both in East L.A.
When I was 14 I attended a fight card at the Olympic Auditorium. Later, at a restaurant on Figueroa in downtown L.A., my father's former trainer Harry Kabakoff approached me with an offer to train me professionally.
I turned him down.
Though I was now winning all of my fights, I knew that boxing on a professional level was quite different. It's a very unforgiving sport and even with advantages in height, speed or power, it's not enough. Prizefighters are a different breed. The good ones have a killer instinct and a very high degree of pain tolerance.
Some guys shrink into a shell when they are hit with a painful blow, other's draw into a survival mode. And still others wake up suddenly more alert than ever as if a light was turned on. And a small few can see the road starkly clearer as time seems to slow down and they slip into a higher fighting mode. These are your champions.
As a member of a boxing family we would spend Thanksgiving, Christmas and New Year's sitting on sofas watching television and talking about the fight game. It was a favorite subject of my great grandfather who spoke about fighting Benny Leonard, Soldier Bartfield and many others. Our family consisted of boxers on all sides so it was the natural topic.
Of course, I had no idea who Benny Leonard was but according to my great grandfather, he was the best fighter he had ever faced. And he fought dozens of world champions in a day when there was only one world champion, not four to six world champions like today. His stories about the old days were pretty interesting. They made good money in those days even though it was 100 years ago. Prizefighting was extremely popular. It helped him buy a house in East L.A. down the street by the old Resurrection Gym. It's now where Oscar De La Hoya Animo High School stands.
The stories we shared around the dinner table were engrained in me along with my own experiences in the boxing ring. For years I forgot all about them until boxing returned to my life and something woke up in me.
Boxing reclaimed me.
2010s the Decade of Growth
One of the worst economic downturns in world history failed to kill the sport of prizefighting. Instead, boxing remained one of the main attractions utilized by Las Vegas casinos to lure customers through their glitzy doors.
Floyd Mayweather picked up the baton from Oscar De La Hoya as the money-maker for the sport in the 2010s and was the fighter everyone wanted to face. His ascent to the top as a gate attraction began with a victory over Zab Judah in 2006 and was steadily moving upward monetarily.
By 2010, Mayweather was the top star along with Filipino superstar Manny "Pacman" Pacquiao. One of the top fights that year was his battle against Sugar Shane Mosley at the MGM Grand in Las Vegas. Mayweather escaped after absorbing a big right hand bomb from the Pomona fighter.
Later that same year, Mosley fought Sergio Mora to a disputed draw at Staples Center in Los Angeles.
East L.A.'s Mora had been one of those fighters I spotted early in his development. During his first pro bout at a boxing card in Anaheim, I could see he had a different fighting style along with athleticism that was going to be hard to beat. I predicted in his fourth fight that he would one day be a world champion. When he fought Vernon Forrest, I predicted Mora would win and he did. To my knowledge, only Doug Fischer and I predicted the victory.
As a boxing journalist it's important to watch young fighters develop early. Anyone can predict greatness for someone winning an Olympic gold medal, but there's always someone who sneaks in through the cracks and makes it to the top. Those are the real stories in prizefighting.
Another guy named Sergio was slipping through the cracks from South America. He was a super welterweight named Sergio Martinez. 2010 was a spectacular year for the slick fighting Argentine named "Maravilla" as he defeated Kelly Pavlik in April and knocked out Paul Williams in the second round of a November fight. He was named the Fighter of the Year by the WBC and was recognized as such in a ceremony in San Bernardino along with Tim "Desert Storm" Bradley for an extremely good year.
The biggest grossing fight of all time took place when Mayweather and Pacquiao finally met on May 2, 2015. After years of debate the two stars met in Las Vegas and their pay-per-view fight generated more than 4 million buys. It remains the most successful pay-per-view boxing match of all time. Mayweather's victory set him apart as the most successful fighter in terms of financial gain. He has cleared more than $1 billion as a prizefighter according to Forbes Magazine.
Around this time another middleweight was stirring up things in the boxing world after moving from Germany to Big Bear, California. His name – Gennady Golovkin.
GGG
Big Bear, California had been a favorite spot for prizefighters for several decades. Oscar De La Hoya, Mike Tyson, Fernando Vargas, Floyd Mayweather Jr. and many others throughout the years had prepared for mega fights in the mountain resort spot popular for skiing at its 12,000-feet elevation. It's located in the Inland Empire area east of Los Angeles County.
Abel Sanchez, a building contractor and boxing trainer, had personally built a compound at Big Bear and was preparing fighters down the street from Sugar Shane Mosley's training site.
When K2 Promotions signed Golovkin it was Tom Loeffler who brought Golovkin to Sanchez and together they all made history and a lot of money with their "Mexican style" boxing.
Loeffler invited me to see Golovkin train at the mountain headquarters and his power and skills were instantly impressive. It took a few years for the rest of the world to catch on and believe in GGG.
Over the decades my experience as a boxer and as a journalist gave me insight into what separates great fighters from normal fighters. With Golovkin it was the pure power in his fists for a man his size. There was a certain sound when he hit a heavy bag that was different. His skills were also pretty sound, he didn't have flaws in his technique that I often see with other fighters. Some drop their hands during combinations, others expose their chin to counters and still others telegraph their punches so badly a blind man can see them.
Golovkin was tight from the start.
Before he fought in front of American audiences on HBO it was clear Golovkin was going to be a star. It just took a little time for the rest of the world to be convinced.
Around this same time another fighter moved into the Inland Empire area named Mikey Garcia. He had purchased a house in Moreno Valley, California and moved from Oxnard to set up shop. Within a couple of years his family would follow including brother Robert Garcia and father Eduardo Garcia.
It was a move that would soon change the boxing landscape as the Garcias opened a gym in Riverside, California. Soon, many top fighters from around the country and world would sign with the Garcias and begin training in the hills of Riverside.
More and more boxers were arriving to the many gyms throughout the Inland Empire from all over the world. An explosion of talent arrived and very few outside of the elite had any idea it was transpiring.
Fighters like Golovkin, Mikey Garcia, Tim Bradley, Shane Mosley, and even Terence Crawford and Andy Ruiz were working out in the Inland Empire gyms.
Because of its 60 miles or more distance from Los Angeles few reporters covering the sport made the trek to visit the more than 35 gyms scattered throughout the Inland Empire.
Social Media
Though my own beginning as a boxing journalist began with newspapers, it's not difficult for me to point out the poor coverage and ineptitude of those covering the sport for print.
The development of boxing web sites easily took over coverage of the sport with various names like SecondsOut.com, House of Boxing, Fight News and The Sweet Science to name a few. Now there are literally hundreds of boxing sites throughout the world.
Most coverage is devoted to the top echelon of the sport of prizefighting, but a few make a determined effort to trace the beginnings of pro boxers as they make their journeys.
Only one newspaper, the Riverside Press-Enterprise was at ringside when Saul "Canelo" Alvarez made his American debut at Morongo Casino in Southern California.
When Alvarez fought Mayweather in 2013, his journey was well-documented by most boxing web sites, but newspapers – aside from the Riverside Press-Enterprise – were forced to play catchup.
Mayweather easily defeated Alvarez on points and though he never hurt the Mexican redhead, he did deliver an important teaching lesson that "Canelo" and his team never forgot. Defense was equally important as offense and it served them well.
Eddy Reynoso, the trainer for Alvarez, has never wavered from expressing how much they learned from that fight against Mayweather in September 2013.
"From people like Mayweather, we learned a lot. It wasn't for nothing, he was the best in the ring," said Reynoso last month. "Fighting against Mayweather you learn a lot of different levels. The loss teaches you to do better."
Now, seven years later, Canelo Alvarez reigns as the top money-maker and a multi-divisional world champion.
Check out more boxing news on video at The Boxing Channel 
To comment on this story in The Fight Forum CLICK HERE
Mercito Gesta Victorious Over Jojo Diaz at the Long Beach Pyramid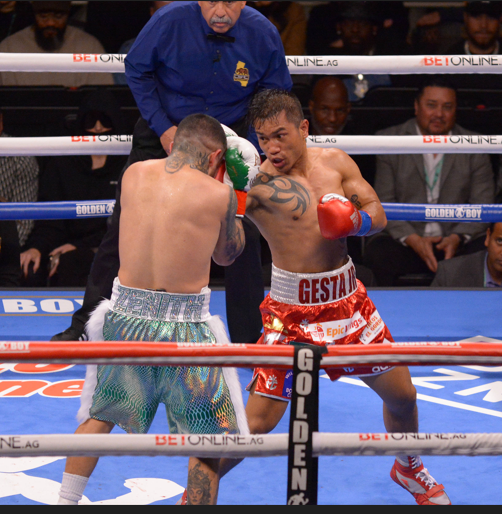 LONG BEACH, CA.-Those in the know knew Mercito Gesta and Jojo Diaz would be a fight to watch and they delivered.
Gesta emerged the winner in a super lightweight clash between southpaws that saw the judges favor his busier style over Diaz's body attack and bigger shots and win by split decision on Saturday.
Despite losing the main event because the star was overweight, Gesta (34-3-3, 17 KOs) used an outside method of tactic to edge past former world champion Diaz (32-4-1, 15 KOs) in front of more than 5,000 fans at the Pyramid.
The speedy Gesta opened up the fight with combination punching up and down against the peek-a-boo style of Diaz. For the first two rounds the San Diego fighter overwhelmed Diaz though none of the blows were impactful.
In the third round Diaz finally began unloading his own combinations and displaying the fast hands that helped him win world titles in two divisions. Gesta seemed stunned by the blows, but his chin held up. The counter right hook was Diaz's best weapon and snapped Gesta's head back several times.
Gesta regained control in the fifth round after absorbing big blows from Diaz. He seemed to get angry that he was hurt and opened up with even more blows to send Diaz backpedaling.
Diaz targeted his attack to Gesta's body and that seemed to slow down Gesta. But only for a round.
From the seventh until the 10th each fighter tried to impose their style with Gesta opening up with fast flurries and Diaz using right hooks to connect with solid shots. They continued their method of attack until the final bell. All that mattered was what the judges preferred.
After 10 rounds one judge saw Diaz the winner 97-93 but two others saw Gesta the winner 99-91, 98-92. It was a close and interesting fight.
"I was expecting nothing. I was the victor in this fight and we gave a good fight," said Gesta. "It's not an easy fight and Jojo gave his best."
Diaz was surprised by the outcome but accepted the verdict.
Everything was going good. I thought I was landing good body shots," said Diaz. "I was pretty comfortable."
Other Bouts
Mexico's Oscar Duarte (25-1-1, 20 KOs) knocked out Chicago's Alex Martin (18-5, 6 KOs) with a counter right hand after dropping him earlier in the fourth round. The super lightweight fight was stopped at 1:14 of the round.
A battle between undefeated super welterweights saw Florida's Eric Tudor (8-0, 6 KOs) emerge the winner by unanimous decision after eight rounds versus Oakland's Damoni Cato-Cain.
The taller Tudor showed polished skill and was not bothered by a large cut on his forehead caused by an accidental clash of heads. He used his jab and lead rights to defuse the attacks of the quick-fisted southpaw Cato-Cain. The judges scored the fight 80-72 and 78-74 twice for Tudor.
San Diego's Jorge Chavez (5-0, 4 KOs) needed less than one round to figure out Nicaragua's Bryan Perez (12-17-1, 11 KOs) and send him into dreamland with a three-punch combination. No need to count as referee Ray Corona waved the fight over. Perez shot a vicious right followed by another right and then a see-you-later left hook at 3.00 of the first round of the super featherweight match.
Photo credit: Al Applerose
Jojo Diaz's Slump Continues; Mercito Gesta Prevails on a Split Decision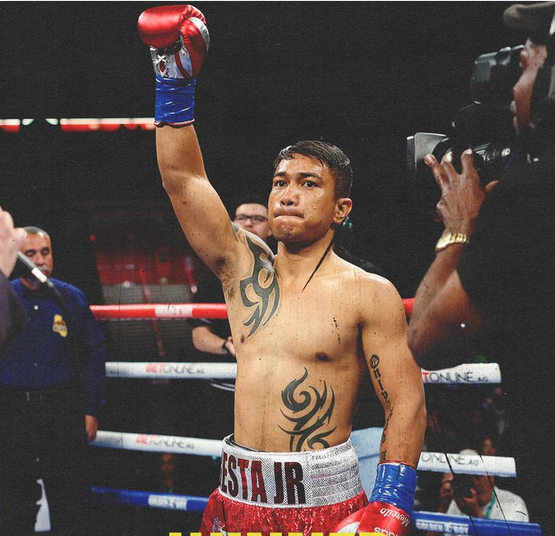 At age 30, Jojo Diaz's career is on the skids. The 2012 U.S. Olympian, a former world title holder at 126 and 130 pounds and an interim title holder at 135, Diaz suffered his third straight loss tonight, upset by Mercito Gesta who won a split decision at the Walter Pyramid in Long Beach, CA.. The scoring was strange with Gesta winning nine of the 10 rounds on one of the cards and only three rounds on another. The tie-breaker, as it were, was a 98-92 tally for Gesta and even that didn't capture the flavor of what was a closely-contested fight.
Originally listed as a 12-rounder, the match was reduced to 10 and that, it turned out, did Diaz no favors. However, it's hard to feel sorry for the former Olympian as he came in overweight once again, having lost his 130-pound title on the scales in February of 2021.
Diaz also has issues outside the ropes. Best elucidated by prominent boxing writer Jake Donovan, they include a cluster of legal problems stemming from an arrest for drunk driving on Feb. 27 in the LA suburb of Claremont.
With the defeat, Diaz's ledger declined to 32-4-1. His prior losses came at the hands of Gary Russell Jr, Devin Haney, and William Zepeda, boxers who are collectively 83-2. Mercito Gesta, a 35-year-old San Diego-based Filipino, improved to 34-3-3.
Co-Feature
Chihuahua, Mexico super lightweight Oscar Duarte has now won nine straight inside the distance after stopping 33-year-old Chicago southpaw Alex Martin in the eighth frame. Duarte, the busier fighter, had Martin on the deck twice in round eight before the fight was waived off.
Duarte improved to 25-1-1 (20). Martin, who reportedly won six national titles as an amateur and was once looked upon as a promising prospect, declined to 18-5.
Other Bouts of Note
New Golden Boy signee Eric Tudor, a 21-year-old super welterweight from Fort Lauderdale, overcame a bad laceration over his right eye, the result of an accidental clash of heads in round four, to stay unbeaten, advancing to 8-0 (6) with a hard-fought unanimous 8-round decision over Oakland's Damoni Cato-Cain. The judges had it 80-72 and 78-74 twice. It was the first pro loss for Cato-Cain (7-1-1) who had his first five fights in Tijuana.
In the DAZN opener, lanky Hawaian lightweight Dalis Kaleiopu went the distance for the first time in his young career, improving to 4-0 (3) with a unanimous decision over 36-year-old Colombian trial horse Jonathan Perez (40-35). The scores were 60-52 across the board. There were no knockdowns, but Perez, who gave up almost six inches in height, had a point deducted for a rabbit punch and another point for deducted for holding.
To comment on this story in the Fight Forum CLICK HERE
'Big Baby' Wins the Battle of Behemoths; TKOs 'Big Daddy' in 6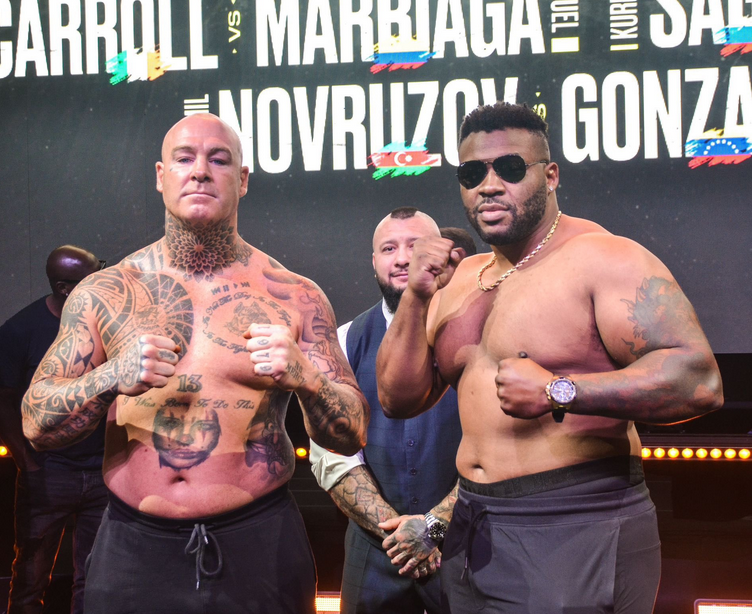 Lucas "Big Daddy" Browne weighed in at a career-high 277 pounds for today's battle in Dubai with Jarrell "Big Baby" Miller, but he was the lighter man by 56 pounds. It figured that one or both would gas out if the bout lasted more than a few stanzas.
It was a war of attrition with both men looking exhausted at times, and when the end came it was Miller, at age 34 the younger man by nine years, who had his hand raised.
Browne was the busier man, but Miller, whose physique invites comparison with a rhinoceros, hardly blinked as he was tattooed with an assortment of punches. He hurt 'Bid Daddy' in round four, but the Aussie held his own in the next frame, perhaps even forging ahead on the cards, but only postponing the inevitable.
In round six, a succession of right hands knocked Browne on the seat of his pants. He beat the count, but another barrage from Miller impelled the referee to intervene. The official time was 2:33. It was the 21st straight win for Miller (26-0-1, 22 KOs). Browne declined to 31-4 and, for his own sake, ought not fight again. All four of his losses have come inside the distance, some brutally.
The consensus of those that caught the livestream was that Floyd Mayweather Jr's commentary was an annoying distraction that marred what was otherwise an entertaining show.
As for what's next for "Big Baby" Miller, that's hard to decipher as he has burned his bridges with the sport's most powerful promoters. One possibility is Mahmoud Charr who, like Miller, has a big gap in his boxing timeline. Now 38 years old, Charr – who has a tenuous claim on a WBA world title (don't we all?) —  has reportedly taken up residence in Dubai.
Other Bouts of Note
In a 10-round cruiserweight affair, Suslan Asbarov, a 30-year-old Russian, advanced to 4-0 (1) with a hard-fought majority decision over Brandon Glanton. The judges had it 98-92, 97-93, and a more reasonable 95-95.
Asbarov was 12-9 in documented amateur fights and 1-0 in a sanctioned bare-knuckle fight, all in Moscow, entering this match. He bears watching, however, as Glanton (18-2) would be a tough out for almost anyone in his weight class. In his previous fight, at Plant City, Florida, Glanton lost a controversial decision to David Light, an undefeated Australian who challenges WBO world title-holder Lawrence Okolie at Manchester, England next week.
A 10-round super featherweight match between former world title challengers Jono Carroll and Miguel Marriaga preceded the semi-windup. Carroll, a 30-year-old Dublin southpaw, overcame a cut over his left eye suffered in the second round to win a wide unanimous decision in a fairly entertaining fight.
It was the sixth straight win for Carroll (24-2-1, 7 KOs) who elevated his game after serving as a sparring partner for Devin Haney. Marriaga, a 36-year-old Colombian, lost for the fourth time in his last five outings, declining to 30-7.
To comment on this story in the Fight Forum CLICK HERE