Avila Perspective, Chap. 80: Boxing 101 (Part Two)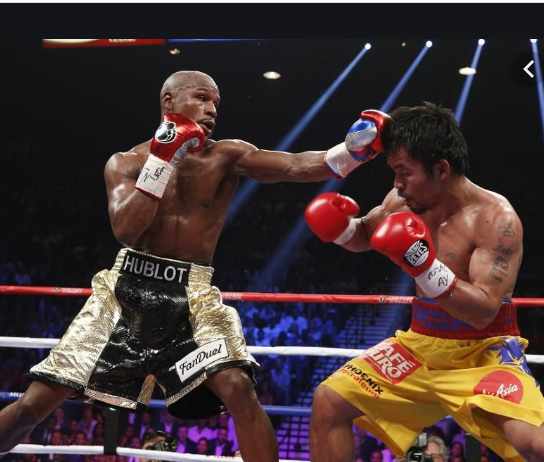 Little did I know, not everyone was taught how to jab at three years old or put in boxing rings to spar other kids.
Welcome to my life.
On one side of my family – my mother's side that hailed from Arizona – was a great grandfather, Battling Ortega, who fought more than 70 professional fights beginning in 1916. My great grandmother's side also produced one world champion, Manuel Ortiz, who fought in the 1930s to the 1950s.
My father's side was not as decorated in boxing as my mother's family, but beginning with my grandfather Jesus Avila in World War I, the prize ring was where he made extra money while working for railroad companies in the east coast. His sons would also box during World War II but not professionally. My father Amado was the only professional boxer on his side of the family.
When I was three years old my father Amado "Mara" Avila was boxing at the Olympic Auditorium and would teach me how to stand, throw combinations and block punches. After spending the mornings at the Main Street Gym in Los Angeles with his trainer Harry Kabakoff, he would return home and teach me boxing skills as my mother prepared dinner.
It was decided early for me that I be taught boxing so as not to be bullied by other kids on the East L.A. playgrounds. My mother had seen kids push me around in the sand box and was frustrated by my failure to respond. My mom, bless her, grew up in East L.A. and knew what to expect on the streets.
Boxing became part of my daily world as each day was spent working on combinations and defense. By the time I was four years old my father put me in the boxing ring against older kids. I lost almost every fight in every tournament for three years.
Maybe losing is what made baseball so appealing to me. While I lost most of my bouts in boxing to older kids, in baseball I was above average as a pitcher from an early age. But my father wanted me to continue boxing and I did. I got better as I got older. By the time I was nine years old I stopped losing. But it was not my sport of choice.
By the age of 14 I had grown rather tall and at nearly six feet in height and 135 pounds I had a tremendous advantage in boxing. My father had stopped boxing because of a head injury suffered after a fight at the Olympic Auditorium. Though naturally a featherweight, during a scheduled fight he failed to make weight and instead of canceling his slot, he opted to fight a lightweight and was promptly knocked down by the bigger fighter. After the knockdown he tried to continue fighting but suffered blindness that lasted for several minutes. He never boxed again.
By the time I was 10 years old baseball consumed most of my time away from school. Though I kept boxing occasionally on smokers, it was baseball that was my true passion as I played year after year in City Terrace Park and Belvedere Park both in East L.A.
When I was 14 I attended a fight card at the Olympic Auditorium. Later, at a restaurant on Figueroa in downtown L.A., my father's former trainer Harry Kabakoff approached me with an offer to train me professionally.
I turned him down.
Though I was now winning all of my fights, I knew that boxing on a professional level was quite different. It's a very unforgiving sport and even with advantages in height, speed or power, it's not enough. Prizefighters are a different breed. The good ones have a killer instinct and a very high degree of pain tolerance.
Some guys shrink into a shell when they are hit with a painful blow, other's draw into a survival mode. And still others wake up suddenly more alert than ever as if a light was turned on. And a small few can see the road starkly clearer as time seems to slow down and they slip into a higher fighting mode. These are your champions.
As a member of a boxing family we would spend Thanksgiving, Christmas and New Year's sitting on sofas watching television and talking about the fight game. It was a favorite subject of my great grandfather who spoke about fighting Benny Leonard, Soldier Bartfield and many others. Our family consisted of boxers on all sides so it was the natural topic.
Of course, I had no idea who Benny Leonard was but according to my great grandfather, he was the best fighter he had ever faced. And he fought dozens of world champions in a day when there was only one world champion, not four to six world champions like today. His stories about the old days were pretty interesting. They made good money in those days even though it was 100 years ago. Prizefighting was extremely popular. It helped him buy a house in East L.A. down the street by the old Resurrection Gym. It's now where Oscar De La Hoya Animo High School stands.
The stories we shared around the dinner table were engrained in me along with my own experiences in the boxing ring. For years I forgot all about them until boxing returned to my life and something woke up in me.
Boxing reclaimed me.
2010s the Decade of Growth
One of the worst economic downturns in world history failed to kill the sport of prizefighting. Instead, boxing remained one of the main attractions utilized by Las Vegas casinos to lure customers through their glitzy doors.
Floyd Mayweather picked up the baton from Oscar De La Hoya as the money-maker for the sport in the 2010s and was the fighter everyone wanted to face. His ascent to the top as a gate attraction began with a victory over Zab Judah in 2006 and was steadily moving upward monetarily.
By 2010, Mayweather was the top star along with Filipino superstar Manny "Pacman" Pacquiao. One of the top fights that year was his battle against Sugar Shane Mosley at the MGM Grand in Las Vegas. Mayweather escaped after absorbing a big right hand bomb from the Pomona fighter.
Later that same year, Mosley fought Sergio Mora to a disputed draw at Staples Center in Los Angeles.
East L.A.'s Mora had been one of those fighters I spotted early in his development. During his first pro bout at a boxing card in Anaheim, I could see he had a different fighting style along with athleticism that was going to be hard to beat. I predicted in his fourth fight that he would one day be a world champion. When he fought Vernon Forrest, I predicted Mora would win and he did. To my knowledge, only Doug Fischer and I predicted the victory.
As a boxing journalist it's important to watch young fighters develop early. Anyone can predict greatness for someone winning an Olympic gold medal, but there's always someone who sneaks in through the cracks and makes it to the top. Those are the real stories in prizefighting.
Another guy named Sergio was slipping through the cracks from South America. He was a super welterweight named Sergio Martinez. 2010 was a spectacular year for the slick fighting Argentine named "Maravilla" as he defeated Kelly Pavlik in April and knocked out Paul Williams in the second round of a November fight. He was named the Fighter of the Year by the WBC and was recognized as such in a ceremony in San Bernardino along with Tim "Desert Storm" Bradley for an extremely good year.
The biggest grossing fight of all time took place when Mayweather and Pacquiao finally met on May 2, 2015. After years of debate the two stars met in Las Vegas and their pay-per-view fight generated more than 4 million buys. It remains the most successful pay-per-view boxing match of all time. Mayweather's victory set him apart as the most successful fighter in terms of financial gain. He has cleared more than $1 billion as a prizefighter according to Forbes Magazine.
Around this time another middleweight was stirring up things in the boxing world after moving from Germany to Big Bear, California. His name – Gennady Golovkin.
GGG
Big Bear, California had been a favorite spot for prizefighters for several decades. Oscar De La Hoya, Mike Tyson, Fernando Vargas, Floyd Mayweather Jr. and many others throughout the years had prepared for mega fights in the mountain resort spot popular for skiing at its 12,000-feet elevation. It's located in the Inland Empire area east of Los Angeles County.
Abel Sanchez, a building contractor and boxing trainer, had personally built a compound at Big Bear and was preparing fighters down the street from Sugar Shane Mosley's training site.
When K2 Promotions signed Golovkin it was Tom Loeffler who brought Golovkin to Sanchez and together they all made history and a lot of money with their "Mexican style" boxing.
Loeffler invited me to see Golovkin train at the mountain headquarters and his power and skills were instantly impressive. It took a few years for the rest of the world to catch on and believe in GGG.
Over the decades my experience as a boxer and as a journalist gave me insight into what separates great fighters from normal fighters. With Golovkin it was the pure power in his fists for a man his size. There was a certain sound when he hit a heavy bag that was different. His skills were also pretty sound, he didn't have flaws in his technique that I often see with other fighters. Some drop their hands during combinations, others expose their chin to counters and still others telegraph their punches so badly a blind man can see them.
Golovkin was tight from the start.
Before he fought in front of American audiences on HBO it was clear Golovkin was going to be a star. It just took a little time for the rest of the world to be convinced.
Around this same time another fighter moved into the Inland Empire area named Mikey Garcia. He had purchased a house in Moreno Valley, California and moved from Oxnard to set up shop. Within a couple of years his family would follow including brother Robert Garcia and father Eduardo Garcia.
It was a move that would soon change the boxing landscape as the Garcias opened a gym in Riverside, California. Soon, many top fighters from around the country and world would sign with the Garcias and begin training in the hills of Riverside.
More and more boxers were arriving to the many gyms throughout the Inland Empire from all over the world. An explosion of talent arrived and very few outside of the elite had any idea it was transpiring.
Fighters like Golovkin, Mikey Garcia, Tim Bradley, Shane Mosley, and even Terence Crawford and Andy Ruiz were working out in the Inland Empire gyms.
Because of its 60 miles or more distance from Los Angeles few reporters covering the sport made the trek to visit the more than 35 gyms scattered throughout the Inland Empire.
Social Media
Though my own beginning as a boxing journalist began with newspapers, it's not difficult for me to point out the poor coverage and ineptitude of those covering the sport for print.
The development of boxing web sites easily took over coverage of the sport with various names like SecondsOut.com, House of Boxing, Fight News and The Sweet Science to name a few. Now there are literally hundreds of boxing sites throughout the world.
Most coverage is devoted to the top echelon of the sport of prizefighting, but a few make a determined effort to trace the beginnings of pro boxers as they make their journeys.
Only one newspaper, the Riverside Press-Enterprise was at ringside when Saul "Canelo" Alvarez made his American debut at Morongo Casino in Southern California.
When Alvarez fought Mayweather in 2013, his journey was well-documented by most boxing web sites, but newspapers – aside from the Riverside Press-Enterprise – were forced to play catchup.
Mayweather easily defeated Alvarez on points and though he never hurt the Mexican redhead, he did deliver an important teaching lesson that "Canelo" and his team never forgot. Defense was equally important as offense and it served them well.
Eddy Reynoso, the trainer for Alvarez, has never wavered from expressing how much they learned from that fight against Mayweather in September 2013.
"From people like Mayweather, we learned a lot. It wasn't for nothing, he was the best in the ring," said Reynoso last month. "Fighting against Mayweather you learn a lot of different levels. The loss teaches you to do better."
Now, seven years later, Canelo Alvarez reigns as the top money-maker and a multi-divisional world champion.
Check out more boxing news on video at The Boxing Channel 
To comment on this story in The Fight Forum CLICK HERE
A Bouquet for Danny Garcia in This Week's Edition of HITS and MISSES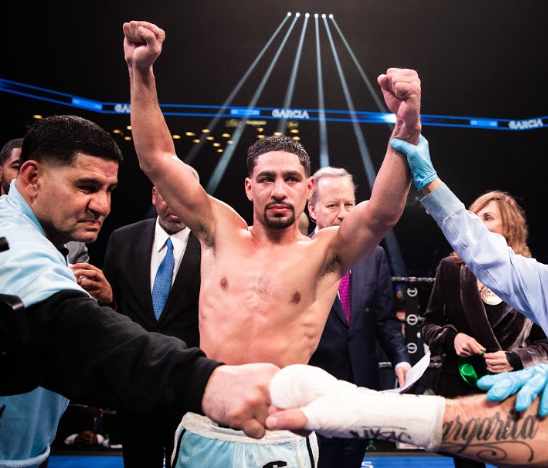 Two-division champion Danny Garcia had the spotlight all to himself over the weekend in a stay-busy fight against Ivan Redkach on Saturday night at Barclays Center in Brooklyn. It was the main event of a Showtime Championship Boxing tripleheader that had the odd privilege these days of not being counterprogrammed by a Top Rank show on ESPN or any other kind of boxing card on DAZN.
So Garcia, 31, from Philadelphia, had the chance to remind people how excellent a fighter he is in full force, which would help him greatly in his effort to secure an unlikely bout against WBA champ Manny Pacquiao or remain first in line to face WBC and IBF champ Errol Spence whenever the Texan recovers from the injuries he sustained in a car accident in October.
But did Garcia pull it off? Here's the latest edition of HITS and MISSES.
HIT – Danny Garcia's Pristine and Precise Technique 
The best parts about Garcia were on full display against Redkach. That was made easier by Redkach's lack of anything that might have given Garcia any real problems, but nonetheless Garcia was able to show the lovely footwork and balanced countering ability that made him so formidable at junior welterweight. There's just something special about seeing Garcia fight. The economy of his movement inside a boxing ring is something that is just plain different than just about any other world-class fighter in the world today. In a fight that most people probably would have preferred he just skipped, and one that didn't turn out to be any different than everyone expected, at least Garcia's beautiful boxing was on display.
MISS – Showtime Sparring Sessions
In addition to Garcia-Redkach, Showtime rounded out its tripleheader with undefeated junior featherweight Stephen Fulton taking on former Muay Thai fighter Arnold Khegai and former unified junior middleweight champion Jarrett Hurd taking on career welterweight Francisco Santana. While Fulton's fight against Khegai seemed like a legitimate prizefight, there was something about the other two bouts that screamed sparring sessions. That was especially the case for Hurd's bout. Not only was Hurd in there with a middling welterweight, but he also used the rounds of the fight to work on vastly different boxing techniques than what made him so popular in the first place. Showtime might not have the pull they once had with the people over at the PBC offices, but they for sure need to get more involved in vetting matchups if they hope to remain afloat within the competitive boxing landscape of today.
HIT – Stephon Fulton's Title Chances at 122 Pounds
Fulton is a very solid boxer who digs to the body and has a fast, clean jab. Khegai was the perfect kind of opponent for the 25-year-old. He was very game and never stopped trying to win. Additionally, his background in Muay Thai offered some different looks to Fulton that should help him on his way toward world title contention. In the end, Fulton outworked Khegai to hand the tough 27-year-old the first loss of his career. Now let's hope Fulton is off to bigger and better things such as challenging for a world title. He's ready right now.
MISS – Andy Ruiz's Continued Soap Opera
The best thing former unified champion Andy Ruiz could have done after blowing the rematch against Anthony Joshua in December is getting right back to work in the gym. What better way to show trainer Manny Robles that he was taking responsibility for his actions than to get right back to work with the same team he had just let down so badly? Instead, Ruiz fired Robles and is considering other trainers. That would make more sense if there had been some sort of tactical error in the fight. But Ruiz already admitted he simply didn't train for arguably the biggest fight of his life, and that's not anyone's fault but his own.
HIT – Former Middleweight Titleholder Andy Lee's Second Act
It appears former WBO middleweight champion Andy Lee found his second act in life as a trainer, which makes a ton of sense if you followed Lee's career under the tutelage of the late Emanuel Steward. Lee, 39, left Ireland after his amateur days to live with Steward in Detroit and train at Kronk. The two had a very close personal relationship and that experience ultimately helped Lee win the world title in 2014 two years after Steward's passing. Now, Lee is passing on what he knows in the same way Steward did with him to other fighters. He trains and manages Irish upstart Paddy Donovan, is guiding Jason Quigley back to contention and even helped orchestrate distant cousin Tyson Fury bringing on Javan "SugarHill" Steward for the heavyweight's upcoming rematch against Deontay Wilder.
Photo creditL Amanda Westcott
Check out more boxing news on video at The Boxing Channel 
To comment on this story in The Fight Forum CLICK HERE
The Hauser Report: Garcia-Redkach and More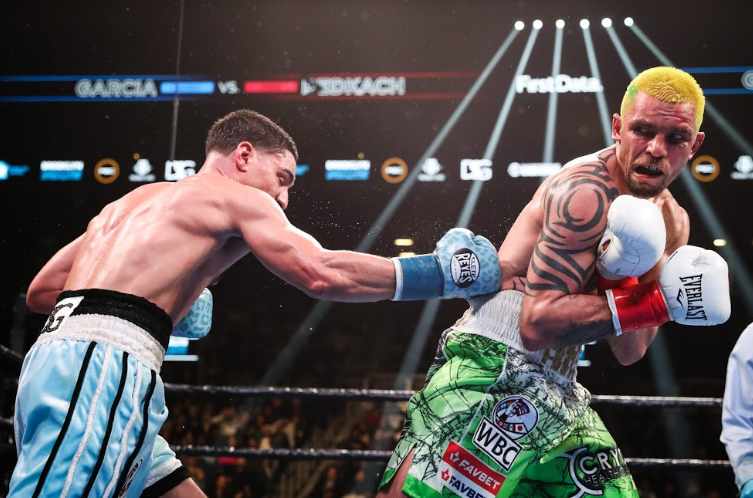 Boxing made its debut at Barclays Center on October 20, 2012, with a fight card headlined by four world title bouts. Danny Garcia, Erik Morales, Paulie Malignaggi, Peter Quillin, Devon Alexander, Danny Jacobs, and Luis Collazo were in the ring that night. The franchise grew nicely. Fans who went to Barclays saw good featured fights with solid undercard bouts. But as of late, the arena's fistic offerings have faded.
Barclays cast its lot with Premier Boxing Champions. And PBC has moved its prime content to greener pastures (green being the color of money). There were five fight cards at Barclays Center in 2019. Each one struggled to sell tickets.
January 25 marked the thirty-ninth fight card at Barclays. The arena was half empty. The announced attendance was 8,217 but that included a lot of freebies. There were six fights on the card. As expected, fighters coming out of the blue corner won all of them. That's what happens when 6-0 squares off against 2-10-1.
Three of the fights were televised by Showtime Championship Boxing, which has also been diminished as a consequence of a multi-year output deal with PBC.
In the first of these bouts, Stephen Fulton (17-0, 8 KOs) and Ukrainian-born Arnold Khegai (16-0, 10 KOs) met in a junior-featherweight bout. Each had fought the usual suspects en route to their confrontation. There was a lot of holding and rabbit-punching which referee Steve Willis ignored. Eventually, Fulton pulled away for a unanimous-decision triumph.
Next up, Jarrett Hurd (23-1, 16 KOs) took on Francisco Santana (25-7, 12 KOs).
Hurd is a big junior-middleweight who held the WBA and IBF 154-pound titles until losing to Julian Williams last year. Santana is a career welterweight who had lost three of his most recent four fights and had won only three times in the last five years.
Hurd was expected to walk through Santana. But he was strangely passive for much of the fight, which led to the strange spectacle of Santana (the noticeably smaller, lighter-punching man) walking Jarrett down for long stretches of time. Francisco is a one-dimensional fighter and was there to be hit. When Jarrett let his hands go, he hit him. But he fought like a man who didn't want to fight and didn't let his hands go often enough.
By round seven, the boos and jeers were raining down. Hurd won a unanimous decision but looked mediocre. That's the most honest way to put it. One wonders what tricks losing to Julian Williams last year played with his mind.
Also, it should be noted that, when the winning fighter thanks God in a post-fight interview and the crowd (which supported Jarrett at the start of the bout) boos at the mention of The Almighty, there's a problem.
"The crowd didn't love it," Hurd acknowledged afterward. "But you gotta understand; I got the unanimous decision and I did what I wanted to do."
The main event matched Danny Garcia (35-2, 21 KOs) against Ivan Redkach (23-4-1, 18 KOs).
Garcia had a nice run early in his career, winning belts at 140 and 147 pounds. But later, he came out on the losing end of decisions against Keith Thurman and Shawn Porter. Other than that, he has gone in soft for the past five years.
Redkach is a junior-welterweight who had won 5 of 10 fights during the same five-year time frame.
There was the usual pre-fight nonsense with Garcia telling reporters, "We picked Redkach because he's dangerous and we knew he'd be tough." But in truth, Redkach had been whitewashed by Tevin Farmer at 135 pounds and was knocked out at the same weight by John Molina Jr (who never won again).
Garcia, like Hurd, was a 30-to-1 betting favorite.
Redkach fought a safety-first fight. Also, safety second and third. There wasn't one second when it looked as though he had a realistic chance of winning the fight or fought like he did.
One of the few proactive things that Ivan did do was stick out his tongue from time to time when Garcia hit him. Then, at the end of round eight, he bit Danny on the shoulder while they were in a clinch. At that point, one might have expected referee Benjy Esteves to disqualify Redkach. But Esteves seemed to not notice.
Rather than go for the kill after the bite, Garcia eased up and cruised to a unanimous decision. Meanwhile, by round eleven, the crowd was streaming for the exits. Most of the fans were gone by the time the decision was announced.
Garcia and Hurd had set-up showcase fights scheduled for them. And neither man delivered the way he should have.
Meanwhile, a final thought . . . Sunday, January 26, would have been Harold Lederman's eightieth birthday.
Harold was the quintessential boxing fan and loved the sport more than anyone I've known. He never missed a fight at Barclays Center unless his health prevented him from coming or he was on the road for HBO. He died eight months ago.
As Saturday night's fight card unfolded, I imagined Harold sitting beside me. He would have had a kind word for everyone who came over to say hello and loved every minute of it. Harold Lederman at the fights was a happy man.
Photo credit: Amanda Westcott
Thomas Hauser's email address is thomashauserwriter@gmail.com. His most recent book — A Dangerous Journey: Another Year Inside Boxing — was published by the University of Arkansas Press. In 2004, the Boxing Writers Association of America honored Hauser with the Nat Fleischer Award for career excellence in boxing journalism. On June 14, 2020, he will be inducted into the International Boxing Hall of Fame.
Check out more boxing news on video at The Boxing Channel 
To comment on this article in The Fight Forum CLICK HERE
Fast Results from Brooklyn: No Surprises as Garcia and Hurd Win Lopsidedly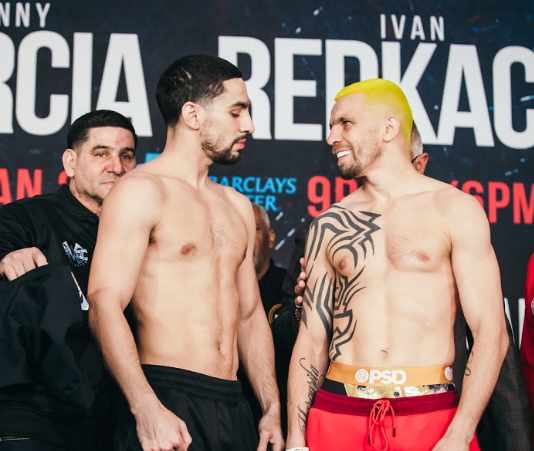 Tonight, Philadelphia's Danny Garcia made his eighth appearance at Barclays Center. Garcia's 2017 fight with Keith Thurman drew 16,533, the attendance high for a boxing show at the arena. A far smaller crowd was in attendance tonight to see Garcia take on Ivan Redkach in a non-title fight slated for 12 rounds.
Redkach, a 33-year-old LA-based Ukrainian, is a southpaw. That's no coincidence. Garcia hopes to land big-money fights with Errol Spence and/or Manny Pacquiao, both southpaws.
Redkach (23-4-1 coming in) turned his career around in his last fight with a career-best performance, a sixth-round stoppage of former two-division title-holder Devon Alexander, a 15-year pro who hadn't previously been stopped. But there was a class difference between he and Danny Garcia, a former WBA and WBC 140-pound world title-holder and former WBC 147-pound champion.
Garcia (35-2, 21 KOs) was simply sharper. His workrate slowed late in the fight, allowing the game Redkach to steal a few rounds, but at the final gun he was relatively unmarked whereas Redkach was conspicuously bruised. The scores were 118-110 and 117-111 twice. The crowd booed at intervals, understandable as they were subject to a drab 6-fight card that was even less interesting than it was on paper.
Co-Feature
In the 10-round co-feature, Jarrett Hurd, making his first start since losing his WBA/IBF super welterweight title to Julian Williams last May, went on cruise control from the opening bell and jabbed his way to a lopsided 10-round decision over Francisco Santana. Hurd, who improved to 24-1, finally let loose late in the 10th frame, putting Santana (25-8-1) on the canvas with a succession of left hooks, but by then many in the crowd had probably nodded off.
This was Hurd's first fight with new trainer Kay Koroma who has drawn raves for his work with America's elite amateurs. The scores were 97-92 and 99-90 twice. SoCal's Santana has now lost five of his last eight.
The opening bout on the main TV portion of the card was a 12-round super bantamweight contest between Philadelphia's Stephen Fulton and fellow unbeaten Arnold Khegai who currently trains in Philadelphia.
Fulton (18-0, 8 KOs) simply had too much class for Khegai (16-1-1), a Ukrainian of Korean heritage. Although Khegai frequently backed Fulton into the ropes, the Philadelphian had an air-tight defense and connected with many more punches. The fight went the full 12 with Fulton prevailing by scores of 116-112 and 117-111 twice.
If the WBO has its way, Fulton will proceed to a fight with Emanuel Navarrete, but don't hold your breath as Navarrete is promoted by Bob Arum who undoubtedly wants to extract more mileage from him before letting him risk his belt against a crafty fighter like Stephen Fulton.
Photo credit: Amanda Westcott / SHOWTIME
Check out more boxing news on video at The Boxing Channel 
To comment on this story in The Fight Forum CLICK HERE