The Top Ten Heavyweights of the Decade 2010-2019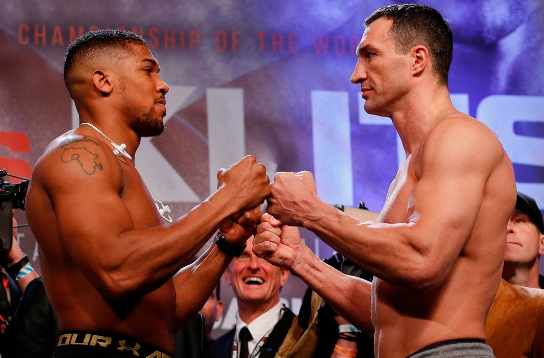 With the decade 2010-2019 now closed and a new one begun, a quick look at the chief champions and contenders of the sport's flagship division seems pertinent. A curious rather than a scintillating decade, it was dominated early by two brothers and late by three fighters as different and divisive and, in some cases, reluctant to meet each other, as can be imagined. Here though, we will look at who these men did fight rather than who they didn't, appraising accomplishments first and foremost as criteria for this Top Ten.
Rankings, a crucial tool for disassembling any period of history, are by The Ring magazine between 2000 and 2002 and by TBRB for all other years.
10 – Luis Ortiz
Peak Ranking:  3 Record for the Decade: 31-2 Ranked For: 40% of the Decade
Here is a complete list of the ranked fighters that Luis Ortiz defeated during the past decade:
Bryant Jennings.
This is horrifying, but it is sadly not that unusual. David Haye managed to defeat zero ranked contenders during the five years for which he was an active heavyweight in the decade, Kubrat Pulev managed just one in the shape of Tony Thompson. There is no more distressing statistic in all of boxing than this, I think: Luis Ortiz obtained a peak rank of #3 and yet he has never proven himself the equal of even a fighter ranked in the top five.
Such is modern boxing.
Three things stand in support of his #10 ranking here: first, both his devastating knockout losses to Deontay Wilder were stirring efforts. Their 2019 encounter, especially, was a performance that felt like dominance with only Wilder's power and, perhaps, Ortiz's ageing legs preventing what would have been a serious upset. Secondly, Ortiz looks the part, at least technically. Behind the 3-day balloon sag of his emotionless visage is a talented fighter. Choosing my words carefully I'll go so far as to say that his economy of movement is the best for any heavyweight from this century, and that covers footwork, defense and punching. The tiny head movements he chose to ditch many of Wilder's punches would bring a tear to the glass eye of any veteran boxing trainer.
Finally, there isn't really much competition for #10. Pulev and Tomasz Adamek were his closest competition for this slot and my preference for Ortiz's understated technical acumen got him over the line.
09 – Andy Ruiz
Peak Ranking: 1 Record for the decade: 31-2 Ranked for: 18% of the decade
Andy Ruiz nips in ahead of Ortiz based upon his achieving the indelible against Anthony Joshua. Briefly, it made Ruiz the planet's number one heavyweight and although his inclusion here was not certain, nor inarguable, it means that every heavyweight who held the number one spot between 2010 and 2019 makes the list.
The rest of his decade was something of a blank, although he came very close to changing that in his December 2016 crack at Joseph Parker. Writing at the time I said that Ruiz had blown a "golden chance" to become the first Mexican American heavyweight belt-holder in a fight that was close enough to have been judged a draw. As it was, Parker squeaked past his rotund opponent with a majority decision win, 115-113 twice and 114-114. Ruiz, who threatened to out-speed a speedster in that fight, bagged all three of the opening rounds for me and forced Parker to sit down hard on his boxing in order to snag the decision.
Had the desperately close twelfth gone for Ruiz and against Parker, Ruiz is facing Joshua in a unification fight instead of as a substitute throwing punches on a wing and prayer. How might history have been different? It's impossible to say although I will readily admit that when I wrote of Ruiz that he "has big fights in his future if he wants them" I didn't have something quite as astonishing as that victory over Joshua in mind. It's enough to squeak him into the ten.
08 – Joseph Parker
Peak Ranking: 3 Record for the decade: 26-2 Ranked for: 39% of the decade
Joseph Parker benefits from a retrospective look at a victory that, at the time, was widely ignored.   When the New Zealander defeated Ruiz it was seen, if it was seen at all, as an embarrassingly narrow victory over an out of shape gatekeeper type who didn't deserve the shot in the first place. Fast forward to Ruiz's destruction of Joshua and suddenly Parker has a rather special victory under his belt.  Notwithstanding his own failed effort at Joshua, it is rather difficult to rank Ruiz ahead of Parker given that Parker toughed it out to beat the American-Mexican over twelve.
So, while it's hard to argue that Parker unequivocally had the better decade overall, he has spent many more months than Ruiz as a ranked fighter and squared off more often against the best. Ruiz, Hughie Fury and Alexander Dimetrenko make for the cornerstone of a rather underwhelming resume though and after posting dual losses in 2018 he beat a hasty retreat for safer waters.
Parker isn't quite out of the game yet though. A 2019 fight with Dereck Chisora was called off after Parker was bitten by a spider and that fascinating contest that can hopefully be rescheduled.
Whether the nicest man in heavyweight boxing can be a force in the division over the course of the next ten years may hinge on the outcome.
07 – Dillian Whyte
Peak Ranking: 3 Record for the decade: 27-1 Ranked for: 19% of the decade
Numbers 7, 8 and 9 come off easy. Parker beats Ruiz and then Dillian Whyte beats Parker. We know which of these three is better and barring wild differences in matched men, who is more accomplished.  Whyte achieved a measure of fame in 2015 with a heart-fueled but failed crack at Joshua when both were making their divisional bones but by early 2017, Whyte had become a heavyweight of legitimate interest and by the end of that year he had legitimized himself as a threat to world level.
Whyte wrought a candidate for fight of the year that December against Dereck Chisora, but the closeness of this vicious contest raised questions of its own. Those questions were answered twice, first by Chisora cracking the rankings and pushing Whyte close again in a glorious rematch, then by further Dillian Whyte contests against the likes of Joseph Parker and Oscar Rivas. What they demonstrated is that the final incarnation of Dillian Whyte is always in good fights.
Even a turgid contest with a weary Mariusz Wach right at the end of 2019 had its moments, for all they were born of an undertrained, overweight Whyte struggling and failing to put away an inferior opponent but proving himself once more the division's deluxe brawler for the decade. Not that Whyte is not proficient, but he isn't using a box and move strategy to stay out of trouble like Parker nor using technical boxing to break down the opposition like Ortiz; rather he is out-thugging his opposition with a combination of persistence, heart and a withering punch.
06 – Vitali Klitschko
Peak Ranking: 2 Record for the decade: 6-0 Ranked for: 35% of the decade
I am something of a Vitali Klitschko fan. I never understood the criticism, during his prime, of his "robotic" style. To me he was a granite-chinned gunslinger, eschewing traditional defensive technique in favor of low-handed high-volume aggression. He came to fight and did so without fear.
He is also principled and intelligent which is why it was so disappointing to see the WBC lead him around by his nose. Vitali went 6-0 between January first, 2010 and December of 2013 when he retired but only one of these "title-fights" was staged against one of the ten best in his division. -Some of his opponents couldn't even be said to be ranked in the top thirty.
Zuri Lawrence victim Albert Sosnowski was likely the low point of this decade, while Cuban prospect Odlanier Solis or Polish veteran Adamek were the high points.
But whether he was thrashing a hapless Manuel Charr or battering Shannon Briggs in one of the ugliest beatings of the century, Vitali looked imperious. There is a very a reasoned argument that despite his limited competition and despite his advancing years he is the very best fighter on this list.
It is a shame he never really proved it.
#6, then, may be a little too high, but the difficulty in visualizing his defeat at the hands of many of the men ranked above or below him enhances his standing.
05 – Alexander Povetkin
Peak Ranking: 2 Record for the decade: 27-2-1 Ranked for: 100% of the decade
Were we ranking fighters here upon their entire careers rather than just on what they did in the last decade, Povetkin would have a strong case for #3. Even in the 2000s he was ranked the #1 heavyweight in the world not named Klitschko at one stage, but it would be 2015 before he found himself in the ring with the long-reigning champion Wladimir.
The beating he absorbed was terrible; he showed heart and rare determination in continuing to take the fight to the champion despite the onslaught that saw him repeatedly dropped to the canvas in the course of losing a wide decision. For many, it would have represented a career-altering thrashing.
But not for Povetkin. "Vityaz" was made of stronger stuff. In fact, he would outlast Wladimir – just like he outlasted Carlos Takam, a ranked and a formidable man one year after his butchery at the hands of Wladimir. In his very next fight he obliterated #10 contender Mike Perez in a devastating right-handed showcase that is one of the most under-watched knockouts on YouTube: click here to help set that right; if you do, keep in mind that Perez had never been stopped before and has never been stopped since.
Povetkin added ranked men Johann Duhaupas and Christian Hammer as he campaigned for a shot at the newest heavyweight star, Anthony Joshua; he got his wish but that attempt ended almost as painfully as his tilt at Wladimir. But Povetkin has come yet again. He was fortunate, perhaps, to escape with a draw against Michael Hunter (another excellent fight) in 2019 but it's a result that keeps him in the game and sees him embark on his third decade as a heavyweight contender.
Consider that Ruslan Chagaev, a former victim of Povetkin's and his chief rival for the title "best of the rest" from the Klitschko era retired five years ago and Povetkin's status as the decade's ultimate survivor is thrown into sharp relief.
04 – Deontay Wilder
Peak Ranking: 2 Record for the decade: 34-0-1 Ranked for: 53% of the decade
Being honest, Deontay Wilder ranking above Povetkin specifically for what they did in the last decade does not sit particularly well with me. I consider the early part of Deontay Wilder's WBC run nothing less than shameful and his being recently introduced at a press conference as having "equaled the run of Muhammad Ali" as a travesty.
It's not that Wilder hasn't done some good work, for he has, but if your number two scalp is that of Bermane Stiverne then it could be argued that you do not belong in the top five for any given decade.  Nevertheless, to my admitted disgruntlement, Wilder's paper record (the best on this list) and that incredible knockout of Ortiz in their recent rematch has slipped Wilder in at the #4 spot by the barest of margins. There is little doubt as to the attribute that has brought him this far.
"Wilder could knock out a bull if he hit it in the head," claims 2015 victim Eric Molina. "If he touches anybody with that right hand, on any part of the head, they're going to dance or go down and go to sleep. It is what it is."
It is. You never know upon who the moth of natural talent will alite and it seems that Wilder is the most blessed heavyweight of this era. It also seemed, for a while, that he might squander that gift, but in facing Tyson Fury, Ortiz, and now Fury again in a forthcoming rematch, Wilder has become the toughest matched heavyweight in the world. He was lucky to escape with a draw in that first Fury fight but make no mistake, he is one victory away from becoming the preeminent heavyweight for the new decade.
Fourth is the absolute highest he can rank for the old one.
03 – Tyson Fury
Peak Ranking: Champion Record for the decade: 20-0-1 Ranked for: 52% of the decade
To tell another truth, Tyson Fury can't be said to have done a great deal more than Wilder in securing the #3 spot for 2010-2019, but two things have him locked above his American rival: first, Fury was deserving of the decision in the first meeting between the two; second, he is the only man on this list to have defeated a lineal champion in that decade. While Fury's own status is confused by his retirement and comeback, there is no disputing the status of Wladimir Klitschko when Fury took his titles from him in his German stronghold. Wladimir was surely past prime when Fury visited him, but it is forgotten now that the notion of Fury's out-boxing him was hardly even considered possible. Fury's brilliance in taking a clear twelve round decision on hostile territory can hardly be overstated.
It has been forgotten, too, in the wake of Anthony Joshua's much more spectacular defeat of Wladimir that Fury beat him first, far less viciously but without the home advantage Joshua enjoyed. In summary, then: Fury is in possession of the single greatest victory from that decade of heavyweight boxing.
Since, he has defeated depression and addiction, or at least fought them to a standstill. No points for that here, but given that he, like Wilder, is undefeated, and that he, like Wilder, has wins in support of his very best that are rather underwhelming, #3 seems the fairest spot.
Probably the world's number one at decade's end, those mental health issues have sadly kept him from contention for the top two spots in an appraisal of all ten years.
02 – Anthony Joshua
Peak Ranking: 1 Record for the decade: 23-1 Ranked for: 48% of the decade
While Fury struggled desperately with his demons, Anthony Joshua rolled in and with consummate professionalism stole his thunder and many of his potential opponents. As a demonstration of excellence – of fistic ability, promotional acumen, media handling – nobody has approached equaling it in the past ten years.
Joshua's management team paid handsomely for their first alphabet strap, bribing Charles Martin to visit the UK allowing Joshua to force him to take the proverbial knee, which he quickly did under heavy fire. Martin had come by his belt after the IBF equally quickly stripped Tyson Fury after he defeated Wladimir Klitschko; Martin was named a challenger for the vacant belt but really that fight was meant to be a coronation for the anointed Vyacheslav Glazkov who damaged his knee so badly during the fight that he hasn't fought since. It was as tortured and ridiculous a path to an alphabet title as has occurred, which is saying something.
Since, and despite much unfair criticism, Joshua has conducted himself with genuine ambition. Dominic Breazeale was deemed underwhelming, but he was, at least, legitimately ranked at #9; Wladimir Klitschko was as dangerous an opponent as the under-seasoned Joshua could have faced and their combat was as thrilling as any from this period. The selection of Carlos Takam was criticized, but Takam was ranked number six and was a late replacement for Kubrat Pulev, who was ranked even higher.  Joseph Parker stood the #3 heavyweight in the world when Joshua clearly out-boxed him, and Alexander Povetkin, for all that he was derided as past-prime, was still ranked at #5.
Then disaster struck. The defeat of Joshua by Ruiz will perhaps become no more than a footnote to a hall of fame career, but it does rule Joshua out as a contender to the #1 spot here. Make no mistake, had he buried Ruiz the first time around rather than requiring a rematch to reclaim his trinkets, Joshua's record would have proven hard to resist. It is a fact that no heavyweight defeated more ranked contenders in the considered years.
01 – Wladimir Klitschko
Peak Ranking: Champion Record for the decade: 11-2 Ranked for: 64% of the decade
While no fighter defeated more ranked contenders than Joshua, only one fighter twice defeated the heavyweight ranked the best in the world excepting himself and that was the mighty Wladimir Klitschko.
He butchered Povetkin in a brutal shut-out in 2013. The following year he crushed the undefeated Kubrat Pulev in five savage rounds. He seemed, in that moment, unassailable.
Wladimir entered the decade the undisputed number one heavyweight in the world, even the return to action of his brother Vitali failing to muddy the waters to any real degree. In the absence of the older Vitali, Wladimir had developed an iron grip on his lofty status, contenders slipping from him like water over a river rock. Wladimir had a reputation for vulnerability, but by the opening of the decade he hadn't been beaten in six years. By the time Fury unseated him in 2015, Wladimir was more than ten years removed from defeat. Few fighters have entire careers as accomplished.
Wladimir did build his inimitable if sometimes frustrating style primarily around weaknesses, however.  He wanted to protect his chin, so he kept his opponents very far away, on the end of his all-time great jab, or very close, on the receiving end of a frustrating habit to clutch and hold. He wanted to protect a gas-tank that had failed him the decade before and so he became perhaps the most complete general the heavyweight division has ever seen. Risk management, control of the ring's real estate and control of the fight's tempo were everything to him.
This frustrated many fight fans but to dispute his dominance of the first half of the decade based upon aesthetics would be fruitless. The unlikely figure of Andy Ruiz ensured that Wladimir Klitschko would be shorn of competition for the #1 spot for heavyweight of the decade 2010-2019 – it is fitting that they nearly bookended the top ten.
Check out more boxing news on video at The Boxing Channel 
To comment on this story in The Fight Forum CLICK HERE
Johnny Famechon was a Hero in Australia Where Willie Pep Had a Bad Night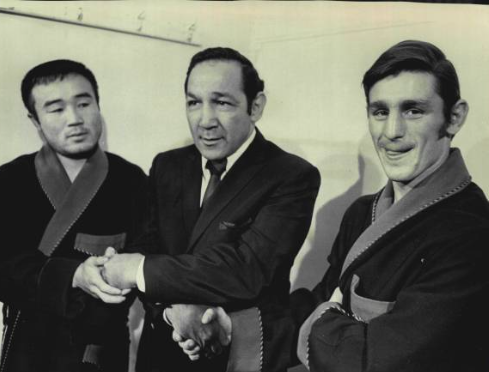 Willie Pep was good at boxing. He wasn't so good at math. Ah, but hold the phone; we are getting ahead of ourselves. This isn't a story about Willie Pep, but about former world featherweight champion Johnny Famechon who passed away last Thursday, Aug. 4, in Melbourne, Australia, at age 77.
Famechon was five years old when his parents left his birthplace in Paris and settled in Melbourne. He came to the fore in an era when boxing was still a mainstream sport and home-grown champions were national idols. The locals turned out in droves for the parade in Johnny's honor when he returned to Melbourne after taking the featherweight crown from the Cuban-born Spaniard Jose Legra in a big upset at London's Prince Albert Hall.
Famechon's first title defense came against Japan's Fighting Harada. They met in Sydney, Australia, on July 28, 1969.
At age 26, Harada was a battle-tested veteran. He previously held world titles at flyweight and bantamweight and would be remembered as the only man to defeat the great Brazilian boxer Eder Jofre, a feat he accomplished not once, but twice.
Only two boxers in history – Bob Fitzsimmons and Henry Armstrong – had won world titles in three of the eight classic weight divisions. Harada, who entered the International Boxing Hall of Fame in 1995, was bidding to become the third.
Team Harada insisted on a neutral referee. The British promoters chose Willie Pep. A legend in the sport, Pep had previously shared a ring with another Famechon, having out-pointed Johnny's uncle Ray Famechon in a featherweight title defense at Madison Square Garden in 1950.
Some thought that Pep would favor Fighting Harada. American referees put a higher premium on aggression than did their foreign counterparts and Harada was a little buzzsaw who rarely took a backward step. But others thought that Pep's selection favored Famechon, an elusive counterpuncher with whom the Connecticut "Will-'o-Wisp" could identify; their styles were similar.
Pep had been the third man in the ring for four previous title fights, three in Jamaica and one in Brazil. But this fight would be different. He would be the sole arbiter. If the fight went the full 15 rounds, Willie Pep would be the judge and jury.
During the bout, Famechon scored one knockdown, sending Harada to the canvas in round five, but Harada scored three, knocking Famechon down in rounds two, 11, and 14. The last of the three knockdowns was the harshest, but Famechon made it to the final bell.
The fight ended in a clinch. Immediately upon separating the fighters, Pep raised both of their hands, a signal that the fight was a draw.
Fighting Harada's handlers were outraged and demanded to see the scorecard. A policeman at ringside was empowered to give it a look-over (Australia had no boxing commission). What the policeman found was that there was indeed a discrepancy. However, it was the opposite of what Team Harada anticipated!
The fight was scored on the antiquated system whereby the winner of a round was awarded five points and the loser four points or less. In the case of an even round, both fighters got five points.
After 13 rounds, Fighting Harada had amassed 59 points on Pep's card. He won the 14th round, giving him an aggregate total of 64 points. But when Pep added up the numbers "59" and "5" in the column where he kept the aggregate total, he came up with "65."
Oops.
When Pep signaled that the fight was a draw, people stormed the ring from all sides. Newspaper reports said the belligerents were about evenly divided. Famechon, the Aussie, was the crowd favorite, but Fighting Harada was well-backed in the betting markets, a very big industry in Australia. Many were even angrier when Famechon was summoned back to the ring to have his hand raised.
The Famechon-Harada fight aired live on Japanese television. In Japan, there was a great outpouring of outrage. Pep had been instructed to score a round 5-4 if the round was narrow and 5-3 if there was a clear-cut winner. Despite the knockdowns, Pep scored every round 5-4 or 5-5. In the revised tally, he had Famechon winning 6-5-4 in rounds.
"Harada loses to referee" was the headline in Japan's leading sports daily. Willie Pep made no friends in Australia either. There were shouts of "Yankee go home" as he left the ring.
Famechon and Harada met again five months later in Tokyo. One would assume that Fighting Harada proved superior and got a fair shake, winning the third title denied him in Sydney. But don't assume.
Harada was well ahead after ten rounds but faded. On the deck in round 10, Famachon returned the favor three rounds later, knocking Harada down hard with a perfectly placed left hook. Harada was in dire straights when he came out for round 14 and Famechon put him away.
Harada never fought again and Famechon left the sport six months later after losing his crown to Vicente Saldivar. Johnny was only 25 years old, but had crammed 67 fights into a nine-year pro career and said enough is enough.
Famechon's post-boxing life took a tragic turn in 1991 when he was hit by a car while out jogging on a Sydney highway. He spent several weeks in a coma and several years in a wheelchair but eventually recovered most of his motor skills and regained his speech to the point where he could serve as a boxing color commentator on television. In 2018, a larger-than- life statue of Famechon was unveiled at a public park in the Melbourne suburb of Frankston where he was a longtime resident.
For the record, Johnny Famechon finished his career with a record of 56-5-6 with 20 KOs. We here at The Sweet Science send our condolences to his loved ones.
Arne K. Lang's latest book, titled "George Dixon, Terry McGovern and the Culture of Boxing in America, 1890-1910," will shortly roll off the press. The book, published by McFarland, can be pre-ordered directly from the publisher (https://mcfarlandbooks.com/product/clashof-the-little-giants) or via Amazon.
To comment on this story in the Fight Forum CLICK HERE
Fast Results from Fort Worth Where Vergil Ortiz Jr Won His 19th Straight by KO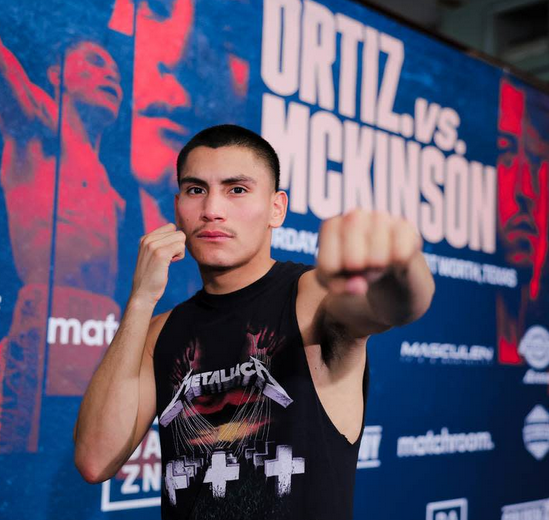 In a match pushed back from March 19, Vergil Ortiz Jr moved one step closer to a mega-fight with Terence "Bud" Crawford or Errol Spence Jr or Boots Ennis with a ninth-round stoppage of England's feather-fisted Michael McKinson. The end came 20 seconds into round nine when McKinson appeared to injure his knee as he fell to the canvas, an apparent residue of the body punch that put him on the deck late in the previous stanza. To that point, Ortiz had seemingly won every round.
It was the 19th win inside the distance in as many opportunities for Ortiz who resides in nearby Grand Prairie and was making his first start with new trainer Manny Robles. McKinson was undefeated heading in, but had scored only two knockouts while building his record to 22-0.
Ortiz, ranked #1 at welterweight by the WBA and the WBO, pulled out of the March 19 bout after being diagnosed with rhabdomyolysis, a muscle disorder associated with over-training.
Ortiz's promoter, Oscar De La Hoya, says that Ortiz will fight the winner of Errol Spence vs Terence Crawford next assuming that the fight gets made, and if doesn't get made, Ortiz's next fight will be with one or the other. The WBA, which stamped tonight's fight an eliminator, may push to have Ortiz fight their secondary title-holder, Eimantas Stanionis.
Co-Feature
Houston's Marlen Esparza (13-1, 1 KO) successfully defended her WBA/WBC world flyweight title with a unanimous decision over plucky 4'11 ½" Venezuelan southpaw Eva Guzman who had won 14 straight coming in, albeit against soft opposition. The judges had it 98-92 and 99-91 twice.
Guzman (19-2-1) was game, but just didn't have the physical tools to overcome Esparza whose lone defeat came at the hands of talented Seneisa Estrada.
Other Fights of Note
In a 10-round match contested at the catchweight of 150 pounds, Blair "The Flair" Cobbs rebounded from his first defeat with a career-best performance, a wide decision over former WBO 140-pound world titlist Maurice Hooker. It was the second straight loss for Hooker who returned to the ring after a 17-month hiatus and came out flat. Cobbs put him on the canvas in the opening frame with a combination and decked him twice more with straight lefts in round two.
Things got somewhat dicey for Cobbs in round five when he suffered a bad gash on his forehead from an accidental head butt, but Hooker, who had stablemate Bud Crawford in his corner, hesitated to let his hands go and couldn't reverse the tide. The judges had it 96-91 and 97-90 twice for the flamboyant Cobbs who improved to 16-1-1 (10). Hooker, a consensus 5/2 favorite, lost for the third time in his last five starts and slumped to 27-3-3.
In the opener to the main portion of the DAZN card, Uzbekistan's Bektimir Melikuziev (10-1, 8 KOs), a super middleweight growing into a light heavyweight, dominated and stopped overmatched Sladan Janjanin. Melikuziev put Janjanin down with a body punch in the opening minute of the fight and scored two more knockdowns before the bout was halted at the 2:18 mark of round three.
This was Melikuziev's third fight back after his shocking one-punch annihilation by Gabriel Rosado. Janjanin, a well-traveled Bosnian who fought three weeks ago in Massachusetts, declined to 32-12 and was stopped for the eighth time.
Also
Chicago welterweight Alex Martin (18-4, 6 KOs) overcame a first-round knockdown to win a unanimous decision over 38-year-old Philadelphia journeyman Henry Lundy. The judges had it an unexpectedly wide 98-91, 97-92, 97-92.
Martin was coming off a points loss to McKinson and this bout was his reward for taking that fight on short notice. Lundy (31-11-1) has lost five of his last seven.
Floyd "Austin Kid" Schofield, a lightweight who appears to have a big upside, advanced to 11-0 (9 KOs) at the expense of Mexican trial horse Rodrigo Guerrero whose corner wisely pulled him out after five one-sided rounds. It was the ninth straight loss for Guerrero (26-15).
To comment on this story in the Fight Forum CLICK HERE
Conlan Wins His Belfast Homecoming; Breezes Past Lackadaisical Marriaga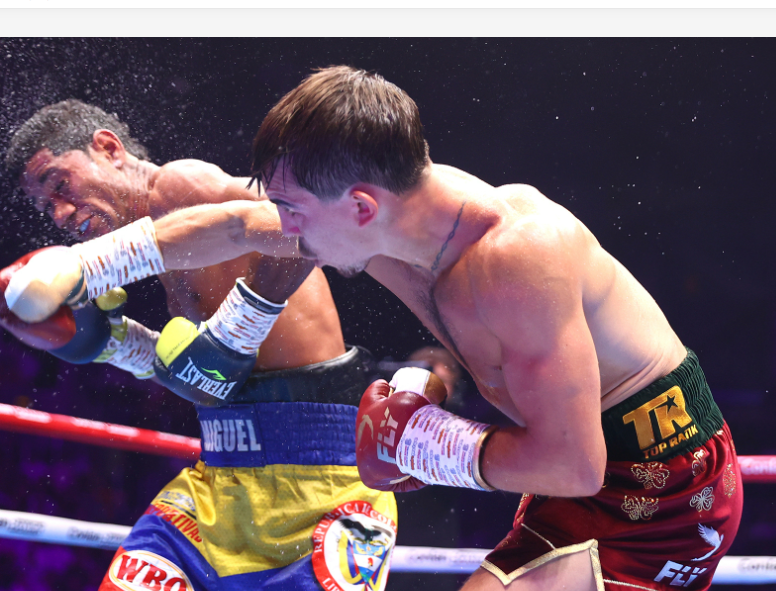 "The Return of the Mick" was the label attached to tonight's show at the SSE Arena in Belfast, Northern Ireland. The reference was to local fan favorite Michael "Mick" Conlan who returned to his hometown in hopes of jump-starting his career after suffering his first pro loss in a brutal encounter with Leigh Wood.
In that bout, a strong "Fight of the Year contender, Conlan was narrowly ahead on all three cards heading into the 12th and final round when the roof fell in. Wood, who was making the first defense of his WBA world featherweight title on his home turf in Nottingham, knocked the favored Conlan unconscious and clear out of the ring.
This was the sort of fight that can shorten a man's career. Hence the intrigue in Conlan's homecoming fight tonight against Miguel Marriaga. On paper, the Colombian, a three-time world title challenger, was a stern test considering the circumstances.
To the contrary, Marriaga had no fire in his belly until the final round when he hit Conlan with a shot that buckled his knees. But, by then Conlan was so far ahead without overly exerting himself that there was virtually no chance of another meltdown.
While Conlan won lopsidedly, the scores – 99-89 and 99-88 twice – were somewhat misleading. True, "Mick" had Marriaga on the deck in rounds 7, 8, and 9, but the punches that put him there did not look particularly hard.
Conlan, 30, improved to 17-1 (8). Marriaga, 35, declined to 30-6.
After the fight, Conlan expressed the hope that Leigh Wood would give him a rematch.
Other Bouts of Note
In an entertaining 10-round welterweight scrap that could have gone either way, Belfast's Tyrone McKenna (23-3-1, 6 KOs) rebounded from his defeat in Dubai to Regis Prograis (TKO by 6) with a hard-fought unanimous decision over 33-year-old Welshman Chris Jenkins (23-6-3). The judges favored the local fighter by scores of 97-94 and 96-95 twice.
Jenkins, a former British and Commonwealth title-holder, had the best of the early going, working the body effectively while frequently finding a home for his uppercut, but he could not sustain his advantage.
Thirty-four-year-old Belfast super middleweight Padraig McCrory who got a late start in boxing, scored the most important win of his career with a fifth-round stoppage of Marco Antonio Periban, a former world title challenger. McCrory had Periban on the deck three times – once in the second and twice in the fifth – before the bout was halted at the 2:14 mark of round five.
It was the fourth straight win inside the distance for McCrory who improved to 14-0 (8 KOs). Mexico's Periban, who returned to the sport in April after missing all of 2020 and 2021, fell to 26-6-1.
Highly-touted welterweight Paddy Donovan improved to 9-0 (6) with an 8-round unanimous decision over Yorkshireman Tom Hall (10-3). The referee scored every round for Donovan, an Irish Traveler trained by Tyson Fury's bosom buddy Andy Lee, the former world middleweight title-holder.
Photo credit: Mikey Williams / Top Rank via Getty Images
To comment on this story in the Fight Forum CLICK HERE