The Top Ten Heavyweights of the Decade 2010-2019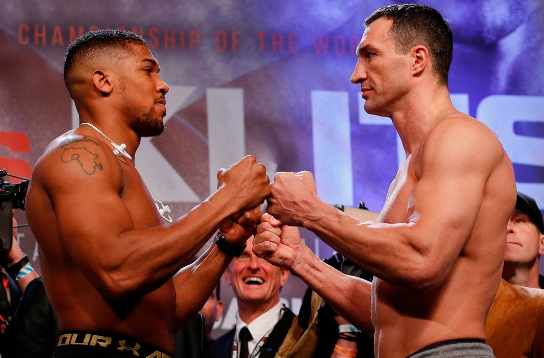 With the decade 2010-2019 now closed and a new one begun, a quick look at the chief champions and contenders of the sport's flagship division seems pertinent. A curious rather than a scintillating decade, it was dominated early by two brothers and late by three fighters as different and divisive and, in some cases, reluctant to meet each other, as can be imagined. Here though, we will look at who these men did fight rather than who they didn't, appraising accomplishments first and foremost as criteria for this Top Ten.
Rankings, a crucial tool for disassembling any period of history, are by The Ring magazine between 2000 and 2002 and by TBRB for all other years.
10 – Luis Ortiz
Peak Ranking:  3 Record for the Decade: 31-2 Ranked For: 40% of the Decade
Here is a complete list of the ranked fighters that Luis Ortiz defeated during the past decade:
Bryant Jennings.
This is horrifying, but it is sadly not that unusual. David Haye managed to defeat zero ranked contenders during the five years for which he was an active heavyweight in the decade, Kubrat Pulev managed just one in the shape of Tony Thompson. There is no more distressing statistic in all of boxing than this, I think: Luis Ortiz obtained a peak rank of #3 and yet he has never proven himself the equal of even a fighter ranked in the top five.
Such is modern boxing.
Three things stand in support of his #10 ranking here: first, both his devastating knockout losses to Deontay Wilder were stirring efforts. Their 2019 encounter, especially, was a performance that felt like dominance with only Wilder's power and, perhaps, Ortiz's ageing legs preventing what would have been a serious upset. Secondly, Ortiz looks the part, at least technically. Behind the 3-day balloon sag of his emotionless visage is a talented fighter. Choosing my words carefully I'll go so far as to say that his economy of movement is the best for any heavyweight from this century, and that covers footwork, defense and punching. The tiny head movements he chose to ditch many of Wilder's punches would bring a tear to the glass eye of any veteran boxing trainer.
Finally, there isn't really much competition for #10. Pulev and Tomasz Adamek were his closest competition for this slot and my preference for Ortiz's understated technical acumen got him over the line.
09 – Andy Ruiz
Peak Ranking: 1 Record for the decade: 31-2 Ranked for: 18% of the decade
Andy Ruiz nips in ahead of Ortiz based upon his achieving the indelible against Anthony Joshua. Briefly, it made Ruiz the planet's number one heavyweight and although his inclusion here was not certain, nor inarguable, it means that every heavyweight who held the number one spot between 2010 and 2019 makes the list.
The rest of his decade was something of a blank, although he came very close to changing that in his December 2016 crack at Joseph Parker. Writing at the time I said that Ruiz had blown a "golden chance" to become the first Mexican American heavyweight belt-holder in a fight that was close enough to have been judged a draw. As it was, Parker squeaked past his rotund opponent with a majority decision win, 115-113 twice and 114-114. Ruiz, who threatened to out-speed a speedster in that fight, bagged all three of the opening rounds for me and forced Parker to sit down hard on his boxing in order to snag the decision.
Had the desperately close twelfth gone for Ruiz and against Parker, Ruiz is facing Joshua in a unification fight instead of as a substitute throwing punches on a wing and prayer. How might history have been different? It's impossible to say although I will readily admit that when I wrote of Ruiz that he "has big fights in his future if he wants them" I didn't have something quite as astonishing as that victory over Joshua in mind. It's enough to squeak him into the ten.
08 – Joseph Parker
Peak Ranking: 3 Record for the decade: 26-2 Ranked for: 39% of the decade
Joseph Parker benefits from a retrospective look at a victory that, at the time, was widely ignored.   When the New Zealander defeated Ruiz it was seen, if it was seen at all, as an embarrassingly narrow victory over an out of shape gatekeeper type who didn't deserve the shot in the first place. Fast forward to Ruiz's destruction of Joshua and suddenly Parker has a rather special victory under his belt.  Notwithstanding his own failed effort at Joshua, it is rather difficult to rank Ruiz ahead of Parker given that Parker toughed it out to beat the American-Mexican over twelve.
So, while it's hard to argue that Parker unequivocally had the better decade overall, he has spent many more months than Ruiz as a ranked fighter and squared off more often against the best. Ruiz, Hughie Fury and Alexander Dimetrenko make for the cornerstone of a rather underwhelming resume though and after posting dual losses in 2018 he beat a hasty retreat for safer waters.
Parker isn't quite out of the game yet though. A 2019 fight with Dereck Chisora was called off after Parker was bitten by a spider and that fascinating contest that can hopefully be rescheduled.
Whether the nicest man in heavyweight boxing can be a force in the division over the course of the next ten years may hinge on the outcome.
07 – Dillian Whyte
Peak Ranking: 3 Record for the decade: 27-1 Ranked for: 19% of the decade
Numbers 7, 8 and 9 come off easy. Parker beats Ruiz and then Dillian Whyte beats Parker. We know which of these three is better and barring wild differences in matched men, who is more accomplished.  Whyte achieved a measure of fame in 2015 with a heart-fueled but failed crack at Joshua when both were making their divisional bones but by early 2017, Whyte had become a heavyweight of legitimate interest and by the end of that year he had legitimized himself as a threat to world level.
Whyte wrought a candidate for fight of the year that December against Dereck Chisora, but the closeness of this vicious contest raised questions of its own. Those questions were answered twice, first by Chisora cracking the rankings and pushing Whyte close again in a glorious rematch, then by further Dillian Whyte contests against the likes of Joseph Parker and Oscar Rivas. What they demonstrated is that the final incarnation of Dillian Whyte is always in good fights.
Even a turgid contest with a weary Mariusz Wach right at the end of 2019 had its moments, for all they were born of an undertrained, overweight Whyte struggling and failing to put away an inferior opponent but proving himself once more the division's deluxe brawler for the decade. Not that Whyte is not proficient, but he isn't using a box and move strategy to stay out of trouble like Parker nor using technical boxing to break down the opposition like Ortiz; rather he is out-thugging his opposition with a combination of persistence, heart and a withering punch.
06 – Vitali Klitschko
Peak Ranking: 2 Record for the decade: 6-0 Ranked for: 35% of the decade
I am something of a Vitali Klitschko fan. I never understood the criticism, during his prime, of his "robotic" style. To me he was a granite-chinned gunslinger, eschewing traditional defensive technique in favor of low-handed high-volume aggression. He came to fight and did so without fear.
He is also principled and intelligent which is why it was so disappointing to see the WBC lead him around by his nose. Vitali went 6-0 between January first, 2010 and December of 2013 when he retired but only one of these "title-fights" was staged against one of the ten best in his division. -Some of his opponents couldn't even be said to be ranked in the top thirty.
Zuri Lawrence victim Albert Sosnowski was likely the low point of this decade, while Cuban prospect Odlanier Solis or Polish veteran Adamek were the high points.
But whether he was thrashing a hapless Manuel Charr or battering Shannon Briggs in one of the ugliest beatings of the century, Vitali looked imperious. There is a very a reasoned argument that despite his limited competition and despite his advancing years he is the very best fighter on this list.
It is a shame he never really proved it.
#6, then, may be a little too high, but the difficulty in visualizing his defeat at the hands of many of the men ranked above or below him enhances his standing.
05 – Alexander Povetkin
Peak Ranking: 2 Record for the decade: 27-2-1 Ranked for: 100% of the decade
Were we ranking fighters here upon their entire careers rather than just on what they did in the last decade, Povetkin would have a strong case for #3. Even in the 2000s he was ranked the #1 heavyweight in the world not named Klitschko at one stage, but it would be 2015 before he found himself in the ring with the long-reigning champion Wladimir.
The beating he absorbed was terrible; he showed heart and rare determination in continuing to take the fight to the champion despite the onslaught that saw him repeatedly dropped to the canvas in the course of losing a wide decision. For many, it would have represented a career-altering thrashing.
But not for Povetkin. "Vityaz" was made of stronger stuff. In fact, he would outlast Wladimir – just like he outlasted Carlos Takam, a ranked and a formidable man one year after his butchery at the hands of Wladimir. In his very next fight he obliterated #10 contender Mike Perez in a devastating right-handed showcase that is one of the most under-watched knockouts on YouTube: click here to help set that right; if you do, keep in mind that Perez had never been stopped before and has never been stopped since.
Povetkin added ranked men Johann Duhaupas and Christian Hammer as he campaigned for a shot at the newest heavyweight star, Anthony Joshua; he got his wish but that attempt ended almost as painfully as his tilt at Wladimir. But Povetkin has come yet again. He was fortunate, perhaps, to escape with a draw against Michael Hunter (another excellent fight) in 2019 but it's a result that keeps him in the game and sees him embark on his third decade as a heavyweight contender.
Consider that Ruslan Chagaev, a former victim of Povetkin's and his chief rival for the title "best of the rest" from the Klitschko era retired five years ago and Povetkin's status as the decade's ultimate survivor is thrown into sharp relief.
04 – Deontay Wilder
Peak Ranking: 2 Record for the decade: 34-0-1 Ranked for: 53% of the decade
Being honest, Deontay Wilder ranking above Povetkin specifically for what they did in the last decade does not sit particularly well with me. I consider the early part of Deontay Wilder's WBC run nothing less than shameful and his being recently introduced at a press conference as having "equaled the run of Muhammad Ali" as a travesty.
It's not that Wilder hasn't done some good work, for he has, but if your number two scalp is that of Bermane Stiverne then it could be argued that you do not belong in the top five for any given decade.  Nevertheless, to my admitted disgruntlement, Wilder's paper record (the best on this list) and that incredible knockout of Ortiz in their recent rematch has slipped Wilder in at the #4 spot by the barest of margins. There is little doubt as to the attribute that has brought him this far.
"Wilder could knock out a bull if he hit it in the head," claims 2015 victim Eric Molina. "If he touches anybody with that right hand, on any part of the head, they're going to dance or go down and go to sleep. It is what it is."
It is. You never know upon who the moth of natural talent will alite and it seems that Wilder is the most blessed heavyweight of this era. It also seemed, for a while, that he might squander that gift, but in facing Tyson Fury, Ortiz, and now Fury again in a forthcoming rematch, Wilder has become the toughest matched heavyweight in the world. He was lucky to escape with a draw in that first Fury fight but make no mistake, he is one victory away from becoming the preeminent heavyweight for the new decade.
Fourth is the absolute highest he can rank for the old one.
03 – Tyson Fury
Peak Ranking: Champion Record for the decade: 20-0-1 Ranked for: 52% of the decade
To tell another truth, Tyson Fury can't be said to have done a great deal more than Wilder in securing the #3 spot for 2010-2019, but two things have him locked above his American rival: first, Fury was deserving of the decision in the first meeting between the two; second, he is the only man on this list to have defeated a lineal champion in that decade. While Fury's own status is confused by his retirement and comeback, there is no disputing the status of Wladimir Klitschko when Fury took his titles from him in his German stronghold. Wladimir was surely past prime when Fury visited him, but it is forgotten now that the notion of Fury's out-boxing him was hardly even considered possible. Fury's brilliance in taking a clear twelve round decision on hostile territory can hardly be overstated.
It has been forgotten, too, in the wake of Anthony Joshua's much more spectacular defeat of Wladimir that Fury beat him first, far less viciously but without the home advantage Joshua enjoyed. In summary, then: Fury is in possession of the single greatest victory from that decade of heavyweight boxing.
Since, he has defeated depression and addiction, or at least fought them to a standstill. No points for that here, but given that he, like Wilder, is undefeated, and that he, like Wilder, has wins in support of his very best that are rather underwhelming, #3 seems the fairest spot.
Probably the world's number one at decade's end, those mental health issues have sadly kept him from contention for the top two spots in an appraisal of all ten years.
02 – Anthony Joshua
Peak Ranking: 1 Record for the decade: 23-1 Ranked for: 48% of the decade
While Fury struggled desperately with his demons, Anthony Joshua rolled in and with consummate professionalism stole his thunder and many of his potential opponents. As a demonstration of excellence – of fistic ability, promotional acumen, media handling – nobody has approached equaling it in the past ten years.
Joshua's management team paid handsomely for their first alphabet strap, bribing Charles Martin to visit the UK allowing Joshua to force him to take the proverbial knee, which he quickly did under heavy fire. Martin had come by his belt after the IBF equally quickly stripped Tyson Fury after he defeated Wladimir Klitschko; Martin was named a challenger for the vacant belt but really that fight was meant to be a coronation for the anointed Vyacheslav Glazkov who damaged his knee so badly during the fight that he hasn't fought since. It was as tortured and ridiculous a path to an alphabet title as has occurred, which is saying something.
Since, and despite much unfair criticism, Joshua has conducted himself with genuine ambition. Dominic Breazeale was deemed underwhelming, but he was, at least, legitimately ranked at #9; Wladimir Klitschko was as dangerous an opponent as the under-seasoned Joshua could have faced and their combat was as thrilling as any from this period. The selection of Carlos Takam was criticized, but Takam was ranked number six and was a late replacement for Kubrat Pulev, who was ranked even higher.  Joseph Parker stood the #3 heavyweight in the world when Joshua clearly out-boxed him, and Alexander Povetkin, for all that he was derided as past-prime, was still ranked at #5.
Then disaster struck. The defeat of Joshua by Ruiz will perhaps become no more than a footnote to a hall of fame career, but it does rule Joshua out as a contender to the #1 spot here. Make no mistake, had he buried Ruiz the first time around rather than requiring a rematch to reclaim his trinkets, Joshua's record would have proven hard to resist. It is a fact that no heavyweight defeated more ranked contenders in the considered years.
01 – Wladimir Klitschko
Peak Ranking: Champion Record for the decade: 11-2 Ranked for: 64% of the decade
While no fighter defeated more ranked contenders than Joshua, only one fighter twice defeated the heavyweight ranked the best in the world excepting himself and that was the mighty Wladimir Klitschko.
He butchered Povetkin in a brutal shut-out in 2013. The following year he crushed the undefeated Kubrat Pulev in five savage rounds. He seemed, in that moment, unassailable.
Wladimir entered the decade the undisputed number one heavyweight in the world, even the return to action of his brother Vitali failing to muddy the waters to any real degree. In the absence of the older Vitali, Wladimir had developed an iron grip on his lofty status, contenders slipping from him like water over a river rock. Wladimir had a reputation for vulnerability, but by the opening of the decade he hadn't been beaten in six years. By the time Fury unseated him in 2015, Wladimir was more than ten years removed from defeat. Few fighters have entire careers as accomplished.
Wladimir did build his inimitable if sometimes frustrating style primarily around weaknesses, however.  He wanted to protect his chin, so he kept his opponents very far away, on the end of his all-time great jab, or very close, on the receiving end of a frustrating habit to clutch and hold. He wanted to protect a gas-tank that had failed him the decade before and so he became perhaps the most complete general the heavyweight division has ever seen. Risk management, control of the ring's real estate and control of the fight's tempo were everything to him.
This frustrated many fight fans but to dispute his dominance of the first half of the decade based upon aesthetics would be fruitless. The unlikely figure of Andy Ruiz ensured that Wladimir Klitschko would be shorn of competition for the #1 spot for heavyweight of the decade 2010-2019 – it is fitting that they nearly bookended the top ten.
Check out more boxing news on video at The Boxing Channel 
To comment on this story in The Fight Forum CLICK HERE
Berchelt TKOs Valenzuela in Mexico City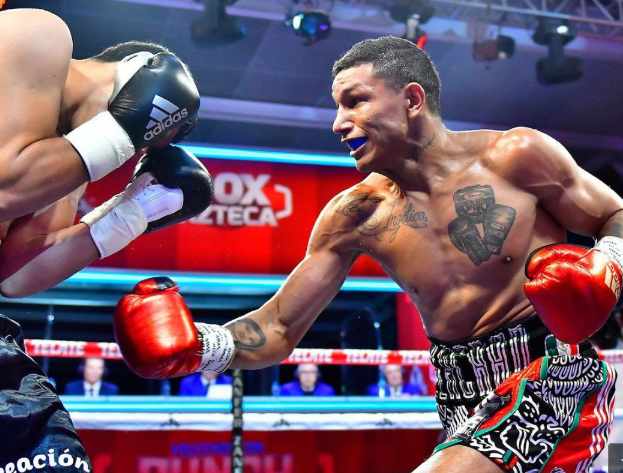 Mexico's Miguel Berchelt hammered his way to a decisive knockout victory over fellow Mexican Eleazar Valenzuela in a non-title light fight on Saturday.
After nearly nine months off, WBC super featherweight titlist Berchelt (38-1, 34 KOs) unraveled a withering body attack including numerous low blows but Valenzuela remained upright in front of a sparse TV studio audience until he could take it no longer.
Berchelt used a seven-punch combination to knock the senses out of the very tough Valenzuela who hails from Sinaloa. The referee saw enough and stopped the fight with Valenzuela leaning against the ropes with a dazed look.
The champion from Cancun used a triple left hook in the first round to floor Valenzuela and it looked like the fight would not last more than two rounds. But Valenzuela, a sturdy veteran, bored into Berchelt to keep him off balance and was able to stop the momentum.
It did not last.
A vicious attack to the body sapped the energy from Valenzuela who has fought many elite fighters in the past, but none like Berchelt. He was able to batter the veteran round after round.
Valenzuela sought to reverse the momentum with some combinations of his own. Berchelt opened up with some combinations from the outside and cracked his foe with some skull-numbing blows that clearly affected Valenzuela's senses. The referee wisely stopped the fight at 1:03 of the sixth round to give the win to Berchelt by knockout.
The victory opens the door to a potential clash with featherweight world titlist Oscar Valdez of Nogales, Mexico who has a fight of his own planned next month. Both champions are promoted by Top Rank.
Other Bouts       
Omar Aguilar (18-0, 17 KOs) bushwacked veteran Dante Jardon (32-7, 23 KOs) within a minute of the first round to win by technical knockout. A barrage of blows by Ensenada's Aguilar opened up the fight and a four-punch combination forced the referee to stop the super lightweight fight with Mexico City's Jardon against the ropes.
A battle between super bantamweights saw the taller Alan Picasso (14-1) out-hustle Florentino Perez (14-6-2) in an eight round clash between Mexican fighters. Mexico City's Picasso fought effectively inside against the shorter Perez of Monterrey and was able to maintain a consistent pace. Neither fighter approved the use of a jab but Picasso was more effective inside with body shots and uppercuts and dominated the last half of the fight.  The six judges scored in favor of Picasso.
The WBC instituted the extra judges as a means of tabulating score cards efficiently. Three judges scored from the television studios and another three judges scored from the USA. It was the second time WBC judges officiated remotely and all six scorecards were official.
Photo credit: Zanfer Promotions
To comment on this story in The Fight Forum CLICK HERE
Boxing Odds and Ends: Big Baby Miller, Roberto Duran and More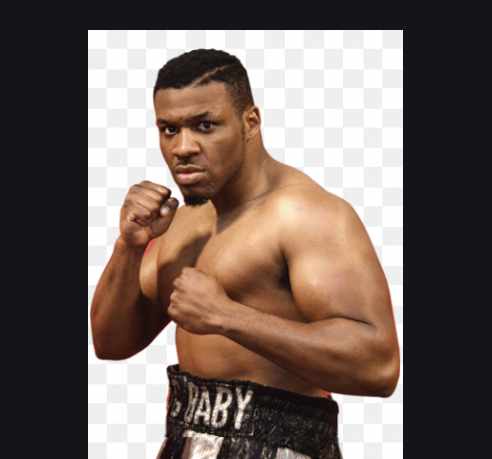 Jarrell "Big Baby" Miller just can't keep his hands out of the cookie jar. It was announced today (Saturday, June 27) that the jumbo-sized heavyweight from Brooklyn tested positive for a banned substance, forcing him out of a July 9 fight at the MGM Grand "Bubble" against Jerry Forrest. The story was broken by Mike Coppinger of The Athletic who breaks more hard news stories than any other boxing writer.
Miller, needless to say is a repeat offender. He failed three different PED tests in a span of three days for three different banned substances leading into his planned June 2019 match at Madison Square Garden with WBA/IBF/WBO world heavyweight champion Anthony Joshua. That cost him the fight and a reported $5 million-plus payday. Andy Ruiz filled the void and scored an historic upset.
When the first test came back positive, Miller wailed that he was the victim of a faulty test. "My team and I stand for integrity, decency and honesty and will fight this with everything we have," he said in a prepared statement. He later changed his tune. "I messed up," he said.
In a story that appeared on these pages, Thomas Hauser noted that Big Baby had a history of PED use dating to 2014. In that year, he was slapped with a nine-month suspension by the California Athletic Commission following a kickboxing event in Los Angeles.
Counting this latest revelation, it's five strikes for Big Baby. He's taking quite a roasting right now on social media. Some of the harshest criticism is coming from his fellow boxers.
Assuming that Top Rank can't find a replacement for Miller, this is another tough break for Jerry Forrest, a 32-year-old southpaw from Virginia with a 26-3 (20) record. Forrest was scheduled to fight hot prospect Filip Hrgovic on April 17 on a card at the MGM National Harbor in Oxon Hill, Maryland, a show swept away by the coronavirus outbreak. Forrest has been matched very soft throughout his career, but he acquitted himself well in his lone previous TV appearance, losing a split decision to undefeated Jermaine Franklin on "Showtime: The New Generation." The decision was controversial.
There's talk now that Carlos Takam is angling to replace Big Baby. The French-Cameroonian, a former world title challenger who turns 40 in December, was billed out of Henderson, Nevada, in his last ring appearance that saw him winning a unanimous decision over fellow greybeard Fabio Maldonado in Huntington, NY.
—-
When it comes to Murphy's Law ("anything that can go wrong, will"), there's no sport quite like boxing. Just ask Bob Arum. The most mouth-watering matchup in his ESPN "summer series" fell out this week when Eleider Alvarez suffered a shoulder injury in training, forcing a postponement of his July 16 date with Joe Smith Jr. The match between Alvarez (25-1, 13 KOs) and Smith (25-3, 20 KOs) would have been a 12-rounder with the winner guaranteed a shot at the vacant WBO light heavyweight title, a diadem that Alvarez previously owned.
Joe Smith Jr, a Long Island construction worker once dismissed as nothing more than a club fighter, won legions of new fans in his last start, a one-sided (to everyone except one myopic judge) win over Jesse Hart in Atlantic City.
Cancelled matches have become a recurrent theme in ESPN's semi-weekly boxing series. The very first card in the series lost what shaped up as its most competitive fight when Mikaela Mayer tested positive for COVID-19, scuttling her bout with Helen Joseph. In subsequent weeks, the manager of Mikkel Les Pierre tested positive for COVID-19 as did WBO junior lightweight champion Jamel Herring. Those bad test results forced the postponement of two main events. Then earlier this week, hot lightweight prospect Joseph Adorno was lopped off Tuesday's card after feeling sick after coming in overweight at the previous day's weigh-in.
The undercards of the Tuesday/Thursday ESPN fights have left something to be desired, but that's understandable. As Bob Arum noted in a conversation with veteran boxing scribe Keith Idec, Top Rank's matchmakers Bruce Trampler and Brad "Abdul" Goodman have had a hard time fleshing out the cards because with so many gyms closed there's a shortage of boxers who are in shape to fight on short notice. Then there are the COVID-19 travel restrictions and (something Arum did not acknowledge) budgetary restrictions more severe than an ordinary Top Rank card. Most of the undercard fighters have come from neighboring states such as Utah, saving Top Rank the cost of air fare. Fighters from faraway places, with some exceptions, were already training in Las Vegas.
Kudos to the entire Top Rank staff for keeping boxing alive during these challenging times.
—
It's old news now, but Panamanian boxing legend Roberto Duran, 69, tested positive for the coronavirus and was hospitalized in Panama City with a viral infection. There's been no update on his condition but his son Robin Duran wrote on Instagram that his father is not having any symptoms beyond those associated with a common cold. We will update you when new details become available.
Duran's hospitalization came just a few days after the 40th anniversary of his first fight with Sugar Ray Leonard in what would say was Duran's finest hour. They met on June 20, 1980 at Olympic Stadium in Montreal.
Duran won a unanimous decision. Converting the "10-point must" system into rounds, Duran prevailed by scores of 3-2-10, 6-5-4, and 6-4-5. As Yogi would have said, you could look it up.
Check out more boxing news on video at The Boxing Channel 
To comment on this story in the Fight Forum CLICK HERE
Fast Results from the Bubble: Jason Moloney TKOs Baez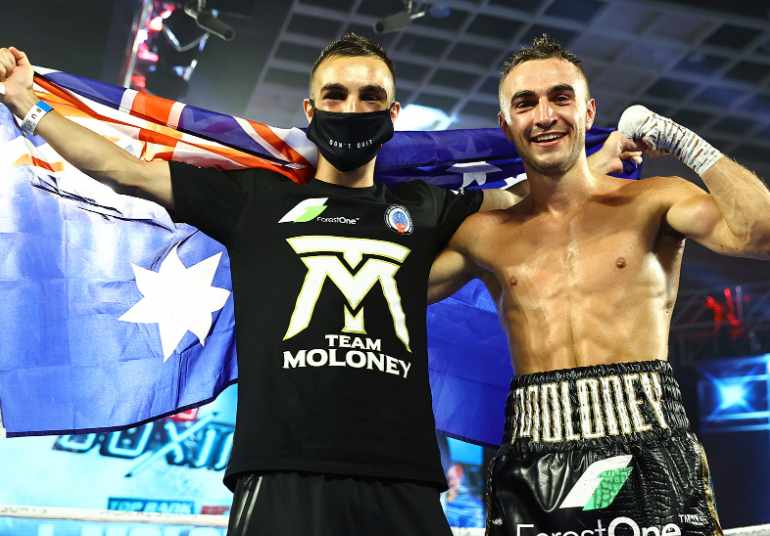 Top Rank was back inside the MGM Grand "Bubble" tonight for chapter six of their semi-weekly ESPN summer series. Jason Moloney, one-half of Australia's Moloney twins, accomplished what his brother Andrew Moloney was unable to accomplish in this ring on Tuesday night, adding a "W" to his ledger and looking good doing it. It came at the expense of Mexicali's Leonardo Baez.
It was Jason Moloney's second start on U.S. soil after coming up just a tad short in a bid for the vacant IBF world bantamweight title at Orlando in October of 2018. Against Baez, he fought a smart tactical fight, blunting the Mexican's superior reach by fighting him at close quarters. Baez fought from the third round on with a cut over his right eye and then suffered a cut over his left eye in the seventh round. By then the fight was becoming increasingly one-sided and Baez's corner did not let him come out for round eight.
Jason Moloney improved to 21-1 with his 18th knockout. Leonardo Baez, who took the fight on short notice after Maloney's original opponent Oscar Negrete was forced to withdraw with a detached retina, slumped to 18-3.
Co-Feature
In the 10-round co-feature, Abraham Nova advanced to 19-0 with a unanimous decision over Philadelphia's Avery Sparrow but won no new fans with a lackadaisical performance. Nova, born in Puerto Rico to parents from the Dominican Republic and raised in Albany, NY, showed little but his jab through the first seven rounds until hurting Sparrow with a big right hand in the eighth. The judges had it 96-94, 97-93, and 99-91.
Sparrow (10-2), whose lone previous loss was by disqualification, was making his first start in 15 months. He was slated to fight Ryan Garcia in Los Angeles last Sept. 14 but never made it to the weigh-in after being arrested by U.S. marshals on a charge of threatening a woman with a gun after she threw his clothes out the window…
Other Bouts
In an 8-round featherweight contest, Puerto Rican southpaw Orlando Gonzalez advanced to 15-0 with a unanimous decision over Ecuador's Luis Porozo (15-3). The scores were 76-74 and 77-73 twice.
Gonzalez wasn't particularly impressive although he did score two knockdowns. He decked Porozo near the end of round two with a left hook following a straight left and decked him again near the end of round seven with a left uppercut to the body.
In a rather ho-hum fight, welterweight Vlad Panin improved to 8-1 with 6-round majority decision over San Antonio's 36-year-old Benjamin Whitaker (13-4). Panin, a Belarusian who grew up in Las Vegas and earned a BA in English from UCLA, has a good back story but seemingly a limited upside in the fight game.
In an entertaining 6-round welterweight clash, Filipino campaigner Reymond Yanon improved to 11-5-1 with a split decision (59-55, 58-56, 56-58) over Clay Burns. A 33-year-old ex-Marine from Fort Worth, Burns declined to 9-8-2.
The opener, a heavyweight bout slated for six rounds, matched two Phoenix-based fighters in a rematch. Kingsley Ibeh, a former standout defensive lineman for the Washburn College Ichabods, avenged his lone defeat and improved to 4-1 with a fourth-round stoppage of Waldo Cortes (5-3). Ibeh, who at 286 had a 39-pound weight advantage, softened Cortes up with a series of uppercuts and Cortes was on his way down when he was tagged with a glancing left hand. He got to his feet, but referee Vic Drakulich waived it off. The official time was 1:41.
Photo credit: Mikey Williams for Top Rank
Check out more boxing news on video at The Boxing Channel 
To comment on this story in The Fight Forum CLICK HERE