Deontay Wilder's Hall of Shame
Deontay Wilder's Hall of Shame
This is a look at the title opposition of one Deontay Wilder, America's great heavyweight hope and currently ranked number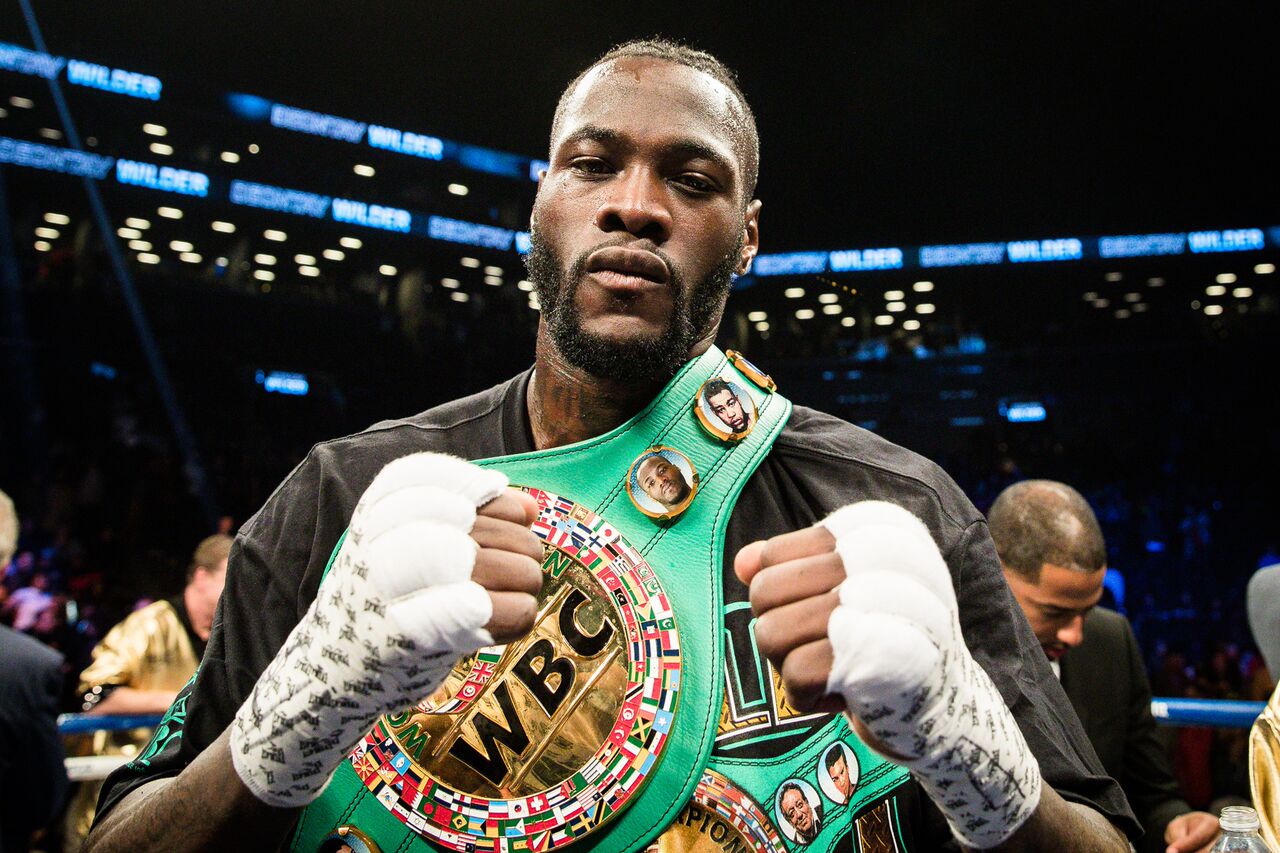 Deontay Wilder's Hall of Shame
This is a look at the title opposition of one Deontay Wilder, America's great heavyweight hope and currently ranked number two in that flagship division.
What it is not is a critique of the WBC's rankings policy.  It could easily be interpreted as such; we are told time and time again that the reasoning behind a given fight is only that it is "mandatory" and therefore has to be fought.
It is a wonder that any competitive fights get made at all, this being the case.
This is also not an accounting of Wilder's apparent bad inflatable slide luck in attempting to make stiffer matches for himself.  It is an examination of what has actually happened rather than what someone tried to do.
I admit that it doesn't make for pretty reading, but horror rarely does.
All rankings are by the TBRB; other independent ranking organizations are available – and they don't seem to see things any differently.
ERIC MOLINA (23-2), 1st Defense, June 2015. 
I am not a total skeptic when it comes to soft opposition; "one for me, one for you" is a reasonable approach I think, and Wilder took on his only ranked opponent to date when he met Stiverne for the WBC trinket in early 2015. A more limited opponent seemed a reasonable move to me, and the Texan, Eric Molina, qualified.
Chris Arreola was in a strange place in his career in 2012. Having failed in his attempt at a heavyweight strap against Vitali Klitschko in 2009 and then lost to former cruiserweight belt-holder Tomasz Adamek in 2010 he had hit the road on what amounted to an old-fashioned barn-burning tour in boxing outback against his own selection of limited opposition. This culminated in a ten round decision win over a heavyweight named Friday Ahunanya, a once promising Nigerian heavy who had just dropped a six-rounder to a professional loser called Cisse Callif.
When the result of this fight was later changed to a No Contest when Arreola failed the drugs test (marijuana), I think it's fair to say that the once proud Mexican-American had reached his career low. It is understandable then that Molina was excited to be matched with him in February of 2012. This excitement did not last long. Molina was blasted out in 150 seconds.
These things happen in boxing, and Arreola was capable of making them happen so it was fitting that Molina be afforded the chance to rebuild. Between this first round knockout defeat and his June 2015 meeting with Wilder, Molina had five fights. He met no ranked contenders. In fact, he met no fighters of note outside of a 45 year old DaVarryl Williamson who hadn't boxed for two years and who was rescued from himself in the fifth. Molina stooped lower in his next contest, beating up the 10-12-2 Theo Kruger. After one more outing he was apparently "ready" to meet Wilder with the belt on the line.
Molina was not a bad fighter and he actually landed some good shots on the belt-holder on his way to being stopped in the ninth, lasting eight rounds longer than he had against Arreola. That being said, he was also woefully under-qualified for championship boxing. Still, as I said, a soft one is reasonable after lifting the title. The real question was the eternal one – who's next?
Who should he have fought instead?  Vyacheslav Glazkov, pre-injury, ranked seven.
JOHANN DUHAUPAS (32-2), 2nd Defense, September 2015.
To his tremendous credit, Wilder was out quickly but the man in the other corner once again underwhelmed.
Frenchman Johann Duhaupas was big with a big reach but the headline in assessing him as an opponent for Wilder was his twelve round points loss to novice Erkan Teper in March 2015. Their fight was turgid, honest (although Teper did have a point deducted for pushing) and in no way controversial; cards of 116-111 twice and 115-112 in favor of Teper were a fair reflection of the contest.
Maybe, at the absolute limits of what is acceptable, Teper could have reasonably have been favored with a shot at Wilder's trinket, especially after his next fight, a two round battering of David Price. But it was Duhaupas , the loser of that contest that would get to meet Deontay.
Welcome to Wilder territory.
Between Teper and his title match, Duhaupas was able to put a veneer of respectability on his shot with a narrow majority decision victory over Manuel Charr. Charr was a legitimate opponent and I thought Duhaupas handled him reasonably well, especially early, edging away and walking his opponent onto a decent jab, lobbing in the occasional ill-directed right when he felt it was safe to do so.
Still, once again, Charr was not a ranked opponent; he was a gatekeeper, the type of fighter whose defeat would open up for the victor a fight with a ranked opponent, the defeat of whom might in turn open up an elimination bout against a top contender. Not in this instance. In this instance, a loss to a novice and a hairline victory over a gatekeeper got Duhaupas into a ring with Wilder.
It wasn't pretty.
Who should he have fought instead?  Carlos Takam, ranked six.
ARTUR SZPILKA (20-1), 3rd Defense, January 2016. 
Artur Szpilka is my favorite Deontay Wilder opponent and I will go so far as to say that had Wilder fought a ranked man in September, this would have been a reasonable outing in January.
Szpilka was a quick southpaw who made up for his dearth in reach with a shifting style and good arbitrary head movement. The problem with his status as a title-challenger, aside from an absence of a top ten ranking, was his defeat two years earlier to Wilder's chief domestic rival Bryant Jennings. Jennings had taken the high road to Wilder's low road, crashing himself upon the rock that was Wladimir Klitschko where Wilder preferred the weakest of the available "champions" in Stiverne; fair to say, Jennings paid for his bravery, never being quite the same again after his meeting with Doctor Steelhammer. Against Szpilka, though, Jennings had looked excellent, winning nearly every round on his way to a stoppage victory in the tenth.
Szpilka's return was not the preferred route of prospective Wilder title-challengers though, and he even found time to defeat a legitimately ranked opponent in Tomasz Adamek. His first two opponents of 2015 were more in keeping with those favored by Wilder's challenges in Ty Cobb (18-6) and Manuel Quezada (29-9 and on a five fight losing streak) and these victories, combined with a two round victory over Yasmany Consuegra who blew out his knee in the second were good enough to make the match with Wilder.
It is worth keeping in mind that this bizarre combination of opposition likely made Szpilka Wilder's most legitimate opponent.  Unsurprisingly it therefore made for his best match, too, as well as his key learning fight. Szpilka's style made Wilder a little uncomfortable and the Pole won several rounds before Wilder closed the blinds in what remains, for me, his most impressive knockout.
Who should he have fought instead?  Szpilka's first conqueror, Bryant Jennings, ranked ten.
CHRIS ARREOLA (36-4-1), 4th Defense, July 2016. 
Wilder's fourth defense against Chris Arreola was probably his most cynical. Arreola had name recognition to recommend him and little else. A perfectly reasonable opponent for a young prospect, he was no more a legitimate title challenger than I am, having recorded two wins in his previous six contests.
This underlines the problem with handing out baubles to fighters who are not yet ready to properly defend them: it takes a devalued property and gives it to a fighter who will happily devalue it further while making money.
After that one round blowout of Molina, Arreola matched Bermane Stiverne and was somehow installed as a prohibitive favorite. Stiverne promptly broke his nose and pounded out a decision win. Arreola saved himself from a descent into obscurity with another first round knockout, this time over Seth Mitchell, but the taste of that Stiverne defeat would not go away and he demanded and received a rematch. This time he was stopped in six. Arreola then fought a really fun fight with an unknown called Curtis Harper, earning himself an eight round decision and a short reprieve from obscurity, but much of this work was undone when he found himself on the lucky end of a ten round draw with Fred Kassi.
Then Arreola met Travis Kauffman.
Kauffman was exactly the sort of opponent Arreola should have been meeting at that point in his career. Kauffman had just moved on from facing professional losers with records like 10-21 or 19-22-3 and on to genuine tests, fighters who were coming to win but might not be expected to for whatever reason – in short, Arreola was now a trial horse. To give him his due, he got himself in shape for Kauffman, but was caught with a crackling up and down combination in the third and dropped. Drawing upon all his experience he forced Kauffman into the type of tough combat often seen in the netherworld where busted flushes show against drawing hands and with both men exhausted down the stretch he made it close – two cards reading 114-113 in his favor bought him the split, though my card read the same as the odd judge, who saw it by the same score in the other direction.
Regardless, the fight was changed to a No Contest after Arreola failed another drug test.
Of course he got a fight with Wilder.
Who should he have fought instead?  Anyone.
GERALD WASHINGTON (18-0-1), 5th Defense, February 2017.
At the time of his meeting with Gerald Washington, Wilder was ranked the number four heavyweight in the world and was heralded the world champion by the WBC. Gerald Washington was a prospect. A prospect in his mid-thirties, so a prospect in a rush, but a prospect none the less.
Washington's three-pronged arrival in 2015/16 heralded a fighter of no little talent who carried all the foibles any heavy of his inexperience can be expected to exhibit. Against the sawn-off aggressor Amir Mansour he looked genuinely excellent early before floundering against his more seasoned opponent down the stretch. He was lucky, in my view, to escape with the split draw the judges found for him but it was an excellent learning fight for a man who at a lean 250lbs looked the part.
Next up was a true veteran in Eddie Chambers. Here, I thought Washington was probably good for his eight round decision win but it was bizarre to watch a man with such a pronounced size advantage work so hard to avoid exchanges. More bizarre still was the huge number of punches both men missed. It is rare that such inaccuracy is televised.
I've never seen him beat up the bloated ghost of the fighter who had once been Ray Austin but that was the shambolic elimination for his meeting with Deontay Wilder. Wilder staged a predictably one-sided blow-out over five.
Who should he have fought instead?    Dillian Whyte (10), Christian Hammer (9), Andy Ruiz (8) or Kubrat Pulev (6).
BERMANE STIVERNE (25-2-1), 6th Defense, November 2017.
To be fair to Wilder, Bermane Stiverne was a substitute opponent for Luis Ortiz, who failed a drug test. It is also fair to point out that when Wilder's British counterpart Anthony Joshua lost his opponent, world number six contender Kubrat Pulev on short notice, he substituted world number seven contender Carlos Takam.
That, as they say, is how it's done.
It is also worth pointing out that Stiverne was due to fight on the Wilder-Ortiz undercard with a view to stoking and then staging the rematch nobody wanted to see early next year anyway. While that percolates, consider, too, that Stiverne had somehow remained a WBC top contender despite the fact that he has fought only once in the three years since Wilder pounded out a wide, dull decision over him. He fought 30-10 Audley Harrison victim Derric Rossy and was extended the full ten rounds.
Stiverne, like all these opponents, did nothing to earn a ranking on a reasoned, independent organization's top ten at heavyweight. All of them were deeply, deeply flawed as title opponents. It is true that Wilder has been unlucky in cornering quality opposition, but it is also true that he is the number two draw in heavyweight boxing and if his representatives want to get low-key quality opposition to America to test him, it is just a matter of paying.
If they prefer to corner fan dollars while lining up victims, that is their choice and as a road to riches it is as tried and tested as fighting the best. But what must be remembered, as negotiations begin in earnest for the Joshua-Wilder showdown this coming year, is that this policy has left Joshua's people with far and away the stronger hand.
It is Joshua who has bested by far the better opposition. He has beaten four ranked men in his 20 fights – Charles Martin (9), Dominic Breazeale (9), Wladimir Klitschko (1) and Carlos Takam (7) – while Wilder has managed one in his 39 (Bermane Stiverne; 6).
In matters not unrelated, Joshua is commanding purses between $13m and $19m while Wilder cleared as little as $1.4m dollars for his most recent contest.
To be clear, Wilder's call for a 50/50 split in any fight between the two is ridiculous at best and dishonest at worst; it is likely that if Wilder is assigned 25% of the take (and he will, and should, get more) then it will represent a payday in wild excess of anything he has ever earned.
There's no fooling boxing. One way or the other you get what you deserve.
Photo credit: Amanda Westcott
Check out more boxing news on video at The Boxing Channel
Tal Singh Aspires to Become the First Sikh to Win a World Boxing Title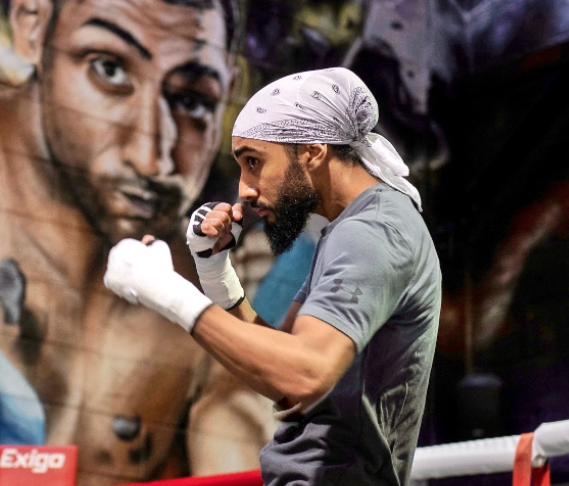 As boxing is a global sport, it should come as no surprise that if a man were to wander into a Las Vegas boxing gym he might find an Englishman there working up a sweat. But on a recent visit to Bones Adams gym, this reporter encountered an unusual specimen of English manhood. Tal Singh is a Sikh which makes him a one-of-a-kind in the British colony of professional boxers.
Singh had only 14 amateur fights, but in 2018, competing at 105 pounds, he became the first member of the Sikh community to win a British national amateur title. Now he aspires to be the first Sikh to win a professional title.
Singh was born and raised in Liverpool. His father is from the Punjab region of India. His mother is English by birth, but her ancestry is also Punjabi.
His dad had a succession of blue-collar jobs as Tal was growing up in the British port city. His mother was a schoolteacher and was his teacher in primary school. That undoubtedly helped him fit in with his classmates. According to a recent census, only 0.1 percent of the population of Liverpool is Sikh. Singh remembers that as a young boy, some thought that he was a girl because of his long hair which a Sikh tucks in a bun and folds under his turban.
Tal Singh was dispatched to Bones Adams' gym by his manager, Amir Khan. Bones and Amir Khan are well-acquainted. Khan put the finishing touches on his May 2016 bout with Canelo Alvarez here and Bones spent five weeks with Khan in England and Saudi Arabia leading into Khan's most recent fight against Billy Dib in Jeddah.
When the pandemic hit, notes Singh, 26, all the public gyms were closed. Singh reached out to Amir Khan about training in Khan's gym in Bolton, a former mill town in Greater Manchester. Khan is a devout Muslim but his ancestral roots are in that portion of Pakistan heavily populated by Sikhs and he is conversant in the Punjabi language.
Khan was amenable to letting Singh use his gym and was so impressed with his potential that he volunteered to manage him. "When that happened, I was over the moon," says Tal.
Amir Khan entered the pro ranks with great fanfare after winning a silver medal at age 17 in the 2004 Athens Olympics and went on to win two pieces of the 140-pound world title.  At age 34, his best days are behind him, but he remains a big star in Great Britain. Appearances on multiple reality shows have kept him in the public eye. His supposedly tempestuous relationship with his attractive Brooklyn-born wife Faryal Makhdoom was great fodder for the gossip columnists.
Khan has a full-time publicist and the well-spoken Singh, who appeared on the first season of Khan's newest reality show, "Meet the Khans," has been caught up in some of the hoopla. Several days after his arrival in Las Vegas, a Sky Sports camera crew turned up at Bones Adams gym.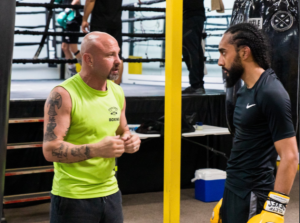 Tal Singh would have attracted news coverage without the Amir Khan connection; sports journalists are drawn to athletes with unusual backgrounds. But it's unlikely that he would have become a newsmaker in advance of his first professional fight.
He gets no favors by virtue of being the protégé of a famous sports personality. In Las Vegas, he leads a spartan life. He lives alone and has no car. He usually arrives at the gym before the official opening hour. It's a lonely existence leavened by the fact that he's met new friends. Super middleweight Shane Mosley Jr and Sean Brewer, a bantamweight from Austin, Texas, are other early birds at the gym, a place where there's camaraderie not unlike one would find in a military unit. Soon he will get to catch up with Malik Scott, one of his best buddies. Singh bonded with Scott during their days at David Haye's gym in London when Scott was brought in to serve as Haye's sparring partner for Haye's rematch with Tony Bellew. Scott now trains Deontay Wilder.
When Singh arrived in Las Vegas in late August, he got a rude welcome from the weatherman. "When I stepped outside the airport," he says, "it was like walking into a furnace. I literally had to go back inside and re-group."
It is cooler now in Las Vegas, and will be cooler still in Colorado Springs where Singh is headed next week for a visit with his manager Amir Khan who just recently turned up there to commence training for a match with countryman Kell Brook. The date and venue are up in the air (likely sometime around Dec. 1).
Khan vs. Brook is something of a poor man's Mayweather-Pacquiao, which is to say that it has marinated too long. But both, and especially Khan, have a high profile in the U.K. and the long-talked-about match is expected to be a British blockbuster. Tal Singh will make his pro debut on the undercard.
After a short stay in Colorado Springs, it's back to Las Vegas for Singh. For how long? "This will be my home base until I fulfill my dream of winning a world title," he says.
There's a saying on Tal's twitter platform that serves as his mantra: "If you want to look good in front of thousands, you have to out work thousands in front of nobody." No one knows how far Tal Singh will go in his adopted sport, but if sacrifice and discipline count for anything, then it wouldn't be smart to bet against him.
Check out more boxing news on video at the Boxing Channel
To comment on this story in the Fight Forum CLICK HERE
The Future of Non-Traditional Boxing Events: A New TSS Survey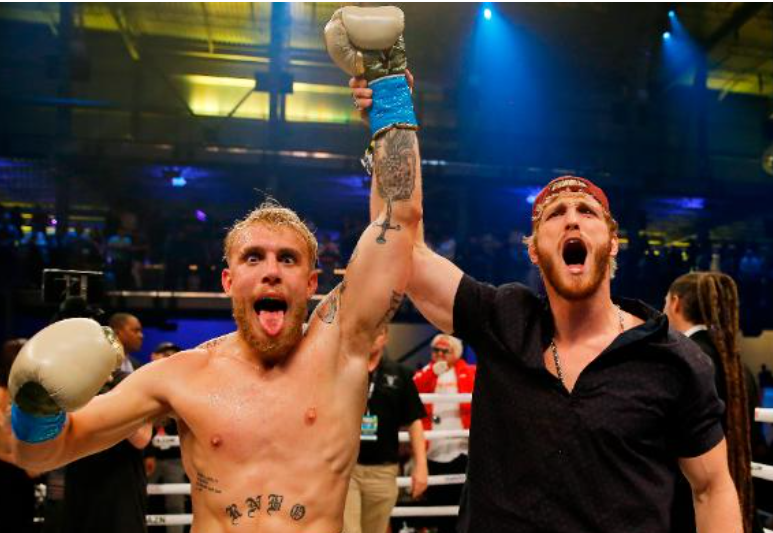 For our latest survey, we came up with this question: "Fights between celebrities, boxing legends, cross-overs, and YouTube influencers have become more and more commonplace. Do you think this will prove to be a passing fad or something that will endure, and why?"
Here's what 34 respondents had to say. They are listed alphabetically.
Russ Anber— elite trainer, cornerman, and owner of Rival Boxing Equipment: I am afraid I don't know what to think anymore! I never would have thought we would have seen what we are seeing now. The reverence and respect for boxing has been lost in a way it may never recuperate from. The facility in which ANYONE can be granted a PROFESSIONAL BOXING LICENSE is beyond insane!! Sadly however, we cannot blame these people, we can't blame the networks or streaming sites, the fact that there is an abundance of people who are paying, and gladly paying, to watch these ridiculous sideshows is truly beyond comprehension!
David Avila– TSS West Coast Bureau Chief: Celebrity boxing has been around forever. It ebbs and flows and will continue to do so as long as boxing exists. It just takes someone willing to step into the ring like this kid Jake Paul. Gotta have the guts to do it.
Joe Bruno — prolific writer; Florida Boxing Hall of Fame inductee: Celebrity fights are akin to the circus coming to town. Will it continue? Of course, if it makes money.
Jeff Bumpus — former fighter; writer: It's an insult to people who have devoted a large chunk of their youth learning the intricacies of the sport, only to have a You Tube fool swoop in and act like all that blood and sweat isn't necessary. Apparently, if you have followers, BS trumps substance. I believe it's a passing fad to be replaced by something even more offensive to purists.
Tracy Callis — noted boxing historian: The fighting of celebrities is interesting now but I believe it will become less so over time. It will become more like other shows that people enjoy very much at first and then the idea will fade. But who knows?
Steve Canton — author; President of Florida Boxing Hall of Fame: I do not like these types of fights in our sport and have to wonder if it's because we have an unexciting era of boxing where the best avoid fighting the best. Fans are starved for good, exciting fights and promoters have tried to cash in by pitting celebrity names or YouTube fighters against each other instead. It ultimately hurts our sport because we no longer have quality fighters who are technically skilled. The more these type fights happen, the worse the situation will become. In addition, older, former top fighters are coming back, tarnishing their reputations and risking serious injury. These type bouts should be outlawed by commissions.
Jill Diamond — International Secretary, WBC: A new and younger audience is always welcome. The question is, does this audience remain with us or are they as fleeting as the interest of the celebrity boxer? The return of our legends is more troubling. My concern for all is safety which is threatened by commissions willing to sanction fights that should not happen.
Rick Farris — President and Founder of the West Coast Boxing Hall of Fame: I believe this is the worst possible situation ever for professional boxing. It is the ultimate low point in boxing history. These "clowns" being matched with ancient boxing champions in sideshow acts has taken boxing to it's lowest form since the Marquis of Queensberry laid down the ground rules in the 1800's. And I don't care what anybody thinks, boxers over 40 should not be licensed! They are too old! Boxing is a young man's game, and these circus act exhibitions are a bad joke.
Bernard Fernandez — lifetime Member of the BWAA; 2020 IBHOF Inductee: I guess, depending on one's point of view, I am a stodgy traditionalist, curmudgeon or anachronism. Maybe I'm all three rolled into one. But I reject the premise that the Paul brothers, and other so-called "YouTube" sensations are good for boxing because they bring new and young fans to the sport that is admittedly hewing older. Having some strange sort of appeal to skateboarders and rasslin' fans who can't tell the difference between a real Sugar Ray (either of them) and a manufactured packet of Sweet 'N' Low is demeaning to legitimately skilled boxers who must recoil in horror at having to appear on one of these clowns' undercards in order to get a half-decent payday. No disrespect to Nate Robinson, the 5"9″ former NBA player who is one of Jake Paul's four "victims," but there had to be at least a half-million everyday Americans who could have starched him just as readily as Jake the Fake. Enough of this nonsense.
Jeffrey Freeman (AKA KO Digest) — TSS writer: It's all a part of the professional wrestlingization of boxing into something more resembling sports entertainment but it's not fair to lump Holyfield-Belfort into that mix because those were real fighters coming to fight and that's better than the future of fake fights no matter what the critics say. Real boxing tells us the truth (Holyfield is utterly, completely shot and Belfort fights to win regardless of his opponent's frailty) while "celebrity" boxing obscures the truth and traffics in lies. The Tyson-Jones "draw" was just such an example of sports entertainment.
                                                 **********
"…When the sideshow draws more than the circus, you're in trouble" Don Majeski
**********
Lee Groves — author, writer: A generation ago, there was a burst of "celebrity boxing" matches involving the likes of Tonya Harding, "Brady Bunch" star Barry Williams and Danny Bonaduce of "The Partridge Family" and so on, and those ran its course before fizzling out. The difference between then and now is money and social media, and these, more than anything, will extend their stay. Its ultimate fate will depend on the two audiences they're trying to serve; boxing people are already sick of it, but it'll be the more casual followers — who are probably larger in number — who will determine how long it lasts. If they tire of it in large enough numbers, which I think will happen, the trend will end.
Henry Hascup — historian and President of the New Jersey Boxing Hall of Fame: I hope it's just a fad, but it will continue until someone gets seriously hurt, then it will be too late!
Jim Lampley — 2015 IBHOF inductee; renowned boxing broadcaster: Fights which are predicated not on proven skill but on sheer social media recognition are the product of social media's growing influence and omnipresence in the global information pool. Are social media a passing fancy whose allure will gradually fade in the face of that which is proven, time-honored and legitimate?? Or will traditional standards of proven legitimacy in every field of endeavor be swamped by clickbait?? I don't know the answer to that question. I only know the question itself is no compliment to our progress as a global community. Boxing is an easy target because it is entrepreneurial and only loosely organized. But at what point will the Rams' starting quarterback be chosen on Twitter or Instagram?? At that juncture we might conclude that legitimacy has lost ALL the games, and popular chaos has won. Right now we are in the first quarter, but I would have to say chaos is leading.
Every popular new technology changes society in ways both predictable and unpredictable. Someday we may look back and say no other technology produced more cataclysmic change than that engendered by social media. It all seemed so innocent back at Harvard when Zuckerberg envisioned a way for students to keep up with their classmates on their laptops. He didn't know he was opening a Pandora's Box that could engulf vulnerable institutions like boxing.
Jimmy Lang — former boxer and promoter: I like it. I am all for someone doing what he has to do to promote himself into position to do what these guys are doing and make the money they're making.
Arne Lang —TSS editor-in-chief, author, historian: The recent Triller card in Miami with Evander Holyfield was an abomination. I'm reminded of something that the late, great British sports journalist Hugh McIlvanney said to Thomas Hauser: "The whole circus approach to boxing that we see so much of these days appalls and depresses me. And the more I see of that show business rubbish, the more I feel I could turn my back on the sport."
Ron Lipton — active referee; inductee into the New Jersey and New York Boxing Halls of Fame: As long as these contests are sanctioned with participants who are not just physically fit or pass a cursory physical exam but prove themselves to be in condition to withstand the impact trauma of a strenuous boxing match then it can be acceptable within limits of experience attained and, of course, age constraints. I refereed Holyfield twice on HBO and PPV at his zenith. What I saw the other night left me as numb as when I watch the film of Joe Louis being knocked onto the ring apron by Marciano. Thank God Evander was not injured badly. The boxing world felt nothing but despair at the spectacle of it.
Great warriors of the past earned a pittance compared to what is available with the right kind of hype today. If you can get the money, OK, but sanctioning a fight where someone is on the periphery of being a senior citizen is a dangerous roll of the dice.
Paul Magno — writer, author, ring official in Mexico: I don't think exhibitions and fluff celebrity fights have ever really gone away. They've always been a part of boxing. This current craze, however, will die down as the bankability of the celebrities getting involved diminishes and as the fan base tires of paying PPV prices for garbage programming. For me, all of this celebrity/legend boxing stuff tells me that the mainstream WANTS to buy into the boxing product, but they're simply not being sold on the actual elite-level fighters on the scene today. This is a clear indication that today's boxing promoters are just not doing their job and that the business model is not conducive to building new stars. The issue needs to be addressed. It's like a one-on-one half-court exhibition between two retired NBA legends out-drawing Game 7 of the NBA Finals. The NBA execs would freak out. Boxing's boss men should be freaking out similarly.
Don Majeski — matchmaker, historian; affiliated with RING 8 and the NYSBHOF: I would hope it is a passing aberration brought on by the forced isolation of the Covid virus and the cancellation of so many cards that has turned the fans into voyeurs of the aberrant and senescent boxers to break out into some weird St. Vitus' dance .If there is no market, there would none of these perverse exhibitions that lure faded names back into the ring for the benefit of no one in long run but the titillation of some in the short. It should run its course — particularly after the Holyfield fiasco. When the sideshow draws more than the circus, you're in trouble 
Gordon Marino – philosophy professor, Wall Street Journal boxing writer, trainer: I am pretty much out of the boxing writing business but for what it is worth… I think boxing has always had its carnival acts — e.g. Wepner vs Andre the Giant. There are more of them now with the Paul bros circus. But I am hopeful that the steam will run out of these spectacles soon. Spectacles are a disgrace to boxing, make boxing look even more like WWE, and alas take the attention away from a multitude of good competitive fights that should be in the offing.
Given all that we know about CTE, I do, however, find the likes of the Holyfield "fight" and the upcoming Toney fight.. absolutely deplorable.. or maybe criminal would be a better word.
Layla McCarter- multi-divisional world champion. I really don't like the trend, i.e. crossover fights, celebrity boxing. I don't think it's safe or meaningful to the sport of boxing. However, I believe this trend will endure because it sells and that's what entertainment is about. They don't care about the "integrity" of boxing or integrity period. It's all about the $$.
                                                  **********
                                     "Enough of this nonsense." Bernard Fernandez
Bob Mladinich — actor, former  fighter, writer, author: You don't have to look past the Holyfield-Belfort  debacle to realize this will pass quickly and end badly. Old fans will be disgusted and potential new fans will be dismayed.
Harry Ottey — historian, author: It seems this area of 'boxing' can grow legs and the sport itself may be partially to blame. Too many governing bodies, multiple belts per body, and sub-standard cards and PPV events. With live-stream technology (helped somewhat by COVID-19 lock-downs) Youtubers/influencers have an 'easy in' to multi-million-dollar sales – though they still have to train hard to get in shape at least – and sometimes it's easy for the average fan to get carried away along with it all.
With the same live-stream technology, Holyfield, Tyson et al, have a bigger platform today than they had in their day so it is hard to blame them for getting involved. I know some who have said it is great because they never got to see (for example) Mike Tyson fight live, well – I never got to see the likes of Ken Buchanan fight live either, and I wouldn't want to see him do it now – for his sake.
The bottom line is the almighty dollar. I don't care for media 'celebs' getting involved, but good luck to them while they play boxing. But there should be some kind of regulation against veterans getting into the ring
Joe Pasquale — elite boxing judge: I have worked a few fight cards that featured a celebrity gloved-up. One show included Tanya Harding as the main event. She showed some skills and won her fight. The rest of that show was Pro Boxing but her fight was considered an exhibition. The show was a success. I think that you can look at these fights as Amateur Boxing events, which is almost always the case. If part of a pro Boxing card, the celeb participant helps boost the ticket sales, and now even PPV. Support Amateur Boxing! The sport begins there.
John Raspanti — author, editor, writer, historian: Money drives everything. YouTube guy "Jake Paul" is cashing in. His marketing talent is pretty extraordinary. He'll be around until he loses. Soon, I hope.
Legendary fighters doing a cash dive is understandable but, in many ways, pathetic. I hate it. The recent Evander Holyfield freak show is a perfect example of how LOW some will go for the almighty dollar. I hope that the result and negative publicity will make "them" think twice. My thinking is that this "fad" is fading – but then I remind myself that Riddick Bowe will be fighting soon. It can't be gone soon enough.
Dana Rosenblatt — former world middleweight champion; inspirational speaker– I do not like it at all. Makes the sport look like a side show. Not good
Ted Sares –TSS writer: It's simple economics. The frequency and "popularity" of this new wrinkle will endure as long as "fans" will pay for it. But fans are fickle and Bowe vs. Odom could reverse the current trend.
Iceman John Scully– manager, trainer, commentator, writer, historian, former world title challenger: I have no interests in this and I've never watched it. I have never seen Mayweather versus McGregor or Mayweather against that Japanese kickboxer and I've never seen Jake Paul fight. It is not real.
Peter Silkov—writer at 'The Boxing Glove': I think these Triller promotions and the Paul 'fights' are the last nail in the coffin of sanity for the game. The new eyes are not boxing fans but You Tubers with little appreciation or understanding of the sport and with their main aim being to be entertained by some outrageous trash talk and then a farcical spectacle in the ring. This is the reason why a week before AJ vs Usyk many people don't even know or have forgotten it is even taking place.
Michael Silver — historian, author, writer: Hard to say. The internet has changed everything. I don't know if these sideshow fights would take off like they have without the internet audience and the army of clueless fight fans (not to be confused with boxing fans) who shell out sucker money for the pay-per-view circus. Legitimate professional boxing has been in the toilet for so long and is such a confused mess thanks to the thieves and scumbags who control it. As long as the sideshow bouts can draw they will continue.
Alan Swyer — filmmaker, writer, and producer of the acclaimed El Boxeo: Nonsensical match-ups have long been a part of sports. Think of Jesse Owens racing a horse. In contemporary boxing, however, the combination of over-the-hill fighters in search of one last paycheck, ridiculous crossover mismatches, plus bogus exhibitions featuring pseudo-celebrities has overshadowed the actual sport of boxing. What a world when a bout featuring Jake Paul garners more attention than a Terence Crawford championship fight, and where the Trumps pay homage to 9/11 with gibberish that makes me long for the likes of Merchant, Bernstein, Foreman, Pacheco, or even Howard Cosell. I'm with Jim Lampley, who wisely chose not to sully his Hall of Fame status by participating in the Holyfield/Belfort debacle.
Bob Trieger – fight publicist; President, Full Court Press agency: I hope it's a passing fad because it's disrespectful to real boxers I see today who work so hard for relatively chump change. Old timers should stay retired. Do signings and appearances to make money. And internet "fighters" should just stay online and never lace up a pair of gloves. Boxing is poetic when done properly. This stuff is nothing but a sad joke.
Harold Weston — former two-time world title challenger: Everybody wants to know how to fight. It is something in life that people want to say, that "I can fight, I was a 'fighter.' It's "The World We Live In."
Gary "Digital" Williams–The voice of boxing on the Beltway: Unfortunately, I think this will be something we will have to endure until the real sport of boxing rights its own ship. We can't keep having bad judging and mismatches that hurt the real sport.
Peter Wood — former fighter, author: These mixed-matches aren't new. In 1940 — 81 years ago — a 45-year-old Jack Dempsey knocked out an arrogant wrestler named Cowboy Luttrell. (A brutal fight horribly refereed by Nat Fleischer.) The problem is boxing itself. It is no longer a major sport as it was in 1940. Mixed-matches starring "media sensations" are simply filling the void and people's vapid heads.
Observations: The respondents were almost unanimous in their strong dislike (disgust) for what's going on in boxing. After all the dust has been cleared, Layla McCarter's comment, namely "It's all about the $$", pretty much reflects the consensus.
Ted Sares is a member of Ring 8, a lifetime member of Ring 10, and a member of Ring 4 and its Boxing Hall of Fame. He is an active power lifter in the Master Class. He enjoys writing about boxing and can be reached at tedsares@roadrunner.com
Check out more boxing news on video at the Boxing Channel
To comment on this story in the Fight Forum CLICK HERE
Triller, Holyfield, and Trump: Did Evander Get Hustled? (Part 2)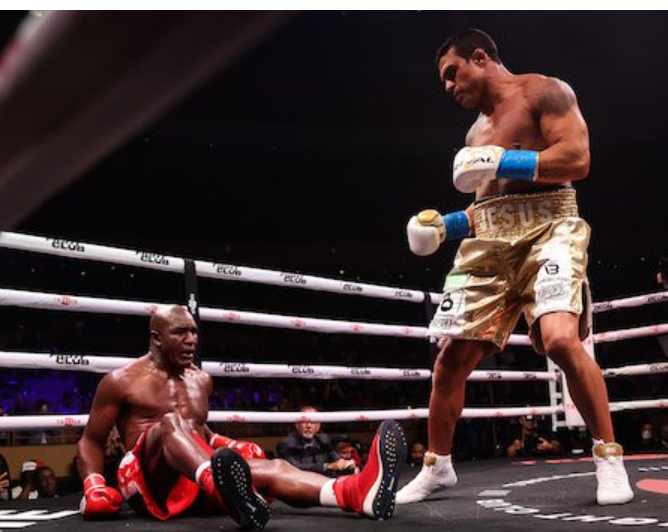 Triller, Holyfield, and Trump: Did Evander Get Hustled? Part Two of a Two-Part Story
The last thing a fighter loses isn't his legs, speed, or power. It's his ego.
Evander Holyfield was a great fighter. His victories over Mike Tyson, Riddick Bowe, Buster Douglas, George Foreman, Larry Holmes, and Dwight Muhammad Qwai are the stuff of legend. But Holyfield is 58 years old. Prior to fighting Vitor Belfort on September 11, he hadn't fought in more than ten years. He had nothing left as a fighter except his ego.
Evander needed money. After the exhibition between Mike Tyson and Roy Jones engendered a reported 1.6 million pay-per-view buys, he thought he knew where to find it. Tyson was a goose that could lay a golden egg. But where fighting Holyfield again was concerned, Iron Mike could have been forgiven for thinking, "Been there, done that. It didn't work out well the first two times, so why do it again?"
On March 22, 2021, Kris Lawrence (Holyfield's manager) issued a media release stating that Tyson's representatives had turned down a $25 million guarantee to fight Evander at Hard Rock Stadium in Miami on May 29. "We thought this was a done deal," Lawrence said. "But it fell apart when Tyson's people declined all offers. We were negotiating in good faith all along and it appears we just ended up wasting our time."
Then Triller came calling.
On April 16, 2021 (one day before Jake Paul vs. Ben Askren), Holyfield and Kevin McBride attended a press conference in Atlanta where it was announced that they would face each other on the undercard of Teofimo Lopez vs. George Kambosos (then scheduled for June 5 at LoanDepot Park in Miami).
McBride – best known as "the conqueror of Mike Tyson" – had last fought in 2011 when he was knocked out by Mariusz Wach at Mohegan Sun in Connecticut. He'd lost six of his final seven fights and was just shy of 48 years old.
After losing to Wach, McBride was placed on an indefinite medical suspension by the Mohegan Tribe Department of Athletic Regulation with the notation "needs neuro and MRI." There had been no administrative change in his status since then.
Multiple sources say that Holyfield-McBride was to have been an exhibition with neither man using best efforts to hurt the other. Informed sources say that Evander was to receive slightly more than $7,000,000 and McBride $500,000.
Soon after Holyfield-McBride was announced, Triller moved Lopez-Kambosos to June 19. But when the new date was set, Holyfield-McBride had been taken off the card. On May 13, Triller announced that Holyfield-McBride would be rescheduled for an unspecified date in August. At the end of May, as mandated by contract, Triller sent Holyfield a substantial check as an advance. But the fight wasn't rescheduled.
On September 1, Holyfield filed a demand for arbitration against Triller, alleging breach of contract and demanding the unpaid portion (approximately $5,000,000) of what was to have been his purse for the exhibition against McBride. Then Oscar De La Hoya contracted COVID and Triller concluded that it could salvage its September 11 card and settle its dispute with Holyfield at the same time by making Holyfield-Belfort. McBride was paid $250,000 in step-aside money, and Holyfield-Belfort was on.
Or was it?
On August 11, 2021, Triller had announced a pay-per-view undercard for De LaHoya vs. Belfort consisting of Anderson Silva vs. Tito Ortiz, Andy Vences vs. Jono Carroll, and David Haye vs. Joe Fournier. Then California State Athletic Commission executive director Andy Foster refused to sanction Haye-Fournier as an official fight, which seemed like the right move. Fournier is a London-born entrepreneur (inaccurately described as a "billionaire") who'd compiled a 9-0 ring record but whose five previous fights had been against opponents with a composite ring record of 2 wins, 40 losses, and 37 KOs by. Also, Fournier and Haye were friends. At that point, there was talk of a split-site event with Haye-Fournier moving to Miami or, alternatively, being clearly labeled an "exhibition."
Holyfield-Belfort was more troubling to Foster. As a person ages, his or her brain begins to shrink. This means that the veins connecting the brain to its coverings are at increased risk of a brain bleed when the head is struck.
Holyfield is 58 years old and had been hit in the head thousands of times by men who hit much harder than Belfort. But no matter how limited in power Vitor's punches might be – and no matter what the pre-fight understanding between the fighters might have been – any blows to the head that landed on Evander had the potential to cause serious damage.
The California State Athletic Commission refused to approve Holyfield-Belfort.
"I was not agreeable with the match based on a variety of regulatory factors," Foster later said. "There were issues as to whether it was going to be an exhibition or a fight, and we did not have adequate time for Evander to go through an appropriate licensing process."
The Florida Athletic Commission allowed what California wouldn't.
"They tried California," Association of Boxing Commissions president Mike Mazzulli told this writer. "Andy turned it down, and I commend him for that. I reached out to the Florida commission on several occasions and did not get a call back. I hope they understand the consequences of something like this. It was dangerous and a disgrace to boxing. It was a fiasco and I think it was horrible."
But was Holyfield-Belfort to be an exhibition or a fight? Evander and Vitor signed separate contracts. It's unclear what Vitor's contract said. However, multiple sources say that Holyfield's contract made it clear that the fighters would not use best efforts to win the fight.
"I knew from the beginning that it wasn't supposed to be a legitimate boxing match," Mike Mazzulli says. "You can quote me on that. I'm one hundred percent sure the contract was written as an exhibition."
"There were meticulous negotiations as to how things would be conducted," another person familiar with the situation says. "Evander went into the fight thinking that it was an exhibition with each man making an effort to put on a good show for the fans. That was the contractual understanding he had for Kevin McBride and that's what he had here. Evander's mindset was 'we'll go out, put on a show, and get a good payday.' I don't know what Belfort signed. I only know what Evander signed. Evander had no intention of hurting the other guy."
Multiple sources also say that the contract Holyfield signed contained a confidentiality clause and prohibited him from publicly calling the event an exhibition.
Meanwhile, Triller was promoting the event as a fight. And a compliant Florida Athletic Commission went along with that notion. On September 8 (three days before the event), FAC executive director Patrick Cunningham issued a statement that read, "The Florida Athletic Commission has approved the Evander Holyfield vs. Vitor Belfort bout as a fully regulated professional boxing match. It will be conducted under the Unified Rules of Boxing and scored by three judges on the 10-point must system. All boxers on this card have successfully met all requirements to be licensed by the Florida Athletic Commission."
Similarly, Triller's promotional material for Holyfield-Belfort was marketing the event as a "fight," not an exhibition. And Triller arranged for it to be entered on BoxRec.com (the official registry for the Association of Boxing Commissions) as an official fight. Then Mike Mazzulli stepped in.
"We were not going to allow it to be placed on BoxRec," Mazzulli says. "We contacted them, explained the situation, and BoxRec removed it from its listing of official fights."
At the final pre-fight press conference on September 9, both Holyfield and Belfort presented their encounter as a real fight. When asked specifically if it would be an exhibition, Evander responded, "All I know is it's a fight and they got the rules. If I can get him in one second, I'll get him in one second. I do what I have to do."
During fight week for Tyson-Jones, Donald Trump Jr (who has seven million Twitter followers) had sent out five tweets supporting the event and sharing links to promotional videos and pay-per-view ordering information. For Holyfield-Belfort, Triller went one giant step further, offering viewers what it called a "Donald Trump alternative commentary" stream with live onsite "unfiltered boxing commentary" at no extra charge on top of the $49.99 pay-per-view buy.
At the September 9 press conference, Donald Trump Jr talked for thirteen minutes, noting his father's "total recall" of fights from decades ago and voicing the view that it was "really cool" that he and his father would be commentating on the fights. He also opined, "Americans are learning the hard way that they've been lied to and manipulated by the media. You're seeing the results of that every day. I wake up every day, I go to sleep, thinking that we've hit rock bottom and then you see another thing. It goes on and on."
Later in the proceedings, Donald Trump Sr came on an audio feed and answered pre-screened questions for seven minutes, ending with the thought that, if he had to fight somebody or box somebody, "I think probably my easiest fight would be Joe Biden. I think he would go down very very quickly."
Thereafter, Jerry Izenberg (the dean of American sportswriters who, unlike either Trump, actually served in the Armed Forces), noted that Joe Biden, Barack Obama, and George W. Bush would all commemorate the twentieth anniversary of 9/11 by visiting attack sites and closed his column with a thought regarding Holyfield-Belfort: "The bad news: It will cost you $50 to see this farce. The good news: You can save every penny of it by simply not watching."
When fight night came, Ray Flores and Shawn Porter carried the regular (sans Trump) blow-by-blow commentary. Mario Lopez was the emcee. Ashley Haas served as a roving interviewer. References to a "sold-out arena" were somewhat disingenuous. The Seminole Hard Rock Hotel and Casino theater has three levels. Two of them were curtained off.
Todd Grisham and a series of rotating mixed martial artists were on the alternative commentary desk with Donald Trump Sr and Donald Trump Jr. Trump Sr's comments often centered on himself. Trump Jr's comments often centered on himself or his father.
Trump Sr began his commentary by attacking "some very bad decisions" made by Joe Biden with regard to Afghanistan. Later, in a tribute to America, scantily-clad women carried American flags around the ring prior to the singing of the National Anthem after which the crowd chanted "We want Trump" and "Knock out Biden."
Trump Sr also expressed delight at being in Florida: "We had a tremendous result in Florida. We love Florida. And they ran the election clean. That's very important . . . You have a lovely crowd here. You've got so many [pro-Trump] signs. I love the signs . . . If you do a lot of talking, you have to back it up. I do a lot of talking and I won."
After one fight, Trump Sr cautioned, "Let's see what happens with the scoring. It's like elections. It could be rigged."
Trump Jr once again praised his father's recall of fights. But that recall failed Trump Sr when he started talking about George Foreman vs. Michael Moorer and couldn't remember Moorer's name. Then, in going off on a tangent to show off his great knowledge of boxing, Trump Sr and Grisham confused Gennady Golovkin with Sergey Kovalev. Trump Sr also voiced the view on several occasions that changing championship fights from fifteen to twelve rounds "really hurt boxing."
The first "fight" of the evening matched David Haye against Joe Fournier in an encounter that had all the credibility of a WWE confrontation but wasn't choreographed nearly as well. Haye fought like a boxing instructor who was sparring with a pupil of limited ability and had promised ahead of time that he wouldn't hurt him. Fournier boxed with the confidence of a man who had an understanding with his opponent that all would be well. This lasted for eight long two-minute rounds after which the judges rendered an 80-71, 79-72, 79-72 verdict in Haye's favor.
Next up, Jono Carroll won a 97-93, 97-93, 95-95 majority decision over Andy Vences in a tedious affair that saw thirty seconds of action spread over ten rounds. After that, in a match-up of previously-retired, 46-year-old MMA fighters, Anderson Silva knocked out Tito Ortiz in 81 seconds.
Then it was time for Holyfield-Belfort. The contest was scheduled for eight two-minute rounds. Holyfield had weighed in at 225 pounds, Belfort at 206.
Watching Evander in the ring was sad. His balance was poor. His reflexes were shot. He pawed with his jab and seemed to have no defense against punches. Fifty-five seconds into the contest, Belfort landed a straight left to the body that knocked Holyfield off balance and pushed him back into the ropes. Then he attacked. Evander covered up and, seeming to understand at this point that he was in a real fight, threw a wild left hook that looked like it was designed to hurt. But it missed by a wide margin and his momentum caused him to plummet into the bottom ring strand and then to the canvas.
Holyfield rose. Belfort attacked again and, at the 1:22 mark, dropped Evander with a left uppercut to the jaw. Evander beat the count but was in trouble. Showing no mercy, Belfort threw eighteen unanswered punches. One minute 49 seconds into the round, referee Sammy Burgos stopped the fight.
When it was over, Holyfield complained to Todd Grisham about the stoppage and said he'd still like to fight Mike Tyson. Belfort said he'd like to fight Jake Paul next and called him "a little bitch." Ryan Kavanaugh and Triller executive chairman Bobby Sarnevesht then told Grisham that Triller would put up a $30 million winner-take-all purse for Belfort vs. Jake Paul on Thanksgiving. That bout is unlikely to come to pass since Paul has an exclusive multi-fight contract with Showtime.
Several days after Holyfield-Belfort, a source with knowledge of what transpired told this writer, "Evander was fighting Belfort like David Haye fought Fournier. Then Belfort started unloading on him, and Evander realized it was for real and threw a left hook to put him in his place. But he missed, fell into the ropes, and went down.
"I was with Evander in his suite after the fight," the same source continued. "One of the first things he said was, 'I couldn't believe how hard the guy was throwing. When I realized he was trying to hurt me, I threw back. But before I could change my mindset and put things together, I got knocked down. I got up and was covering up the way you're supposed to and the referee stopped the fight."
So . . . Where does all of this leave boxing?
First, Holyfield got a lot of money and that's good. I hope it's invested wisely so he can live off the income and be financially secure for the rest of his life.
Second, to quote Mark Kriegel, "Boxing can't survive, much less grow, if it keeps pushing out its past at the expense of its present and its future."
And as Matt Christie wrote, "I don't care how many new eyes they bring to the sport; creating this new precedent, which essentially says it's okay for boxers who long ago realized they shouldn't be boxing anymore to come back and take more punches is not just irresponsible. It's deadly."
Holyfield-Belfort seems to have performed poorly in the marketplace. A well-placed source says that FITE (which had exclusive streaming rights) chalked up approximately 50,000 buys. Add on cable and, most likely, the total number of buys will be in the neighborhood of 125,000.
That's bad news for Triller. Counting fighter purses, music acts, Donald Trump Sr and Jr and other talent costs, production, publicity, travel, and the like, the promotion is estimated to have cost between $15 million and $20 million to mount. And unlike some past events that Triller might have classified as loss leaders, this one brought far more bad publicity than good. And no! Not all publicity is good publicity. Triller got dragged over the coals on this one.
Sports have always been about entertainment, and sports are monetized as entertainment. Boxing, at the moment, isn't very entertaining. It isn't giving the public the fights that the public wants. To fill this void, a wave of trash boxing is flooding the market.
But trash boxing won't save the sweet science. Sports don't thrive on sideshow events. The NBA slam-dunk contest and three-point competition enliven All-Star Weekend, but the league is built around regular-season games and the play-offs. Football fans might be intrigued by the idea of a punt-pass-kick competition between Peyton Manning and Brett Favre, but that competition would never outdraw an NFL playoff game. Boxing can't be healthy if sideshows are the main event.
Keep in mind though; the proliferation of trash boxing is a symptom of boxing's problems, not the cause. Trash boxing in and of itself isn't bad for boxing. In recent years, boxing has been bad for boxing.
Photo credit: Amanda Westcott / Triller Fight Club
This is Part Two of a two-part series. Part One can be found HERE.
 Thomas Hauser's email address is thomashauserwriter@gmail.com. His next book – Broken Dreams: Another Year Inside Boxing – will be published this autumn by the University of Arkansas Press. In 2004, the Boxing Writers Association of America honored Hauser with the Nat Fleischer Award for career excellence in boxing journalism. In 2019, he was selected for boxing's highest honor – induction into the International Boxing Hall of Fame.
Check out more boxing news on video at the Boxing Channel
To comment on this story in the Fight Forum CLICK HERE