Deontay Wilder's Hall of Shame
Deontay Wilder's Hall of Shame
This is a look at the title opposition of one Deontay Wilder, America's great heavyweight hope and currently ranked number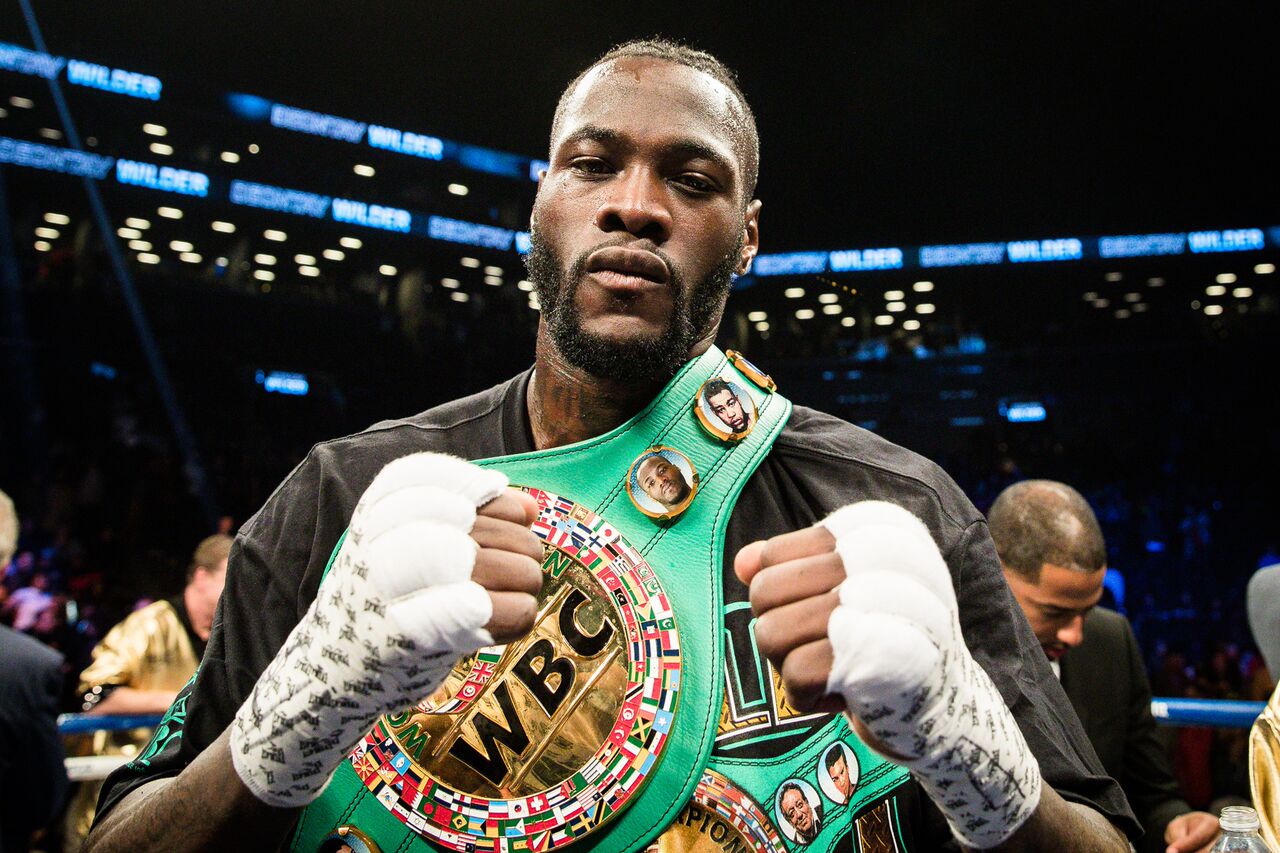 Deontay Wilder's Hall of Shame
This is a look at the title opposition of one Deontay Wilder, America's great heavyweight hope and currently ranked number two in that flagship division.
What it is not is a critique of the WBC's rankings policy.  It could easily be interpreted as such; we are told time and time again that the reasoning behind a given fight is only that it is "mandatory" and therefore has to be fought.
It is a wonder that any competitive fights get made at all, this being the case.
This is also not an accounting of Wilder's apparent bad inflatable slide luck in attempting to make stiffer matches for himself.  It is an examination of what has actually happened rather than what someone tried to do.
I admit that it doesn't make for pretty reading, but horror rarely does.
All rankings are by the TBRB; other independent ranking organizations are available – and they don't seem to see things any differently.
ERIC MOLINA (23-2), 1st Defense, June 2015. 
I am not a total skeptic when it comes to soft opposition; "one for me, one for you" is a reasonable approach I think, and Wilder took on his only ranked opponent to date when he met Stiverne for the WBC trinket in early 2015. A more limited opponent seemed a reasonable move to me, and the Texan, Eric Molina, qualified.
Chris Arreola was in a strange place in his career in 2012. Having failed in his attempt at a heavyweight strap against Vitali Klitschko in 2009 and then lost to former cruiserweight belt-holder Tomasz Adamek in 2010 he had hit the road on what amounted to an old-fashioned barn-burning tour in boxing outback against his own selection of limited opposition. This culminated in a ten round decision win over a heavyweight named Friday Ahunanya, a once promising Nigerian heavy who had just dropped a six-rounder to a professional loser called Cisse Callif.
When the result of this fight was later changed to a No Contest when Arreola failed the drugs test (marijuana), I think it's fair to say that the once proud Mexican-American had reached his career low. It is understandable then that Molina was excited to be matched with him in February of 2012. This excitement did not last long. Molina was blasted out in 150 seconds.
These things happen in boxing, and Arreola was capable of making them happen so it was fitting that Molina be afforded the chance to rebuild. Between this first round knockout defeat and his June 2015 meeting with Wilder, Molina had five fights. He met no ranked contenders. In fact, he met no fighters of note outside of a 45 year old DaVarryl Williamson who hadn't boxed for two years and who was rescued from himself in the fifth. Molina stooped lower in his next contest, beating up the 10-12-2 Theo Kruger. After one more outing he was apparently "ready" to meet Wilder with the belt on the line.
Molina was not a bad fighter and he actually landed some good shots on the belt-holder on his way to being stopped in the ninth, lasting eight rounds longer than he had against Arreola. That being said, he was also woefully under-qualified for championship boxing. Still, as I said, a soft one is reasonable after lifting the title. The real question was the eternal one – who's next?
Who should he have fought instead?  Vyacheslav Glazkov, pre-injury, ranked seven.
JOHANN DUHAUPAS (32-2), 2nd Defense, September 2015.
To his tremendous credit, Wilder was out quickly but the man in the other corner once again underwhelmed.
Frenchman Johann Duhaupas was big with a big reach but the headline in assessing him as an opponent for Wilder was his twelve round points loss to novice Erkan Teper in March 2015. Their fight was turgid, honest (although Teper did have a point deducted for pushing) and in no way controversial; cards of 116-111 twice and 115-112 in favor of Teper were a fair reflection of the contest.
Maybe, at the absolute limits of what is acceptable, Teper could have reasonably have been favored with a shot at Wilder's trinket, especially after his next fight, a two round battering of David Price. But it was Duhaupas , the loser of that contest that would get to meet Deontay.
Welcome to Wilder territory.
Between Teper and his title match, Duhaupas was able to put a veneer of respectability on his shot with a narrow majority decision victory over Manuel Charr. Charr was a legitimate opponent and I thought Duhaupas handled him reasonably well, especially early, edging away and walking his opponent onto a decent jab, lobbing in the occasional ill-directed right when he felt it was safe to do so.
Still, once again, Charr was not a ranked opponent; he was a gatekeeper, the type of fighter whose defeat would open up for the victor a fight with a ranked opponent, the defeat of whom might in turn open up an elimination bout against a top contender. Not in this instance. In this instance, a loss to a novice and a hairline victory over a gatekeeper got Duhaupas into a ring with Wilder.
It wasn't pretty.
Who should he have fought instead?  Carlos Takam, ranked six.
ARTUR SZPILKA (20-1), 3rd Defense, January 2016. 
Artur Szpilka is my favorite Deontay Wilder opponent and I will go so far as to say that had Wilder fought a ranked man in September, this would have been a reasonable outing in January.
Szpilka was a quick southpaw who made up for his dearth in reach with a shifting style and good arbitrary head movement. The problem with his status as a title-challenger, aside from an absence of a top ten ranking, was his defeat two years earlier to Wilder's chief domestic rival Bryant Jennings. Jennings had taken the high road to Wilder's low road, crashing himself upon the rock that was Wladimir Klitschko where Wilder preferred the weakest of the available "champions" in Stiverne; fair to say, Jennings paid for his bravery, never being quite the same again after his meeting with Doctor Steelhammer. Against Szpilka, though, Jennings had looked excellent, winning nearly every round on his way to a stoppage victory in the tenth.
Szpilka's return was not the preferred route of prospective Wilder title-challengers though, and he even found time to defeat a legitimately ranked opponent in Tomasz Adamek. His first two opponents of 2015 were more in keeping with those favored by Wilder's challenges in Ty Cobb (18-6) and Manuel Quezada (29-9 and on a five fight losing streak) and these victories, combined with a two round victory over Yasmany Consuegra who blew out his knee in the second were good enough to make the match with Wilder.
It is worth keeping in mind that this bizarre combination of opposition likely made Szpilka Wilder's most legitimate opponent.  Unsurprisingly it therefore made for his best match, too, as well as his key learning fight. Szpilka's style made Wilder a little uncomfortable and the Pole won several rounds before Wilder closed the blinds in what remains, for me, his most impressive knockout.
Who should he have fought instead?  Szpilka's first conqueror, Bryant Jennings, ranked ten.
CHRIS ARREOLA (36-4-1), 4th Defense, July 2016. 
Wilder's fourth defense against Chris Arreola was probably his most cynical. Arreola had name recognition to recommend him and little else. A perfectly reasonable opponent for a young prospect, he was no more a legitimate title challenger than I am, having recorded two wins in his previous six contests.
This underlines the problem with handing out baubles to fighters who are not yet ready to properly defend them: it takes a devalued property and gives it to a fighter who will happily devalue it further while making money.
After that one round blowout of Molina, Arreola matched Bermane Stiverne and was somehow installed as a prohibitive favorite. Stiverne promptly broke his nose and pounded out a decision win. Arreola saved himself from a descent into obscurity with another first round knockout, this time over Seth Mitchell, but the taste of that Stiverne defeat would not go away and he demanded and received a rematch. This time he was stopped in six. Arreola then fought a really fun fight with an unknown called Curtis Harper, earning himself an eight round decision and a short reprieve from obscurity, but much of this work was undone when he found himself on the lucky end of a ten round draw with Fred Kassi.
Then Arreola met Travis Kauffman.
Kauffman was exactly the sort of opponent Arreola should have been meeting at that point in his career. Kauffman had just moved on from facing professional losers with records like 10-21 or 19-22-3 and on to genuine tests, fighters who were coming to win but might not be expected to for whatever reason – in short, Arreola was now a trial horse. To give him his due, he got himself in shape for Kauffman, but was caught with a crackling up and down combination in the third and dropped. Drawing upon all his experience he forced Kauffman into the type of tough combat often seen in the netherworld where busted flushes show against drawing hands and with both men exhausted down the stretch he made it close – two cards reading 114-113 in his favor bought him the split, though my card read the same as the odd judge, who saw it by the same score in the other direction.
Regardless, the fight was changed to a No Contest after Arreola failed another drug test.
Of course he got a fight with Wilder.
Who should he have fought instead?  Anyone.
GERALD WASHINGTON (18-0-1), 5th Defense, February 2017.
At the time of his meeting with Gerald Washington, Wilder was ranked the number four heavyweight in the world and was heralded the world champion by the WBC. Gerald Washington was a prospect. A prospect in his mid-thirties, so a prospect in a rush, but a prospect none the less.
Washington's three-pronged arrival in 2015/16 heralded a fighter of no little talent who carried all the foibles any heavy of his inexperience can be expected to exhibit. Against the sawn-off aggressor Amir Mansour he looked genuinely excellent early before floundering against his more seasoned opponent down the stretch. He was lucky, in my view, to escape with the split draw the judges found for him but it was an excellent learning fight for a man who at a lean 250lbs looked the part.
Next up was a true veteran in Eddie Chambers. Here, I thought Washington was probably good for his eight round decision win but it was bizarre to watch a man with such a pronounced size advantage work so hard to avoid exchanges. More bizarre still was the huge number of punches both men missed. It is rare that such inaccuracy is televised.
I've never seen him beat up the bloated ghost of the fighter who had once been Ray Austin but that was the shambolic elimination for his meeting with Deontay Wilder. Wilder staged a predictably one-sided blow-out over five.
Who should he have fought instead?    Dillian Whyte (10), Christian Hammer (9), Andy Ruiz (8) or Kubrat Pulev (6).
BERMANE STIVERNE (25-2-1), 6th Defense, November 2017.
To be fair to Wilder, Bermane Stiverne was a substitute opponent for Luis Ortiz, who failed a drug test. It is also fair to point out that when Wilder's British counterpart Anthony Joshua lost his opponent, world number six contender Kubrat Pulev on short notice, he substituted world number seven contender Carlos Takam.
That, as they say, is how it's done.
It is also worth pointing out that Stiverne was due to fight on the Wilder-Ortiz undercard with a view to stoking and then staging the rematch nobody wanted to see early next year anyway. While that percolates, consider, too, that Stiverne had somehow remained a WBC top contender despite the fact that he has fought only once in the three years since Wilder pounded out a wide, dull decision over him. He fought 30-10 Audley Harrison victim Derric Rossy and was extended the full ten rounds.
Stiverne, like all these opponents, did nothing to earn a ranking on a reasoned, independent organization's top ten at heavyweight. All of them were deeply, deeply flawed as title opponents. It is true that Wilder has been unlucky in cornering quality opposition, but it is also true that he is the number two draw in heavyweight boxing and if his representatives want to get low-key quality opposition to America to test him, it is just a matter of paying.
If they prefer to corner fan dollars while lining up victims, that is their choice and as a road to riches it is as tried and tested as fighting the best. But what must be remembered, as negotiations begin in earnest for the Joshua-Wilder showdown this coming year, is that this policy has left Joshua's people with far and away the stronger hand.
It is Joshua who has bested by far the better opposition. He has beaten four ranked men in his 20 fights – Charles Martin (9), Dominic Breazeale (9), Wladimir Klitschko (1) and Carlos Takam (7) – while Wilder has managed one in his 39 (Bermane Stiverne; 6).
In matters not unrelated, Joshua is commanding purses between $13m and $19m while Wilder cleared as little as $1.4m dollars for his most recent contest.
To be clear, Wilder's call for a 50/50 split in any fight between the two is ridiculous at best and dishonest at worst; it is likely that if Wilder is assigned 25% of the take (and he will, and should, get more) then it will represent a payday in wild excess of anything he has ever earned.
There's no fooling boxing. One way or the other you get what you deserve.
Photo credit: Amanda Westcott
Check out more boxing news on video at The Boxing Channel
Press Release: The BWAA Names Floyd Mayweather Jr the Fighter of the Decade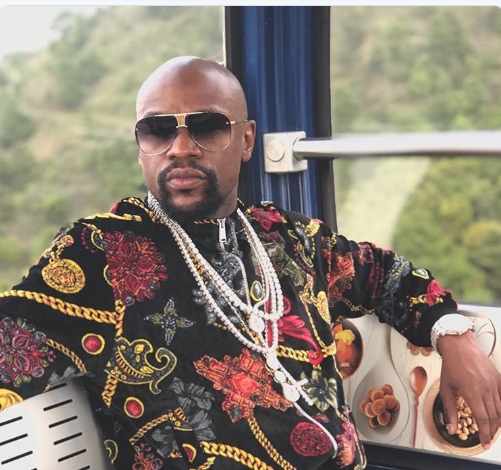 Floyd Mayweather was the most dominant fighter over the last decade, and that supremacy has been rewarded by the Boxing Writers Association of America as the first Joe Louis Fighter of the Decade recipient by going 10-0 (2 KOs) through 2010-2019.
Mayweather (50-0, 27 knockouts) beat out Canelo Alvarez and Manny Pacquiao for the honor, two fighters he defeated in the last 10 years. The list of nominees also included Andre Ward and Wladimir Klitschko.
In addition to Alvarez and Pacquiao, Mayweather defeated Shane Mosley, Victor Ortiz, Robert Guerrero, Miguel Cotto, Marcos Maidana (twice), Andre Berto and UFC star Conor McGregor, in a fight "Money" hardly trained for. That's one current Hall of Famer (Mosley), and three future Hall of Famers (Pacquiao, Cotto and Alvarez).
"Thank you to the Boxing Writers Association of America for voting me Fighter of the Decade," Mayweather said in a statement. "I am honored to be recognized by the media who covered my career throughout its' many decades.
"Boxing has been a part of my life since I was two years old and I dedicated my life to it and gave it my all. I trained hard, showed up for every one of my fights and did my job successfully each and every time. To retire undefeated and achieve what I did in the sport is not only a gift to myself, but to the fans and most importantly, my team and family. I certainly didn't do it alone and I appreciate anyone who played a part in it.
"Hard work and dedication, something I did for my entire career. I am grateful and humbled by this honor. Thank you so very much."
Alvarez was Mayweather's biggest threat in the voting.
In 2015, Mayweather beat Pacquiao by scores of 118-110 and 116-112 (2). In 2013, he outpointed BWAA 2019 Fighter of the Year Alvarez.
It's why the BWAA has chosen Floyd Mayweather Jr., the only two-time BWAA Fighter of the Year in the 2010s (2013 and 2015), as the Joe Louis Fighter of the Decade.
Check out more boxing news on video at The Boxing Channel 
To comment on this story in The Fight Forum CLICK HERE
Tonight's 'ShoBox' Telecast is Another Milestone for the Long-Running Series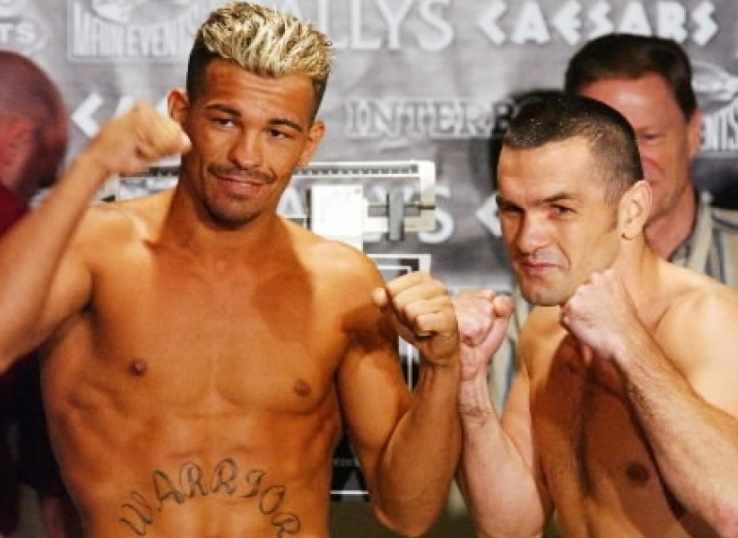 ShoBox: The New Generation hits another milestone tonight. The long running, late night boxing series will air its 250th episode. The Hall of Fame broadcasting team of Barry Tompkins and Steve Farhood, assisted by analyst Raul Marquez, will call the action from the WinnaVegas Casino in Sloan, Iowa (near Sioux City; 77 miles north of Omaha).
Partly because of its time slot (it's tape-delayed for viewers outside the eastern time zone; meaning that everyone gets it at 10 pm) ShoBox doesn't draw big ratings. But it's must-see viewing for hard core fans and people in the industry.
The initial show in 2001 – when ShoBox aired late Saturday afternoons – featured two fighters with identical 17-0 records in the main event: Leonard Dorin and Martin O'Malley.
O'Malley, who hailed from the state of Washington where he was trained by former two-division world champion Greg Haugen, was in too deep but lasted nine rounds before the fight was stopped. Dorin, a two-time Olympic bronze medalist for Romania, then based in Montreal, went on to win the WBC 140-pound title, making him the first what are now reportedly 81 ShoBox alumni to have won a world title. (That's Dorin on the right pictured with the late Arturo Gatti who took the title from him.)
Years from now, when the history of ShoBox is written, historians will note the synergy between it and Native American casinos. One wonders if the show would have lasted as long if not for the Indian Gaming Regulatory Act, the 1988 federal law that legalized gambling on tribal lands, opening up a new horizon for boxing promoters. There are now full-fledged Native American casinos (i.e., with table games and slots) in 28 states. Many are off in the boondocks, a good distance from a major airport, and this is where ShoBox has frequently set up shop. (Don't get into a U.S. geography trivia contest with any of the longtime members of the ShoBox gang.)
Over the years the #1 destination for ShoBox has been the Chumash Casino in Santa Ynez, California (a cowboy town in California wine country), which has hosted 36 shows. In recent years, the Buffalo Run Casino in Miami, Oklahoma, has been a popular destination but that relationship, like that with Chumash, appears to have run its course.
Tonight's ShoBox show is the eighth at WinnaVegas. Looking back, the most interesting card was the July 20, 2018 card that marked the ShoBox debut of Jaron "Boots" Ennis. Two rising Chinese fighters, light heavyweight Fanlong Meng and jumbo-sized heavyweight Zhilei Zang, appeared in off-TV bouts, and there was a zesty 8-round encounter between undefeated lightweights Thomas Mattice and Zhora Hamazaryan, a bout unfortunately marred by a horrendous decision. (The BWAA took the unprecedented step of publicly shaming the two Omaha judges that scored the bout for Mattice; the rematch produced a draw.)
A match-up of undefeated fighters has become a ShoBox staple. Tonight's show was to feature a bout between undefeated super lightweights Shohjahon Ergashev (17-0, 15 KOs) and Keith "The Bounty" Hunter (11-0, 7 KOs) but Hunter's management thought better of it and had him pull out.
The 28-year-old Ergashev, a southpaw from Uzbekistan, remains on the card. Filling in for Hunter is Adrian Estrella (29-4, 24 KOs), a fighter from Mexico who trains in Fort Worth.
In the other bouts on the TV portion of the card, Vladimir Shishkin (9-0, 6 KOs) opposes Ulises Sierra (15-0-2, 9 KOs) in a 10-round super middleweight affair and super flyweight Jarico O'Quinn (13-0-1, 8 KOs) meets Oscar Vasquez (15-2-1, 3 KOs).
The show has a distinct Detroit flavor. O'Quinn was born and raised in the Motor City. Ergashev and Shishkin, a Russian, train with other Eastern European fighters at the reconstituted Kronk Gym where the headmaster is Javan "Sugar" Hill. The nephew of the late Emanuel Steward, Hill has been in the news a lot lately as the new trainer of Tyson Fury.
On paper this is far from the strongest ShoBox card. Shishkin, who reportedly had more than 300 fights as an amateur, in particular is matched soft. His opponent has defeated only three fighters with winning records. But over the years, ShoBox has produced more than its share of upsets so yet another tonight wouldn't be all that shocking.
The executive producer of ShoBox is Gordon Hall who has been there from the very inception. We here at The Sweet Science extend our congratulation to Mr. Hall and his cast and crew on the occasion of their 250th anniversary.
Check out more boxing news on video at The Boxing Channel 
To comment on this story in The Fight Forum CLICK HERE
Avila Perspective, Chap. 81: Robert Garcia's Boxing Academy, 'J-Rock' and More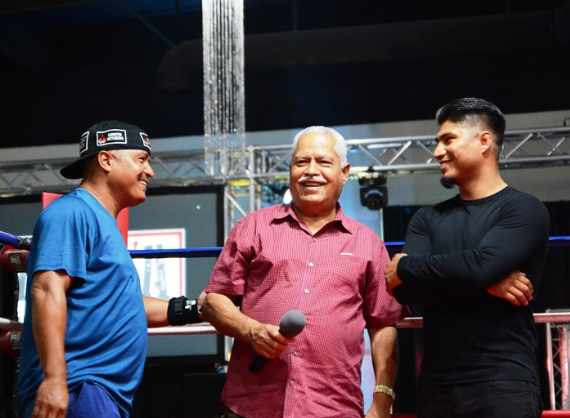 Stacked cars block the long entrance to Robert Garcia Boxing Academy where many of the best prizefighters in the Southwest prepare.
It's Wednesday afternoon and the first shift has arrived.
Just last weekend two RGBA-trained fighters Hector Tanajara Jr. and Joshua Franco returned to their native area San Antonio, Texas and showed off their fighting skills polished in the hills of Riverside, California. It's a human factory of prizefighters of all sizes and ethnicities.
Trainer Robert Garcia, with help from his sons, runs the sizeable gym that includes three boxing rings like a choreographer. He doesn't need charts or tablets, he simply directs the fighters to the ring and tells them the number of rounds they will be trading punches.
Gabriel Flores Jr. of Stockton is chosen to open up the sparring. He's a 19-year-old speedy lightweight from Stockton, Calif. and so far has remained undefeated after 16 pro bouts.
First to spar with the Stockton fighter was Saul "Neno" Rodriguez, the slim power-punching super featherweight from Riverside. Early in his career he was trained by Garcia, first in Oxnard, then, when the Riverside operation was opened, he made the transition too. For more than two years Rodriguez had trained elsewhere but has returned to the Garcia machine. It's hard to get better training.
Flores and Rodriguez sparred for multiple rounds of action that featured what each fighter does best. One is a counter-puncher and the other stalks and punishes. One utilizes speed and agility to offset attacks and the other pressures and pursues while looking for openings and mistakes.
It's a perfect mesh of styles.
Next up was Luis Coria another lightweight with speed and aggressiveness like a wound-up top.
Coria was scheduled to fight Adam Lopez last November in Las Vegas, but when the main event featuring former WBO featherweight titlist Oscar Valdez fell out due to the opponent weighing 10 pounds over the limit, Lopez was asked to step in. That left Coria without an opponent.
"He was well paid to step aside," said Robert Garcia trainer and manager for Coria.
That night Lopez impressed the boxing world by flooring Valdez although eventually losing by stoppage. That could have been Coria. No problem, he will be fighting soon enough.
Coria sparred several rounds with Flores and both showed speed and a contrast in styles.
The gym always operates at crank level and somebody is always preparing for the next big fight. Coming up soon will be WBC and WBO super lightweight titlist Jose Carlos Ramirez who will be traveling to China to defend against Viktor Postol on Feb. 2.
Later in February, Mikey Garcia returns to the ring for the first time since last March. The former featherweight, super featherweight, lightweight, and super lightweight titlist is set to meet former super lightweight and welterweight titlist Jessie Vargas on Feb. 29, at Frisco, Texas.
Pick any season in the year and RGBA is always humming.
J-Rock
WBA, IBF and IBO super welterweight titlist Julian "J-Rock" Williams (27-1-1, 16 KOs) finally returns to the ring and makes his first defense against Jeison Rosario (19-1-1, 13 KOs) on Saturday Jan. 18, in Philadelphia. FOX will televise.
It's homecoming for Williams who grabbed the title with a riveting win over former champion Jarrett Hurd in what I felt was the Fight of the Year in 2019. Both engaged in trench warfare and exhibited the beautiful art of inside fighting rarely seen or allowed by trigger-happy referees anxious to create space. Close-quarter fighting takes talent.
Fighting in front of friends and family can be pretty stressful. Philadelphia is a true fight town and it could be an added distraction for Philly boxer J Rock.
"I try to just block myself from the world. Especially with a hometown fight, people are pulling you 50 different ways, tickets, asking me stupid questions. It's crazy, so I just try to block myself from the world," said Williams about the upcoming fight with Rosario. "Rosario brings ambition to the table. I think he's an ambitious kid. I don't think it's a difficult fight (for me), to be quite honest. I just think it's a matter of being focused and on top of my game, and I think I'll take care of him. I don't think it's difficult, though. He's a decent fighter. We're not going to make him out to be Ray Robinson."
Top Rank in NY
If you are one of the many who wondered whatever happened to Puerto Rico's Felix Verdejo here's your chance to watch the former phenom in action as he meets Manuel Rey Rojas (18-3, 5 KOs) at Turning Stone Resort and Casino in Verona, NY. ESPN+ will stream the Top Rank card.
Verdejo (25-1, 16 KOs) fought once in 2019 and defeated cagey veteran Bryan Vasquez by decision last April in New York City. He remains a big draw but since turning pro nearly 10 years ago has failed to live up to expectations as the next Felix Trinidad. There's only one "Tito" Trinidad.
Rumors abound when it comes to Verdejo who was supposedly involved in a motorcycle accident and other escapades. Life can get in the way. Here he is now 26 years old and looking to conjure up some of that old fervor he had as a teen.
Fights to Watch
Fri. Showtime 7 p.m. Shojahon Ergashev (17-0) vs Adrian Estrella (29-4).
Sat. ESPN 4 p.m. Eleider Alvarez (24-1) vs Michael Seals (24-2); Felix Verdejo (25-1) vs Manuel Rey Rojas (18-3).
Sat. FOX, 5 p.m. Julian Williams (27-1-1) vs Jeison Rosario (19-1-1); Chris Colbert (13-0) vs Jezzrel Corrales (23-3).
Photo: Eduardo Garcia, the Garcia family patriarch, is flanked by sons Robert and Mikey. Photo by Al Applerose.
Check out more boxing news on video at The Boxing Channel 
To comment on this story in The Fight Forum CLICK HERE