Avila Perspective, Chap. 83: Danny Roman and Jojo Bring a SoCal Vibe to Miami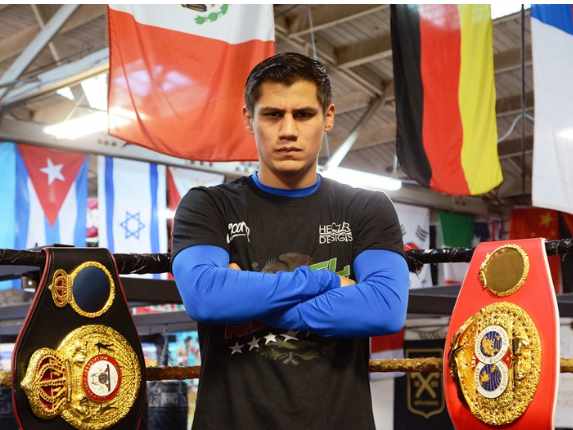 Target zero for a loaded prizefighting card in Miami features several champions from the Northeast and a hint of the Southwest including WBA, IBF super bantamweight titlist Danny "Baby-Face Assassin" Roman.
It harkens back to the days when Felix Trinidad roamed the boxing landscape and Don King Productions would load up fight cards with multiple world title bouts. More on that later.
Los Angeles-based Roman (27-2-1, 10 KOs) defends the WBA and IBF titles against super bantamweight contender Murodjon Akhmadaliev (7-0, 6 KOs) from Uzbekistan, who trains in Indio, California with the brothers Joel and Antonio Diaz.
Roman-Akhmadaliev takes place Thursday Jan. 30, at Meridian of Island Gardens, Miami. DAZN will stream live.
Years ago, this title fight would have headlined the Olympic Auditorium and sold out the 10,000 seats in a heartbeat. But this is the 21st century and pro boxing has changed.
The demure Roman (pictured) makes his fifth defense of the championship he acquired with his battering boxing style against Shun Kubo in Japan 28 months ago. Since that win he toppled five undefeated fighters in defending the WBA title. Last April, he added the IBF title in a brutal fight with Australia's TJ Doheny.
Injury postponed this fight before, but Roman insists he's ready to go. Akhmadaliev has a win over Isaac Zarate, a teammate of Roman. There's history between the two Southern California camps.
"He's fast and strong but I think Danny is stronger," said Zarate of Akhmadaliev who he fought in November 2018.
Roman's strength has been tempered against many of the best 122-pounders in the world including two southpaws since winning the championship. Akhmadaliev is another southpaw who has a lengthy amateur record but only seven pro fights.
"He fought my teammate Isaac Zarate. I know he's a strong fighter and I know he's aggressive," said Roman of Akhmadaliev. "He makes a few mistakes. He always has his hands down. I don't know if that's his style."
Unlike Akhmadaliev, who was an Olympian with numerous accolades as an amateur, Roman's journey has been a slow ascent to the top. In the beginning of his pro career his trainer/manager Eddie Gonzalez would lobby local Southern California promoters to put Roman on their cards.
Eventually Thompson Boxing Promotions signed Roman after watching him develop into a fighting machine capable of dismantling the strongest 122-pounders in the boxing crazy Southern California area.
"I can't think of any fight in the past that Danny has had that wasn't action-packed," said Alex Camponovo who discovered and signed numerous other world champions including Timothy "Desert Storm" Bradley and Yonnhy Perez for Thompson Boxing Promotions.
Ten years ago, Roman began his pro career and lost two of his first 10 fights including a draw. Since 2013, he has not lost another fight and has developed into a high-volume wrecking machine with a blend of boxing not often seen in this age of flash and power.
"You learn a lot from a loss," said Roman. "I tried to box a little bit more. You learn that you can't brawl everybody. Sometimes you got to fight a smart fight."
Uzbekistan's Akhmadaliev has goals too. He's part of a large contingent of fighters from that country who train in the Coachella desert. He seeks to become that country's first unified world titlist with a win.
"I've only had seven fights and I haven't felt challenged in any of those fights. I am not comparing those fights to this one as I know they are different and this is a hard fight," said Akhmadaliev. "All the talk about his experience that he brings to the ring is fine but it's only when we get in the ring together that we will see who is the best fighter, the most experienced, who is stronger, faster, sharper and smarter."
Ken Thompson, whose company Thompson Boxing Promotions co-promotes Roman along with Matchroom Boxing, said he's never seen a fighter comparable to the quiet L.A. fighter.
"I think Danny Roman will go down as one of the greatest at 122 pounds," said Thompson.
It's another tough test for 29-year-old Roman who relishes challenges.
"I'll fight anybody they put in front of me," Roman said.
Days of Tito
Twenty years ago, I covered a large boxing Miami card that featured Felix "Tito" Trinidad defending against France's Mamadou Thiam. The popular Puerto Rican fighter was coming off a knockout win over David Reid and a disputed win over Oscar De La Hoya. That night he packed the Miami arena.
Don King promoted the large boxing card and one thing he always did was cobble each card with world title fights. He had Miami homegrown Randall Bailey defending against Colombia's Ener Julio, Venezuela's Felix Machado defending against Nicaragua's Julio Gamboa, American Will Grigsby defending against Puerto Rico's Nelson Dieppa and Cuba's Joel Casamayor defending against American Bernard Harris.
The boxing card lasted well into the night.
If you know anything about Miami it's truly an international city filled with all nationalities in its small area.
It's hard to believe that fight card took place 20 years ago.
Matchroom
Much like Don King did years ago and also similar to what Dana White does with UFC, the British promoter Eddie Hearn weaves together fight cards with multiple champions and adds ticket sellers to enhance the crowds. It's smart tactics.
Some fighters just don't attract fans because of their styles or unfamiliar faces. But don't let it detract from this boxing card on Thursday. It's loaded.
WBO middleweight titlist Demetrius Andrade (28-0) a talented safety-first fighter defends against Ireland's Luke Keeler (17-2-1) in a scheduled 12-round contest. Though extremely skilled Andrade has yet to find the balance between entertainment and winning. He's too careful and would rather win every round easily than entertain the fans by attempting a knockout against an over-matched opponent. He prefers to jab and move and shimmy than simply overwhelm his foe and take him out.
It would be different if he simply did not possess the firepower, but he does. Let's see if he can find that level of entertainment that the great one's possess.
Another talented matchup features IBF super featherweight titlist Tevin Farmer (30-4-1) defending against Jojo Diaz (30-1). Farmer is another talented fighter who easily could win every round by jabbing and running, but he's learned to entertain fans by attacking once he figures out a foe.
Diaz, from South El Monte in LA County, will provide a big step up for Farmer. Both are extremely fast but neither has the firepower to depend on knockouts. They depend on speed and skill. This should be an incredible skirmish.
Both have been trading insults for more than a year and finally get to meet in the boxing ring.
Also added to the card is female world champion Amanda Serrano, the seven division world champion. Yes, you read that correctly. She had won world titles in seven weight divisions. The Puerto Rican southpaw slugger meets Brazil's Simone Aparecida in an eight-round super featherweight clash.
Don't miss this. Serrano hits hard and hits fast.
Friday in Louisiana
Featherweight prospect Ruben Villa returns to Shreveport, Louisiana to meet Alexei Collado (26-2, 23 KOs) a Cuban fighter with pop on Friday Jan. 31, in a 10-round fight. Showtime will televise the featherweight clash.
Villa, 22, is another Thompson Boxing Promotions fighter who fought a year ago in the same city and hopes for the same results. He's a southpaw with speed and skills and he's slippery to hit. He will need those attributes against the heavy-hitting Collado who has won almost every fight by knockout in the past four years.
It's going to be interesting to see how Villa handles the Havana veteran. He just might be world title material.
Fights to Watch
Thurs. DAZN 4 p.m. Danny Roman (27-2-1) vs Murodjon Akhmadaliev (7-0); Demetrius Andrade (28-0) vs. Luke Keeler (17-2-1); Tevin Farmer (30-4-1) vs. Jojo Diaz (30-1).
Thurs. UFC Fight Pass 7 p.m. Ernesto Delgadillo (11-0-2) vs Jade Bornea (14-0).
Fri. Showtime 7 p.m. Ruben Villa (17-0) vs Alexei Collado (26-2).
Sat. Fox Sports 1, 5 p.m. Yordenis Ugas (24-4) vs Mike Dallas Jr. (23-3-2).
Photo credit: Al Applerose
Check out more boxing news on video at The Boxing Channel 
To comment on this story in The Fight Forum CLICK HERE
Art of Boxing Series: Sergio 'The Latin Snake' Mora of East L.A.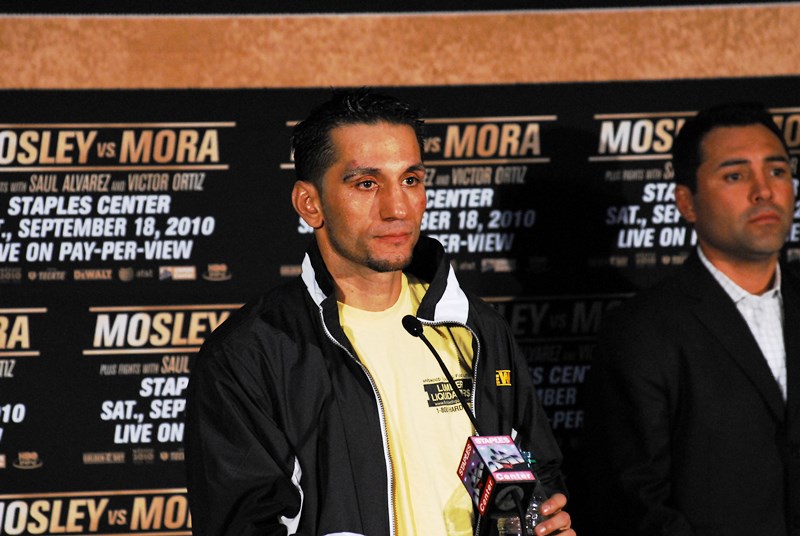 Art of Boxing Series: Sergio 'The Latin Snake' Mora of East L.A.
Not all prizefighters are built or fight the same. This is a series devoted to those who mastered the art of boxing.
Meet Sergio Mora the "Latin Snake".
Thumping neighborhood boys in an East Los Angeles backyard led to eventually winning a reality television tournament called The Contender, to winning a world championship and now sitting as an expert analyst for DAZN's boxing series.
It's been an extraordinary journey for Mora, the boxer from East L.A. who traded punches against neighbors and relatives as a teen for fun.
"We called it barbecue boxing," said Mora of his inauspicious discovery of his talent. "We used to box each other when I was a kid in junior high. We made videos of the fights. You can look it up. I was knocking out older guys."
A few boxing experts advised that he should look deeper into the sport and he did. After a few hits and misses looking for a gym, he found a perfect location at a Montebello gym. He hooked up with a trainer named Dean Campos and advisor in John Montelongo and they made history together.
"I owe it all to Dean and John," said Mora now 39.
But we are getting ahead of ourselves.
Mora's natural abilities included quickness, agility and the ability to absorb punishment. He also relished competition and proving others wrong.
But the East L.A. youngster finally put all of his traits together artistically when he followed the advice of the young trainer Campos whose radical boxing ideas fit perfectly.
"Nobody believed in his unorthodox ideas but they worked for me," said Mora.
For several years Mora and Campos and Montelongo befuddled the amateur competition, first in Southern California and then nationally. He made the semi-finals of the 2000 Olympic Trials and fought to a draw with Darnell Wilson. Somebody decided to determine the winner by who threw the most punches. Wilson threw more punches and moved forward.
It was a severe disappointment for Mora.
The Contender
After three years of dwelling in the amateur boxing world Mora and his team entered the non-structured prizefighting universe not knowing what to expect.
Though Campos taught an unorthodox style of fighting to Mora, the youngster didn't feel confident in using its assets to full capacity in the beginning.
"It wasn't until I fought a guy named Charles Blake that I used everything that Dino (Campos) taught me," said Mora who fought the undefeated Blake at the Arrowhead Pond in Anaheim in 2001. "I did everything he told me and I won pretty easily."
It was also the first time I spotted Mora and quickly determined he would be difficult to beat especially with that fighting style that utilized his speed and agility. I had never seen or heard of Mora before but he stood out.
Two months later he fought again at the Pond and then in June 2001 he fought a hard-charging opponent named Warren "War Dog" Kronberger. It was a middleweight fight set for six rounds but War Dog kept running into Mora's punches and was stopped in three.
After the fight I met the team and discovered Mora was from East L.A. near my family's home. I don't know if he remembers, but I told him he was going to be a world champion someday. It was the first time I ever said that to a fighter though I had been a boxing reporter since 1985.
For the next several years Mora kept knocking off opposition with his crouching tiger style and soon a television production company came calling. Actually, it was a radio announcement during a morning Hip Hop show calling for all boxers interested in making $1 million dollars in a television tournament.
"I was driving in the morning listening to Big Boy when he made the announcement," said Dean Campos who trains Mora. "I couldn't believe what I heard and I told Sergio and John about it. They didn't believe me at first until we went to San Diego to spar somebody and they asked if we were going to try out."
A reality television show called the Contender pit young talented fighters against each other and housed them together in a studio-made home. Week by week the NBC network telecast the show to millions of living rooms across the country.
After months of auditions and tryouts Mora was among those selected.
Filming was done in Pasadena and those prizefighters who participated were Peter Manfredo Jr., Ishe Smith, Alfonso Gomez, Jesse Brinkley and several others including Mora.
The fights were taped and later shown to the public in edited form. But few outside of the production crew knew who the winners were for many weeks. The finals of the first season took place at Caesars Palace in Las Vegas. The winner would take home $1 million dollars and a free truck among other things including a promotion deal.
Fans of boxing did not like watching edited fights but despite the many criticisms from hardcore fans, when the finals took place on May 24, 2005, thousands of fans showed up in Las Vegas to watch Manfredo battle Mora in the championship fight.
Manfredo's fans arrived in droves and shouted "Pi-Ta!" "Pi-Ta" which confused many who were not familiar with the New England accent. Manfredo fans were shouting the first name Peter but it comes out as Pi-Ta. Southern California fans arrived but were muted in comparison to the East Coast fans.
It was a surprise to see Manfredo in the semi-final because he had lost earlier to Alfonso Gomez. But he returned as a wild card participant and vanquished his way to the finals against Mora who had defeated Najai Turpin, Ishe Smith, and Jesse Brinkley to get to the finals.
In the finals the boisterous crowd saw Mora defuse Manfredo's attacks and win the seven-round middleweight The Contender championship fight by unanimous decision. Mora went from unknown boxer to a nationally and internationally recognized prizefighter in not just the boxing world, but households everywhere.
The East L.A. youngster who was 24 years old at the time, suddenly morphed from impoverished boxer to bankable fighter. His team also benefited from the massive exposure. It also remained the same three members from start to finish with Dean Campos serving a trainer and manager, John Montelongo as assistant trainer and benefactor and Mora the fighter.
"Rolando Arrellano who worked as a manager and promoter said he couldn't believe we had been together that long with no changes," said Campos, who managed Mora's fighting career without a written contract. "Nobody else does that, but we never wrote anything down."
Montelongo, a motorcycle police officer, always took care of the team's needs especially in terms of equipment and facilities. In the beginning Mora would train at the Montebello Police headquarters small gym.
Forrest, Mosley and More
For several years Mora continued fighting under the Contender promotions banner and always sought better competition. After a 10-round draw against Elvin Ayala in Carson, the East L.A. native decided to accept any world title match.
"I didn't want to slip up so I figured let's just go for a big fight," said Mora. "That's when we got the offer for Vernon Forrest, may he rest in peace."
When the fight was announced only two boxing writers picked Mora to win. Those two were the only journalists familiar with the boxing abilities of the stance switching fighter. It was not seen as a competitive fight by other writers or announcers.
"Vernon Forrest really under-estimated me," said Mora who had sparred Forrest once at the Wild Card Gym in Hollywood years earlier. "It was my one of my most satisfying wins because I proved I was good enough to beat one of the best."
Mora utilized his crouching style to perfection and basically stymied most of Forrest's attacks. Though it appeared the East L.A. boxer won clearly, one judge saw it a draw but two saw Mora out-performing the champion.
After capturing the WBC super welterweight title Mora went on a celebration binge according to his own words. Three months later they fought again.
"We had a rematch clause and I partied too much," said Mora. "I was in no way ready for Vernon Forrest in the second fight. He beat me good in the rematch."
Two years later Mora accepted a fight against Sugar Shane Mosley at the Staples Center on September 2010. It remains the biggest disappointment in Mora's career.
Mosley and Mora battled 12 rounds in a slow-moving battle in which both engaged in counter-punching. There was a weight problem Mora suffered that resulted in him weighing 157 pounds instead of the 154 contracted weight.
"There was something wrong with the scale in the hotel for the B side of the fight card," said Mora. "Almost everyone on the B-side missed their weight."
Regardless of losing weight before the fight, Mora felt he was far enough ahead in the fight to win handily against Mosley.
"I should have listened to my corner," said Mora. "Dino told me that I needed to throw more punches, that it could be a close fight. But I thought I was comfortably ahead. It was a huge mistake on my part. I lost a lot of money because of it."
After 12 rounds the fight was scored a split-decision draw. The HBO commentators eviscerated Mora and not Mosley.
Mora remained a viable contender for the remainder of his career and on August 2015 he was offered a shot at the WBA middleweight title against Daniel Jacobs at Brooklyn, New York. He eagerly accepted the fight.
"He really underestimated me and thought he would run over me," said Mora of their clash at Barclays Center. "He knocked me down with a punch. I've never been hit that hard before. But then I knocked him down when he ran into my punch. It was a perfectly placed left hook."
The fight proceeded but in the second round the two middleweights got entangled and Mora went down to the floor writhing in pain from a severe ankle injury. He could not go on.
"Jacobs leaned on me with his full body and it just tore my ligament," said Mora.
The fight was ruled a knockout win for Jacobs and though they would meet again Mora's leg had seen better days. He lost in the rematch badly a year later by technical knockout in the seventh round.
"I had no legs anymore," said Mora regarding the rematch held a year later. "It was my worst training camp. I don't think I ever looked good even in sparring. But Jacobs was the better man and was definitely the hardest puncher I ever faced."
Mora fought once more against his old pal Alfredo "El Perro" Angulo. They had sparred many times over the years especially when they both trained at the same gyms in South El Monte and in Montebello.
"I love Angulo but it was a fight," said Mora. "I won the first half of the fight and he won the second half of the fight. But fans will tell you it was one of the most entertaining fights I've ever been in."
Mora won the fight that night on April 2018 and it was the final time Mora entered the prize ring.
DAZN
One day Mora received an unlisted phone call and answering it led to another change in his boxing life.
"I never answer unknown numbers but for some reason I answered it. I'm glad I did," said Mora.
That phone call was from John Learing of Perform Group who wanted him as an analyst for the DAZN boxing series. They put Mora on a live broadcast for a prize fight and ever since that night he has been a regular analyst on DAZN's boxing shows.
"It's been one of the most satisfying experiences I've ever had," said Mora. "Not only do I get to stay in boxing, I love what I do and I love the challenges. It's hard work and I'm learning every day."
Mora has steadily established himself as an acute analyst whose own ring intelligence plays out with his new work as a boxing journalist. He's always been a quick study especially when it pertains to the sweet science.
"Now I'm learning the other side of boxing," said Mora who had 36 pro bouts in an 18-year career as a prizefighter. "I really love it."
Few would have predicted that the East L.A. kid who didn't pack a big punch would last in this business. Instead, Mora mastered the art of boxing that allowed him to match blows against some of the best that ever fought. And he won.
Photos credit: Al Applerose
Check out more boxing news on video at The Boxing Channel 
To comment on this story in The Fight Forum CLICK HERE
Re-visiting the Walker Law of 1920 which Transformed Boxing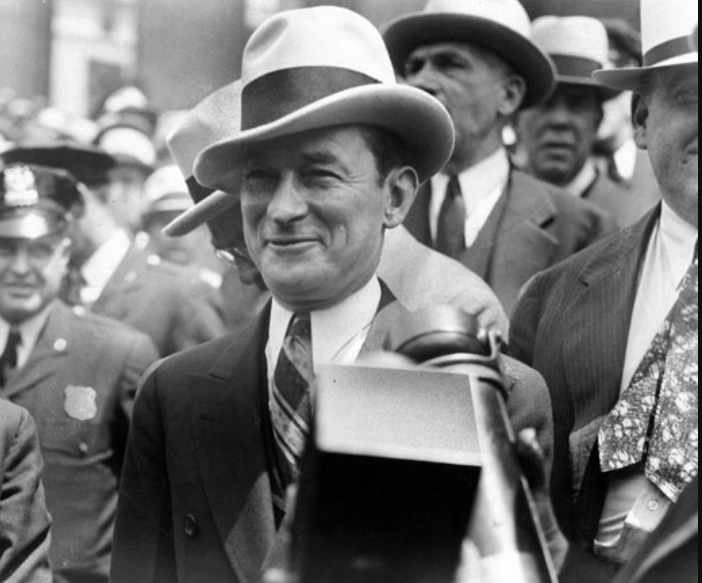 One hundred years ago this week, on March 24, 1920, a boxing reform bill sponsored by Sen. James J. Walker passed the New York State Senate. The bill ultimately became law and its provisions came to be adopted by law-makers in other states, bringing some uniformity to the most anarchic of popular sports. And what better time to re-visit this transformative legislation than now, the centennial?
Prizfighting was an outlaw sport in the Empire State until 1896 when the legislature passed the Horton Law which allowed bouts up to 25 rounds with five-ounce gloves in buildings owned or leased by a chartered athletic club. New York was a beehive of world class boxing during the days of the Horton Law, but the hubbub was short-lived. A spate of fixed fights and ring fatalities sparked a cry for reform and the law was repealed in 1900.
The Lewis Law, which supplanted the Horton Law, reduced the maximum number of rounds from 25 to 10 and stipulated that no decision would be rendered. The Lewis Law also restricted patronage to members of the athletic club sponsoring the event.
The Frawley Law of 1911 re-opened the fights to the general public but otherwise left the provisions of the Lewis Law pretty much intact. The most important fight in New York during the Frawley Law days was Jess Willard's defense of his world heavyweight title against Frank Moran at Madison Square Garden in 1916. The fight went the distance, the full 10 rounds, and Willard had the best of it although you wouldn't know that from the official decision as there was none.
During the last years of the nineteen-teens, several boxing reform bills were presented to the New York legislature. In fact, the Walker Bill was one of four that was taken under consideration. When it finally came to pass, the no-decision rule had been struck down by a 1919 amendment to the Frawley Law that gave the referee the authority to designate the winner.
A key feature of the Walker Law was that everyone involved in a boxing match — from the lowliest spit-bucket carrier to the promoter — had to be licensed. This included managers, matchmakers, referees, judges, ring doctors; even the ring announcer. The licensees were accountable to the boxing commission, a panel appointed by the governor. The commission had the power to approve matches, assign the officials, and establish and collect fees.
The Walker Law approved matches up to 15 rounds and allowed official decisions. Two judges would determine the winner and if they disagreed, the referee would act as the tie-breaker.
Previous laws allowed prizefighting under the guise of sparring exhibitions. The Walker Law made no distinction and this took the police out of the equation. Historically, it was the Sheriff's responsibility to determine if a bout should be stopped because it had become too one-sided; too brutal. And if, pray tell, one of the contestants died as a result of blows received, his opponent and his opponent's chief second and perhaps others would be arrested and charged with manslaughter.
Under the Walker Law, the decision of whether to stop a match rested with the referee or the ring physician or the highest-ranking boxing official at ringside. A boxer could now fight full bore without worrying that he could be charged with a crime.
After passing the Senate, the Walker Law passed the Assembly by a margin of 91-46. It was signed into law by Gov. Al Smith on May 24, 1920 and took effect on Sept.1. This ignited a great flurry of boxing in the Empire State. By March of 1924, the state had licensed 6,123 boxers.
The Walker Law became the template that lawmakers in other jurisdictions followed when they introduced their own boxing bills. Cynics would have it that the most attractive feature of the Walker Law to those that embraced it was the tax imposed on gate receipts. In New York under the guidelines of the Walker Law, it was 5 percent.
This wasn't too far off the mark. The drive to legalize boxing picked up steam in the Depression when state coffers were depleted and new sources of revenue were needed to cushion the fallout. By 1934, boxing was legal in every state in the union, but not in every county. Nowhere was the Walker Law adopted word for word – every politician had to put his own little spin on it, tweaking this and that – but the map of boxing, from an organizational standpoint, became less disjointed.
For the record, the first boxing show under the imprimatur of the Walker Law was held on Sept. 17, 1920 at Madison Square Garden. Joe Welling fought Johnny Dundee in the featured bout. It was the eighth meeting between the veteran lightweights. Welling won a unanimous decision, which is to say that both judges gave the bout to him (their scores were not made known). Ten weeks later, after two intervening bouts, Welling returned to Madison Square Garden to face lightweight champion Benny Leonard. This would go into the books as the first title fight under the Walker Law. Welling was stopped in the 14th round.
James J. "Jimmy" Walker spent 15 years in Albany, the first four as an Assemblyman, but would be best remembered as New York City's flamboyant Jazz Age mayor. He served two terms, defeating his opponents in landslides, but was forced to resign before his second term expired, leaving office in disgrace. In January of 1941, at the third annual dinner of the Boxing Writers Association, Walker was honored for his "long and meritorious service" to the sport and in 1992 he would be enshrined in the International Boxing Hall of Fame.
Walker (pictured) was a fascinating man, the big city version, in many respects, of Louisiana's colorful Huey "Kingfish" Long. In a future article, we'll peel back the layers and take a closer look at the man who did so much to popularize boxing.
Check out more boxing news on video at The Boxing Channel 
To comment on this story in The Fight Forum CLICK HERE
Think you know boxing? Then Man Up and Take Our New Trivia Test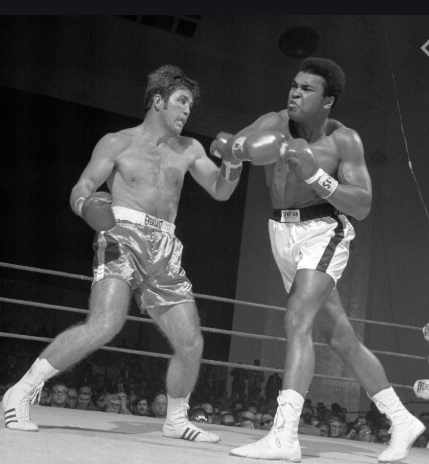 Beneath his salty exterior, Roger Mayweather had the soul of a scholar when the subject turned to the history of boxing. We suspect that Mayweather, who left us on March 17, would have fared pretty well on this 15-question multiple-choice trivia quiz and we dedicate it to him.
All good trivia tests should have a connecting thread. Here the common theme is "places," more exactly U.S. cities and towns.
This isn't an easy quiz. We have too much respect for our readers to dumb it down. Get more than half right and give yourself a passing grade. Twelve or more correct answers and proceed to the head of the class.
Here's the catch: To find the correct answers, you need to go to our FORUM (Click Here). There this trivia test will repeat with the correct answers caboosed to the final question.
In 1970, Muhammad Ali returned to the ring after a 43-month absence to fight Jerry Quarry in this city:
(a) Miami
(b) Atlanta
(c) Houston
(d) Landover, Maryland
Rocky Kansas and Frank Erne, recent inductees into the International Boxing Hall of Fame in the Old-Timer category, were products of this city:
(a) Buffalo
(b) Hartford
(c) Scranton
(d) Portland, Maine
The July 1, 1931 match between heavyweight title-holder Max Schmeling and Young Stribling was the icebreaker event in the largest stadium ever built to house a baseball team. What city?
(a) Detroit
(b) Cleveland
(c) St. Louis
(d) Milwaukee
Jake LaMotta was from the Bronx, but he acquired his most avid following in this city where he lifted the world middleweight title from Marcel Cerdan.
(a) Detroit
(b) Chicago
(c) Cleveland
(d) Syracuse
5.  Jess Willard was called the Pottawatomie Giant because he hailed from Pottawatomie County. What state?
(a) Oklahoma
(b) Kansas
(c) Montana
(d) West Virginia
There is a statue of former welterweight champion Young Corbett III, born Raffaele Giordano, in this California city.
(a) Oakland
(b) Bakersfield
(c) Anaheim
(d) Fresno
Elected to the International Boxing Hall of Fame in 2011, this iron-chinned bantamweight was stopped only once in 163 documented fights. Fill in the blank:
______ Pal Moore.
(a) Laredo
(b) Memphis
(c) Peoria
(d) Pasadena
More of the same. Fill in the blank.
(a) George Lavigne, the ______ Kid            Boston
(b) Jack Johnson, the ______ Giant            Joplin
(c) Jeff Clark, the _______     Ghost           Saginaw
(d) Jack Sharkey, the _______ Gob            Galveston
9. In the 1930s, there was a second Madison Square Garden in this southwestern city. Future light heavyweight champion John Henry Lewis had several of his early fights here:
(a) Albuquerque
(b) El Paso
(c) Pueblo
(d) Phoenix
Match the fighter with his nickname.
(a) Max Baer                  (1) Astoria Assassin
(b) Paul Berlenbach      (2) Fargo Express
(c) Billy Petrolle            (3) Livermore Larruper
(d) Bud Taylor              (4) Terre Haute Terror
Match these boxers with the city with which they are associated.
(a) Fritzie Zivic and Charley Burley         (1) San Francisco
(b) Johnny Coulon and Ernie Terrell       (2) New Orleans
(c) Abe Attell and Fred Apostoli               (3) Chicago
(d) Pete Herman and Willie Pastrano      (4) Pittsburgh
12. The first great prizefight in Nevada, pitting James J. Corbett against Bob Fitzsimmons, was held here:
a. Goldfield
b. Carson City
c. Reno
d. Las Vegas
13. On March 28, 1991, Sugar Ray Leonard headlined a boxing show at the new Carrier Dome in Syracuse, NY. Who was his opponent?
(a) Larry Bonds
(b) Wilfred Benitez
(c) Donny Lalonde
(d) Floyd Mayweather Sr.
Match these Hall of Fame boxing writers with the city in which they spent the bulk of their newspaper careers:
(a) Jack Fiske                   (1) New York
(b) Michael Katz              (2) Philadelphia
(c) Jerry Izenberg            (3) San Francisco
(d) Bernard Fernandez    (4) Newark
Match these Hall of Fame boxing promoters with the city that served as their headquarters:
(a) Herman Taylor         (1) Boston
(b) Rip Valenti               (2) Philadelphia
(c) Sam Ichinose           (3) Los Angeles
(d) George Parnassus    (4) Honolulu
Check out more boxing news on video at The Boxing Channel