Boxing Odds and Ends: Canada's Custio Clayton, Big Baby and More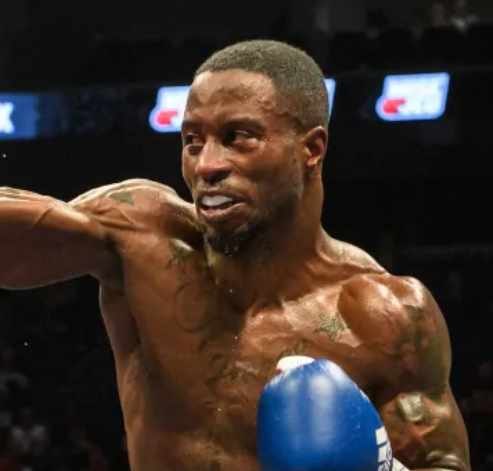 You likely missed it because who anticipates a boxing event on a Tuesday, but Canadian welterweight Custio Clayton scored a nice win this past Tuesday on a show in Toronto. Ranked #7 by the WBO, the undefeated Clayton (18-0, 12 KOs) will likely move up a few notches after his eighth-round stoppage of Argentina's Diego Ramirez who was 21-3 going in and hadn't previously been stopped.
A 32-year-old father of five from North Preston, Nova Scotia, Clayton (pictured) is a six-time Canadian national amateur champion and was one of only two Canadian boxers to qualify for the 2012 Olympics. He wore down Ramirez with a steady body attack and now looks for bigger game. He and his manager Lee Baxter, who has been described as a walking billboard for the tattoo parlor he owns, would jump at the opportunity to fight Terence Crawford and that isn't out of the question.
The co-feature was a dreadful match-up between Toronto super middleweight Steve Rolls and late sub Gilberto Pereira dos Santos, a 41-year-old Brazilian. Rolls, 35, rebounded from his loss last June to Gennady Golovkin, KOing the Brazilian in the fourth to up his record to 20-1 (11).
– – –
Bob Arum keeps collecting heavyweights. As rumored, the Top Rank honcho inked Jarrell "Big Baby" Miller to a multi-fight contract. "Big Baby," 31, boasts a 23-0-1 record and has won 19 straight. He last fought in November of 2018 when he stopped Romania's Bogdan Dinu on a show in Kansas, a fight in which he carried 315 ½ pounds on his six-foot-four frame.
Miller was slated to fight Anthony Joshua this past June 1 at Madison Square Garden but failed to pass muster with the New York Athletic Commission after a banned substance turned up in his VADA test. ESPN's Dan Rafael broke the story on April 16.
Miller yelped that he was the victim of a false-positive: "My team and I stand for integrity, decency and honesty and we will fight this with everything we have," he said in a formal statement.
Three days later, Rafael reported that a second VADA test from a different urine sample turned up a different banned substance and then it was reported that yet another urine sample had produced a third adverse finding. Miller then changed his tune. "I messed up," he conceded. Indeed, he did. The huge payday he would have received for fighting Anthony Joshua went instead to Andy Ruiz Jr. who forged an historic upset.
In announcing the multi-fight deal Bob Arum said, "Jarrell Miller is serious about coming back and doing things the right way. He is one of boxing's most unique and exciting characters but most importantly, he can fight."
In addition to newcomer Miller, Arum promotes or co-promotes Tyson Fury, Bulgarian veteran Kubrat Pulev who is purportedly Anthony Joshua's next foe, Germany's Agit Kabayel, and French-Congolese contender Carlos Takam, currently on loan to New York promoter Joe DeGuardia. And then there are his heavyweight young guns: Guido Vianello, Sonny Conto, and Jared Anderson.
And to this list we may soon add Tony Yoka.
The indefatigable 87-year-old Arum was reportedly in France earlier this month negotiating with Yoka's advisors. The six-foot-seven Parisian, the super heavyweight gold medalist at the 2016 Rio Olympics, is 7-0 (6 KOs) as a pro but has also had drug issues. He missed parts of 2018 and 2019 while serving a one-year ban from the French Boxing Federation for blowing off three drug tests.
If Arum signs Tony Yoka, one wonders if it will be a package deal that also includes Yoka's wife? He is married to lightweight Estelle Mossely, herself a gold medal winner at the Rio games and currently 6-0 as a pro. Tony and Estelle are the parents of a three-year-old boy.
In the past, Arum has shown no interest in female boxers, but he's never been set in his ways.
– – –
On this side of the pond, it's a card that will only interest hardcore fans, but ESPN+ is airing a show on Saturday afternoon from venerable Ulster Hall in Belfast, North Ireland. The show airs at 3 pm EST / noon Pacific.
In the main go, local fan favorite Sean McComb (9-0, 4 KOs) moves up in class to take on Argentina's Mauro Maximiliano Godoy (32-5-1, 17 KOs). Tall and rangy and a southpaw, McComb will fight at 140 pounds. This is his first 10-rounder.
In the co-feature, featherweight Davey Oliver Joyce (11-1, 8 KOs) opposes southpaw Lee Haskins (36-4, 14 KOs). Joyce, 32, represented Ireland in the 2016 Olympics. Haskins, 37, is a former IBF world bantamweight title-holder.
The year 2020 is expected to be a very big year for boxing in Belfast. By all indications, native sons Carl Frampton and Michael Conlan will both be defending their belts on their home turf.
Check out more boxing news on video at The Boxing Channel 
To comment on this story in The Fight Forum CLICK HERE
Avila Perspective, Chap. 91: Los Angeles Boxing Nights 1960s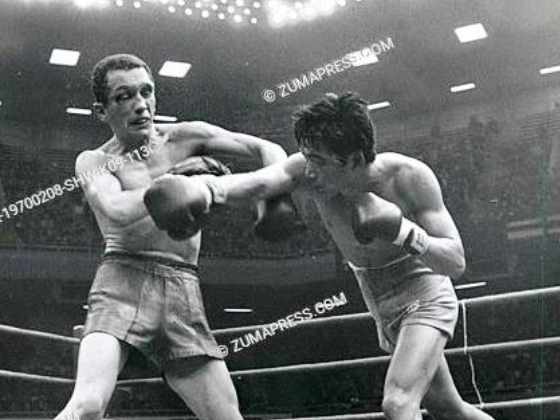 A name popped up recently that shot memories of 1960s boxing nights at the Olympic Auditorium in Los Angeles.
That name was Sho Saijo, a Japanese featherweight prizefighter.
The night Saijo fought Jose Pimentel for the first time at the Olympic Auditorium on February 15, 1967 was my first time watching a prize fight live. All my previous experience was amateur boxing or watching pros fight on television.
Just walking down the slanted aisles toward our seats at the Olympic Auditorium was an experience. The gray smoke drifted around the boxing ring and the smell of cigars and popcorn permeated the air. Vendors were hawking beer and other stuff and people seemed generally excited to be there.
My father was a former prizefighter and we had strong ties to Pimentel, who was a close friend of my cousin. Also, the trainer and manager of Pimentel was Harry Kabakoff, my dad's former trainer and manager when he began fighting as a pro in the early 1950s.
We arrived a little late from our home in East L.A., so the only fight we saw that night was the main event that featured Japan's Saijo against Mexico's Pimentel. It was special.
Both fighters showed tremendous technique and surprising durability. They whacked each other with shocking impact with concussive sounds that left an impression on me. It was an exhibition of power that made me understand the difference between professional and amateur boxing.
It seemed every time one guy connected solidly with a booming shot the other guy returned fire with an equally impressive blow. This went on for 10 rounds and the crowd shouted each and every frame.
The Japanese fighter had four losses when he walked in against the undefeated Pimentel, but that night in Los Angeles, he convinced fans that he was equal or better than Pimentel who was the younger brother of contender Jesus Pimentel.
Finally, the featherweight clash ended and fans cheered both fighters for their electrifying performance. Two judges favored Pimentel but one judge saw Saijo as the victor. It was a split decision win for the hometown fighter, but Saijo's performance endeared him to the knowledgeable L.A. boxing crowd. Aileen Eaton, the promoter, would bring them back again to the same venue in a month. In the rematch, Saijo was determined the victor by decision.
A year and a half later Pimentel would travel to Japan to face Saijo a third time but for the WBA featherweight world title. It ended in a knockout win for the Japanese fighter who defeated a slew of Los Angeles-based fighters along the way. Among those he defeated were Tony Alvarado, Pedro Rodriguez, Marcello Cid, Felipe Torres, Frankie Crawford, and Raul Rojas, who he defeated to win the WBA featherweight title in September 1968 at the L.A. Memorial Coliseum in Los Angeles.
But the night Pimentel defeated Saijo, we met the boxer after the fights at a local late night spot on Figueroa Avenue. It was across the street from the Pantry at some place named the Limelight or Candlelighter or something. The actual name is a foggy memory.
We waited along with my cousin for Pimentel at the downstairs restaurant and he arrived with his trainer and manager Kabakoff.  When the husky manager saw my father they hugged and chatted a bit. The trainer had talked with my father about training me and asked me my weight. At the time I was about 135 pounds at six feet. But I declined. I had stopped boxing regularly and was concentrating on baseball fulltime. He said my size would give me a big advantage. But after watching pros like Saijo and Pimentel whack each other for 10 rounds, I was certain I made the correct decision.
Later, a few fighters like Ruben Navarro and Mando Ramos stopped by to say hello. It was a pretty exciting moment for me to meet all these boxing stars face to face. Watching them perform on television was one thing, but watching them actually trade blows and hear the impact was extremely impressive. It also made me have the utmost respect for all prizefighters, not just the winners and champions.
Those were different times.
Boxing Life
When I first met the late Bennie Georgino, famed manager and trainer, he would invite me to breakfast to talk boxing. He loved to talk about prizefighting in the 1950s and 1960s. He called that era a very exciting time, but claimed it was even better in the 1930s when boxing was really the king of sports in Los Angeles.
He had a point.
During the 1960s he ran a sandwich spot that he strategically located across the street from the long defunct Herald-Examiner newspaper and also walking distance to the Olympic Auditorium.
"Lots of the reporters like Bud Furillo and Mel Durslag would stop by for a sandwich," said Georgino to me in an interview in 2000. "It was a heck of a time for boxing. We'll never see that again."
Georgino grew up in Lincoln Heights, a section of East Los Angeles that was primarily an Italian neighborhood back in the 1930s. He and his brother were boxers and, according to Georgino, there were boxing shows every day of the week if you include amateurs. He also claimed that amateurs got paid a small sum.
As a youth he boxed amateurs and as an adult he became involved as a trainer and manager of prizefighters. He was a close friend of Art "The Golden Boy" Aragon who was a massive gate attraction during the 1950s. Both would later own bail bonds businesses located next to each other in Los Angeles.
"Art was quite a character," said Georgino. "You never knew if he was kidding or serious."
Georgino later moved to Riverside, California. He was still promoting boxing shows in the state of Washington into his 90s.
Boxing in 1960s Los Angeles was a much different era.
Check out more boxing news on video at The Boxing Channel 
To comment on this story in The Fight Forum CLICK HERE
Remembering Hedgemon Lewis (1946-2020); Welterweight Champ, Hollywood Pet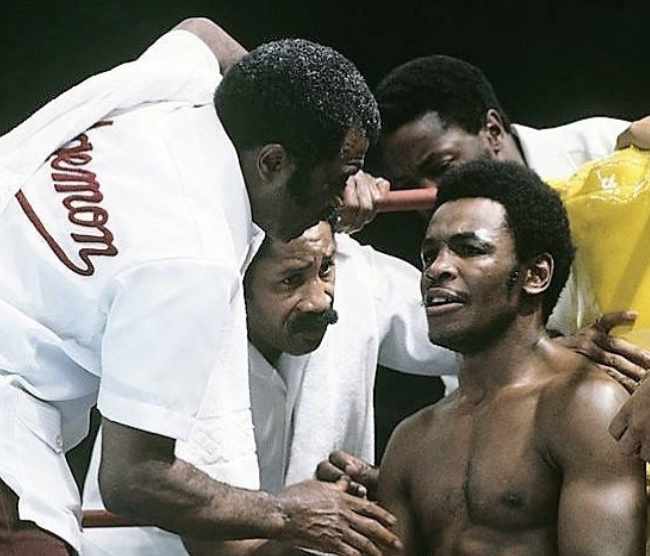 Hedgemon Lewis, who came up short in three stabs at the world welterweight title but won the New York version of this diadem, died on Sunday, March 30, at an assisted living facility in Detroit. Lewis, who was 74, had health issues in recent years that made him vulnerable to COVID-19, and that vulnerability was compounded by residing in Detroit which has become one of the epicenters of the scourge. The evil pathogen sought him out and in his debilitated condition it wasn't a fair fight.
Lewis was 72-6 as an amateur and won a National Golden Gloves title as a lightweight and AAU and National Golden Gloves titles at welterweight. He was 53-7-2 (26 KOs) as a pro. But those numbers barely tell the story of a fighter who led an interesting life and was admired by his peers for what he accomplished outside the ring.
Hedgemon Lewis turned pro in 1966 under the guidance of Luther Burgess who would be best remembered as one of Emanuel Steward's chief lieutenant's at Detroit's fabled Kronk Gym. Burgess, a fine featherweight in his fighting days, had been trained and managed by Eddie Futch.
Lewis was eight fights into his pro career and not quite 21 years old when Burgess brought him to Los Angeles where Futch was then plying his trade. Futch loved what he saw and Burgess left his young fighter in the care of his former mentor who was better able to "move" Lewis as the Southern California fight scene was then percolating.
Undoubtedly it wasn't merely Hedgemon's potential that excited Eddie Futch. The two had much in common. Both had been born in small towns in the Jim Crow South and had spent their formative years in Detroit. Moreover, a Futch Fighter was a fighter who conducted himself like a gentleman outside the ring and Hedgemon Lewis fit that mold. Futch had no tolerance for loudmouths.
Hedgemon became a staple at the Olympic Auditorium where he had 15 pro fights. When paired against a top-shelf opponent with a Mexican bloodline, these bouts drew big crowds. An estimated 4,000 were turned away when he fought Ernie "Indian Red" Lopez on July 18, 1968. The teak tough Lopez, then ranked #2 in the world, saddled Hedgemon with his first defeat, winning by TKO 9. The bout was so exciting that Lopez's manager and chief cornerman Howie Steindler fainted during the battle and would be taken to a hospital for observation.
By then, Hedgemon had wealthy backers that allowed him to give boxing his full attention, or we should say his full attention when he wasn't studying for his real estate license or taking classes in speech and drama at Los Angeles City College.
When Muhammad Ali and Joe Frazier turned pro, they both had syndicate backing. The syndicates were comprised of wealthy businessmen in Louisville and Philadelphia, respectively. A California man named Dell Jackson put together a syndicate to back the next world heavyweight champion but with no good heavyweights available, the consortium settled on Hedgemon Lewis.
Jackson had friends in show business. The actor Ryan O'Neal, the comedian Bill Cosby, and the Broadway star and recording artist Robert Goulet hopped on board. The Hoover Street Gym, where Lewis trained and where his backers were constantly popping in to check on their investment, became a hot spot for the paparazzi. Lewis always looked good in the gym because he was a stylish fighter (which curried no sway with the legendary LA Times columnist Jim Murray who was partial to boxers of the blood-and-guts stripe; Murray did Hedgemon Lewis no favors when he described Hedgemon's style as "mostly ballet.")
Lewis won six straight after his setback to Indian Red, advancing his record to 28-1. The sixth was a rematch with Lopez wherein he avenged his lone defeat, winning a close but unanimous decision, but Indian Red won the rubber match, stopping Hedgemon in the 10th at the LA Sports Arena.
The top gun of the welterweight division in those days was Jose Napoles, a fighter of consummate skill who left Cuba when Fidel Castro came to power and settled in Mexico City. Napoles held both of the meaningful welterweight belts when Hedgemon caught up with him on Dec. 14, 1971 at the Inglewood Forum. Napoles prevailed in one of his toughest fights. Had he not won the final round, the bout would have been scored a draw.
They would fight again 32 months later in Mexico City and this would be a much easier fight for Napoles who scored a ninth round TKO. Between these two world title fights, Hedgemon had two 15-round affairs with Billy Backus on Backus's turf in Syracuse, New York. Lewis won both by unanimous decision, winning the second fight by a more lopsided margin than the first.
Backus, the nephew of the great Carmen Basilio, had dethroned Napoles in December of 1970 in a fight stopped on cuts, some say prematurely. It was The Ring magazine Upset of the Year. In a better measure of their respective skills, Napoles dominated the rematch. Backus was a bloody mess when the bout was stopped in the eighth round.
The New York State Athletic Commission, in their infinite wisdom, demanded a rubber match. When Napoles refused, the NYSAC stripped him of his title. Both of Hedgemon Lewis's bouts with Billy Backus were billed for the New York version of the world welterweight title, which was something of a joke although in an earlier day the New York version of a title had considerable cachet.
Lewis's third stab at the world welterweight title came in what would what be his final bout. He walked away from the sport after suffering a 10th round stoppage at the hands of John H. Stracey in London.
Unlike so many fighters, he knew when it was time to say goodbye. "It's such a strange thing when that happens to you," Hedgemon told LA Times sportswriter John Hall, reflecting on his match with Stracey. "I trained well. I felt good. But once the fight began, it all went in an instant. Nothing worked. My legs, my hands. Suddenly I was a stranger in my own body."
In retirement, Lewis became an assistant trainer under Eddie Futch, dabbled in fight promotions, and looked after his real estate investments. And he remained great friends with Ryan O'Neal who stayed with Lewis until the very end as other members of the syndicate dropped out.
Hedgemon Lewis was the oldest child and only boy of his mother's five children. She raised her children alone after her husband walked out one day, never to be seen again. Lewis was very close to his mother and his sisters and when his mom took ill, circa 2002, he returned to Detroit to live out his days. Mrs. Lewis died in 2017.
—
This reporter first met Hedgemon Lewis in the late 1980s when Team Futch – Eddie Futch, Thell Torrence, Hedgemon, and the tyro, Freddie Roach, were training Virgil Hill at the long-gone Golden Gloves Gym in Las Vegas. In hindsight, I have come to believe that this quartet was the greatest team of trainers ever assembled. If not, it was undoubtedly the team with the best chemistry. "Everything we did was formulated around Eddie's knowledge and techniques," said Torrence.
The news of Lewis's death prompted a call to Torrence. Eighty-three years young and still in-demand as a boxing coach, he had just gotten off the phone with Ryan O'Neal, informing him of the sad news. And he was kicking himself for not following through on the recent promise that he had made to himself to go visit his friend and former associate in Detroit. "And now it's too late," he rued.
Thell Torrence believes that Hedgemon left the sport in better shape financially than any boxer in his weight class who had a similar career. He credits O'Neal with making this possible, although when Lewis invested in a parcel of real estate, he had done his homework.
Lewis allowed himself a few luxuries. "He drove the first Mercedes I had ever seen," said Torrence, and when he started to make good money, he moved into a fancy apartment in fancy Malibu. But he could have had many more luxuries if he had not felt an obligation to help out his family. He purchased a home for his mother in Detroit and, according to Torrence, put several of his sisters through college.
Hedgemon Lewis was inducted into the California Boxing Hall of Fame in 2006 and into the Alabama Boxing Hall of Fame — he was born in Greensboro – last year. Health problems prevented him from attending the induction ceremony in Tuscaloosa. Two of his sisters accepted the honor for him.
To reiterate, Hedgemon Lewis was 72-6 as an amateur and 53-7-2 as a pro. And that barely touches the surface of a very good fighter who was a credit to his sport.
R.I.P. Champ.
Check out more boxing news on video at The Boxing Channel 
To comment on this story in The Fight Forum CLICK HERE
Don Dunphy:  Simply the Best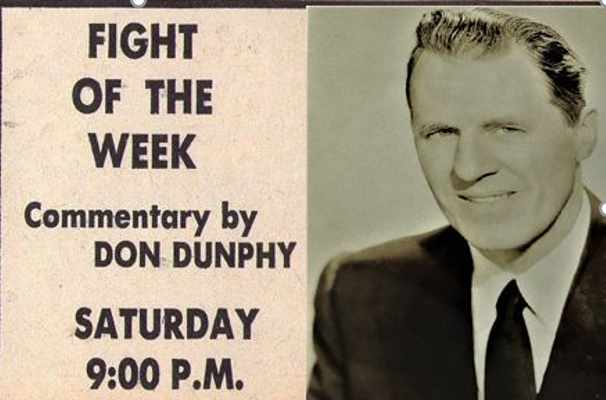 Don Dunphy once said, "When two or more people do blow by blow….they overtalk and emphasize too much." He was responding in 1996 to the issue of modern television's insistence on multiple announcers at ringside.
Don was unique. He had a clear, no-nonsense delivery, "pungent phrasing," and just the right sense of drama (without faking it). His voice was crystal-clear with a noirish tang of his New York City roots.
Dunphy's distinct and informative style was not limited to boxing, but boxing was his thing – his signature sport, marked by his election to ten halls of fame (Don was 90 when he passed away in 1998).
Dunphy called the blow-by-blow for more than 2000 fights, 200 or so for titles and 50, or thereabouts, for the heavyweight championship. It was his nasal-voiced staccato style that gave him unique status among announcers back in the day. (I dearly liked Jimmy Powers but I loved Don as his clear voice made following a fight an easy and enjoyable experience on the radio. Win Elliott filled in nicely between rounds.)
"Don Dunphy was boxing" – Marv Albert
Don was the master of brevity. He would allow long periods of time to pass without saying anything, interjecting just enough to add to the drama and not interrupt it. He was indeed the golden voice of boxing. His announcing style was like a well-timed left hook, short and crisp.
More importantly, Don never let himself become the focus. It was never about him.
His first blow-by-blow broadcasts came in 1939, but his fame came two years later when the Gillette Razor Company began its marvelous Friday night tradition.
Here's what Don's son, Bob, had to say during a telephone conversation: "My father had tremendous respect for the fighters and he always knew what his role was in relation to the event. On radio broadcast that was to give a total blow by blow description of what was happening in the ring. On TV he felt it was unnecessary to repeat what the viewer could see for himself and looked to call attention to what was not so obvious. Simply put, nobody did it better.
Don was Boxing's answer to Baseball's Mel Allen.
Along with ring announcer Johnny Addie who never used fake or manufactured enthusiasm, timekeeper Fred Abbatiello, and judge Artie Aidala, the fans were treated to the very best. As much as Dunphy knew about boxing, he never came across as if he knew more than his audience. He made us feel that we were all enjoying the fights together.
Compared with Don Dunphy, the screamers of today are sometimes like a bunch of guys in the front row standing up on every occasion and blocking the view. Unlike these shrill announcers (some of whom have been very fine like Jim Lampley who is one of the most intelligent, humble, and accessible boxing announcers you will ever meet), Dunphy gave viewers only the information they needed. He was a host first and, as the fights unfolded, his calls punctuated the drama.
I grew up listening to Dunphy. He was very much a part of my childhood. His voice, the Gillette jingle, Johnny Addie and peripheral figures like trainer Whitey Bimstein will always be among the highlights and fond memories of my life.
Don Dunphy was inducted into the International Boxing Hall of Fame in 1993.
Ted Sares can be reached at tedsares@roadrunner.com
Check out more boxing news on video at The Boxing Channel 
To comment on this story in The Fight Forum CLICK HERE