Three Punch Combo: The Fight That Could Steal the Show This Weekend and More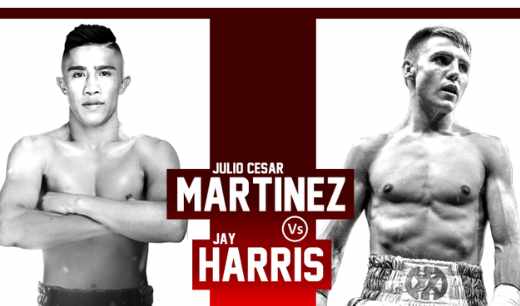 THREE PUNCH COMBO — Boxing returns to DAZN on Saturday with a massive card from The Ford Center at the Star in Frisco, TX. This venue, which serves as the indoor practice facility for the Dallas Cowboys, will play host to a significant welterweight bout when Mikey Garcia (39-1, 30 KO's) returns to the ring to face Jessie Vargas (29-2-2, 11 KO's). Also on the docket is a much anticipated 115-pound title fight between champion Khalid Yafai (26-0, 15 KO's) and former pound for pound king Roman "Chocolatito" Gonzalez (48-2, 40 KO's). While I love both of these contests, it is another title fight on this card that I think may steal the show.
Fresh off his destruction in December of Cristofer Rosales to capture the WBC flyweight crown, Julio Cesar Martinez (15-1, 12 KO's) returns to the ring to make his first title defense against the undefeated Jay Harris (17-0, 9 KO's).  Given their respective styles, we are all but guaranteed to see non-stop action from the opening bell to whenever the contest concludes.
As I have previously noted in these pages, Martinez is an absolute non-stop pressure fighter who rarely takes his foot off the gas. Possessing above average hand speed and heavy-handed power, he simply looks to break his opposition down with his combination of pressure and power. And thus far it has worked to the tune of him becoming a world champion in just 16 fights.
One difference between Martinez and other pressure fighters is the way that Martinez uses angles to find ways to land precision power shots. He will often switch fluidly between the orthodox and southpaw stances to create these angles.
Like many other pressure fighters, Martinez has a tendency to abandon defense for his own offense. He actually takes it to the extreme, often coming forward with his hands down along with no head movement. At some point, he is going to pay for this lack of attention to defense. Could it come against Harris?
After a short but solid amateur career, Harris turned pro at 23 in 2013 and has moved along steadily. He is coming off his two best wins against former world title challenger Angel Moreno and former amateur standout Paddy Barnes. In each of those fights, Harris showed steady progression and seems well poised for that next big step-up in competition.
Harris is a traditional boxer-puncher by trade but has shown tendencies to get into firefights. He is technically sound and likes to work behind a solid left jab to set up his power punching combinations. Harris possesses decent hand speed and, like Martinez, can be a solid accurate puncher.
In the aforementioned fight against Barnes, Harris showed some solid power in his left hook. He knocked Barnes down twice with the left hooks to the body, the second of which finished him off in the fourth round.
Martinez is going to bring the fight to Harris. But I think Harris is skilled enough to provide resistance and give back as good as he gets. If I am right, this is going to be one fan-friendly fight that could ultimately compete for fight of the year.
Some Thoughts on the Judging of McKenna-Mimoune
For those not familiar, MTK Global is running eight-man single elimination tournaments across several different weight classes in the UK with the winner in each weight class being awarded a lucrative management contract. This past Friday in London saw the semi-finals in both the featherweight and 140- pound divisions. And as so often happens in boxing, one of the contests, a 140-pound bout between Tyrone McKenna (21-1-1, 6 KO's) and Mohamed Mimoune (22-4, 3 KO's), ended in a controversial decision. McKenna was the beneficiary, winning the ten-round fight on all three cards.
My card sided with Mimoune. I had the fight 96-94 in his favor. However, unlike the commentators and many on social media, I was far from outraged that McKenna was given the nod.
This may sound overly simplistic, but we need to keep in mind that fights are scored on a round by round basis. Each round is its own separate entity. And sometimes a round is won big by a fighter but scored just 10-9 in their favor without knockdowns. This would be the same score if that same fighter had just edged out that round.
In the case of McKenna-Mimoune, we saw Mimoune take control of the fight late and win many of those later rounds by a substantial margin. To be honest he completely dominated those rounds.
But in the early going, there were many close rounds that were hard to score. McKenna seemed to edge a couple and some were frankly a coin flip. If the judges sided with McKenna for those close rounds, and it appears they did just that, then there is a clear path to him getting the decision.
For me, this was somewhat reminiscent of Foreman-Briggs which I also thought was not a robbery. Maybe the scoring system in boxing needs to be changed but that is a topic for another day. I don't think given the scoring system in place for this sport that the McKenna-Mimoune decision was all that outrageous.
What's Next For Emanuel Navarrete?
This past Saturday, on the undercard of Wilder-Fury II, 122-pound champion Emanuel Navarrete (31-1, 27 KO's) stopped tough Jeo Santisima (19-3, 16 KO's) in the eleventh round. It was Navarrete's fifth title defense in less than a year. So, what is next for the popular and busy Navarrete?
First off, I think we have seen the last of Navarrete at 122. It was well documented during the PPV broadcast that Navarrete was struggling to make the weight. In addition, there are political boundaries that need to be crossed in order to make any big fights for Navarrete at 122. So, a move north to featherweight is seemingly inevitable.
Top Rank, which co-promotes Navarrete, does have a champion at featherweight in Shakur Stevenson. But Stevenson is a prized young fighter and there is no way Top Rank puts him anywhere near Navarrete. Not in a few months or even a few years. And as with the 122-pound division, there are political boundaries standing in the way of putting Navarrete in with the other featherweight champions at this time.
So, with no immediate title fight realistically available for Navarrete at featherweight, I think Top Rank looks to put him in with a ranked contender. And I think the most logical option is Christopher Diaz (25-2, 16 KO's) who is also tied in with Top Rank.
Diaz himself was once a highly-thought-of young fighter but an upset loss to Masayuki Ito for a 130-pound title belt in 2018 sent Diaz's career sideways. He dropped down to featherweight after that loss where he has two wins sandwiched around a one-sided loss on points in a ten-round contest with the aforementioned Stevenson.
Diaz needs a jolt to his career and, frankly, Top Rank is probably nearing the end of the road with him. So, this can be viewed as a final opportunity for Diaz and a fight I think he jumps at if offered. And it's an easy sell to the fans as Diaz on paper would certainly represent the best opponent for Navarrete since his two fights with Isaac Dogboe.
I think it's very likely that we see this fight on a Top Rank platform sometime this spring or summer.
Check out more boxing news on video at The Boxing Channel 
To comment on this story in The Fight Forum CLICK HERE
The Fight of the Century: A Golden Anniversary Celebration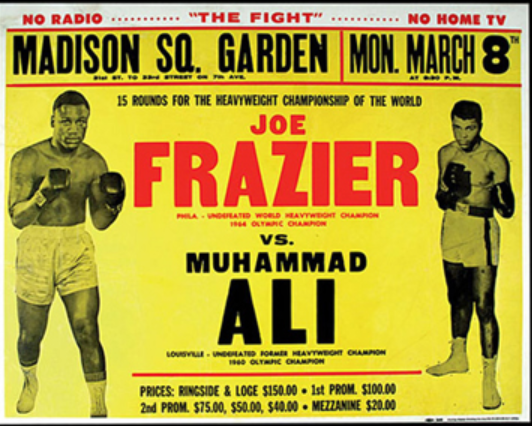 In professional boxing, fights can be rank-ordered as generic fights, big fights, bigger fights, mega-fights, and spectacles. The first fight between Muhammad Ali and Joe Frazier wasn't merely a spectacle, but the grandest spectacle of them all. This coming Monday, March 8, is the 50th anniversary of that iconic event.
Ali-Frazier I was staged at three-year-old Madison Square Garden, the fourth arena in New York to take that name. It drew a capacity crowd: 20,455 (19,500 paid). An estimated 60 percent of all the tickets sold fell into the hands of scalpers.
The fight was closed-circuited to more than 350 locations in the United States and Canada. At some of the larger venues, it established a new record for gate receipts, and this for an attraction that wasn't produced in-house. In Los Angeles, 15,333 saw the fight at the Forum and 11,575 at the nearby Sports Arena.
Bill Ballenger, the sports editor of the Charlotte (NC) News, saw the fight at the Charlotte Coliseum. He reported that the audio – Don Dunphy did the blow-by-blow with Burt Lancaster and Archie Moore serving as color commentators – was loud enough to be heard outside the arena and that many folks, either unable or unwilling to purchase a ticket, loitered outside and followed the action in 30 degrees weather.
An estimated three hundred million people saw the fight worldwide. In England, by some estimates, half the population tuned in, watching either at home on BBC1 or at a theater where one could watch the fight unfold on a movie screen. Now keep in mind that in England the fight didn't commence until 6:40 in the morning on a Tuesday!
Inside Madison Square Garden, the large flock of celebrities included many folks one wouldn't expect to find at a prizefight. Marcello Mastroianni, Italy's most famous movie star, made a special trip from Rome. Salvador Dali was there and Barbra Streisand and Ethel Kennedy, widow of Bobby Kennedy, seated next to her escort, crooner Andy Williams. Frank Sinatra was there working as a photographer for Life magazine. Lore has it that Sinatra wangled the assignment after failing to boat one of the coveted ringside seats.
The scene was made brighter by human "peacocks," the label applied to Harlemites with an outrageous sense of fashion, and the electricity was palpable. When Ali appeared at the back of the arena, making his way from his dressing room to the ring, everyone had goosebumps.
The late, great New York sportswriter Dick Young once wrote that there is no greater drama than in the moments preceding a big heavyweight title fight and that was never more true than on March 8, 1971 at Madison Square Garden.
Ali (31-0, 25 KOs) and Frazier (26-0, 23 KOs) were both undefeated. Both had a claim to the heavyweight title, Ali because the belt had been controversially stripped away from him for his political beliefs. Opinions as to who would win were pretty evenly divided. In Las Vegas, Joe Frazier was the favorite at odds of 6 to 5. Across the pond in England, bookies were quoting odds of 11 to 8 on Ali.
Those that favored Ali were of the opinion that 'Smokin' Joe was too one-dimensional. That much was true. Joe was as subtle as a steam locomotive on a downhill grade. He ate Ali's hardest punches, said Boston Globe reporter Bud Collins, as if they were movie house popcorn and he eventually wore Ali down. There was little doubt as to how the judges would see it after Joe knocked Ali down in the 15th round with a frightful left hook. When Ali arose, it appeared that he had been afflicted with a sudden case of the mumps. The decision was unanimous: 11-4, 9-6, 8-6-1.
This wasn't the greatest fight of all time, but it was a fight that more than lived up to the hype. And, as several people have noted, the event took on a life of its own without the benefit of modern technology to push it along. The buzz was fueled in a large part by newspapers, the "antiquated" sort of newspapers that a fellow fished from his driveway or purchased at a newsstand on the way to or from work. If twitter and facebook had been around during Muhammad Ali's prime, Ali would have blown the doors off the internet.
A cultural touchstone is an event that remains sealed in our memory. As we slide into old age, if we are lucky enough to live that long, we may not remember what we had for breakfast in the morning, but some long-ago events are as vivid as if they had happened just yesterday.
Boxing historian Frank Lotierzo has written poignantly about how overjoyed he was when he was surprised with the news that his father would be taking him to the fight. "To this day it remains the biggest thrill of my life!" wrote Lotierzo, who was then in the seventh grade. "And it's not even close!"
I didn't see the fight, but I can recall the faces of people that I overheard talking about it, people whose interest in the fight struck me as odd as I knew they had little interest in the world of sports. So, when the fight is replayed in its entirety on Sunday – it airs on ABC at 2 p.m ET and again at 6 p.m. ET on ESPN – I will be watching it for the first time. And it will be bittersweet as I will be reminded that I am in the twilight of my life and my thoughts will inevitably drift to my friends and loved ones that have left this mortal world in the years since that grand night in 1971 when Muhammad Ali and Joe Frazier locked horns in the Fight of the Century.
I get misty-eyed just thinking about it.
Check out more boxing news on video at the Boxing Channel
To comment on this story in the Fight Forum CLICK HERE
Yoka TKO 12 Djeko in France: Claressa Pitches a Shutout on Ladies Day in Flint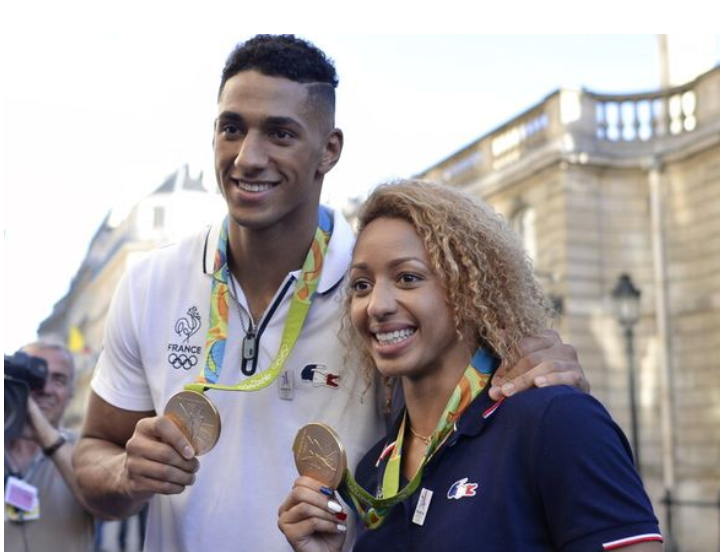 Yoka TKO 12 Djeko in France: Claressa Pitches a Shutout on Ladies Day in Flint
March 8 is International Women's Day which is actually a formal holiday in many parts of the globe. It was somehow fitting that female boxers were on display on the Friday feeding into it, a weekend without a must-see attraction on the men's side.
Today's activity began in the French port city of Nantes where 2016 Olympic gold medal winners Tony Yoka and Estelle Mossely, husband and wife, kept their undefeated records intact, both advancing to 10-0, against European opponents. Yoka (10-0, 8 KOs) was matched against Joel "Big Joe" Djeko (17-3-1), a 31-year-old Brussels native of Congolese and Cuban extraction who had fought most of his career as a cruiserweight. Mossely, a lightweight who now goes by Yoka-Mossely, drew Germany's Verena Kaiser (14-2).
At the Rio Olympiad, Yoka got by Filip Hrgovic in the semis and Joe Joyce in the finals to win the gold, winning both bouts by split decision. Both would be favored over the Frenchman in a rematch fought under professional rules.
Against the six-foot-six Djeko, Yoka controlled the fight with his jab, repeatedly backing his foe against the ropes. Very few of Djeko's punches got through Yoka's high guard. Had the fight gone to the scorecards, it would have been a rout for Yoka, but it didn't quite get there as Djeko turned his back on the proceedings midway through the 12th round after absorbing a sharp jab and it went into the books as a TKO for Yoka. At stake was some kind of European title or a derivation thereof.
Mossely's fight with Kaiser, slated for 10 two-minute rounds, followed a somewhat similar tack, save that it went the full distance. With only one knockout to her credit at the pro level, Mosseley, typical of female boxers, lacks a knockout punch. But she's a good technician and had too much class for the German.
Flint
A Covid-19 limited crowd of perhaps 300 was on hand to watch hometown heroine Claressa Shields oppose IBF 154-pound title-holder Marie Eve Dicaire at a 4,400-seat arena in Flint. There were five bouts on the undercard, three of which were women's bouts.
Shields, a two-time Olympic gold medalist, was seeking to become a four-belt title-holder in a second weight class, having previously turned the trick at 160. Dicaire, a 34-year-old southpaw, brought a 17-0 record but she had never won a fight inside the distance and all of her previous bouts took place in French-speaking Canada.
The self-proclaimed GWOAT, Shields has no peer between 154 and 168 pounds. Heading into this contest, she had hardly lost a round since meeting Hanna Gabriels and tonight was another total whitewash, her fourth overall in 10-round fights.
Claressa Shields, now 11-0 (2) may be too good for her own good. Her fights are so one-sided that they are monotonous. Her TV ratings have actually been falling. Today's show was a $29.99 pay-per-view on FITE when the established networks refused to meet her purse demands. It will be interesting to see how many tuned in.
In another fight of note, 2012 Olympic bronze medalist Marlen Esparza, in her first fight as a bantamweight, dominated Toronto's Shelly Barnett en route to winning a 6-round unanimous decision. There were no knockdowns, but the scorecards (60-54, 60-53 twice) were indicative of Esparza's dominance.
Esparza, who pushed her record to 9-1 (1), came in ranked #1 by the WBC in the flyweight class. Her lone defeat came at the hands of rugged Seniesa Estrada. Barnett declined to 4-4-3.
Check out more boxing news on video at the Boxing Channel
To comment on this story in the Fight Forum CLICK HERE
Brandon Adams Bursts Bohachuk's Bubble in Puerto Rico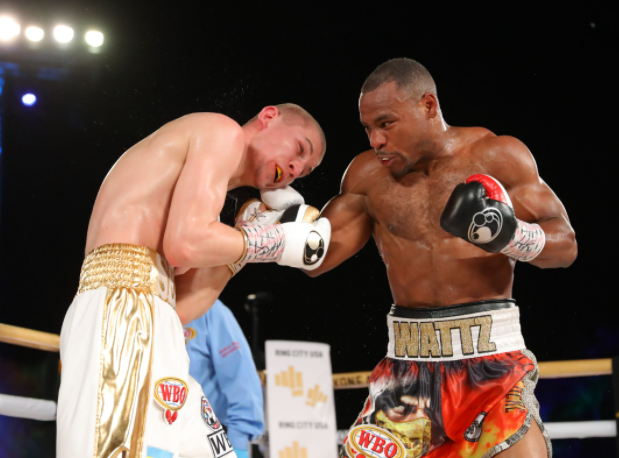 Brandon Adams Bursts Bohachuk's Bubble in Puerto Rico
Ring City USA, a new promotional entity, debuted on Nov. 19, 2020 with a show staged in the parking lot of Freddie Roach's Wild Card Boxing Club in Hollywood, CA. Ring City stayed outdoors for their first offering of 2021, but the company was a long ways from California. Tonight's card was staged on a roundabout near a municipal gym in Guaynabo, Puerto Rico.
The headline attraction was an attractive match between junior middleweights Serhii Bohachuk and Brandon Adams. The bout was originally set for Dec. 3, but had to be pushed back when Bohachuk tested positive for the coronavirus.
Bohachuk, a 25-year-old California-based Ukrainian, had stopped all 18 of his previous opponents. He had never gone past six rounds. Brandon Adams, a former world title challenger, represented a step up in class.
Bohachuk was well on his way to winning a unanimous decision when the tide turned dramatically in round eight. Fighting on a slick canvas, Adams suddenly found a new gear, unloading a series of punches climaxed by a thunderous left hook as Bohachuk retreated. The Ukrainian beat the count, but was teetering on unsteady legs and the referee properly called a halt.
Adams was without his regular trainer, 80-year-old Dub Huntley, who remained back in LA as a health precaution. In winning, he elevated his records to 23-3 (15). It was his best performance since defeating Shane Mosley Jr in the finals of Season 5 of the "Contender" series.
—
In the co-feature, an 8-round featherweight contest, Puerto Rico's Bryan Chevalier improved to 15-1-1 (12) with a third-round stoppage of Peru's Carlos Zambrano (26-2). Chevalier scored two knockdowns, the first a sweeping left hook that appeared to land behind Zambrano's head, and the second a punch to the liver that left Zambrano in severe distress. The referee waived the fight off in mid-count.
The official time was 2:21. Chevalier, a tall featherweight (5'11") made a very impressive showing; he bears watching. This was Zambrano's first fight since April of 2017 when he was knocked out in the opening round by Claudio Marrero in a bout for the WBA interim featherweight title.
—
The TV opener was an entertaining fight between contrasting styles that produced a weird conclusion when Danielito Zorrilla was awarded a technical decision over Ruslan Madiyev. The bout was stopped at the 1:16 mark of round eight after Zorrilla sank to his knees after absorbing a punch to the back of the head. The ringside physician examined him for evidence of a concussion, but ultimately it was Zorrilla's choice as to whether the bout would continue. He declined and was reportedly taken to a hospital for observation.
Madiyev, a California-based Kazahk, was the aggressor. He fought the fight in Zorilla's grill, often bullying him against the ropes. In round five, he had a point deducted for hitting behind the head, squandering what was arguably his best round.
The fight went to the scorecards with Zorrilla winning a split decision (77-74, 77-75, 73-76), thereby remaining undefeated: 15-0 (12). Ironically, Madiyev (13-2, 5 KOs), suffered his previous loss in a similar fashion.
Madiyev's new trainer Joel Diaz reportedly discouraged his charge from taking this fight for fear that he wouldn't get a fair shake in Puerto Rico. Diaz's apprehensions were well-founded.
Photo credit: Tom Hogan / Ring City USA
To comment on this story in the Fight Forum CLICK HERE