Saul "Neno" Rodriguez Returns to RGBA to Reload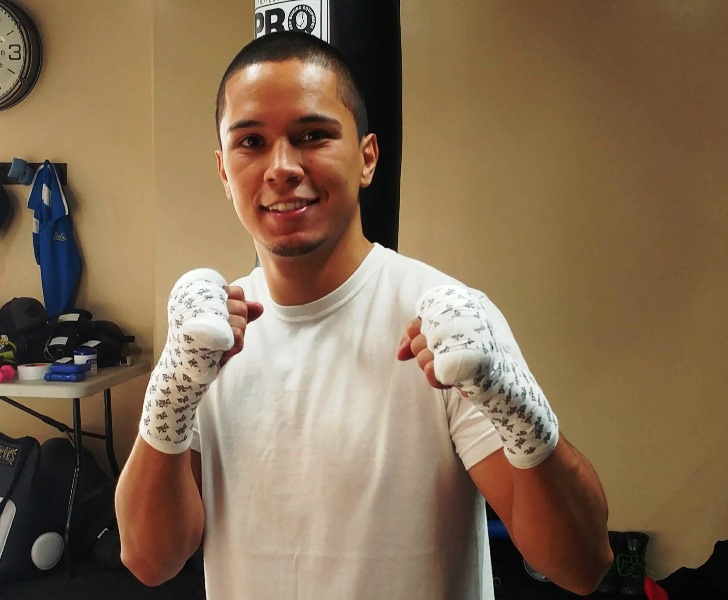 Several years ago, Saul "Neno" Rodriguez was tabbed best new prospect by British journalists and was involved in a tug of war between rival boxing promotion companies vying for his services, but then came that day:
"I got caught and got sloppy," said Rodriguez.
Getting sloppy might be satisfactory for actors, singers or painters, but in the world of prizefighting it can lead to a knockout loss in front of a nationwide television audience. It can also lead to losing a promotional contract with Top Rank.
That all occurred on June 28, 2019. For Rodriguez, that was a night that will live in infamy.
The lean machine-gun punching fighter who looks like a 16-year-old lost his promoter and ranking when he exchanged bombs with Mexican fighter Miguel Angel Gonzalez and was stopped in the third round at Pechanga Resort and Casino in Temecula.
It was a furious firefight and after 24 previous battles this time the dice rolled for the other guy.
Armed with redemption in his soul, the 26-year-old Riverside native Rodriguez (24-1-1, 18 KOs) won by knockout last Saturday in Texas and is eager to reclaim his place among the top prizefighters in the world without a world title.
Now he is a full-fledged lightweight.
Returning to the upper ladder of respectability and recognition takes time and refinement. There can be no slip-ups while re-building one's reputation. But understanding that also takes self-evaluation.
"I need to work on my defense," said Rodriguez quickly.
Rodriguez realized he needed to start over and had found success working with Robert Garcia and family. When the Riverside boxer first turned professional it was under the guidance of the Garcia family then led by Eduardo Garcia. They call him "Big G" and he is the father to Mikey and Robert and one of the geniuses of the sport.
"I learned a lot under the Garcias especially defense," said Rodriguez who made a call and was accepted back to their fold.
Return to Normalcy
As an amateur Rodriguez was known for his flashing power and knockout wins. Despite head gear and thicker gloves, the skinny Riverside teen exploded on opponents and wrecked anyone in front of him. Crowds would gather anytime he would enter a boxing ring to see how he would perform.
The Garcias are always on the hunt for talent and during one of the amateur tournaments they spotted Rodriguez and invited him to their camp. Back in 2011 the Garcia's gym was still located in Oxnard, though both Eduardo Garcia and Mikey Garcia had already moved to Riverside County.
Rodriguez was signed and though he still occasionally trained in Riverside, he would also train in Oxnard.
"I lived with the Garcias when I trained in Oxnard," said Rodriguez. "They always treated me well, like family."
From 2011 to 2016 the Riverside fighter ripped through opposition beginning with a one round destruction of a fighter named William Fisher at the Commerce Casino. Rodriguez walked in with a tight guard, chin tucked in and fired blows in a blur. The fight lasted less than a minute but those in attendance knew Rodriguez was special.
When Rodriguez's contract with Top Rank neared the end, the Robert Garcia Boxing Academy in Riverside was already built and most of his team moved there. One day Floyd Mayweather walked into the gym to take a look around and get acquainted with a few of the young fighters including Rodriguez.
Near the end of December 2016 Mayweather visited Rodriguez again with an offer that could not be beat by rival promoters. He signed with Mayweather.
Another problem was the managerial aspect. Rodriguez decided he did not need a manager and instead parted ways with his former manager and also the Garcias who co-managed Rodriguez.
"We left on good terms, there were no bad feelings," said Rodriguez.
Things didn't pop with the Las Vegas-based promoter though not that they didn't try. It's just different when promoters have large television contracts. Mayweather Promotions did not have the clout to keep Rodriguez busy and he waited and waited.
Those few times Rodriguez entered the ring he looked out-of-sync and exposed. The tight guard was gone, the look of a hunter was replaced by a calm but less confident face of an inspector.
Rodriguez asked Mayweather Promotions to release him from contract and they did. After some months of lobbying, Top Rank re-signed Rodriguez and he competed on a Texas card and promptly won by second round knockout over Claudio Tapia in El Paso on November 2018.
Another win in Fresno on the undercard of Jose Carlos Ramirez title defense a year ago kept him busy. But four months later he returned to the boxing ring to perform in front of friends, family and fans at nearby Temecula. He lost the firefight and all of his many supporters were crushed.
One of those watching the fight was former trainer Robert Garcia.
"He'll come back. A loss doesn't mean its over," said Garcia that night. "He is too good to not come back."
The good ones always come back.
When Roberto Duran was kayoed by Tommy Hearns in 1984 many felt his career was done. But the Panamanian-Mexican returned at age 37 to knock down and defeat Iran Barkley for the WBC middleweight title in 1989. It was one of the most shocking upsets in the decade. Duran would fight another 12 years until he was 50 years old.
Of course, not everyone can be like Duran but many others have returned from knockout defeats like Manny Pacquiao, Tommy Hearns, Marco Antonio Barrera and others. The good ones find a way.
Reloading
Several months ago, Rodriguez realized that under Garcia's family guidance he was at his best form and asked to return. The Garcia's consented and now the Riverside lightweight feels comfortable.
"It was never bad between us," said Rodriguez who actually lives close to the Robert Garcia Boxing Academy in Riverside. "It has changed a little, there are more fighters."
One huge perk of training at RGBA is the abundance of talented fighters at camp on any day. It's basically an army of three dozen elite prizefighters that spar each other at a moment's notice under the guidance of the Garcia family consisting of Robert, Mikey, Robert Jr. "Pita" and of course the patriarch Eduardo.
Their combined boxing knowledge provides staggering results.
When Rodriguez returned, on one particular day, he was told to spar several of the younger undefeated fighters near his weight class. His instructions were clear: do not let them hit you cleanly.
"They just wanted me to use my defense and movement," said Rodriguez. "They know my offense is there but I needed to be more defensive. I sparred some of the guys and just moved around and wasn't allowed to punch back hard. It's good practice."
Since Rodriguez departed several years ago a few new faces have arrived including world champions Jose Carlos Ramirez and Abner Mares and also Vergil Ortiz Jr.
"They're real cool guys," said Rodriguez of the champions.
Of course, Mikey Garcia remains an integral part of the RGBA camp and a week ago was back at work showing his talent in a decisive win over the much bigger Jessie Vargas. It was a powerful demonstration and witnessed by many of the RGBA army who watched.
"That's why he's one of the best," said Rodriguez. "He is going to surprise the other welterweights."
Rodriguez feels he's back where he belongs and ready to reload on the talented lightweight division.
"Yes, there is a lot of talent in the lightweights with guys like Devin Haney and Ryan Garcia," said Rodriguez. "I like that. It's my time."
Time to resurface.
Check out more boxing news on video at The Boxing Channel 
To comment on this story in The Fight Forum CLICK HERE
Art of Boxing Series: Sergio 'The Latin Snake' Mora of East L.A.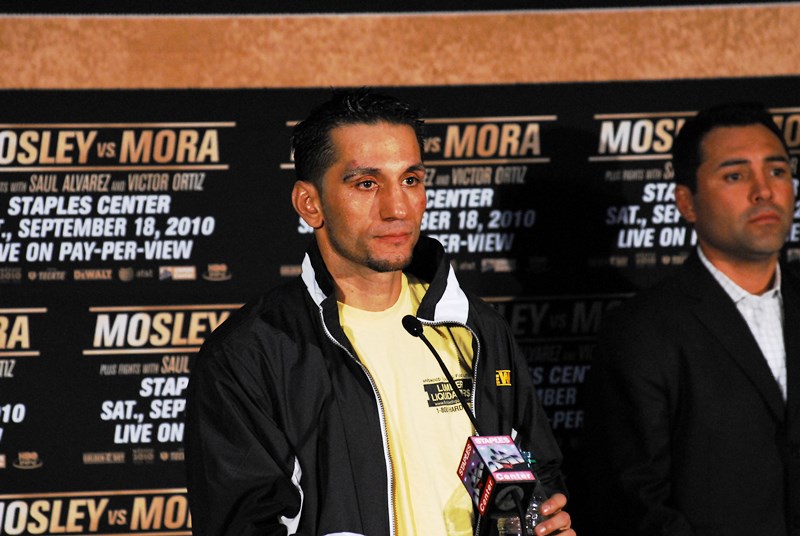 Art of Boxing Series: Sergio 'The Latin Snake' Mora of East L.A.
Not all prizefighters are built or fight the same. This is a series devoted to those who mastered the art of boxing.
Meet Sergio Mora the "Latin Snake".
Thumping neighborhood boys in an East Los Angeles backyard led to eventually winning a reality television tournament called The Contender, to winning a world championship and now sitting as an expert analyst for DAZN's boxing series.
It's been an extraordinary journey for Mora, the boxer from East L.A. who traded punches against neighbors and relatives as a teen for fun.
"We called it barbecue boxing," said Mora of his inauspicious discovery of his talent. "We used to box each other when I was a kid in junior high. We made videos of the fights. You can look it up. I was knocking out older guys."
A few boxing experts advised that he should look deeper into the sport and he did. After a few hits and misses looking for a gym, he found a perfect location at a Montebello gym. He hooked up with a trainer named Dean Campos and advisor in John Montelongo and they made history together.
"I owe it all to Dean and John," said Mora now 39.
But we are getting ahead of ourselves.
Mora's natural abilities included quickness, agility and the ability to absorb punishment. He also relished competition and proving others wrong.
But the East L.A. youngster finally put all of his traits together artistically when he followed the advice of the young trainer Campos whose radical boxing ideas fit perfectly.
"Nobody believed in his unorthodox ideas but they worked for me," said Mora.
For several years Mora and Campos and Montelongo befuddled the amateur competition, first in Southern California and then nationally. He made the semi-finals of the 2000 Olympic Trials and fought to a draw with Darnell Wilson. Somebody decided to determine the winner by who threw the most punches. Wilson threw more punches and moved forward.
It was a severe disappointment for Mora.
The Contender
After three years of dwelling in the amateur boxing world Mora and his team entered the non-structured prizefighting universe not knowing what to expect.
Though Campos taught an unorthodox style of fighting to Mora, the youngster didn't feel confident in using its assets to full capacity in the beginning.
"It wasn't until I fought a guy named Charles Blake that I used everything that Dino (Campos) taught me," said Mora who fought the undefeated Blake at the Arrowhead Pond in Anaheim in 2001. "I did everything he told me and I won pretty easily."
It was also the first time I spotted Mora and quickly determined he would be difficult to beat especially with that fighting style that utilized his speed and agility. I had never seen or heard of Mora before but he stood out.
Two months later he fought again at the Pond and then in June 2001 he fought a hard-charging opponent named Warren "War Dog" Kronberger. It was a middleweight fight set for six rounds but War Dog kept running into Mora's punches and was stopped in three.
After the fight I met the team and discovered Mora was from East L.A. near my family's home. I don't know if he remembers, but I told him he was going to be a world champion someday. It was the first time I ever said that to a fighter though I had been a boxing reporter since 1985.
For the next several years Mora kept knocking off opposition with his crouching tiger style and soon a television production company came calling. Actually, it was a radio announcement during a morning Hip Hop show calling for all boxers interested in making $1 million dollars in a television tournament.
"I was driving in the morning listening to Big Boy when he made the announcement," said Dean Campos who trains Mora. "I couldn't believe what I heard and I told Sergio and John about it. They didn't believe me at first until we went to San Diego to spar somebody and they asked if we were going to try out."
A reality television show called the Contender pit young talented fighters against each other and housed them together in a studio-made home. Week by week the NBC network telecast the show to millions of living rooms across the country.
After months of auditions and tryouts Mora was among those selected.
Filming was done in Pasadena and those prizefighters who participated were Peter Manfredo Jr., Ishe Smith, Alfonso Gomez, Jesse Brinkley and several others including Mora.
The fights were taped and later shown to the public in edited form. But few outside of the production crew knew who the winners were for many weeks. The finals of the first season took place at Caesars Palace in Las Vegas. The winner would take home $1 million dollars and a free truck among other things including a promotion deal.
Fans of boxing did not like watching edited fights but despite the many criticisms from hardcore fans, when the finals took place on May 24, 2005, thousands of fans showed up in Las Vegas to watch Manfredo battle Mora in the championship fight.
Manfredo's fans arrived in droves and shouted "Pi-Ta!" "Pi-Ta" which confused many who were not familiar with the New England accent. Manfredo fans were shouting the first name Peter but it comes out as Pi-Ta. Southern California fans arrived but were muted in comparison to the East Coast fans.
It was a surprise to see Manfredo in the semi-final because he had lost earlier to Alfonso Gomez. But he returned as a wild card participant and vanquished his way to the finals against Mora who had defeated Najai Turpin, Ishe Smith, and Jesse Brinkley to get to the finals.
In the finals the boisterous crowd saw Mora defuse Manfredo's attacks and win the seven-round middleweight The Contender championship fight by unanimous decision. Mora went from unknown boxer to a nationally and internationally recognized prizefighter in not just the boxing world, but households everywhere.
The East L.A. youngster who was 24 years old at the time, suddenly morphed from impoverished boxer to bankable fighter. His team also benefited from the massive exposure. It also remained the same three members from start to finish with Dean Campos serving a trainer and manager, John Montelongo as assistant trainer and benefactor and Mora the fighter.
"Rolando Arrellano who worked as a manager and promoter said he couldn't believe we had been together that long with no changes," said Campos, who managed Mora's fighting career without a written contract. "Nobody else does that, but we never wrote anything down."
Montelongo, a motorcycle police officer, always took care of the team's needs especially in terms of equipment and facilities. In the beginning Mora would train at the Montebello Police headquarters small gym.
Forrest, Mosley and More
For several years Mora continued fighting under the Contender promotions banner and always sought better competition. After a 10-round draw against Elvin Ayala in Carson, the East L.A. native decided to accept any world title match.
"I didn't want to slip up so I figured let's just go for a big fight," said Mora. "That's when we got the offer for Vernon Forrest, may he rest in peace."
When the fight was announced only two boxing writers picked Mora to win. Those two were the only journalists familiar with the boxing abilities of the stance switching fighter. It was not seen as a competitive fight by other writers or announcers.
"Vernon Forrest really under-estimated me," said Mora who had sparred Forrest once at the Wild Card Gym in Hollywood years earlier. "It was my one of my most satisfying wins because I proved I was good enough to beat one of the best."
Mora utilized his crouching style to perfection and basically stymied most of Forrest's attacks. Though it appeared the East L.A. boxer won clearly, one judge saw it a draw but two saw Mora out-performing the champion.
After capturing the WBC super welterweight title Mora went on a celebration binge according to his own words. Three months later they fought again.
"We had a rematch clause and I partied too much," said Mora. "I was in no way ready for Vernon Forrest in the second fight. He beat me good in the rematch."
Two years later Mora accepted a fight against Sugar Shane Mosley at the Staples Center on September 2010. It remains the biggest disappointment in Mora's career.
Mosley and Mora battled 12 rounds in a slow-moving battle in which both engaged in counter-punching. There was a weight problem Mora suffered that resulted in him weighing 157 pounds instead of the 154 contracted weight.
"There was something wrong with the scale in the hotel for the B side of the fight card," said Mora. "Almost everyone on the B-side missed their weight."
Regardless of losing weight before the fight, Mora felt he was far enough ahead in the fight to win handily against Mosley.
"I should have listened to my corner," said Mora. "Dino told me that I needed to throw more punches, that it could be a close fight. But I thought I was comfortably ahead. It was a huge mistake on my part. I lost a lot of money because of it."
After 12 rounds the fight was scored a split-decision draw. The HBO commentators eviscerated Mora and not Mosley.
Mora remained a viable contender for the remainder of his career and on August 2015 he was offered a shot at the WBA middleweight title against Daniel Jacobs at Brooklyn, New York. He eagerly accepted the fight.
"He really underestimated me and thought he would run over me," said Mora of their clash at Barclays Center. "He knocked me down with a punch. I've never been hit that hard before. But then I knocked him down when he ran into my punch. It was a perfectly placed left hook."
The fight proceeded but in the second round the two middleweights got entangled and Mora went down to the floor writhing in pain from a severe ankle injury. He could not go on.
"Jacobs leaned on me with his full body and it just tore my ligament," said Mora.
The fight was ruled a knockout win for Jacobs and though they would meet again Mora's leg had seen better days. He lost in the rematch badly a year later by technical knockout in the seventh round.
"I had no legs anymore," said Mora regarding the rematch held a year later. "It was my worst training camp. I don't think I ever looked good even in sparring. But Jacobs was the better man and was definitely the hardest puncher I ever faced."
Mora fought once more against his old pal Alfredo "El Perro" Angulo. They had sparred many times over the years especially when they both trained at the same gyms in South El Monte and in Montebello.
"I love Angulo but it was a fight," said Mora. "I won the first half of the fight and he won the second half of the fight. But fans will tell you it was one of the most entertaining fights I've ever been in."
Mora won the fight that night on April 2018 and it was the final time Mora entered the prize ring.
DAZN
One day Mora received an unlisted phone call and answering it led to another change in his boxing life.
"I never answer unknown numbers but for some reason I answered it. I'm glad I did," said Mora.
That phone call was from John Learing of Perform Group who wanted him as an analyst for the DAZN boxing series. They put Mora on a live broadcast for a prize fight and ever since that night he has been a regular analyst on DAZN's boxing shows.
"It's been one of the most satisfying experiences I've ever had," said Mora. "Not only do I get to stay in boxing, I love what I do and I love the challenges. It's hard work and I'm learning every day."
Mora has steadily established himself as an acute analyst whose own ring intelligence plays out with his new work as a boxing journalist. He's always been a quick study especially when it pertains to the sweet science.
"Now I'm learning the other side of boxing," said Mora who had 36 pro bouts in an 18-year career as a prizefighter. "I really love it."
Few would have predicted that the East L.A. kid who didn't pack a big punch would last in this business. Instead, Mora mastered the art of boxing that allowed him to match blows against some of the best that ever fought. And he won.
Photos credit: Al Applerose
Check out more boxing news on video at The Boxing Channel 
To comment on this story in The Fight Forum CLICK HERE
Re-visiting the Walker Law of 1920 which Transformed Boxing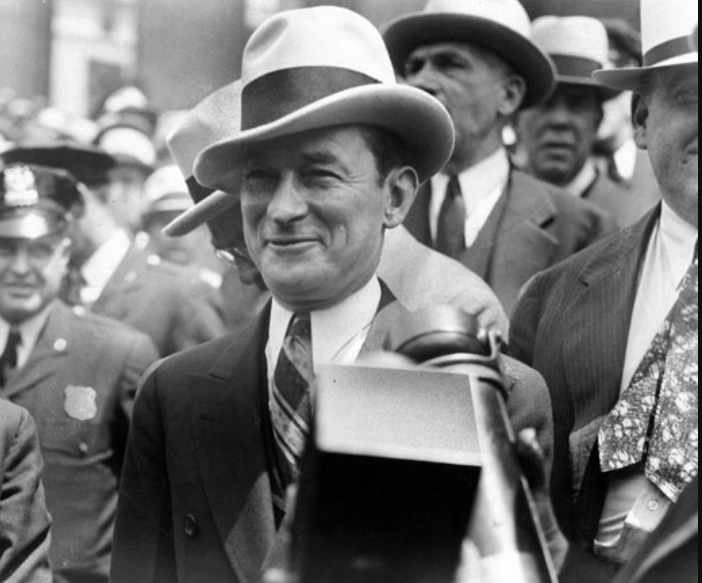 One hundred years ago this week, on March 24, 1920, a boxing reform bill sponsored by Sen. James J. Walker passed the New York State Senate. The bill ultimately became law and its provisions came to be adopted by law-makers in other states, bringing some uniformity to the most anarchic of popular sports. And what better time to re-visit this transformative legislation than now, the centennial?
Prizfighting was an outlaw sport in the Empire State until 1896 when the legislature passed the Horton Law which allowed bouts up to 25 rounds with five-ounce gloves in buildings owned or leased by a chartered athletic club. New York was a beehive of world class boxing during the days of the Horton Law, but the hubbub was short-lived. A spate of fixed fights and ring fatalities sparked a cry for reform and the law was repealed in 1900.
The Lewis Law, which supplanted the Horton Law, reduced the maximum number of rounds from 25 to 10 and stipulated that no decision would be rendered. The Lewis Law also restricted patronage to members of the athletic club sponsoring the event.
The Frawley Law of 1911 re-opened the fights to the general public but otherwise left the provisions of the Lewis Law pretty much intact. The most important fight in New York during the Frawley Law days was Jess Willard's defense of his world heavyweight title against Frank Moran at Madison Square Garden in 1916. The fight went the distance, the full 10 rounds, and Willard had the best of it although you wouldn't know that from the official decision as there was none.
During the last years of the nineteen-teens, several boxing reform bills were presented to the New York legislature. In fact, the Walker Bill was one of four that was taken under consideration. When it finally came to pass, the no-decision rule had been struck down by a 1919 amendment to the Frawley Law that gave the referee the authority to designate the winner.
A key feature of the Walker Law was that everyone involved in a boxing match — from the lowliest spit-bucket carrier to the promoter — had to be licensed. This included managers, matchmakers, referees, judges, ring doctors; even the ring announcer. The licensees were accountable to the boxing commission, a panel appointed by the governor. The commission had the power to approve matches, assign the officials, and establish and collect fees.
The Walker Law approved matches up to 15 rounds and allowed official decisions. Two judges would determine the winner and if they disagreed, the referee would act as the tie-breaker.
Previous laws allowed prizefighting under the guise of sparring exhibitions. The Walker Law made no distinction and this took the police out of the equation. Historically, it was the Sheriff's responsibility to determine if a bout should be stopped because it had become too one-sided; too brutal. And if, pray tell, one of the contestants died as a result of blows received, his opponent and his opponent's chief second and perhaps others would be arrested and charged with manslaughter.
Under the Walker Law, the decision of whether to stop a match rested with the referee or the ring physician or the highest-ranking boxing official at ringside. A boxer could now fight full bore without worrying that he could be charged with a crime.
After passing the Senate, the Walker Law passed the Assembly by a margin of 91-46. It was signed into law by Gov. Al Smith on May 24, 1920 and took effect on Sept.1. This ignited a great flurry of boxing in the Empire State. By March of 1924, the state had licensed 6,123 boxers.
The Walker Law became the template that lawmakers in other jurisdictions followed when they introduced their own boxing bills. Cynics would have it that the most attractive feature of the Walker Law to those that embraced it was the tax imposed on gate receipts. In New York under the guidelines of the Walker Law, it was 5 percent.
This wasn't too far off the mark. The drive to legalize boxing picked up steam in the Depression when state coffers were depleted and new sources of revenue were needed to cushion the fallout. By 1934, boxing was legal in every state in the union, but not in every county. Nowhere was the Walker Law adopted word for word – every politician had to put his own little spin on it, tweaking this and that – but the map of boxing, from an organizational standpoint, became less disjointed.
For the record, the first boxing show under the imprimatur of the Walker Law was held on Sept. 17, 1920 at Madison Square Garden. Joe Welling fought Johnny Dundee in the featured bout. It was the eighth meeting between the veteran lightweights. Welling won a unanimous decision, which is to say that both judges gave the bout to him (their scores were not made known). Ten weeks later, after two intervening bouts, Welling returned to Madison Square Garden to face lightweight champion Benny Leonard. This would go into the books as the first title fight under the Walker Law. Welling was stopped in the 14th round.
James J. "Jimmy" Walker spent 15 years in Albany, the first four as an Assemblyman, but would be best remembered as New York City's flamboyant Jazz Age mayor. He served two terms, defeating his opponents in landslides, but was forced to resign before his second term expired, leaving office in disgrace. In January of 1941, at the third annual dinner of the Boxing Writers Association, Walker was honored for his "long and meritorious service" to the sport and in 1992 he would be enshrined in the International Boxing Hall of Fame.
Walker (pictured) was a fascinating man, the big city version, in many respects, of Louisiana's colorful Huey "Kingfish" Long. In a future article, we'll peel back the layers and take a closer look at the man who did so much to popularize boxing.
Check out more boxing news on video at The Boxing Channel 
To comment on this story in The Fight Forum CLICK HERE
Think you know boxing? Then Man Up and Take Our New Trivia Test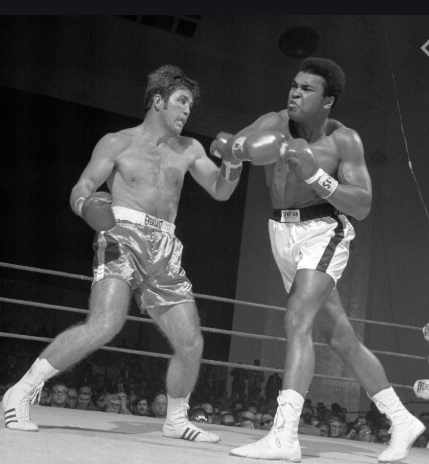 Beneath his salty exterior, Roger Mayweather had the soul of a scholar when the subject turned to the history of boxing. We suspect that Mayweather, who left us on March 17, would have fared pretty well on this 15-question multiple-choice trivia quiz and we dedicate it to him.
All good trivia tests should have a connecting thread. Here the common theme is "places," more exactly U.S. cities and towns.
This isn't an easy quiz. We have too much respect for our readers to dumb it down. Get more than half right and give yourself a passing grade. Twelve or more correct answers and proceed to the head of the class.
Here's the catch: To find the correct answers, you need to go to our FORUM (Click Here). There this trivia test will repeat with the correct answers caboosed to the final question.
In 1970, Muhammad Ali returned to the ring after a 43-month absence to fight Jerry Quarry in this city:
(a) Miami
(b) Atlanta
(c) Houston
(d) Landover, Maryland
Rocky Kansas and Frank Erne, recent inductees into the International Boxing Hall of Fame in the Old-Timer category, were products of this city:
(a) Buffalo
(b) Hartford
(c) Scranton
(d) Portland, Maine
The July 1, 1931 match between heavyweight title-holder Max Schmeling and Young Stribling was the icebreaker event in the largest stadium ever built to house a baseball team. What city?
(a) Detroit
(b) Cleveland
(c) St. Louis
(d) Milwaukee
Jake LaMotta was from the Bronx, but he acquired his most avid following in this city where he lifted the world middleweight title from Marcel Cerdan.
(a) Detroit
(b) Chicago
(c) Cleveland
(d) Syracuse
5.  Jess Willard was called the Pottawatomie Giant because he hailed from Pottawatomie County. What state?
(a) Oklahoma
(b) Kansas
(c) Montana
(d) West Virginia
There is a statue of former welterweight champion Young Corbett III, born Raffaele Giordano, in this California city.
(a) Oakland
(b) Bakersfield
(c) Anaheim
(d) Fresno
Elected to the International Boxing Hall of Fame in 2011, this iron-chinned bantamweight was stopped only once in 163 documented fights. Fill in the blank:
______ Pal Moore.
(a) Laredo
(b) Memphis
(c) Peoria
(d) Pasadena
More of the same. Fill in the blank.
(a) George Lavigne, the ______ Kid            Boston
(b) Jack Johnson, the ______ Giant            Joplin
(c) Jeff Clark, the _______     Ghost           Saginaw
(d) Jack Sharkey, the _______ Gob            Galveston
9. In the 1930s, there was a second Madison Square Garden in this southwestern city. Future light heavyweight champion John Henry Lewis had several of his early fights here:
(a) Albuquerque
(b) El Paso
(c) Pueblo
(d) Phoenix
Match the fighter with his nickname.
(a) Max Baer                  (1) Astoria Assassin
(b) Paul Berlenbach      (2) Fargo Express
(c) Billy Petrolle            (3) Livermore Larruper
(d) Bud Taylor              (4) Terre Haute Terror
Match these boxers with the city with which they are associated.
(a) Fritzie Zivic and Charley Burley         (1) San Francisco
(b) Johnny Coulon and Ernie Terrell       (2) New Orleans
(c) Abe Attell and Fred Apostoli               (3) Chicago
(d) Pete Herman and Willie Pastrano      (4) Pittsburgh
12. The first great prizefight in Nevada, pitting James J. Corbett against Bob Fitzsimmons, was held here:
a. Goldfield
b. Carson City
c. Reno
d. Las Vegas
13. On March 28, 1991, Sugar Ray Leonard headlined a boxing show at the new Carrier Dome in Syracuse, NY. Who was his opponent?
(a) Larry Bonds
(b) Wilfred Benitez
(c) Donny Lalonde
(d) Floyd Mayweather Sr.
Match these Hall of Fame boxing writers with the city in which they spent the bulk of their newspaper careers:
(a) Jack Fiske                   (1) New York
(b) Michael Katz              (2) Philadelphia
(c) Jerry Izenberg            (3) San Francisco
(d) Bernard Fernandez    (4) Newark
Match these Hall of Fame boxing promoters with the city that served as their headquarters:
(a) Herman Taylor         (1) Boston
(b) Rip Valenti               (2) Philadelphia
(c) Sam Ichinose           (3) Los Angeles
(d) George Parnassus    (4) Honolulu
Check out more boxing news on video at The Boxing Channel