Has the U.S. Lost its Presence in Boxing? Part One of a New Survey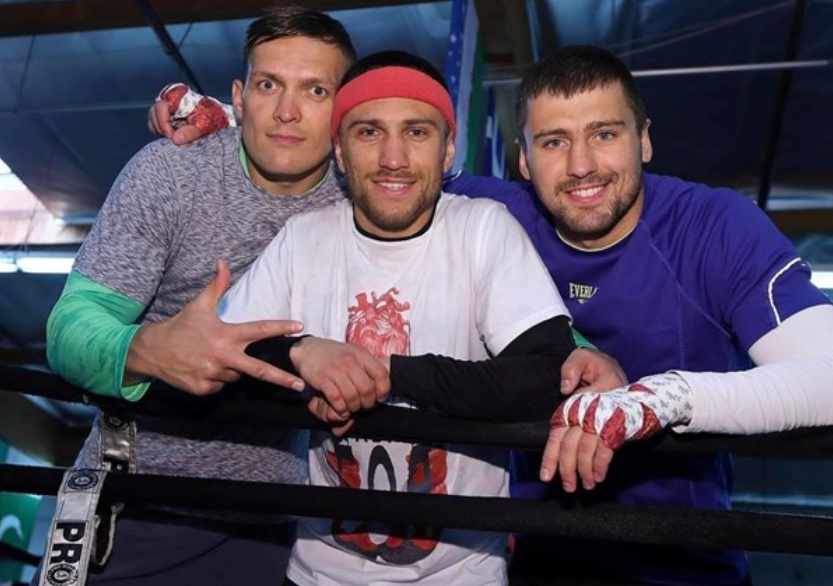 More than 50 boxing notables shared their thoughts in our latest TSS survey. They came from all walks of boxing – former fighters, officials, writers, publicists, commentators, and especially boxing historians. We are listing the respondents alphabetically. PART ONE goes "A" through "L."
I sincerely thank our respondents for their participation, particularly in these very difficult times.
JIMBO AMATO-author, writer, historian and memorabilia collector: From 175 pounds and up the Americans have faded on the international scene. From 168 down they are well represented. There are many potential big money fights there to made at the international level. This could be a very exciting year for boxing fans if the promoters could get these bouts put together.
RUSS ANBER-elite cornerman, trainer, owner of Rival Boxing Equipment: We need to define "major player in professional boxing" and the US still remains the land of opportunity as it pertains to the big fights and big events. The closest rival is the UK but if it doesn't involve a UK fighter; they don't have the same interest. The US is still a major player except there are now more players. The World Boxing Super Series is an example.  If you are talking about fighters, the answer is an unequivocal YES. Whether on the amateur or professional scene, the US and many western countries have lost their dominance as a result of the tide of professionals now making their way into the game from the former Soviet Bloc. The amateur game is a glaring example as it becomes a look into the future of what is to come. The US once the most powerful amateur nation in the world has had little success internationally compared to the reign of terror they once had. Two decades ago a top ten in any weight class was filled with  Americans. Those numbers have gone down as Eastern fighters have emerged. From the Klitschkos, to Loma, Usyk, Golovkin, Beterbiev, Bivol, etc. All these great fighters have come from countries that didn't even turn pro a short time ago.
MATT ANDRZJEWSKI-TSS boxing writer: The US has definitely not lost its presence as a major player in boxing. The biggest fights, such as Fury-Wilder II, still mostly take place in the US and there is plenty of activity on a weekly basis in US based shows. The sport is more than alive and well in the United States.
DAVID AVILA-TSS West Coast Bureau Chief:  Absolutely not. Without being nationalistic, boxing is thriving more than ever before. Fighters come to the U.S. to make more money and have a bigger presence. Anywhere else is a small pond compared to the U.S. A big example remains the California area  remains the Southern California area that boasts more than 100 boxing gyms. Fighters from every part of the world are found in these gyms and get here any way they can. These are facts. Canelo moved from Mexico to the US and makes more money than almost every athlete in the world save baseball player Mike Trout and a few others.
BOB BENOIT-referee, judge, former fighter, and retired Massachusetts State Trooper: Yes, the USA has lost its dominance in World Boxing, thanks to the lack of promotion of pro and amateur boxing. Amateur boxing is run by those who don't know the difference between a left jab and a right cross.
BRIAN "THE BIZZ" BIZZACK-historian, moderator of "Bizzy On Boxing": Sadly, I believe this is true. The reasons are many: The collapse of the amateur system, the lack of quality trainers nowadays, the modern-day emergence of professional basketball and football as our primary sports of interest, and last but perhaps not least — the proliferation of sanctioning bodies and 'world titles' over the last few decades. This has alienated and confused the more casual mainstream sports fan, and for the young boy or man that once dreamed of capturing a singular WORLD crown (like Louis, Robinson, Marciano, Ali, and many others) what true "glory" is there… in capturing one of four, or god forbid seven or eight???
STEVE CANTON-the face of boxing in Florida: Most definitely. There are no good old-school trainers today who know how to properly train the tried and proven techniques. They are constantly trying to invent new ways and, as a result, we have fighters who can't really fight. Today, it is two guys standing in front of each other banging away. It is "my turn, your turn" since they don't know what else to do. When one throws punches the other waits until he is done and then it is their turn to throw punches. Fighters fight so infrequently, there are too many meaningless belts, the best don't fight the best, too much PED use and cheating in the sport and on and on and on. Meanwhile, around the world fighters are busy, fighting frequently and building big fan bases. I still don't see much in the way of better technique; I just see more activity which provides more opportunity to fighters in other countries.
ANTHONY CARDINALE-boxing manager, advisor, and nationally prominent defense attorney: I disagree. While many great fighters are coming out of Eastern Europe and Great Britain, we have many more top ten fighters in every weight class from the USA, and many more scheduled professional bouts. That said, one of the problems I see going forward is the practical demise of our amateur boxing programs here. Too many kids are opting to go pro instead of keeping in top international amateur competition which will only help them in the future.
GUY CASALE-former boxer, retired detective: I agree. The U.S. boxers don't train or have the mindset of the boxers of years ago. Unlike their counterparts, U.S. fighters lack the hunger/drive!
MONTE COX–former boxer, historian: The number of participants in the U.S has greatly declined over the years. Circa 1920 there were 20 boxing shows a week in New York City alone, that's more than a thousand shows just in the Big Apple. There were less than 600 boxing shows in the entire U.S for the year 2017, the last year I have stats for. A decline in participants means a decline in performance. So yes, boxing has declined.
JILL DIAMOND-WBC International Secretary; WBC Cares Chair: I don't think there's any one player or presence anymore. It's a global sport and the different internet platforms have reinforced that. Having said that, some of the great talent and promoters are from the USA, and Vegas still draws record crowds.
CHARLIE DWYER-former fighter, professional referee, member of US Marines Boxing Hall of Fame: US dominance in boxing diminished since the fall of Communism in Eastern Europe. Once the Eastern European fighters were allowed turn pro and leave their countries, the face of professional boxing changed worldwide.
                                                *********************
"Today's fighters have trainers, assistant trainers, strength and conditioning coaches, nutritionists, spiritual advisors, massage therapists, matchmakers, booking agents, promoters, co-promoters, publicists, cutmen, "better training methods," and assorted hangers-on and… are tired after a few rounds. Yesterday's fighters had a trainer and promoter….and they went 15 rounds non-stop. The future is not what it used to be." — Steve Canton
*********************
RICK FARRIS-former Boxer and President of the West Coast Boxing Hall of Fame: I agree that America has lost its place in both professional & amateur boxing. The last American male to win an Olympic Gold Medal was Andre Ward, who was an exceptional pro & amateur champion. He was the last, and I do not expect better in the future. If not for America being so weak in boxing, Eastern Europe would not be getting any notice, as they are not better than they were, just have less competition. I see little future for America in boxing, except for our females who have carried the torch alone.
BERNARD FERNANDEZ- TSS mainstay, lifetime member of the BWAA and 2020 IBHOF inductee: The United States' domination of basketball ended, in a way, with the great success of the 1992 "Dream Team." The world observed, and the world wanted its own Michael Jordan. Now the tide is turning in other international sports, including boxing and tennis. The rest of the planet wants what we have, or had, while the USA dares to think it can become a world power in soccer on a par with Europe and South America. A big reason for the lack of depth in boxing: quality big men, who might have become heavyweights, channeling their energies into football and basketball.
JERRY FITCH-writer, author, and historian: I do think boxing is not a major player in the US anymore, certainly not anywhere near what so many have enjoyed earlier, even 25-30 years ago. I feel boxing started going downhill when more and more alphabet groups were added. Then more weight classes were added. And whether anyone agrees or not I feel young kids nowadays could care less about boxing. Those with athletic ability turn to basketball or football. We have a hard time in Cleveland getting anywhere near 100 kids to enter the Golden Gloves. In the 1950s sometimes 100 kids entered from one gym locally. And there are not nearly enough quality trainers these days.
JEFFREY FREEMAN-(aka KO DIGEST); TSS writer: As evidenced by their deranged, degenerate reaction to Fury-Wilder 2 (on the internet and beyond) it is obvious to me that American fans and media can no longer handle heavyweight championship boxing in America. They make a mockery of it. The sport and its participants are much better served by the British fans and by the British business model for big time professional boxing.
RICK GAGNE-historian: The U.S. isn't the powerhouse that it was, but we still have more champions than any other country. We never were kings of the little men. Our amateur program has devolved far more than the pros.
CLARENCE GEORGE-writer and historian: The U.S. is still a major player, though perhaps not as major as it once was. A significant change is the location of heavyweight championship fights. But this phenomenon predates Anthony Joshua-Andy Ruiz Jr. II by several decades. Think of Joe Frazier vs. George Foreman in Kingston, Jamaica, on January 22, 1973; Foreman vs. Ken Norton in Caracas, Venezuela, on March 26, 1974; Foreman vs. Muhammad Ali in Kinshasa, Zaire, that October 30; and Ali vs. Frazier in Quezon City, the Philippines, on October 1, 1975. Harrumph — all those bouts should have taken place at Madison Square Garden.
LEE GROVES–writer, author, researcher and CompuBox punch counter: I don't think the U.S. has lost its presence as a major player but it is sharing the stage with more players. Fighters outside of the U.S. still see value in being seen — and being marketed — in America (see Tyson Fury) but boxing has become an even more global sport thanks to the Internet. To me, the more the merrier. As long as boxing grows, it's all good.
HENRY HASCUP- boxing historian and President of the New Jersey Boxing Hall of Fame: Up until the late 1960's the three most popular sports in the US were baseball, horse racing and boxing. Now boxing is way down the list because we have so many other sports that are played or we watch on TV. I believe the fighters are much more popular in some other countries as US major sports stars are in other sports! However, in 2019 the US had a total of 603 shows, which is still more than any other country.
CHUCK HASSON-historian and writer: For over a century U.S. boxing was the pinnacle of world boxing. But in recent years, with the influx of top Eastern European boxers helping to infuse huge interest throughout the continent and terrific fighters from Britain, Ireland, Germany, it has made for a golden age of European boxing. After being behind the U.S. for so long, it's nice to see them stepping out from under our shadow. But I am hopeful we can take back the mantle soon.
DANNY HOWARD-boxing writer: Boxing is a global sport and the decline of a strong American presence among competitors was only really a talking point for the heavyweight division. This isn't anything new. The biggest fights in the world still happen in America. Americans aren't exactly flocking to support their homegrown heroes, they just want blood and guts like every other fight fan, regardless of what language they speak or where they come from.
BRUCE KIELTY–booking agent; boxing historian: There is no question that US boxing continues a long slide downhill. Amateur boxing is on life-support in most areas. Today's millennials find MMA far more violent and entertaining and perfect for those with minute attention spans. MMA has been successfully marketed as a blood sport and doesn't have the number of corrupt sanctioning bodies that are such a drag on boxing. Also, boxing during periods of high employment is seen as an unnecessary low-paying and dangerous pursuit.
*********************
"They ought to cut this junk-throwing at boxing. The mollycoddles  and pinheads  never gave it a square deal."  – John L. Sullivan
*********************
STUART KIRSCHENBAUM-Boxing Commissioner Emeritus, State of Michigan: I agree the US has lost its presence. Once the King of Sports, it's food chain…young amateur boxers, have virtually dried up. As a way out of ethnic ghettos there are easier ways to success, some not legal. The sport is homeless in the sense that public recreation centers and privately owned gyms with boxing programs are too costly to maintain and liability is too rampart. Regular local boxing shows are rare with the disappearance of promoters willing to risk financial loss and contracted professionals with no venues to develop their careers. Newspapers and TV news have done away with boxing writers. You can never see the top boxers on TV unless you skip paying for your prostate medication and subsidize some temporary millionaire via your cable bill. The average sports fan is clueless who the major boxing champions are.
JIM LAMPLEY-legendary anchor of the HBO broadcasting team; 2015 IBHOF inductee: Obviously it is premature and exaggerated to suggest the US is not a "major player" in boxing or in any other form of entertainment. The audience here is too big for that. Is the nation's position in the talent pool diminishing?? Maybe, but that has mostly to do with the growth of talent development in other countries. Pacquaio and Mayweather demonstrated the economic pyramid is no longer controlled by heavyweights exclusively, so now the whole planet wants to get on board. It's the natural momentum of globalism, and it cannot be wished away.
ARNE LANG-TSS editor in chief, author, historian: There are actually three questions here depending on how one chooses to define "lost its presence." Forgetting Saudi Arabia for the moment, the richest fights are still held on U.S. soil. All foreign pros dream about fighting in the U.S. From a skillfulness standpoint, however, the former Soviet bloc countries have vaulted ahead of us, notably in the four weight divisions from 160 to 200. How do I feel about it? I'm indifferent, but it would be nice to see the USA Olympic team recapture some of its lost glory.
RON LIPTON-former fighter, current pro referee, boxing historian and writer, member of the New Jersey and New York Boxing Hall of Fame and retired police officer: The U.S. has not lost its presence as a major player in professional boxing. The allure to defending your championship in the magic atmosphere of Madison Square Garden will never lose its prestige and luster. The boxing history there is written in stone and has an electricity that you feel and take with you after each major fight show. The fight fans that come to so many venues throughout the U.S. with so many wonderful locales radiating boxing excitement, keep the U.S. at the forefront of boxing excitement on planet earth.  I have respect for all the fan loyalty in other countries and what it means to all the boxing fans therein, yet we here in the U.S. feel the same way.
Coming Next: PART TWO (M-W) plus observations.
Photo: Ukrainian stablemates Oleksandr Usyk, Vasyl Lomachenko, and Oleksandr Gvozdyk
Check out more boxing news on video at The Boxing Channel 
To comment on this story in The Fight Forum CLICK HERE
Undercard Results from the Canelo-Charlo Card in Las Vegas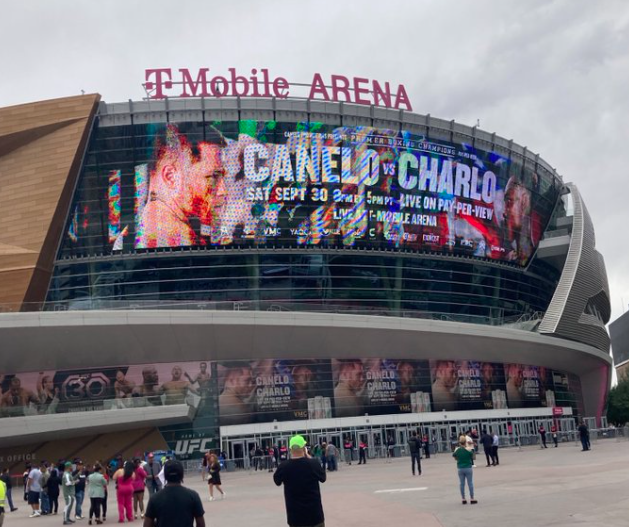 In a heavyweight battle slated for 10, Frank Sanchez (23-0, 16 KOs) stopped LA trial horse Scott Alexander (17-6-2) after four frames. Alexander's corner attempted to stop it in the waning seconds of the fourth, but the referee did not see it and the bell rang before the fight was waived off.
Alexander had one big moment. In the opening round, he rocked Sanchez with a short right hand. But from there, it was all Sanchez in a rather messy fight.
A Miami-based Cuban defector, Frank Sanchez came in ranked #3 by the WBO, #4 by the WBC, and #5 by the IBF. His best win came in this building, a comfortable decision over Efe Ajagba in October of 2021. Alexander also fought here. In his previous visit to the T-Mobile, he was knocked out in the opening round by Zhilei Zhang.
Former WBO light heavyweight champion Oleksandr Gvozdyk, in his third fight back since ending his retirement, improved to 20-0 (16) with a second-round stoppage of 38-year-old Brazilian Isaac Rodrigues (28-5). Gvozdyk, 36, left the sport after getting beat up by Artur Beterbiev, but got the itch and is pursuing a fight with Dmitry Bivol.
In an 8-round middleweight fight, 2012 U.S. Olympian Terrell Gausha (24-3-1) won a majority decision over Keandre Leatherwood (23-9-1). The judges had it 76-76 and 78-74 twice. Once a highly regarded prospect, Gausha is spinning his wheels. Leatherwood, from Tuscaloosa, Alabama, had been stopped four times.
Guadalajara super lightweight Gabriel Gollaz Valenzuela advanced to 28-3-1 (17 KOs) with a sixth-round stoppage of overmatched Colombia import Yves Gabriel Solano (15-3).  This was redemption of sorts for Valenzuela who lost an unpopular 12-round decision to Montana Love in his last outing inside these walls.
Kazakh super middleweight Bek Nuramaganbat (11-0) continued his fast ascent of the 168-pound ladder with a third-round stoppage of Bola Osundairo. A 30-year-old Chicago-based Nigerian, Osundairo was a 2021 USA National Champion at 178 pounds.
A four-round middleweight contest between Abilikhan Amankul (4-0-1, 4 KOs) and Joeshon James (7-0-2, 4 KOs) ended in a draw. Although he didn't win, Sacramento's James continued to exceed expectations. In previous contests he KOed previously undefeated Richard Brewart and fought to a draw with Top Rank signee Javier Martinez. Amankul, a 26-year-old Kazakh, lost a split decision to eventual gold medal winner Hebert Conceicao in the Tokyo Olympics.
To comment on this story in the Fight Forum CLICK HERE
—
David Avila is ringside. Check back later for his report of the Canelo-Charlo fight and the main supporting bouts.
Opetaia Demolishes Thompson in London; Wallin Upsets Gassiev in Turkey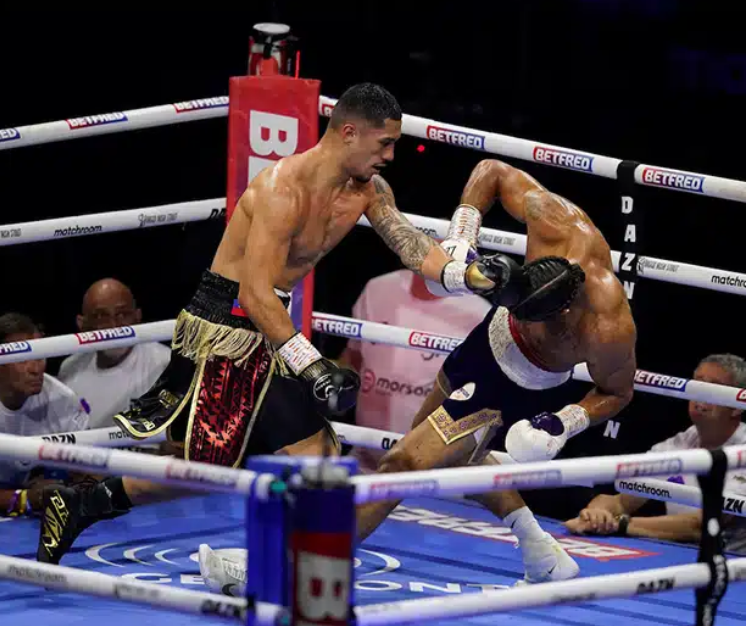 In his first defense of his IBF cruiserweight title, Australian southpaw Jai Opetaia demolished overmatched Jordan Thompson in the featured bout of a Matchroom card at London's Wembley Arena. Opetaia (23-0, 18 KOs) overwhelmed Thompson (15-1) from the opening gun and had the six-foot-six Mancunian on the canvas twice before the match was waived off at the 20-second mark of round four.
An Olympian at the age of 16, Opetaia won the title 15 months ago with a unanimous decision over longtime title-holder Mairis Briedis. Noting that Opetaia broke his jaw in two places early in that contest, prominent Australian sporting journalist Simon Smale called it "one of the bravest, gutsiest, victories in Australian boxing history."
Following that fight, Opetaia had to eat through a straw for several months. Hence, there were questions about whether his jaw would hold up and whether he would show ring rust in his first title defense. But the towering Thompson, whose nickname is Troublesome, although game, proved to be no trouble whatsoever for Opetaia who would be favored to beat any cruiserweight in the world, no matter the locale.
Opetaia may return to England for his next fight which would be a unification match with Bournemouth's 18-1 Chris Billam-Smith who captured the WBO version of the 200-pound title in May with a surprisingly one-sided decision over favored Lawrence Okolie. The other cruiserweight title-holders are the well-traveled Badou Jack (WBC) and the French-Armenian boxer Arsen Goulamirian (WBA).
Four female fights were on the undercard including two 10-rounders, both of which were won by the "A side" Englishwomen.
In her first title defense, Ellie Scotney, a 25-year-old Londoner, retained her IBF world super bantamweight title and improved to 8-0 at the expense of 37-year-old Argentine veteran Laura Soledad Griffa (20-9). In a rather monotonous fight, Scotney won every round on two of the scorecards and nine rounds on the other.
Rhiannon Dixon, a 29-year-old southpaw, had a surprisingly easy time with Norwegian veteran Katharina Thanderz, a former world title challenger. Dixon (9-0) won every round on all three cards. Thanderz, who trains in Spain, declined to 16-2.
Wallin-Gassiev
In a 12-round heavyweight fight in Antalya, Turkey, Swedish southpaw Otto Wallin (26-1, 14 KOs) won a split decision over Murat Gassiev (30-2). This was a dull fight. Owing to various issues, Gassiev had answered the bell for only eight rounds in the previous seven years and his vaunted power had deserted him. True, he landed the harder punches, but Wallin, who kept pecking away with his jab, was far busier and won the fight on volume alone. Two of the judges had it 115-113 for the Swede who is 6-0 since going 12 rounds with Tyson Fury. The other judge scored it for Gassiev by a bizarre 117-111.
Opetaia-Thompson photo credit: Mark Robinson / Matchroom
To comment on this story in the Fight Forum CLICK HERE
Avila Perspective, Chap. 254: Canelo vs Jermell Charlo in a Battle of Undisputed Champions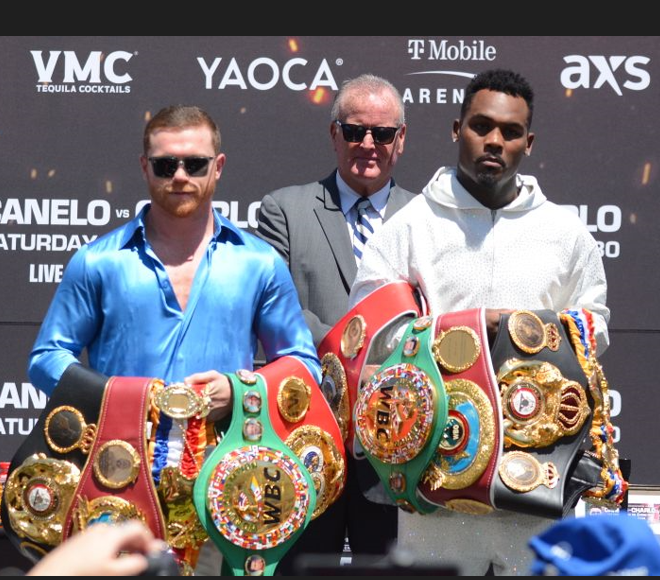 LAS VEGAS-Less than the usual massive crowd gathered for boxing kingpin Saul "Canelo" Alvarez and Jermell Charlo in the desert heat outside of the T-Mobile Arena on Friday afternoon. Usually the weigh-ins are slightly bigger for Mexico's idol.
Is the declining crowd an indicator of Alvarez fans ebbing belief in his abilities?
Still, on Saturday night, two undisputed world champions from differing divisions will collide as Guadalajara, Mexico's Alvarez (59-2-2, 39 KOs) meets Houston's Charlo (35-1-1, 19 KOs) at T-Mobile Arena for the super middleweight world championship. PPV.Com will stream the clash of champions.
This year has seen a hyper-speed uptick in champions fighting other champions, perhaps the result of watching their female counterparts Amanda Serrano and Katie Taylor produce the biggest fight of 2022. This year several marquee collisions were spawned from lightweights to heavyweights.
Or maybe the pandemic lull created a twitch panic among the elite.
Charlo was one of those who had been sidelined while others like Gervonta "Tank" Davis, Naoya "Monster" Inoue and Canelo Alvarez filled their pockets with cash. And others like Devin Haney and Teofimo Lopez gained undisputed glory.
Instead of watching on the sidelines, Charlo decided to make his move for greater glory by attempting to dethrone one of the top pound-for-pound fighters in the world, if not the kingpin of boxing when it comes to money.
"If I accomplish this massive goal, it will be hard to top," Charlo said a few weeks ago during his media workout. "I'll be in the record book with the greats of boxing for a long time."
Risks brings rewards.
Canelo, long a member of the boxing elite, has held his position as the box office king for many years now by taking the daunting risks throughout his boxing life.
"Jermell is right, I have nothing to prove. But this time I have something to prove to him," said Alvarez while in Las Vegas on Wednesday. "He never believed in my skills. He's been calling me out. Now I have an opportunity to show him my skills."
Undisputed super welterweight will challenge undisputed super middleweight in a two-division jump not often seen, except for Henry Armstrong, Roberto Duran and Sugar Shane Mosley. It's the road taken by those who seek to be great.
Both are 33 but the redhead Alvarez has been fighting professionally since he was 15. That's a lot of bullets in the chamber he has already used. Charlo has height, speed and the ability to adapt to different styles. Stylistically, it's a battle that makes even the skeptics take pause.
It all depends on Alvarez's resiliency. Charlo has ring rust, while Alvarez seemingly has lost the hunger. Whose weakness will prove the greater?
"Now is the time for this fight. We're in our primes and at our best," said Charlo. "I wanna shake the doubters off and prove to the world why I"m in this position. There's a reason I made it this far."
Alvarez remembers being as hungry as Charlo.
"I never overlook any fighter," Alvarez said. "I know what he's going to bring and I'm ready."
Undercard
Several other notable bouts are included on the pay-per-view card.
Former world titlists and current welterweight contenders Yordenis Ugas (27-5) and Mario Barrios (27-2) battle for an interim title set for 12 rounds.
Super welterweights Jesus Ramos (20-0, 16 KOs) and Erickson Lubin (25-2, 18 KOs) match skills  in a match that pits a southpaw veteran against an undefeated southpaw from Arizona. For the past three years Ramos has been moving up the ladder and was last seen pounding out highly-touted Joey Spencer. Can he survive Lubin who nearly toppled Sebastian Fundora?
Doors open at T-Mobile Arena at 2 p.m. Pacific Time.
Lampley is back
Legendary HBO announcer Jim Lampley was hired along with ace reporter Lance Pugmire who will co-host the Saul "Canelo" Alvarez versus Jermell Charlo showdown via viewer chat live on PPV.com.
It's the same concept used by Monday Night Football that features former quarterback greats Peyton Manning and Eli Manning in alternative programming.
Lampley returns to boxing after a five-year absence following HBO's yanking of the popular program that vaulted elite boxing to the top behind the likes of George Foreman, Oscar De La Hoya and Manny Pacquiao.
The veteran announcer will be live streaming all the action on media platforms before and during the fight action. He was sorely missed by all who follow the sweet science.
Photo credit: Al Applerose
To comment on this story in the Fight Forum CLICK HERE